---
Friends and fashionistas, I'm thrilled to bring some structure and familiarity back to my STYLE content today with this 6 outfit, Early Autumn 2020 Lookbook — my first since April! While 2020 has thrown all semblance of order and routine for a loop, one thing that remains is my love of fall fashion. Each autumn I go into content creation overdrive creating and capturing things that inspire me! And despite life looking quite a bit different than it did this time last year, I was determined to not let COVID put a damper on my personal style. Regardless of the pandemic, dressing up and dressing well allows me to present the best, most confident and truest version of myself to the world — and I simply refused to let my stilettos collect dust for another season! Those of you who've been with me for awhile here at JustineCelina will know I theme my content seasonally, as I'm always looking to nature for inspiration — taking cues from the changing landscape to inform both my creative work and my personal style. It felt incredible  to reignite my passion for pulling together looks, capturing them beautiful settings and curating them into one my signature, seasonal LOOKBOOKS! 
This year we've been fortunate to enjoy the warmest fall I can remember — and we shot more seasonal style content than ever before against the backdrop of our beautiful Alberta landscape. We also captured images in both country and city locations (complete with an introduction to my top face mask recommendations and accompanying Community Guidelines), so my Early Autumn 2020 Lookbook features sartorial inspiration for variety of settings! That said, no matter the setting, my wardrobe has become more casual, comfortable and practical than ever this year — and it's a very welcome shift. The majority of the pieces I've added to my wardrobe in 2020 are ultra versatile to suit a variety of occasions — whether I'm working from home, enjoying a quiet evening in or heading out for a (very rare) occasional celebration. Today I'm elated to share my go-to styling tips for extending your summer wardrobe into autumn, innovative layering techniques, favourite retailers, cozy seasonal staple pieces and wearable trends incorporated into 6 relaxed, bohemian inspired looks suitable for a variety of climates. Join me for a healthy dose of seasonal style inspiration (plus some incredible sales!) celebrating early autumn on the Alberta prairies — the most beautiful time of the year!
---
EARLY AUTUMN 2020 LOOKBOOK
---
Wow, 2020 has been a year, hasn't it?! I truly hope you're all safe and well — and want to take the time to extend a heartfelt thank you for your continued readership. I hope that JustineCelina can continue to be a respite from this crazy world while providing inspiration and joy during these difficult times.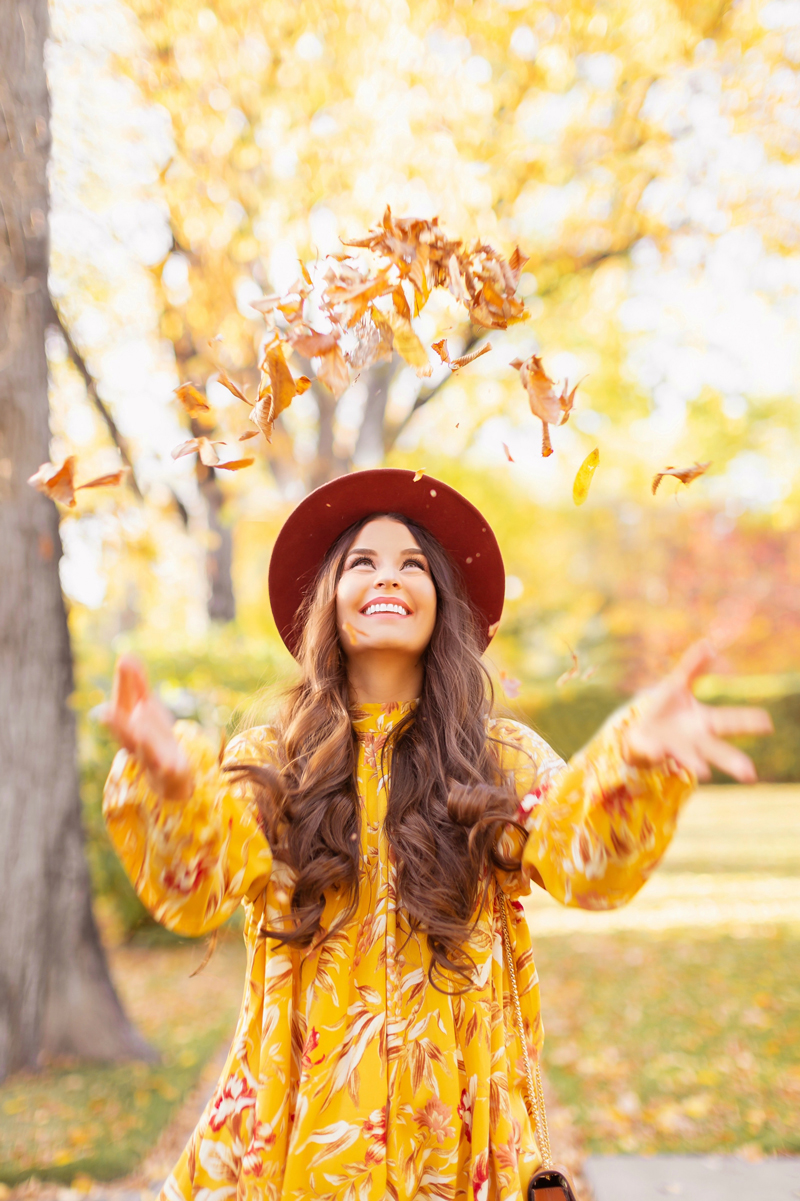 While I continue to spend the majority of time at home (as it's where I live and work), this fall I made the decision would resume my regular FASHION content — despite the fact that 90% of the occasions I would typically style myself for are now virtual. Although things are still far from normal and we're currently experiencing the height of the pandemic here in Calgary, my goal this season is to continue to stay inspired fashion wise and bring you the style content you've become accustomed to — in hopes that I encourage you to do the same! Even when I'm at home, I relish in the process of getting dressed and enjoying the wardrobe I've mindfully curated over the years.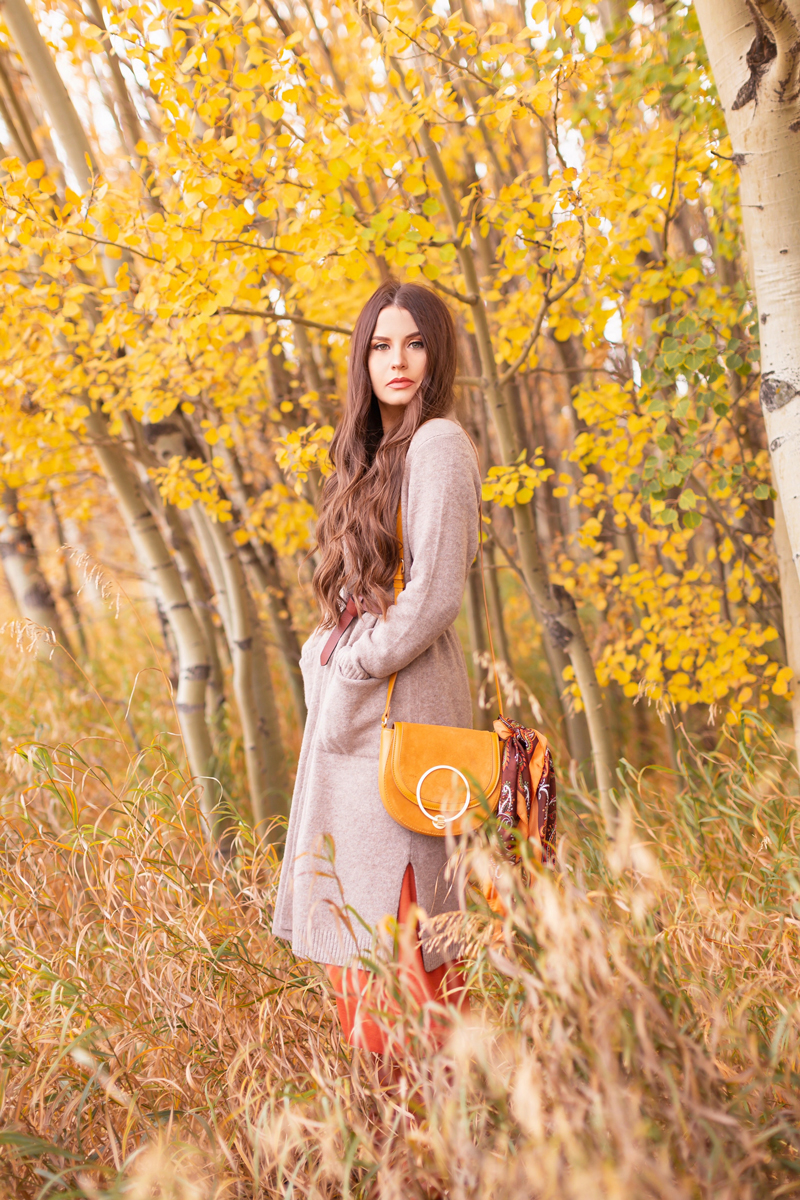 I hope you enjoy this familiar dose of fall fashion in my signature, seasonal LOOKBOOK format — set amongst the most beautiful scenery Mother Nature has provided in my 30+ years living in Alberta!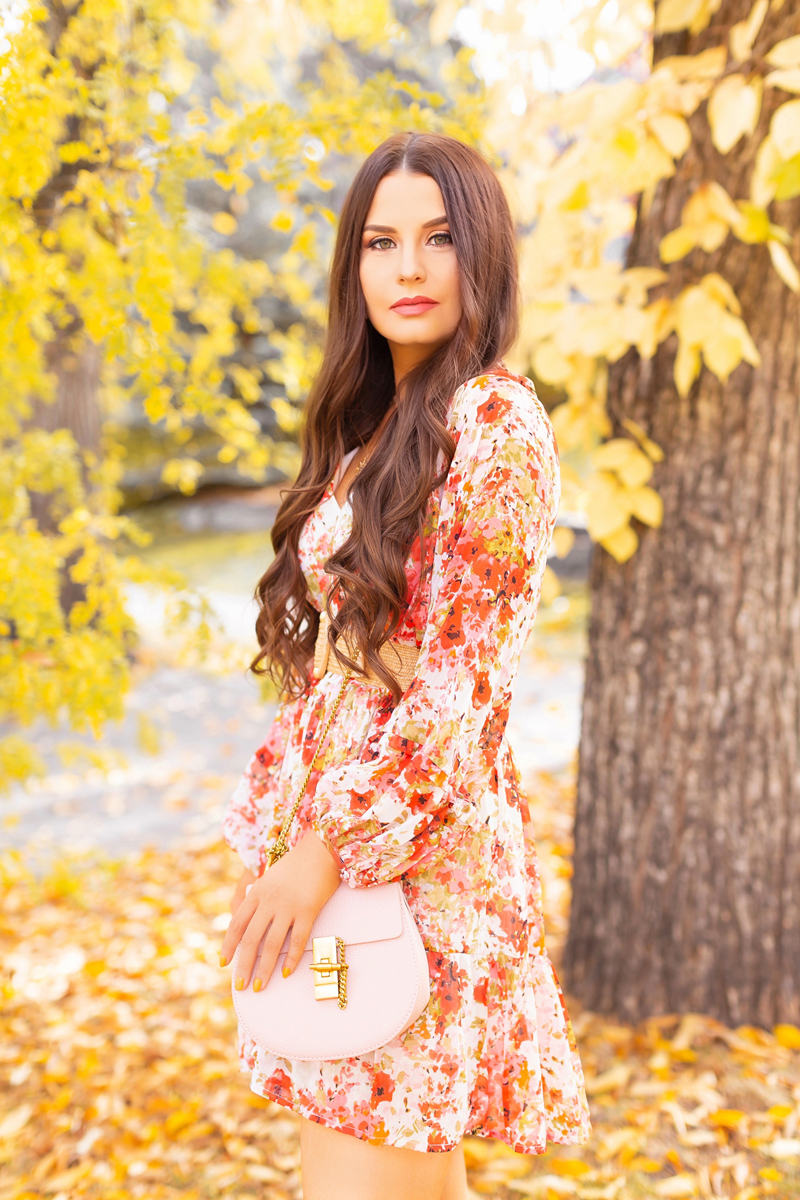 ---
FASHION CONTENT UPDATE
---
Since COVID hit Calgary I've gone through various waves of inspiration in regards to the way I create content. This spring and summer, the images I've shared on these pages were captured near my childhood home in rural Alberta (where my cohort lives), or inside my inner city Calgary apartment, as I split my time between both locations. Recently I've felt re-inspired to resume shooting in the city I call home — and doing so responsibly. The safety precautions currently in place are something I take very seriously.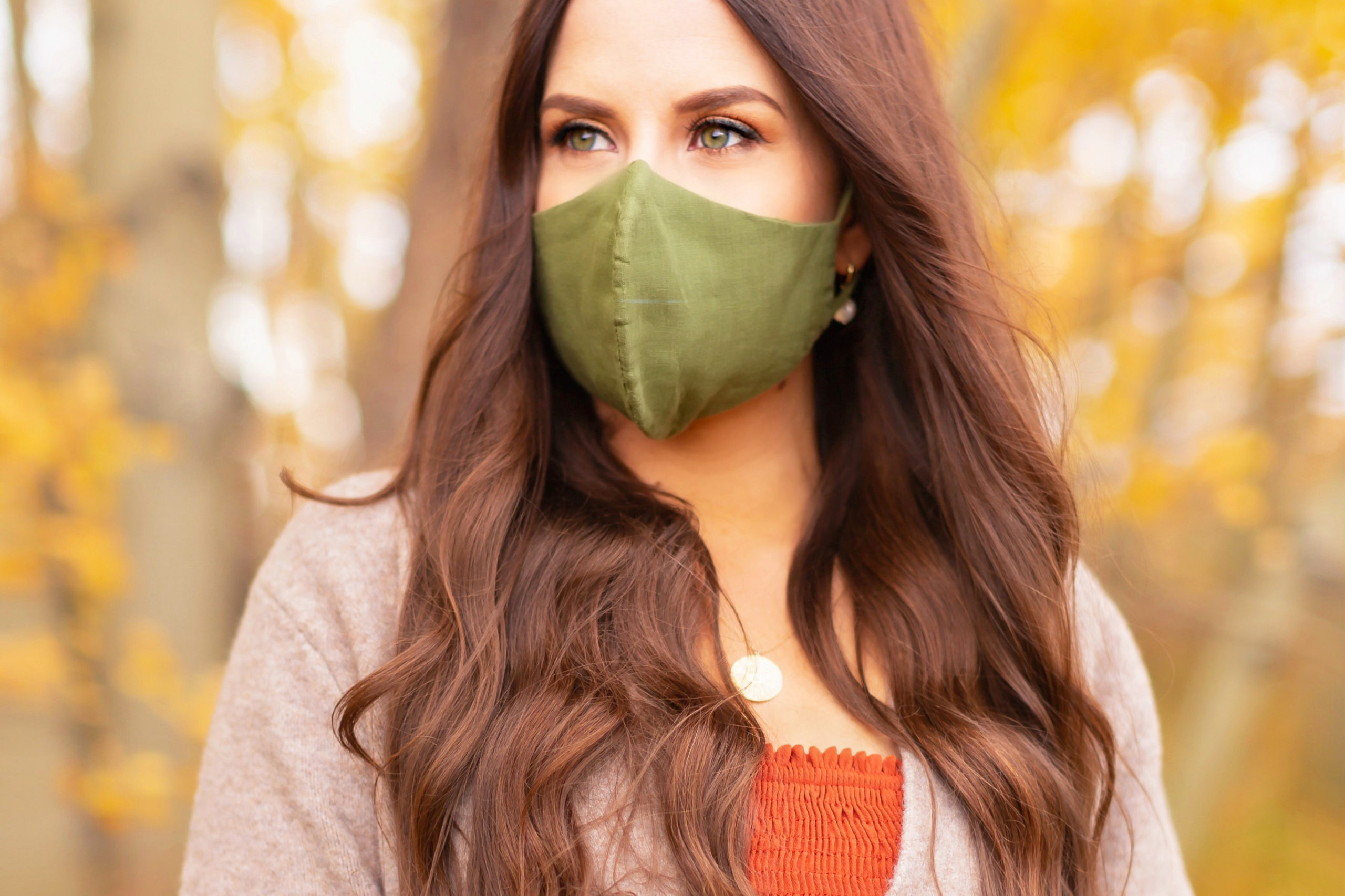 Over the past 8 months I've tested many masks as I began to integrate them into my personal style. As a result, I've curated a beautiful collection of comfortable, high quality, effective masks to accessorize my wardrobe — and I can't wait to share them with you, beginning today!
Realistically, masks will be part the new normal for city-based living for quite some time — and you can expect to see me integrating them into my style content whenever we shoot in Calgary (or anywhere else where I may be in close proximity to others) moving forward. If you see an image of me in an urban location and I'm not wearing a mask, you can be sure it's just myself and my photographer (incredible Mom!) within a safe distance — and that my mask is tucked away in my bag, ready for use whenever necessary. While this topic isn't something I ever though I'd be blogging about, I'm choosing to have as much fun with it as possible — and hopefully inspiring you to do the same!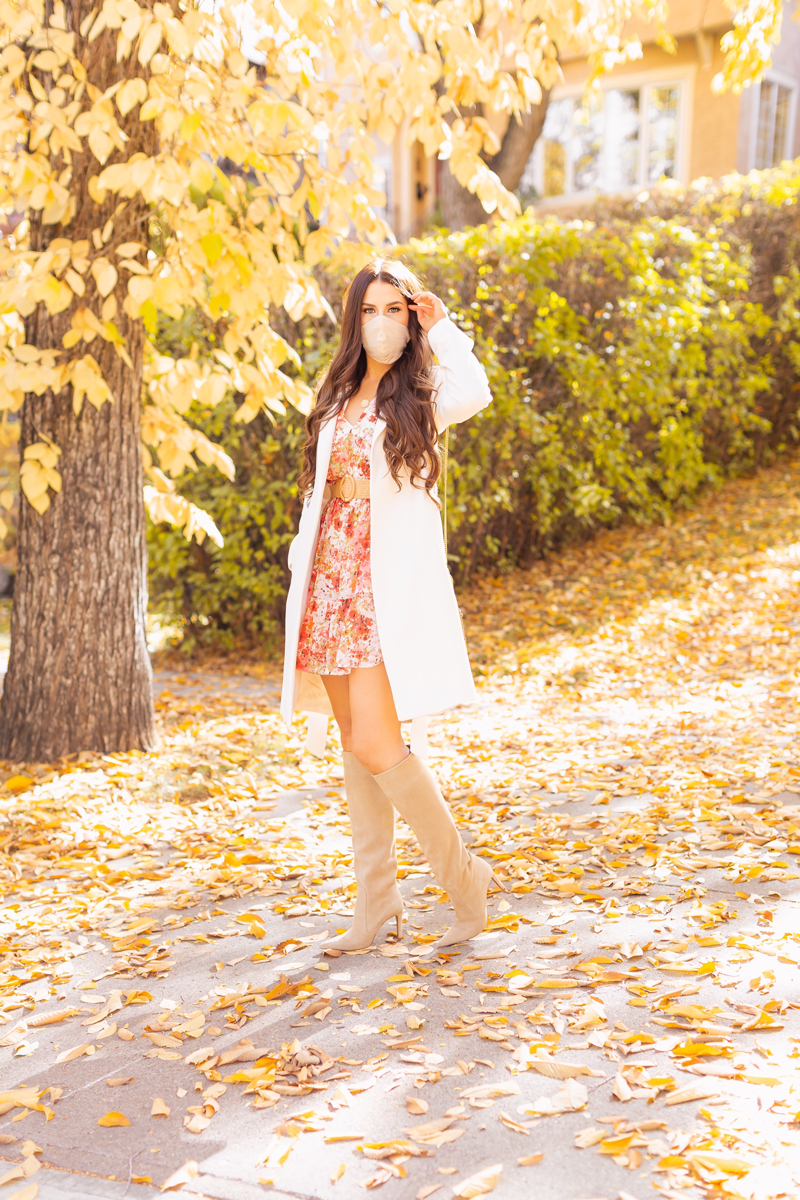 ---
COMMUNITY GUIDELINES
---
Should you choose to consume and engage with my content here at JustineCelina moving forward, please do so under the following Community Guidelines:
I encourage you to follow public health guidelines and the advice of your local authorities. Face masks are mandatory in public spaces in Calgary — I am not here to debate the efficacy of (or your opinions on) mask usage. While respectful, informed discussion is always encouraged, JustineCelina stands for kindness, compassion and consideration for others. Hate, ignorance and misinformation are not welcome and will not be tolerated.
With that out of the way, let's dive into some transitional, pandemic-friendly fall fashion, shall we?
---
PRAIRIE CHIC
---
During early autumn I relish in the process of getting really creative with my wardrobe as I blend the best of summer and autumn. Here I've juxtaposed florals with felt and jute with straw — beneath the grass I'm still wearing my favourite espadrilles and I have a chunky cream knit tucked away in my bag!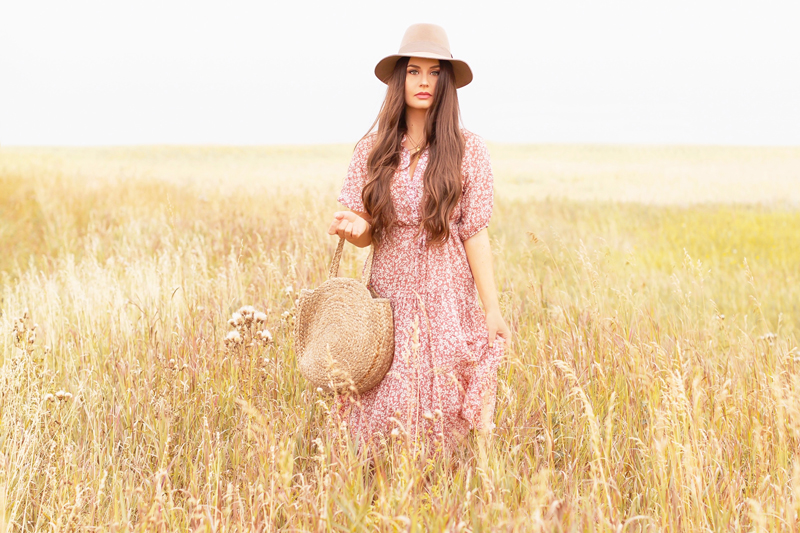 In all my years living in this province, I can't recall a more beautiful autumn than 2020's. We enjoyed temperatures into the mid 20's well into October and didn't experience our first snowfall until the 14th — which has to be some sort of record! It made an ideal year for our first Country GARDEN and also resulted in me transitioning my wardrobe for the seasons, along with purchasing new pieces for Autumn/Winter, much later than usual. It was warm, relaxed and magical — and we took every opportunity to enjoy the stunning natural landscapes near my childhood home in Wheatland County, camera in tow!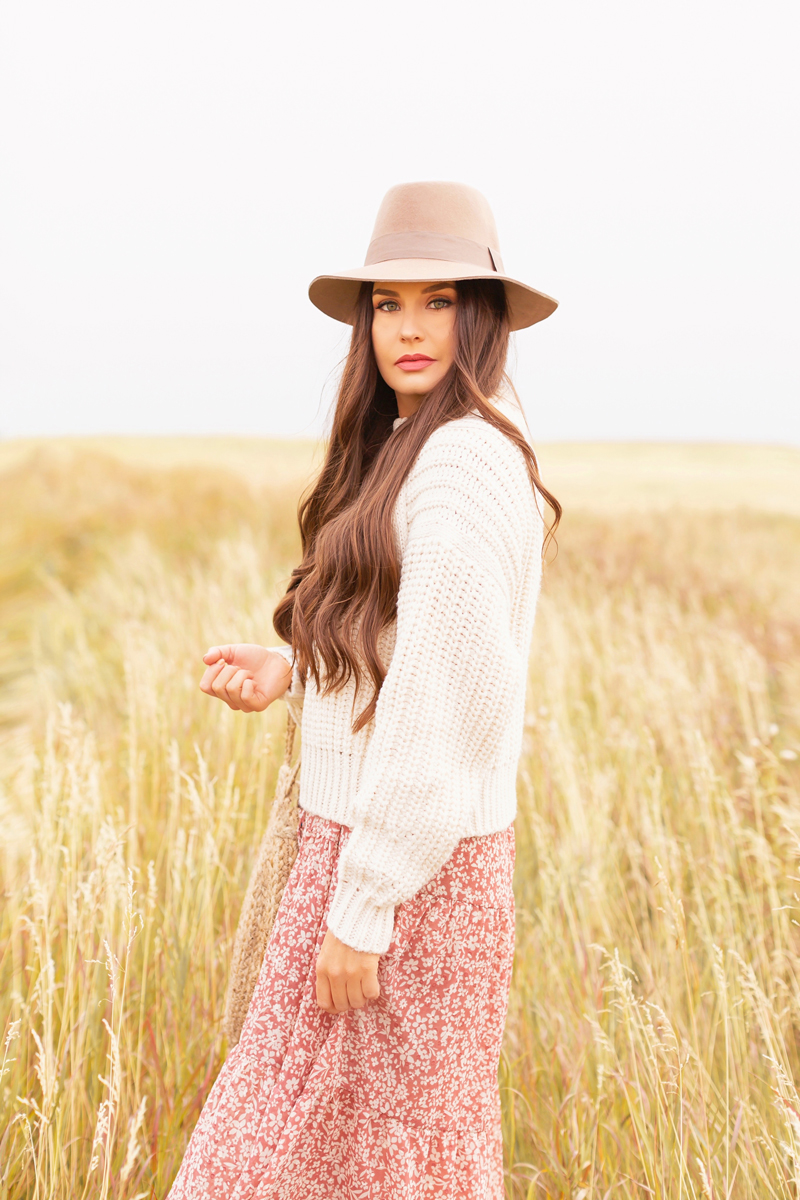 I love the challenge of dressing for transitional weather when the mornings are crisp, afternoons are warm and the evenings are cool. Late summer and early autumn is my absolute favourite time of year to get dressed! I wore bare legs and espadrilles well into October this year as I pushed the boundaries of how I could creatively extend the life of my summer wardrobe into autumn.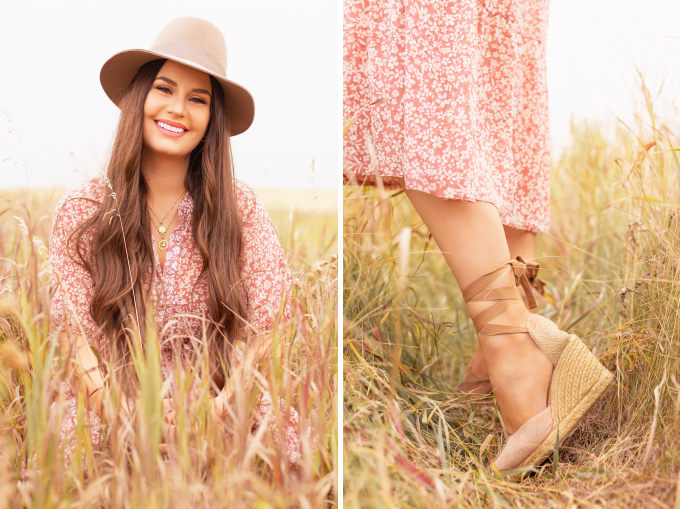 This Prairie Chic outfit combination is one I've had on repeat all season long. It's one of my favourite seasonal outfit formulas that I can adapt for a variety of settings and weather conditions while keeping comfort at the forefront — which is an absolute must for me this year! Comprised of cozy knits, felt fedoras and fall florals, it features a few of my favourite things to wear this autumn.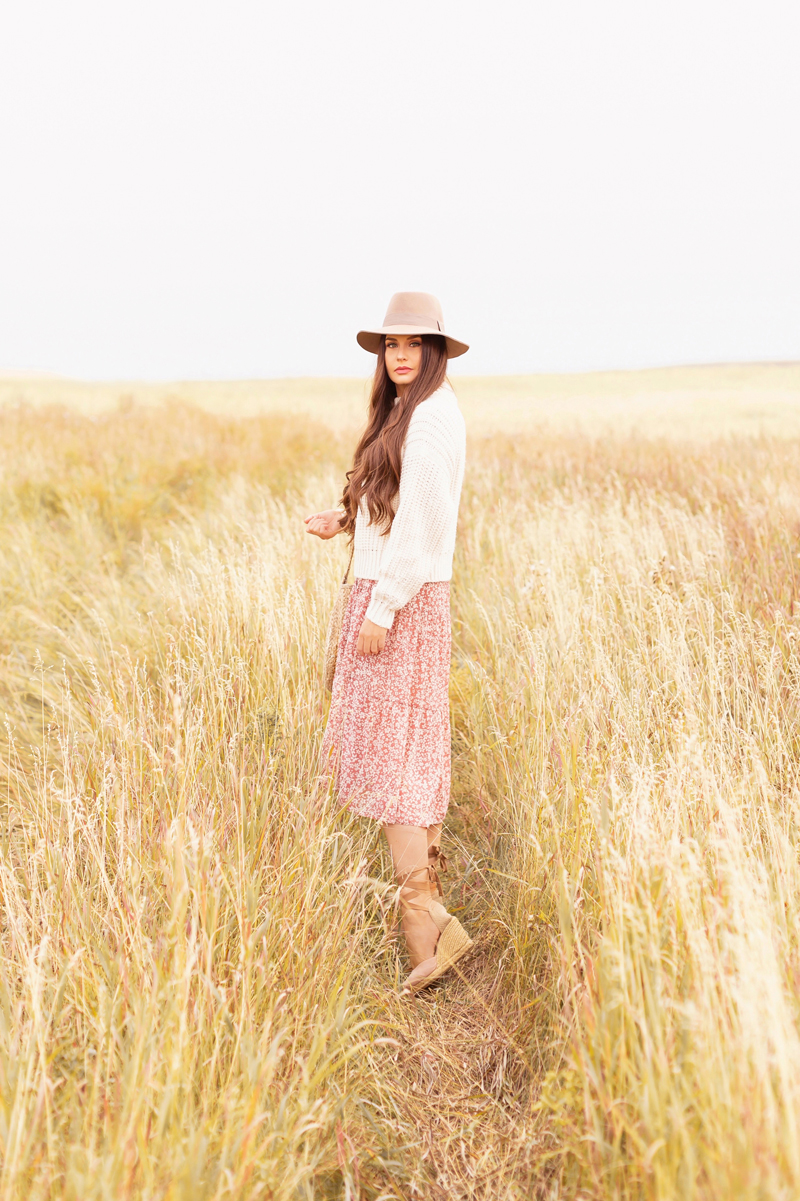 My darling Pink Ditsy Floral Puff Sleeve Smock Midi Dress, a recent purchase from (new-to-me) UK based fashion retailer New Look was the anchor piece for this outfit. Although it's made from an extremely lightweight material, its midi hemline, elbow-length sleeves and dusty, mid-toned rose colour make it the ideal canvas for inventive autumn layering!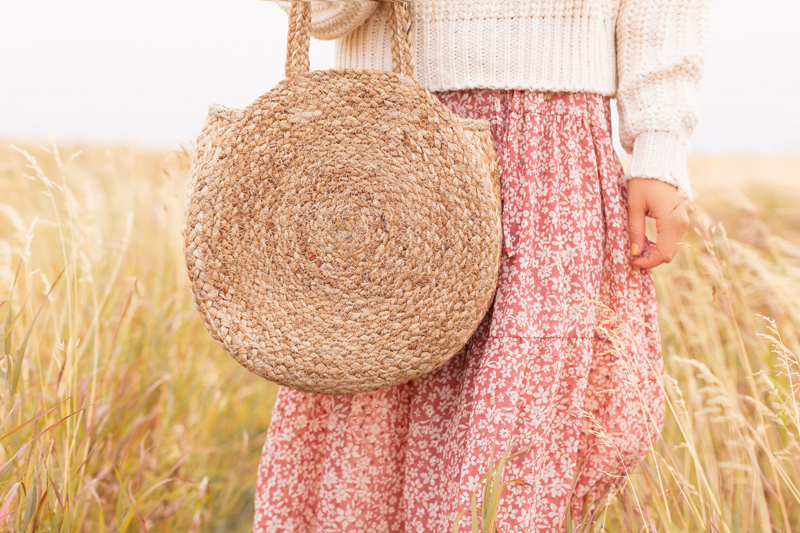 As it was a particularly beautiful day when we captured this look, I opted to take a couple of my favourite fall accessories out for one final spin before packing them away for the season — including my favourite espadrilles (which you've seen many times on these pages) and a circular jute bag (another summer staple that's been with me for years).  I love to incorporate natural textures into my wardrobe and my home as we transition into fall — pairing these summer accessories up with a chunky cream knit (a recent purchase from H&M) and cozy felt fedora (a summer sale find) creates a beautiful juxtaposition that blends the best of both seasons.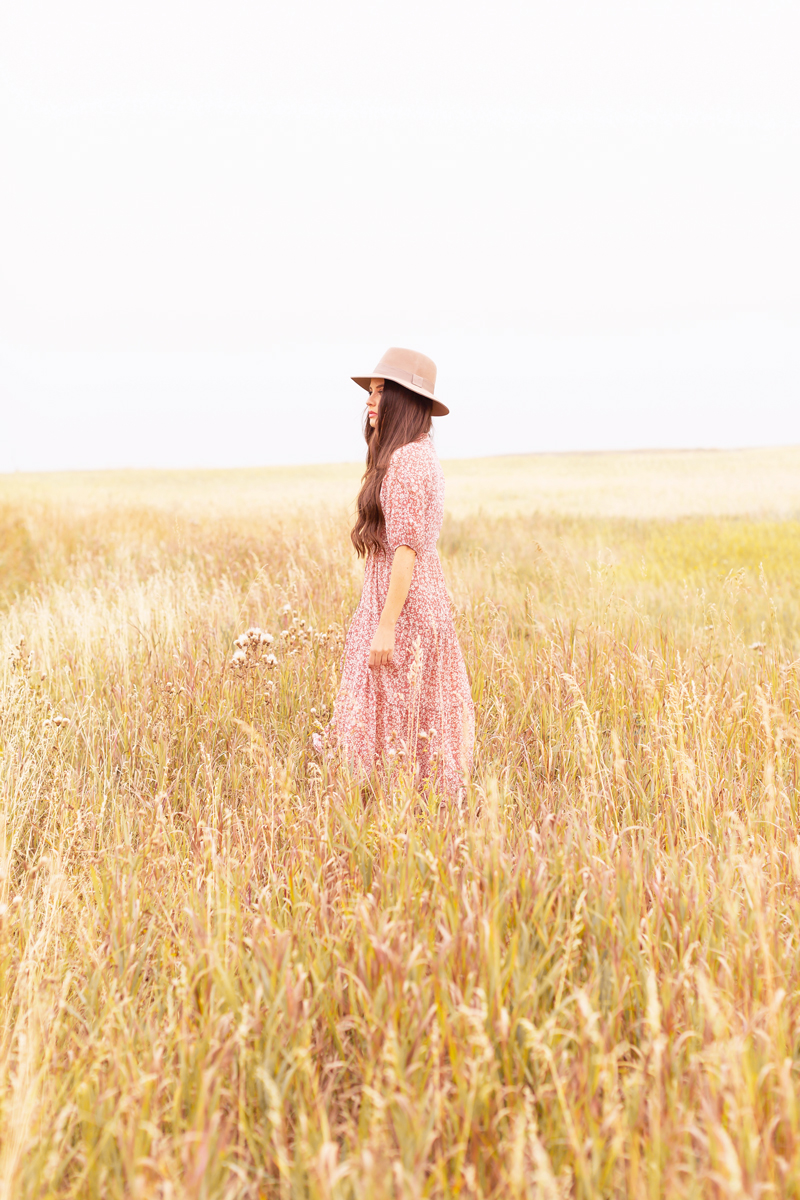 Cottagecore continues to remain a key trend in 2020 (admittedly I find that name rather hilarious!), but my personal style has always had prairie-inspired, bohemian roots — for obvious reasons. This season I've enjoyed bringing that aspect of my personal style to the forefront, as I find myself increasingly drawn to the relaxed tranquility of the country!

---
URBAN FLORALS 
---
This flirty, floral look was the first we captured in the city after a lengthy, pandemic-induced hiatus — and it was the loveliest scene. There were literally leaves raining down on us as we snapped away on this beautiful, 15°C day!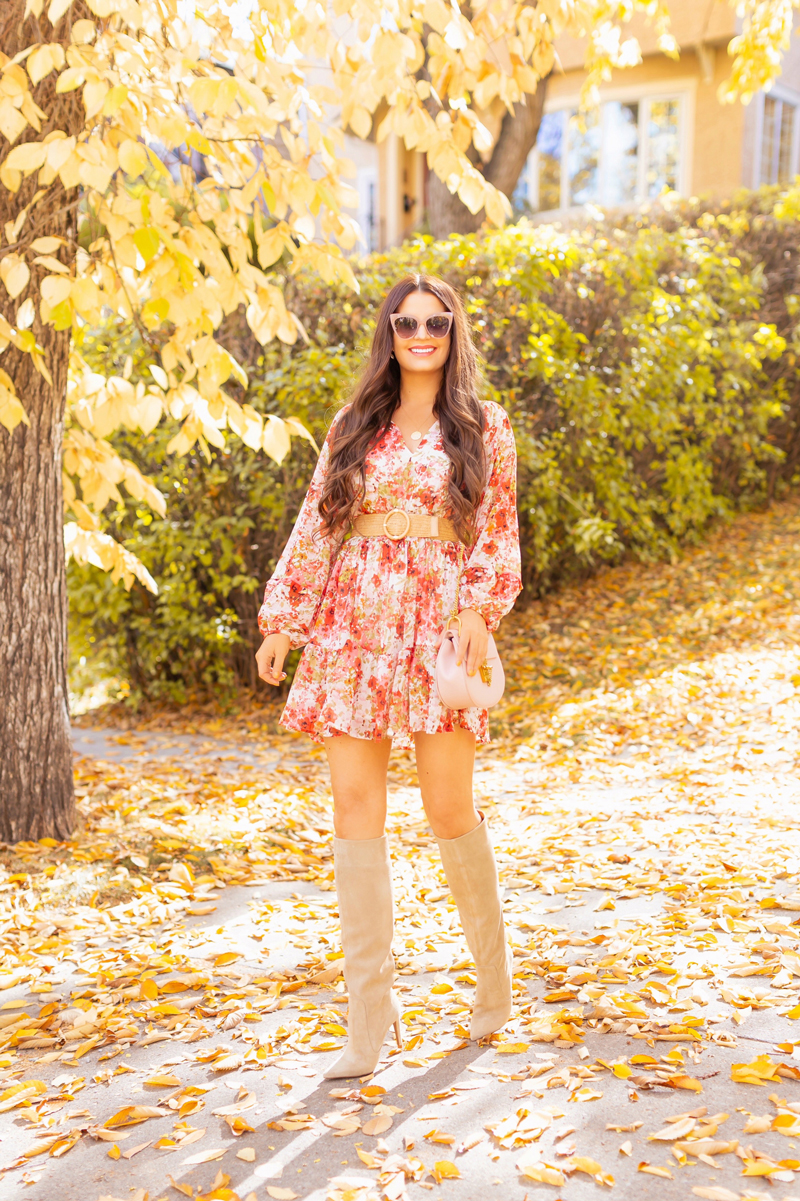 Longtime readers will know I enthusiastically wear florals year round, but fall is actually my favourite season to rock a floral frock! I truly believe floral prints can be styled appropriately for any season — it's all about selecting a complimentary colour story, hemline and sleeve length for the climate, then layering and accessorizing appropriately. I actually purchased this cheerful floral shift dress at H&M during the summer, but actually prefer styling it for autumn because of its warm, autumnal palette and dreamy statement sleeves!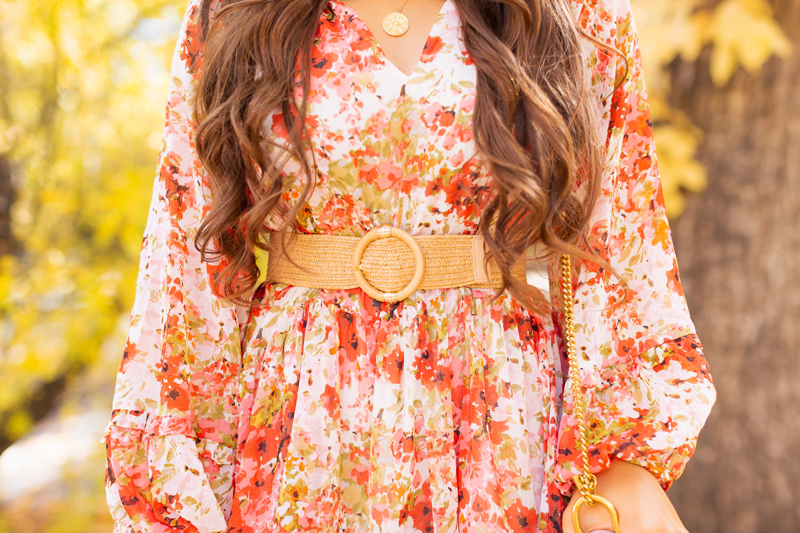 I styled this transitional Urban Floral look by juxtaposing my favourite seasonal hues, materials and silhouettes from both summer and fall. First, I selected this natural material belt with a circular buckle to infuse some summery texture into this sleek look. While I adore an oversized shift dress, I also like to highlight the smallest part of my waist with a belt to flatter my figure and cinch up a hemline! Since this left a lot of leg exposed, I opted for my go-to pair of beige suede knee-high boots to make this dress autumn appropriate. Mini hemlines paired with knee-high boots during the cooler months is one of my favourite ways to make my dresses work for me year round!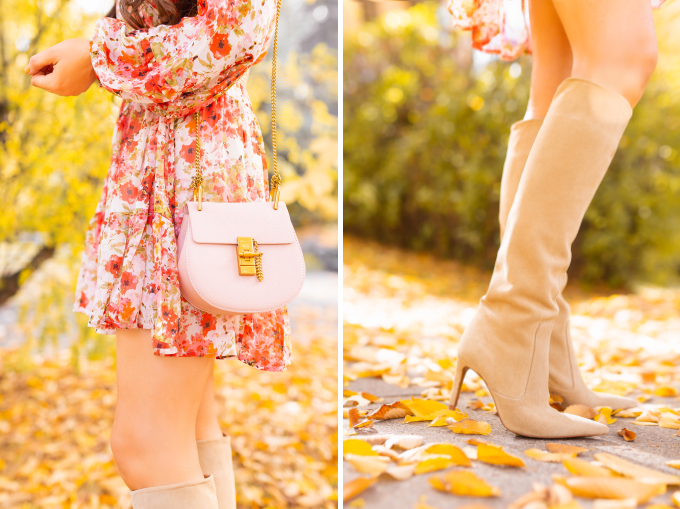 I topped things off with this gorgeous, creamy coat I picked up at Zara in early 2020 — pre-pandemic (doesn't that seem like a lifetime ago?!). I'd been on the hunt for a chic, timeless cream coat for years and was elated to welcome this beauty into my wardrobe. Along with the beautiful tailoring I've come to love with Zara outerwear, love the versatility of this garment — I can wear it open as I've done here, or cinch the waist in to create more structure. Accessory wise, I've pulled out an old favourite saddle bag in a blush hue to bring my signature bohemian sensibility to this look, while selecting a pair of vintage-inspired cat eye shades (similar here) for an air of mystery.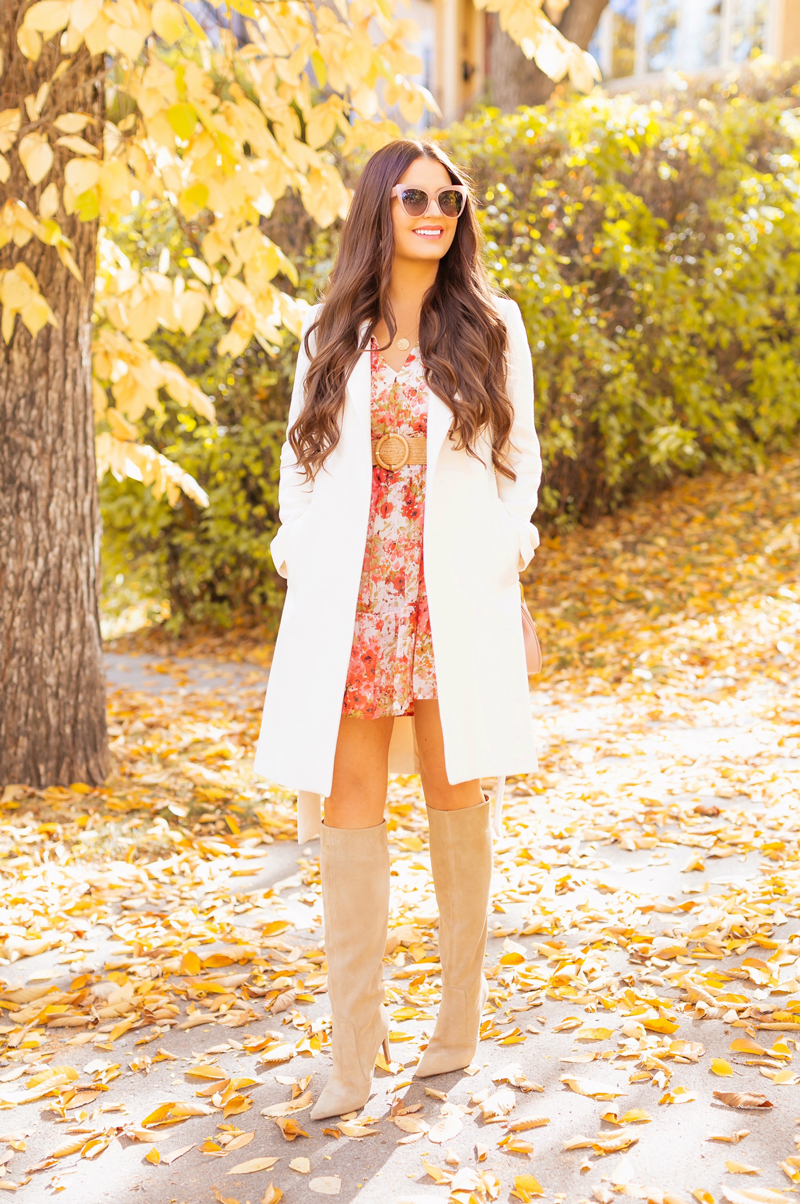 Earlier this week I popped by my local Joydrop to select some new accessories that were generously gifted to me (learn more about them below in the My Signature Jewellery section near the bottom of this post!) — including this beautiful Katie May Collection Glow Up Champagne Metallic Mask. It always amazes me how a few new accessories can completely refresh your seasonal wardrobe!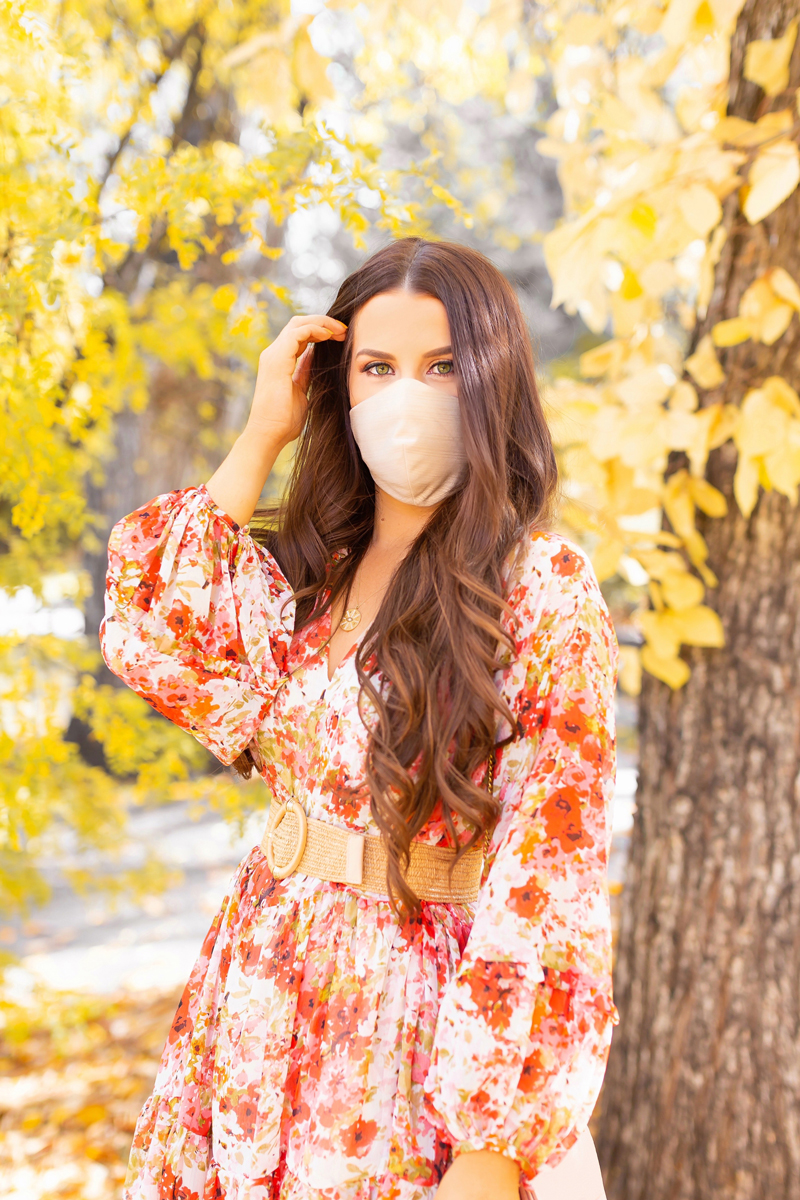 Bridal Designer Katie May has become my favourite designer for premium, more formals masks — and Joydrop is my favourite local destination for face masks. They've always carried some of my favourite jewellery brands — and now, some of my favourite masks! While my everyday mask wardrobe consists of more casual options, I adore this glitzy champagne mask when I'm craving just the right amount of sparkle. It's also triple-layered with an ability to add an extra filter, if desired (note: this mask features adjustable head straps, not ear loops — however, I was able to adjust them to fit securely behind the nape of my neck to make them invisible). If you're searching for a more formal mask as we approach the holiday season, be sure to pop into Joydrop to oogle the exquisite Katie May Collection — or shop online! 

---
BOTANICAL BOHO
---
Remember when I mentioned I'd fallen head over heels for an ultra dreamy, ultra flattering midi dress — and I was planning to pick it up in every colour available in my size because I knew they would wear beautifully into fall? Well, this is the botanical edition — and I absolutely adore it!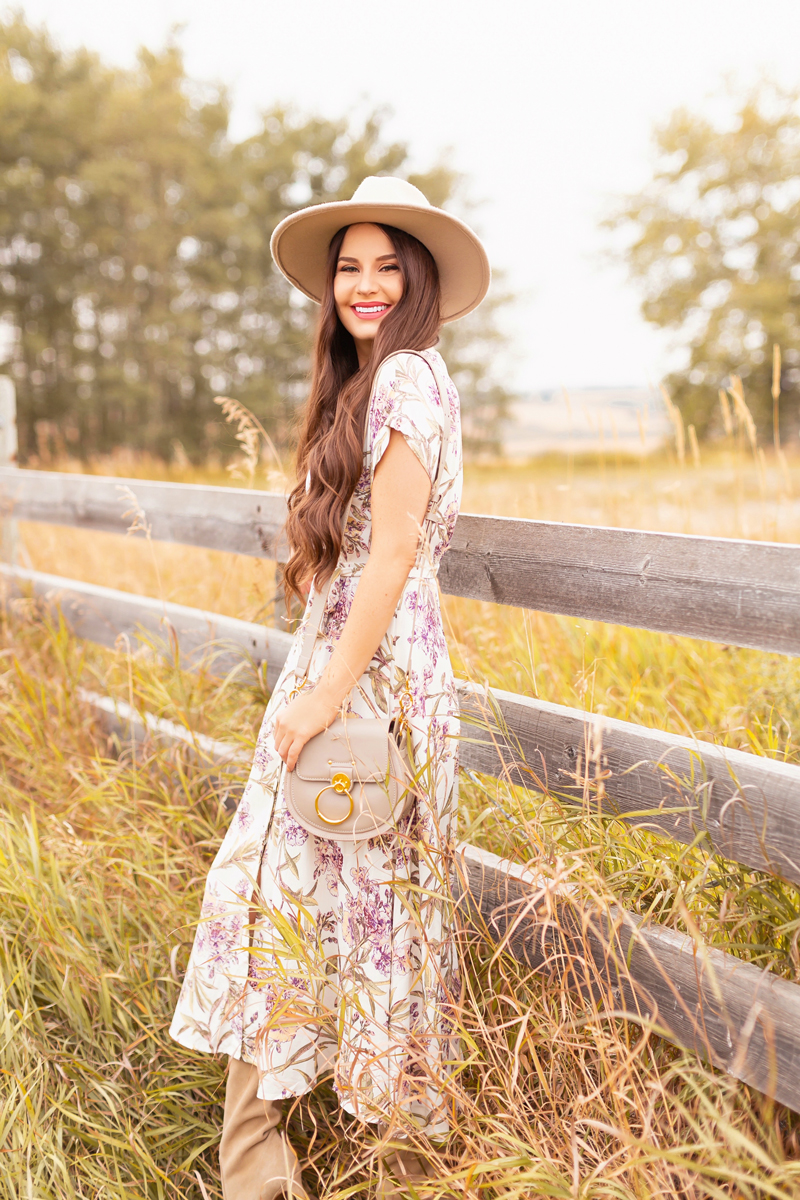 In fact, I love this print so much, I actually purchased an A-line Dress in the same print (but made from a different material!). H&M often creates different silhouettes from it's most popular prints — another thing about that retailer I love!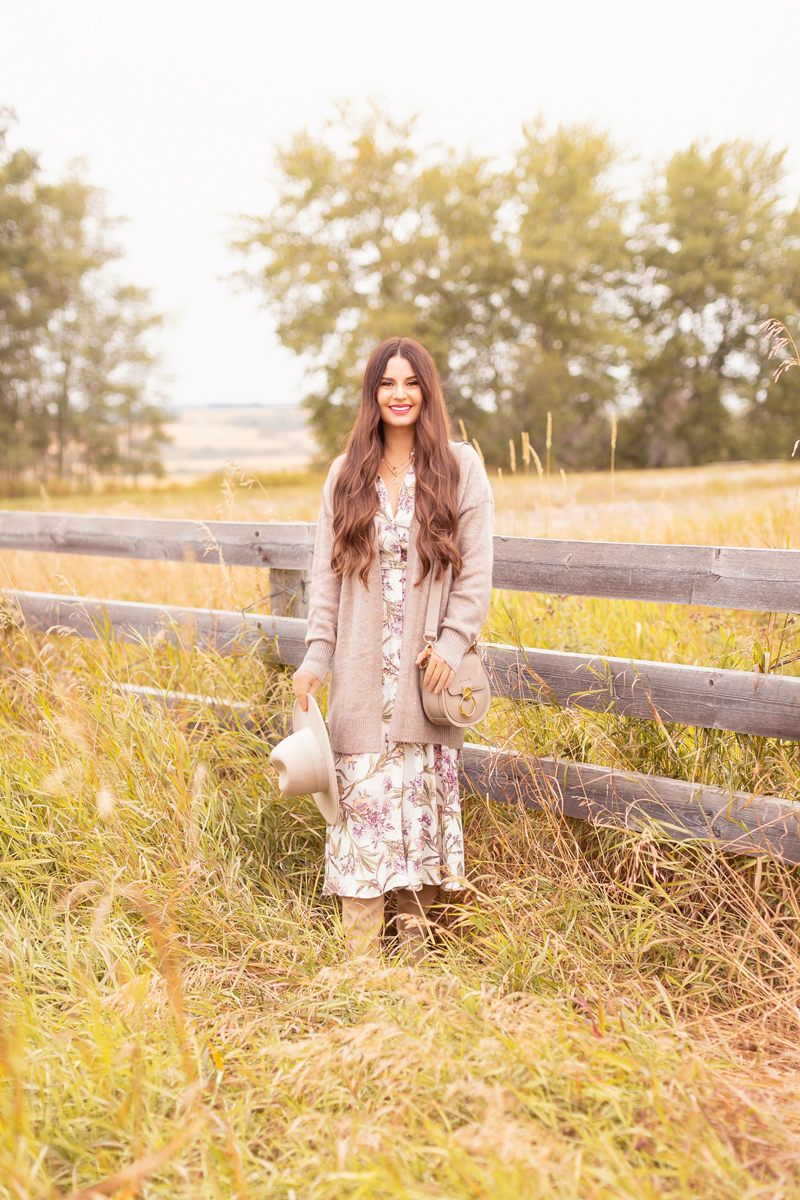 This Botanical Boho look is another one of my go-to outfit formulas for styling midi dresses into autumn. Although the material of this dress is lightweight (it drapes and flows like a dream!), it's earthy, muted palette and fall friendly print make it ideal for transitioning into cooler temps. Let me show you how!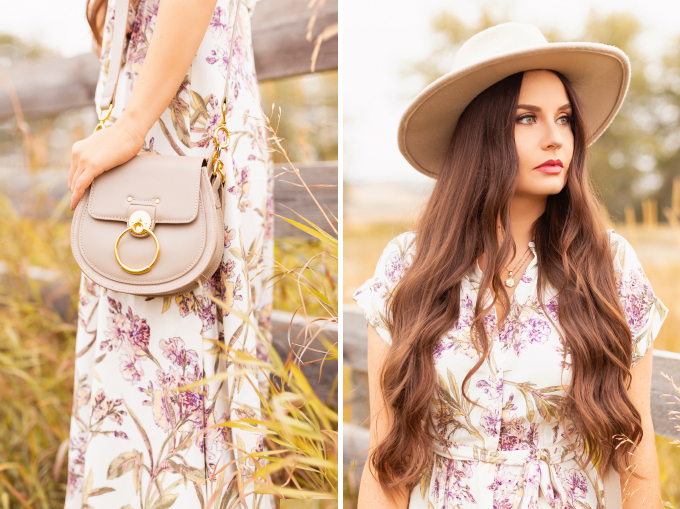 To keep the focus on my dress, I opted for monochromatic taupe accessories to take this dreamy midi from summer to fall. First, I slipped on my go-to pair of beige suede knee-high boots to keep my legs covered. I added an easy-going and taupe cardigan for a relaxed, cozy layer — accessorized with my favourite warm grey handbag (a late last autumn purchase), a taupe flat-brimmed felt hat (which I'm also wearing in my Country Checks look below) and warm, mid-toned lip.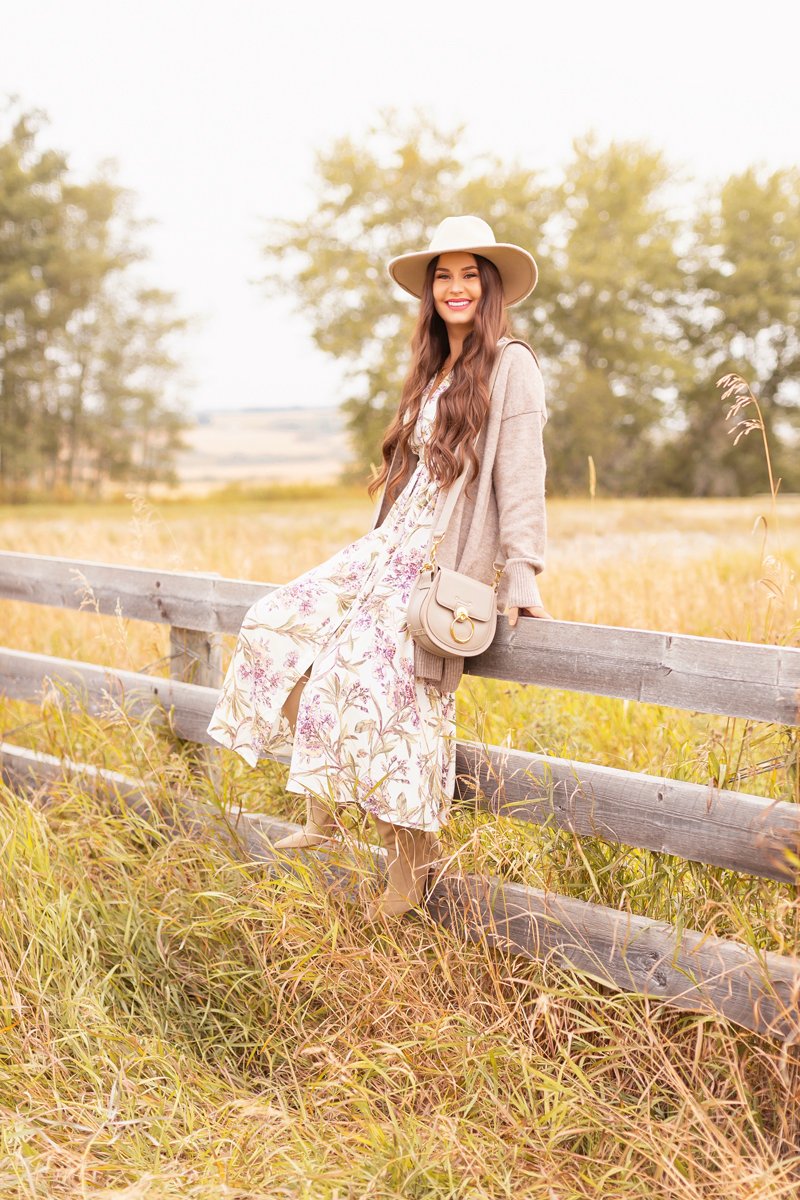 I wear this dress and this cardigan around the apartment as well and have fully embraced the return of the House Dress this year. Both pieces are affordable, comfortable and simple to style, no matter the setting — mandatory criteria for admission to my 2020 wardrobe!  

---
MINDFUL MUSTARD
---
I picked this sweet little mustard shift dress at the tail end of 2019 at a deep discount — and I was thrilled to rediscover it again as I rotated my wardrobe for the season!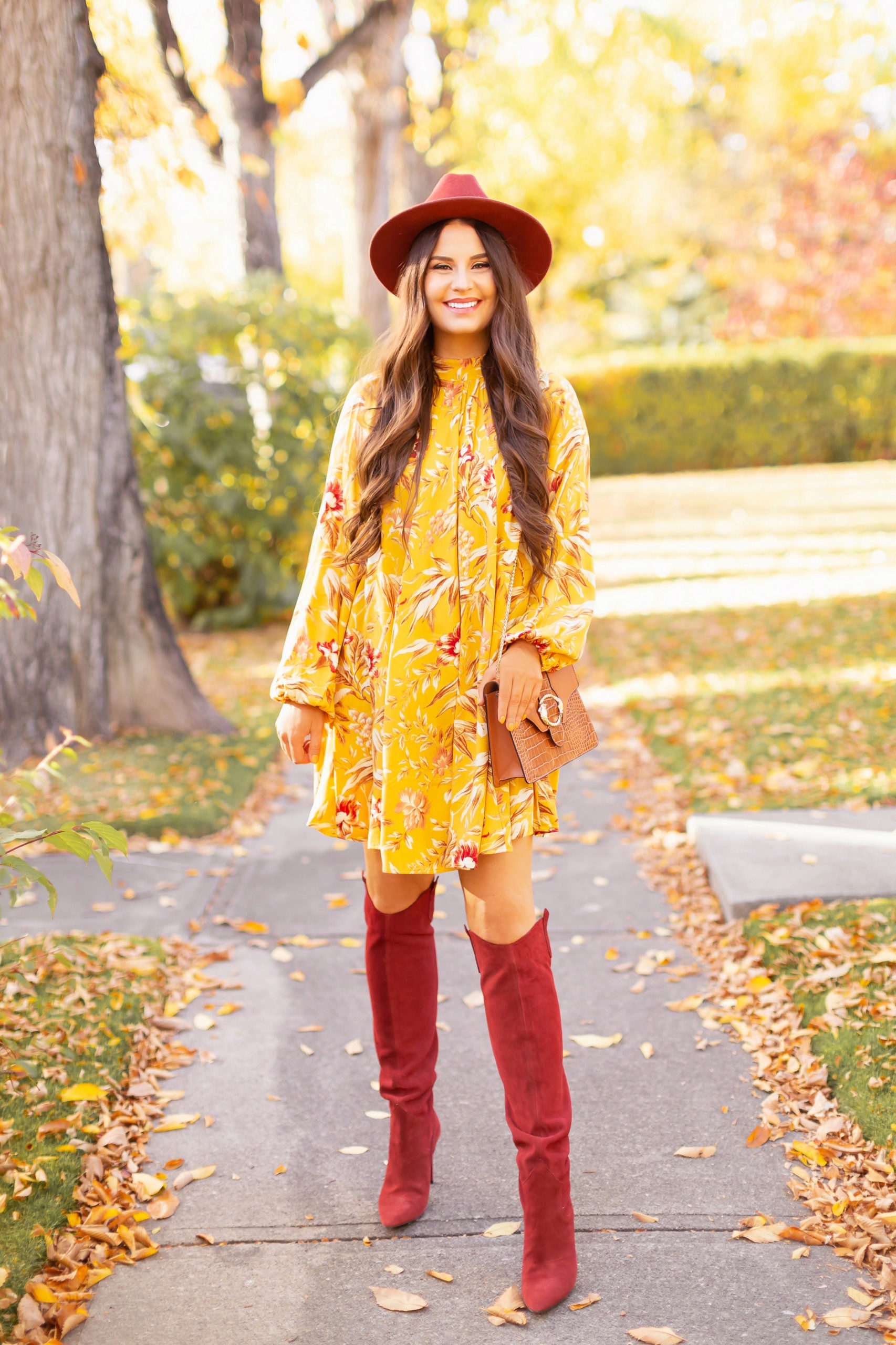 In fact, absolutely nothing I'm wearing in this Mindful Mustard look is new to me this season, except my face mask! In my last LOOKBOOK, I expressed that although my love of fashion persisted, my annoyance of (and concern for) how fast fashion moves these days was at an all time high. While I'll always enjoy keeping up with seasonal trends and mindfully incorporating them into my wardrobe, I'll continue to do so in a way that aligns with my beliefs, values and lifestyle.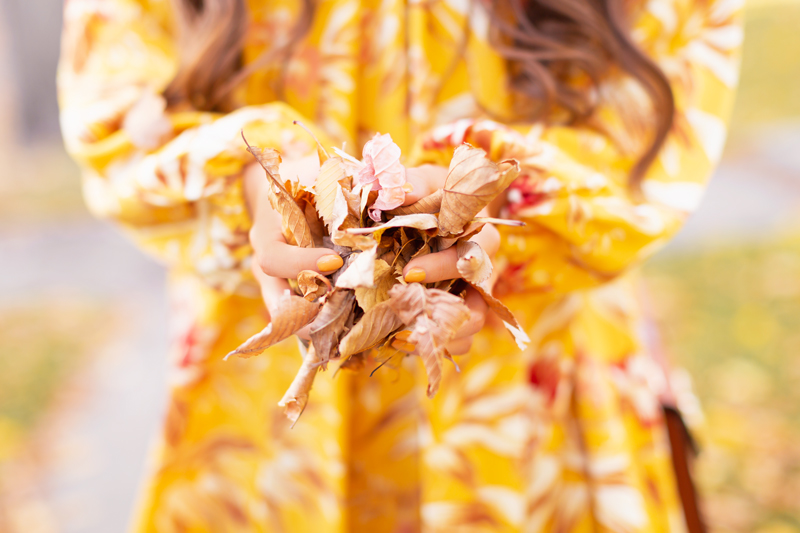 I take great pride in I featuring pieces here at JustineCelina I've owned for years (even decades!) — as I lifelong fashionista, I'm extremely particular about what I purchase, wear and share on these pages. I don't allow anything into my wardrobe I don't absolutely love and I'll never tire of styling the same piece in different ways! While I understand it may be frustrating that you're unable to purchase the exact pieces I'm wearing sometimes (although I do spend a significant amount of time scouring the internet for similar alternatives) what I hope to provide you with instead is inspiration to make use of your existing wardrobe, see things through fresh eyes and sustainably purchase pieces that work for your lifestyle and budget as you hone your personal style. Not only is it financially responsible (especially during these tough economic times), it's what's best for our planet — and it's an ethos I'll continue to promote on and off of these pages.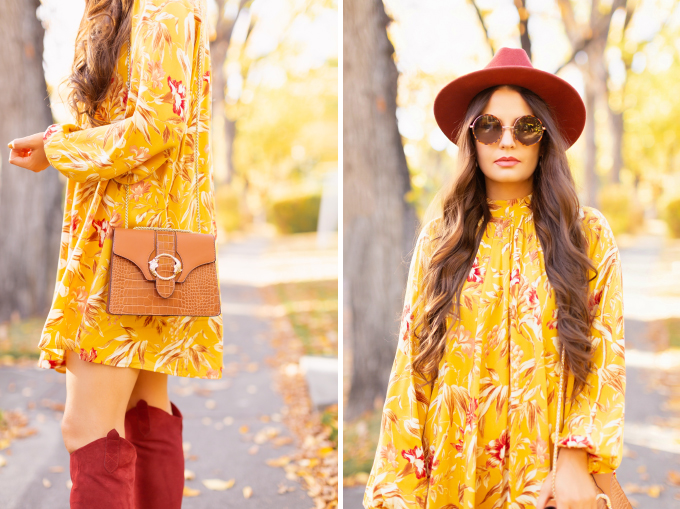 And that's exactly what I did to pull this look together! A 60's inspired shift dress with knee-high boots combo speaks to my vintage-loving soul — and I had so much fun modernizing it for 2020 with my signature free-spirited sensibility. I went matchy-matchy with my felt fedora (similar here) and knee high boots (another last fall buy, currently on clearance) to pull out the crimson tones in my dress, adding a croc-embossed cognac crossbody bag with a gold chain to polish the look.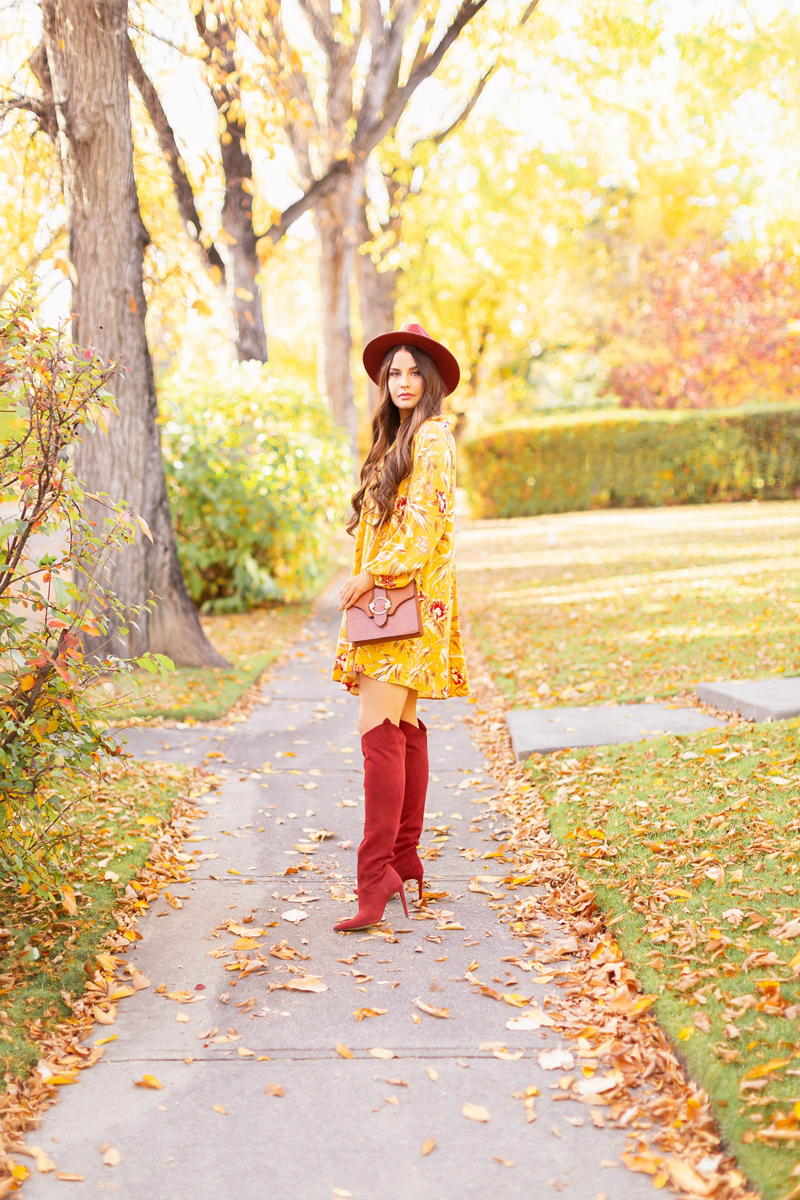 We shot this look in Upper Mount Royal on my of my favourite streets in Calgary (does it look familiar?) and it was such a warm, lovely afternoon. Since we were in an urban setting, I had a mask tucked away in my bag — and this 4 layer Linen Face Mask (another generous gift from Joydrop) has become my most-worn daily mask. Made from 100% linen, this is the most practical, breathable mask I've worn and is my top recommendation for anyone looking to invest in a quality, unisex face mask made from natural materials (while also supporting local!). I now own them in 3 colours — all of which I'll be sharing (and styling) here at JustineCelina over the coming months!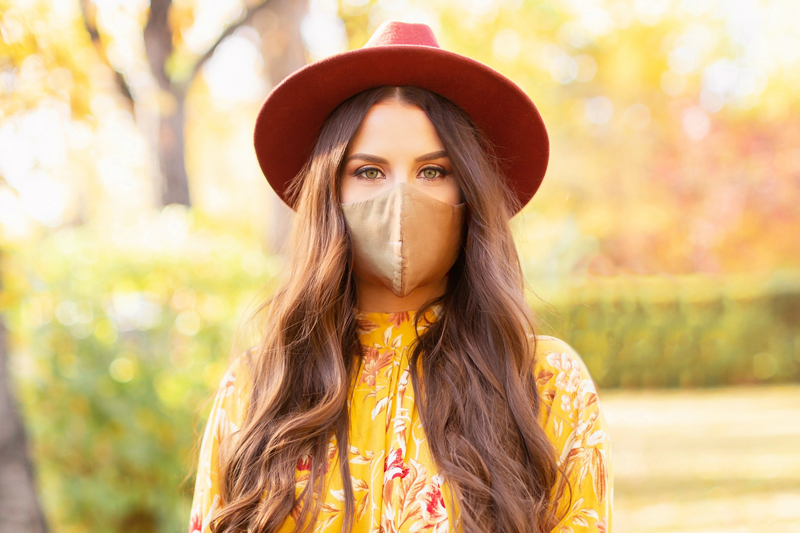 I'm also wearing one of my favourite seasonal (and face mask friendly) lip colours with a pumpkin spiced hue — Lancôme's Matte Shaker High Pigment Liquid Lipstick in Abrick Adabra. Stay tuned for a mega dose of fall beauty inspiration later this season as I share My Top 5 Pumpkin Spice Lipsticks!

---
COUNTRY CHECKS
---
I wore this look over Thanksgiving weekend in the country — and it's one of my favourite polished, yet comfortable, autumn outfit formulas. Everything I'm wearing is at least a year old, but I'm always restyling and reworking my wardrobe to reflect current trends or colour palettes I'm inspired by!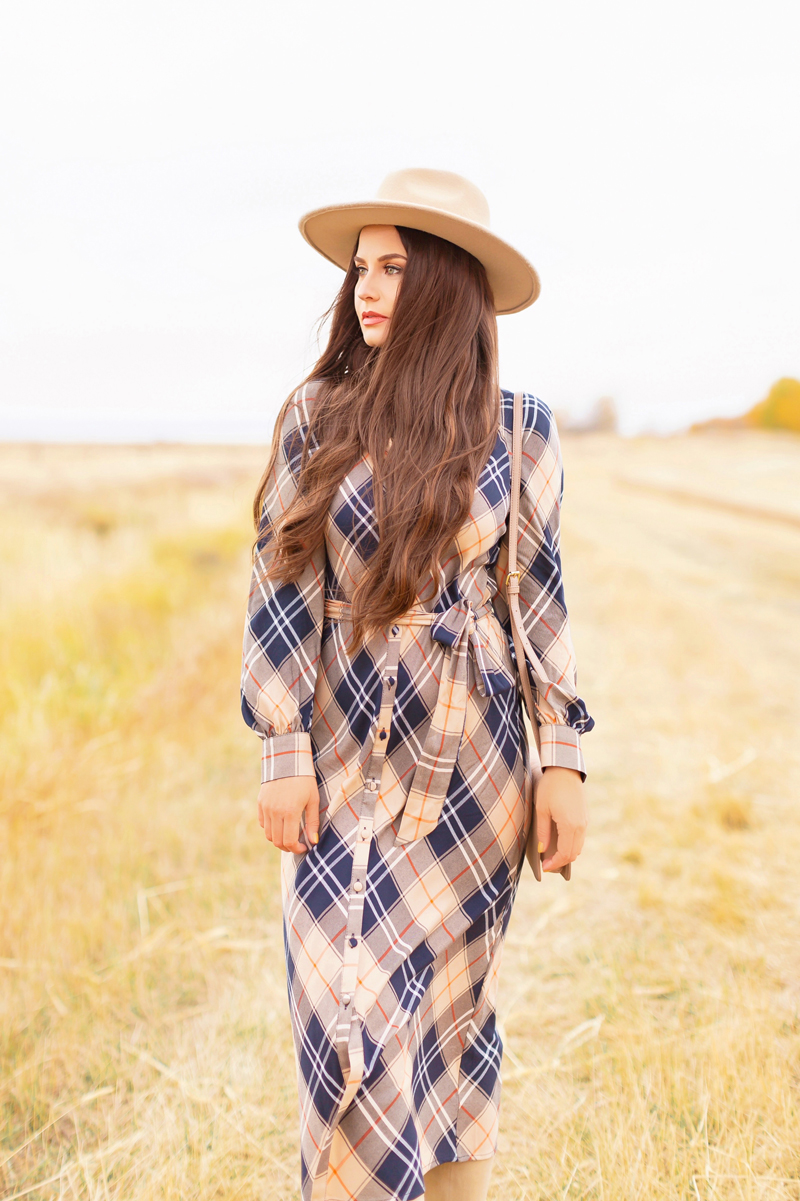 My dress was another H&M purchase late last fall — and it's become one of my favourites to wear during the holidays. It drapes beautifully, is ultra flattering, can be dressed up or down and I adore the unconventional colour palette! As evidenced by this Early Autumn 2020 Lookbook, I'm very inspired my warm, autumnal hues this time of year and love to translate them into my wardrobe — so that's exactly what I did to create this outfit!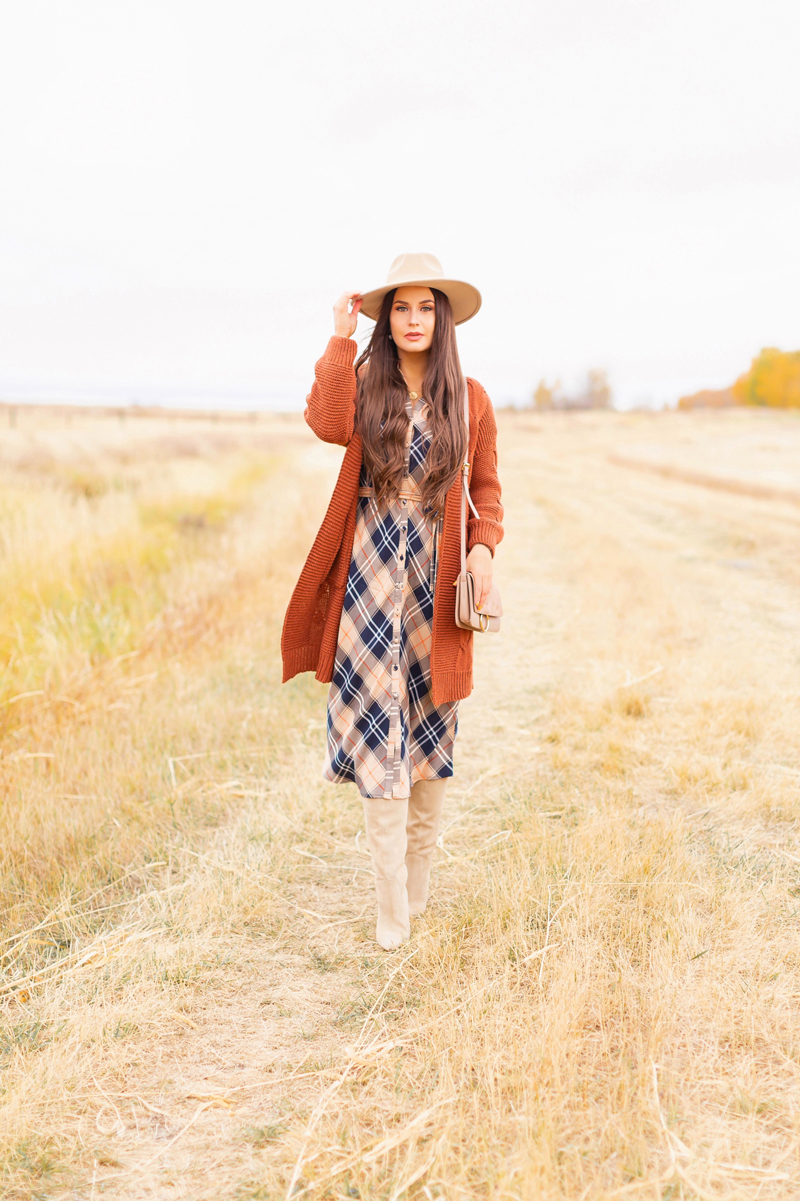 My cardigan is ancient and it actually doesn't have a label. My beige suede knee-high boots were purchased at Zara late last fall and have quickly become a favourite in my autumn wardrobe (I'm also wearing them in the Urban Floral and Botanical Boho looks and find this boot incredibly versatile!). My bag is from Joe Fresh (also a last fall buy) and my hat is from Urban Outfitters.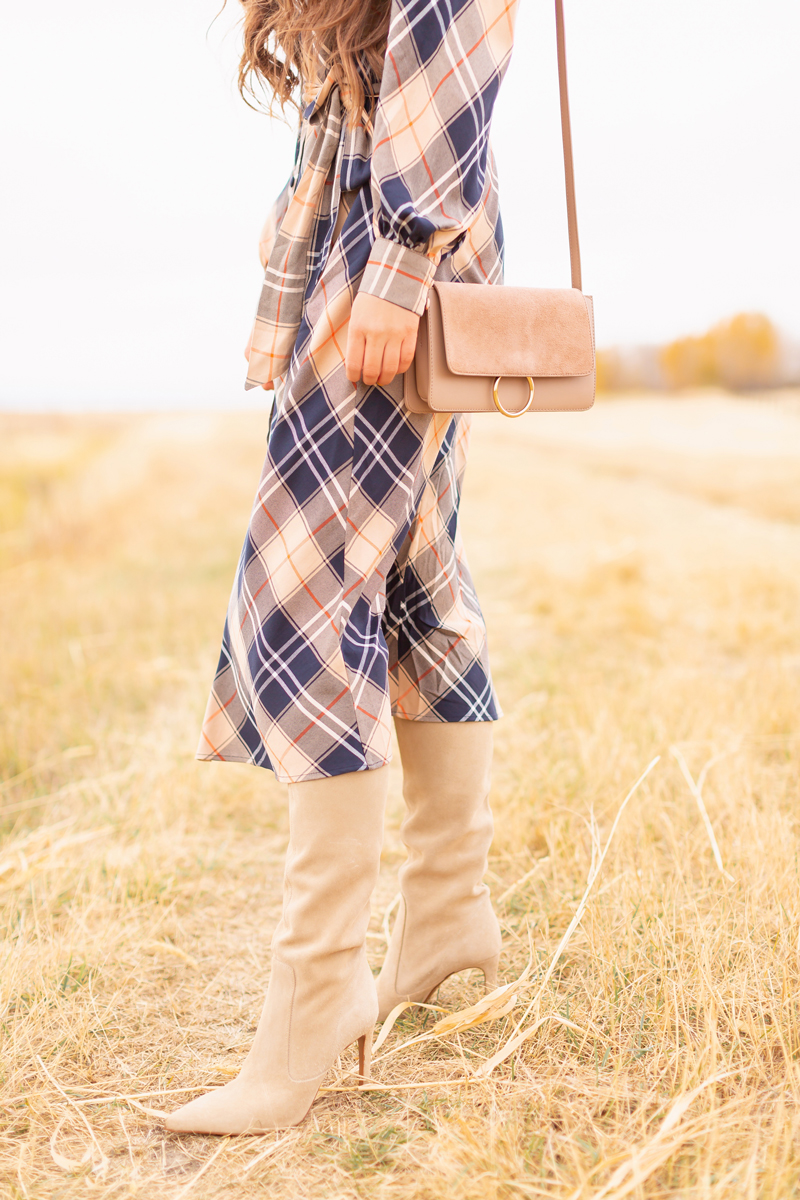 I'm also my beautiful new jewellery gifted to me by my friends at Joydrop — it makes everything feel fresh! I've included additional details about these new pieces at the bottom of this post in the My Signature Jewellery section.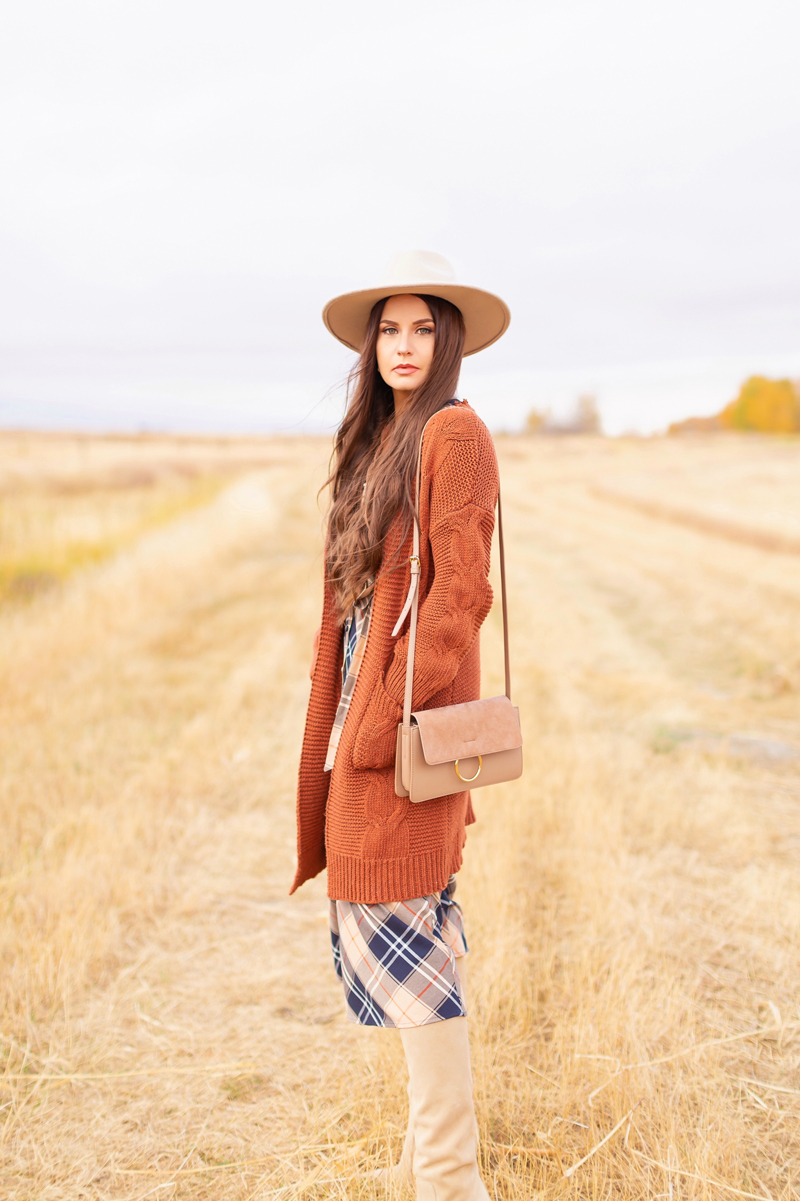 Since we were popping into town for some Thanksgiving procurements, I accessorized this look with this gorgeous Dupioni Silk Face Mask by Yukon-based textile artist V.Ægirsdóttir. Vanessa reached out earlier this fall to introduce herself and her work — and these practical (yet extremely luxurious!) non-medical face masks piqued my interest. Silk is another one of my favourite face mask materials thanks to its naturally antimicrobial and antiviral qualities!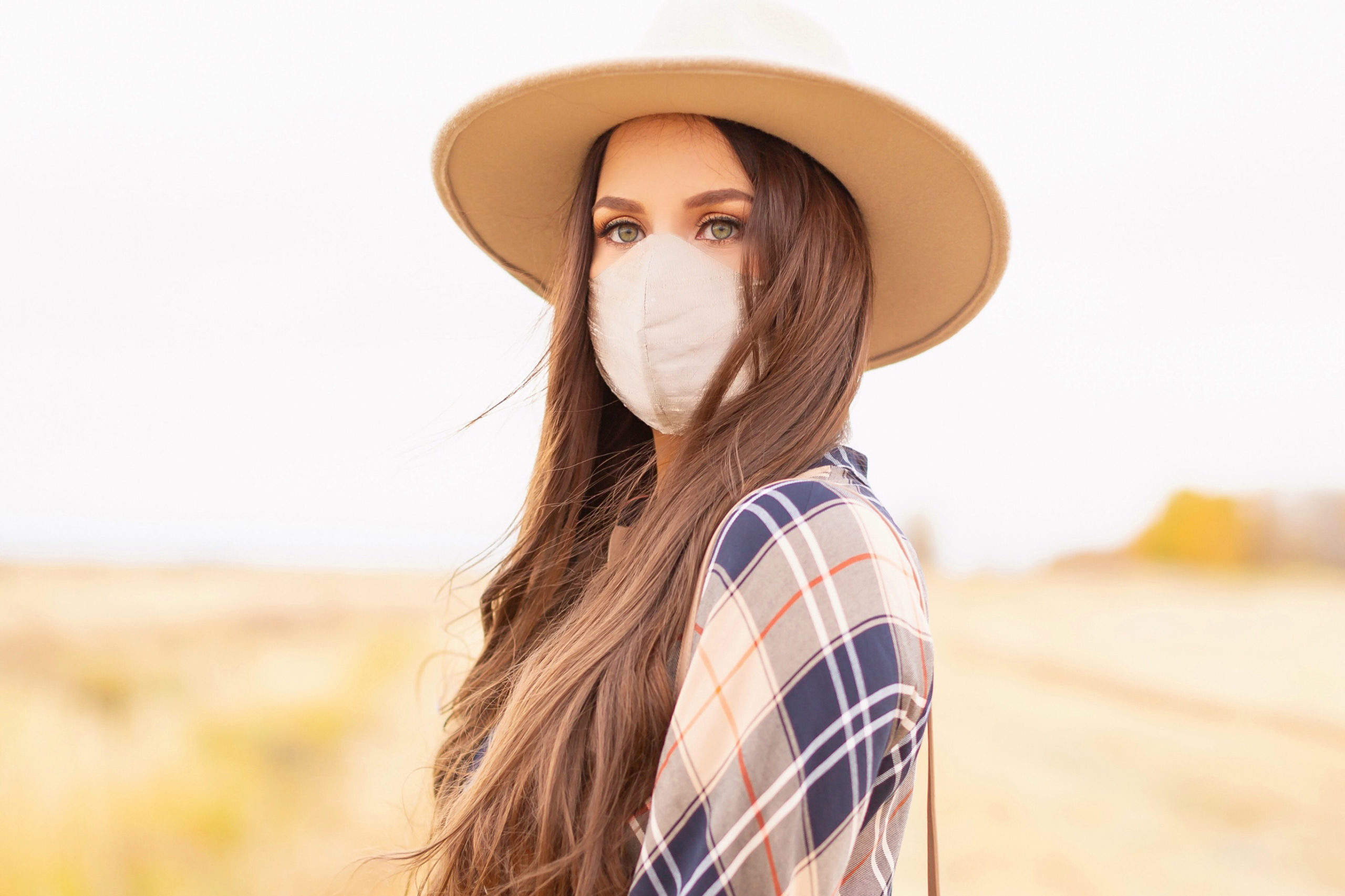 Adam and I both enjoy these stylish, Canadian-made masks, which V.Ægirsdóttir generously sent over in each of their 4 colour ways. I'm wearing the Birch version here, which along with the Black are my personal favourites — while Adam has claimed the Chrome and Iridescent Platinum versions, which he wears to work downtown (in a suit) everyday! These hand sewn, unisex face mask are another fantastic option if you're looking for something more formal (or with a bit more structure) than linen — and your purchase helps to support a Canadian artist. The natural, raw texture of the dupioni silk is absolutely stunning and also incredibly comfortable. Vanessa has graciously provided a coupon code for my audience to receive 10% off their orders from You can use the code JC_AW20/21 until March 31st, 2021 — and shipping is always free! 

---
COZY COATIGAN
---
Coatigans are another major trend (with staying power!) for Autumn 2020. This newly coined garment was inspired by the snuggly sartorial intersection where the coat and cardigan meet — genius, right?! I spent the early part of autumn scouring the internet for my perfect Coatigan — which I found in Uniqlo's Soufflé Yarn Belted Long Knitted Coat (on sale for a limited time for $39.99, which is an incredible value and an offer I will be taking full advantage of!)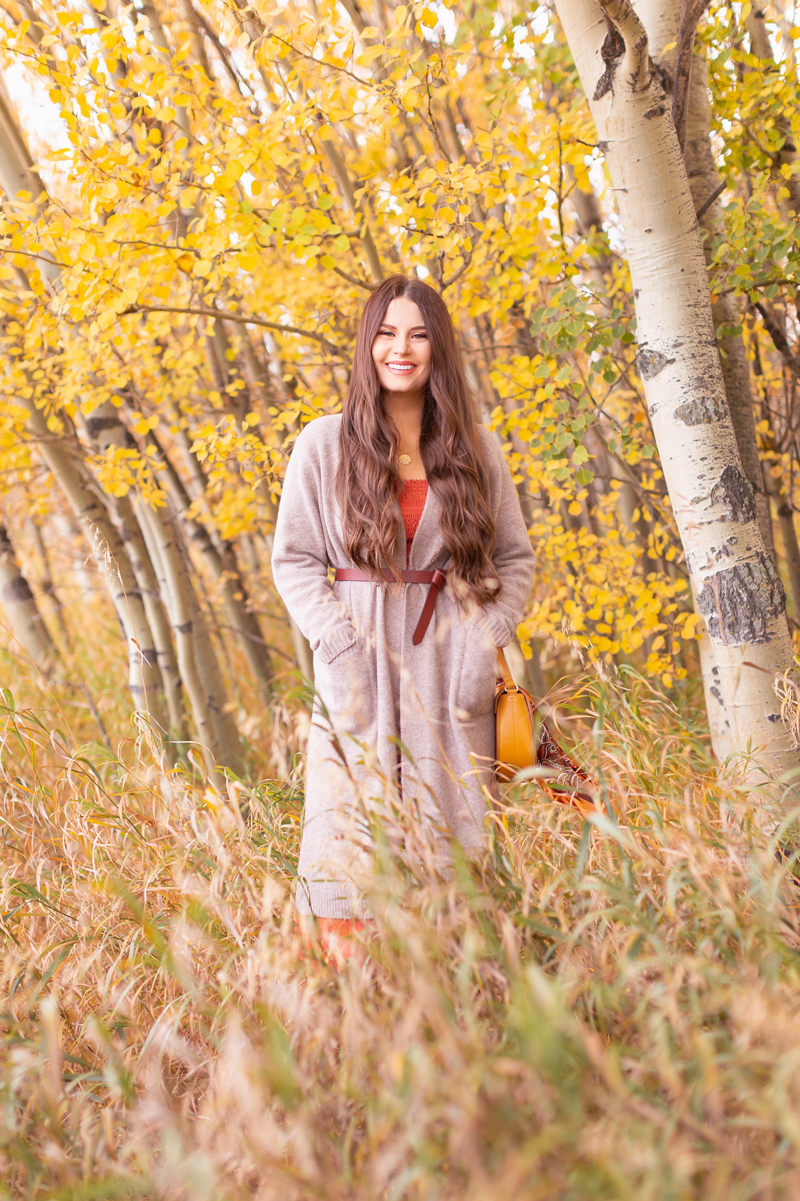 Whether I'm working away at home or cozying up an autumnal outfit, these super snuggly coatigans have become my most worn layering piece this season (for reference, I'm 5'8″ and wearing the XS, which I find very oversized). When I initially saw them pop up online back in September I couldn't resist snapping them up in 2 colours (I also purchased the black version!) and now plan to purchase the additional 3 colourways while they're on sale. Over the past year, Uniqlo has become another one of my favourite retailers for timeless, high quality garments made from premium materials at a modest pricepoint. Anything made from their ultra dreamy Soufflé Yarn is on my wishlist this season — its the smoothest, most comfortable, lightweight yet extremely insulating knit I've encountered this year!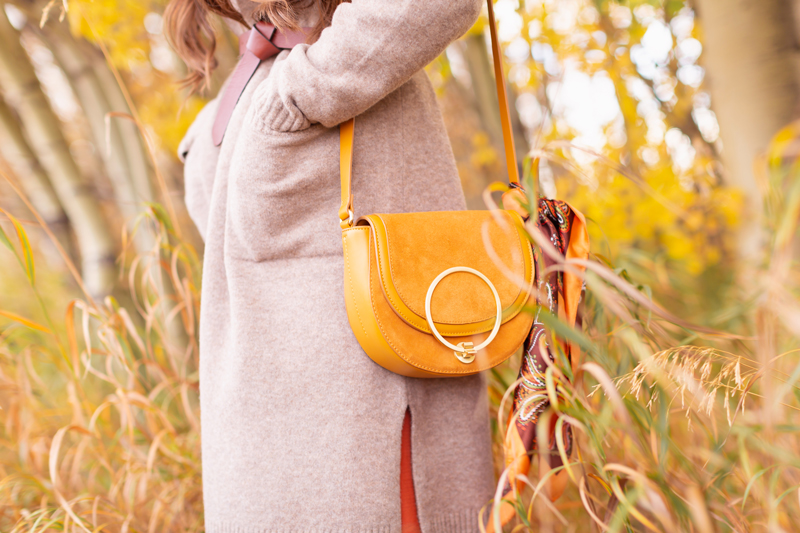 ⠀⠀⠀⠀⠀⠀⠀⠀⠀
As usual, I'm mixing high, low, old, new and vintage to create this Cozy Coatigan look. I was actually inspired by the colour story of my vintage silk scarf to pull this look together, which is something I do often. While I wouldn't instinctually think to mix all of these solid colours together, since they're all present in the print of my scarf, I channeled that inspiration into my outfit! Longtime readers will know how much I adore scarves — although I have quite the penchant for my vintage silk collection. I've collected them over the year mostly from estate sales and they remain some of the most elegant and timeless accessories in my wardrobe.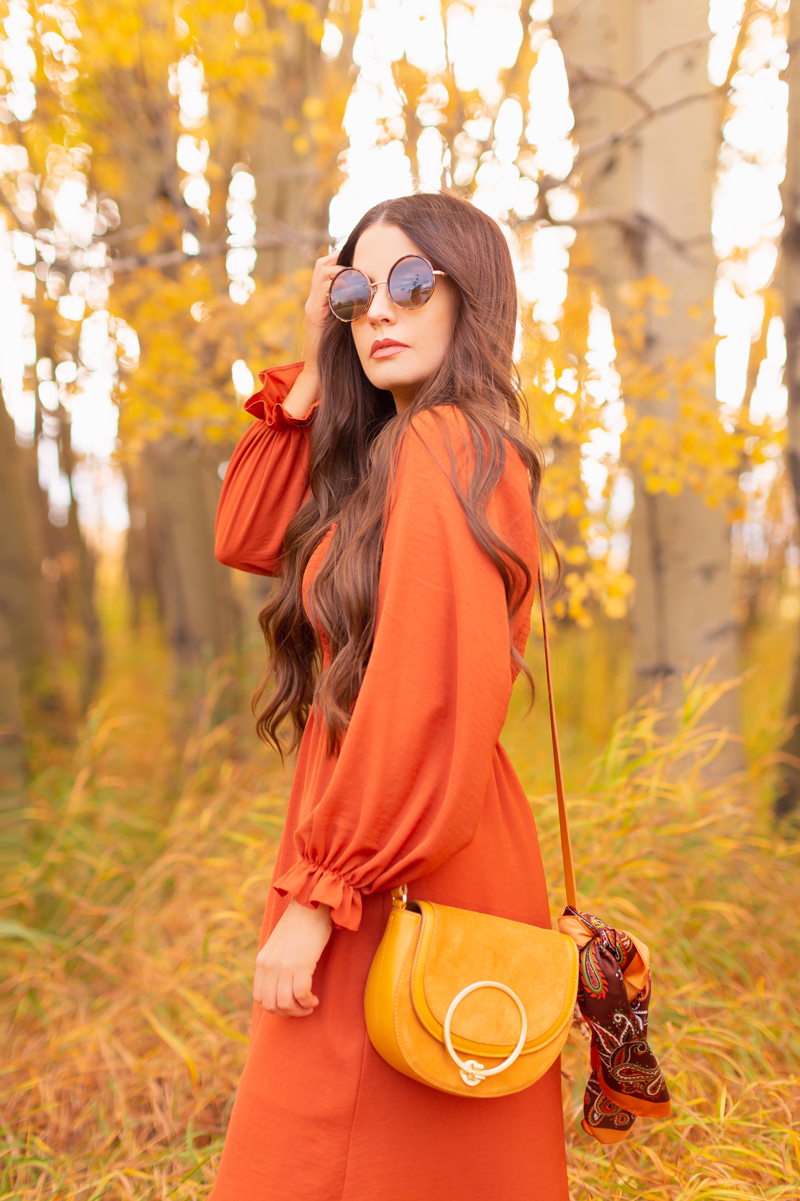 My smocked peasant sleeve dress (featuring two wearable trends from Summer 2020 I'm carrying into fall) is another recent addition from New Look (which I also picked up in multiple colours!). The silhouette is super flattering and comfortable, making it ideal for dressing up or wearing around the apartment. Each autumn, rust is one of my favourite colours to wear (who's been with me since the very first post in my COLOUR CRUSH series, dedicated to rust?!).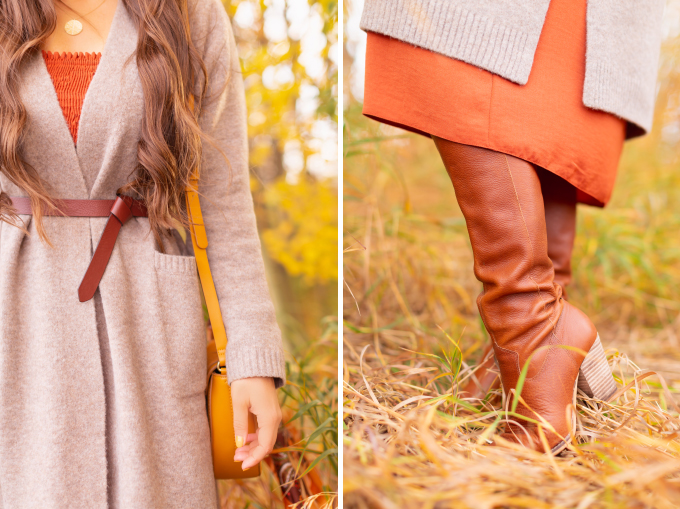 I've swapped my coatigan's built-in belt to add interest with a cognac tie-detail belt from Mango (a last fall purchase, similar here), which is one of my favourite ways to add shape and polish to an oversized garment. This stunning mustard bag is old Zara  (I adore the colour and pull it out every fall) and my boots were a Saks OFF 5TH score from last fall as well (I've worn them many times on these pages since — similar pair here). Their relaxed, western-inspired styling and low block heel make them extremely versatile and one of my go-to pieces of fall footwear.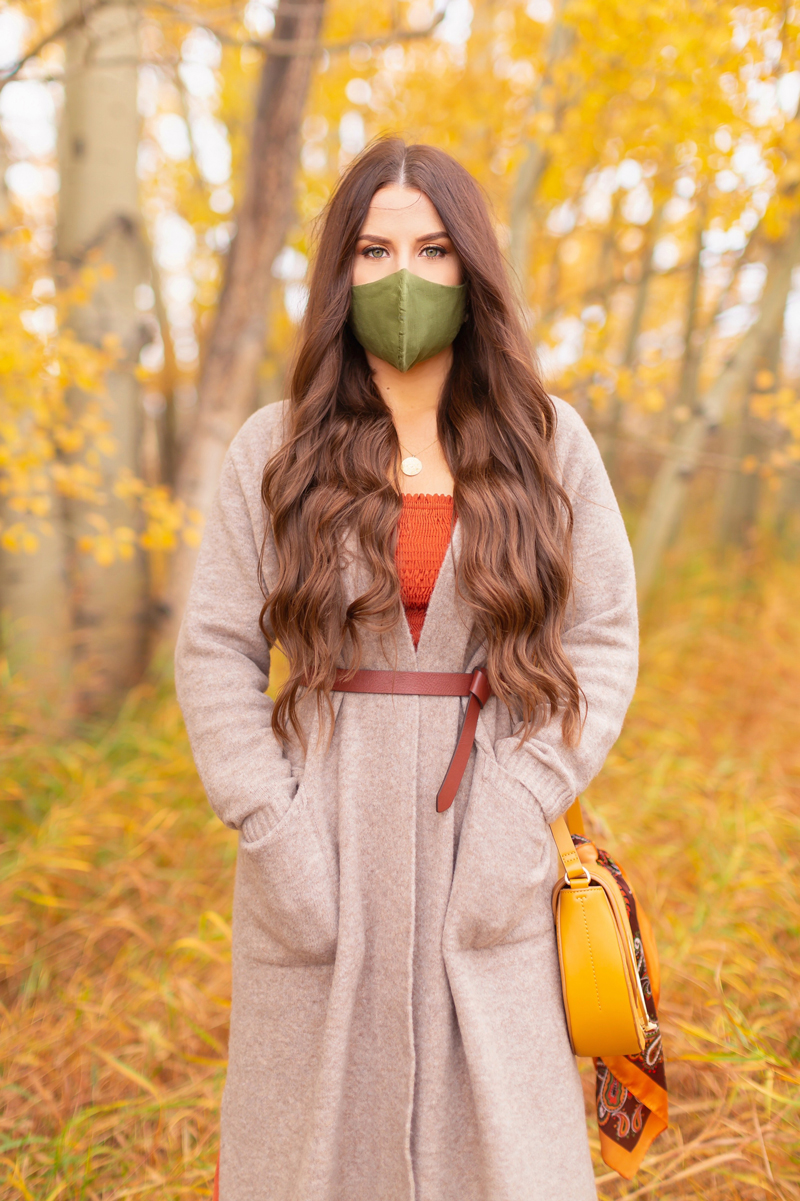 ⠀⠀⠀⠀⠀⠀⠀⠀⠀
Finally, I've finished the look with my trusty tortoise shades, one of my signature fall lipsticks (more on this topic coming soon!) and, of course, another Linen Face Mask — this time, in a beautiful olive hue. Treating my masks as an accessory, while building a wardrobe of quality face masks in a range of neutrals and earth tones has served me very well this season. I now coordinate my mask to my outfit, just as I would any other accessory — and as I will continue to do so for the foreseeable future, I aim to inspire you to embrace mask wearing in an elevated (but effective) way. Stay tuned for a comprehensive edition in my ACCESSORY EDIT series, dedicated to 2020's most important accessory — the stylish, non-medical face mask! 

---
MY SIGNATURE JEWELLERY
---
You may have noticed a couple of new additions to my jewellery collection in this LOOKBOOK! Last month I popped by my local Joydrop to select some new accessories that were generously gifted to me — including my Gorjana Reese Pearl Huggies and Tai Rittichai Gold Coin Eye Necklace. Over the past few years I've really paired down my jewellery collection and currently only have a small selection of gold vermeil jewellery on rotation, but I'd been looking for some new pieces to refresh my rotation for autumn / winter. I love the glamorous touch these pieces add to my wardrobe and I know I'll continue to enjoy them for years to come!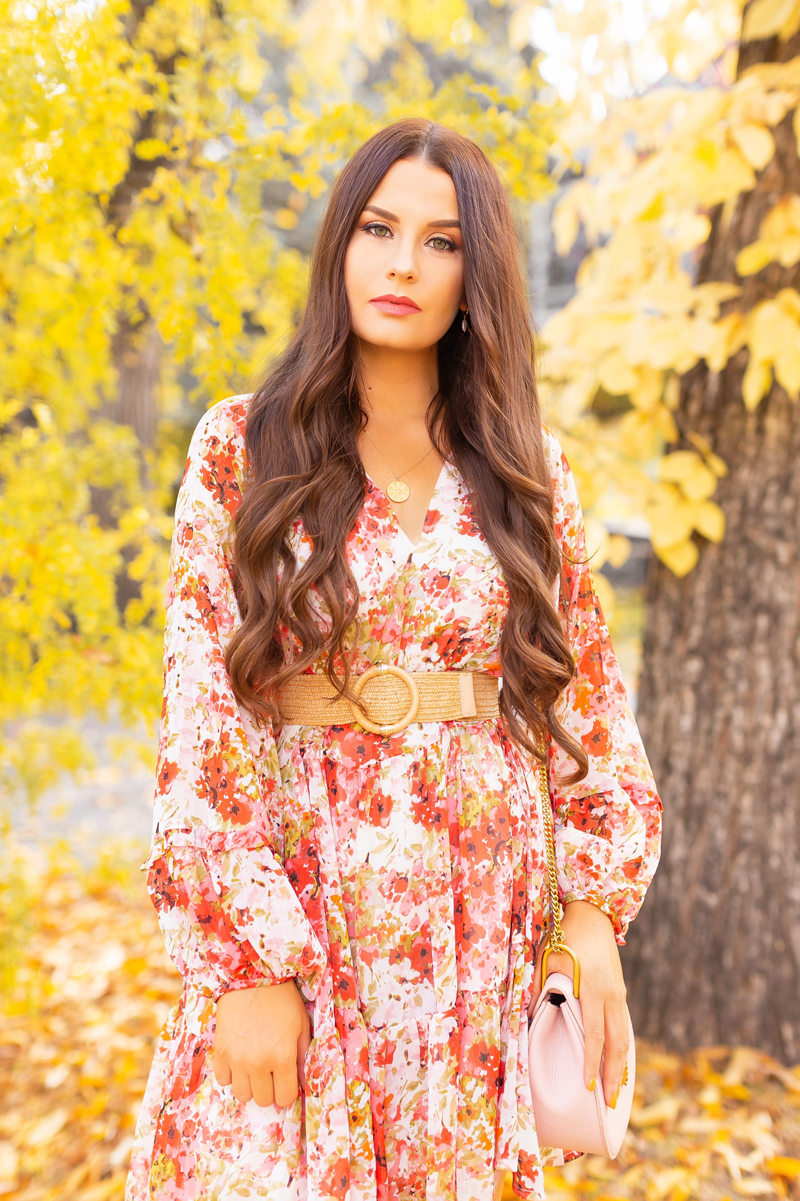 Joydrop remains one of my favourite local destinations for beautiful, exquisitely crafted jewellery (and now masks!) from some of my favourite designers. If you're looking to support local as we transition into the holiday season, please consider this incredible, BIPOC woman-owned business. While their gorgeous, in-store boutique shopping experience will always be my preferred way to browse (they have various safety protocols in place), they'e also recently launched a revamped website with worldwide shipping! 
I'm also still wearing my layered, gold necklaces from House of Vi — which have become an integral part of my personal style. Founded by fellow Calgary blogger Vivienne Gliesche, you can shop House of Vi online worldwide — but if you're local, you can pick up in person! I wear the the Alphabet Necklace in J layered with the Zodiac Necklace in Leo.
---
MORE TRANSITIONAL & EARLY AUTUMN STYLE INSPIRATION
---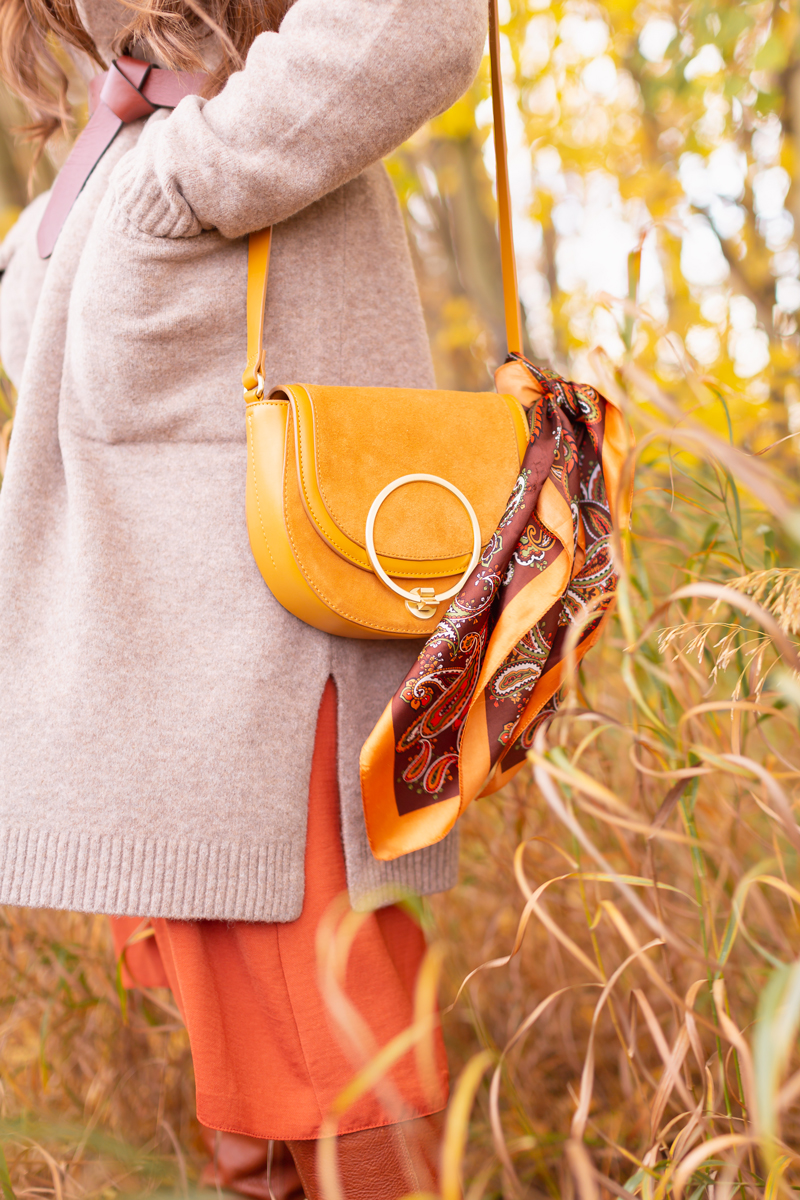 Falling Back | Refreshing Old Favourites for a New Season
Transitional Summer to Fall 2019 Lookbook
How to Style | Kimonos for Autumn
---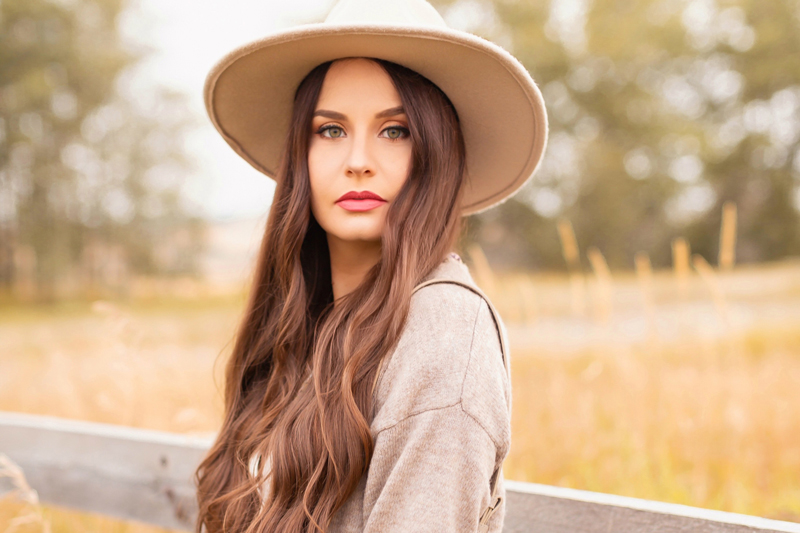 Thank you for stopping by for some relaxed, seasonal style inspiration, friends! I hope you enjoyed my Early Autumn 2020 Lookbook as much as we enjoyed creating it. As always, these longer-form pieces of FASHION content are labours of love — but my metrics indicate they're some of your favourite. I'm happy to continue bringing them to JustineCelina moving forward, as I finally feel like I'm back in my content creation groove despite the curveballs 2020 has thrown my way! It's been a bit of a rollercoaster navigating content creation, blogging, entrepreneurship (and life in general — as I'm sure you can relate!), so thank you for your patience and patronage throughout this challenging year. 
Next week we're capturing the final looks for my upcoming Fall 2020 Lookbook, featuring some cooler weather autumn style inspiration now that the snow has fallen — and I can't wait to share it with you in November. If you're looking for even more sartorial inspiration in the meantime, you can also follow along with my JustineCelina Fashion board on Pinterest. And for a sneak peek at what I'm wearing before it hits the blog, as well as some exclusive style content you won't see here, come join me over on Instagram for daily posts and BTS / day-to-day life on Stories! Enjoy the rest of your weekend, beautiful people! 
---
Disclaimer: Thank you Joydrop and V.Ægirsdóttir for my facemasks and jewellery. This post is not sponsored, and contains my genuine thoughts, ideas and recommendations. JustineCelina uses affiliate and referral links, which allow me to receive a small commission when you make a purchase through one of my links. Thank you for supporting the brands and businesses that support JustineCelina!