With 2 months of winter left (I'm not counting down the days, or anything!), it seemed like the perfect time to create a series of SHOE GUIDES to help you transition from winter to spring in style! Today's post is the first in a 2 part Winter Shoe Guide mini series here at JustineCelina where I'm chatting about my winter shoe basics — my cold weather footwear staples.
For the last couple of years I didn't really find any winter shoes and boots that I loved. In my quest for more balance in all areas of my life this year, I'm making it a priority to purchase fewer, better quality things and reinstate my wardrobe with solid basics. So, I decided to essentially start from scratch this year, rebuilding my cold weather shoe wardrobe from the ground up (ha!). If you're looking to upgrade your winter shoe game and add some versatile, practical, stylish basics to your closet, this post is for you! Today I'm sharing my 5 most worn pairs of shoes this winter — those comfortable, go anywhere, go-with-almost-everything-in-your-closet shoes that won't go out of style anytime soon (and won't break the bank — most of these styles are currently 50% off!).
---
WINTER 2017 SHOE GUIDE | BASICS
---
Living in Calgary for the majority of my adult life, I've seen the full spectrum of winter weather unleashed on us from now until March 20th when spring officially arrives. So, I find that realistically I need that same spectrum of choice in my shoe options!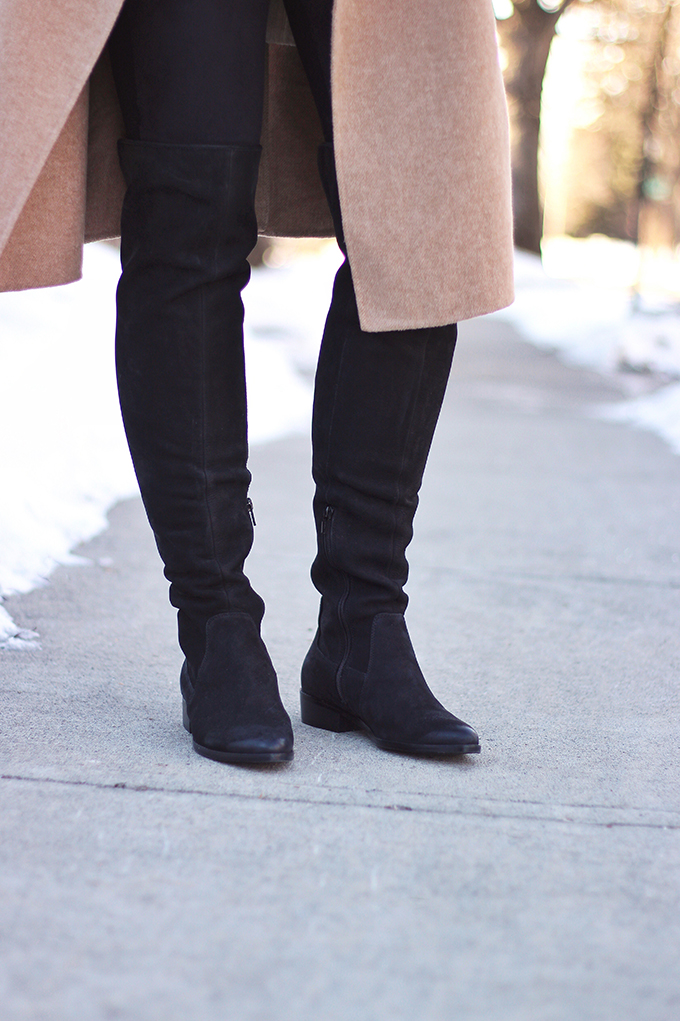 If you've been reading JustineCelina for while, you may think I have a ton of shoes. And while I love shoes, I also make it a point to part ways with things I don't wear — by either consigning or donating them. Since this fall, I've been working to update my shoe collection by replacing inexpensive, outdated shoes with quality pairs that will stand the test of time. By essentially starting from scratch, I was able to identify some holes in my winter shoe wardrobe that I've been able to fill with well constructed basics — and those are the shoes I'm sharing with you today! Along the way, I discovered that my favourite places to shop for high quality shoes at reasonable price points are Zara, TopShop, Nordstorm, Hudson's Bay and Aldo.
After I had the essentials in place, I was able to mindfully determine what else I needed to make my shoe collection feel complete — those fun, unique, statement pairs! So if you feel like you're covered for basics, stay tuned for the extras in the second edition of my Winter 2017 Shoe Guide mini series!
---
Water Resistant Winter Ready Boots
---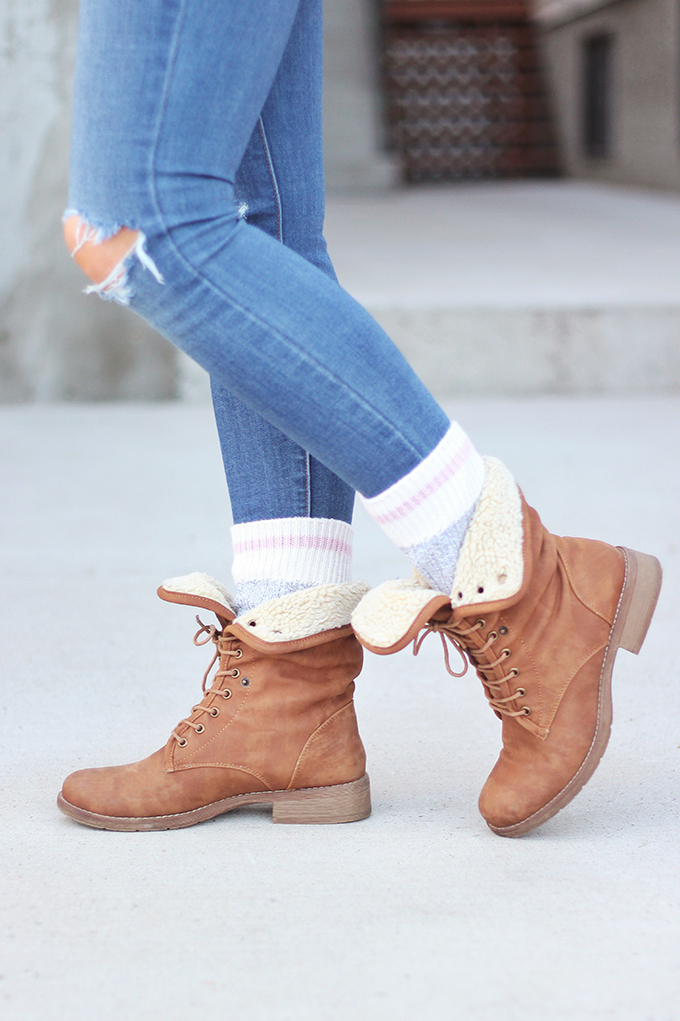 Every girl needs a warm, comfortable pair of no fuss, ready-for-anything winter boots in her wardrobe. For us Canadian fashionistas, a durable pair of water resistant boots that can stand up to snow, ice and whatever else Mother Nature decides to throw at us are an absolute must! If you've been following along with my style content this winter, you may recognize this pair from my Winter Activewear Essentials post — they're my go-to boots when it comes to braving our sometimes frigid Alberta weather (and anytime I just want to be warm, comfortable and casual!).
These cognac hued boots are easy to throw on with warm leggings or your favourites skinnies and a pair of wool socks for extra warmth. I picked my boots up from Hudson's Bay about 3 years ago and they still look as good as the day I purchased them — which is surprising, because they're been through just about everything with me! Shearling is a major trend this season and I love both the look and the extra insulation shearling provides, especially in winter footwear. I also love that you can change up the look of these boots by rolling them down to expose the shearling lining!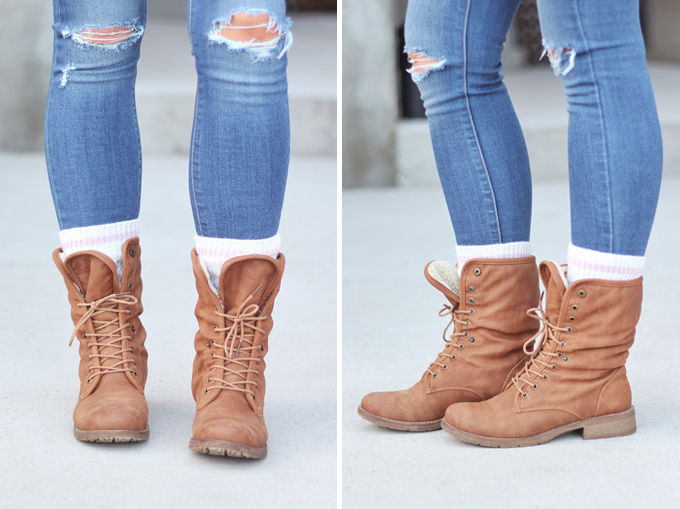 While this particular pair of boots is no longer available (and I've complete worn the brand name off of them!), I've linked similar styles both in look and durability here, here and here.
---
Classic Black Over the Knee Boots
---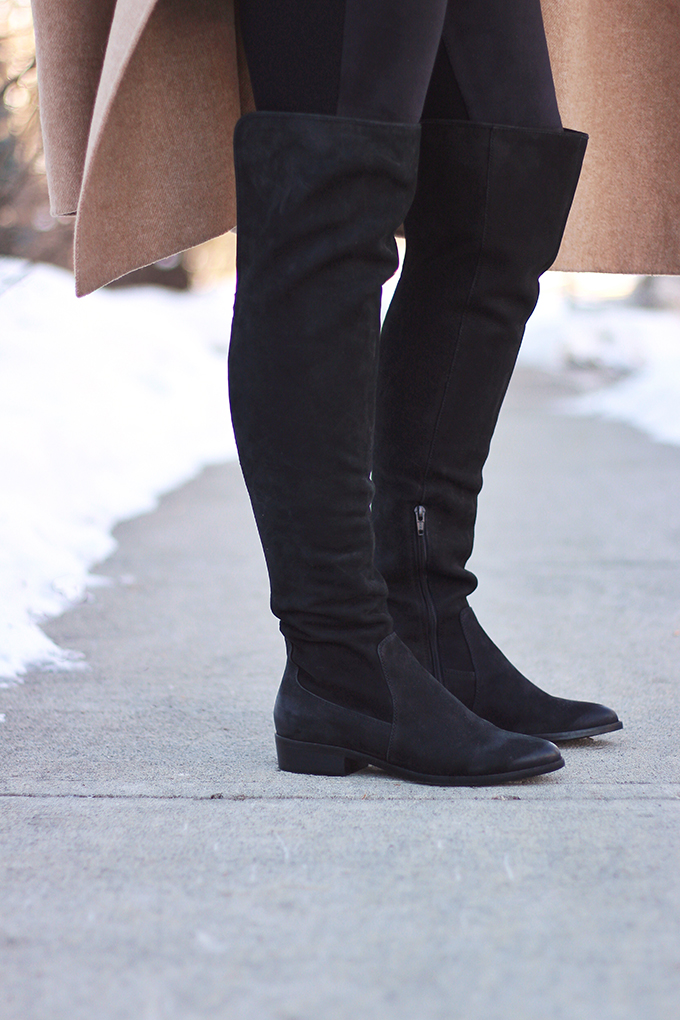 I've been on a quest for the perfect pair of classic, black over the knee boots for years (seriously!) and finally found them this winter in Aldo's Chiaverinis. These gorgeous boots actually caught my eye in the shop window just before the holidays — I tried them on in store and fell in love. While I would have happily picked them up at full price I had a feeling that if I waited, they would eventually drop to 50% off (as Aldo's shoes often do). It turns out I was right — I snagged these classic OTK boots just last week at, on sale for $110 (and they're still on sale!).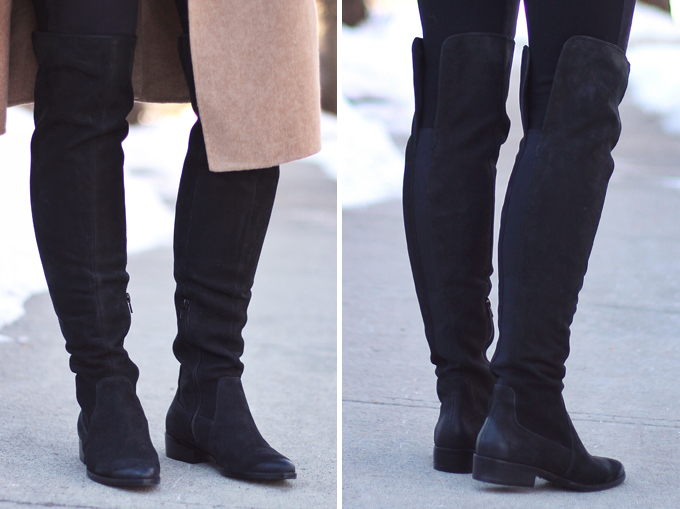 I'm pretty particular about footwear and (for me, at least) OTK boots are notoriously hard to find. My criteria: they're tall enough (for reference, I'm 5'8″), stay up, fit my legs well and don't skimp on comfort. My Chiaverinis check all the boxes — they're my go-to OTK winter boots that will also work well in both spring and autumn. I love everything about them — from their classic almond toe, to the buttery soft leather, to the subtly elasticized backs which make them incredibly comfortable and resistant to falling down my leg as I wear them! If you're looking for an over the knee boot that you can wear all day, this is it.
If you've already found the perfect pair of black, flat OTK boots, the Chiaverinis are also available in grey. If you prefer a bit of a heel, you could also consider Aldo's Jeffres, which were a close second when I was selecting my everyday OTK black boots!
---
Neutral Low Heel Ankle Booties
---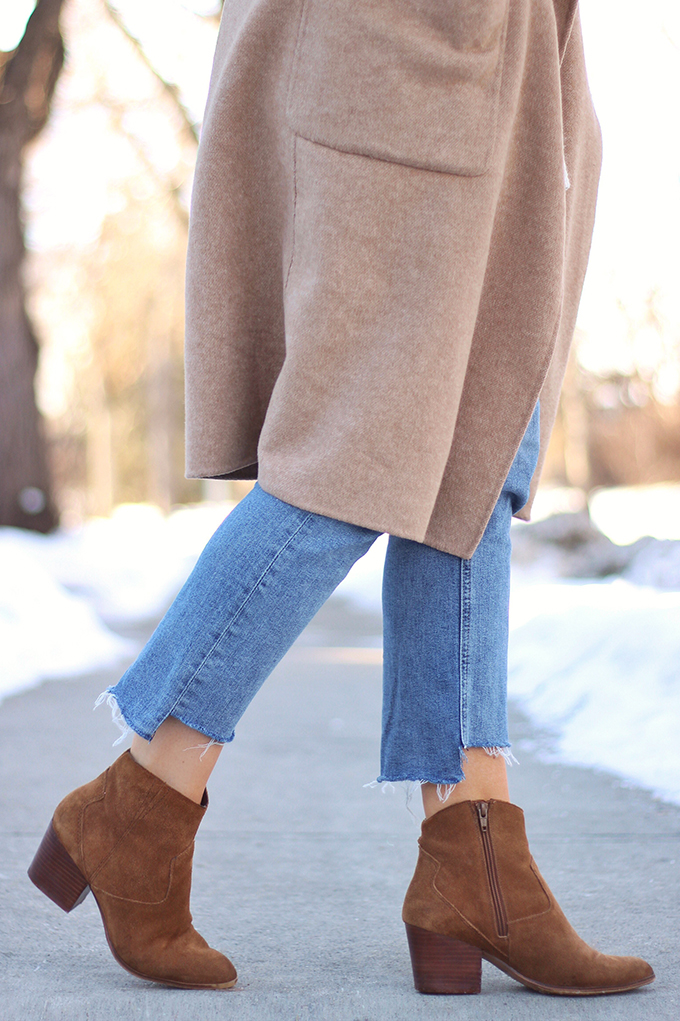 I feel most like myself in a heel when the weather allows for it (anyone who knows me personally will attest to this!). I love the extra bit of height and definition heels adds to my legs — even if it's a low, comfortable heel like this. So it will come at no surprise that this pair of easy going, neutral, low heel ankle booties is a staple in my winter wardrobe! I wore these Marecchias all over Jasper when I attended Christmas in November — they're also the booties you've see me traipsing around in over on my Insta Stories as of late (and I know a few of you have already purchased them)! They're without a doubt the most comfortable pair of low heel booties I've ever worn.
I love Aldo's Marecchia boots because they have a bit of a boho vibe to them, but not so much that it limits the way you can style them. Personally I could throw these on with just about anything in my wardrobe — they're just that easy to wear. I wear this style of boot year round — they look cute with dresses, skirts, shorts and almost any style of pant. I tend to get the most wear out of neutral coloured suede boots because they hide water stains well (which will totally buff out if you treated them with a good protectant spray, something I do at the beginning of winter). I'm not afraid to throw these boots when it's bit slushy and think they look even better now then when I first purchased them back in November. I also have a burgundy pair from Lucky Brand that are very similar in style (I wore them way back in one of my first casual style posts!).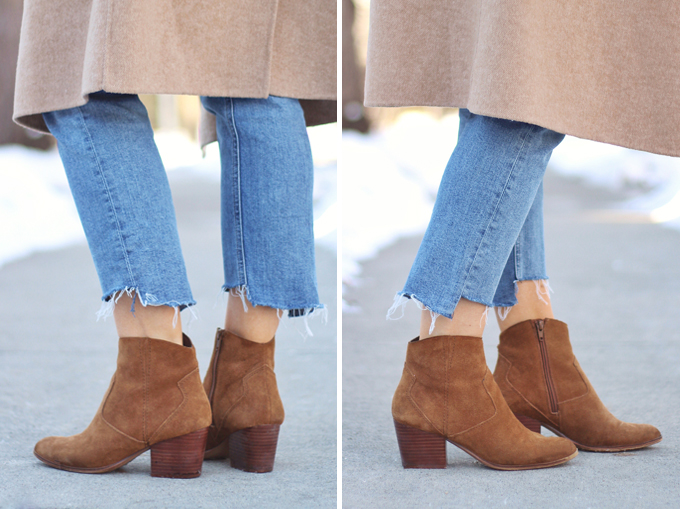 These Marecchia booties are currently on sale for 50% off at just $50 in light brown. If you're looking for an even lower heel, you could consider Aldo's Julianna booties which are similar in style available in cognac, medium brown and taupe (some of which are also 50% off!).
---
Black Low Heel Ankle Booties
---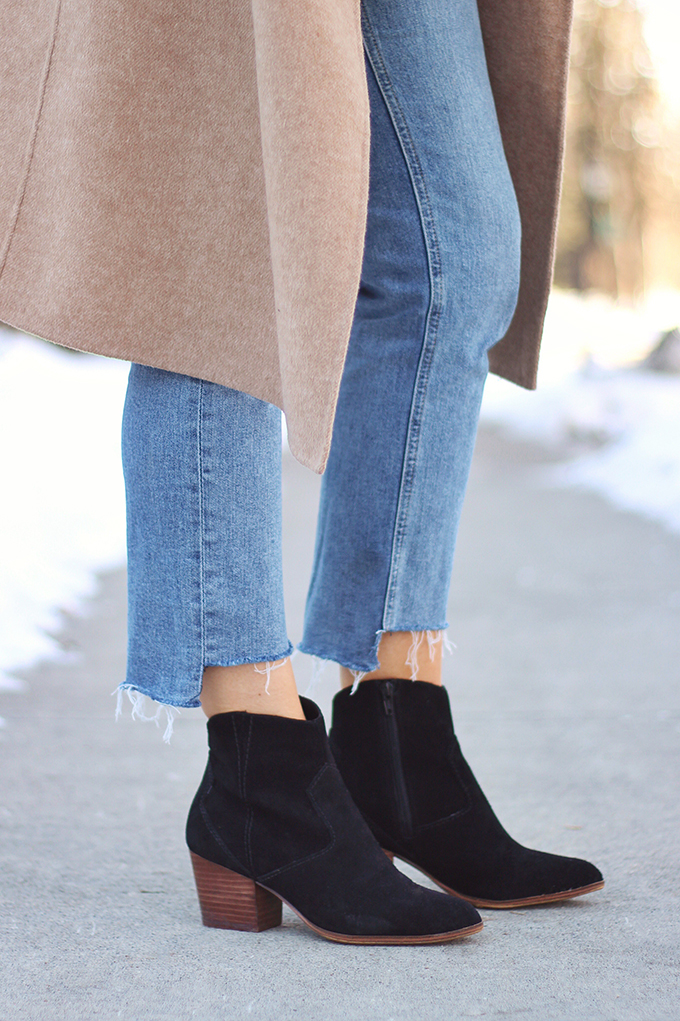 Occasionally, I love something so much that I purchase multiple colours — such was the case for Aldo's Marecchias. I'd been wearing my light brown pair so often, I decided to order the same style in black suede with a brown heel! Personally I think black and brown can absolutely be worn together — and this pair of boots really unites an outfit when I'm wearing both neutrals. They literally go with almost everything in my closet and I can wear them year around. I love the versatility of having a well loved shoe in multiple colours and know both pairs of my Marecchias will be on heavy rotation for years to come!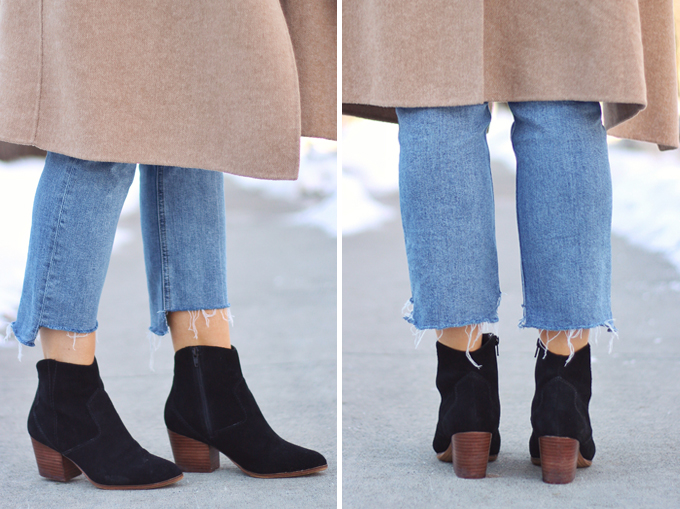 The black suede Marecchia booties are also on sale for 50% off. If you're looking for a sleeker low heel black bootie, they're also available in a black leather (and black heel) option. If you're looking for an even lower heel, the Julianna style I mentioned above are available in both black nubuck with a brown heel and black leather.
---
Neutral Pointed Toe Flats
---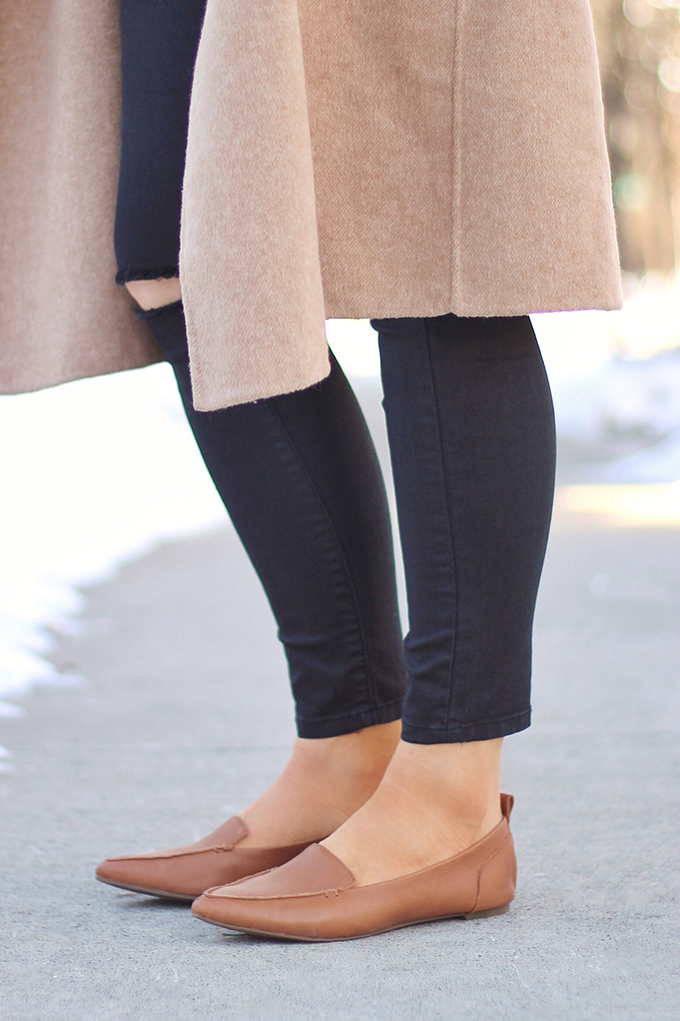 On some winter days sometimes there's a foot of snow outside my doorstep and on others it's well above zero and the sun is shining (Calgary weather is seriously bipolar!). On those mild winter days, I find myself reaching for this great pair of simple, stylish leather flats. A comfortable, chic, well constructed pair of loafer style shoes will serve any woman well — no matter her lifestyle! The pointed toe and neutral colour works to elongate the leg, even without a heel (who doesn't love that?).
I love Aldo's Bazovicas for many reasons, but comfort is first and foremost. As someone that's more comfortable in heels (literally and figuratively!) I've truly never worn a more comfortable pair of flats. These chic loafers are made of buttery soft leather that molds to your foot, making for the perfect wear-all-day shoe! If you work in an office environment, they'd be ideal to keep under your desk and change into either once to arrive to work or anytime you need to give your feet a break from heels. The Bazovicas deliver a major does of causal sophistication make them a great option for everyday style — I know I'll be wearing them often as we transition into spring!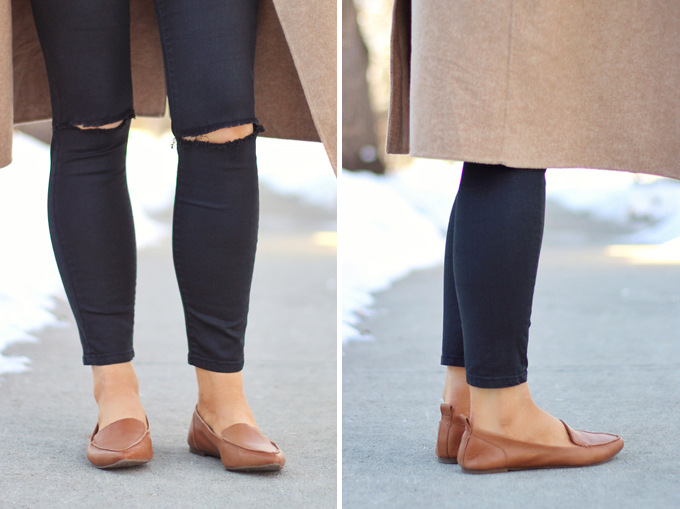 I'm wearing the Bazovicas in medium brown, which are currently on sale for $37.50! While I personally I love brown, tan and nude shades for casual footwear, Aldo's Bazovicas are also available in black, black patent, gold and bone patent.
---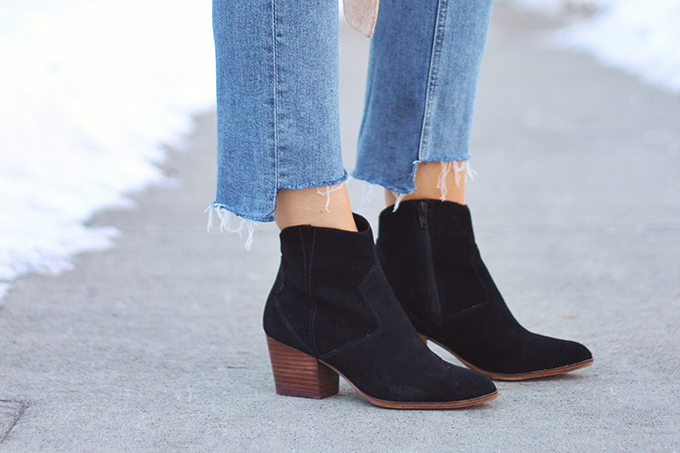 What are your go-to winter shoes this season? I know you guys love shoes just as much as I do — so let me know what's been on your feet lately! And stay tuned for the next edition of my Winter 2016 Shoe Guide | Extras if you have the basics down and are looking for some more unique options this season!
---
Disclaimer: This post is not sponsored and contains my genuine thoughts, ideas and recommendations. JustineCelina uses affiliate and referral links, which allow me to receive a small commission when you make a purchase through one of my links. Thank you for supporting the brands and businesses that support JustineCelina!