---
Man it feels good to publish this May 2017 Beauty Favourites post! Since I spent a large part of March barefaced due to my finger injury and published my first ever completely makeup free Monthly Beauty Favourites post, this past month I really enjoyed experimenting with makeup again and discovered so many incredible new products. May was packed full of events (both blog related and personal) and I took every available opportunity to get my glam on — so you'll find a healthy dose of glow and sparkle in my May beauty favourites! There's range of products at affordable and luxury price points in today's post — including a stunning rose gold highlighter (for less than $5!), my favourite lipsticks of the entire year, a bargain, go-with-anything nude lipliner, the perfect blush palette for a youthful spring flush, some extremely luxurious eyeshadows, a pastel lilac nail polish with nourishing ingredients and a metallic, glittery liquid eyeshadow!
There's a strong peach, pink and rose gold theme in my favourites today — what can I say, I've been immersing myself in seasonal colour trends in full force! It's been awhile since we chatted all things beauty, but you remember the drill, right? Pour yourself a glass of wine, find a cozy spot to relax and kick back with me this weekend to learn more about my current favourite beauty products!
---
MAY 2017 BEAUTY FAVORITES
---
Hourglass

Ambient Strobe Lighting Blush Palette

Palette CDN $75.00 (Limited Edition)
Individual, full size blushes CDN $75.00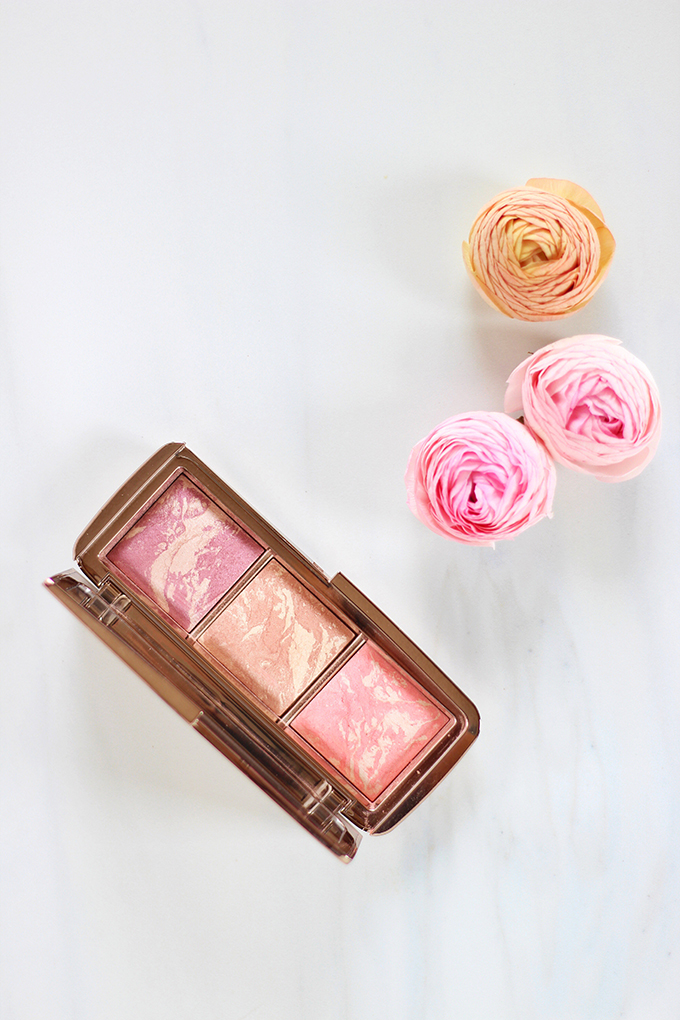 You guys, I'm so sorry — I should have checked to see if this palette was still in stock before I photographed this post! If this palette looks familiar, it's because I originally featured it back in my Spring 2017 Beauty Trend Guide. But fear not — although the palette is no longer available, Hourglass has released each shade individually, so you can purchase a full size of any shades in this palette. This past month, I've been mixing Incandescent Electra (a coral peach) and Brilliant Nude (a bronzed amber) to create a bronzy, warm coral. It's perfect for warmer weather and I've also tried this combo on a couple of other ladies — they both loved it as much as I do!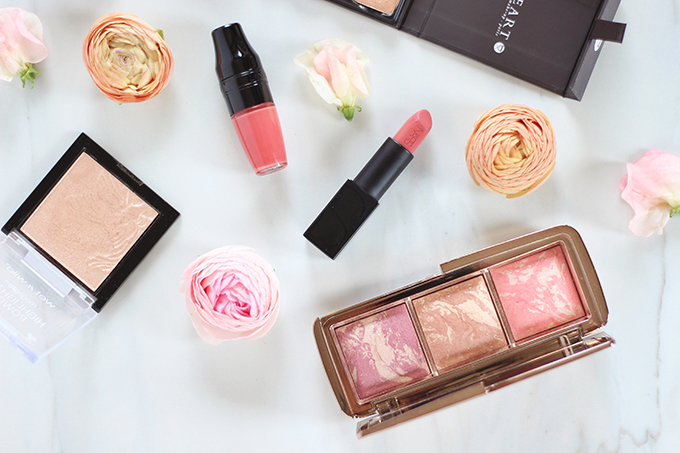 You've likely heard me mention Hourglass powders and blushes previously — they're my all time favourite high end powders. Truly, there's nothing quite like them on the market. So when I spotted the Hourglass Ambient Strobe Lighting Blush Palette earlier this spring, I knew I had to pick it up! This gorgeous, limited edition blush palette contains 3 on trend blush shades infused with their Ambient Strobe Lighting Powders (the Hourglass version of a highlighter). The result is an ultra luminous flush of colour suitable for a wide range of skintones and perfect for effortless, everyday wear — it's like a combination of blush and highlighter in one product! I'm wearing it in both my Spring Forward + Seasonal Wardrobe Staples and Spring 2017 Trend Guide | Gingham Style + Mother's Day in the Mountains posts. I can't put it down and see myself burning through this palette before summer's end!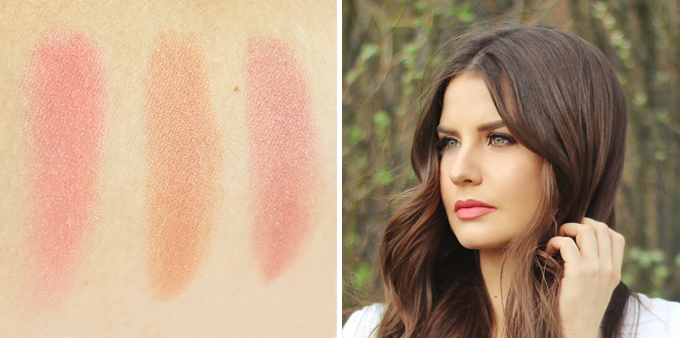 I'm wearing the a mixture of Incandescent Electra and Brilliant Nude on my cheeks

---
US $4.99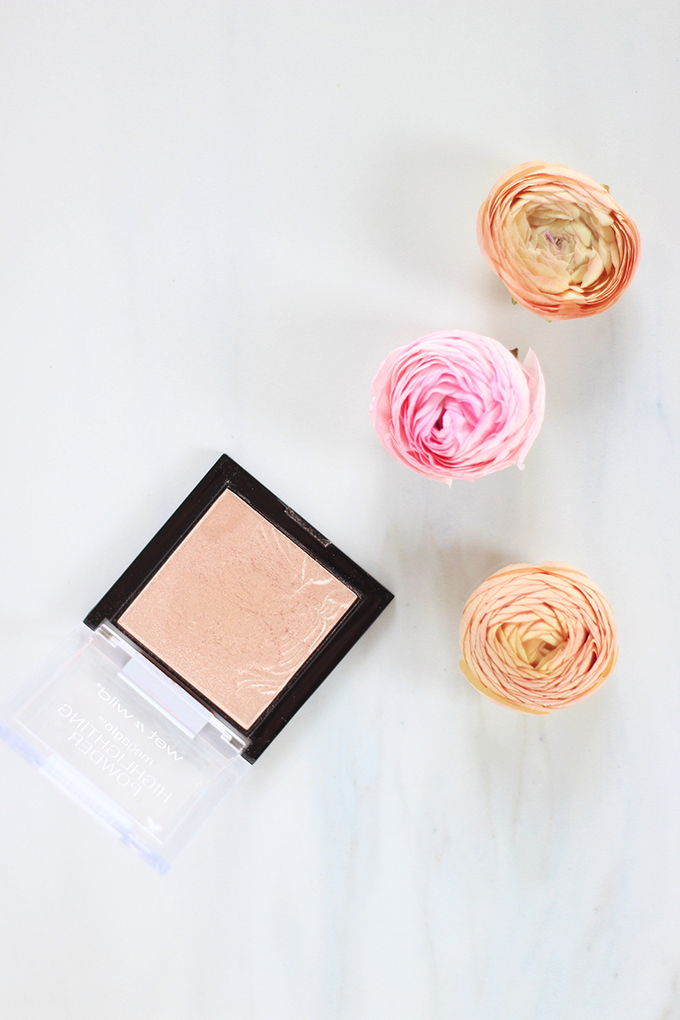 This is a product that gets a lot of hype online — so when I picked it up back in February (some of you may remember me sharing my first impressions on Insta Stories), I was more than a little skeptical. Although both of the MegaGlo Highlighting Powders I picked up swatched beautifully, I was a up to my eyeballs in high end highlighters at that time for review purposes, so they got pushed to the back of my drawer. Well, this spring I reacquainted myself with it and I'm happy I did! The Wet n Wild MegaGlo Highlighting Powder in Precious Petals is completely worth the hype and reminds me of a more intense version of my beloved NARS Banc De Sable Highlighter Palette highlighters (which I mentioned back in my Spring 2017 Beauty Trend Guide and again in my March 2017 Beauty Favourites).
Precious Petals is an extremely smooth, extremely pigmented (and not at all glittery) highlighter that blend seamlessly into the skin to impart a serious buildable glow that can range from natural to straight up metallic. It's a soft, rose gold shade that I think the majority of skintones (save the ultra fair and ultra deep) would find flattering. Canadian (or local) readers can find the largest selection of Wet N Wild at select Walmart locations — in Calgary, the I've had the best luck at the Westbrook Mall location. I'm wearing it in both my Spring Forward + Seasonal Wardrobe Staples and Spring 2017 Trend Guide| Gingham Style + Mother's Day in the Mountains posts if you'd like to see it in action!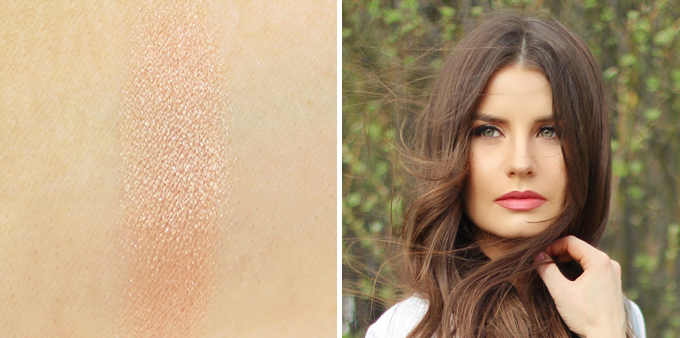 I'm wearing the Wet n Wild MegaGlo Highlighting Powder in Precious Petals on the high points of my face
---
US $2.99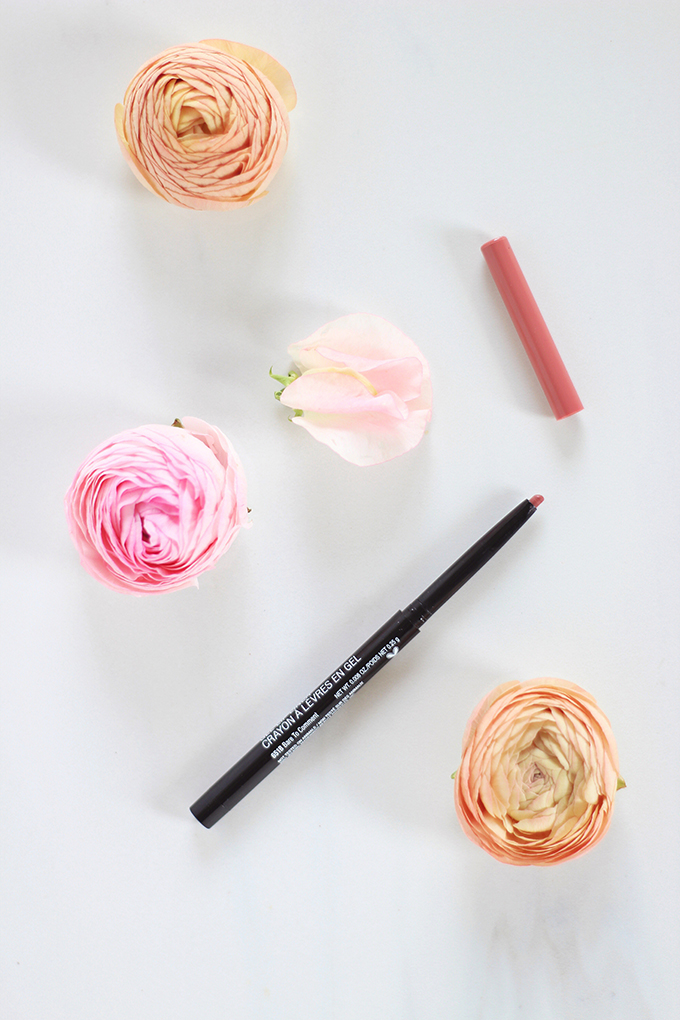 The Wet n Wild Perfect Pout Gel Lip Liner in Bare to Comment is the perfect, go-with-everything warm nude lip liner that glides effortlessly onto the lips — and it's $2.99! While I don't find it incredibly long lasting, it does hold up for the same amount of time as a typical lipstick and fades evenly. It's definitely more of a gel like formula as the name implies — and it manages to be extremely pigmented yet light on the lips (it almost feels like you aren't wearing anything). Ladies, run out to your local Walmart and snatch these lipliners up — I like all the shades I've tried, but Bare to Comment is the standout from this range!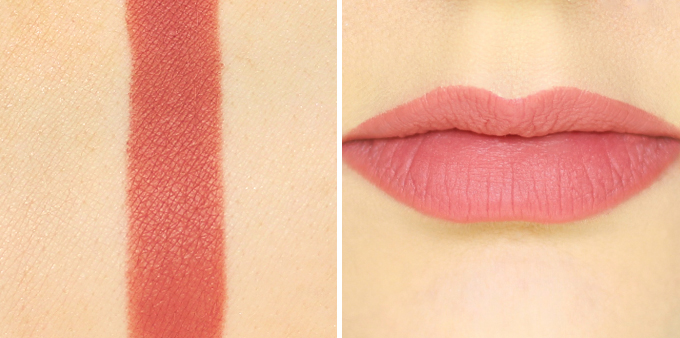 I'm wearing the Wet n Wild Perfect Pout Gel Lip Liner in Bare to Comment all over my lips as a matte lipstick

---
CDN $40.00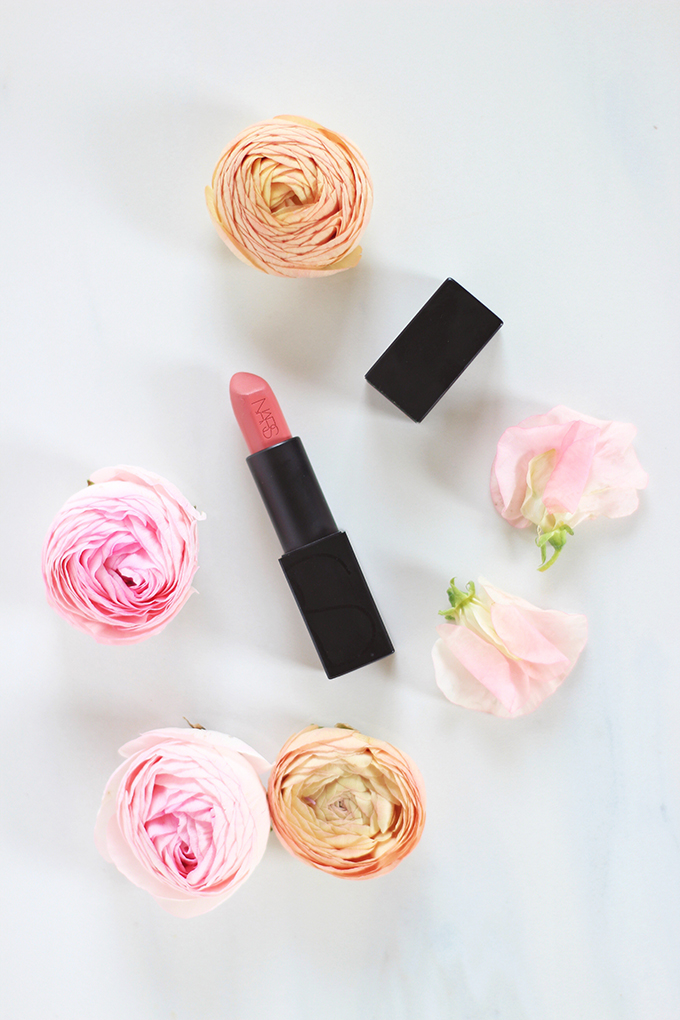 Now, the NARS Audacious Lipsticks are quite the hefty splurge, but they're a truly beautiful, classic lipstick formula! I believe I've found my perfect nude in the NARS Audacious Lipstick in Brigitte — in fact, in a recent style post, I described it as my spirit animal. Although this beautiful, nude rose shade is fairly new to me, I know Brigitte will always have a place in my beauty routine and I'll never be without a tube. It gives my complexion life, I can throw it on with anything and the formula is to die for. It's been living in my bag all month long! This luxurious formula is right up there with my beloved Bite Beauty Amuse Bouche Lipsticks — but the colour is really what makes me love this lipstick so much. If you'd like to see it in different lighting conditions, check out my Spring Forward + Seasonal Wardrobe Staples post.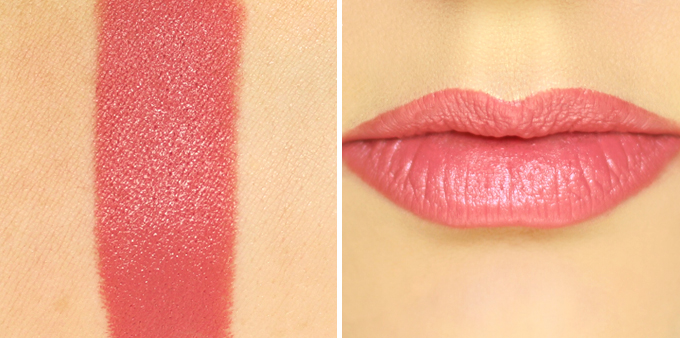 I'm wearing the NARS Audacious Lipstick in Brigitte on my lips
---
CDN $29.00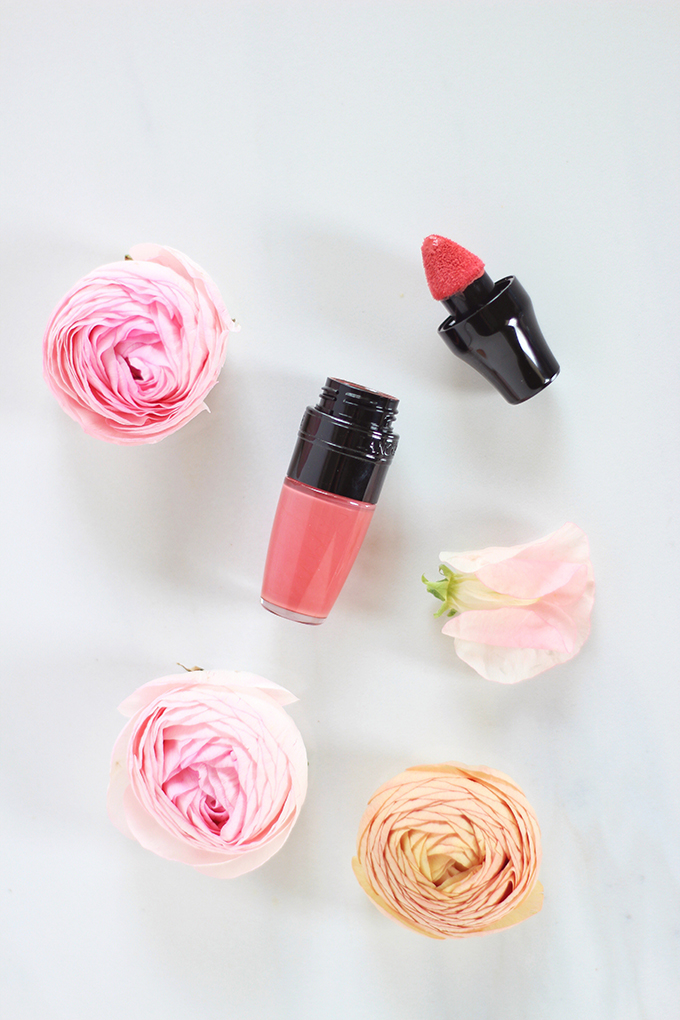 This actually seems quite affordable when compared to the NARS lipstick, doesn't it?! I was completely blown away by the Lancôme Matte Shakers in May — so much so that I picked up every shade for a dedicated review post of the entire range coming your way soon! These little tubes of liquid lipstick are one of the most innovative formulas I've tried — it's an extremely thin, extremely pigmented formula that applies beautifully to the lips in a single swipe (don't let the applicator fool you, it's so easy to use!). I love the finish of the Matte Shakers — I find they don't completely dry down and aren't transfer proof, but they are extremely hydrating and light as air on the lips. Oh, and did I mention the shade range is gorgeous? I'm head over heels for Energy Peach — what can I say? I love my peachy shades — this one is a pure peach and brings such a vibrancy to the complexion while coordinating well with almost everything else you may be wearing (I find it really makes my green eyes pop!). I can't wait to share this entire range with you!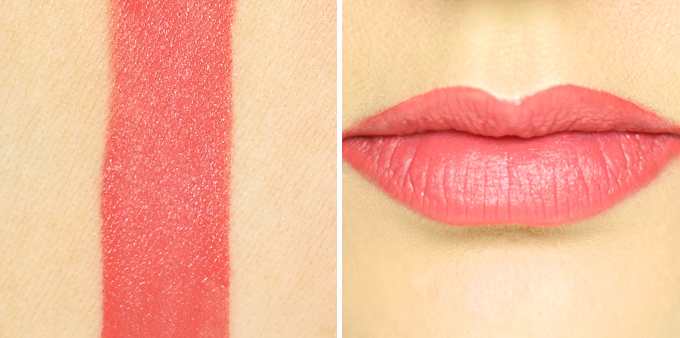 I'm wearing the Lancôme Matte Shaker High Pigment Liquid Lipstick in Energy Peach on my lips
---
CDN $60.00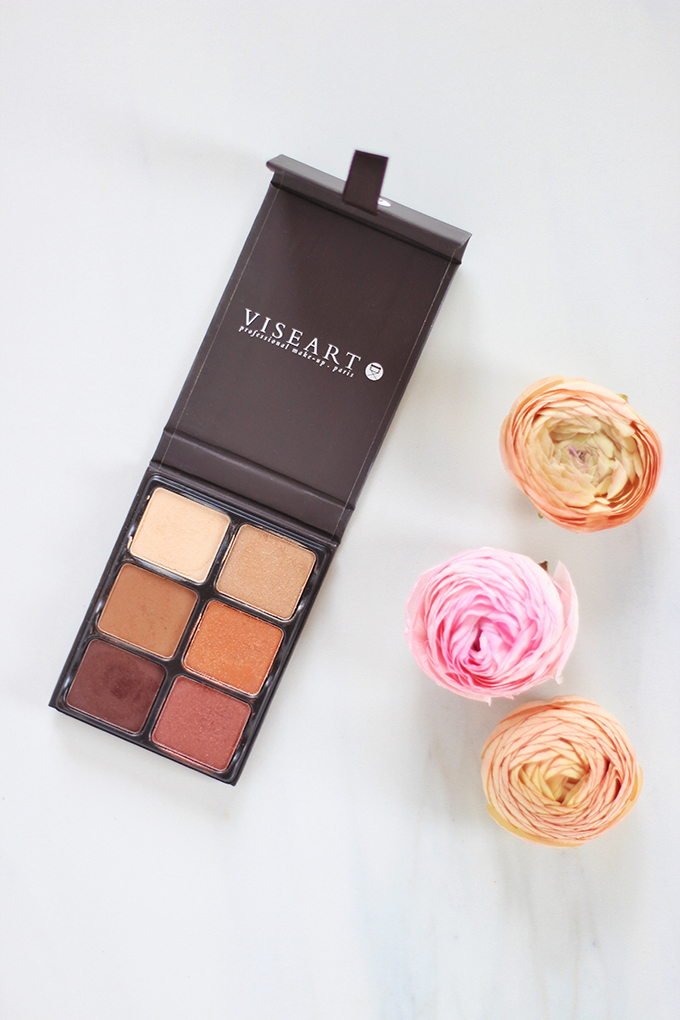 If you frequent my BEAUTY section, I'm sure you've heard me rave about Viseart shadows. I had my first introduction the the brand in autumn of last year and have been lusting after almost every single palette they've produced since. As someone who's very picky when it comes to eyeshadows, I've been consistently wowed by Viseart and their 01 Neutral Matte Palette has become a staple in my everyday routine. Lately I've been itching to pick up a palette with metallic shades as well and finally took the plunge! I'm pleased to report that Viseart's metallics are just as good as their mattes — and in May, I wore the I picked up the Viseart Theory II Palette in Minx almost daily.
This ultra compact (we're talking the size of a credit card!) palette contains 3 matte shades and 3 metallic shades — all of which are removable and magnetized (great for those of us who like to create our own custom palettes!). If you're experiencing a bit of sticker shock, keep in mind that the cost works out to $10 per shadow, which is completely reasonable, especially for the quality — and a little goes a long way. This palette is also fantastic for travel! If you're looking to try a mixture of matte and metallic shades from the brand, this (or the Cashmere palette for more neutral / cool shadow lovers) would be my first suggestion. I'm totally crazy about the warm, balanced, complete looks I can get from this palette and could happily wear it everyday for eternity — seriously, it's that good!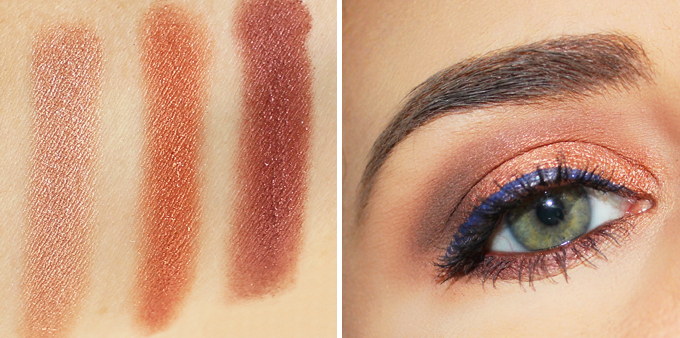 I'm wearing the Viseart Theory II Palette in Minx on my eyes

---
CDN $31.00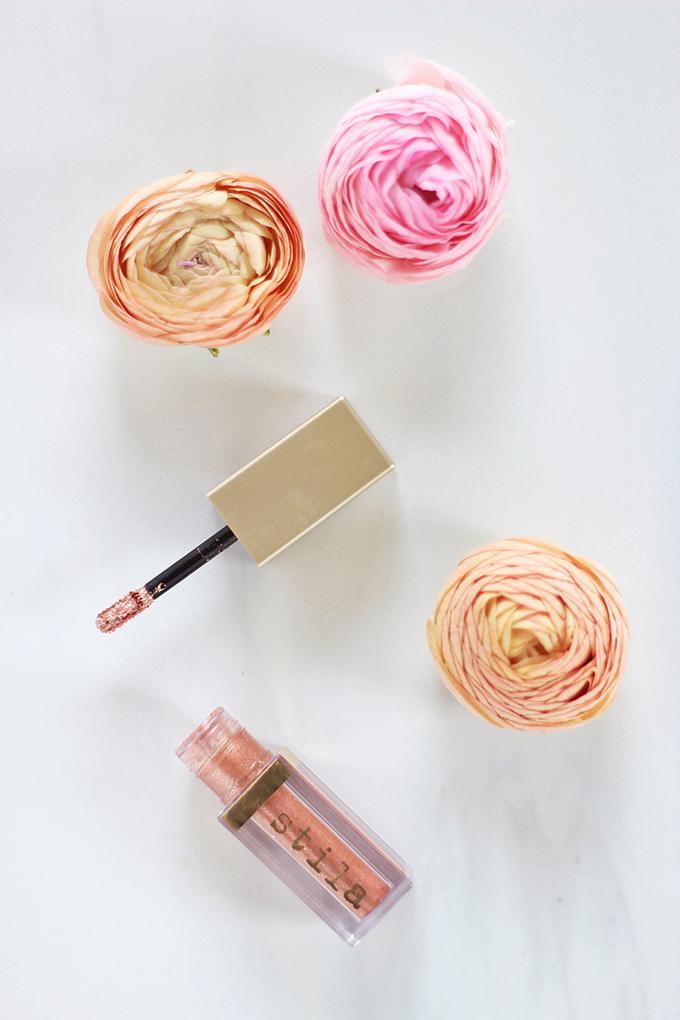 The stila Magnificent Metals Glitter & Glow Liquid Eye Shadow in Rose Gold Retro initially caught my eye when they first launched — and they were a challenge to track down! I still only own this one, and while it's gorgeous, it's definitely not for everyday wear (for me, personally). But in May, I attended ParkShow (a local, Calgary fashion show) and a wedding — and wore Rose Gold Retro on both occasions with many compliments (and they held up all day and night)! If you love a dramatic eye and aren't one to shy away from glitter, these stunning metallic shadows from Stila are a great option. Rose Gold Retro is a true, metallic rose gold sprinkled with tons of silver glitter.
The Glitter & Glow Liquid Eye Shadows are gorgeous, mousy formula that's easy to work with — I apply it to my lids straight from the applicator and pat it out with my index finger for a few seconds before it completely sets to a budge proof finish. If you're doing a lot of blending around these shadows the glitter can tend to fall down onto your cheeks (something to keep in mind as you work with them), but it's easily swept away. To avoid that problem, do your crease work first and apply this shadow last — you can also do your eye makeup fist to make glitter clean up a breeze! Rose Gold Retro is especially flattering on green eyes and the perfect formula to create maximum impact with minimal effort.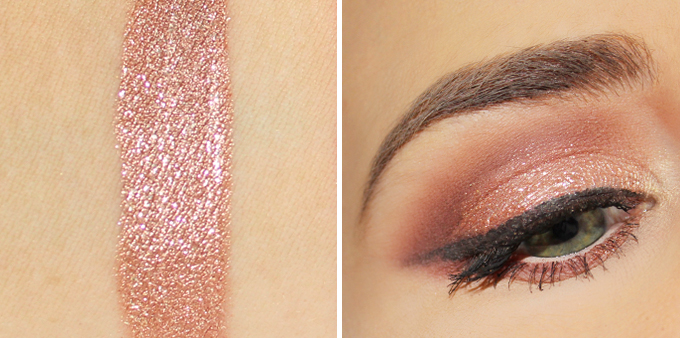 I'm wearing the stila Magnificent Metals Glitter & Glow Liquid Eye Shadow in Rose Gold Retro on my eyes
---
NAILS INC. Eaton Square Polish
Part of the NAILS INC. Acai Bowl Nail Polish Collection
CDN $30.00, Limited Edition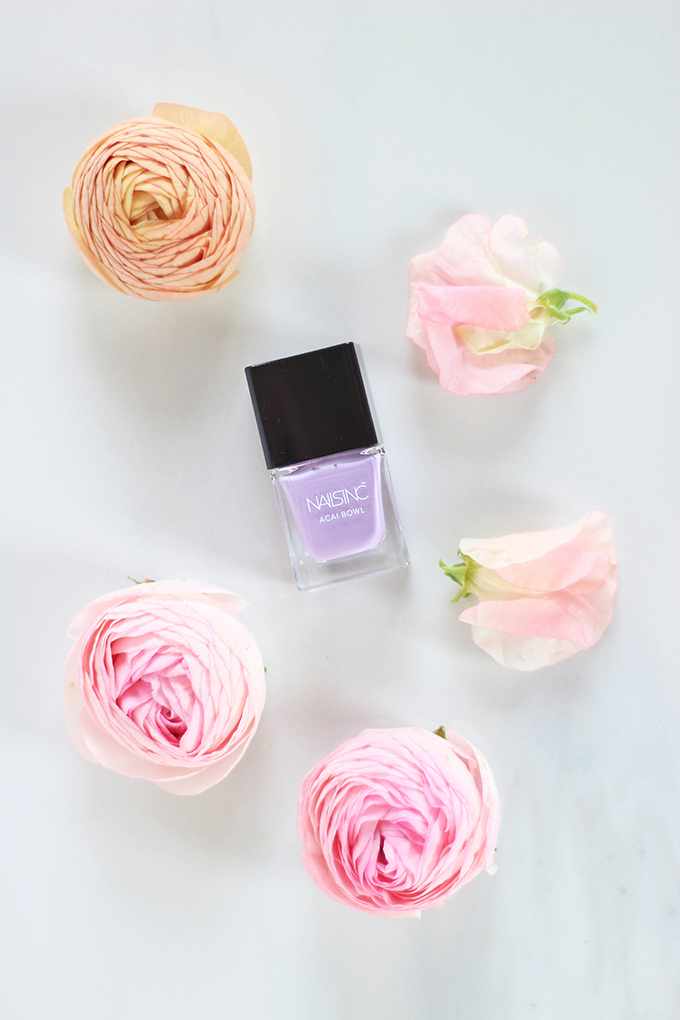 As many of you know, I injured my finger in April and they cut a big chunk of my nail off in the ER so it wouldn't get in the way of my finger healing. For the most part, that's meant no nail polish. My nail has now fully grown back and I've really enjoyed painting my nails again — most often with this gorgeous lilac shade from NAILS INC.! I picked up the NAILS INC. Acai Bowl Nail Polish Collection earlier this spring and it, along with a few other shades from the brand, is all I've been wearing since.
What initially intrigued me was the ingredients — all NAIL INC. products are infused with nail loving ingredients, which is perfect for post gel nails that were in need of some love (they're now fully recovered and healthier than every!). The Acai Bowl Collection features the latest in nail caring superfoods, inspired by a smoothie bowl — including açaí, chia, goji, moringa, and cacao. Eaton Square is a punchy pastel lilac that's also neutral enough to wear well with my spring wardrobe. It's also fully opaque in 1 coat and super cute on the toes! I'm wearing in my Spring 2017 Trend Guide| Gingham Style + Mother's Day in the Mountains posts if you'd like to see it in action.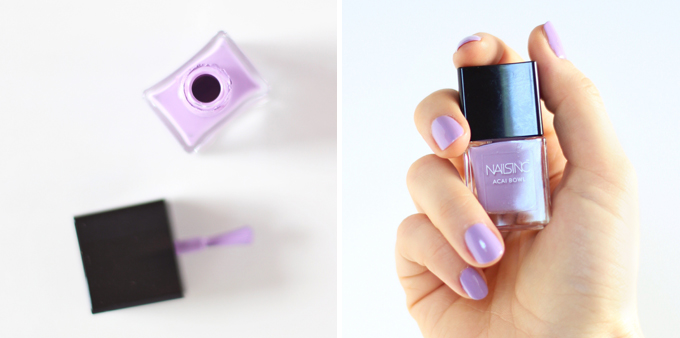 I'm wearing 1 coat of NAILS INC. Eaton Square Polish on my nails 
---
SHOP MY MAY 2017 BEAUTY FAVORITES
---

---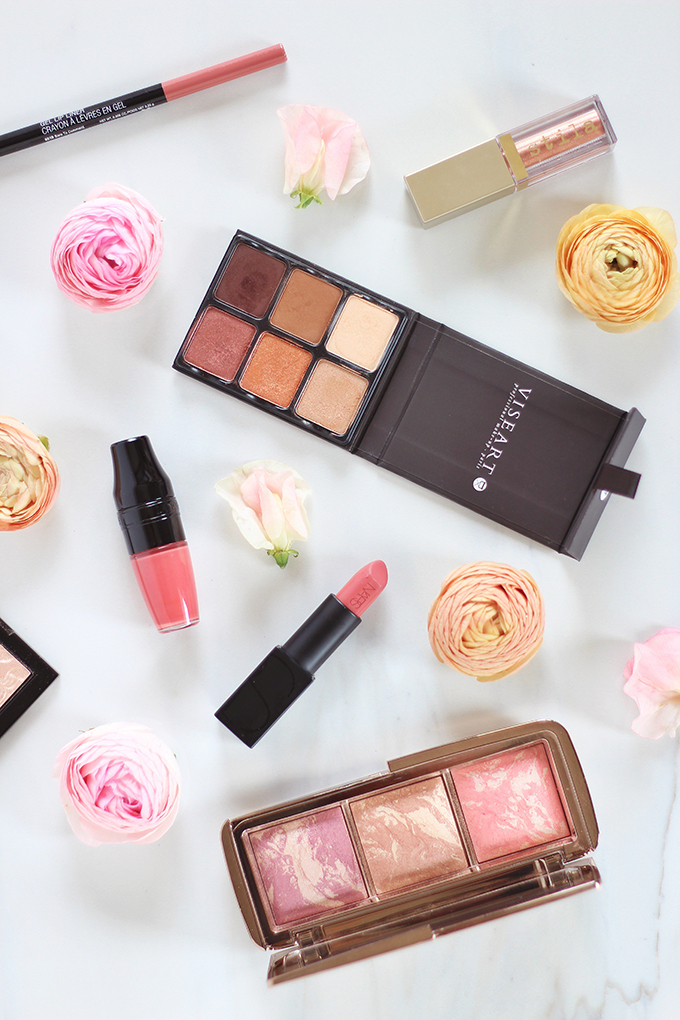 Did you discover any new beauty products last month that you think I'd enjoy? Anytime you want to chat beauty just leave me a comment! And get ready for tons of new beauty content coming your way this summer. Enjoy the rest of this beautiful weekend, friends!

---
Disclaimer: This post is not sponsored and contains my genuine thoughts, ideas and recommendations. Thank you Rebecca Dawn Design for the beautiful blooms I used to style this post. JustineCelina uses affiliate and referral links, which allow me to receive a small commission when you make a purchase through one of my links. Thank you for supporting the brands and businesses that support JustineCelina.com!