I'm back tonight with the first of many AUTUMN 2017 TREND GUIDES coming to JustineCelina this year and I couldn't be more excited to share it! I look different — and I certainly feel different as well. Since taking the plunge and indulging in the eyelash skimming fringe I'd been lusting after since the summer, I'm finding myself completely renergized when it comes to all things fashion, style and beauty. So, we're changing things up around here — this TREND GUIDE is dedicated to refreshing your personal style for a new season! In addition to diving head first into a handful of this season's hottest trends, I'm also sharing my favourite ways to revitalize my look without breaking the bank (I shopped my own closet to pull this look together — gotta love that!).
Have the changing seasons left you craving change, as well? Girl, you're in good company — pour yourself a delicious, juicy glass of red wine and hang out with me for a little while tonight while we chat about sleek locks, red, checks (plaid's sophisticated sister!), ruffles, soft leather and bad ass boots in this unconventional autumn look. I'm also sharing some tips on how to style this look for a professional settings, simply by changing up a few pieces! Oh, and that archaic rule about no white after Labour Day? We don't worry about that around here!

---
AUTUMN 2017 TREND GUIDE | STREET CHIC
---
So, I got bangs. I've actually had them a few times previously (including once when I was platinum blonde about 9 years ago!), but not since we started photographing style content for the blog! If fact, if you look way back in the JustineCelina archives, they're present in some of my early beauty content. But, I guess they're new to most of you! I absolutely love them. It's interesting — I feel like a new woman and people don't recognize me (and I kind of like it!).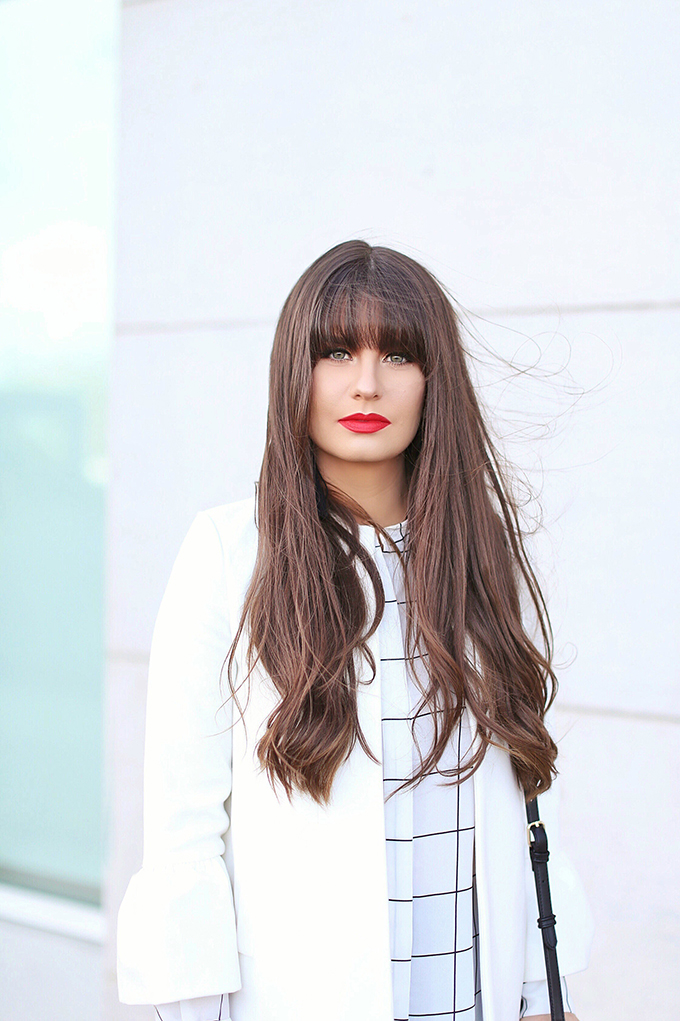 I've mentioned previously that my personal style is pretty eclectic and I love to change things up. In my lifetime I've actually had almost every hair cut, colour and style imaginable — including every shade of red and blonde, the deepest brown, pink, green, purple (yes, really!), lots of layers, bobs, 'The Rachel' (completely with some very stripy, cringeworthy highlights) — and the list goes on. Since you've come to know me on these pages over the past 2 and a half years however, my hairstyle and colour have been very consistent — which is a bit ironic, because I only came to appreciate my natural hair colour in my late 20's and want to hang onto it as long for as I'm able to. And although I do have a major soft spot for bohemian, vintage inspired styles, I also have an edgier side as well. Every time I cut a fringe, I feel like my inner bad ass comes out — it's been awhile since I've seen her, but I'm glad she's back. Get used to seeing her around!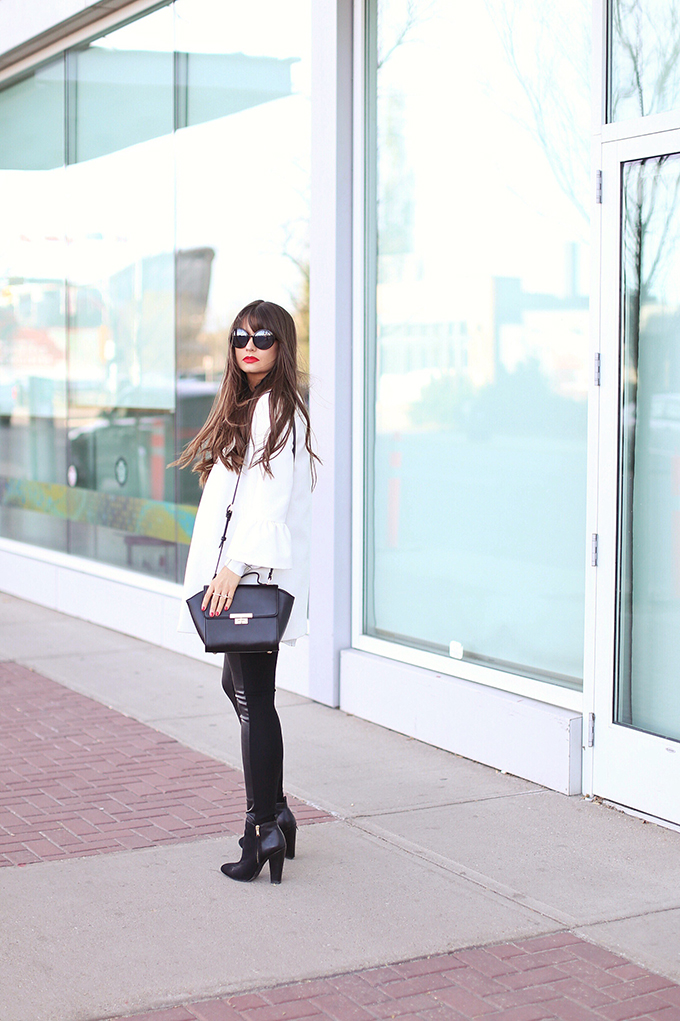 That said, I didn't purchase a single new item for today's post (it's becoming a bit of a trend around here lately!). Once of my favourite things to do is research seasonal trends to pull together these TREND GUIDES for you — and after I've taken my notes and figured out what trends I'd like to incorporate into my personal style, the first thing I do is shop my own closet. That's exactly how this look came together, although I would never normally think to pair these items together! Since we've had a pretty mild autumn for the most part, I've worn this outfit to evening events and also to daytime meetings (with a few minor tweaks — including swapping my booties for sleek black slides, my faux leather leggings for a pair of black trousers and my mini bag for my to-go oversized tote!). Today I'm sharing how I pulled these well loved items together to reflect some of A/W17's biggest trends in this unconventional autumn look!
---
TREND: Red
---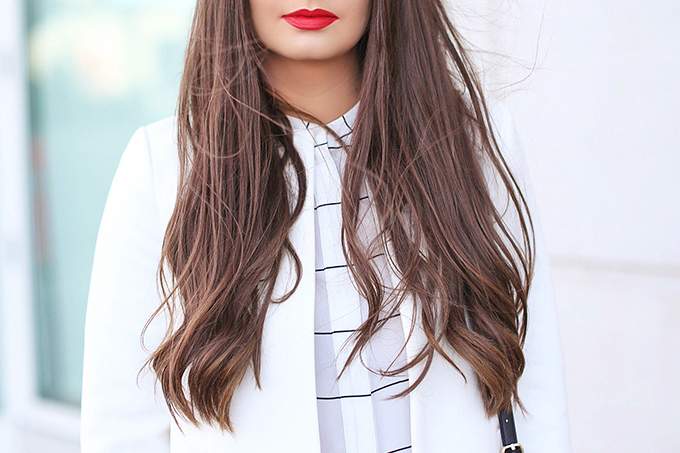 Red is undoubtedly the colour of the season — and I love finding fresh ways to incorporate more red into my seasonal wardrobe! Throwing on a red lip or polish is an easy, budget friendly way to participate in one of autumn 2017's hottest trends. I've been receiving so many compliments on this particular lip and polish — both of which are very classic, neutral red hues inspired by Pantone's Grenadine for Fall 2017 (you didn't think I forgot about the Pantone Fall 2017 Colour Trend Report, did you?).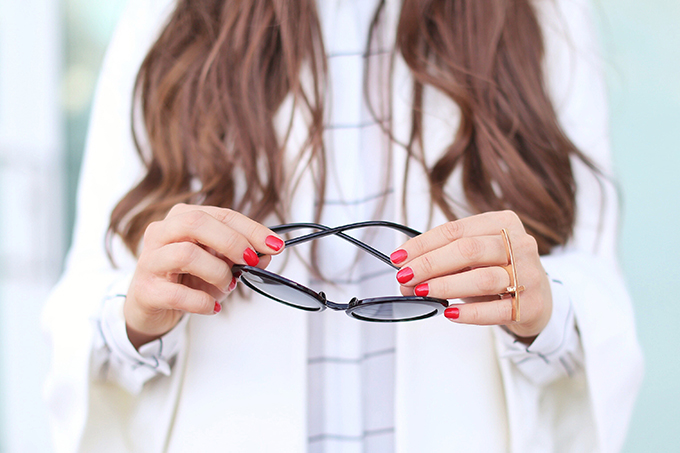 I think every woman should have a red lipstick and a polish in her beauty arsenal! I'm currently working on a 5 Red Lipsticks to Try This Fall post set to publish later this month — but in the meantime, I've rounded up my lip colour and polish for you below. The Lancome Matte Shaker High Pigment Liquid Lipstick in Red'y In 5 has been my go-to lately — it's a very fiery, almost neon red and the formula is one of my liquid lipstick favourites. I also found my perfect red coat, which you'll be seeing in an upcoming TREND GUIDE in November!


---
TREND: Ruffles
---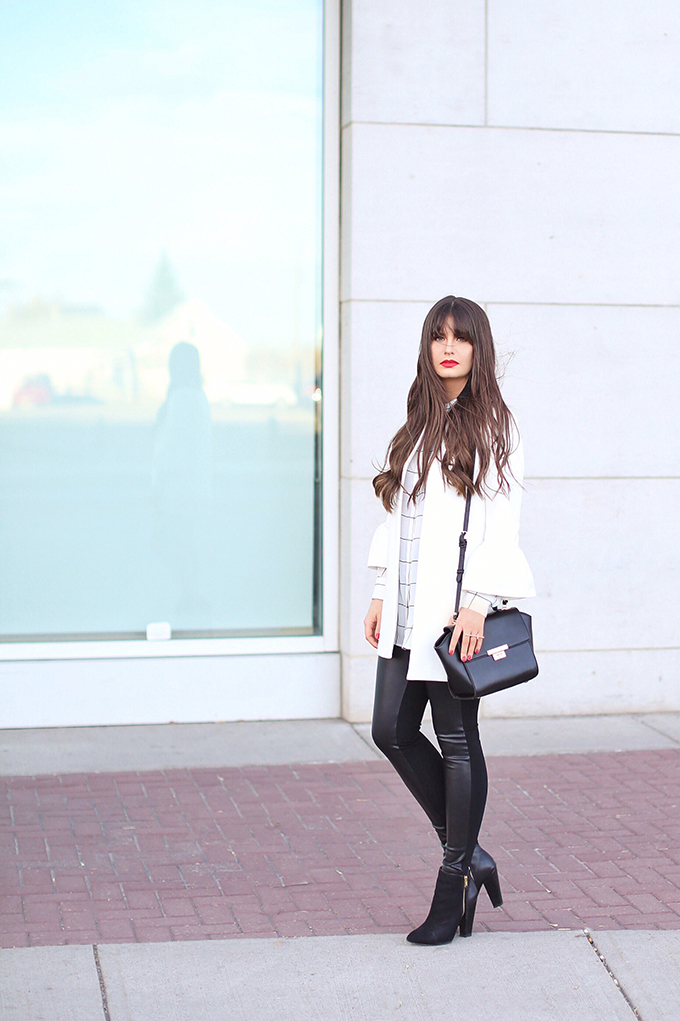 If you've been following along with my FASHION content over the years, you'll know that my personal style is definitely not uber feminine. However, when I saw this adorable white ruffled sleeve coat pop up at Zara (where else?!) earlier this year, I couldn't resist picking it up! Although it's not a piece I would typically reach for at this time of year because of the colour, it's one of the few ruffled pieces I own I love how fresh it looks when paired with the linear shapes of my checked blouse. I also love the stark contrast it provides to all the faux leather I'm wearing!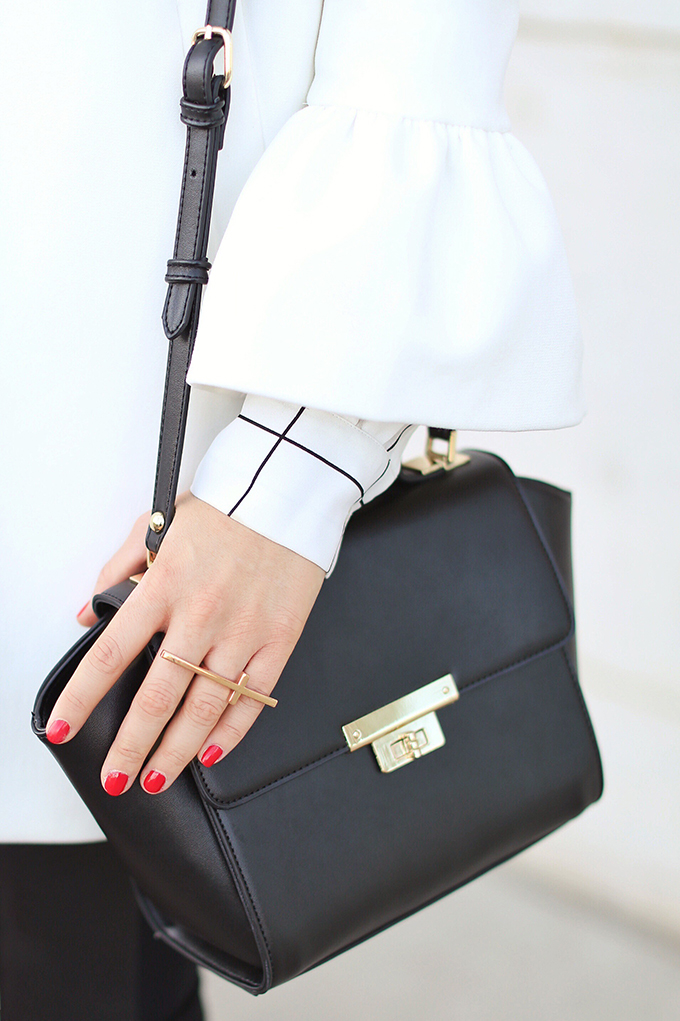 Mixing masculine and feminine pieces is something I like to do to keep my looks from being overly feminine — and it's always fun to experiment with unexpected outfit combinations. If you're on the hunt for some cute ruffled items (or white coats) this autumn, I've rounded up some favourites below!

---
TREND: Checks
---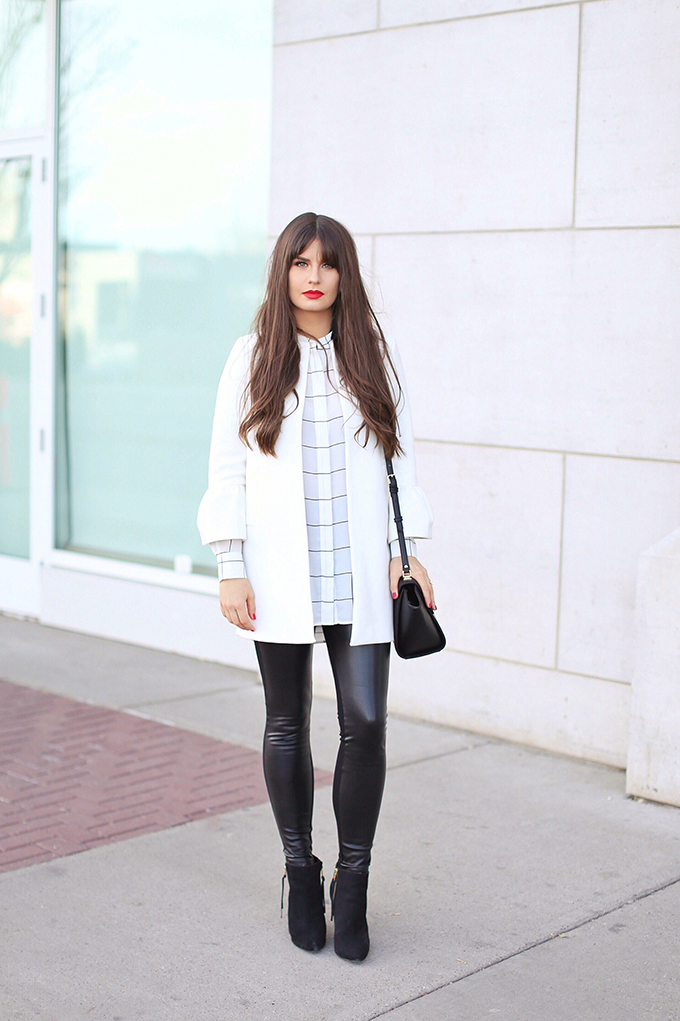 Have you been seeing checked blazers and jackets popping up everywhere this autumn? Me too — but I just haven't been able to find one that I love! As someone who's never really been a huge plaid lover (I have 2 plaid pieces in my closet — and both of them are blanket scarves!) I'm happy to see a more sophisticated side of plaid making waves this autumn. When I was shopping my wardrobe for this post, I pulled this staple checked blouse from Joe Fresh — and it represents the trend perfectly! I actually wear this blouse quite often in professional settings. It goes with everything in my wardrobe and I love it so much (you guessed it!) I also own it in a tan / white check print. Unfortunately this particular blouse is about 4 years old, but I've managed to find some similar options below, as well as my favourite checked pieces for autumn 2017 if you're looking to dip your toes into the trend. If you're Canadian and haven't really explored the world of Joe Fresh before, I recommend giving it a look during your next grocery run!

---
TREND: Soft Leather
---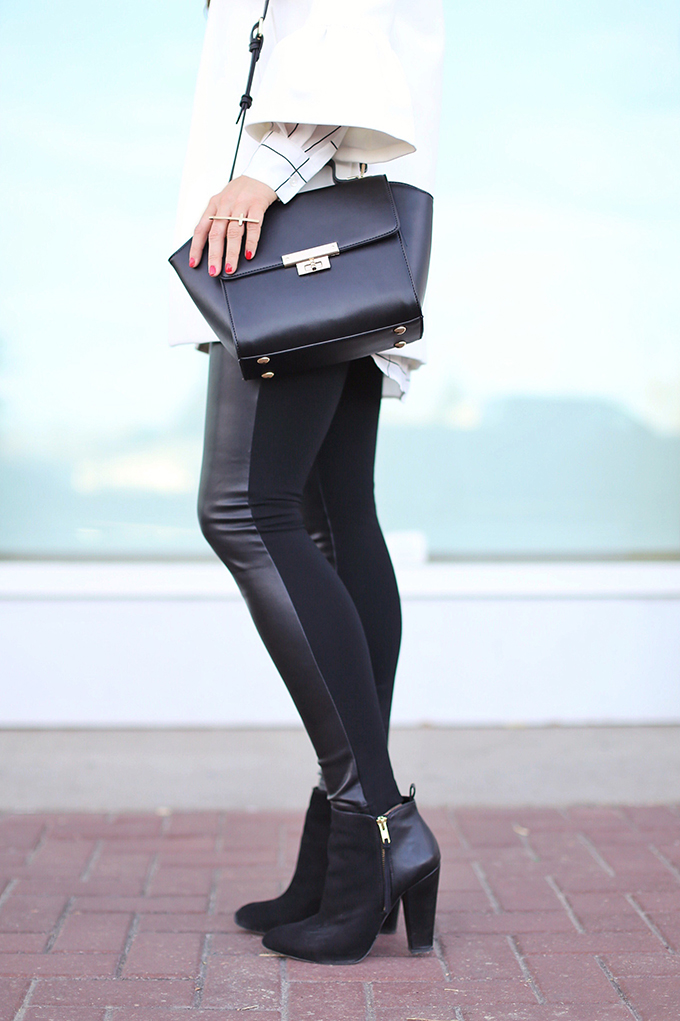 Leather (or faux leather, in this case) will never go out of style — and I have so many leather and leather-like pieces in my wardrobe. Autumn 2017's leather is more sumptuous and soft than seasons past — so it was time to bust out my favourite faux leather leggings (remember them?), booties and bag to really showcase the trend.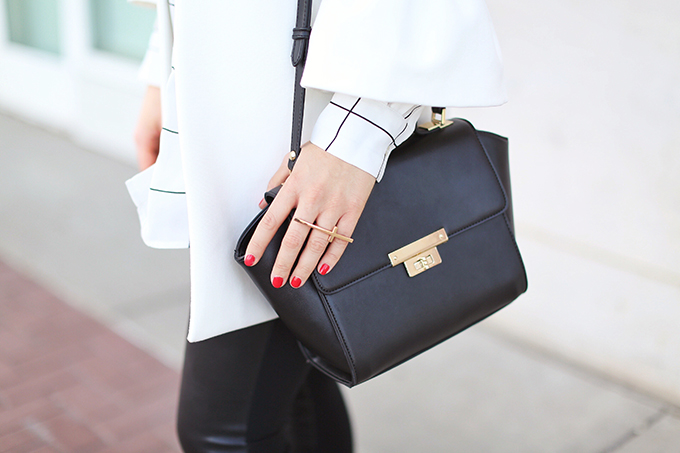 I love the edge these black, faux leather pieces add to an otherwise soft and feminine look — I think a great pair of leather (or faux) leggings, along with a classic pair of ankle boots and a structured bag are an absolute must this autumn. I could probably pair these booties and bag with almost anything in my wardrobe — they're both workhorse pieces that see a lot of wear and prove that leather doesn't always equal tough. If you're in the market for a few (faux) leather pieces, I've rounded up my best look alikes for you.

---
TREND: Bad Ass Boots
---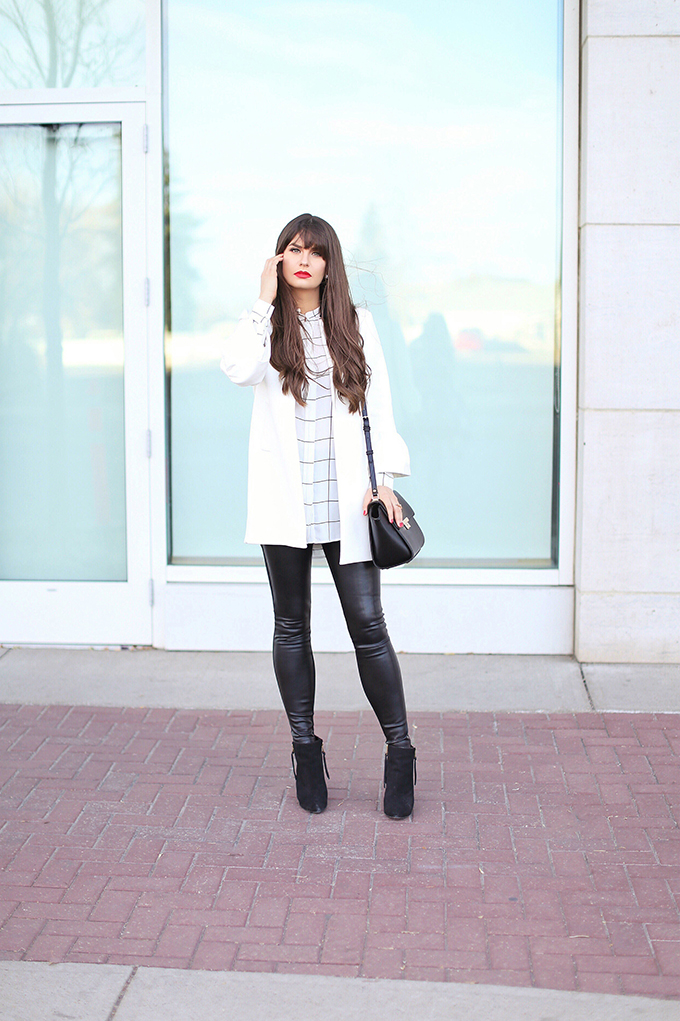 If you're ever read one of my SHOE GUIDES, you'll understand just how much I love shoes. I've owned this particular pair of black ankle booties from Steve Madden for about 3 years and they're still going strong (they even made an appearance in a style post a couple of winters ago!). I love everything about them — the high, blocky heel, the contrasting leather and suede details and the gold hardware. If your wardrobe is lacking a pair of bad bad ass ankle booties, I give you permission to treat yourself to a high quality pair! They're such a huge staple shoe for me almost year round, but these tougher silhouettes are particularly on trend for AW/17. I've rounded up my favourites from Steve Madden's current offerings below!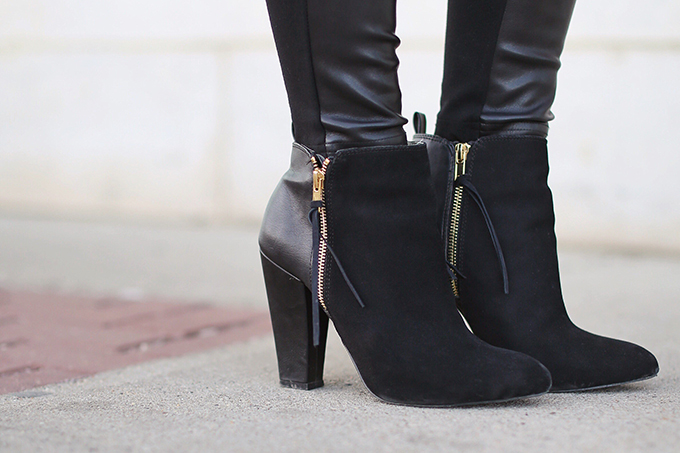 ---
TREND: Sleek Locks
---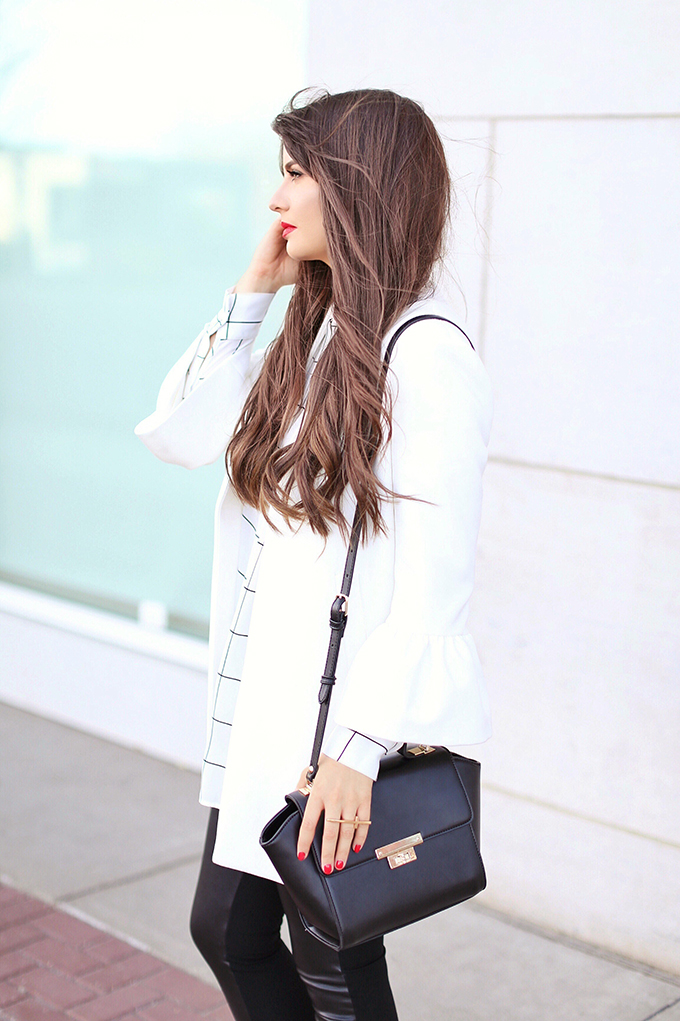 Sleek, straighter strands are on the menu this autumn and I'm personally loving it! While my hair is pretty straight naturally, I love to use a great serum and straightener to really lock my style in, tame my fringe and keep everything looking shiny and polished. Although I do typically still like a little bend in my hair, pin straight strands are becoming more and more popular and I love the way they look with bangs!
An eyelash skimming fringe is a great option for those of you wanting to change up your look without doing anything drastic like a crazy colour or a major chop. I absolutely love the look but despise the maintenance — my hair grows like a weed and I have to trim my bangs every week to keep them in tip top shape. If you're looking for some inspiration or are contemplating a change yourself, I actually have a Hair board on Pinterest, where I fell in love with this gorgeous creature and her amazing mane!

---
SHOP THE LOOK
---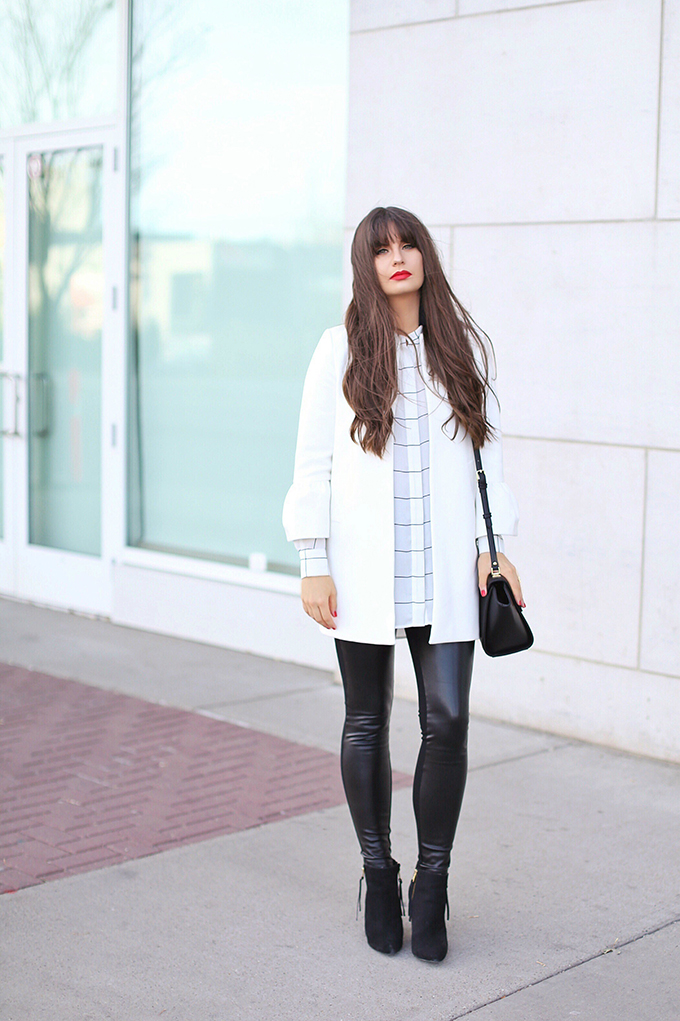 ---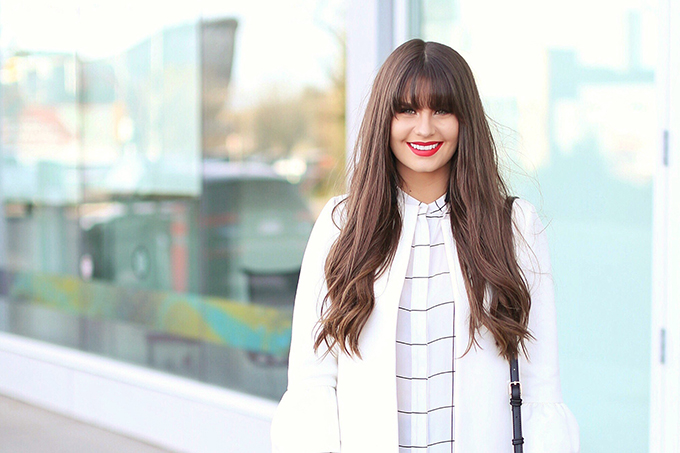 Have you made any big changes in your appearance this season? It seems I change my hair when I feel that I've changed a lot personally or when I'm about to make some big changes in my life. I think this time it's a mixture of both! I hope this post inspires you to takes risks and shake things up in terms of personal style — life is way too short to not have as much fun as possible experimenting with how you present yourself to the world. Cheers to growth, change and reinventing ourselves — at every stage of life!
---
Disclaimer: This post is not sponsored and contains my genuine thoughts, ideas and recommendations. JustineCelina uses affiliate and referral links, which allow me to receive a small commission when you make a purchase through one of my links. Thank you for supporting the brands and businesses that support JustineCelina.com!