I always find that February is a difficult month, fashion-wise! It's not the dead of winter anymore, but it's also definitely not spring. Here in Calgary the weather has been pretty mild, but there's still snow on the ground (and let's be real — it could still snow anytime!). At this time of year I get sick of wearing pants and crave the more feminine silhouettes of spring — dresses and skirts! I find myself reaching for a lot of neutral tones, but punching my look up with bold accessories and statement lips (especially since I've been so obsessed with pink, but am picky about wearing it!). I've mentioned before that the core of my wardrobe consists of pieces that I can wear for both work and play — this outfit is an example of something I'd wear if I was hanging out with friends, or headed to a business meeting. Today I'm sharing my favourite transitional pieces from winter-to-spring in Alberta!
---
Wool Camel Coat (similar) | Cowl Neck Sweater Dress (similar, similar) | Tassel Tote (similar, similar) | Oversized Leopard Print Sunglasses | Seania-U Over the Knee Suede Boots (similar) | Rhinestone Analog Watch | Tarte Power Pigment in Flush
---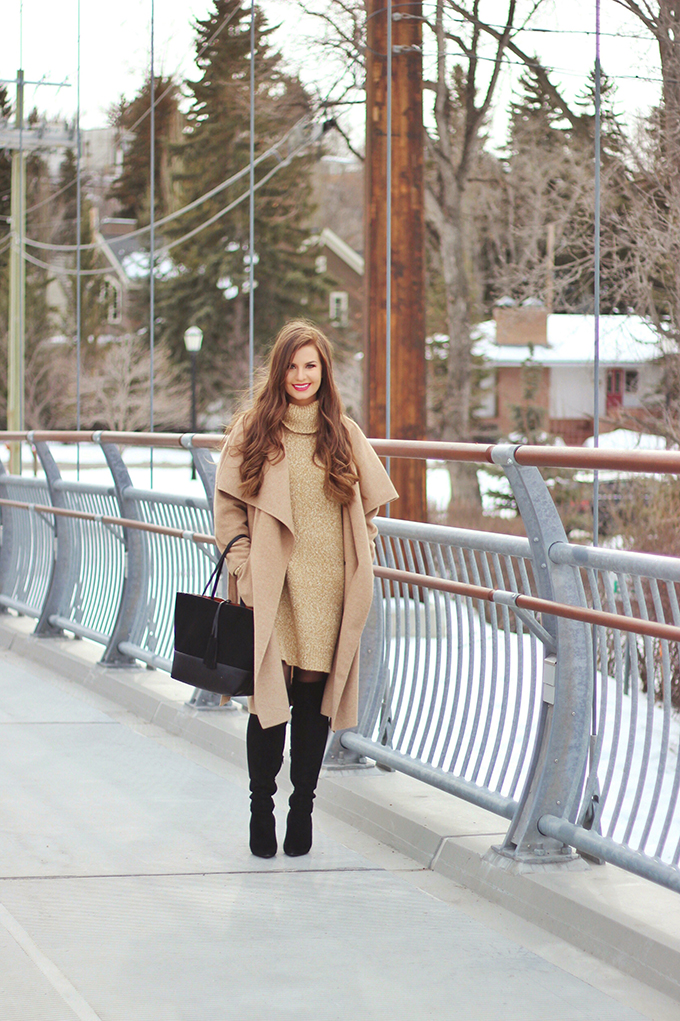 In this in-between season in Calgary, these are my favourite pieces (and beauty tips) to help ease the transition from winter-to-spring!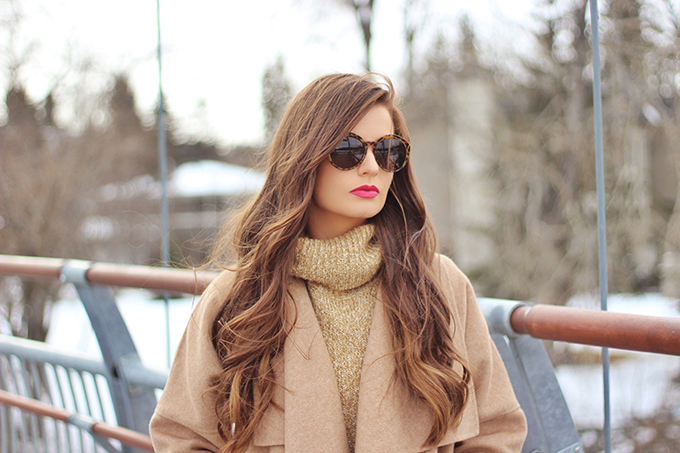 ---
1. A LUXURIOUS, LONGLINE CAMEL COAT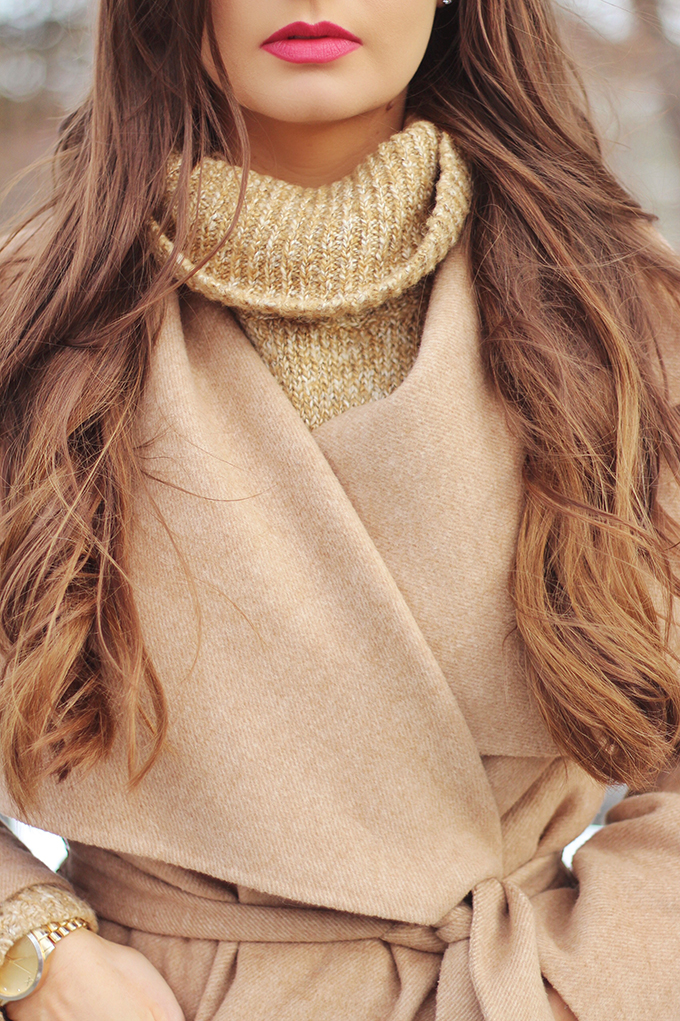 I have a soft spot for great outerwear. Living in Alberta where the weather can change quickly, I love to dress in light layers in both the spring and fall. I tend to invest in my outerwear, because I think it's important to feel great in items that keep you cozy, especially in this climate. One of the most instrumental pieces in my winter-to-spring wardrobe is this beautiful camel wool coat. I can throw it on over pretty much anything and feel polished and professional instantly!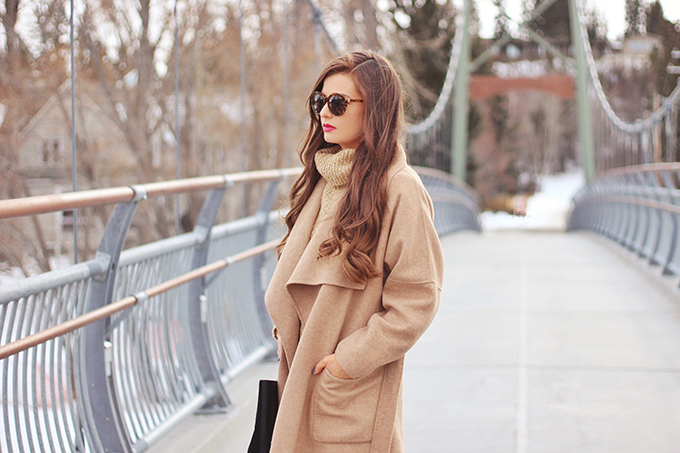 I guarantee that if you invest in a lightweight, longline camel jacket, you'll get a ton of mileage out of it in both the late winter / early spring and the fall. It all depends on how you style and layer it! On this particular day it was about 5°C (and as you can probably tell, it was quite windy), so I layered it with a cozy sweater dress and suede over-the-knee boots. I also love wearing it with blanket scarves, or faux fur stoles in the fall. Closer to spring, I throw it on over lighter blouses and tees. It looks great with skirts, denim, dresses, and pretty much everything in between! Camel is such a chic shade that I think looks great on everyone. The one I'm wearing in these photos is from Zara (last season), so I've linked the most similar one I can find here (it's super affordable!).
---
2. A COWL NECK SWEATER DRESS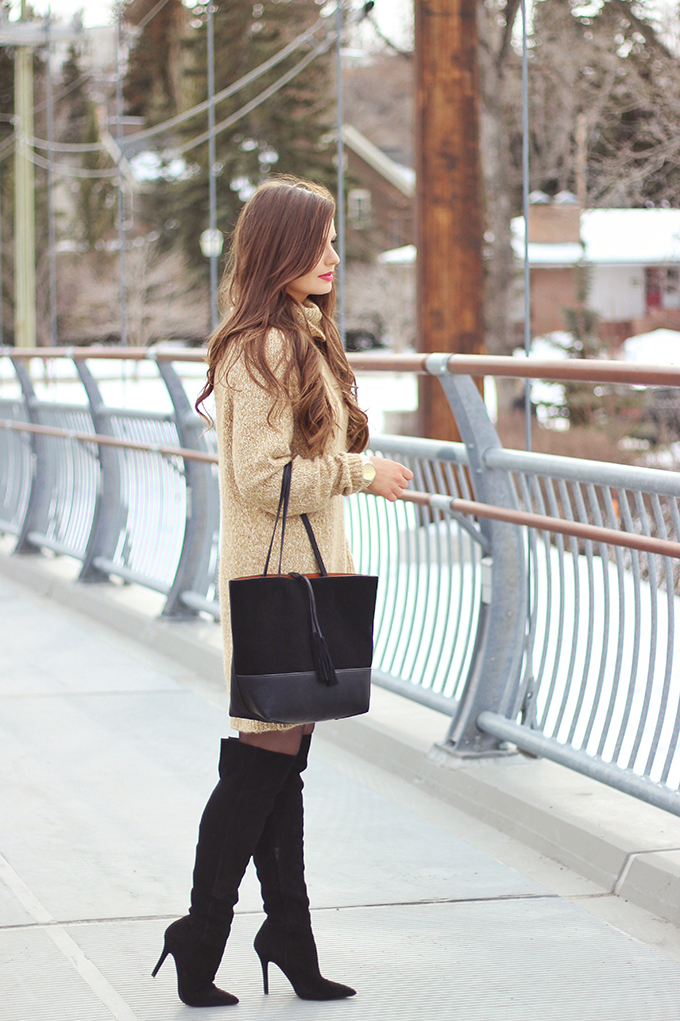 This dress is so comfortable, cozy and versatile! I live in chunky knits in the winter, and this is a dress that transitions well from fall, to winter, to early spring for me. I particularly love the oversized fit, and the cowl neck — it's like a built in scarf, and it keeps me nice and warm. It's as comfortable as wearing your favourite winter sweater, but looks chic paired with sheer nylons and over-the-knee boots. I'm a fan of monochromatic dressing in the in-between seasons, and I love the sophisticated, tone-on-tone camel in this outfit.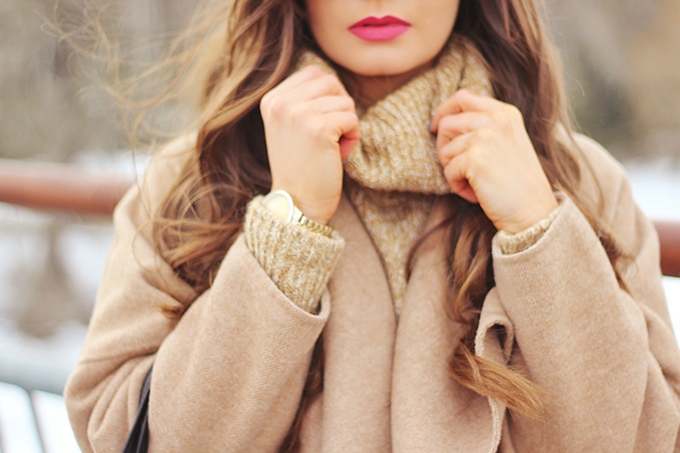 ---
3. POINTY TOE OVER-THE-KNEE BOOTS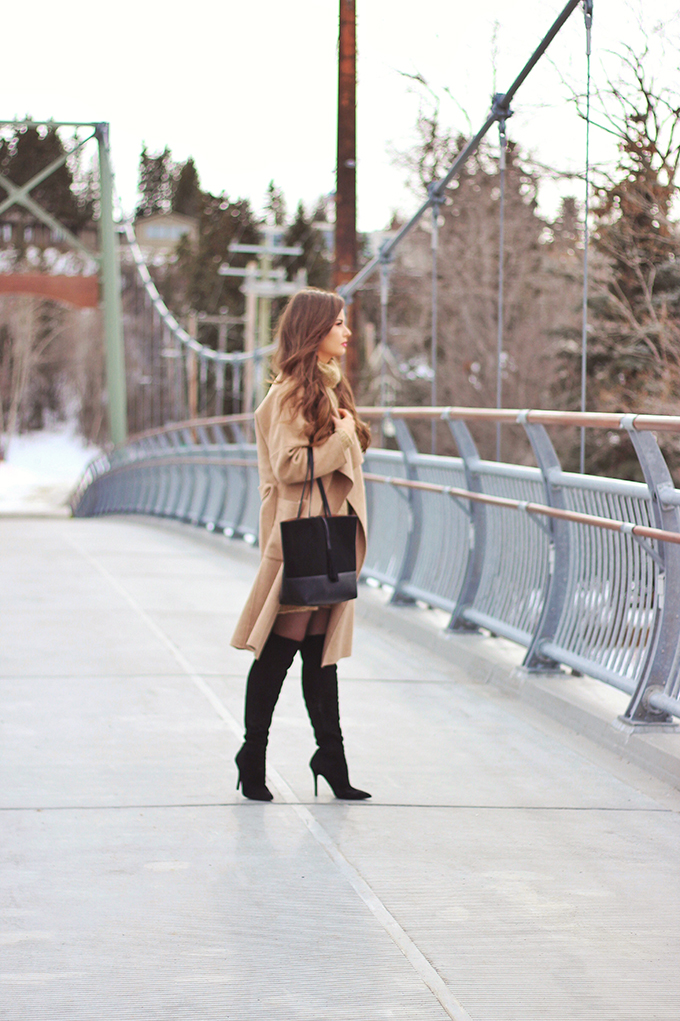 I have a lot of shoes, so I'm pretty choosy about what I invest in these days. This winter, I knew I wanted to purchase a pair of suede, pointy toe, over the knee boots — and after weeks of hunting, I found the perfect pair at Aldo. In previous fashion posts I've spoken about how pointy toed shoes really elongate the leg, and these boots are no exception. They're the only footwear I purchased this season, and I've been putting tons of miles on them! They pair so well with dresses, skinny jeans and leggings, too. And since the heels are a reasonable height, they're super comfortable. One rule I like to keep in mind when wearing over-the-knee boots is to leave at least 2 inches between the hem of your dress and the top of the boot to keep your legs looking long and lean. I usually wear authentic suede shoes once the snow melts to avoid absolutely destroying them!
---
4. LEOPARD SUNNIES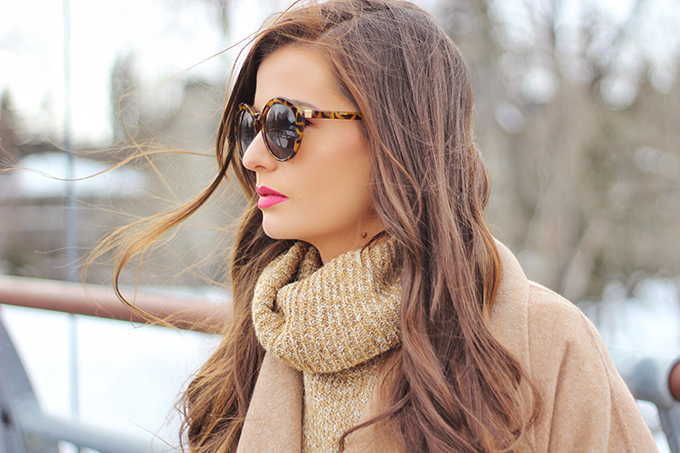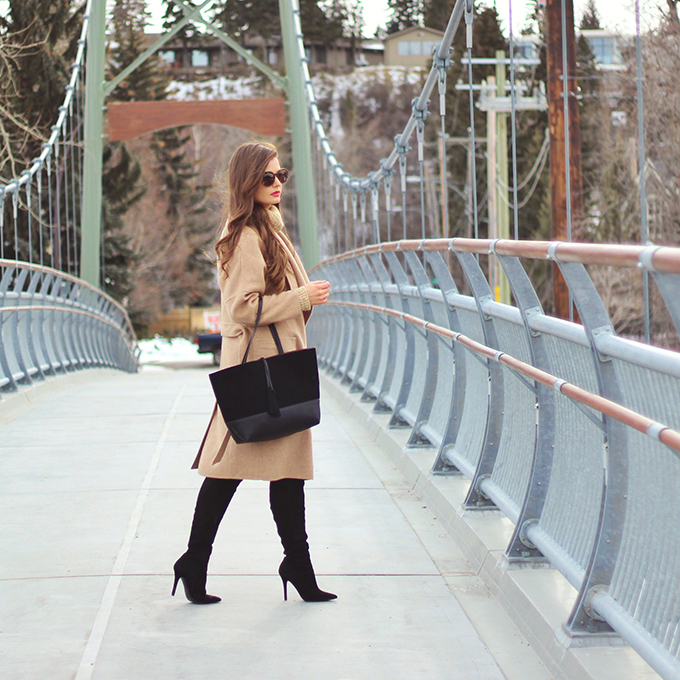 I wear these leopard sunnies so much! They always add a bit of interest and attitude to an other wise simple outfit. But, I also wear them with a variety of other colours and prints — including plaid, stripes and florals. I think of leopard print as a neutral (when you break it down, it's just a combination of black and brown) — plus if you're wearing both shades, a leopard print accessory can help to tie your look together. I especially love these shades paired with a statement lip!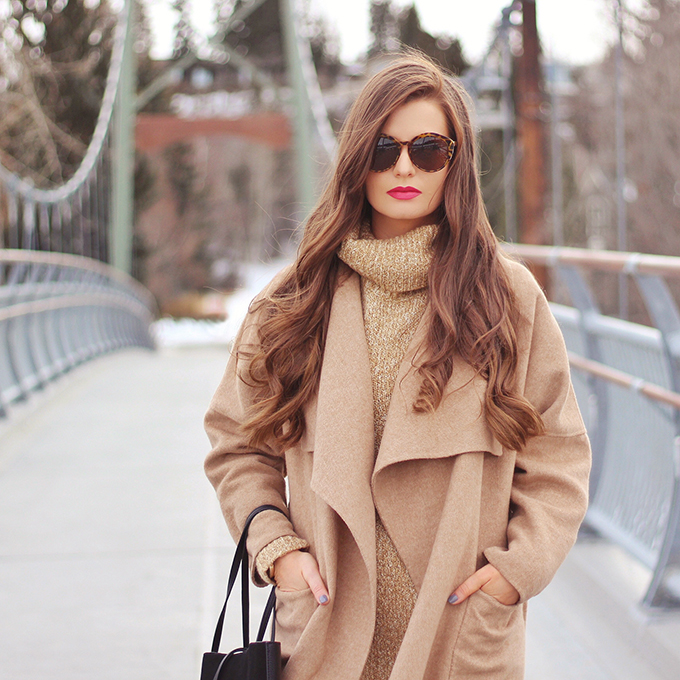 ---
5. A WORKHORSE TASSLE TOTE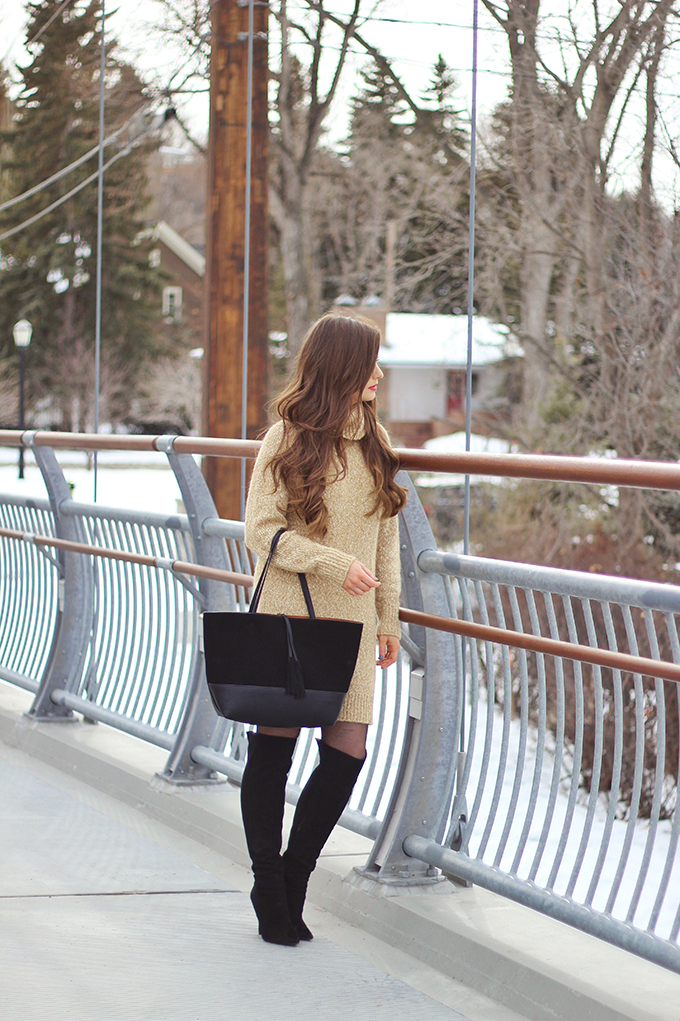 I love a great oversized bag, and this tote has been putting in major work for me lately! Personally, I look for daytime bags that can also double as briefcases — I can throw my laptop, iPad, pens, pencils, notepad, planner, plus my regular handbag items in there, and be set for the day. This tote bag combines business-casual with the perfect amount of bohemian fringe (I'll always love fringe, but I was totally obsessed this past autumn!).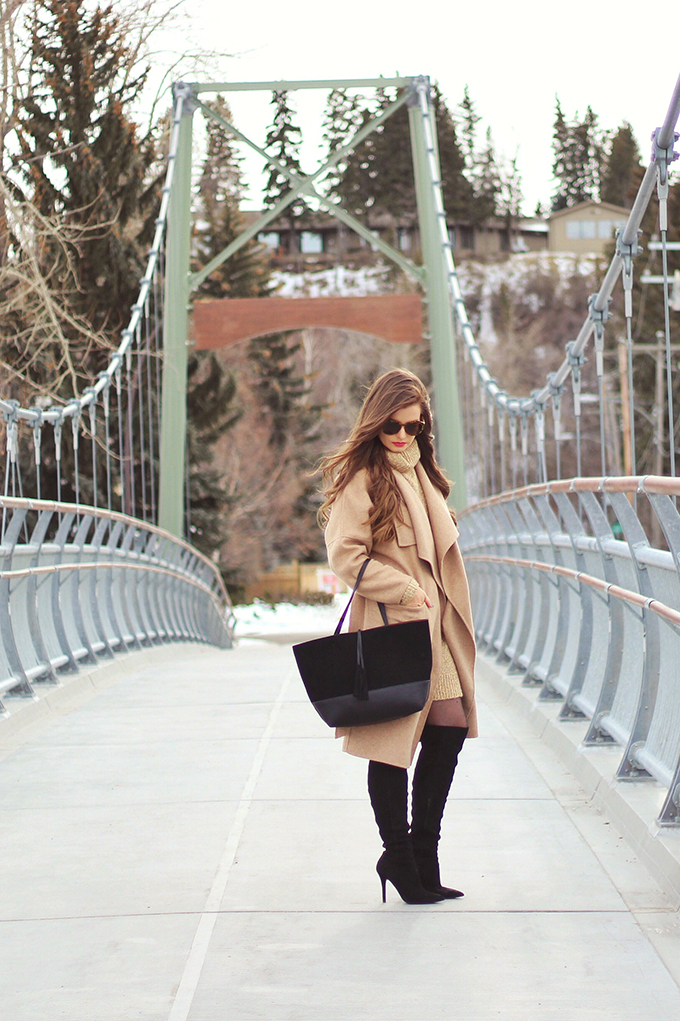 ---
6. A SLEEK GOLD WATCH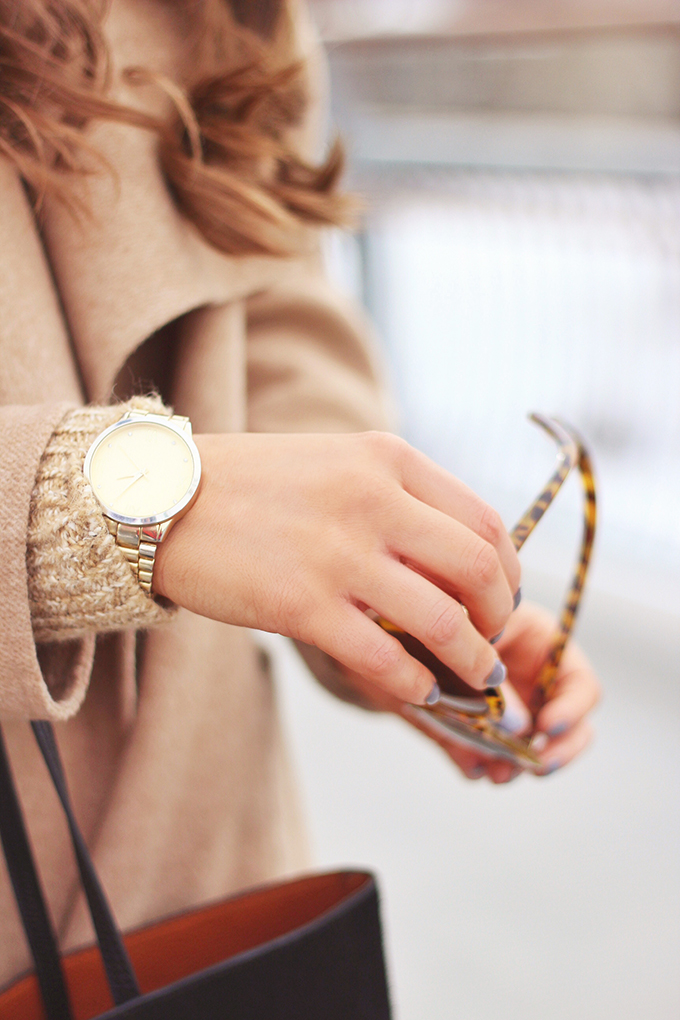 If you've been with me for awhile you probably already know where my watch is from! I love Forever 21's classic watches and own quite a few. I'd personally rather have a selection of inexpensive watches to choose from, than be stuck to only one expensive watch (what's the fun in that?!). A sleek gold watch adds polish and sophistication to anything you wear. Plus, when my schedule is jam-packed with meetings, I do actually use it to check the time — without having to pull out my phone.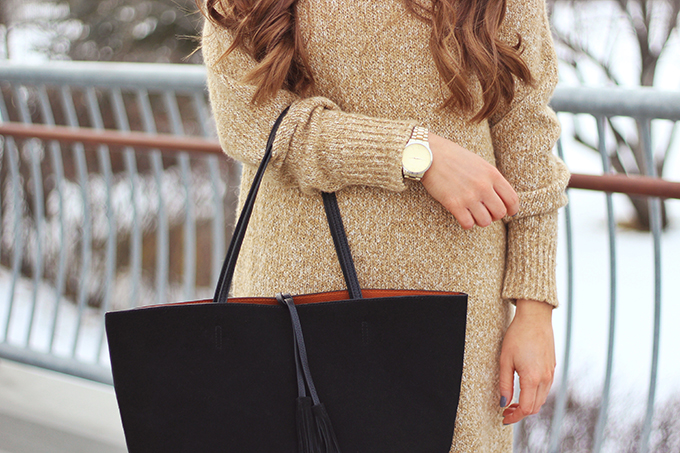 ---
7. A PINK OR BERRY STATEMENT LIP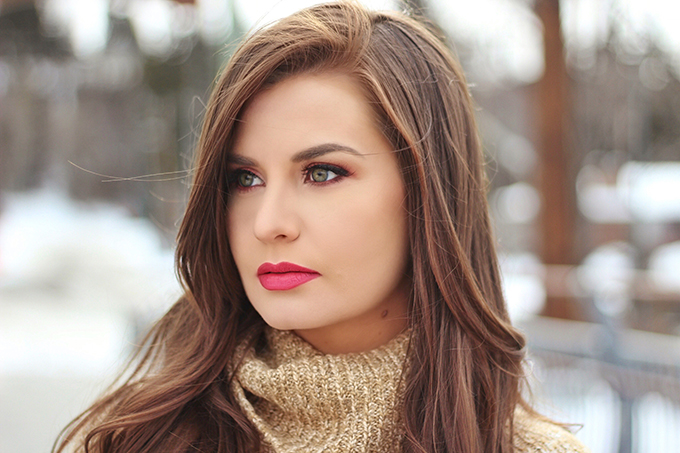 There's nothing I love more than a pop of colour in a neutral palette — whether it be in an accessory I'm wearing, or in my makeup! I think of beauty as an accessory to fashion (or sometimes, the other way around), so I always consider the whole picture when I'm deciding what to wear. I think this outfit would be totally boring without the statement lip and leopard print shades — they really help to elevate the look and make it unique. A bright pink statement lip is a great way to add a touch of spring colour to a neutral outfit! I mentioned this in my January Beauty Favourites post, but I think warm berry shades look gorgeous on everyone! I've had almost every haircolour under the sun (though currently I'm au naturale), and these warm berries have always suited me, no matter what my colour my hair is. If you're interested, you can hop over to that post for a full review on the Tarte Power Pigment in Flush that I'm wearing here.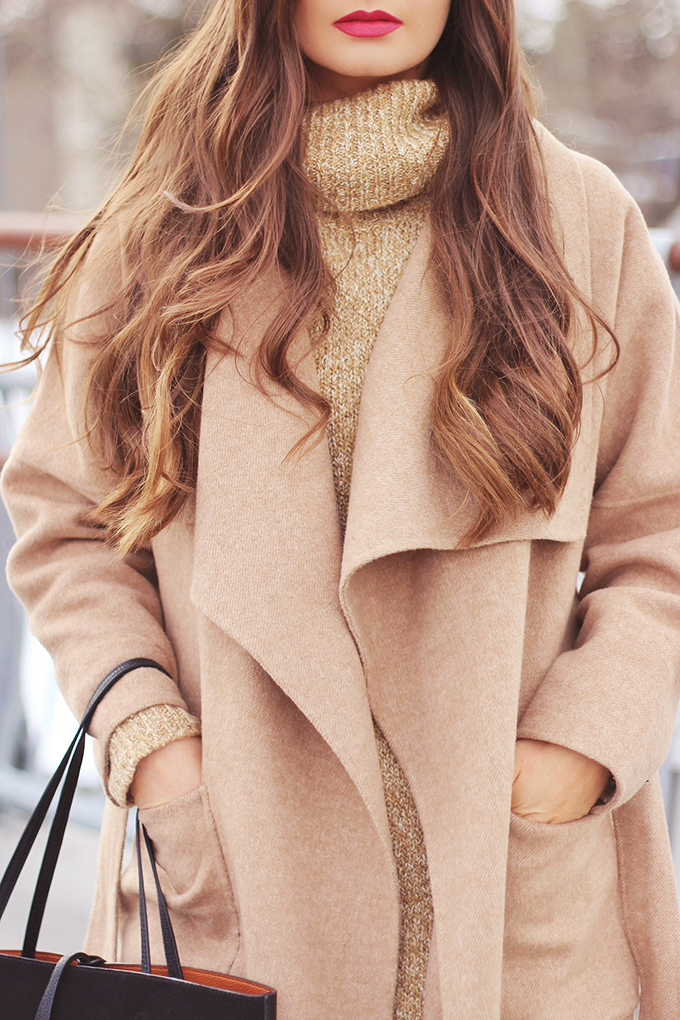 ---
8. A SIDE PART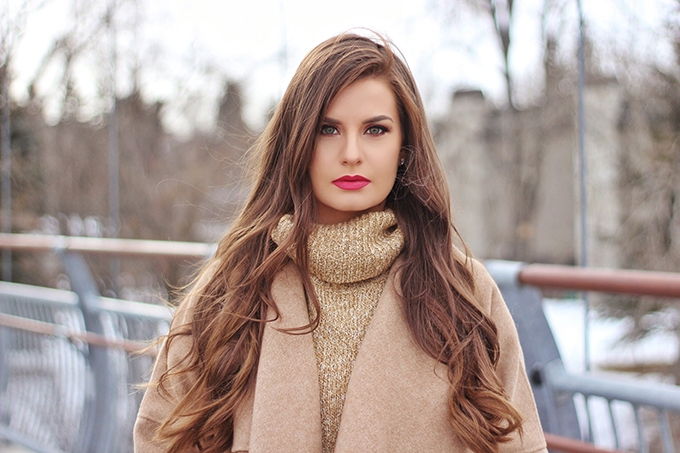 When I'm craving change and want to add an air of sophistication to my look, I part my hair on the side. As someone who usually wears a centre part because I like the bohemian vibe of it (and I think it suits me best), I find that something as simple as changing where I part my hair can make a big difference! It's a small thing, but if you're used to wearing your part in a certain spot, try switching it up to instantly change your look — no scissors necessary.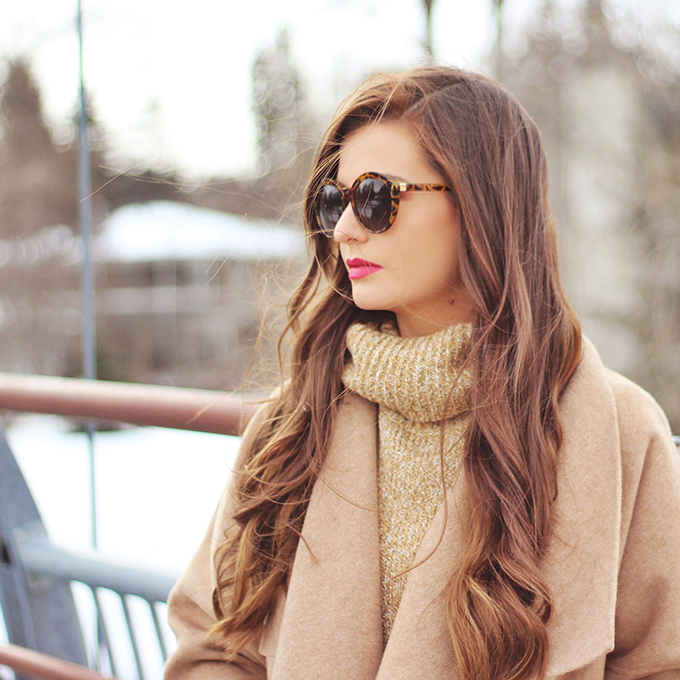 ---
SHOP THE LOOK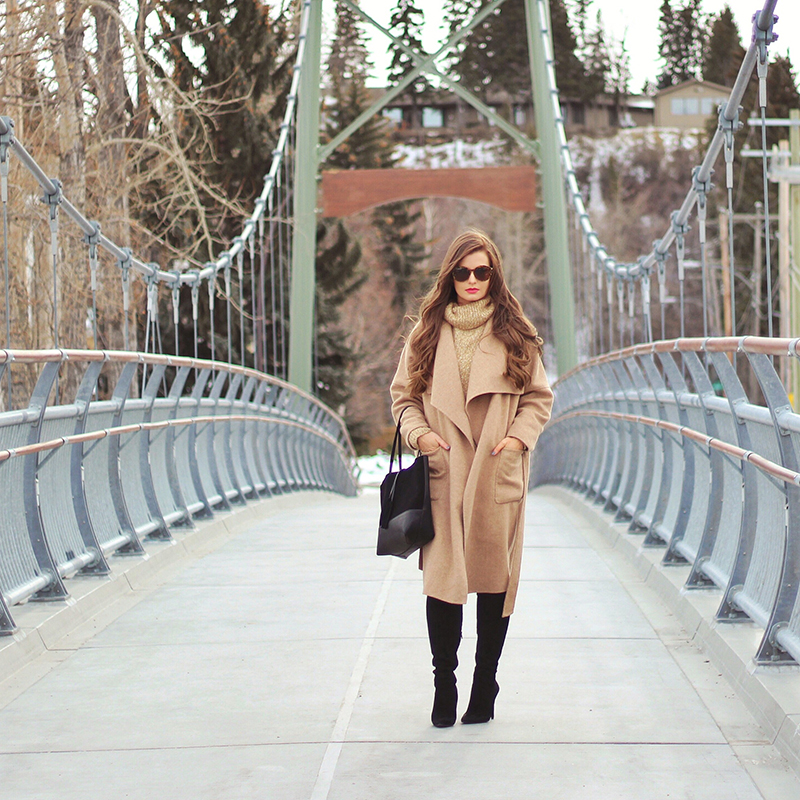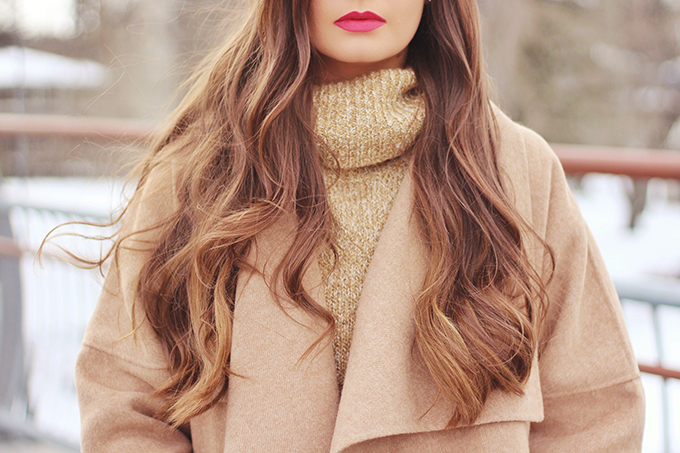 Wool Camel Coat (similar) | Cowl Neck Sweater Dress (similar, similar) | Tassel Tote (similar, similar) | Oversized Leopard Print Sunglasses | Seania-U Over the Knee Suede Boots (similar) | Rhinestone Analog Watch | Tarte Power Pigment in Flush
---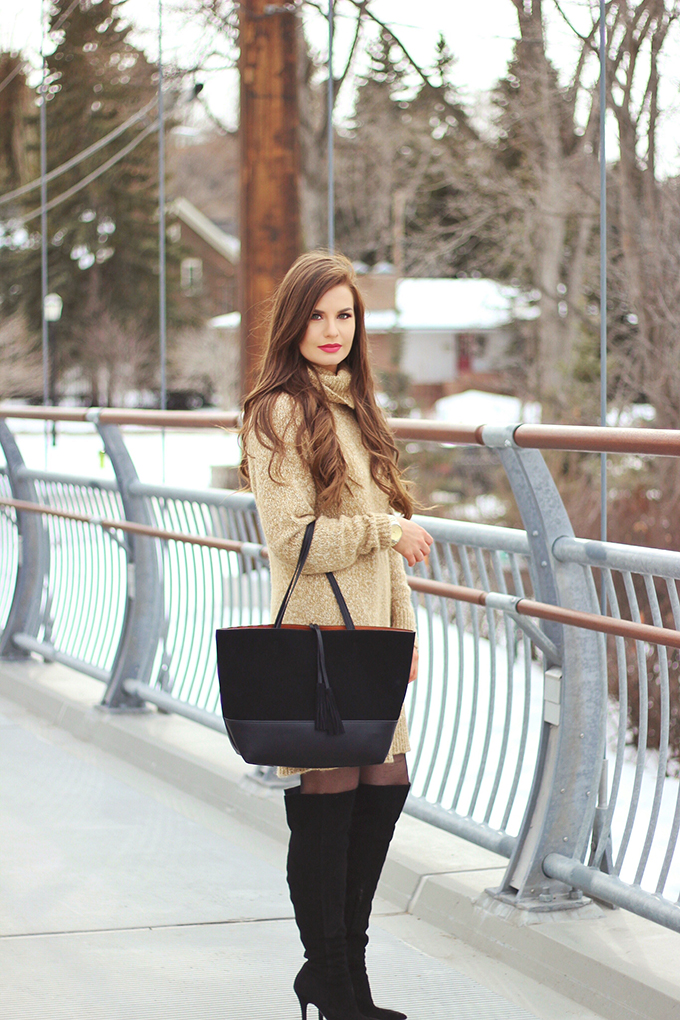 What are your favourite pieces to wear between winter and spring? What other fashion content would you like to see here at JustineCelina this year? I have lots of posts planned, but if there's anything specific you'd like me to cover, just leave a comment! Have a great Sunday, whatever you're up to!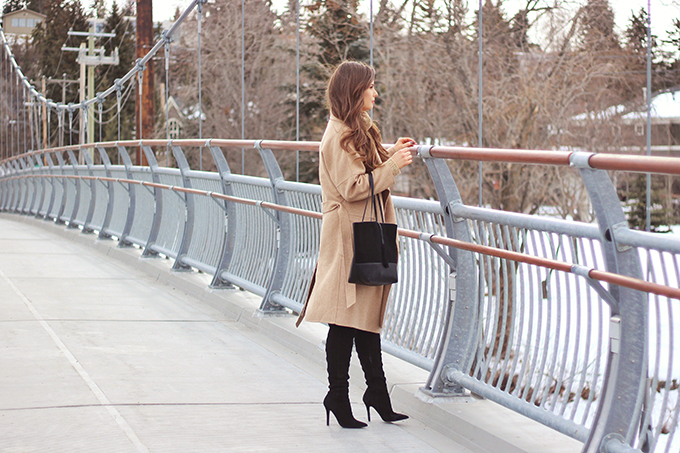 ---
Disclaimer: This post is not sponsored, and contains my genuine thoughts and recommendations. JustineCelina uses affiliate and referral links, which allow me to receive a small commission when you make a purchase through one of my links. Your purchases help to support JustineCelina.com!