I'm back today with another SPRING 2017 TREND GUIDE for you — and this time, I'm styling 1 outfit 2 ways! If we've visited IRL lately, there's a good chance I may have been wearing some iteration of this outfit (don't think fashion bloggers don't rewear their favourite outfits around different groups of people!). I've worn this Casual Chic look to meetings, to daytime events and also out to enjoy a glass of rosé on a sunny patio with friends in the evening — transitioning my outfit simply by changing up a few accessories and losing a layer! While I'd love to be frolicking in a field or on a mountaintop everyday of my life (I mean… who wouldn't?!), I realize that's just not realistic for the average woman and moving forward I'll be showcasing the more professional side of my wardrobe here at JustineCelina as well.
While this outfit incorporates a handful of seasonal trends, it's also such an easy one to wear — and one I think would suit almost every body shape. So beautiful people, kick back with me this weekend and let's chat palazzo pants and 70's inspired silhouettes, stripes, the new white shirt, cold shoulders, straw bags, wedges, vibrant lips, metallics and the difference between inexpensive and designer shades (I'm wearing my very first pair of designer sunglasses in this post and sharing my thoughts on whether or not they're worth the splurge)!
---
High-Low Hem Shirt | Stripped Palazzo Pants | Prada Sunglasses PR50TS 1AB0A7 c/o SmartBuyGlasses | Straw Bag (vintage, similar) | Faux Leather Trapeze Satchel | Longline White Blazer | CL by Chinese Laundry Baja Wedges c/o Sears Canada | Leather Strap Watch | Dean Davidson Ethos Bracelet c/o Joydrop | Ring (vintage, similar) | NAILS INC. Mayfair Market Polish | Sultra The Bombshell 1″ Rod Curling Iron | Lancôme Matte Shaker High Pigment Liquid Lipstick in Magic Orange
---
SPRING 2017 TREND GUIDE | CASUAL CHIC
---
These TREND GUIDES are my favourite type of content to produce lately — but this time I wanted to switch things up and show you how to you can wear seasonal trends in the workplace as well. Today we're starting with a Casual Chic look that's more relaxed, then towards the end of the post I'm sharing some ideas on how to tweak it for professional settings. I hope you enjoy my Spring 2017 Trend Guide | Casual Chic — it's the comfiest one yet!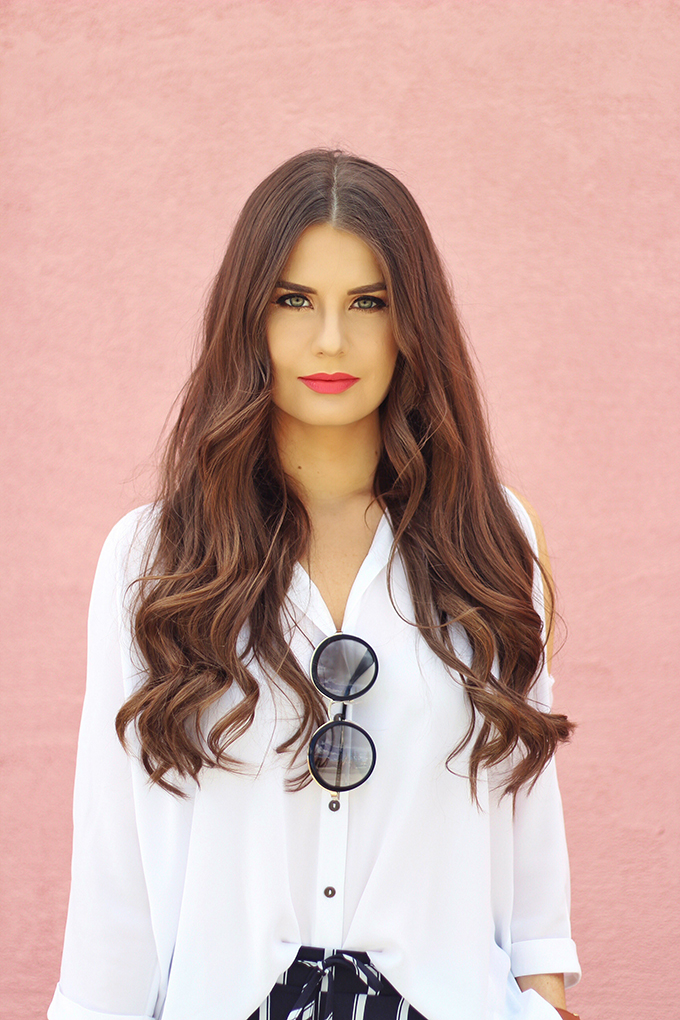 ---
TREND: The New White Shirt
---
I firmly believe every woman should have a few great white shirts in their wardrobe. If it's been awhile since you've refreshed your white shirts, now is a great time to pick one up! This season, we're seeing the classic white button down reimagined with fresh, on trend details. I've been wearing this breezy High-Low Hem Shirt with cold shoulders (a trend that's been around since last summer and is still going strong!) so much this spring — it literally goes with everything in my closet.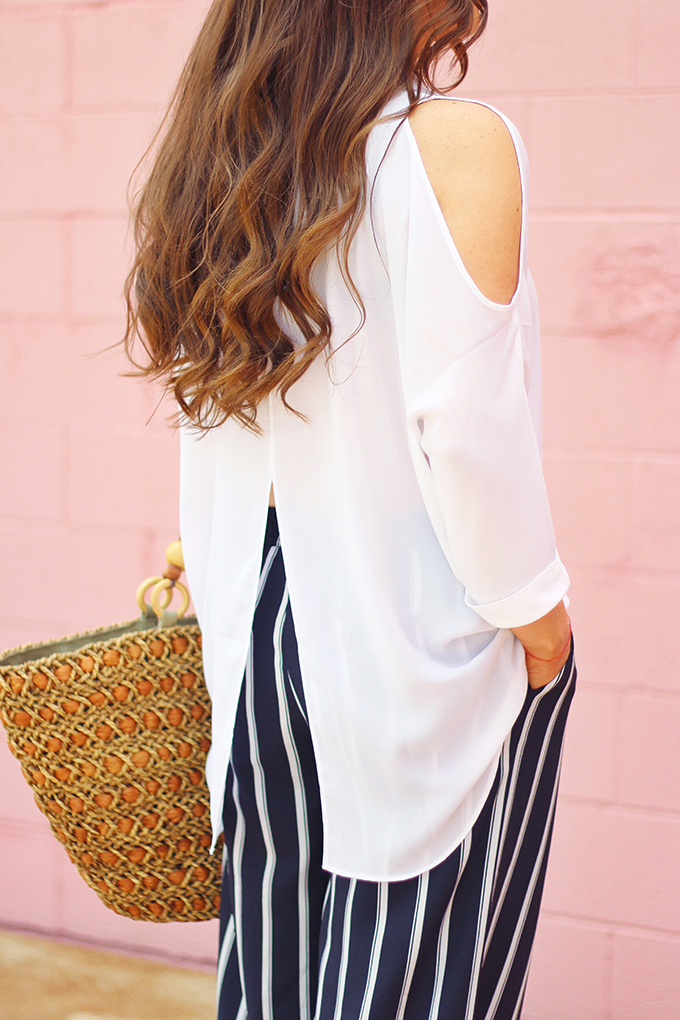 I especially love it for tucking into higher waisted pants (the high hem in the front makes for less fabric to deal with and therefore less bunching, creating a long, lean silhouette). This versatile spring / summer staple wears well on its own, but I also like to layer it under vests and blazers (a great option for the office). And I bet you saw this coming — I love it so much, I also picked it up in mauve. I get tons of compliments on this blouse and people are floored when I tell them it's from Forever21!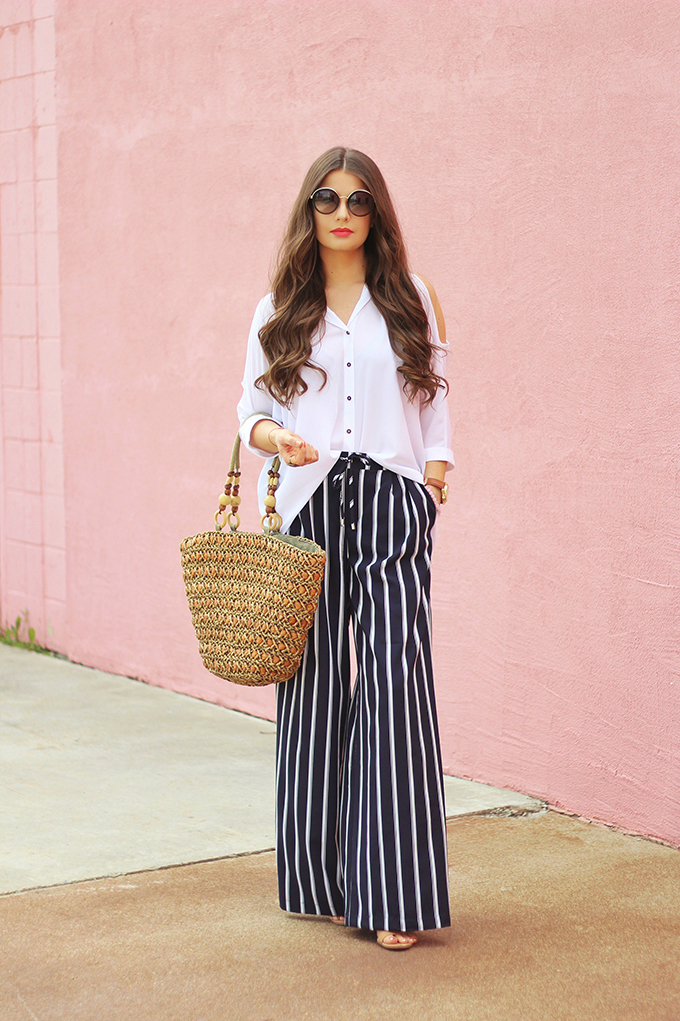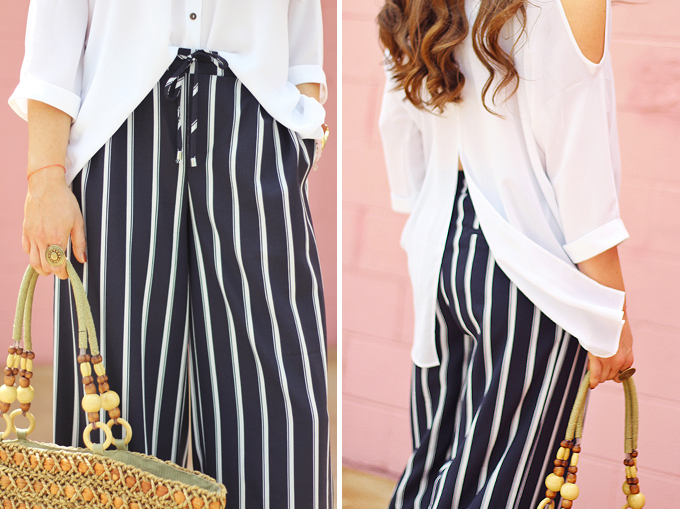 ---
TREND: Palazzo Pants
---
I love 70's inspired silhouettes for their easy elegance (remember this jumpsuit from last summer?) and this season, it's all about palazzo pants. I love the casual, luxurious vibe palazzo pants give off — and you'll be seeing a lot more relaxed, breezy styles around here over the next few months. Whenever I wear these pants people ask about them, and again, they're shocked when I tell them where they're from!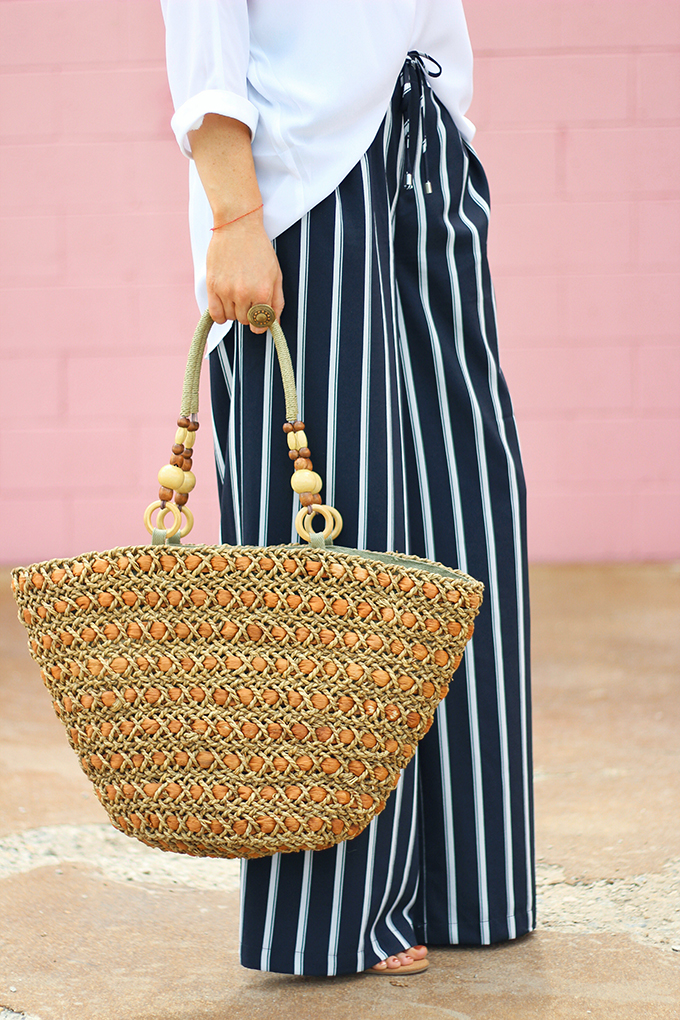 Forever21 has tons of great striped palazzo pants this season at very affordable price points — and personally I find the quality between stores like Zara, H&M, Dynamite and Forever21 interchangeable. If you're looking to update your bottoms this season, pick up a pair of striped palazzo pants — they combine 2 of my favourite seasonal trends, they're great for professional and personal settings and they're insanely comfortable. I've linked some of my favourite styles for you below!

Pairing your palazzo pants up with a heel? Look for a ground-skimming inseam to give the illusion of longer looking legs. If your pants are too long, find a local tailor who can hem them to the desired length — just make sure to bring a pair of heels the height you're likely to wear your palazzo's with most often!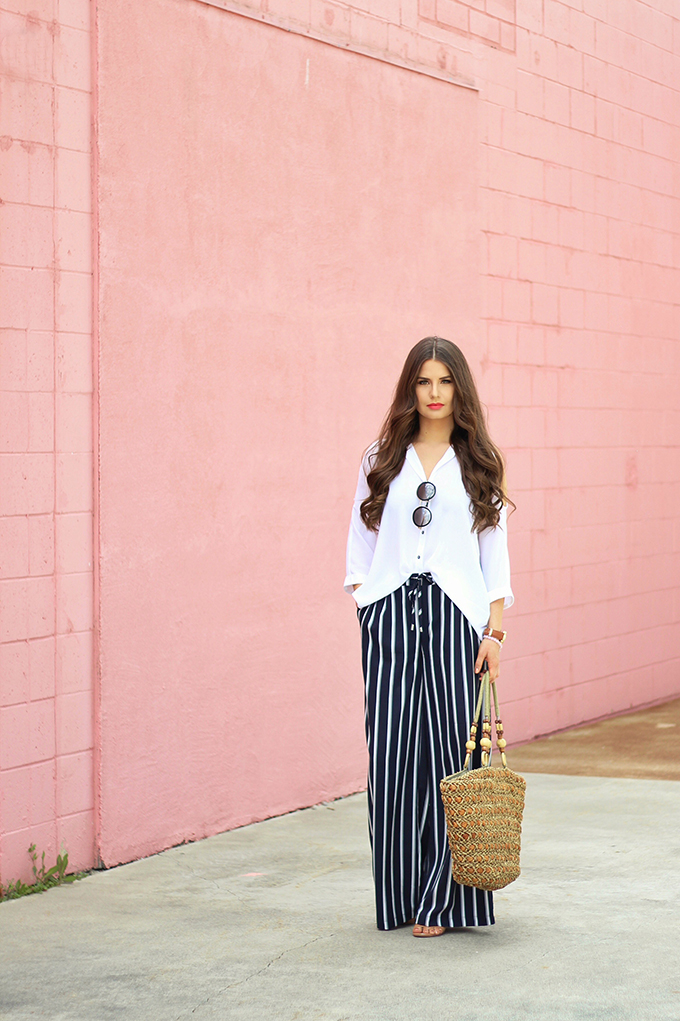 ---
TREND: Straw Bags
---
I've always had a soft spot for straw bags and am thrilled to see them popping up everywhere (and in every size and colour) this season. I love oversized straw totes for their versatility and ability to dress any outfit down, adding a fun, laidback vibe to a look — they're not just for the beach! I own quite a few vintage straw bags (including the one I'm wearing), but I've linked some of my favourite styles for you below (I mean… how cute are those pompoms?!).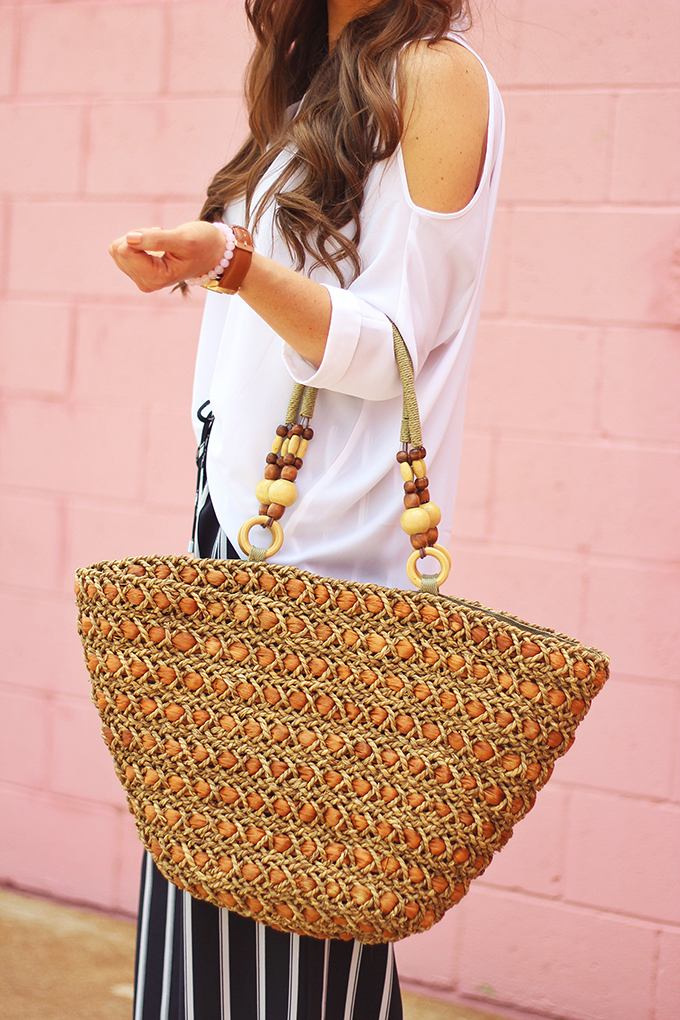 ---
TREND: Wedges
---
This season, pretty much anything goes in the shoe department — I can't think of a time when there were so many varied styles to choose from! We're seeing a lot of wedge, espadrille, 2 strap and mule inspired shoes this spring / summer, and my CL by Chinese Laundry Baja Wedges combine the best of all worlds. I attended a lovely lunch event earlier this spring with Sears Canada where we learned about seasonal trends and the recent changes they've been making. Afterwards, I was excited to visit and investigate for myself — when I stumbled on the CL by Chinese Laundry line (a more affordable line from Chinese Laundry), I was smitten! I snagged these wedges and a pair of mules, which you'll also be seeing very soon in an upcoming Summer 2017 Mega Shoe Guide.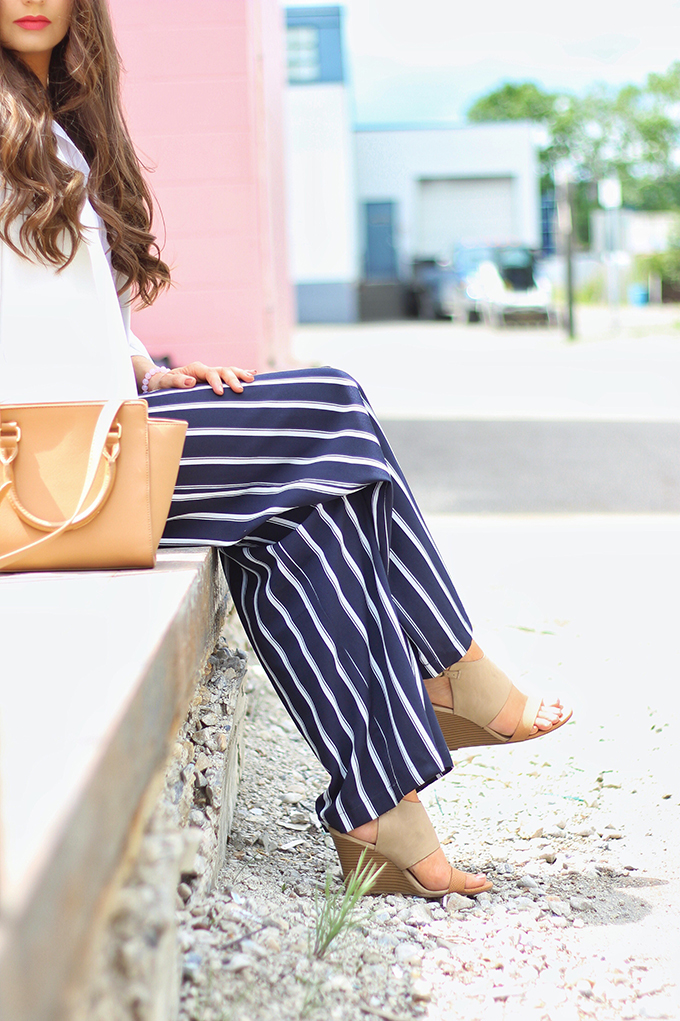 I've already put so many miles on these wedges this season. The price is right, they're on trend but timeless and I'm seriously considering picking up the other colours. The Baja Wedges are the comfiest heels in my Spring 2017 wardrobe — truly wear all day shoes! Even though you don't really see my shoes here, that's exactly the point. For maximum leg elongating effect when wearing wide leg, palazzo style pants, you want to choose a nude heel that stays hidden as much as possible. That said, I've been pairing these versatile wedges up with almost everything in my wardrobe lately!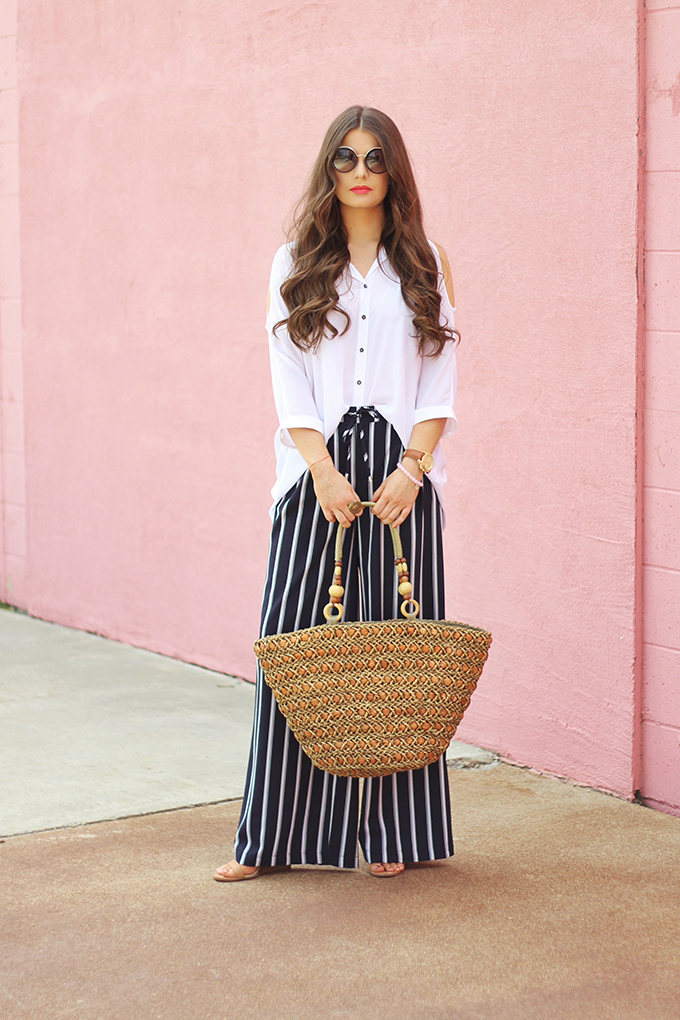 ---
TREND: Circular Shades
---
You've heard me talk about round sunglasses in almost every single style post this year, but there is something different about these particular shades! I'm wearing my first ever pair of designer sunglasses courtesy of my friends at SmartBuyGlasses. The Prada Sunglasses PR50TS 1AB0A7 are the most recent addition to my sunglass wardrobe and as someone who loves to experiment with different styles and have lots of pairs to choose from rather than buying a few designer styles, I was interested to take a designer pair for a spin and experience the difference in craftsmanship first hand.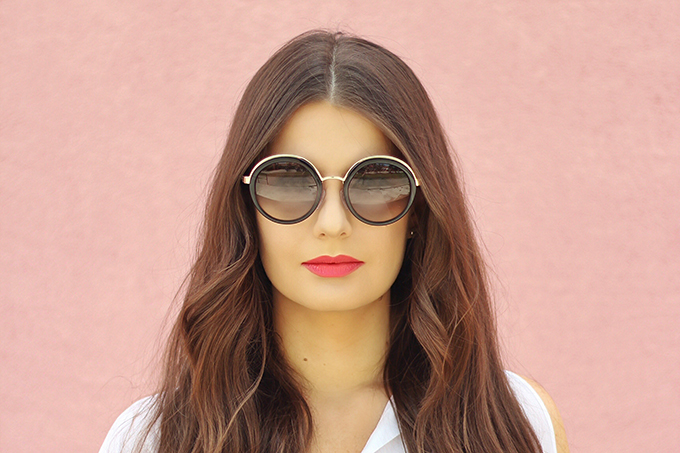 Regardless of pricepoint, I simply purchase styles I love (I've never been one to purchase something for a brand name) — for example, I found an amazing dupe for the Chloe Carina sunglasses in my first spring style post (from Forever 21, and under $10, no less!). That said, they're only available in one colour and I really love the style. For special instances like that (and especially now that they're sold out), I would absolutely consider picking up the designer version. However, I realize that many of you do like to purchase designer sunglasses, so I selected a classic pair consistent with my personal style for today's post to switch things up.
In terms of quality, there's really no comparison — these Prada shades are exquisitely made and fit my face much better than many of the sunglasses you usually see me wearing (that's probably the biggest problem for someone with a smaller face that favours oversized styles!). My sunglasses are constantly sliding down my nose, and the Prada Sunglasses PR50TS 1AB0A7 fit securely. They also come with a gorgeous case, which makes me more mindful of properly storing them to avoid scratches (and not loosing them!). Is that worth the designer pricetag? I'm not sure — but what I do know is I'll be getting a ton of wear out of them over the next few months and wanted to give my luxury sunglass loving readers an on trend option as well!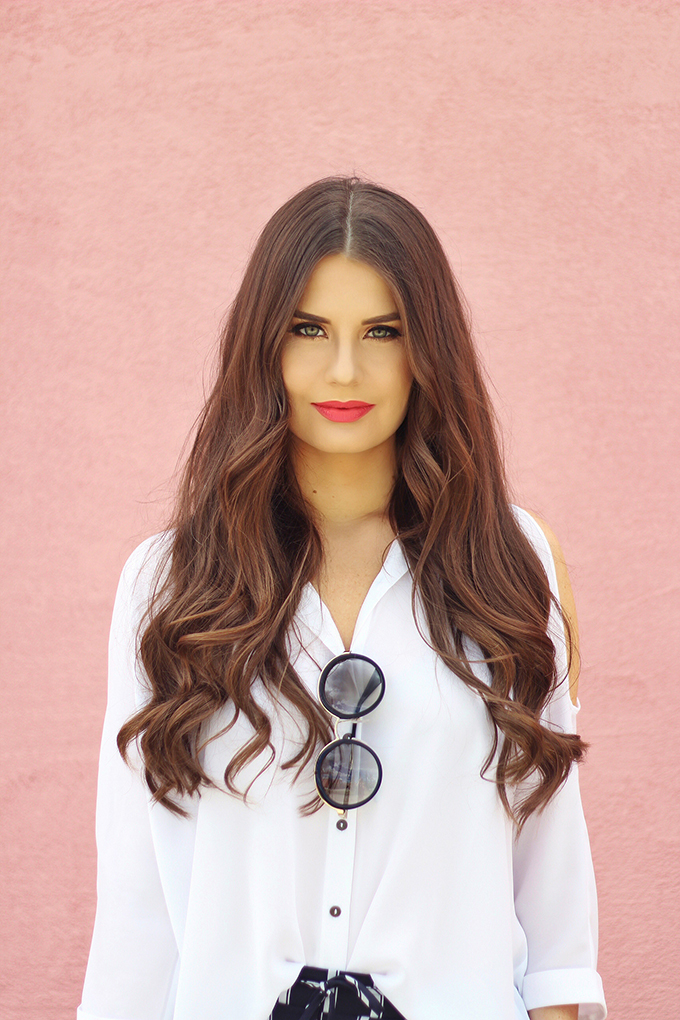 ---
TREND: Eclectic, Vintage Inspired Jewellery
---
Again, this is another trend that I've been wearing since I've been wearing jewellery (read: forever!) — but I'm thrilled to see eclectic, vintage inspired jewellery popping up everywhere this spring! If you follow along with my Insta Stories, you may remember the Dean Davidson trunk show I attended at Joydrop earlier this spring. I fell in love with Dean's jewellery — it's made with premium materials (natural, semi precious stones and premium metals) but has a bohemian, eclectic flair often seen in costume (or vintage) jewellery. We were gifted a Ethos Bracelet (you all know how much I love rose quartz!) and it's been on heavy rotation ever since. I love to stack it up with other bracelets and watches like I'm doing here to add a fun and feminine pop of colour, but it's also beautiful on its own.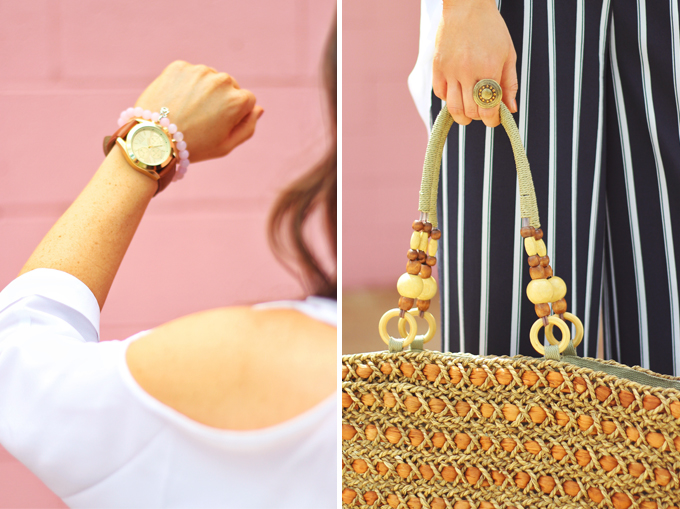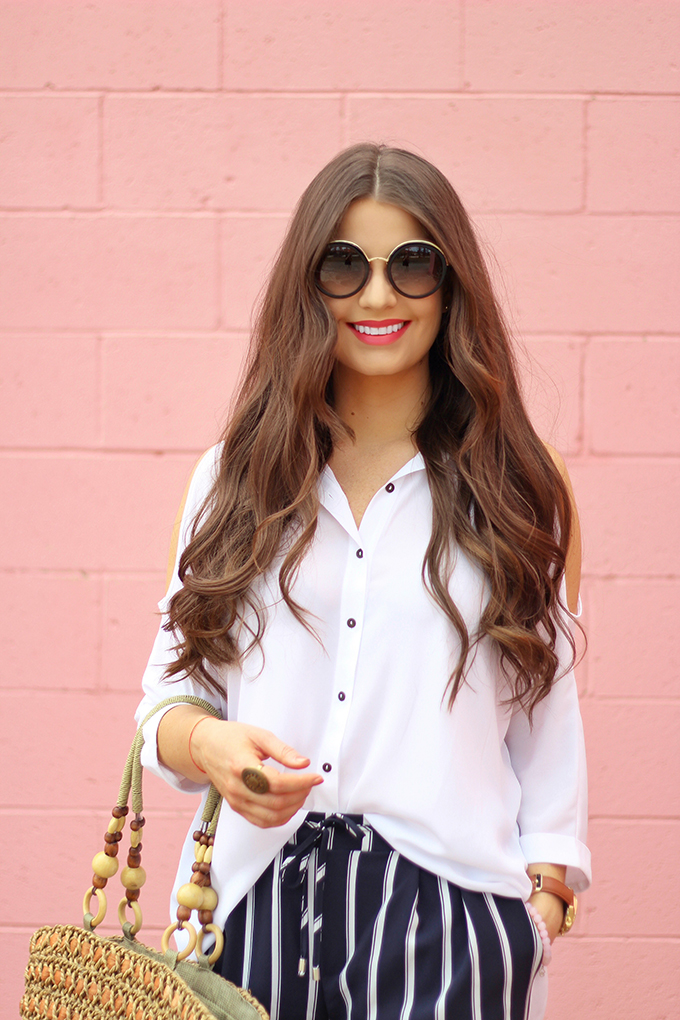 My ring is vintage and one I wear often — it goes with everything! Did you know I almost started an online vintage boutique a few years ago? Longtime readers will know I tend to favour vintage jewellery and vintage inspired styles — one of my favourite things to do is to treasure hunt for unique vintage or thrifted pieces. In fact, after we shot this style post I was feeling inspired and popped over to a local thrift store. I came home with some gorgeous new pieces that you'll be seeing here at JustineCelina this summer! However, if thrifting and vintage hunting isn't your thing, I've managed to find a similar looking ring available at Nordstrom. And if you're wondering what that string on my wrist is, check out this post!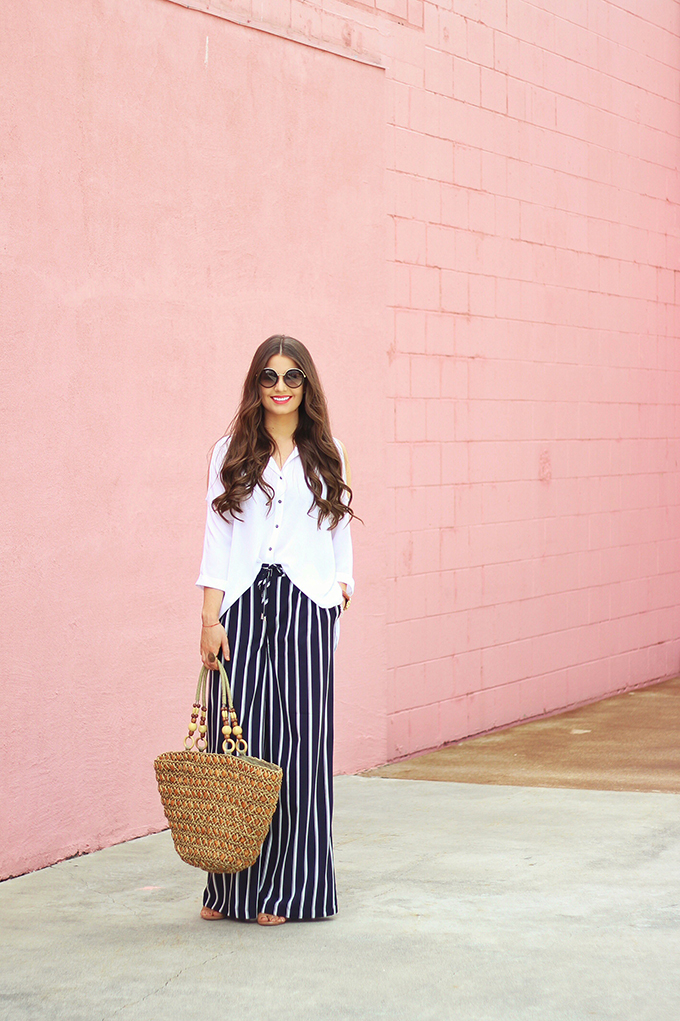 ---
TREND: Vibrant Lips
---
Nude lips have dominated the beauty scene for most of 2017, but this spring / summer, vibrant shades are taking over! I'm crazy about the way orange and coral look against sunkissed skin (my glow comes from a bottle, BTW!), and this spring I can't seem to stop wearing the Lancôme Matte Shaker High Pigment Liquid Lipsticks. They may sound familiar because I mentioned my favourite shade, Energy Peach, in my May Beauty Favourites — well, I enjoy this formula so much picked up the entire range for a dedicated review and have been working my way through the shades. Today I'm wearing Magic Orange and as you can see it's not really orange on me at all — but a gorgeous warm coral. I love this buildable, lightweight formula! Expect more on the Matte Shakers and my favourite vibrant lipsticks of the season coming your way soon!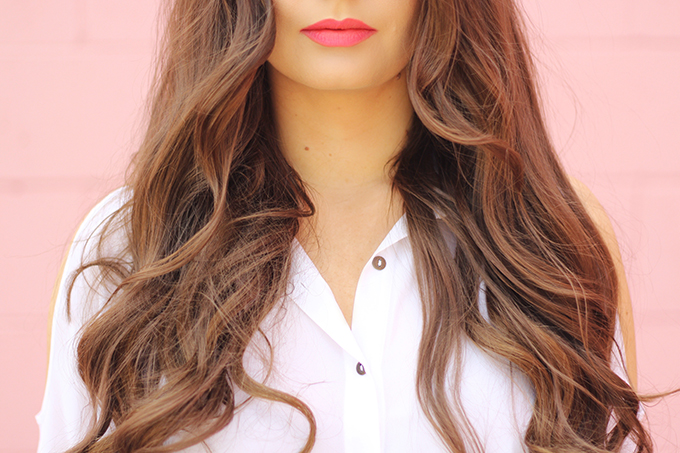 ---
TREND: Metallics
---
If you're a still on the fence about this season's metallic trend, consider easing into it with a neutral metallic polish. Nails INC. has been getting a lot of hype on these pages since I first discovered it earlier this spring — and for good reason! I picked up the Nail Fuel set earlier this spring and have had the shades on rotation, but lately been really into Mayfair Market — a warm, metallic rose gold that looks great with a tan. Nails INC. is all about nail wellness and this particular shade is powered by superfood matcha and infused with sweet almond oil and it lasts for up to 5 days without chipping. Truly, my nails have never been healthier (I'm also wearing it on my fingers!). If you love Mayfair Market you can purchase it individually, or sample some beautiful offerings from Nails INC., by snagging the Nail Fuel set while it's still available.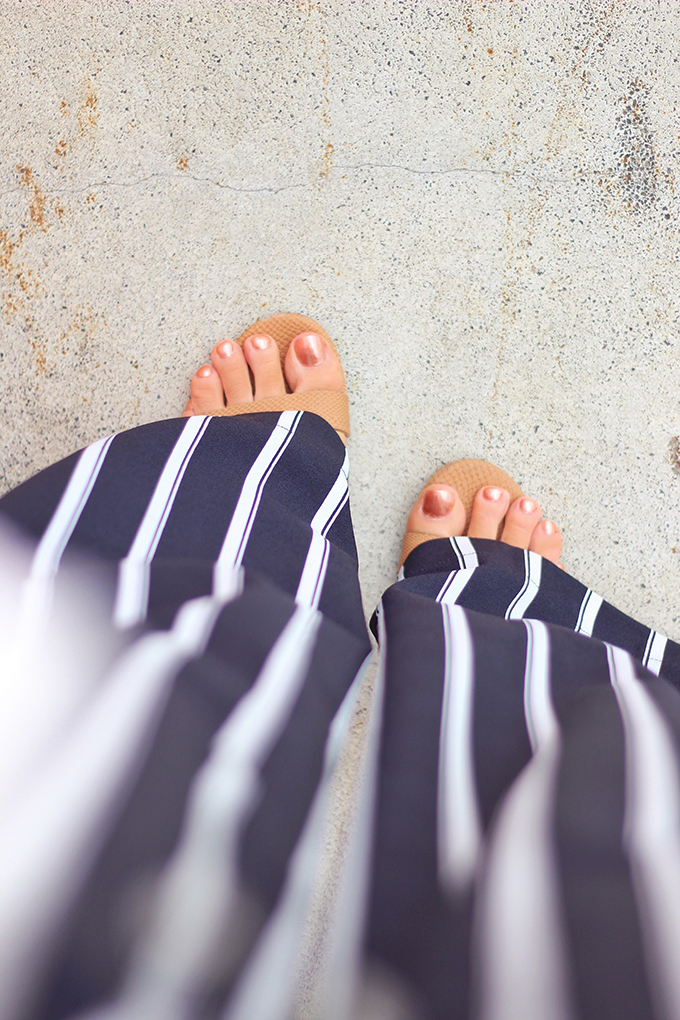 ---
SPRING 2017 CASUAL CHIC | FOR THE OFFICE
---
If you're looking for some casual chic office appropriate outfit options this season, I've got you covered! Depending on how formal your workplace is, you may be able to wear this outfit as is — simply swap the oversized straw tote for a briefcase or a small, cross body satchel.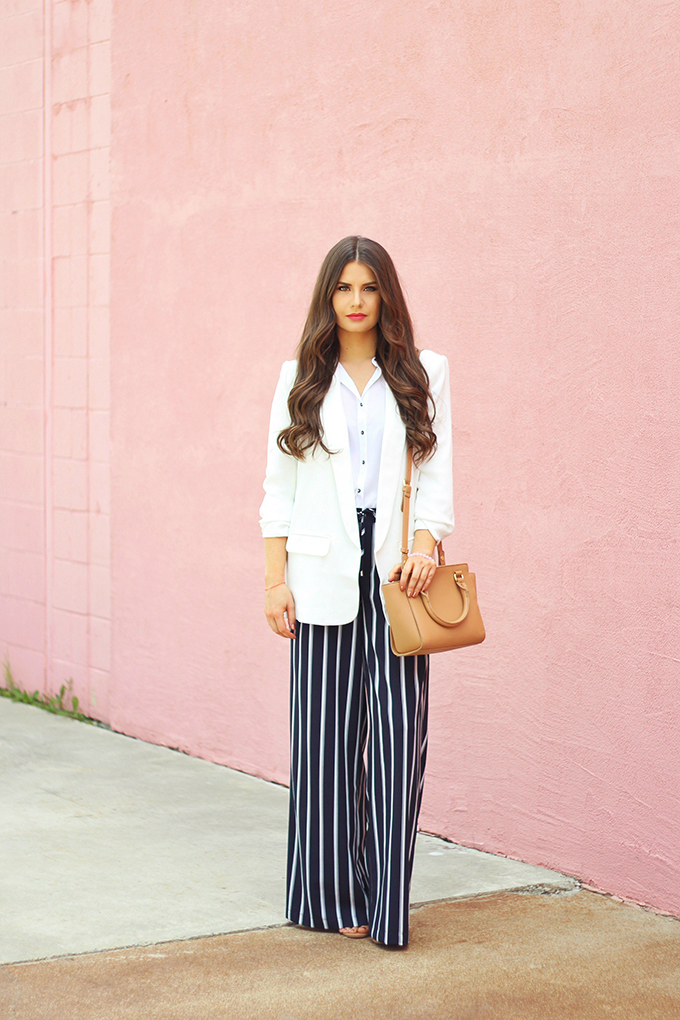 Add some extra polish to this simple outfit by layering a longline white blazer overtop and ditching a few accessories. If your workplace doesn't allow open toed shoes, opt for a pair of nude, pointed toe pumps (like my favourite old standby's from my Spring Style Staples post!). And volia — an easy, comfortable, office appropriate outfit that's perfectly on trend for Spring / Summer 2017.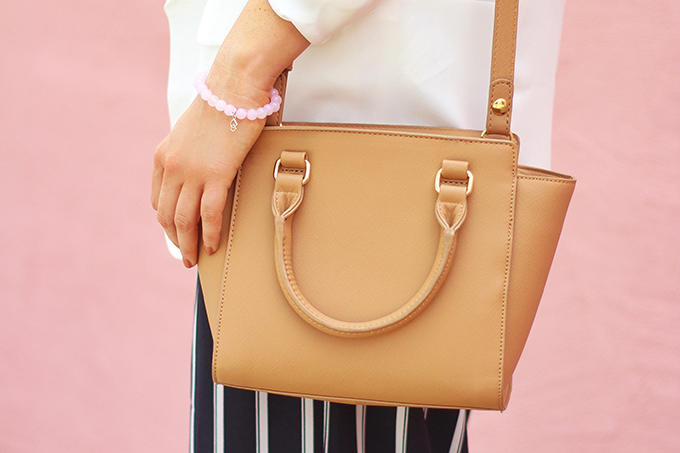 ---
SHOP THE POST
---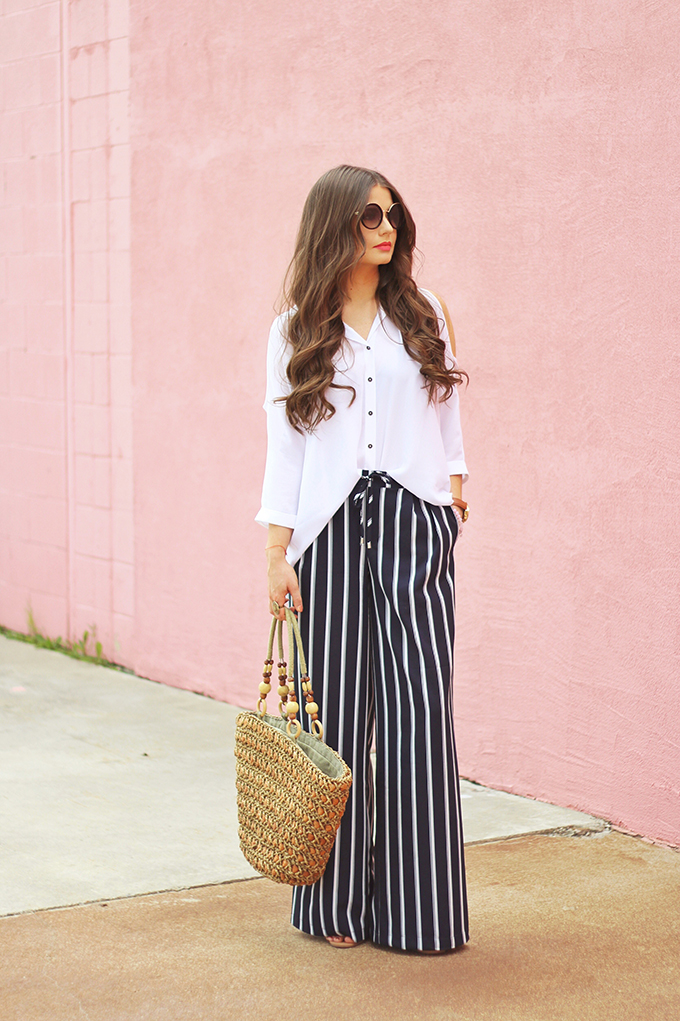 High-Low Hem Shirt | Stripped Palazzo Pants | Prada Sunglasses PR50TS 1AB0A7 c/o SmartBuyGlasses | Straw Bag (vintage, similar) | Faux Leather Trapeze Satchel | Longline White Blazer | CL by Chinese Laundry Baja Wedges c/o Sears Canada | Leather Strap Watch | Dean Davidson Ethos Bracelet c/o Joydrop | Ring (vintage, similar) | NAILS INC. Mayfair Market Polish | Sultra The Bombshell 1″ Rod Curling Iron | Lancôme Matte Shaker High Pigment Liquid Lipstick in Magic Orange
---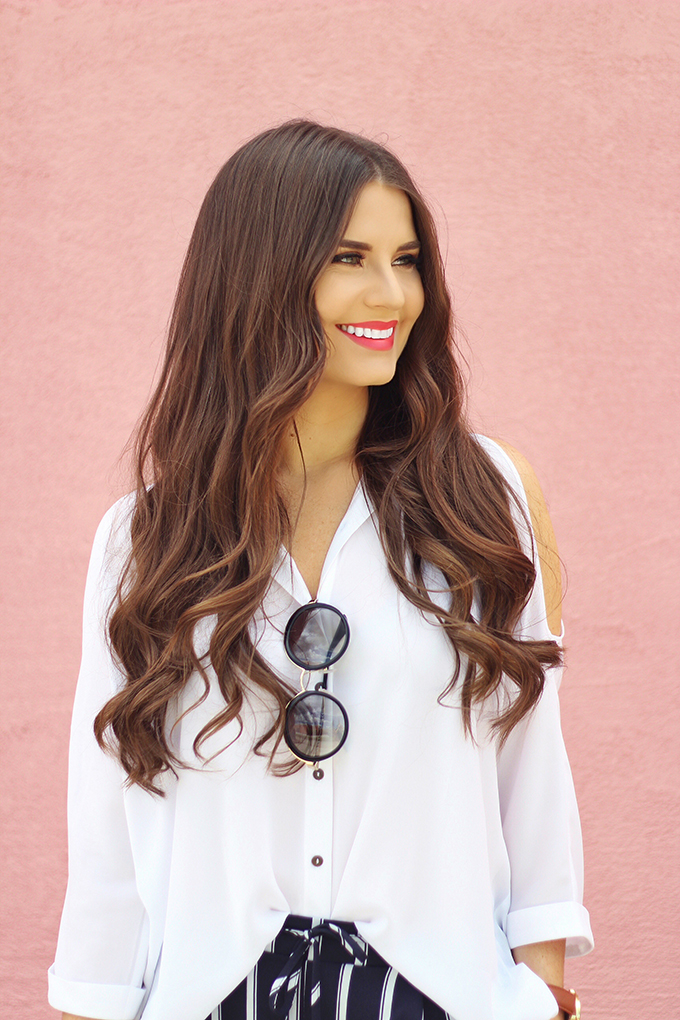 Now that my finger has fully healed, I'm excited to really ramp up the fashion content here at JustineCelina this summer! I have lots planned, but if there's anything in particular you'd like to see from me, be sure to let me know. There's a huge SUMMER 2017 SHOE GUIDE coming your way soon that I've been working on for quite some time (and by working on, I mean accumulating tons of shoes!). Hey — all in the name of research, right? I hope everyone has a fantastic first week of summer!
---
Disclaimer: Thank you to SmartBuyGlasses for my first pair of designer shades, to Joydrop for my Ethos Bracelet and to Sears Canada for the gift card I used to purchase my Baja Wedges. This post is not sponsored, and contains my genuine thoughts, ideas and recommendations. JustineCelina uses affiliate and referral links, which allow me to receive a small commission when you make a purchase through one of my links. Thank you for supporting the brands and businesses that support JustineCelina!