---
You guys, I seriously can't believe Canadian Thanksgiving is this weekend! 2017 just is flying by. Every month when it comes time to round up my picks for these Monthly Beauty Favourites posts, it's hard to believe it's been a month since my last! As I mentioned, September was the busiest month of the year for me both personally and professionally — but I actually discovered quite a few new beauty products, as well as rekindled the flame with a few long time favourites. My September 2017 Beauty Favourites span categories here at JustineCelina — it's an eclectic, cross category mixture of products at every price point!
Kick back with a delicious chai latte and cozy up for some quality girl time — let's chat about all things makeup, hair, skincare and fragrance! Last month my favourite products included a foundation and lipgloss from Rhianna's new makeup brand (yes, I too got caught up in the FENTY hype!), to a new, anti-aging eye gel from Paula's Choice (there were a lot of late nights and early mornings in September!), a bold, spicy orange liquid lip that I seem to gravitate to every autumn, a budget friendly, nudish lipliner with an autumnal spin, a stunning copper eyeshadows (a must for us green eyed gals!), a very well loved three-in-one volumizer, texturizer, and dry shampoo that smells absolutely heavenly, a sensual, cozy fall fragrance and another set of amazing, natural looking lashes from my favourite lash brand (they're brand new for A/W17 and you can find them at Walmart!). If the changing leaves have inspired you to refresh your beauty routine this fall, you'll love my September 2017 Beauty Favourites!

---
SEPTEMBER 2017 BEAUTY FAVOURITES
---
CDN $28.00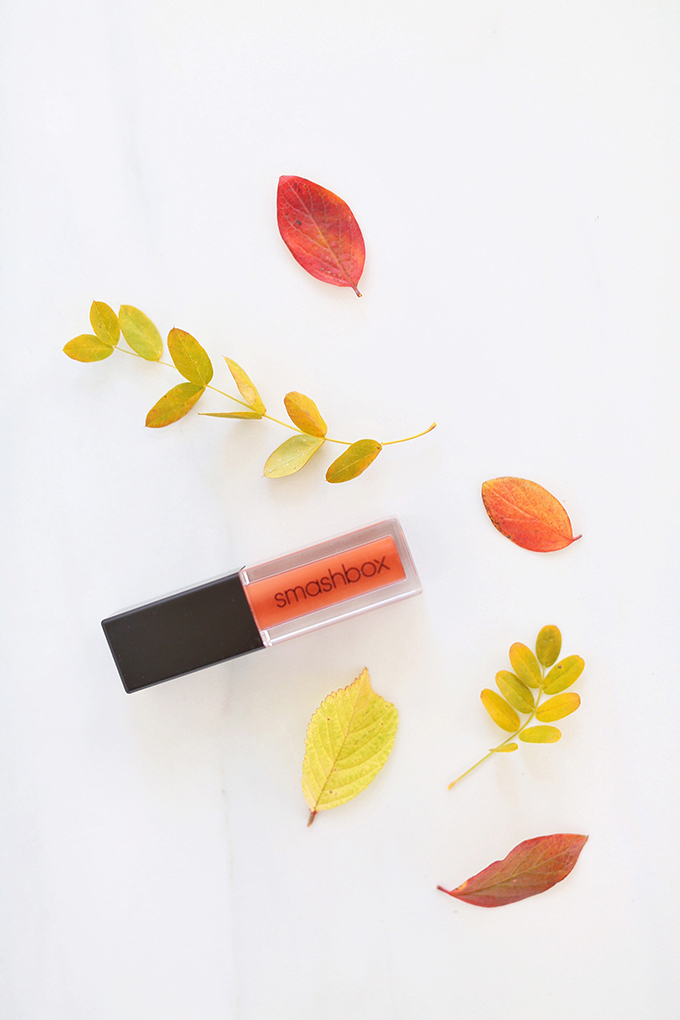 In September I wore bold, statement lipstick or natural gloss — it was a month of extremes. Admittedly, I was a bit too excited to pull out all my favourite autumnal lip colours — and Smashbox's Always On Matte Liquid Lipstick in Out Loud was the first on my lips as soon as the seasons changed! I discovered it around this time last year when I was researching seasonal colour trends for my 5 Liquid Lipsticks to Try This Fall post in partnership with Sephora Canada. At the time was it sold out online at Sephora for about 4 months and I had to go to great lengths to track it down in Calgary for that post (thanks to a makeup loving reader for hunting it down for me!). One year later, it's still one of the most unique lipsticks I've ever worn and I have absolutely nothing like it in my collection. Out Loud a beautiful, rusty orange that screams fall. Although I now own several shades from Smashbox's incredible Always On Matte Liquid Lipstick range, this one is my all time favourite. For more information on formula and wear time, hop over to my 5 Liquid Lipsticks to Try This Fall post! I also mentioned it about this time last year in my October 2016 Beauty Favourites and wore it in my recent  Falling Back | Refreshing Old Staples For a New Season post if you'd like to see it in different lighting conditions.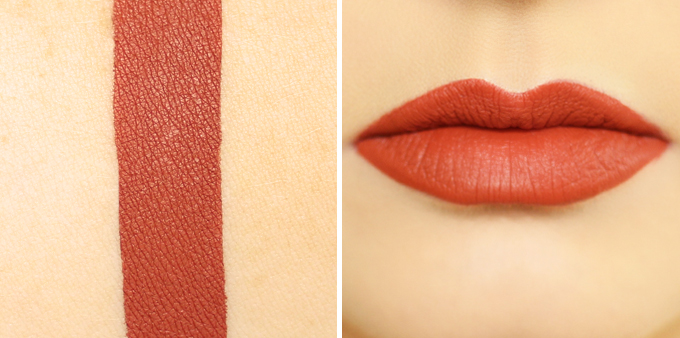 I'm wearing the Smashbox Always On Matte Liquid Lipstick in Out Loud
---
USD $2.99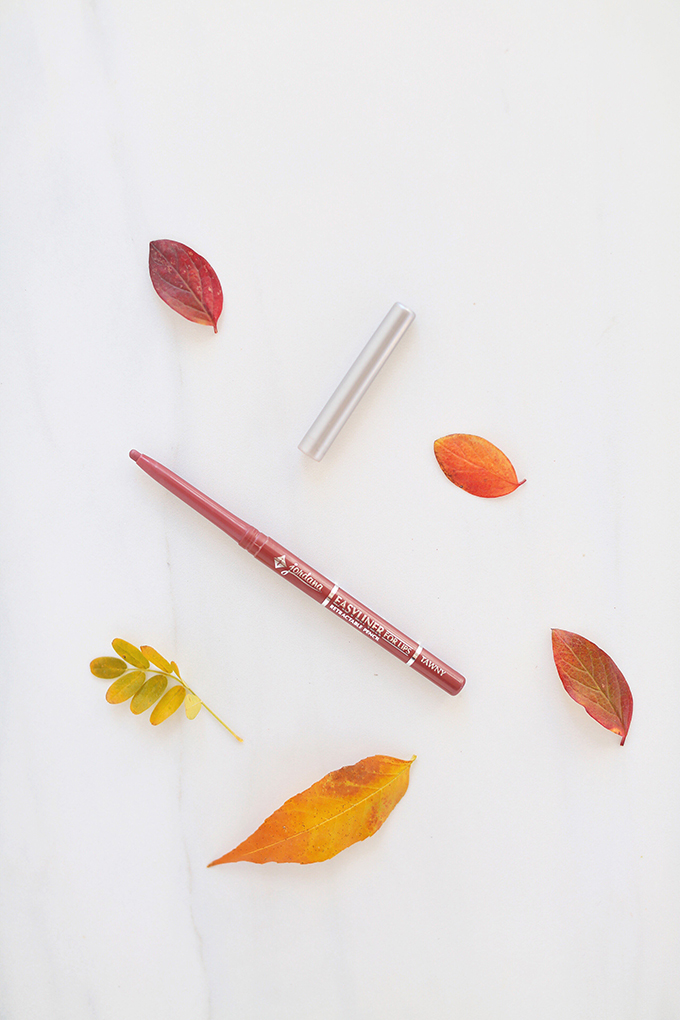 As I mentioned, when I wasn't wearing a bold lip I was wearing a natural gloss — with the Jordana Easyliner for Lips in Tawny underneath! Unfortunately we don't have Jordana here in Canada, but everytime I'm in the states I bolt to the nearest drugstore in search of new shades from the Easyliner range — and at less than $5 a pop, I'm not ashamed to say I own almost every single one! Tawny is a more autumnal spin on a nude — a bit richer, rosier and brown based. It pairs well with any nude, rosy or mid-toned neutral lipstick or gloss, but in September, I loved wearing it under my beloved FENTY BEAUTY by Rihanna Gloss Bomb Universal Lip Luminizer in Fenty Glow (next up, below!). If you're looking for a cheap and cheerful, high quality lipliner this autumn, check out Jordana's Easyliners for Lips!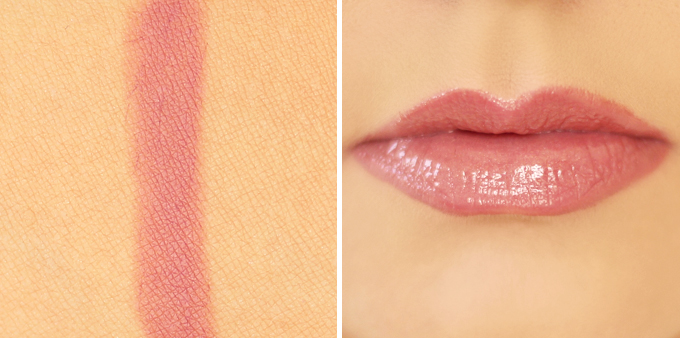 I'm wearing the Jordana Easyliner for Lips in Tawny with the FENTY BEAUTY by Rihanna Gloss Bomb Universal Lip Luminizer in Fenty Glow
---
CDN $23.00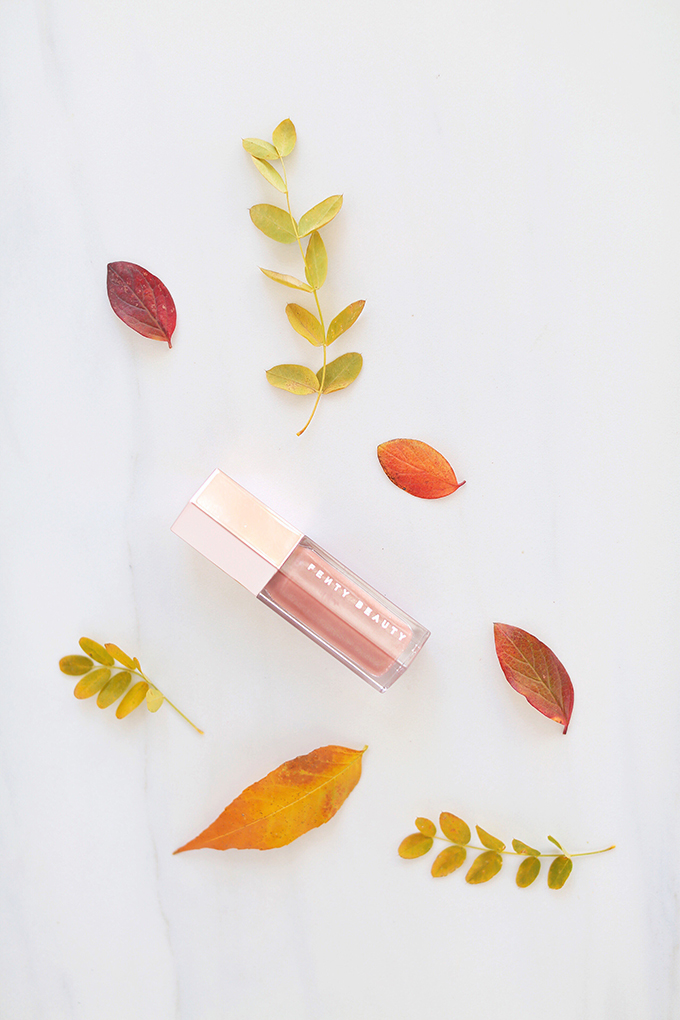 Oh man, you guys. I may go so far as to say the FENTY BEAUTY by Rihanna Gloss Bomb Universal Lip Luminizer in Fenty Glow is my all time favourite lip gloss! As someone who's pretty particular about lip gloss, that's a bold statement. I love my lip glosses high shine, gel like, non sticky and long wearing — and that's not a combination I often find (other than in my beloved Buxom Glosses and Creams!). Enter Rhinanna's only lip gloss from the brand new range — she launched over 40 foundation shades, tons of highlighters, and a full range of other products — and only one gloss, in one shade. So you know it has to be good! After seeing very mixed reviews online, I stopped into a local Sephora to check it out in person and it was love at first swatch. Fenty Glow is described as a perfect rose nude shade, or more specifically, 'the unicorn of nudes that looks good on everyone'. And I couldn't agree more! It's a mid-toned, universally flattering gloss and the formula are to die for! It makes your lips look luscious, juicy and smooth — plus and it's infused with shea butter and has the most divine peachy vanilla scent (and taste). This tube also contains 0.30 oz, which is roughly twice the amount of the standard lip gloss (therefore making it a great value!). Fenty Glow has been living in the bottom of all my bags since I purchased it and my friends love it too!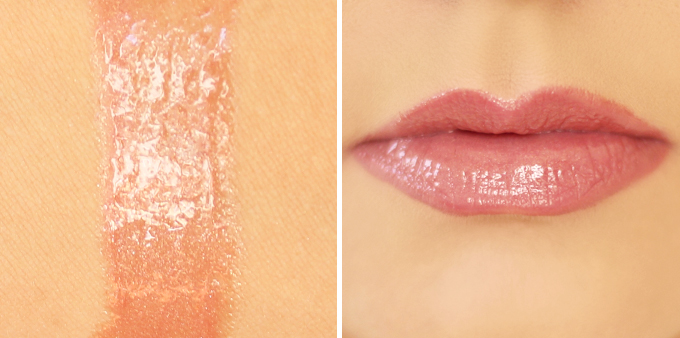 I'm wearing the Jordana Easyliner for Lips in Tawny with the FENTY BEAUTY by Rihanna Gloss Bomb Universal Lip Luminizer in Fenty Glow
---
CDN $42.00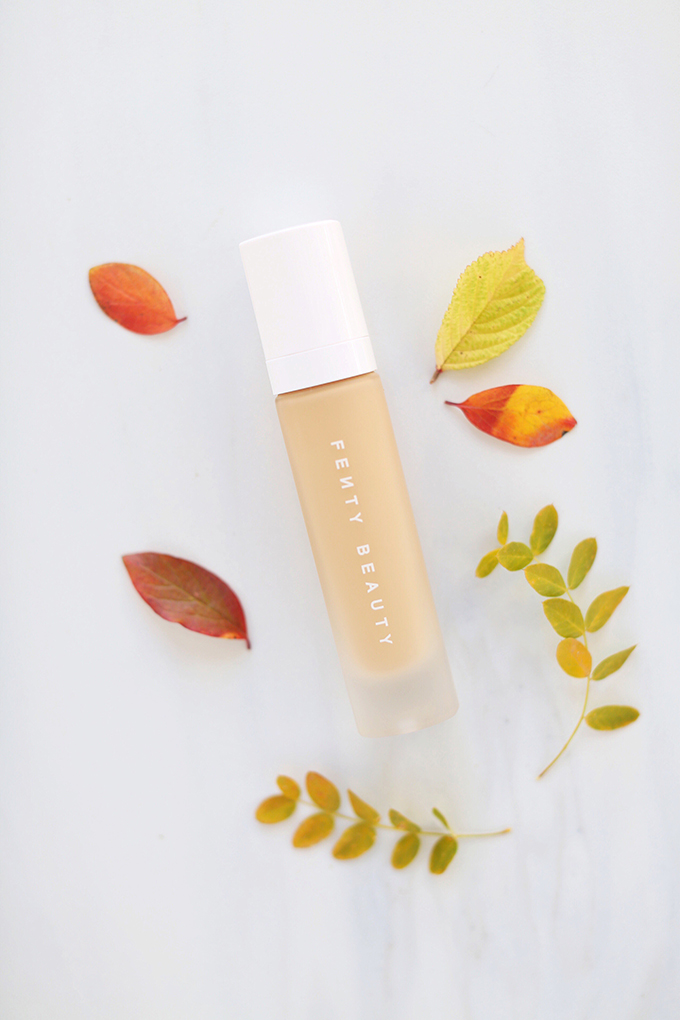 Ah, the reason I ventured into Sephora last month in the first place! Typically, I'm an online Sephora shopper — unless I need to go in and investigate colours / swatches / formulas first hand (in store visits are really dangerous for me, as you've already read!). So, FENTY BEAUTY by Rihanna Pro Filt'r Soft Matte Longwear Foundation 290 launched in 40 shades and I have having a hard time choosing my shade online. I went to the Banker's Hall location so swatch a few on my forearm, let them dry (there is a definite dry down with this foundation that causes the shade to change) and was shocked that the best match for me was 290 — described as suiting 'medium to tan skin with neutral olive undertones'. I've never described myself as having an olive skintone and don't generally think I'm particularly tan — I've always been in the light/medium, warm range. However, I also swatched 240 and 260 with 290 my arm, and as they dried down, 290 was actually the most yellow based (not orange at all!) and it was also a bit lighter than both 240 and 260. Moral of this story — if you're interested in trying this foundation, pop into a local Sephora, swatch them on your arm, wait for them to dry down and keep an open mind to see what's going to work best for you! 290 is the best colour match in a foundation I think I've ever found — scroll down to the bottom of this page to see my other matches if we're close in skintone and you want to know if my shade will work for you (note: it's a bit dark on the underside of my forearm in the awtch, but I can assure you is matches the side of my arm that sees the sun perfectly!).

To put this review in perspective, I'm not one of those girls who's infatuated with Rhianna. I'm not a huge fan of her music personally, but I do think she has a killer sense of style and seems like a cool person. To be honest, I've never really noticed her makeup. I didn't rush out to Sephora to purchase FENTY beauty because of the name attached to it, but rather because the products really intrigued me, regardless of the name attached to them. However, I'm pleased to report this foundation completely lives up to the hype. I only wore it once before I trusted it enough for our September wedding — it's that good! On my combination skin, it holds up very well (we're talking looking great after 8+ hours wear with only light touch ups) — and I do think it's soft matte finish as the name implies. If you're dry skinned, I'd steer clear. But my normal / combo / oily gals (or guys) looking for a great, longwearing foundation in a fantastic shade range (a local blogger friend of mine who's extremely dark skinned also found her perfect match!), this is my favorite high end foundation of 2017. Hop over to this recent style post to see it in action!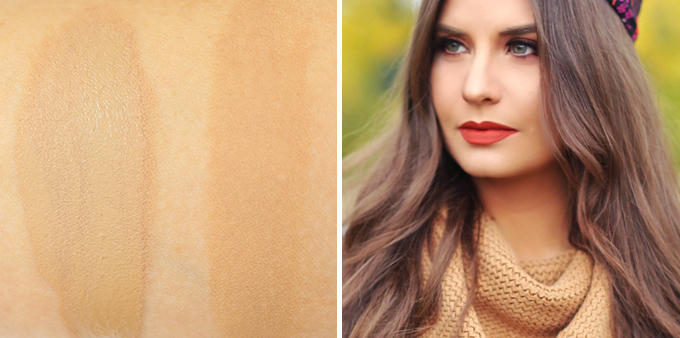 I'm wearing the FENTY BEAUTY by Rihanna Pro Filt'r Soft Matte Longwear Foundation in 290
---
CDN $4.99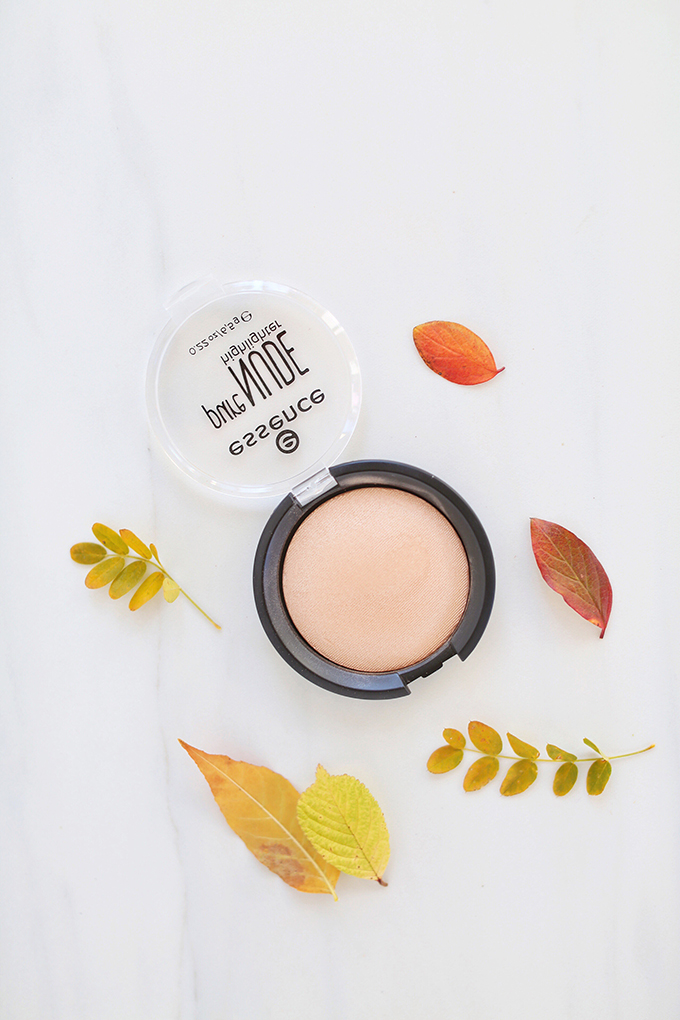 During my Superstore grocery runs, I always pop over to the cosmetics department to see what's new. This Superstore has the best Essence selection in the city — and I picked up a few new (to me) goodies to try! Among them was the Essence Pure Nude Highlighter in Be My Highlight 01 — a creamy, glossy, natural looking highlight that's subtle enough for everyday wear (my favourite kind!). I was astonished at the similarity of this extremely smooth, finely milled highlighter — it's like a more intense version of the Hourglass Ambient Lighting powders and it's all I've worn since picking it up in mid-September. It's been raved about in the beauty community for years and I don't know why it look me so long to give it a try! If you're on the hunt for a beautiful, natural, inexpensive highlighter, I've never found a better one at the drugstore than this hidden gem from Essence! See it in action in my Falling Back | Refreshing Old Staples For a New Season post.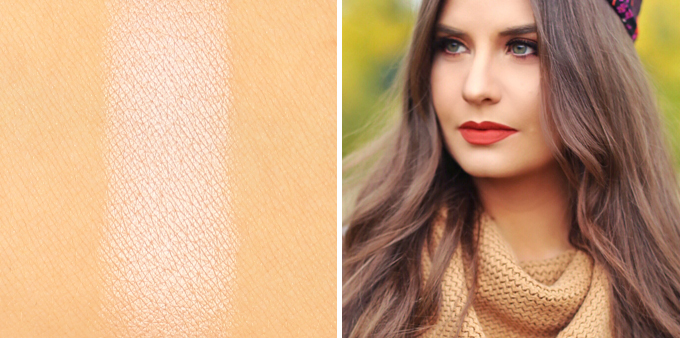 I'm wearing the Essence Pure Nude Highlighter in Be My Highlight 01 on the tip of my nose and tops of my cheekbones
---
C $110.00 – $220.00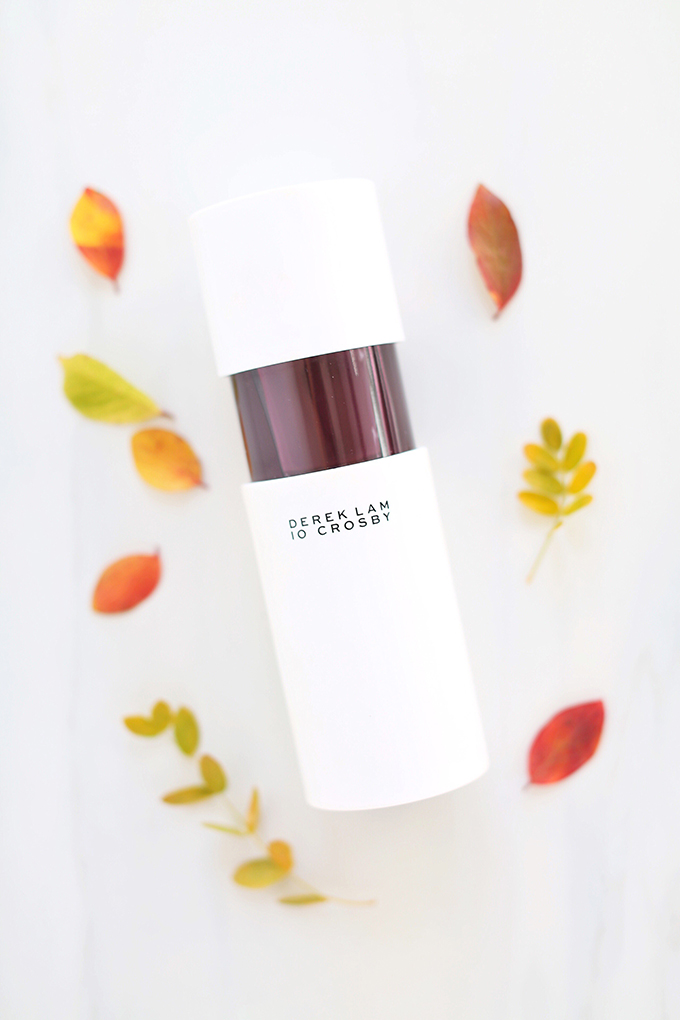 I was equally as excited to dust off all my cool weather fragrances when the seasons changed! I stumbled across Derek Lam's 10 Crosby fragrances at my local Sephora when I was shopping for some new scents for my Autumn / Winter 2016 Fragrance Edit last year and fell head over heels for Something Wild! I adore everything about this emerging fragrance brand and their minimalistic take on luxury. Something Wild is the most sophisticated, sensual, vanilla based scent I've ever worn. In last year's October 2016 Beauty Favourites I wrote that I wore it so much that it would probably always remind me of autumn — and it turns out I was right, because it's the first fragrance I reached for this fall! It's totally addictive, yummy and appropriate for day or night. I've been getting tons of compliments on it lately and telling everyone about Derek Lam's beautiful scents (I also picked up a sampler set last holiday season)! If you're looking for a fresh take on a vanilla based fragrance this season with warm, woody notes, you won't be disappointed with Derek Lam's Something Wild. My Mom fell in love with it too and I actually bought her a bottle for her birthday last year! If you'd like to learn more about Derek Lam, this specific scent or what else I love to wear during these cooler months, hop over to my Autumn / Winter 2016 Fragrance Edit.
---
CDN $33.00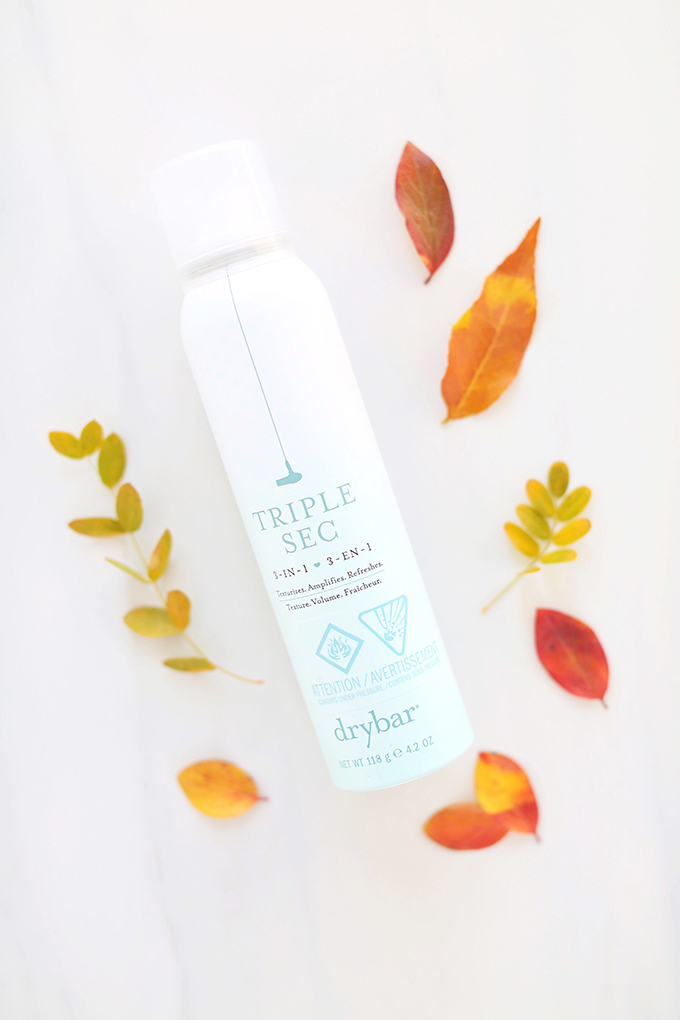 Drybar Triple Sec holds a special place in my heart (and has been featured on these pages many times over the years!). If it wasn't so spendy (and I didn't go through it so fast with all this hair!) I wouldn't use anything else — but it's a product I reserve for special occasions or whenever I need a pick-me-up. I grabbed a bottle last month during a Sephora run last month when I stopped in to check FENTY Beauty out in person (more on that below!) and every time I start using it again I fall in love all over! Triple Sec is a hybrid product that does exactly what it claims: a three-in-one volumizer, texturizer, and dry shampoo. I wash my hair 2-3 times and this helps to keep things fresh, add a tousled lived-in texture and gives tons of volume. I spray it at my roots and massage it in, or flip my head over and spritz it throughout. It doesn't leave any white cast on my medium brunette hair. Plus, it smells divine and the scent lasts all day (at our September wedding it was being passed around and everyone was raving about it!). It's definitely a polarizing scent though, so you'll either love it or hate it — I'd describe the scent as warm, vanilla based, and a touch powdery. If you're in the market for a splurge worthy dry shampoo, texturizer and volumnizer, I've never met anyone that doesn't love Triple Sec!
---
USD $33.00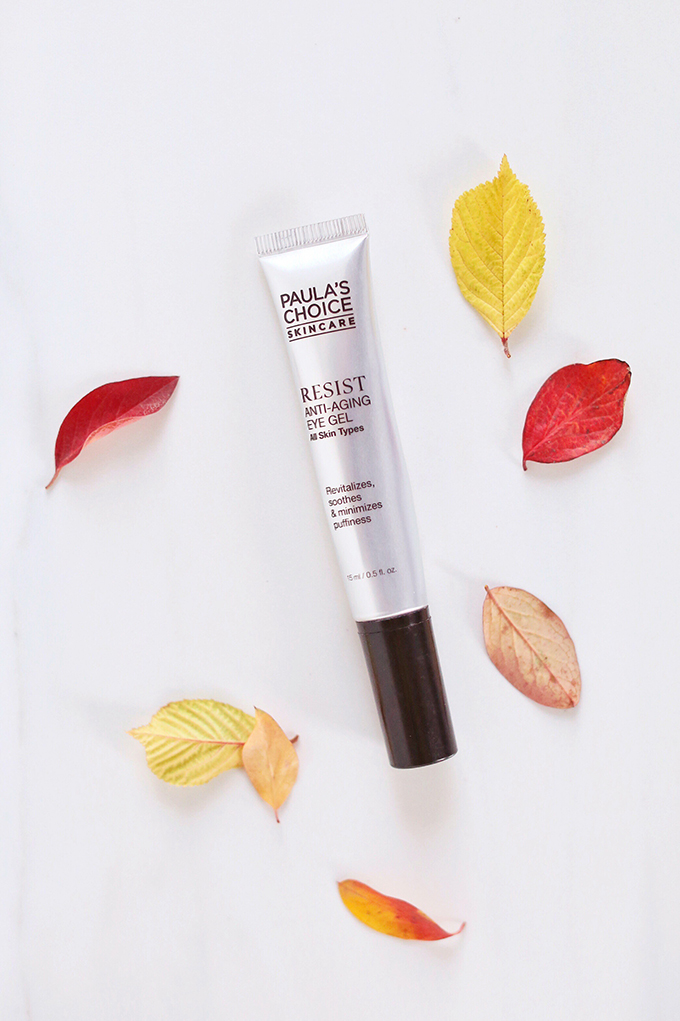 Onto the eyes! As I mentioned September was full of late nights and early mornings — and the first place that shows is my eye area. I've really taken my anti-aging skincare up a notch lately (those that follow along with my Stories know what's up!), so when I spotted this new eye gel at Paula's Choice pop up during my most recent order, I added it to my cart. At 32, I know I'm very fortunate in the fine line and wrinkle department, however, I credit that largely to fantastic, preventative skincare (and lots of sunscreen / large sunglasses!). I've added the Paula's Choice RESIST Anti-Aging Eye Gel to my morning skincare regime and love the cooling, soothing effect it has on days when I haven't had enough sleep, or have had too much wine the night prior!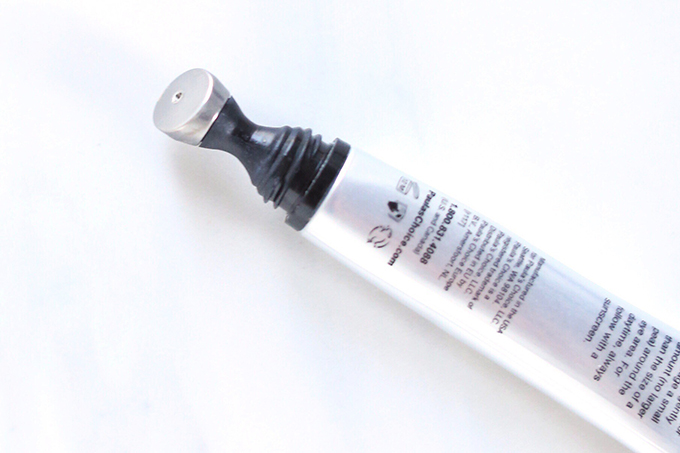 The cooling, metal tip is heavenly under the eyes to reduce puffiness, and it works perfectly underneath my beloved Paula's Choice RESIST Anti-Aging Eye Cream. While it may seem excessive to most to have 2 undereye products, skincare is something I have absolutely no qualms about investing in. After all, you wear your skin everyday — I want mine to look and feel its best. While it's a bit too early to notice any long term effects (although I do believe it's helped keep darkness at bay!), I've been loving this little moment of pampering in the morning so help sooth my sensitive peepers. I'll be publishing an updated skincare routine sometime soon, so stay tuned for an update!
---
US $5.00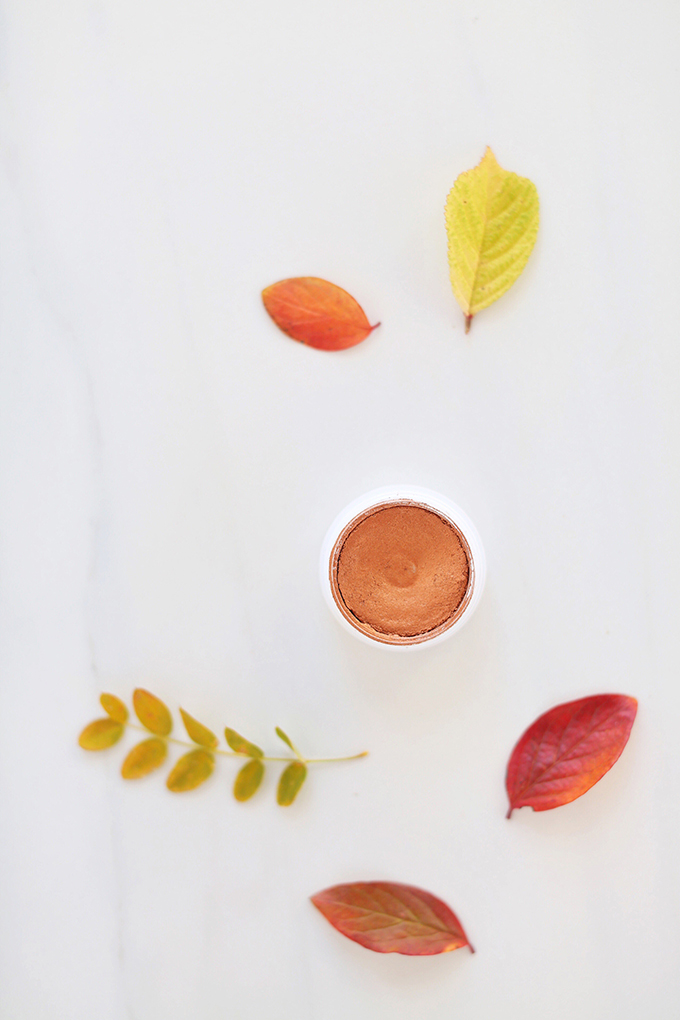 If you didn't catch my mega review on the Colourpop Super Shock Shadows, you should head over there! I definitely rekindled my love for many of those shades over the past couple of months — Game Face being one of them. As you can see, it's very well loved (and this is my second pot)!). I also wore it in my Falling Back | Refreshing Old Staples For a New Season post if you'd like to see it in action. Game Face is a true, ultra metallic, glitter free, rich copper and every time I wear it receive tons of compliments. Green eyed gals, you need Game Face in your life (although it would be beautiful on every eye colour!). Learn more about this innovative formula — including wear time and application tips in my dedicated review post.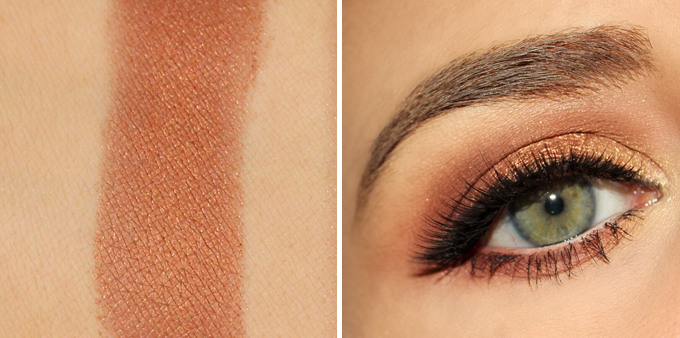 I'm wearing the Colourpop Super Shock Shadow in Game Face on my upper lid
---
CDN $17.99 / 5 pack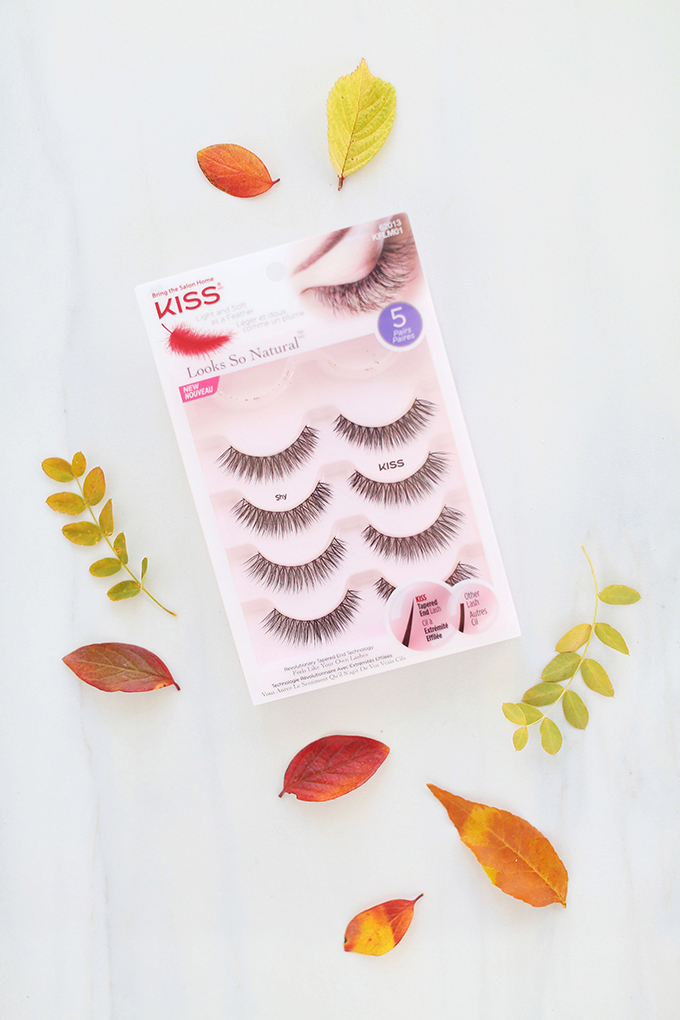 This month I've discovered a new pair of lashes I love as well! In September, this week I attended an event for Kiss Products where we previewed their A/W17 Collection over a lovely dinner at Charbar (longtime readers will know what a huge fan I am of their lashes — they're all I wear!) and coincidentally noticed their new Blooming styles during my last Walmart cosmetic run, so I picked them up myself before I even knew about the event (now that's synchronicity!). My favourites from the new range are Kiss Looks So Natural Blooming Lashes in Shy — and I absolutely love them! They're slightly more luscious and dramatic than I typically go for, but they look like they could still be my own, which is always what I look for. The ends are tapered like natural hair and and the shape fits my eye perfectly. And bonus — you can purchase the multi pack at Walmart (I stock up on lashes at this Walmart, for those that asked in my Stories!). Just make sure you leave some for me!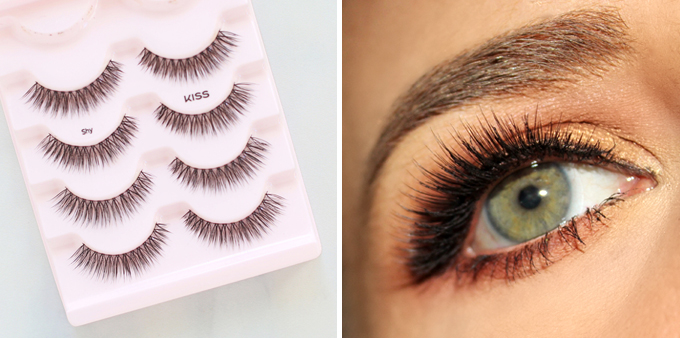 I'm wearing the Kiss Looks So Natural Blooming Lashes in Shy
---
SHOP MY SEPTEMBER 2017 BEAUTY FAVORITES
---

Smashbox Always On Matte Liquid Lipstick in Out Loud | DEREK LAM 10 CROSBY Something Wild Eau de Parfum Spray | Drybar Triple Sec 3-in-1 | Jordana Easyliner for Lips in Tawny | Paula's Choice RESIST Anti-Aging Eye Gel | FENTY BEAUTY by Rihanna Pro Filt'r Soft Matte Longwear Foundation 290 | FENTY BEAUTY by Rihanna Gloss Bomb Universal Lip Luminizer in Fenty Glow | Essence Pure Nude Highlighter | Kiss Looks So Natural Blooming Lashes in Shy
---
FOUNDATION SHADE COMPARISONS
---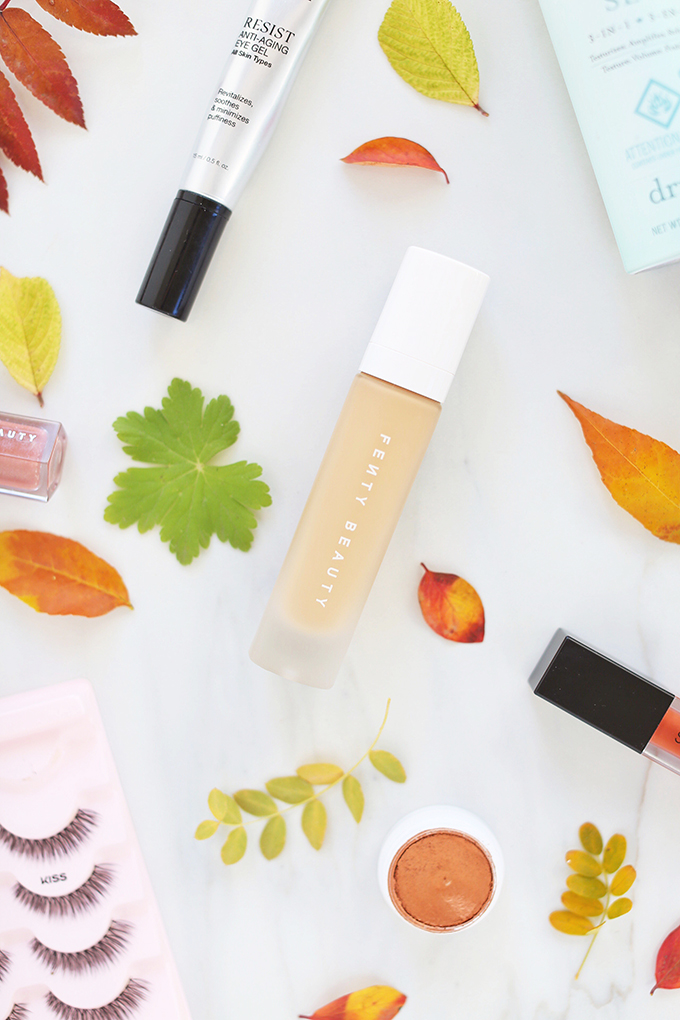 High End

Marc Jacobs Beauty Re(marc)able Full Cover Foundation Concentrate in Bisque Neutral 27
Estee Lauder Double Wear Stay-in-Place Makeup | 2W2 Rattan
tarte Rainforest of the Sea™ Water Foundation in Light-Medium Neutral
Makeup Forever Matt Velvet + Mattifying Foundation | 40 Natural Beige
COVER FX Custom Cover Drops in G20 to lighten foundations
Drugstore
L'Oreal Magic Nude Liquid Powder Foundation | 320 Natural Beige
L'Oreal Infallible Pro-Matte 24 HR Foundation | 105 Natural Beige
L'Oreal True Match Foundation | W3 – W4
Maybelline Fit Me! Matte + Poreless Foundation (Normal to Oily) | 220 Natural Beige
Physicians Formula Youthful Wear Spotless Foundation | Medium Beige
Covergirl Outlast Stay Fabulous 3 in 1 Foundation | 857 Golden Tan
---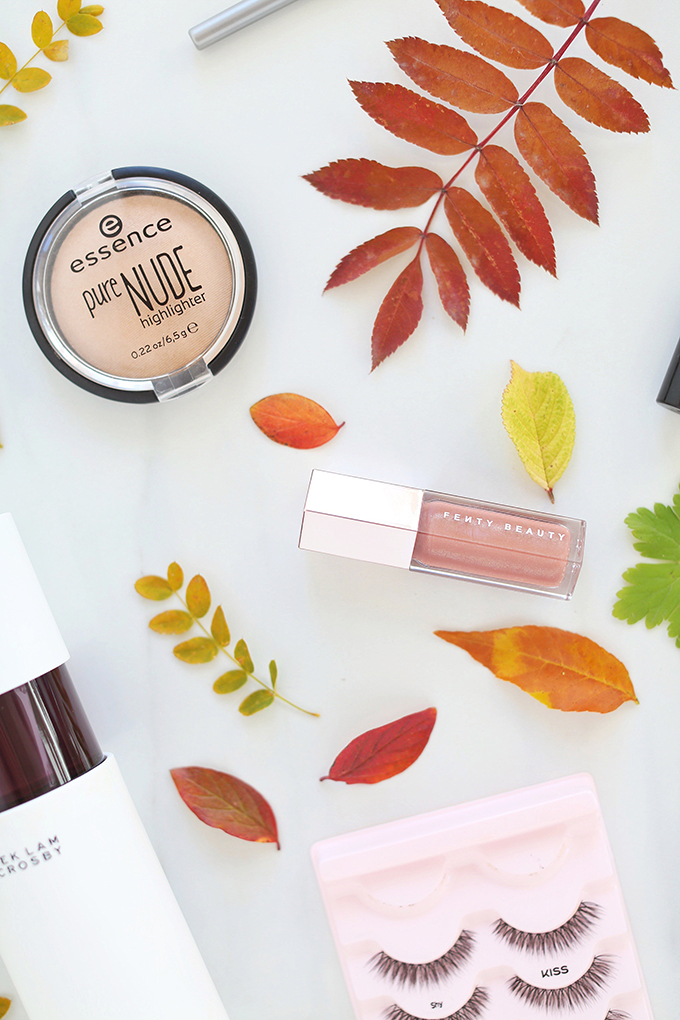 Thanks for stopping by for a fall beauty chat today, everyone! We're headed out of town to the prairies this weekend for Thanksgiving, then out to the mountains for our last wedding of the year (it's going to be a very busy weekend!). Wishing you and yours a happy, healthy and delicious Thanksgiving — I'll be back next week with some fresh content!

---
Disclaimer: This post is not sponsored and contains my genuine thoughts, ideas and recommendations. JustineCelina uses affiliate and referral links, which allow me to receive a small commission when you make a purchase through one of my links. Thank you for supporting the brands and businesses that support JustineCelina.com!