I'm back today with the first of many Spring 2017 FASHION posts coming to JustineCelina — and it feels fantastic! Originally, this look was scheduled for last month, but shooting style content with a fully dressed finger was decidedly… less than glamorous. Now that I've healed up a bit I couldn't wait to jump back in front of the camera (please excuse the Band-Aid!) and chat about some of my Seasonal Wardrobe Staples. It's been a long winter on the Alberta prairies, but I think it's safe to say spring has finally arrived!
If you're looking to refresh your spring style with a few key pieces this season, I've totally got you covered today as we spring forward. Although this outfit definitely incorporates a few trends (keep your eyes peeled for several upcoming Spring 2017 TREND GUIDES!) it's also comprised of spring wardrobe building blocks and updated basics. You may remember me mentioning I wanted to rebuild my wardrobe with quality pieces this year — and I'm excited to share some of those foundational staples with you! Today we're chatting about the Spring 2017 Pantone Fashion Color Report and simple ways to translate seasonal colour trends into your personal style, Mom jeans (sorry… they're not going anywhere), step hem denim, blush and pastel hues, basic tees, mini bags, a quintessential spring shoe, oversized shades (obviously!) and a beautiful, everyday lip!
---
Soft Pink Maxi Blazer with Sleeves | Sleeveless V-Neck Bodysuit | Trashed Mom Jeans (similar) | Nude Pointed Toe Pumps (similar, similar, similar, similar) | Grey Faux Leather Satchel | Round Cutout Sunglasses | Layered Circle Pendant Necklace, Layered Geo Necklace | Rose Gold Skinny Bracelet Watch | NARS Audacious Lipstick in Brigitte
---
SPRINGING FORWARD + SEASONAL WARDROBE STAPLES
---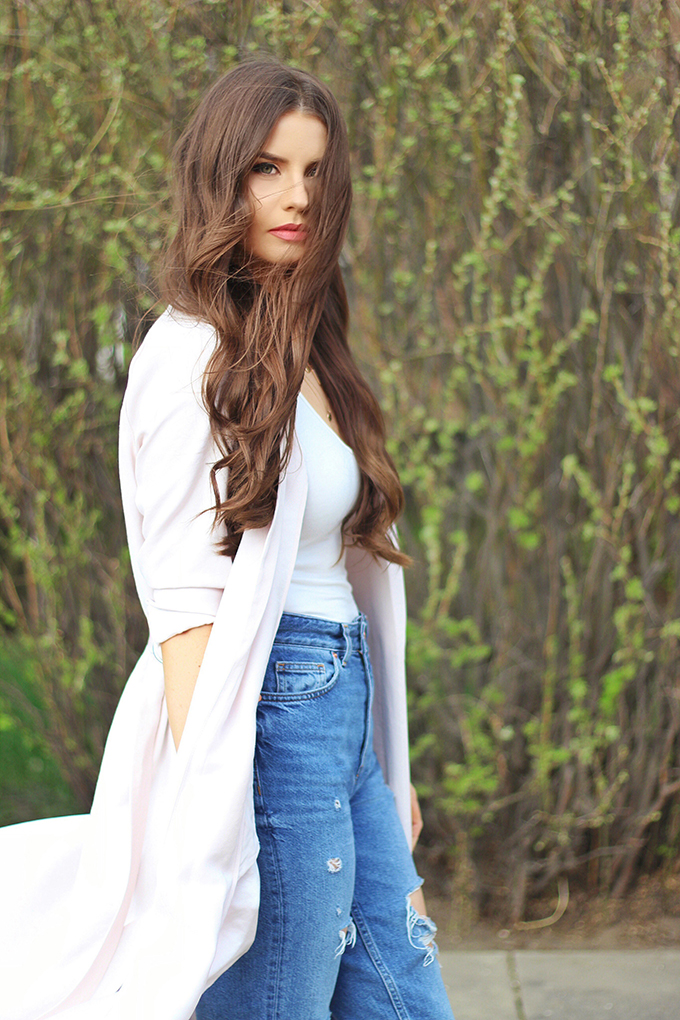 I feel like it's been so long since we've chatted fashion exclusively here at JustineCelina — and I couldn't be more excited to share today's post! Style content is some of my favourite to produce and this season I'm feeling so inspired. There are so many fantastic trends we'll cover together this spring, but today we're kicking things off with the basics. If you're looking for a crash course on spring style, you've come to the right place!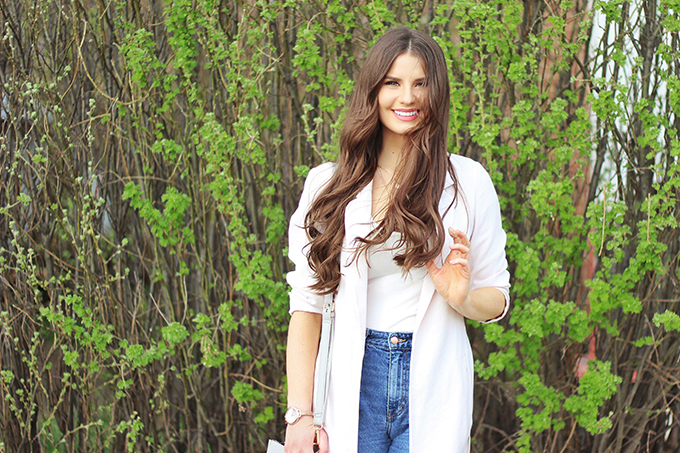 ---
A LONGLINE PASTEL BLAZER
---
If you're looking for one take away clothing recommendation in today's post, a longline, lightwear blazer in a soft, pastel shade is it. This versatile piece has the capacity to elevate any outfit — you can wear it to the office, in the evening and everywhere in between. I cannot stop wearing this Soft Pink Maxi Blazer with Sleeves and it's perfectly on trend this spring! I love absolutely everything about this piece — from the flowing, maxi silhouette to the sultry side slits to the sumptuous material. It's so much fun to style — I scrunch the sleeves up above my elbow for a more casual vibe, or keep them at their full length for more formal occasions. I'm seriously trying to restrain myself from picking it up in other colours!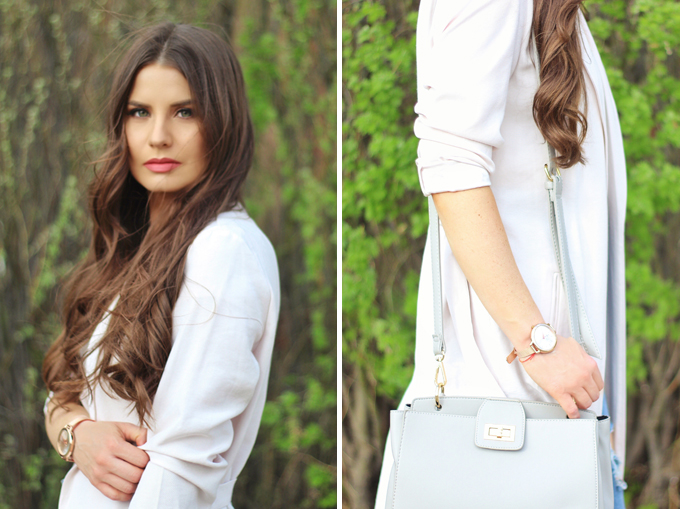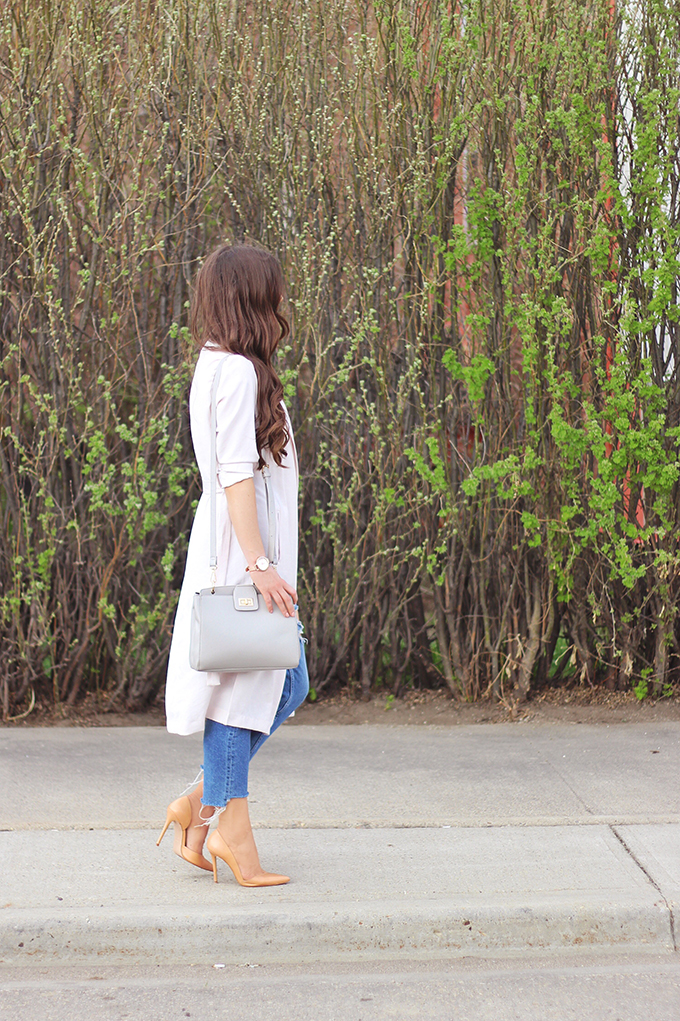 If you've been following along this spring, it will come at no surprise that I'm going to open my first Spring 2017 style post by mentioning the blush colour trend (and the Spring 2017 Pantone Fashion Color Report). Blush tones are huge this season — and you've seen this mega trend translated across categories here at JustineCelina. And although I love a splash of blush in my home, in design, in photography and in beauty, I've just never really been a pink kind of girl when it comes to fashion. This season's blush tones have be rethinking my anti-pink stance — seriously, how gorgeous is this soft blush shade?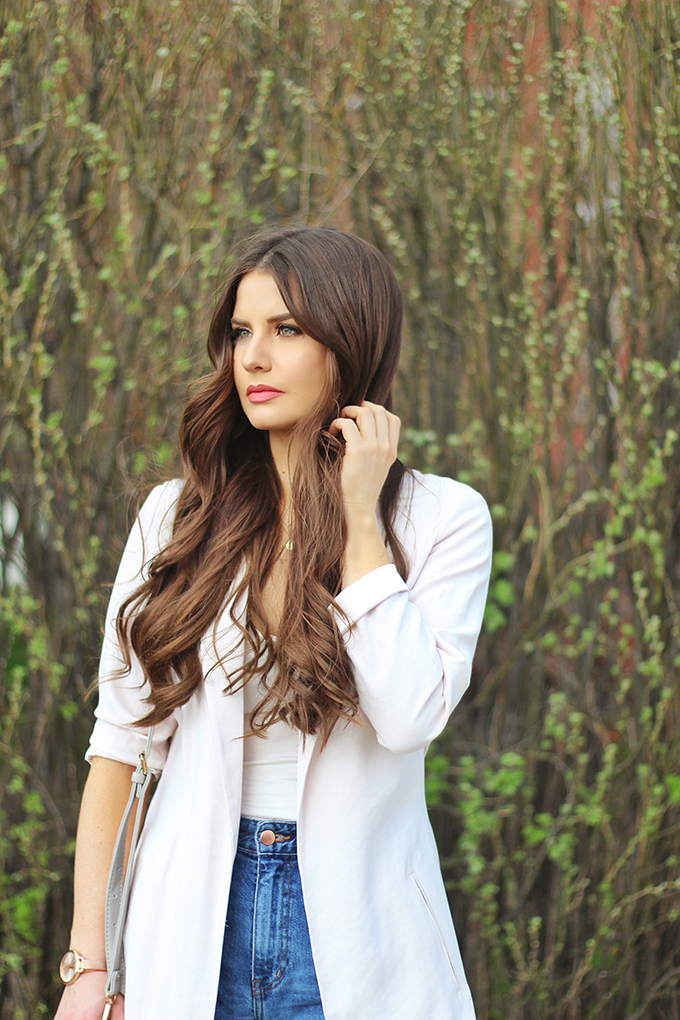 If you, too, are weary of pink, try a barely-there blush, coral or dusty rose shade. There are so many interpretations of Spring 2017's it shade popping up everywhere that you're guaranteed to find a shade of blush that flatters both your skintone and your personal style.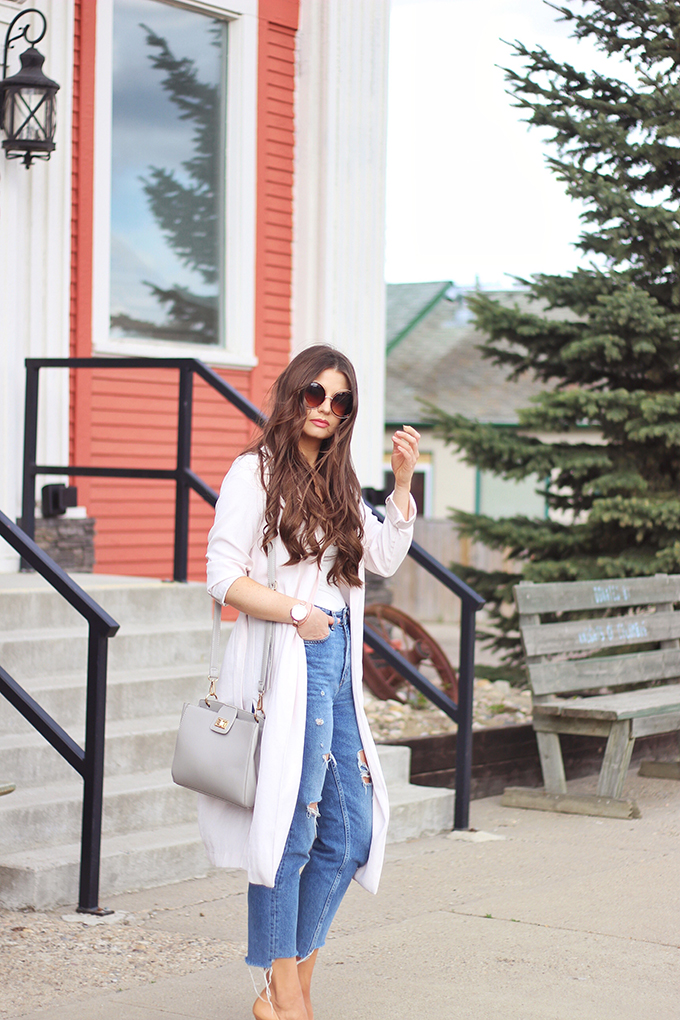 ---
THE PERFECT V NECK
---
Great v necks are a huge wardrobe staple of mine year round and I've written about my favourites on these pages many times. I like to keep my selection of v neck's fresh and typically update them each spring — but this season, in addition to my classic, oversized v's, I've also added some slimming, body suit inspired styles.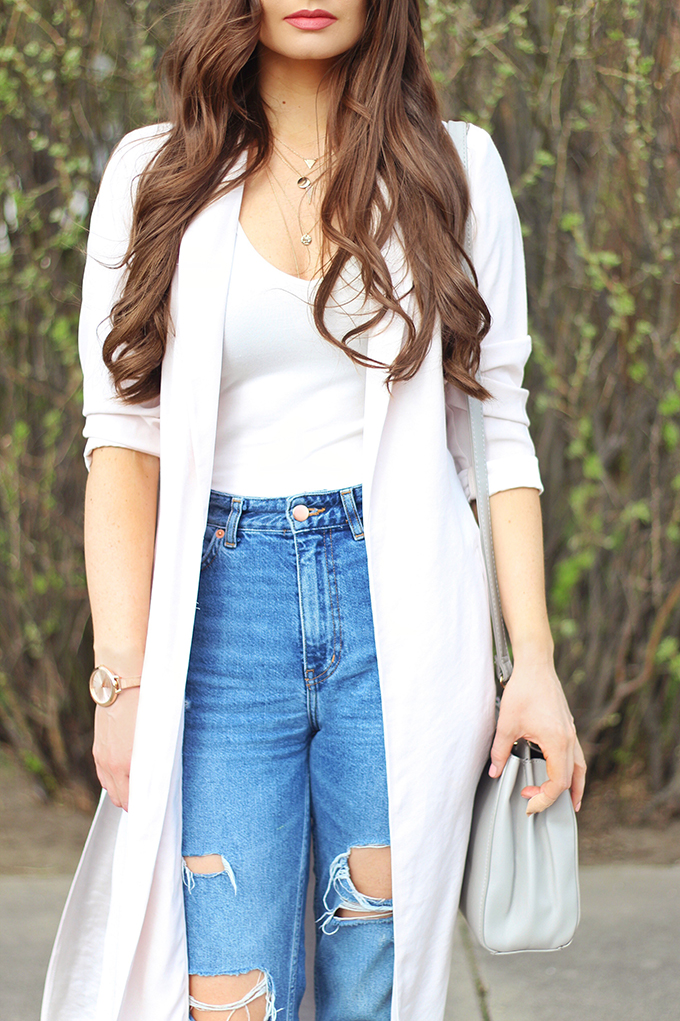 You're used to seeing me in over oversized tops because they're typically what I like to wear, but this season I've added a number of higher waisted pants and skirts to my wardrobe — and realized I didn't have any basic tee's to tuck into them! So when I stumbled on this Sleeveless V-Neck Bodysuit at Dynamite, I snatched it up. Dynamite and Garage make some of my favourite basic tees and v necks — the material is as soft as a feather, they wash and wear so well and the price is right. If you're looking for the perfect shirt to tuck into all of Spring 2017's higher waisted bottoms, I think I may have found it!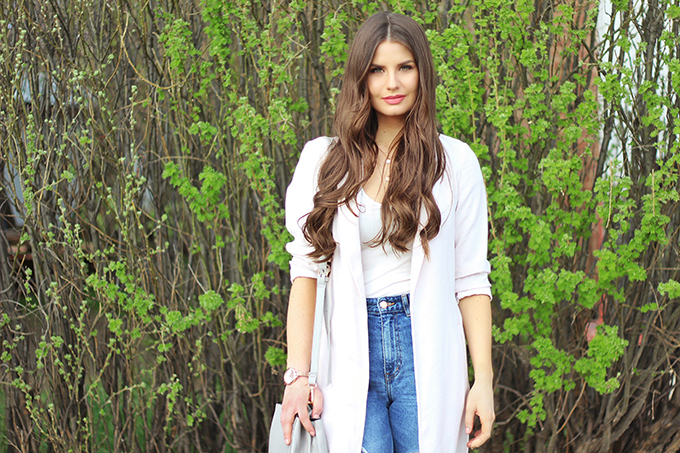 ---
MOM JEANS
---
Love 'em or hate 'em, Mom jeans are here to stay this season. Although you may not think they're the easiest silhouette to pull off, I've compiled a few tips if you'd like to take the trend for a spin but aren't sure where to start!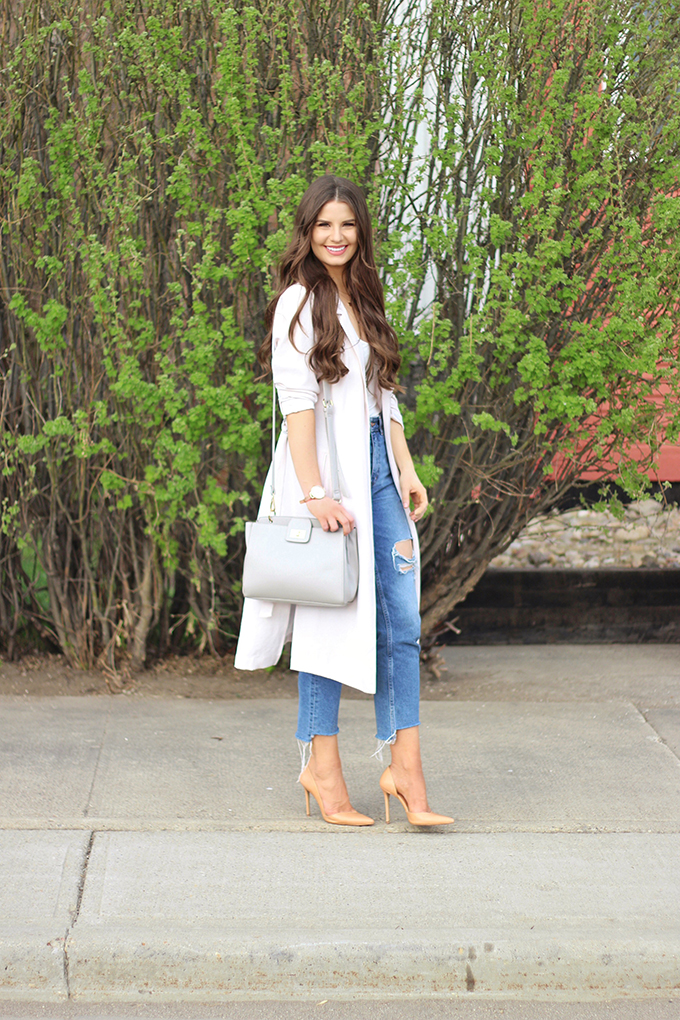 As someone who's fairly tall (I'm 5'8″ for reference) and straighter through the hip, I actually find Mom jeans to be incredibly flattering — making me look like a have a bit more curve than I really do (something I've always wanted)! That said, I have a few guidelines when it comes selecting the best Mom jeans for your body type.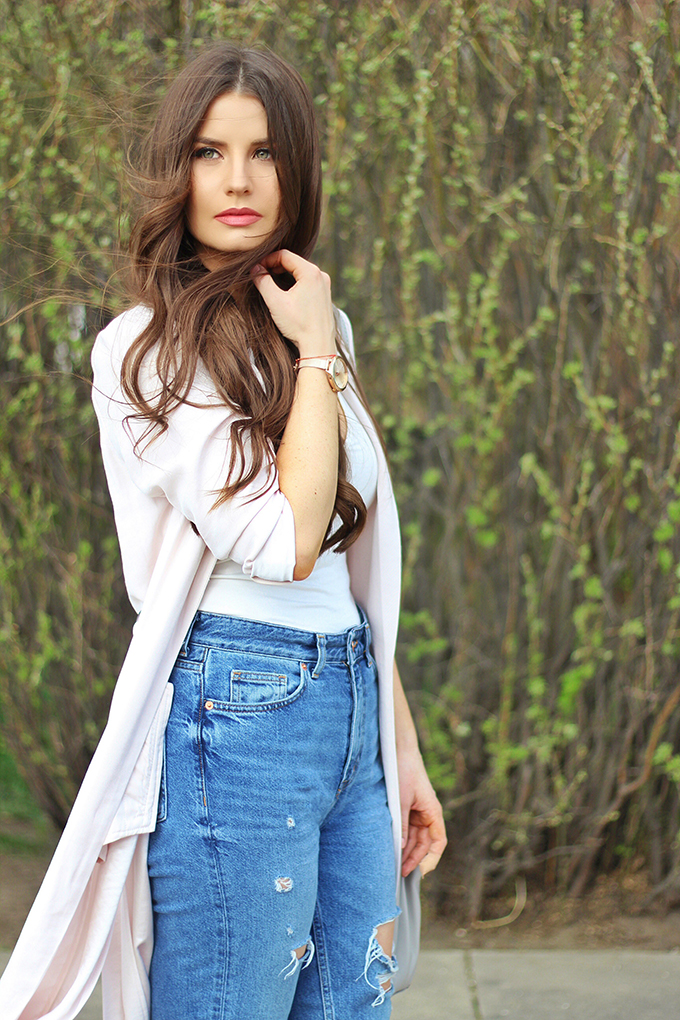 For fit, I prefer mine to sit just below my belly button with a straight, cropped leg. I also find a uniform wash (even with distressing) the most flattering. To style them, tucking in your top is a must for silhouettes cropped above the ankle, as it really elongates the leg. Generally, bustier girls may find a slim fitting V neck or bodysuit (like I'm wearing here) more flattering and proportionate, while smaller busted gals can typically get away with looser, more voluminous silhouettes on top (those can be a bit hit and miss on me, depending on the neckline!). If you're looking to balance out a fuller bust or more voluminous top, you can also look for a Mom style jean with a flared hem. And lastly, if you're wearing a high neck top or want to elongate the leg even further, pair your Mom jeans with heels (I don't know anyone who doesn't love the illusion of longer legs, petite or tall!).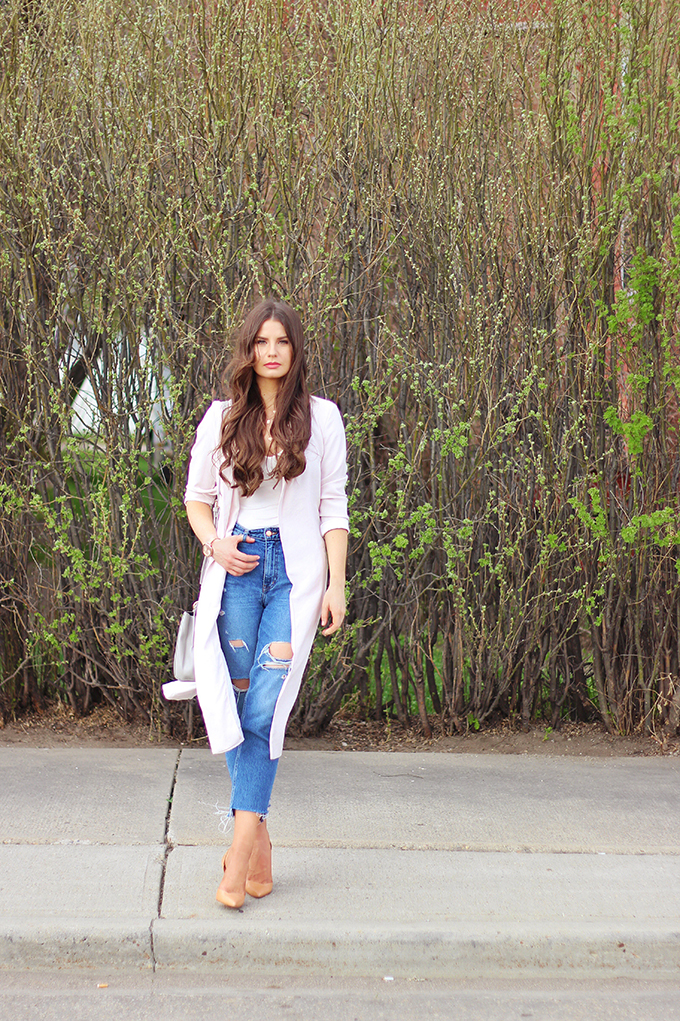 Regardless of these tips, I'm a big fan of just wearing whatever you like, whether or not it's the most flattering style on you — so if you love the look, just go for it (or at least try it on)! You might be surprised — plus, it's always fun to experiment and try something new. If you're curious, H&M makes my favourite Mom style jeans in quality fabrics (my other favourites are also H&M, but I created the stem hem effect myself) at very affordable prices.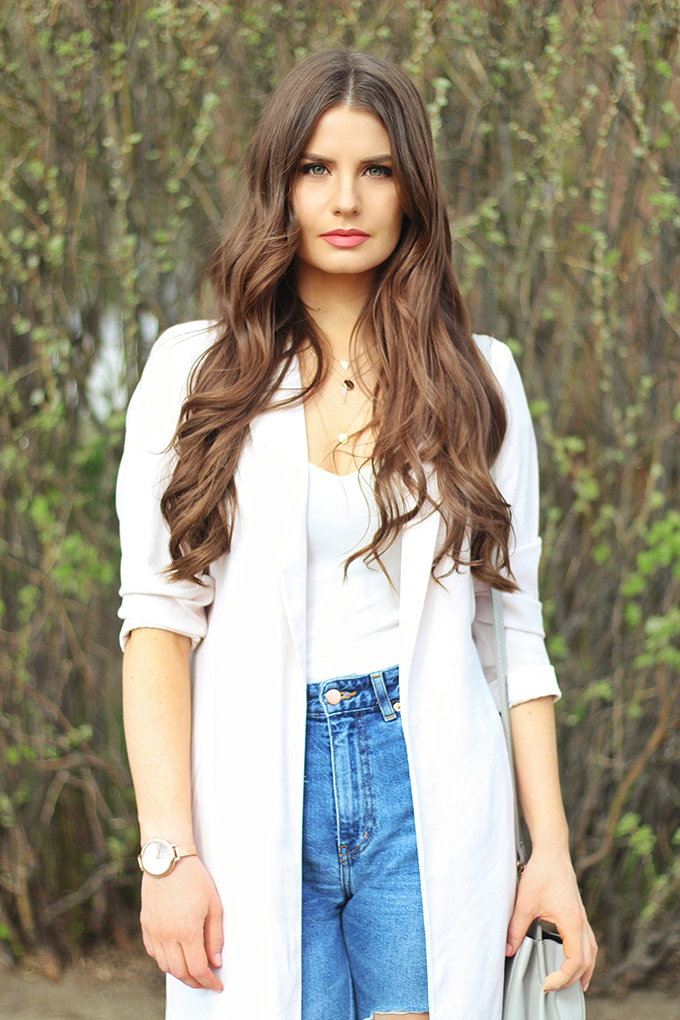 ---
MINI & CROSS BODY BAGS
---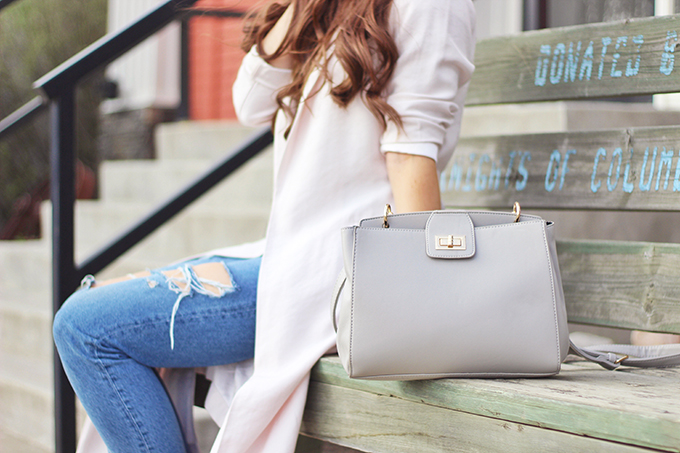 It's not the first time you've heard me mention mini and cross body bags here at JustineCelina, and it definitely won't be the last! This season, bags just keep getting smaller — so why not refresh your spring wardrobe by incorporating a smaller scale bag in a soft, pastel hue? It's amazing what a new bag can do to inject life into your seasonal style! I've been toting this beautiful Grey Faux Leather Satchel around everywhere lately — while it's definitely smaller than my beloved carryalls, it's actually quite roomy and suitable for the daytime. It holds my wallet, keys, phone, a few beauty products — you know, the essentials!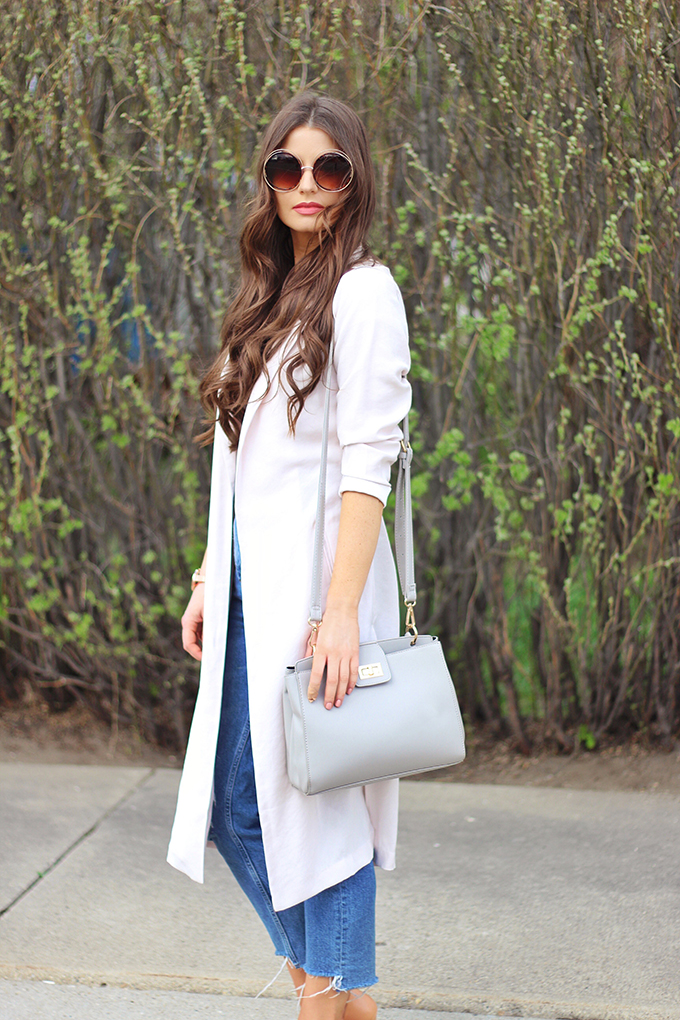 ---
NUDE POINTED TOE PUMPS
---
Shoe trends come and go, but if I could recommend one pair of shoes (coming from someone who owns over 50 pairs!) to every woman, it would be a nude, pointed toe pump. I wear these shoes with everything — in fact, I originally purchased them from Zara (yes, I'm raving about Zara shoes again!) about 4 years ago, wore them once and knew that I found the nude pump holy grail — so I snagged a backup pair before they sold out. Best. Shoe purchase. Ever.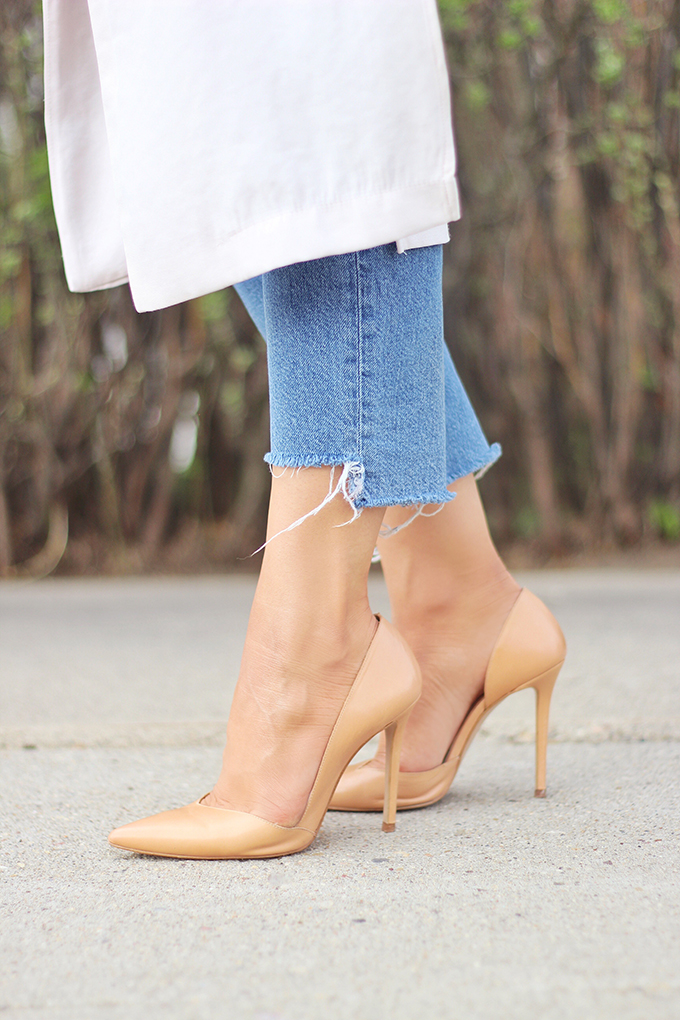 I've since burned through the first pair (their life was tragically cut short by a friends dog's — but thankfully I had that backup!). I whipped out my second pair last spring and have truly never worn a more versatile pair of shoes. You've likely seen me scuttling around in them via Insta Stories quite a few times this spring — I wear them to meetings, out at night, and anytime I want to add a little leg elongating polish to my look (I love the way they put my step hem on display here!).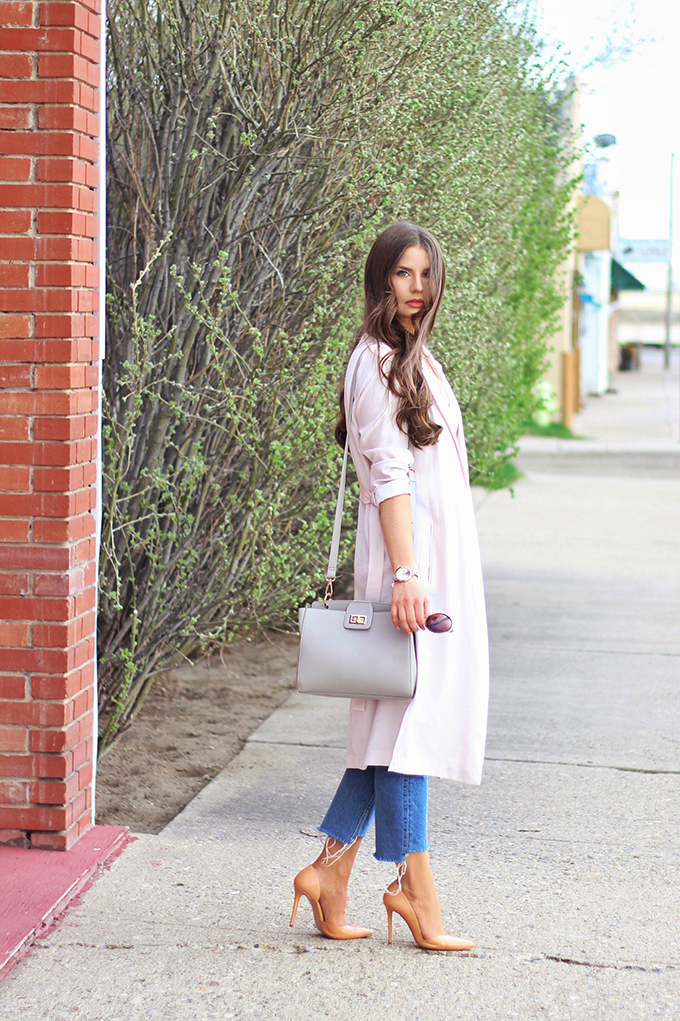 A comfortable pair of nude, pointed toe pumps are quintessential, seasonless, wardrobe building block — and I truly believe you can find your perfect pair in any price range. While this exact style is no longer available, I've linked the most similar pairs I can find across price points for you here, here, here, here and here. The key is selecting a shoe that matches your specific skintone as closely as possible the achieve the maximum leg elongating effect!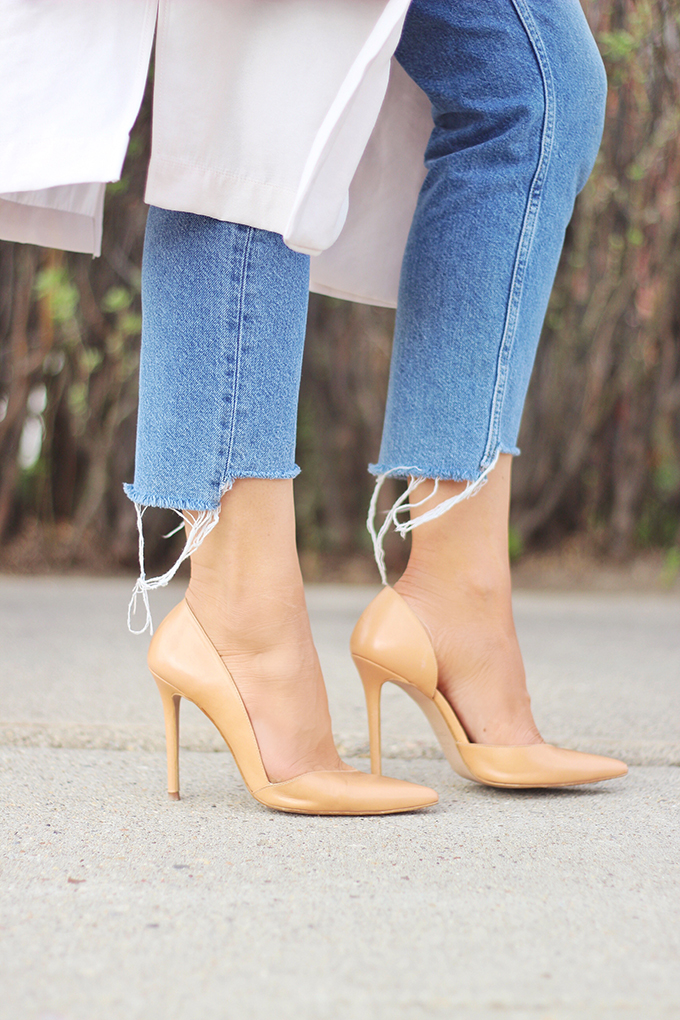 ---
ROUND SUNNIES
---
Yes, I still love round sunglasses and I'm elated to see them continuing to pop up at retailers everywhere this season. I'm sure by now you know my stance on sunglasses — I tend not to invest a lot into them since I like to have a variety of styles to choose from and I'm also notorious for loosing them (but hey, you do you). So when I found these Round Cutout Sunglasses pop up at Forever 21 (that's right!) I simply couldn't resist. I have a bit of a thing for statement shades (especially when paired with a simpler outfit) and round sunglasses are definitely part of my signature look — I think they're such a fun style to wear!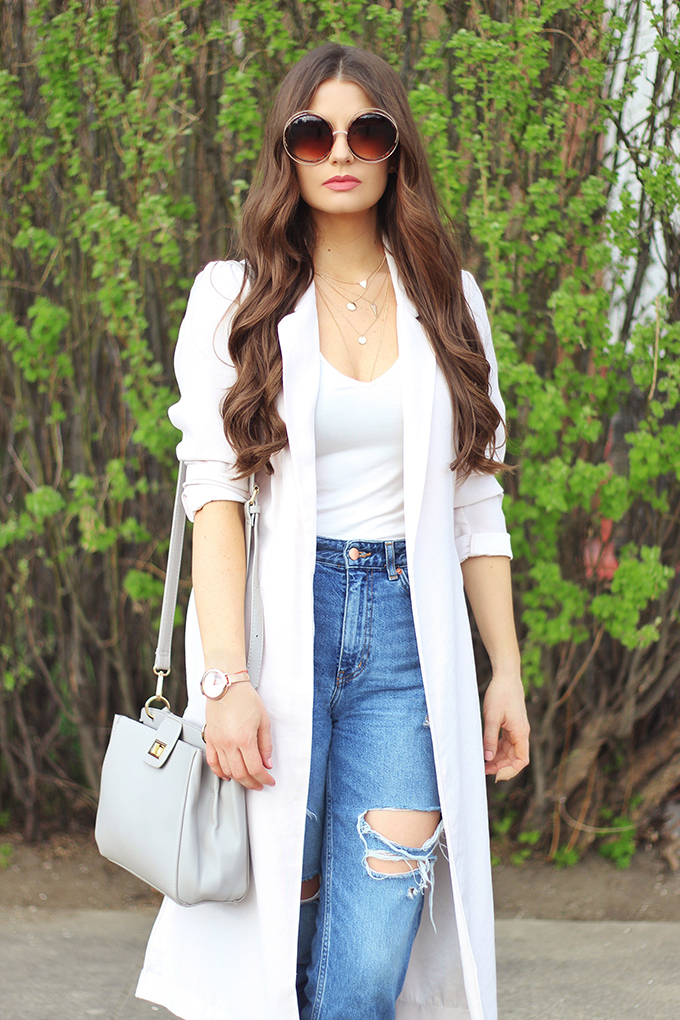 ---
A GO-TO, GO-WITH-EVERYTHING LIPSTICK
---
One of the easiest (and most inexpensive) ways to refresh your look is to pick up a brand new lip colour! If you're a regular reader, you'll know I've become quite obsessed with neutral lips this spring and the parade of soft, spring inspired lip products continues here at JustineCelina. I feel the same way about the NARS Audacious Lipstick in Brigitte as I do about my beloved nude, pointed toe pumps — it's my spirit animal!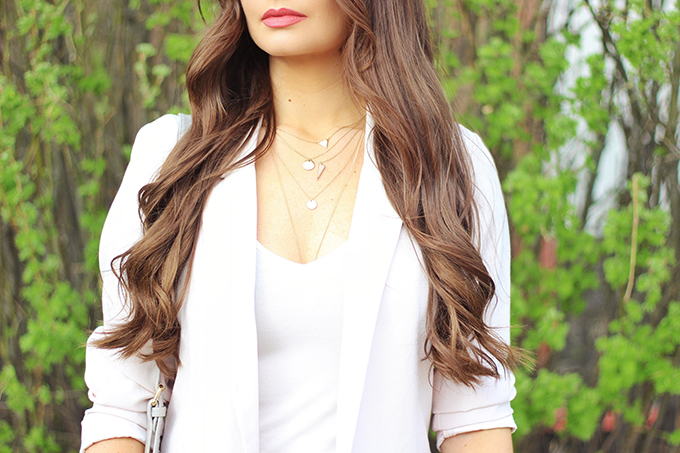 Although this beautiful, nude rose shade is fairly new to me, I know Brigitte will always have a place in my beauty routine and I'll never be without a tube. It gives my complexion life, I can throw it on with anything and the formula is to die for. It's been living in my bag all month long! Expect a full review in my upcoming May Beauty Favourites, but until then, be sure to check out my Spring 2017 Beauty Trend Guide or Effortless Travel Style posts for all your neutral lip needs!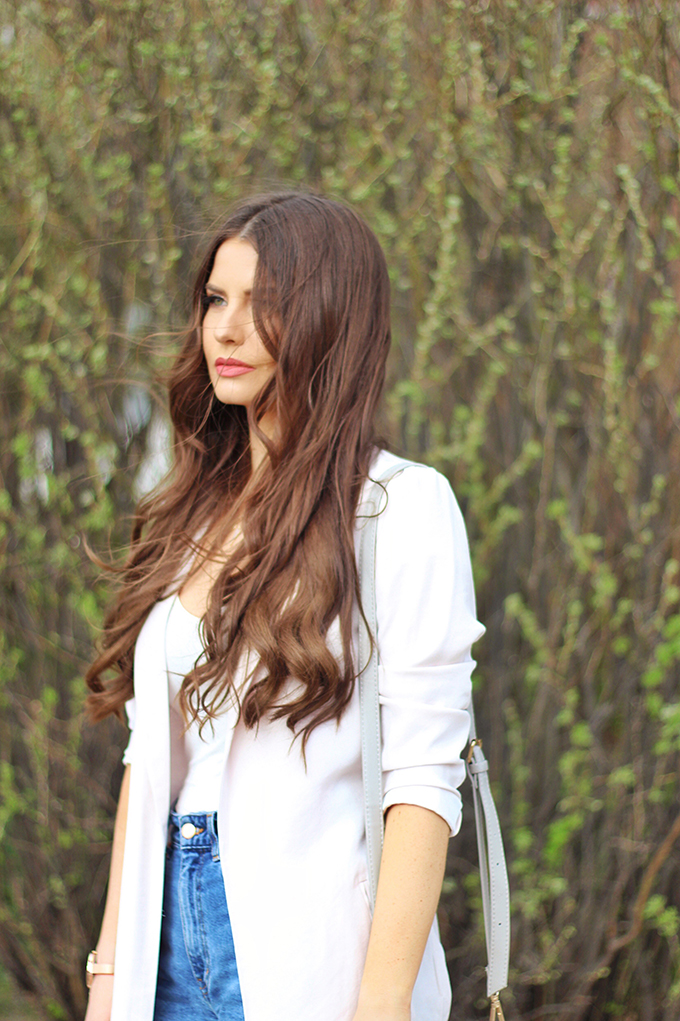 ---
SHOP MY SEASONAL WARDROBE STAPLES
---

---
What are some of your favourite spring wardrobe staples? I can't wait to share more style content than ever this season — so be sure to let me know if you have any requests!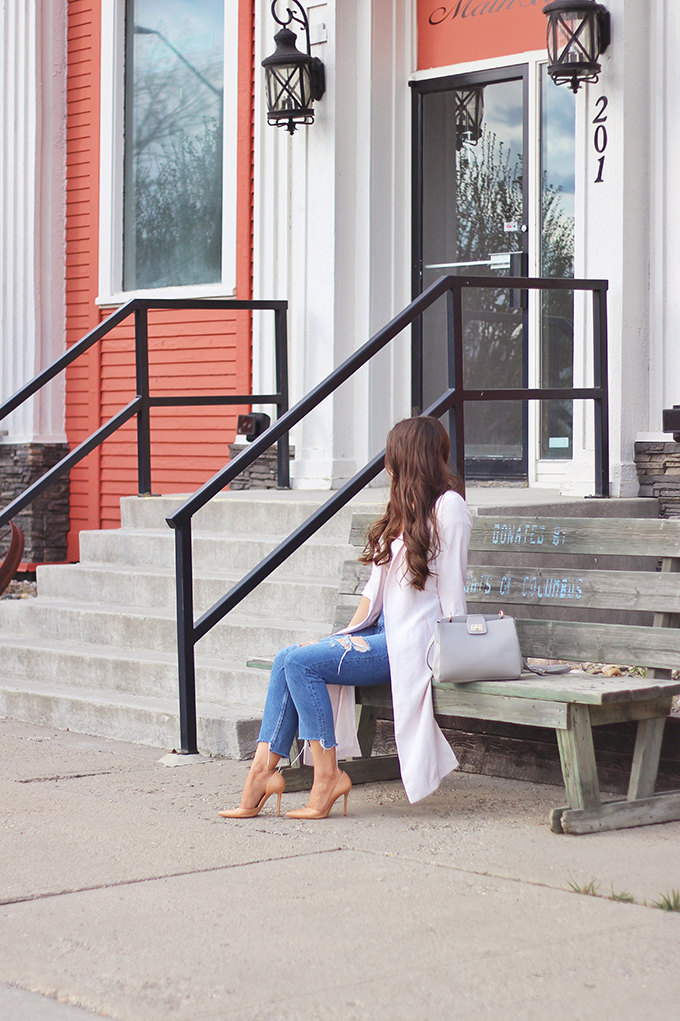 We shot these photos in a charming village close to where I grew up called Rockyford (that beautiful historic building has always been on my location bucket list for capturing style content!). The village has a population of about 300 and in the hour we were shooting, we ran into 2 old high school friends. What are the chances?
---
Disclaimer: This post is not sponsored, and contains my genuine thoughts, ideas and recommendations. JustineCelina uses affiliate and referral links, which allow me to receive a small commission when you make a purchase through one of my links. Thank you for supporting the brands and businesses that support JustineCelina!