With the weather in Calgary being all sorts of unpredictable this year, I had originally planned to share this look with you earlier this autumn as the last installment in my Autumn Trend Guides. The intense cold snap we experienced a couple of weeks ago made shooting new style content outside almost impossible — but thankfully we experienced a few above 0℃ days earlier this week, so I jumped at the chance to get out there and snap a few photos. It actually worked out perfectly, since this last Trend Guide is all about transitioning some of autumns biggest trends into winter!
Today I'm sharing 10 of my favourite styles that are here to stay as temperatures drop — we're talking novelty denim, metallics, block heels, mini bags, faux fur, pompoms, cold shoulders, velvet, longline and ultra dark, oversized shades! I'm also officially introducing you to Pantone's Colour of the Year for 2017, Greenery, and chatting about different ways to incorporate it into your personal style this season. If you're ready to refresh your wardrobe for 2017 (or are looking for some holiday style inspiration), these are my top recommendations for trends that are here to stay!
---
Highline Collective Open Front Lightweight Trench Topper (similar, similar) | Velour Open-Shoulder Top (similar, similar) | Straight Regular Ankle Jeans (similar, similar, similar, similar, similar) | TOPSHOP Mayfair Chrome Heel Boots (similar, similar) | Metal Detail Crossbody Bag (similar) | Faux Fur Pompom Bag Charm (similar) | Silver Stud Earrings (similar, similar) | Black Cat Eye Reflective Lens Sunglasses | Huda Beauty Liquid Matte Lipstick in Famous
---
TRANSITIONING THE TRENDS | AUTUMN TO WINTER
---
Long before I started blogging (like… since forever!), I've loved fashion and staying on top of trends. Like most of you, while I appreciate runway inspiration, I'm always searching for ways to make trends accessible and incorporate them into my own personal style. Although I call JustineCelina A Creative Lifestyle Blog, it's also about education and sharing my knowledge and passions with you in a relateable way. This autumn, I published a series of autumn Trend Guides where I analyzed the season's hottest trends, then put together different looks highlighting my favourites and showing you how to wear them.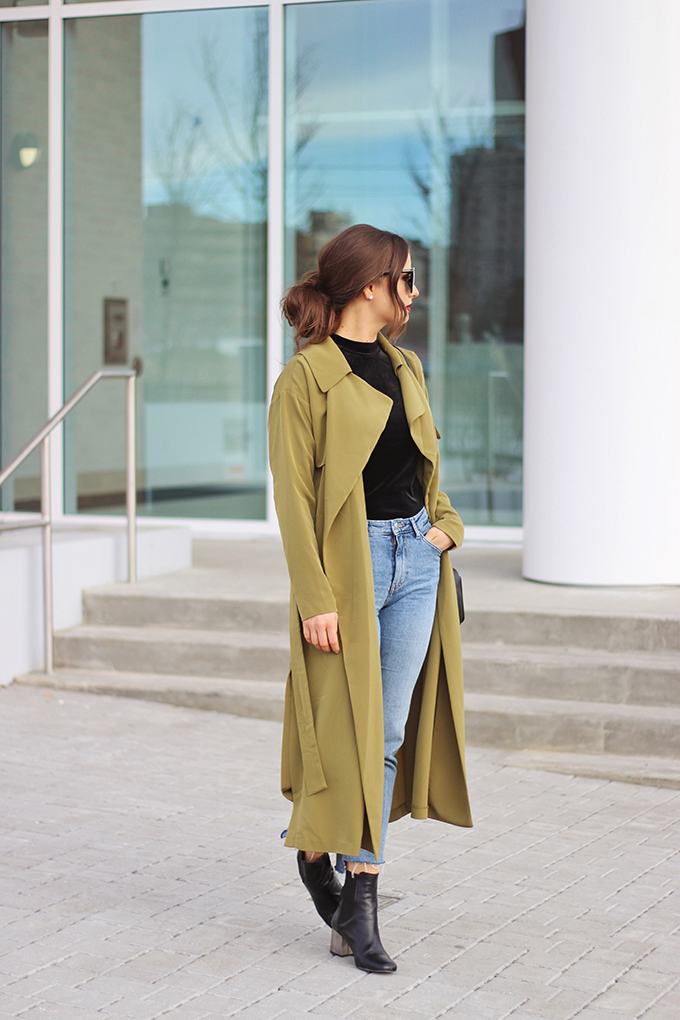 While there were so many great trends this season, I chose to showcase the ones that I thought had staying power — after all, what's the point in bothering with a trend if you're not going to be able to wear it for longer than a season? In fact, there's not one item in my Autumn Trend Guides that I feel will go out of style anytime soon, or that I couldn't wear as we transition into winter (weather permitting, of course!). Which brings me to today's post — so let's dive in!
---
TREND: NOVELTY DENIM
---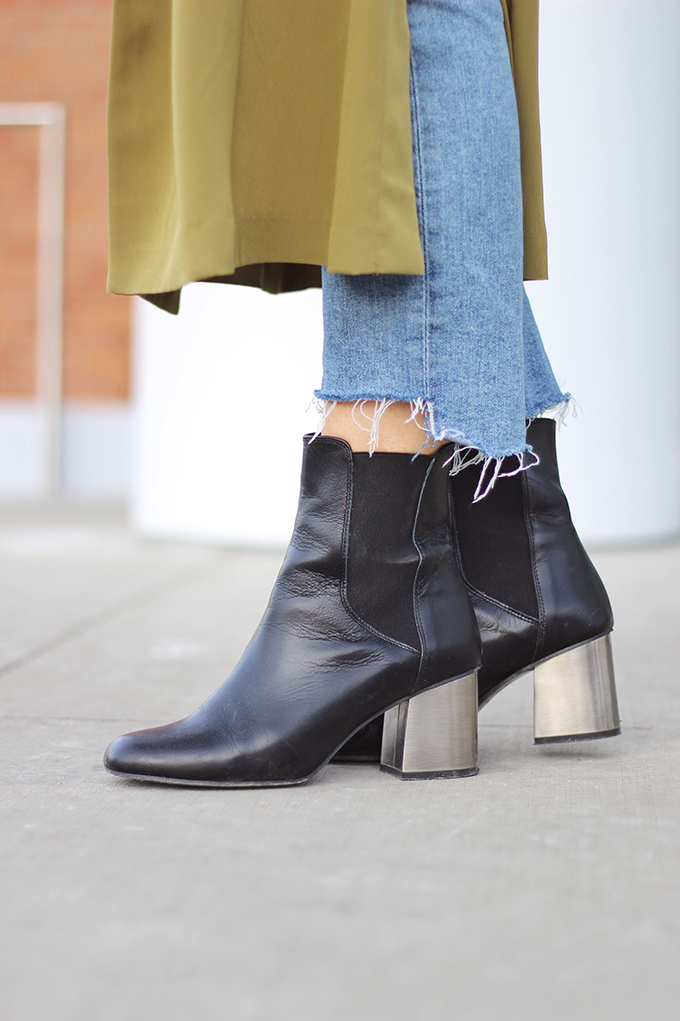 Novelty denim is a trend that's been popular since last spring and we've seen many different interpretations of it — distressed, patchwork, released hem and uneven or step hem. Personally, I'm not a huge fan of patchwork styles, but I love distressing and an interesting hem! I've been distressing my own denim to customize it for as long as I can remember (I even have a DIY | Distressed Boyfriend Jeans tutorial!), so when I saw that novelty denim was trending into autumn and winter, I look matters into my own hands!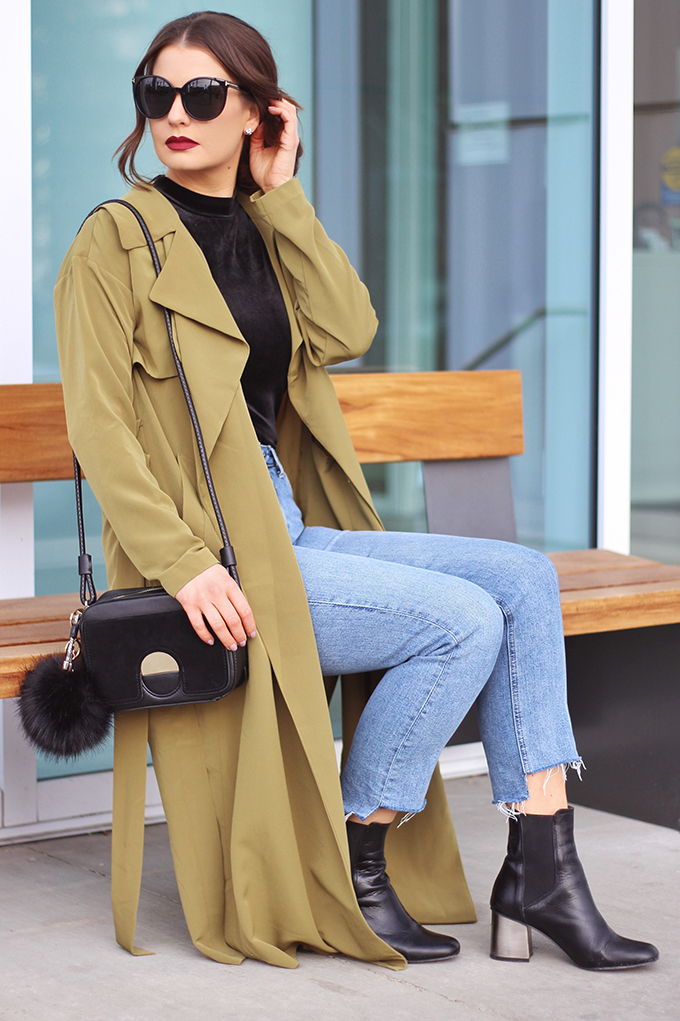 I created this pair of DIY uneven hem denim in about 5 minutes with a pair of scissors, a measuring tape and a butter knife (you can learn more about the method here if you like). I ended up loving my Straight Regular Ankle Jeans from H&M's conscious line so much (I also wore them here) that I purchased a second pair to DIY. They're so easy to wear with booties and they hug me in all the right places! The denim is thick, high quality and made from organic cotton — they're not the kind of jeans that stretch out so much that you have to wash them before you wear them again. I love the effect that I was able to create with the DIY uneven hem — it calls attention to my shoes and just feels more lived in!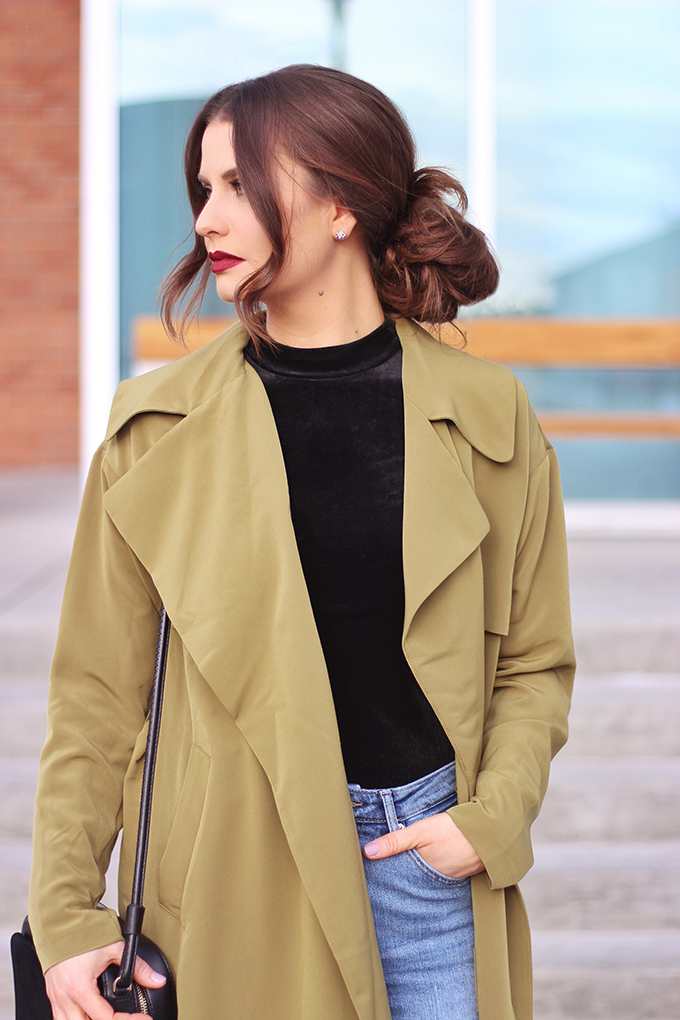 I've also been enjoying the higher rise, 'mom jean' style that's been popular for awhile now, especially with more form fitting tops and bodysuits to tuck into them. Both novelty denim and higher rise jeans are here to stay as we transition into winter — so if you haven't jumped on the bandwagon yet, I've rounded up my favourite styles for you! If you'd like to create your own DIY uneven hem denim like I did, grab either the Straight Regular Ankle Jeans or the Relaxed High Jeans from H&M. If you can't be bothered with that, I've rounded up all my favourite novelty / uneven hem styles for you here, here, here and here.
---
TREND: METALLICS
---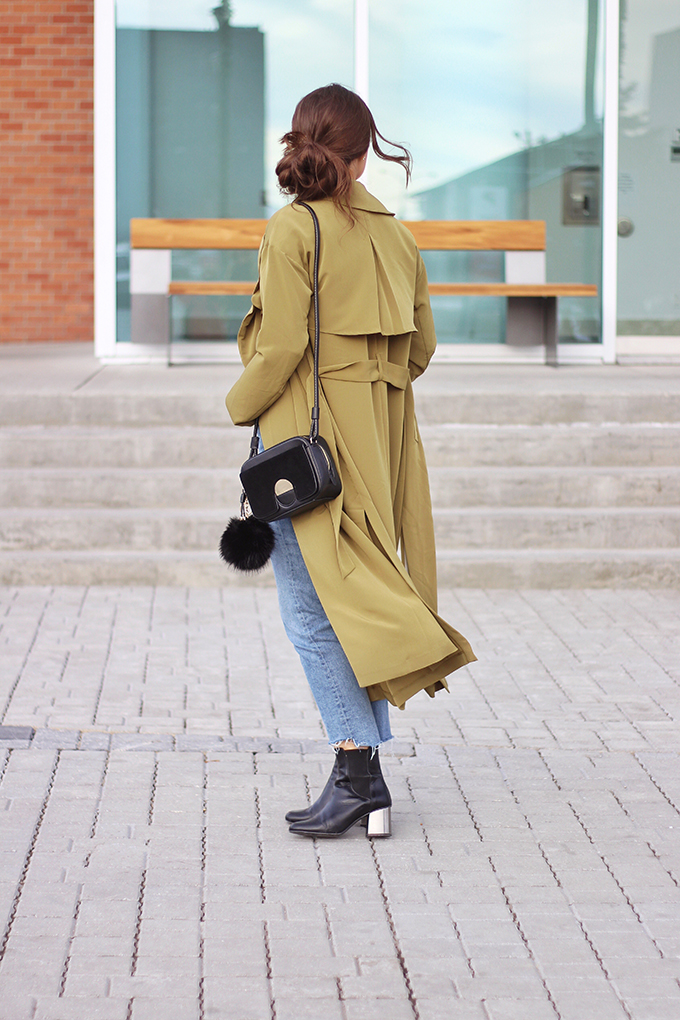 Metallic details have been popping up everywhere lately — from bags to heels to pleated, metallic skirts! Winter's metallics are sleek, sophisticated and a bit edgy. Personally, I prefer to accessorize with metallic details and have been wearing these TOPSHOP Mayfair Chrome Heel Boots and my Metal Detail Crossbody Bag since autumn with no plans of stopping! I love the unexpected pops of shine they add to my outfits and find both of these pieces so easy to style — these are my go-to accessories right now! I also find myself more and more drawn to simple, metallic stud earrings made with premium metals like real silver (my ears are super sensitive) and have rounded up some of my favourite styles for you here, here and here.
---
TREND: SQUARE AND BLOCK HEELS
---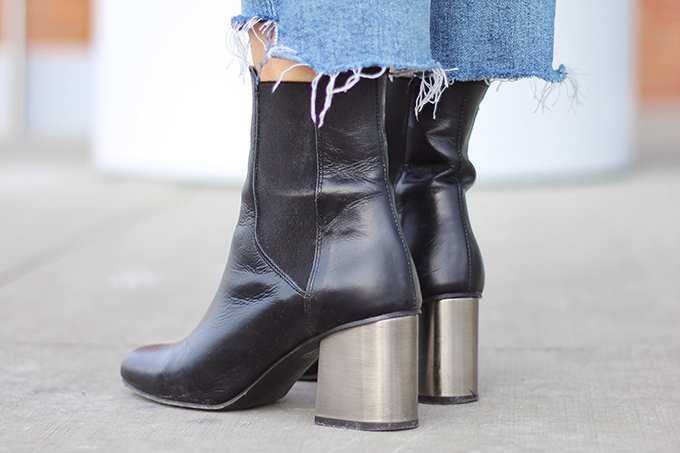 Square and block heels became popular this summer and continue to trend as we roll into winter — which is great news, because these thicker, chunkier heels are much better than stiletto styles in the snow! You've likely seen me scuttling around in these TOPSHOP Mayfair Chrome Heel Boots in my Insta Stories recently — they're so stylish and they definitely don't sacrifice comfort, either. At first, they were a little bit outside of my comfort zone, but I loved their edgy, futuristic vibe so I picked them up and I'm so glad I did! Lucky for you, they're now on sale (although I never have any issues paying full price for TOPSHOP shoes because they're such great quality!) and I've also linked similar styles here and here. TOPSHOP really nailed it with the metallic heels this season! If you're looking to pick up a trendy boot to transition through our snowy winter in style, a metallic, block heel, leather bootie is my top recommendation.
---
TREND: MINI & CROSS BODY BAGS
---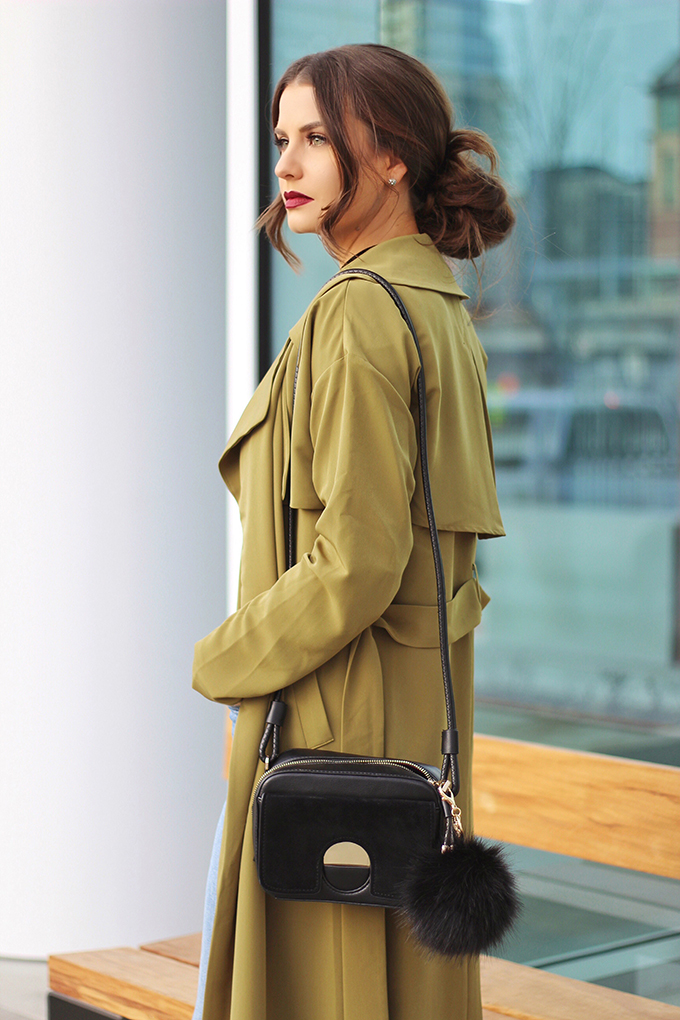 I've been chatting about the mini bag trend since the summer. I've worn quite a few styles since then and have finally settled on this Metal Detail Crossbody Bag as my go-to evening bag this winter! I love versatile bags that I can literally throw on with anything in my closet and this beautiful cross body bag from Zara combines functionality with on-trend, metallic details. Although this bag is smaller, I find that I have more than enough room for the essentials, but if you're looking for a larger option with similar styling, try Zara's Leather Flap City Bag.
---
TREND: FAUX FUR POMPOMS & BAG ACCESSORIES
---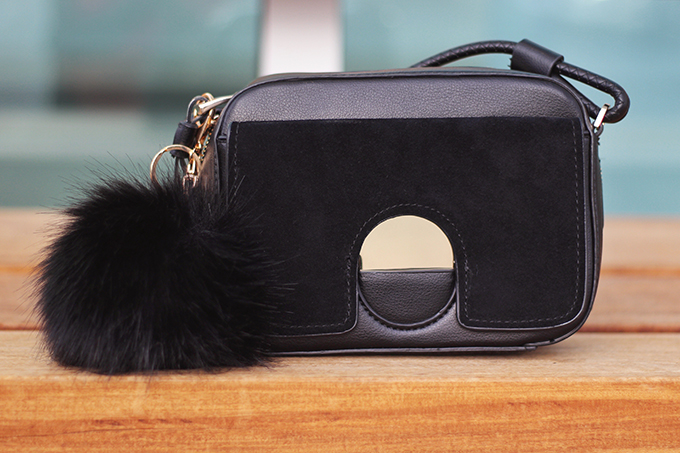 We all know how much I love pompoms (right?!), so when I saw them popping up in faux fur interpretations this winter I was eager to pick them up! One of the easiest ways to either refresh an older bag or switch up the look of a newer one is to accessorize it — it's simply as easy as clipping a Faux Fur Pompom Bag Charm onto the hardware. I love this trend so much that I also purchased a fluffier, larger faux fur pompom in a nude shade, which you'll likely see around here sometime this winter!
---
TREND: THE COLD SHOULDER
---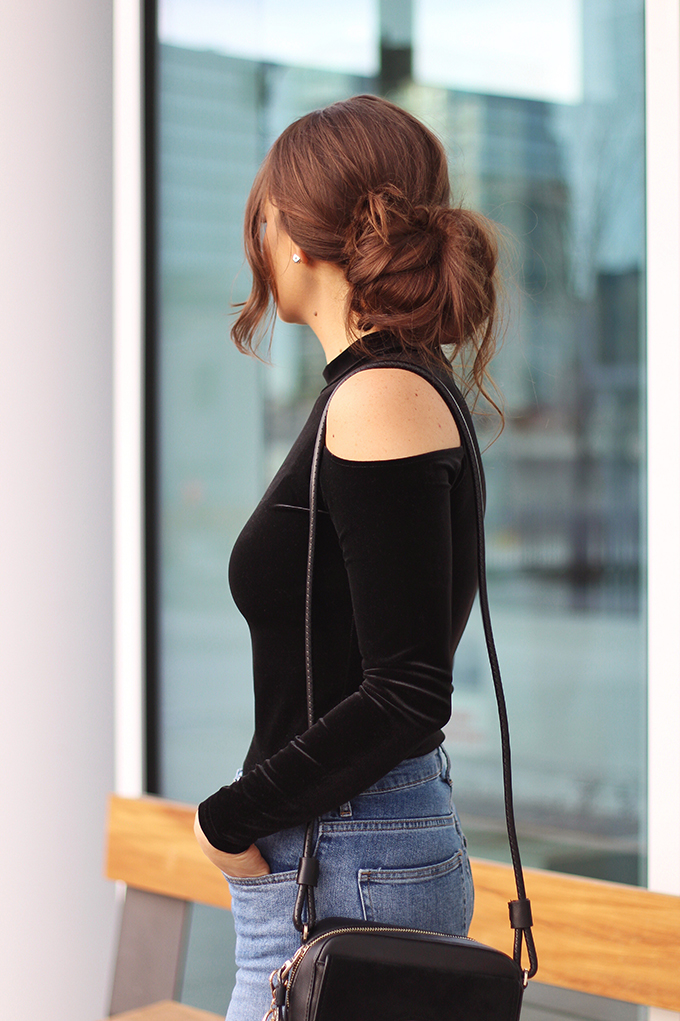 Cold shoulder, open shoulder and off the shoulder styles have been trending since the summer and I've been wearing them this whole time! Back in my Summer 2016 Trend Highlights I mentioned that I'm all about showing skin in modest, unexpected ways and prefer to leave things to the imagination most of the time, so naturally I love the cold shoulder trend. This Velour Open-Shoulder Top combines a couple of major seasonal trends — off the shoulder and velvet. If you're craving an instant style update as we transition into winter, kook for a statement piece that combines a few of your favourite trends!
---
TREND: VELVET
---
Are you sick of hearing me talk about velvet yet? I love this inexpensive Velour Open-Shoulder Top top so much that I also have it in burgundy and have received so many compliments on them (if you were following along with my Insta Stories in November, you may remember me wearing the burgundy version with my satin culottes to the Christmas in November gala dinner!). Velvet is such a versatile texture with many different interpretations — I love it in accessories, but I also love it in clothing!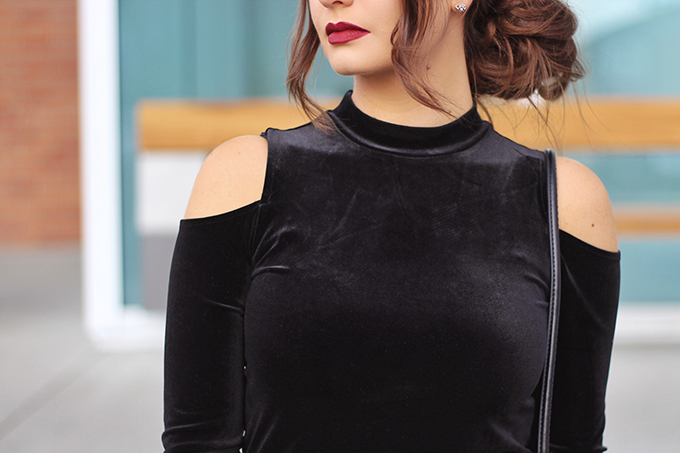 This velvet top is understated, cool and versatile — it can can easily be dressed up or down depending on the occasion. Rich, velvety textures are here to stay as we transition into winter and I couldn't be more pleased. I'll also be wearing velvet this holiday season! I recently picked up a pair of velvet booties and a velvet blazer — I know I've be wearing my velvet pieces often this winter and I can't wait to share more velvet style inspiration with you.
---
TREND: GREENERY
---
Back at the beginning of autumn, I chatted about how military greens were trending. Since I have green eyes, green has always been one of my favourite colours to wear — but I was totally shocked when Pantone announced Greenery as the Pantone Colour of the Year for 2017! I was so sure it was going to be purple, white or grey (I'm a bit of a design nerd) and I have to say I'm pleasantly surprised with Pantone's choice this year.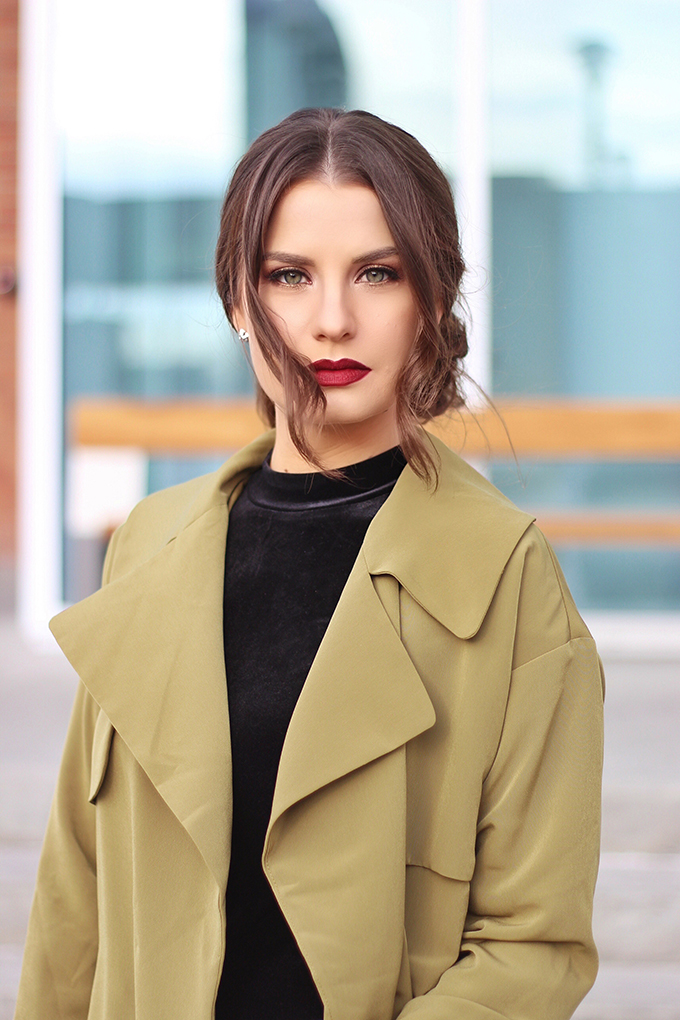 Greenery is described by Pantone as a refreshing and revitalizing shade, symbolic of new beginnings. I think it's a beautiful shade to start incorporating into your wardrobe at this time of year as we prepare to welcome 2017! Greenery is a fresh and zesty yellow-green shade, which Pantone coins as 'nature's neutral' — so true, isn't it? Green really can be a neutral, and this gorgeous yellow-green duster from Highline Collective literally stopped me in my tracks earlier this autumn when spotted it on a mannequin at Hudson's Bay. Two days later I couldn't get it out of my mind, so I ended up going back to the Bay and was able to pick it up during Bay Days for 40% off! It has a subtle sheen to the fabric that catches the light so beautifully — I always receive a ton of compliments and questions about this jacket. Unfortunately this colour is no longer available online, but you can always check in store. In the meantime, I've linked the same jacket in alternate colours here and similar styles in the same colour here and here.
---
TREND: LONGLINE
---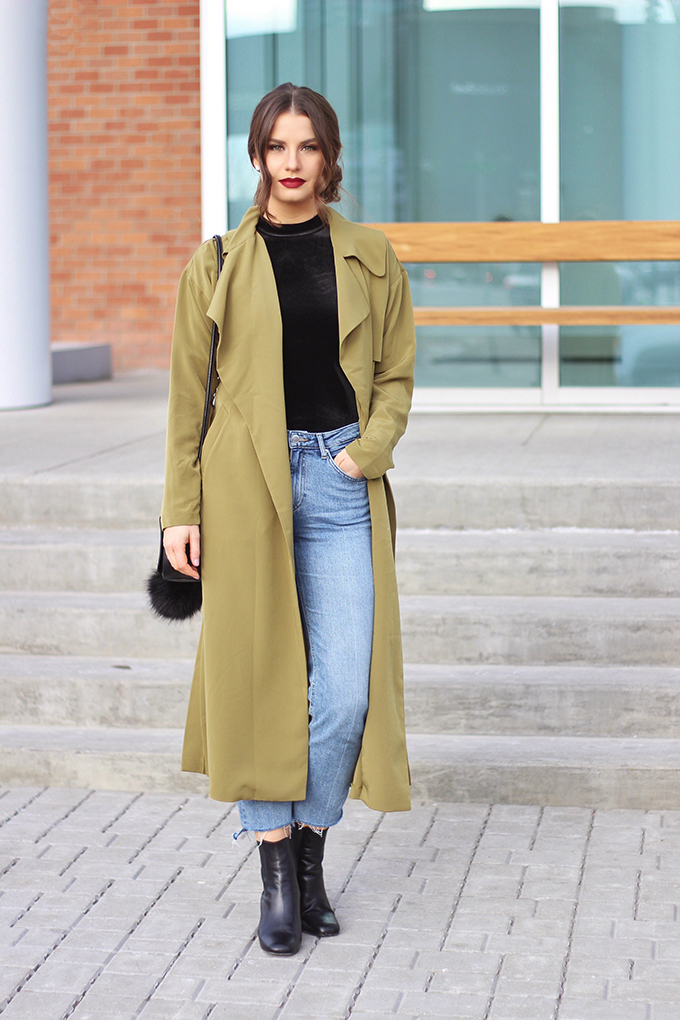 I've always been a fan of longline styles — whether in coats, jackets, dusters or vests. As we transition into winter, longline dusters and jackets continue to trend and I couldn't be happier about it. Longline styles really do elongate the body and give the illusion of extra height — so if you're looking to pick up a new jacket this season, grab one with a longer hemline! Although duster styles like the one I'm wearing aren't super practical for our chilly Alberta winters, I love to layer them with chunkier knits and scarves on milder days. They really do make a fantastic layering piece, and one that I know will continue to be a staple for me during the transitional months of the year.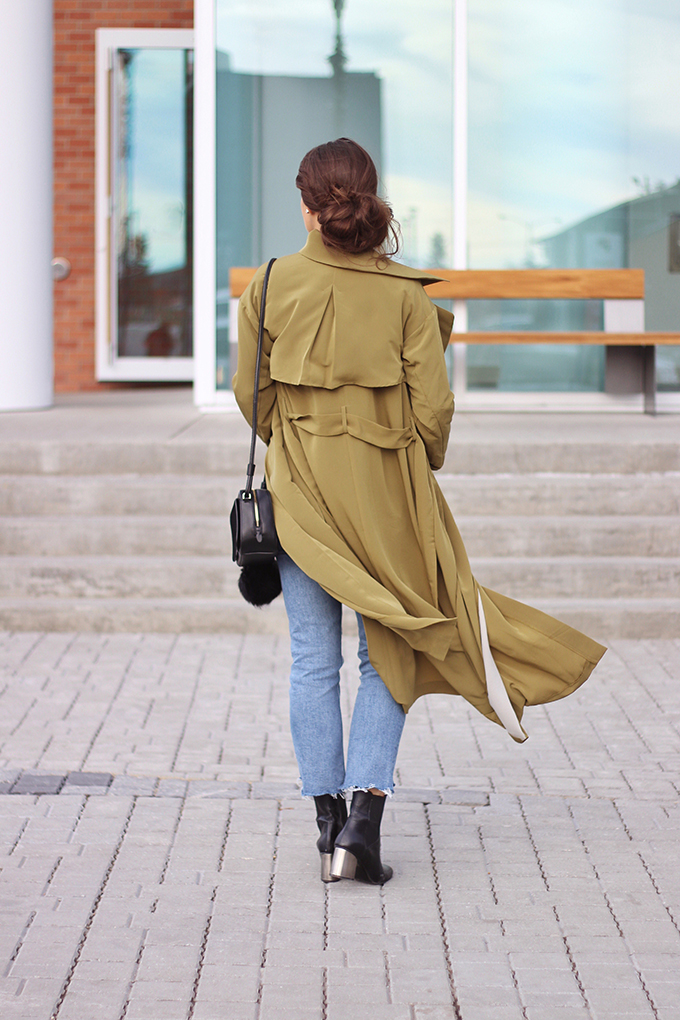 ---
TREND: ULTRA DARK, OVERSIZED SHADES
---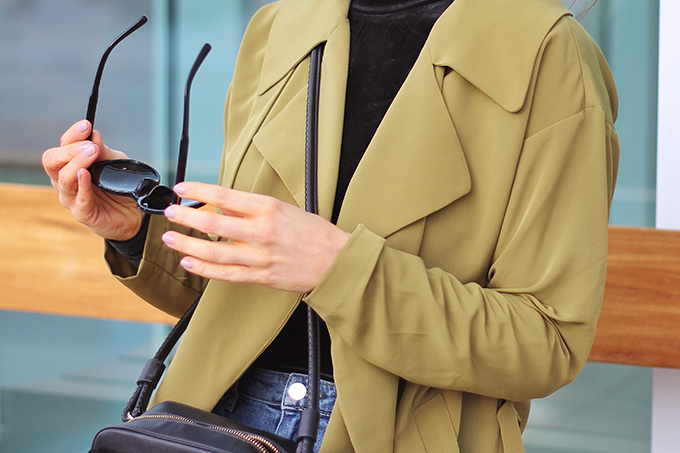 It's no secret that I love my round sunnies, but I can also appreciate the cat eye styles that have been more popular this season and continue to trend into winter. The round lensed cat eye shape I'm wearing is truly the best of both worlds and I've been living in them lately! They're ultra dark and oversized — which is just what I like during the winter to shield my eyes from the blinding snow. There's nothing like a great pair of oversized shades to inject a bit of mystery into your look and they're something I'm never without.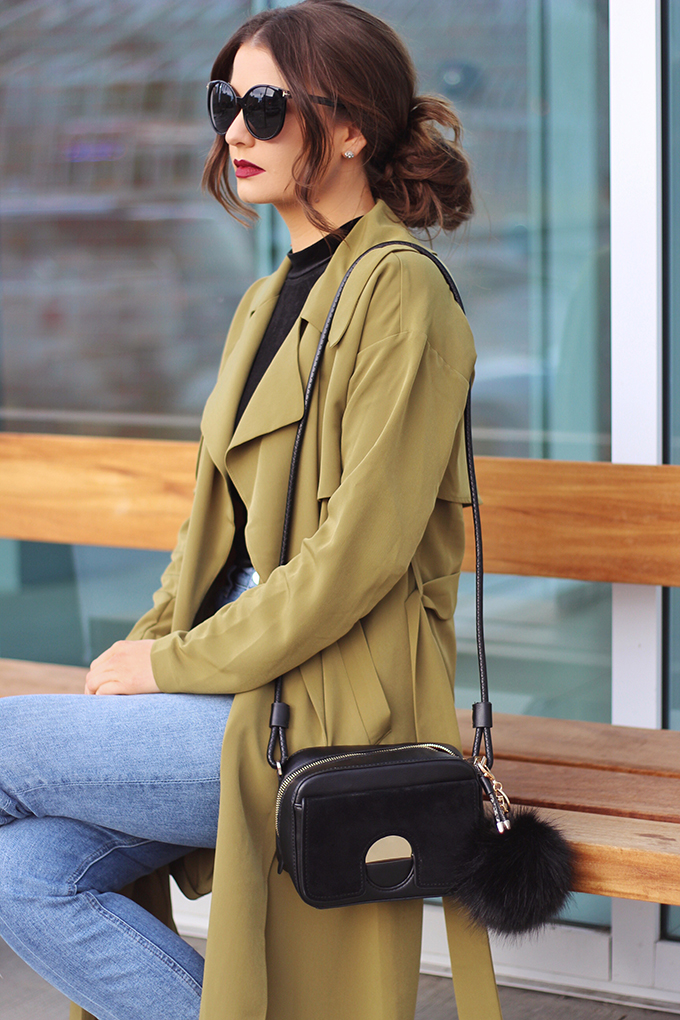 ---
TREND: LIQUID LIPSTICK
---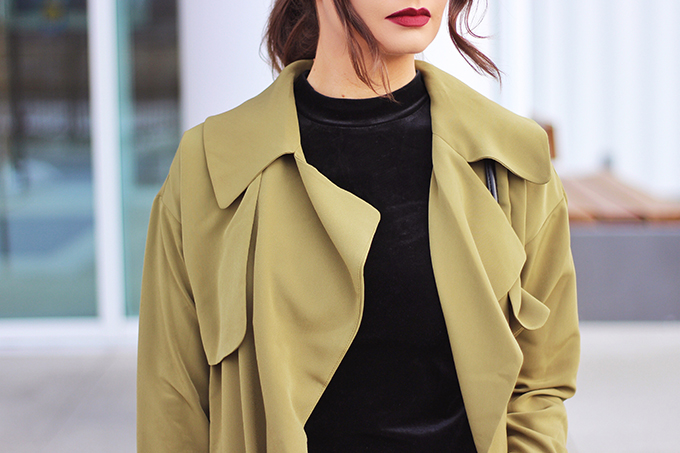 If you've been following along this season, you'll know how obsessed I am with liquid lipstick — so I'm happy to report that it isn't going anywhere as we transition into cooler temperatures! It seems that the beauty loving masses agree, because almost every single cosmetic brand has released their own version of liquid lipstick. I love to go a deeper with my lip colours in the winter and have completely fallen for the Huda Beauty Liquid Matte Lipsticks lately. Famous is my most recent obsession, which is described by the brand as 'an effortlessly chic burgundy'. Expect to see a closer look at this shade, along with my full review, in my upcoming December Beauty Favourites. Until then, check out my 5 Liquid Lipsticks to Try This Fall, Luxury Products Worth the Splurge or 5 Festive Lipsticks to Try This Holiday Season posts, as well as my November Beauty Favourite and October Beauty Favourites for liquid lipstick recommendations!
---
SHOP THE LOOK
---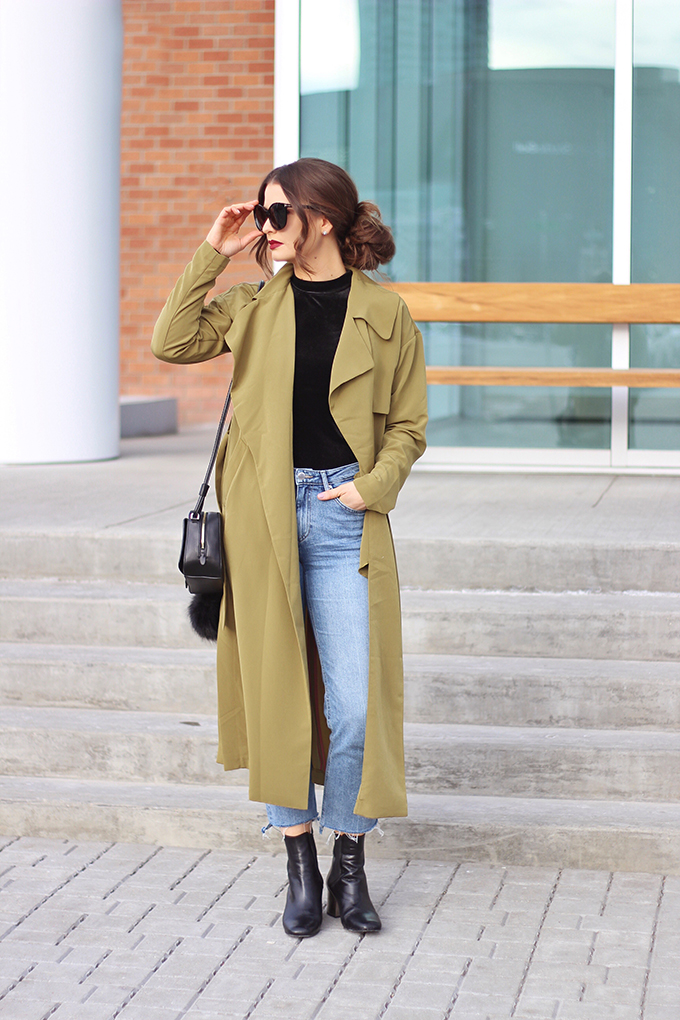 Highline Collective Open Front Lightweight Trench Topper (similar, similar) | Velour Open-Shoulder Top (similar, similar) | Straight Regular Ankle Jeans (similar, similar, similar, similar, similar) | TOPSHOP Mayfair Chrome Heel Boots (similar, similar) | Metal Detail Crossbody Bag (similar) | Faux Fur Pompom Bag Charm (similar) | Silver Stud Earrings (similar, similar) | Huda Beauty Liquid Matte Lipstick in Famous
---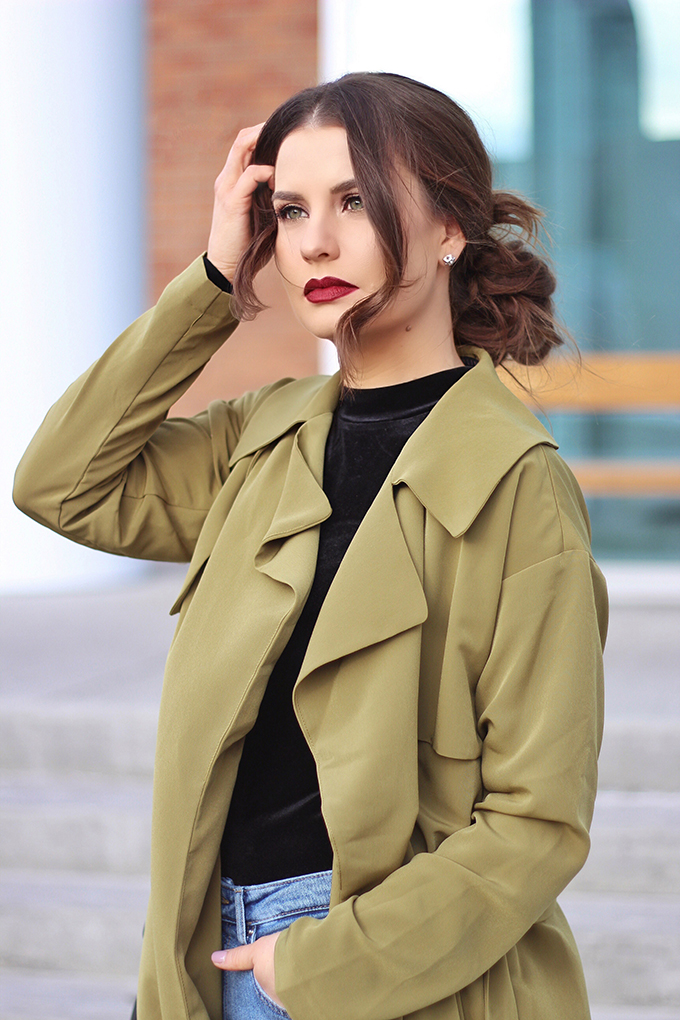 Hair & Makeup: Cover FX Custom Blot Drops | Marc Jacobs Beauty Re(marc)able Full Cover Foundation Concentrate | Tarte Smooth Operator Amazonian Clay Finishing Powder | Laura Mercier Translucent Loose Setting Powder | SEPHORA COLLECTION Colorful Face Powders in 26 Tranquil | Hourglass Ambient Lighting Edit – Surreal Light | Hourglass Ambient Lighting Powder in Dim Light | Anastasia Beverly Hills DIPBROW Pomade in Dark Brown | Marc Jacobs Beauty About Last Night Style Eye Con No. 20 Eyeshadow Palette | Kat Von D Tattoo Liner in Trooper | Diorshow Iconic Overcurl Mascara | Huda Beauty Liquid Matte Lipstick in Famous | T3 Whirl Trio Interchangeable Styling Wand
---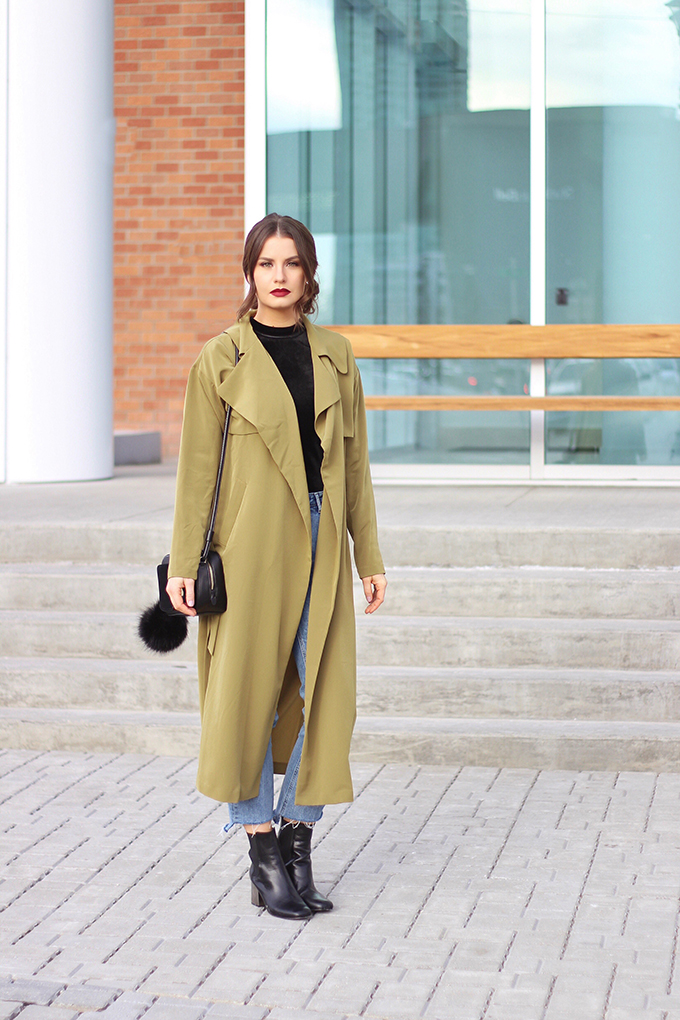 Which trends are you transitioning into winter? I hope you enjoyed learning more about seasonal trends and how to incorporate them into your personal style this autumn — these Trend Guides were a lot of fun to put together! I have tons of winter style content planned for 2017 that I can't wait to share — but if you have any specific requests for me, just leave me a comment. Wishing you all a wonderful holiday season!
---
This look was featured in Narcity's '23 Calgarian Lady Bloggers That You Need To Check Out ASAP' roundup alongside some of my favourite ladies from our Calgary blogging community!
---
Disclaimer: This post is not sponsored, and contains my genuine thoughts, ideas and recommendations. JustineCelina uses affiliate and referral links, which allow me to receive a small commission when you make a purchase through one of my links. Thank you for supporting the brands and businesses that support JustineCelina.com!