---
Do you have a power colour? I'm beginning to think mine is red. Oddly enough, it's not a hue I've worn often over the past 4ish years since rocking my natural hair colour. Back in my (much) younger, platinum blonde days (yes, really — in fact, I've had almost every single hair colour except jet black!) red was one of my favourite colours to wear! This year, I've been increasingly drawn to red and have incorporated more of this statement shade into my personal style. Fast forward to SS18 and red is everywhere — a classic colour that demands attention, instills confidence and couldn't be more suited to our scorching summer climate. I've always believed that red lips give you superpowers, so just imagine what wearing red-to-toe (ie: wearing red, head to toe) can do for you!
Today's post is a fresh installment in my COLOUR CRUSH series and my take on a summery, red-to-toe look — along with a crash course on colour theory to help you find your perfect shade of red and master on-trend, monochromatic dressing. The best part? Once you've learned the basics, you can apply these tips to any colour or shade if red isn't your thing! No matter what colour you chose, monochromatic looks are always slimming and sophisticated — and although this bold look was a bit outside of my comfort zone, I'm so glad I went for it! Get ready for a healthy dose of red-hot style inspiration, mashed up with an introduction to a handful of seasonal trends and an update on what to expect FASHION wise here at JustineCelina this summer (hint: get ready for tons of fresh content and the emergence of a brand new series!).

---
COLOUR CRUSH | RED
---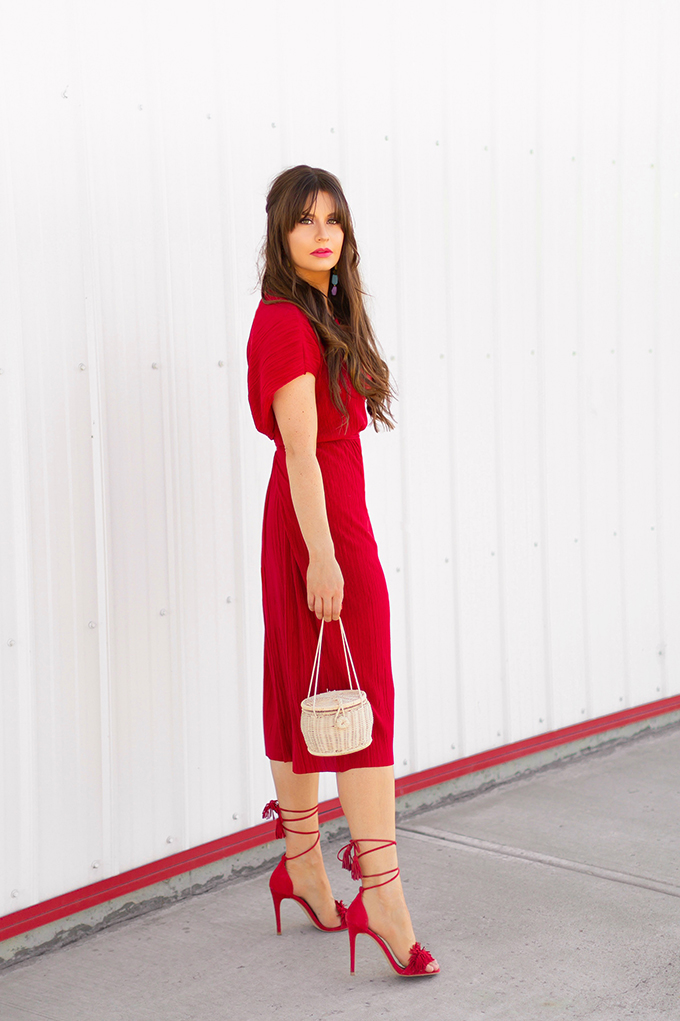 Believe it or not, I'd been toying with the idea of publishing a red-to-toe look since this past winter. We chatted about it a few times over on Insta Stories — and when I threw up a poll, the results were very divided! Many of you were interested in the idea of a post detailing the ins and outs of monochromatic dressing, but we're sure if that much red was for you. And hey — I get it! Of all the colours you could choose to wear head-to-toe, red is definitely among the most daring. That said, I have to admit I felt absolutely amazing in this outfit and it's inspired me to experiment with monochromatic dressing on a whole new level!

If the thought of wearing a bold colour head to toe terrifies you, take comfort in knowing that many of us likely apply the principles of monochromatic dressing in our everyday wardrobe. Have you ever worn an all black outfit? Although it makes much less of a statement, the thought process behind wearing an entirely black (or grey, or brown, or white!) outfit is the same as wearing red-to-toe. Monochromatic dressing is figure flattering, chic and elevated — no matter which colour, shade or tone you choose!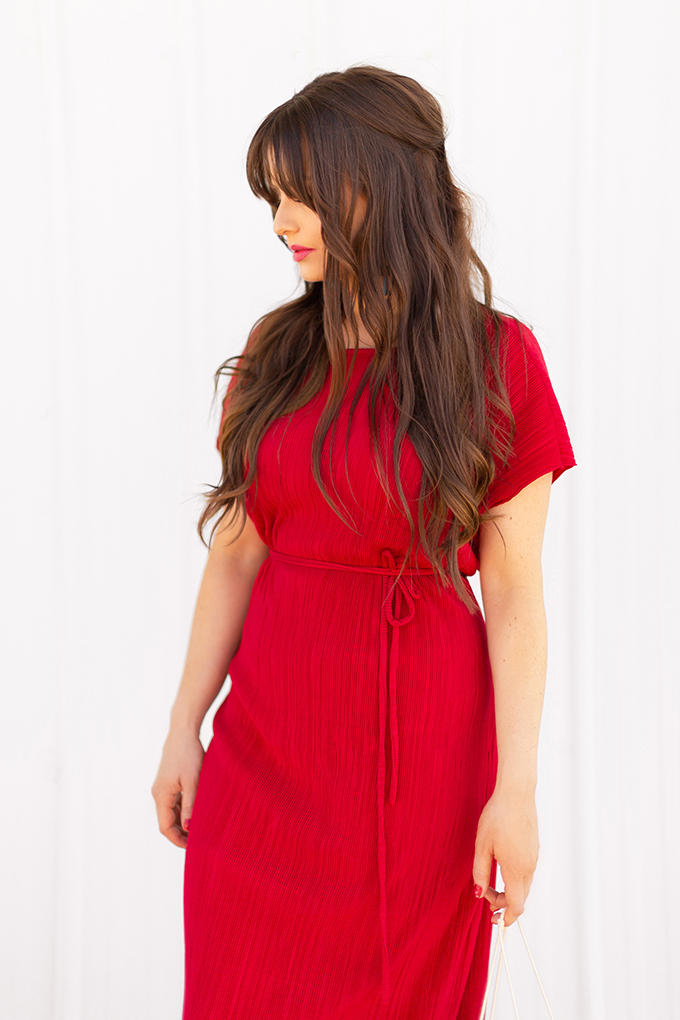 The best part about monochromatic dressing is that I bet you can take the trend for a spin simply by looking at your existing wardrobe through fresh eyes. If you have half an hour or so to spare this weekend, go into your closet and pull out all the similar shades and tones of a particular colour you're feeling inspired by (you can also do this with neutrals).
But don't feel constrained by the specific colour or shade you choose! Have fun with it and feel free to mix and match different shades and tones of the same colour. For example, I'm wearing a fairly neutral, classic red dress and shoes, but I could have pulled burgundy, pink-based (cool) reds and orange-based (warm) reds into this outfit (in fact, I had a velvet burgundy bag and burgundy pointed toe heels, a fuchsia stocking and my classic red coat pulled when I styled this dress for a red-to-toe winter look!). If you chose white, don't be afraid to mix and match your whites, off whites and creams. For maximum impact and a truly monochromatic look, stay away from patterns and let your colour palette do the talking!
Don't forget to experiment with different textures! No matter what I'm wearing, I love to play with texture — and it's also something I've done in our home. When I'm pulling together a monochromatic look, I use it as an excuse to go wild with my textures since I don't have prints at my disposal. Creating a texture-rich, monochrmoatic look is my favourite way to inject my personality into an outfit! My sassy, red lace up sandals (do they look familiar?) add the perfect amount of interest to this look and spice up my demure red dress.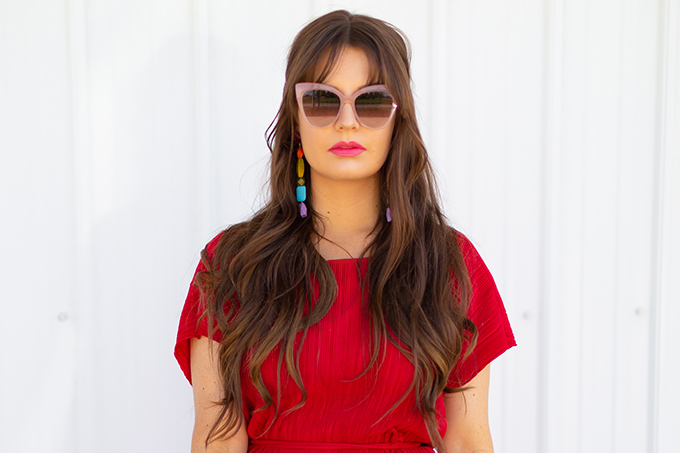 You can choose exactly how monochrome you want to go by either carrying a consistent colour story through to your accessories and makeup, or switching things up to create a bit of contrast. For example, initially I pulled out my red lens sunnies and well as a red bag! As much as I loved it, the look was coming off as unwearable — and you know I always wear the outfits I showcase here at JustineCelina in my real life (this look got a lot of attention when I took it out for rooftop patio drinks!). On a mission to make red-to-toe wearable so I wouldn't completely scare you off, I instead selected playful, on-trend accessories that complimented the overall look but strayed from my otherwise monochromatic palette.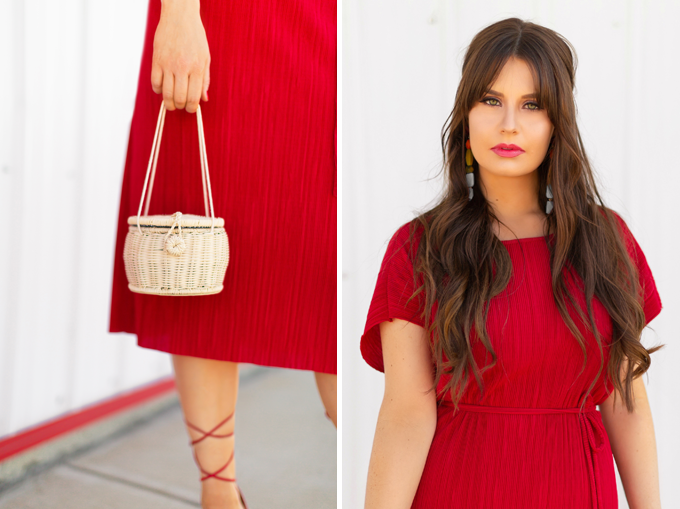 My wooden, rainbow earrings (another Zara purchase!) ended up being the perfect accessory to inject a fun splash of varied colour into this look. You can't really see it in these photos, but the top bead, resting on my ear lobe, is actually red! Rainbow brights are a massive trend this summer and one that naturally appeals to my colour loving self. So, instead of opting for a neutral (or red) earring, I chose a more playful option to switch things up.

To break up all the red, I also styled this red-to-toe look with a darling Raffia Basket Bag (which sadly just sold out in the Zara sale online, but you may be able to track it down in store!). Natural material bags are another massive trend — and there's a post publishing later this summer dedicated to them! I love the free spirited, summery vibe they add to an outfit and highly recommend picking one up this season.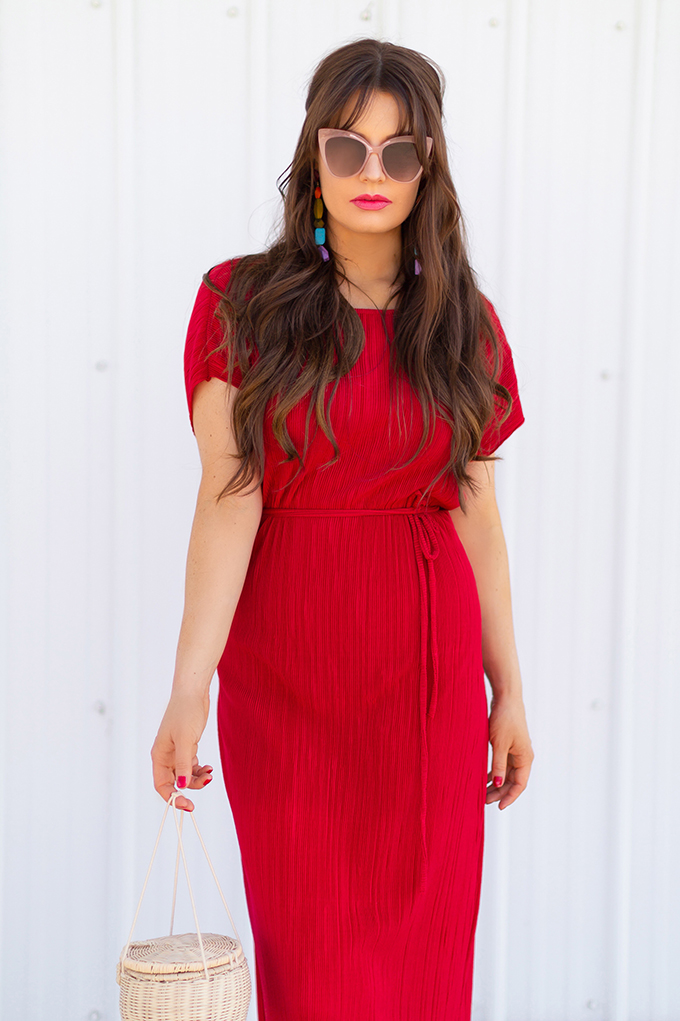 Remember when I mentioned that I'd been experimenting with a few new sunglass styles? This is one of them! If you've hung around my FASHION archives for any length of time, you'll know I love me some round sunnies — but this summer, I've resolved to shake things up around here and really explore new avenues of my personal style. Although it took a bit of experimenting, I've successfully found a few pairs of cat eye and mini sunglasses that I adore! This particular pair is from Zara (I'm wearing Zara almost head to toe here again — oops!).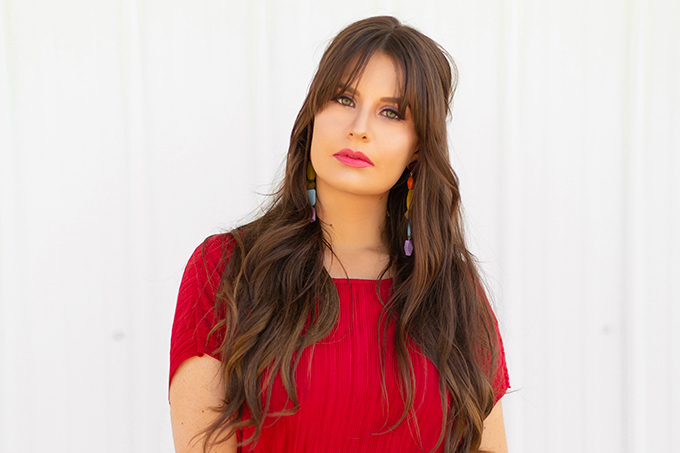 And lastly, you know I had to cap things off with a red lip! If you frequent my BEAUTY section, you'll know I'm a huge fan of red lips year round. That said, during the summer months, I tend to gravitate towards sheer 'daytime reds' — like this stunning CLARINS Water Lip Stain in Red Water. It's such an innovative formula — a water-like lip stain that you paint on with a brush before drying down to a hydrated, semi sheer, budge proof finish! I received all four colours from the range along with the Instant Light Lip Comfort Oil in Honey last month and they're all I've been wearing lately (in fact, I'm wearing the lip oil to hydrate my pout as I sit here barefaced, editing this post!). Expect to see a lot more brightly stained lips around here this summer!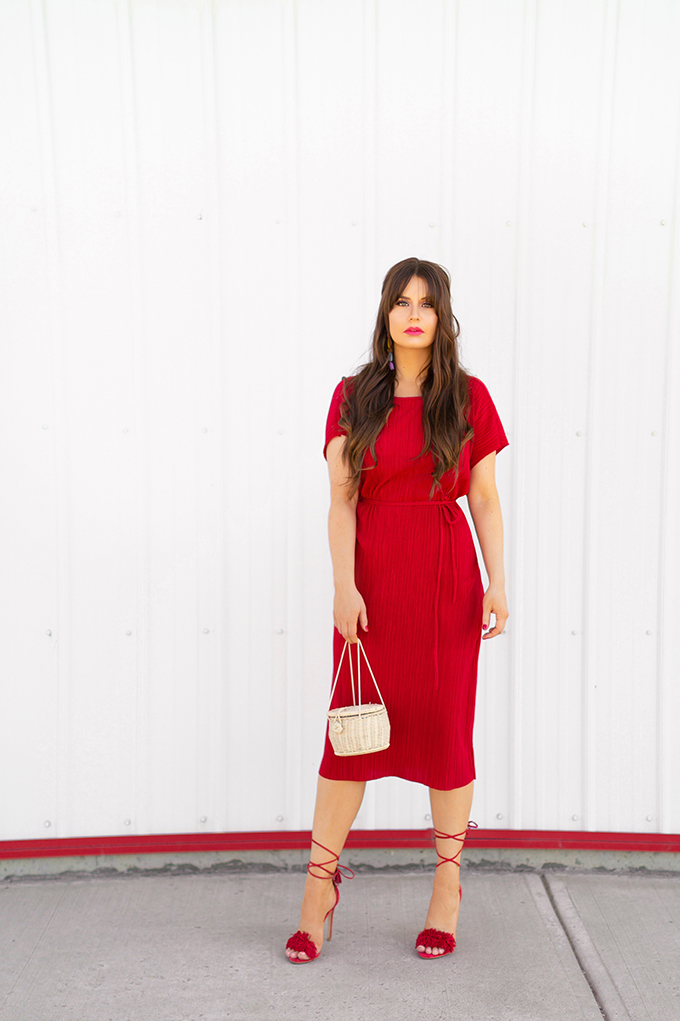 So, have I inspired you to dip your toes into the red-to-toe trend? I firmly believe everyone can wear (and feel incredible in!) red — it's all about finding a shade that suits your skintone and colouring! As a general rule of thumb, if you have warm colouring (you look better in gold than in silver) warmer, richer reds (ie: yellow based reds with orange undertones) will flatter your skintone most. If you're a cooler skinned gal or guy (you look better in silver than in gold) brighter, cooler reds (ie: blue based reds with pink undertones) will suit you best.
And if you can rock both gold and silver and look equally fabulous (or you just love to experiment and wear whatever you feel like — like me!) give true, neutral reds (like those I'm wearing here) or any red shade that catches your eye a try this season! I have warm / neutral colouring and prefer warm or neutral reds on myself, but experiment often — rules were meant to be broken once you know the basics!
---
SHOP THE LOOK
---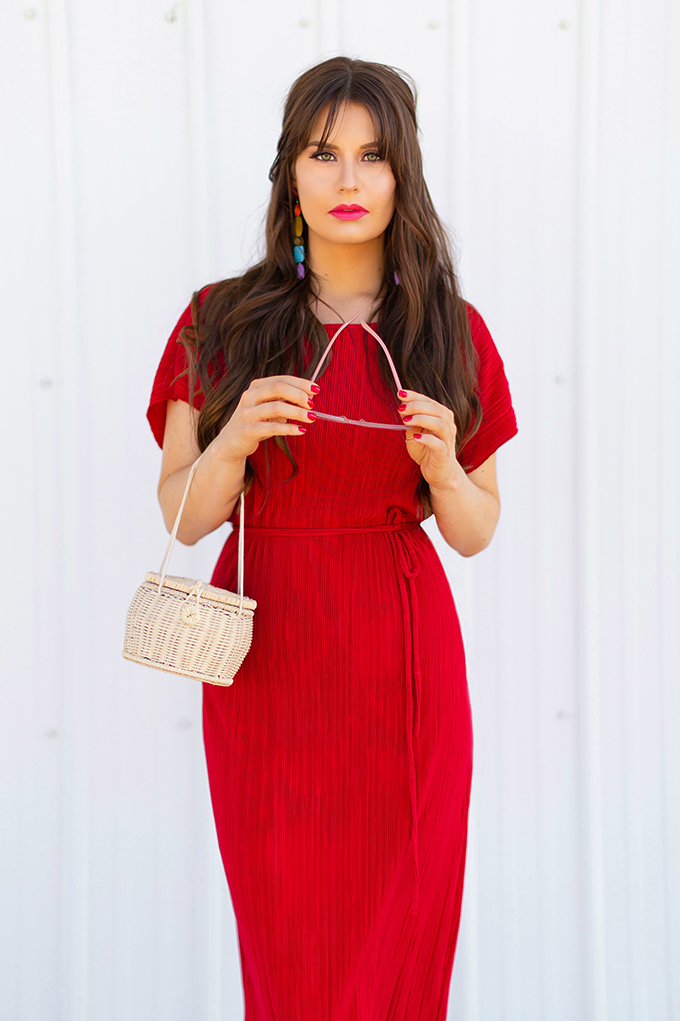 ---
MORE FROM THE  COLOUR CRUSH ARCHIVES
---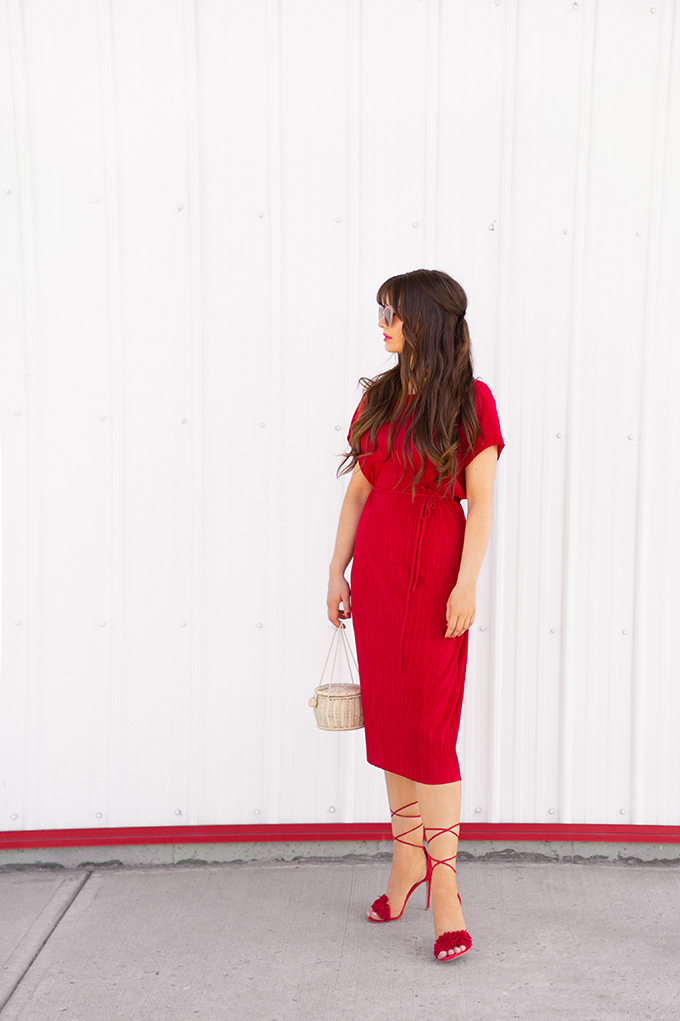 Colour Crush | Rust (an oldie, but a goodie — back before we started photographing style content!)

---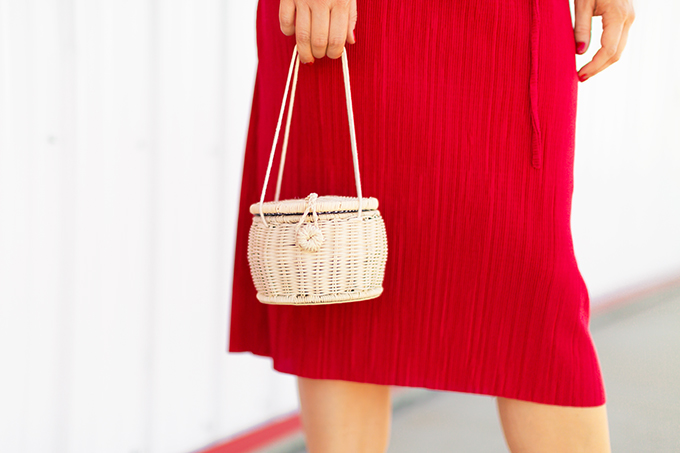 Thanks for stopping by to learn more about monochromatic dressing and how to style red for SS18! What colour should I highlight next? I'm feeling particularly inspired by lavender and yellow right now, but I'm always open to your requests. And if this post inspired you to bust out of your comfort zone and experiment with red or monochromatic dressing, I'd love to hear from you! And if you're looking for even more sartorial inspiration, you can also follow along with my JustineCelina Fashion board on Pinterest.
As promised, you can expect a major uptick in FASHION content this summer while we catch our breath before embarking on the next phase of our SPACE REFRESH! Summer is one of my favourite seasons to dress for — and it's also relatively short here in Calgary. So, this year we're taking advantage and shooting a few outfits per week! I absolutely cannot wait to share it all with you — but if you want a sneak peek before it trickles onto these pages, come join me over on Instagram. Have a lovely weekend, beautiful people!
---
Disclaimer: Thank you to Clarins Canada for the beautiful lip stain, which was provided as a press sample with no obligation for feature or review. This post is not sponsored and contains my genuine thoughts, ideas and recommendations. JustineCelina uses affiliate and referral links, which allow me to receive a small commission when you make a purchase through one of my links. Thank you for supporting the brands and businesses that support JustineCelina!