---
I spent a few days in the Vancouver area last month — and today I've partnered with American Tourister to share my first ever TRAVEL GUIDE here at JustineCelina! I've traveled with Samsonite luggage for many years, so when their sister brand American Tourister got in touch last month, I jumped at the opportunity to test drive a piece of luggage from the range. This fun iLite Max 25″ Spinner was the perfect travel companion on this whirlwind trip to the west coast!
Anytime I visit a new destination, I'm asked for my list of must sees and do's from the area and have always compiled a list of recommendations — ready to send out for anyone who requests one. Since I'm asked for these recommendations often, in 2017 I'll be sharing this type of content here at JustineCelina, embracing the opportunity to make my TRAVEL GUIDES more comprehensive and easily accessible. See the Vancouver area through my eyes today as I share packing tips and trip highlights — including my favourite neighborhoods, restaurants, coffee shops, wine and spirit recommendations, shopping hotspots, off the beaten path locales, quirky boutiques and a day trip to the island (I'm even taking you along to a cookbook launch!). If you're looking to temporarily satisfy a case of wanderlust or are simply craving a change of scenery, come along as we venture to Canada's west coast in style with Samsonite!
---
VANCOUVER TRAVEL GUIDE
---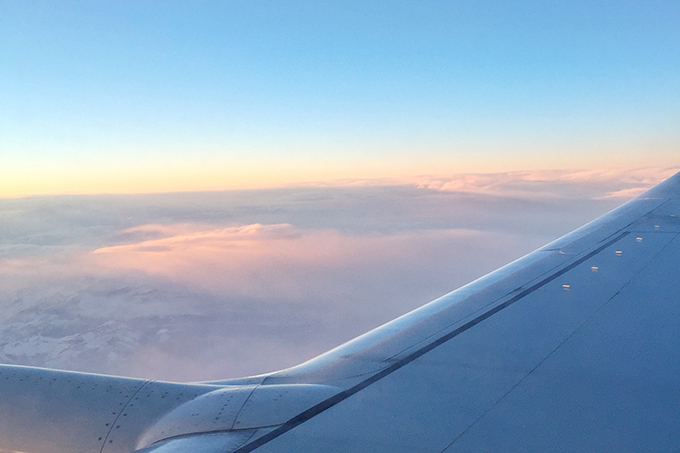 I just missed cherry blossom season, but was greeted with cotton candy skies enroute to YVR! It was an arctic deep freeze in Calgary when I left and in Vancouver it was rainy and hovering right around the 10 degree mark so I dressed in warm, casual layers for my flight.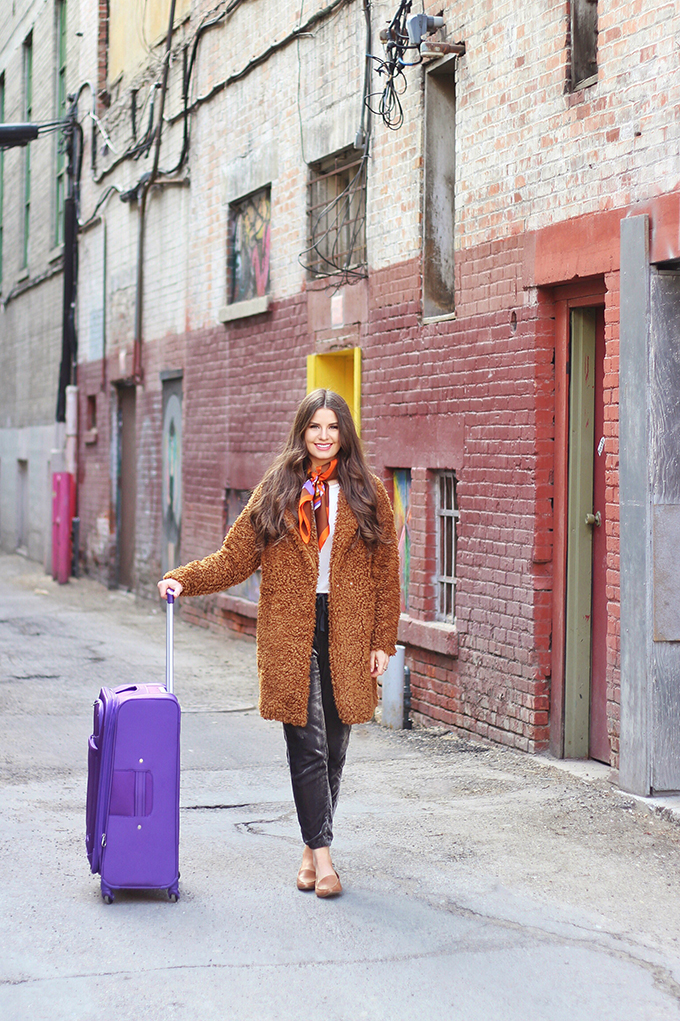 ---
PACKING & LUGGAGE TIPS
---
One of my biggest packing tips for travel, no matter the duration of your trip, is to wear your heaviest items on the plane so they're not taking up extra room (and weight) in your suitcase. I'm notoriously cold and love to be cozy when I travel, so I opted to wear this ultra luxe teddybear coat. I paired it with my velvet joggers (I've been living in them this winter!), a lightweight, white knit, a classic pair of round sunnies and one of my favourite vintage scarves. I love the 70's vibe of the scarf and the way it dresses up this comfortable, casual outfit — plus I like to option to use my scarf as an eye mask on flights when I want to rest my eyes or try to catch some zzz's!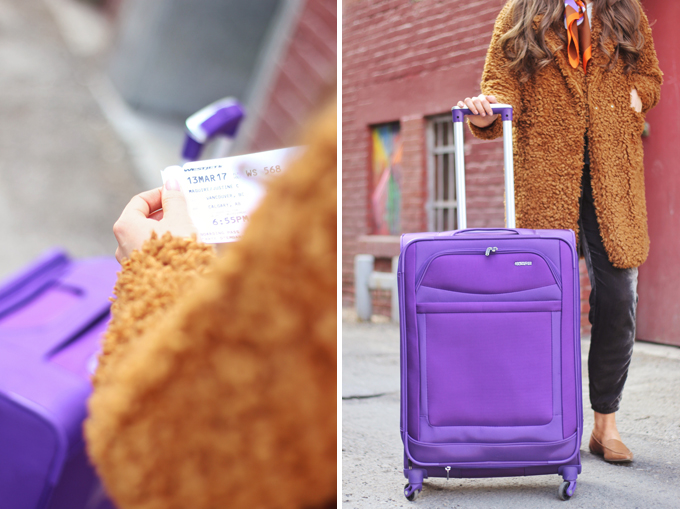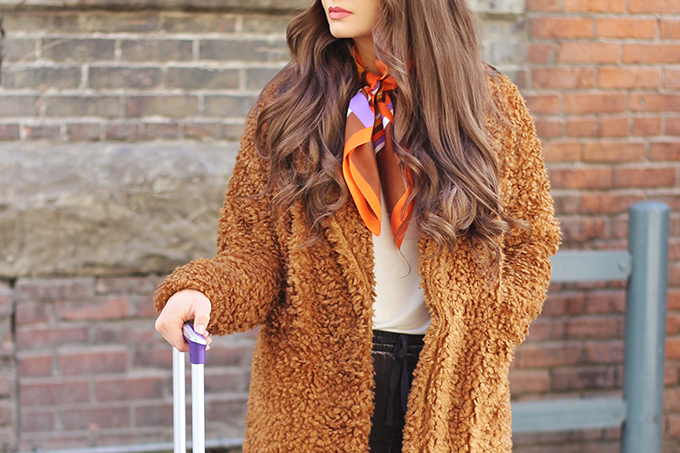 A few of my luggage requirements include a durable piece with 4 wheels that rolls upright and has a smart interior to help keep me organized — and the iLite Max 25″ Spinner definitely fits the bill. The American Tourister range is an innovative, fashion forward line from the makers of Samsonite that offers practical, stylish luggage options at fraction of the price of most Samsonite pieces, without sacrificing the quality I've become accustomed to. This purple spinner was a dream to travel with and was the perfect size for this quick trip to the coast!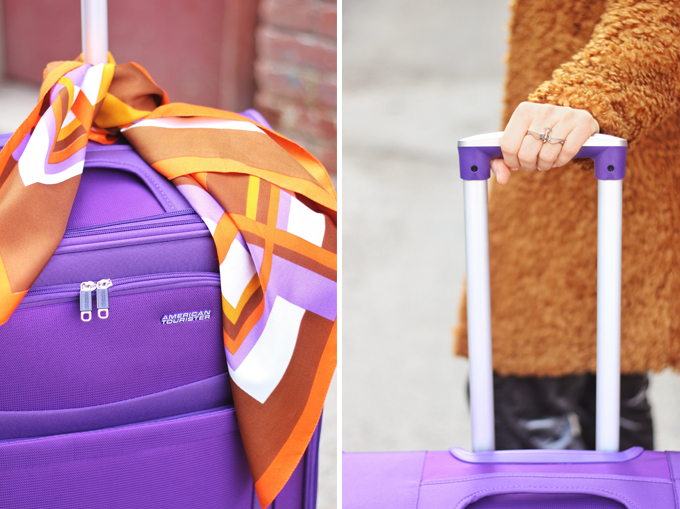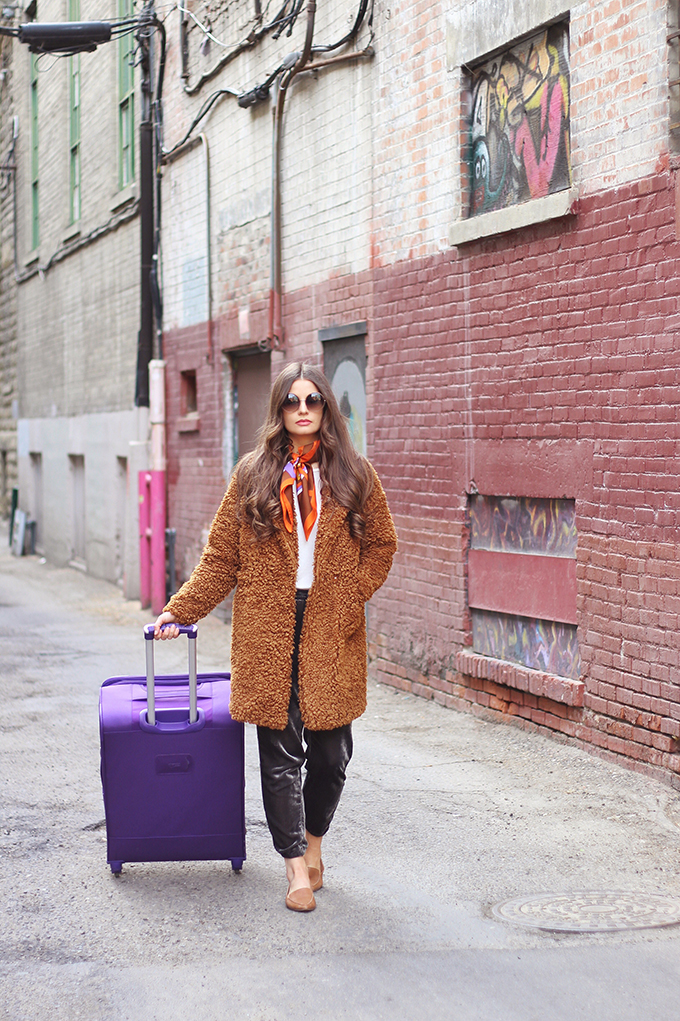 I was also so surprised at the weight of this suitcase — it's definitely the lightest piece of luggage I've ever traveled with. Wheeling it around is a breeze, which also makes for more room to pack new treasures home with you! The iLite Max 25″ Spinner features generous, waterproof interior pockets for all your lotions, potions and beauty products, which is ideal since I'm often testing beauty products on the go (during this trip I was working on my Spring 2017 Beauty Trend Guide and packed 3 times the allowable amount of liquids — oops!). Plus you can't miss this guy at the baggage claim, which is always a bonus. I personally like to have a bit of fun with my luggage and love this vibrant purple hue, but if you're looking for something more traditional (or aren't a purple fan), this style is also available in black.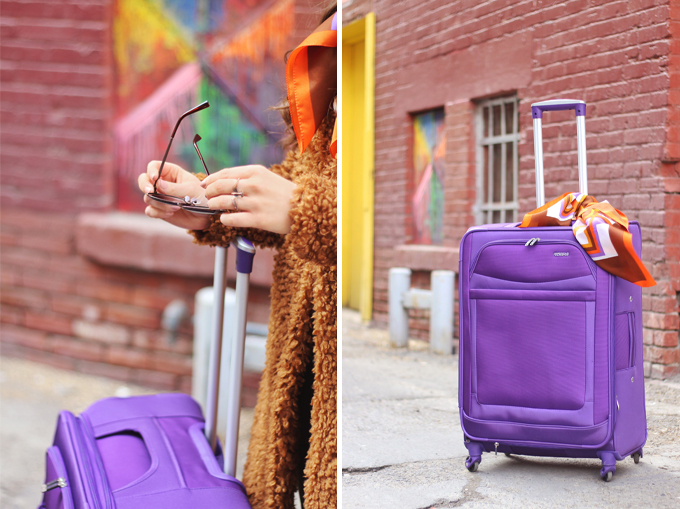 ---
GENERAL
---
I was staying downtown and had a car, so I had the freedom to venture around easily (although if I hadn't wanted to go to the island and explore I don't think it would have been necessary). I hadn't visited Vancouver for almost 7 years, so I wanted to do some more touristy things, but also get off the beaten path. That's typically my style when I travel — I have a loose itinerary in mind and plan to visit certain areas with a few recommendations or ideas of what I'd like to see and do, but I like to just roll with it and see what I feel like doing (and what time permits) each day!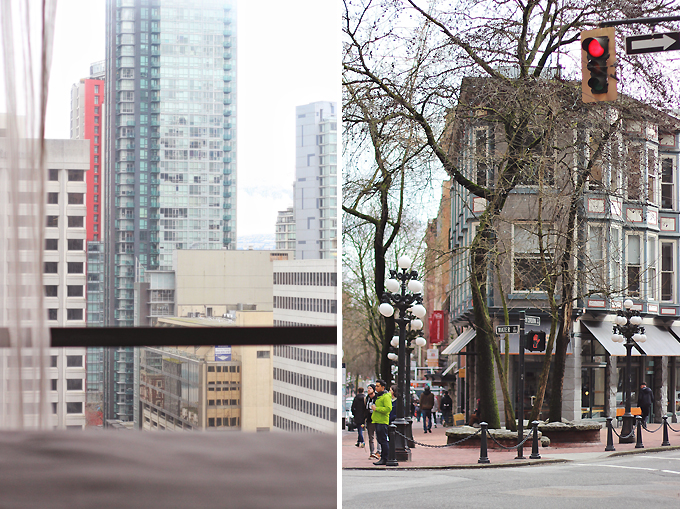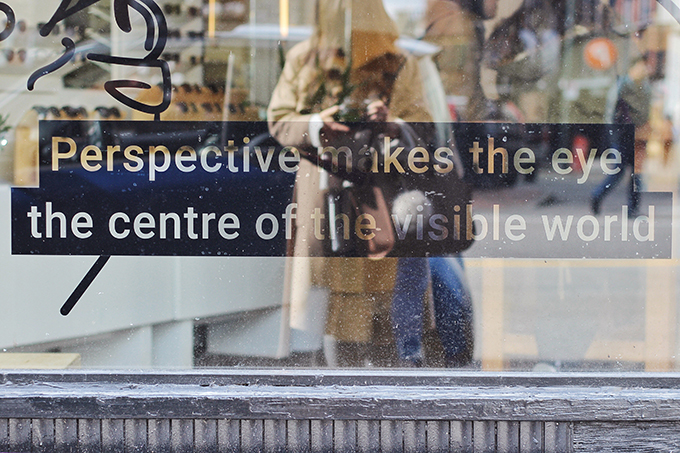 For me, the best part of travel is the spontaneity and break from my usual routine, although I did have a number of meetings on this trip and spent most evenings working away in my hotel room with some delicious local wine! I was able to mix a bit of work with a bit of play, catching up with family and friends and exploring the area. There's something so liberating about waking up in a new city and the change of scenery was very welcome after a long Calgary winter. I hope your enjoy reading more about my trip highlights in this VANCOUVER TRAVEL GUIDE, categorized by neighbourhood / area below for easy reference!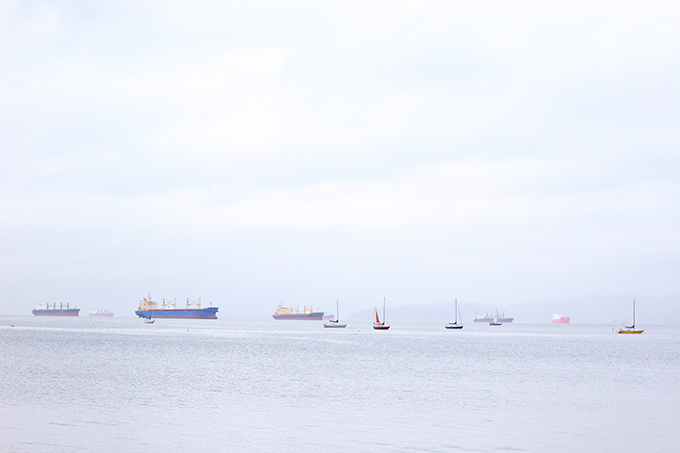 ---
GASTOWN & DOWNTOWN
---
Gastown was a short walk from my hotel and it's where I spent most of my time during the first two days of my trip. It's a gorgeous, historic neighborhood (the oldest in Vancouver) with beautiful Victorian architecture and fantastic shopping (the boutiques are to die for), eats and Native American art galleries.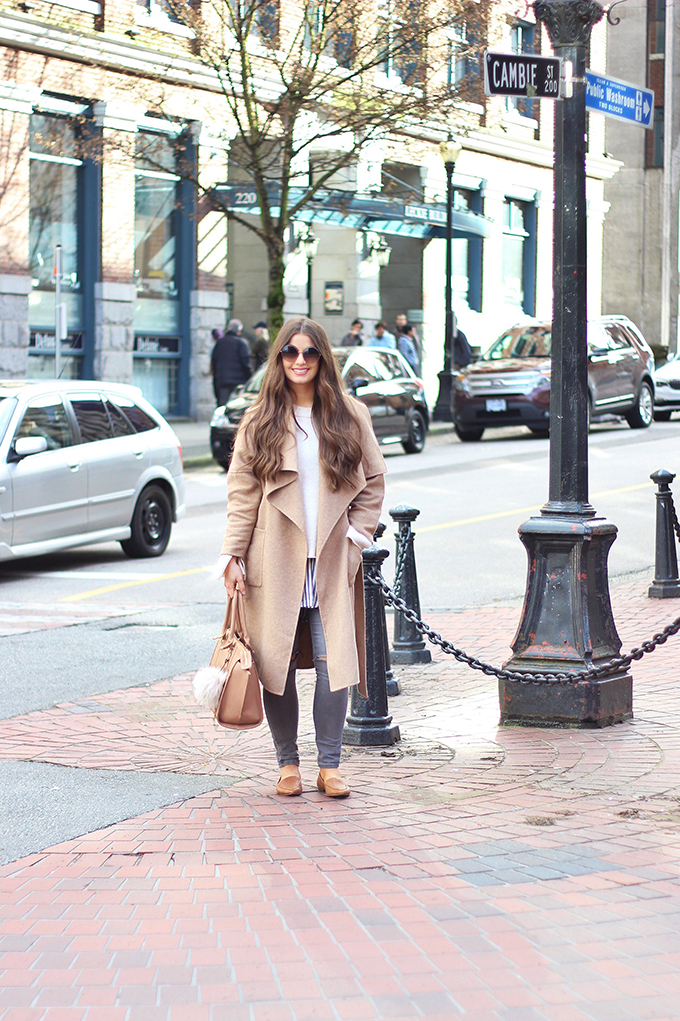 I loved the fusion of old and new in Gastown — it reminds me a lot of Calgary's Inglewood. I even published an impromptu casual travel style post we quickly shot on Water Street, just across from the Steam Clock (a must see!). I experienced a mixture of sun and rain while I was there, but I made the most of the weather, dressed warmly and now an expert umbrella wielder! Gastown is an ideal neighbourhood to explore on foot, with so many iconic streets (Water, Cambie and Cordova were my favourite) and great spots around every corner. Here are some of my must sees!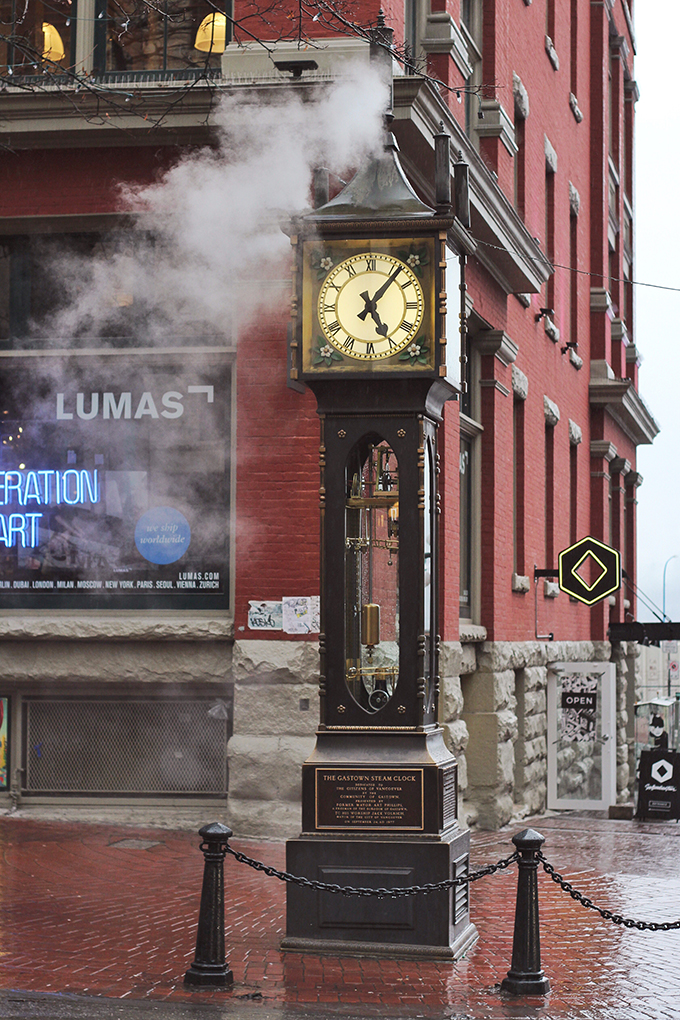 If you're looking for fantastic coffee in Gastown, you'll want to stop into Revolver — recommended many of my local foodie friends, it didn't disappoint. Everything is made fresh to order, the coffee is amazing, the ambience is incredible and the service is friendly. I recommend the cappuccino!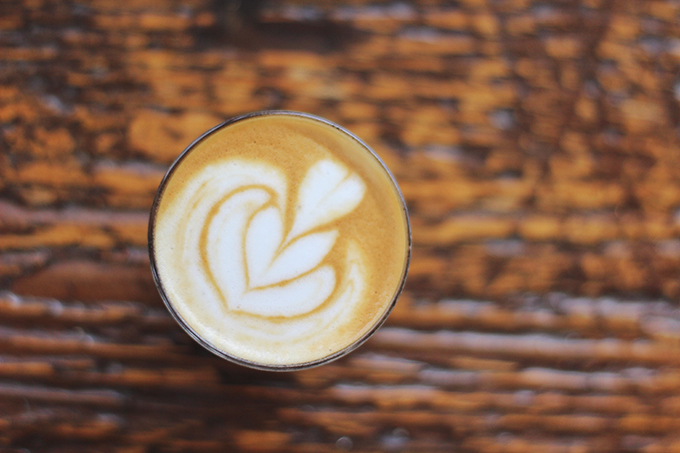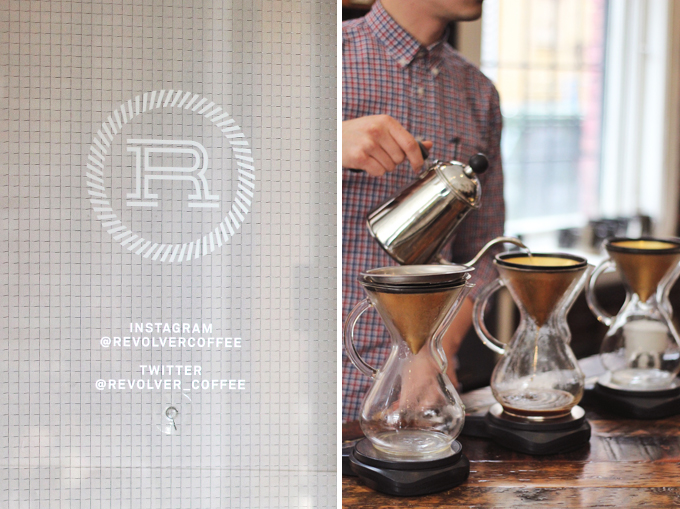 It wouldn't be a trip to the Vancouver area without a taco from Tacofino! If there's one spot you visit for west coast inspired tacos, make it Tacofino. They got their start in a food truck in Tofino — and my friends who have visited the island in the last few years rave about them. Due to increasing demand, they migrated inland to set up shop in Vancouver, now with 4 location and 2 trucks in operation (and I visited 3 of them!). Tacofino was very accommodating in regards to food sensitivities with many dairy and gluten free options and substitutions available (note: flour tortillas are standard, but corn are available). My favourite tacos were the Tuna Taco, Steak Taco (I'm really not a big red meat eater but that wagyu beef was delish!) and the Tortilla Soup (save the cheese and lime crema). I also ate my fair share of Hawaiian poke at The Poke Guy downtown on Richards for lunch.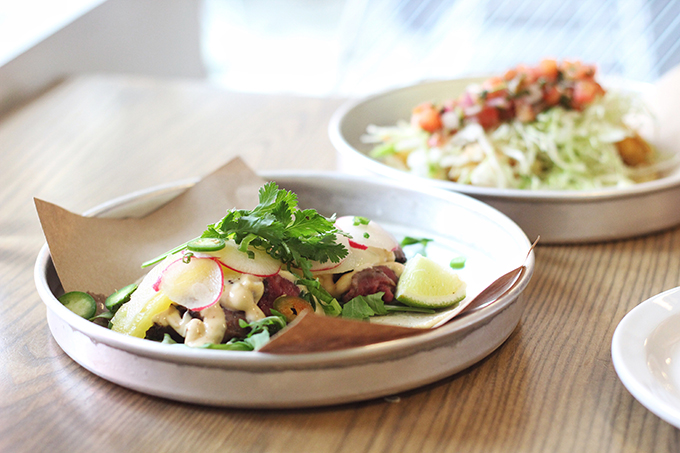 If you're looking for plant based eats, I shared a lovely meal at Meet with Melissa and Ethan of the Food Bloggers of Canada, along with Lisa of Food Well Said. Meet actually reminded me a lot of Calgary's The Coup (my favourite vegetarian eats in the city!) and was perfect for casual veggie fare. It's a funky spot with a comfortable atmosphere that made for the perfect spot to catch up over dinner. I had the Organic Quinoa & Roasted Yam Salad with a delicious glass of rosé.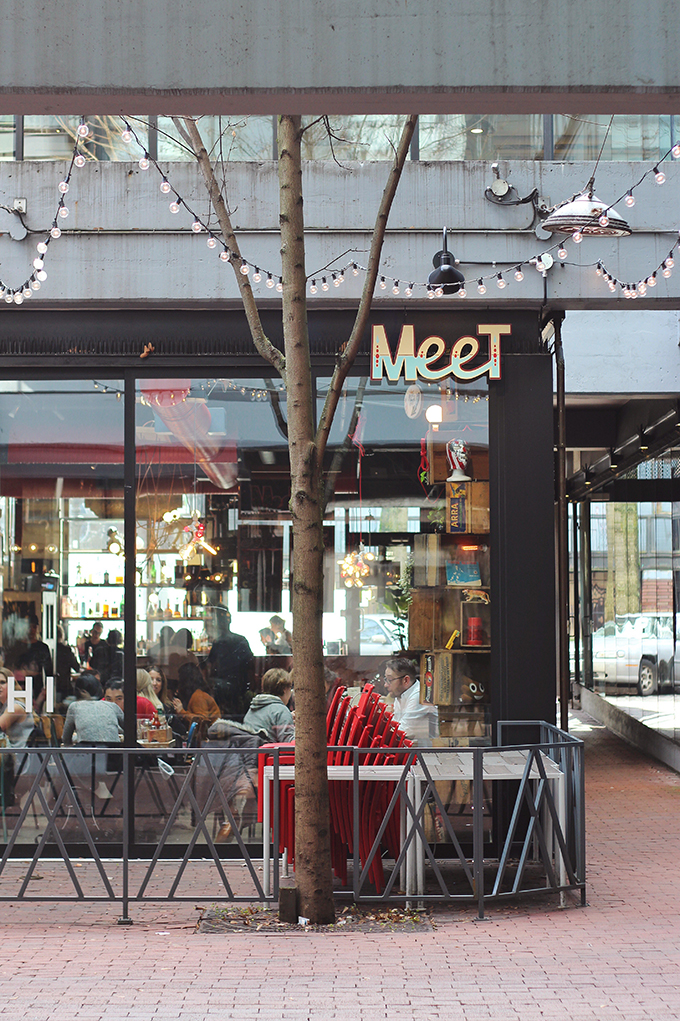 We met at Meet because it was just down the street from the FEAST launch event at Appetite Random House (a big thank you to FBC for extending the invite while I was in town!). Cookbook authors Lindsay and Dana hosted a small group of us in the gorgeous, intimate Random House space and we chatted about FEAST over wine and recipes from the book. It was so interesting to learn more about the process in creating FEAST — they road tripped across Canada on a 5 month adventure documenting Canadian's most beloved recipes from even the most remote areas. Attending an event in a different city and being able to finally connect with so many of my blogger buds and colleagues in person was definitely one my the highlights of my trip. A huge congratulations to Lindsay and Dana — it's a truly stunning book and a beautiful story that I've already shared with my family (it's currently being devoured on the Alberta prairies!).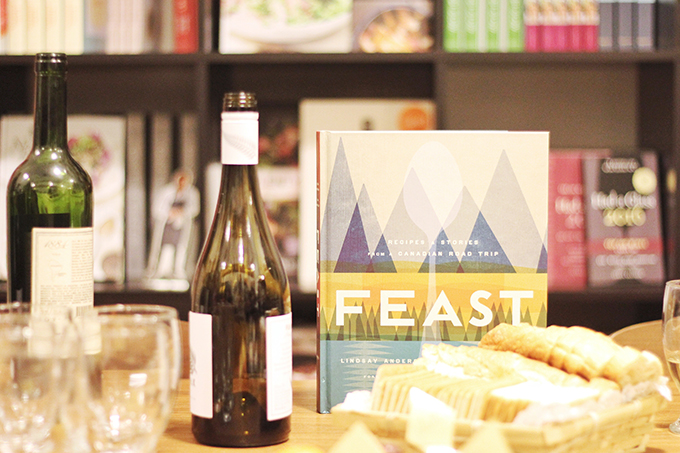 While we're on the subject of eats, although it's technically just outside of Gastown in neighboring East Vancouver, I have to mention The Belgard Kitchen! It terms of atmosphere and wine, this was my favourite stop of the whole trip. The Belgard Kitchen is also home to Vancouver Urban Winery, located in historic Settlement Building — it was a great spot to sample a flight of local wine (I enjoyed the Sommelier's Choice) and some tapas style sharing plates (my favourite was the Roasted Cauliflower with Romesco Sauce and the Rock Shrimp Ceviche). If you're a wine lover and find yourself in the area, you must stop in!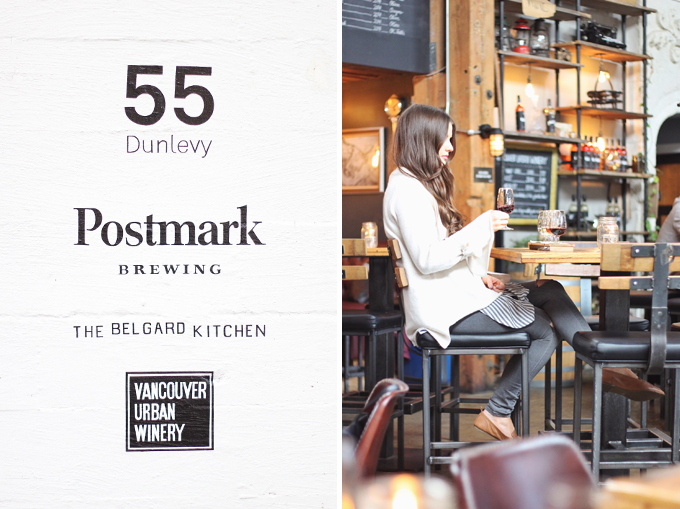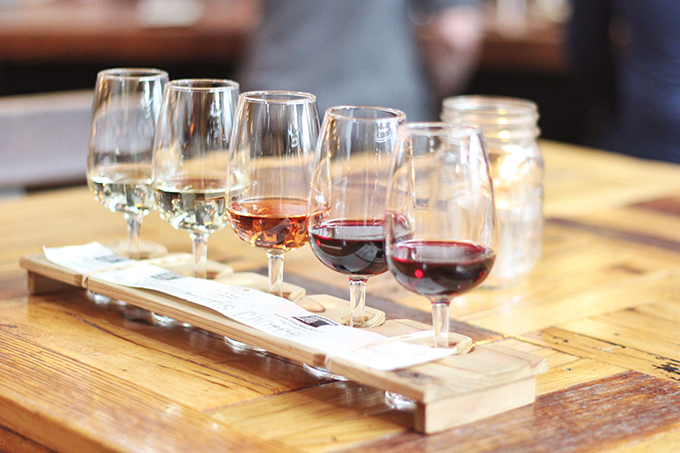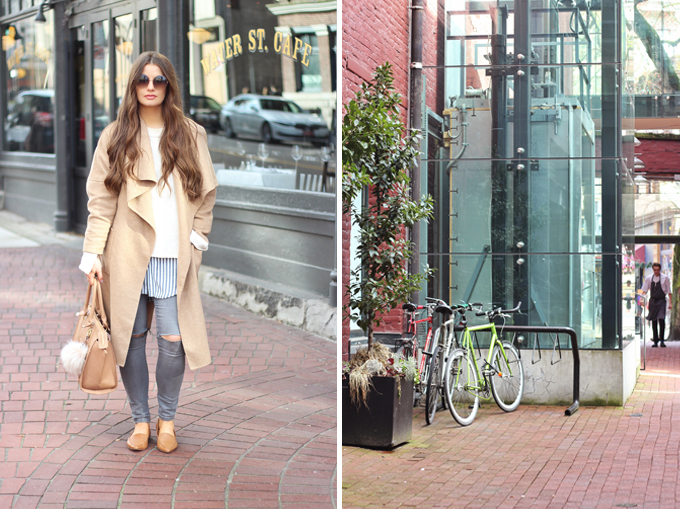 Gastown was one of my favourite neighbourhoods for a well rounded shopping experience in Vancouver. For home decor, furniture and gifts my favourite spot was L'Atelier Home — it was natural, modern and a little boho, which is just my speed. It's also where I discovered Vancouver Candle Co., a line of luxury, hand poured candles representative of different Vancouver neighbourhoods (what a great souvenir idea!). Fashion wise, The Block is my top recommendation for eclectic pieces and a selection of local, Canadian and international designers. And for you indigenous art and jewellery lovers, Coastal Peoples is worth a visit.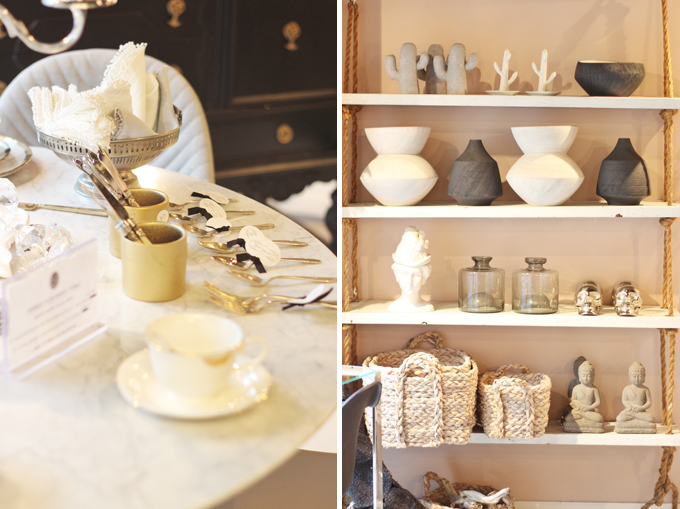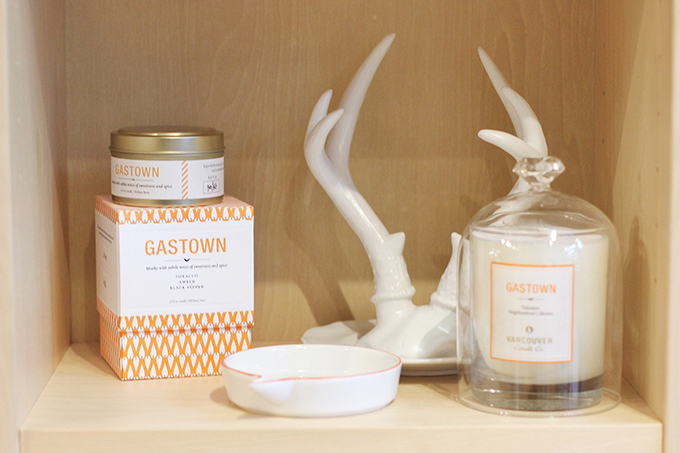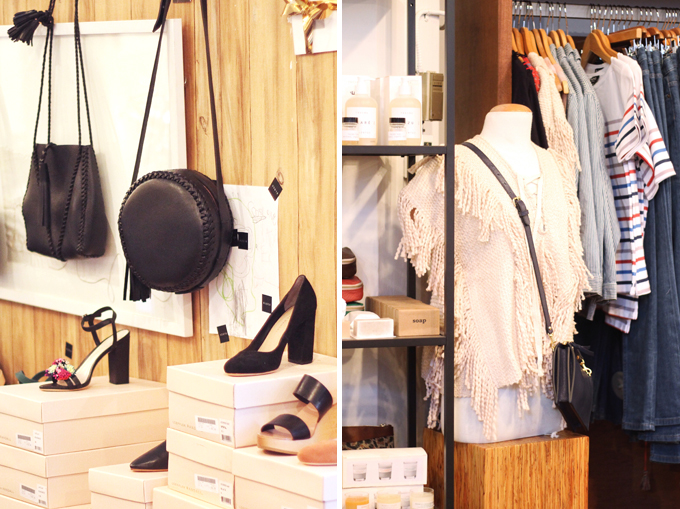 ---
KITSILANO
---
Kitsilano is a much more laid back, bohemian area of town (almost like a time warp to the 60's!) with fantastic beaches, markets, vegan restaurants, sushi and unique shopping experiences! I definitely felt right at home in Kits and loved the ultra chill vibe of this neighborhood — my favourite spots were along West Broadway and West 4th Avenue (the original home of Lululemon). I've had several friends that have lived in the area over the years so I knew it would be right up my alley. I'd love to visit again in the summer!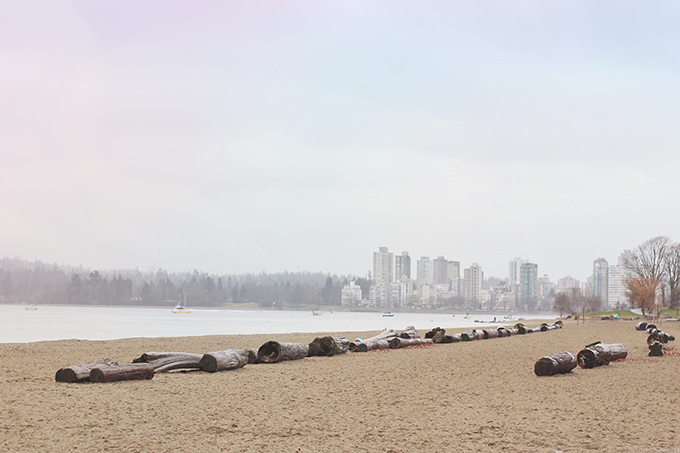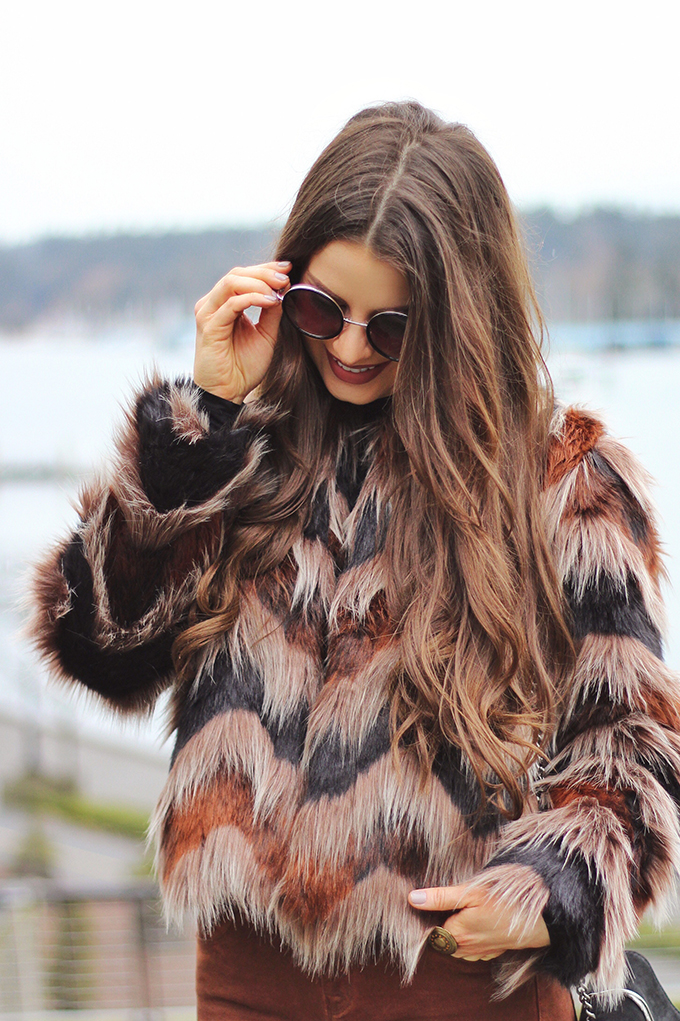 I was strolling along West Broadway when I when I spotted the lyrics to Dear Prudence on a storefront window, so naturally I had to check it out (excuse me while I put The Beatles on!). Plenty is such a quintessentially Kitsliano boutique — featuring everything from international brands like Free People, Matt & Natt and BB Dakota to west coast brand Gentle Fawn, to eclectic, local designers and even offering up premium denim from their in-house line, Tailor Made. I spent quite some time (and quite a few dollars) at Plenty!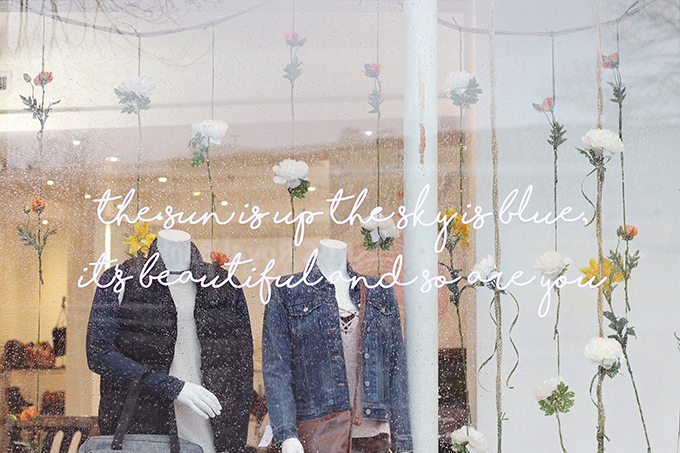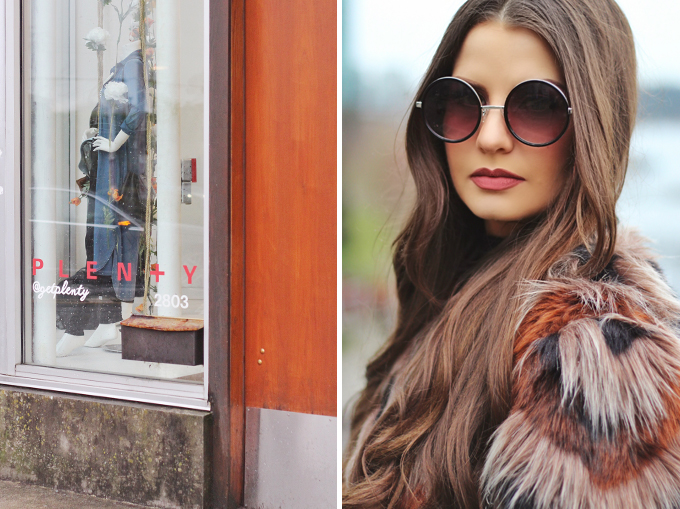 I stopped into Kibune for some fresh sushi — a perfect spot for solo lunch or dinner (it was recommended by a friend and is reportedly frequented by David Suzuki!). As I was cruising 4th Ave, I spotted a hole in the wall shop next to The Naam with a hand painted sign, Amethyst Creations, a few doors down. I was in awe of the hundreds of beautiful crystals and gemstones on display and immediately pulled over to investigate.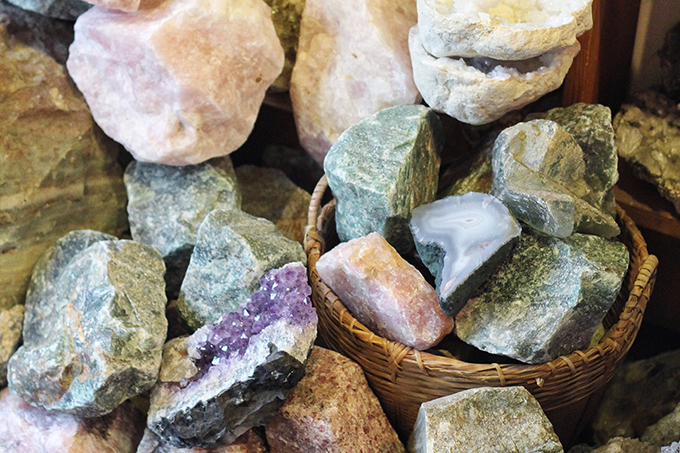 Amethyst Creations was probably my favourite discovery of the whole trip, shopping wise. It was literally bursting at the seams with crystals, gemstones and rocks! I chatted with Brian (the owner) and his daughter, both of whom where extremely knowledgeable. This place had amazing vibes and I could have spent all day there chatting with these two! I ended up picking up a beautiful white quartz geode (they explained this was a whole rock split in two, perfect for sharing with someone special) and two pieces of rose quartz hailing from South Africa for a very reasonable price. If you've been with me for awhile you'll know I'm crazy about rose quartz and love to bring natural stones into my home for their spiritual qualities, but also for their beauty. You'll be being a lot more of my keepsake gemstones around here this spring — I actually just included them in my March 2017 Beauty Favourites!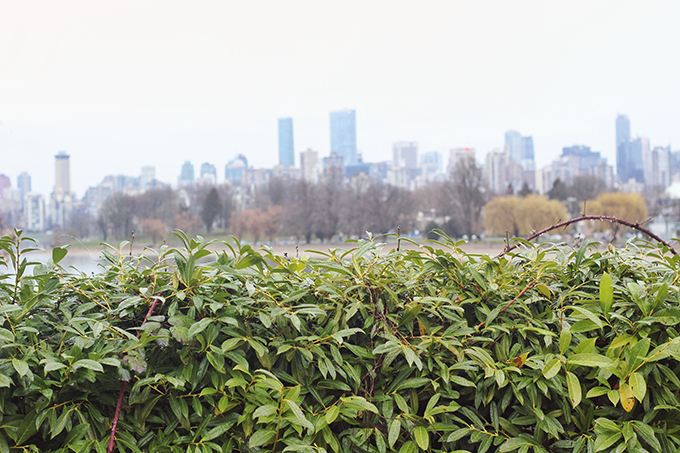 ---
YALETOWN
---
I only had a few hours in Yaletown and spent most of my time on Mainland Street — lined with a trendy selection of boutiques, flower markets, coffee shops, a candy store and another Tacofino location (I ate as many tacos as I possibly could on this trip!). Yaletown offers an interesting mixture of industrial architecture and upscale boutique shopping. It's a lovely spot to spend the afternoon!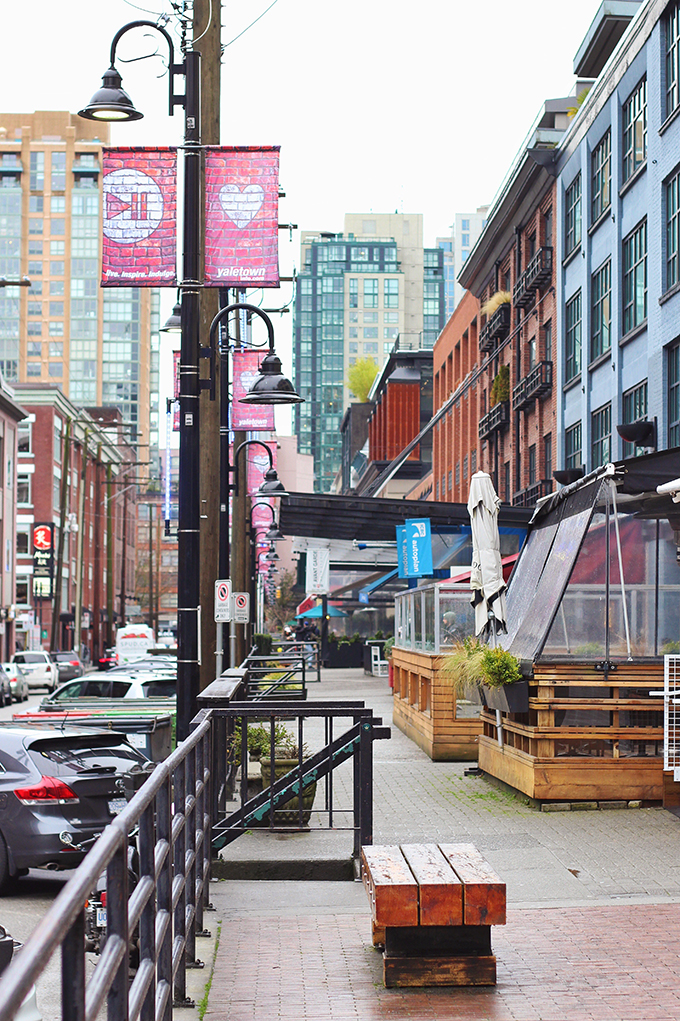 My first stop (after Tacofino, of course) was Fine Finds. It's a light and airy boutique with many of the brands I love, along with a mixture of local jewelry and lifestyle pieces (they also stock Vancouver Candle Co. and I picked up a Yaletown candle). I particularly loved their selection of outerwear and accessories!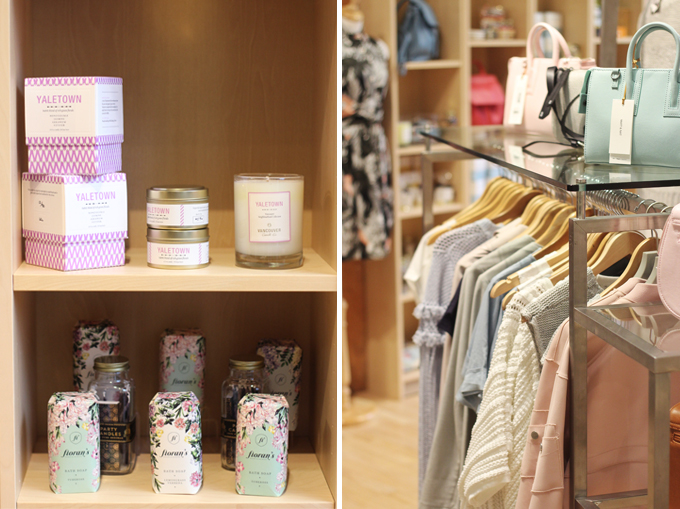 Afterwards, I was drawn to Kaarigar Handicrafts. This was such a pleasant surprise in Yaletown — I ended up chatting with Alnasir (the owner) at length about the shop, their story and their pieces. Alnasir works with Indian artisans to ethically source everything in the shop and pays fair value to ensure makers are properly compensated for their work.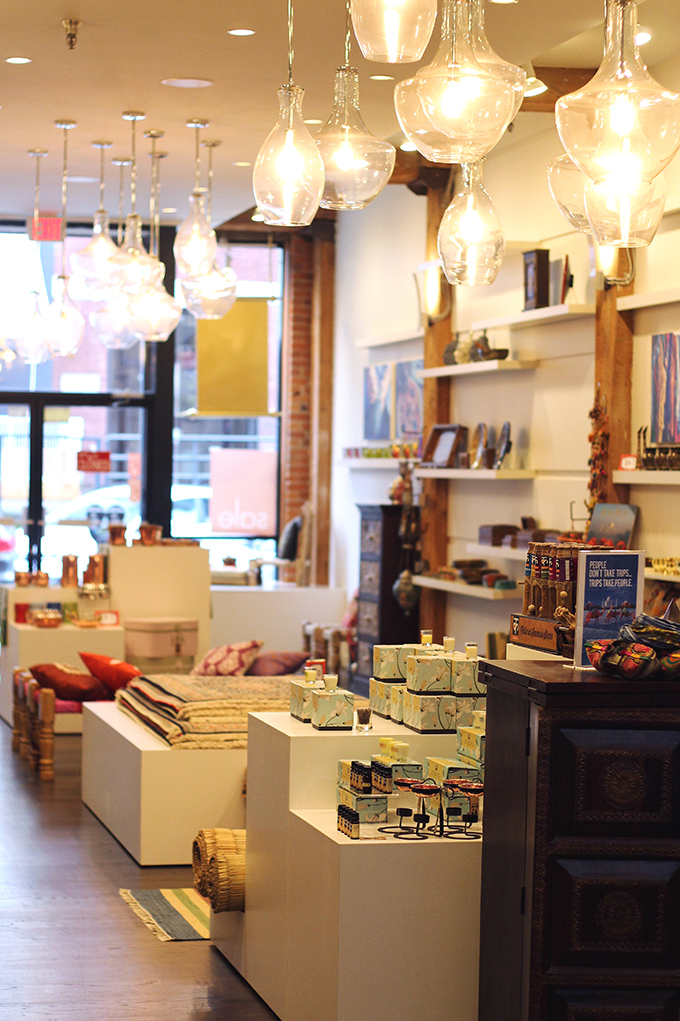 He was a very kind man and gifted us with mauli thread bracelets blessed in India as gesture of thank you for our purchases. Alnasir mentioned they're meant to be worn until they naturally fall off — and mine is still going strong! If authentic, handcrafted, global decor is your vibe, Kaarigar is a must see.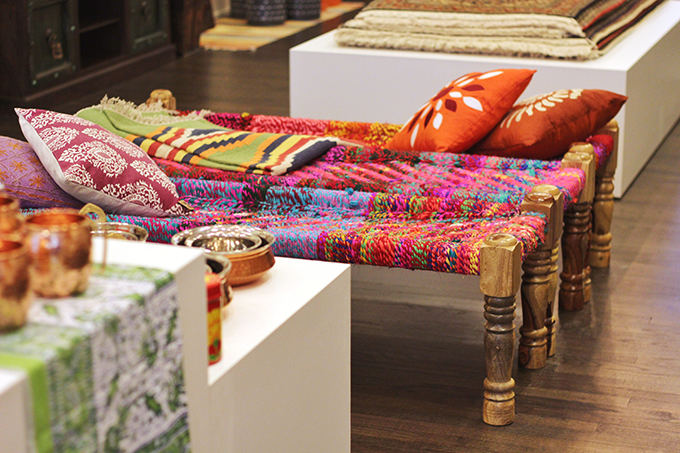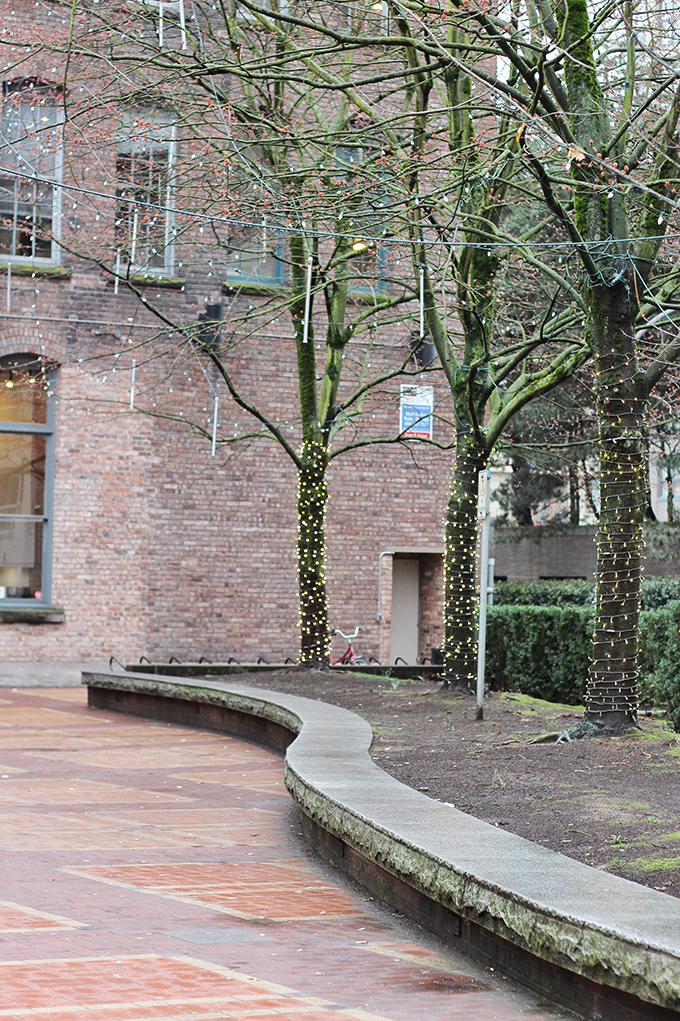 And to cap things in Yaletown off, I may or may not have swung into Karameller (a gourmet Swedish candy shop) to pick up some no GMO, no trans fat, no high-fructose corn syrup treats. I mean, how could I not?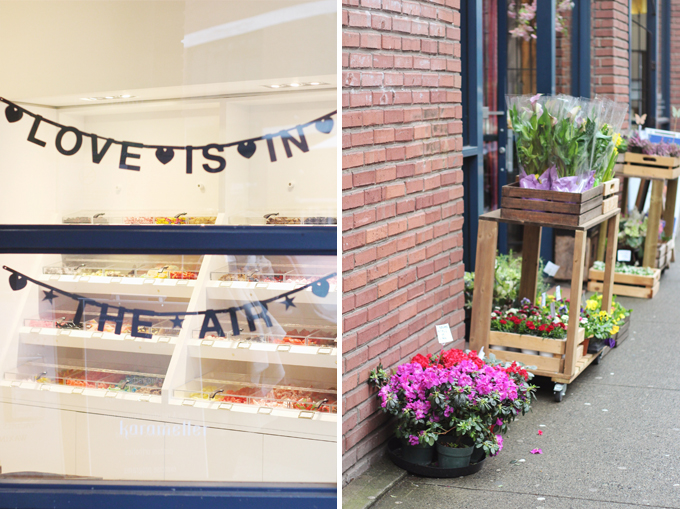 ---
MAIN STREET
---
Main Street was recommended by many locals for down to earth boutique shopping. I spent a few hours perusing the boutiques, vintage and consignment stores, adorable bakeries and coffee shops lining Main. Here are some of my highlights!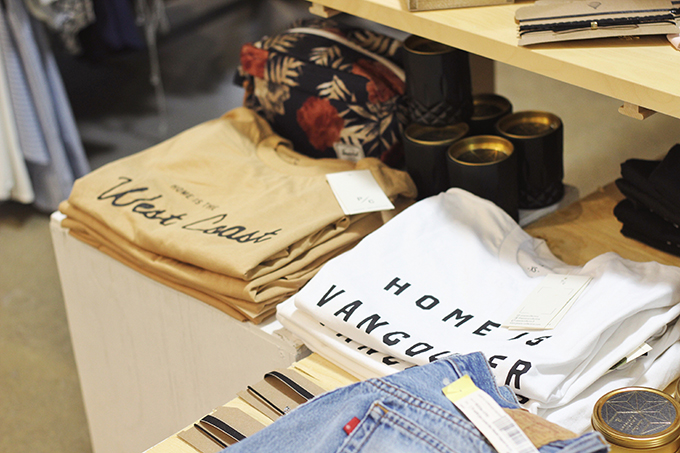 Front and Company came very highly recommended by a friend and it was my favourite find on Main Street. Front and Company is part new clothing, part consignment, part vintage and part lifestyle goods (I finally found the perfect pair of frayed hem jeans there) and there was also a pop up athleisure shop next door. Overall it's a super cool store and if I lived in Vancouver, this is where I'd consign.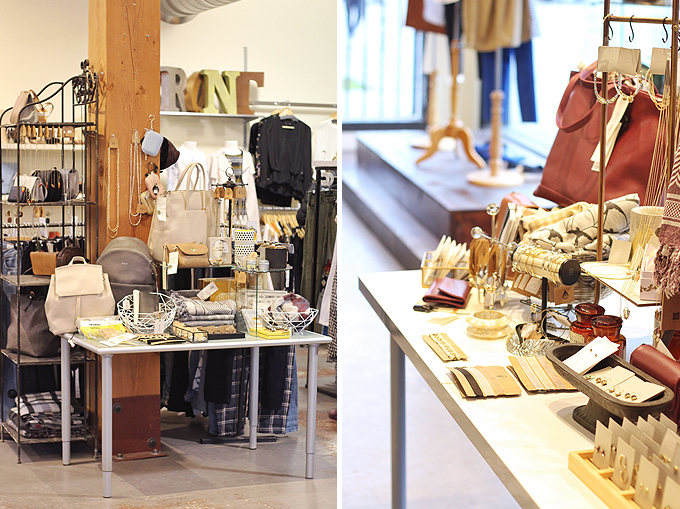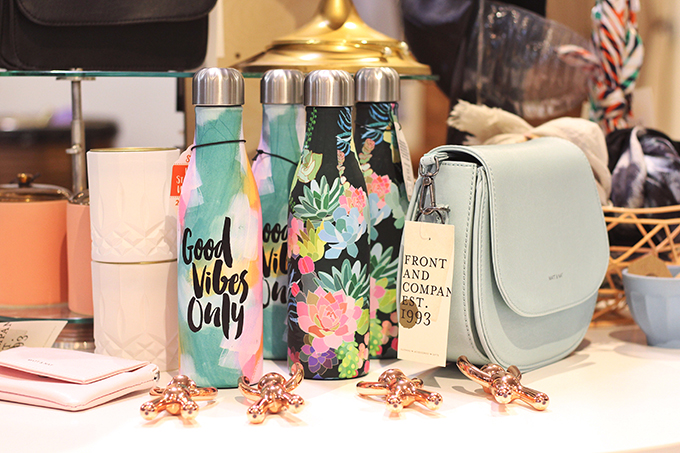 I also stopped into Barefoot Contessa — a charming boutique brimming with feminine, bohemian pieces. And if you need a pick me up on Main Street, be sure to stop into Liberty Bakery and Cafe a few shops over. It's darling!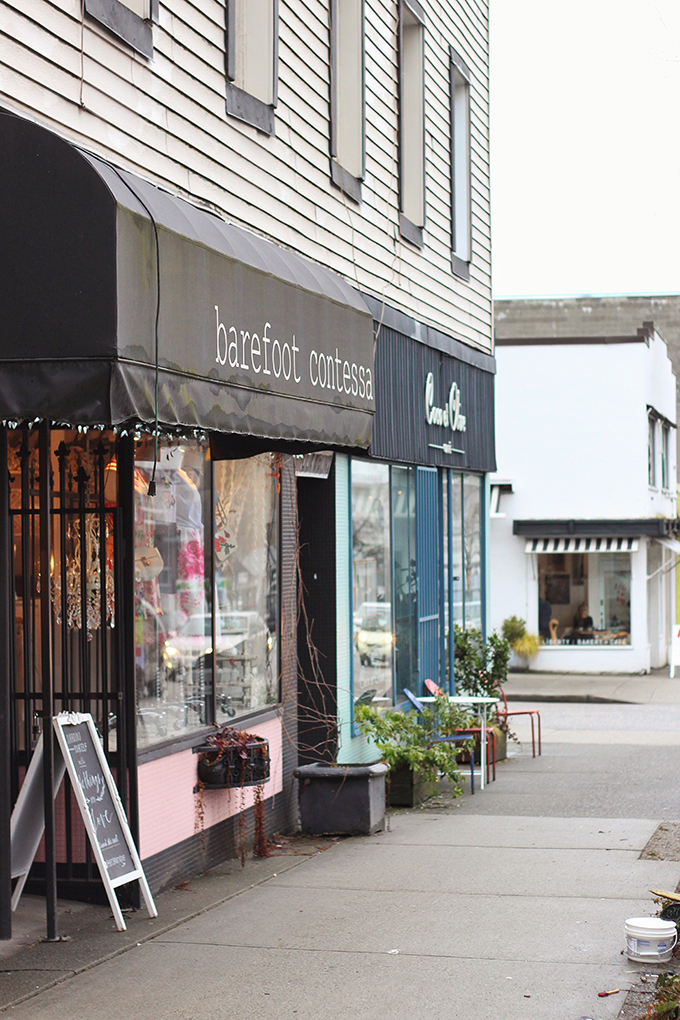 ---
GRANVILLE ISLAND
---
It was especially rainy on Saturday, so I headed over to Granville Island where I figured I could do most of my exploring indoors! The harbour areas are beautiful and there's so much to see and do — it's like its own little village brimming with art galleries (it's also home to Vancouver's prestigious Emily Carr, which as an Alberta College of Art & Design grad I feel a bit ashamed for not knowing!), breweries, restaurants, theaters, markets and local artisans. It was packed on the weekend, but I still had a blast exploring all Granville Island had to offer!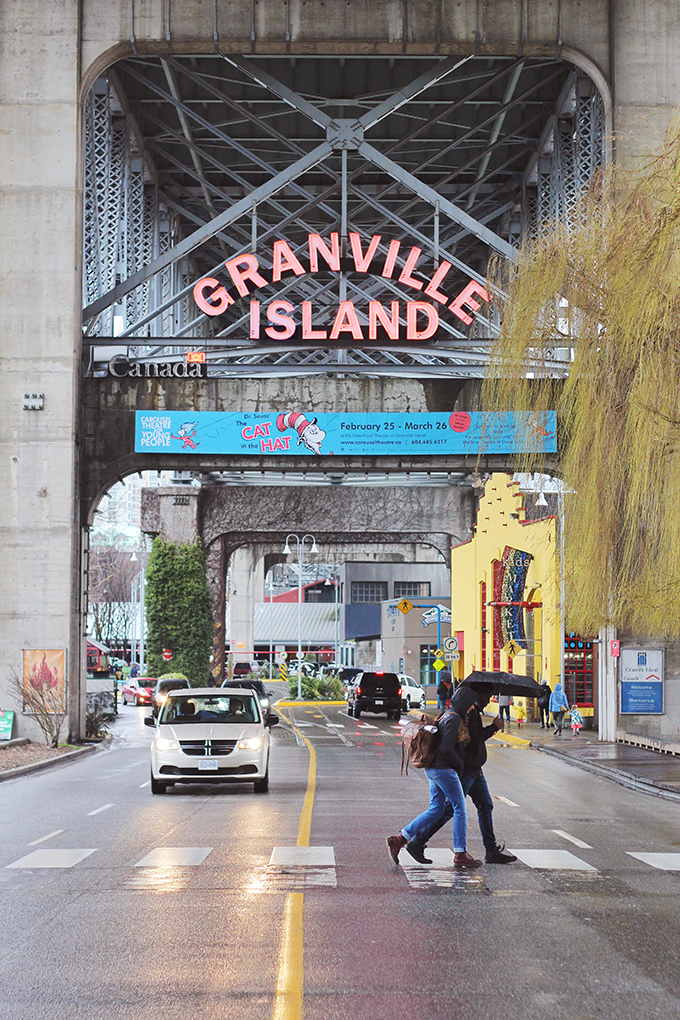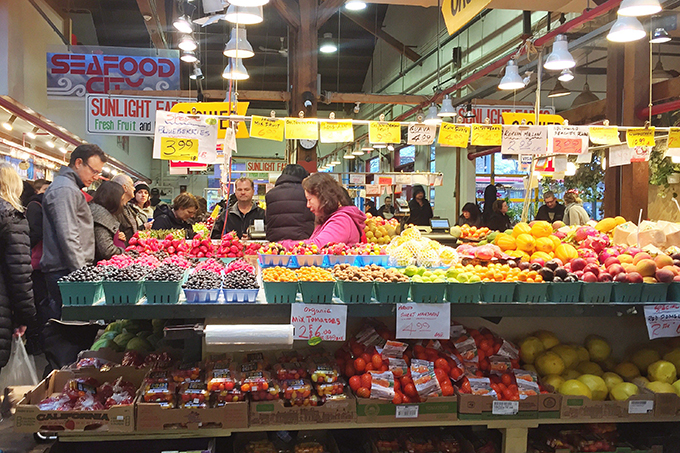 The main attraction on the island is the Public Market — a foodies paradise! Understandably, it was bustling with activity on Saturday. Granville Island Public Market offers up a little bit of everything — the freshest local produce, seafood and butcher shops, casual dining, amazing coffee (grab cup at JJ Bean Coffee Roasters), beautiful fresh blooms and wares from local artisans. It's a must see destination on the island!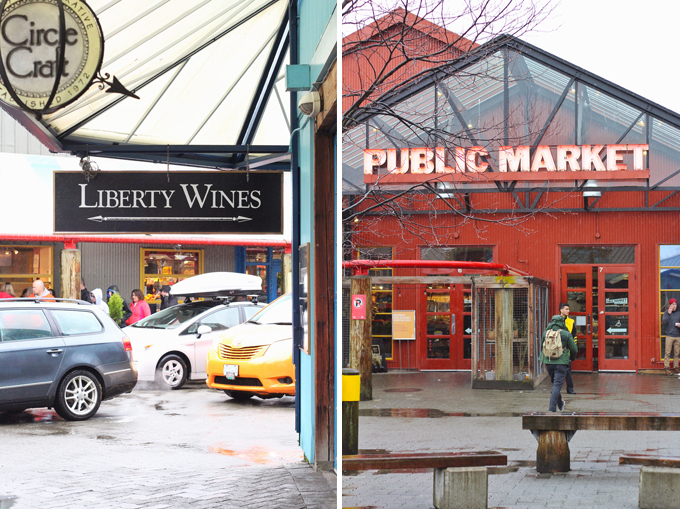 I also stopped into Liberty Wines in search of local, artisinal gin (read more about what I picked up and made with it in my latest recipe post!) and a bottle of Joie Farms's amazing Pinot Noir. If you're a beer drinker, Granville Island Brewery (along with many others) are located on the island. The marinas and various piers are also worth checking out — decorated with storefronts, yoga studios and unique floating homes. All in all, Granville Island is a wonderful place to spend the day exploring, no matter what you're into!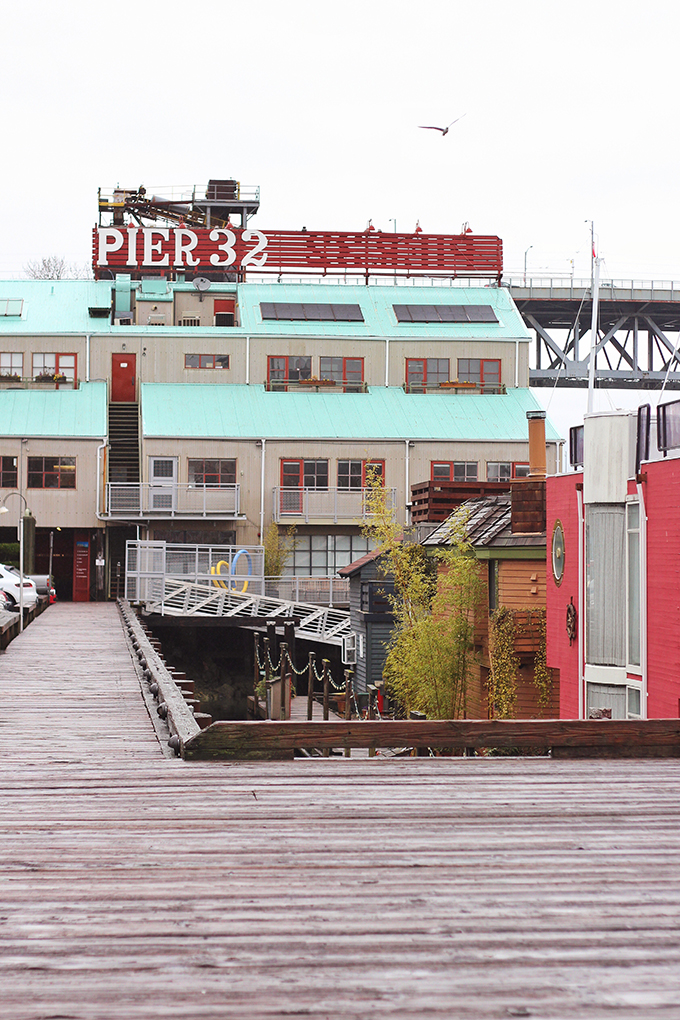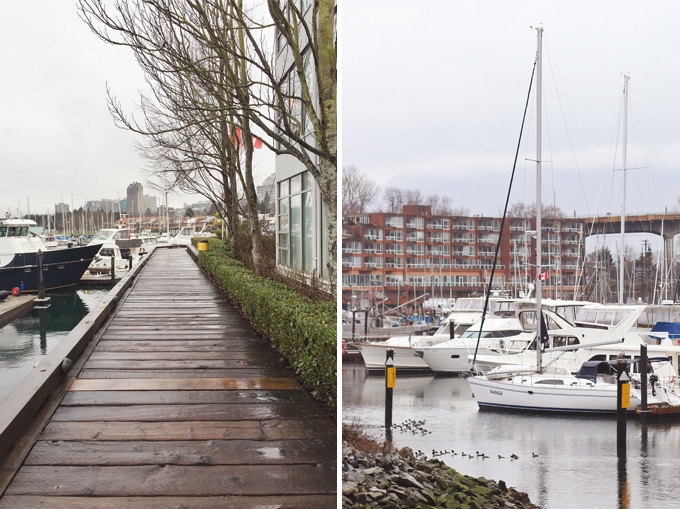 ---
VANCOUVER ISLAND
---
I have family on the island, so we caught the ferry at Tsawwassen and headed over to Victoria and area for the day. I hadn't been on the ferry in years and forgot how much I love it! I took way too many photos of sailboats and soaked it all in. It was a bit chilly (and very windy) that day, but still a beautiful ride!


We were starving by the time we arrived in Victoria and Be Love came highly recommended — it was the perfect place to stop for brunch (which they offer until 3pm). If you're a plant based eater or have food allergies or sensitives, it's a dream! Be Love prides themselves on their organic, fresh, local ingredients and serves up wheat, dairy, gluten and processed sugar free food. I opted for the Chana Benny with the Rejuvenator juice and it was amazing — very comforting with a home cooked feel. But honestly, everything on the menu looked incredible!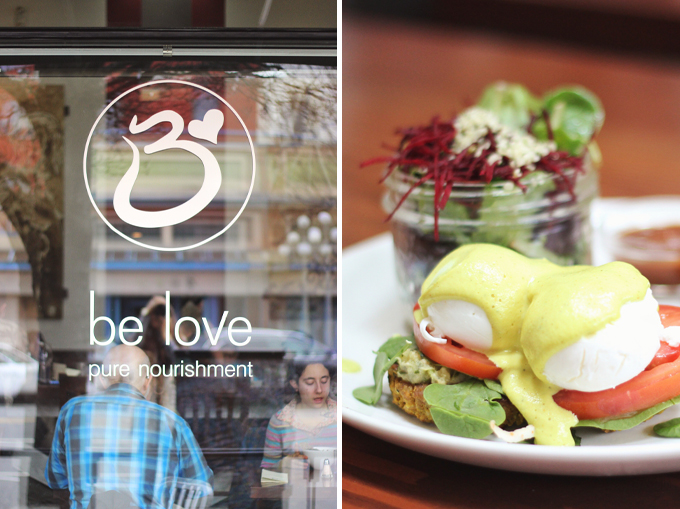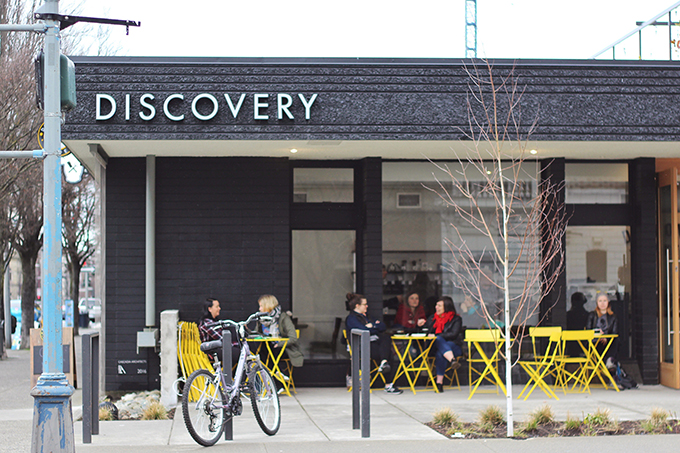 I was in need of some major caffeine at this point, so we stopped into Discovery Coffee, just down the street from Be Love. The lingering smell of freshly ground coffee enticed us to come inside, where I enjoyed a fantastic Cortado — the best of the whole trip. I loved the vibe of this place (they had a Neil Young record spinning) and would have gladly spent the afternoon there!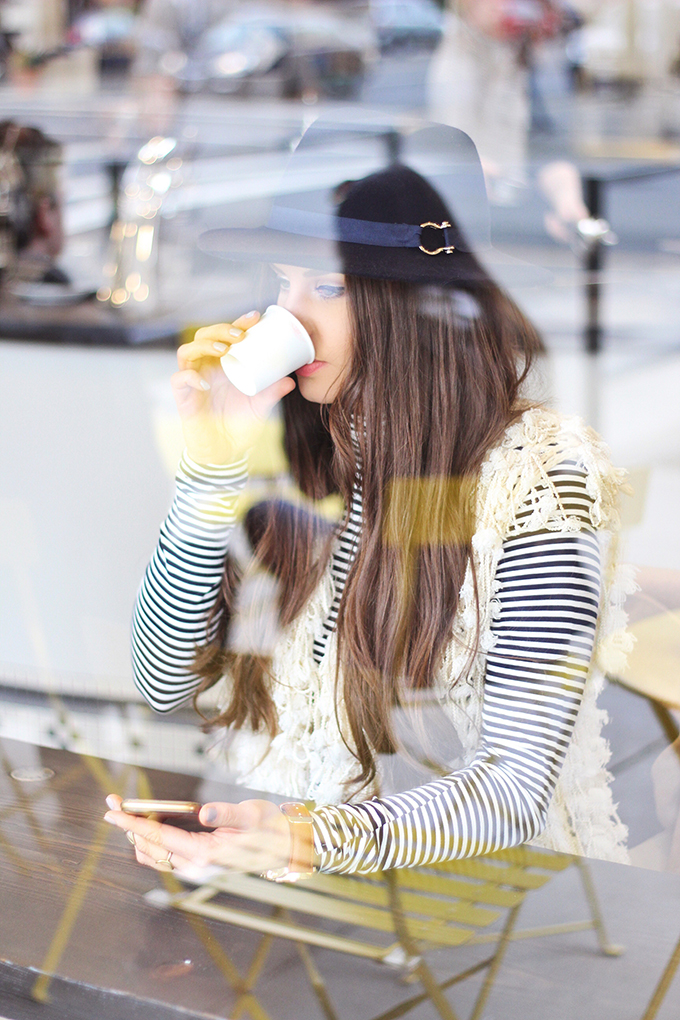 The kind souls at Be Love also pointed me in the direction of The Strath Liquor Store when I asked about tracking Phillips Fermentorium STUMP Coastal Forest Gin down. And after running around Vancouver like a crazy women trying to find it, I was so relieved to grab the last bottle from the shelf, along with one of their fantastic tonics. From The Strath, we strolled along a few of the nearby streets (all were cute but my favourite was Johnson) and ventured down to the inner harbour area. The sun came out, so we stopped to soak it in next to Red Fish Blue Fish — which I didn't try because I was still stuffed from breakfast at Be Love (seriously… there's only so much a girl can eat!).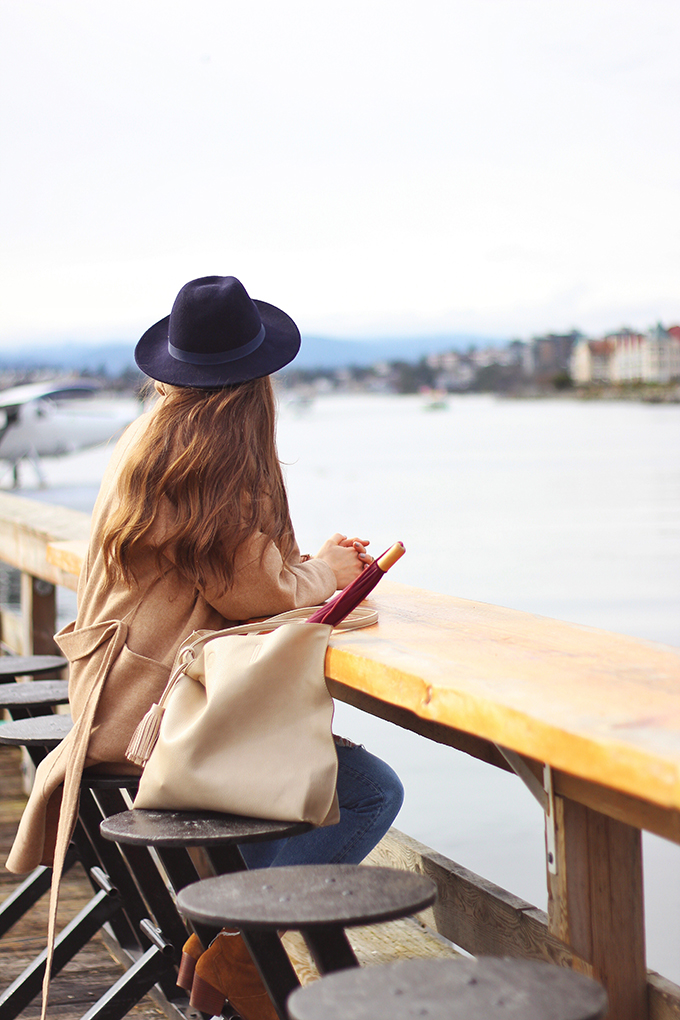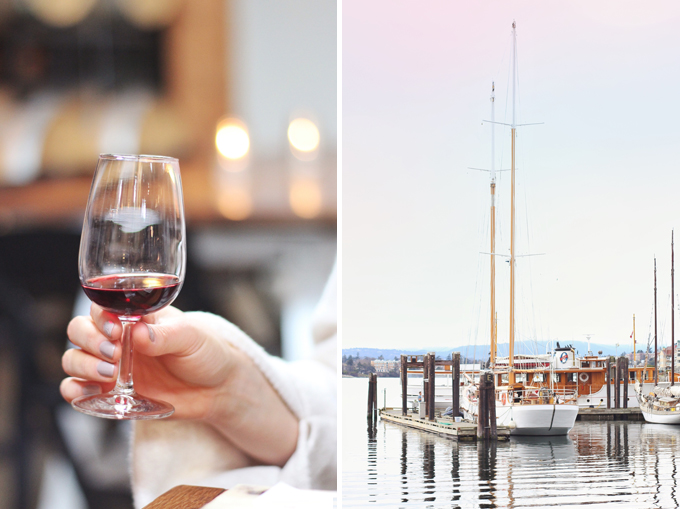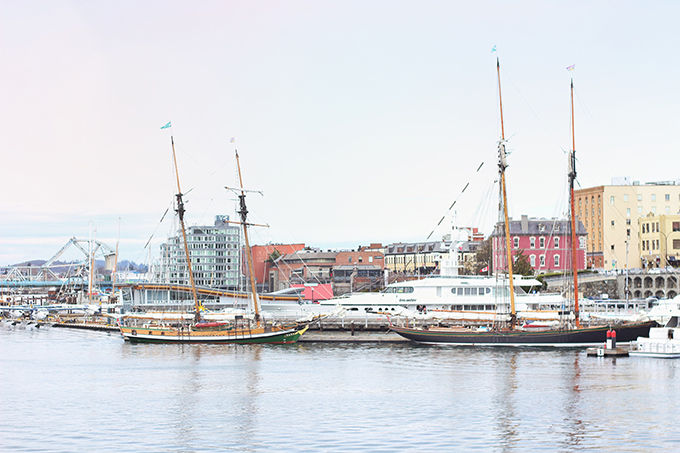 The harbour was so peaceful that day and the sunshine felt amazing, so we decided to hop over to the Steamship Grill & Bar in the historic Steamship Terminal building for a glass of wine overlooking the water. It was nice enough to sit out on the patio (with heaters and blankets provided) and enjoy a juicy glass of Joie Farms Pinot Noir (my obsession on this trip!) as the sun set. It was a perfect ending to the weekend!
---
SHOP THE POST
---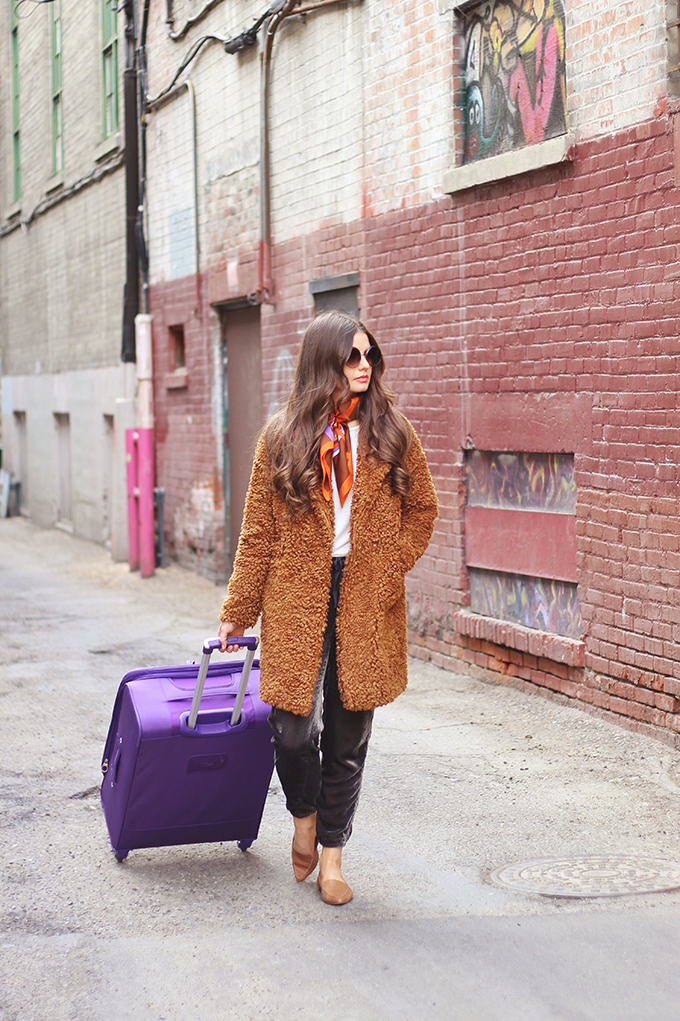 Are you planning a trip to the Vancouver area anytime soon? I hope you found this TRAVEL GUIDE helpful — it was a lot of fun to put together! If you do visit the Canadian west coast and end up checking out some of my favourite spots, please report back! As always, please feel free to leave me a comment if you have any questions or recommendations for me. And if you're looking for some stylish, affordable luggage that's always up for an adventure, I can't recommend American Tourister iLite range enough! Happy trails, everyone.