---
It's the second Monday of a fresh new year and I'm back to share some beauty and lifestyle favourites with you! Last Monday was my first day back to work after taking a bit of time off over the holidays and I'm feeling refreshed, recharged and reinspired for all 2018 has in store. I eased into the new year slowly and really carved out some time to think about what I want to accomplish and share with you here at JustineCelina. It was definitely a valuable exercise that caused me to reevaluate my typical content schedule — and left me with the desire to shake things up around here!
So, I've decided that my Monthly Favourites posts are now going to include lifestyle and WELLNESS favourites in addition to BEAUTY, FRAGRANCE and SKINCARE! I've also decided I may no longer publish them every month — but rather, more organically when I have favorites to share. You guys get a good idea of what I'm loving FASHION and MUSIC wise through my style content and Monthly Soundtracks, but I've never really had an outlet to share my lifestyle and wellness favourites in this capacity. This month my favourites even include some decor (as it relates to wellness!). All this change also inspired me to switch things up in the way I capture this content. I know you're used to seeing a lot of flatlays styled with flowers and foliage — and while those are beautiful, I felt it was time for a change! Today I used the actual items I'm chatting about to style this post — including healing rose quartz accents, our Himalayan natural salt lamp and a few air plants I've collected over the past few months as we refresh our space (they'll be a lot more interior design and decor content coming to JustineCelina this year!). If you're up for a change of pace and excited to learn more about a handful of beauty, fragrance, skincare, wellness and lifestyle products I've been loving this winter, pour yourself a big mug of herbal tea and settle in for a cozy Monday evening read!


---
DECEMBER 2017 FAVOURITES
---
Prices vary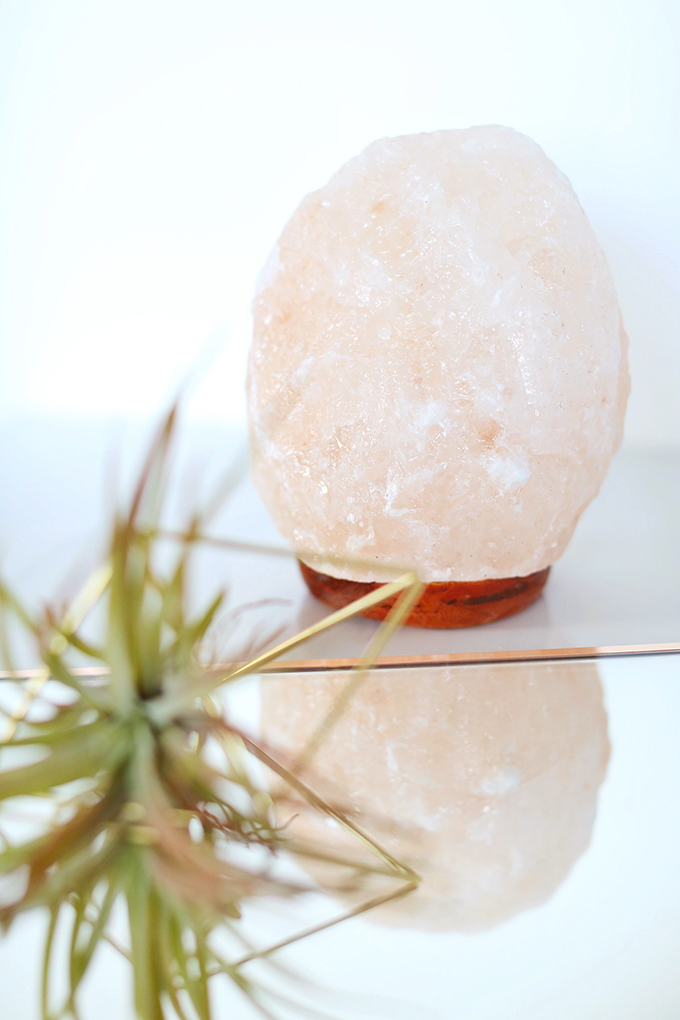 We've added 4 Himalayan Natural Salt Lamps into our home over the past few months as we refresh our space. I've always seen them around at various health food stores and been intrigued, but when I saw them in the aisles at HomeSense (who I'm elated to be working with to refresh our space this year!) I was inspired to pick some up — and we now have one in the kitchen, living room, office and bedroom!

Besides being extremely beautiful (I've always been a fan of natural stones and use Himalayan Pink Salt in the kitchen as well!), these natural lamps offer a plethora of health benefits. Personally, I love them for the inviting, warm glow and the relaxing atmosphere they create in any room, but Himalayan natural salt lamps also purify the air in your home, ease allergies (I've found myself sneezing less!), increase energy levels, reduce stress, promote healthy sleep, reduce electromagnetic radiation, improve skin and help to reduce static electricity (a major issue during our frigid Alberta winters!). If you're interested in picking one up, I encourage you to do your own research — but I'm absolutely in love with ours and only wish I'd brought them into our home sooner (see them in action in our Living Room Reveal!)
---
Prices vary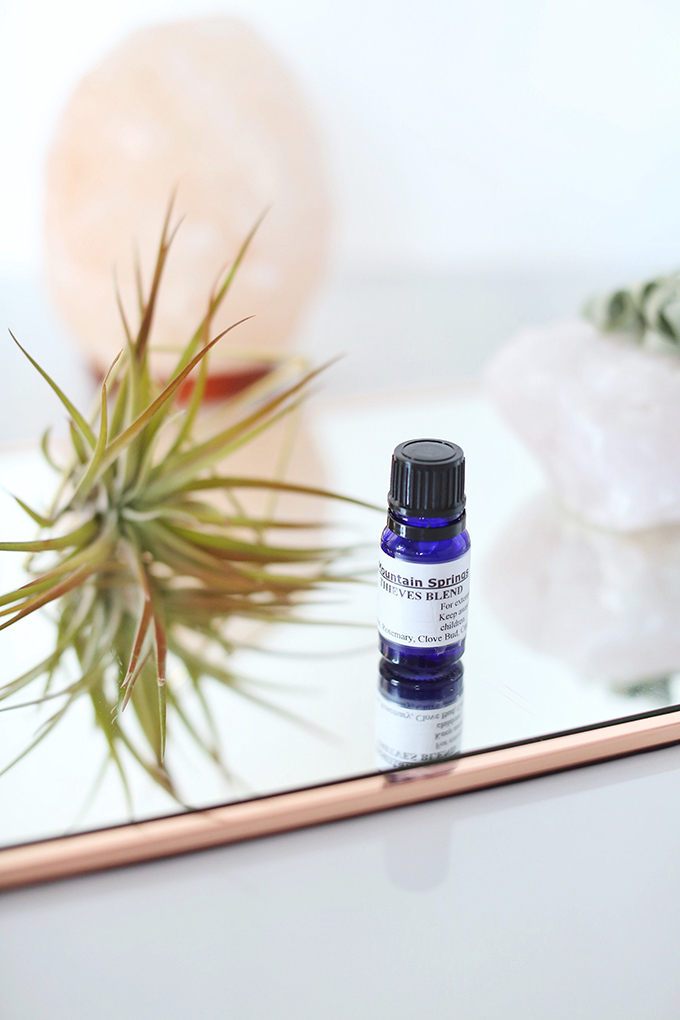 My love of Thieves Oil dates back to circa 2009 when I first discovered yoga. Although I don't practice yoga in a studio currently, my old studio (which has now closed its doors) used to burn Thieves Oil — and ever since, the smell has reminded me of peace, tranquility and self care. I never could find a thieves essential oil blend that I liked as much as the one they used to burn at my favourite studio — until I randomly stumbled on this one at a small shop called The Red Carrot in my hometown (Strathmore, Alberta) last autumn. I was visiting for the weekend and my Mom mentioned she wasn't feeling well, so I picked her up some Thieves Oil that she could use in her oil warmer. I never did pick up a bottle of my own until the holidays this year — but I'm so glad I did. Over the break I was feeling a bit run down and under the weather with a slightly sore throat (I wasn't quite sick, but something was coming on!) so I added a few drops to an oil warmer in every night before bed. It (along with the electric blanket!) made for the most restful sleeps. I didn't end up getting sick and was feeling re energized after a few nights of good rest — and I'm not sure if the thieves oil had anything to do with it, but it definitely helped me unwind.
I can't direct you to where to purchase this exact Mountain Springs Thieves Blend, other than The Red Carrot in Strathmore, Alberta (it has a handmade label stuck on with tape and I can't find anything about it online!). However, I did find a similar blend for you. If you're not familiar with Thieves Oil or how it came to be, here's a quick run down: in 15th century Europe during the Bubonic Plague, it's rumored that four thieves robbed the corpses of the deceased. Once they were caught, they weren't punished for their crimes because they shared with the judge how they were able to repeatedly expose themselves to the highly infectious plague without contracting the disease. Apparently it was a combination of herbs and spices (specifically lemon, eucalyptus, rosemary, clove bud and cinnamon leaf) that's highly effective in killing airborne bacteria. It's also antiseptic, antiviral and antibacterial. Thieves oil is also said to stimulate the immune and respiratory systems, circulation and help your body fight flu, colds, sore throats and heal cuts. As always, I encourage you to do your own research, but if nothing else, I love the smell of this oil and the peaceful memories if conjures up every time I burn it. I'm also on the hunt for a great diffuser — so if you have a recommendation, please leave it for me below!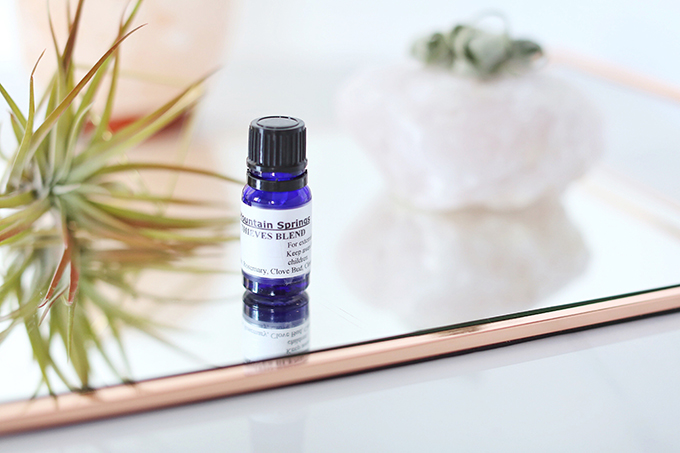 ---
CAD $110.00 – $220.00
If you've been with me for awhile, this bottle will look very familiar! This winter, I've been alternating between Derek Lam 10 Crosby 'Something Wild' Eau De Parfum and Commodity Gold, almost exclusively. I tend to reach for Something Wild when I want a warm, cozy scent for casual days and Gold when I'm craving something more sexy and sophisticated. Check out last month's favourites post for a review of Gold!
I stumbled across Derek Lam's 10 Crosby fragrances at my local Sephora when I was shopping for some new scents for my Autumn / Winter Fragrance Edit and fell head over heels for Something Wild! I adore everything about this emerging fragrance brand and their minimalistic take on luxury. Something Wild is the most sophisticated, sensual, vanilla based scent I've ever worn. It's totally addictive, yummy and appropriate for day or night. I always receive compliments on it and I've telling everyone about Derek Lam's beautiful scents (I also picked up a sampler set last holiday season)! If you're looking for a fresh take on a vanilla based fragrance this season with warm, woody notes, you won't be disappointed with Derek Lam's Something Wild. My Mom fell in love with it too and I actually bought her a bottle for her birthday! If you'd like to learn more about Derek Lam, this specific scent or what else I love to wear during these cooler months, hop over to my Autumn / Winter Fragrance Edit.
---
USD $30.00
If you've ever read one of my SKINCARE posts, you'll likely have heard me mention Paula's Choice and how it completely changed my skin. I've been using it almost exclusively for 4 years now and my skin has never looked better! But one area I always found Paula's Choice to be lacking in was face masks. I love their Skin Balancing Oil-Absorbing Mask (a natural clay mask that absorbs excess oils — learn more about it in my Skincare Routine, which actually could use an update!) but it's the dead of winter here in Calgary and I've actually been finding it too drying as of late. Enter Paula's newest offering — the Paula's Choice Pore Clarifying Charcoal Gel Mask, which was designed to decongest pores with charcoal and natural clays in a soothing gel mask for a refreshed, shine-free complexion! Overall this mask is much lighter and less drying that the Skin Balancing Oil-Absorbing Mask (it even includes some moisturizing ingredients) and I find it quite effective at clearing pores and brightening up my winter complexion. If you follow along with my Insta Stories, you may have seen me wearing it a few times over the past month or so — it's become my go-to winter mask! I'm happy to have both on hand and will likely switch back over to the Skin Balancing Oil-Absorbing Mask during the spring and summer when my skin tends to be more oily.

---
CAD $32.78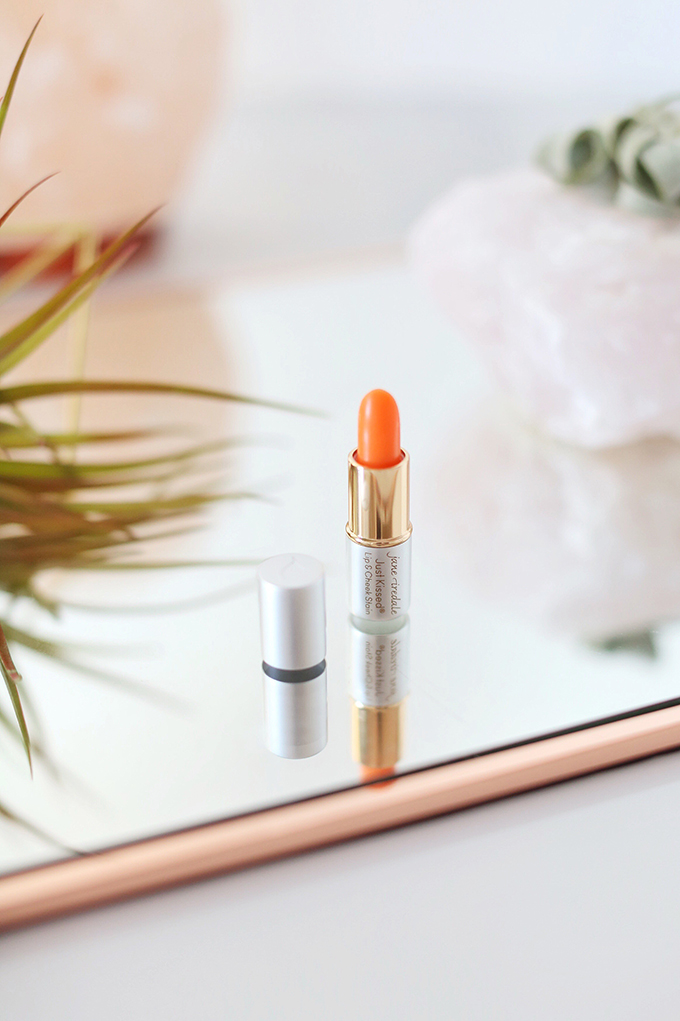 When I attended INLIV's open house last autumn, they kindly sent me home with a goodie bag of Jane Iredale makeup samples. Jane Iredale wasn't a brand I was actually very familiar with before the open house — I knew they carried it at the spa I go to sometimes for massages, but that was one of the only encounters I'd had with it. I knew it was a natural, mineral based makeup brand — and over the years, I've definitely developed some preconceived notions about mineral makeup brands! Although I do love some natural beauty products, I also love beauty products that just work for me — regardless of whether or not they're natural. But, I decided to try the samples with an open mind and I ended up finding a hidden gem in the Jane Iredale Just Kissed Lip & Cheek Stain in Forever Pink — a beautiful, gel like lip balm that imparts the most healthy, supple looking pink sheen to your pout! Last month I wore tons of red, deep and offbeat lip colours to various holiday festivities, but I kept coming back to this lip and cheek stain for more casual days. It adjusts to your body chemistry to deliver your perfect 'your lips but better' shade of pink while making your lips look juicy and nourished (it's infused with olive butter, avocado butter and wild rose wax — which I really appreciate during the winter!). If you're a more natural gal looking for a beautiful, lip enhancing product, or looking to treat your pout to a gorgeous dose of hydration this winter, I can't recommend Jane Iredale Just Kissed Lip & Cheek Stain in Forever Pink enough. I'll definitely be picking up a full sized tube when I'm through my sample and I'm also looking into the other shades!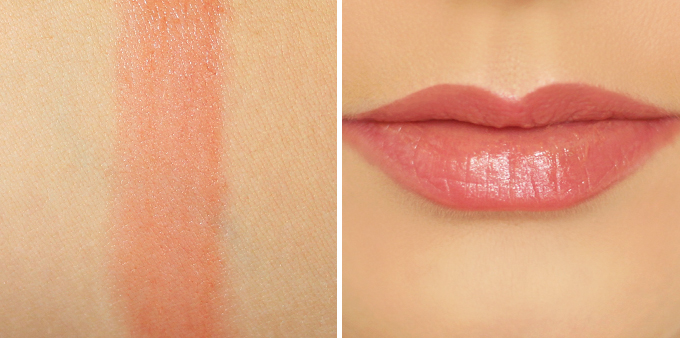 I'm wearing the Jane Iredale Just Kissed Lip & Cheek Stain in Forever Pink on my lips with Bite Beauty The Lip Pencil 036

---
CAD $11.25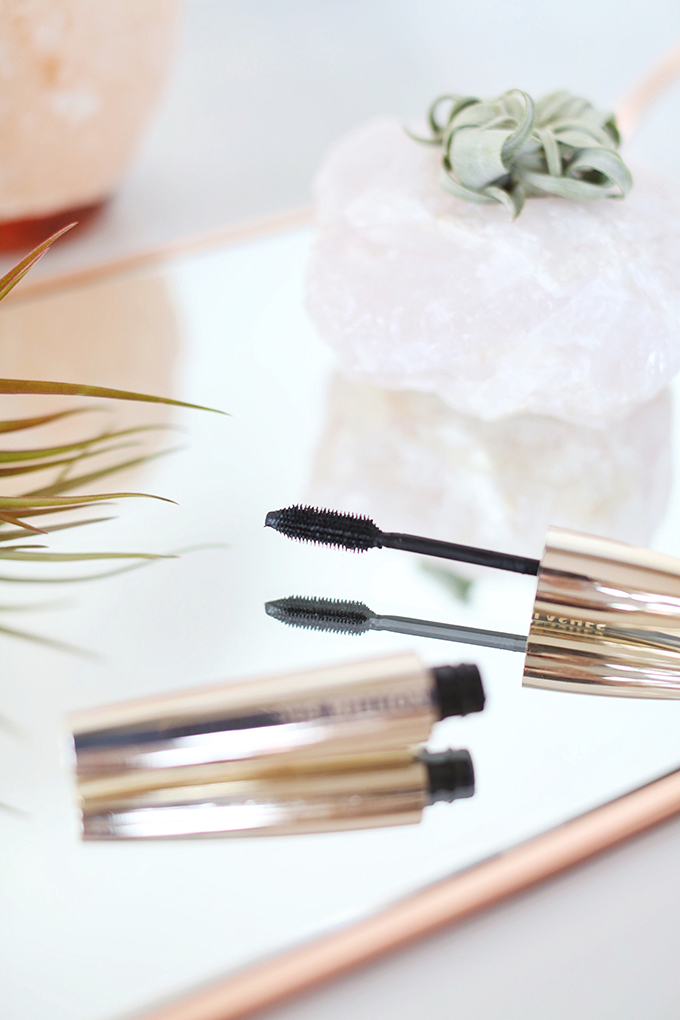 I found the L'Oreal Voluminous Million Lashes Mascara last month — and it's another fantastic drugstore option! It checks all the boxes for me in terms of what I look for in a mascara: it's long wearing, it doesn't flake or smudge, it makes my lashes look long, thick and fluttery and it doesn't irritate my sensitive eyes.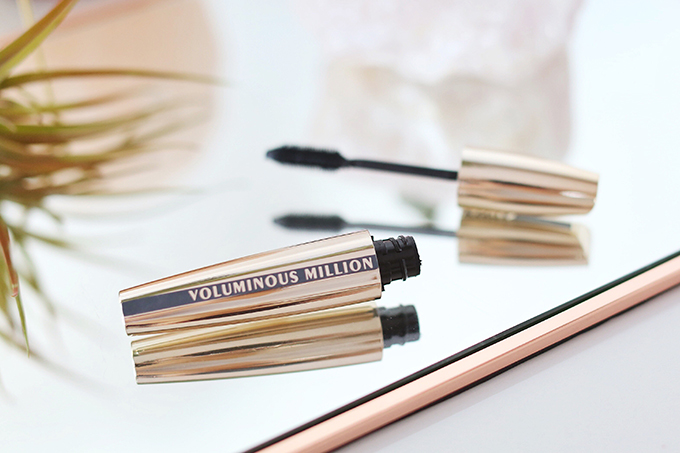 Overall I find this mascara more lengthening and separating than thickening (mostly thanks to the brush), but it's an easy to work with, buildable formula that make my lashes look fantastic after 2 coats. If you're looking for an inexpensive new mascara, try L'Oreal Voluminous Million Lashes!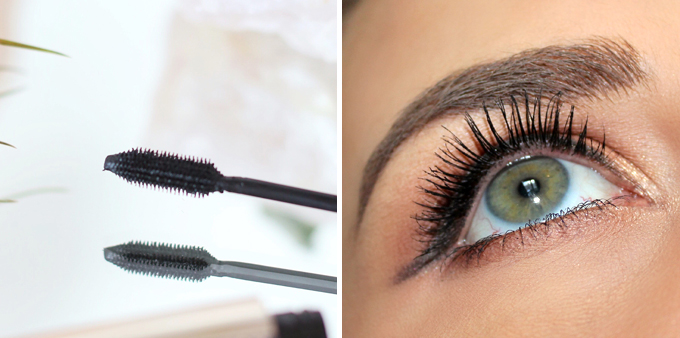 I'm wearing 2 coats of the L'Oreal Voluminous Million Lashes Mascara on my top lashes and one coat on my lower lashes
---
CAD $52.00
I'm probably one of the only beauty bloggers to ever say that I don't really think primers are important — for me anyway. My skincare essentially has a primer built into it, so I don't typically see a noticeable difference when I use traditional primers. However, do use the Cover FX Custom Blot Drops when I need my base makeup to be extra long wearing (it really came in handy during all of December's festivities!).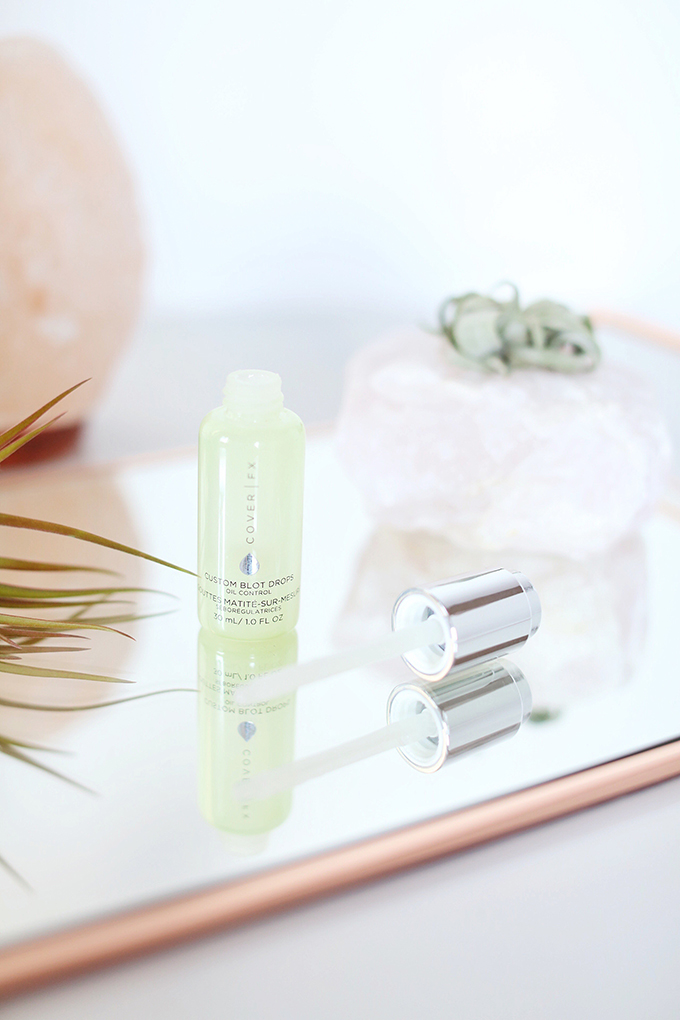 These innovative drops from Cover FX are meant to mimic the effect of blotting papers (you combo / oily skinned gals know what I'm talking about!) — except I use them before I apply my makeup. I take a small amount of the product and work into into my combination skin 'problem areas' (which tend to get oily first) in the centre of my face. My skin instantly feels mattified, smooth and ready for foundation! You can also mix it in with your foundation and use it before or after makeup. It's a another long time favourite of mine (check out My Routine for Flawless Looking Skin for an in-depth explanation of how I achieve a perfected base) and a product I'll always have in my beauty arsenal and I'm almost through my first bottle!
---
CAD $55.00
In December I really focused on my skin — and with so many holiday parties and events to attend, I there was a lot of glam happening. Hourglass's Dim Light has been a longtime favourite of mine since discovering it in 2015, but last year, I found a great drugstore alternative. I've since finished the entire compact of comparable Wet n Wild Photo Focus Foundation in Golden Beige and felt inspired to pick up a full size of Dim Light, since I completely used up the smaller pan in my Ambient Lighting Palette. While this is a spendy item, I do believe it's superior to the Wet n' Wild version and it's a product I reach for a lot whenever I want a super perfected look to my skin.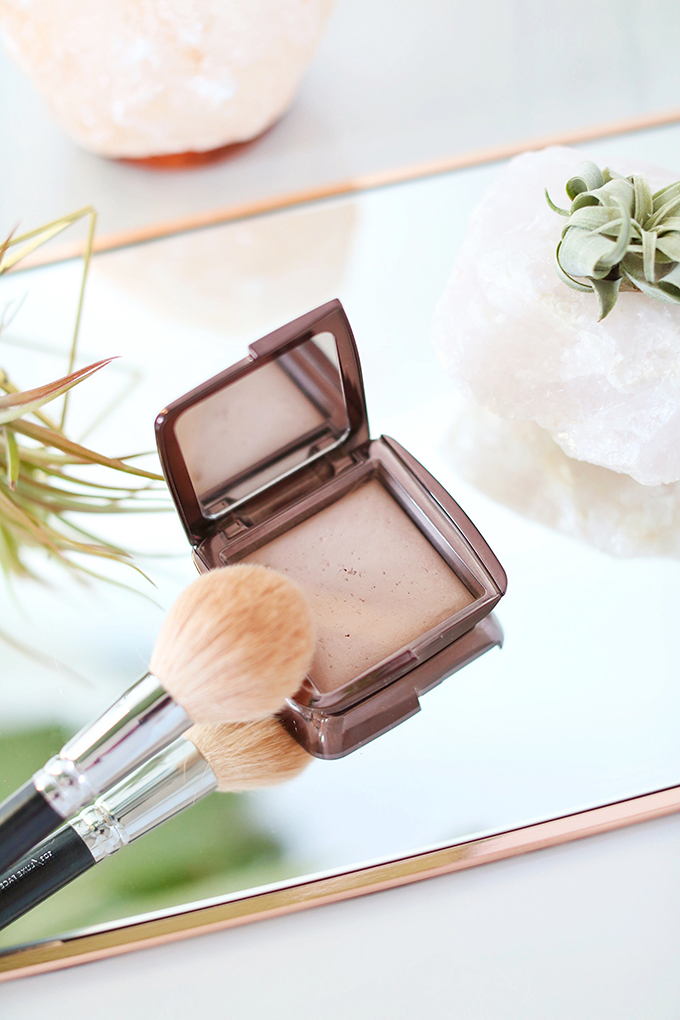 The Hourglass Ambient Lighting Powders can be used in many different ways — they're ultra smooth finishing powders that capture, diffuse, and soften the way light reflects on skin. Sounds pretty amazing, right?! They make you look airbrushed in real life (I've received that comment on more than a few occasions) and give the skin a soft focus effect. I use Dim Light with a big fluffy brush once I have my all my makeup on to swirl everything together and make it look blended and cohesive. I also use it to knock off any excess loose powder I have lingering under my eyes or in other areas on my face from where I set my foundation with translucent powder (check out My Routine for Flawless Looking Skin for an in-depth explanation of how I achieve a perfected base!). This luxurious finishing powder is indispensable to me. If you've been with me for awhile, you may remember me raving about it in my September Beauty Favourites back in 2016 and mentioning Hourglass powders many times before that! This is a product I never skip — even in my daily routine! I also mentioned it in my Luxury Products Worth the Splurge post. If you're looking for a workhorse finishing powder, I can't recommend this one enough!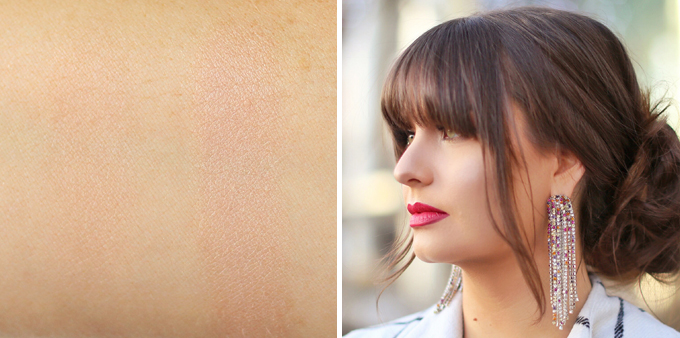 I'm wearing the Hourglass Ambient Lighting Powder in Dim Light all over my face
---
Prices vary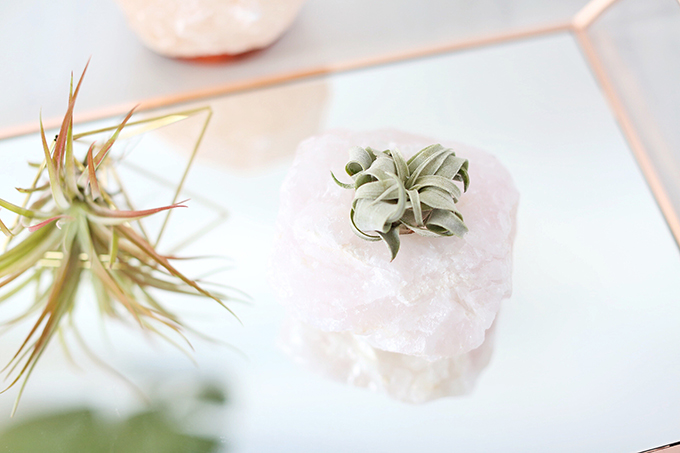 I've mentioned Rose Quartz quite a few times here at JustineCelina over the years. I love to bring natural stones into our home for their spiritual qualities, but also for their beauty. Rose Quartz was one of the Pantone Colours of the Year for 2015 and I covered that extensively — in fact, the colours of my personal brand were inspired by Rose Quartz and Serenity. Pantone's choice for 2015 is really what sparked my obsession with rose quartz — and since then it's become a very special stone to me. Rose Quartz speaks directly to the heart chakra and is symbolic of unconditional love. It adds a soft, feminine, peaceful energy to our home that I find very healing and comforting — I love the positive, feel good vibes it brings to our space! I picked up our first rose quartz stones during a trip to Vancouver last year and have added quite a few since. I found these adorable rose quartz tea light holders at HomeSense this past autumn and have been using them to display airplants (cute, right?). If you're in the market for natural stones or geodes, HomeSense has an amazing selection at great prices. You'll be seeing a lot more of our collection in upcoming DWELL content this year!
---
SHOP MY DECEMBER 2017 BEAUTY AND WELLNESS FAVOURITES
---

Himalayan Natural Salt Lamp | Thieves Essential Oil Blend | Derek Lam 10 Crosby 'Something Wild' Eau De Parfum (smaller size) | Paula's Choice Pore Clarifying Charcoal Gel Mask | Jane Iredale Just Kissed Lip & Cheek Stain in Forever Pink | L'Oreal Voluminous Million Lashes Mascara | COVER FX Custom Blot Drops | Rose Quartz | Rose Quartz Tea Light Holder

---
MORE SEASONAL BEAUTY CONTENT
---
November 2017 Beauty Favourites
5 Festive Lipsticks to Try This Holiday Season
October 2017 Beauty Favourites
5 Red Lipsticks to Try This AW17
Autumn / Winter Fragrance Edit
---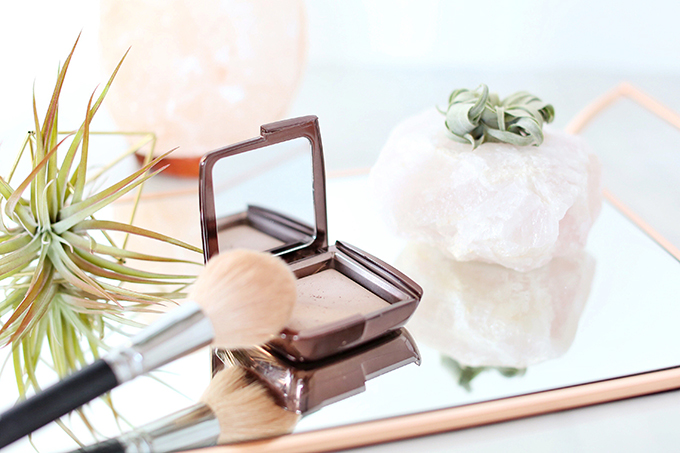 Thanks for stopping by for the first beauty post of 2017! I'm curious — what's your favourite type of beauty, skincare or wellness content I publish? What would you like to see more of? I'm always happy to take your requests into consideration, so don't be shy! Have a fantastic week, friends!

---
Disclaimer: Products marked with * indicate press samples provided for editorial consideration with no obligation for feature or review.  This post is not sponsored and contains my genuine thoughts, ideas and recommendations. JustineCelina uses affiliate and referral links, which allow me to receive a small commission when you make a purchase through one of my links. Thank you for supporting the brands and businesses that support JustineCelina.com!