---
Hey hey, you beautiful humans! Welcome back for another Monthly Beauty Favourites post — and the last one of 2017 (I'm still having a hard time believing the year is almost over!). For a completely different change of pace, my November 2017 Beauty Favourites are relatively short 'n sweet, containing just 6 products — it was a busy month for me, with lots of events and even more behind the scenes work on some larger projects (which I'm excited to share with you in the New Year!). That said, I tend to stick with what I know beauty-wise when I'm short on time — but I did place a new Colourpop order and discovered my favourite palette of 2017 (doesn't hurt that it's just $16.00, either!). Last month my lip product choices were all over the map and I didn't have a particular shade or formula I reached for consistently, but I did discover (and rediscover) a handful of body care, fragrance and nail products!
If you're looking for some transitional beauty recommendations that will carry you through the holiday season, you've come to the right place! Today I'm sharing a budget friendly palette full of stunning, metallic neutrals, a glitzy, plum toned blush, the perfect cool weather polish that goes with everything, a nourishing, multi purpose oil for the hair and skin, a delicious lip scrub to give your winter pout a little extra TLC and a luxurious transitional fragrance perfect for December's festivities. If you have a few minutes to spare on this beautiful Sunday afternoon, find a cozy reading nook and let's dive into a few of my favourite things — I've even included a few holiday gifting ideas for the beauty lovers in your life!

---
NOVEMBER 2017 BEAUTY FAVOURITES
---
USD $16.00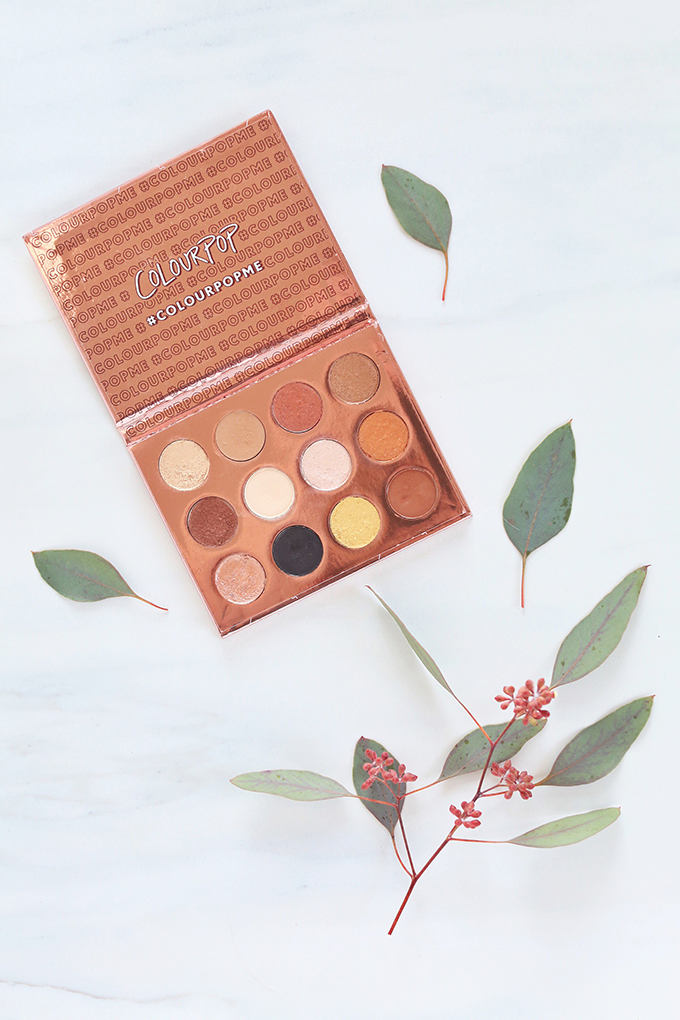 After reigniting my love for Colourpop Super Shock Shadows and highlighters earlier this autumn, I decided to place an order to check out some of their new products. Among them were the Yes, Please! and I Think I Love You Pressed Eyeshadow Palettes — I'd been eyeing Yes, Please! for quite some time and they had just released I Think I Love You, so I purchased it on a whim. I'm so glad I did, because it ended up being my favourite! I love everything about the Colourpop I Think I Love You Pressed Eyeshadow Palette — for just $16.00 (they're actually on sale for $12.80 this weekend!) you have everything you need to create a range of stunning looks with one palette. As someone who own a lot of eyeshadow, it's rare that I don't find myself dipping into other palette to complete my looks. For the entire month of November, this palette is all I wore on my eyes — I don't think that's ever happened before! It's my favourite eyeshadow palette of 2017.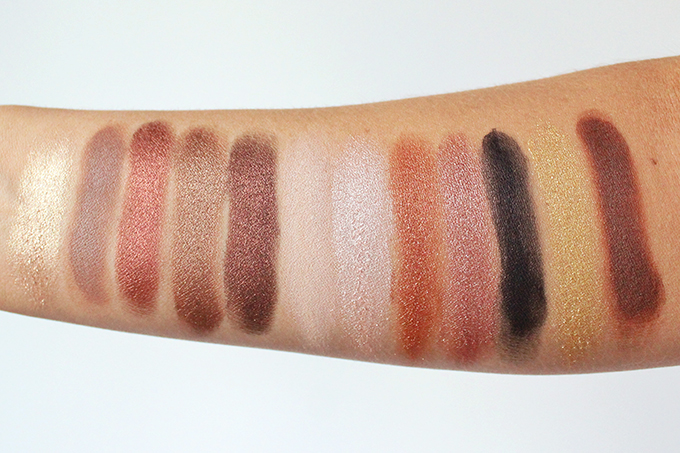 The Colourpop I Think I Love You Pressed Eyeshadow Palette is a mixed finished palette, offering an array of 12 bronzy, neutral shades in an array of metallic and matte finishes. I like the mattes and metallics equally and love the selection of shades — they've taken the standard neutral palette and kicked it up a notch! For me, this has everything I need to pull together a look — a matte cream shade for brow bone highlighting and blending, a glitzy inner corner highlight, matte several transition shades, deeper shades to intensify the outer corner (including a rich, matte black) and tons of gorgeous metallic options for the. My favourite shade is Screw It (that well loved one on the bottom left!) — an intense, ultra metallic soft rose gold that's so flattering on green eyes. The palette is also compact and fantastic for travel — the pan sizes are smaller than average, but I think it's still a great value. The only downside is that it doesn't have a mirror, but for the price point that's something I can deal with! If you're looking for a workhouse neutral palette with a few fun shades throw into the mix, I can't recommend I Think I Love You enough. FYI, Colourpop Cosmetics is cruelty free.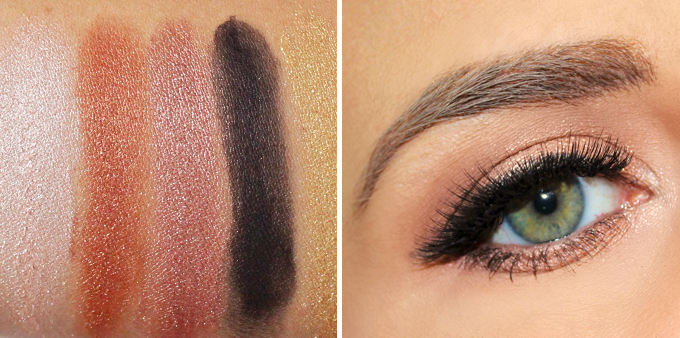 I'm wearing the Colourpop I Think I Love You Pressed Eyeshadow Palette on my eyes

---
CDN $23.00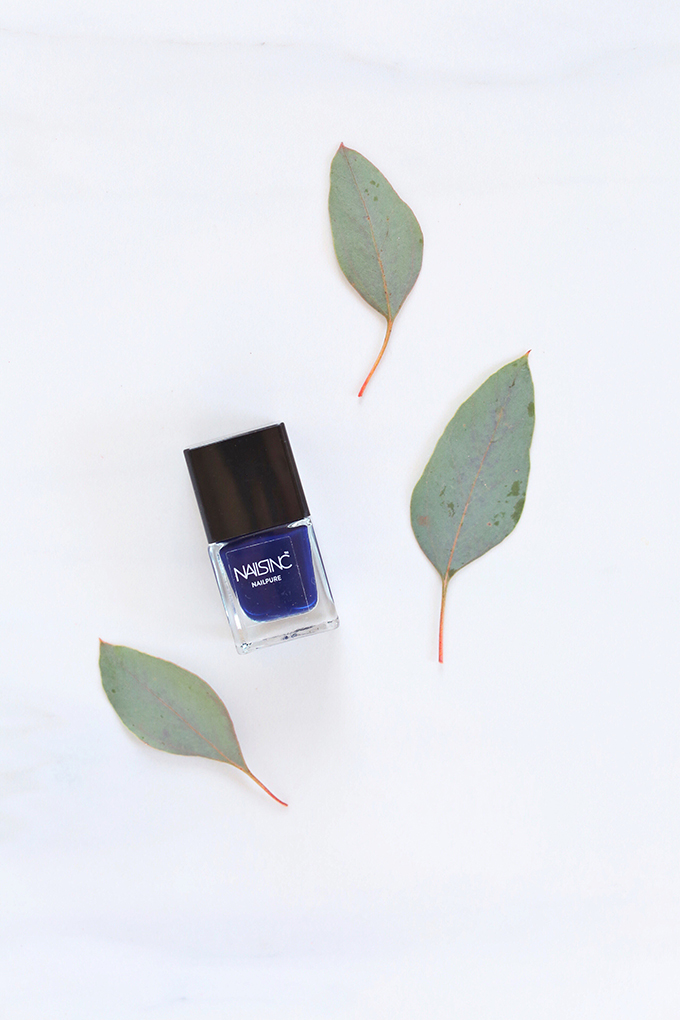 My love affair with NAILS INC. polishes continues — and this past month, I've had Prince Arthur Road on repeat from the Nail Fuel Polish Set on repeat! I've mentioned almost every shade from the Nail Fuel Polish Set here at JustineCelina this year — so if you're looking to treat your nails to something new this autumn, this set is at the top of my list. What initially intrigued me about the brand when I initially discovered them was the ingredients — all NAILS INC. products are infused with nail loving ingredients and I've worn their polishes almost exclusively since discovering the brand. Prince Arthur Road is a rich, true navy shade that's quick drying and looks great after just one coat! It's also made without formaldehydes or alcohol — my nails absolutely love these polishes. If you're on the hunt for some healthier nail polishes in a gorgeous palette, I highly recommend picking up the Nail Fuel Polish Set. Check out my reviews of the other shades here, or purchase Prince Arthur Road individually! I'll be wearing it in tons of upcoming winter style content if you'd like to see it in action this month.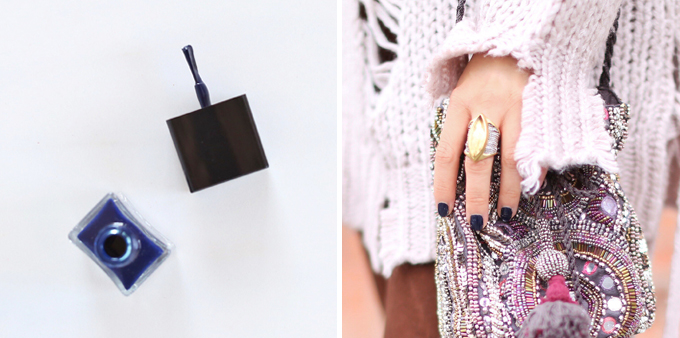 I'm wearing the NAILS INC. Nailpure Polish in Prince Arthur Road on my nails
---
CDN $45.00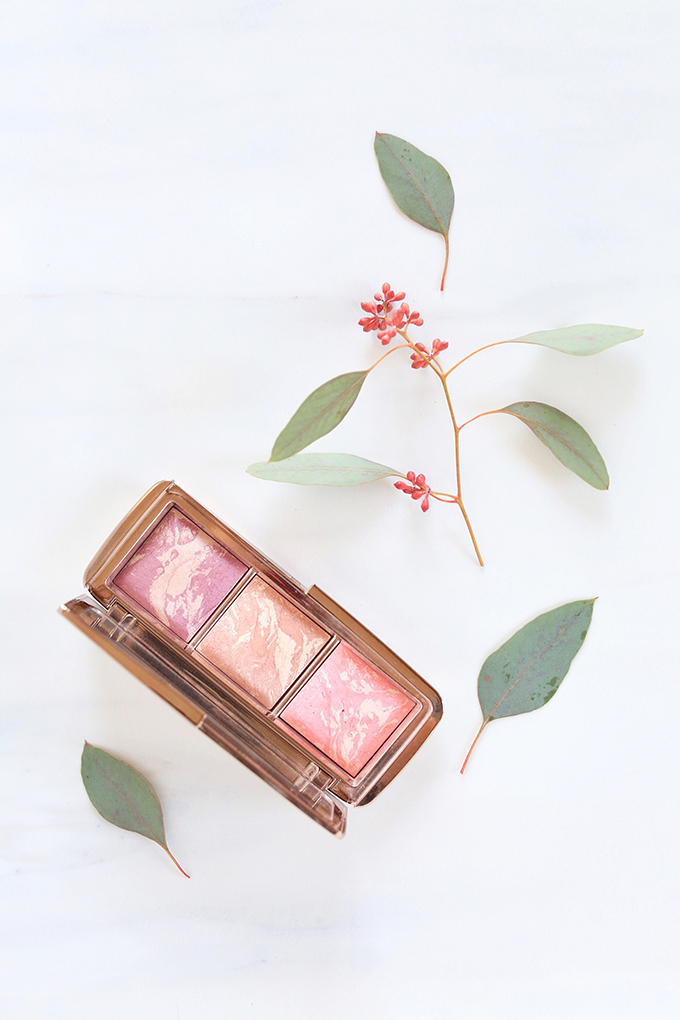 Although my lip colours were all over the map this month, I did wear the same blush consistently — theHourglass Ambient Lighting Blush Collection in Euphoric Fusion. Although I own this blush as part of the Ambient Strobe Lighting Blush Palette, Hourglass has released each shade individually, so you can purchase a full size of any shades in this palette. Euphoric Fusion is a light, plummy blush that mimics the look of an authentic 'just in from the cold' flush on my light / medium skintone and pairs very well with a variety of looks. With all the rose gold eyes from the Colourpop I Think I Love You Palette I've been wearing lately, it's perfect!
You've heard me mention Hourglass powders and blushes previously — they're my all time favourite high end powders. Truly, there's nothing quite like them on the market. The Hourglass Ambient Lighting Blushes contain blush shades infused with their Ambient Strobe Lighting Powders (the Hourglass version of a highlighter). Euphoric Fusion is a soft lilac blush blended with Euphoric Strobe Light, imparting an ultra luminous flush — it's like a combination of blush and highlighter in one product, which is perfect for the holidays! See it in action in my upcoming What To Wear To | Casual Holiday Parties post.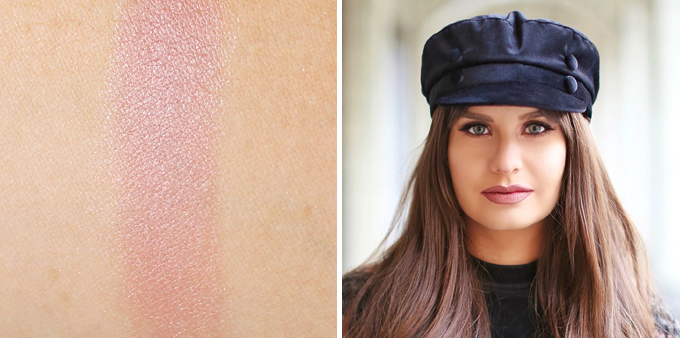 I'm wearing the Hourglass Ambient Lighting Blush Collection Euphoric Fusion on my cheeks
---
CDN $10.95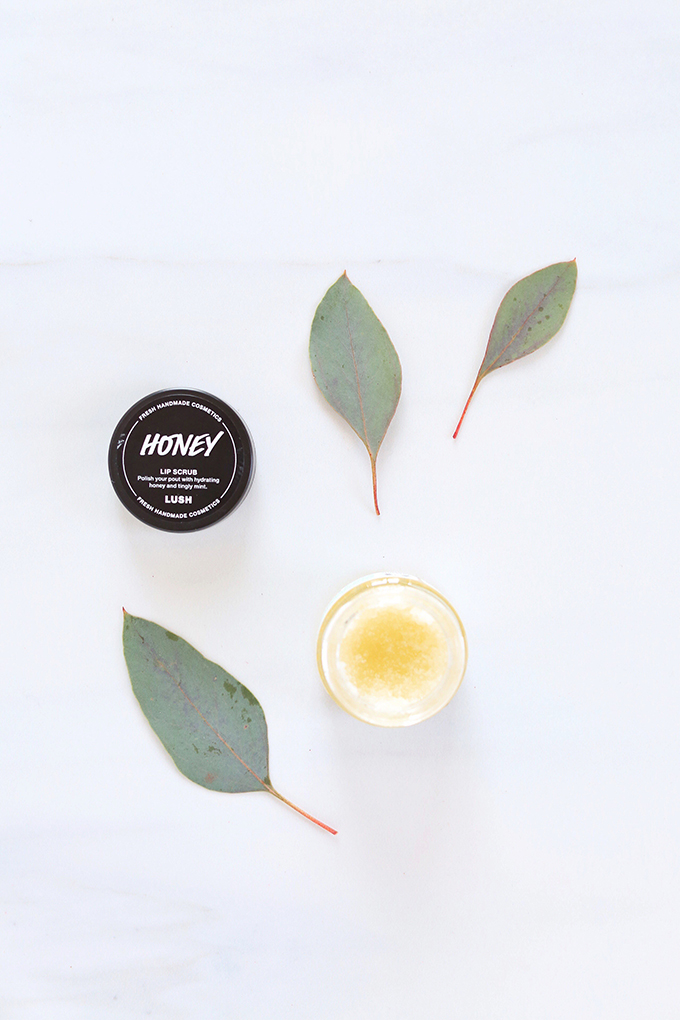 It's been dry here this past month — every year as soon as November hits, my skin and lips need some extra TLC. Enter the LUSH Honey Lip Scrub — which is a castor sugar scrub that I've been using lately to buff the dry skin off my lips and reveal a freshly exfoliated, smooth canvas. The taste and texture of this scrub is divine — a blend of honey, creamy white chocolate, vanilla and nourishing jojoba oil. I keep this guy in the shower and use a pinch to exfoliate my lips on days when I deep condition my hair. I simply massage the scrub into my lips for about a minute and rinse it clean with my facial cleanser. Afterwards, I like to slather on a thick layer of a my favourite lip mask and let it soak in. If your winter pout could use a little extra love, try a LUSH lip scrub!
---
CDN $36.00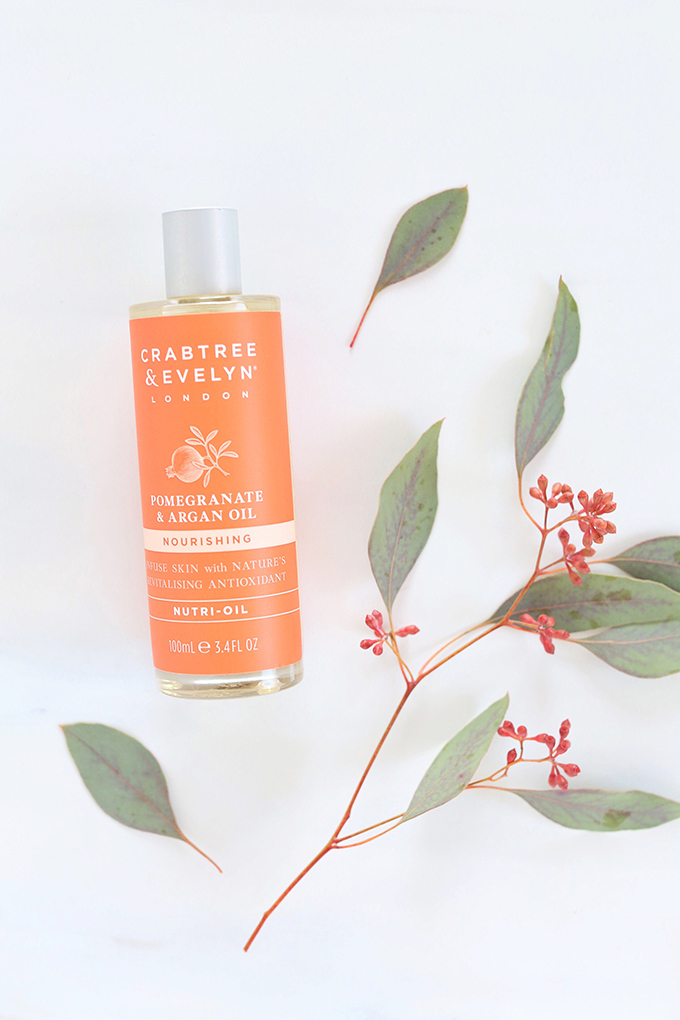 I've been continuing to explore the world of Crabtree & Evelyn — and finding some amazing products! Earlier this autumn when their team reached out and offered to gift a few products for me to aquatint myself with the brand, this Pomegranate & Argan Oil Nutri-Oil immediately grabbed my attention. It's a lightweight, multi-purpose, dry oil that I wanted to try on my hair to replace the oil I was using previously and had just run out of (read more about my haircare routine). Although it took me awhile to get the hang of how much I needed, I absolutely love this product! While my hair is still wet, I spray in a leave in conditioner / heat protectant, then spray the Pomegranate & Argan Oil Nutri-Oil into the palm of my hand, rub my hands together, and dispense the oil through my mane. Believe it or not, 5 spritzes of this formula is all I need for my entire head of hair — a little goes a long way and it's easy to overdo it! It keeps my hair moisturized, smooth and static free — what more could a girl ask for?
I love the versatility of this product — sometimes I also spritz it into my moisturizer when I need a little extra boost of hydration (it smells absolutely amazing too — with seasonal notes of pomegranate, fig, orange and spice!). If you're looking for a beautiful, silicone free hair oil, I encourage you to give the Crabtree & Evely Pomegranate & Argan Oil Nutri-Oil a look!
---
Full size CDN $120.00 | Travel Size CDN $28.00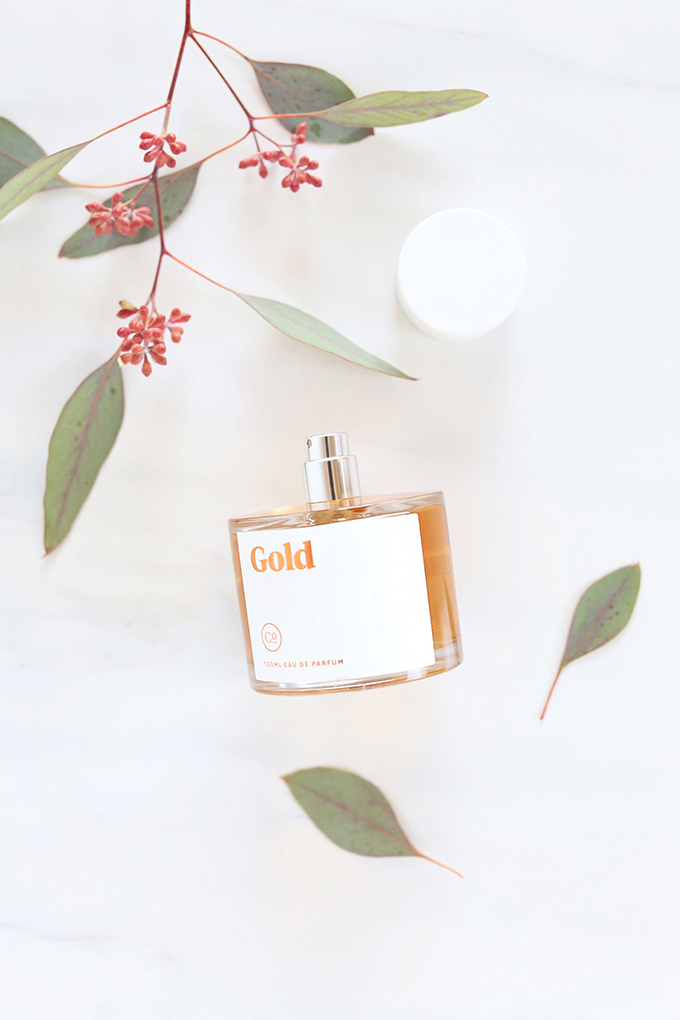 I discovered Commodity scents last autumn and fell so hard for Wool that I picked up their Cocktail Kit during my Holiday beauty shopping last year so I could sample some other fragrances from the brand. This November, I've been wearing Gold almost daily — an ultra luxurious scent inspired by money in liquid form (it's so sexy)! Gold manages to be light and uplifting yet simultaneously rich and luxurious thanks to a blend of molten amber and Nubian musk. I wish you could smell it through the screen! It's slightly reminiscent of Dior's Hypnotic Poison (which I used to wear in my younger days!) but Gold is much more elegant. If Gold sounds familiar, I've mentioned it several times here at JustineCelina — it seems I reach for it during transitional months. Earlier this year, I wore Gold a lot during February to bridge the gap between winter and spring, but it's also a beautiful November fragrance. I get so many compliments on it!
I love the concept behind Commodity's bespoke fragrance line — the five black collection fragrances are complex, moody, and intense. The five white collection fragrances are bright, airy, and easy (my favourite, Gold, is among them). The platinum collection is new to the Commodity this year and includes 5 rich, luxe scents. Currently they're offering the Commodity Storybook Fragrance Gift Set if you're looking for gift ideas or wanting to take the range for a spin to see what scents are best for you. All Commodity scents are unisex and they encourage you to layer and to create your own signature fragrance, or cocktail (a cute pairings card included in the kit even gives you some ideas)! Gold is also vailable in a rollerball if you'd like to try my favourite November scent without the commitment of a full size bottle.
Notes:
Bergamot, Juniper Berries, Camphor, Amber, Haitian Vetiver, Benzoin, Sandalwood, Vanilla, Tonka Bean, Nubian Musk.
Style:
Timeless. Sultry. Passionate.
---
SHOP MY NOVEMBER 2017 BEAUTY FAVOURITES
---

Crabtree & Evelyn Pomegranate & Argan Oil Nutri-Oil* | Commodity Gold Eau de Parfum Spray (full size) | Commodity Gold Travel Eau de Parfum Spray (rollerball) | Commodity Storybook Fragrance Gift Set | NAILS INC. Nailpure Polish in Prince Arthur Road | NAILS INC. Nail Fuel Polish Set | Hourglass Ambient Lighting Blush Collection Euphoric Fusion | Colourpop I Think I Love You Pressed Eyeshadow Palette | LUSH Honey Lip Scrub*

---
MORE SEASONAL BEAUTY CONTENT
---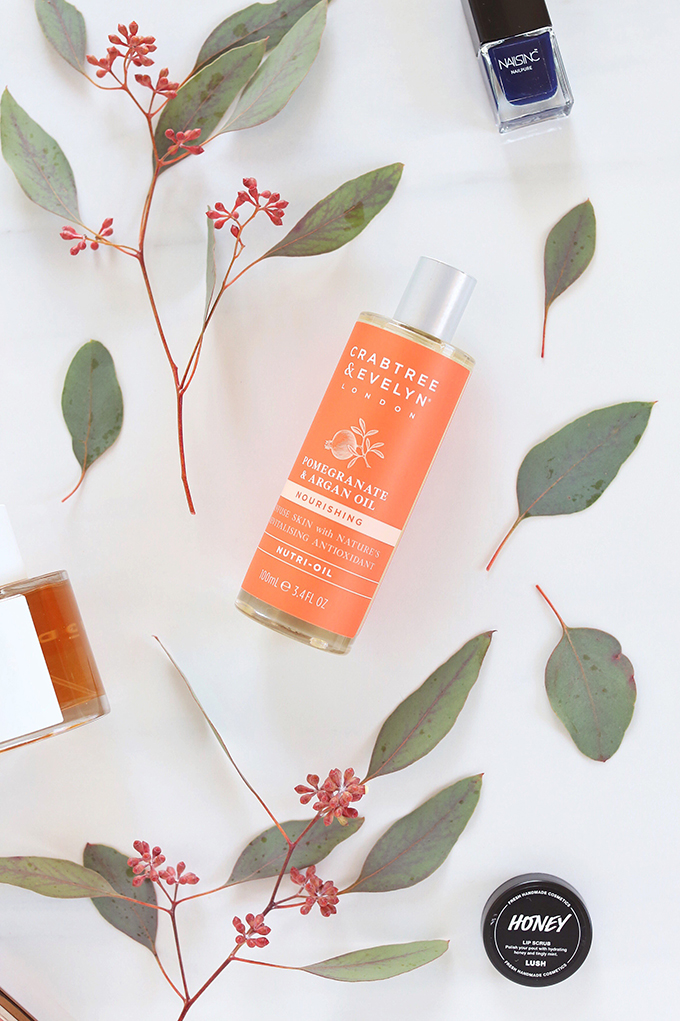 Holiday Gift Guide for Beauty Lovers
5 Festive Lipsticks to Try This Holiday Season
October 2017 Beauty Favourites
5 Red Lipsticks to Try This AW17
Autumn / Winter Fragrance Edit
---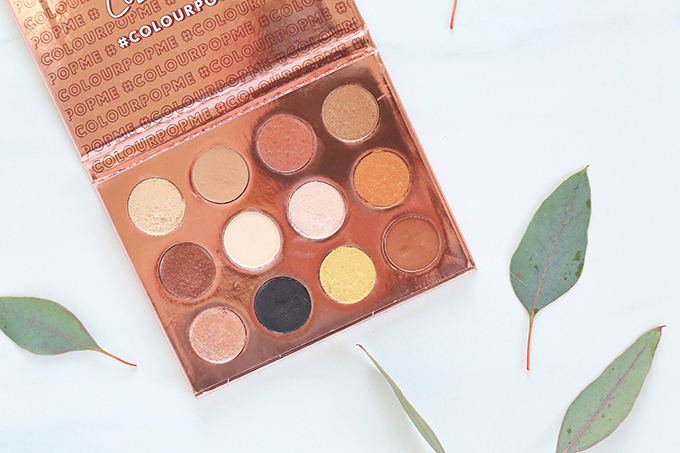 Thanks for stopping by to learn more about some of my favourite early winter beauty products! As always, if you try anything I've recommended (or have a question for me), just leave me a comment. Enjoy the rest of your Sunday, friends!

---
Disclaimer: Products marked with * indicate press samples provided for editorial consideration with no obligation for feature or review.This post is not sponsored and contains my genuine thoughts, ideas and recommendations. JustineCelina uses affiliate and referral links, which allow me to receive a small commission when you make a purchase through one of my links. Thank you for supporting the brands and businesses that support JustineCelina.com!