If you've read JustineCelina for any length of time, you'll know how inspired I am by colour. Red is undoubtedly the colour of the season, so I've been finding fresh ways to incorporate more red into my personal style this autumn! I've always been a fan of the red lip — and this season, rocking a red lip is an easy, budget friendly way to participate in one of autumn 2017's hottest trends without committing to a garment or accessory. In fact, I've been wearing red hues on my pout so often lately (and receiving tons of questions and compliments!) that it inspired me to create the ultimate guide to finding your perfect red lip and include 5 Red Lipsticks to Try this Autumn / Winter 2017!
Tonight I'm sharing my favourite of-the-moment red lipsticks inspired by PANTONE 17-1558 Grenadine (why yes, it's part of the Pantone Fall 2017 Colour Trend Report!) — described by Pantone as a powerful, evocative, dynamic red. If you're ready to take this season's hottest colour trend for a spin in the BEAUTY department, I've rounded up 5 fantastic red lipsticks in every shade, formula and price point — there's something for everyone (including a natural option and a cruelty free option)! Red lipstick is infused with some sort of magical superpower — the right one can instantly make you feel more confident, glamorous and ready to take on the world. I truly believe every woman should have a red lipstick that flatters her colouring and makes her feel beautiful — and today I'm here to help! Come take a seat at my vanity as I break down my favourite formulas, hues and undertones for different skintones — along with and everything else you've ever wanted to know about finding a red lipstick that makes you feel like a million!

---
HOW TO FIND YOUR PERFECT RED LIP
---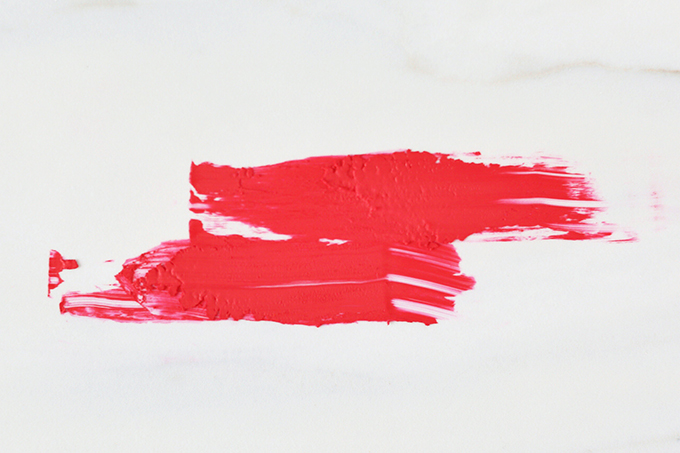 Red is huge right now (are you sick of hearing me say that?!) and I'm so excited to share my 5 Red Lipsticks to Try this AW17 post with you! While I love red lipstick year round, I especially love it during the cooler months. If you find your perfect red lip now, it can carry you through the holidays (which just happens to be one of my favourite looks)! If you're not sure if you can pull a red lip off, I encourage you to give one of these recommendations a spin this season — you may be surprised at how easy red lipstick is to wear once you find a shade that suits your skintone and colouring! While these shades are all inspired by PANTONE 17-1558 Grenadine, I've included variety of undertones and finishes to help you find your perfect hue.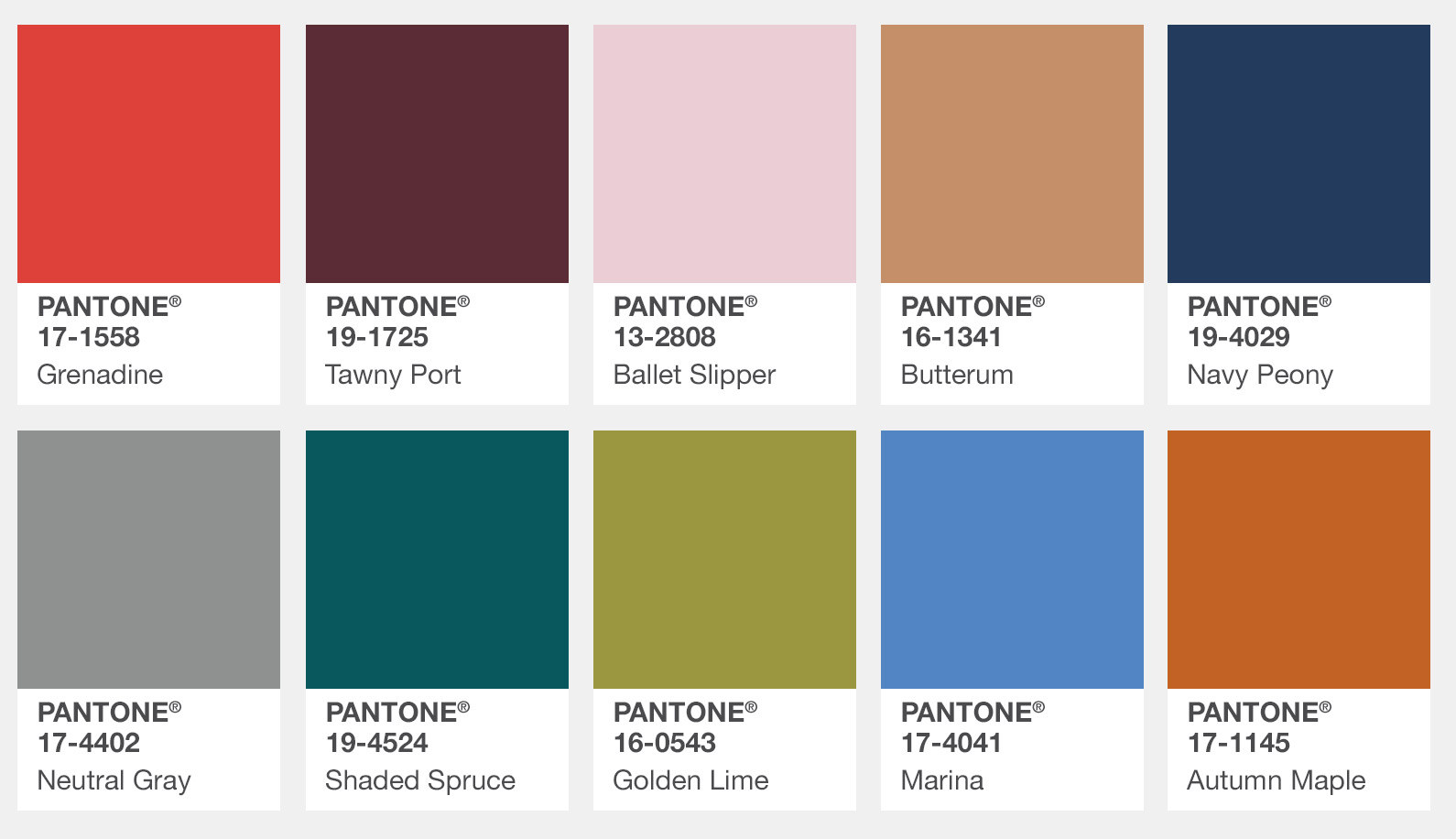 As a general rule of thumb, if you have warm colouring (you look better in gold than in silver) warmer, richer reds (ie: yellow based reds with orange undertones) will flatter your skintone most. If you're a cooler skinned gal or guy (you look better in silver than in gold) brighter, cooler reds (ie: blue based reds with pink undertones) will suit you best. And if you can rock both gold and silver and look equally fabulous (or you just love to experiment and wear whatever you feel like — like me!) give any red shade that catches your eye a try this season! Keep in mind that I have warm / neutral colouring (I'm a MAC NC 25-30) and prefer warmer lip colours on myself, but have selected a variety of warm, neutral and cool shades today — there truly is something for everyone!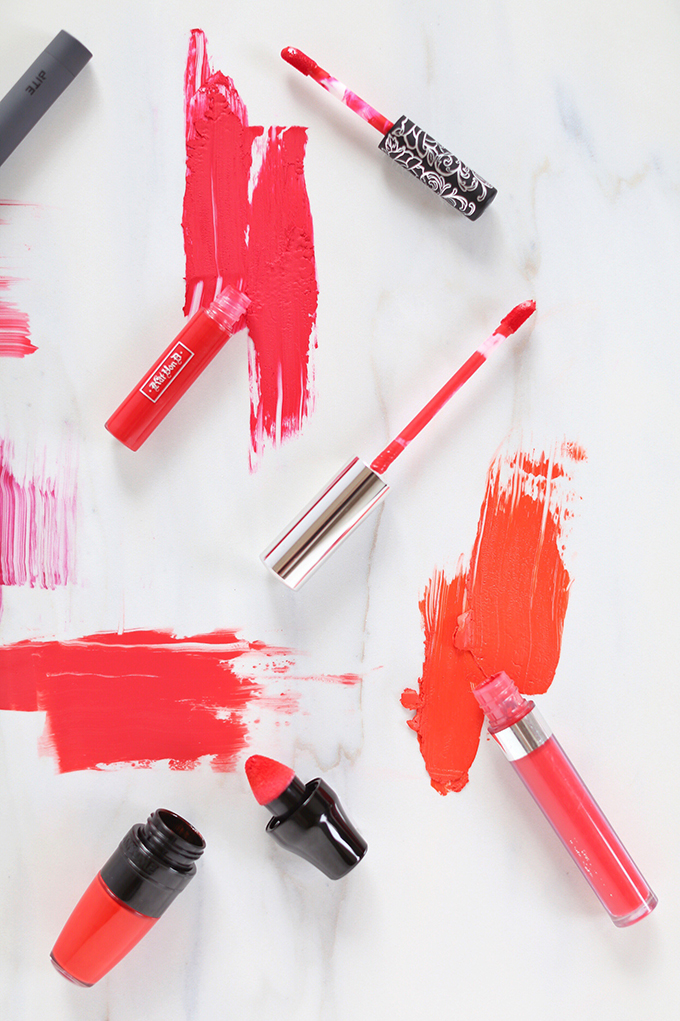 ---
5 RED LIPSTICKS TO TRY THIS AW17
---
US $6.00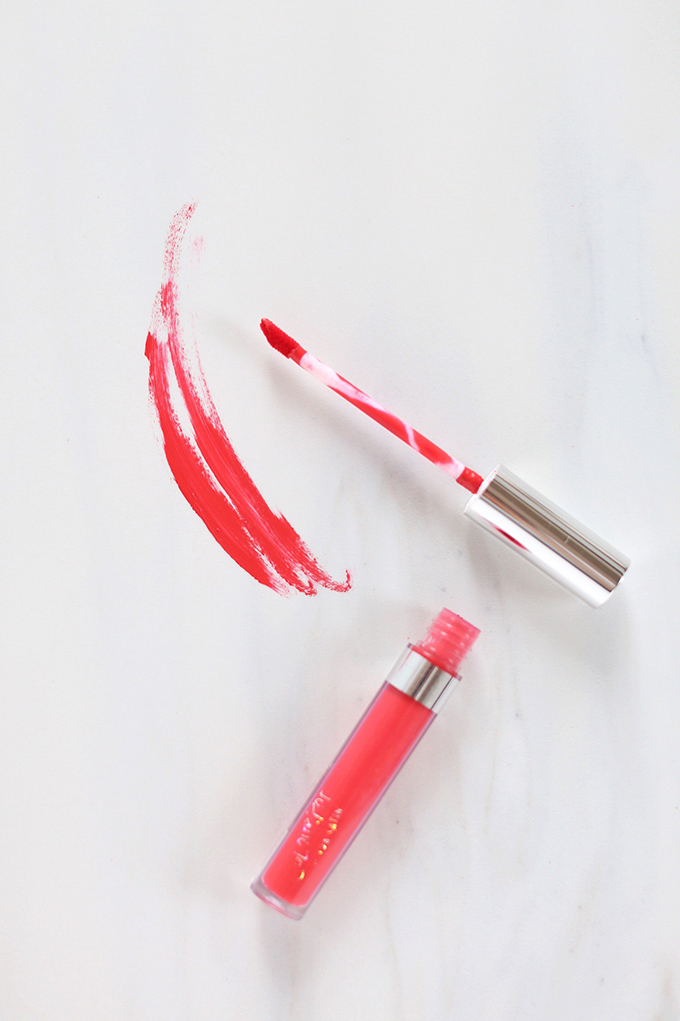 Let's start things off today with the most affordable option of the bunch! It's no secret that I'm a big fan of Colourpop products (just browse the JustineCelina beauty archives!) and their Ultra Satin Lip formula is by far my favourite comfortable liquid lip at a drugstore price point. Colourpop's Ultra Satins dry down to a comfortable, velvety finish that's long wearing but not transfer proof. These wear about 6 – 8 hours on me and last pretty well through eating and drinking, but you'll likely have to reapply after a meal. They also fade evenly and retouching is no problem!
I'm about half way through my tube of Cozy (see it in action in this summer style post) and it's a colour I actually love to wear year round. Pantone's Grenadine definitely leans warm — and personally, I find warmer, orange based reds the most flattering! Colourpop describes Cozy as a 'true orange red' and on me it's a bright, tomato red with strong warm undertones. It's a universally flattering shade and a very close match to Pantone's Grenadine for Fall 2017 if you'd like to dip your toes into warm red lips on a budget! And if you'd like to learn more about Colourpop's Ultra Satin shade range, be sure to check out my dedicated review. Colourpop is also cruelty free and made in LA!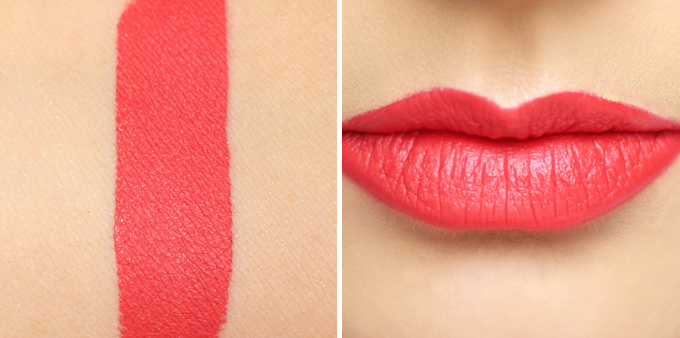 I'm wearing Colourpop's Ultra Satin Lip in Cozy on my lips
---
CND $30.00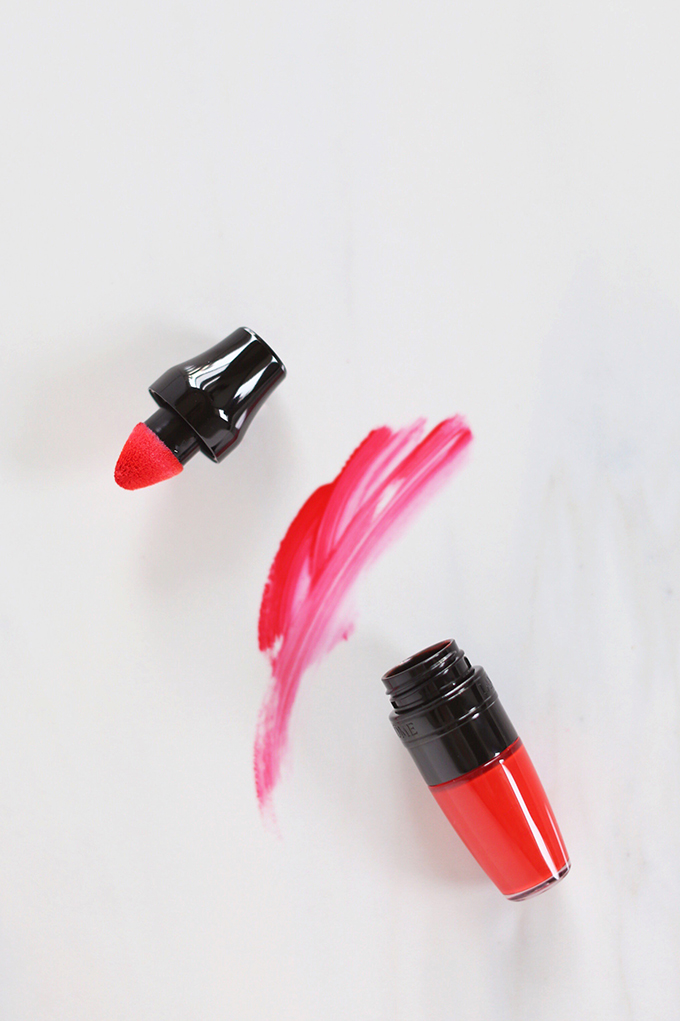 The Lancome Matte Shaker High Pigment Liquid Lipstick in Red'y In 5 has been my go-to lip lately — it's a very fiery, almost neon red and the formula is one of my liquid lipstick favourites (check out the other shades from the range I've reviewed or worn in style content!). I get tons of compliments on this lip both in person and online and truly don't think you can go wrong with this formula — these little tubes of liquid lipstick are one of the most innovative formulas I've tried! It's an extremely thin, extremely pigmented formula that applies beautifully to the lips in a lovely, buildable finish (don't let the applicator fool you, it's so easy to use!). I love the finish of the Matte Shakers — I find they aren't completely matte (they also don't completely dry down and aren't transfer proof), but they are extremely hydrating and light as air on the lips. They wear for about 6 – 8 hours on me and are a breezy to retouch — no weird bunching, crumbling or flaking. If you're a bold, classic, neutral red lover looking for a different kind of liquid lip, Red'y In 5 is your girl. See it in action in my first TREND GUIDE of the season!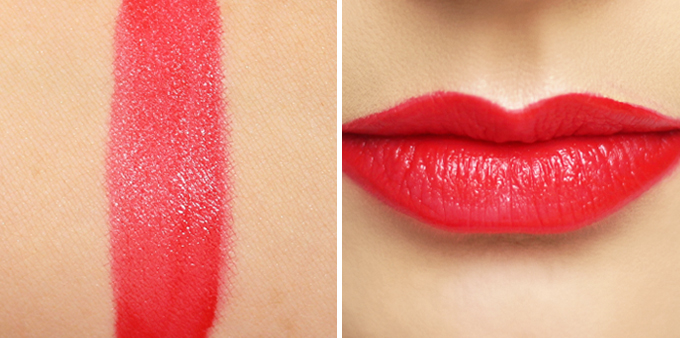 I'm wearing Lancome Matte Shaker High Pigment Liquid Lipstick in Red'y In 5 on my lips
---
CND $24.00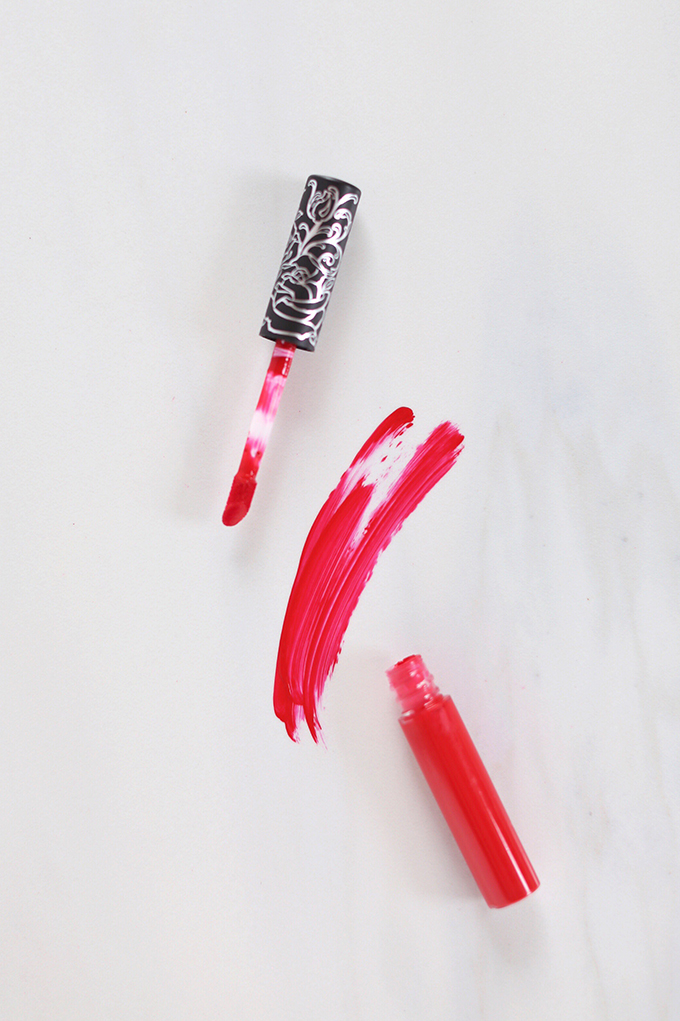 As far as classic, high end liquid lipsticks go, the Kat Von D Everlasting Liquid Lipsticks are one of my favourite formulas. Over the years I've accumulated quite a few shades — but this autumn, I've been reaching for Santa Sangre. Described by the brand as a 'poison apple', it comes off as a bold, medium red with warm undertones on my skintone — although not quite as bright as Red'y In 5. If you're a traditional matte liquid lipstick lover, I truly don't think you can go wrong with this classic formula from Kat Von D (which is also cruelty free). The size shown here is a mini (I picked up the limited edition Everlasting Mini Liquid Lipstick Set last holiday season), although a full sized version of Santa Sangre is currently available.
The Kat Von D Everlasting Liquid Lipsticks are a unique liquid lipstick formula and unlike any of the others I'll be chatting about today. It's thin (but not too thin), spreads easily and dries quickly — so you have to work fast! It dries down almost immediately to a completely smooth, matte, transfer-proof finish and feels weightless on the lips. I find most liquid lipstick formulas that are this thin to be drying on the lips, but Kat Von D has infused these lipsticks with hydrating vitamin E and sunflower seed oil to keep them from drying your lips as they wear. These liquid lipsticks layer well (she even suggests applying the first layer, waiting for it to dry, then applying a second coat for a more intense, long wearing effect) and they're easy to touch up. They last for about 7 hours on me.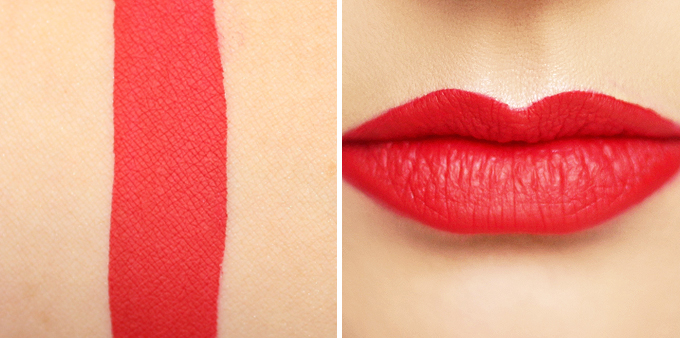 I'm wearing Kat Von D Everlasting Liquid Lipstick in Santa Sangre on my lips
---
CND $28.00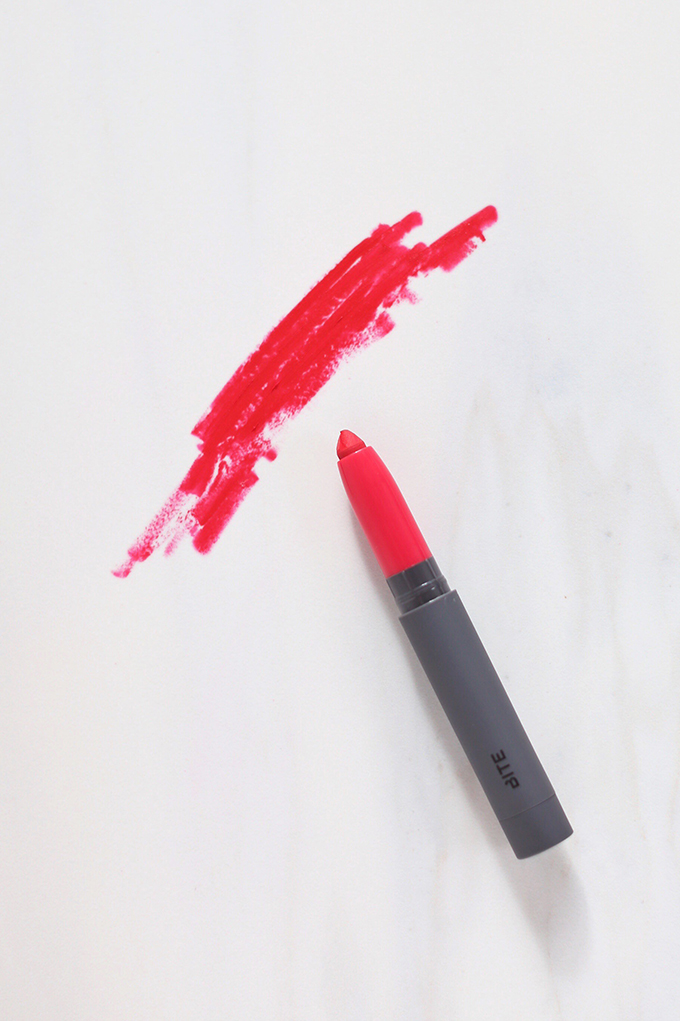 Bite Beauty gets a lot of love around here — but typically for their Amuse Bouche Lipsticks (one of my all time favourite traditional lipstick formulas!). But, I also love Bite's Matte Crème Lip Crayons! If you're a cool toned gal or prefer blue based reds, the Bite Beauty Matte Crème Lip Crayon in Fraise is my pick this season — a stunning, medium jewel toned red in a rich, satiny finish. Fraise offers a rich, creamy, highly pigmented formula that glides effortlessly onto the lips to deliver sumptuous, lightly hydrating colour. I've worn and loved many of Bite's Matte Creme lip crayons over the years and love this formula for it's standout shades, clean, food grade ingredients (you could literally eat these lipsticks — but don't!) and impressive, 7 hour wear time. Check out the Bite Beauty Matte Crème Lip Crayon in Fraise this season for a semi matte lipstick loaded with nourishing, anti aging ingredients — your winter pout will thank you!
Oh, and if you're looking to try a classic red shade from the brand's iconic Amuse Bouche Lipstick formula in a mini size, consider The Perfect Bite Amuse Bouche Lipstick Set (CND $29). It contains a red shade called Cayenne, along with a spectrum of beautiful neutrals. I pick up Bite's sets every year for myself and the ladies in my life every holiday season (check out reviews of Bite's past holiday offerings) and can't recommend them enough if you're looking to explore the brand!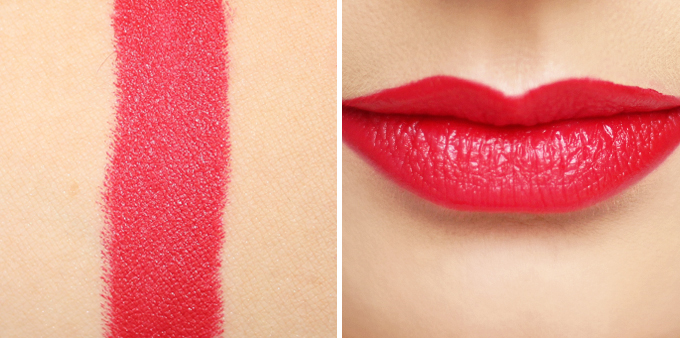 I'm wearing the Bite Beauty Matte Crème Lip Crayon in Fraise on my lips
---
CND $30.00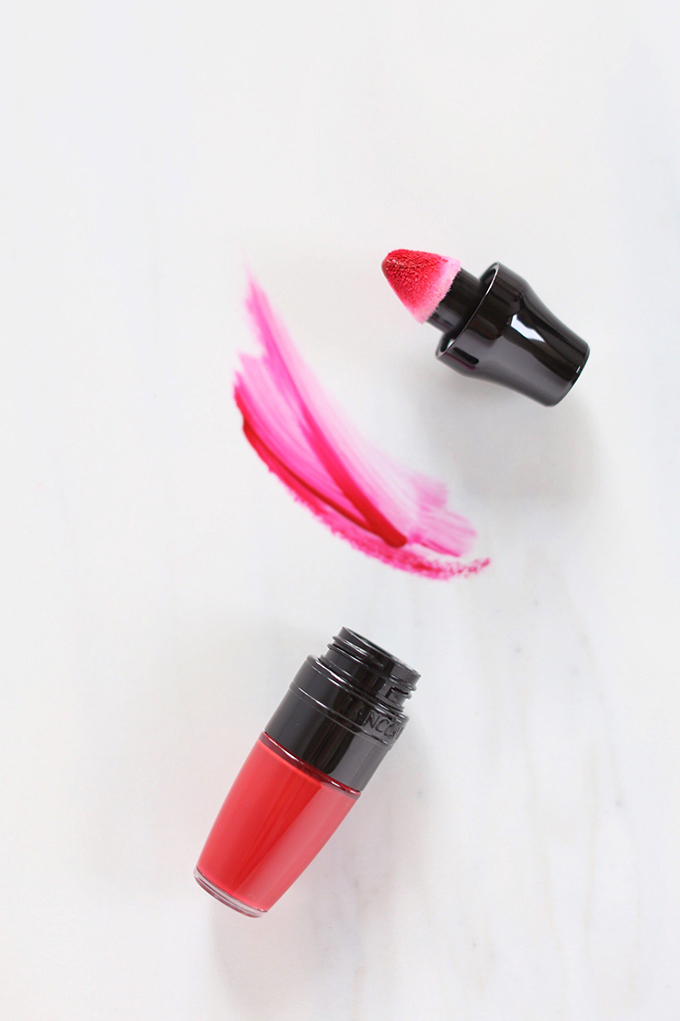 Last but not least in tonight's red lip round up is the Lancôme Matte Shaker High Pigment Liquid Lipstick in Kiss Me Chérie — Red'y In 5's older, more sophisticated sister (I told you I was obsessed with this formula!)! Described by the brand as a deep brick red (I actually think it's more of a pomegranate shade), it's another option on the cooler, blue based end of the spectrum — containing strong pink undertones (it actually leaves a magenta stain behind once it fades!). It's a very unique shade that can either be worn as a light wash of colour or be built up to full opacity like I've done below. If you're a darker skinned gal (or guy) looking to participate in this season's red craze, or love more depth in your reds, give Kiss Me Chérie a try. It's a very unique, cherry red that would flatter a wide variety of skintones — from the very fair to the very deep!
Lancôme has also recently expanded the Matte Shaker shade range to include 23 shades, including one more red and tons of gorgeous autumnal hues — I'm going to have to restrain myself from picking up more shades!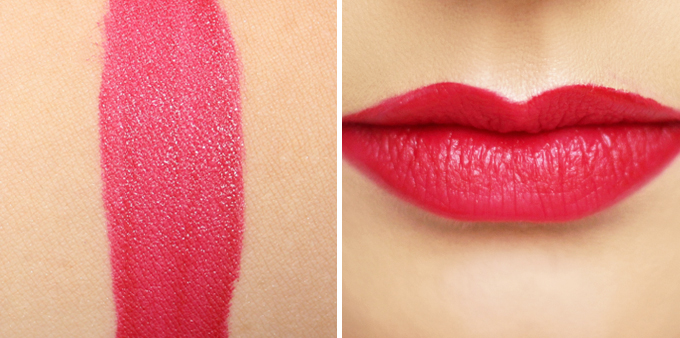 I'm wearing the Lancôme Matte Shaker High Pigment Liquid Lipstick in Kiss Me Chérie on my lips
---
SHOP MY FAVOURITE AUTUMN / WINTER 2017 RED LIPSTICKS
---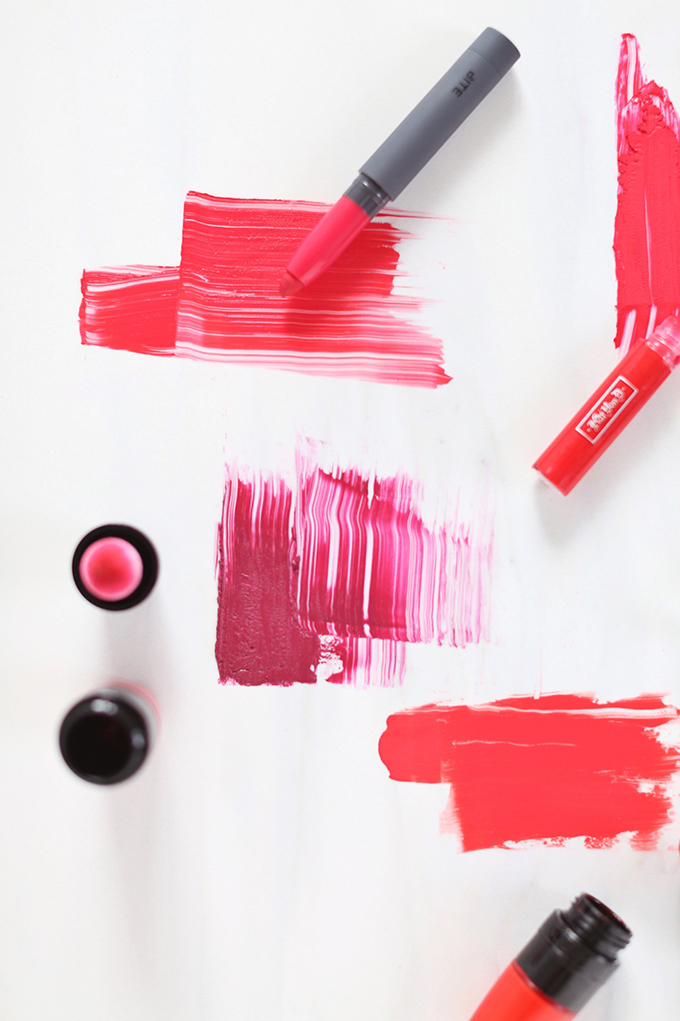 ---
LOOKING FOR MORE A/W BEAUTY INSPIRATION?
---
5 Liquid Lipsticks to Try This Fall
6 Marsala Lipsticks to Try This Fall
5 Festive Lipsticks to Try This Holiday Season
Holiday 2016 Gift Guide for Beauty Lovers
Luxury Products Worth the Splurge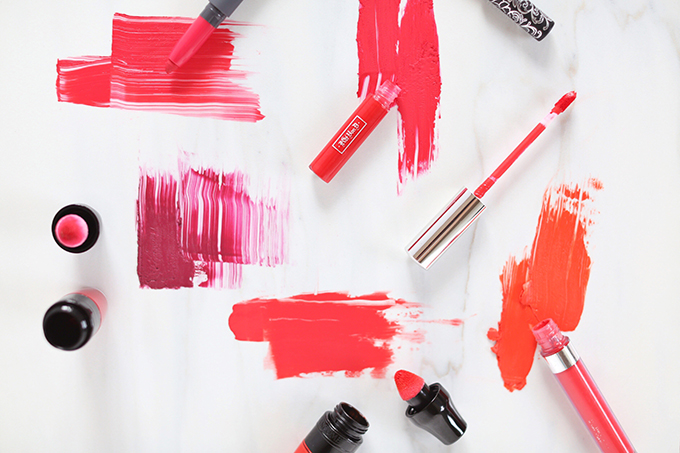 I hope this post helps you find your perfect red lipstick this season! Do you have a signature red shade? If you do, please share it with the rest of us below! I personally love to experiment with lipsticks in different formulas, undertones and price points — but lately, I've really been loving Lancôme Matte Shaker High Pigment Liquid Lipstick in Red'y In 5. If you do end up picking up one of my recommendations, please let me know how it works out for you!

---
Disclaimer: This post is not sponsored and contains my genuine thoughts, ideas and recommendations. JustineCelina uses affiliate and referral links, which allow me to receive a small commission when you make a purchase through one of my links. Thank you for supporting the brands and businesses that support JustineCelina.com!