---
There's something about the springtime that evokes the urge to refresh and start anew — whether it be in our lives, in our homes, in our wardrobes or in our makeup bags. With Spring Equinox dancing on the horizon (it's less than a week away!) and new beauty launches galore, I'm thrilled to bring you my Spring 2017 Beauty Trend Guide in partnership with Sephora Canada! Next to holiday, spring is my favourite time of year for beauty. This season there are so many limited edition collections, trends to explore and innovative formulas to discover — this post has been months in the making and I can't wait to share my favourites with you!
Whether you're looking for a few new products to inject the spirit of spring into your beauty routine or a crash course on my favourite beauty trends and how to wear them, you can find it in my Spring 2017 Beauty Trend Guide! This spring beauty mega post is dedicated to bringing you the best of the best across categories. I'm also chatting about the highlighting craze, metallic textures, the un-nude lip, a new wave of hybrid liquid lipsticks, my favourite products for a springtime flush and how I've been nursing my nails back to health after years of gel polish! You know the drill — if you have an hour to spare, pour yourself a chilled glass of rosé or a cup of herbal tea, get comfy and let's chat about all things spring beauty!
---
SPRING 2017 BEAUTY TREND GUIDE
---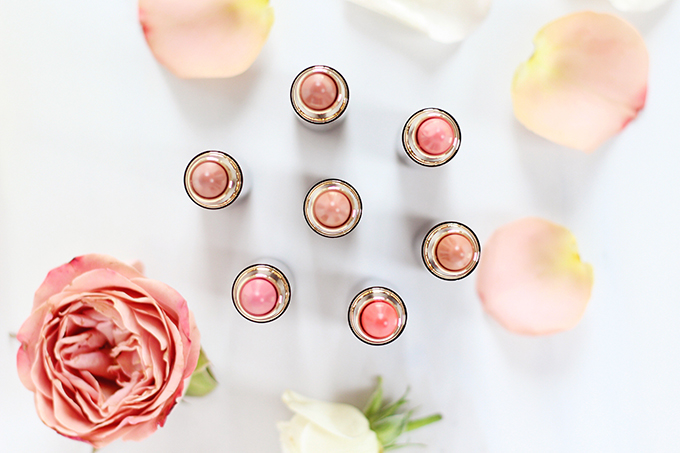 My Spring 2017 Beauty Trend Guide is categorized by section below — so if there's a particular trend or area of the face you're interested in, it's simple to navigate! For each item, I've included a mini review, product highlights and my favourite shades. If you like, you can also shop right from this post by clicking on the coloured product links, or using the other coloured links to navigate to corresponding reviews or other posts that contain the same products where applicable. Let's get started!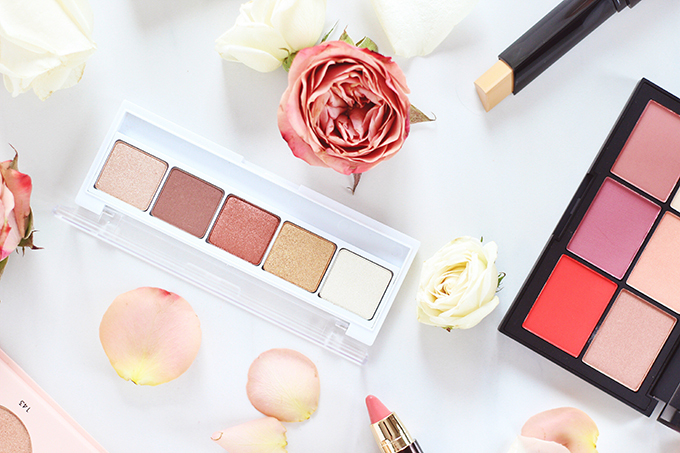 ---
HIGHLIGHT
---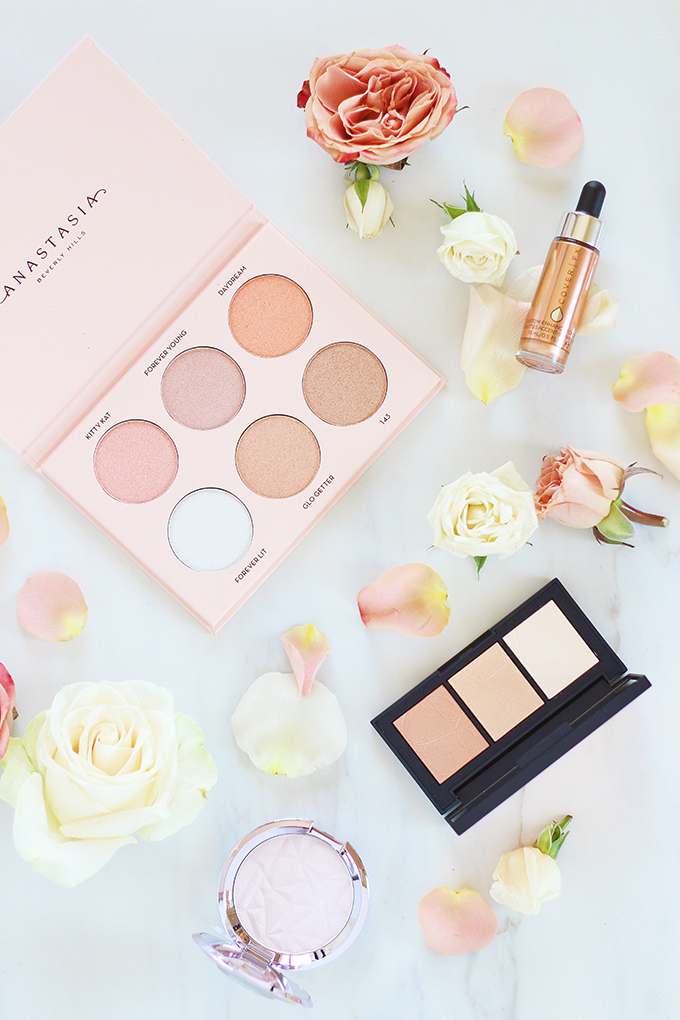 Highlighting exploded in the beauty community over the past year — and this spring it's hotter than ever! I mean, who doesn't love the look of glowing, luminous skin? 2017 is undoubtedly the year of the highlight with almost every brand releasing a new offering in powder, palette, liquid or stick formulas. Brands are beginning to expand their highlight shade ranges to explore unconventional colours and create unique, limited edition products. Whether you favour a subtle glow, luminous, dewy looking skin or a full on metallic highlight, it's is a trend that's here to stay and can be adjusted to suit each individual's preference. If glowing skin is on your radar this spring, here are my top highlight picks!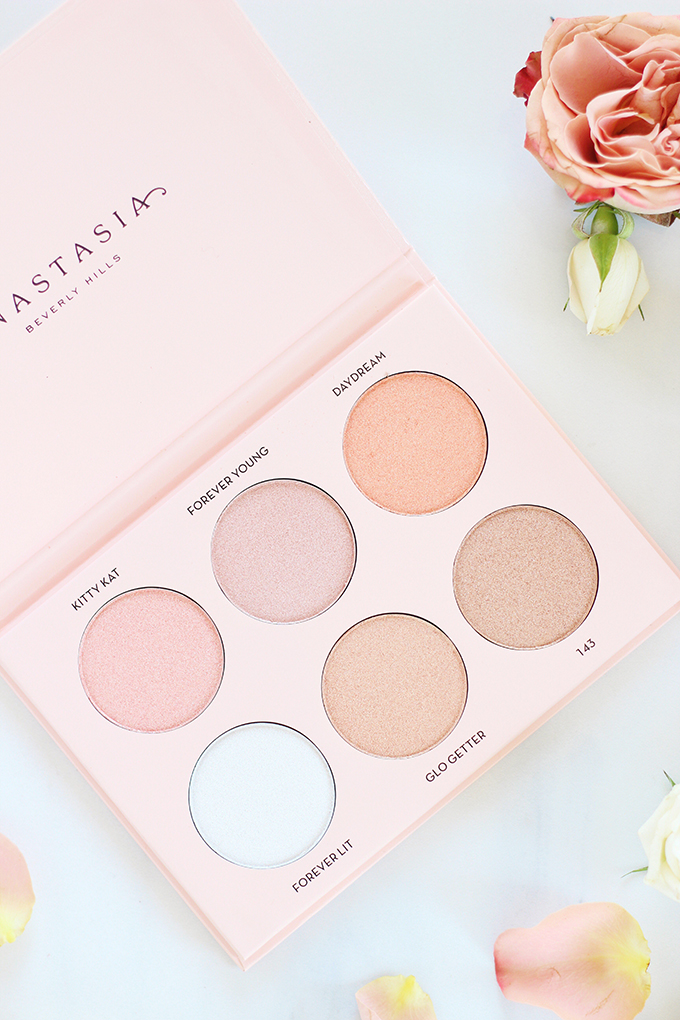 Anastasia Beverly Hills Nicole Guerriero Glow Kit
CDN $52.00 (Limited Edition)
Whether you're brand new to highlighting or a seasoned pro, the Anastasia Beverly Hills Nicole Guerriero Glow Kit offers the best value of all my selections today with an array of beautifully formulated, spring inspired pastel hues. Best for light / medium to medium / tan skintones, this versatile palette includes 6 metallic highlighting powders that can be applied with a light hand for a subtle luminosity, or built up to an almost wet looking, foiled finish (apply them with a dampened makeup brush to really make them pop!). These powders are ultra pigmented, buttery smooth, easy to blend and truly stunning on the skin. I can personally wear each shade in the palette as a cheek highlight on my light / medium skin (for reference, I'm a MAC NC 25 – 30), but I also love to mix them (add a touch of the ultra icy Forever Lit to any of the deeper shades to lighten them up!) or wear them as eyeshadows. Overall, this is a fantastic palette with unique shades suitable for beginners and highlighting junkies alike.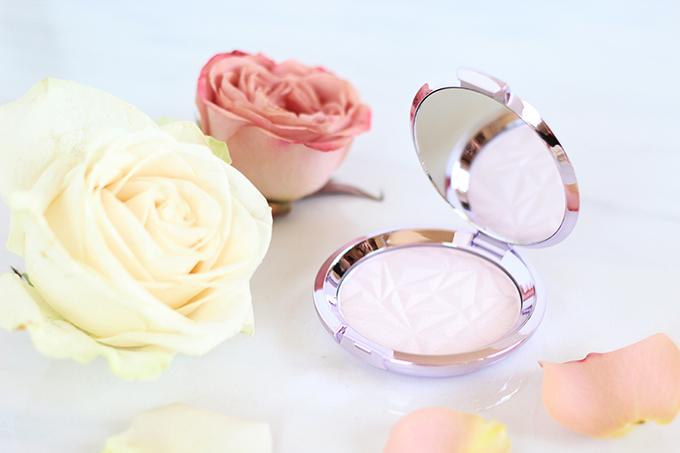 BECCA Shimmering Skin Perfector Pressed in Prismatic Amethyst
CDN $46.00 (Limited Edition)
If you've been following along with my BEAUTY section for any length of time, you'll likely have heard me rave about the BECCA Shimmering Skin Perfectors (they're my all time favourite highlighters!). While BECCA isn't new to the highlighting game, this spring they've expanded their fairly conventional shade range and ventured into new territory with the Shimmering Skin Perfector Pressed in Prismatic Amethyst — a stunning, duochrome lavender that I find surprisingly wearable. This holographic highlighter is infused with pale gold, violet, and rose pearls to create a unique, iridescent sheen that shifts as you move. On me, it comes off a soft wash of icy pink with a lavender duochrome, but I think it would be beautiful on very fair up to very deep skintones (depending on your preferences). If you're looking for something unique in the highlighting department this spring or are a fan of BECCA's Shimmering Skin Perfectors (I love to collect their limited edition releases!) pick up the BECCA Shimmering Skin Perfector Pressed in Prismatic Amethyst before it's gone!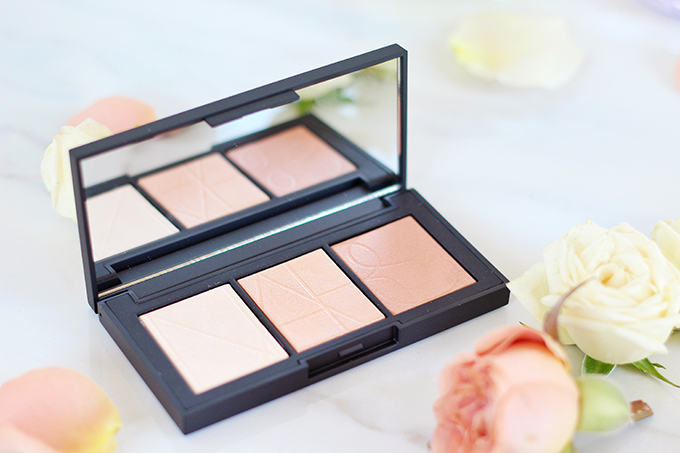 NARS Banc De Sable Highlighter Palette
CDN $62.00 (Limited Edition)
Want to dip your toes into the highlighting trend but aren't sure where to start? This spring, consider the NARS Banc De Sable Highlighter Palette which offers 3 universally flattering shades that create a beautiful, glossy looking effect on the skin. Each of these shades are finely milled and extremely smooth (read: not at all glittery or metallic) and blend seamlessly into the skin to impart a natural, healthy looking glow — it's a fantastic option for everyday wear. The palette itself is also quite compact (smaller than an iPhone!), making it ideal for travel. I'm totally crazy about these sophisticated, glossy shades and how they transform my winter complexion!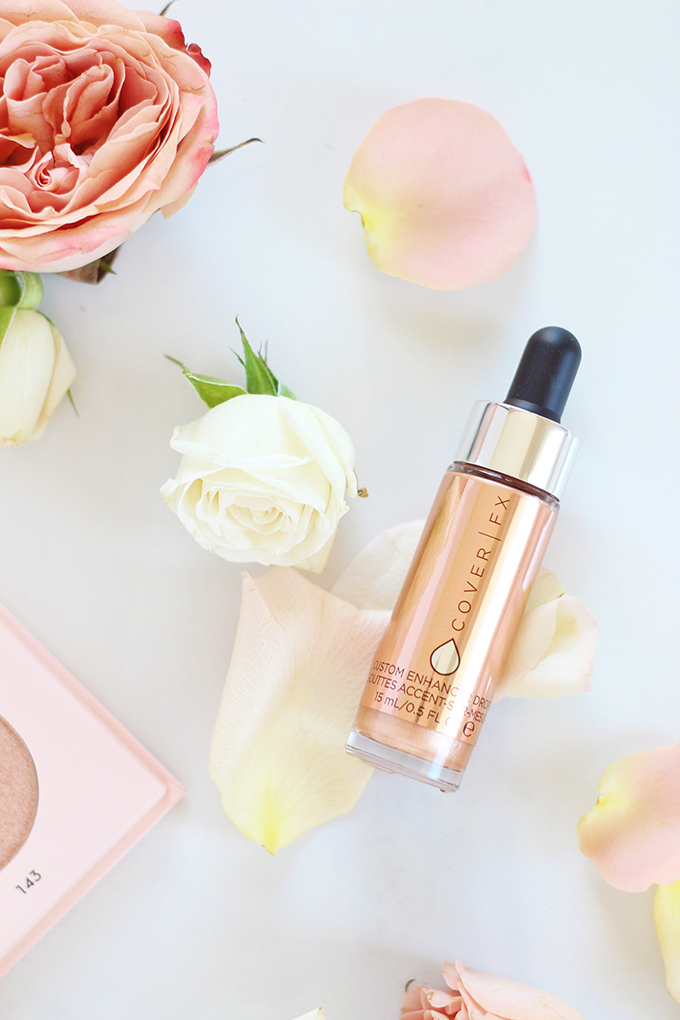 COVER FX Custom Enhancer Drops in Rose Gold

CDN $52.00
With rose gold shades being more popular than ever, the COVER FX Custom Enhancer Drops in Rose Gold are my top pick for liquid highlighter this season. These warm, rosy bronze metallic drops can be used in so many ways to impart a radiant glow — underneath or over top of your foundation, or mixed into any skincare product! Want a natural, glowing look? Use them on bare skin. To achieve an overall dewy look, mix a few drops into your foundation. And for a targeted highlight, simply tap your finger (or beautyblender) into the product and blend it onto the high points of your face (I've used these drops under and over powder and they work beautifully both ways!). I also wear this highlight on my lids for a natural, glossy effect, or use it as a base for metallic shadows. If you're looking to get creative with your highlighting this spring, you can't go wrong with this versatile, luminous liquid from COVER FX.
---
BLUSH
---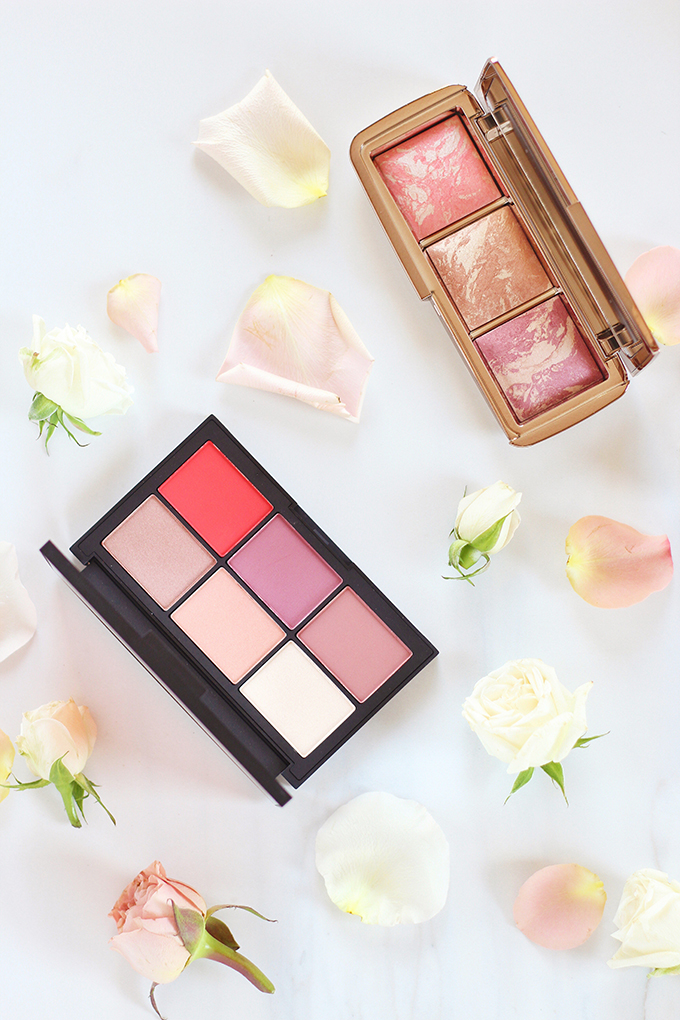 I love the look of a naturally flushed cheek during the spring to wake up the complexion after a long winter. This season my favourite blush brands have created value packed, limited edition palettes that offer consumers the option to sample a range of best selling formulas, shades and finishes. If you're in the market for a fresh new blush palette as we transition into spring, here's what's on my hit list!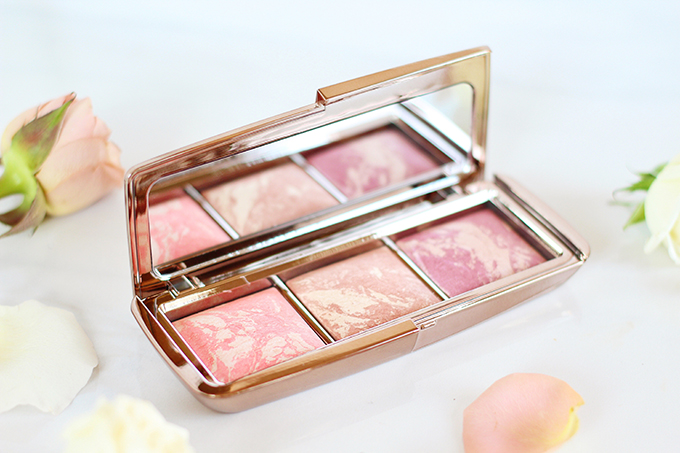 Hourglass Ambient Strobe Lighting Blush Palette
CDN $75.00 (Limited Edition)
You've likely heard me mention Hourglass powders and blushes previously — they're my all time favourite high end powders. Truly, there's nothing quite like them on the market. So when I spotted the Hourglass Ambient Strobe Lighting Blush Palette this spring, I knew I had to pick it up! This gorgeous, limited edition blush palette contains 3 on trend blush shades (including a shade from their permanent blush range, Incandescent Electra, which I've been eyeing since Hourglass first started making blushes!) infused with their Ambient Strobe Lighting Powders (the Hourglass version of a highlighter). The result is an ultra luminous flush of colour suitable for a wide range of skintones and perfect for everyday wear — it's like a combination of blush and highlighter in one product! Hop over to this post for swatches.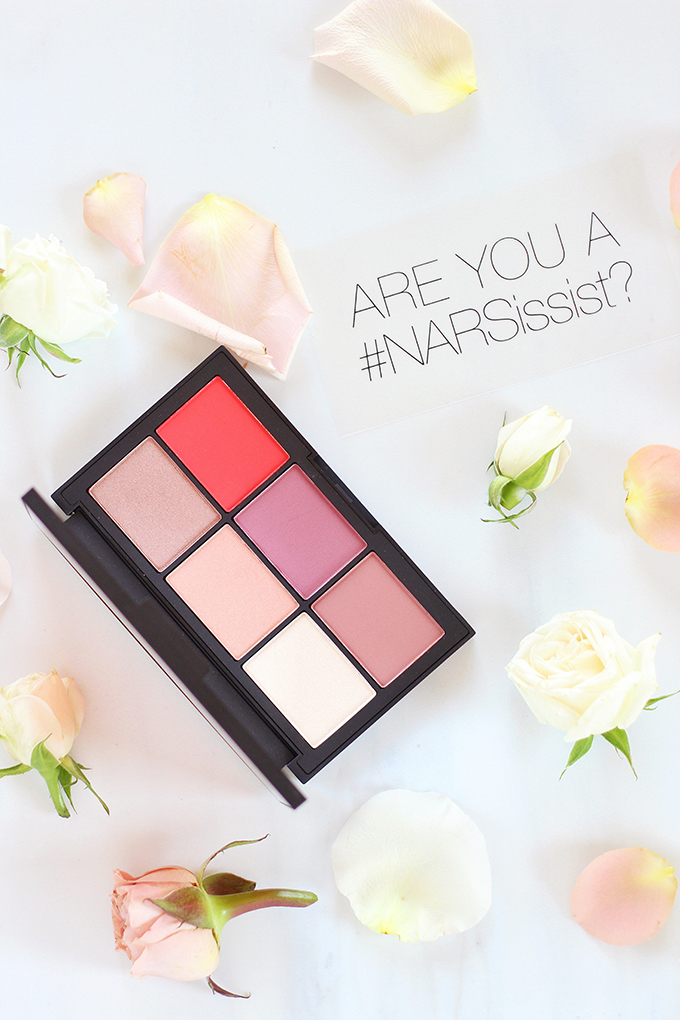 NARS NARSissist Unfiltered Cheek Palette in Unfiltered I

CDN $76.00 (Limited Edition)
NARS blushes are a cult classic for a reason. Having only sampled (and loved) a few shades from their range previously, I was excited to take the NARS NARSissist Unfiltered Cheek Palette in Unfiltered I for a spin this spring! I tend to favour blush palettes over individual blushes (what can I say, I like my options!), so when I saw that Exhibit A (that gorgeous, vibrant red!) was included in this palette at a smaller size then they sell individually, I was sold. This limited edition palette from NARS is the perfect opportunity to step outside of your blush comfort zone this spring and try some unconventional shades — all of which I find flattering on my skintone when used with a light hand. I also use Watch Me (the opalescent golden pearl shade) as a highlighter and an eyeshadow. This palette is another fantastic option for travel to eliminate packing multiple, full sized products. Hop over to this post to see it in action.
---
LIPS
---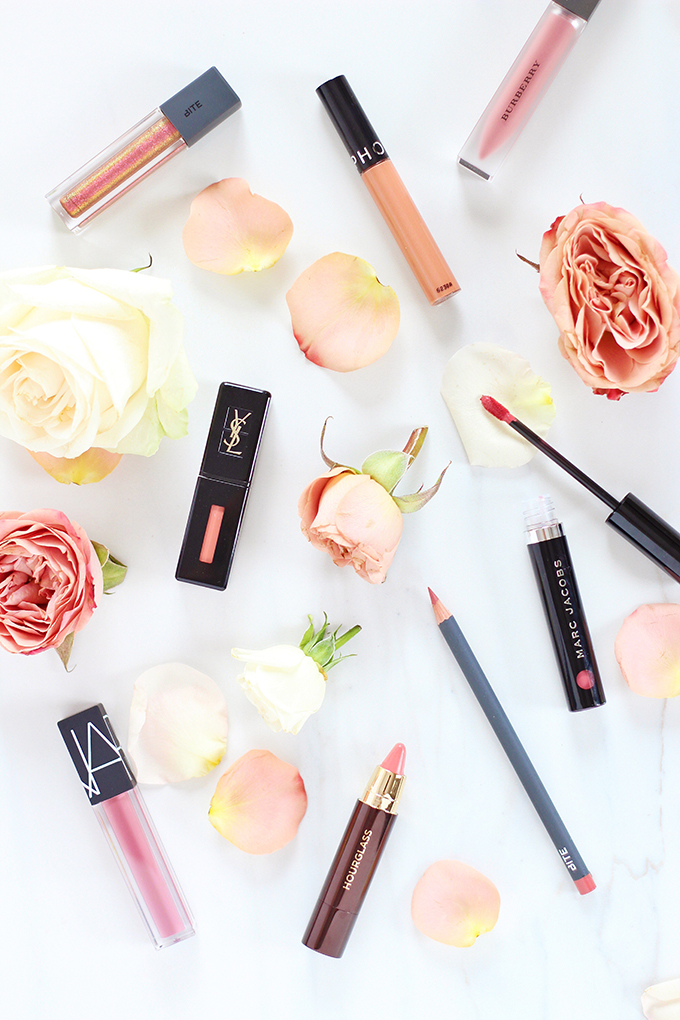 This is by far the largest section of my Spring 2017 Beauty Trend Report! With so many new lip trends hitting the market this spring, it seems almost every brand is coming out with new formulas, finishes and shades. Nude shades are huge this season, with multiple brands releasing entire new ranges of nude lip products — but maybe not in the way you traditionally envision a nude lip! Spring 2017's nudes include a spectrum of matte, metallic and cream finishes ranging from ultra pale nudes to the richest, deep neutrals (the new un-nudes!). A new onslaught of innovative, hybrid liquid lipstick formulas are popping up everywhere — gone are the days of ultra drying liquid lipsticks. Bite Beauty also released a brand new range of lip pencils that are perfect for pairing up with spring's new nudes (I've been anxiously awaiting their arrival for months!). There's something for everyone among spring's hottest lip releases!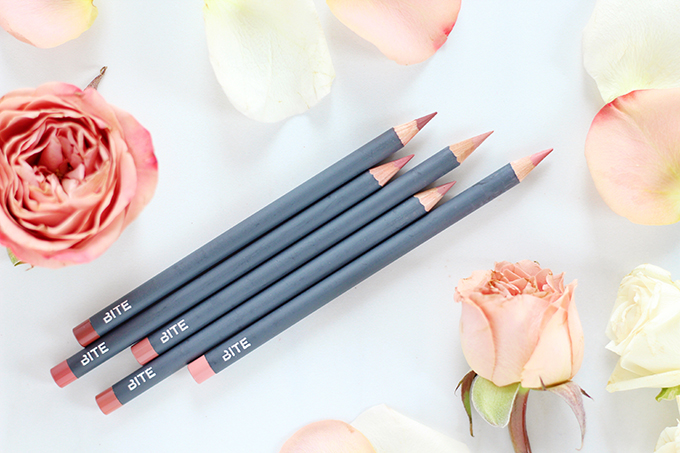 CDN $20.00
You know how much I love Bite Beauty, so I was beyond excited when I heard rumors they'd be releasing a line of lip pencils this spring! After extensive testing I'm thrilled to report that these gorgeous lip liners absolutely live up to the hype. Inspired by natural lip tones, Bite created 22 traditional wood barrel lip liners containing natural, food grade ingredients and whipped shea butter for creamy, long wearing coverage. I've mentioned many times that I think the most useful lip product a woman can own is a beautifully formulated lip liner that mimics the shade of her own natural lips to enhance and enlarge her pout — and it seems Bite would agree! I picked up shades 008, 020, 022 (see in in action here), 036 and 040 and the formula is consistent throughout, with subtle differences in shade (with 040 being quite a bit deeper than the rest). If you're on the hunt for a go-with-anything nude lip liner that's creamy enough to wear on its own, pop down to your local Sephora to swatch the range and find your perfect shade!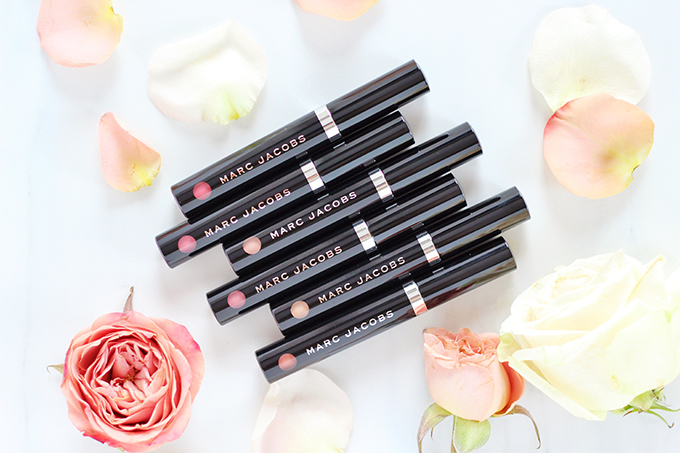 Marc Jacobs Beauty Le Marc Liquid Lip Crème
CDN $38.00
Welcome to the new world of liquid lipstick! This spring, traditional liquid lipsticks are taking a back seat to more elegant, weightless, hydrating formulas — like the Marc Jacobs Beauty Le Marc Liquid Lip Crèmes. If you could never really get on board with liquid lipsticks or found them too drying, you'll probably love this range of neutral, long wearing liquid lipsticks! The formula is ultra lightweight but extremely pigmented — it also doesn't dry down completely and isn't transfer proof like traditional liquid lipsticks (which in my books is the best of all worlds!). Everything about these innovative liquid lipsticks oozes luxury, from the sleek packaging to the elegant formula, to the understated (but stunning) shade range. I picked up all 6 shades and I love them so much that we'll be taking a closer look at them in a dedicated review post later this spring!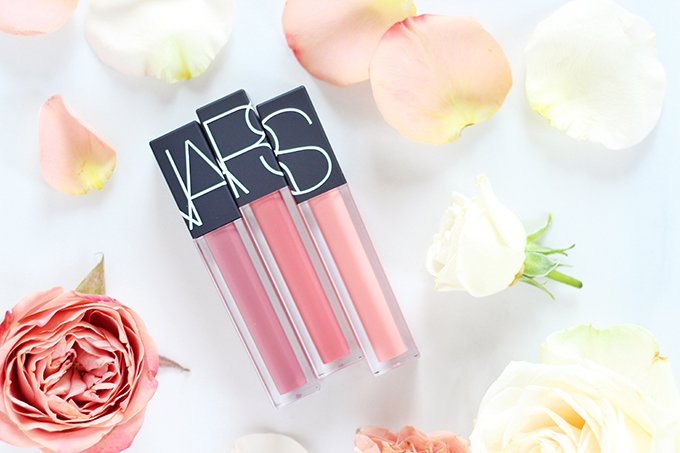 CDN $34.00
Here's another innovative liquid lip formula for those of you looking for something more than a traditional liquid lipstick! The NARS Velvet Lip Glides combine the pigmentation of a liquid lipstick with the hydration of a gloss and the non sticky texture of a gel — I've never tried anything else quite like them! They make my lips look luscious and full and the formula is so lightweight that I almost forget I'm wearing anything! I picked up Bound (left), Unlaced (right) and Playpen (my favourite of the bunch, middle — see it in action here) and do think the lighter, more neutral shades are where this range excels. Oh, and did I mention they smell like vanilla frosting?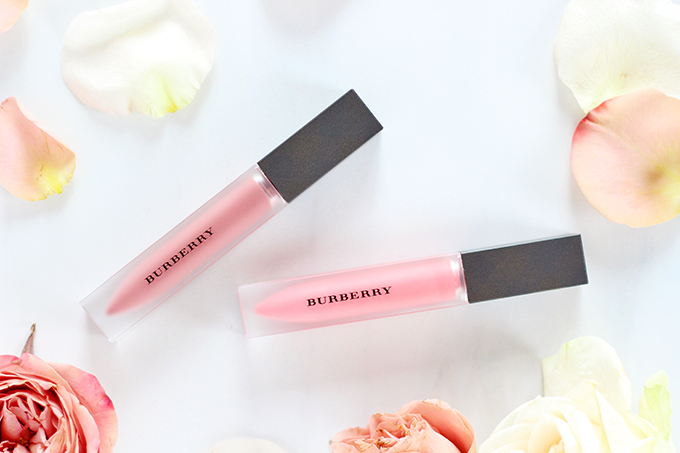 CDN $38.00
Are you sensing a trend? If you thought I was done with velvet as we approach spring, think again! Velvety textures continue to trend, especially in the beauty department. The BURBERRY Liquid Lip Velvets are an ultra luxurious, velvety matte, comfortable, long wearing liquid lipstick — they're like the Ferrari of the liquid lip world! If you're looking to treat your lips to an upscale liquid lipstick this spring, you can't go wrong with any shade from this range. They feel truly weightless as the whipped formula glides onto your lips, but deliver an unbelievable amount of pigmentation. I picked up shades Fawn (a mid toned rose nude, top) and Peach (an almost neon coral, bottom) and I know they'll be on my lips often this spring!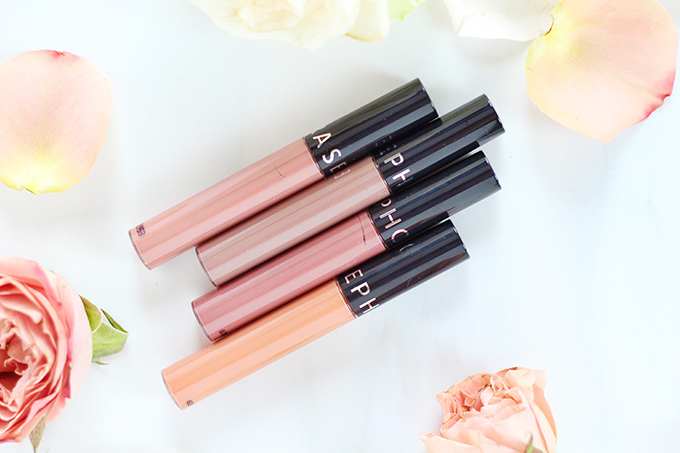 SEPHORA COLLECTION Cream Lip Stains (Newly expanded shade range!)
CDN $18.00
Don't think I completely abandoned my love for traditional liquids lipsticks this spring — I'm still going strong with my old favourites, like the SEPHORA COLLECTION Cream Lip Stains. You've likely heard me mention these incredible liquid lipsticks previously as they cropped up in several of my beauty posts last year and were some of my most worn lip products of 2016. They combine best value of any liquid lip I'll be mentioning today with an incredible formula. Each of the Sephora Collection Lip Creams I've tried offer fantastic pigmentation and an airy, whipped formula that completely dries down on the lips and leaves a satin-mate, transfer-proof finish — so imagine my excitement when they expanded the range to include 40 shades! This spring I picked up 23 Copper Blush, 22 Pink Latte, 40 Pink Tea and 21 Pretty Beige, which are beautiful neutrals.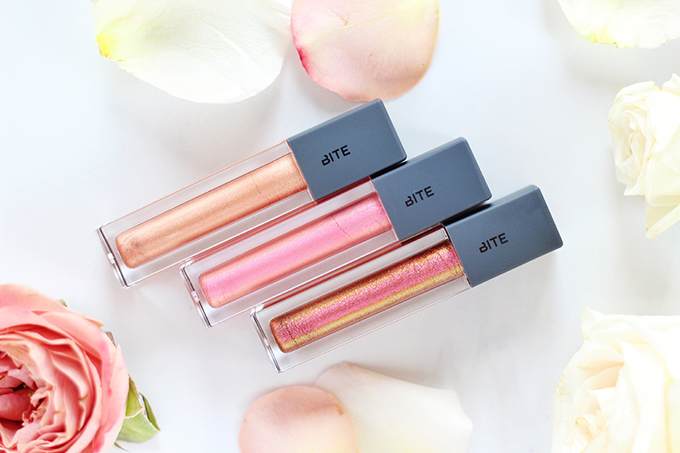 Bite Beauty Prismatic Pearl Crème Lip Gloss
CDN $25.00
Do you remember me raving about the stunning, ultra metallic gold gloss Bite Beauty released during the holidays? I managed to snag it for review and fell in love with it, but thinking it would be limited edition, I didn't set my hopes high for an expansion of the range. Well, Bite Beauty surprised me again this spring by releasing 6 new shades in the Prismatic Pearl Crème Lip Gloss range! I picked up Champagne Pearl (top, see it in action here), Pink Pearl (middle) and Rose Pearl (bottom, see it in action here) and am so surprised at how versatile these glosses are. If you're bold enough to rock a high gloss, ultra metallic lip, these glosses are for you — it can actually be quite beautiful, tasteful and wearable! But if you'd like to dip you toes into the metallic lip trend in a more subtle way, these glosses are also stunning when added to the centre of the lip (over top of a more traditional lipstick) to create the illusion of a fuller, more voluminous pout.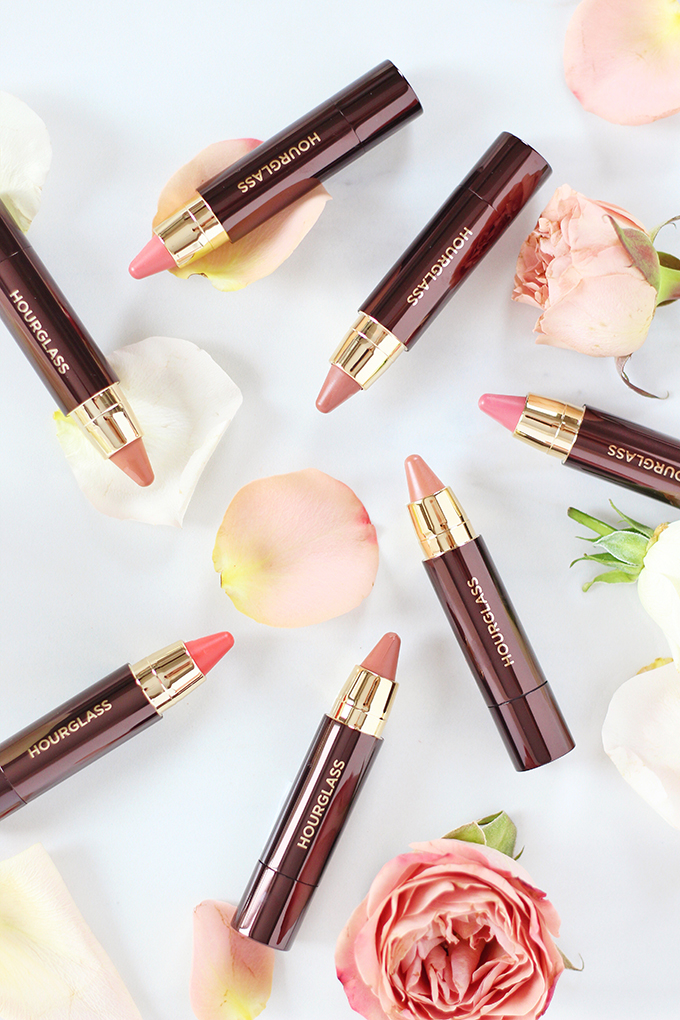 CDN $40.00
Last but certainly not least in the LIP section, we have a brand new range of 20 ultra hydrating lipsticks from Hourglass — and yes, they're just as incredible and luxurious as my beloved Ambient Lighting Powders and Blushes! The Hourglass GIRL Lip Stylos are a beautifully formulated, buildable, ultra creamy, sumptuous lipstick encased in jaw dropping smoked metallic packaging. With names like Dreamer (my current favourite shade, worn in this recent style post), Believer (see it in action here), Creator, Influencer, Futurist, Explorer and Idealist (all pictured above), there are some serious good vibes associated with this range. If your lips are in desperate need of some pampering after this brutal Alberta winter, pick up a GIRL Lip Stylo in your favourite shade and treat your pout to a nourishing blend of shea butter, jojoba, mimosa, and sunflower seed oil.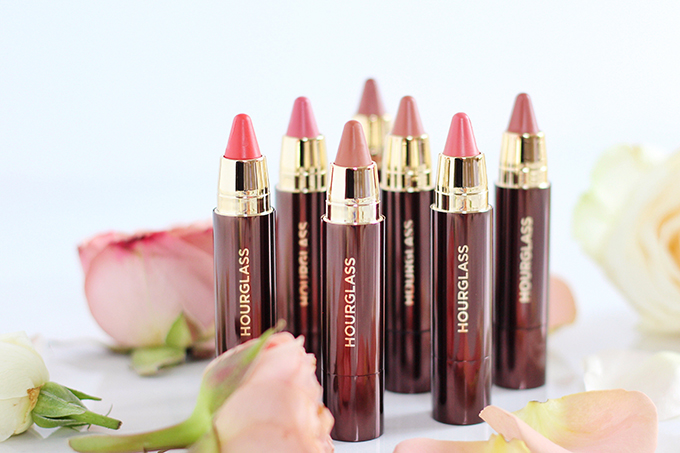 ---
EYES
---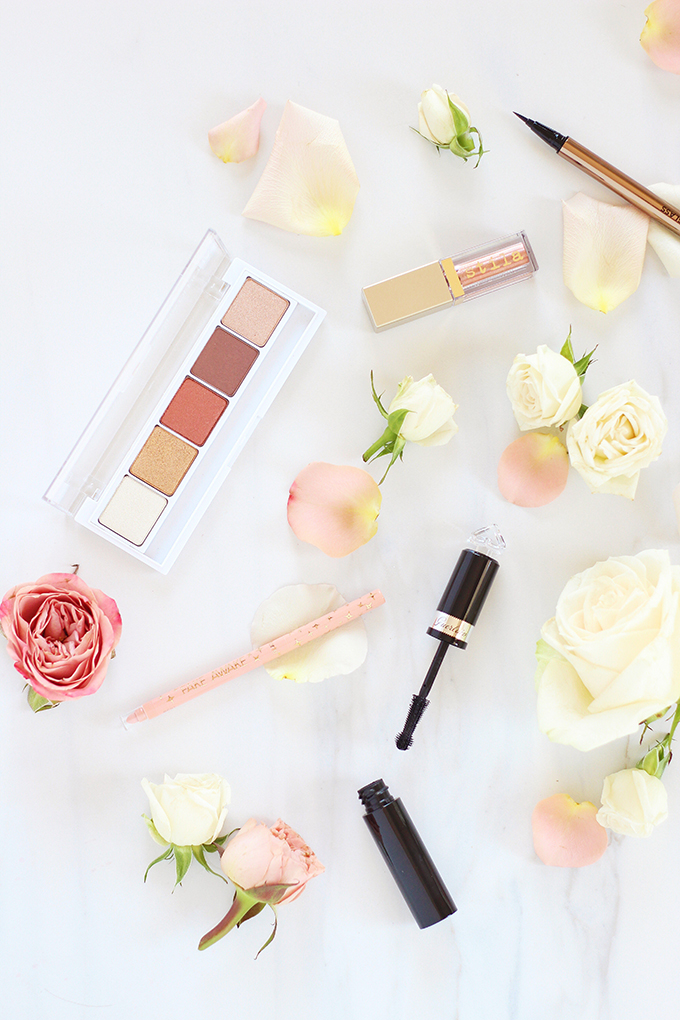 Comparatively, there haven't been as many new releases in the eye department this spring — but these products are home runs! This spring, metallic and highlighted trends also translate to the eye, along with some beautiful new releases in the eyeliner and mascara categories.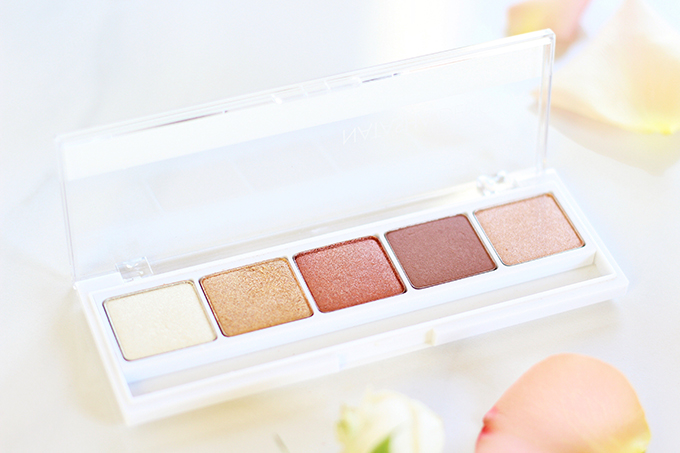 Natasha Denona Eyeshadow Palette 5 in Color 4

CDN $61.00
Natasha Denona Eyeshadows hit the scene in mid 2016 and were generally embraced by the beauty community — but I'm a pretty harsh critic when it comes to eyeshadow, so I was a bit skeptical. Afterall, her full sized palettes retail for almost $300 CDN! It was the ultra metallic shades that drew me in, so when she released these 5 pan palettes I took the opportunity to familiarize myself with a new eyeshadow formula — and I was floored! The Natasha Denona Eyeshadow Palette 5 in Color 4 contains 4 warm, ultra metallic shades and one cool, espresso brown, making it possible to achieve entire looks with the palette. The metallics are very intense and not the most wearable day to day, but if you're craving a showstopping metallic eye this spring, look no further than the Natasha Denona Eyeshadow Palette 5 — available in 13 unique colour stories.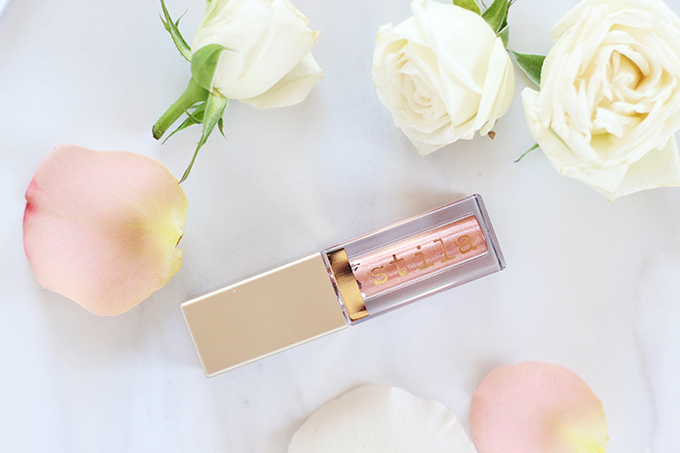 stila Magnificent Metals Glitter & Glow Liquid Eye Shadow in Rose Gold Retro
CDN $31.00
There's a lot of hype around these stila Magnificent Metals Glitter & Glow Liquid Eye Shadows right now — and for good reason! If you love a dramatic eye and aren't one to shy away from glitter, these stunning metallic shadows from Stila are a must have. Currently most shades are sold out online — in fact, I had to visit my local Sephora to snag this shade for review and it was the last one left! This is a gorgeous, mousy formula that's easy to work with — I apply it to my lids straight from the applicator and pat it out with my index finger for a few seconds before it completely sets to a budge proof finish. If you're doing a lot of blending around these shadows the glitter can tend to fall down onto your cheeks (something to keep in mind as you work with them), but it's easily swept away. Rose Gold Retro is my favourite shade from the range although it was the only one left in store — it's especially flattering on green eyes! For swatches and an eye look, hop over to this post.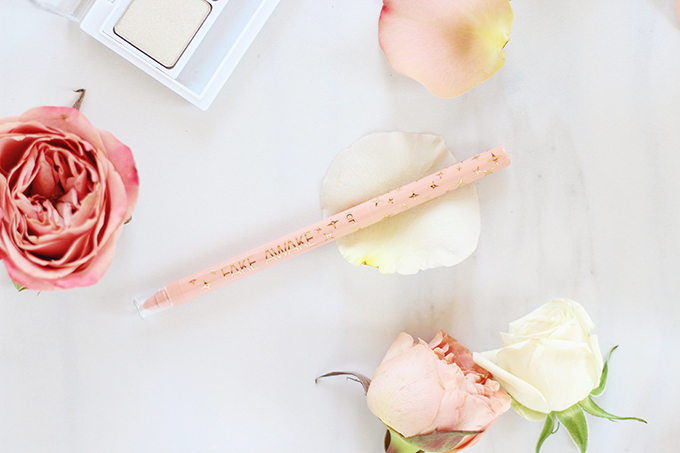 CDN $24.00
I've mentioned a few nude, brightening eyeliners here at JustineCelina over the years — they're an absolute staple for me and something I can never be without! As someone with ultra sensitive eyes that water easily, I'm always on the hunt for a great nude liner to brighten my waterline, counteract any red or pink tones and make my eyes appear more awake and rested. I found a new favourite nude liner in the tarte Fake Awake Eyeliner, which does exactly what it says! In general I'm a fan of tarte's eye products — they're made with natural, gentle ingredients that my temperamental, contact lens wearing eyes love. This creamy liner glides easily onto my waterline, sets quickly and doesn't budge. For my fellow tired, sensitive eyed ladies, try this vegan, dermatologist and ophthalmologist tested nude liner for an instantly refreshed spring eye!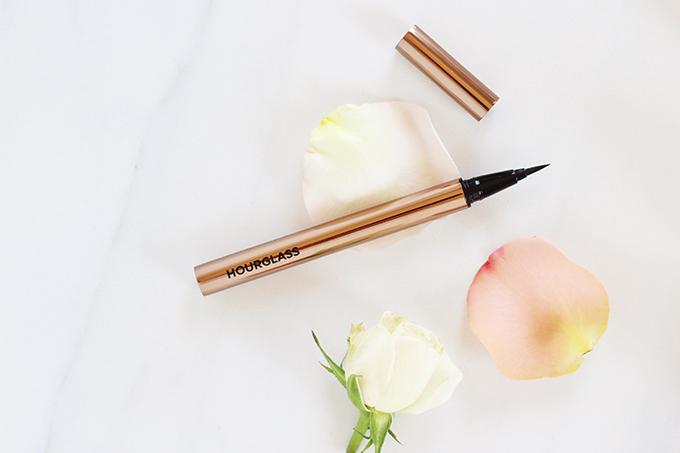 Hourglass Voyeur Waterproof Liquid Liner
CDN $42.00
As some of you may know, I traveled to Vancouver recently — where it rained a lot. Although I hoped for better weather, I took the opportunity to test products in different conditions and I was floored at how well the Hourglass Voyeur Waterproof Liquid Liner performed! I've worn the Kat Von D Liquid Liner in Trooper for about 3 years now and use it as a benchmark of comparison for all other liquid black eyeliners — therefore I'm typically disappointed when I try new liquid liners and nothing has been able to take its place. The Hourglass Voyeur Waterproof Liquid Liner might just do it — it's an extremely black, intense, long wearing, waterproof liquid liner with a flexible, felt tip applicator. Compared to Kat Von D's Tattoo Liner in Trooper, it's blacker, more matte and slightly longer wearing, but the tip isn't quite as fine and it's felt rather than brush. Each liner has its pros and cons, but I'm absolutely loving this new liquid liner from Hourglass. If you're a fan of Kat Von D's Trooper and want to try something new, I highly recommend the Hourglass Voyeur Waterproof Liquid Liner!
---
TOOLS
---
CDN $100.00, Limited Edition

Chances are if you're reading this post you're familiar with the beautyblender — and if not, I'll link a post where I explain how I use this magical, egg shaped sponge in my daily makeup routine. I've tried many imitation sponges over the years and nothing compares to the original! If you also can't live without your beautyblender, the beautyblender fab.five Set includes 5 beautyblenders in a limited edition set at a fraction of the cost that you would pay to purchase them individually. Whether you're stocking up on your favourite tool or splitting the set among friends, you can't beat the value here!
---
NAILS
---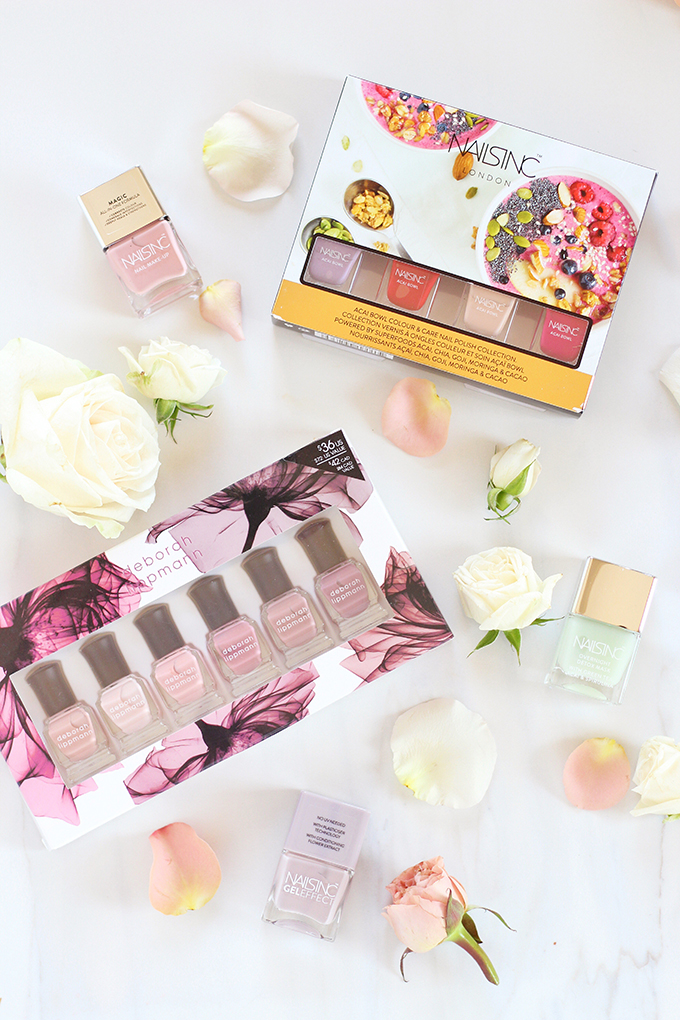 Nails aren't something I mention often in my BEAUTY section because I have a professional gel polish system at home and have done my own manicures for years. This spring, I want to give my nails a bit of a break from gels and get them back to good health, so I sought out some new nail polish formulas and fell in love with two new-to-me nail brands! Nude shades aren't just for lips this spring — with many limited edition nail releases falling within the nude and neutral categories. Here are a few of my favourite spring polishes for healthy, happy nails!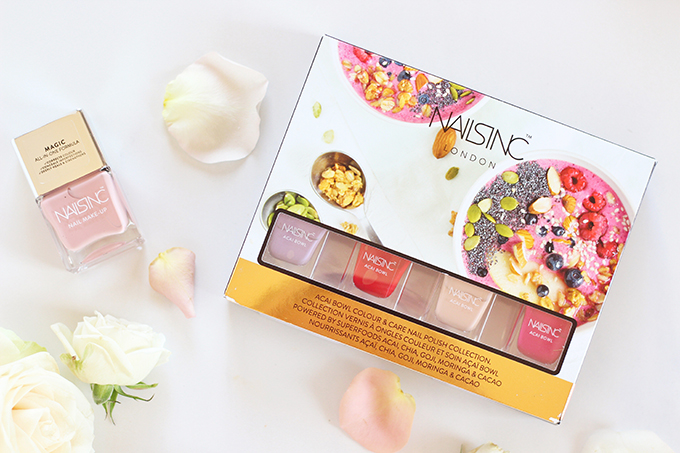 NAILS INC. Acai Bowl Nail Polish Collection
CDN $30.00, Limited Edition
If you also visit JustineCelina for the recipes, you'll know how much I love my smoothie bowls! So when I saw the NAILS INC. Acai Bowl Nail Polish Collection pop up last month, I put it on my must try list. What initially intrigued me was the ingredients — all NAIL INC. products are infused with nail loving ingredients, which is perfect for my current situation. This particular collection features the latest in nail caring superfoods, inspired by a smoothie bowl — including açaí, chia, goji, moringa, and cacao. I love this selection of spring nudes, brights and pastels, perfect for those looking to pamper their nails this spring (this set would also make a great gift!). Hop over to this post for swatches.
I also picked up the NAILS INC. Overnight Detox Nail Mask, Nail Make Up and Gel Effect Nail Polish in Porchester Square (Limited Edition) and have been loving them — my nails are already stronger and longer!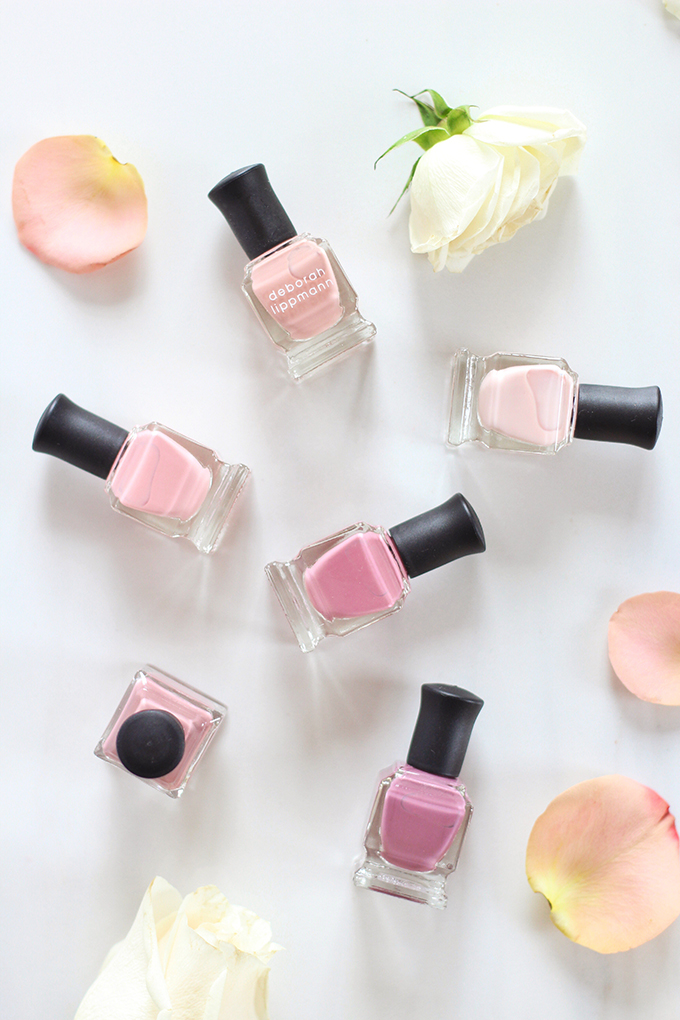 Deborah Lippmann Bed of Roses Nail Polish Set
CDN $42.00, Limited Edition
When springtime finally rolls around here in Canada, I love lighter, rosy pastels and nude hues on the nails. The Deborah Lippmann Bed of Roses Nail Polish Set is a nude polish lovers dream — with six easy-to-wear, rosy nude shades. I find each of them flattering and I think these gorgeous, spring inspired hues would look beautiful on a variety of skin tones. The wear time on Deborah Lippmann polishes with a top coat is also fantastic — up to 5 days without chipping (and forever on my toes — I'm currently wearing Lay Lady Lay, the deepest of the set!).

---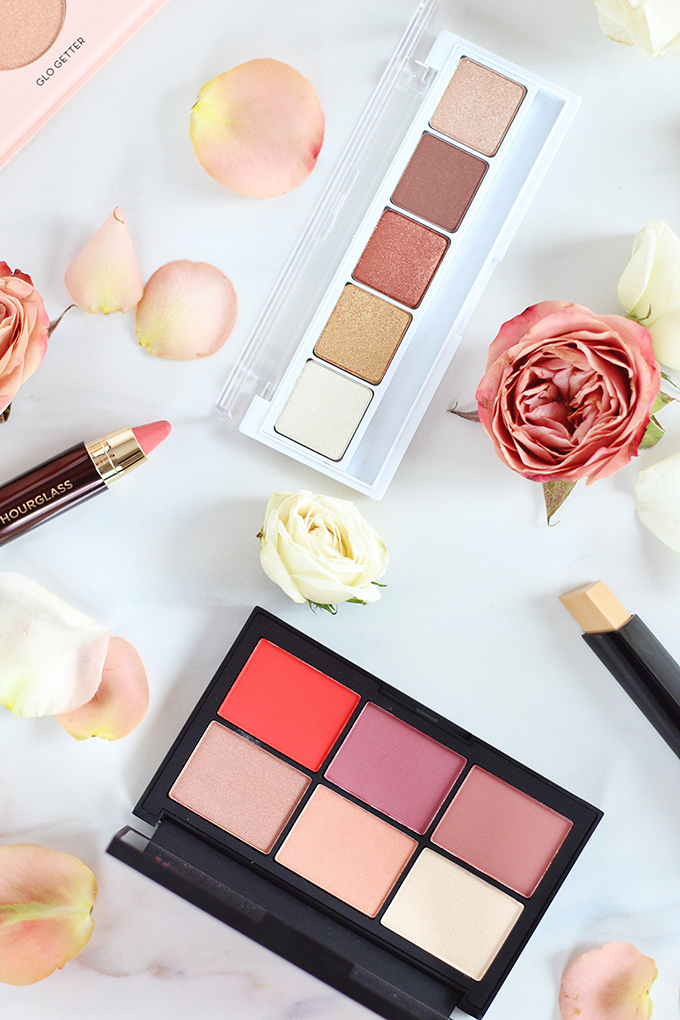 What are your favourite beauty trends this season? Are there any new releases that you've been loving? If you have any recommendations for me, or just want to chat beauty, be sure to leave me a comment. There's so much fresh beauty content coming to JustineCelina this spring that I can't wait to share — so if you have a specific request, just let me know and I'd be happy to investigate!
---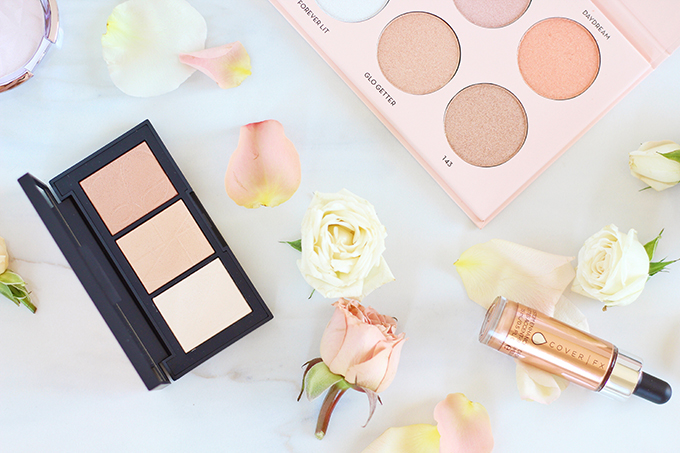 Disclaimer: Thank you to Sephora Canada for sponsoring this post and to Rebecca Dawn Design for the beautiful roses. JustineCelina uses affiliate and referral links, which allow me to receive a small commission when you make a purchase through one of my links. Thank you for supporting the brands and businesses that support JustineCelina.com!