---
Hey, friends. How's everyone doing? Wow — what an intense couple of months its been! If you keep up with me on Instagram (and if you don't, I'd love for you to join me!), you may have some insight into how quickly life has changed here in Calgary as a result of COVID-19. It's crazy to think that we started shooting my Winter / Spring 2020 Lookbook back in February when the world was a completely different place — I was still planning outfits for all the different personal and professional situations I would typically find myself in as we transition from winter to spring. Things evolved rapidly, so I polled you on Instagram Stories to see if you'd still like to see this LOOKBOOK — and 100% of you responded yes! That said, as we heed the advice of local authorities to stay in whenever possible, I feel it's important to share we shot these images nearly 2 months ago — and I've been working from home ever since to get this post ready.

Today, I'm thrilled to finally share my Winter / Spring 2020 Lookbook with you! If you're in search of a sartorial escape from reality and a look at a handful of my favourite winter-to-spring transitional trends mashed up with wardrobe staples and practical outfit formulas, you've come to the right place. As always, you can expect a melange of high, low, old, new and vintage here today — as well as shoppable links at every price point for those in need of a little retail therapy. This LOOKBOOK features my favourite early spring outfit formulas, ideal for temperatures ranging from about 10 degrees on either side of freezing (believe it or not, it was still snowing here last week!). Even though we'll be spending the majority of our time indoors for the foreseeable future, I still enjoy seasonal trends mixed with easy basics — and showing you how to re-style them season after season (and year after year!). Pour yourself a delicious glass of rosé and settle in with me this weekend as I highlight my favourite winter-to-spring transitional trends, patterns, prints and colours — plus, how I incorporate them into my work-from-home wardrobe! 

---
WINTER / SPRING 2020 LOOKBOOK
---
Spring officially arrived about a month ago, but it certainly hasn't felt that way here on the Alberta prairies! On top of everything else that's been happening, we've also experienced unseasonably wintry conditions this year — even for Calgary.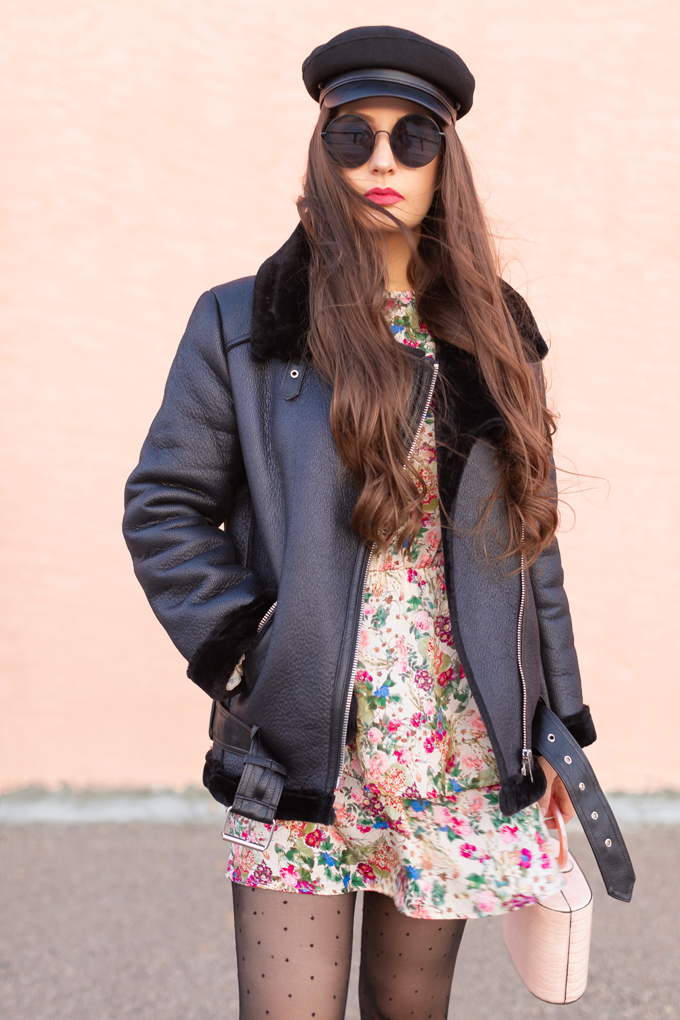 Just this week the snow is beginning to melt and it's finally starting to feel like spring (although I do still see some snow in our 14 day forecast!). I realize a lot has changed during the time we shot this LOOKBOOK to present day — between the constant barrage of news and adjusting to all the curve balls life has thrown my way lately, this post is publishing much later than I originally intended. That said, I didn't want this content to go to waste as these are some of my favourite FASHION images we've captured to date! As the very least, I hope you're still able to enjoy it and take a bit of style inspiration from this snapshot of life pre-pandemic.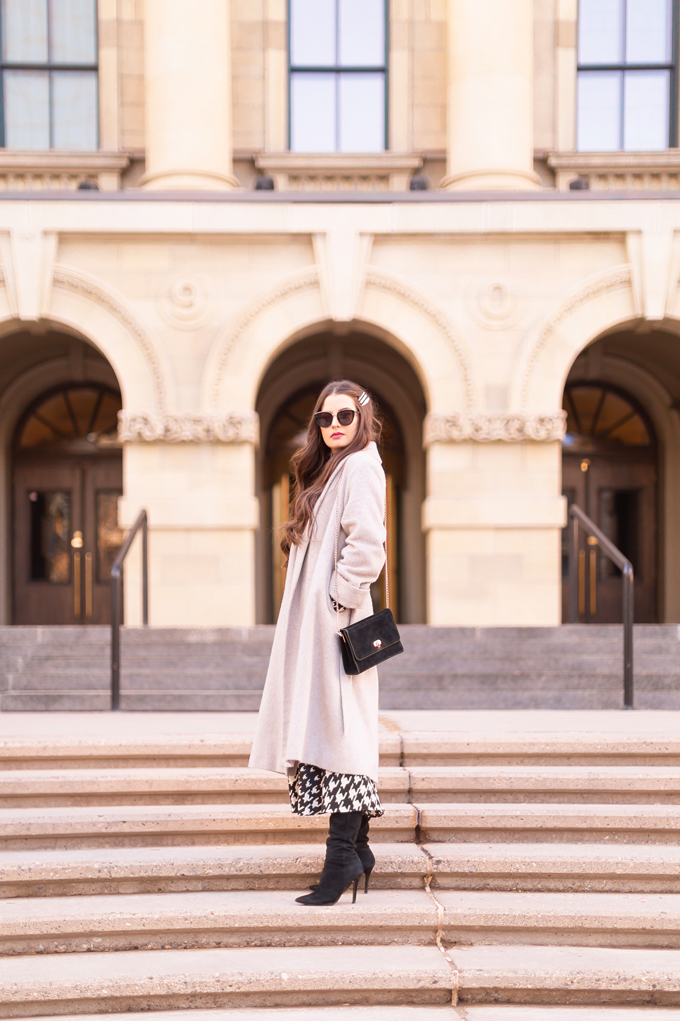 As usual, my Winter / Spring 2020 Lookbook follows the same format as previous 6-outfit LOOKBOOKS — each outfit is categorized by title for easy browsing. I've also ordered these outfits from most winter-appropriate to most spring-appropriate. Let's take a look at what I've been wearing and loving as we (slowly but surely) transition into spring! 
---
CLASSIC BLUES 
---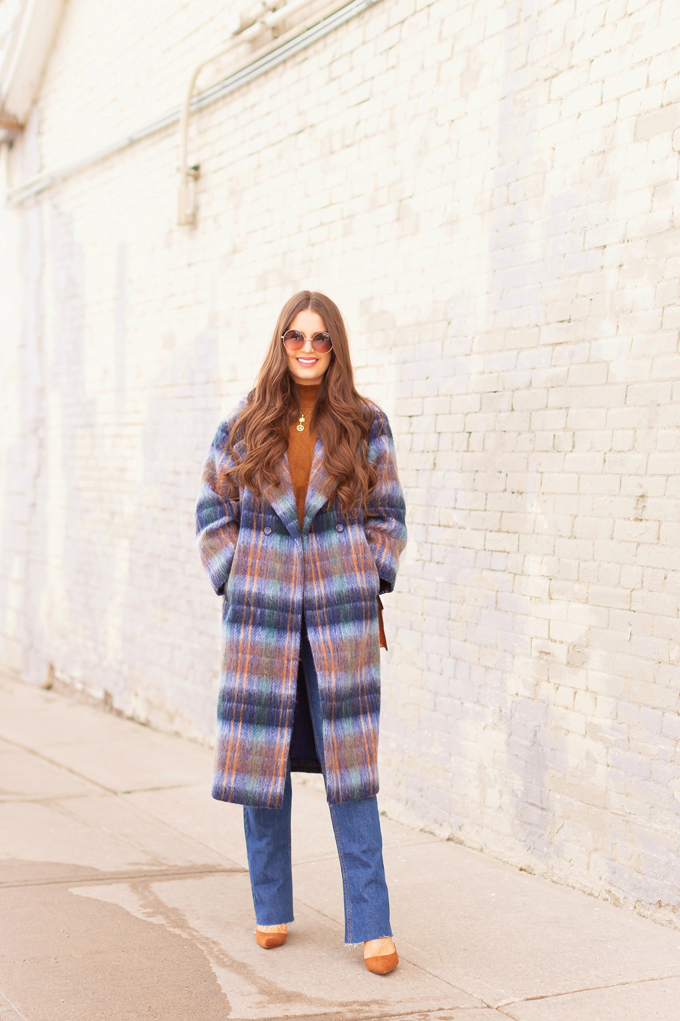 I'm kicking things off with the coziest outfit of my Winter / Spring 2020 Lookbook today — which may look familiar if you caught the latest installment in my COLOUR CRUSH series!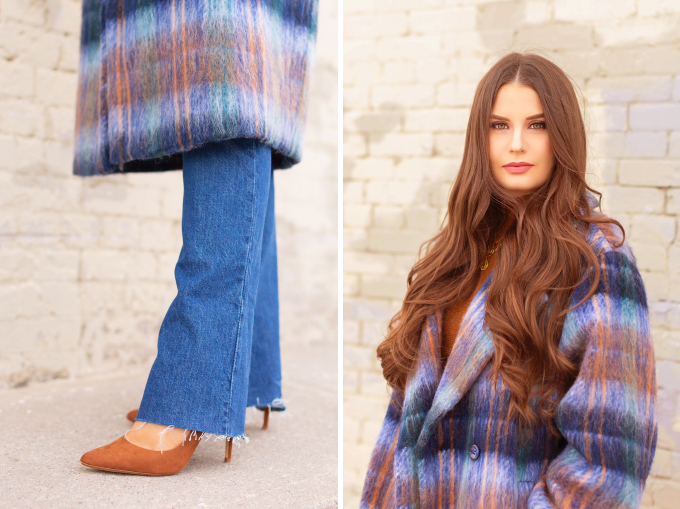 This look is inspired by the Pantone 2020 Colour of the Year, Classic Blue — and my recently aquired penchant for it! As usual, I'm wearing a melange of high, low, old and new here — a mash up of of transitional wardrobe staples intermixed with trend-forward accessories to create an easy-going late winter outfit that's quintessentially 2020.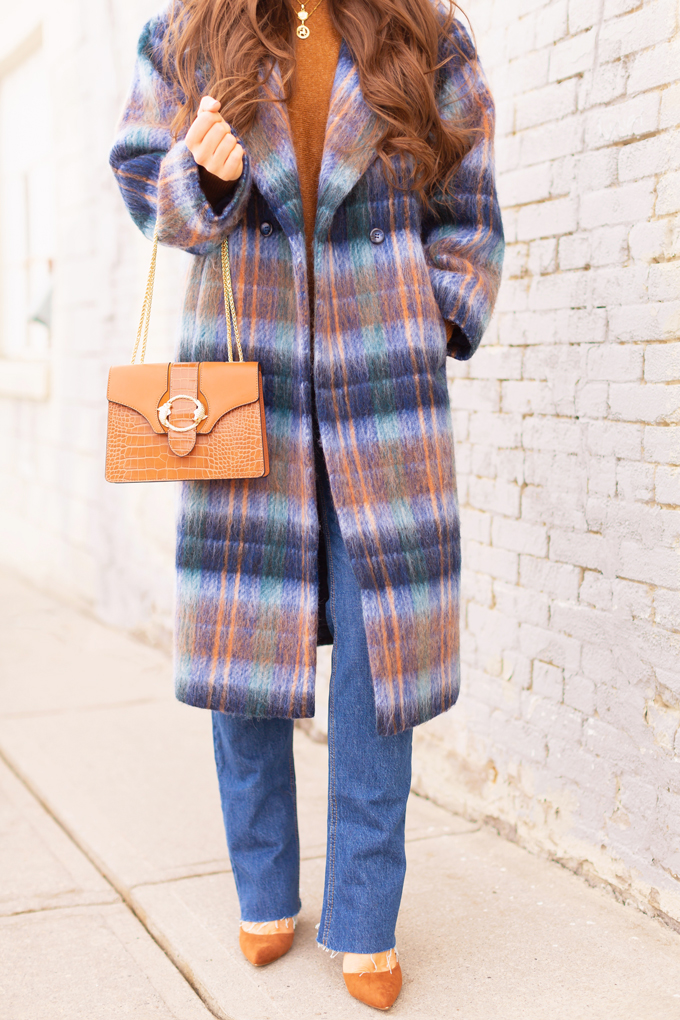 Using this stunning dreamy, oversized Classic Blue inspired coat as my anchor piece, I pulled together this casual, winter-to-spring look comprised of some of my favourite piece in a vintage inspired cognac and blue colour story.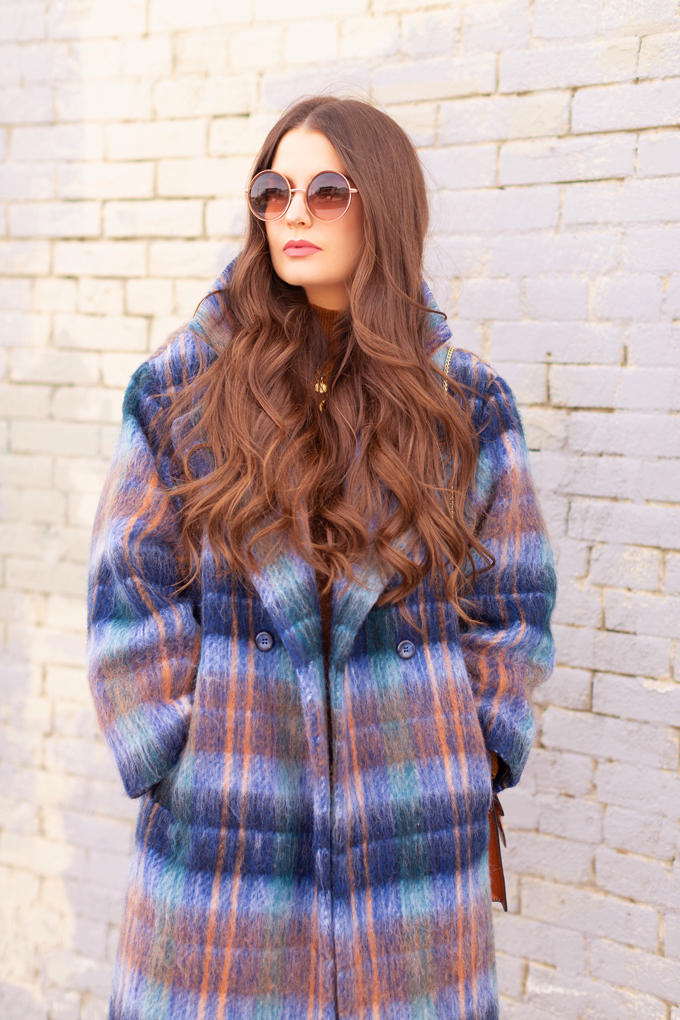 I'll leave the specifics for my dedicated COLOUR CRUSH | Classic Blue post, so if you'd like to learn more about each piece and how I pulled together this look, as well as my philosophy on impulse purchases and investing in statement pieces, be sure to pop over!

---
GRAPHIC GLAM
---
Without a doubt, houndstooth was my print of choice as we transitioned from winter to spring!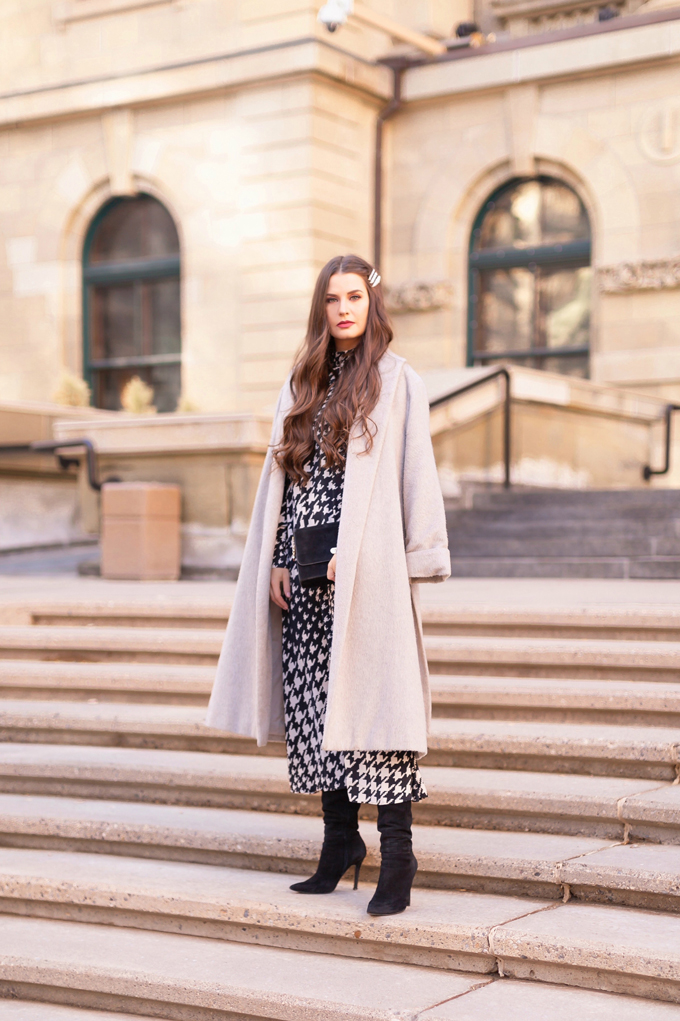 ⠀⠀⠀⠀⠀⠀⠀⠀⠀
I was so excited get glammed up for our theatre date night at The Jubilee Auditorium this month, sip prosecco and snack on delicious jubejubes as we enjoyed the talents of Alberta Ballet. Sadly, all mass gatherings of more than 15 are currently prohibited and The Juiblee closed their doors on March 6th, 2020.

I'm really starting to miss all the events we had in our calendar this spring — like date nights at The Jubilee. After work was finished for the day, I'd pour myself a glass of wine and begin getting ready for the evening — sushi at our favourite restaurant, followed by a beautiful performance at the Jubilee Auditorium. Adam and I are big supporters of the arts here in Calgary (I attended the Alberta College of Art & Design and walked across the Jubilee stage when I graduated!). My heart hurts for our local arts community right now. When this is all over, I can't wait for many more date nights in our beautiful city — and I'll never again take for granted the energy and community of a full theatre.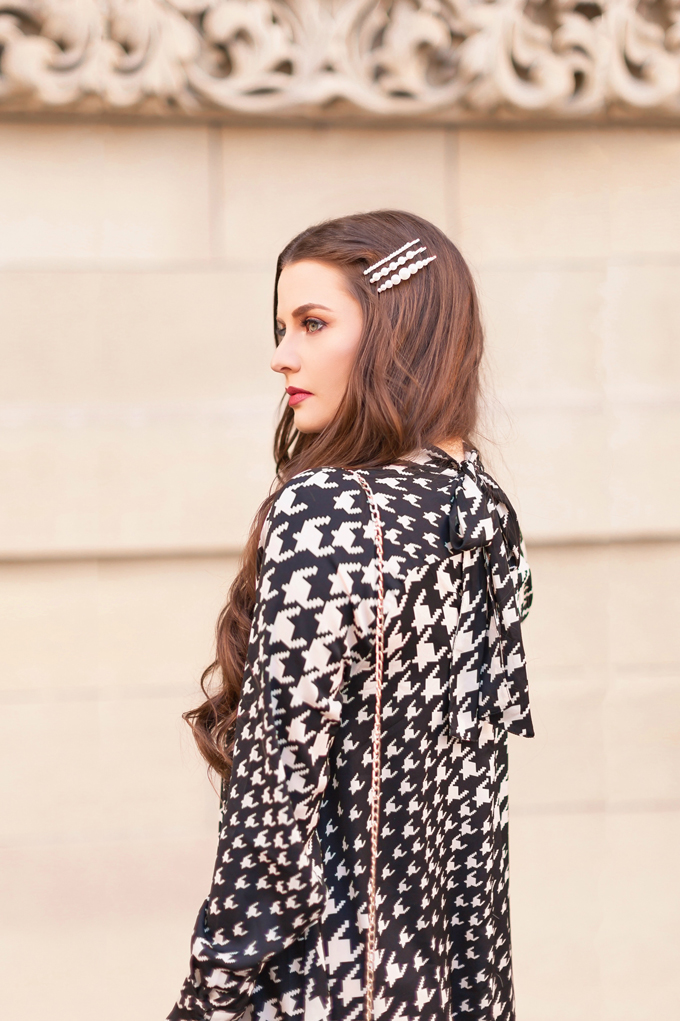 Fast forward to mid-April and date nights are much different — plus, I don't look nearly as glamorous! Lately there's been a lot of wine drinking in front of the fireplace (usually in sweatpants), while Adam whips us up fresh, gluten free pasta. And I can't say I'm complaining!
That said, I'm still so happy to have this graphic houndstooth dress. Despite it's ultra modest price tag, this dress wears, feels and looks like high-end — and I adore this playful spin on a classic print!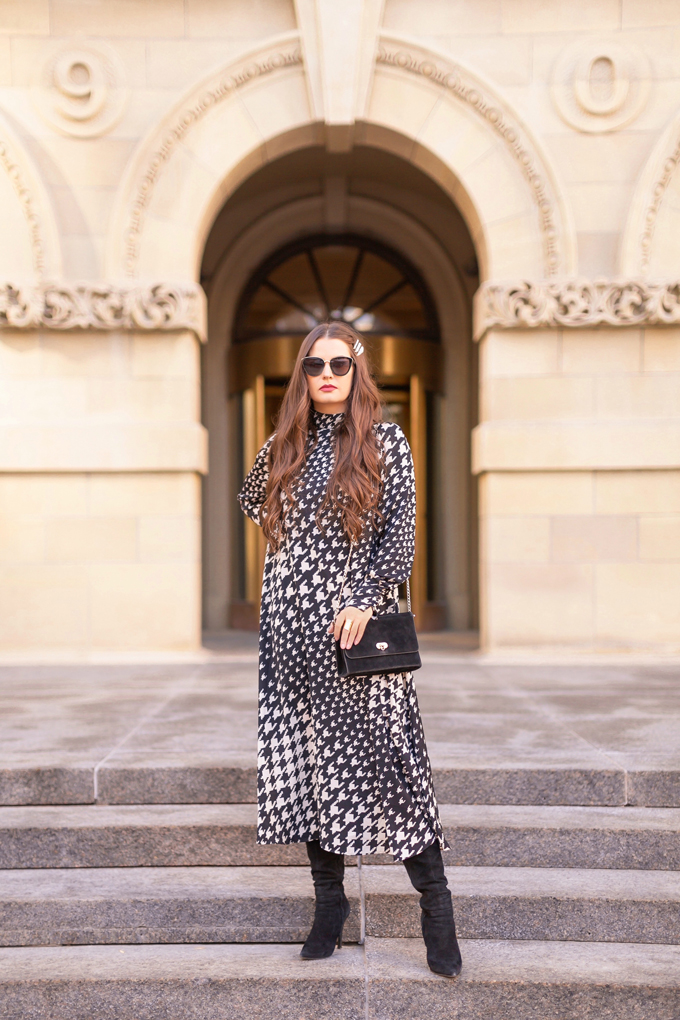 For an early spring date night, I styled her up with my ASOS longline faux fur trench, beloved knee-high suede boots, vintage suede bag (which should look very familiar!), a pair of classic black cat eye sunglasses and a few pearl hair clips.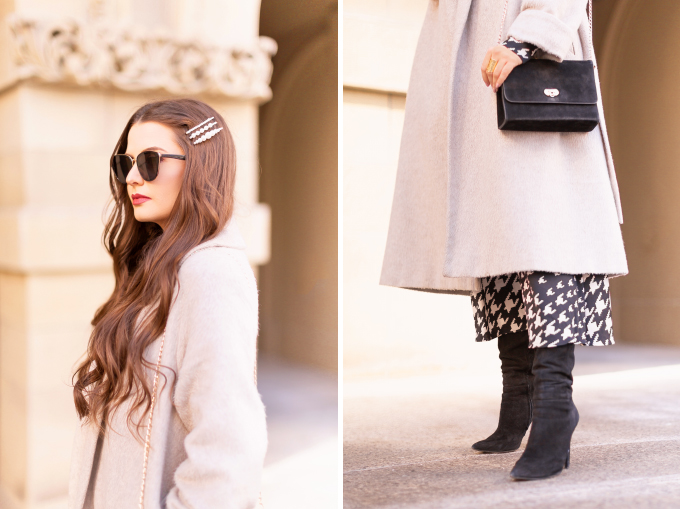 I completed the look with Marc Jacobs Beauty Le Marc Liquid Lip Crème in Shush, Blush — which I recently included in My Top 5 Rose Toned Lipsticks post. This ultra romantic, sultry, rosy pink is a fantastic example of a deep neutral shade that acts as a bit of a chameleon while instantly elevating your look! Swing by for a full review, more photos and 4 other rosy lip recommendations from drugstore to luxury.

---
BOSS BABE
---
This was my go-to look for in-person meetings during late winter / early spring. Although my meetings are now exclusively online, I still love to wear my cozy cashmere sweater and houndstooth paper bag pants while I work from home! As usual, I'm mixing high, low, old and new to update this tried-and-true look for 2020.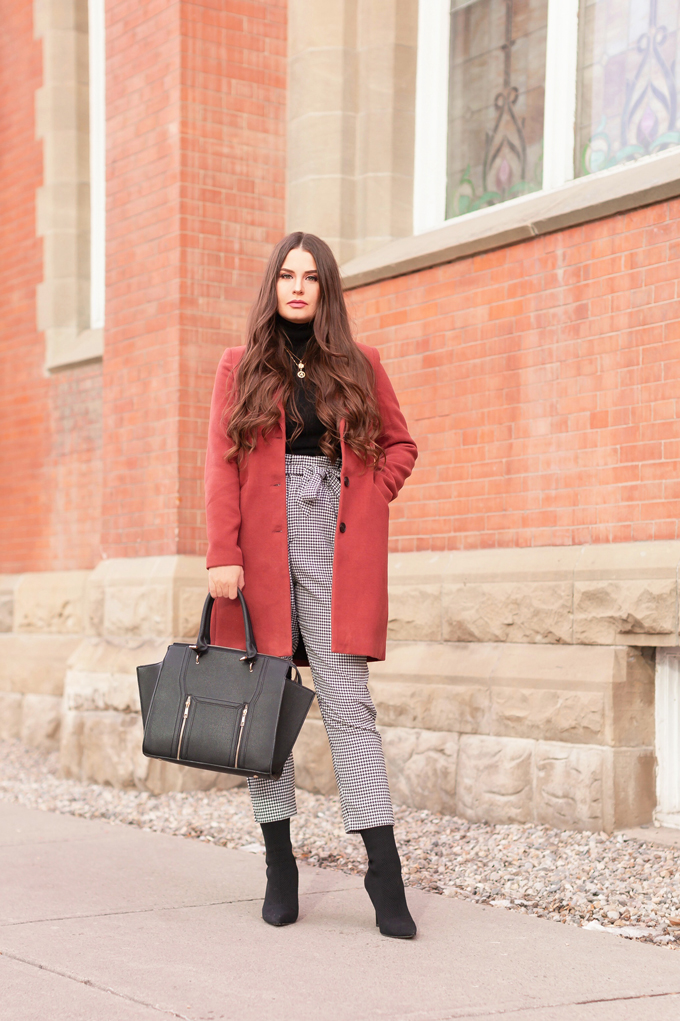 As you're aware, I'm head over heels for houndstooth this season — and was hard at work on a 3 outfit post in my HOW TO STYLE series dedicated to styling it for various personal and professional settings! That said, now that I'll be focusing on more casual STYLE here at JustineCelina moving forward as we spend more time in our homes, I've incorporated all 3 houndstooth looks from that post into this LOOKBOOK instead!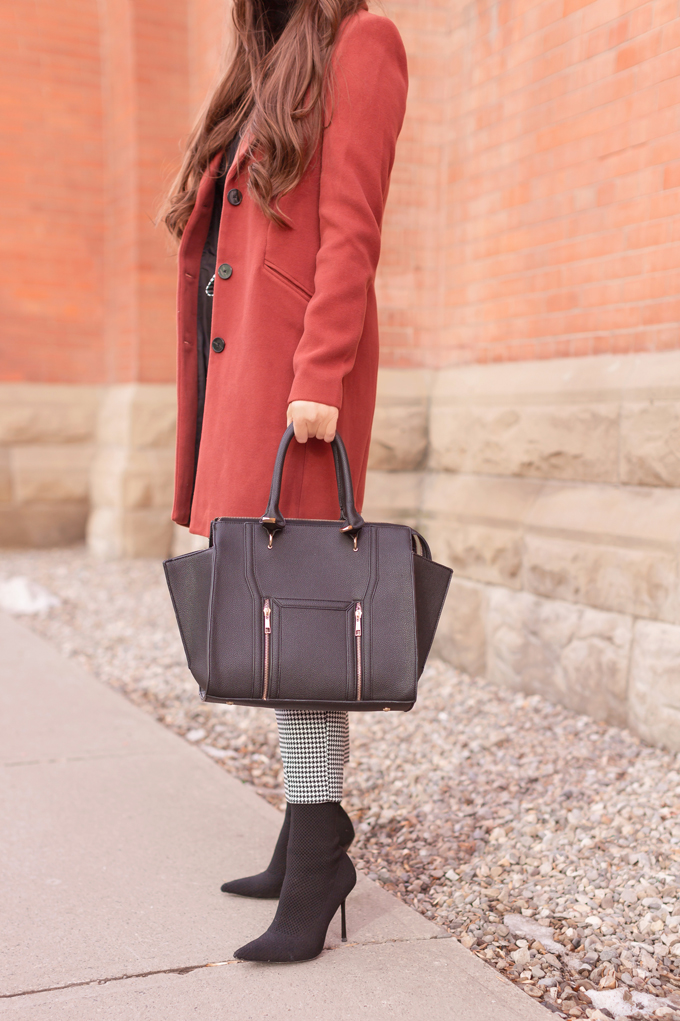 ⠀⠀⠀⠀⠀⠀⠀⠀⠀
This polished, office appropriate look is one of my favourite outfit formulas for transitional weather (does it look familiar?) — and a great example of how to tastefully wear trends in corporate environments. Did you notice the subtle houndstooth print on my paperbag pants?

Although I used my H&M paper bag pants (which are incredibly comfortable!) as my anchor piece, I knew I wanted to pair them up with this rose Vero Moda Cala Cindy Mid Length Coat — which I picked up late last year during Bay Days, you guessed it, at a major discount! I actually spotted it in store and its unique hue drew me in like a beacon.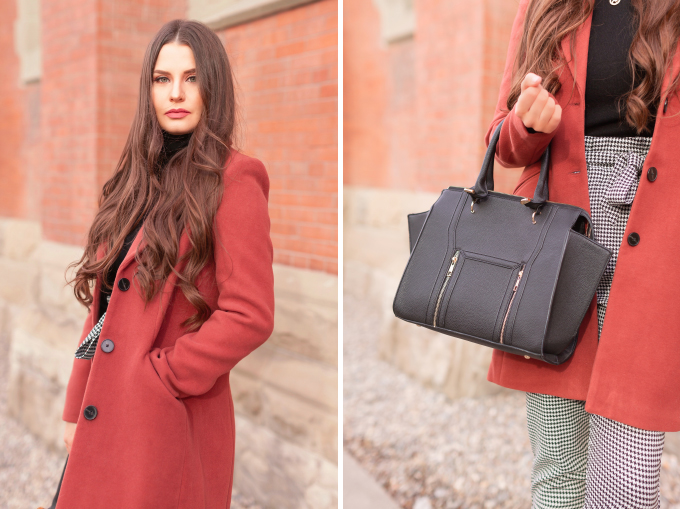 Underneath, I layered my trusty Saks Fifth Avenue black turtleneck on to combat the chill. Saks OFF 5TH is one of my favourite places to shop for affordable, high quality cashmere. After wearing my H&M black turtle neck to death last Autumn / Winter, I knew a black cashmere turtleneck would be a solid investment piece for my cool weather wardrobe — and I wasn't wrong!
I picked this sweater up over a year ago, slightly off season, and at a major discount. While this exact turtleneck is not longer available, I've linked Saks OFF 5th's heavily discounted Saks Fifth Avenue Cashmere range for you to peruse (this is the same range that sells at Saks Fifth Avenue for nearly triple the price you find it at Saks OFF 5TH!) — they're currently offering some wonderful sales ontop of this already heavily discounted merchandise.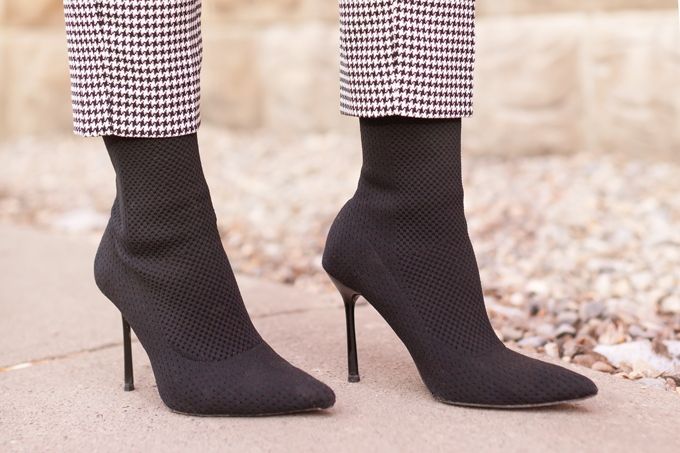 Since it was a bit too chilly for exposed ankles, I finished this look off with my black Zara sock boots — which you've seen me wear many times on these pages! Pairing cropped pants of any kind up with a slim-fitting or sock style boot using transitional months is one of my favourite ways to extend their wear into autumn and winter. Of course, you can always swap the sock boots out for your favourite pair of pointed toe pumps for warmer weather!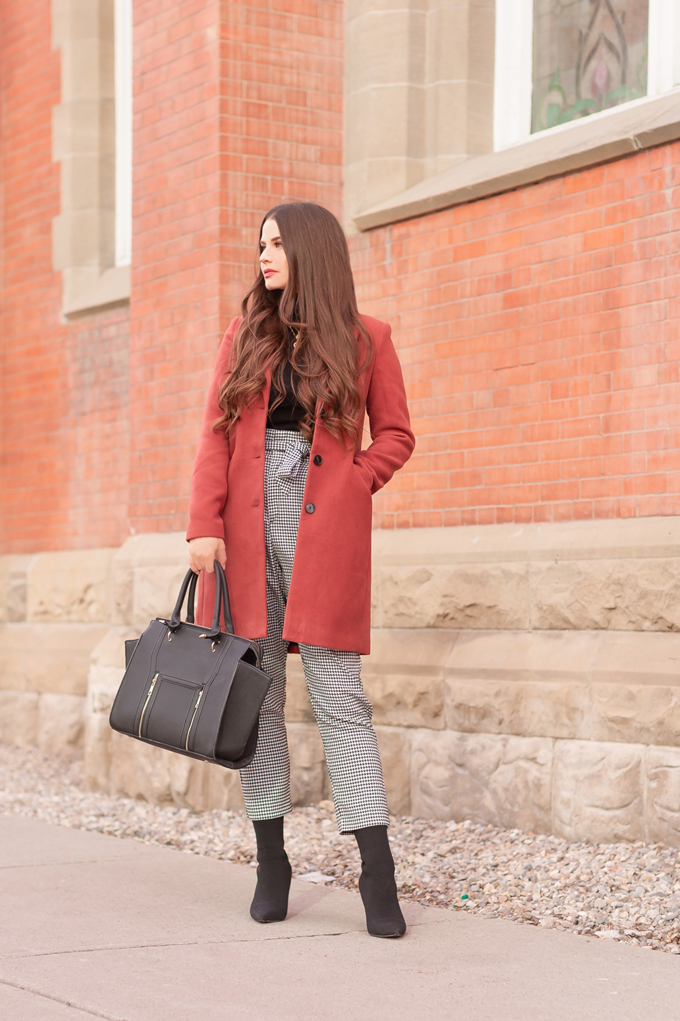 And last but certainly not least, I pulled out my Wing-Woman Black Handbag (which I have in 3 colours — all of which I've featured previously!) to polish the look. This is my go-to bag for all professional settings — it holds my Macbook Pro, iPad, phone and other essentials. 


---
IN NEUTRAL
---
Light, warm toned neutrals are my default colour palette as we transition from both summer to autumn and winter to spring.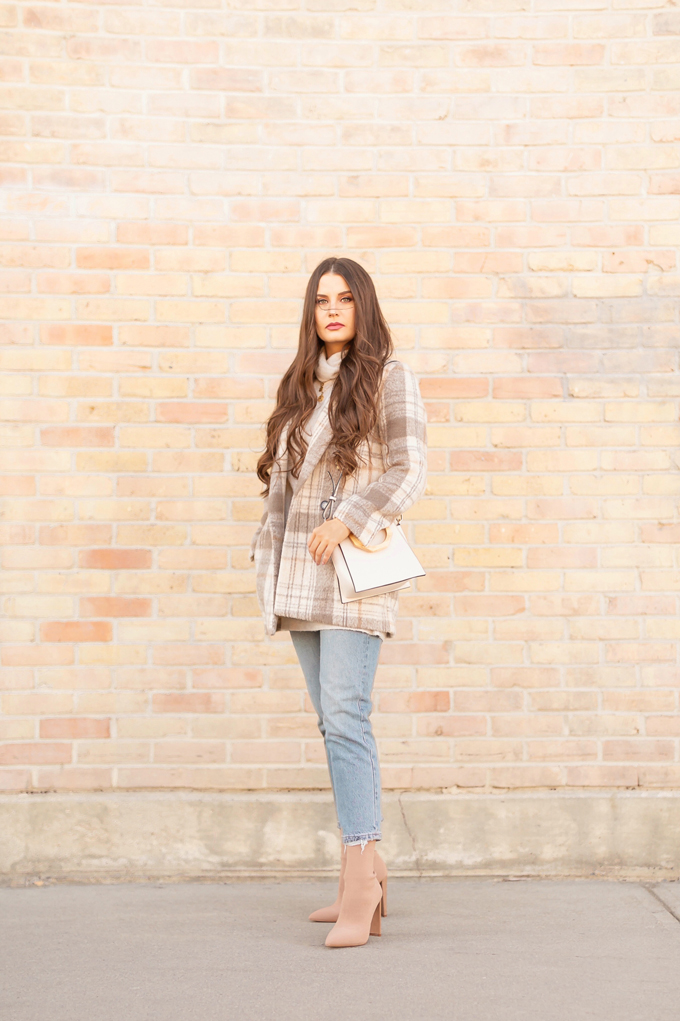 This light but cozy, casual look is one of my favourites for transitional weather and features versatile wardrobe staples you can wear for years to come!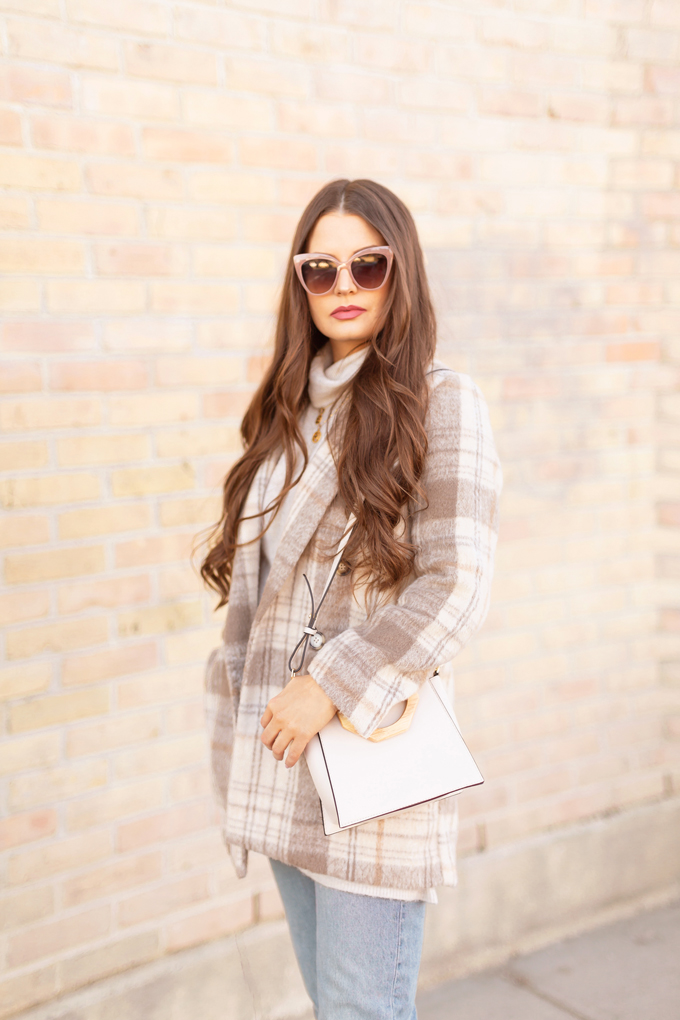 If this creamy tunic looks familiar, it's because I own it in every colour and have it on repeat from autumn to spring! Lately, I've been living in them with leggings or joggers around the house. It's super soft and cozy!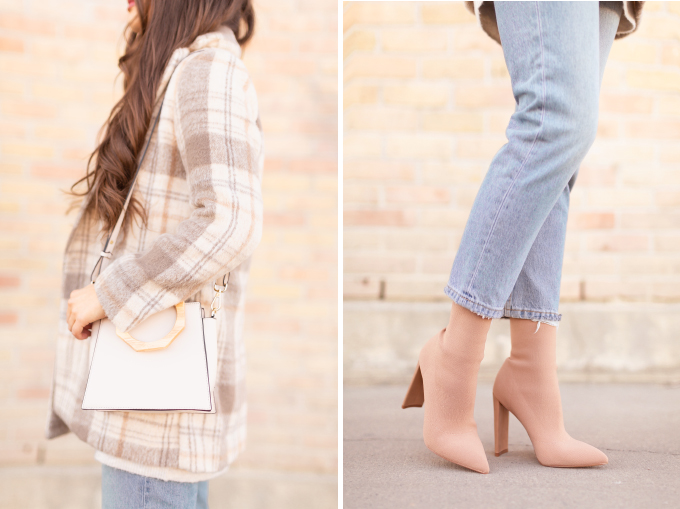 Over top, I've layered on a fuzzy, neutral checked blazer — also from H&M. My light, vintage wash jeans are from Zara, my nude sock boots are Aldo and my bag is TopShop — you may recognize it from last summer's LOOKBOOK, where I detached the strap and wore it as a bracelet bag.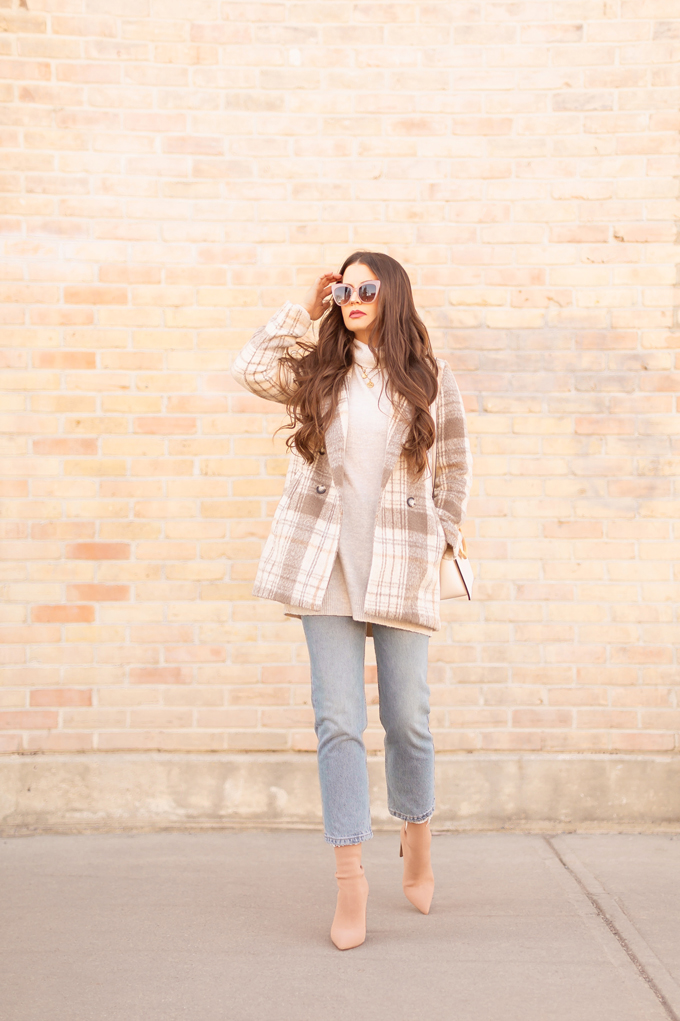 I finished the look with my Zara nude cat eye sunnies and NARS Audacious Lipstick in Anita — which I also featured in My Top 5 Rose Toned Lipsticks.

---
URBAN CHIC
---
As we ease into spring (and through an extremely brown late winter here on the Alberta prairies), I always seem to crave injection of colour — in my wardrobe, beauty routine and home. ⠀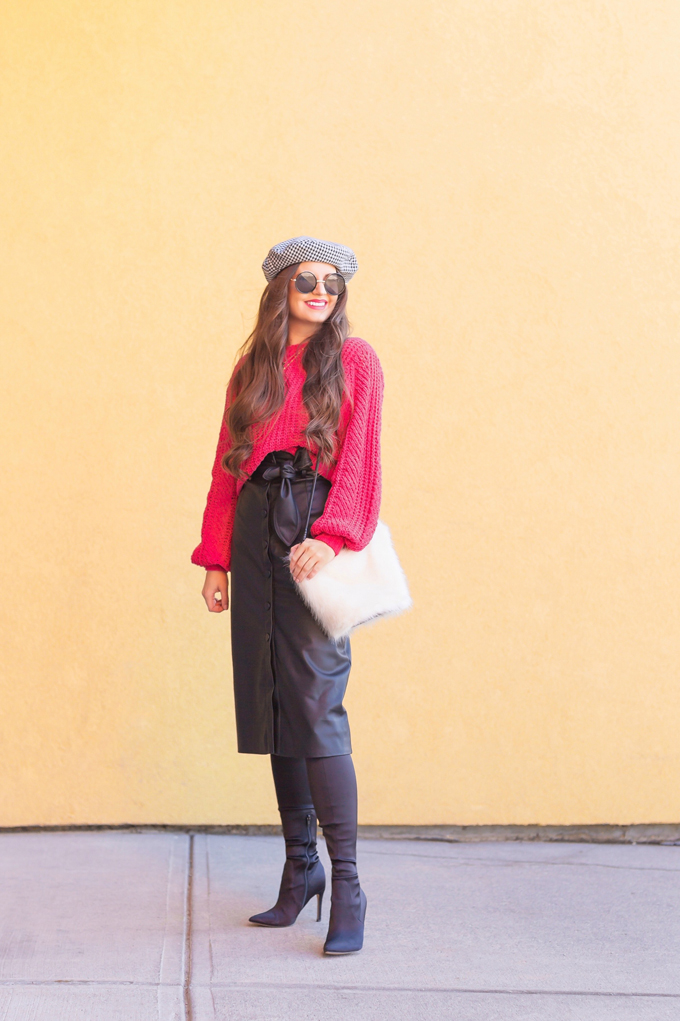 In the final outfit of this LOOKBOOK featuring houndstooth, I challenged myself to style this classic beret outside of my comfort zone. Typically I default to styling prints by selecting garments and accessories in complimentary, monochromatic colours — but this time, I pushed myself to go bold!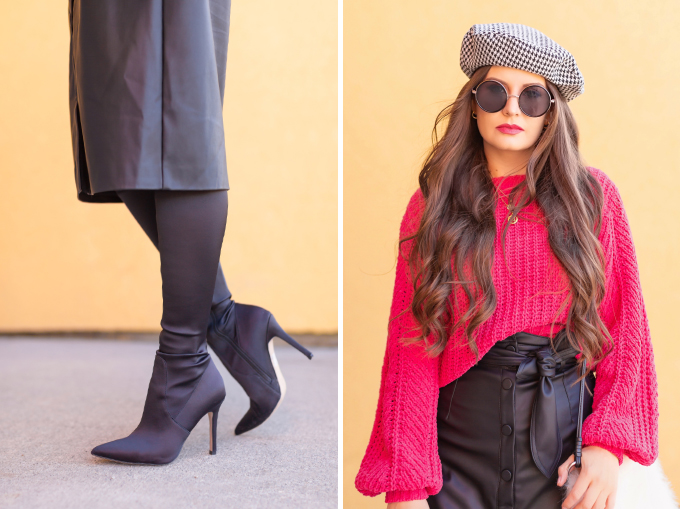 I'm mixing faux leather and fur, satin, chenille and wool in this vibrant transitional look that's equal parts winter and spring — starring this statement-making magenta sweater!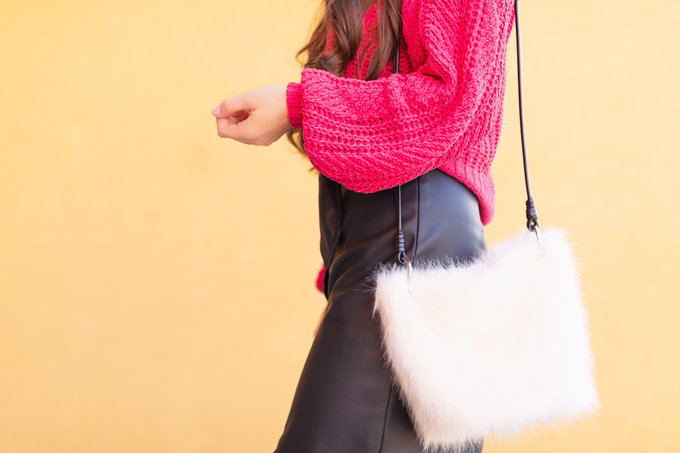 Believe it or not, I picked this beautiful knit up at Walmart last year for around $7! I love the cheerful hue, statement sleeves and cropped silhouette — which makes it perfect for tucking into my high-waisted faux leather midi skirt.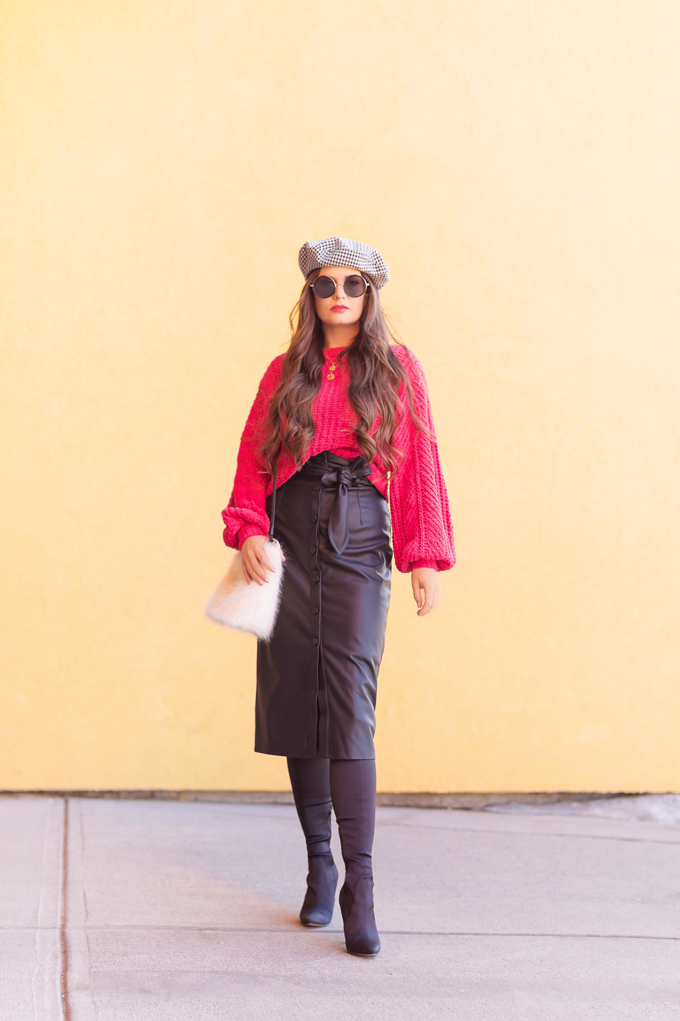 I finished this look with my satin OTK boots, a faux fur bucket bag, some black circular shades and and complimentary Lancome Matte Shaker High Pigment Liquid Lipstick in Pink Power.

---
REBEL FLORALS 
---
For me, spring is synonymous with experimentation — I love to juxtapose feminine with edgy!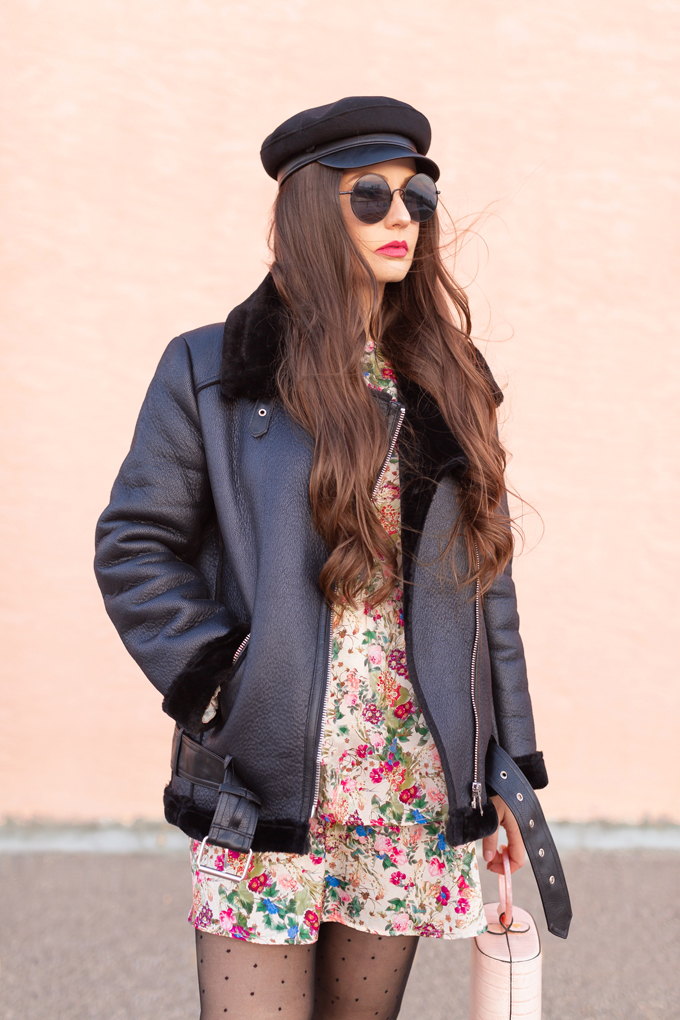 I wore this sweet little (and very mini!) dress in My Top 5 Rose Toned Lipsticks and so many of you had questions about it! With micro minis trending this spring, I thought this long sleeved, tiered, Victorian-inspired rendition was the perfect way to take it for a test drive — that is, with some sheer tights!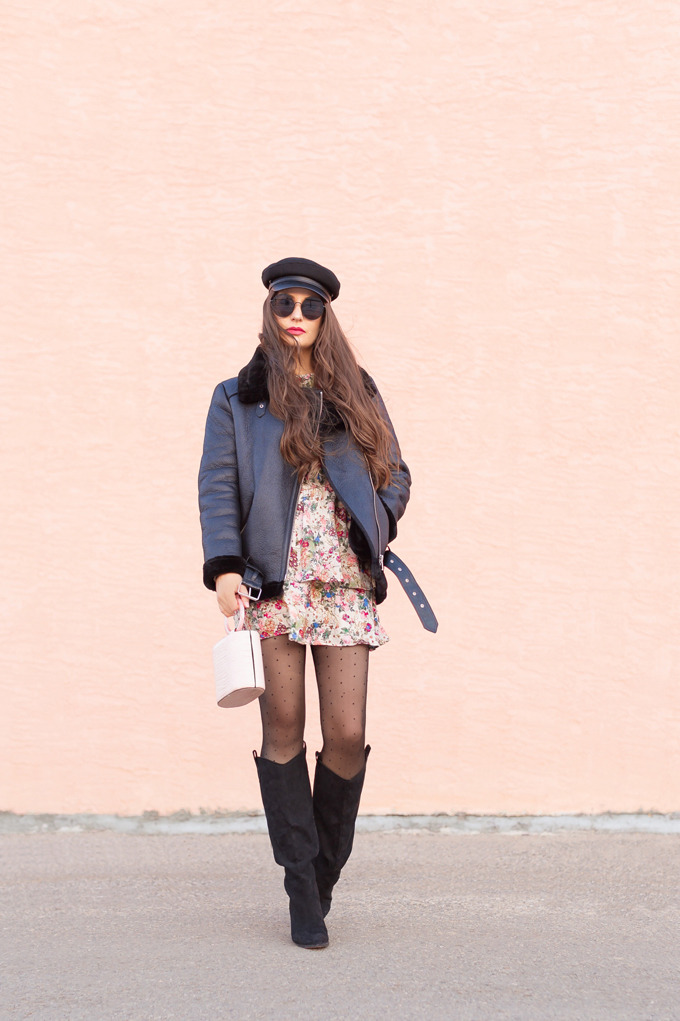 Although I wouldn't have thought twice about a hemline this short in my 20's, now I like to pair my minis up with tights and boots for a little extra modesty. And I'm always up to experiment with mixed prints — I love the way these dainty polka dots compliment the bright florals of my dress!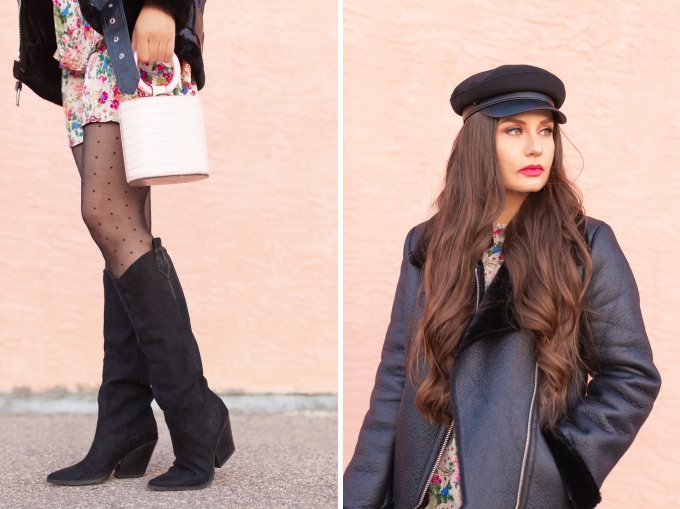 It was quite windy on the day we shot these photos, so I reached for my faux fur lined biker jacket and new faux leather brimmed baker boy hat for added warmth and style. I finished this look with my TopShop Gaze Pink Crocodile Grab Bag and faux suede knee high boots.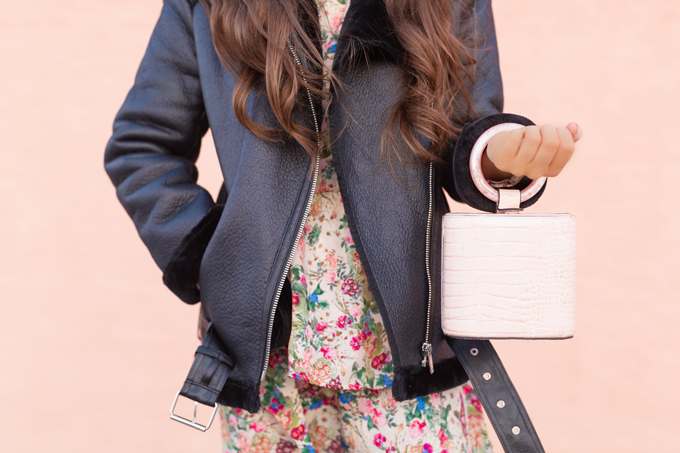 Lastly, I swiped on Physicians Formula Rosé Kiss All Day Glossy Lip Color in She's A Wild Rose* and my opaque black circular shades for an air of mystery.


---
MY SIGNATURE JEWELLERY
---
As usual, I'm wearing my layered, gold necklaces from House of Vi — which have become an integral part of my personal style. Founded by fellow Calgary blogger Vivienne Gliesche, you can shop House of Vi online worldwide — but if you're local, you can pick up in person! I wear the the Alphabet Necklace in J layered with the Zodiac Necklace in Leo almost everyday. I can't recommend them enough!
---
MORE TRANSITIONAL WINTER-TO-SPRING STYLE INSPIRATION
---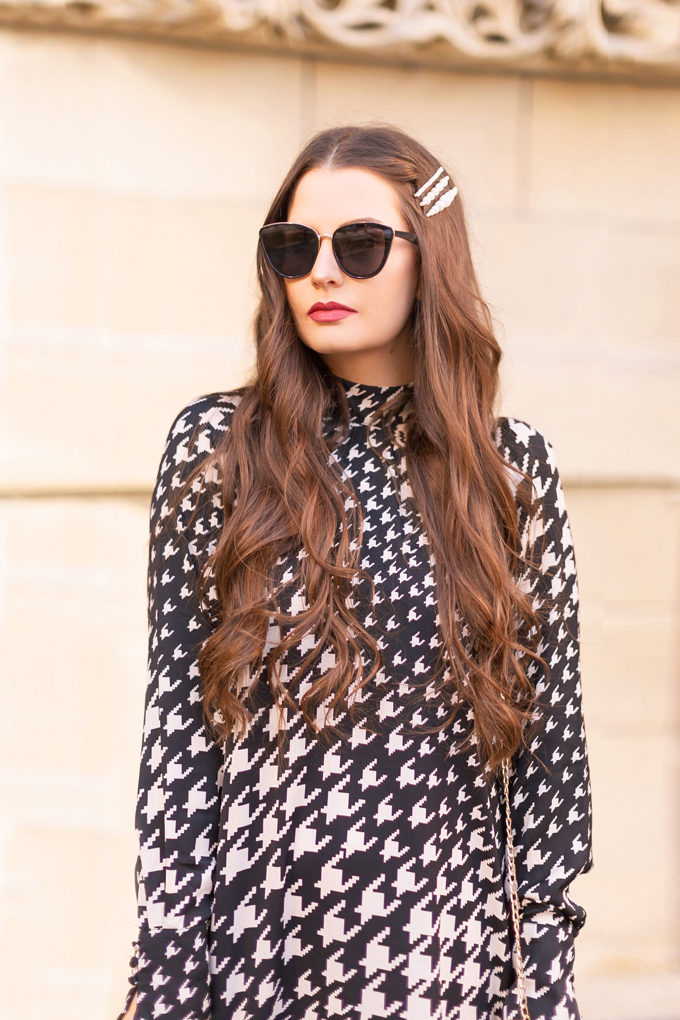 Transitional Style Staples | Winter to Spring
Spring Trend Guide | Modern Western
Pre Spring Trend Guide | Bohemian Rhapsody
Spring Trend Guide | Gingham Style
---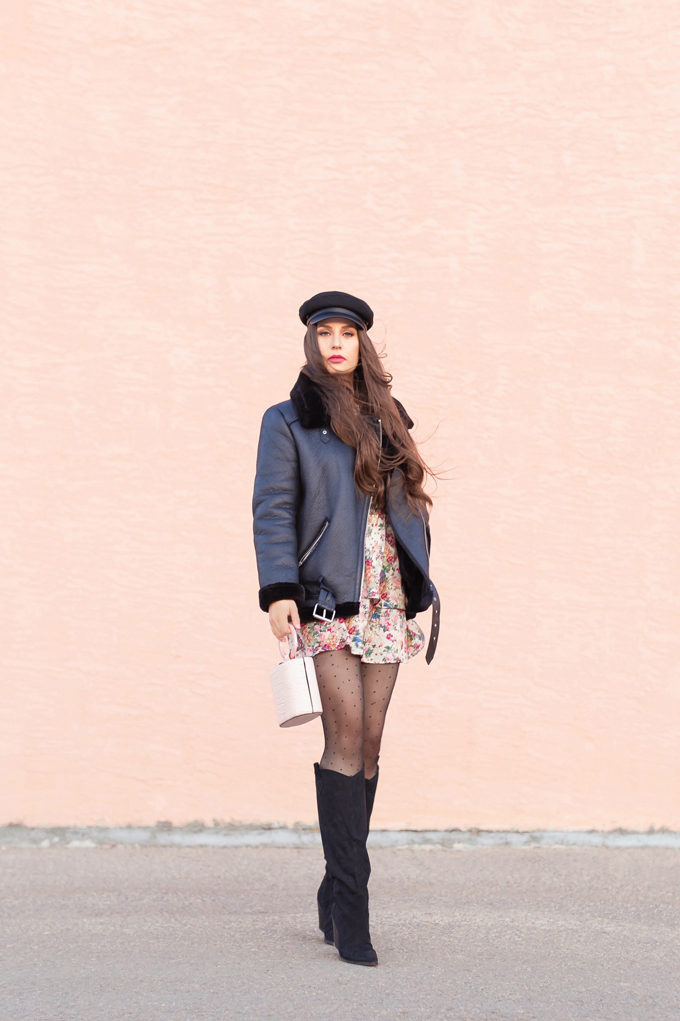 Friends and fashionistas, thank you for stopping by for a sartorial dose of style inspiration during these uncertain times! I, along with every other small business, am currently evaluating how to continue operating as we venture into uncharted territory — while also producing content that's relevant, helpful and inspiring. My posts may be more sporadic, frequent or infrequent than usual as I adapt to this new normal– but just know that I'm not going anywhere!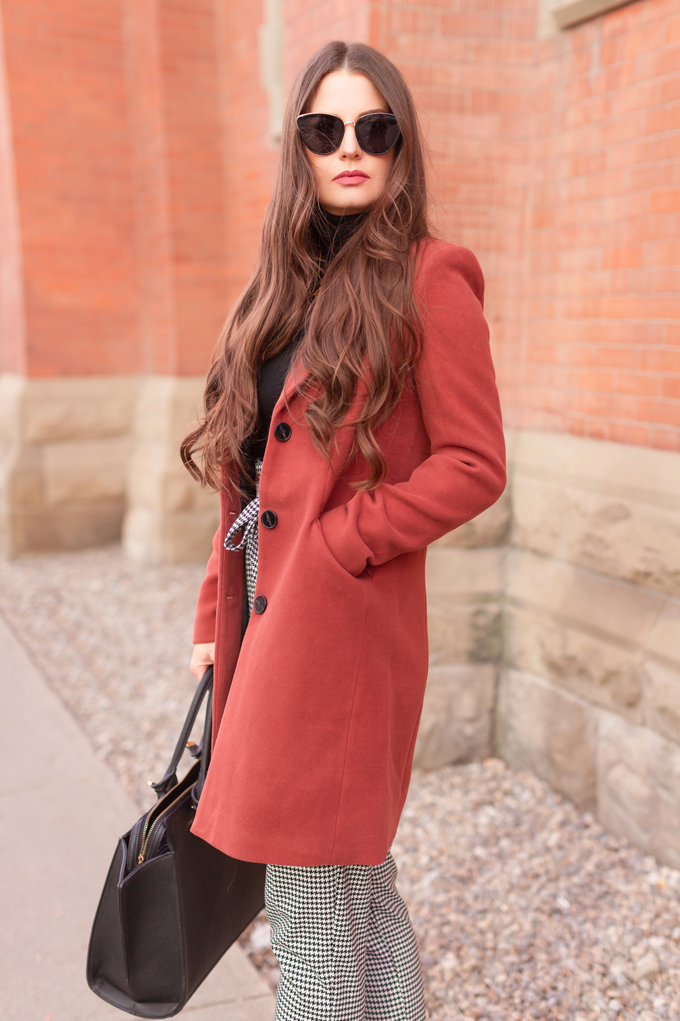 Additionally, as we spend more time in our homes over the coming month, I won't be producing these LOOKBOOKS or other FASHION series in their typical format — but I will be taking this opportunity to shoot new HOME based content that I've wanted to execute for quite some time, as well as showcase the more casual side of my wardrobe! As always, I want JustineCelina to be representative of my life and the things I create — so if there's anything in particular you'd like to see from me in the coming weeks and months, please let me know.

In the meantime, if you're looking for even more style inspiration, you can follow along with my JustineCelina Fashion board on Pinterest, or the Winter / Spring 2020 Lookbook board I created to showcase my favourite transitional looks. You can also pop over to this post for a glimpse at what I for for our first ever Easter at home. And for a sneak peek at what I'm wearing before it hits the blog, as well as some exclusive style content you won't see here, come join me over on Instagram for daily posts and BTS / day-to-day life on Stories! Also, be sure to check out My Top 5 Rose Toned Lipsticks, where I've reviewed most of the shades featured in today's post. Sending love and light to each and every one of you — and wishing you peace and comfort. Be well, friends!

---
Disclaimer: Products marked with * indicate press samples sent for editorial consideration with no obligation for feature or review, or as part of previous / ongoing partnerships. This post is not sponsored, and contains my genuine thoughts, ideas and recommendations. JustineCelina uses affiliate and referral links, which allow me to receive a small commission when you make a purchase through one of my links. Thank you for supporting the brands and businesses that support JustineCelina!