---
Fall is my favourite time of year for many reasons — but something I look forward to each year is pulling out all my favourite warm, cozy lip colours (and trying a few new ones!) to mark the change in seasons. Last autumn as I was organizing my vanity for the season, I noticed a major theme — all of my most-worn autumn lip colours had a very similar, pumpkin spice inspired colour story (yes, I actually began working on My Top 5 Pumpkin Spice Lipsticks post last fall!). Although I may be the only woman on the planet who isn't into Pumpkin Spice Lattes (shocking, I know!), I can definitely appreciate the inspiration behind this quintessentially autumnal beverage. So naturally, I thought this concept would make a fantastic addition to my seasonal BEAUTY content here at JustineCelina! I absolutely love to embrace each season as fully as possible — whether it be in my personal style, beauty routine, home or what I choose to nourish my body with. While a lot has changed in 2020, my love of fall beauty remains — and although I'm not wearing as much makeup as I did pre-pandemic (or getting glammed up nearly as often), I still love to treat myself to a beautiful, seasonal makeup application for an instant confidence boost. I hope I can inspire you to do the same, as my makeup routine has remained one of my most cherished forms of self care over the years!
Today I'm thrilled to share My Top 5 Pumpkin Spice Lipsticks featuring my top shelf autumn lip products ranging in formula across price points — from long wearing (and mask-friendly) liquid lipsticks to nourishing natural products, to elegant hybrid formulas! If you've been browsing my recent STYLE content and wanting to learn more about what's on my lips (I've been dropping major hints this post was coming!), you'll find all the information you're looking for in today's post. As always, this dedicated review post in my recently introduced MY TOP 5 series is brimming with try-on photos, swatches and application tips — plus my top lip liner recommendations to pair with each shade to create a full, defined pout! If you're ready to spice up your lipstick wardrobe for cooler months ahead, you've come to the right place — throw on your coziest sweater and curl up in your favourite reading nook with a seasonal beverage for a serious dose of inclusive, autumnal beauty inspiration. I also share my complete camera-ready fall beauty routine (sprinkled with tons of shoppable links) when I'm craving a dose of glamour!

---
MY TOP 5 PUMPKIN SPICE LIPSTICKS
---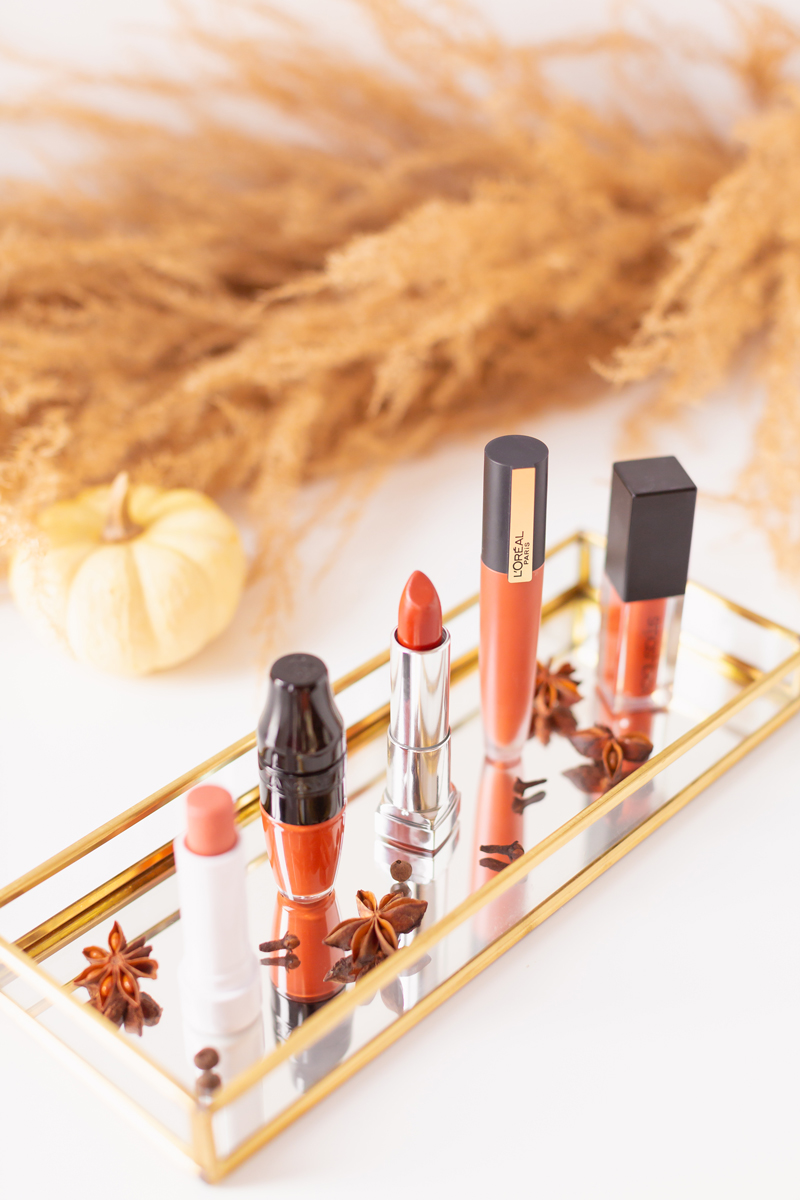 A spicy lip, a sensual bronzy eye and a natural, warm flush — these are a few of my favourite fall beauty staples! I love to transition my beauty routine into autumn by deepening up my lip colours, going a little richer on the eyes and using orange-based blush shades to warm up my complexion. As always, I take cues from the changing landscape to inform my personal style and creative work — and autumn's warm, earth toned palette is my favourite to work with! Personally, I find these shades really enhance my colouring and make my green eyes pop.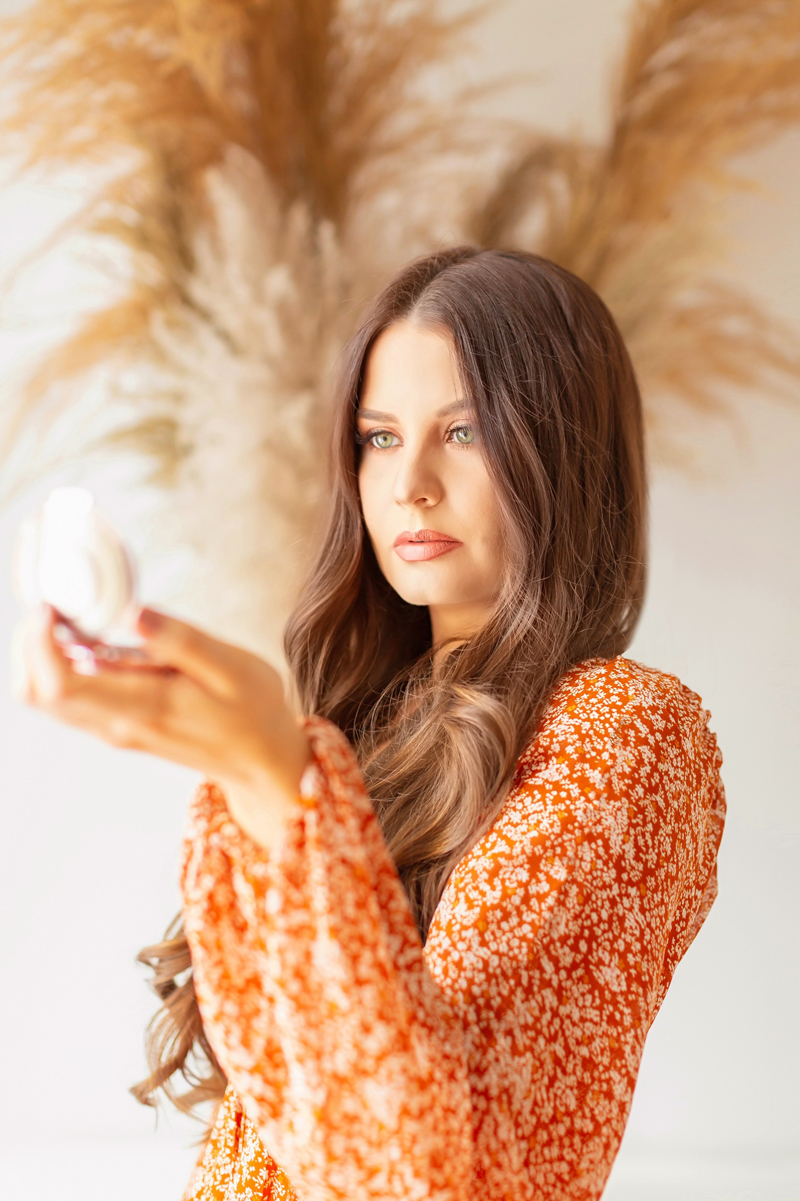 My favourite Pumpkin Spice Lipsticks are perfectly spiced, orange-based shades with muted nude and brown undertones, making them ultra wearable — think of them as warm, seasonally inspired neutrals. While this specific colour family is quite rare to find in most lipstick ranges, I've scoured nearly every product range from drugstore to luxury to bring you My Top 5 Pumpkin Spice Lipsticks — the shades that live on top of my vanity (and in the bottom of my handbags) all season long! There's truly something for every skintone, budget, preference and lifestyle in this post — and I hope you enjoy reading it as much as I've enjoyed creating it for you.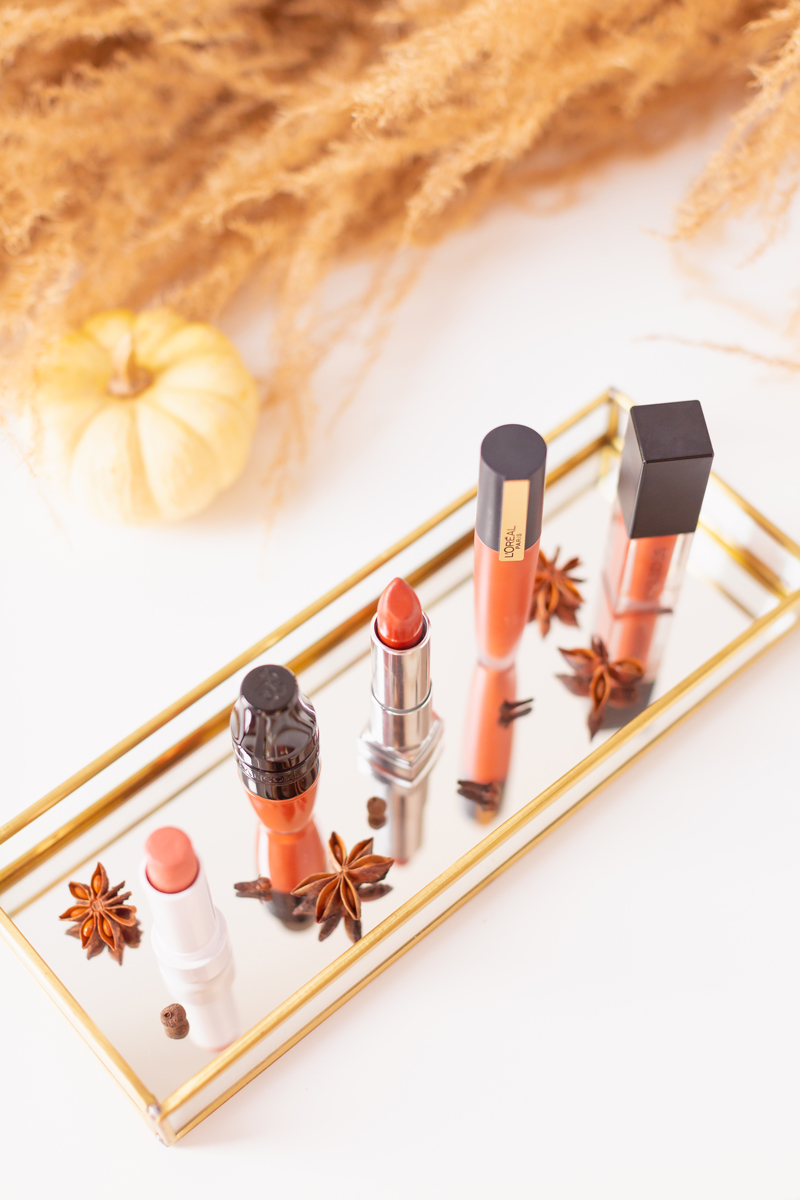 I'm so excited to share My Top 5 Pumpkin Spice Lipsticks with you today, in hopes that I inspire you to try something new this season and spice up your beauty routine! I've organized this post in order of lip colour intensity — the most subdued lip colour appears first and we transition into deeper, warmer, spicier shades as the post goes on. I've also included my top complimentary lip liner recommendations throughout (if you're curious about my method for creating a full, defined pout, hop over to My Top 5 Everyday Lip Colours post, where I created a step-by-step guide!). Alright beauties, let's jump in to some pumpkin spice inspired seasonal beauty!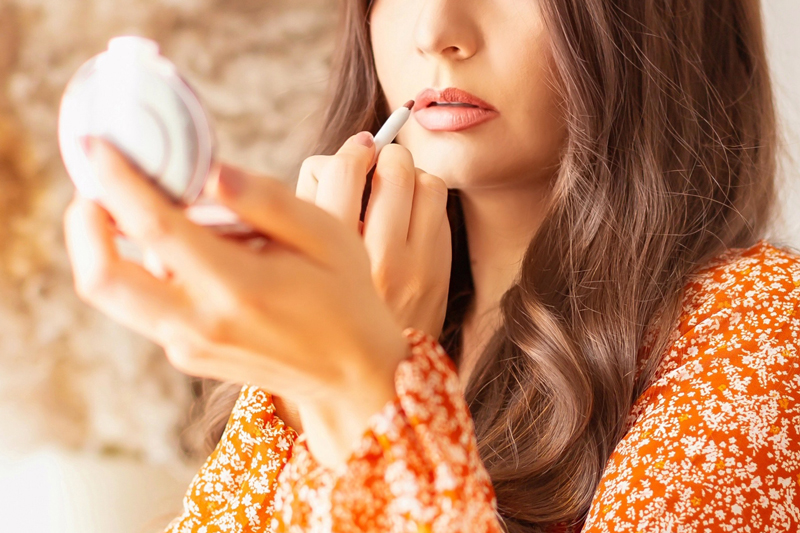 ---
CDN $11.49  (0.15 oz)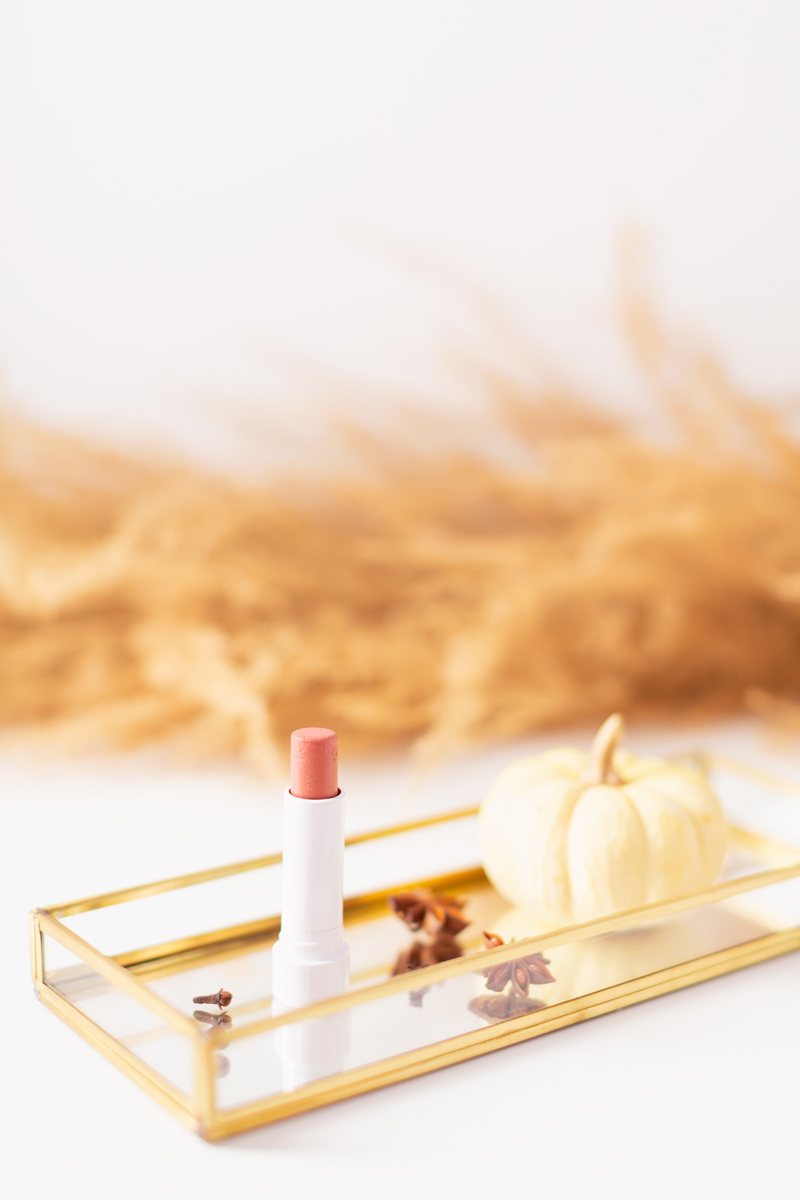 I first introduced you to Physicians Formula Organic Wear Tinted Lip Treatments this past summer, when I partnered with the brand to bring you My Top 5 Physicians Formula Products. Although this is my most recently discovered lip product in today's pumpkin spice themed post, the Organic Wear Lip Treatments have become my most-worn lip product across categories this year!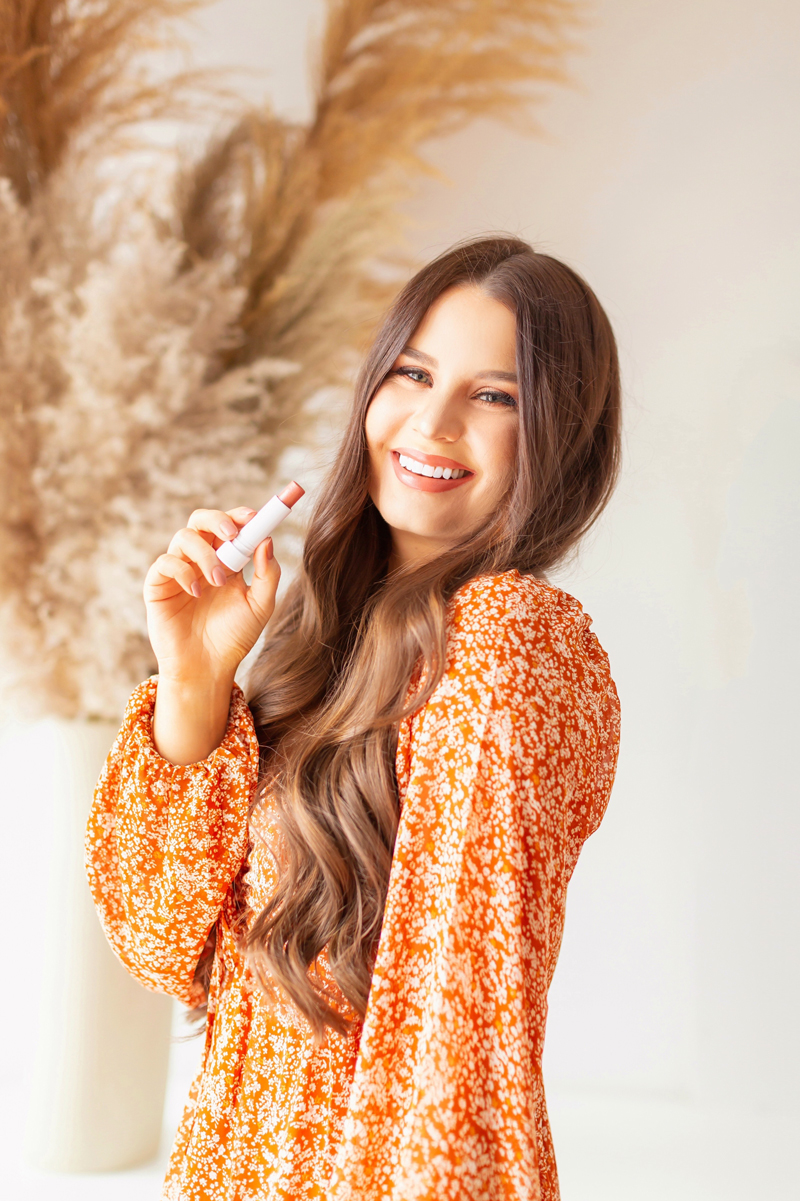 With all the extra time I've spent at home this year, my life, wardrobe and beauty routine have become exponentially more casual — and I'm fully embracing it! I find myself increasingly drawn to comfort and ease in every aspect of my life, including my makeup. The Physicians Formula Organic Wear Tinted Lip Treatment have been on on my lips most days in 2020 and I've gone through multiple tubes of my favourite shades. They're one of the most comfortable lip products I've ever worn — like luxurious loungewear for the lips!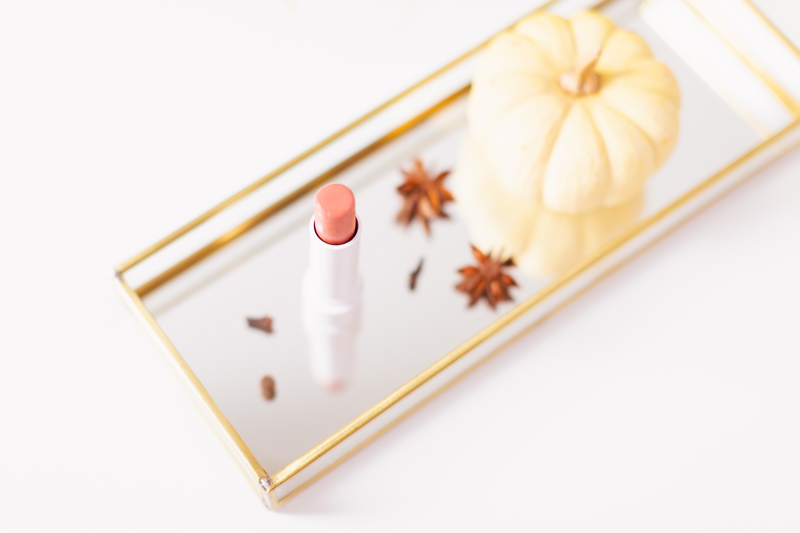 Here at JustineCelina I love my creamy, nourishing lipsticks as well as my lip balms, butters and treatments — and I really feel like I've found the best of all worlds in the Physicians Formula Organic Wear Tinted Lip Treatment! Everything about swiping on these luxuriously formulated lip treatments is a pampering experience — from the lightly sweet scent to the buttery blend of organic shea butter, organic coconut oil, organic jojoba oil and antioxidant vitamin E oils that melt onto the lips, enveloping them with beautiful colour, supple shine and intense hydration. They're also hypoallergenic, paraben free, gluten free and cruelty free.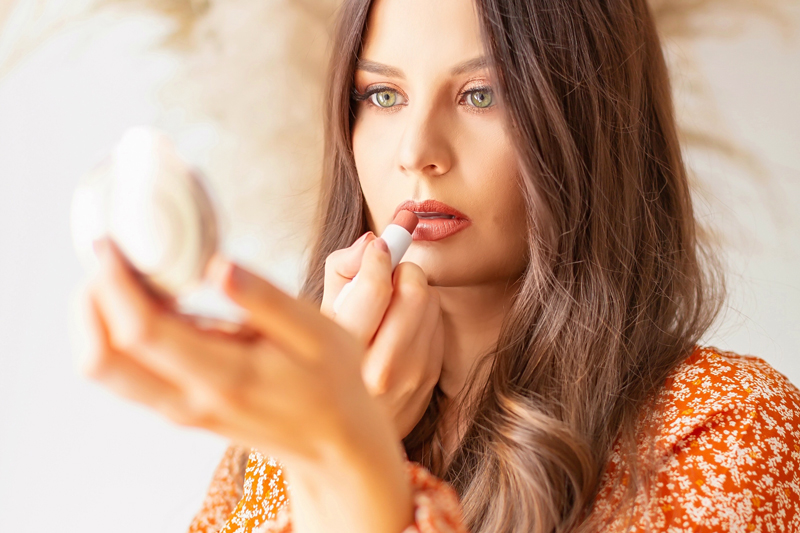 This fall, I'm loving Gingersnap — a warm nude with a kiss of pumpkin spice and a mega dose of hydration (which is very welcome at this time of year!). Physicians Formula's Organic Wear Tinted Lip Treatment in Gingersnap is an ultra nourishing, subtly fall-inspired lip butter with an ingredient list you can feel good about that delivers beautiful, saturated colour. You can expect application and wear time similar to any other lip balm — I typically swipe on a fresh coat every couple of hours to keep my pout hydrated. While Gingersnap translates as a warm caramel shade on me, it  would make a lovely nude on deeper skintones and come off a bit more brown-based on complexions fairer than mine.
If you're a nude lip lover looking for a to dip your toes into autumn's quintessential pumpkin spice inspired lip on your next drugstore run, consider adding Gingersnap to your basket. Alternatively if you're more comfortable shopping online, Physicians Formula is currently offering some incredible sales on their website, which ships to both Canada and the US!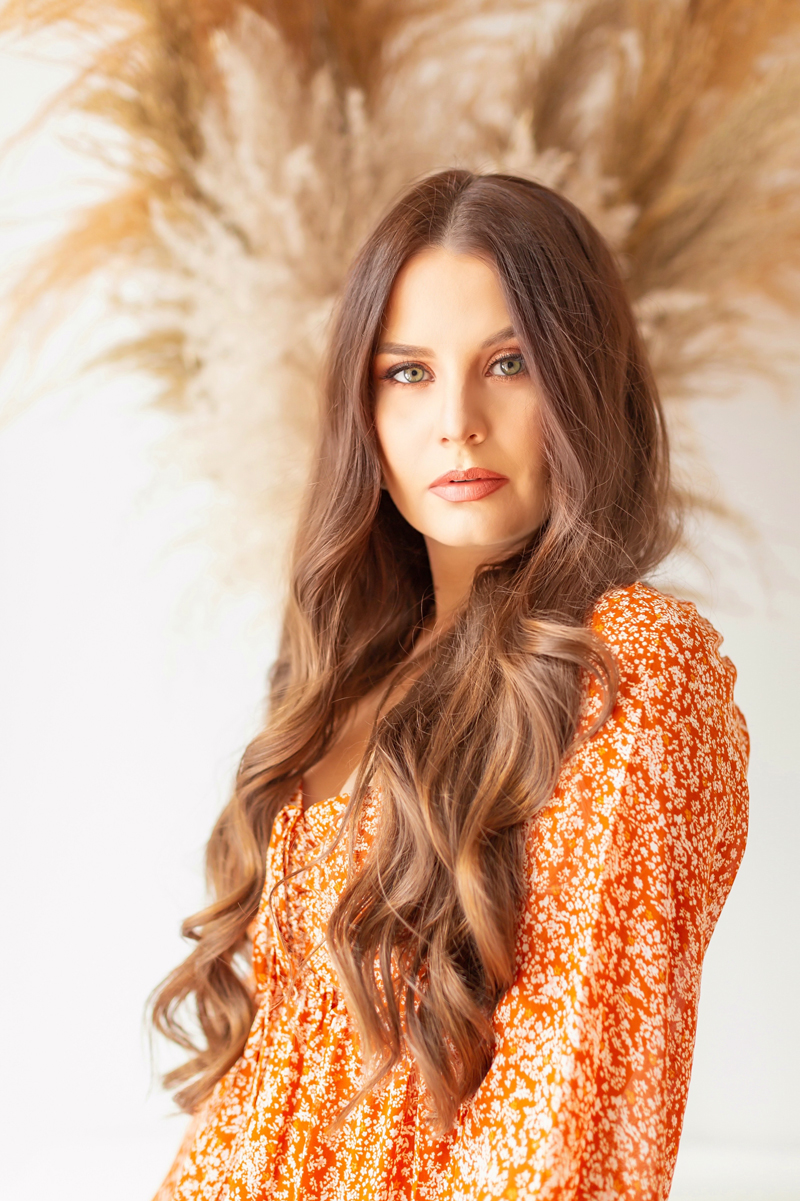 Pair Gingersnap up with Colourpop's Lippie Pencil in Another Round to create a soft and pillowy, subtly pumpkin spice inspired (and cruelty free) pout!

---
---
CDN $33.00 (0.20 oz)
Currently on sale for $23.10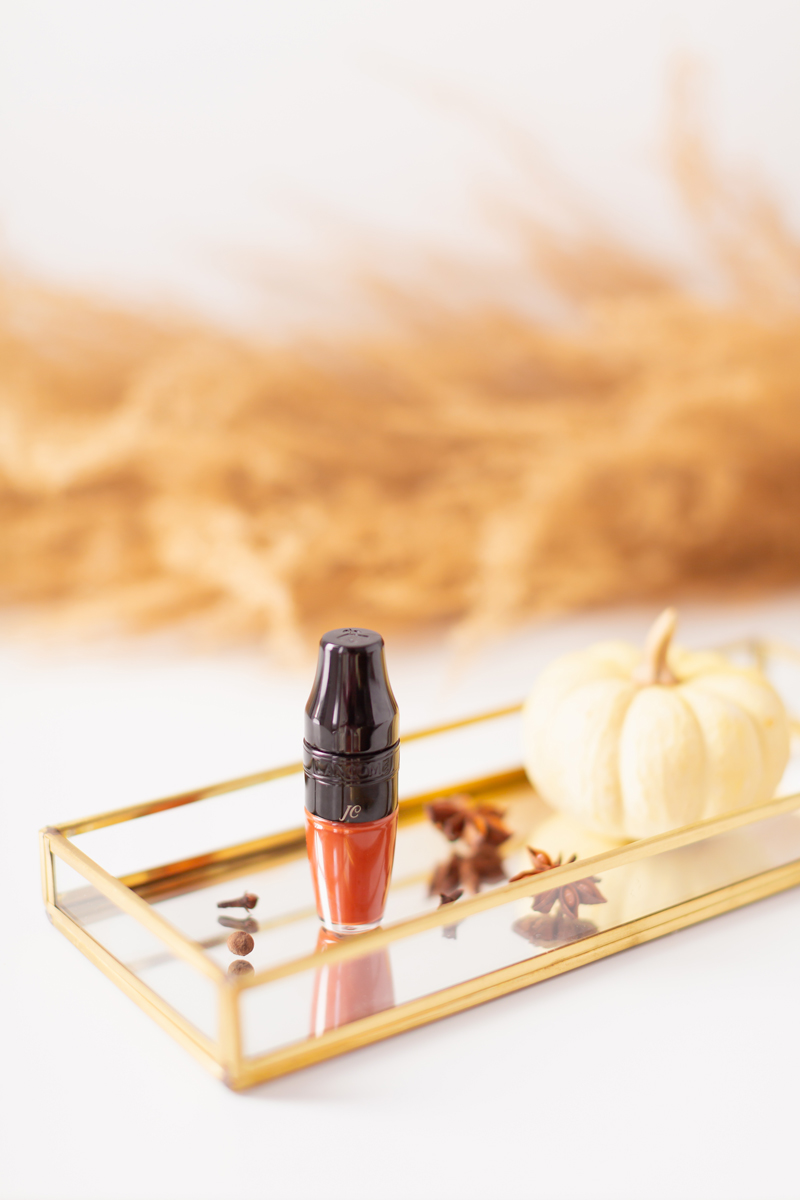 Would it be a JustineCelina BEAUTY post without a Lancôme Matte Shaker?! I initially discovered this innovative, hybrid liquid lipstick back in 2017 — and they've remained a cornerstone in my makeup routine ever since (in fact, you'll find one included in every single MY TOP 5 lipstick instalments!). Fast forward to 2020 and although I've decreased the volume of products I purchase drastically over the course of my blogging career, I now own 11 shades — and I look forward to pulling out Abrick Adabra each fall!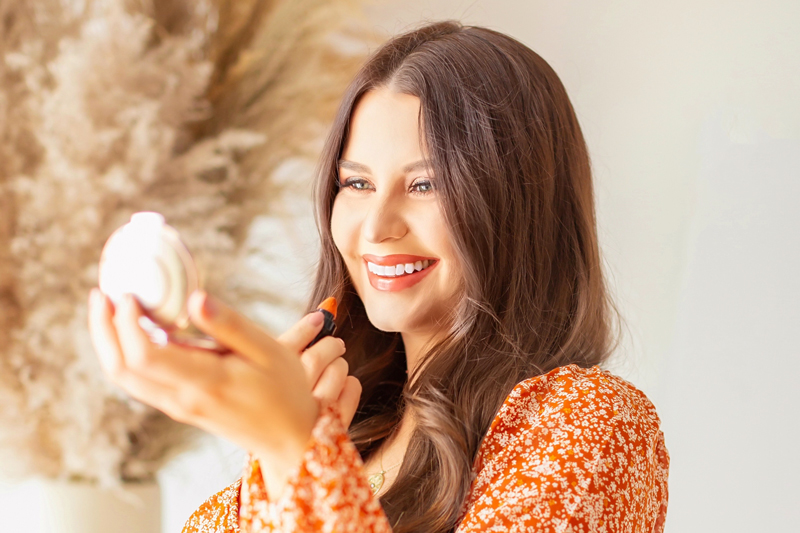 The Matte Shakers are unlike any other liquid lipstick formula I've tried — providing an extremely thin, saturated liquid that applies beautifully to the lips in a single swipe. I also love the unconventional applicator and find it so intuitive I can actually apply product without a mirror! Lancôme's Matte Shakers don't completely dry down and aren't transfer proof, but they are extremely hydrating and light as air on the lips while offering a soft matte finish. They're also buildable in terms of coverage and lightly staining — plus, they make your lips look ultra juicy and pillowy!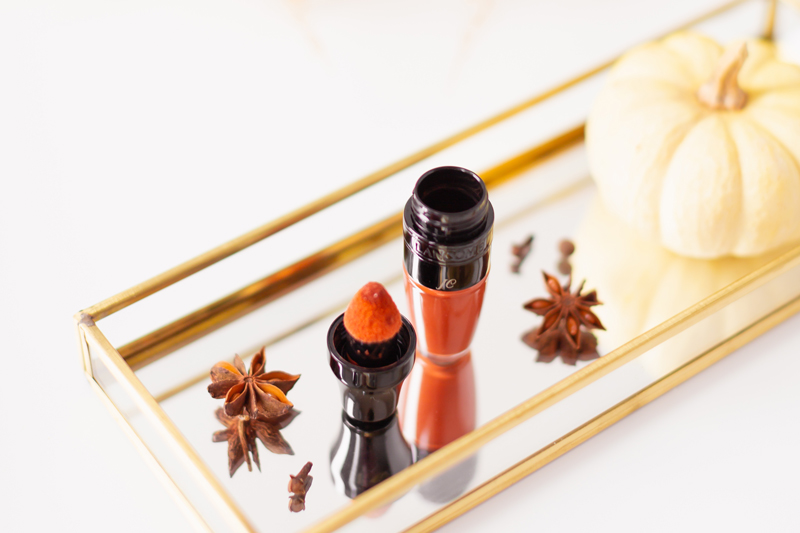 Over the past few years, I've gravitated to more hydrating formulas that don't wear all day, but still deliver long-lasting colour. Since this formula is an emulsion hybrid of pigment and gloss (the pigment seems to instantly saturate and stain, while a glossy coat rises to the surface), I find the Matte Shakers to be the best of all worlds — and they're also mask-friendly if you blot off the top layer of gloss! The stain wears for the better part of the day, but the gloss diminishes  after a couple of hours, which is usually when I touch up to replenish the glossy finish and intensify the colour.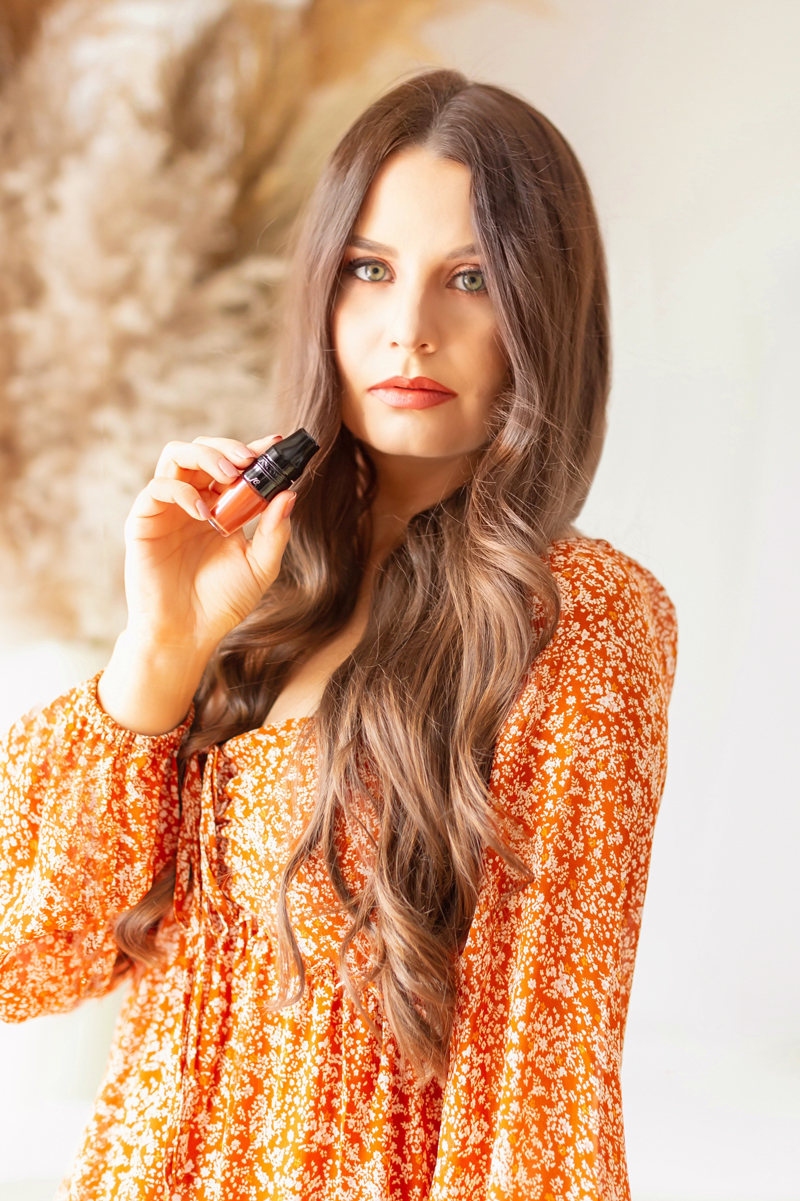 Abrick Adabra has become one of my all time favourite fall lipsticks. On me it's a mid-toned, warm brown with orange undertones, but is described by the brand as a deep orange. In addition to being one of my most-worn lipstick formulas of all time, this shade is complete pumpkin spice perfection when paired with a complimentary lip liner (try Colourpop's Lippie Pencil in Oh Sis) while still remaining ultra wearable. It's just a touch deeper and warmer than your average nude lipstick — and I absolutely adore it! Here I'm wearing a light, freshly applied coat to give you an idea of how glossy the Lancôme Matte Shakers can actually be until they dry down.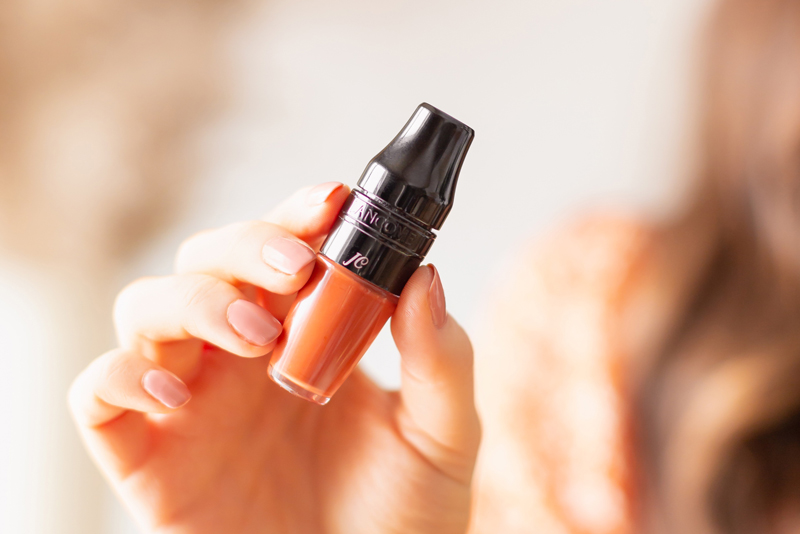 If you're looking for an easy-going pumpkin spice inspired lipstick that pairs perfectly with autumn's warm hues, you'll adore Abrick Adabra. This shade is available at Lancome.ca, where I purchased it — and it's currently on sale! They also offer free, custom monogramming on applicable purchases over $99 (notice the little JC?).

---
---
CDN $10.99  (0.15 oz)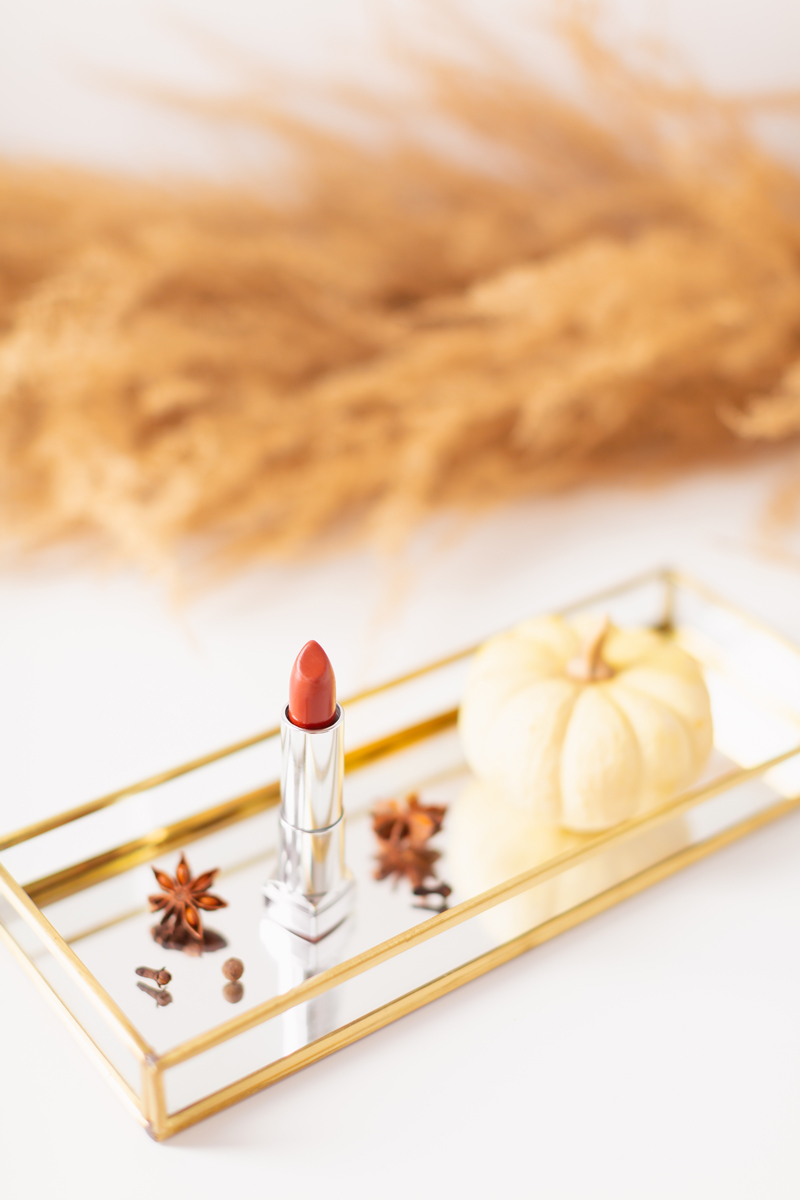 Last fall when I began my initial research for this post, I hit the drugstore in hopes I could find some fresh, pumpkin spice inspired lipsticks to share with you. I spent a solid hour strolling up and down the aisles of my local Shoppers Drug Mart, swatching away (something I loved to do pre-COVID — which seems like another lifetime ago!) in search of the perfect autumnal shades to round out my recommendations. Although I love to try new products and formulas, I also take great pride in still wearing, loving and recommending some of my long-time favourite ranges. As I'm extremely particular about my research, testing and review process — I share only the very best with you!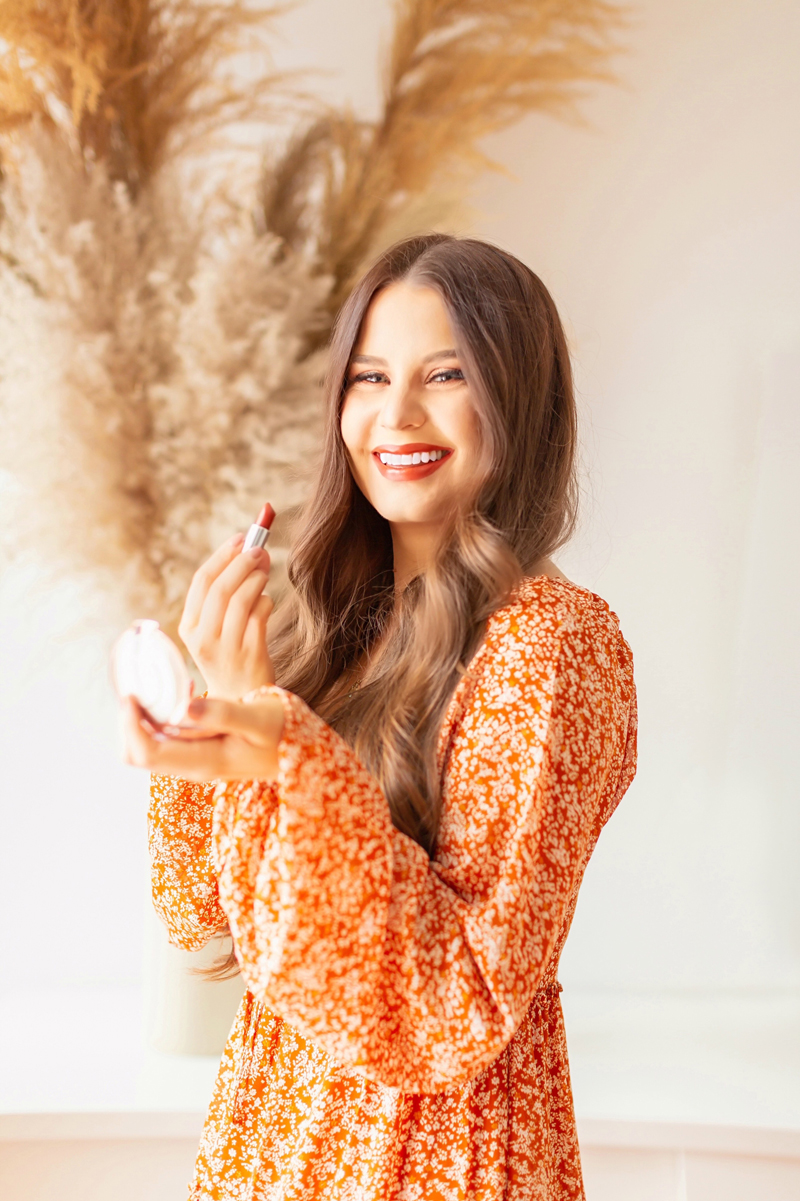 Enter Maybelline's Color Sensational Made For All Lipstick in Spice For Me — one of my favourite classic lipstick formulas at the drugstore in a gorgeous, quintessentially pumpkin spice inspired shade (has anyone been with me since 2015 when I first included the Maybelline Color Sensational Lipsticks in some of my my earliest beauty content?!). Fast forward to 2020 and I'm pleased to report that while this classic, beautifully pigmented lipstick formula has remained unchanged, the brand has since expanded the shade range to create a diverse, universally collection featuring popular colour families, developed to complement all skin tones. Now more than ever, inclusivity is top of mind here at JustineCelina as part of my ongoing anti-racism work — and, as promised, I will continue to spotlight and align myself with likeminded brands.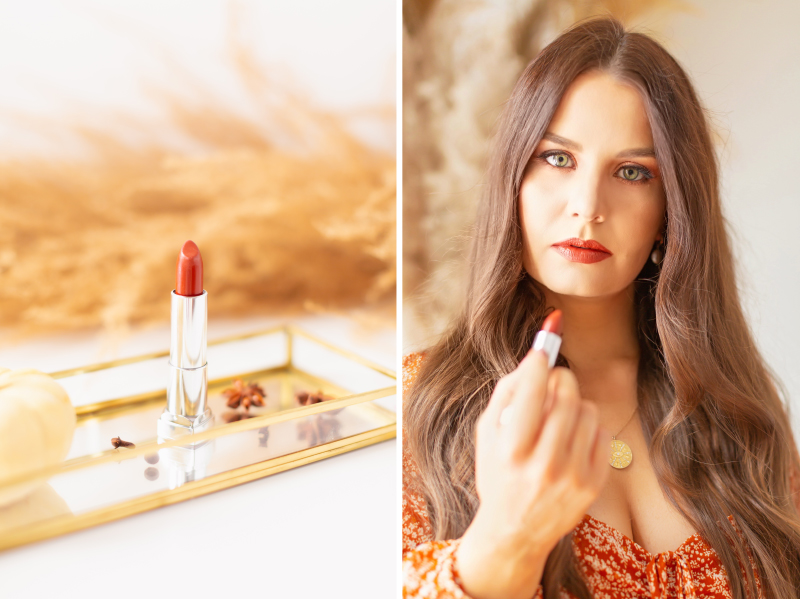 If you're looking for a warm, mid-toned, spiced pumpkin lipstick in one of the most classically beautiful formulas at the drugstore, Maybelline's  Color Sensational Made For All Lipstick in Spice For Me is my top recommendation. This universally flattering spiced pumpkin shade has been tested on 50 diverse skin tones to ensure it's truly flattering for everyone — a claim I can personally attest to! On my warm, light / medium skintone, Spice for Me is a glamorous, deep copper, but I can envision it being quite striking on fairer skintones while working as a beautiful warm neutral on deeper complexions.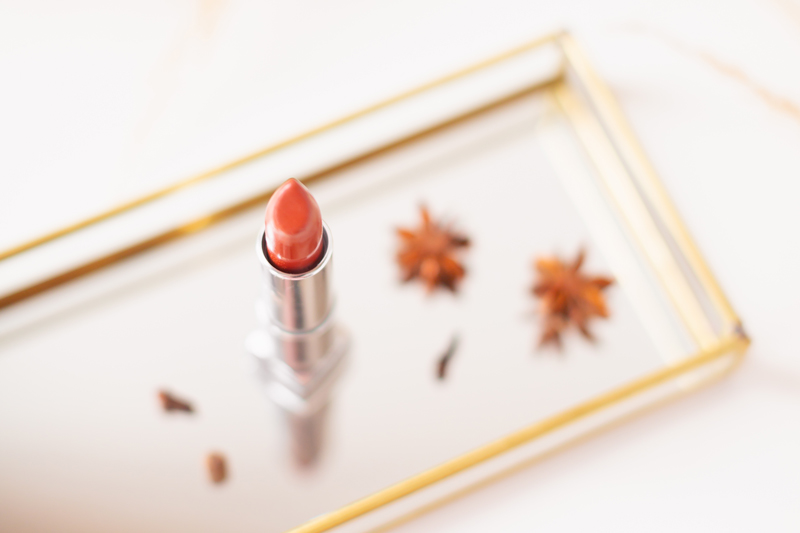 The Color Sensational Made For All Lipstick is a luxuriously pigmented, classic cream lipstick infused with honey nectar to create a smooth and comfortable application. It wears for about 5 hours on me and feels lightly hydrating — making it one of my all time favourite classic drugstore lipstick formulas. Despite its modest price point, Spice For Me rivals any of its similarly hued high end counterparts at a value that can't be beat. Available in nearly every drugstore, you'll be sure to find this pumpkin spice stunner near you!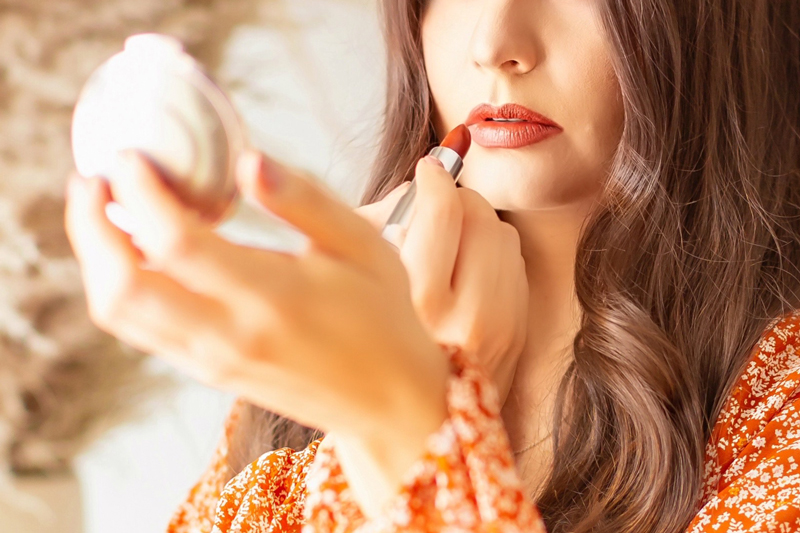 Pair Spice For Me with Limecrime's Velvetines Lip Liner in Pumpkin for a seductive spin on the pumpkin spice lip this season.

---
---
CDN $13.99 (0.17 oz)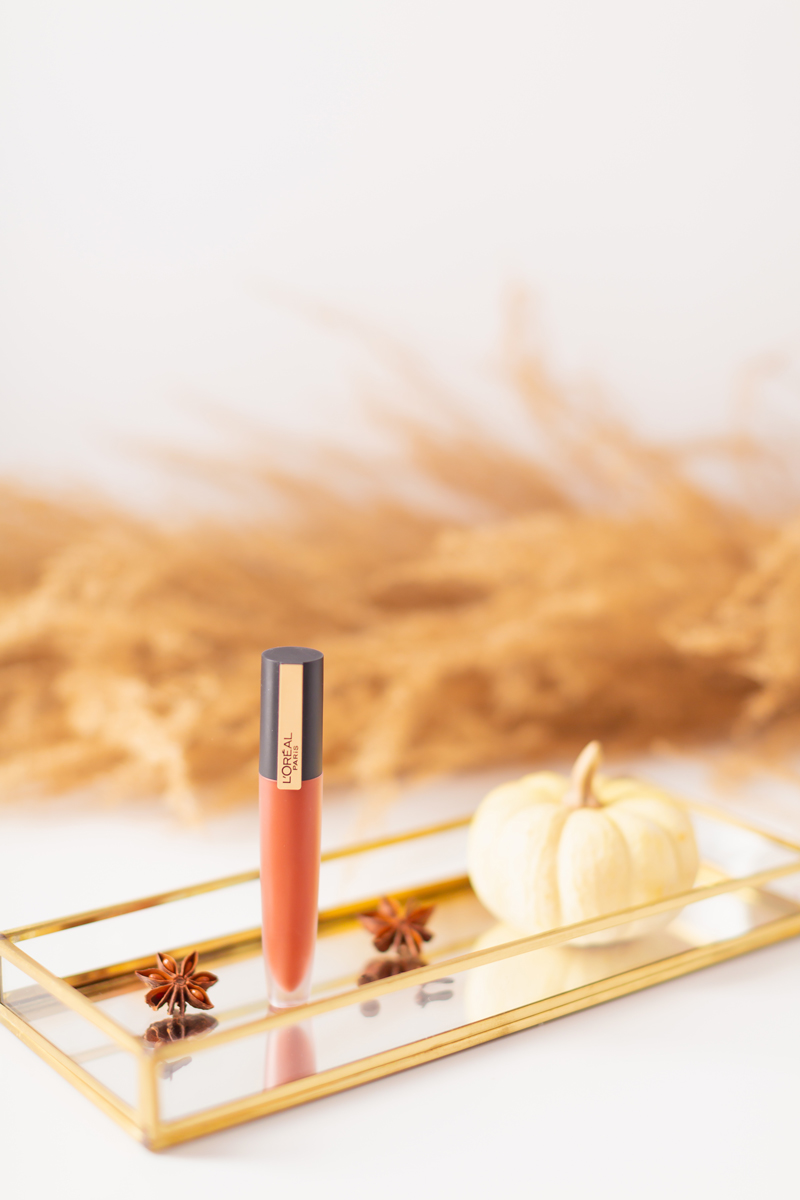 In my research for this post, not only did I scour the drugstore for the most beautiful pumpkin-spice inspired lipstick shades, but also formulas that shared similarities with my favourite luxury lip products. I was absolutely elated to discover many parallels between the L'Oreal Rouge Signature Liquid Lip Colours and my beloved Lancôme Matte Shakers — making them my favourite drugstore liquid lipstick discovery of 2020. Did you know that L'Oréal owns Lancôme? The two brands share many similar formulas, designs and packaging — I think I may be onto something here!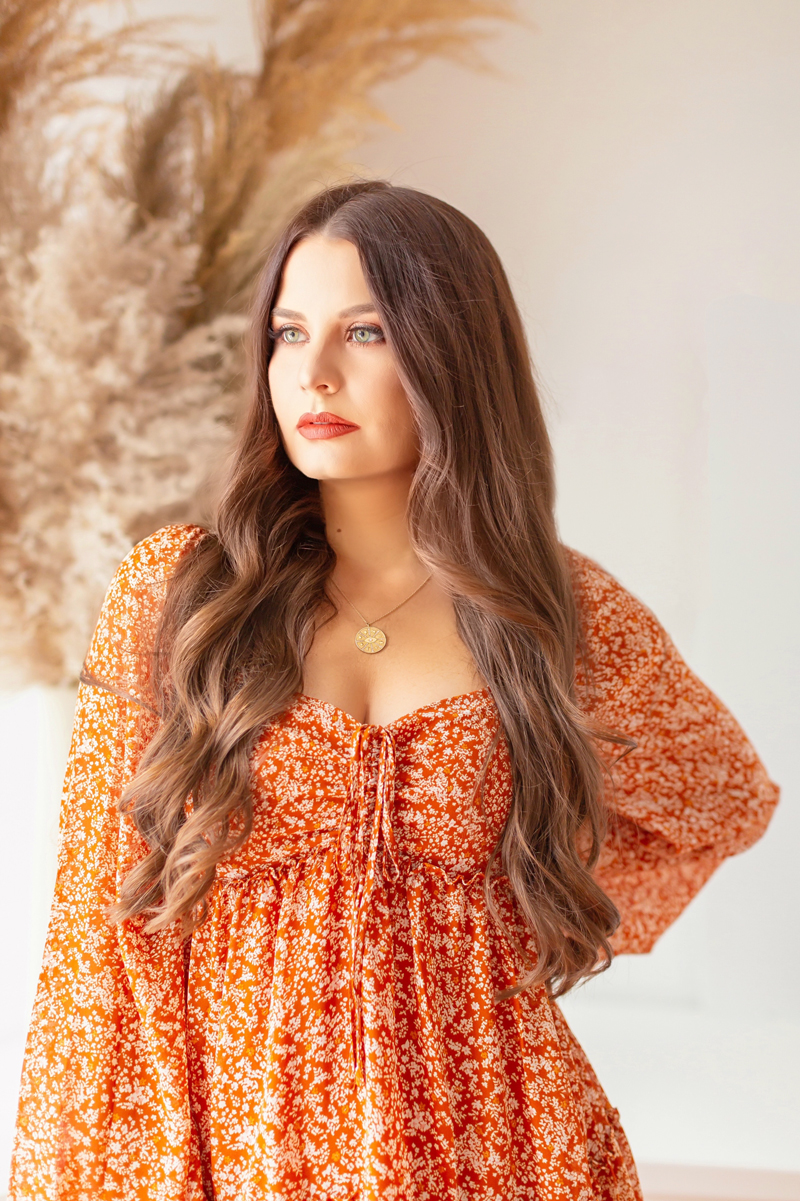 While the L'Oreal Rouge Signature Liquid Lip Colours aren't exact formula dupes of the Lancôme Matte Shakers, they're the closest I've found across categories and pricepoints. Both formulas are thin, pigmented and hydrating while offering a comfortable, longwearing stain. While the Matte Shakers actually offer a glossier finish along with a buildable formula, the Rouge Signature Liquid Lip Colours pack more pigmentation and longevity — but aren't as intense as a traditional dry-down-fully-matte-liquid-lip (like my next recommendation!). They're both absolutely gorgeous formulas in an exquisite shade range — and while I'm focusing on I Amaze for this review, I look forward to expanding my collection of L'Oreal Rouge Signature Liquid Lip Colours!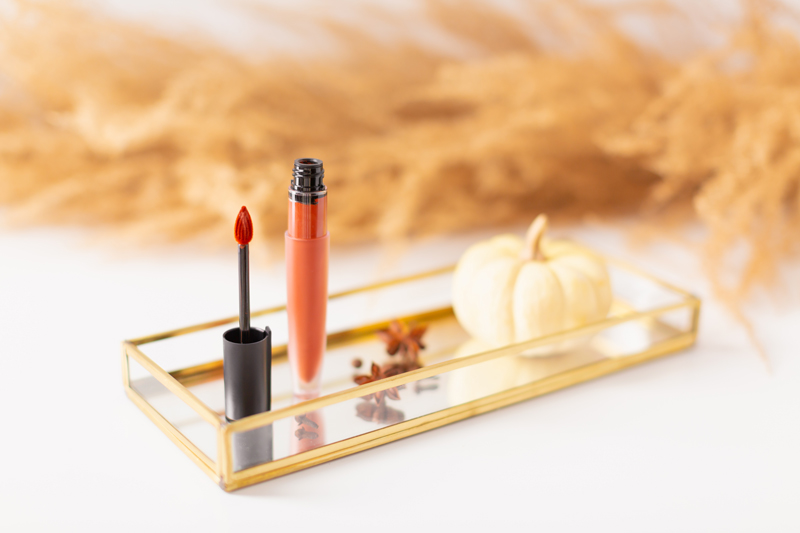 The L'Oreal Rouge Signature Liquid Lip Colour in I Amaze is a stunning, spicy burnt orange. It's an ultra pigmented, extremely thin formula that dries down to a demi-matte finish — and it's so comfortable, I almost forget I'm wearing it! I adore the precise, plush, tear-shaped applicator, which provides full coverage in a single swipe. I Amaze wears for about 6 – 7 hours on me, making it the second longest wearing of  My Top 5 Pumpkin Spice Lipsticks — striking a perfect balance between longevity and comfort. It's also face mask friendly once dried down!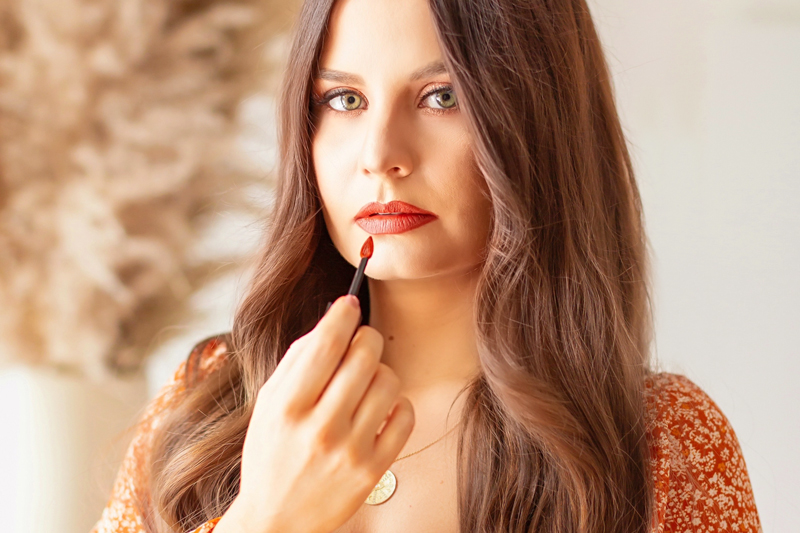 ---
---
CDN $32.00 (0.13 oz)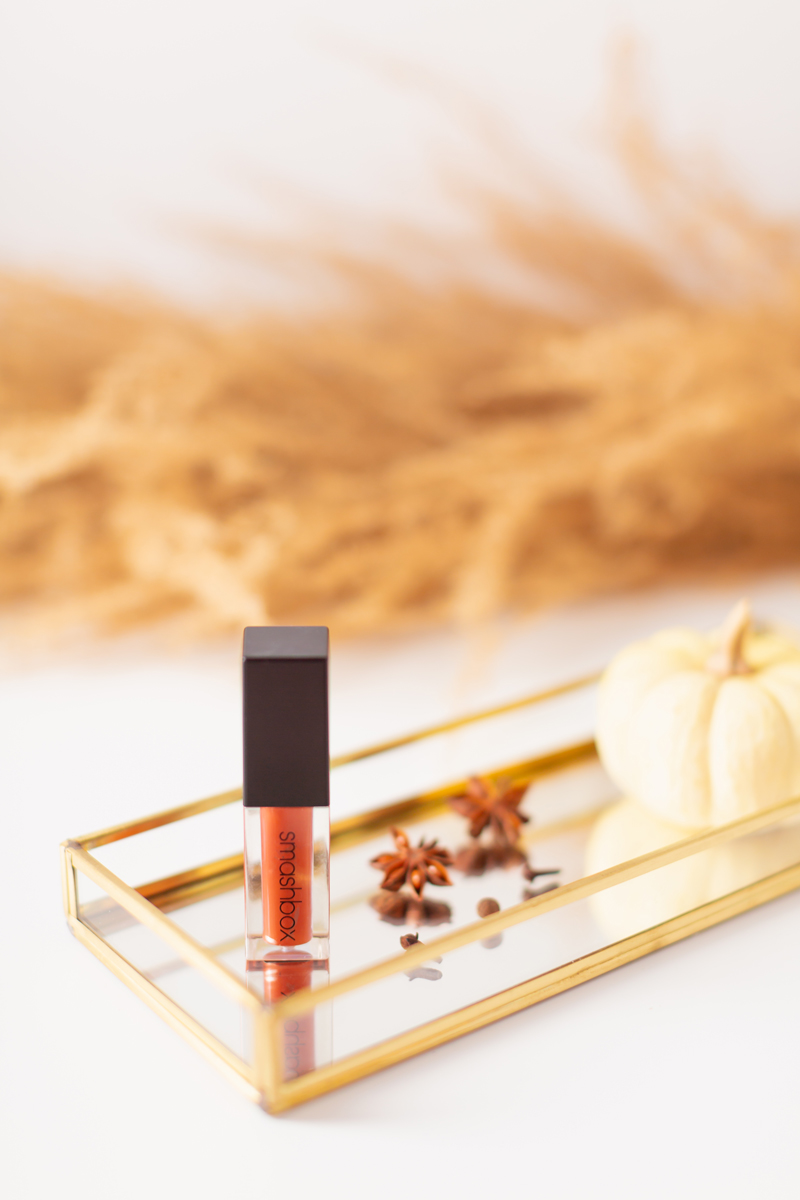 Last but certainly not least is the boldest lipstick in this post — and my longest loved pumpkin spice lip colour! In fact, the Smashbox Always On Matte Liquid Lipstick in Out Loud was my initial foray into the world of pumpkin spiced inspired lipsticks! I discovered it during a longterm partnership with Sephora Canada at the height of my beauty blogging days circa 2016 — and I've gone through multiple tubes since.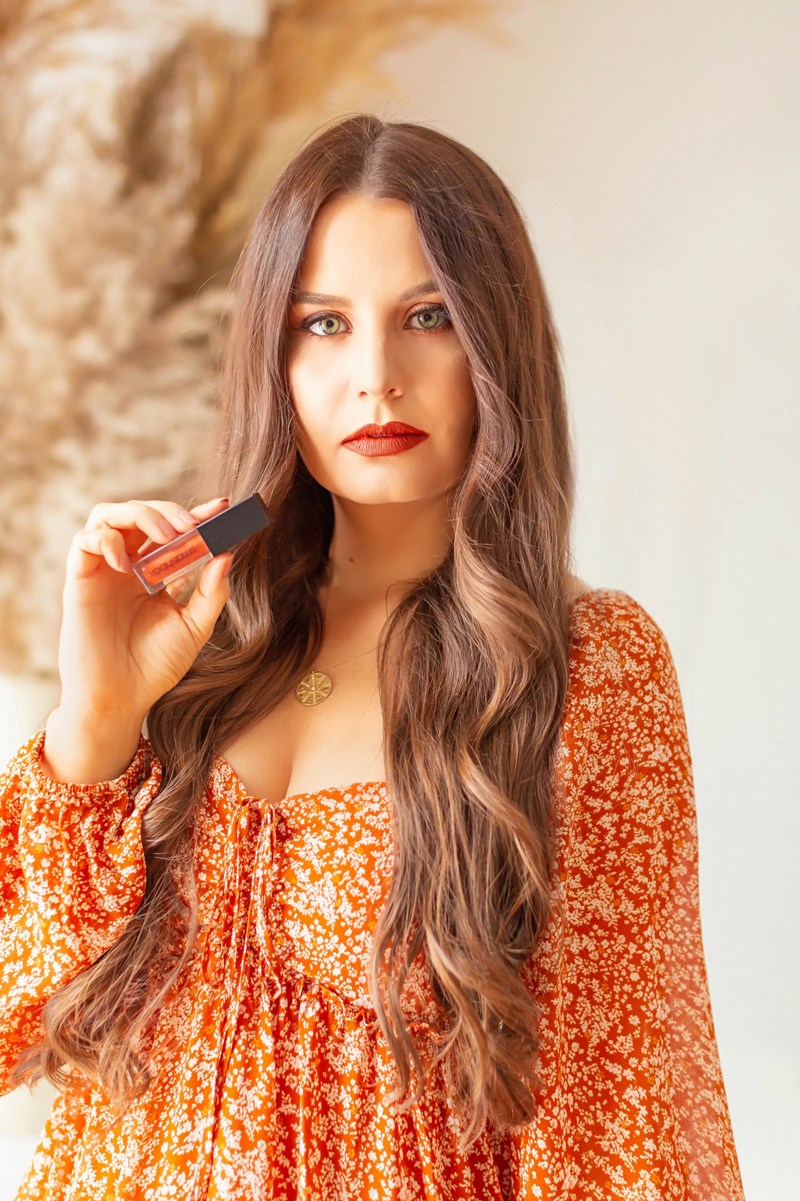 At the time, it was one of the most unique lipsticks I'd ever worn and I had absolutely nothing like it in my collection. Although lipstick trends and my personal preferences have evolved significantly since then, the Smashbox Always On Matte Liquid Lipstick in Out Loud remains a favourite in my ever expanding pumpkin spice lipstick wardrobe! In fact, I've featured it many times over the years here at JustineCelina and it's all-time-most-complimented fall lipstick — both online and IRL. If you're looking for an ultra longwearing, traditional liquid lipstick in a bold, spicy pumpkin shade, look no further than the Smashbox Always On Matte Liquid Lipstick in Out Loud. Described by the brand as a deep orange, this powerhouse liquid lip is sure to turn heads this season!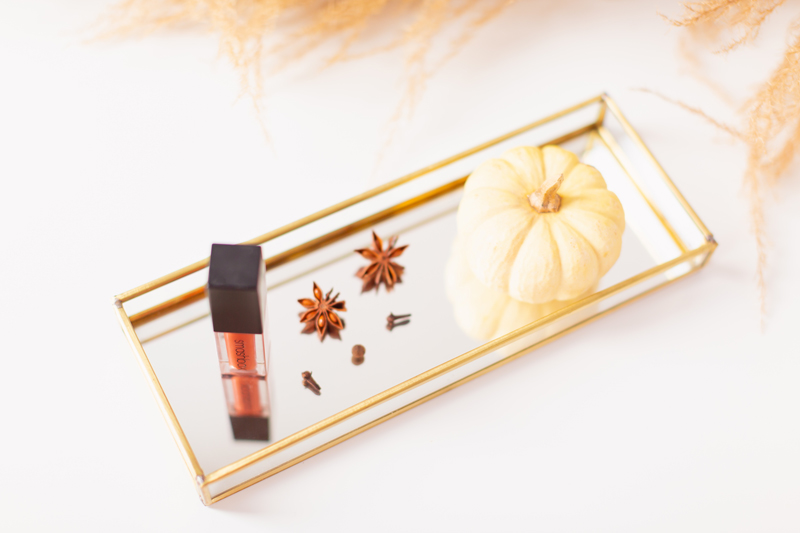 The Always On Matte Liquid Lipstick is scentless, thick, and nourishing. It glides over the lips and even fills in lip lines thanks to a lip-smoothing primer oil complex infused into this formula (I've owned multiple Always On Matte Liquid Lipsticks over the years and they're consistently incredible). The pointed applicator ensures precise application and features a reservoir that collects product to ensure you have enough lipstick to completely cover your lips in one swipe. They liquid lipsticks remain slightly tacky for the first hour of wear and aren't totally transfer proof, but they're extremely comfortable and suede-like on the lips. The Smashbox Always On Matte Liquid Lipsticks last for about 7 hours on me.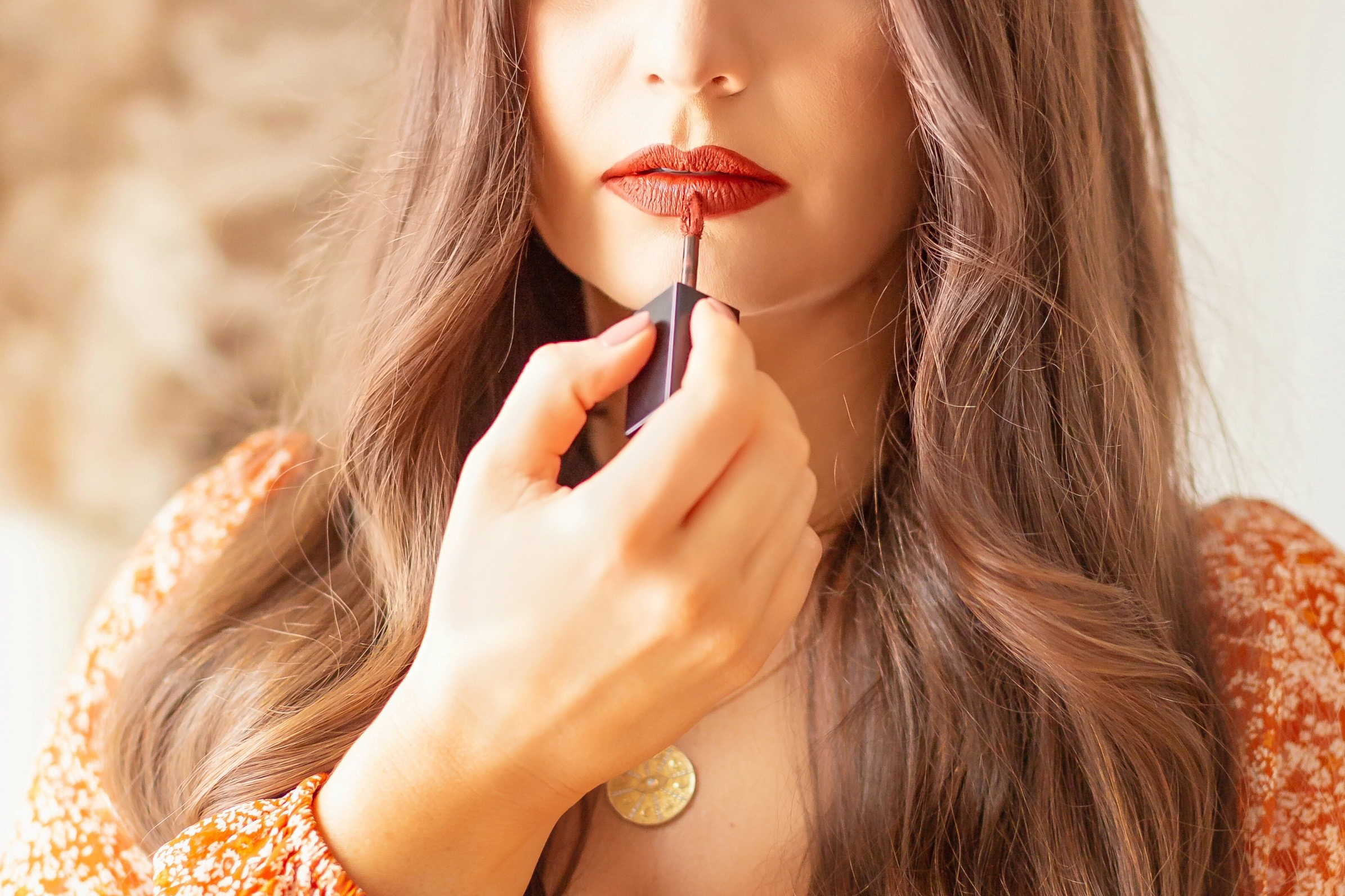 If you're looking for a drugstore dupe, explore the pumpkin spice lip trend with Maybelline's Super Stay Matte Ink in Globetrotter — a nearly identical shade in comfortable, long wearing, liquid lipsticks formula. Globetrotter is a wonderful budget friendly alternative to my all-time-favourite high end shade! Additionally, the Super Stay Matte Inks have become one of my most worn drugstore liquid lip this year because of their completely transfer-proof, mask-friendly finish. That said, they both take some work to remove — try an oil based cleanser first to break down the formula before whisking it away with your facewash!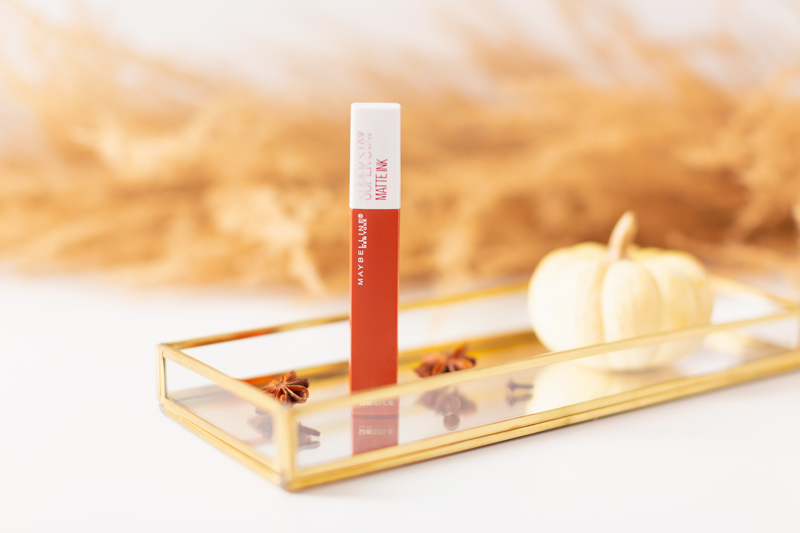 Pair Out Loud or Globetrotter up with Limecrime's Velvetines Lip Liner in Pumpkin for a bold, budge-proof, face mask friendly pumpkin spice inspired lip.

---
SHOP MY TOP 5 PUMPKIN SPICE LIP COLOURS & COORDINATING LIP LINERS
---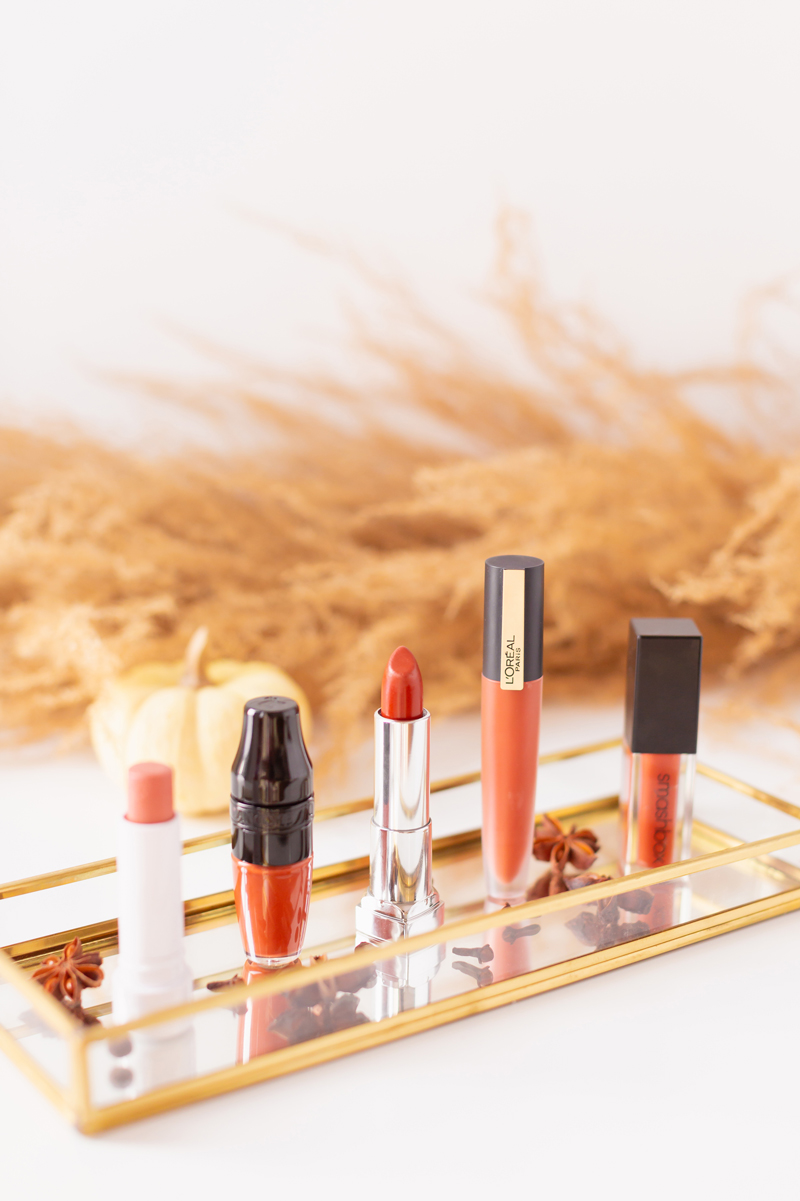 ---
SHOP THE STORY
---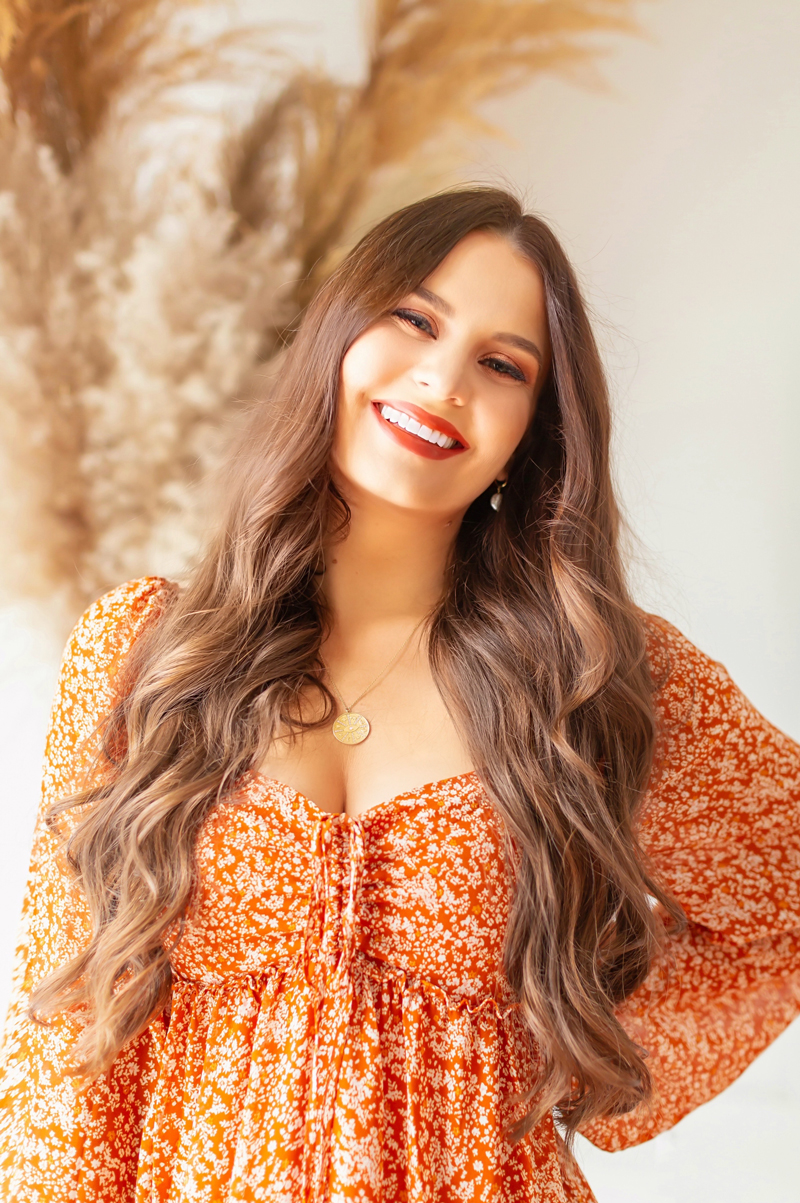 — BASE —

Estée Lauder Double Wear Foundation in 2W2 Rattan | IT Cosmetics Bye Bye Under Eye Full Coverage Anti-Aging Waterproof Concealer in Medium (to conceal and correct undereyes) | Maybelline Instant Age Rewind Concealer in Neutralizer (to highlight under eyes and centre of face) | tarte Smooth Operator Amazonian Clay Finishing Powder (to set concealer) | RCMA No Color Powder (to set complexion) | Hourglass Ambient Lighting Powder in Dim Light (to finish complexion)
 — COMPLEXION —

Bronzers & Highlight from the Butter Collection x Weylie Hoang Palette * (review) | Kevyn Aucoin The Sculpting Contour Powder in Medium (to contour face) | SEPHORA Collection Colorful Face Powders in Second Chance (to contour nose) | BECCA Mineral Blush in Songbird | Colourpop Pretty Fresh Hyaluronic Acid Hydrating Setting Mist
 — EYES —

Physicians Formula Murumuru Butter Eyeshadow Palette in Sultry Nights * | Viseart Theory II Palette in Minx (review) | Makeup Geek Signature Eyeshadow in Shimma Shimma (for inner corner) | Laura Geller Baked Original Highlighter in French Vanilla (to highlight brownbone) | Colourpop Liner in Overboard | Physicians Formula Eye Booster 2-in-1 Lash Boosting Eyeliner & Serum * (review) | Lancôme Monsieur Big Volumizing Mascara | Anastasia Beverly Hills DipBrow Pomade in Dark Brown

 — OUTFIT & STYLING —

Floral Chiffon Peasant Sleeve Dress in Brick / Cream | Gorjana Reese Pearl Huggies * | Tai Rittichai Gold Coin Eye Necklace *
 — NAILS —
 — HAIR —
Sultra The Bombshell Rod 1 " Curling Iron
 — PAMPAS GRASS —
Arizona Pampas Grass * | Desert Pampas Grass * | Sonoma Pampas Grass *  (use code justinecelina10 for 10% off your order)
---
MORE SEASONAL BEAUTY INSPIRATION
---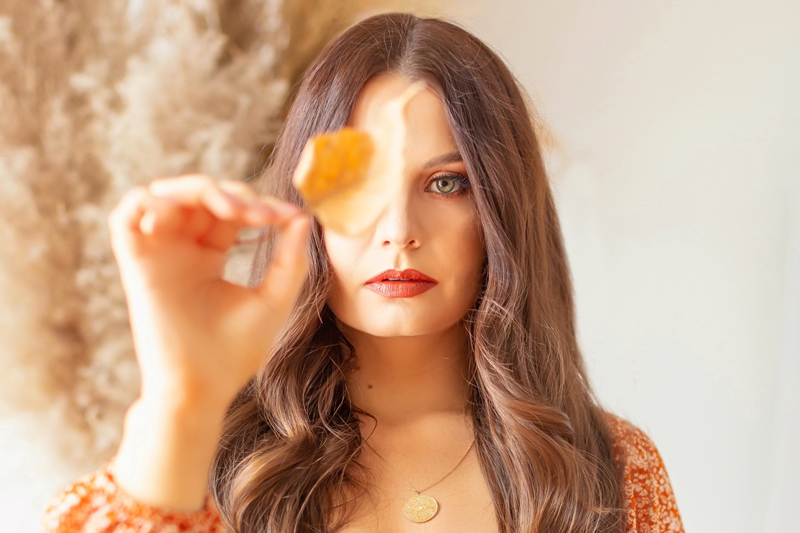 6 Marsala Lipsticks to Try This Fall
My Routine for Flawless Looking Skin
Autumn / Winter Fragrance Edit
5 Liquid Lipsticks to Try This Fall
My Top 5 Red Lipsticks for The Holidays
---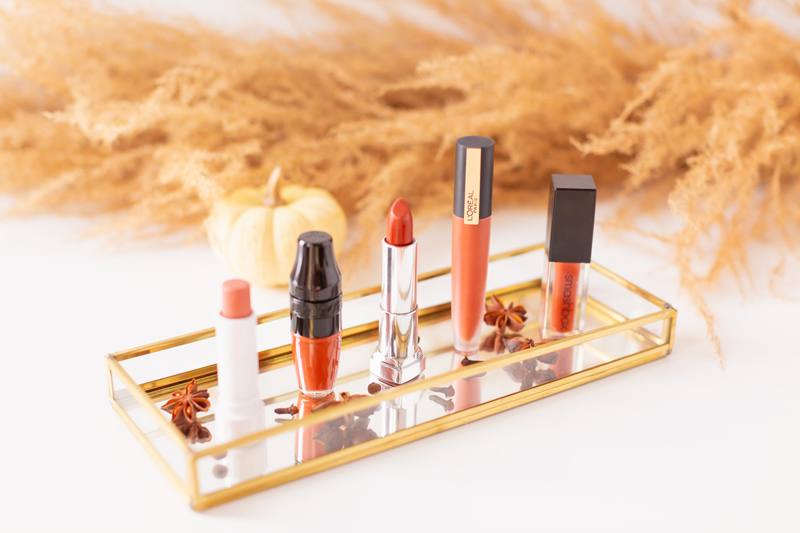 Thanks for stopping by on this crisp late autumn afternoon to learn more about My Top 5 Pumpkin Spice Lip Colours! I hope this post has inspired you to spice up your beauty routine this autumn and try a new shade, formula or product — or has simply brought you joy. It always amazes me how even a small tweak to your beauty routine can really change up your look and re-inspire you!  

Craving even more beauty? Be sure to visit the links above for seasonal inspiration, or check out my Pinterest board for all things beauty and skincare. If you try one of my recommendations I'd love you to leave me a comment or hashtag #justinecelinabeauty in your photos across social so I can find them! Wishing you all good health and happiness as we approach the holiday season.
---
Disclaimer: Products marked with * indicate press samples sent for editorial consideration with no obligation for feature or review, or as part of previous partnerships. This post is not sponsored and contains my genuine thoughts, ideas and recommendations. JustineCelina uses affiliate and referral links, which allow me to receive a small commission when you make a purchase through one of my links. Thank you for supporting the brands and businesses that support JustineCelina.com!