---
Year after year as we approach Valentine's Day, I find myself seeing through proverbial rose-coloured glasses and craving all things pink! And during the almost 6 years I've been blogging here at JustineCelina, I've created a plethora of dreamy, pink themed content. To celebrate love day this year, I'm sharing mega dose of all things pink, feminine and romantic in my 40+ Valentine's Day Ideas roundup — featuring a collection of my favourite love day inspired things across categories. From what I wear, to the beauty products and fragrances I chose, to the flowers I bring into my home (or to my screen!), to what I eat and drink to how I entertain and practice self care, I love to incorporate February's quintessential hue into Valentine's Day — no matter what I'm up to!
Whether you're in search of Valentine's Day outfit ideas, the perfect rose toned lipstick, gift ideas for your significant other, pretty cocktails, seductive fragrances, plant-based pink recipes, flower arranging tips and education, self care ideas, or Galentine's Day entertaining inspiration, I've got you covered! Plan yourself the best Valentine's Day yet whether you're single or attached, no matter how you celebrate by fixing yourself a delicious pink cocktail (may I suggest a Rose Infused Cherry Gin Fizz?) and cozing up with me tonight for some fun, attainable and creative ways to infuse a festive touch into your to your love day!
---
40+ VALENTINE'S DAY IDEAS
---
Do you celebrate Valentine's Day? Although my partner and I aren't big on material gifts (except for flowers, of course!), we do love to go do something together, or enjoy a beautiful evening at home. That said, I do love to get in the festive spirit of love day by incorporating plenty of romance into my day — no matter what I'm up to! These ideas include some of my very favourite rose-coloured inspiration across categories — and if you'd like more information on anything discussed, you can simply click the titles or images. I hope you enjoy my 40+ Valentine's Day Ideas roundup!
---
VALENTINE'S DAY FLOWERS
---
We're kicking things off with my favourite gift to give or receive on love day — flowers! While I love most flowers, roses will always have a special place in my heart, especially on Valentine's Day. This section is dedicated to my fellow flower lovers, or those who want to learn more!
Learn All About Roses in this collaborative post in our ALL ABOUT series where Rebecca Dawn Design and I teamed up to educate you about everything you've ever wanted to know to know about a certain flower! All About Roses introduces you to February's quintessential bloom, where you'll learn about common and unique varieties, what to look for when purchasing roses, as well as how to care for and condition them so you can enjoy them for up to 14 days. Rebecca also shares her secret weapon for reviving droopy roses — you're not going to want to miss it!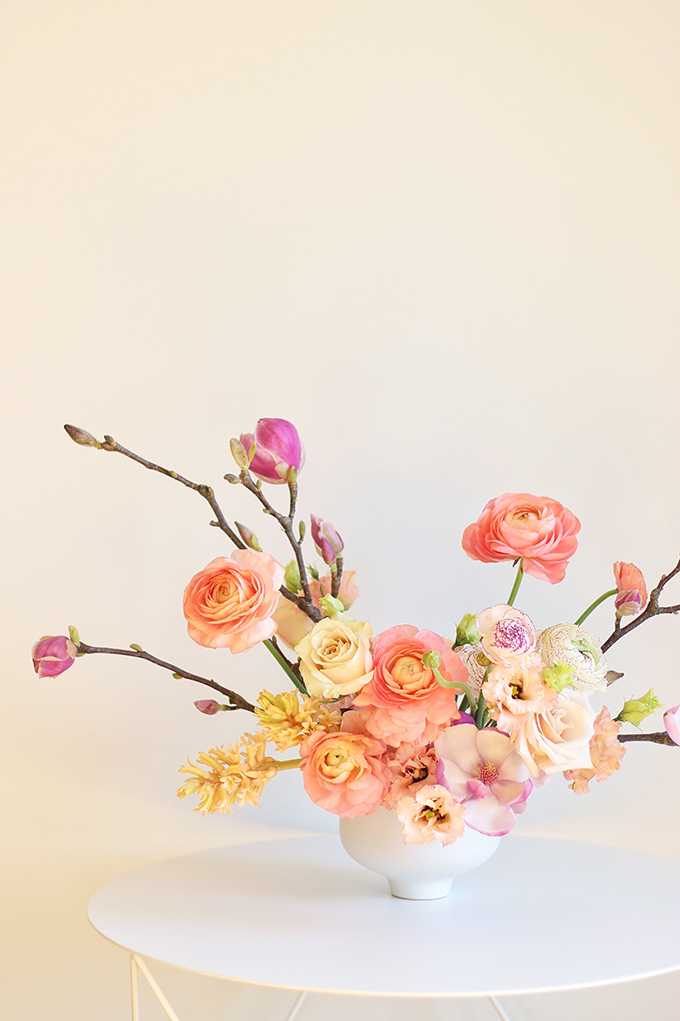 Trying your hand at flower arranging this Valentine's Day? Ordering a pink-themed arrangement for your beloved? Eager to learn more about seasonal blooms or brush up on seasonal flower care and conditioning? Our Blushing Spring Arrangement post is brimming with dreamy, pink, love day floral inspiration.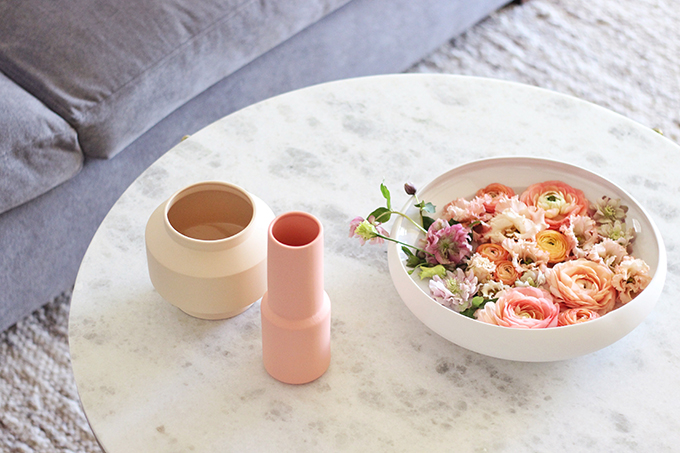 If you're looking for the perfect way to extend the life of Valentine's Day blooms that are on their way out, you'll love this simple, pink-themed flower DIY. Rebecca and I as we show you how to create this easy going, pastel hued centrepiece to adorn your home this season — expert flower arranging skills not required! All you need is a large serving bowl, fresh water and a handful of blooms, which can be repurposed from a less than youthful arrangement.
---
FREE VALENTINE'S DAY FLORAL TECH WALLPAPERS
---
Celebrate Valentine's Day by downloading one of our free February DIGITAL BLOOMS floral wallpapers straight to your tech for a pretty, love day inspired makeover!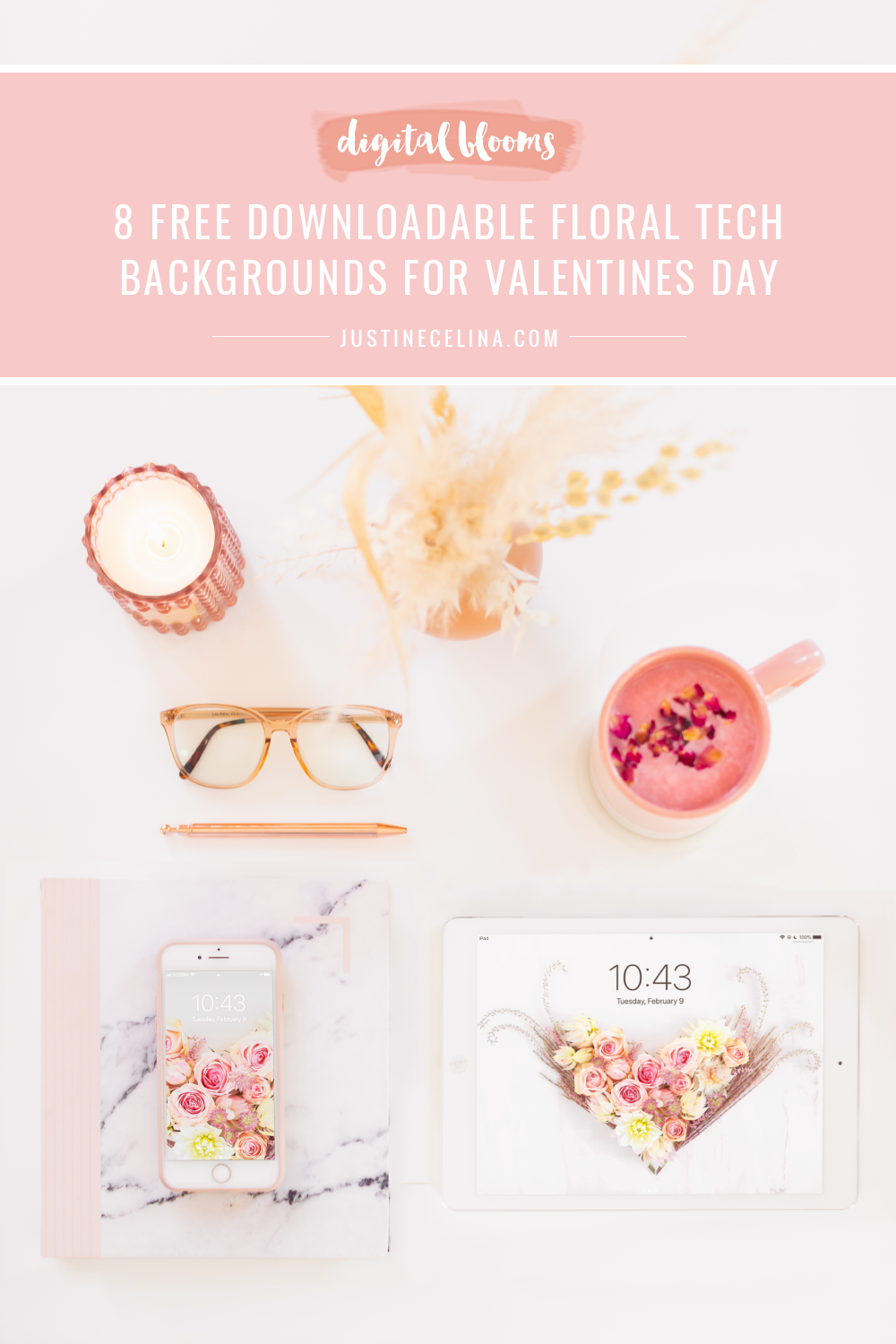 For your convenience, I've rounded up 8 February tech wallpapers we've created over the past 6 years in this recently published post. You can also click on your favourite design to be directed to a page where you can download it to your device, absolutely free!
---
VALENTINE'S DAY ENTERTAINING
---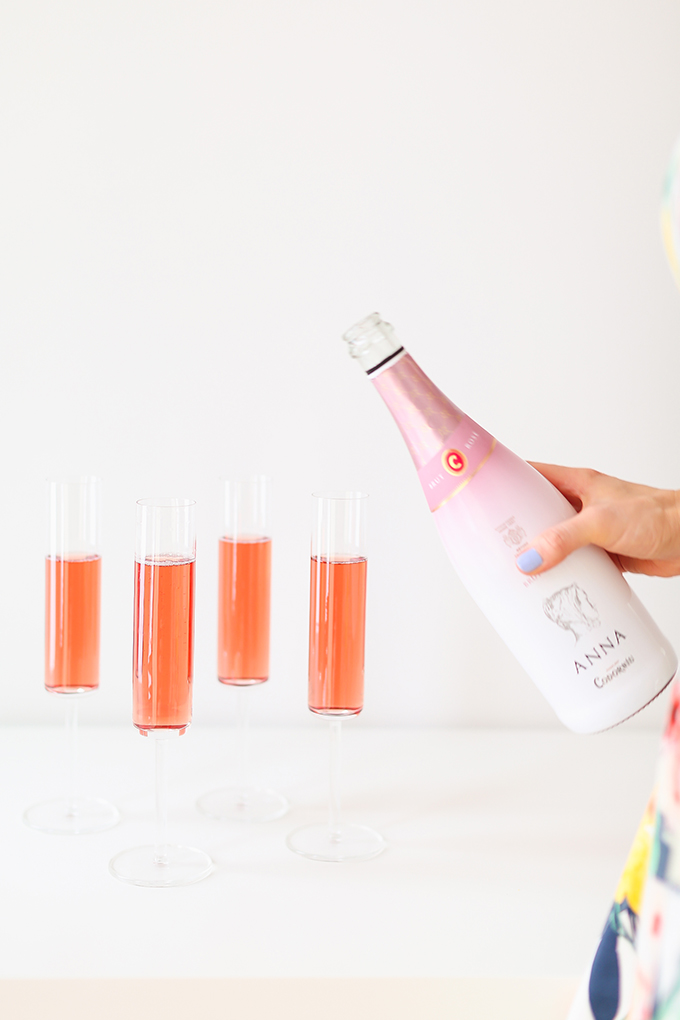 PINK GALENTINE'S DAY ENTERTAINING IDEAS
I love to entertain — and in my single days, I loved to have my girlfriends over and celebrate love day, Galentine's Day style! From popping a bottle of delicious, sparkling rosé or a pretty, pink cocktail to indulging in the sweetest Valentine's Day cupcakes, you'll uncover tons of Galentine's Day entertaining inspiration by clicking these images.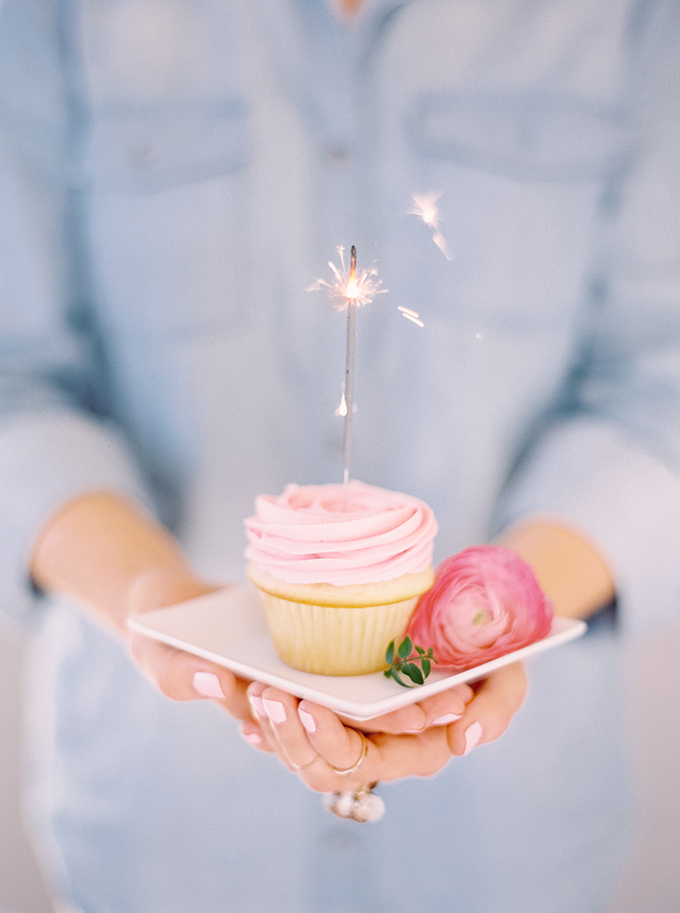 ---
VALENTINE'S DAY FASHION
---
As someone who used to 'not really wear pink', over the past few years I've definately figured out a way to incorporate February's quinessentual colour into my personal style! From soft blushing hues to romantic rose tones (and pretty much everything in between!), I've padded my closet with a considerable amount of pink — and I've rounded up my favourite ways to wear it on love day below.
---
PINK COATS FOR VALENTINE'S DAY
---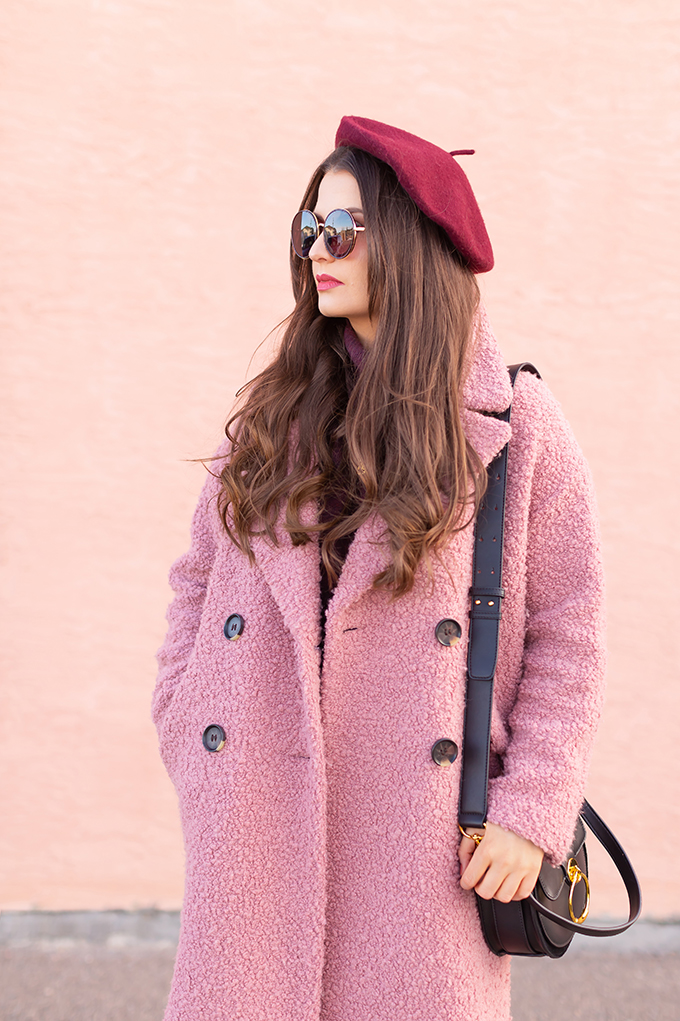 This cozy, feminine, monochromatic look is an ode to my current obsession with all things burgundy and blush — and one of my favourite casual outfit formulas for Valentine's Day. If you're craving some laid-back Valentine's Day outfit inspiration for cooler climates, curious about my favourite source for faux leather leggings, the super soft knits I've been living in lately, my holy grail lipsticks, where I score incredible deals on designer shoes (and the it bag of the season!) or how to style a teddy coat for winter, check out this post.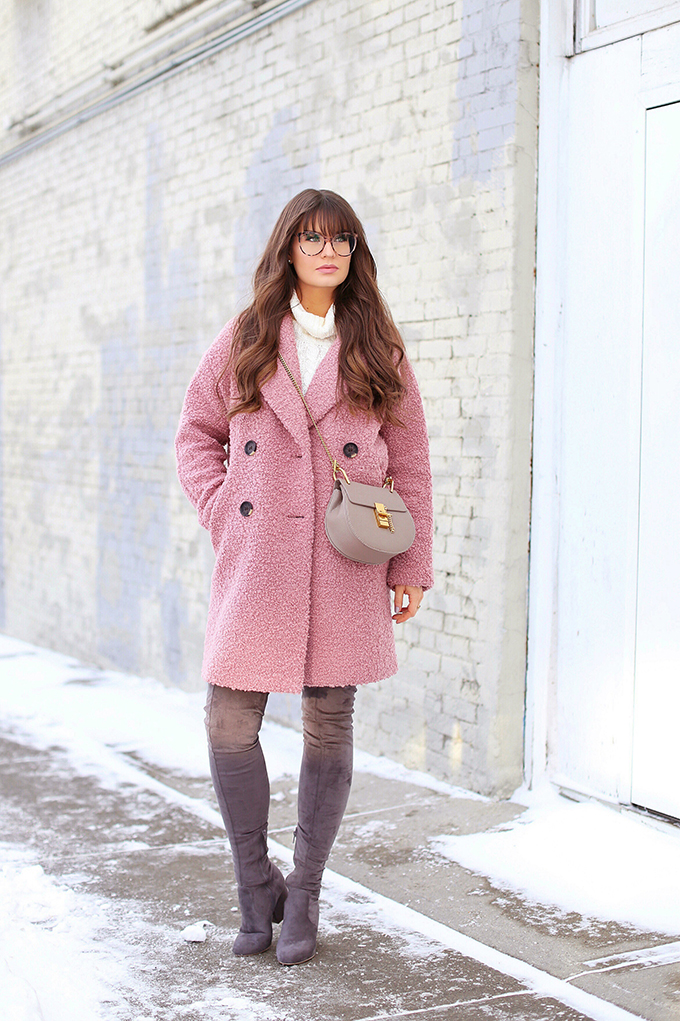 If you're looking for an alternate styling option for your pink teddy coat, I've styled it up with soft neutrals and some of my favourite cold-weather accessories in this post.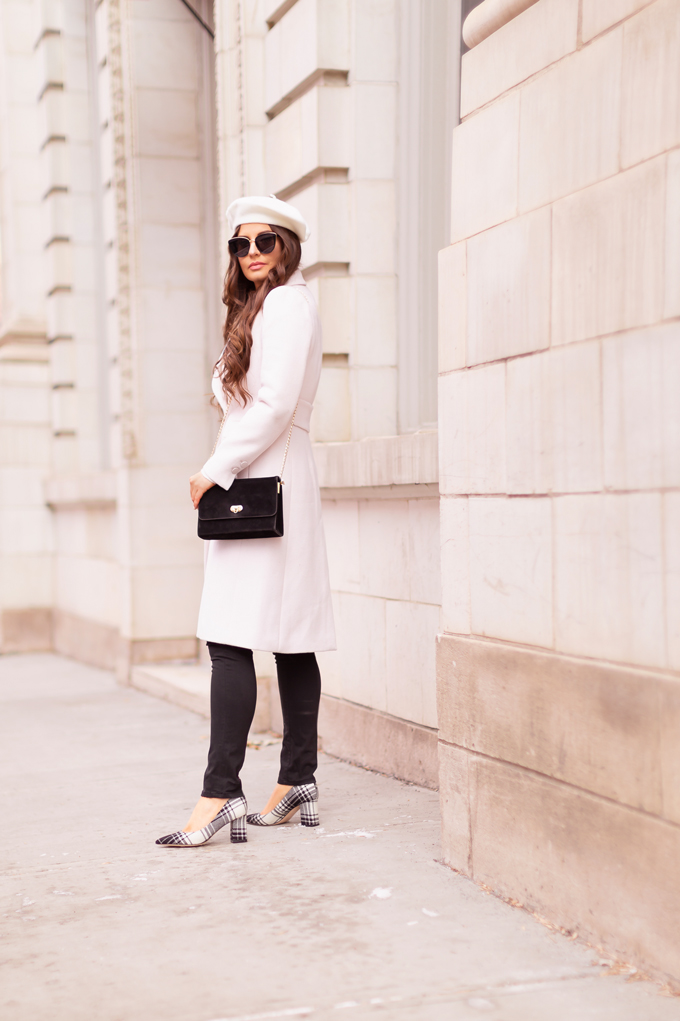 If you're not a huge pink fan, consider a garment in a barely-there shade — like this gorgeous Double Breated Crombie Coat, with the softest blush hue. I actually find it surprisingly versatile, because I treat it like a neutral. Hop over to this post for more subtle Valentine's Day outfit inspiration and a look at some of my Winter 2020 style staples!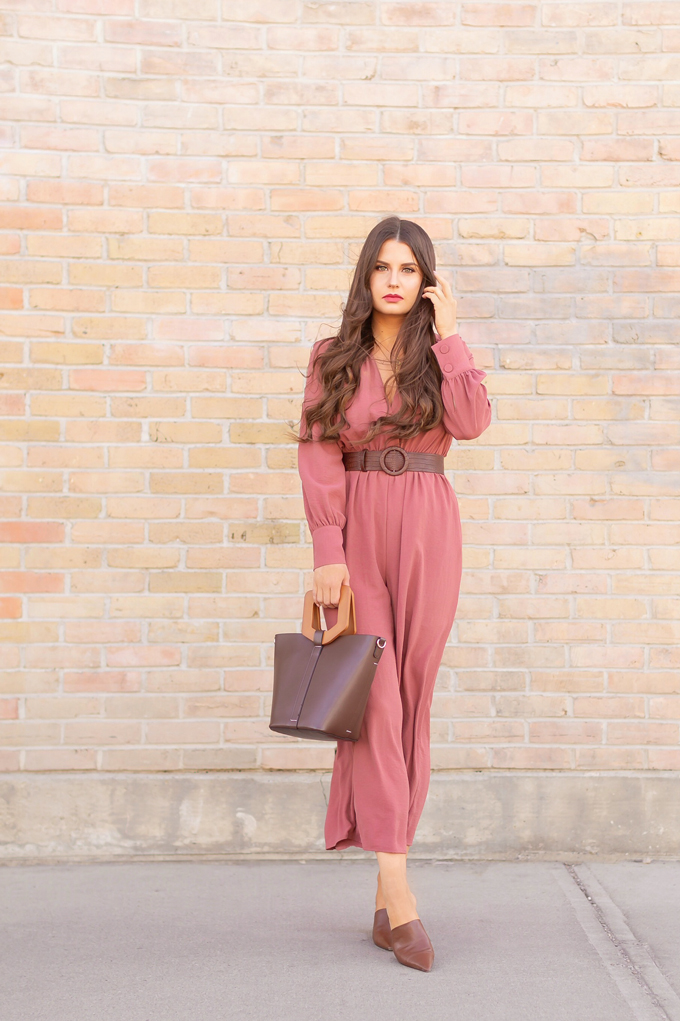 Rosy, mauve shades aren't actually a colour I wear often, but I find this particular hue very flattering. I purchased this jumpsuit at Zara this past spring and find it suprisingly versatile, almost year round! It's comfortable, easy to style and works in both personal and professional settings — a great anchor piece for Valentine's Day looks.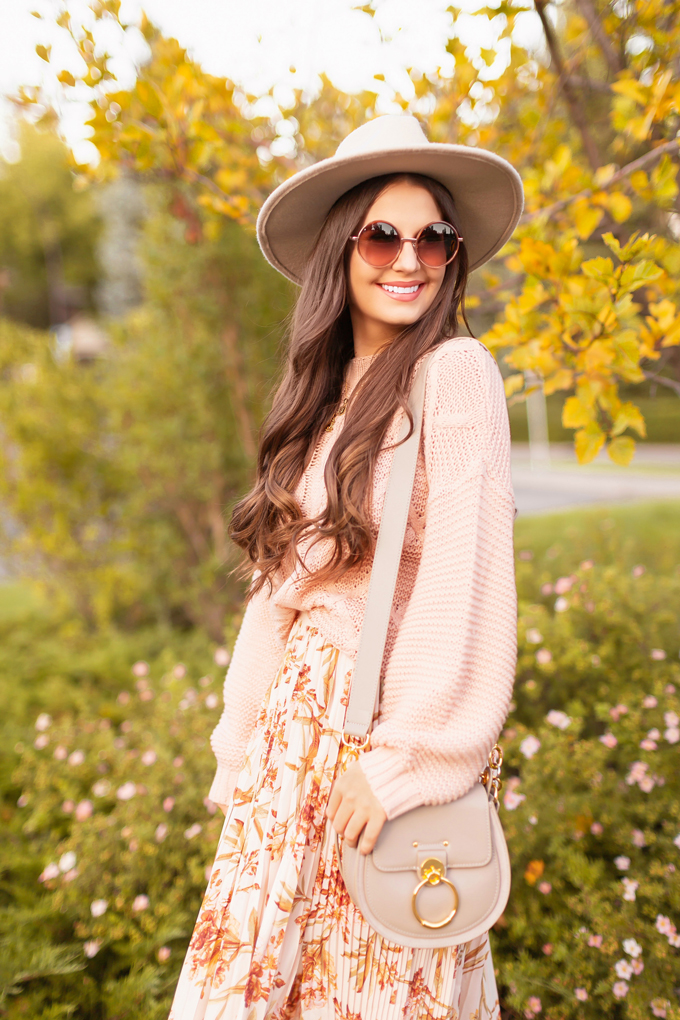 I love to pair soft, feminine hues with warm neutrals as we transition into spring — and that's exactly what I did in this casual, bohemian Valentine's Day look! Lighter-hued knitwear is the perfect way to ease into more spring-inspired styling and colour palettes, even when temperatures are stull quite chilly. Bohemian babes, pop over to this post for my take on laid-back love day style!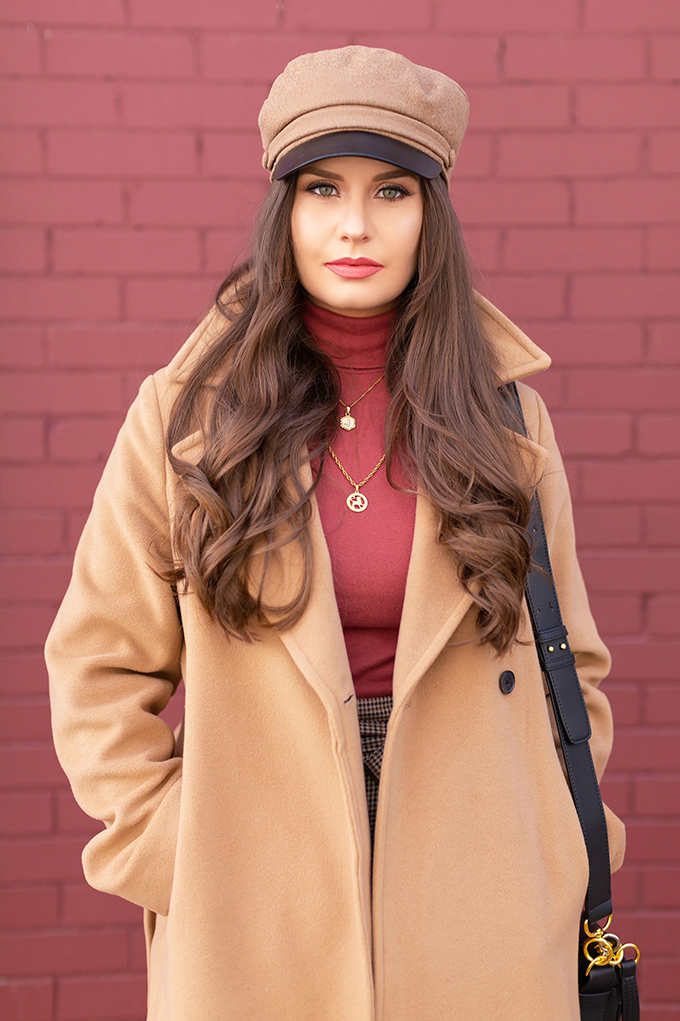 You can dress for Valentine's Day without looking overdone by incorporating one pink hued item into your outfit — like this fine knit, slim fitting rose-coloured turtleneck. Not only is it chic and sophisticated, fine-knit turtlenecks have the ability to make nearly any garment in your wardrobe seasonally appropriate. Pop over to this post to learn more about my transitional winter-to-spring style staples!
Still not convinced that a so-not-girly-girl can incorporate pink into her personal style on Valentine's Day? This edgy look features some of my favourite ideas to incorporate pink into your wardrobe in a way that feels authentic to you.
---
PINK ACCESSORIES FOR VALENTINE'S DAY
---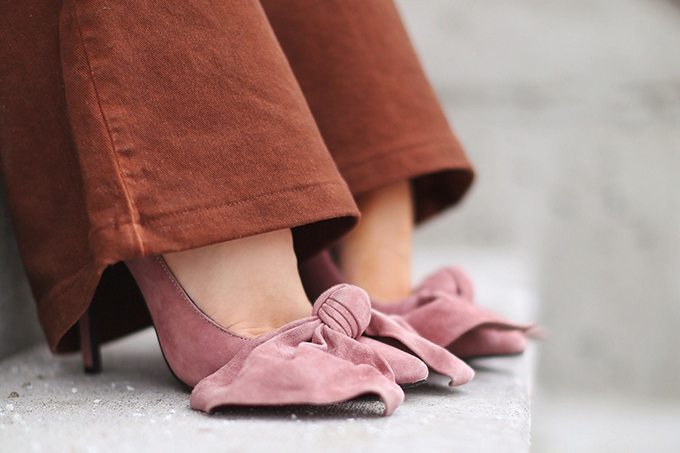 PINK SHOES FOR VALENTINE'S DAY
If you're not ready to commit to a pink garment for Valentine's Day, opt for a pink accessory! These Jeffrey Campbell oversized bow pumps are about 6 years old and I love the statement they make. These stunners aren't a pair of shoes that I wear often, but do find myself reaching for them whenever my outfit needs a special touch. They're perfect for Valentine's Day!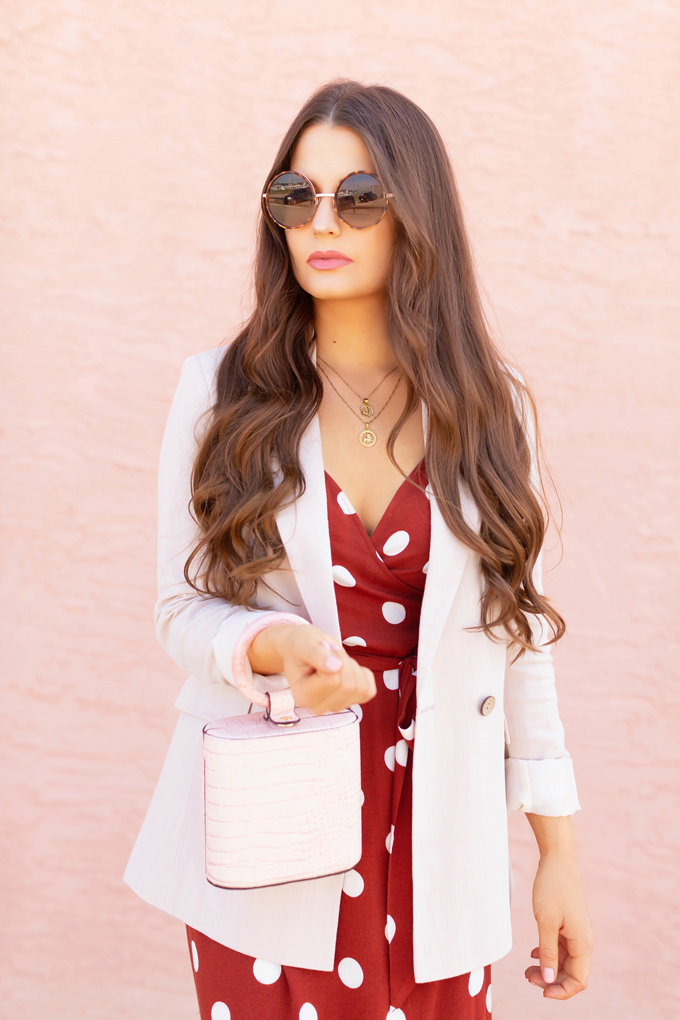 PINK BAGS FOR VALENTINE'S DAY
Add a pinkof pink to your outfit on Valentine's Day with a pink bag! I actually find this a blush pink croc-embossed bracelet bag surprisingly versatile for both day and night.
---
VALENTINE'S DAY BEAUTY
---
Long before incorporated pink into my wardrobe, it was a staple in my beauty routine! I love to wear pink lipstick on Valentine's Day — and if you're looking for your perfect pink lip, I've rounded up my favourites for you below!
---
PINK VALENTINE'S DAY LIPSTICKS
---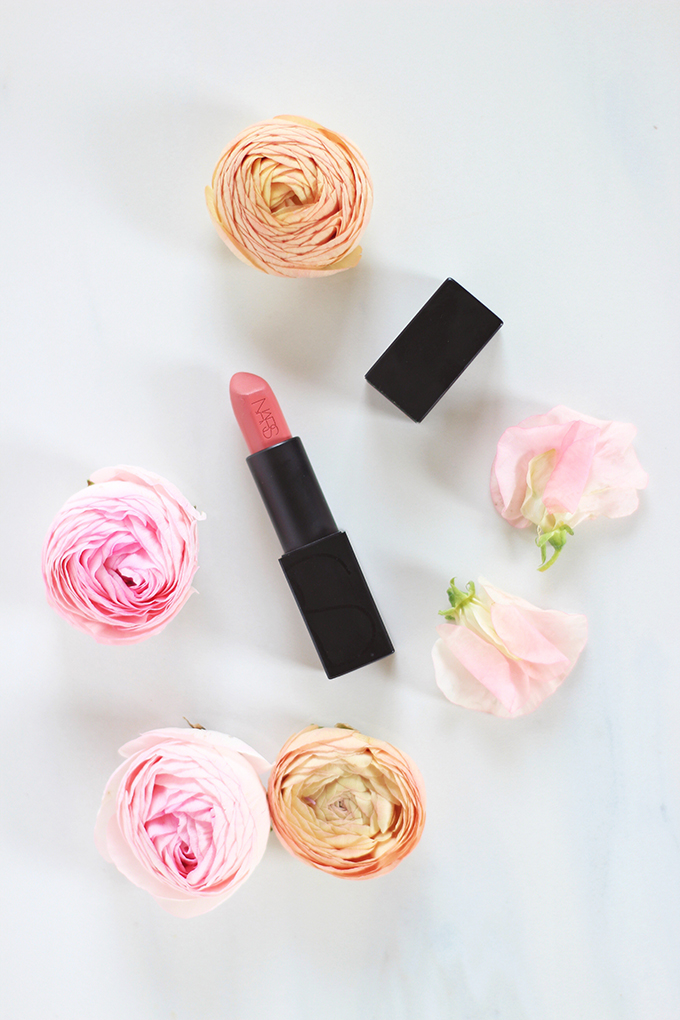 Longtime readers will know that NARS Audacious Lipstick in Brigitte is hands down my favourite lipstick, ever! If I was a lipstick, I would be this lipstick. Brigitte will always have a place in my beauty routine — this coral-hued nude gives my complexion life, I can throw it on with anything and the formula is to die for. Plus, the formula is ultra luxurious and hydrating. If you're looking for a flattering warm pink lipstick this Valentine's Day, this beautiful, classic lipstic is a great place to start! Hop over this post for a full review and click here to see all the different times I've worn it over the years.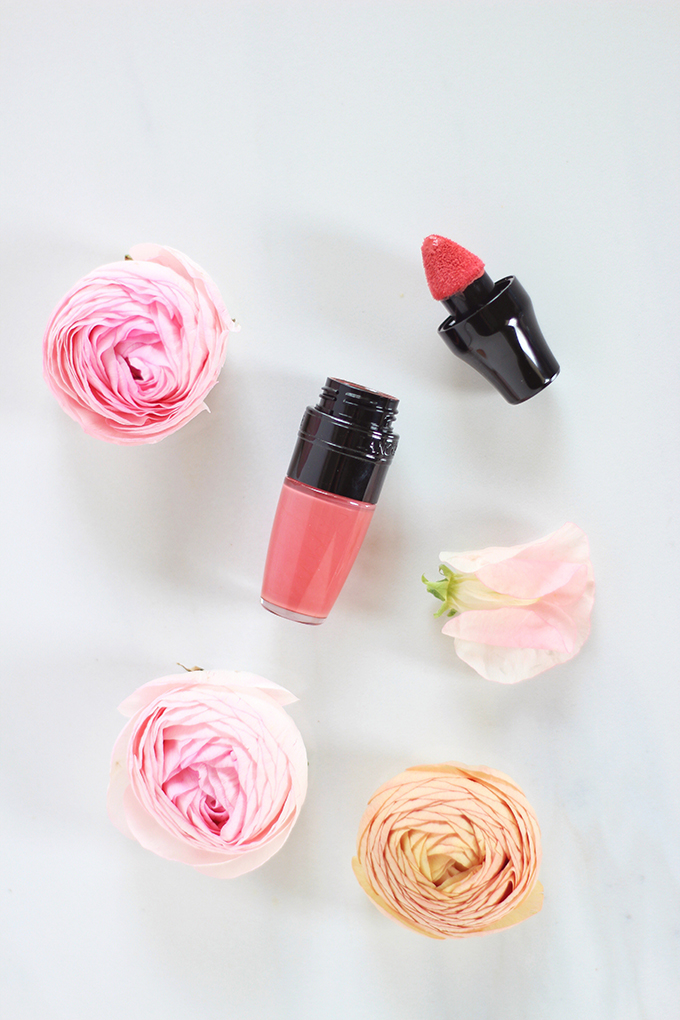 The Lancôme Matte Shaker in Energy Peach is another one of my all time favourite peachy pink lipsticks. These little tubes of liquid lipstick are one of the most innovative formulas I've tried — it's an extremely thin, extremely pigmented formula that applies beautifully to the lips in a single swipe (don't let the applicator fool you, it's so easy to use!). I love the finish of the Matte Shakers — I find they don't completely dry down and aren't transfer proof, but they are extremely hydrating and light as air on the lips. If you're looking for a Valentine's Day lipsticks that you don't have to babysit all night, try Energy Peach!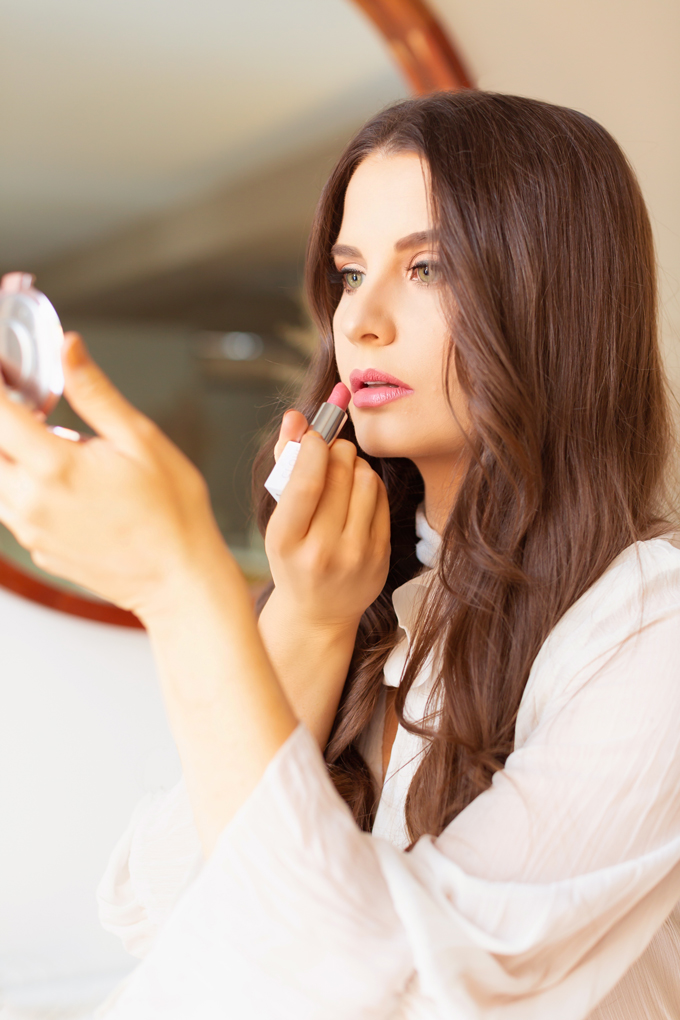 If you're looking for some softer pink lipstick recommendations for Valentine's Day, pop over to My Top 5 Everyday Lip Colours, where I share my most worn, most loved my lips but better lipsticks, glosses and lipliners. In the photo above I'm wearing Clove + Hallow's Ballerina Slippers — my go-to lipstick whenever I want something on the pinker side without venturing into bubblegum territory. If you're interested in purchasing, you can use code JUSTINECELINA15 to save 15% on Clove + Hallow products!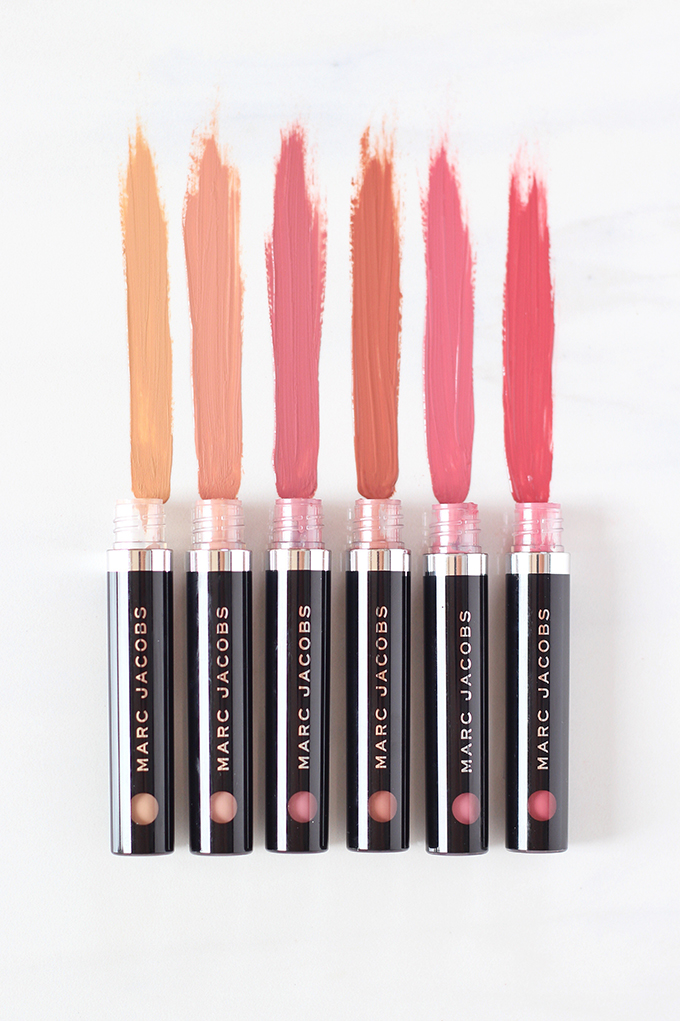 This range features 3 stunning, consistently formulated and universally flattering pink shades — including Slow Burn, Truth or Bare and Shush, Blush. If you've always wanted to try a liquid lipstick but thought they'd be too drying or simply not for you, I might just change your mind with these innovative lip crèmes from Marc Jacobs Beauty. They're my top recommendation for anyone looking to invest in a luxury liquid lipstick this season!
One of my favourite ways to wear coral hues is actually in my makeup! Personally, I've always found coral and peach hued lipsticks to be the most flattering on my skintone and they make my green eyes pop.
If you're looking for a bold pink that you can find at the drugstore, try Maybelline Color Sensational Vivids Lipstick in Vivid Rose! This formula packs amazing pigmentation, longevity and performance into a classic formula that comes in a variety of fun, unique shades. Vivid Rose is an intense, magenta pink with a beautiful lustre that makes your teeth look super white. These lipsticks wear for about 6 hours on me, so they're perfect for a date night, or a night out with your girlfriends!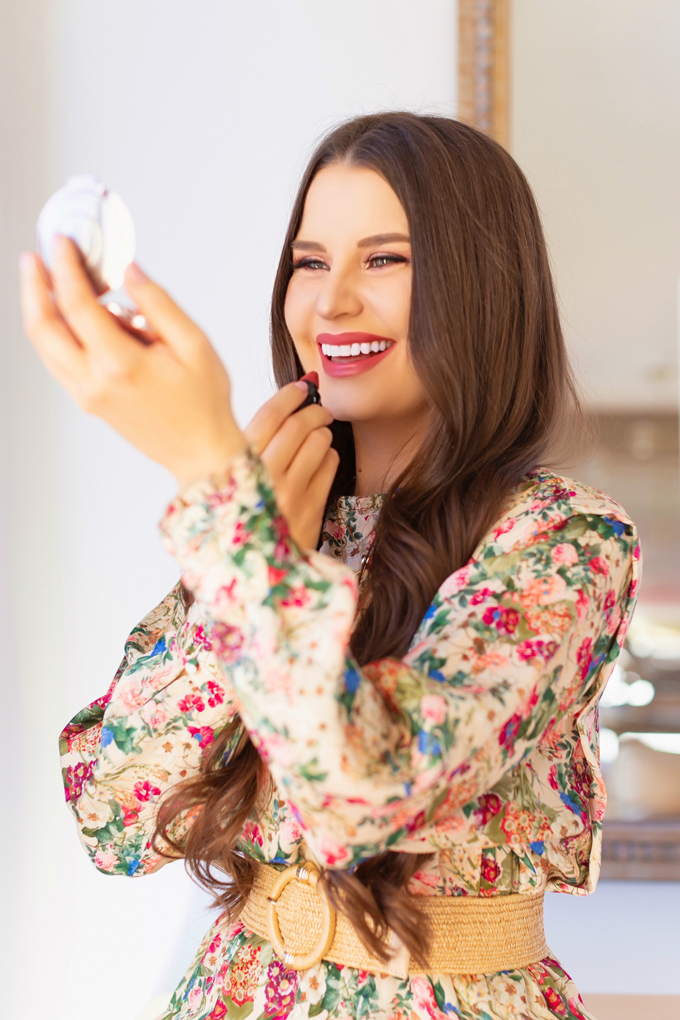 Each year February's arrival evokes my desire to swap My Top 5 Everyday Lip Colours in favour of warmer, rosier, more romantic hues — and I've rounded them all up for you in this post! My Top 5 Rose Toned Lipsticks are tried-and-true shades that have secured a permanent place on my vanity (and in the bottom of my bags!) as we transition into spring. From ethereal rosy nudes to the richest, deepest roses and across a range of formulas, finishes and price points, these universally flattering rose-coloured lipsticks truly make me feel beautiful — and I think you'll love them, too! If you're looking to infuse your beauty routine with a fresh, romantic twist as warmer weather and approaches, pour yourself a glass of rosé and take a seat at my vanity to learn more about MY TOP 5 rose toned lipsticks — plus coordinating lip liners to create a full, defined pout!
---
VALENTINE'S DAY FRAGRANCES
---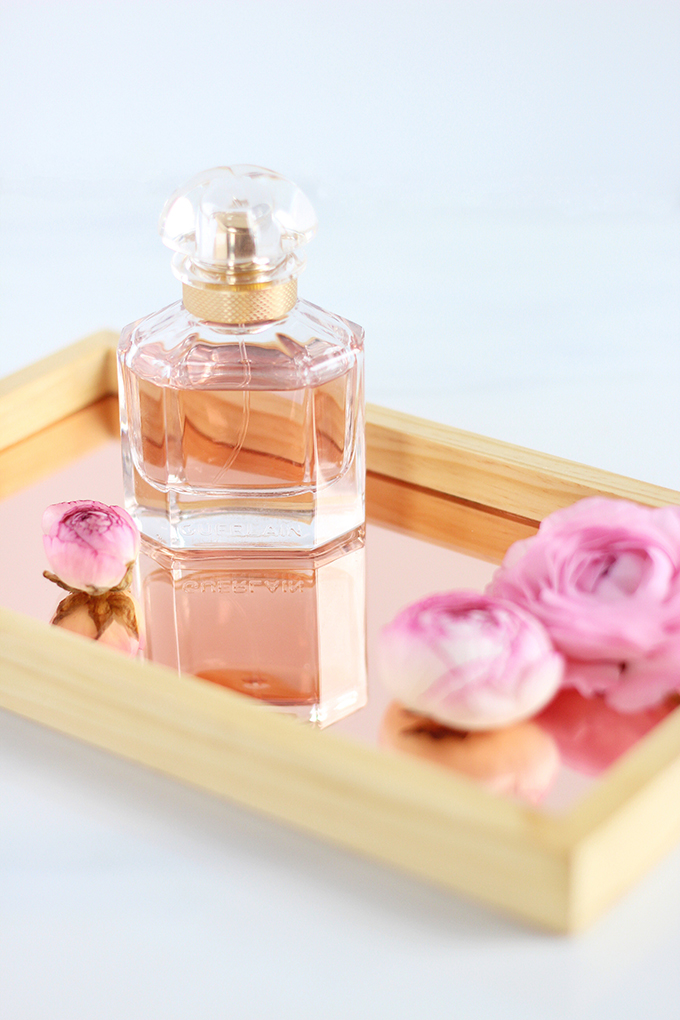 If you're looking for a Valentine's Day fragrance for yourself or someone you love, check out my seasonal FRAGRANCE EDIT! One of my favourite fragrances to wear on love day is Mon Guerlain — infact, it's become my signature scent for the cooler months. It truly makes me feel beautiful and I receive so many compliments from both men and women whenever I wear it (I've also gifted it to the ladies in my life!). It's warm an spicy with notes of jasmine, lavender and vanilla — and it's incredibly seductive!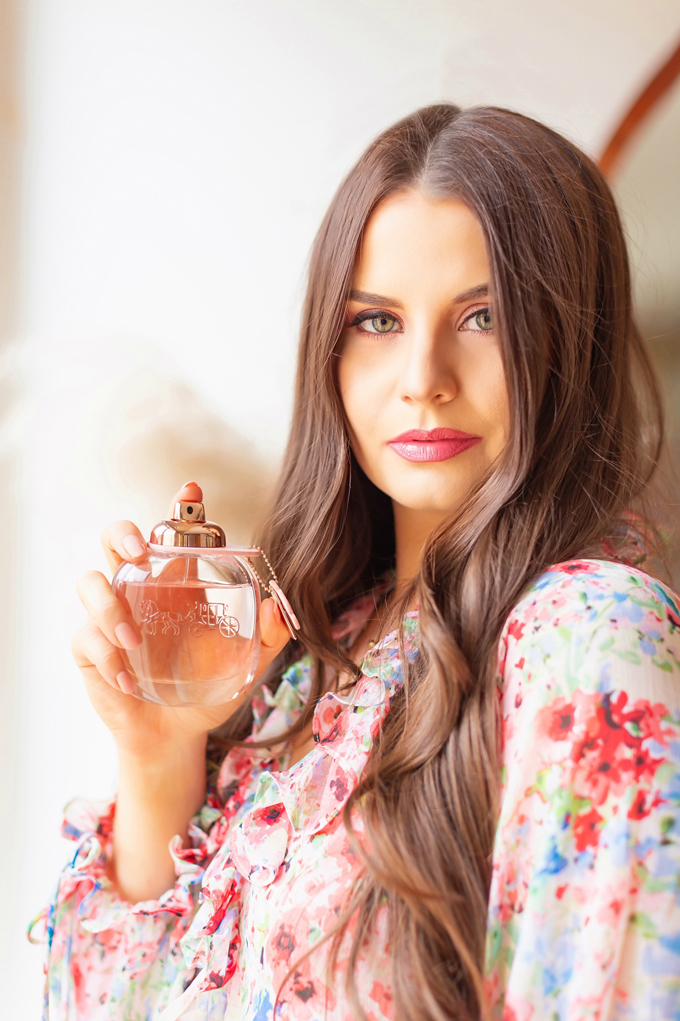 If you're looking for my top romantic fragrance recommendations, check out My Favourite Floral Fragrances post, where I share my most worn, most loved, most complimented floral scents. In this post, I introduce you to my 3 favourite designer floral fragrances (including my signature scent!), while divulging all the details about when I wear them, scent descriptions and notes, and alternate variations you may want to explore — complete with shoppable links from various retailers. These lovely spring and summer scents range from fresh and fruity, to sensual and spicy, to warm and sophisticated — there's truly something for everyone!
---
VALENTINE'S DAY COCKTAILS & SANGRIAS
---
Whether you're planning a girls night in, enjoying some solo time at home to recharge or sipping cocktails with your significant other, I've created a plethora of pretty, pink, clean cocktails for you to whip up this Valentine's Day!
My Rose Infused Cherry Gin Fizz is feminine, fruity and lightly floral cocktail combines Cherry Gin with my favourite Prosecco, a splash of fresh lemon juice and a Rose & Pink Peppercorn Infused Honey Simple Syrup for a contemporary spin on the classic French 75. It makes a beautiful addition to your Valentine's Day menu, but can be enjoyed anytime you want to indulge in a gourmet craft cocktail at home! As always, it's free of dairy, gluten and refined sugar — and bursting with fruity flavours, floral undertones, unique botanicals and a refreshing effervescence.

The perfect accompaniment to holiday brunch, my stowstopping Blood Orange Creamsicle Mimosas are made with just 3 ingredients! These elegant cocktails combine vibrant, freshly squeezed blood orange juice and Spanish Cava with a hit of creamy vanilla liqueur for an elevated, seasonal twist on the classic mimosa! Enjoy them over brunch, après dinner, during a candlelit bath or anytime you want to indulge in the beautiful flavour of blood oranges complimented by a healthy dose of bubbles.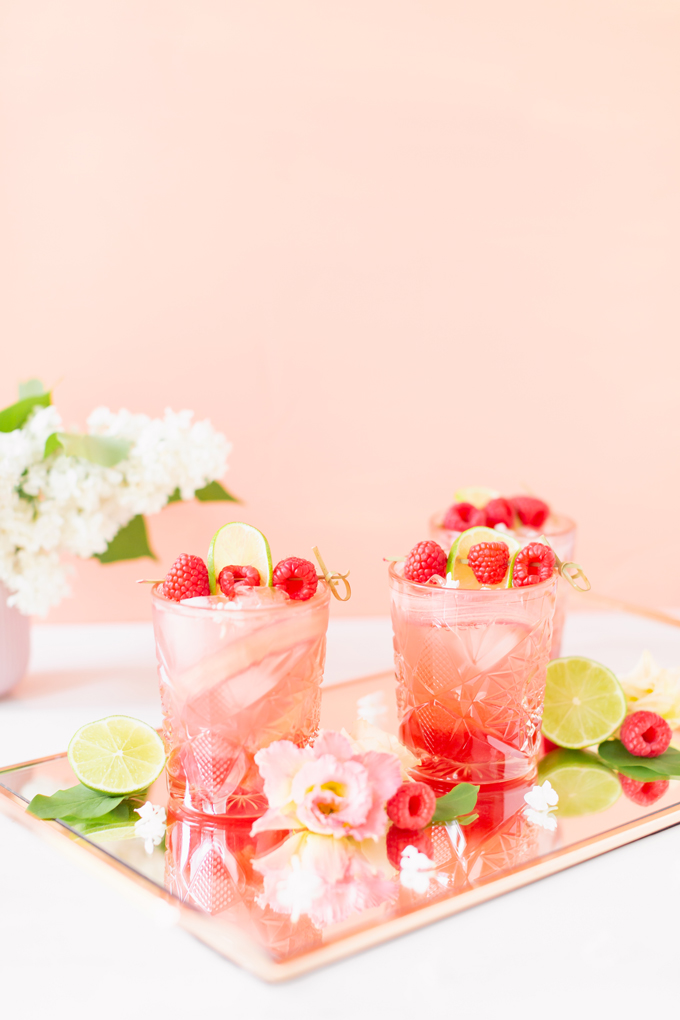 My Raspberry Rhubarb Rosé Spritz typifies the season in a jubilant celebration of all things feminine and fruity. Rhubarb, raspberries and honey combine in a scratch-made Honeyed Raspberry Rhubarb Syrup to infuse this effervescent cocktail with seasonal panache, beautifully complimented by sparkling rosé, local craft vodka, soda water, fresh lime juice and a dash of bitters. Enjoy this pretty, pink inspired spritz with during your next girls night in!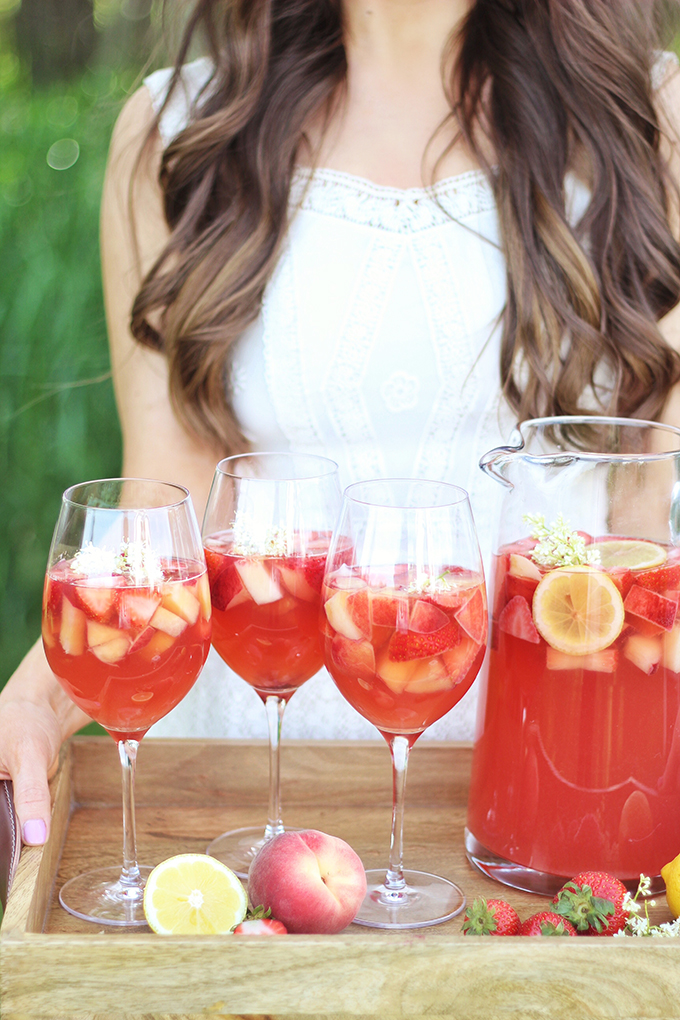 My Rosé Lychee Elderflower Sangria is a flirty, feminine twist on traditional sangria where an effervescent, dry rosé takes center stage, complimented by flavours of lychee, elderflower, lemon, white peach and strawberry (with lots of bubbles!). It's an ideal Valentine's Day libation if you're hosting (or attending) a party!
My Watermelon Frosé Margarita is an icy sangria 2.0 with an attitude, and tequila on her breath! In true JustineCelina style, she's made with just 5 ingredients blended over frozen watermelon creating a naturally sweet, feisty summer cocktail that embraces fruity flavours with a margarita essence and a Himalayan pink salted rim!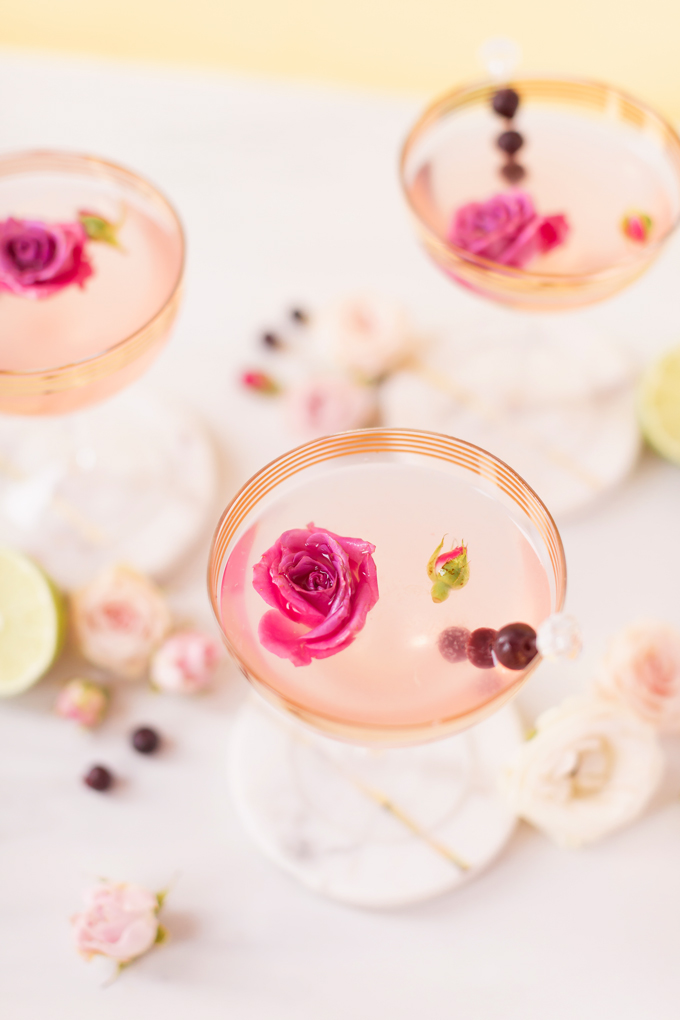 My Honeyed Saskatoon Cherry Gimlet is a refreshingly spirited, 4 ingredient spring cocktail inspired by doing the best you can with what you have, where you are. The best part? If you have a well-stocked bar, you likely already have all of the ingredients on hand! This simple but perfectly balanced craft cocktail combines Saskatoon Honey Gin with Honey Simple Syrup, cherry bitters and freshly squeezed lime juice shaken over ice — and can be prepared with ease by home bar beginners and skilled mixologists alike. Bring the cocktail bar to the comfort of your own home this spring with my Honeyed Saskatoon Cherry Gimlet — a quintessentially Albertan twist on a classic gin cocktail!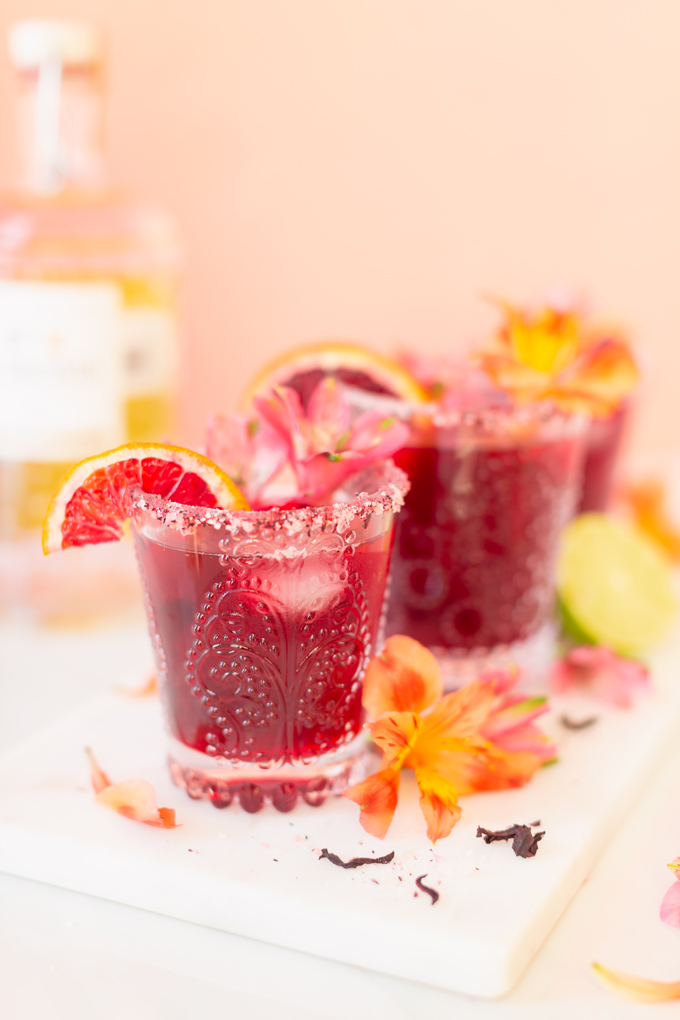 If you're looking for an inventive libation that celebrates citrus season and the vibrancy of Mexican culture, you'll find it in my Hibiscus Blood Orange Mezcalritas! This jubilant craft cocktail is free of dairy, gluten and refined sugar and loaded with better-for-you ingredients, antioxidants and a healthy dose of vitamin C. Inspired by Mexican Agua de Jamaica, hibiscus tea concentrate combines with freshly squeezed blood orange and lime juices, Joven Mezcal, Cointreau and a splash of agave syrup shaken over ice and strained into a pink hibiscus salt rimmed glass. Transport yourself to the healing, pristine waters of the Mexican south pacific with this modernized, seasonal spin on the traditional mezcalrita!
---
PINK VALENTINE'S DAY FRESH JUICES
---
Some of my favourite, seasonal fresh juices just happen to be pink! Whip a fresh, love day inspired pink juice up this Valentine's Day with these easy recipes and treat your body to a mega dose of nutrition.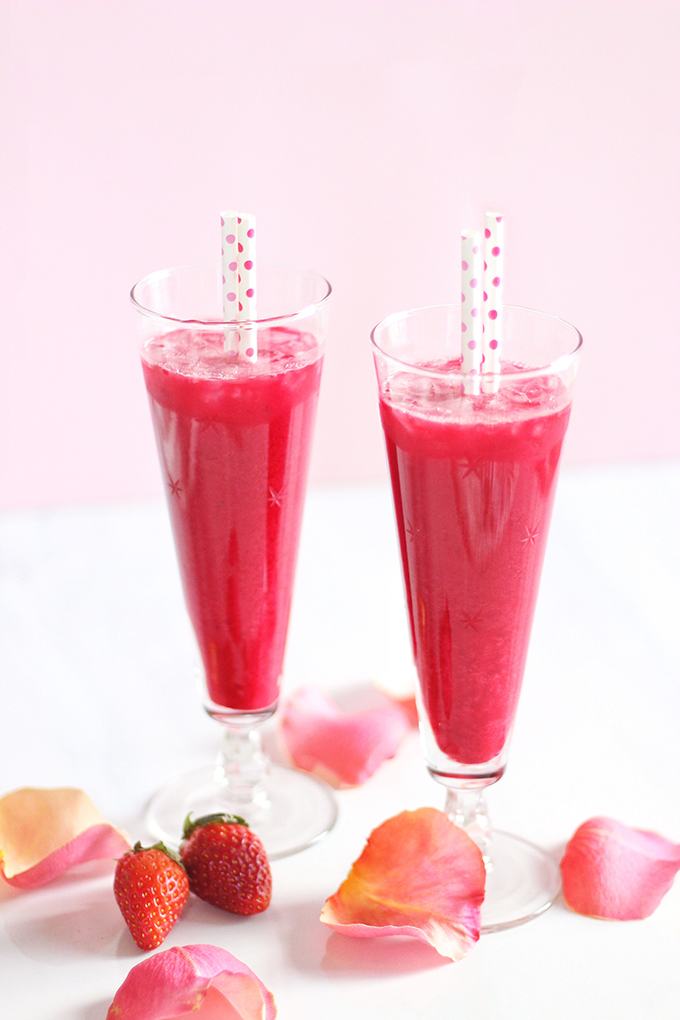 My Blushing Beet Juice incorporates seasonal produce like beets, oranges and grapefruit with ingredients that I don't normally juice, like strawberries (which have been looking particularly delicious lately, even though they're not in season). The result is a perfectly sweet, balanced pink juice, packed full of amazing, heart healthy ingredients. Enjoy this vibrant pink juice for love month — the recipe makes enough for two generous servings, and you can also freeze it to make your own popsicles (kids love them!). Have some fun in the kitchen this Valentine's Day and shake up your juicing menu!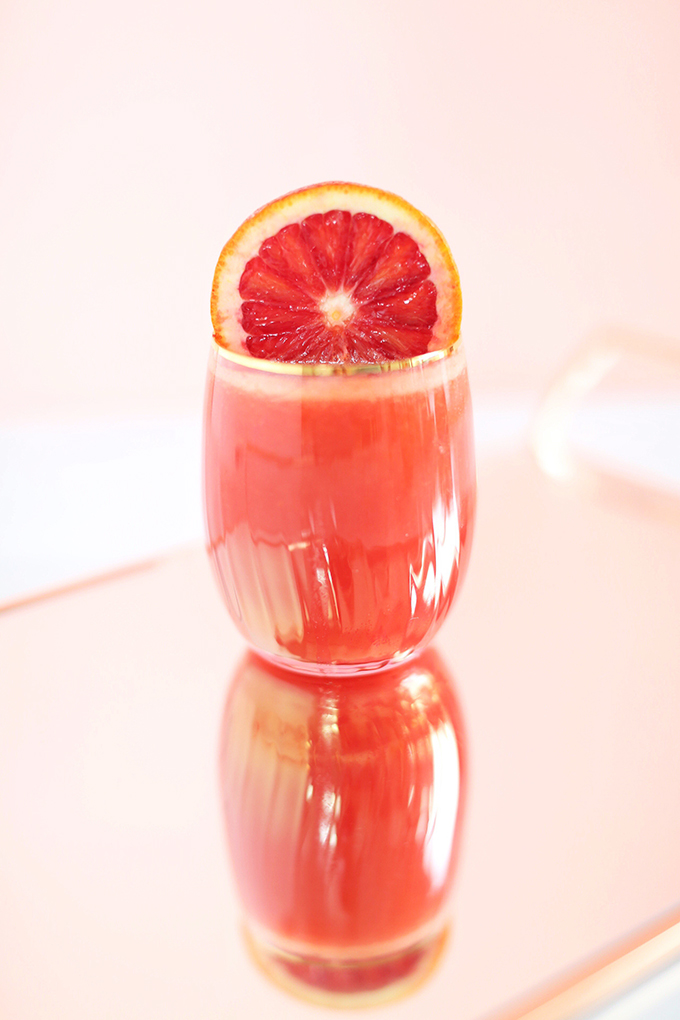 My Citrus Season Elixir is an ode to one of my favourite times of year for produce — winter's bountiful citrus season! During our Canadian winters, I'm absolutely crazy about all things citrus. This refreshing glass of liquid sunshine combines blood oranges, red grapefruit, lemons, carrots, apples and ginger to create a powerhouse elixir — brimming with a mega dose of vitamins, antioxidants and anti aging ingredients. Enjoy my ultra refreshing Citrus Season Elixir to help replenish your body post workout, or anytime you need a colourful pick-me-up this Valentine's Day!
---
HEALTHY PINK VALENTINE'S DAY RECIPES
---
If you're looking for some healthy, plant based, pink recipe ideas this Valentine's Day, you've come to the right place! Here are a handful of my favourite pink vegan recipes.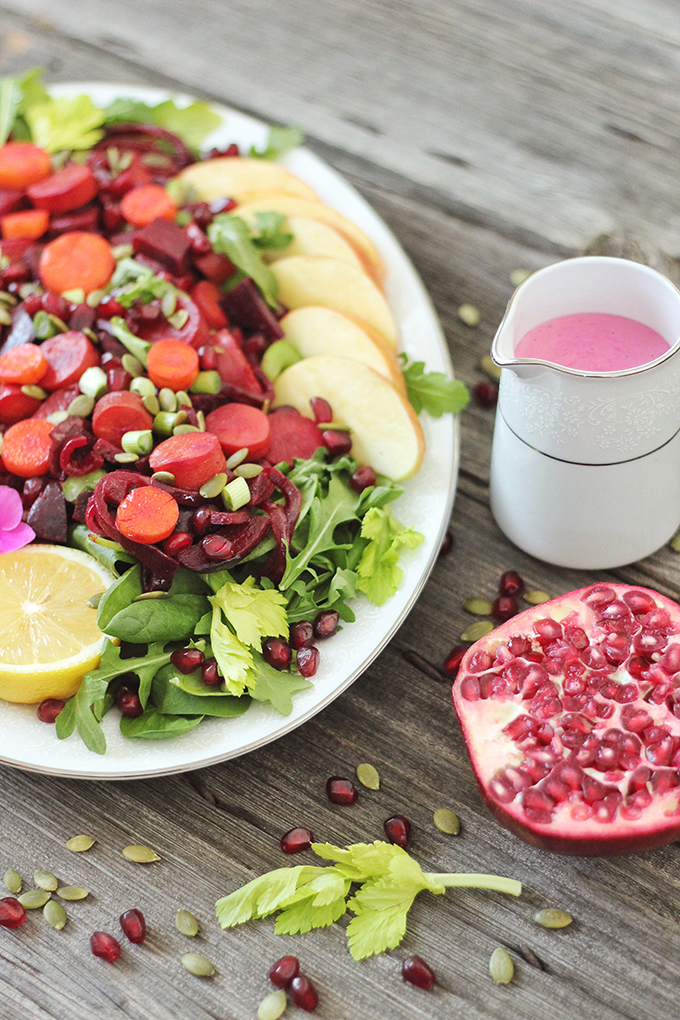 I've been eating this salad all week long — and it's absolutely delicious! It combines all the winter produce I love, in one huge superfood salad. My New Year Detox Salad with Pink Tahini Dressing is overflowing with ultra-clean, nourishing ingredients, antioxidants, and tons of plant-based protein to help keep your new year health and nutrition goals on track. Oh, and the dressing is bright pink! In this recipe, I show you how to make a gorgeous (and delicious) Pink Tahini Dressing, with all natural ingredients.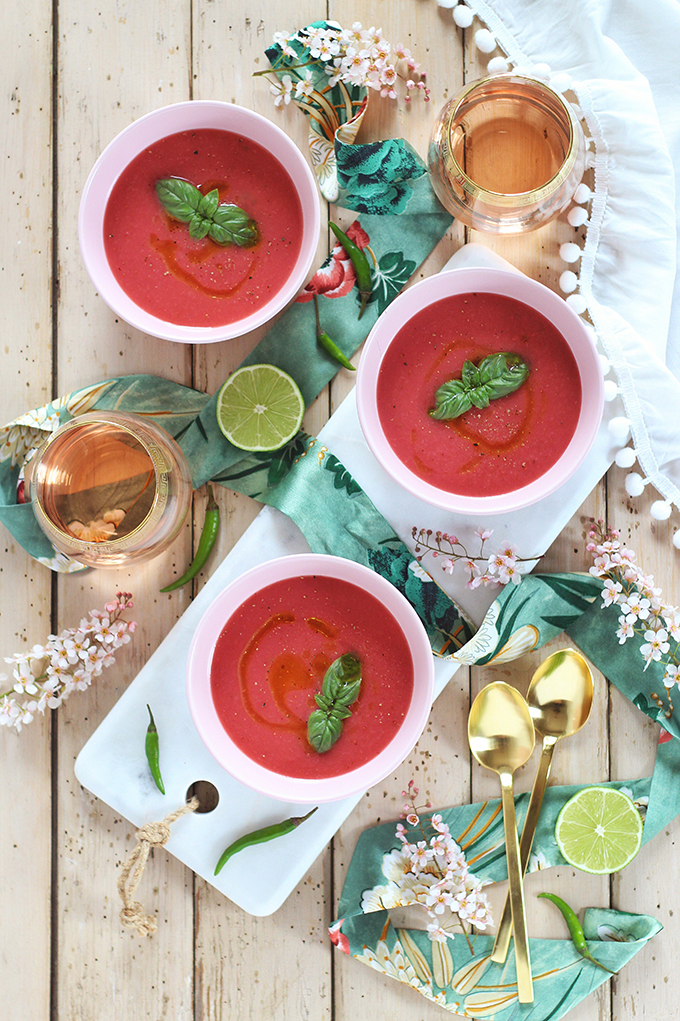 If you're looking to treat your taste buds to something refreshing this Valentines's Day, try my Spiced Strawberry Watermelon Gazpacho. With just 10 ingredients (seasonings and garnish included!) this fruity spin on traditional gazpacho comes together in just 10 minutes!
---
PINK VALENTINE'S DAY SMOOTHIE
---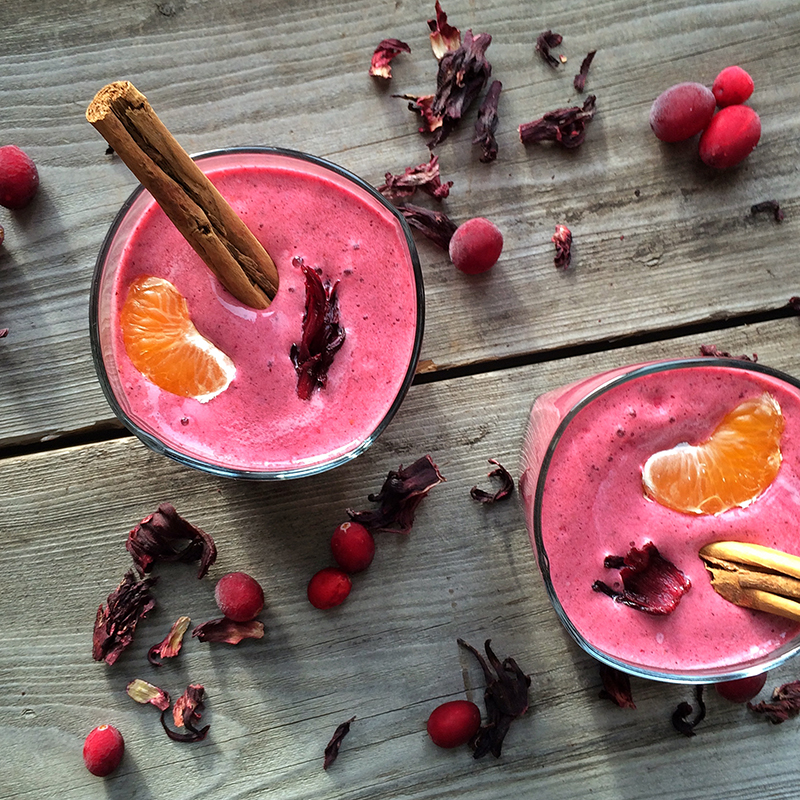 Now, here's a major throwback — to the very first post I ever published here at JustineCelina, back when I took all my photos on my iPhone in square format! While my styling, photography and writing has definitely come a long way over the almost 5 years I've been blogging, I can assure you this recipe is absolutely delicious and one we still enjoy. My Super C Hibiscus Berry Smoothie is actually inspired by an authentic Agua de Jamaica recipe I discovered during our first trip to Oaxaca. Infused with flowering hibiscus tea and lots of fresh, tart, citrus flavour, this pink powerhouse helps aid digestion. It's also good for your heart, blood pressure, circulation and it's a powerful cold-fighter thanks to a mega-dose of antioxidants.
---
VALENTINE'S DAY DESSERTS
---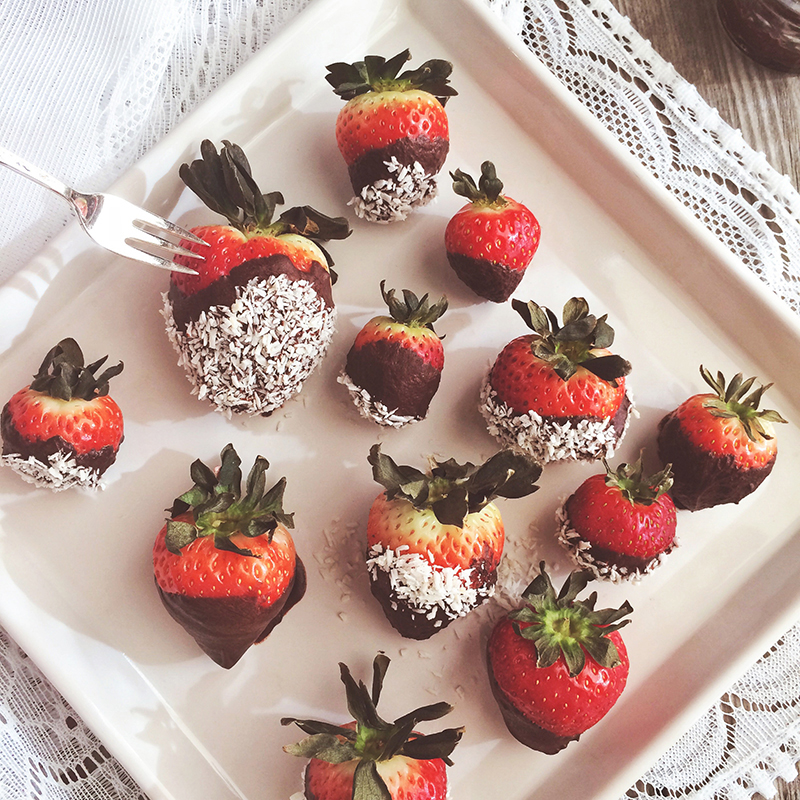 Need to make a last minute dessert this Valentine's Day? Whip up my Vegan Dark Chocolate Dipped Strawberries in ten minutes or less, with only 4 ingredients (including the strawberries) that I bet you already have in your kitchen! They're super clean, made with natural ingredients, vegan, dairy free and gluten free.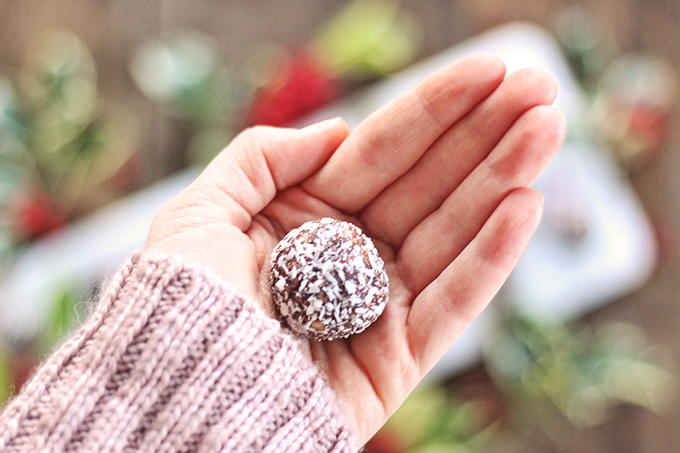 Put a whole food spin on traditional Valentine's Day sweets with my Dark Chocolate Raspberry Energy Bites. These are my kind of treats — the ones you feel really good about indulging in (sometimes I even have them with my morning coffee!). Next time you're looking for a quick, no-bake, holiday party treat give this healthier alternative to traditional holiday truffles or rich, chocolate-based desserts a try. They're also vegan and free of gluten and refined sugar — perfect for parties where guests have food sensitivities and allergies. You can whip these festive little bites up in just 10 minutes, and keep them on-hand for last-minute guests, holiday gatherings, or all for yourself!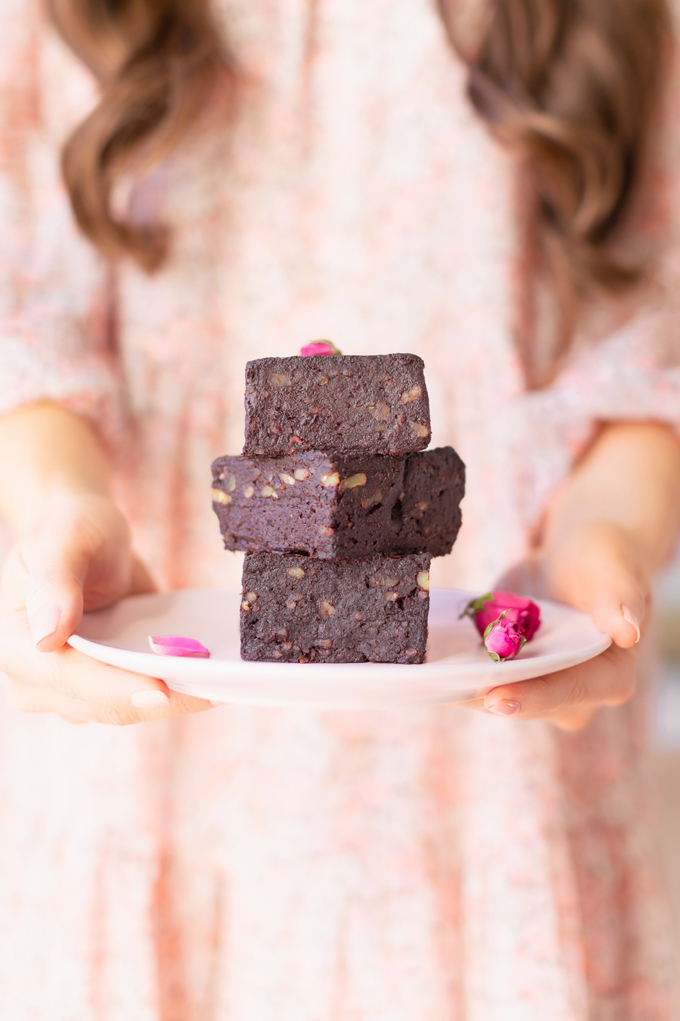 I believe you can treat yourself and nourish yourself at the same time — and my Raw Red Velvet Vegan Brownies are a perfect example of that philosophy. They come together with just 8 simple, plant-based, antioxidant packed, anti aging, brain and immune boosting ingredients (yes, including beets!) — and they're truly one of the most decadent brownies I've ever tasted. These easy, no-bake brownies are earthy, fudgy, nutty and brimming with beautiful natural sweetness — plus, they're free of dairy, gluten and refined sugar. If you're looking for a fuss-free, fresh, veggie-centric twist on the traditional brownie that comes together in less than half an hour, you've come to the right place! The best part? If you have a well-stocked pantry and a beet or two on hand, you can probably make these delicious vegan brownies right now! Who's ready to whip up some raw, spring-inspired treats?
---
VALENTINE'S DAY SELF CARE IDEAS
---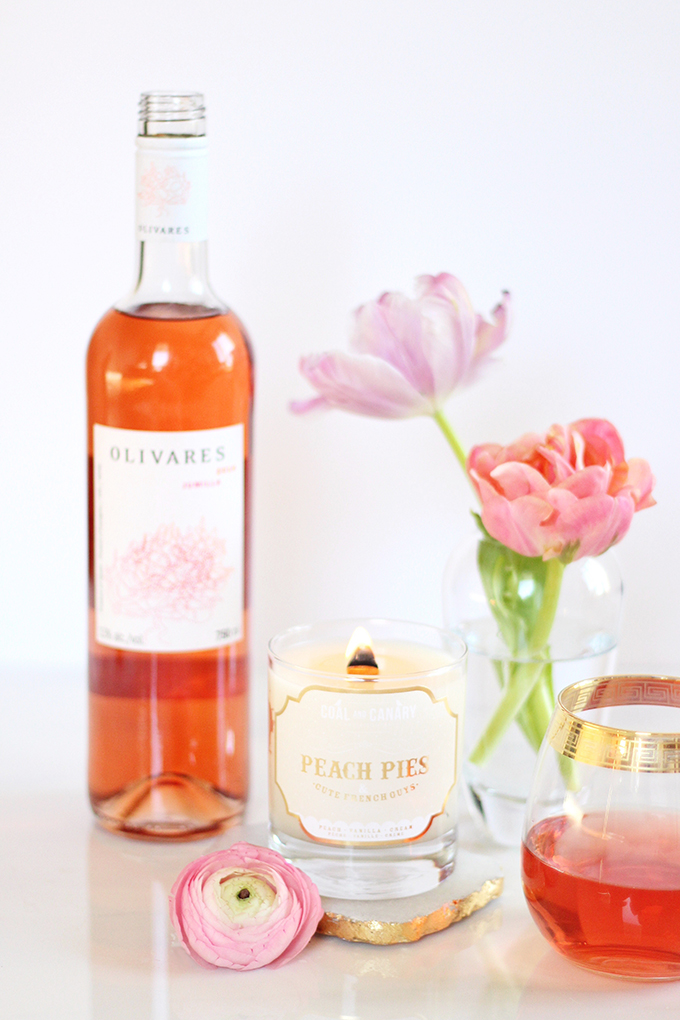 If you're spending Valentine's Day (or any time over the following long weekend) in, this post is for you. These are a few of my favourite things and small acts of self care that don't require a lot of time or money, but make a big difference to my mood and overall well being. Simply put, these are the little things I can do for myself even when I'm busy that make me happy and keep me sane! If you're in need of some self love and R&R this Valentine's Day take 15 minutes to do a few nice things for yourself.
---
PIN MY 40+ VALENTINE'S DAY IDEAS
---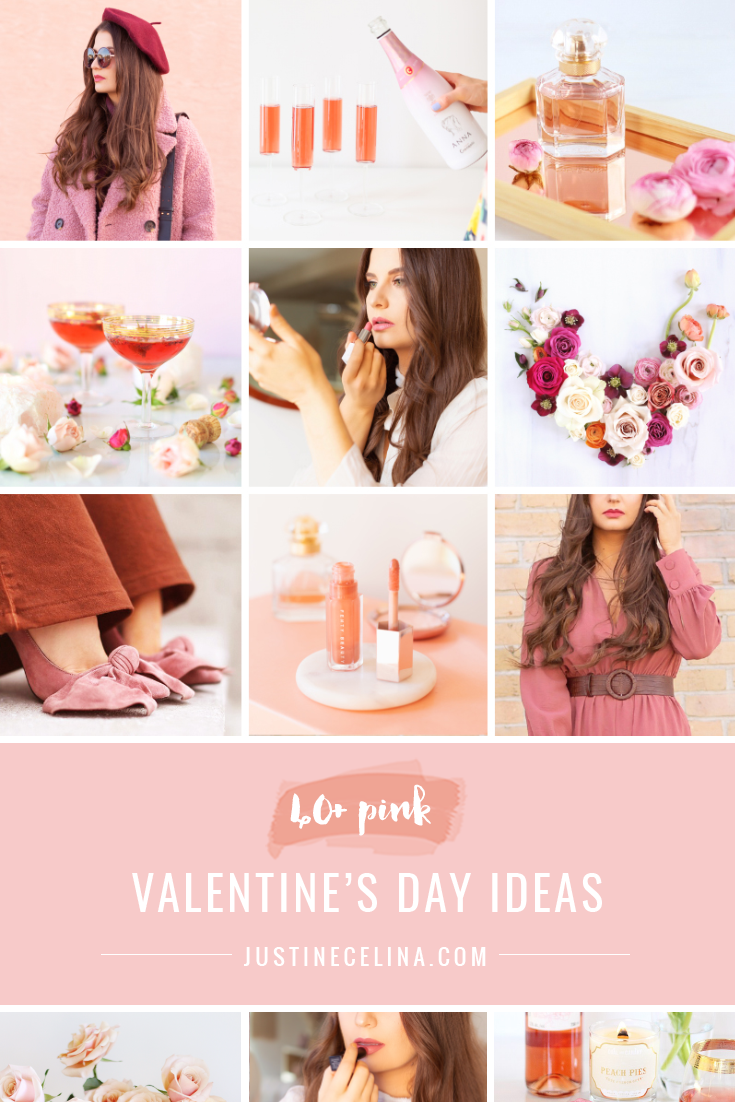 ---
Thanks for stopping by for my 40+ Valentine's Day Ideas roundup, everyone! I hope this collection of my favourite pink, love day inspired content content was helpful in planning your day, however you choose to spend it. You can also find these ideas (plus many more!) on my Valentine's Day Inspiration board on Pinterest.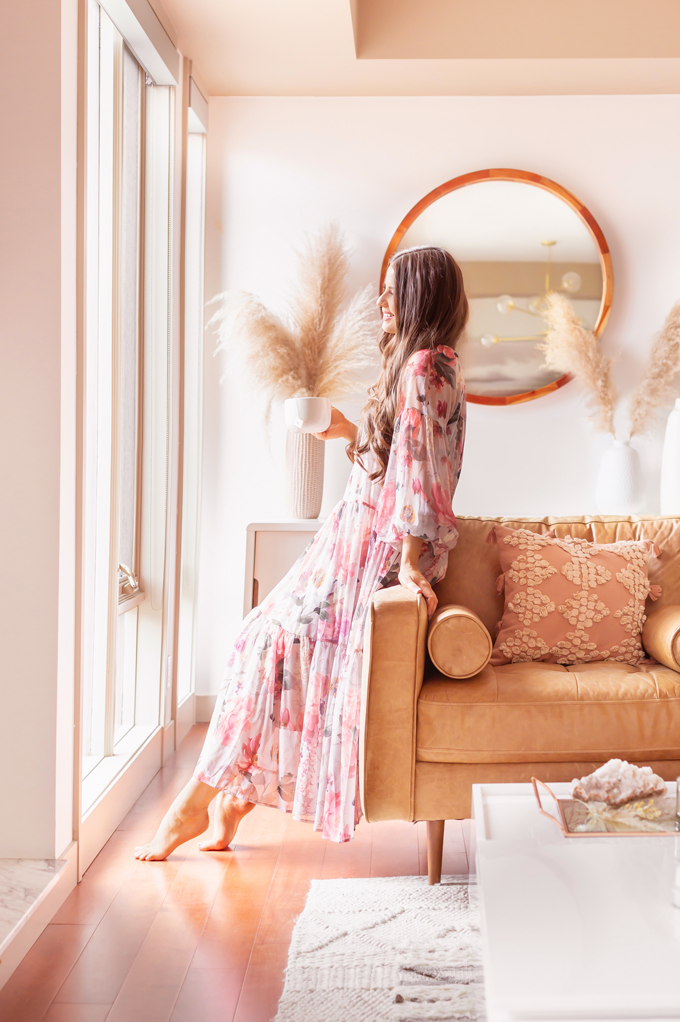 As always, if you try one of these Valentine's Day ideas, recipes, or pick up something that I've recommended please let me know — I absolutely love your feedback! Leave me a comment, or tag me on Instagram, Twitter or Facebook. We're enjoying a cozy evening in tonight — complete with a great bottle of rosé, Thai from our favourite local restaurant and my February Soundtrack streaming through the speakers. Wishing you all a love filled Valentine's Day and a beautiful long weekend — whatever you're up to!
---
Disclaimer: This post is not sponsored, and contains my genuine thoughts, ideas and recommendations. JustineCelina uses affiliate and referral links, which allow me to receive a small commission when you make a purchase through one of my links. Thank you for supporting the brands and businesses that support JustineCelina.com!