It's that magical time of year in Calgary. Flowers are still in bloom, the weather is mild and the leaves are just starting to yellow. I can't complain about September's temperatures so far (we enjoyed a glass of wine on the patio right after we shot this post), but there's a definite crispness in the air and a few crunchy leaves at my feet. I personally love this time of year, especially for fashion. And while I'm not quite ready to embrace autumn's knits, boots and scarves, I've been pairing my summer favourites with lighter layers and a more autumnal colour palette during this transitional month. Today's post is another installment in my HOW TO STYLE series — where I'm chatting about how to style jumpsuits and culotte silhouettes. I'm also sharing a few tips on how I like to transition more summery pieces like jumpsuits, maxis and rompers into autumn! Come hang out with me today for a dose of 70's inspired glam and some casual autumn elegance.
---
Yellow Vintage Print Ruffle Bandeau Jumpsuit | Wilfred Chevalier Jacket in Cream | Heyday Honey Khaki Clutch | Tan Block Heel Sandals (similar, similar) | Gold Layered Necklaces (similar, similar) | Vintage Jade Cuff (similar) | Bite Beauty High Pigment Pencil in Rhubarb
---
HOW TO STYLE | JUMPSUITS
---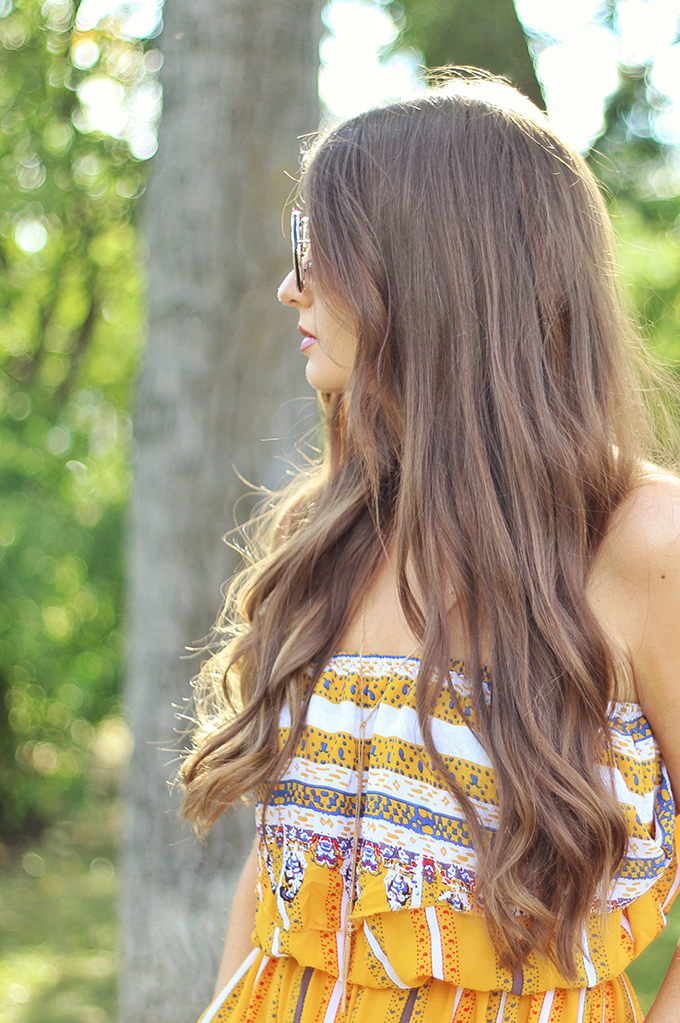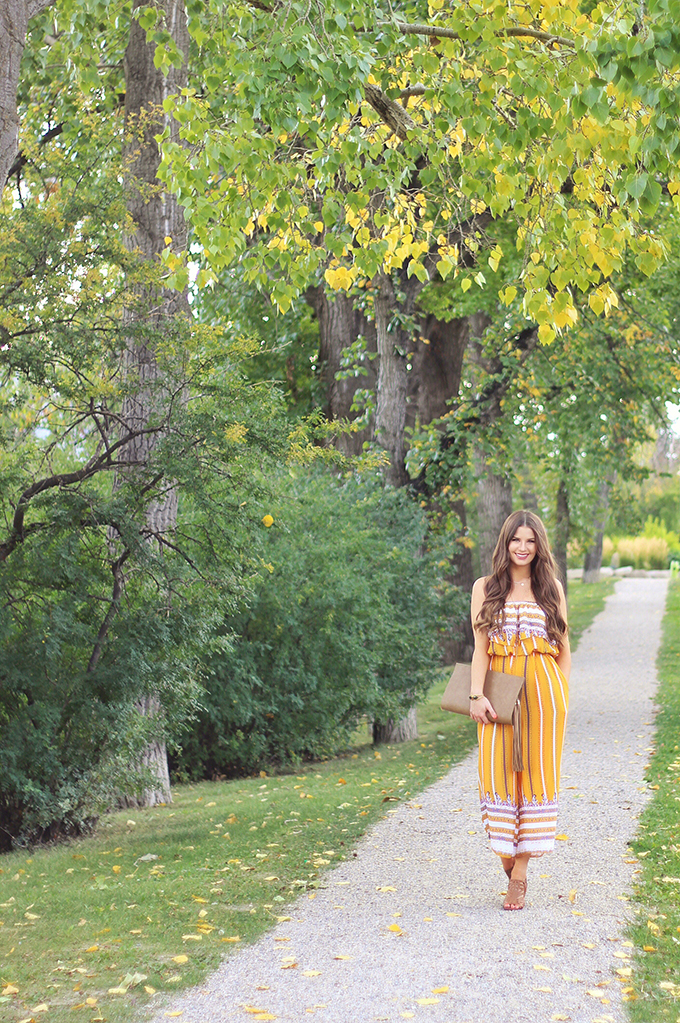 As I'm sure you're aware, I love anything 70's inspired. And maybe I've been watching too many episodes of Vinyl (if you love music, the 70's and New York, you must watch), but I'm really into jumpsuits lately. Why do I love them so much? They offer a relaxed but luxurious vibe that I'm a big fan of — this oversized, breezy silhouette and can easily be dressed up or down. I wore this jumpsuit to an event a few weeks ago and received so many compliments on it! I've mentioned previously that I like to pair statement pieces like this jumpsuit with more streamlined, simple accessories to add structure to my outfits. That's exactly what I've done here — with some 70's flair!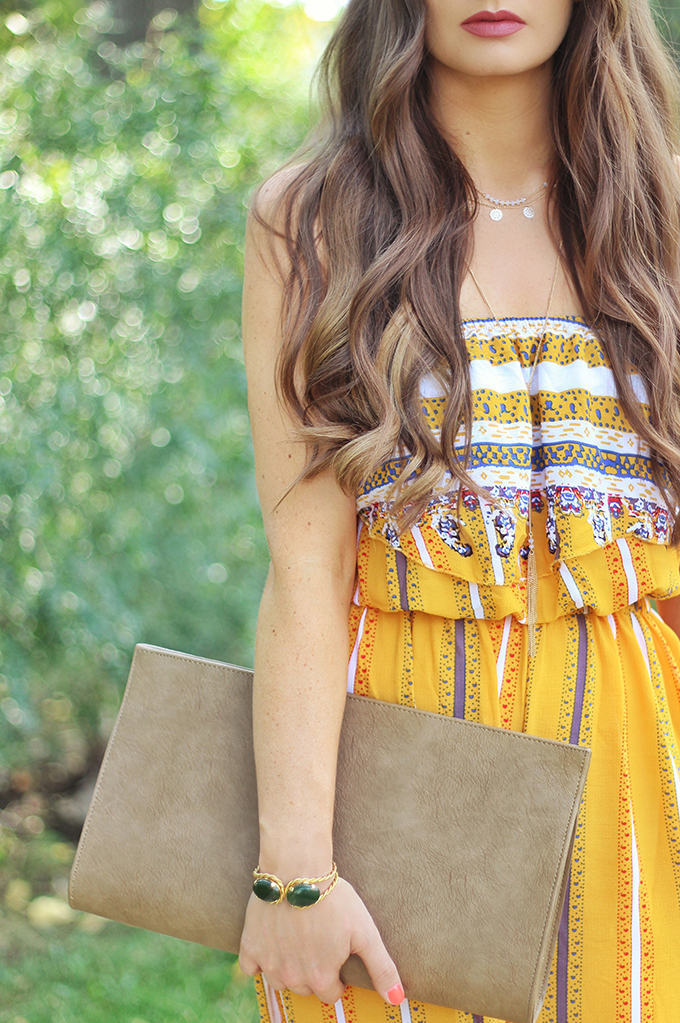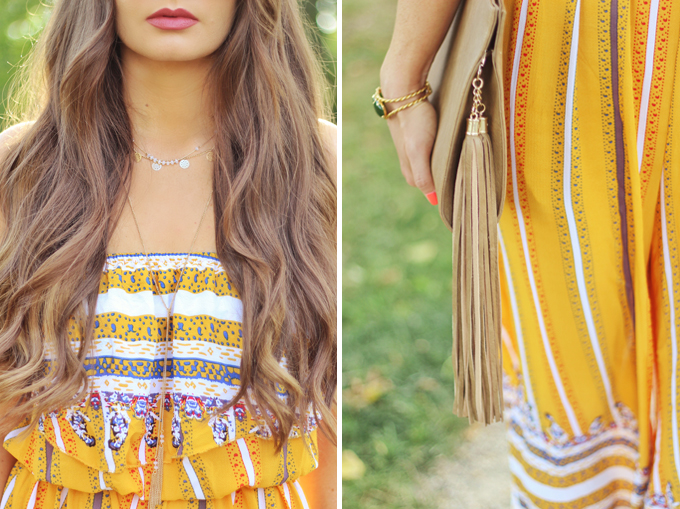 So, let's chat about my accessories. I fell hard for this sleek, oversized clutch with a tassel detail (yep, here I am yammering on about tassels again, but I can assure you tassels are here to stay!). The tassels are removable, plus the clutch comes with a glitzy, gold chain strap (which I've tucked inside) — versatility in accessories is something I find so helpful. I love this clutch so much that I also purchased it in a beautiful sea green! My jade cuff is vintage (I picked it up at a flea market in Kensington many years ago) — it adds an earthy pop of colour and an upscale, gold detail to the look. I was able to find a similar style for you at Nordstrom. And my delicate, lanyard-style necklaces layer on a hint of 70's glam.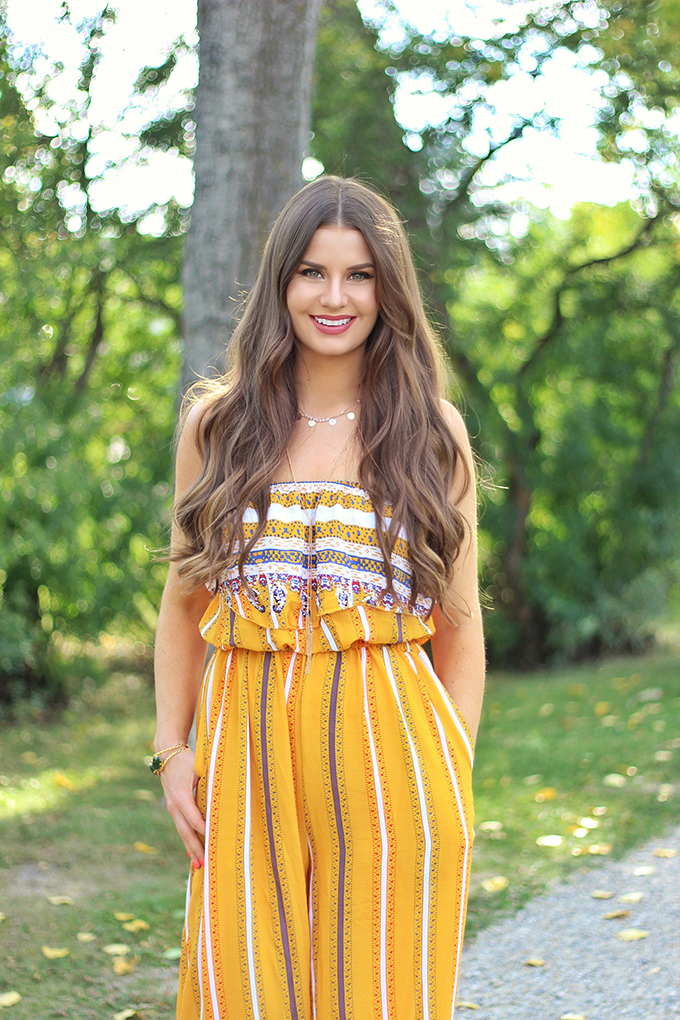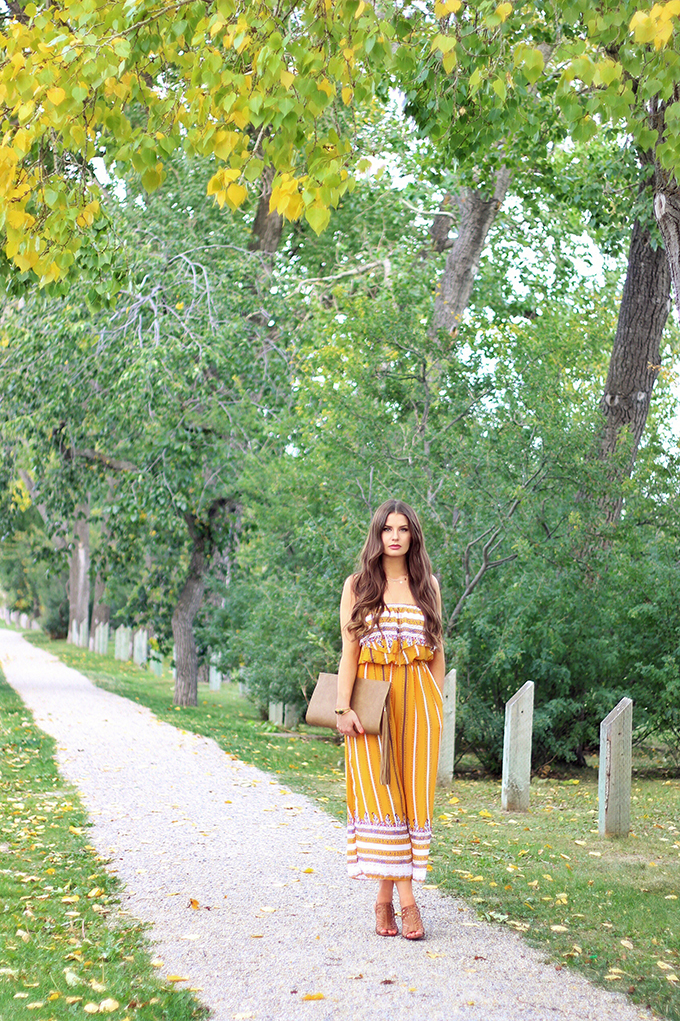 A simple way to wear more summery pieces in September is to pair them with rich, autumn toned makeup. One of my all-time favourite lipsticks in the marsala colour family (read more about my favourite marsala lipsticks for fall) is Bite Beauty's High Pigment Pencil in Rhubarb, which they describe as a plum rose. I love the colour combination of marsala shades with mustard yellows! Plus, I think marsala is a flattering colour on almost anyone. Treat yourself to a marsala lipstick this September and I promise you'll get so much wear out of it!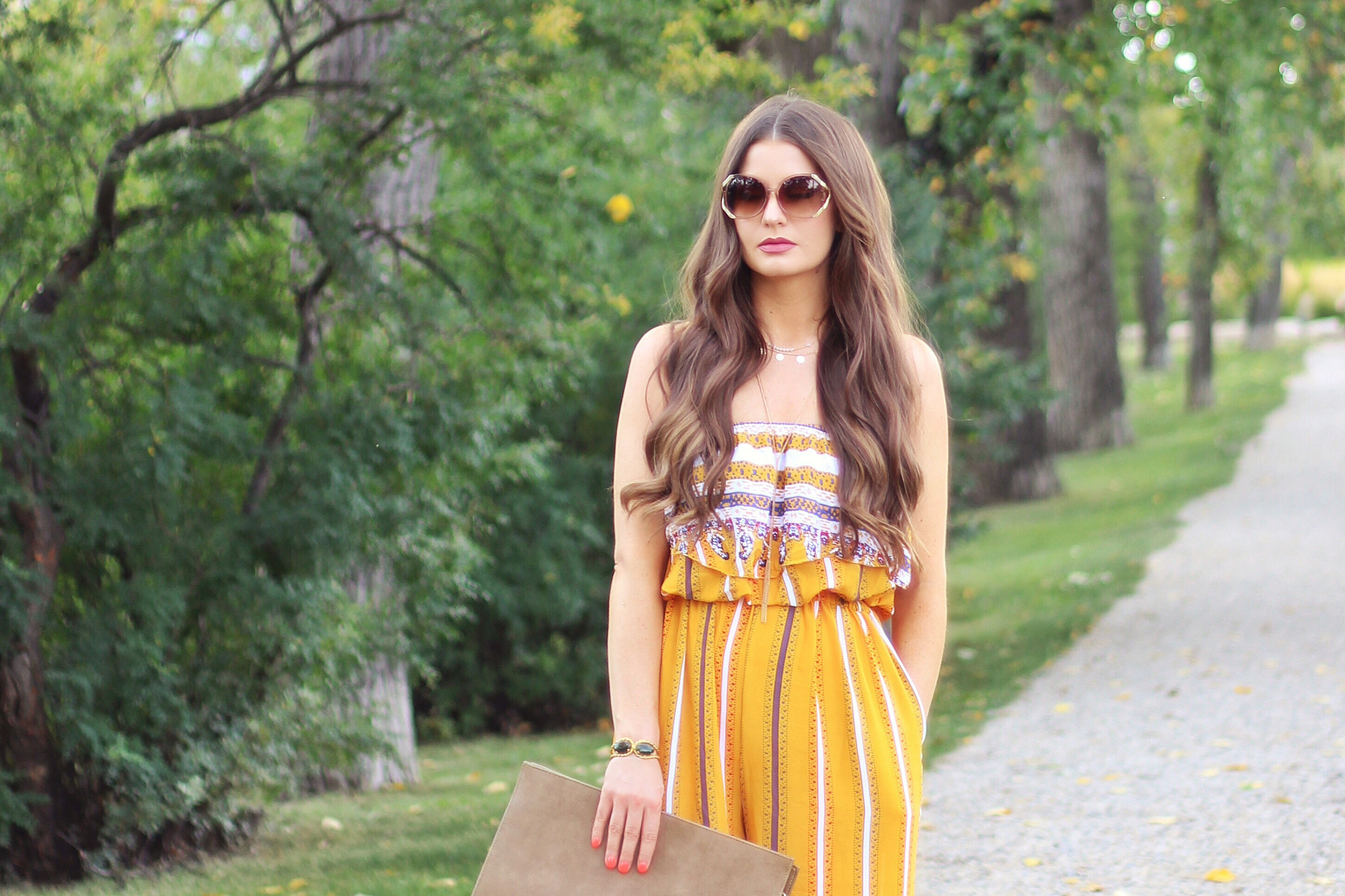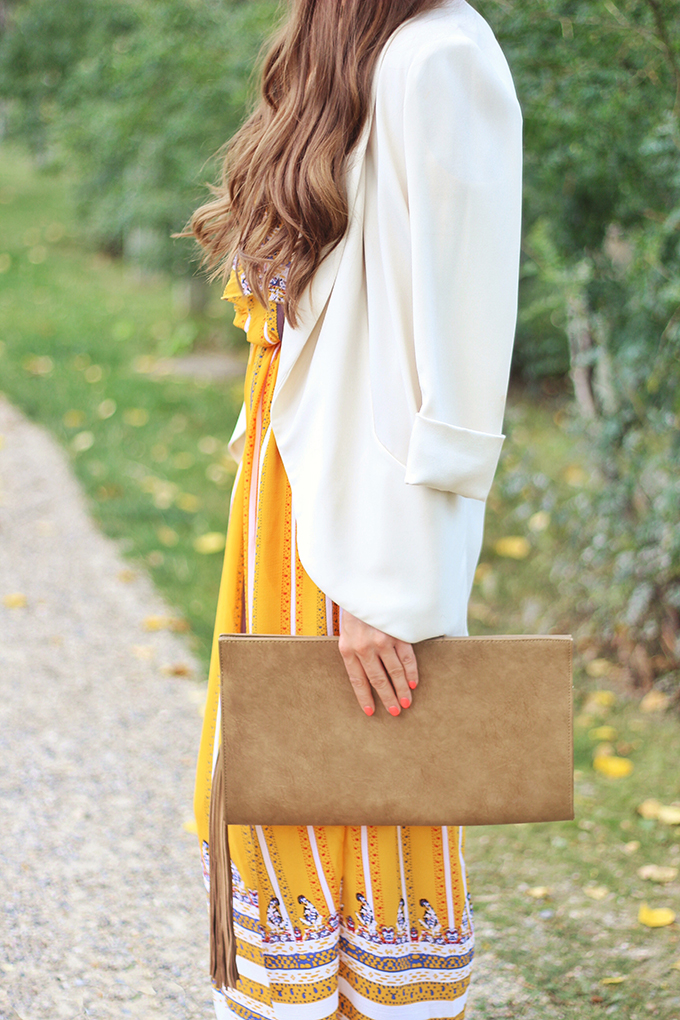 This luxurious blazer it about 4 years old — and it's one of my most loved pieces of outerwear. I throw it on over almost anything to add an air of sophistication and a light layer perfect for this time of year. I wear it to client meetings and presentations during the day, and also for nights out — it's an investment piece that I own in a few colours. Unfortunately the cream shade I'm wearing here is no longer available, but they have some gorgeous tones for autumn as well as a light olive green, which is currently on sale.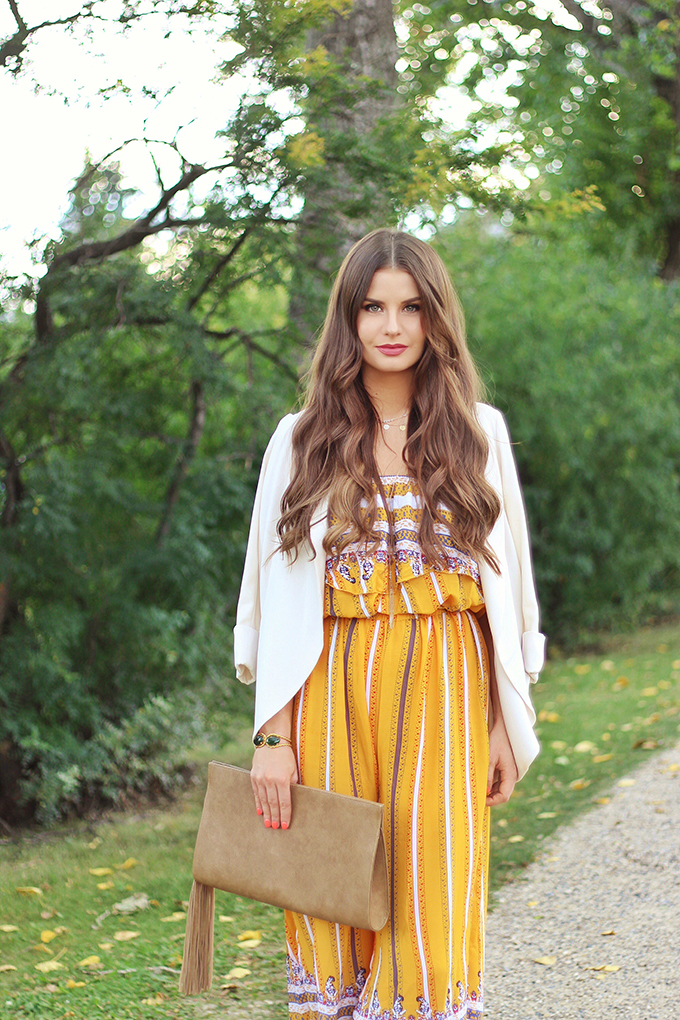 Aritzia is my favourite place to shop for blazers and light jackets — the quality and fit is incredible! I love the drapey silhouette of this blazer paired with the free flowing lines of my jumpsuit. If you've been with me for awhile, you'll know I love to mix high and low in fashion — the Chevalier Jacket is the perfect high end companion to dress up my inexpensive statement jumpsuit! Adding a light outer layer to your summer jumpsuits, maxis and rompers, paired with more autumnal accessories is a great way to extend their wear time during this transitional month.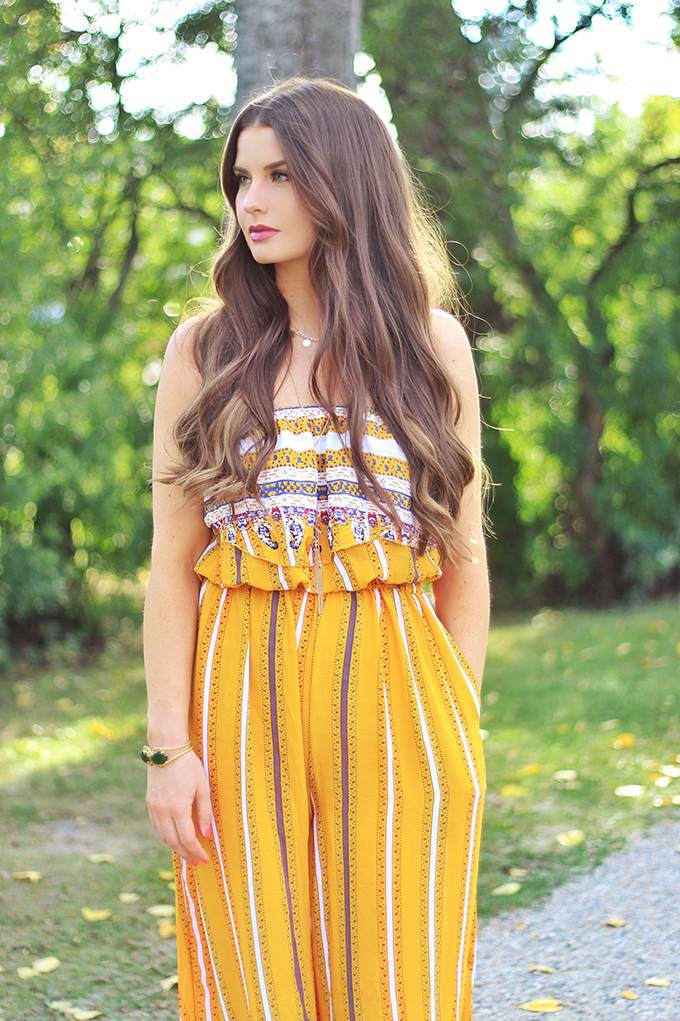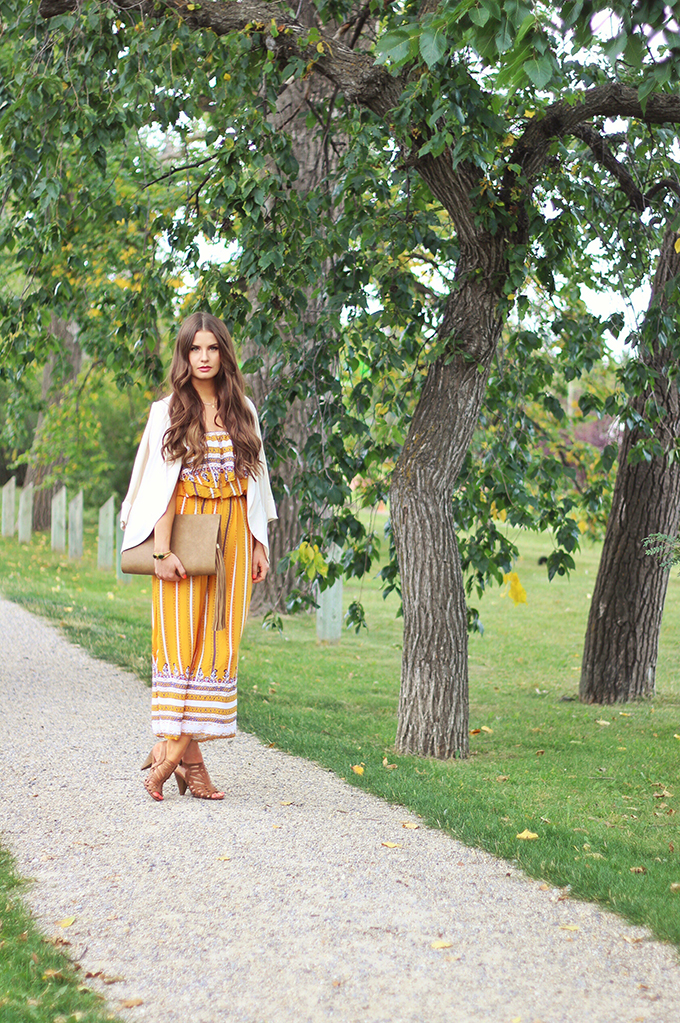 What do you think about culotte silhouettes? They've been popular for well over a year now and they're a silhouette I personally love — if they're styled right! Even though I'm fairly tall, I find that I need either a heel or a sleek, pointed-toe flat to pull off this wide legged style. Typically I would pair a streamlined culotte silhouette with a more elegant heel, but since this look is relaxed, my casual sandals offer a little bit of height while elongating the leg and keeping me comfortable. Expect more on culottes coming to JustineCelina this fall!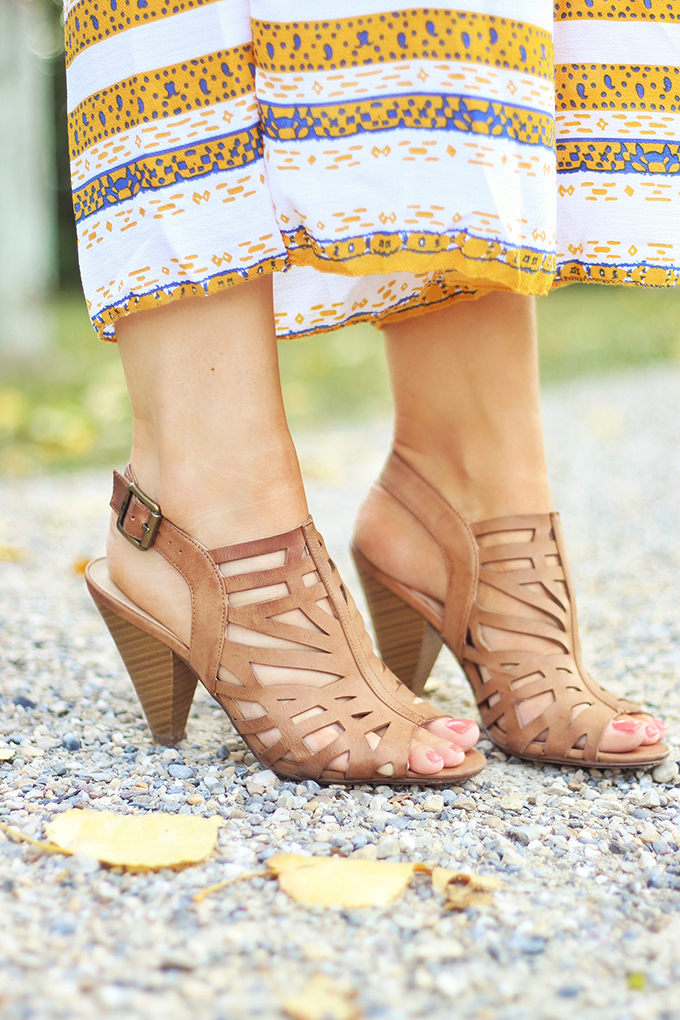 I also love a versatile, 70's inspired shoe! These ones are a couple of seasons old now — I purchased them from Lulu's, which is one of my favourite online destinations for affordable, trendy shoes (and fashion!). This particular pair is no longer available, but I've linked two similar styles here and here. I like to pair casual sandals with early autumn fashion to incorporate the best of both seasons. These sandals look great with distressed denim, light knits and dresses too!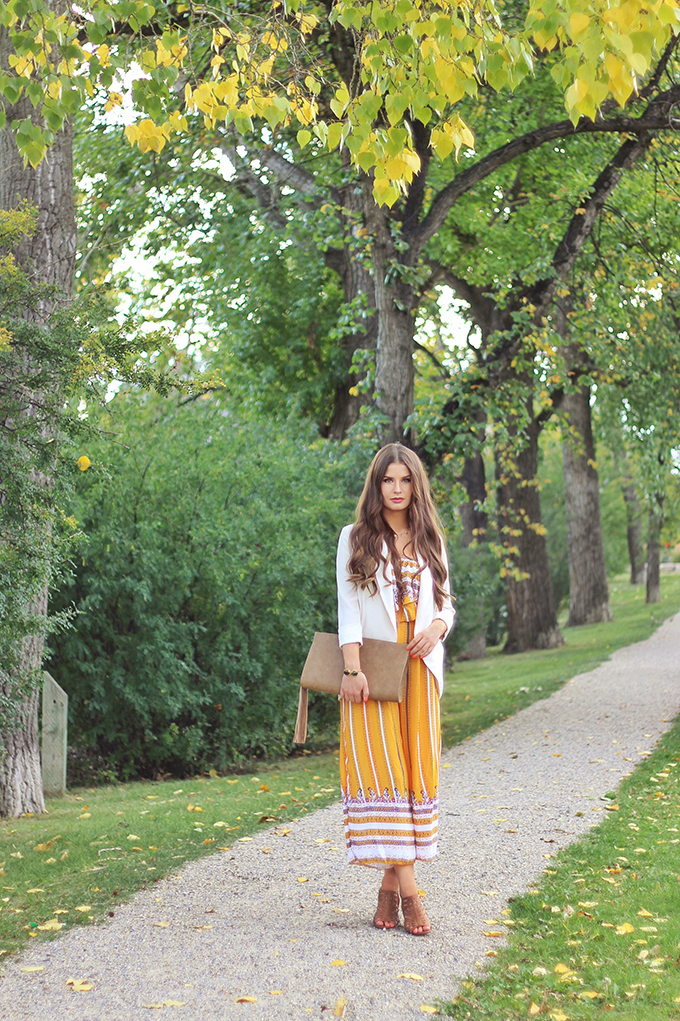 ---
SHOP THE LOOK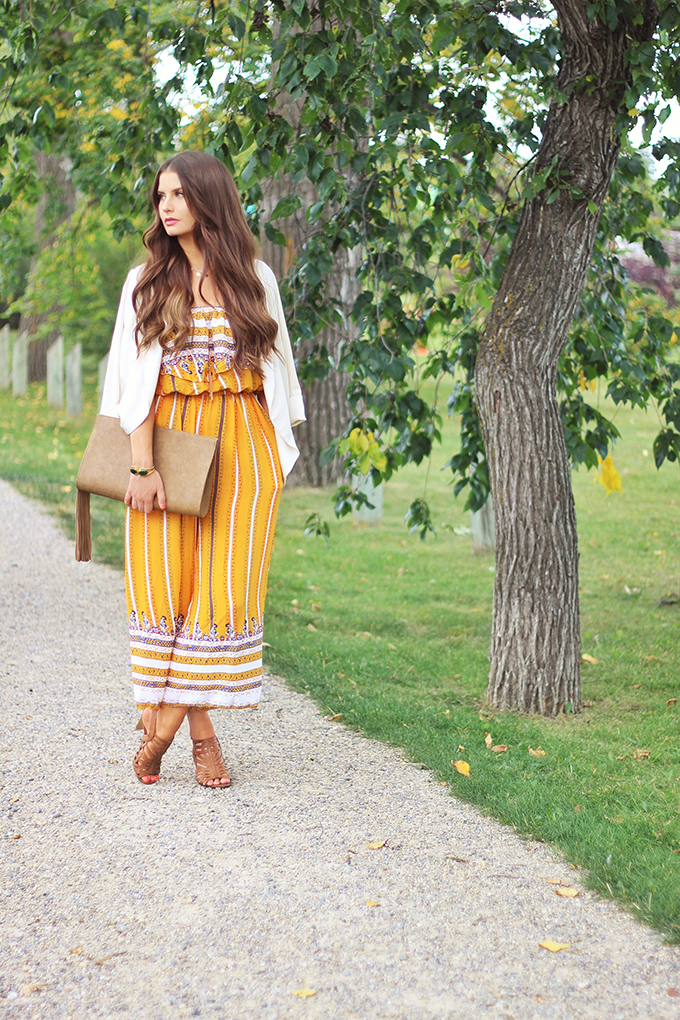 Yellow Vintage Print Ruffle Bandeau Jumpsuit | Wilfred Chevalier Jacket in Cream | Heyday Honey Khaki Clutch | Tan Block Heel Sandals (similar, similar) | Gold Layered Necklaces (similar, similar) | Vintage Jade Cuff (similar) | Bite Beauty High Pigment Pencil in Rhubarb
---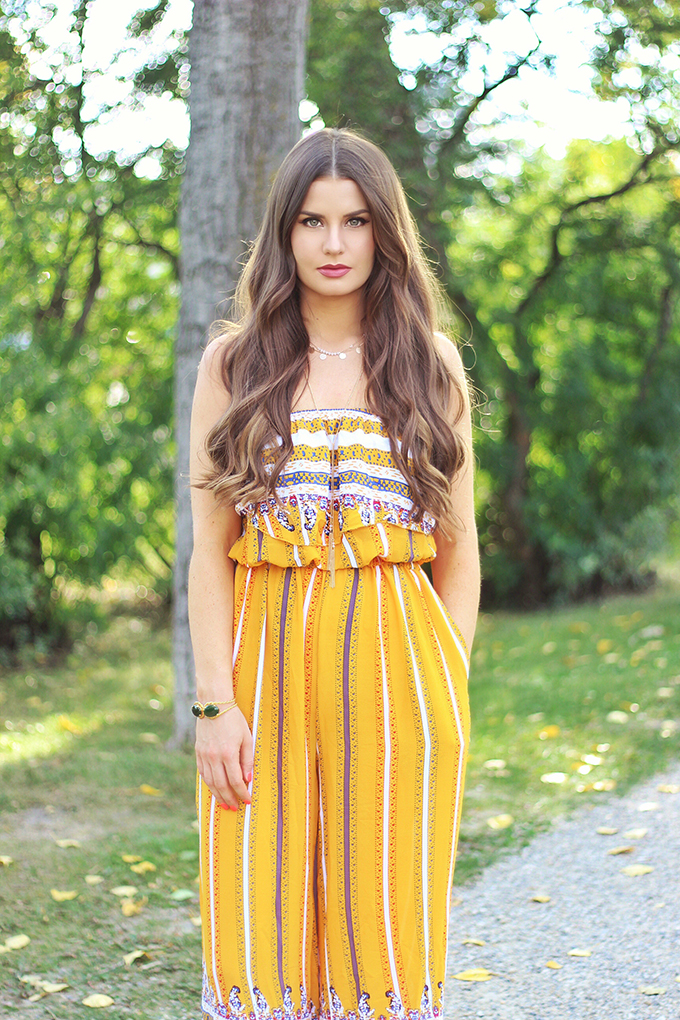 What are your favourite pieces to wear in September? I hope this mild weather holds out for a bit longer — I'm enjoying this Indian summer! I have so much style content planned for this fall, especially because I didn't start shooting outfit posts until mid October last year and it's my favourite time of year for fashion. As always, if you have any content requests please leave me a comment and I'll do my best to incorporate it into upcoming style posts. Enjoy these last few days of summer, everyone!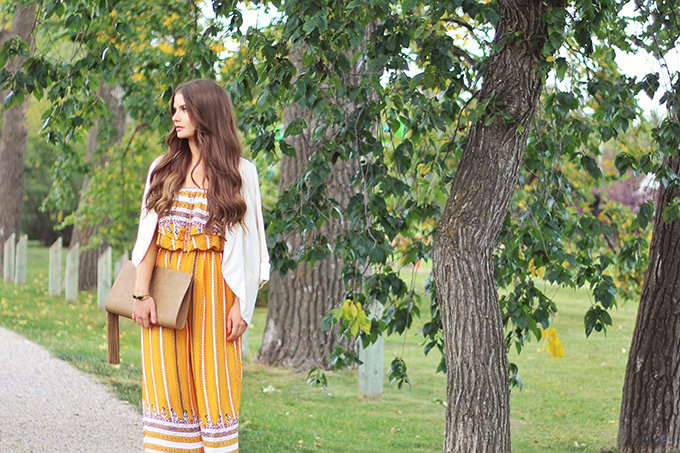 ---
Disclaimer: This post is not sponsored, and contains my genuine thoughts, ideas and recommendations. JustineCelina uses affiliate and referral links, which allow me to receive a small commission when you make a purchase through one of my links. Thank you for supporting the brands that support JustineCelina.com!
SavSave
Save
Save
Save
Save
Save
Save
Save
Save
Save
Save
Save
Save
Save
Save
Save
Save
Save
Save
Save
Save
Save
Save
Save
Save
Save
Save
Save
Save
Save
Save
Save
Save
Save
Save
Save
Save
Save
Save
Save
Save
Save
Save
Save
Save
Save
Save
Save
Save
Save
Save
Save
Save
Save
Save
Save
Save
Save
Save
Save
Save
Save
Save
Save
Save
Save
Save
Save
Save
Save
Save
Save
Save
Save
Save
Save
Save
Save
Save
Save
Save
Save
Save
Save
Save
Save
Save
Save
Save
Save
Save
Save
Save
Save
Save
Save
Save
Save