---
In need of some relaxing tunes for your next cozy evening in? Well friends, I have just the playlist! Indulge your ears in my November 2020 Soundtrack — featuring 3 hours of easy listening, ultra chill, electronic, jazzy, ambient, indie and alternative grooves to perfectly compliment a bottle of Pinot Noir in front of the fireplace. This familiar scene from our Living Room is what almost every single weekend evening has looked like since March — and although I do miss a lot of things about our life pre-COVID, I'm so grateful for this little piece of serenity amidst a chaotic world. I've come to treasure our quarantine Friday evenings when we put the fire on, open a bottle of wine and get lost in the world of music! MUSIC has always been an integral part of my life — and I hope my MONTHLY SOUNTRACKS bring you a bit of extra peace and joy to help ease these difficult times. These 56 tracks have been my musical therapy through a tumultuous month!
November's standout tracks include Downtown Owl's Okay, Made in M's Wonderloop, Ganzo's Happy Feet, TABAL's Floating Hammock, Psalm Tree's Lisbon Penthouse,  Norabel's Pigments, Noé Solange's Nocturnal Lady, Blue Wednesday's Seafoam, Macleny's Doors of Time, Satin Jacket's rendition of Tycho's Japan, Sofasound's Life Is So Beautiful, C4C's Flower Pillow, West & Zander's Autumn Haze, Ash Walker's remix of Kennebec's Departure, Toby Schay's moonkiss and Daithi's How to Fall in Love in a Pandemic. Thanks for listening, friends!

---
NOVEMBER 2O2O SOUNDTRACK
---
---
NEED MORE FRESH TUNES? CHECK OUT MY LATEST PLAYLISTS
---
October 2020 Soundtrack (Listen on Spotify)
September 2020 Soundtrack (Listen on Spotify)
August 2020 Soundtrack (Listen on Spotify)
July 2020 Soundtrack (Listen on Spotify)
June 2020 Soundtrack (Listen on Spotify)
Or, browse the MUSIC archives here at JustineCelina for 5 and a half years of monthly playlists!
---
SHOP THE STORY
---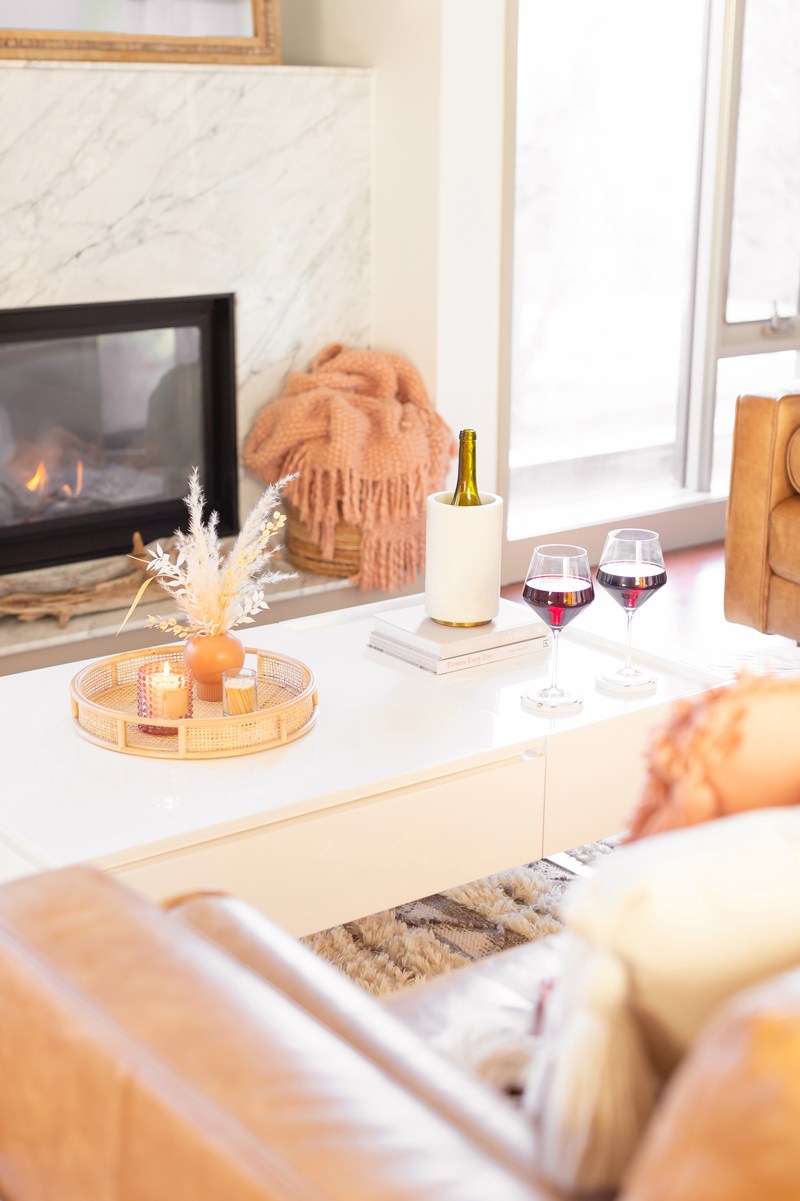 ---
I captured this image just as the sun was starting to creep behind the horizon last Friday evening while setting the scene for yet another cozy night in. How have you been spending your winter weekends in quarantine? There's been a lot of experimental recipes tried, wine enjoyed in front of the fireplace, musical genres explored, Netflix binged and board and games played, too.
Although life lately hasn't been very exciting, I'm feeling quite content despite the circumstances and have been focusing on gratitude. We're safe and healthy — and that's really all that matters, isn't it? I wish the same for each and every one of you!
---
What have you been listening to lately? Leave me your recommendations in the comments, I'd love to hear from you! Do you use Spotify? If you do, feel free to drop some links to your playlists, or playlists / artists you think I'd enjoy. Thanks for tuning into my November 2020 Soundtrack today friends! Stay well.
---
Disclaimer: This post is not sponsored, and contains my genuine thoughts, ideas and recommendations. JustineCelina uses affiliate and referral links, which allow me to receive a small commission when you make a purchase through one of my links. Thank you for supporting the brands and businesses that support JustineCelina!