---
I'm so thrilled to bring you fresh installment in my PATTERN PLAY series as we transition into autumn, featuring a print I didn't think you'd ever see me wear here at JustineCelina — Polka Dots! If you're into FASHION  you're probably used to seeing spots in various garments, and at a wide variety of retailers, over the past couple of years. In stark contrast to the last post in this series dedicated to chain print (which I've worn and loved for the better part of a decade!), Polka Dots are a very new addition to my wardrobe — but one I'm happy to welcome into my closet! Isn't it funny how your tastes change and you find yourself wearing things you initially didn't think were for you? Today I'm embracing my style evolution with PATTERN PLAY | Polka Dots — a comprehensive guide on how to make one of 2019 / 2020's key prints work for you in any season!

Although I consider Polka Dot to be a classic print, it took me awhile to find a piece that didn't feel too was too sweet or traditional for me. I felt that polka dotted pieces in more basic colours (like black and white) just didn't suit my personal style, because they felt too rigid and formal. But as I've mentioned many times in this series, I'm a firm believer that if you're intrigued by a print, there's a way to make it work for you — incorporating it into your personal style in a way that compliments your lifestyle, preferences, figure and budget. So when I spotted this darling Pantone Sugar Almond (I'm already drawing inspiration from the AW19/20 Fashion Colour Trend Report!) coloured wrap dress, I instantly fell for the unique colour and larger scale of the print. If you're intrigued by Polka Dots but not sure how to wear them, you've come to the right place — I'm sharing my best tips and tricks for finding the right pattern for your body type, how to style spots into 2020 and shoppable links for my favourite polka dotted pieces at every price point! 

---
PATTERN PLAY | POLKA DOTS
---
If you've been following along with my FASHION content, you'll know I've been living in linen and breezy dresses all summer long!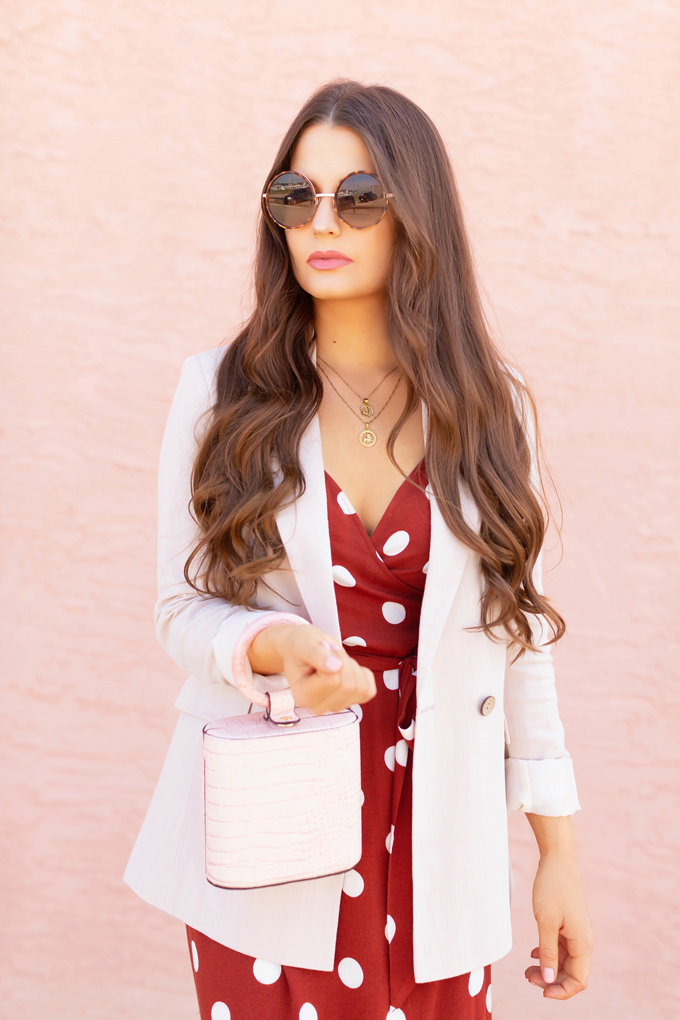 After initially not thinking Polka Dots were a print I was interested in incorporating into my wardrobe, I was thrilled when I spoted this Pantone Sugar Almond coloured wrap dress last summer. I instantly fell for the unique colour and larger scale of the print — it's a very fun piece to wear and every time I slip it on I have my own Pretty Woman moment!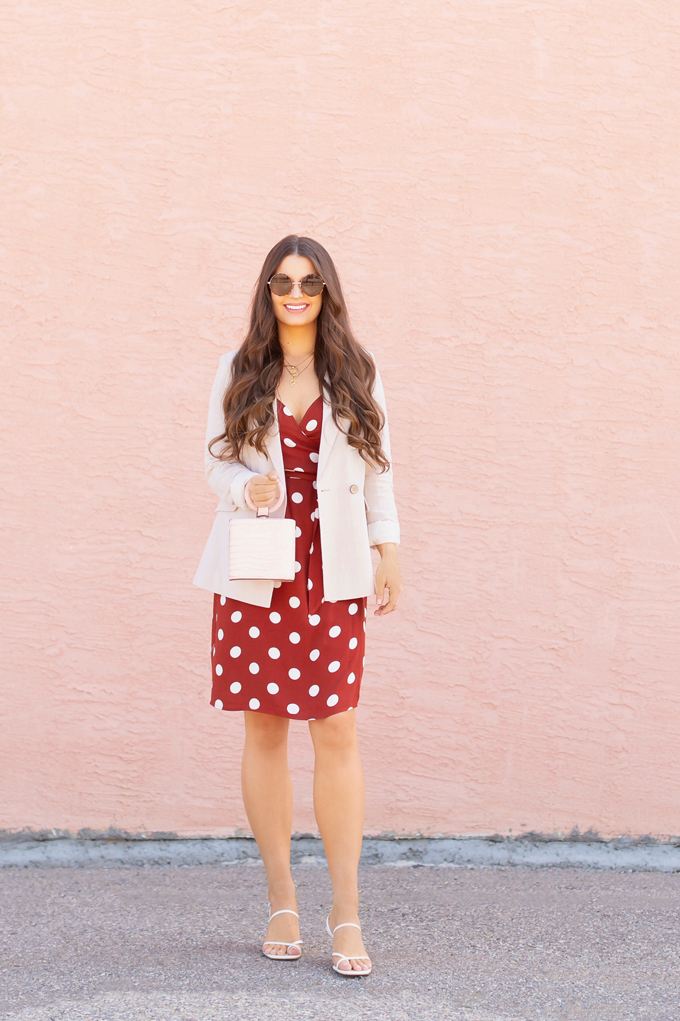 I firmly believe anyone can wear any print or pattern, it's all about finding a scale, colour and silhouette that works for you. My personal style is creative, eclectic and experimental, so more traditional spotted pieces just didn't excite me. But I kept seeing spots pop up everywhere — looking ahead to 2020, spots are here to stay! I figured if this Polka Dot skeptic could find her perfect piece, dedicating a blog post to how you can do the same would make a beautiful addition to my PATTERN PLAY series!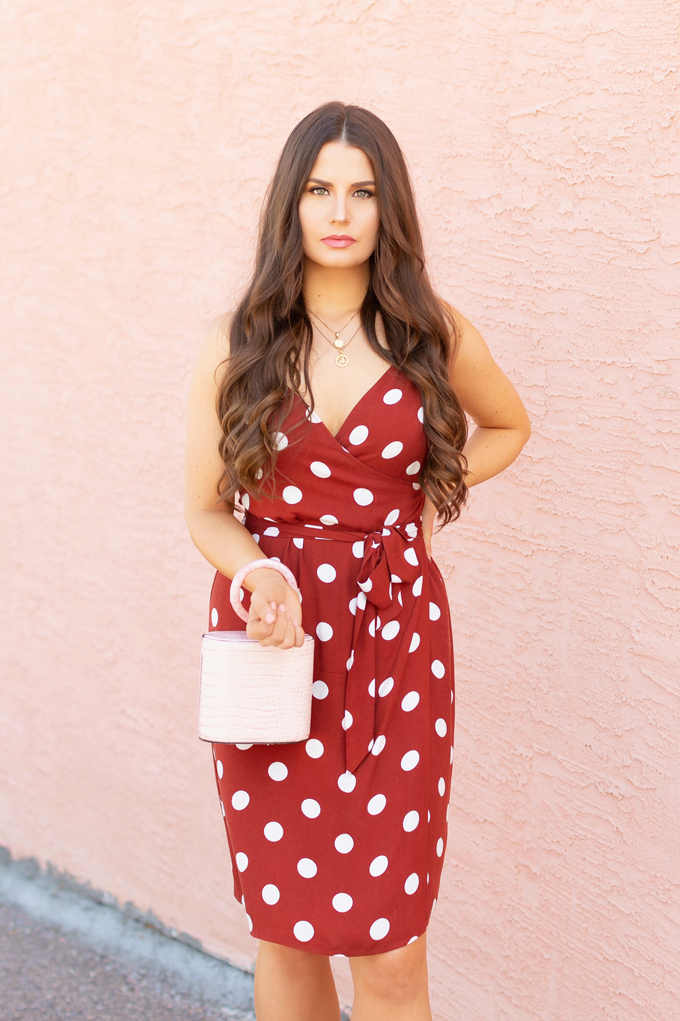 While I would normally recommend dipping your toes into a new pattern by opting for an accessory (like a scarf or a shoe), sometimes you just have to dive right in and commit to a garment when you find the one! I was able to find a Polka Dot piece I love by looking for spotted pieces in unique colours with a unique scale, but in a classic silhouette I know works for me (and for most women) — the wrap dress.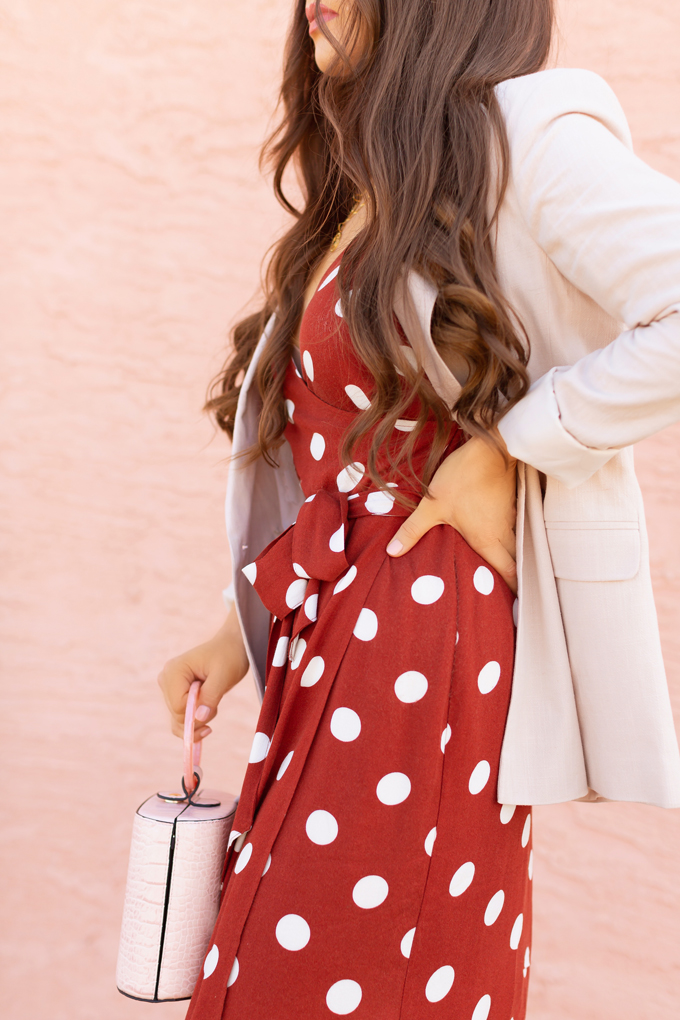 Not only is the silhouette of this dress super flattering and easy to wear, I love its versatility. Here I've polished up this simple summer dress for professional settings by layering my favourite new blazer overtop! This year I've been on a mission to rebuild my blazer wardrobe — and I finally found the perfect lightweight linen boyfriend blazer at TopShop.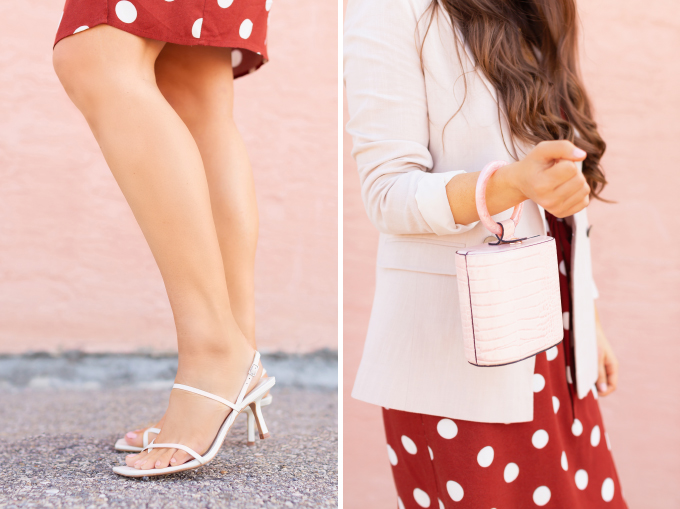 I pulled this office-appropriate look together with a blush pink croc-embossed bracelet bag (which I actually find surprisingly versatile!) and a pair of square-toed strappy sandals (this exact pair is sold out, but they've just released a similar design). White shoes have been on trend for awhile and I wasn't able to find a pair I loved until this summer (I'm always one to wait it out until I find the perfect piece!), but these have become another one of my most-worn pairs when I need something sleek and minimal. The low heels makes them comfortable without sacrificing style. I'm actually lusting over a similar pair of square-toed sandals in black right now. They're the perfect blend of chic and unexpected!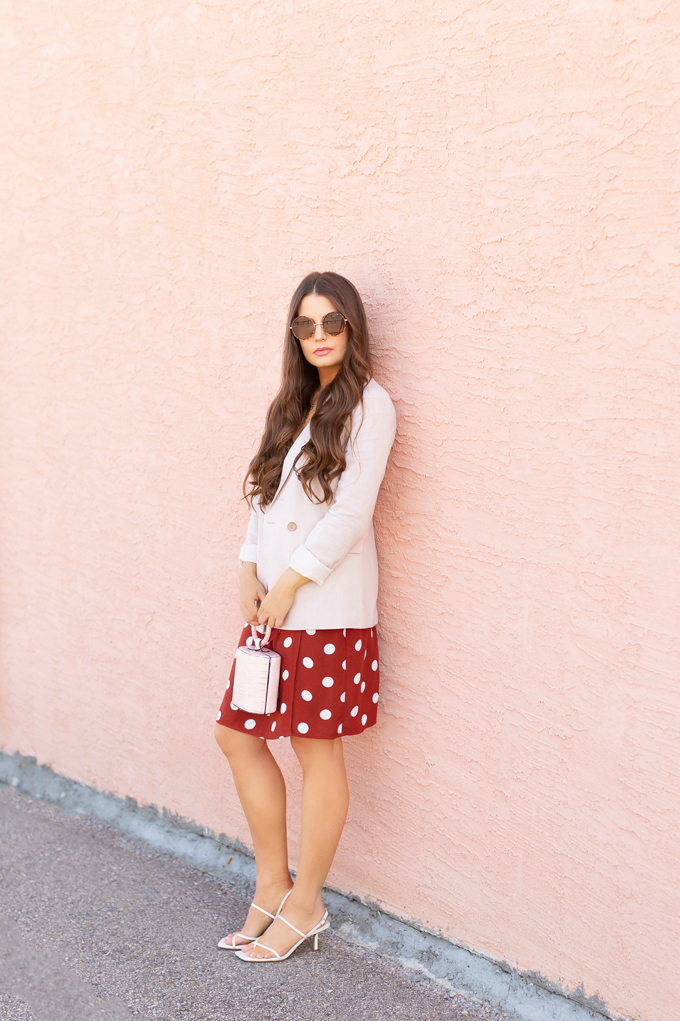 I'm all about light, versatile layers for transitional weather — and this spotted wrap dress is the perfect candidate for more autumnal styling. Transition this outfit formula into cooler fall temps by layering a cream turtle neck underneath your wrap dress, swapping your strappy sandals for a pair of OTK boots and opting for a cognac cross-body bag!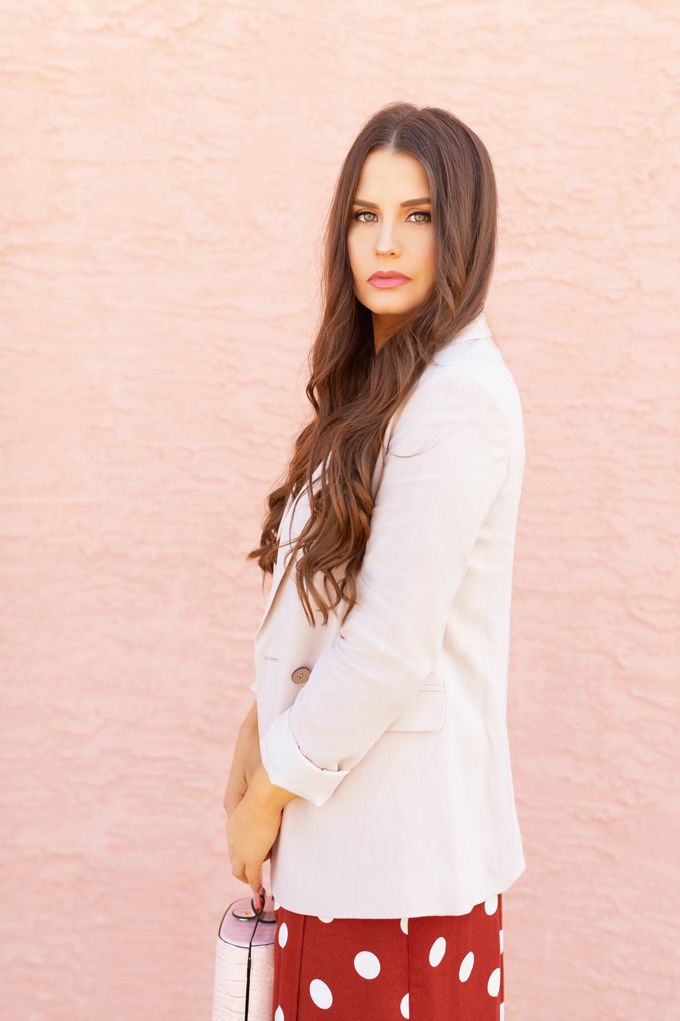 Intrigued by Polka Dot garments but need a few tips to make sure you chose the right one for you? I firmly believe fashion rules were meant to be broken, however, understanding why something works in the first place is essential.
One tried and true rule I adhere to is to keep the scale of a print proportionate to your frame. This means that typically, taller or fuller framed gals can pull off larger prints, or all over prints (this look is a great example of that — I'm 5'8″ and feel that the scale of the dots on this dress doesn't overwhelm me because of my height and also because I broke the spots up with my linen blazer).
Conversely, shorter babes should opt for a smaller scale print more in proportion with their silhouette — think more smaller, daintier dots. You should always strive to have whatever pattern you're wearing to compliment you rather than overwhelm you. After all, you should wear your clothes, they shouldn't wear you!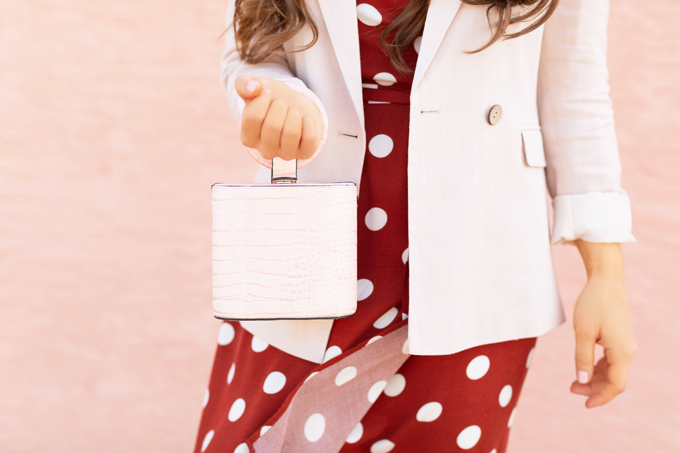 I've scoured the internet to curate a selection of my favourite spotted pieces, along with similar alternatives to everything I'm wearing, below.
---
MORE FROM MY PATTERN PLAY SERIES
---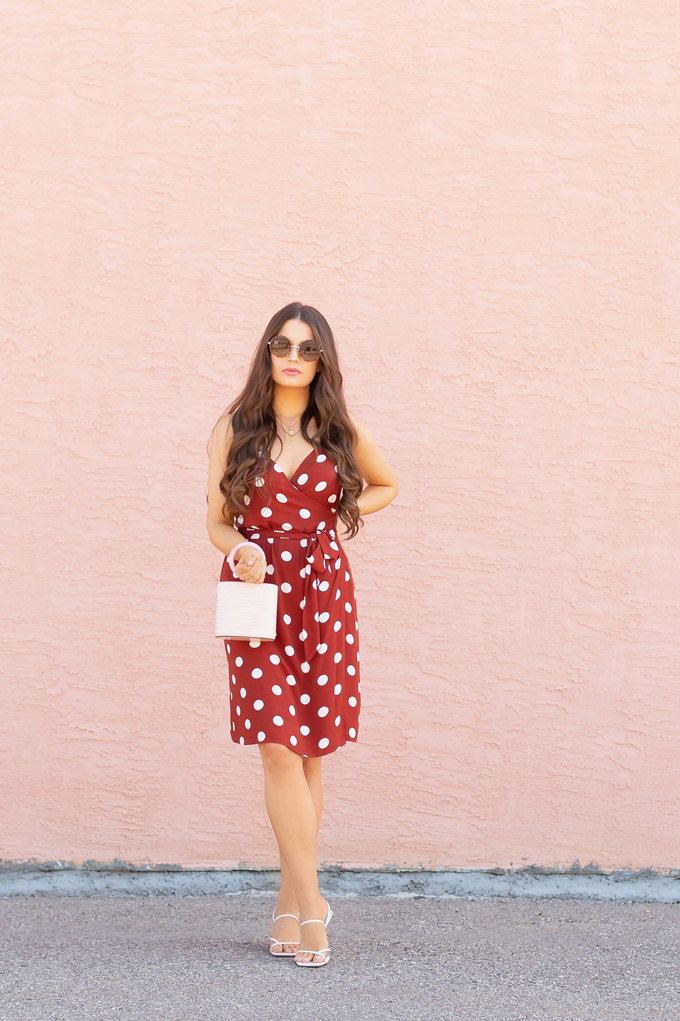 ---
SHOP THE POST
---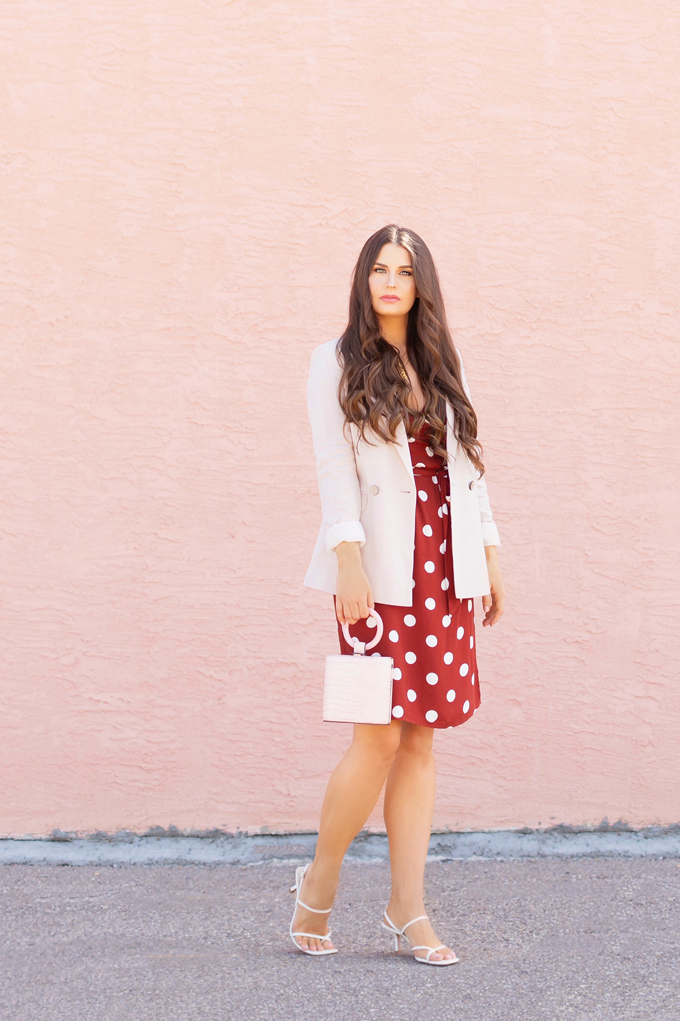 ---
Will your wardrobe be seeing spots this year? I hope this post has inspired you to reconsider Polka Dots if it's a pattern you haven't yet embraced. It's so refreshing to find a way to wear something that you didn't initially think was for you — and I can't wait to style my spotted wrap dress up for autumn! I have so much style content planned for AW19 and we've already shot half of the looks for my Transitional Summer to Fall 2019 Lookbook, dropping on September 23rd to celebrate Autumn equinox. This transitional time of year is my favourite for FASHION — and I'm so excited to bring you more style content than ever before!
If you're looking for even more sartorial inspiration in the meantime, you can also follow along with my JustineCelina Fashion board on Pinterest, or my seasonal Late Summer 2019 Lookbook which also features transitional style ideas! And if you want a sneak peek at what I'm wearing before it hits the blog, as well as some exclusive style content you won't see here, come join me over on Instagram for daily posts and BTS / day-to-day life on Stories! As always, thank you for stopping by, friends!
---
Disclaimer: This post is not sponsored, and contains my genuine thoughts, ideas and recommendations. JustineCelina uses affiliate and referral links, which allow me to receive a small commission when you make a purchase through one of my links. Thank you for supporting the brands and businesses that support JustineCelina!