---
Autumn is in full swing here in Calgary — have you started to transition your decor along with the seasons? If you're anything like me, as you transition your wardrobe into fall to reflect our changing landscape and cooler temperatures, you also crave that same change in your home. Although I think it's important to keep things fresh and be inspired by your environment (especially as a creative or someone who works from home), it's certainly not practical to be shopping for entirely new decor with every season change! Today's post is dedicated to simple, inexpensive ideas you can implement in your own home to Transition Your Decor Into Fall — all while drawing inspiration from fresh sources and making use of what you already own.
I started slowly collecting inspiration for our Fall Living Room Update and bringing autumn into our home in mid September. The weather had started to shift and the trees had started to yellow — and I was in full on fall planning mode (I even created a Pinterest board!). But the timing I had in mind didn't work out as planned — I had to park the Living Room update to finish up our Entrance Way (this next instalment in our SPACE REFRESH series is now live!) — and this is where we've ended up. But rather than waiting to publish our Fall Living Room Update in one big reveal, I've decided to share our decor in transition to show you that you don't have to make drastic changes (or spend a lot!) to make a big impact. If you're searching for some cozy, autumnal decor inspiration this weekend, fix yourself a chai latte (or perhaps a glass of scotch?) and come curl up in my Living Room for all my best transitional decorating tips!

---
HOW TO TRANSITION YOUR DECOR INTO FALL
---
While I've begun to cozy things up around here for autumn, our Living Room is in transition — just like the seasons.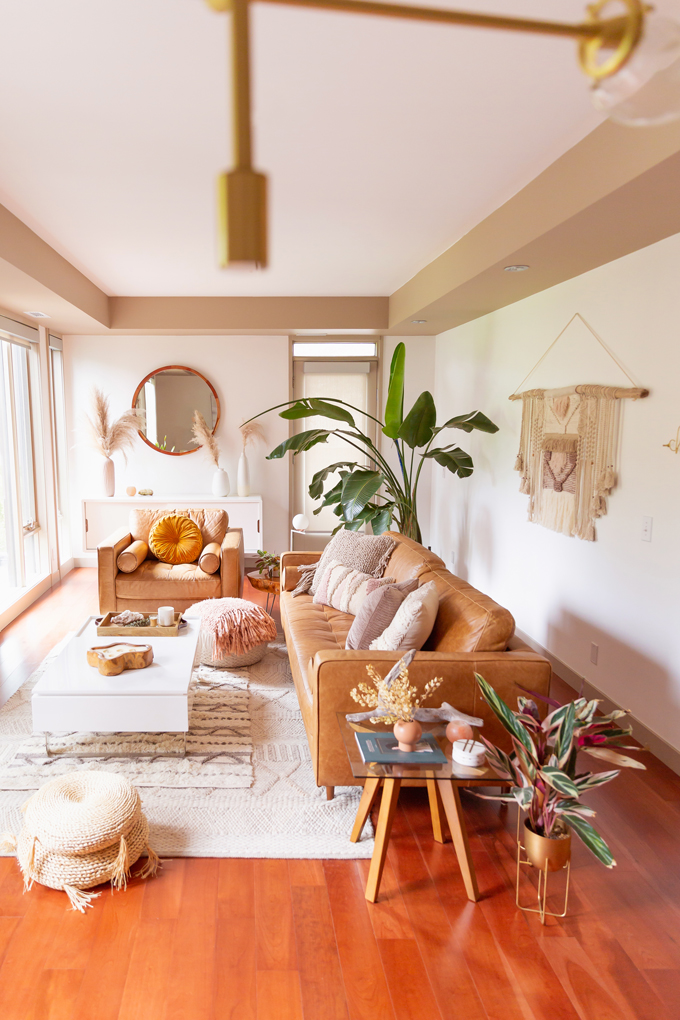 Back in September I did a bit of shopping during the Urban Outfitters 40% off Home sale — mostly to pick up decor for the Entrance Way. This stunning mustard Round Pintuck Pillow had been on my wishlist for while, as I've been inspired to incorporate more rich, autumnal tones into our decor this season. Sometimes all it takes is one new piece to spark inspiration!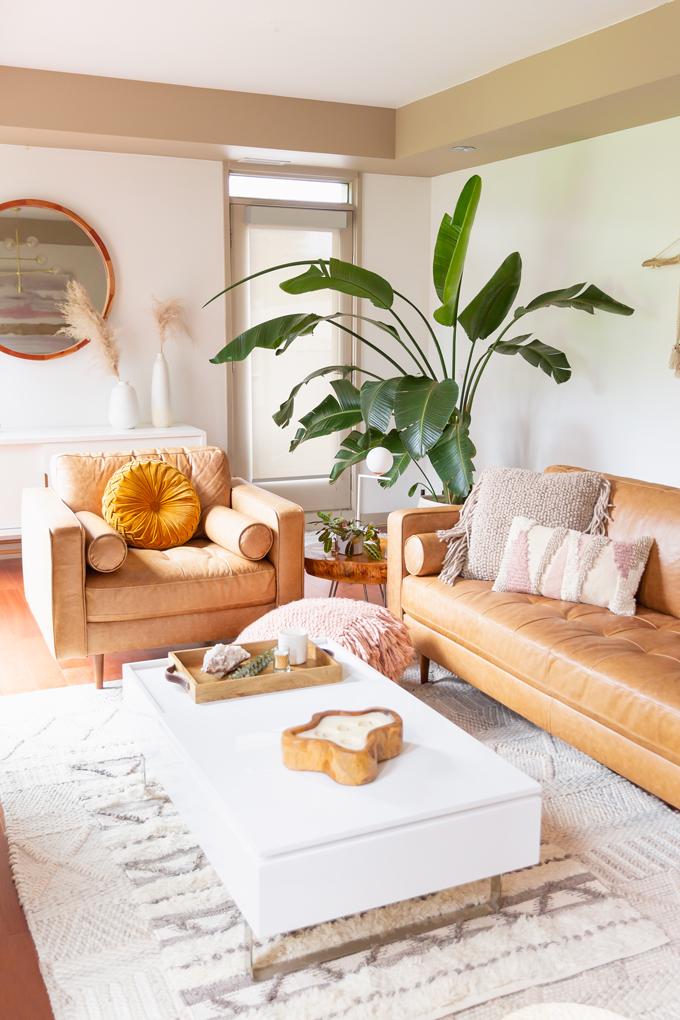 I often purchase just one new item when I'm refining the vision for a space, using it as my 'anchor piece' to build a room or refresh around. And that's exactly what I did! Using our new mustard Round Pintuck Pillow as my anchor piece (and repurposing the blush Mongolian lamb pillow in the Entrance Way!), I got to work cozying up our Living Room.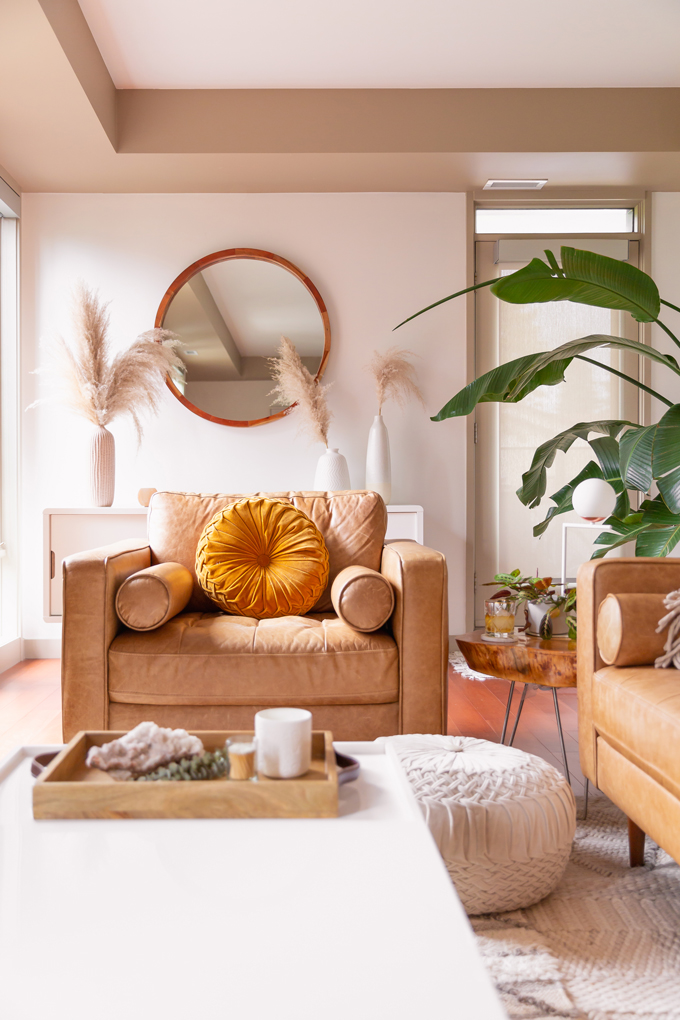 Do you ever rearrange and restyle your space with things you already own? Whenever I have a few free hours at home, it's one of my favourite things to do. Everything old is new again when you style it through fresh eyes for a new season! Pulling out existing pieces from other rooms and styling them up with newer items saves me from going crazy purchasing new items and allows me to make use of what we have on hand. If you follow along with my FASHION content, you'll know I apply the principle of freshening up my seasonal wardrobe with a few key pieces in a on-trend colour palette as well!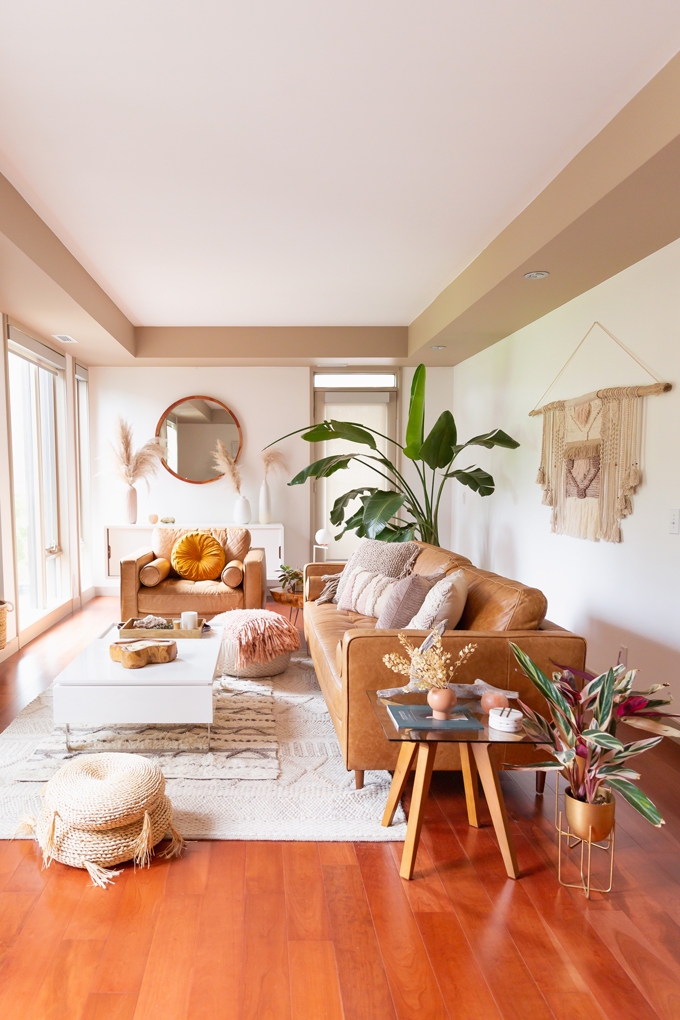 The first thing I pulled out were our heavier throws, pillows and textiles. I love to experiment with layering — both in my personal style and in my home! Have fun, get creative and try layering throws over stools, poufs and couches to add texture and dimension. I like to bring in warmer, earth toned colours and cozy fabrics for fall! You can also try layering a smaller rug in a different colour story, pattern or texture overtop of a larger rug to create a more welcoming area.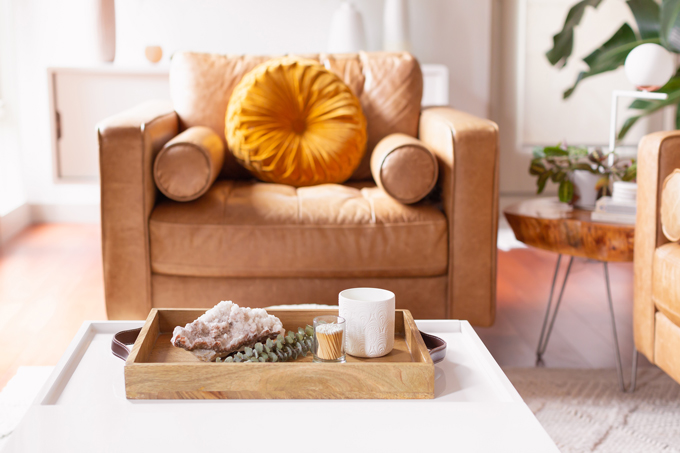 I also like to swap out lighter hued or metallic decor for warm, wooden accessories and rustic details. That tray on the coffee table was actually one of the first things Adam purchased when we moved in together 8 years ago, in a rental! It's originally from Target and actually used to sit on the console table in our Entrance Way, housing my sunglass collection (which now has a much more practical new home!).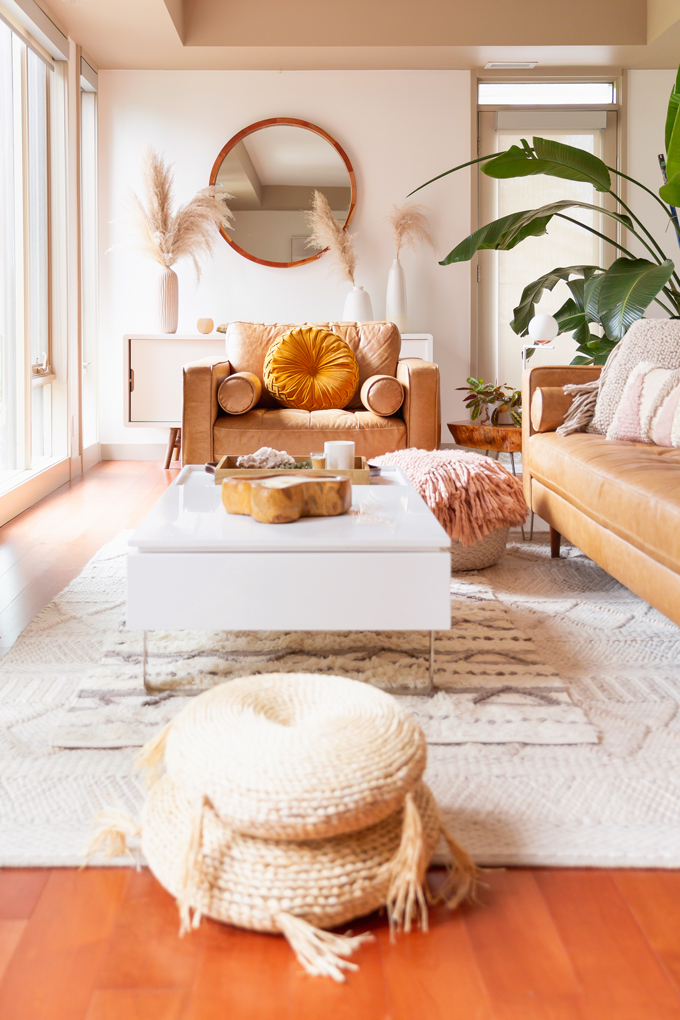 I also moved the smaller dried grass arrangement that lived on the coffee table during the summer to the Entrance Way and swapped that gorgeous wooden candle in (it previously lived on the Dining Room table). It's the first time we haven't had an arrangement of any kind on the coffee table (be it fresh florals, dried grasses, or greenery) — and much to my surprise, I actually love the clean simplicity of the candle.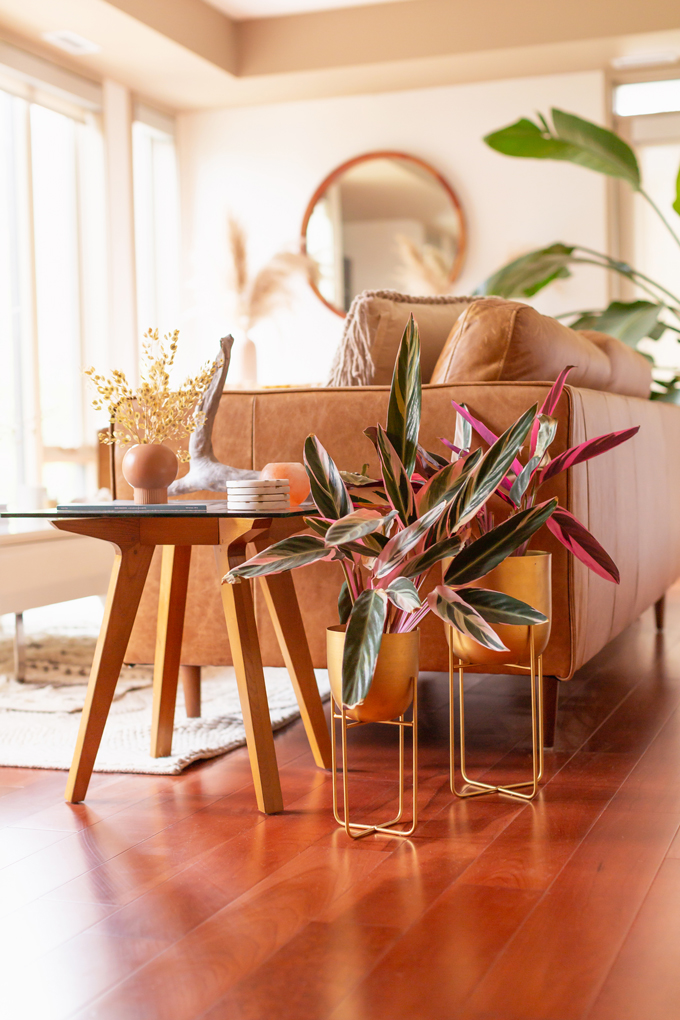 I also restyled the side table with a new dried arrangement (believe it or not, these are actually weeds I foraged from a vacant lot on our block!) and a new coffee table book. I'm feeling very inspired by this palette of blue-green, mustard, gold, caramel and warm neutrals (have you seen my Transitional Summer to Fall 2019 Lookbook?). Both my seasonal wardrobe and my seasonal decor persuasions are heavily influenced by the Pantone Autumn/Winter 2019/2020 Fashion Colour Trend Report. I can't wait to bring more richness and vibrancy to our decor this season based on this colour story!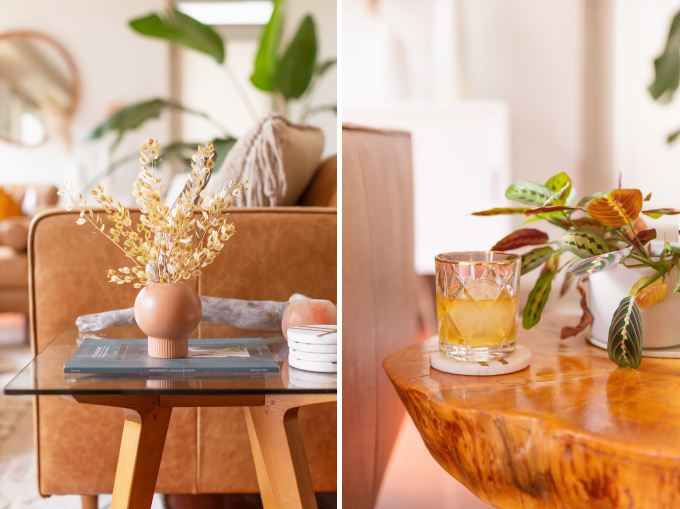 As someone who's endlessly inspired by Mother Nature, I often talk about being inspired by my environment and bringing the outside in. This is something I love to do in our home in many forms — with plants, foliage, flowers, wood and natural materials! Adding dried grasses, foliage and florals to your darker, richer hued vases is a great way to bring a more autumnal feeling to your decor on a budget. We have a mixture of pampas grass (learn all about it here!) and foraged weeds on display right now (yes, really!). I love their longevity and warm, bohemian vibe they infuse into any room!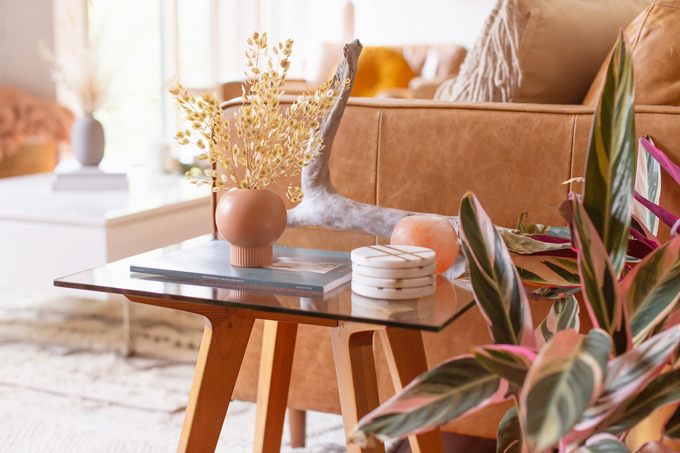 Of course, our tropical plants are a main feature in our Living Room — no matter the season! Other than Barry (our beloved oversized Bird of Paradise, popping up in the back!), our Stromanthe Sanguinea (with their showy variegated pink leaves!) are the plants I'm asked about most.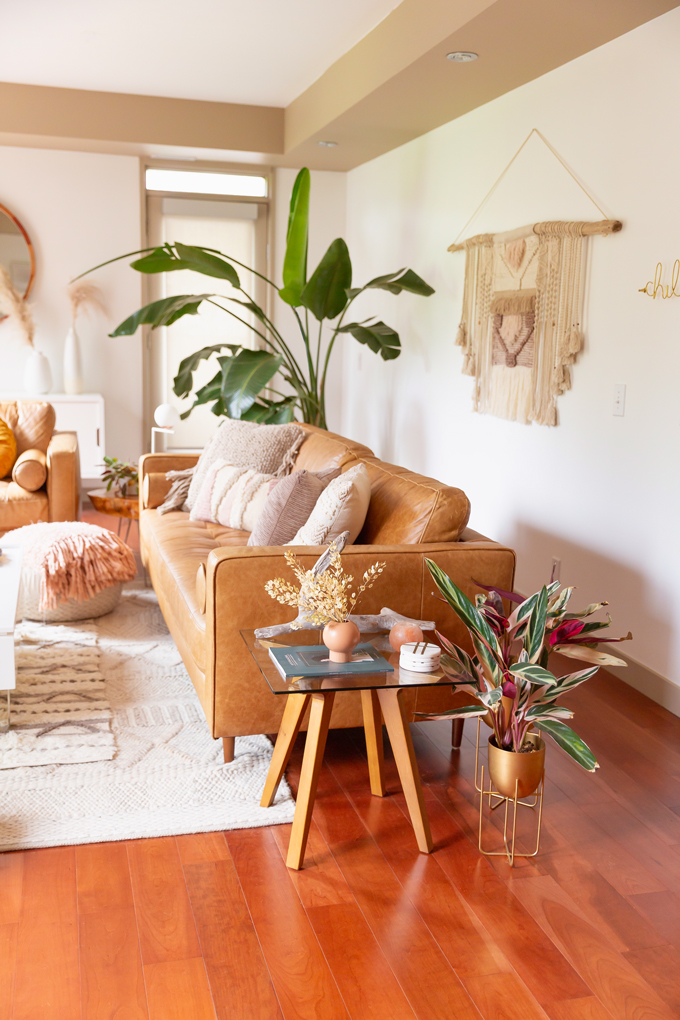 Did you know I published a post all about How to Select and Care for Houseplants? It's a comprehensive guide that includes how to select the rights plants for your space, a detailed cost breakdown, the best plant shops in Calgary, planter selection and potting tips, and watering guidelines and schedules!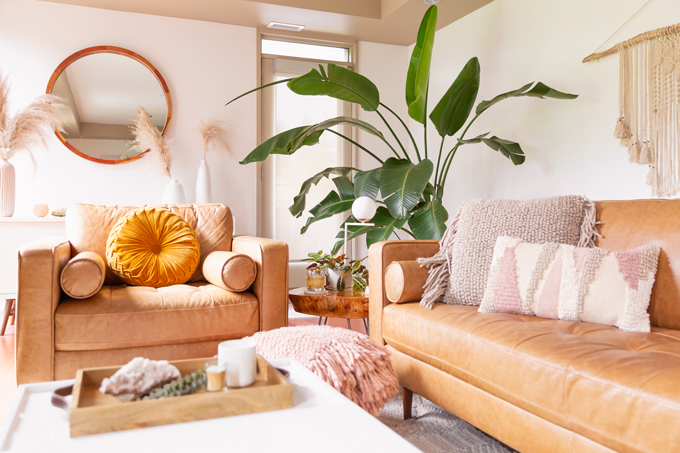 We've enjoyed many cozy nights here this fall in front of a roaring fire! It's my favourite spot to decompress after a long day — me with a glass of wine and Adam with a glass of scotch. I feel that right now our Living Room is the perfect melange of our personal styles, lifestyle and the changing seasons!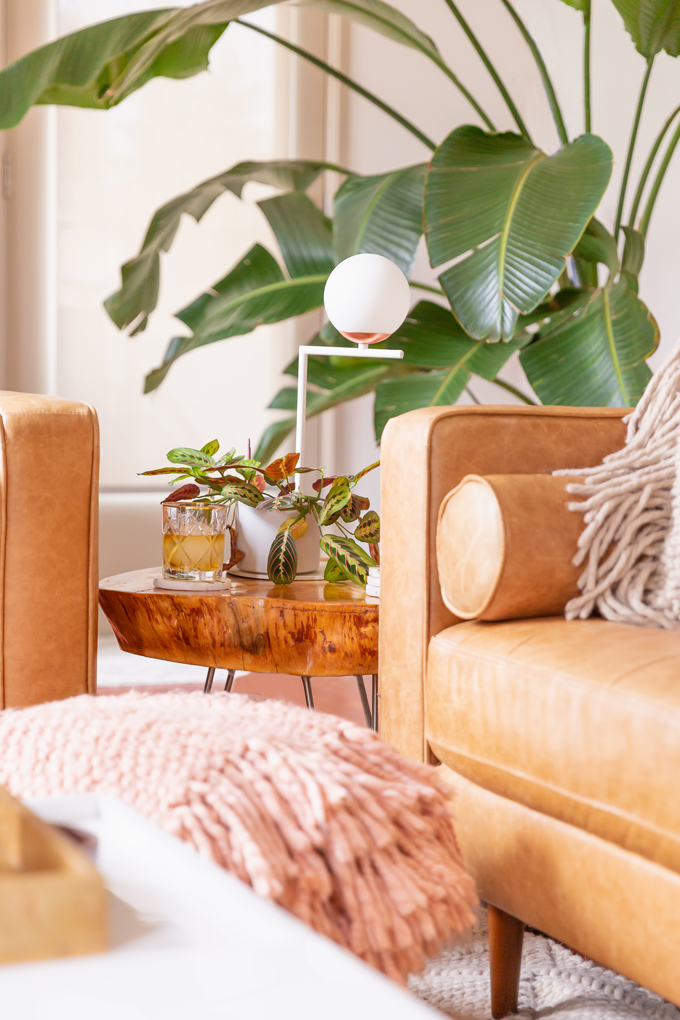 I'm looking forward to continuing to add more colour, pattern and texture as we transition deeper into autumn and winter — but for now, I'm just embracing where we're at! In our home, as well as in life, I'm learning there is so much beauty in the in-between.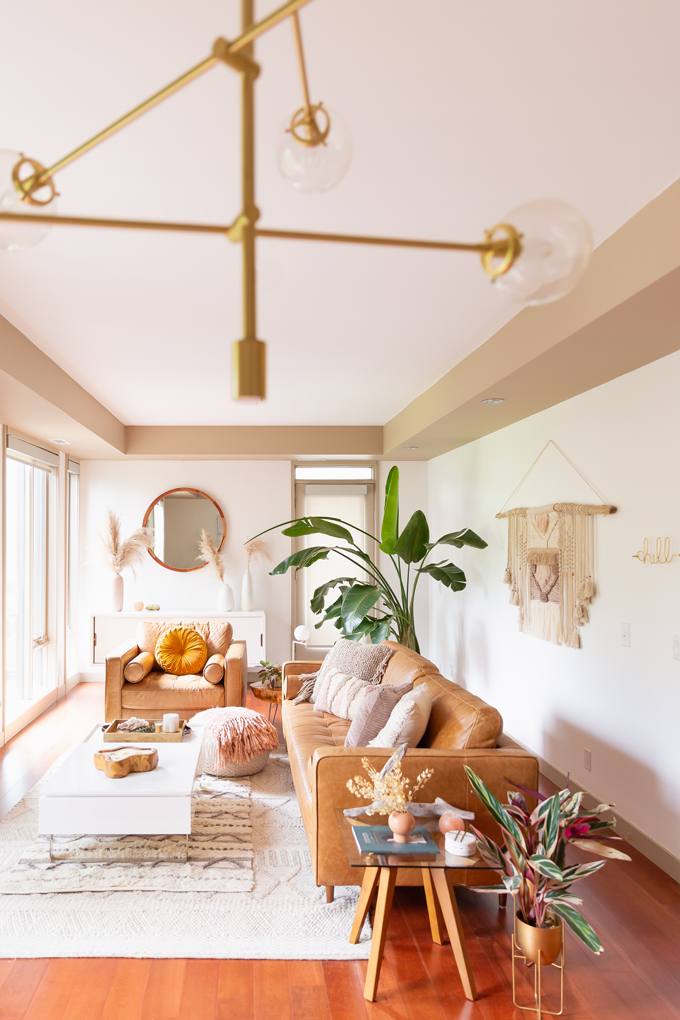 ---
SHOP OUR TRANSITIONAL LIVING ROOM DECOR
---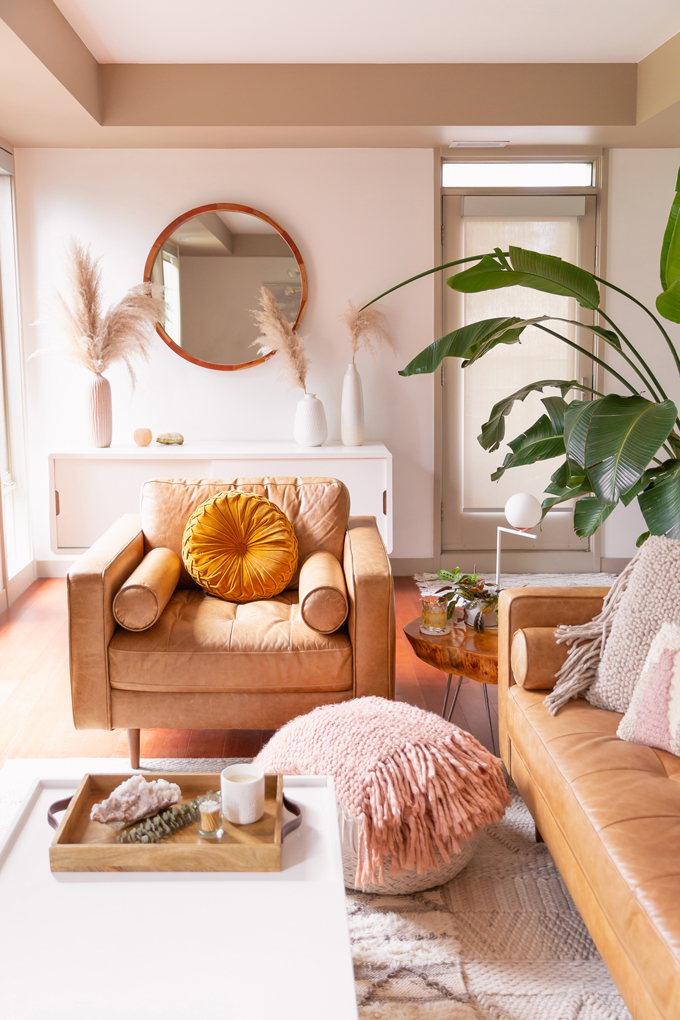 ---
OUR LIVING ROOM THROUGHOUT THE SEASONS
---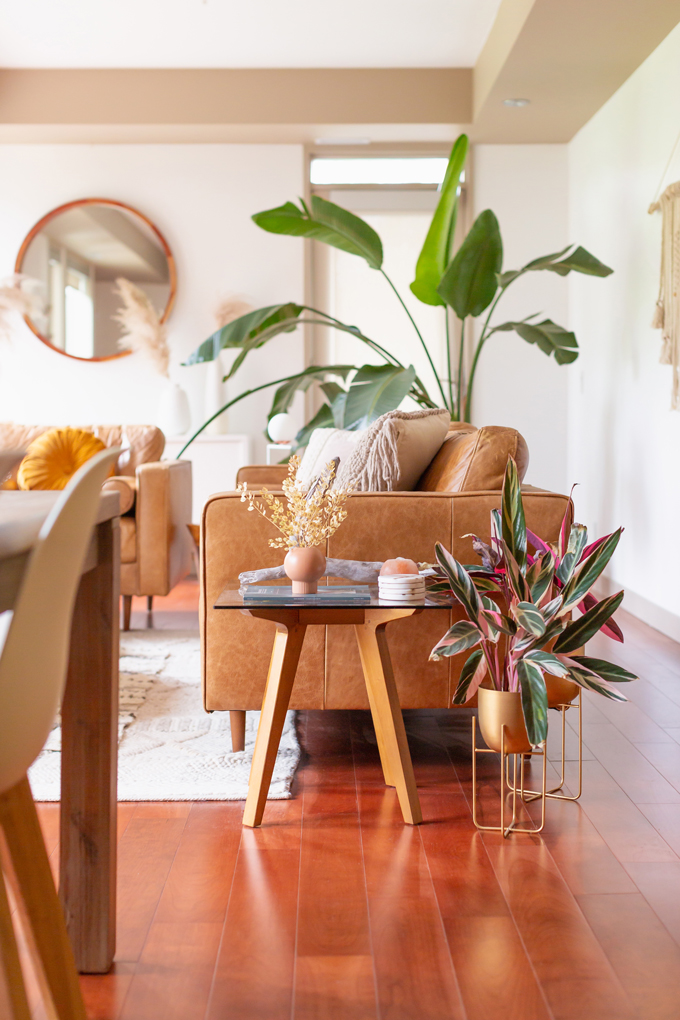 Space Refresh | Paint Transformation (Winter)
Space Refresh | Living Room Reveal (Spring)
Our Living Room Furniture (Spring)
Midsummer Space Refresh Update (Summer)
Apartment Friendly Modern Holiday Decor (Winter)
---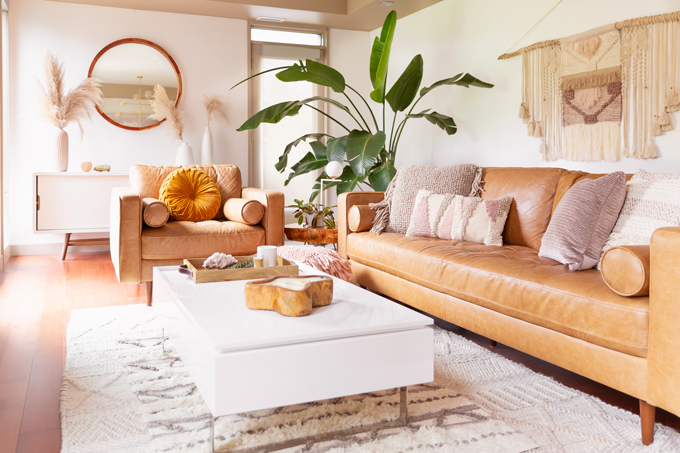 Thanks for stopping by for all my best tips on How to Transition Your Decor into Fall! I hope you found this post helpful if you're looking for simple, cost effective ways to bring the season into your home. I'm so excited to continue to cozy things up around here, with the full Fall Living Room Update publishing in mid-November. In the meantime, you can always catch a BTS look at what I'm working on over on Stories in my HOME Highlight. Those of you who do follow along will know I've been completely engrossed in our Entrance Way for the past month and absolutely ecstatic to be able to finally share it with later this month — after nearly year in the making!
If you like, you can also follow along with my Home Pinterest Board for more interior inspiration, or the JustineCelina Home board where I'll be pinning our refreshed spaces and other DWELL content as it rolls out. As always, if you have any specific questions or requests for upcoming content, just leave me a comment! Enjoy this beautiful fall weekend, friends.
---
Disclaimer: This post is not sponsored, and contains my genuine thoughts, ideas and recommendations. JustineCelina uses affiliate and referral links, which allow me to receive a small commission when you make a purchase through one of my links. Thank you for supporting the brands and businesses that support JustineCelina.com!