---
Friends and fashionistas, welcome back for my second Spring 2019 TREND GUIDE! I felt like a total badass in this outfit — a cool, casual, trend-focused look that's a complete departure from my last style post which encapsulated how to wear spring trends at the office (what can I say, I'm all about experimenting with your personal style, no matter the setting!). Although the base of this outfit is actually quite neutral and very wearable (you've seen this staple denim and knitwear many times here at JustineCelina!) I've styled it up for transitional spring weather with an updated, western-inspired twist. My Spring 2019 Trend Guide | Modern Western focuses on how to refresh your transitional staples with a few key, trend-focused pieces to breathe new life into your spring wardrobe!
This updated, early spring outfit formula is ideal for temperatures ranging from just above zero to the low-teens and is one of my personal favourites to wear in a variety of settings. If you like your seasonal trends mixed with easy basics you can re-style season after season (and year after year!), you'll love this practical guide to SS19's overarching trends — including shades of beige, flat brimmed hats, high waisted raw hem denim, all things western inspired, snakeskin and gold pendant jewellery. Come along to the streets of my hometown as I break down this ultra-wearable, approachable guide to modern western style!

---
SPRING 2019 TREND GUIDE | MODERN WESTERN
---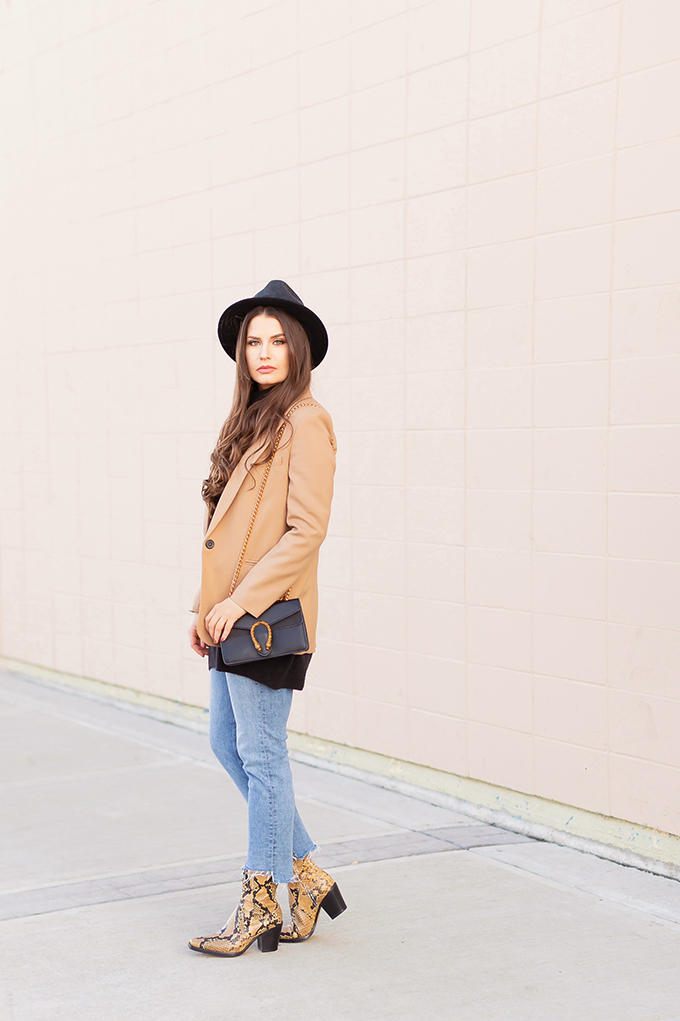 Here at JustineCelina, I love to experiment with trends. My personal style is eclectic — but I love great basics, am a stickler for quality regardless of price-point and truly get a rush when I discover a new colour, pattern, trend or silhouette to make my own. I've always been very inspired by FASHION and how to distill of-the-moment styles down to make them wearable for the modern woman. My goal in sharing sartorial content with you is that I can inspire you to hone your personal style, have fun, get creative and curate a wardrobe that allows you look and feel your best! After all, isn't that what personal style is all about?
While I completely understand that not every trend will be for everyone (I'm not one to jump on every trend band-wagon myself!), I love to showcase my favourites for you each season while providing alternatives and options for nearly every budget, body type and lifestyle. Fewer things make me happier than reading your comments, emails and messages that I've inspired you in any small way!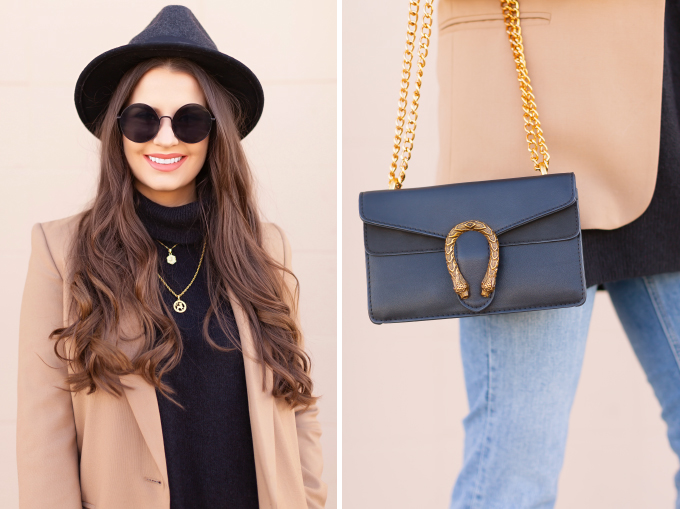 With that said, I'm excited to jump into this post — which for me is the perfect juxtaposition of seasonal trends and transitional wardrobe staples. It's laid back, playful and practical — and it's sprinkled with great staple pieces that you can mix and match with pretty much everything in your closet as we transition into spring!
---
TREND: SHADES OF BEIGE
---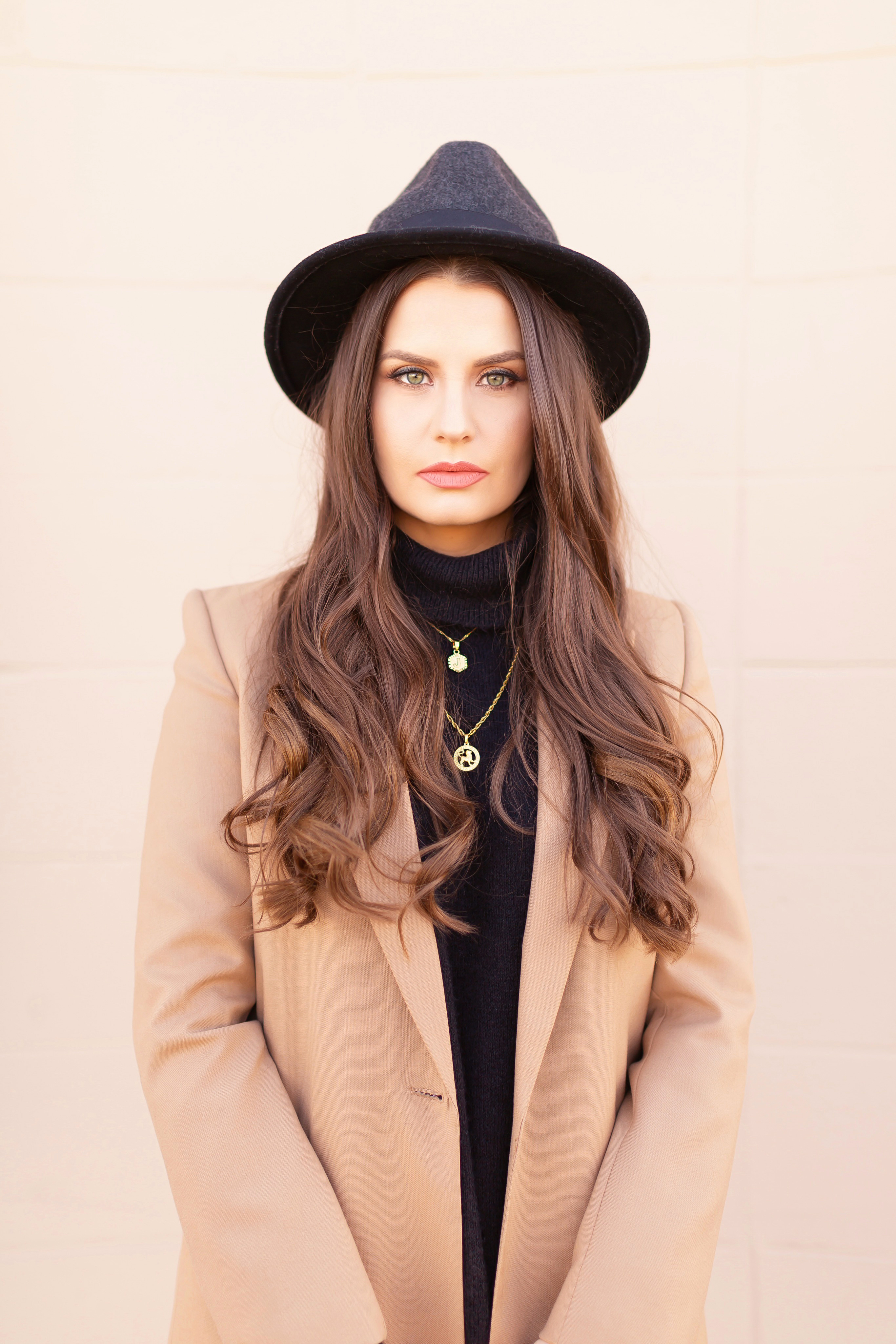 Let's kick things off with the most wearable spring trend of them all — shades of beige! This season light, airy neutrals are having a major moment and they couldn't be easier to integrate into your transitional wardrobe.
Head-to-toe monochromatic beige, camel and brown looks have been spotted all over the runways and city streets since winter (and I actually have some planned for later this spring!). But distilling it down, adopting a neutral, beige-y blazer in a modern silhouette this season is the perfect update. Because it was a balmy 5°C on the day we shot this look, I opted to layer the black version of my beloved H&M sweater (also worn here and here!) underneath a simple beige blazer with a slightly boxy fit. I love layering sweaters underneath my oversized blazers during transitional or early spring weather and find this combination to be perfectly insulating yet lightweight.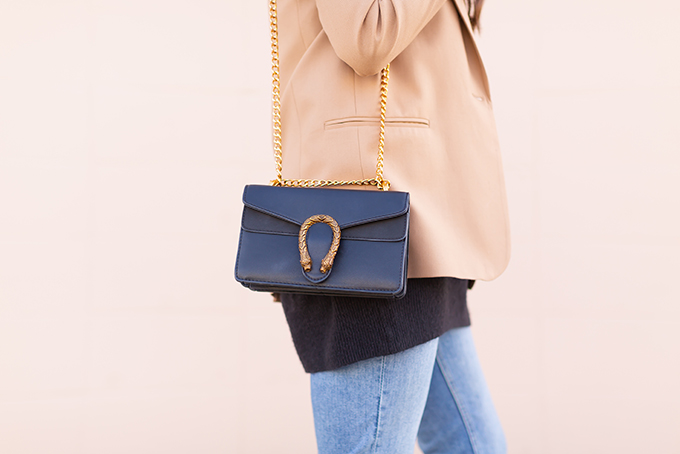 That said, the styling possibilities for this blazer are endless. It would also work at the office over nearly every blouse (at any length — I love to play with proportion!), or in more casual, summery settings over-top of a flowy dress to add a smart outer layer! If you're looking to update your blazer collection for SS19, I've rounded up a handful of my favourite beige, tan and camel blazers for you below (I sized up to accommodate layering heavier knits, but don't overlook the men's department!).

---
TREND: HIGH WAISTED, RAW HEM DENIM
---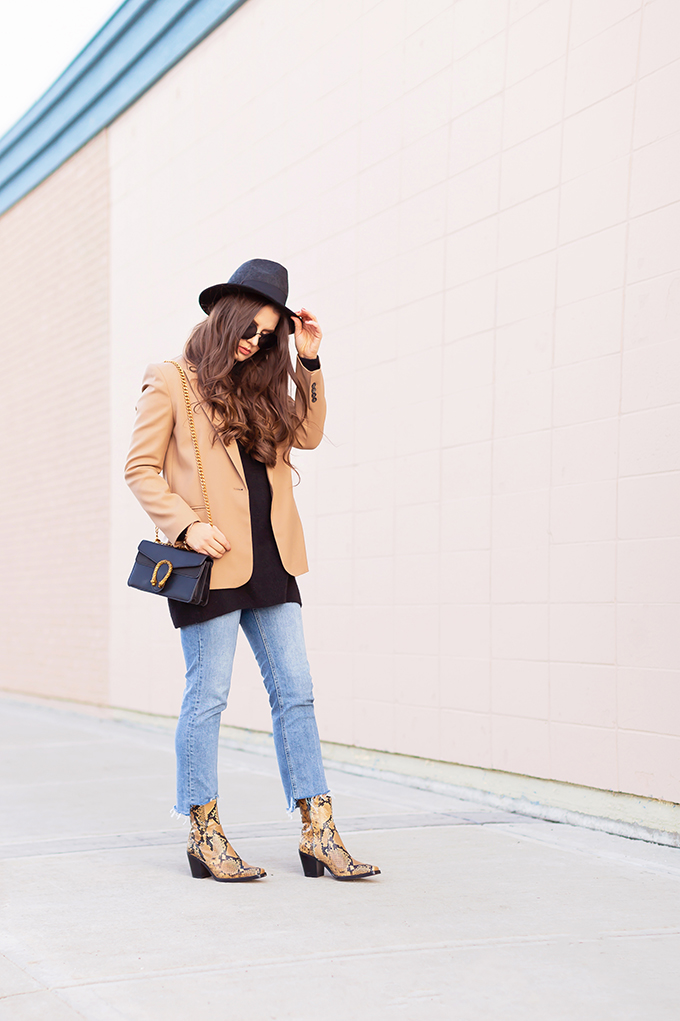 Could your denim collection use an update for spring? For the past few years higher waisted, straight legged, cropped styles continue to trend. I've actually owned this pair of jeans for about 3 years and they're one of my all-time-favourites. I find the higher-waisted style incredibly flattering (they keep everything secure!) as the cropped hem is the perfect opportunity to show off my shoes!
Furthermore, unique hems (like this frayed, step-hem style I DIYed following the same principles outlined in this post) help call additional attention to your footwear. While my snakeskin ankle boots certainly command attention, pairing them up with a pair of stem-hem jeans really draws the eye to my shoe, especially when the rest of this look is so neutral. Shop similar denim below!

---
TREND: SNAKESKIN
---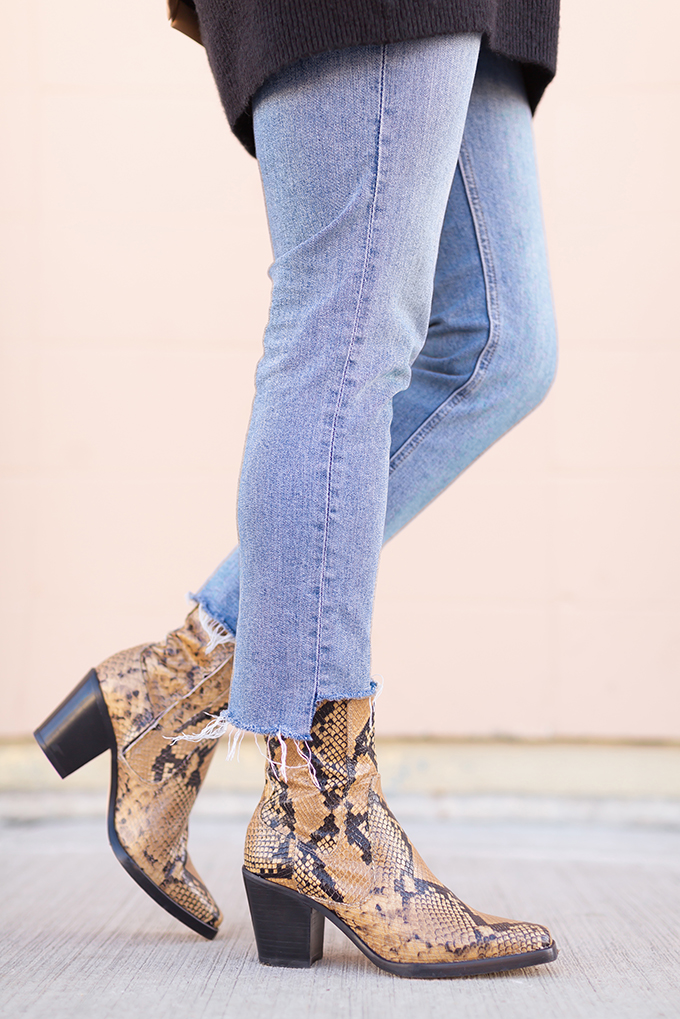 If you haven't expermented yet with the snakeskin trend (hey, I get it — snakeskin maxi dresses aren't for everyone!), or are looking for more subtle ways to wear it this season, I've got you covered! While snakeskin wasn't a print I gravitated towards as first, I think it's so important to push yourself outside of your comfort zone and try something new because you may just find a new favourite! In fact, when we were photographing this look, even my Mom said she loved these boots — and that it's too bad we aren't the same size, because she could see herself wearing them!
These stunning snakeskin western boots (which have been on repeat since autumn) were actually the anchor piece I build this look around. I find them surprisingly versatile — when you break it down, this print is actually a neutral (as it's comprised of shades of camel, grey and black!). So, I styled them up with my favourite pair of jeans for transitional months, a cozy sweater I've been living in since autumn and a new blazer in a complimentary colour to unite the look.When I'm wearing a statement piece or bold pattern like snakeskin, I like to let it do the talking!

If I've convinced you to take a walk on the wild side this season and dabble in SS19's hottest print, I've curated a beautiful collection of skakeskin pieces for you below — in everything from boots to blouses to accessories. Stay tuned for even more snakeskin styling inspiration coming your way this season!

---
TREND: FLAT BRIMMED HATS
---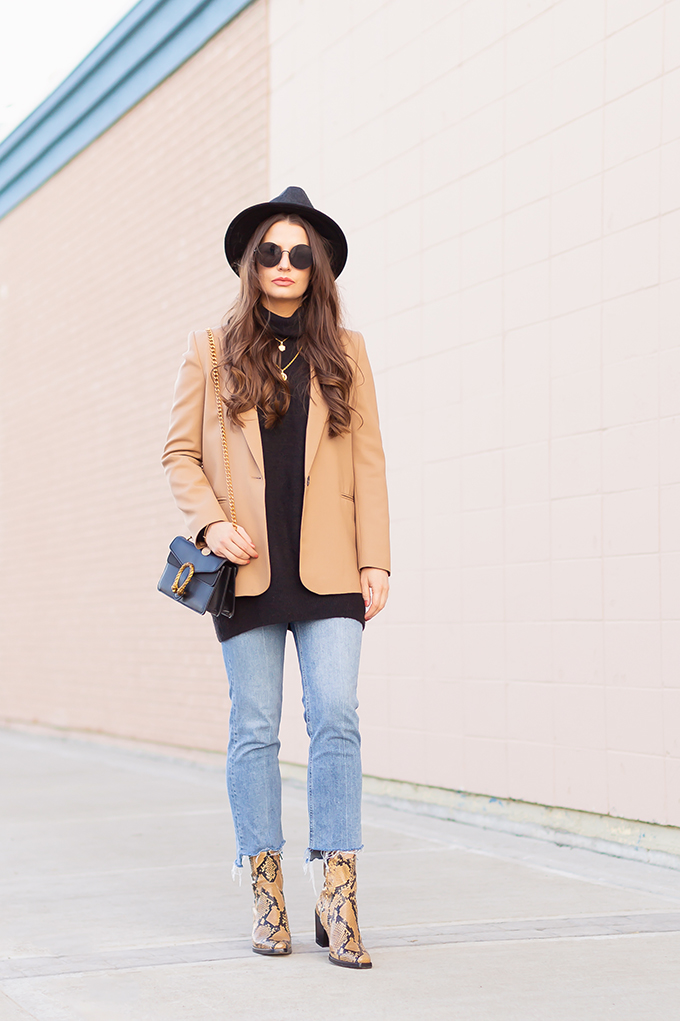 To tie it all together, I opted for a flat-brimmed hat. As I mentioned in my first Spring TREND GUIDE flat, wide brimmed hats are everywhere this SS19! Longtime readers will know I love my hats, but flat-brimmed styles have always been one of my personal favourites to wear — and I also think they're one of the easiest to pull off!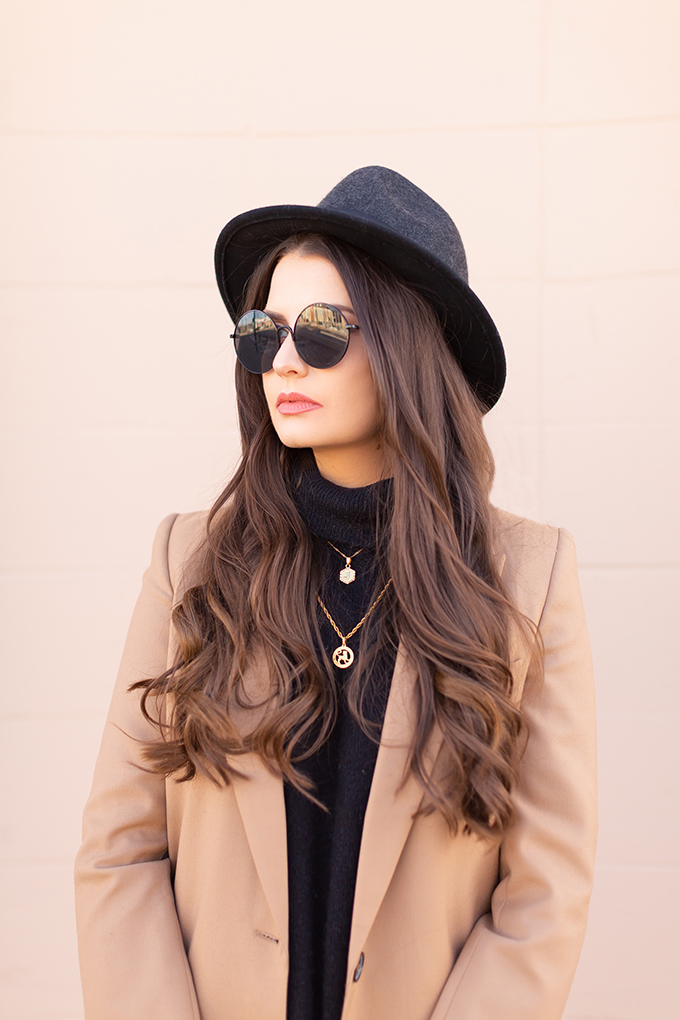 I love the cool, western vibe flat-brimmed hats add to any look and find myself reaching for them often during transitional seasons! The next time you feel like your outfit is missing something, try throwing on a flat-brimmed hat! Not only do they stylishly conceal an unwashed mane, they're also a great way to breathe new life into your existing wardrobe. I've curated a selection of my favourite flat-brimmed hats for you below!

---
TREND: WESTERN INSPIRED
---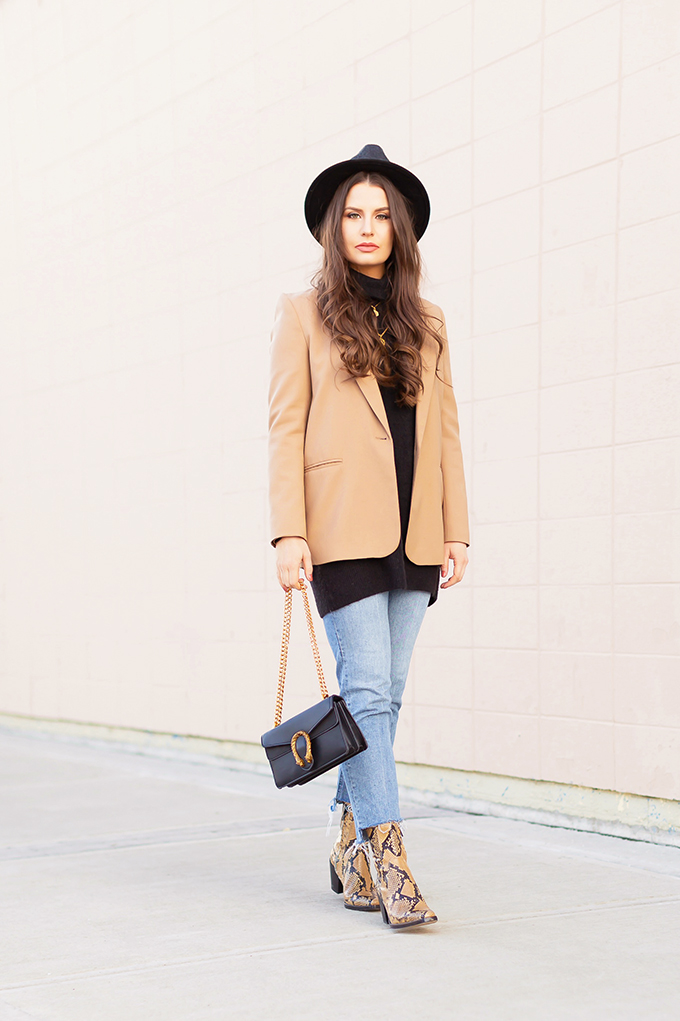 Western inspired everything is where it's at for SS19 — and this born and raised Alberta girl couldn't be happier about it! My inner bohemian loves everything with western roots, but I'm all about finding fresh ways to integrate this trend into my personal style. The best part is western inspiration can be ultra wearable and so simple to incorporate into your everyday outfits. For example, if I swapped my boots for a pair of classic pumps and lost the hat, this look would have a completely different vibe!
If you've resisted the western trend for the past couple of years because you weren't sure if it had longevity, fear not — western inspired everything is here to stay. There are so many ways to can dabble in the trend, but my favourite place to start is with an accessory. Try adding a western-inspired boot, hat or belt to one of your go-to outfit formulas to see how easy it is to make the trend your own! I've linked some of my current favourite western-inspired accessories for you below — and be sure to check out these post for additional western styling inspiration.

---
TREND: GOLD PENDANT JEWELLERY
---
Are you sick of seeing my layered, gold necklaces from House of Vi? Truly, I wear them almost daily and they've become an integral part of my personal style. These pendant style necklaces are very on trend at the moment, I'm happy to invest in slightly more premium jewellery with meaning that I'll own for years to come.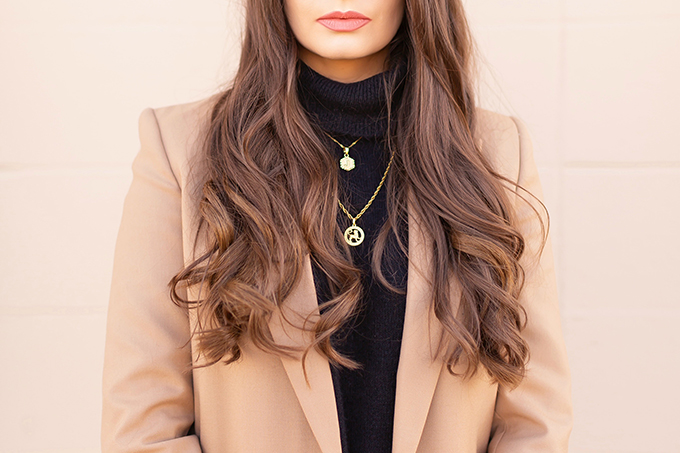 I'm wearing the Alphabet Necklace in J layered with the Zodiac Necklace in Leo on the Amalfi Necklace chain. I think a beautifully made piece of quality jewellery that you can wear everyday is such a timeless way to upgrade your wardrobe, no matter the season!
---
SHOP THE LOOK
---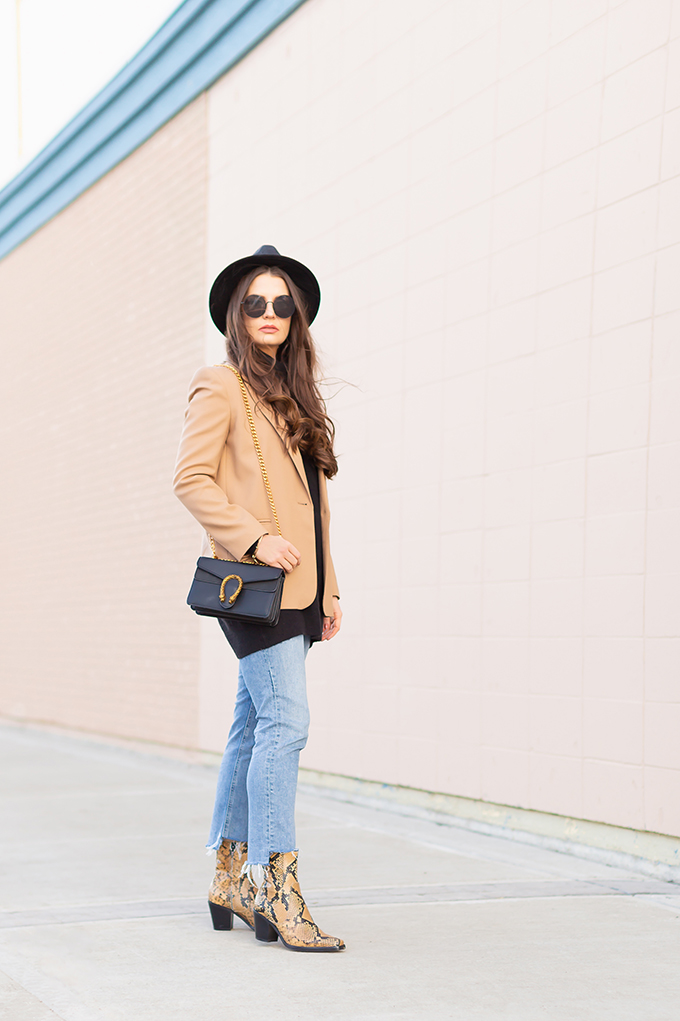 ---
FRESHEN UP YOUR SPRING WARDROBE
---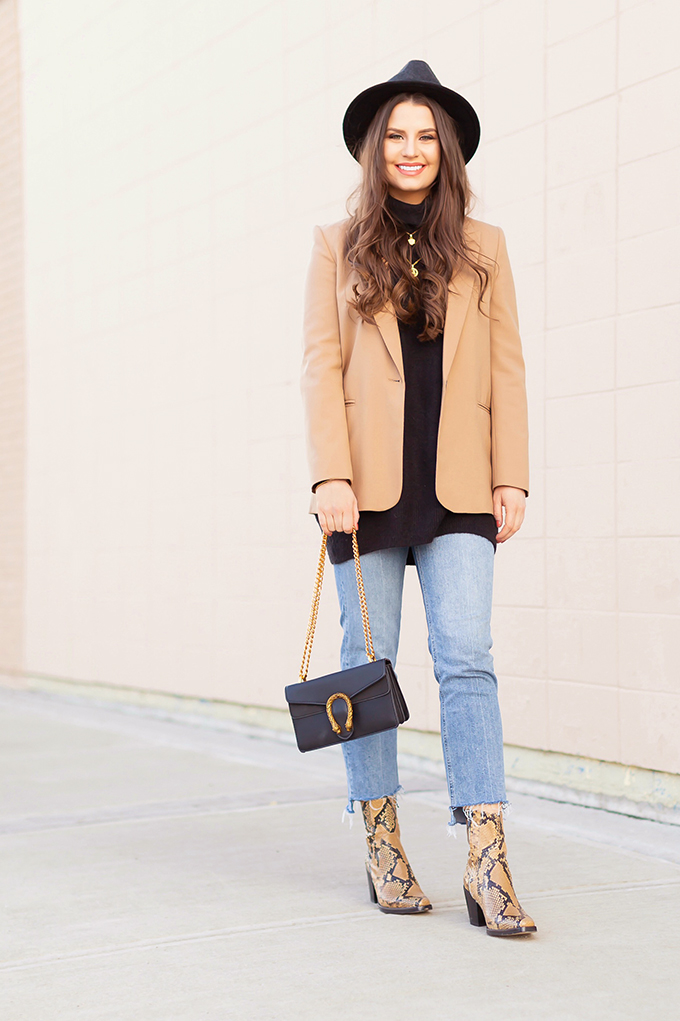 Pre Spring 2019 Trend Guide | Bohemian Rhapsody
Spring Trend Guide | Lavender Love
Spring Trend Guide| Check Yourself
Spring Trend Guide | Casual Chic
Spring Trend Guide | Gingham Style
---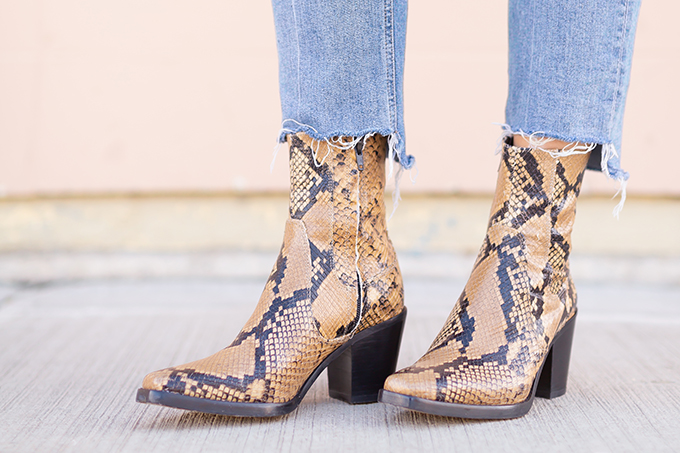 Thanks for stopping by for my second TREND GUIDE of the season! I hope you found it helpful if you're looking to update a few staple pieces in your wardrobe this season, or take a new trend for a spin — of course, I'm a big proponent of anything western inspired or snakeskin printed! As I mentioned, we're gearing up to shoot my SPRING 2019 LOOKBOOK next week and a few more snakeskin pieces have trickled into my wardrobe. I'm feeling so inspired FASHION wise as we transition into spring — and I can't wait to share tons of fresh content with you this season!

If you're looking for even more sartorial inspiration, you can also follow along with my JustineCelina Fashion board on Pinterest. And if you want a sneak peek at what I'm wearing before it trickles onto these pages, as well as some exclusive fashion content you won't see here, come join me over on Instagram. Have a fantastic week!
---
Disclaimer: This post is not sponsored and contains my genuine thoughts, ideas and recommendations. JustineCelina uses affiliate and referral links, which allow me to receive a small commission when you make a purchase through one of my links. Thank you for supporting the brands and businesses that support JustineCelina!