---
Need a fresh playlist for Canada Day Long Weekend? My June 2019 Soundtrack has you covered — featuring an hour and a half of lighthearted, chill, easy-listening grooves (with a few hip-hop curveballs thrown in for good measure!). No matter what you're up to this weekend, my favourite tracks from this June are perfect to throw on anytime, anywhere. Now, let's just hope the sunshine holds out!
Although I discovered lots of new artists and tracks this month, I had Philip Larue's West Coast, Rojyr's Kenji, Kina Granis's In The Waiting – Reimagined, Tony Velour's Moment, Justin King's Tennis Court, Jameson Flood's Every Night, Runner's Eggshell, ØDYSSEE's Remember Me, Drake and Rock Ross's Money in the Grave, EXES and Jome's One Day, swim good now and Kogane's Grand Beach and tons of Far Caspian on repeat. Wishing all my Canadian friends a fun and safe long weekend!
---
JUNE 2019 SOUNDTRACK
---
---
NEED MORE FRESH TUNES? CHECK OUT MY LATEST PLAYLISTS
---
May 2019 Soundtrack (or listen on Spotify)
April 2019 Soundtrack (or listen on Spotify)
March 2019 Soundtrack (or listen on Spotify)
February 2019 Soundtrack (or listen on Spotify)
January 2019 Soundtrack (or listen on Spotify)
Or, browse the MUSIC archives here at JustineCelina for more than 4 years of monthly playlists!
---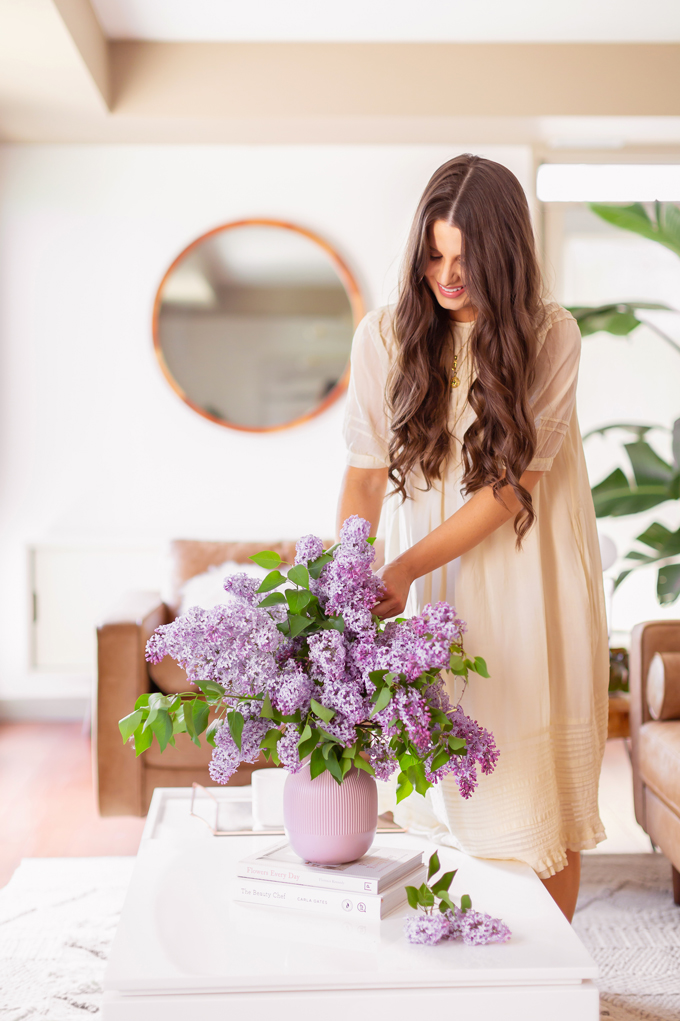 We shot this month's album cover after a quick lilac forage in the vacant lot behind our apartment where there are 2 huge lilac trees there that yield the most abundant blooms. I clipped lilacs a couple of times per week this summer and this oversized arrangement became a permanent fixture on our coffee table! We were actually on our way out to shoot the second half of my Spring/Summer 2019 Lookbook and I threw this arrangement together in about 10 minutes — it was a completely impromptu photoshoot, but these images ended up being some of my favourites we captured that day.

If you still have some lilac blossoms on your hands and are looking for creative ways to use them, check out my DIY| Foraged Lilac Arrangement post for a step-by-step guide to create an arrangement similar to this one, my Japanese Lilac Gin Lemonade for a simple, delicious summer cocktail recipe and my Spring Vegetable Stirfry with Coconut Ginger Tofu for tips on how to use lilacs as a garnish!
---
What have you guys been listening to lately? Leave me your recommendations in the comments, I'd love to hear from you! Do you use Spotify? If you do, feel free to drop some links to your playlists, or playlists / artists you think I'd enjoy. Have a fun and safe long weekend, friends!
---
Disclaimer: This post is not sponsored, and contains my genuine thoughts, ideas and recommendations. JustineCelina uses affiliate and referral links, which allow me to receive a small commission when you make a purchase through one of my links. Thank you for supporting the brands and businesses that support JustineCelina!