---
Shoe lovers, I'm elated to bring you the first 2018 installment of my SHOE GUIDE series! It's been a little while since my last blog post — I took a step back to brainstorm, get re-inspired and shoot tons of new style content (you may have seen it trickling onto Instagram over the past few weeks!). Moving forward, I'll be bringing multiple outfits to my FASHION posts where possible to give you lots of styling options, variety and inspiration for both personal and professional settings! Today I'm kicking off this comprehensive era of style content with a transitional SHOE GUIDE showcasing 20 of my favourite pairs to carry you from the height of summer to autumn in style!
While many of us are already looking forward to fall, this transitional time of year is my absolutely favourite. I love to shop end-of-season sales to stock up on summery styles I know I'll be able to wear next summer (and beyond), as well as transition into fall. This SHOE GUIDE features something for every occasion, lifestyle and budget — whether you're just beginning to build your warm weather shoe wardrobe, a comfort enthusiast who loves flats and low heels, a trend-driven fashionista looking for a crash course on transitional footwear, a corporate gal who wants to freshen up her work wear with some new kicks, or simply someone who loves shoes just as much as I do, you've come to the right place! So ladies, pour yourself a delicious glass of rosé and let's chat about fabulous summer-to-autumn footwear as we take our first look at the Pantone Fall / Winter 2018 Colour Trend Report! As always, this post is sprinkled with of shoppable links for each style featured from a variety of retailers at every price point, from bargain to designer!

---
TRANSITIONAL SHOE GUIDE | SUMMER TO AUTUMN 2018
---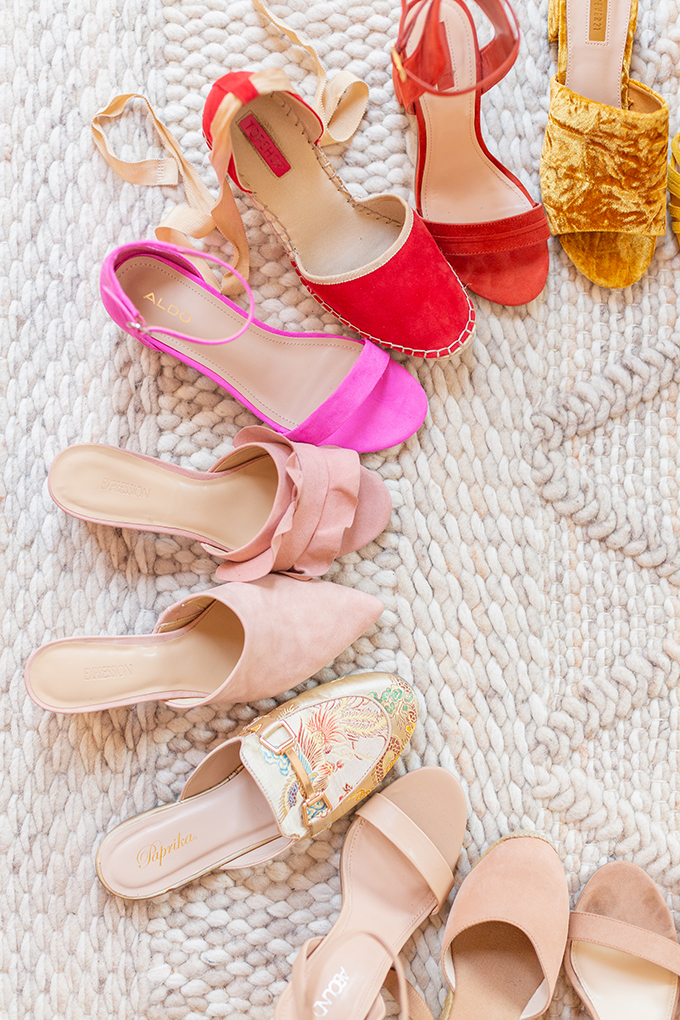 Wow, this post has been a long time coming — and I'm so excited to finally share it with you today! A couple of years ago, I set out to reinstate my wardrobe with quality basics, shoes included. I'm now at the point where I feel that I have my bases covered and have filled in the gaps in my wardrobe, no matter the season — and now I can have a little fun! This SHOE GUIDE features staples I've upgraded over the years as well as statement shoes that I see transitioning well over multipe seasons and through the years.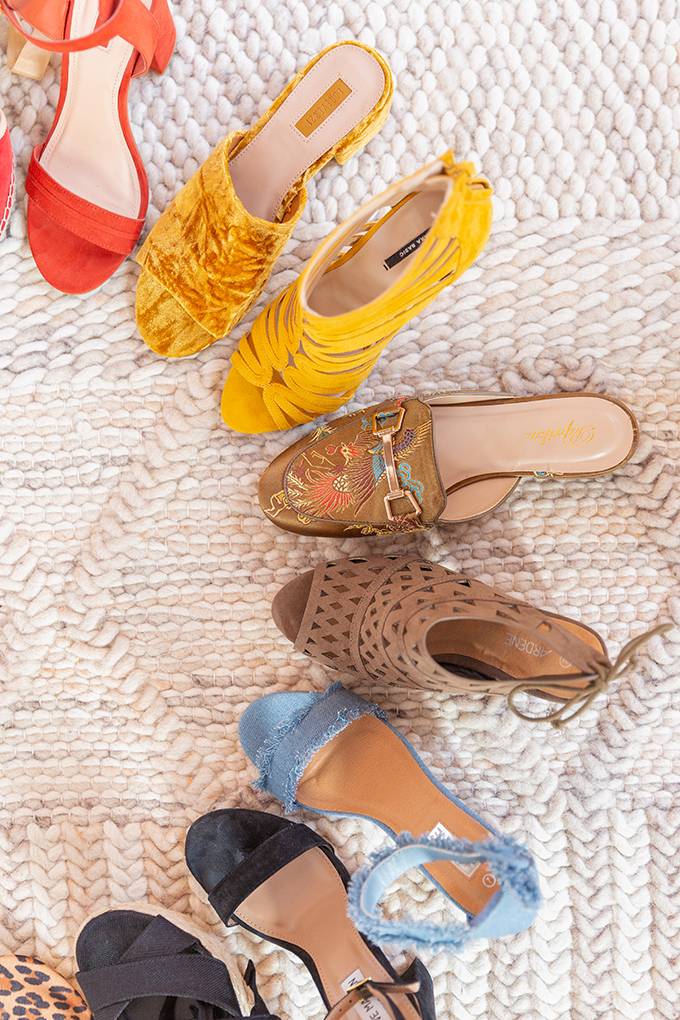 Today I'll be sharing my favourite summer-to-autumn shoe selects, divided into sections for easy browsing. I've also sprinkled in styling ideas and linked back to blog posts where I've worn some of these styles so you can get a better idea of how to integrate them into your wardrobe! If you see something you like, you can click the text links or the small images in the carousels to shop any style featured in this post. Let's dive in!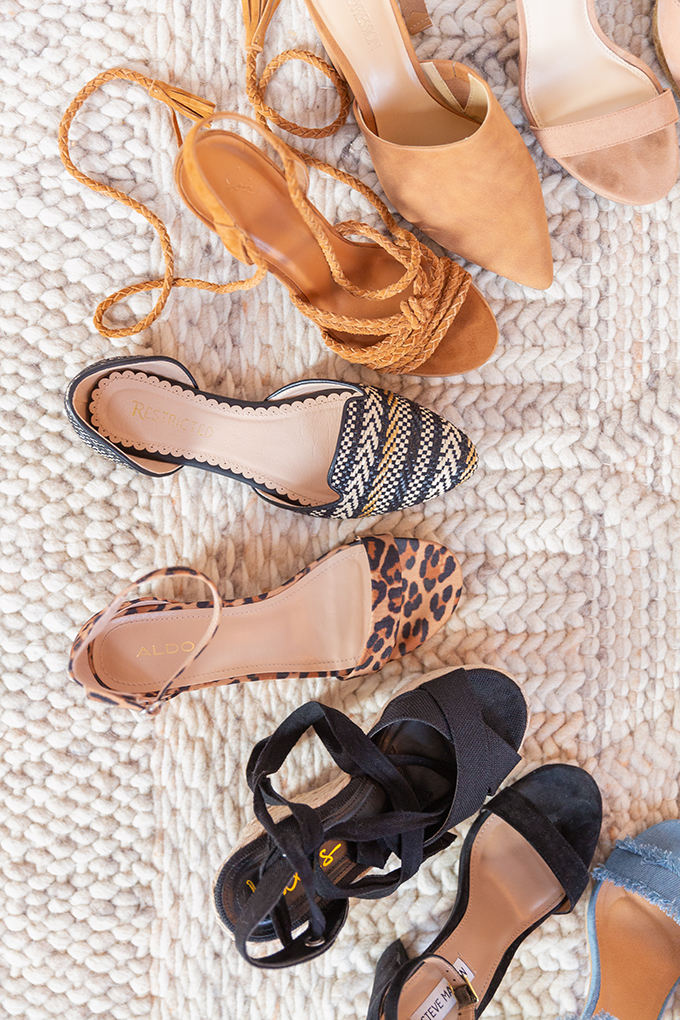 ---
MULES
---
Understated and effortlessly chic, mules have been on trend for the past couple of years and I've recently added a few variations to my closet. From spring through autumn they've become some of my most worn shoes, day-to-day!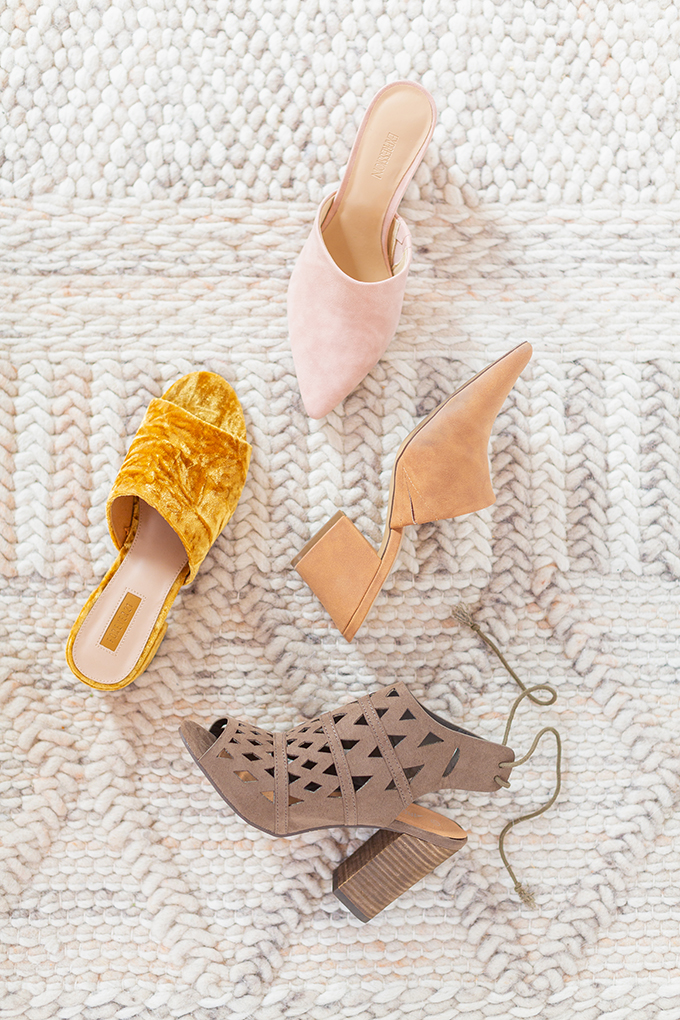 Mule styles are extremely comfortable — keeping your heels blister free while offering fuller foot coverage whether you opt for a peep-toe or closed-toe style. They're also extremely versatile and ideal for both personal and professional settings! I picked both of the Expression pointed toe pairs up at Hudson's Bay (during a sale, of course) and wear them often to meetings — they seriously go with everything! The laser cut peep toed pair is a recent addition from Ardene (I actually find some gems there — these are super comfortable!) and the mustard, low heel velvet numbers are another recent addition from Forever 21. I spotted them on the clearance rack for just $7.50 — with mustard and 70's influence being major trends as we venture into autumn, I think they'll be the perfect transitional mule.
I highly recommend picking up a pair of mules if you don't already own one — both pointed and peep toe styles will make a fantastic addition to your transitional wardrobe! I'll be styling these mules into autumn, so stay tuned for more inspiration — and shop my favourite mules of the moment below.

---
ESPADRILLES
---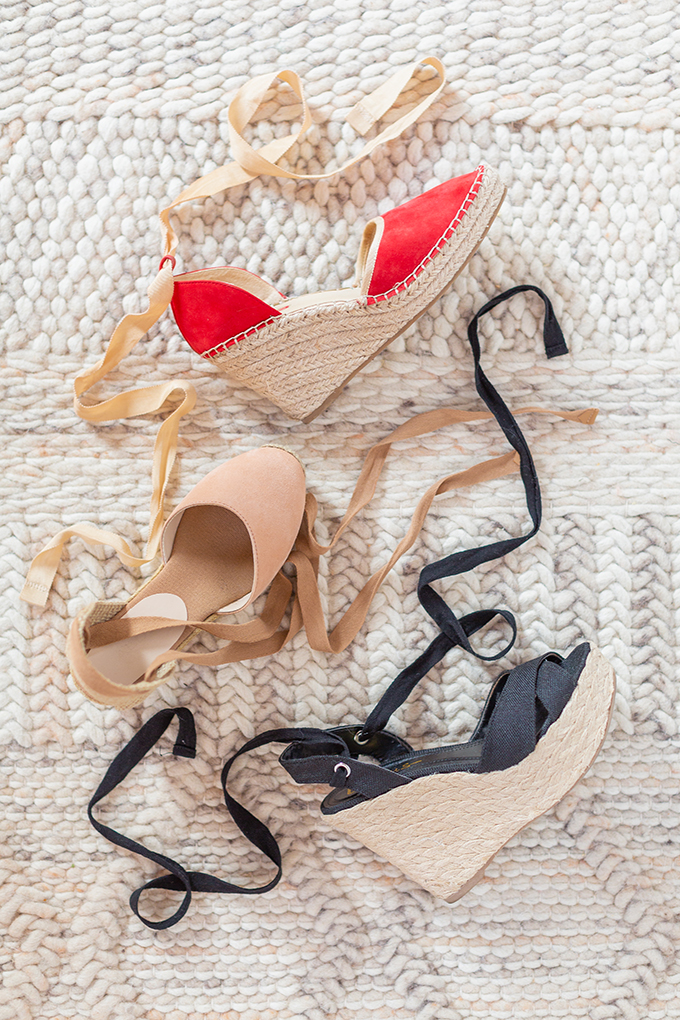 If you've followed along with my FASHION content here at JustineCelina over the years, you've probably seen me wearing espadrilles! A quintessential summer shoe, the espadrille has been around for decades and never really goes out of style. They continue to trend year after year and I've built quite the collection — from flat, to lace up (check out last's summer's SHOE GUIDE for those styles), to open and cap toe wedges, as seen above. With natural texture accessories becoming increasingly popular over the past year or so (I have a brand new series kicking off this summer dedicated to this topic!), I now consider espadrilles a must have in every woman's summer wardrobe.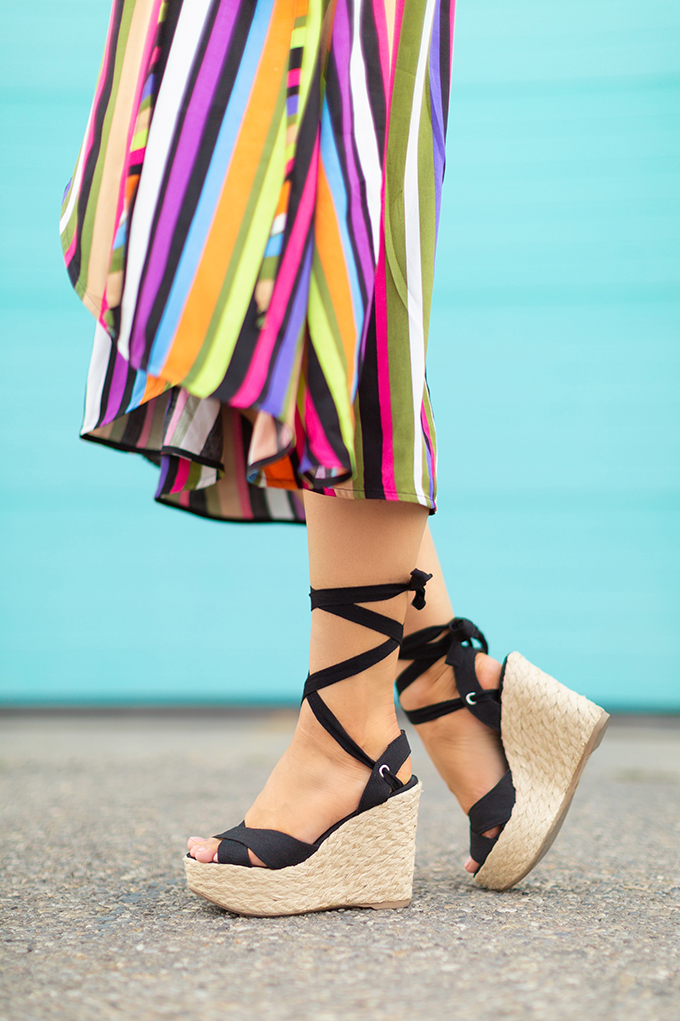 Lately I've been all about wedge-style espadrilles — and for good reason! They provide some serious lift while still being comfortable, plus I love the leg elongating effect they provide (especially the nude pair!). This summer I added a black pair of my beloved Esme Lace-Up Espadrille Wedges (which I also own in natural) for just $30 and they've been my go-to shoe for casual occasions when I want to wear something black. Be warned, they run big — so order a full size down. More from this look coming to JustineCelina soon!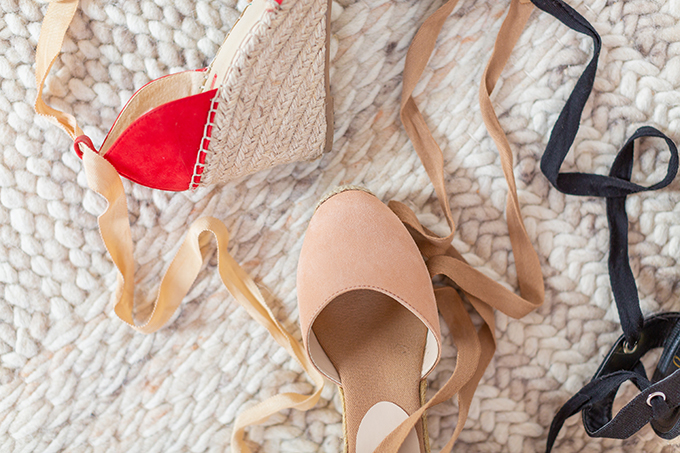 This seasonal I also stumbled on Topshop's Williams Espadrille Wedges (you may recognize them from my first summer TREND GUIDE) and it was love at first sight. The red pair caught my eye on display at Chinook Centre — in person, they're so striking and unique! Impulsively, I tried them on (there was only one pair left — and in was my size!) and completely fell for them. They're insanely comfortable, well made and so cheerful — I love the playful pop of colour they add to my summer looks. This was my first pair of cap-toe espadrilles and they inspired me to add another pair to wardrobe — they're the perfect warm weather shoe to transition into autumn because of the toe coverage.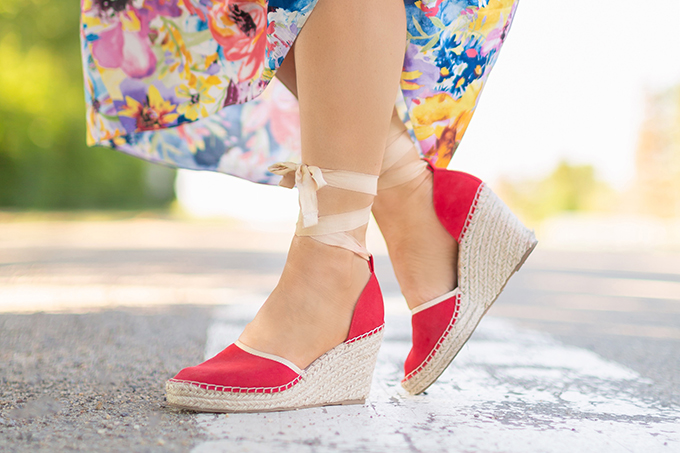 I also discovered Aldo's Muschett's this year — a fantastic, affordable duper for the illusive Castañer wedges that are next to impossible to find in (or ship to) Canada! I picked up them up in brown at full price and they're worth every penny. Although I haven't styled them here at JustineCelina yet, they'll be trickling into my transitional style content soon — and I'm eyeing the black pair (but waiting for a sale!). If they caught your eye as well, I guarantee they'll go on sale around October, so keep checking back — or shop my favourite espadrilles below.

---
LOAFERS
---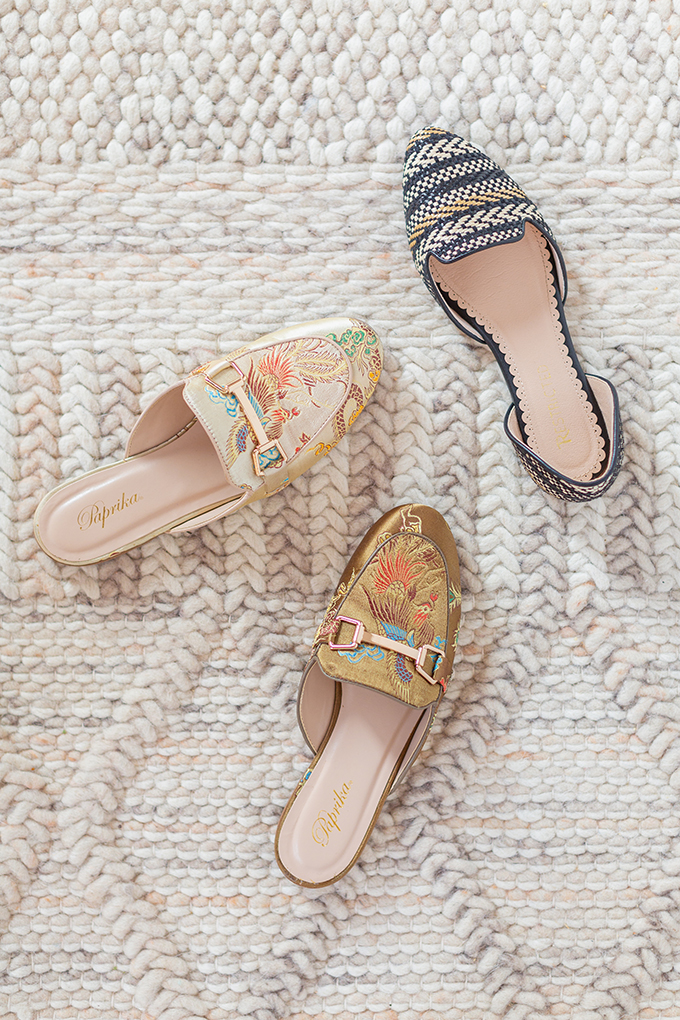 Undoubtedly inspired by Gucci, backless loafers have been on trend for the past few years. Last summer I added a few solid coloured loafers to my shoe wardrobe, but this year, I thought it was time to inject some pattern! I actually scored all of these loafers (in separate trips, mind you!) at Marshalls — and they all just crept up on me, even though I wasn't looking! I love the versatility of my Paprika loafers, which I've been wearing in personal and professional settings since spring. My Restricted D'orsay-style loafers are a recent addition — I love the woven pattern and boho vibe they add to my casual outfits. If you're looking for an on-trend, go-with-everything flat shoe to transition into autumn, the backless loafer is on my hit list!

---
LOW HEEL
---
I find low heel shoes (which I define as 2″ or less) to be just as comfortable as flats — and they were seriously lacking in my shoe wardrobe until this year! Low heels of all kind are trending this summer and aren't going anywhere as we head into autumn — whether you prefer block, kitten or statement heels, there's something for everyone. I think you can guess what my preference is!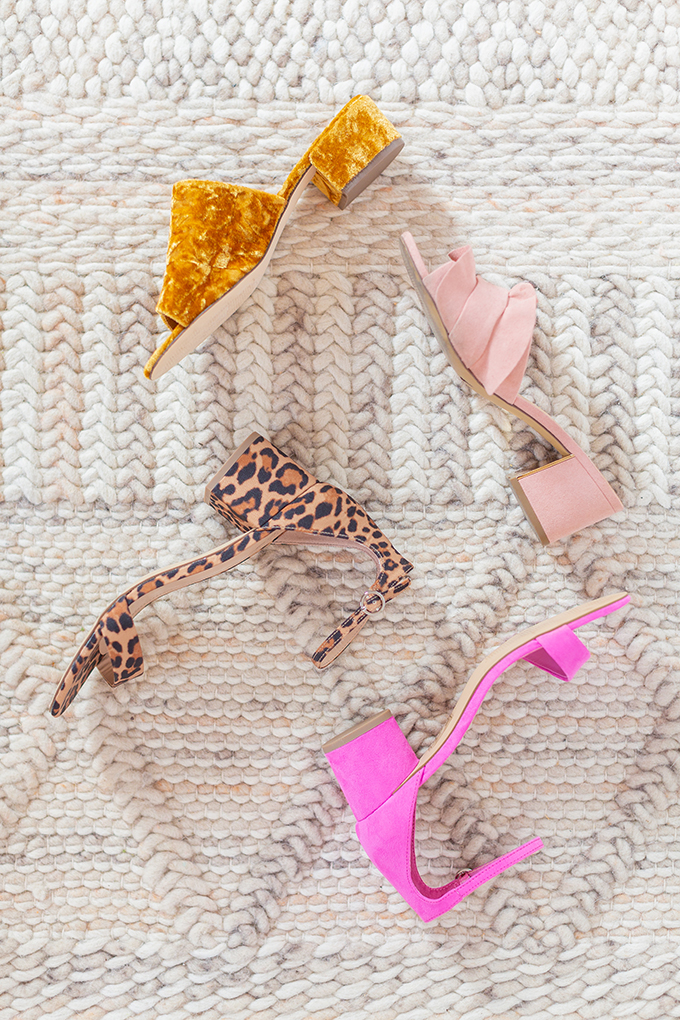 Block, low heeled shoes are super practical for the professional woman, or the woman that values comfort! I love the way they look during the summer with shorts, dresses, skirts and denim — and I also love them with culottes, knits and layers as we transition into fall. Leopard is a huge trend for AW18 so any leopard sandal is fair game until the snow flies! I've also really been enjoying this sassy little fuchsia pair — both of which I picked up during the Aldo sale recently. Shop my favourite low heeled sandals below!

---
BLOCK HEEL
---
Another area where my shoe wardrobe was lacking was in the block heel department. While block heels have been trending for awhile, I feel like this summer they were more prominent in sandals than ever — and I'm all for it! I love a good high heel, and have absolutely no issues traipsing around in stilettos, but I can definitely appreciate the comfort and practicality of a good chunky heel. Block heels are much more comfortable than stilettos to wear for longer periods of time and I've added a few new pairs to my wardrobe recently!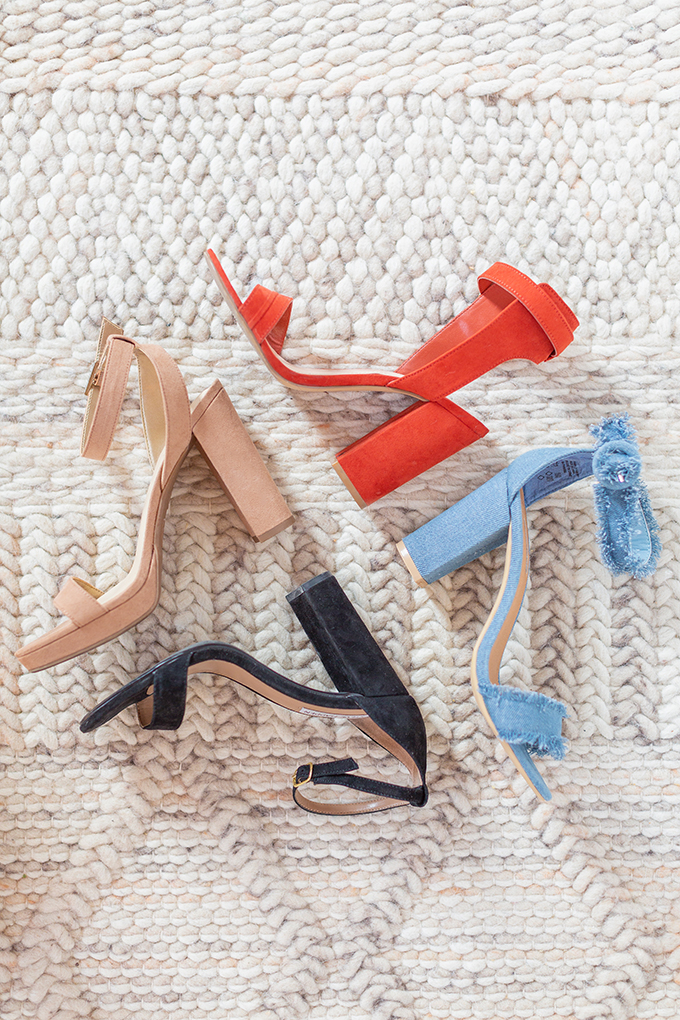 This year I upgraded my basics and sought our higher quality, chunkier versions of both my nude and black 2-strap sandals. I found my Circus by Sam Edelman Abigal Platform Sandals in Light Brown, at Nordstrom Rack (for a steal, may I add!) — and love that the platform gives me a bit of extra height and helps to elongate the leg — something I always appreciate, no matter what I'm wearing!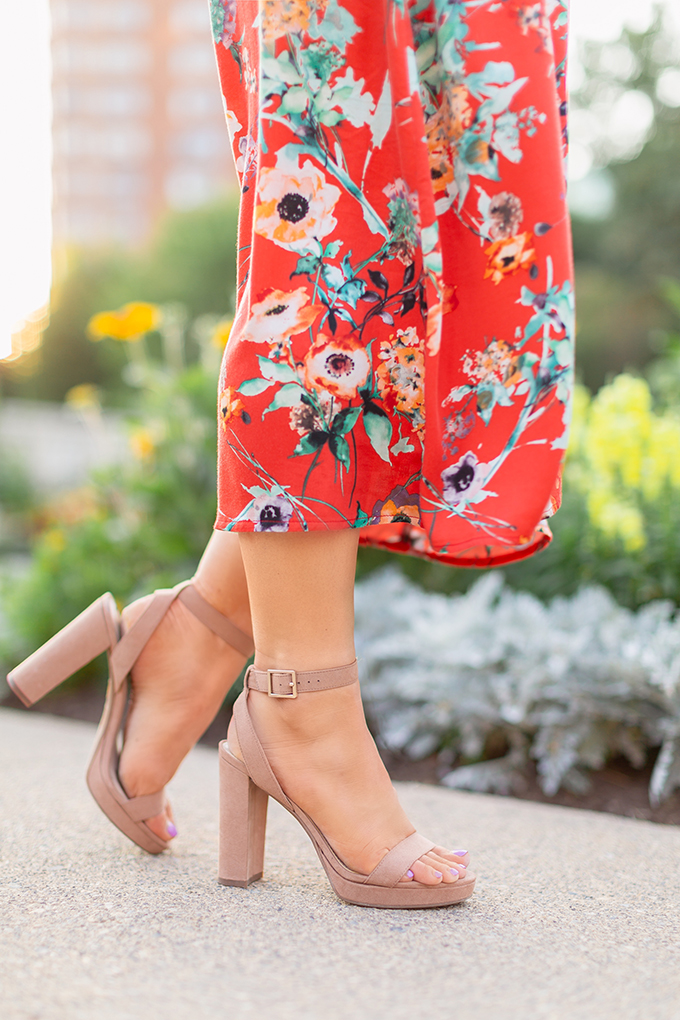 I also replaced my black 2 strap sandals with Steve Madden's Carrson, which I purchased at full price — and they're worth every penny. While they don't feature the platform my nude pair does, they're an amazingly versatile staple and a fantastic event shoe — in fact, I'm wearing them in my What to Wear to | A Horse Race post!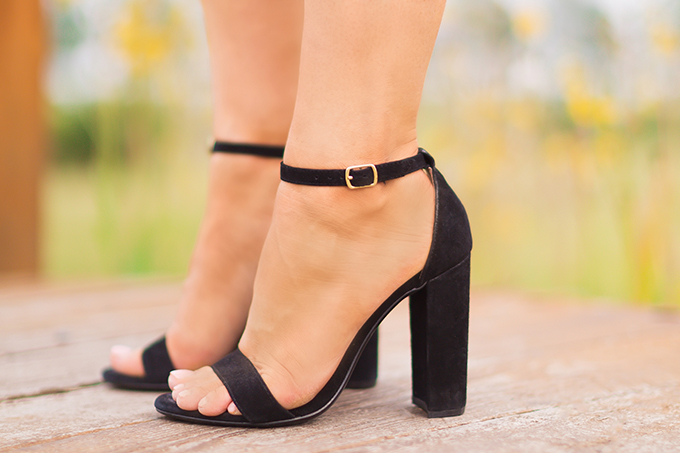 I also couldn't resist this delicious rusty pair which I cannot wait to style with distressed denim and an oversized knit for autumn, and picked up a fun pair of denim block heels with frayed edges. My high, block heeled sandals been on heavy rotation this summer and I'm planning to wear them until it gets too chilly!

---
BLUSH & NUDE
---
No matter the style of shoe, blush and nude hues are here to stay. One of my personal favourites to wear any time of year because of their leg elongating effect, it's no surprise that blush and nude hued shoes comprise a large part of my warm weather shoe wardrobe.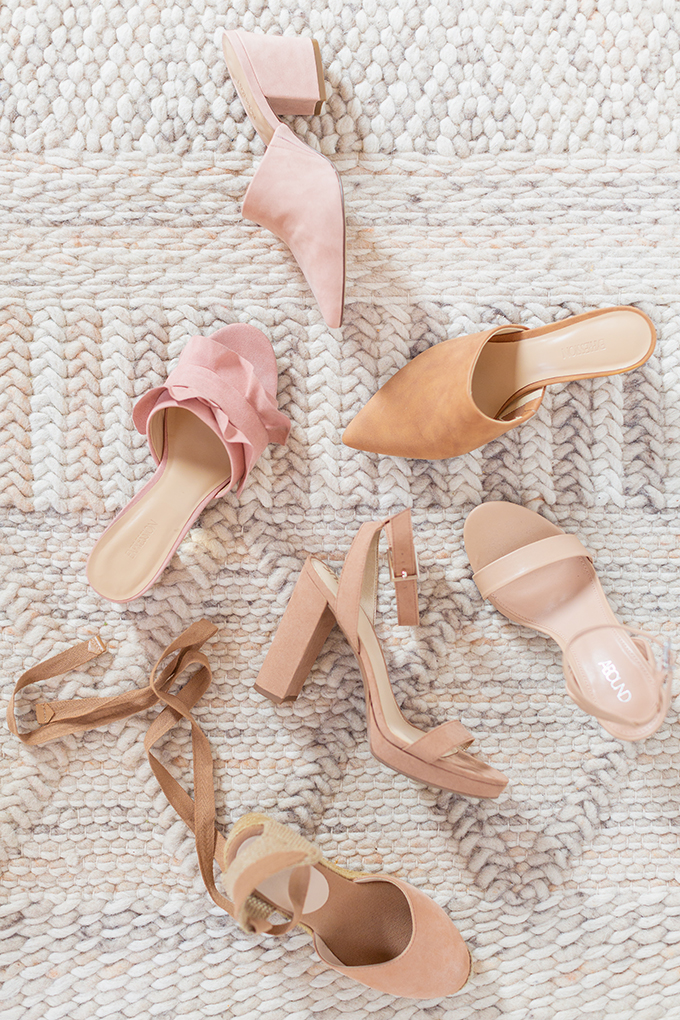 There are a couple of new shoes in this category we haven't already covered — the first being the comfiest pair of 2 strap stiletto sandals from Abound (another Nordstrom Rack find!). I feel like I've totally got my bases covered with a stiletto and a block heel 2 strap sandal now! This stiletto version is always my go-to choice for any special occasion, but I also wear them more casually, like I did below. More from this look coming in my How to Style | Culottes post dropping in September!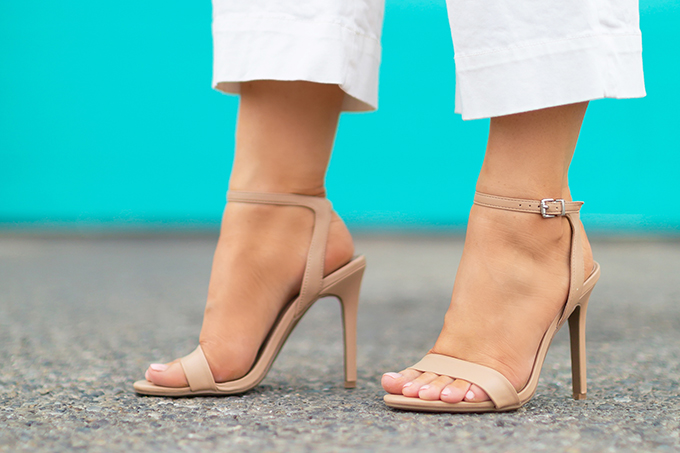 I also grabbed a ruffled, blush pair of low heel sandals from Expression (via Hudsons Bay) at the same time I purchased my mules. They're a great daytime event or warm weather work wear shoe! I've rounded up all my favourite blush and nude shoes for your below — plus tons of similar alternatives!

---
WARM NEUTRALS
---
I love my warm neutrals year round, but I think early autumn is the perfect time to extend the life of your warm toned summer shoe wardrobe! Tan, khaki, whiskey, taupe and straw hue all transition beautifully into fall.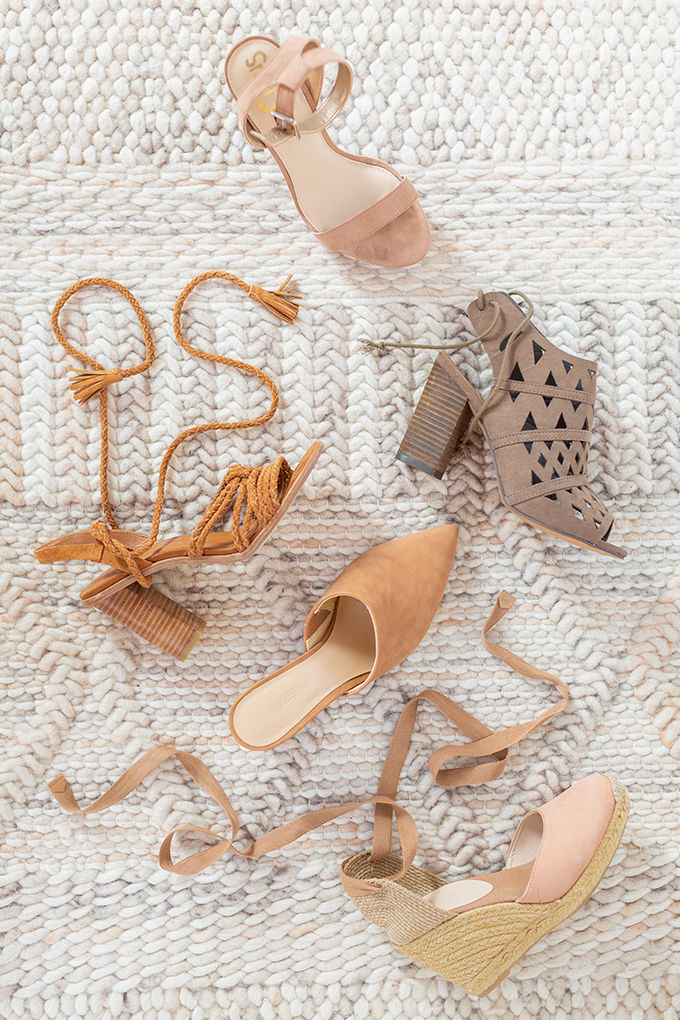 We've already discussed most of these shoes, but Joie's Banji Sandal Whiskey Suede is a more recent addition to my shoe wardrobe that I've been loving! They were another Marshall's clearance find and I'm so happy to have them.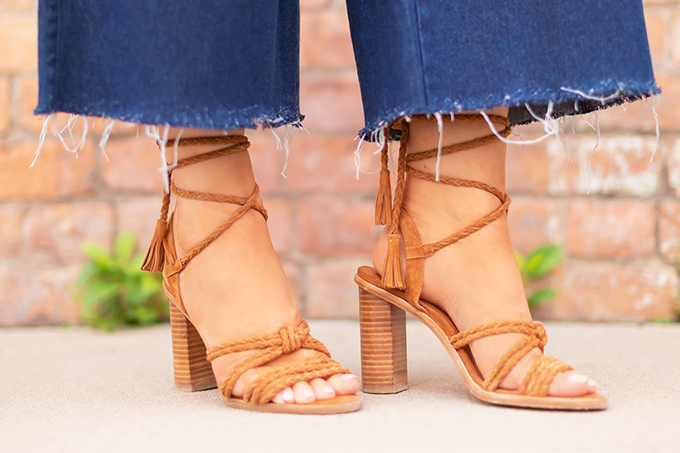 They're really comfortable, durable and well made — and I look forward to styling them with all my transitional maxis and light layers over the next couple of months (keep your eyes peeled for them in my upcoming How to Style | Culottes post!). In the meantime, you can shop my favourite warm neutral shoes below.

---
AUTUMN COLOUR TRENDS
---
Bright, bold hues have been a major trend this summer and one that's continuing well into autumn. I personally love to wear warm colourful hues of yellow, mustard, red, rust and orange during the fall as the leaves turn — and it seems that's what's inspired Pantone Fall / Winter 2018 Colour Trend Report!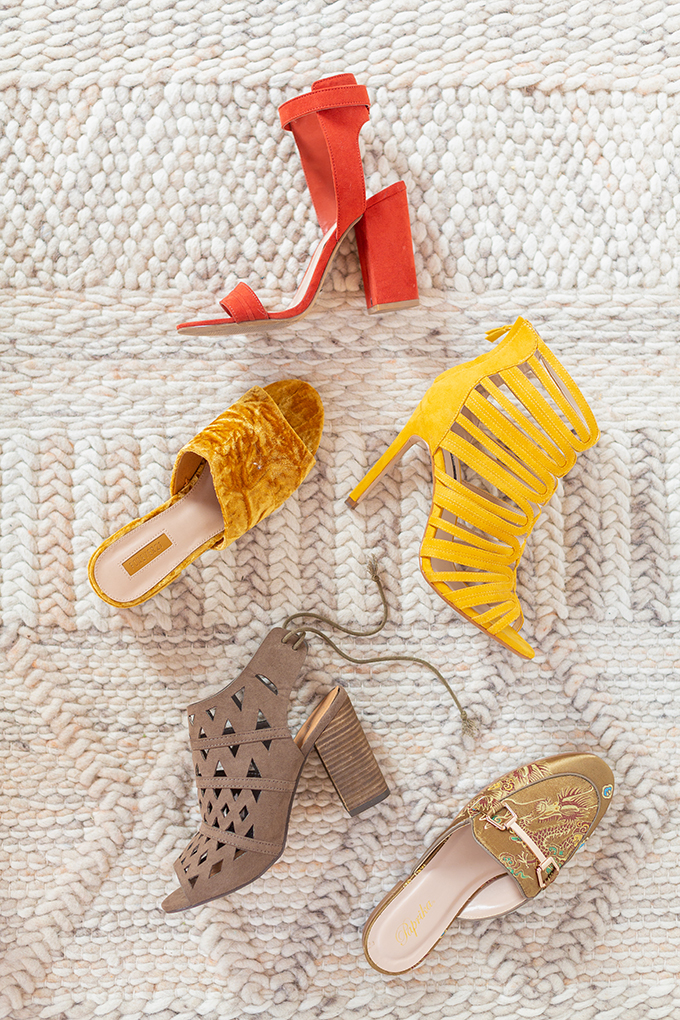 So ladies, don't be afraid of colour as we bid adieu to summer! Allow Pantone's colour choices for Fall / Winter 2018 to extend the life of your summer shoe wardrobe into autumn based on seasonal colour trends. I've pulled a few of my favourite transitional shoes here that mimics Pantone's picks — and you can do the same with your existing shoe wardrobe, or get browse a curated selection of Pantone inspired, summer-meets-autumn footwear below!

---
SHOP MY FAVOURITE SUMMER / AUTUMN 2018 SHOES
---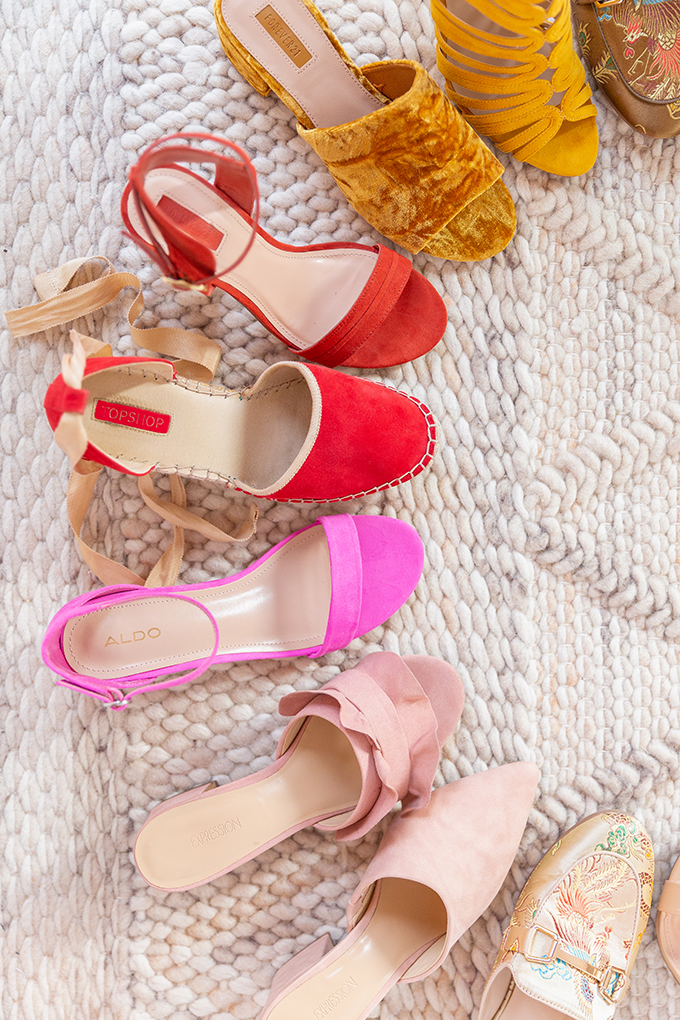 ---
SHOE LOVERS, I'VE GOT YOU COVERED
---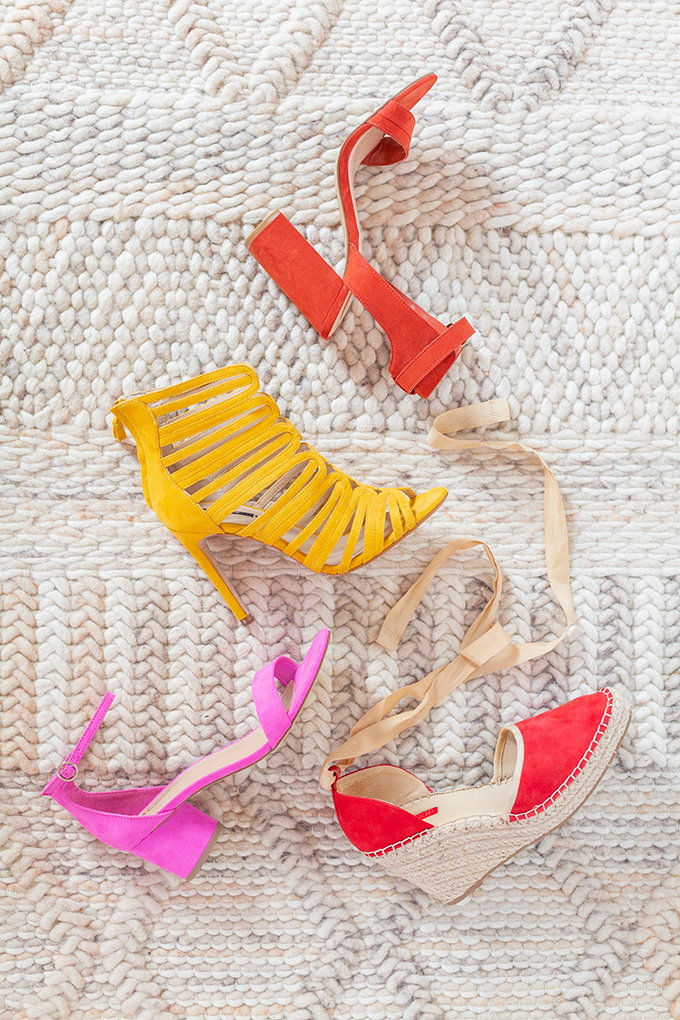 Summer 2017 Mega Shoe Guide | 30 Pairs!
Winter 2017 Shoe Guide | Extras
Winter 2017 Shoe Guide | Basics
Shoes of Summer + End of Season Sales
---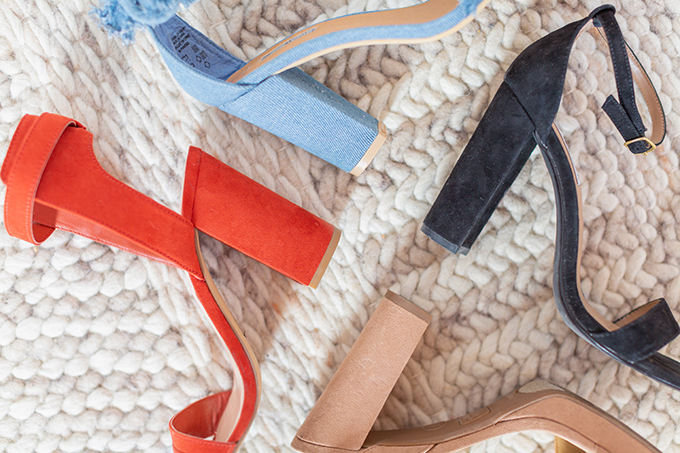 Thanks for stopping by to learn more about what's on my feet this season, friends! I hope you found it helpful and it gave you some ideas on how you can take advantage of end-of-season sales to elevate your shoe wardrobe. And if you're looking for more of my shoe picks for Autumn / Winter, you can expect a new cold weather SHOE GUIDE dropping in October, or check out the links above to glimpse another season of my shoe wardrobe.
As always, if you have any questions about what I'm wearing or a request for upcoming style content, I'd love to hear from you! Happy shopping!
---
Disclaimer: This post is not sponsored and contains my genuine thoughts, ideas and recommendations. JustineCelina uses affiliate and referral links, which allow me to receive a small commission when you make a purchase through one of my links. Thank you for supporting the brands and businesses that support JustineCelina!