Welcome back for the first of many Spring / Summer 2017 TREND GUIDES coming to JustineCelina this season! Today we're kicking things off with a bang — my Spring 2017 Trend Guide | Gingham Style was shot at 2900 feet atop Sulphur Mountain in the Canadian Rockies! Knowing my Mom was the woman behind the lens of my style content, my friends at Brewster Travel Canada reached out earlier this month, offering to treat us to a chocolate tasting and wine pairing at the Sky Bistro for Mother's Day (how incredibly thoughtful is that?)! I'd been trying to mastermind a way to get my Mom to the mountains for Mother's Day for quite some time, so when the opportunity to spend a day learning about chocolate from master chocolatier Bernard Callebaut presented itself, she simply couldn't pass it up. We had the best time — I know many of you enjoyed coming along in my Insta Stories last weekend!
Today I'll be sharing a few highlights from our day along with key seasonal trends — we're talking yellow, red (and that Spring 2017 Pantone Fashion Color Report!), gingham, embroidery, flats, novelty denim and more. This post is part Spring 2017 Trend Guide | Gingham Style and part Mother's Day in the Mountains! I've condensed our Mother's Day experience to the first part of the post, so if you're just here for the FASHION, you can find that towards the middle. I hope you enjoy the change of scenery, the style and a few snippets of our mountain getaway!
---
Gingham Trench Coat | Oversized Yellow Sweater | Released Hem Skinny Jeans | City Bag with Wolf Detail | High Heel Leather Shoes | Saffron Embroidered Slippers | Round Sunglasses | Huda Beauty Liquid Matte Lipstick Cheerleader | NAILS INC. Eaton Square Polish | T3 Whirl Trio Interchangeable Styling Wand
---
MOTHER'S DAY IN THE MOUNTAINS
---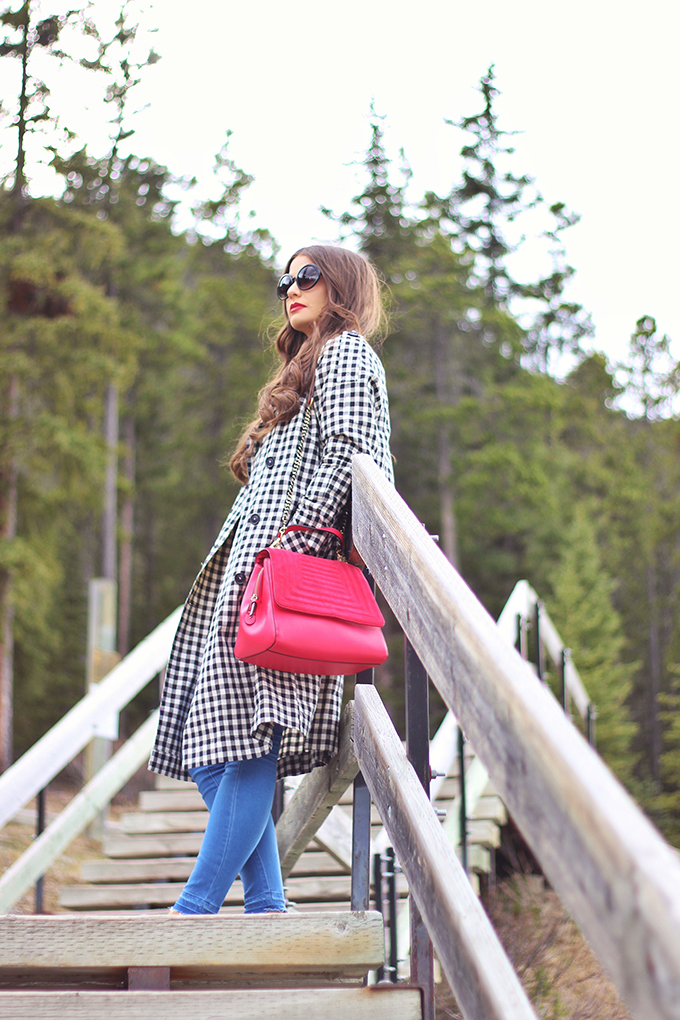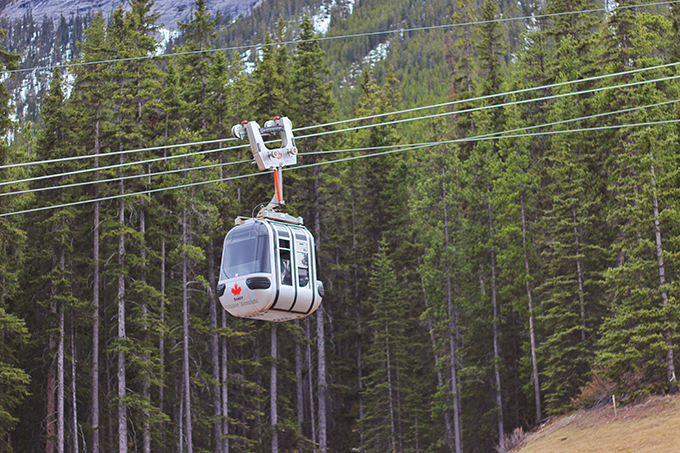 People often remark on what a hard worker I am and that's definitely something I learned from my Mom. She's the hardest working, most selfless women I've ever had the pleasure of knowing — and I'm not just saying that because she's my Mom! With all of life's responsibilities, she finds it difficult to take time for herself (as many of us do). Typically, our time together involves me picking her up from the office for a 'wine kidnapping' at a nearby restaurant when I'm in the area, or the occasional, surprise day trip to the mountains when I can coordinate the details with my family so she won't find out!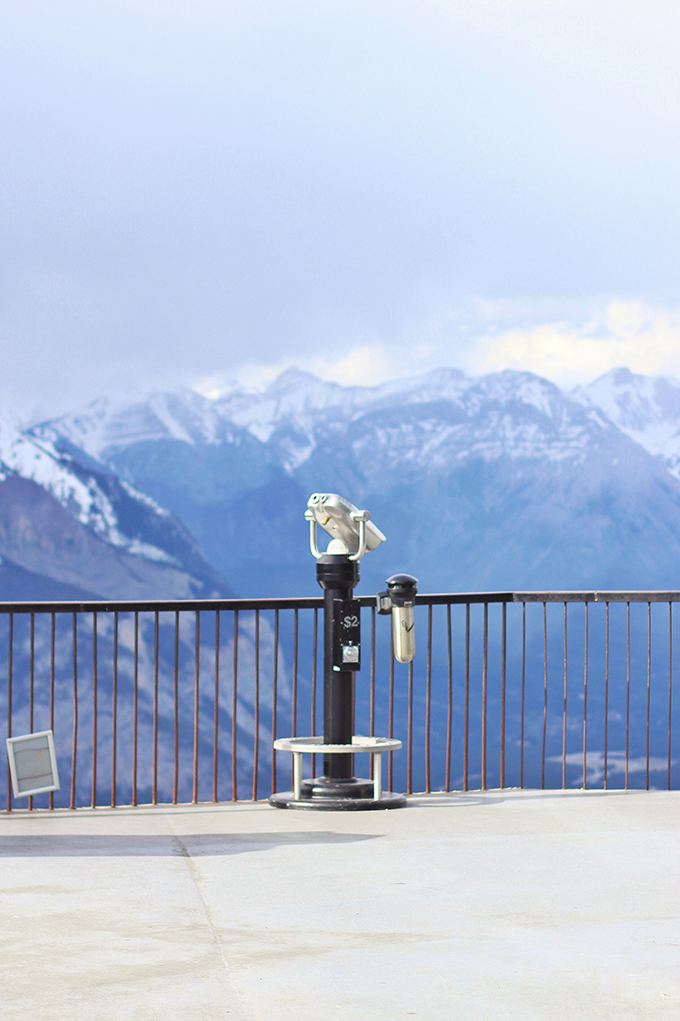 I kept asking what her schedule would allow for this Mother's Day (I come from a big, blended family so there are many other mothers for her to spend time with as well!). We couldn't seem to align on anything, but a mountain getaway was exactly what was needed! I was honestly floored when Brewster Travel Canada got in touch and offered to host us for a Mother's Day chocolate tasting. I've mentioned that my Mom takes my style photos here and there over the years, but I haven't blogged about it any real capacity since this time last year — the invitation was a total surprise.
We thoroughly enjoyed ourselves at the tasting — it was an intimate gathering of Mothers and daughters perched around a table with a breathtaking view of the Rockies. From a culinary standpoint, it was such a pleasure to learn about chocolate from an expert like Bernard Callebaut. If you were following along with my Stories you'll know that I documented every piece of information, totally geeking out and taking tons of notes. Through this blogging journey, I feel so privileged to be able to learn from people like Bernard along the way. It was a very inspirational day and one I feel very fortunate to have shared with my Mom.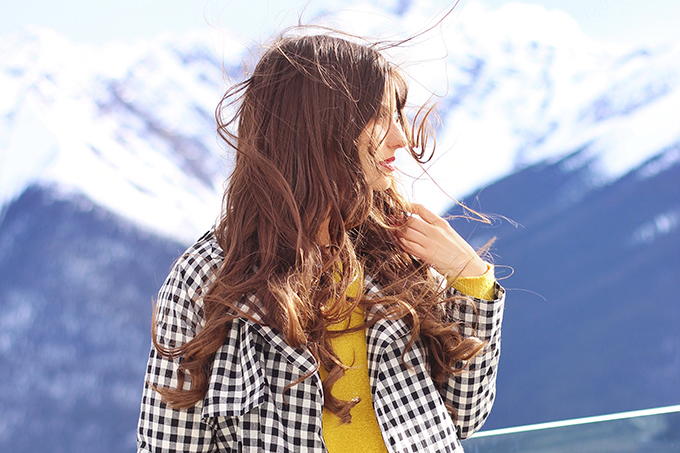 I'm sure you might have a vision in your head of what it's like to be a fashion blogger — and I can assure you that it's far less glamorous than it may seem. When I first started capturing style content for JustineCelina over a year and a half ago, it began as a product of me chatting with my Mom about how I wanted to start appearing in fashion posts, but hadn't worked out how I could be in the photos and still have them feel like me when I'm not the one taking them. With her typical take charge, anything is possible attitude, she told me to get dressed and drive out to my childhood home in rural Alberta to see what we could capture. Although it really wasn't that long ago, if you can believe it, I barely knew how to use a DSLR and my Mom had absolutely no photography experience.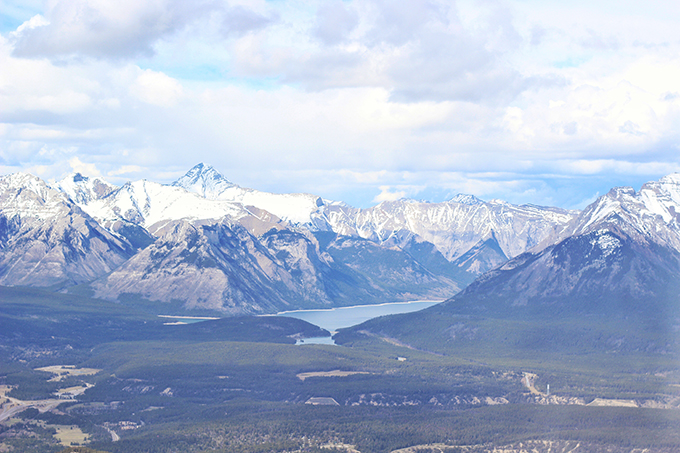 Surprisingly, we made it work — and we still follow the same process today as we did for that very first photoshoot! Mom stands in for me as I take a couple of shots of to test the light. Then we swap and I art direct her as she snaps away (I pop over to her side of the camera every so often to check the exposure and see how things are looking!). Afterwards, I cull images and edit to ensure the photos are cohesive with the rest of my content. We're a great team like that! My Mom is my biggest cheerleader — over the years she's always encouraged me to push myself and do what makes me happy, even when it seems totally impossible or crazy. So you see, although my Mom isn't visible in the photos you see on these pages, she's always present.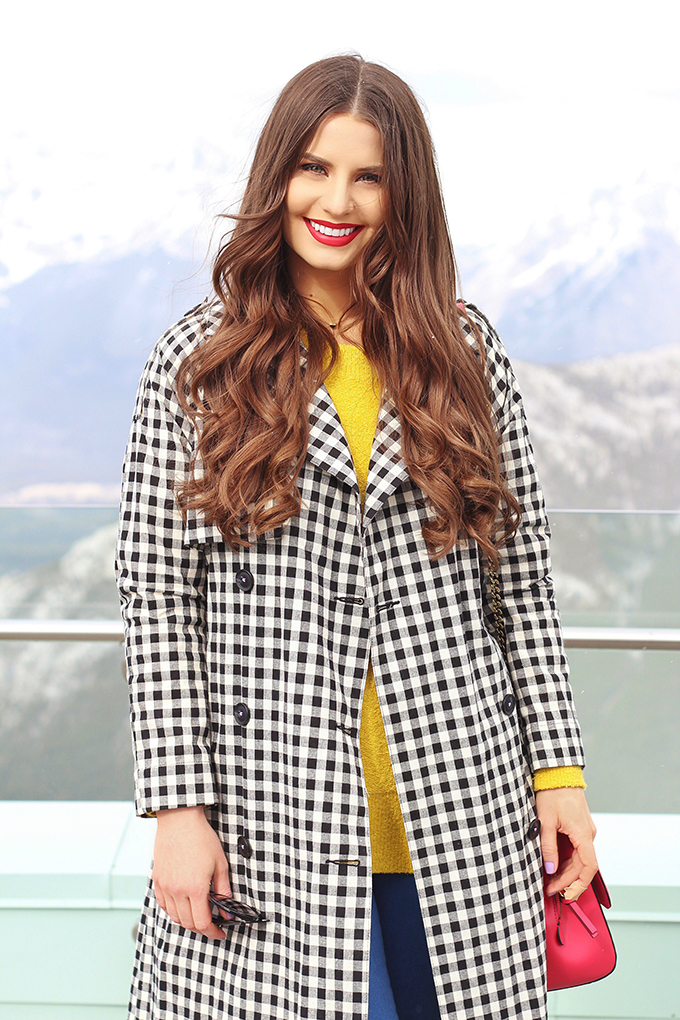 Over the years, meeting up to capture style content has become something fun and creative that we do together (and what can I say — she has a great eye!). Although it is technically work, these mini photoshoots also allows us some extra mother-daughter time we wouldn't otherwise have. I wanted to make sure I captured us together on this special day (my Mom despises having her photo taken!), so I asked one of the ladies we shared chocolate and wine with (who was also there with her Mom) to take our photo. Everyone, meet the woman on the other side of the lens — my Mom, Brenda! And don't worry, I asked her permission before sharing this photo with you today. It's about time you met!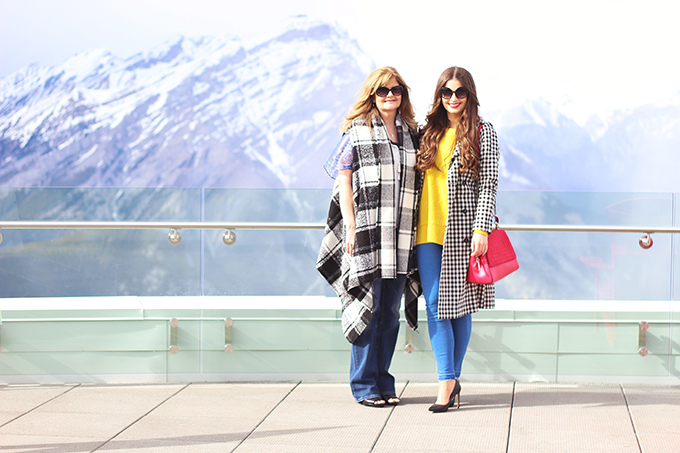 ---
SPRING 2017 TREND GUIDE | GINGHAM STYLE
---
So, let's chat Spring 2017 style trends, shall we? Next to fall, spring is my favourite time of year for fashion — each season I look forward to refreshing my wardrobe after our long Canadian winters. On this particular day it was about 5°C on top of the mountain (and as you'll see it was quite windy!) so I opted for a comfortable outfit that incorporated a handful of seasonal trends (and one shoe change!). Today we're chatting colour trends, gingham, embroidery, flats, novelty denim and mixing prints — set against the serene backdrop of our Canadian Rockies!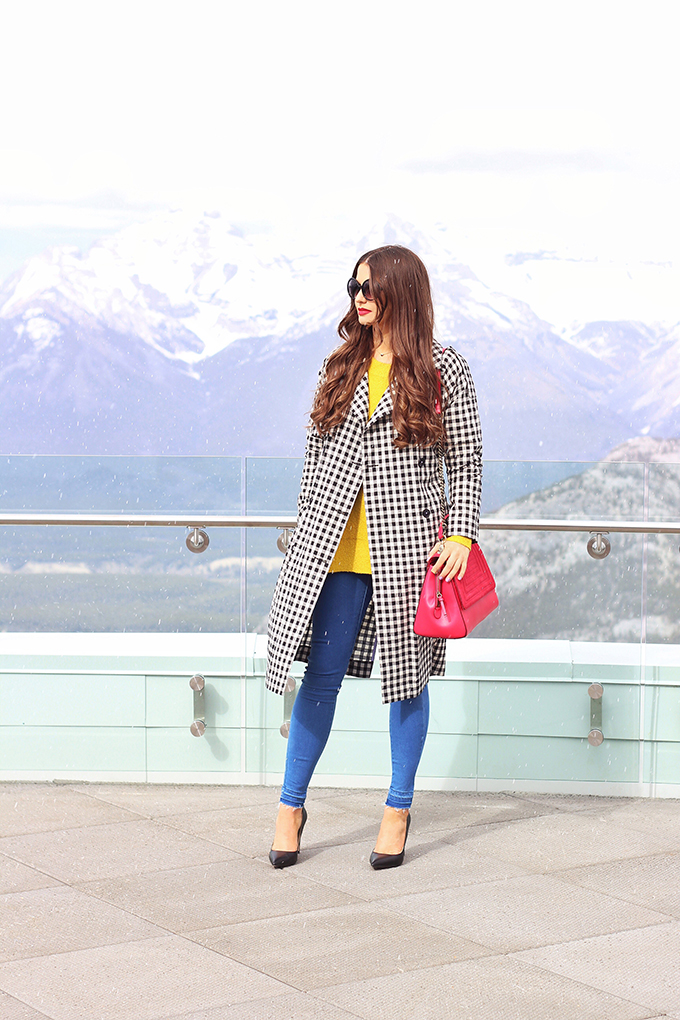 ---
COLOUR TREND: Yellow
---
It should come at no surprise that I'm mentioning yellow in my first Spring 2017 TREND GUIDE — as you've probably heard, it's one of this season's biggest colour trends and one of my personal favourites to wear. It's also our colour for May 2017 here at JustineCelina (have you downloaded May's free desktop wallpapers yet!?).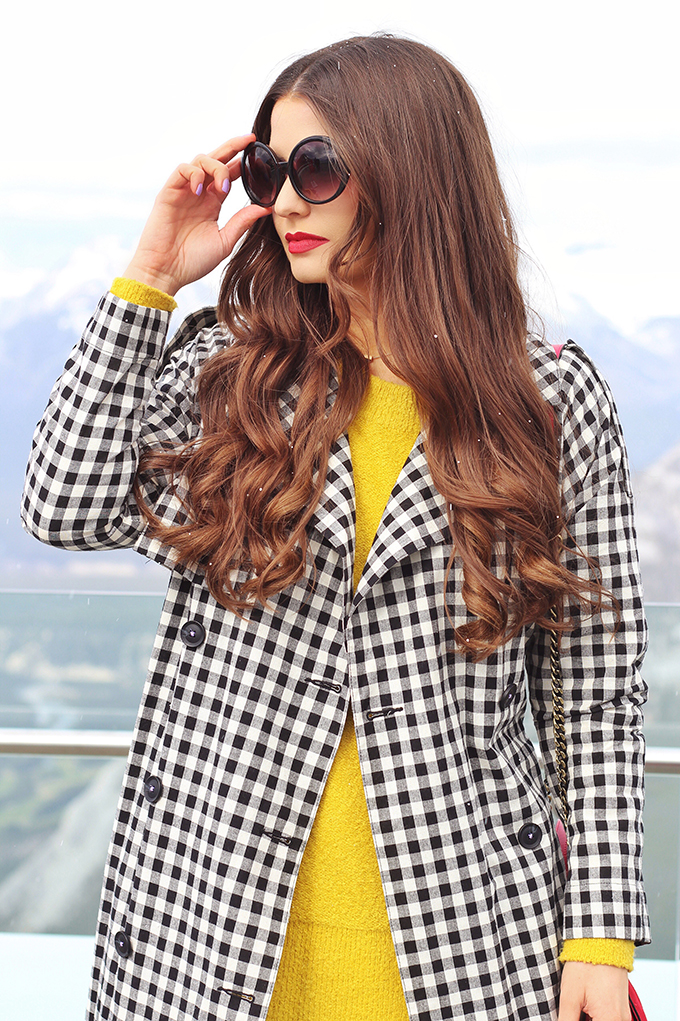 This season, I've been taking cues from the Spring 2017 Pantone Fashion Color Report — and as warmer weather approaches, it's all about bold colours across fashion, beauty and design categories. I've never been one to shy away from colour, but I've always associated yellow with spring! This season, Pantone's Primrose Yellow is popping up everywhere and I couldn't be more thrilled. Primrose Yellow was selected for Spring 2017 to take us to a destinations marked by enthusiasm, good cheer and sunny days (more of that, please!). I think it's actually a pretty wearable shade — and I opted to pull it into my outfit with this Oversized Yellow Sweater from Zara, who makes some of my favourite knits. If you're a little uneasy about this sunny shade, just try it on — I think you'll be surprised and find a yellow that works for your colouring! If bold yellow isn't for you, you can always try a more subdued pastel shade.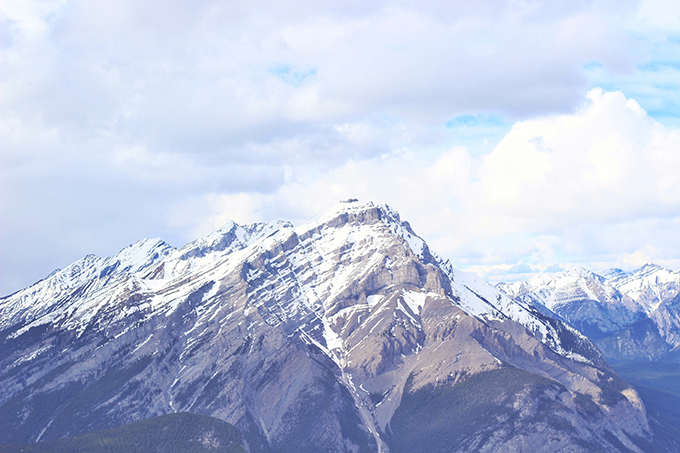 ---
COLOUR TREND: Red
---
Although it isn't part of the Spring 2017 Pantone Fashion Color Report, red is also a key colour trend this season. My personal favourite way to wear red is in accessories — like my City Bag with Wolf Detail (I saw it pop up at Zara this winter and have been lusting after it ever since!), in the embroidery on my Saffron Embroidered Slippers and on my lips!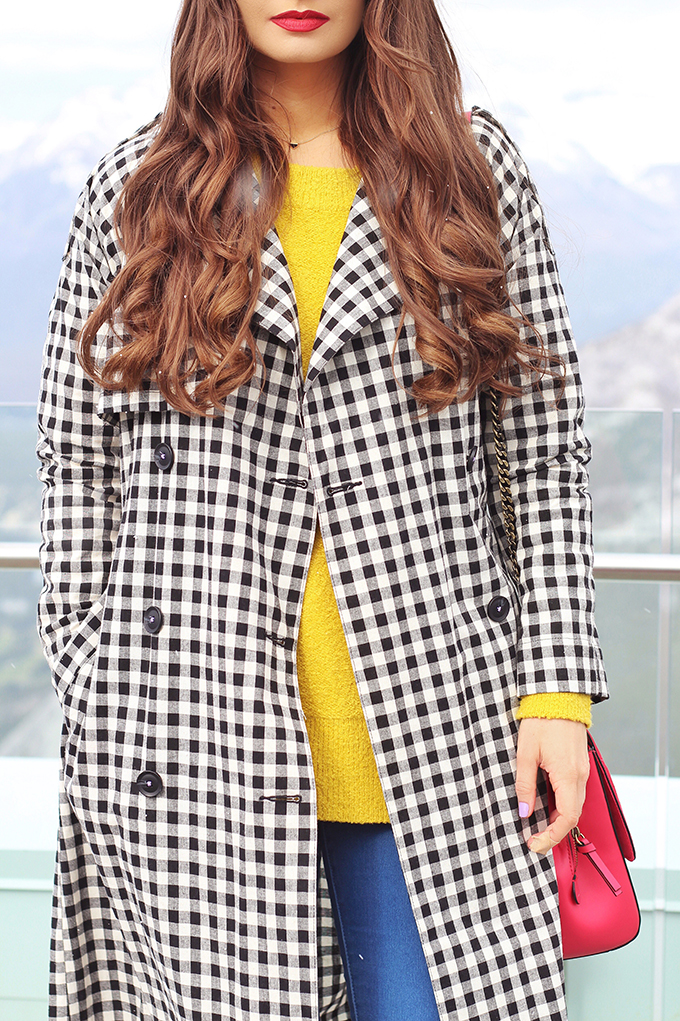 This season, I'm crazy about these strawberry inspired shades and think pink based red are perfect for spring. I've always been very inspired my colour, so I like to get creative in my pairings — while yellow and red aren't typically colours I would tend to pair together, for this look I drew inspiration from a primary colour palette and the classic pairing of yellow, red and blue (art college coming out here!). I love to pull colours out of a print I'm wearing and incorporate them into other pieces in my outfit — so I took a cue from my slippers!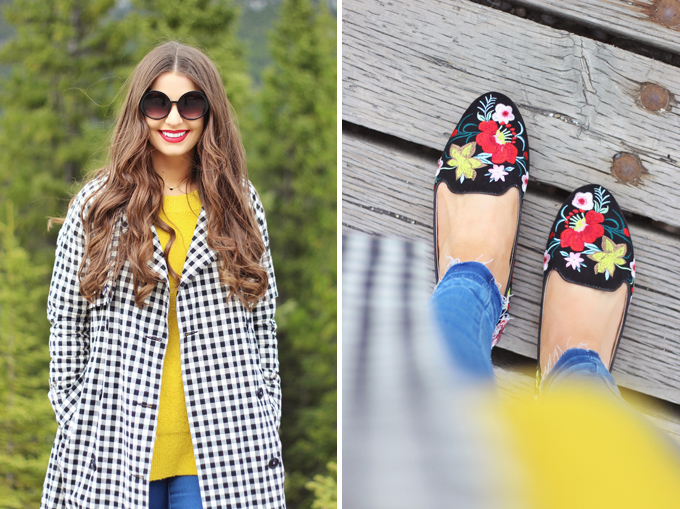 I also couldn't resist throwing on a strawberry red lip — here I'm wearing the Huda Beauty Liquid Matte Lipstick Cheerleader which is more of a muted, pink based red (I originally mentioned back in my 5 Festive Lipsticks to Try this Holiday Season post). I've fallen in love with the Huda Beauty Liquid Lips since discovering them last year — they're my go-to for days when I want a bold lip that I know I don't have to babysit through eating and drinking!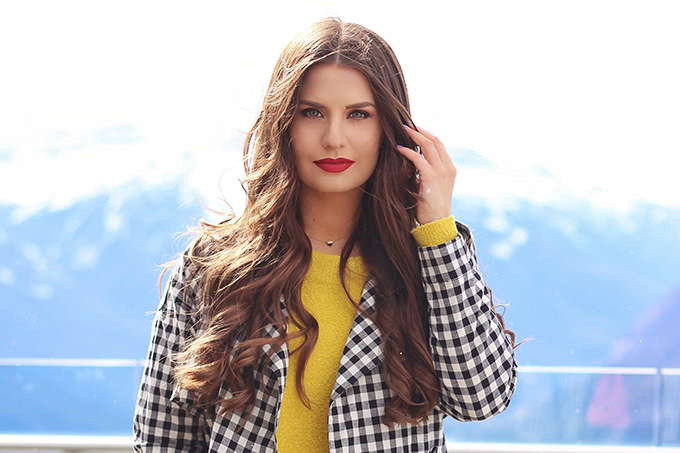 ---
TREND: GINGHAM
---
What is gingham, you ask? I like to think of it as the springtime equivalent to plaid! It's typically a white and bold colour check pattern with a lighter, more airy feel. This season, gingham prints are popping up in every article of clothing (and colour) imaginable — and when I spotted this gorgeous Gingham Trench Coat at TopShop, I knew it had to be mine.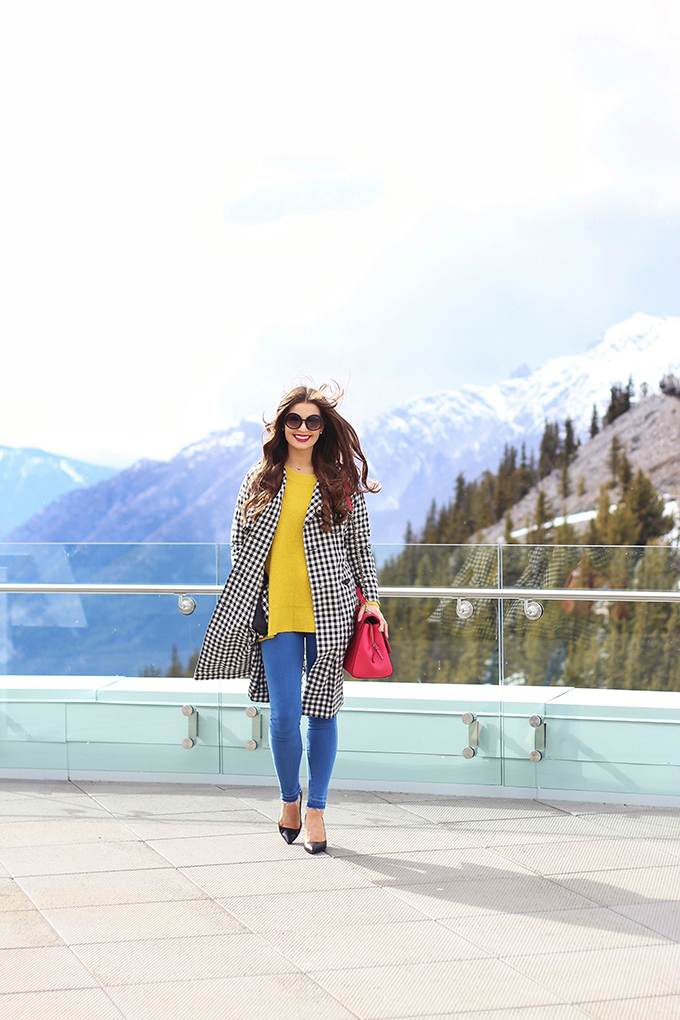 In true JustineCelina fashion, I stalked it online, waited for it to go on sale, then purchased before it sold out (along with my Saffron Embroidered Slippers!). If you're looking to update your spring trench coat this season, consider adding a gingham option to your wardrobe! If you're looking to pick up this exact coat, be warned it fits very oversized (I'm wearing the US 2 / UK 6 here and I'm swimming in it, even with an oversized sweater underneath and the excess tied up in the back).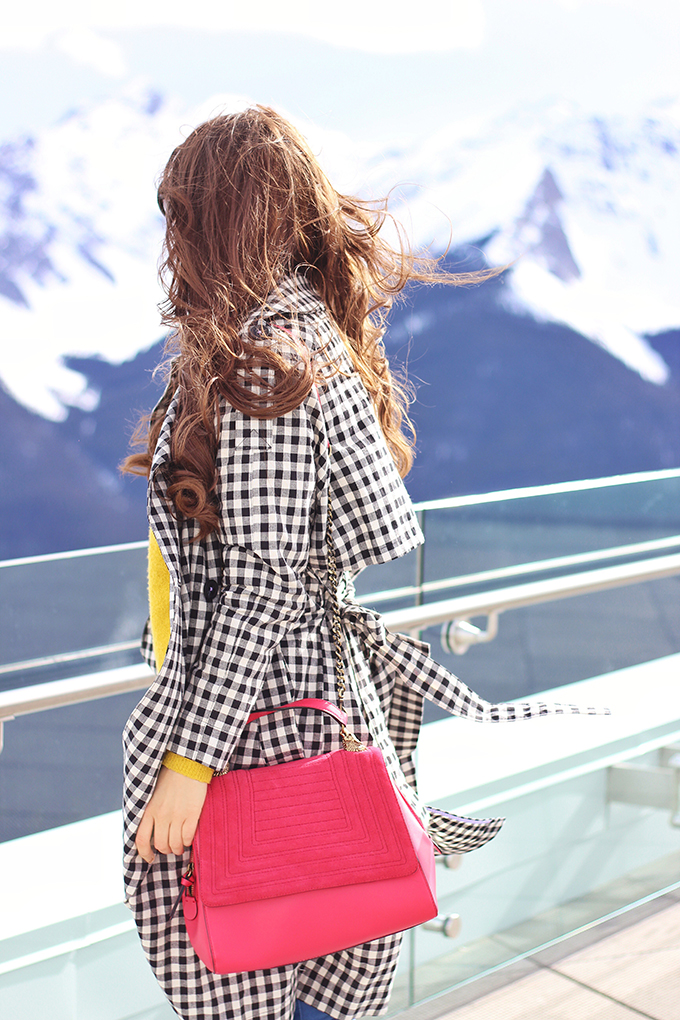 ---
TREND: Novelty Denim
---
I've been talking about novelty denim here at JustineCelina since last summer and it's not going anywhere as we transition into 2017's warmer months! Pretty much anything goes when it comes to denim this spring and summer — from step hem, to embroidered and embellished (a trend I have yet to delve into, but have my eye on a few options!), to two tone, to distressed, to released hem styles like I'm wearing here.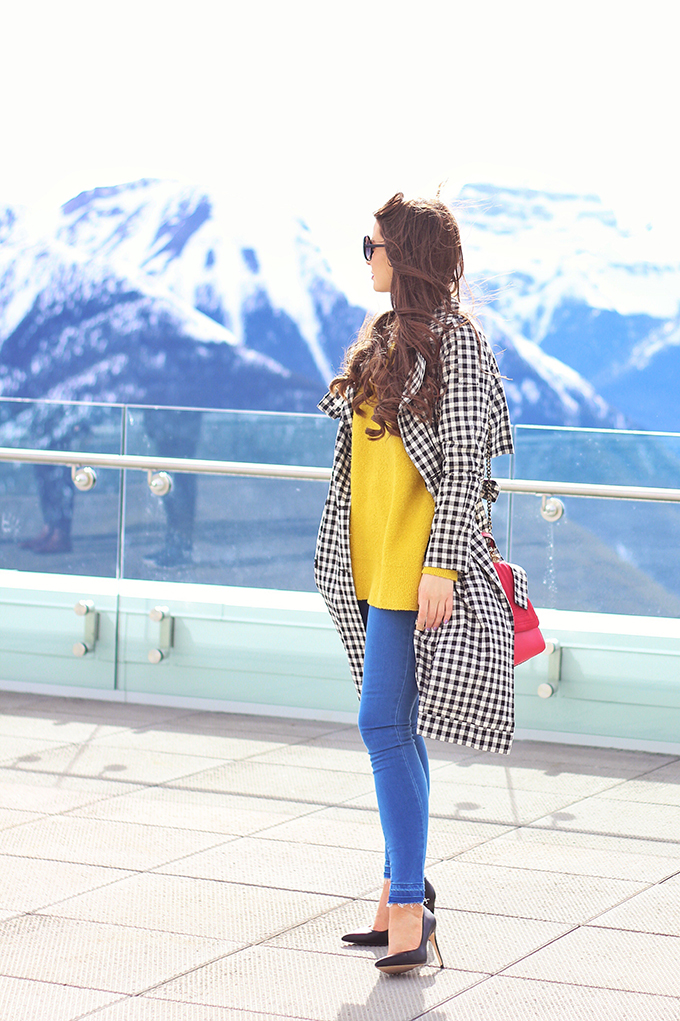 If I could pass along one piece of advice when it comes to selecting your denim this season, it would be to have some fun with it! I actually DIY'ed this pair of released hem denim myself by simply by seam ripping the hem of a pair that was too short, then ironing it flat — it took about 5 minutes! If you'd like to purchase a released hem style this season that you don't have to DIY, I've linked a similar pair for you here, but if you DIY a pair (have a look through your closet… I bet you can find a pair that could use a little freshening up!) definitely let me know.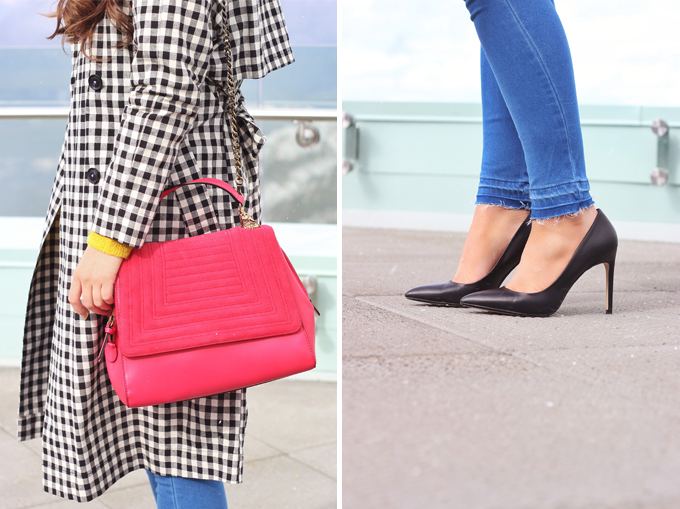 ---
TREND: Embroidery
---
You've likely spotted embroidery on shoes, bags, shirts, denim (and pretty much everything in between) this season! It was love at first sight when I scrolled past these adorable Saffron Embroidered Slippers on the TopShop site and I'm so glad I picked them up (they also come in nude, but I haven't been able to get my hands on them!).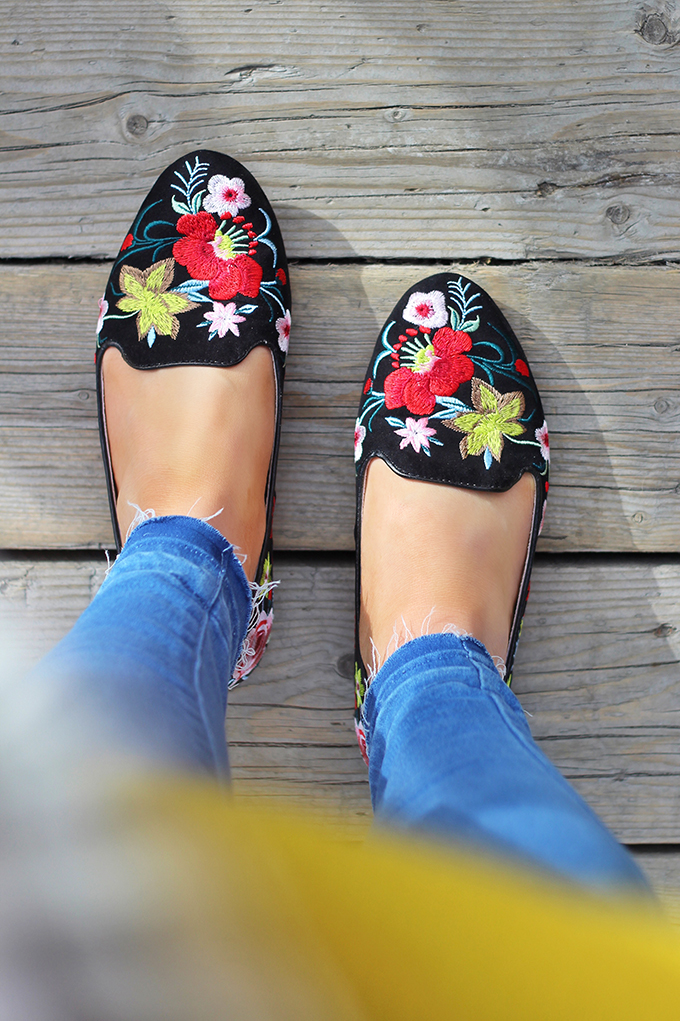 These little loafer style slippers are so comfortable — as if they were made for my feet! I love everything about them — from the on trend colour palette, to the sweet embroidered details, to the 70's inspired floral print (another seasonal trend I'll be discussing in upcoming TREND GUIDES) to the unbeatable comfort factor. I swapped my slippers for my High Heel Leather Shoes (one of my favourite staple pairs) for the event, but believe it or not, they're actually stowed away in my handbag in these photos! Embroidered slippers are a great option this season when you want to slip into something more comfortable but don't want to compromise on style. I've been stepping up my flat shoe game this spring — and with flat styles more on trend than ever, I can't wait to share my favourites with you in an upcoming Spring / Summer 2017 SHOE GUIDE mega post!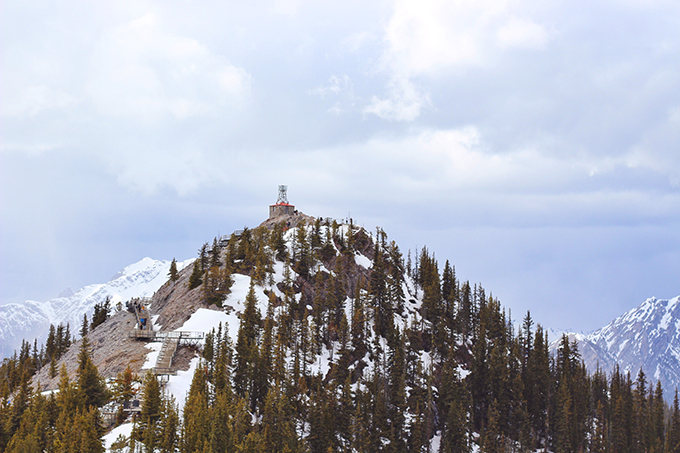 ---
SHOP THE POST
---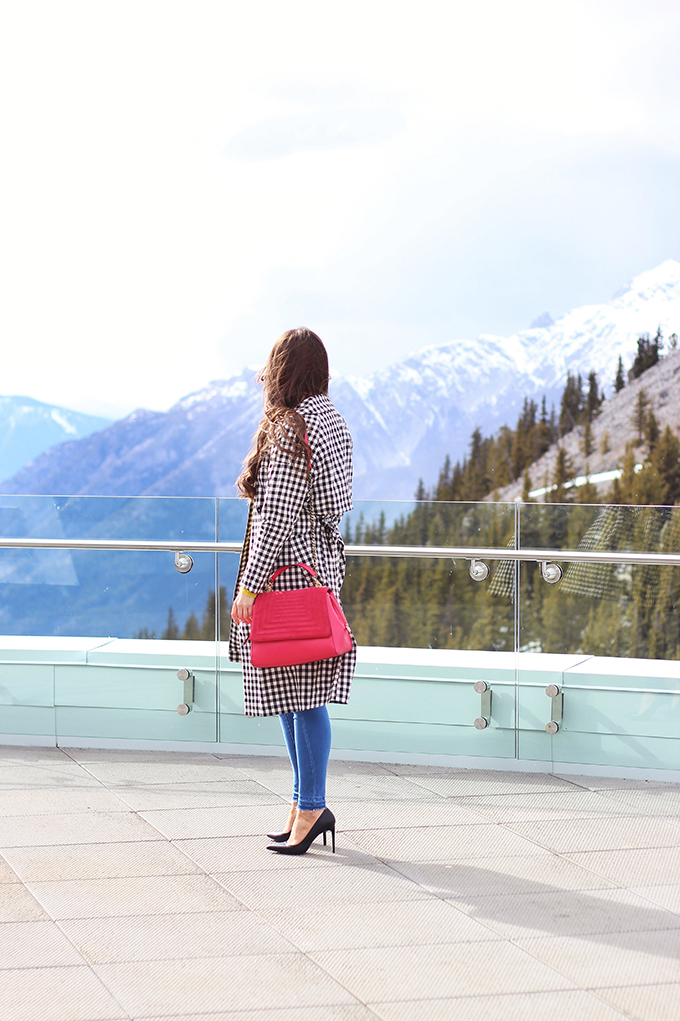 Gingham Trench Coat | Oversized Yellow Sweater | Released Hem Skinny Jeans | City Bag with Wolf Detail | High Heel Leather Shoes | Saffron Embroidered Slippers | Round Sunglasses | Huda Beauty Liquid Matte Lipstick Cheerleader | NAILS INC. Eaton Square Polish | T3 Whirl Trio Interchangeable Styling Wand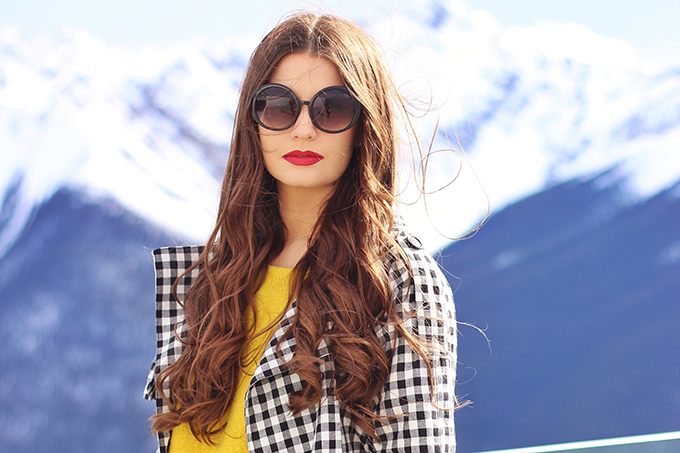 ---
What did you guys get up to for Mother's Day? I hope you had a great day and that you have a great long weekend! We're actually laying pretty low this weekend — might adventure to the mountains for a wine picnic tomorrow (it's been awhile!) and then I'm tackling some home organization and decor projects. Do you have any exciting plans? I'm currently planning style content through the summer, so if there's anything you'd like to see here at JustineCelina, don't be shy!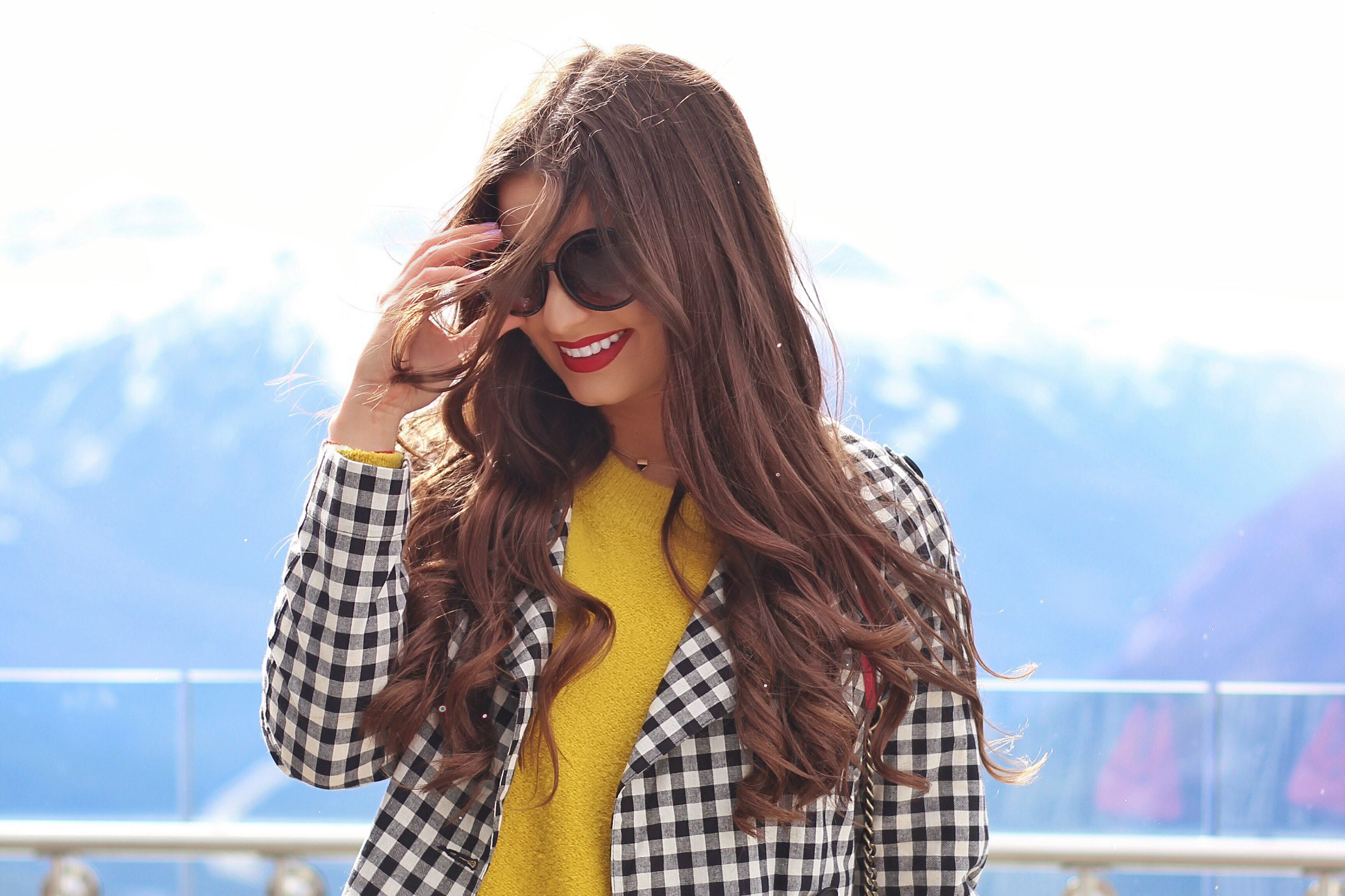 ---
Disclaimer: Thank you to Brewster Travel Canada for hosting us for an unforgettable Mother's Day at the Sky Bistro. This post is not sponsored, and contains my genuine thoughts, ideas and recommendations. JustineCelina uses affiliate and referral links, which allow me to receive a small commission when you make a purchase through one of my links. Thank you for supporting the brands and businesses that support JustineCelina!