---
Welcome back, friends and fashionistas! Today I've teamed up with Saks OFF 5TH to bring you a fresh post in my WHAT TO WEAR TO series dedicated to Horse Races — and to announce the Grand Opening of their second location at CF Market Mall! Saks OFF 5TH's newest Calgary location is open to the public on August 30th (that's tomorrow!) and home to 800 designer brands for women, men and children. I couldn't be more thrilled to partner with them once again to create some new style content featuring my latest OFF 5TH finds!
Earlier this summer we had the pleasure of attending Packwood Grand and to be honest, the sartorial aspect of the race excited me much more than the main event! Longtime readers will know I love any excuse to dress up and dress well (which is part of the reason I created my WHAT TO WEAR TO series in the first place!), so I took this unique event as an opportunity to deep dive into horse race appropriate attire and put my own unique spin on the dress code! After hunting for the perfect gingham dress for what seemed like an eternity, low and behold, I found it on Saks OFF 5TH's Calvin Klein rack — at just over 50% off, ringing in at $74.99! I've always been a fan of gingham and although it's very on trend at the moment, it's also a timeless print that lends itself to more traditional occasions and settings. So, I styled my darling Calvin Klein Gingham Wrap Dress up for the races — and today, you're coming along! If you've always wondered What to Wear to | A Horse Race, or are looking for a crash course on transitional prints and trends (at an incredible value!), Calgary's newest Saks OFF 5TH location and I have you covered!
---
WHAT TO WEAR TO | A HORSE RACE
---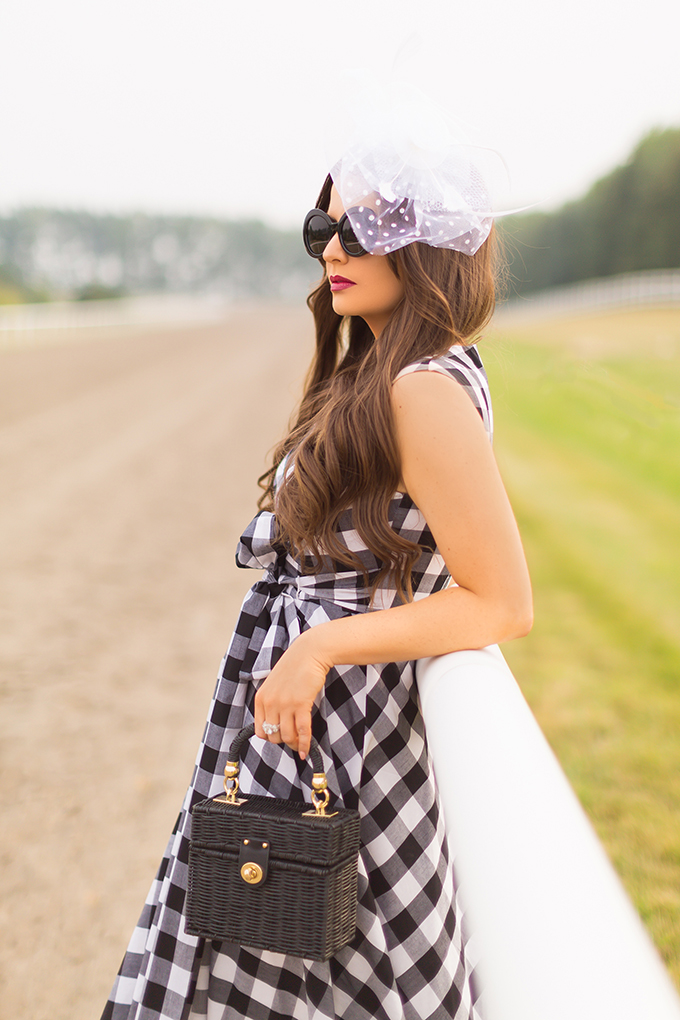 With summer winding down and Saks OFF 5TH's second Calgary location opening, I thought it was the perfect time to share this post with you! It's that magical time of year between summer and autumn — the days are sunny, the evenings are crisp and the leaves are beginning to change hue. It's my favourite season for fashion because we're able to blend the best of summer and autumn, which is exactly what I did with this gingham-focused look for a day at the races — complete with a fascinator, raffia minaudière bag, outdoor appropriate block heeled sandals, an autumnal lip and vintage inspired sunglasses!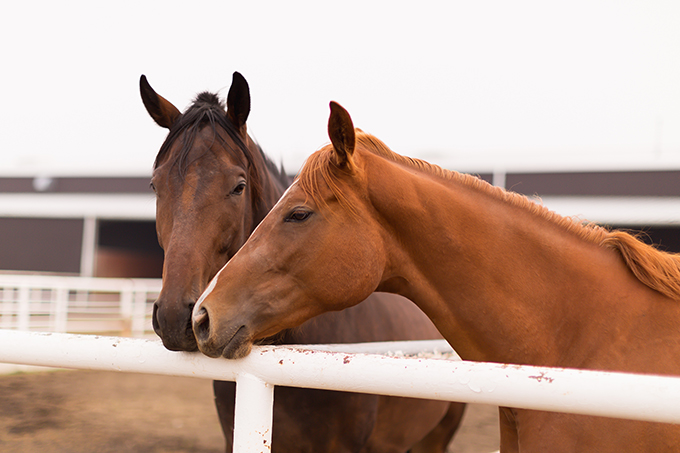 If there was ever a time to keep your attire classy, horse races are it. To dress appropriately for the occasion, opt for a knee-length dress, a full length jumpsuit or tailored pantsuit. That said, strapless, off-the-shoulder, halter and spaghetti strap necklines are not permitted and midriffs must be concealed — so when in doubt, air on the conservative side.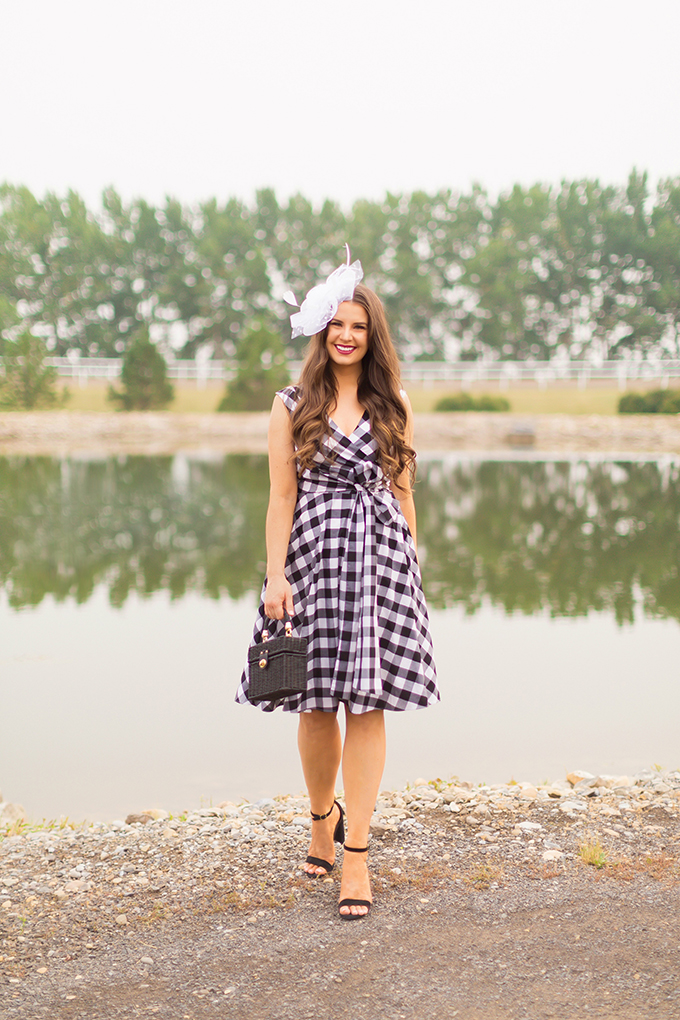 As I'm sure you're aware, this summer I've been all about the dresses, so my horse race garment choice was clear! My dress features a modest V neckline and embraces the traditional nature of the event with a sleeveless, self tie, A-line silhouette. Not only is this timeless style figure flattering, I know it will be a fantastic special occasion dress, season after season.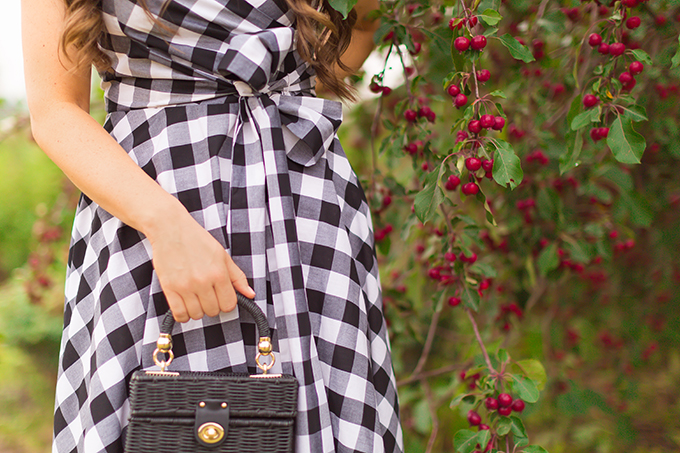 Using my Calvin Klein Gingham Wrap Dress as an anchor piece, I created a black and white, texture rich, tonal look with a nod to classic 1950's and 60's style. I let the bold gingham print of dress make a statement by selecting on-trend, yet understated, accessories to compliment my frock. Although colour is permitted (and even encouraged!) at horse races, I love the classic sophistication black and white exudes.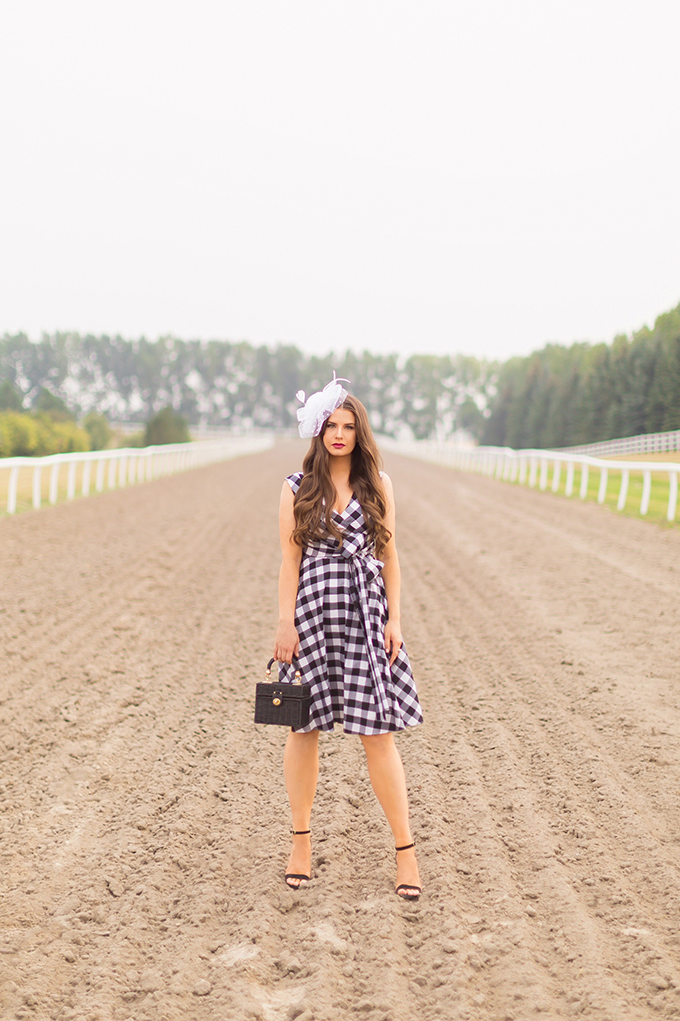 While fascinators are not required at horse races, they're so much fun — and you better believe I take full advantage of any chance to wear one! Since I'm brunette, I opted for a white fascinator to contrast my hair and pick up the white of the gingham print in my dress. If you've never worn a fascinator they may seem a bit intimidating, I encourage you give them a try and experiment to find a style that suits you! Typically they come with a headband or a small, concealed clip (like mine) and make an easy addition to any hairstyle.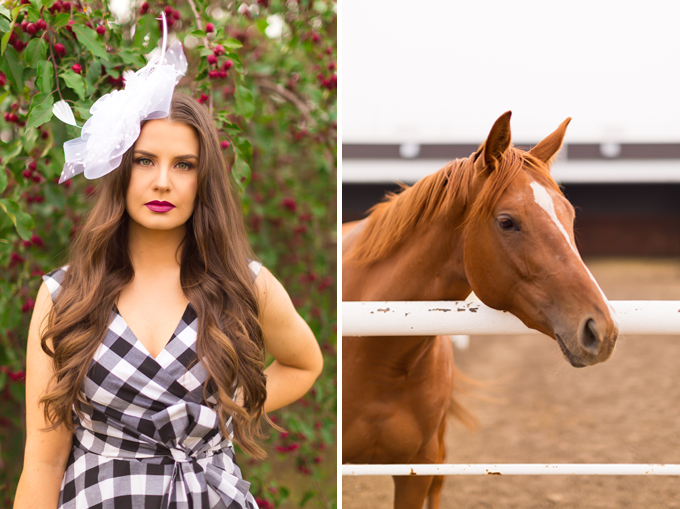 I chose to keep my bag and my shoes simple, practical and polished. My black raffia minaudière bag features gold accents and a detachable, cross-body gold chain. I have the option of carrying it hand-held (as seen here), or clipping on the strap when I want to be hands free — which comes in handy at events when you're sipping champagne, nibbling on hors d'oeuvres and snapping photos! The size and versatility of of the minaudière is something I look for in daytime event bags — they have just enough room for your essentials, without overwhelming your outfit.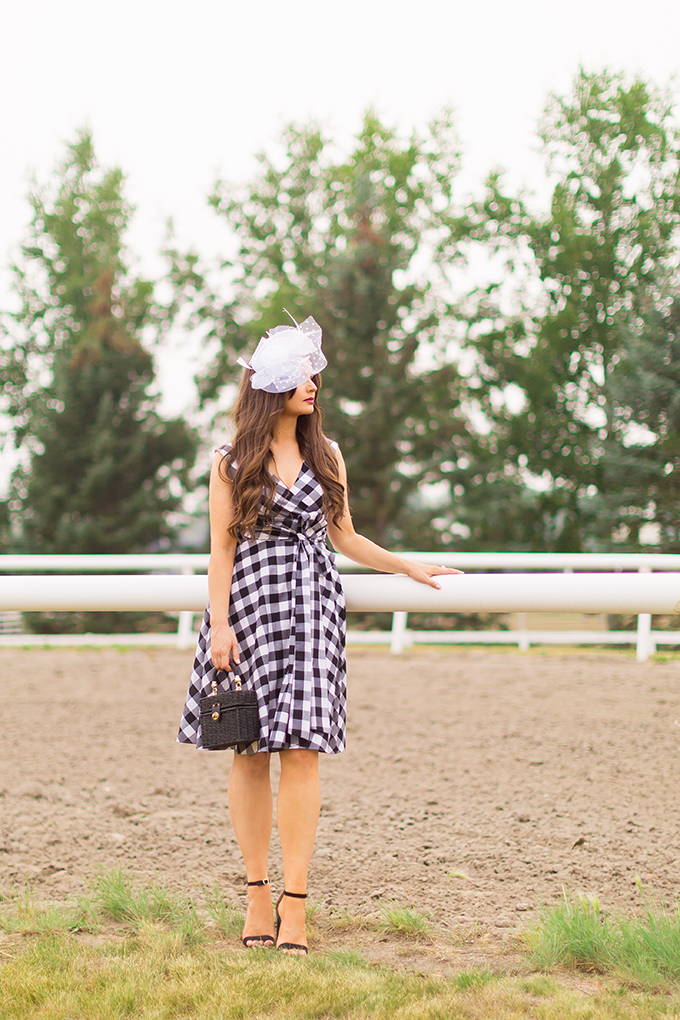 If you read my Transitional Shoe Guide, you'll know I've added quite a few 2 strap, block heeled sandals to my wardrobe this season! For outdoor events, block heel sandals are absolutely essential and I put quite a few miles on mine during the races without any discomfort. Not only are block heels on trend at the moment, unlike stilettos they don't sink into the ground and are much more comfortable to wear over longer periods of time  — a classic choice for outdoor summer events!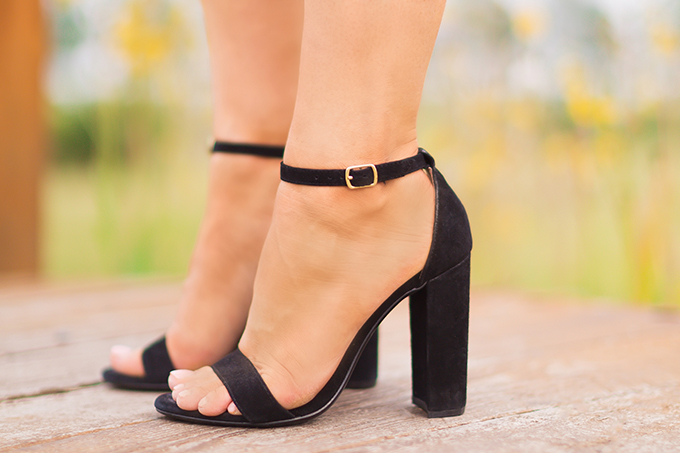 Jewellery wise, I kept things minimal and classic with a pair of diamond stud earrings and my favourite vintage ring. To add an air of mystery, I chose a pair of dark, Jackie O inspired sunglasses and an autumnal, plum lip to complete the look.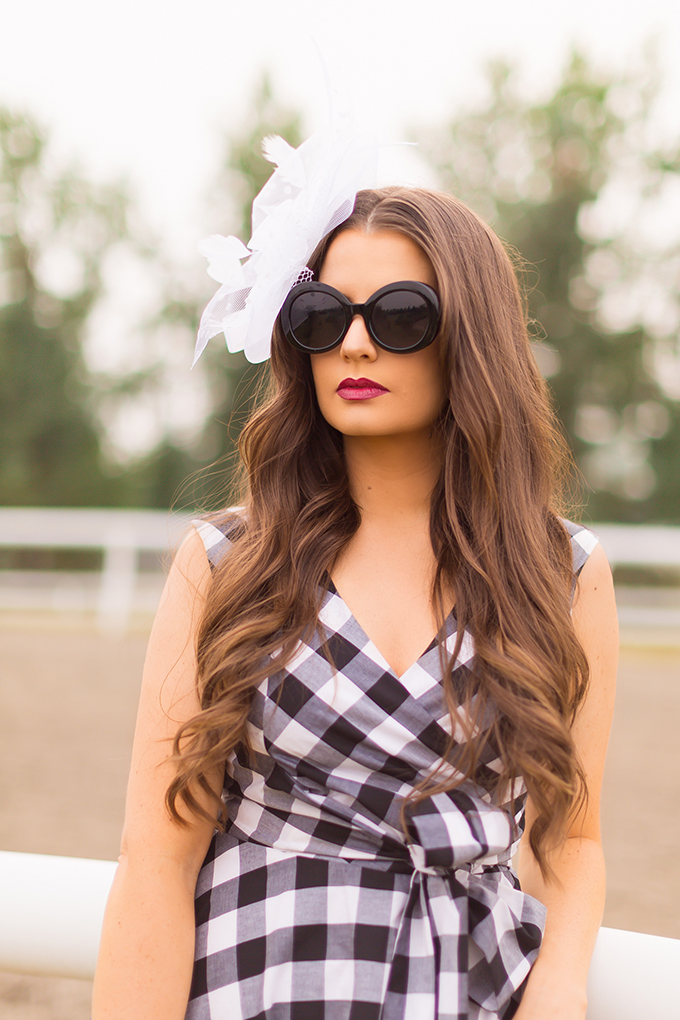 ---
Have you had a chance to visit Saks OFF 5TH? I'm elated to have a second location here in Calgary a little closer to home and can't wait to stop in more frequently. I picked up a couple of other pieces during my most recent trip that I'll be styling up as we transition into autumn, so stay tuned for tons of seasonal style content!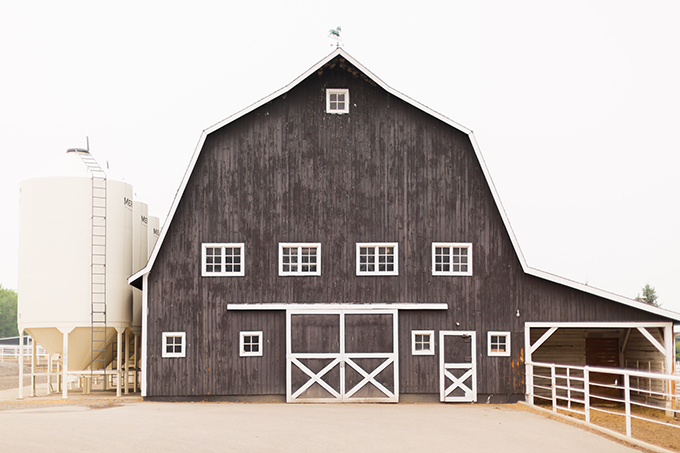 I hope you enjoyed my spin on What to Wear to | A Horse Race and that you found it helpful, whether you're attending a horse race or simply looking for some fresh inspiration for transitional event fashion. Thanks for stopping by today, friends!
---
Disclaimer: Thank you to Saks OFF 5TH for sponsoring this post and thank you for supporting the brands and businesses that support JustineCelina!