---
I'm strutting into September with fresh TREND GUIDE for this transitional time of year! Today I'm sharing a versatile look that I've worn many times this summer in both personal and professional settings — and I'm also showing you how to style it into the first days of autumn. I'm planning to enjoy summer for as long as I possibly can — the weather is exceptionally beautiful here in Calgary (there was actually a heat warning on the day we shot this post and it was 34 °C!) and therefore I'm going to utilize every possible opportunity to wear sandals and open toed shoes (Canadian girls, I know you feel me)!
In this pre-fall look, I'm merging a handful of key trends from Summer / Autumn 2017 — including orange, butterum, eyelet, embroidery, cork and natural textured accessories, bright whites, strappy sandals and tailored, wide leg trousers. I'm finally showing off my birthday present here at JustineCelina (to myself, from myself!) — the absolutely stunning, Gaia's Ark Bamboo Clutch (which has been on heavy rotation in my summer wardrobe but hasn't yet made it to the blog!). I'm also sharing autumn styling options by simply changing up my accessories to include an office appropriate, daytime bag that doubles as a briefcase, gorgeous tasseled pumps a classic watch! And last but not least, it's that time of year again — today I'm introducing you to the PANTONE Fall 2017 Fashion Color Report and chatting about how you can incorporate fall colour trends into your wardrobe right now to extend the life of your favourite summer pieces as we transition into autumn. If you're not quite sure what to wear during this time of year, hang out with me today for some fresh ideas and outfit inspiration as I style this colourful look for both seasons!
---

---
COLOUR CRUSH | ORANGE
---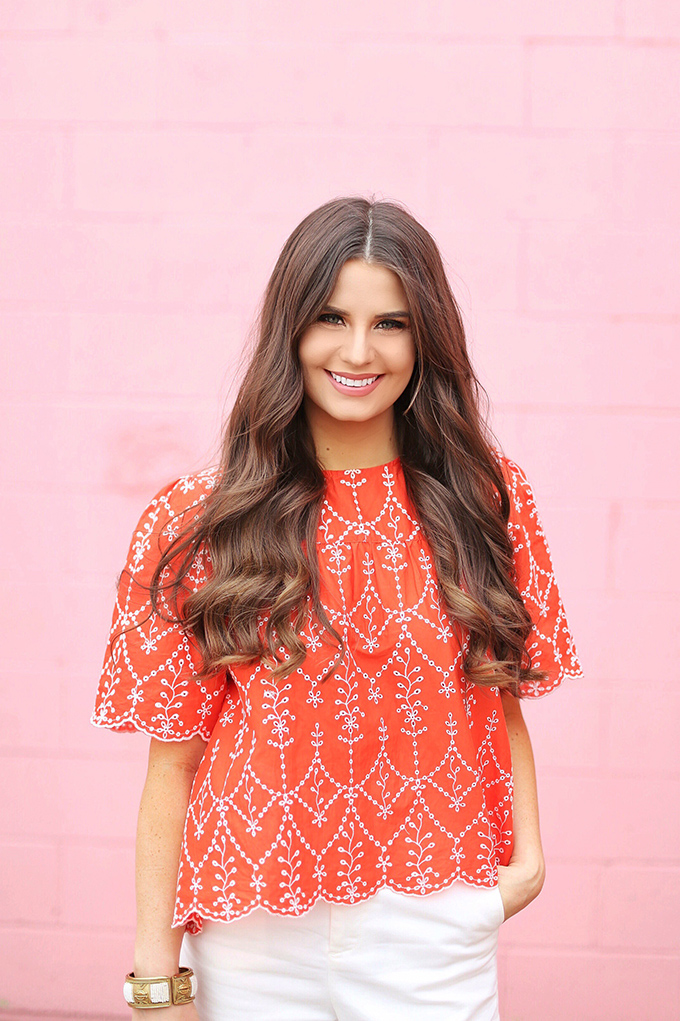 Welcome back for the first post here at JustineCelina covering the summer to autumn transition this year! Although I published a transitional style post last year, it was my first year publishing style content so I wasn't as into planning  — and I hadn't even started my TREND GUIDE series. It also snowed in September, which really threw my content ideas for a loop! This year I'm ahead of the game and while I'm still enjoying summer, I know many of us are looking ahead to fall. Today I'm be sharing a handful of seasonal trends that you can transition into autumn as well as tips and tricks I use year after year to help extend my summer wardrobe while incorporating more autumnal pieces and beauty products.
---
SUMMER STYLING
---
First, we'll start with my more relaxed, summer styling for this look, then transition it into autumn (and for a more corporate environment) with a few small tweaks and accessory swaps!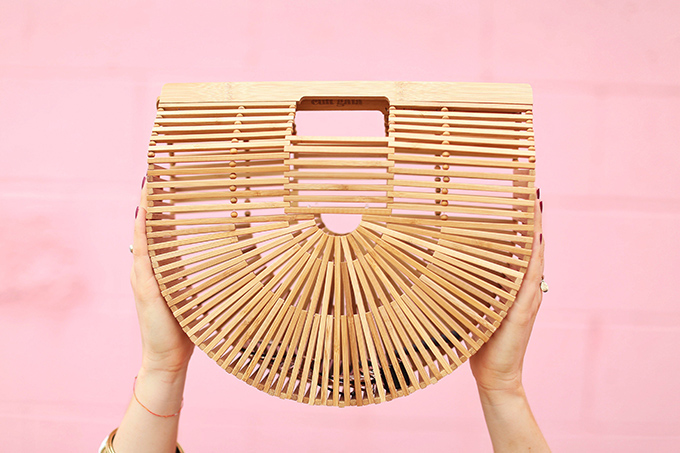 ---
COLOUR TREND | ORANGE
---
Orange was huge this summer and continues to trend into autumn, with every garment imaginable popping up Pantone's Autumn Maple (and me trying to restrain myself from purchasing every single one!). I personally love orange because although it's bold, I think it's also very versatile — it can feel summery when paired with crisp whites like I've done here, or feel more autumnal with deeper, richer browns and neutrals.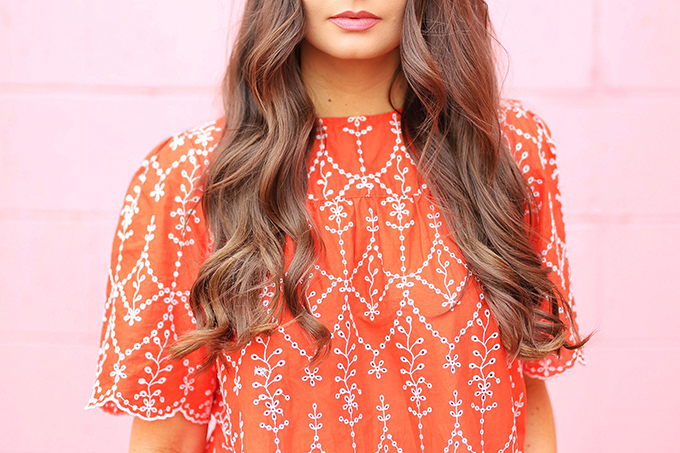 Because of the longer sleeve length of my top, when paired with tailored culottes it becomes a great base outfit that can be styled for either season! I'm planning to wear this beautiful eyelet top well into autumn — and if you love it too, I've linked a similar one for you here. It was a Zara spring find!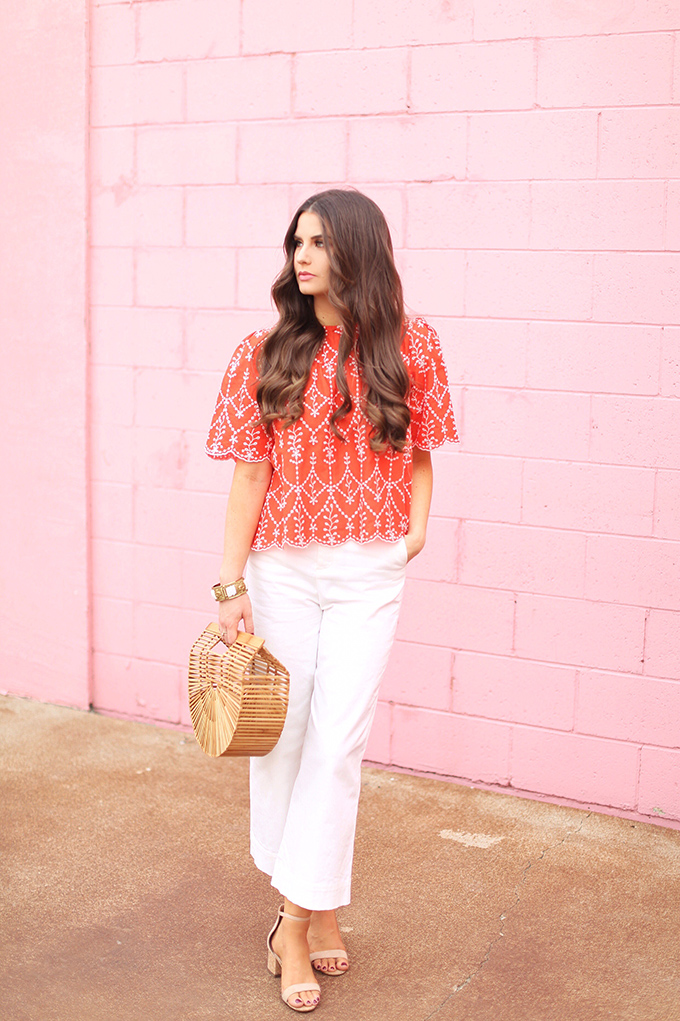 ---
TREND | NATURAL TEXTURES
---
How many times did I mention straw, rattan, jute, bamboo and cork this summer (I count 4!)? Although these textures are quite summery, when paired with a more autumnal outfit I love the fun contrast they add. Why not pair your summery sandals and natural textured accessories up with items you may normally reserve for autumn and see what you can come up with? Anything in the Pantone Butterum range is fair game this autumn (more on Butterum below) — so, try styling your summer accessories in the camel and warm brown colour families into fall! I've been living in these sweet cork, low block heel sandals all summer (if they look familiar, they were in my Summer 2017 Shoe Guide!) and I'm planning to wear them well into autumn. Their natural texture would pair so beautifully with knits and scarves!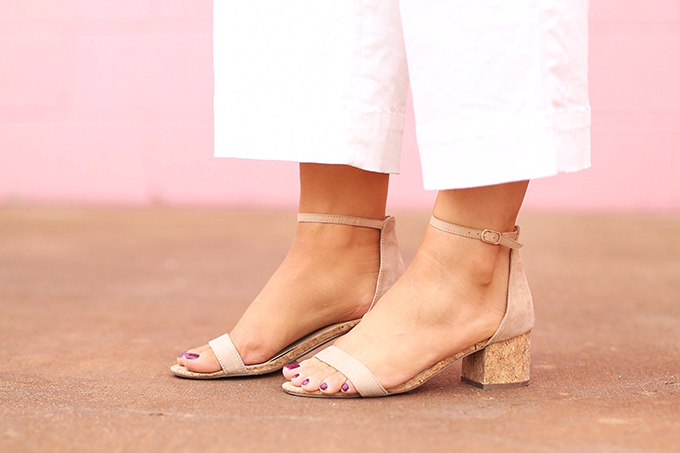 I'm definitely going to be wearing this gorgeous Gaia's Ark Bamboo Clutch (mine is the large version for those wondering) for as long as possible — because it has such an architectural feeling, I think it's going to be a lot of fun coming up with different ways to style it into autumn (I'm planning to knot scarves around the handle to transition it!). I originally spotted it back in January and should have purchased it then (because it's gone up about $80!), but I couldn't stop thinking about it so I took the plunge for my birthday this year and have absolutely no regrets. It's truly a work of art and I'm asked about it constantly — it's made from sustainably sourced bamboo, the craftsmanship is insane and it also comes in a mini (and tons more colours!), if that's more your style.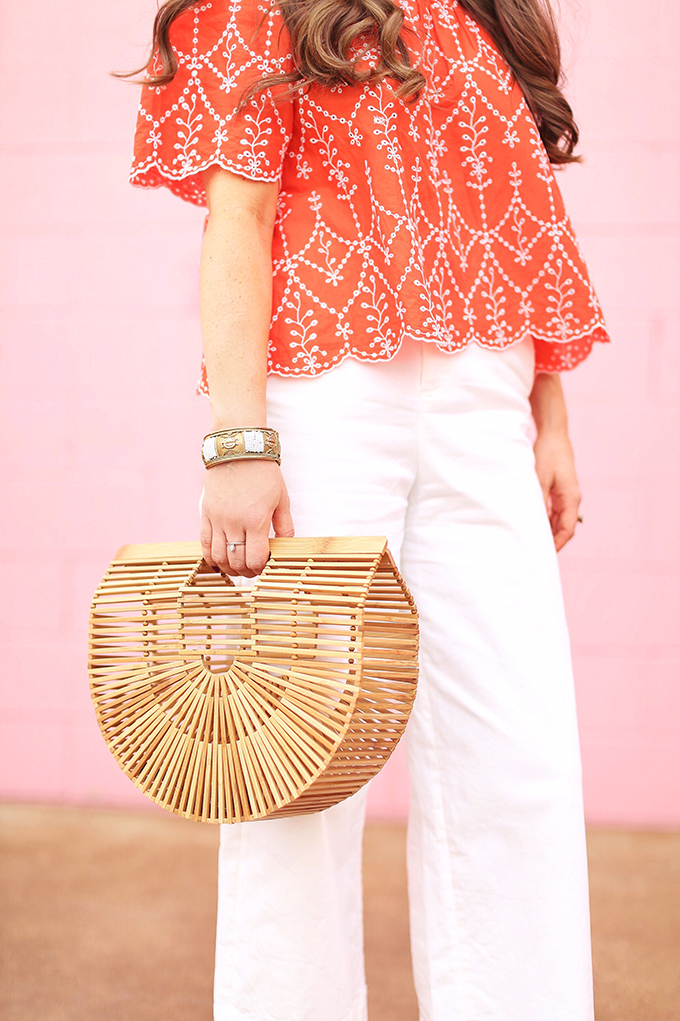 ---
TREND | TAILORED, WIDE LEG TROUSERS
---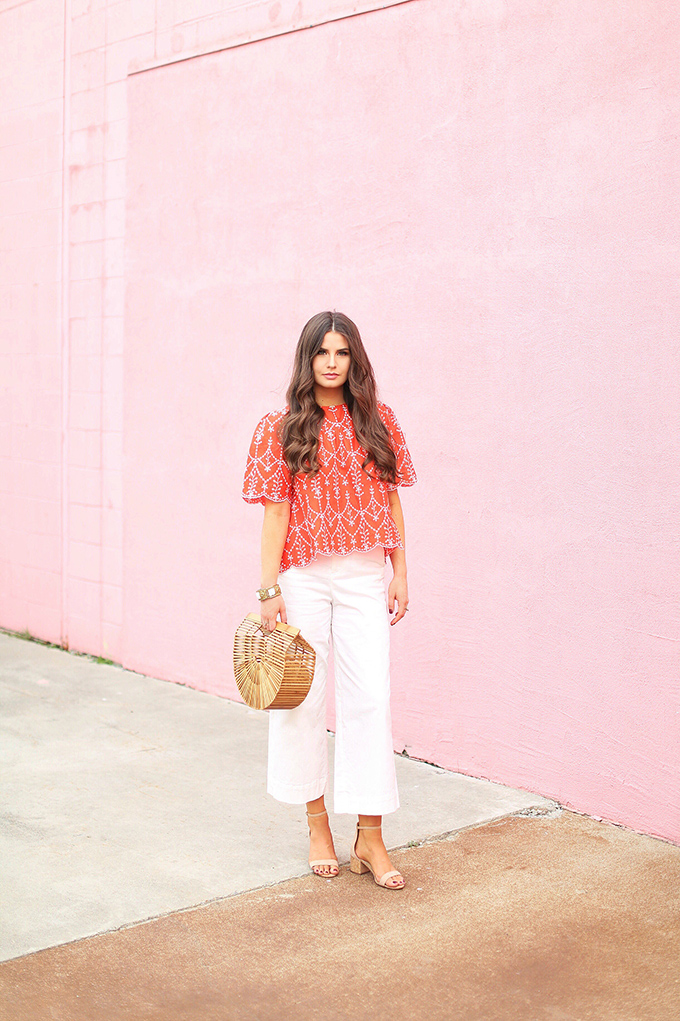 Wide leg trousers have been quite popular this year (I'm still wearing and loving those striped numbers from this style post) but this autumn, silhouettes are becoming more streamlined, tailored and menswear inspired in favour of summer's more relaxed stylings. Elegantly pressed slacks (I'd been wearing mine for a few hours when we shot this post!) and clean, slim lines are huge this fall — and I'm all for it! When I spotted these gorgeous culotte trousers this past spring at Zara I knew I had to have them — they're a style I'd typically reserve for autumn, but in a bright, summery shade (we all know I love my white bottoms!). They were my go-to pair of pants this summer when I wanted a crisper, more professional look and I know I'll be wearing them well into autumn — they'd be so cute with a slim knit and mid calf boots when it starts to get chilly! While this particular pair is no longer available, I've rounded up some very similar styles for you below.

---
TREND | EYELET & EMBROIDERY
---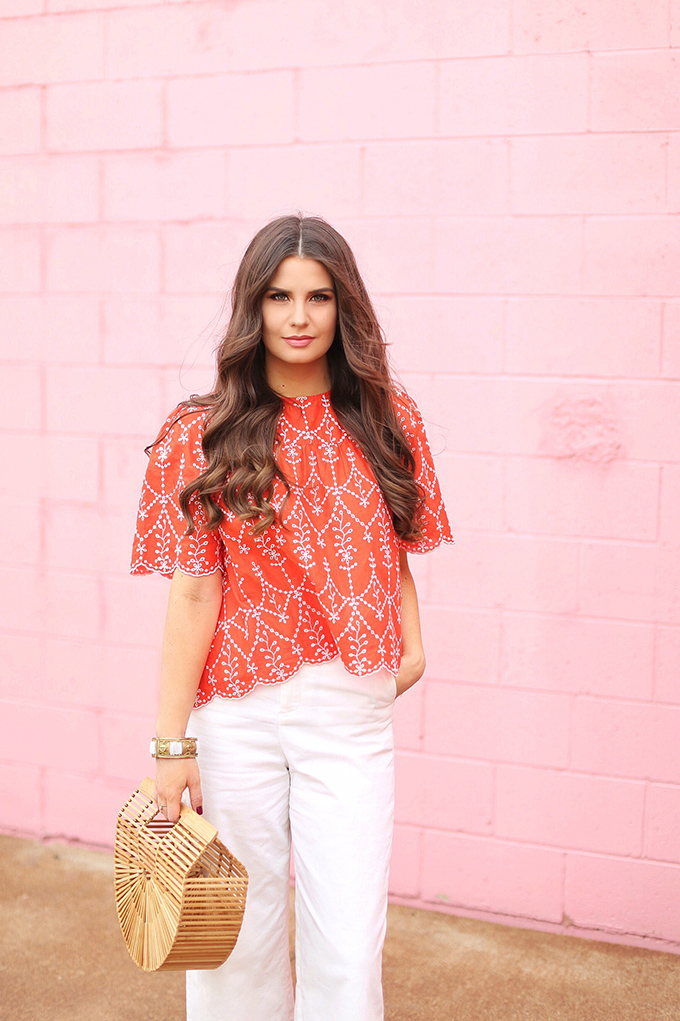 It's no secret that I have a major softspot for eyelet and embroidery — and I'm elated that those trends continue to live on into autumn! Personally, I think embroidered textures work so well in the fall layered up with knits, tights, vest and jackets. If you're like me and have a closet full of embroidered textures, try layering your eyelet and embroidered garments up with more  autumnal pieces in richer, deeper palettes as we transition into September — I think you'll be surprised at how versatile they are!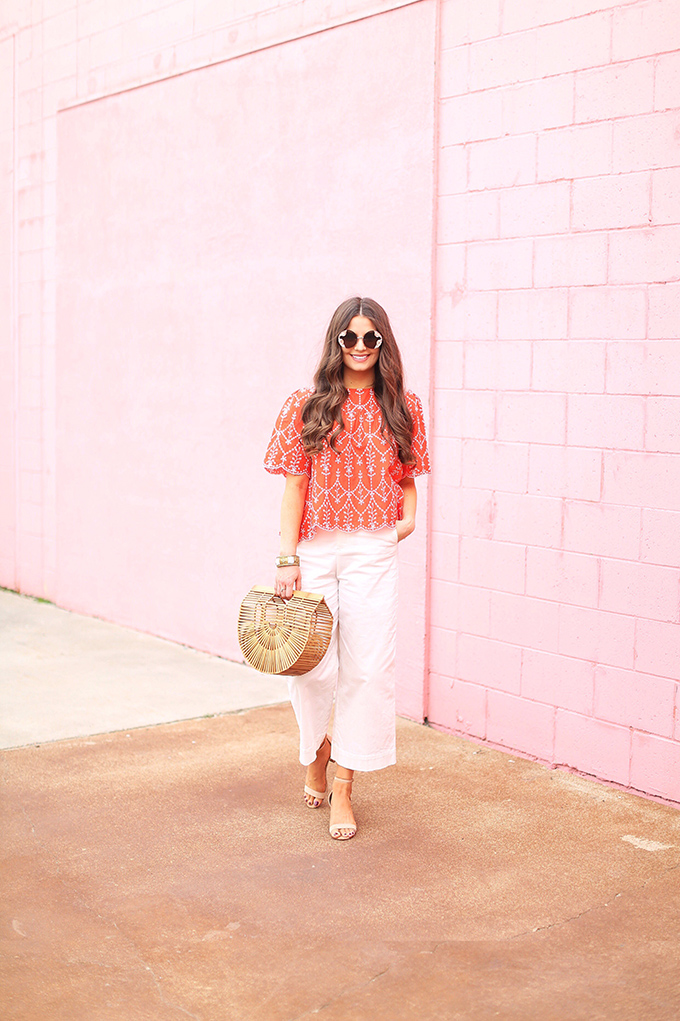 ---
AUTUMN STYLING
---
You can totally change up the feeling of an outfit by swapping out your accessories! Next up, I'm sharing how I'm styling my base outfit into autumn by changing up my shoes, bag, jewellery and sunglasses.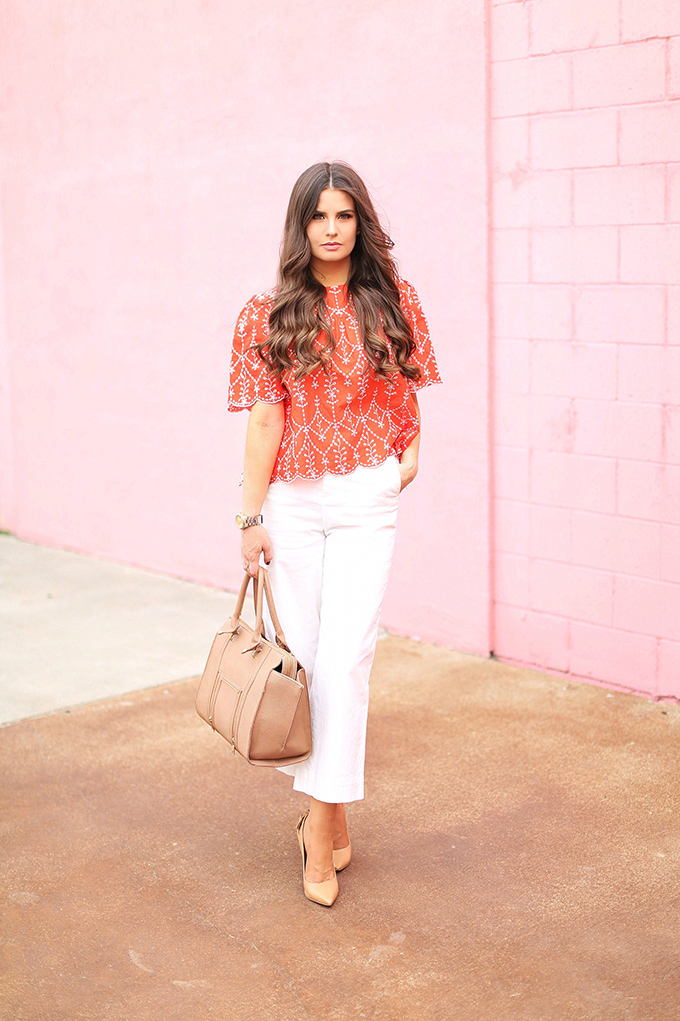 ---
COLOUR TREND | BUTTERUM
---
The first time I laid eyes on the PANTONE Fall 2017 Fashion Color Report I was in awe of all the gorgeous warm neutrals! Between Autumn Maple and Butterum, this fall is looking warm and toasty — and as someone who tends to prefer neutrals over black, I couldn't be happier about it! To switch this look up for autumn, I've paired 2 workhorse accessories in my professional wardrobe — both of which I own in multiple colours!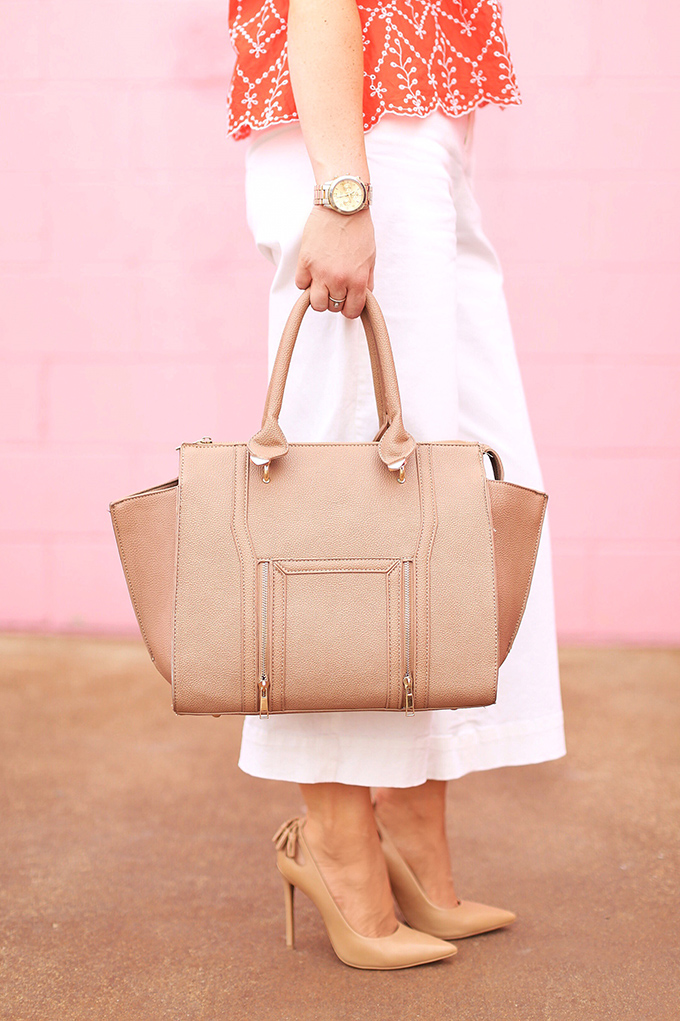 First, this stunning  Wing Woman Brown Handbag from Lulu's that probably looks familiar because I own it in 3 colours and have worn it multiple times here at JustineCelina over the years. I originally purchased it in black (that's the only one left in stock currently), but loved it so much I also picked up brown and tan versions. By far, they're my most worn handbags day to day. This stylish carryall is so practical for day-to-day because it has enough room for my laptop, iPad and notebooks / schedulers but keeps everything concealed! If you're lusting after an oversized Butterum handbag for autumn, I've rounded up some similar options for you.

---
TREND | SOFT LEATHER
---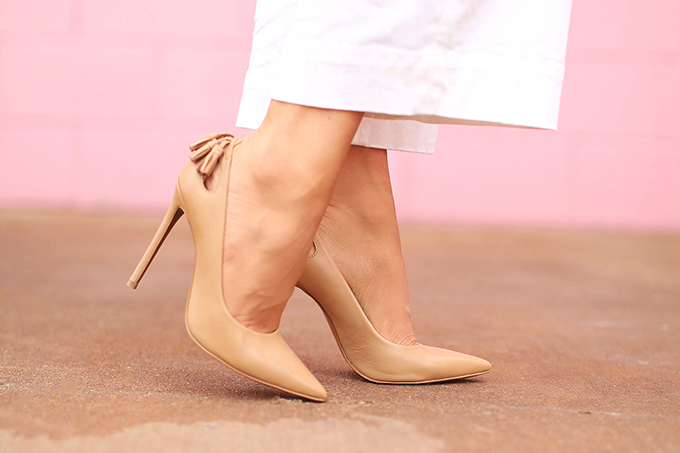 If you've ever read one of my SHOE GUIDES, you'll understand my love of buttery soft leather — and I couldn't be more pleased that it's on trend this autumn! Leather doesn't always have to mean tough and my favourite butterum, tasseled leather pumps are perfect for the season. If you're looking for an early autumn shoe recommendation — a soft leather, pointed toe, warm brown pump would be my pick (if these look familiar, mine are a couple of years old and still going strong!). Butterum shoes go with everything and are completely worth the investment!

---
TREND | THE 70'S
---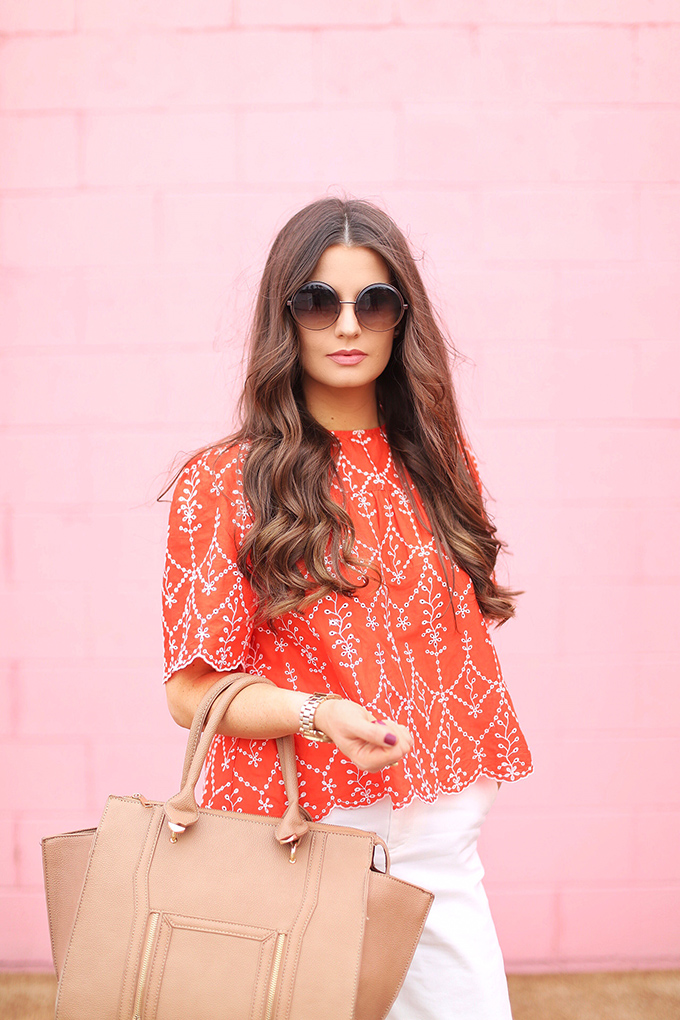 As someone who firmly believes they were born in the wrong decade, I'm pretty thrilled that 70's inspired styles are sticking around. From Pantone's heavily 70's influenced colour palette, to fabrics (think shearling and corduroy), to prints (think floral and disco inspired), to sunglasses — that 70's style is here to stay! While neither pairs of shades I'm wearing in this post are still available (they're pretty ancient!), I've rounded up a really fun collection of some great round styles are every pricepoint for you below.

---
TREND | WARM TONED MAKEUP
---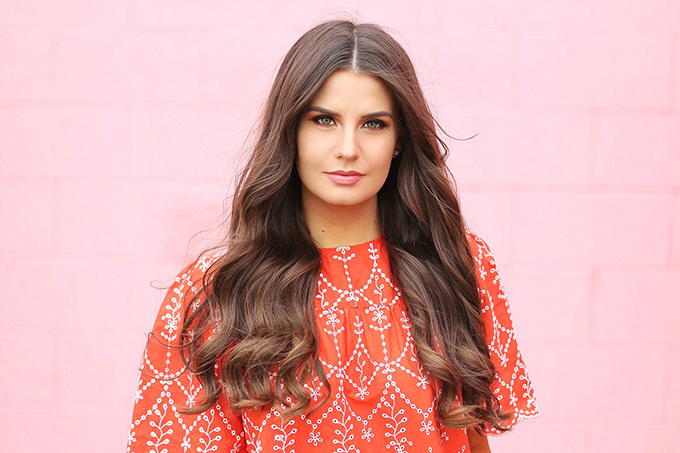 Another way I love to ease the summer to fall transition is by wearing summery outfits with more autumnal, warm toned makeup (this is also something I did in my Flowerchild post!). This month, I've been loving the Sephora PRO Warm Palette for a great warm neutral eye and NAILS INC. Dukes Road polish — it's a stunning mulberry shade that just screams autumn to me! Read more about these, along with my go-to lip combo and favourite blush in my upcoming August Beauty Favourites!

---
SHOP THE POST
---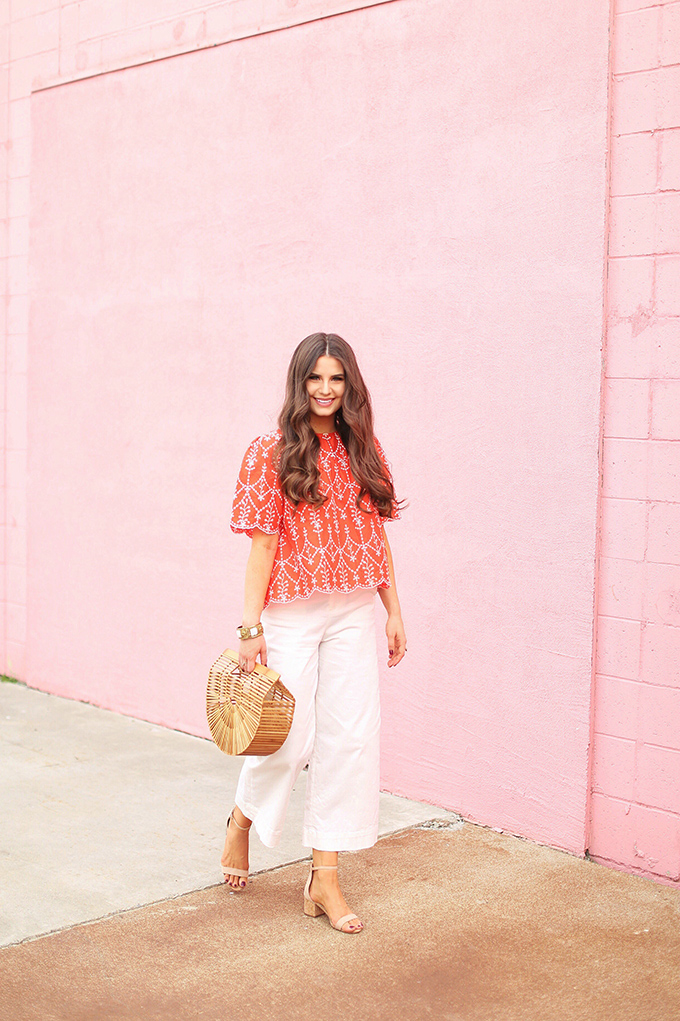 ---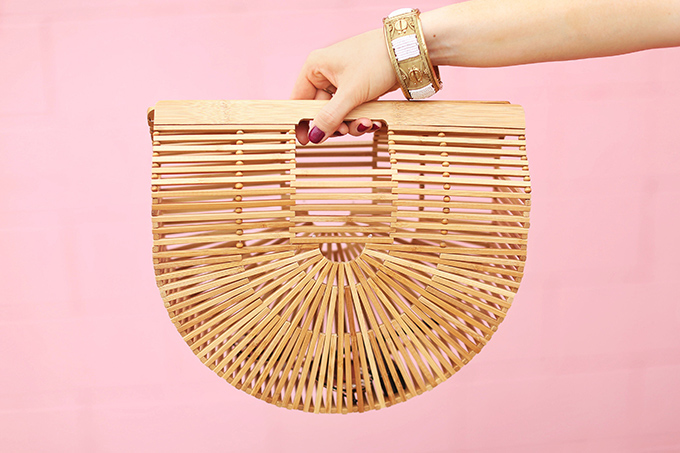 Are you looking forward to autumn? August and September are my favourite months of the year — and although I've really enjoyed my summer, I'm looking forward to fall. It's my favourite time of year for fashion, the scenery is absolutely beautiful here in Alberta and I also have so many fall recipes in my archives that I can't wait to publish (#basic)!
I'm currently planning autumn style content and a brand new series of TREND GUIDES — so if there's anything in particular you'd like to me to cover this season, please let me know! Enjoy your long weekend, everyone!
---
This look was featured in Narcity's '17 Hip Calgary Girls That Will Give You Major Back To School Style Inspo' roundup alongside other summer meets autumn outfit ideas from some of my favourite girls in our Calgary blogging community!
---
Disclaimer: This post is not sponsored, and contains my genuine thoughts, ideas and recommendations. JustineCelina uses affiliate and referral links, which allow me to receive a small commission when you make a purchase through one of my links. Thank you for supporting the brands and businesses that support JustineCelina!