Whenever I'm chatting beauty with someone, the most common question I'm asked what my favourite high end products are from different categories! I've always wanted to create a post that my readers, friends and family members can use as their ultimate resource to inform their luxury beauty purchases. Well my friends, today is the day! I've partnered with Sephora Canada to share a comprehensive guide of my all-time-favourite Luxury Products Worth the Splurge — the ones in my stash that I couldn't live without, have repurchased multiple times, use frequently on others, or that have completely wowed me lately!
If you've been reading JustineCelina for any length of time, you'll know that I love a mixture of drugstore and high-end products — I truly believe you can find great beauty products at any price point. Today I'm sharing products that are worth the extra investment — they're just that good (I promise the price tag is totally justified!). This mega post is organized into categories to highlight the best-of-the best products in every part of my routine — including skincare, haircare and of course, tons of beauty favourites. Want to upgrade your beauty regime? Looking for some early holiday gifting ideas? Taking advantage of annual sales? My friends, this post is for you! Kick back this weekend for my ultimate guide on what's worth your hard-earned cash this season!
---
LUXURY PRODUCTS WORTH THE SPLURGE
---
If you read any of my beauty posts this year, read this one! Today I'm rounding up all my favourite high-end beauty favourites from 2016 in one post. I absolutely love makeup, playing with beauty products and experimenting with different looks — over the years I've tried pretty much everything, but I'm definitely very particular when it comes to what I use and like. These are the absolute best, cream-of-the-crop products that I think can work for anyone. I continue to use and recommend these products again and again — not only for myself, but for family and friends of all ages, ethnicities and skintones. My Luxury Products Worth the Splurge include recommendations across skincare, haircare and beauty categories! This is a very comprehensive post — so set aside an hour, grab a notepad and a cocktail, and let's dive in!
My Luxury Products Worth the Splurge are categorized by section below. For each item, I've included the highlights, but also linked back to previous reviews and favourites shades if applicable. Just click on the coloured "Review" link for a full review on any product mentioned. If you like, you can also shop right from this post by clicking on the coloured product links. Let's get started!
---
SKINCARE
---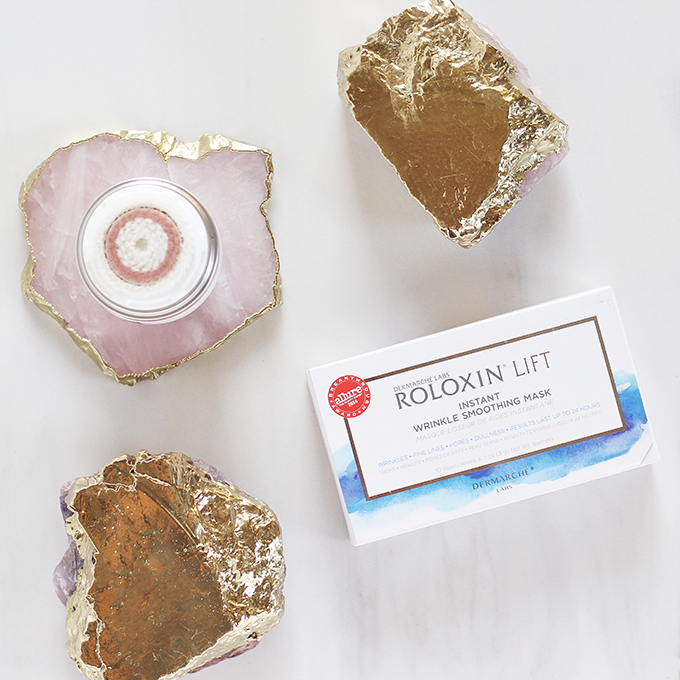 First and foremost, I firmly believe in investing in good skincare and tools. Coming from someone who had horrible skin in my early through mid 20's, know that I speak from a place of experience when I say great skin will help you feel more confident and empowered. You can have the very best beauty products money can buy, but you won't look (or feel) your best best unless your skin is in check. Longtime readers will know that I'm a huge fan of Paula's Choice Skincare products and they completely transformed my skin — at this point I won't even try anything else at the core of my everyday routine! That said, there are some products that Paula's Choice doesn't offer that I need to look elsewhere for. The Clarisonic is one of them!
C $229.00
If you're looking for a crash course on Skincare 101 and My Routine for Happy, Healthy Skin then be sure to hop over to that post. In it, you'll find the Clarisonic — an indispensable tool at the heart of my skincare routine. I use my Clarisonic every single morning on the lowest setting to physically exfoliate my skin and prepare it for the day. Recently, I upgraded from my Clarisonic Mia3 Sonic Skin Cleansing System (which I've been using consistently for over 2 years) to the Clarisonic Mia Fit and I've been loving it! The technology is exactly the same, but the device is more compact, which works better for my lifestyle. Traveling with it is a breeze (it came along with me this weekend to Christmas in November!) and the charging station is sleek, simple and USB (or wall) compatible.
Dermarche Labs Roloxin Lift Instant Skin Smoothing Masque
C $99.00
I'm at the point in my life where I like my skin to look firm, smooth and lifted — you feel me, ladies? While I personally haven't undergone cosmetic procedures, I'm all about finding great skincare solutions to help preserve what I have naturally and give me the best skin possible. While I love the Paula's Choice Skin Balancing Oil-Absorbing Mask when my skin needs a deep cleansing, I also love the Dermarche Labs Roloxin Lift Instant Skin Smoothing Masque for completely different reasons. I use these glamorous, individually packaged masks — designed to mimic the effect of a facelift for 24 hours — before special occasions or events when I want my face to look its best! Although I'm doing pretty well in the firmness department, I do notice a visible difference in both lifting and smoothness when I use my Roloxin Lift. These masks are pricey (C $99 for 10), but when you break down cost-per-use for special occasions it's totally justifiable!
---
FACE
---
Foundation
---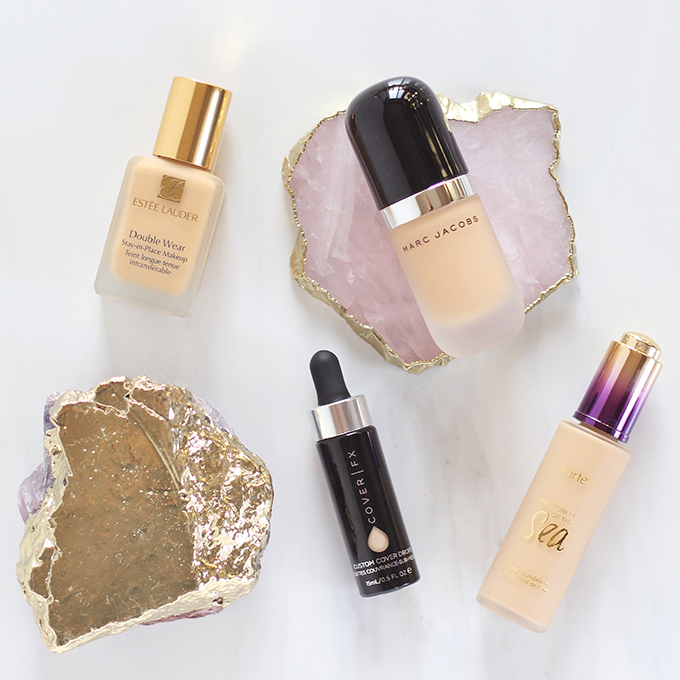 After great skincare, investing in quality base products is key. A beautiful foundation can transform your skin into the perfect canvas to allow anything you put on top to look its best. While I do enjoy drugstore foundations, I've never been able to find similar foundations to these ones at a lesser price point. My favourite high-end foundations are elegant, unique formulas that provide great coverage and a generally matte look on my combination skin.
P.S. – I'll always list more information about my skin and foundation shade comparisons at the bottom of a post when I mention a foundation if you're curious if my shade may work for you.
Marc Jacobs Beauty Re(marc)able Full Cover Foundation Concentrate in Bisque Neutral 27
C $69.00
I discovered the Marc Jacobs Beauty Re(marc)able Full Cover Foundation Concentrate this past summer and it's since become my most worn foundation of 2016. If you love a good full coverage that still looks like skin and is comfortable to wear, you might love this one! While it's not my go-to foundation for everyday wear, it's great for special occasions and it photographs very well.
>> Full Review
Estée Lauder Double Wear Stay-in-Place Makeup in 2W2 Rattan
C $45.00
Estée Lauder Double Wear is like an old friend. I wore it religiously for 6+ years when I was having skin issues, so it will always hold a special place in my heart. It's a full coverage, long-wearing matte foundation that is seriously bulletproof, and I've always used it as a benchmark to compare other long-wearing foundations to — in fact, I fell back in love this month with it when testing foundations to include in this post! It contains SPF, so the only downside is that it has a nasty flashback / whitecast in flash photography — but otherwise it's fantastic.
>> Full Review
tarte Rainforest of the Sea Water Foundation in Light-Medium Neutral
C $47.00
This is a recent discovery that I was blown away by! If you like good coverage, but you also like lightweight, natural products, you no longer have to compromise with this innovative formula from tarte! The tarte Rainforest of the Sea™ Water Foundation is a weightless, full coverage, hydrating (but not too hydrating!) foundation that wears surprisingly really well on my combination skin. I have a feeling I'm going to be reaching for a it a lot on more natural days this winter!
>> Full Review
COVER FX Custom Cover Drops in G20
C $56.00
I discovered the COVER FX Custom Cover Drops in late 2015. They're a truly innovative, irreplaceable product that have been a staple in my regime ever since! It's hard to find good yellow-undertoned foundation shades that are light enough for me in the winter, so I use shade G20 to lighten my foundation. This way they're light enough, but still yellow enough, too (fair foundations are notorious for their pink undertones). There are a million different ways you can use these drops — make your own BB or CC cream by adding them to skincare, lighten or darken foundation, increase coverage of a lighter coverage foundation, or use them solo to spot conceal.
>> Full Review
---
Base Product Application
---
C $28.00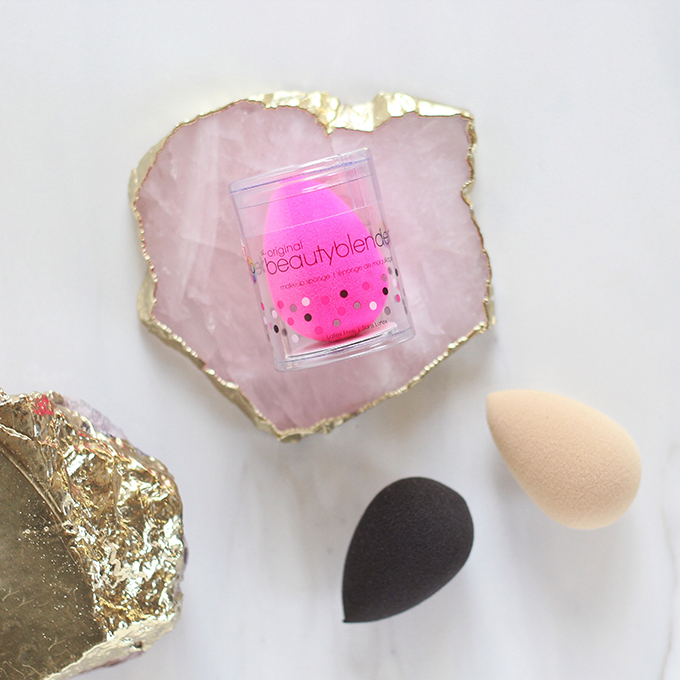 I love a variety of different makeup application tools and brushes, but one constant luxury product in my routine is my trusty beautyblender. Not a knock off — the original $28 sponge. Think I'm crazy? The beautyblender is the single most important tool in my makeup bag! In fact, I can't do my makeup without it. I've tried many imitators and nothing compares to the original. This magical egg shaped sponge creates the most flawless base. I've used it on women aged 20 – 75 — and everyone loves it! I also use the beautyblender to smooth out and blend in my undereye concealer. And, I use it to set my concealer (and my whole face) with loose, translucent powders (which you'll learn more about below). My current favourite is the beautyblender pro because I find it gives a fuller coverage and more dense application, but if you're looking to try your first beautyblender, I'd recommend either the original or the nude versions.
>> Full Review
---
Setting & Finishing
---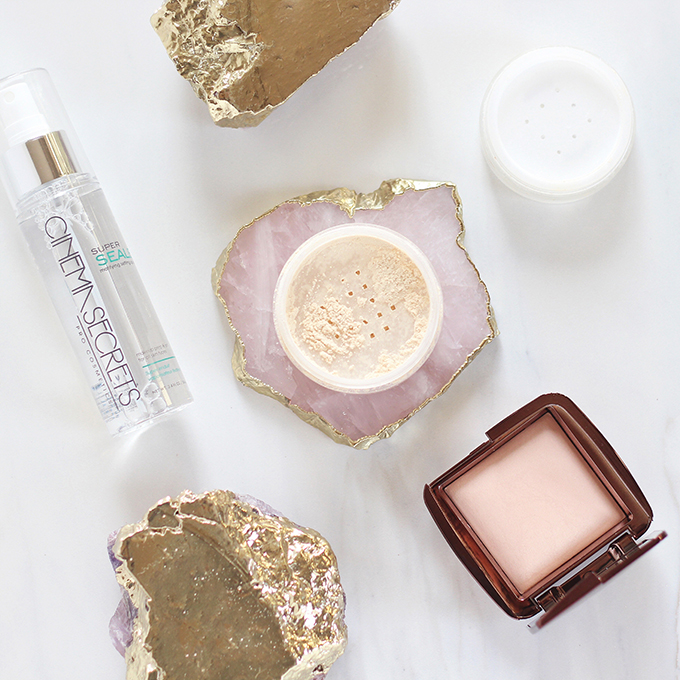 Tarte Smooth Operator Amazonian Clay Finishing Powder
C $41.00
Hands down, this is the best loose setting powder for the under eye area that I've ever tried! It really does make your skin look totally smooth and airbrushed. My favourite way to use it is to set my under eye concealer with a damp Beauty Blender. It's a perfect match with the It CosmeticsBye Bye Under Eye and I've gone through a few jars of it!
>> Full Review
Laura Mercier Translucent Loose Setting Powder
C $47.00
This is another product I discovered during the summer when my skin tends to be more oily. I started using a damp Beauty Blender coated with the Laura Mercier Translucent Loose Setting Powder to set my face (excluding the undereye area, which I use the Tarte Smooth Operator Amazonian Clay Finishing Powder for). I've been using the Laura Mercier powder to set my face this way ever since! This combo and method of application does an amazing job at keeping me matte throughout the day — and it's also undetectable on the skin.
>> Full Review
Hourglass Ambient Lighting Powder in Dim Light
C $55.00
This product became indispensable to me this year. After running through the entire pan of Dim Light in my Hourglass Ambient Lighting Palette, I picked up the full-sized version of Dim Light — an ultra smooth finishing powder that captures, diffuse, and soften the way light reflects on skin. This powder seriously makes you look airbrushed in real life (I've received that comment on more than a few occasions) and gives the skin a soft focus effect. I use Dim Light with a big fluffy brush once I have my all my makeup on to swirl everything together and make it look blended and cohesive.
>> Full Review
C $34.00
Leave it to a professional makeup artist who spent 50 years working on Hollywood movie sets to create a truly amazing makeup setting spray — that also doubles as a primer! Although I tend to switch up my setting sprays, I've found a keeper in the Cinema Secrets Super Sealer Mattifying Setting Spray. I use this both to prime my face for makeup, as well as to lock everything in place once I'm finished. It works beautifully to keep my makeup looking fresh and relatively shine free throughout the day while prolonging its wear. This stuff sets your makeup to an almost waterproof state and was designed to be used in humid climates and under theatrical lights — so it's definitely not for everyday use, but it's perfect for special occasions!
---
Contouring & Bronzing
---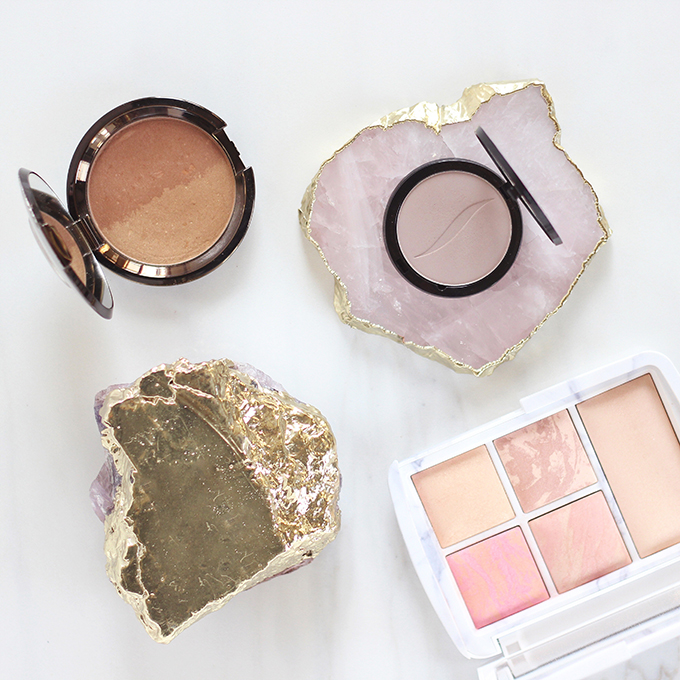 SEPHORA COLLECTION Colorful Face Powders in 26 Tranquil
C $19.00
As far as high-end products go, this beautiful contour powder from SEPHORA COLLECTION is very reasonably priced. It's a newer find but I know it's going to be on heavy rotation in my beauty routine — this very cool, grey-toned powder is the most effective product I've ever used to mimic the look of natural shadows on the skin. I use it underneath my cheekbones, jawline, bottom lip and along the sides of my nose to make everything look angular and defined. Stay tuned for a closer look in my monthly beauty favorites post!
BECCA Shadow & Light Bronze / Contour Perfector
C $48.00
This is such a unique, compact contouring and bronzing duo. I use the dark shade to contour and add dimension and the lighter shade to bronze. The darker shade adds subtle definition, and lighter shade is very golden-toned — so you're never at risk of looking orange. The BECCA Shadow & Light Bronze / Contour Perfector is my go-to product when I want a natural look.
>> Full Review
---
Blush
---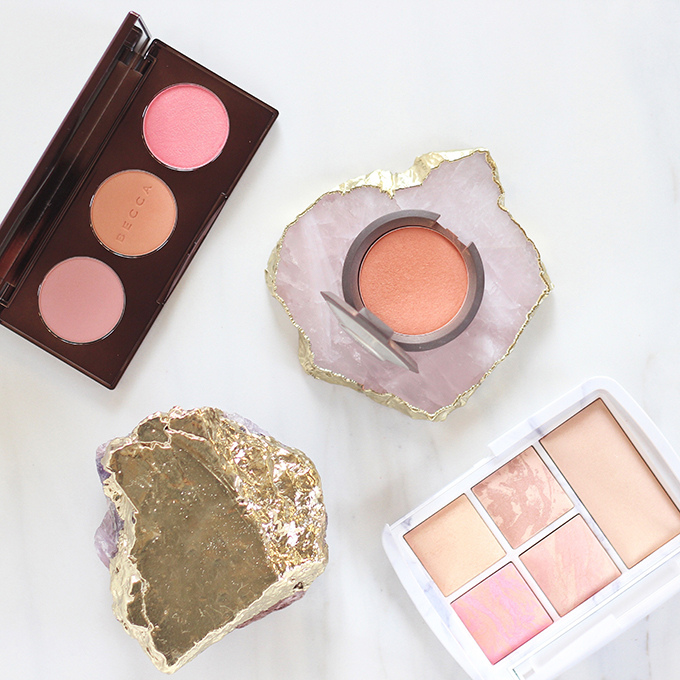 Hourglass Ambient Lighting Blushes
C $45.00
These blushes are a bit of a splurge, but they're also the most unique and beautiful blushes I've tried to date. They impart such a natural, soft flush to the cheeks with just a hint of luminosity — because they also contain the Hourglass Ambient Lighting Powders (which you already know I adore!). If you're looking to treat yourself to a luxury item, pick up an Hourglass blush. My favourite shades are Luminous Flush, Diffused Heat, Mood Exposure and Incandescent Electra. Looking to sample a few shades? I've been loving the blush shades in the Hourglass Ambient Lighting Edit – Surreal Light Holiday 2016 palette, which we'll be taking a closer look at later this month!
>> Multiple Reviews

BECCA Mineral Blushes
C $39.00
Becca Mineral Blushes are a classic, staple product for me. They're extremely creamy and pigmented, but very blendable. I love the unique shades in this range. My favourites are Songbird, Flowerchild and Wild Honey — and you can pick up the limited edition BECCA Blushed with Light Palette for Holiday 2016 if you'd like to sample a few gorgeous shades from the range (Songbird is included)!
>> Multiple Reviews
---
Highlight
---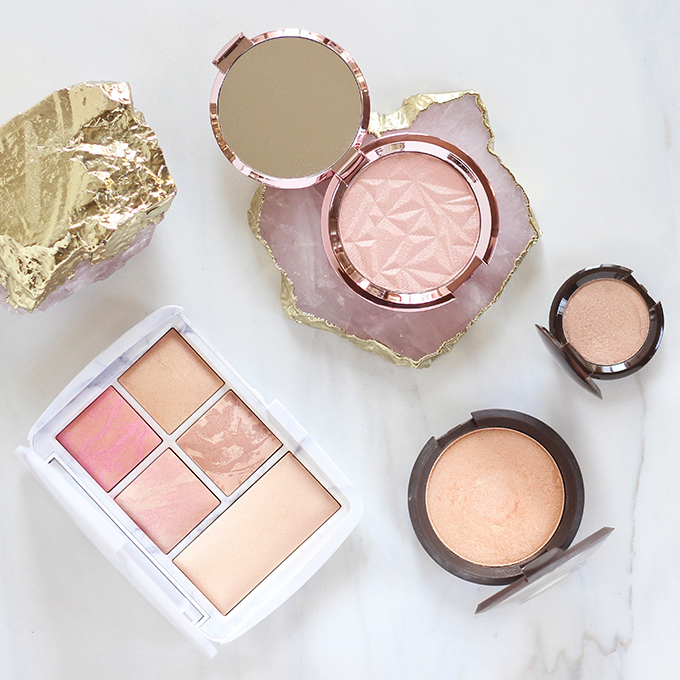 Becca Shimmering Skin Perfectors

C $46.00

If you're looking for a fantastic luxury highighter, you really can't go wrong with Becca Shimmering Skin Perfectors! I love so many of them, but my all-time-favourite has to be the Shimmering Skin Perfector Pressed in Champagne Pop. It's the most gorgeous highlighter I've ever used and suits literally every age and skintone! This autumn, I really got into Opal, which is a bit darker and cooler toned than Champagne Pop. My more recent obsession is the limited edition Rose Quartz Shimmering Skin Perfector for Holiday 2016 (which isn't available online at this time, but is currently available in store). If you've been reading for awhile you'll have heard me mention rose quartz — it's one of the Pantone Colors of the Year for 2016. We'll be taking a closer look at Rose Quartz later this month — it's a gorgeous light pink with golden undertones!
>> Multiple Reviews
Hourglass Ambient Lighting Powders
C $70.00
When I want a more subtle glow, the Hourglass Ambient Lighting Powders are my jam. These powders have such a blurring, smoothing quality on the skin. I wear them all the time for blog shoots, or any time I know I'll be photographed! I use any of the lighter, more luminous shades (like Ethereal and Luminous Light) to impart a subtle, daytime appropriate glow to my skin. Again, if you're wanting to sample a few Hourglass powders, pick up the Ambient Lighting Palette (permanent) or the Hourglass Ambient Lighting Edit – Surreal Light limited edition Holiday 2016 palette.
>> Multiple Reviews
---
EYES
---
Brows
---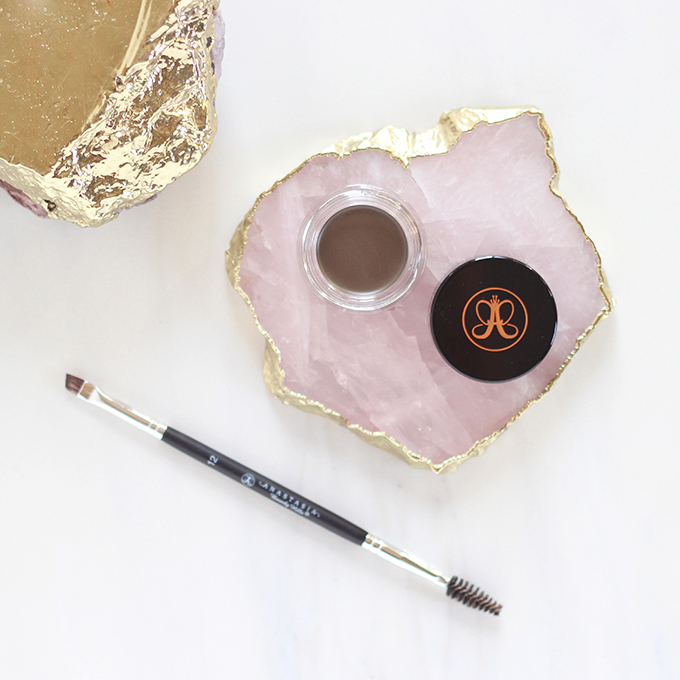 Tweezerman Pink Perfection Slant Tweezer
C $29.00
I really couldn't live without these tweezers — they're the best I've ever used! The Tweezerman Pink Perfection Slant Tweezers are ultra-precise, so you can literally get every single stray hair.
>> Full Review

Anastasia Beverly Hills DIPBROW Pomade in Dark Brown
C $23.00
I've been using this pomade since early 2015 — with a brief intermission where I tested the waters with a pencil product. I completely used up my first pot of the Anastasia Beverly Hills DIPBROW Pomade in Dark Brown (yes, it lasted about a year and a half!) and grabbed a fresh one just in time for this post! This pomade is my favourite way to fill in my brows and add dimension — Dark Brown is a perfect match for my medium brunette hair. I love the way you can use this product for both a natural look, or a more intense brow (and, eyeliner in a pinch!). Plus, it's totally waterproof.
>> Full Review
Anastasia Beverly Hills Brush #12
C $23.00
Anastasia Beverly Hills knows how to do brows right! I recently converted to using the Anastasia Beverly Hills Brush #12 along with my DIPBROW Pomade and was amazed at the results. This brush is stiff and ultra precise — which really allows you to carve out your brow, then comb through your work with the spooley brush for grooming and blending.
---
Eyeshadow
---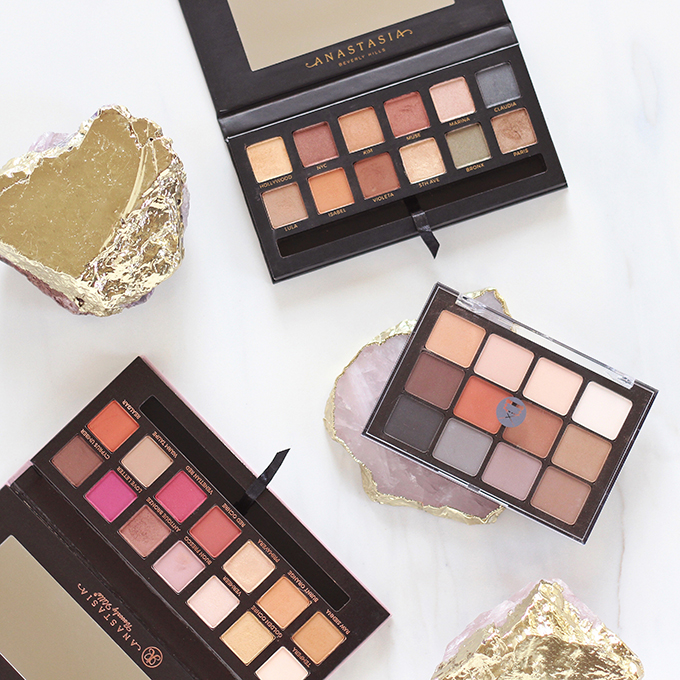 Let me preface this section by saying that there was a long time where that I felt brands like MakeupGeek and Colourpop Cosmetics had an edge over high end shadows. There was about a 3 year window where I didn't purchased a single high ends palette and looked to these smaller, indie brands to create my own custom palettes with single shadows.
In the past year or so I've noticed high end beauty brands really stepping up their eyeshadow formula game! We're now seeing some incredible, professional quality shadows cropping up at Sephora. The palettes I'm sharing with you today would make a fantastic addition to any beginners, makeup lovers or even makeup artists stash! While the palettes themselves are a bit spendy, when you break down the price per shadow, the cost is actually quite reasonable for these incredible, professional quality shades.
Anastasia Beverly Hills Master Palette By Mario
C $59.00
You guys, these are some of the most pigmented eyeshadows I've ever used — and trust me when I say I've used a lot of eyeshadow over the years! The Anastasia Beverly Hills Master Palette By Mario is a collaboration between celebrity makeup artist Mario Dedivanovic (MUA to Kim Kardashian, among others!) and Anastasia Beverly Hills. If you're a neutral girl looking for a fantastic quality eyeshadow palette that can take you from everyday to super smokey, look no further! This palette features twelve neutral and jewel-toned shades in a range of matte to metallic finishes — and I love the matte formula just as much as the metallic. Each shade is super creamy, ultra pigmented and easy to blend.
>> Full Review
Anastasia Beverly Hills Modern Renaissance Eye Shadow Palette
C $55.00
Here's another beautifully formulated palette from ABH that veers away from the neutral norm. As a green-eyed gal, I'm totally crazy about this selection of stunning warm neutrals! If you're looking to expand your eyeshadow collection or are swooning over this unique, autumnal shades, I can't recommend the Modern Renaissance Eye Shadow Palette enough! Like the Master Palette By Mario, each of these 12 shades are pigmented, buttery and blendable. I also enjoy the palette concept — which was designed to be a present-day spin on popular Renaissance shades.
Viseart Eyeshadow Palette in 01 Neutral Matte
C $100.00
If you're a matte eyeshadow lover or looking to add some fantastic quality matte shadows to your stash, I encourage you to give Viseart a look! This professional brand was well known by makeup artists before becoming more widely available and sold at Sephora last year. The 01 Neutral Matte Palette is a compact, all-matte, professional eyeshadow palette that offers 12 versatile powders that can be to define the eyes and brows as well as contour and shade the face. It's a fantastic palette for travel as well!
>> Full Review
---
Eyeliner
Kat Von D Tattoo Liner in Trooper
C $25.00
I tried so many other black liquid eyeliners this year, but other than my Elizabeth Arden Beautiful Color Bold Defining Liquid Liner in Dark Valentine nothing comes close to my beloved Kat Von D Tattoo Liner in Trooper. The unique, very fine, brush-tip applicator makes it easy to get a perfect wing! Plus, it's waterproof and the pen lasts forever.
>> Full Review
---
Eyelashes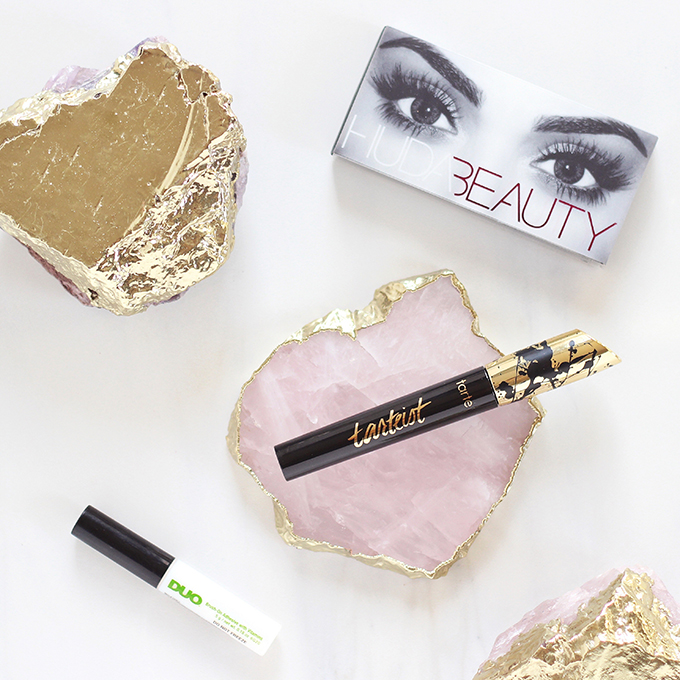 tarte Tarteist Lash Paint Mascara
C $28.00
I love a mixture of high end and drugstore mascaras, but my currently high end favourite is the tarte Tarteist Lash Paint Mascara (expect to see it in action in my monthly beauty favourites post!). This is a super black, very defining and lightly volumizing mascara — which is just what I like! The formula doesn't irritate my ultra sensitive eyes, it doesn't flake or smudge, and it also works beautifully on my bottom lashes! If you're looking for some other high end mascara recommendations, my other favourites include the tarte Lights, Camera, Lashes 4-in-1 Mascara as well as the Clinique High Impact Mascara.
>> Review
Huda Beauty Faux Mink Lash Collection in #13 Jade
C $29.00
Even when I'm wearing false lashes, I prefer a more natural look. This autumn, I've been experimenting with faux mink styles — I love the glamorous, fluffy look they give my lashes! The Huda Beauty Faux Mink Lash Collection in #13 Jade are absolutely stunning on. They're on the more demure side of dramatic and they're extremely well crafted — I can see a single pair lasting a very long time! And if you're a fellow contact lens / sensitive eyed gal hunting for a good lash glue, make sure you pick up a tube of the Duo Brush on Adhesive with Vitamins — it works beautifully and doesn't irritate my eyes.
---
LIPS
---
Lipstick
---
Traditional Lipstick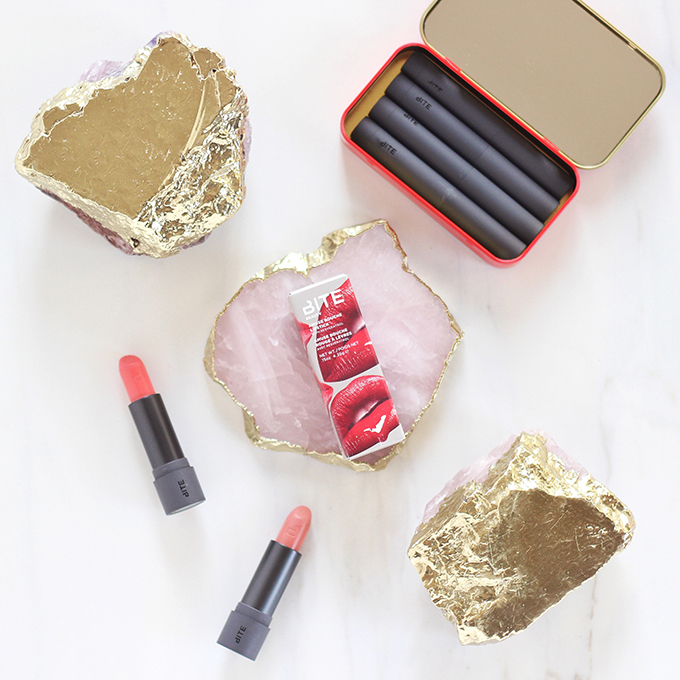 C $30.00
Of all the brands available as Sephora, Bite Beauty is one of my all time favourites. Looking to treat yourself to an extremely luxurious lipstick this season? Try the Amuse Bouche formula from Bite Beauty — it's the Dom Perignon of lipstick! It literally feels like you're slathering butter onto your lips — in the best way possible. The shades are beautiful, plus they're made with natural, food grade ingredients. And they're Canadian! I love so many of their shades and look forward to picking up limited edition offerings from the Bite lipstick range each holiday season. I also love their Matte Crème Lip Crayons and have mentioned and worn them many times here at JustineCelina. You'll be hearing more about Bite's holiday collection very soon!
>> Multiple Reviews
---
Liquid Lipstick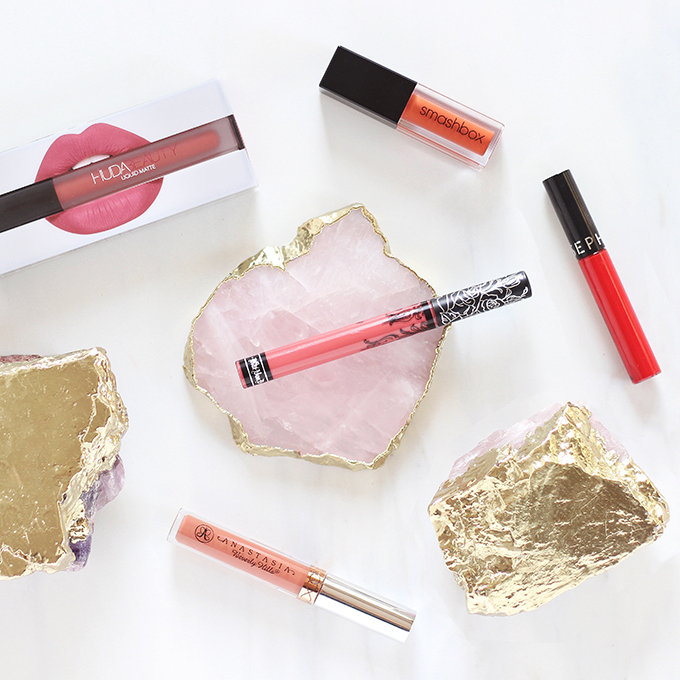 This autumn I shared my 5 Liquid Lipsticks to Try this Fall post — where I matched my all-time-favourite high end liquid lipsticks up to the Fall 2016 PANTONE Fashion Trend Report. Hop over there to learn more about my favourite liquid lipstick formulas in on-trend shades including the Smashbox Always On Matte Liquid Lipstick, the Kat Von D Everlasting Liquid Lipstick, the Sephora Collection Cream Lip Stains and the Anastastia Beverly Hills Liquid Lipstick. Since publishing that post, I discovered the Huda Beauty Liquid Matte Lipstick range (which is an online exclusive in Canada) and have also fallen in love with that formula! Expect to see my full review on my current favourite shade, Icon, in November's Beauty Favourites.
---
Lip Gloss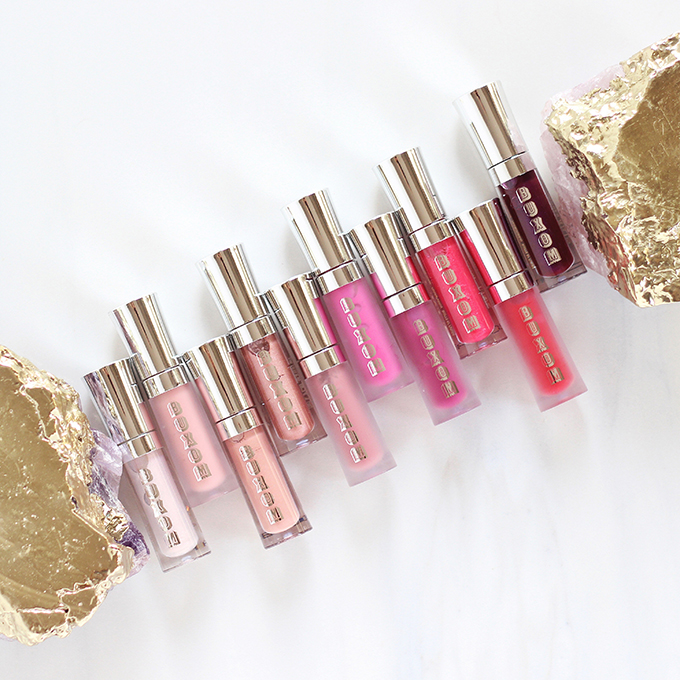 Buxom Full On Lip Polish & Lip Cream
C $24.00
I have so many shades in the Buxom Full On Lip Polish & Lip Cream formulas. They're my favourite lip glosses — ultra glossy, the shade range is huge, and they're slightly plumping on the lips. The shades pictured are part of a limited edition Buxom Freezes Over set for Holiday 2016 — I look forward to Buxom's holiday sets each year where I can pick up multiple shades in a mini format! They're perfect for gifting (and you can always keep a few for yourself, too!).
>> Multiple Reviews
---
FRAGRANCE
---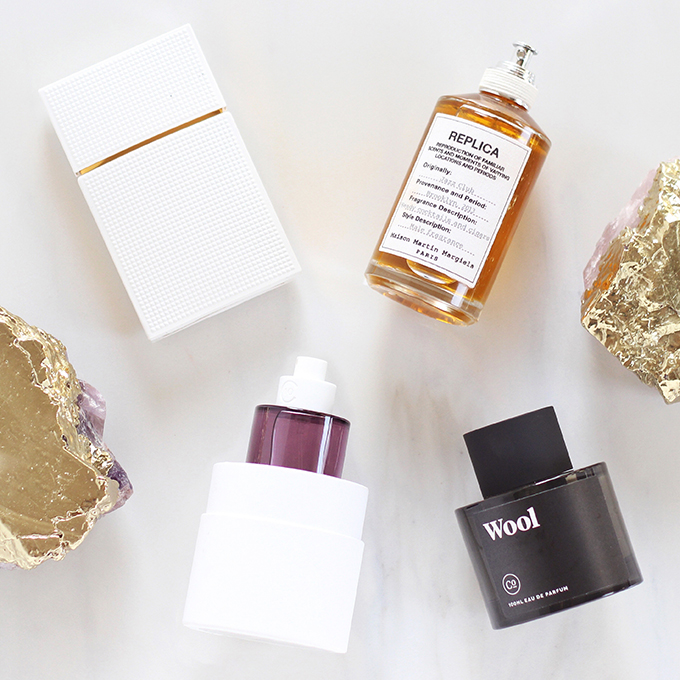 In my eyes, a beautiful fragrance is definitely worth the investment. Fragrance has always had a special allure for me and over the years I've collected quite a few favourites! If you're interested in learning more about my favourite cool weather fragrances for 2016, check out my Autumn / Winter 2016 Fragrance Edit post, where I share 10 of favourite seasonal scents. Since publishing that post, I've totally fallen for Commodity's Wool (which is an online exclusive) — you can expect to read more about it in my Monthly Beauty Favourites post!
---
HAIRCARE
---
Basically anything from Drybar!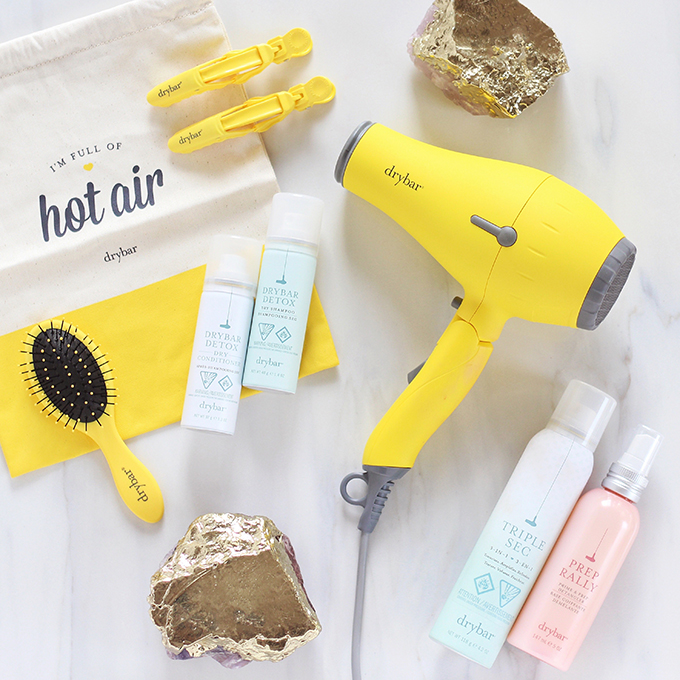 If you're looking to treat your locks to the very best this season, look no further than Drybar products and tools! I've been a long time user and lover of their Triple Sec 3-in-1 volumizer, texturizer and dry shampoo and have recently discovered some new favourites from the brand.
The Drybar Let it Blow! It's Drybar to Go The Ultimate Travel Essentials Kit includes everything you need to create a professional blowout on the go — it's also here with me in Jasper this weekend! I love the powerful blowdryer that doesn't feel mini at all (it was tested to deliver 100% of the power and performance of most professional full-size dryers), hair clips for sectioning your hair off while you're styling it (hallelujah!), a mini version of their best selling brush and travel sizes of the Detox Dry Shampoo and Conditioner — all housed in an adorable travel pouch!
I've also been loving Drybar's Prep Rally Prime & Prep Detangler. I like to spray it into my damp hair before I blowdry (or let it air dry). It smells like a spa (which is different from Drybar's signature scent) and leaves my hair feeling manageable and soft.
---
T3 Whirl Trio Interchangeable Styling Wand
C $350.00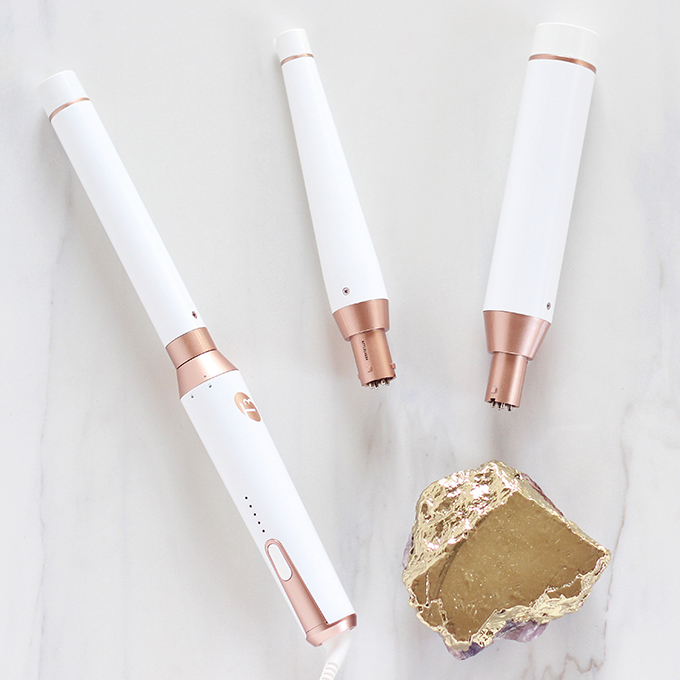 Longtime readers will know I love Sultra curling wands. I've mentioned them a few times here at JustineCelina and I've owned both of mine for about 6 years. At the time I purchased them, Sephora did carry Sultra — but they no longer do. Sultra is actually next to impossible to find in Canada and even quite difficult to order online without going through a third party, so I wanted to find something more accessible to share with you in the styling tool category!
I found a fantastic, (even upgraded!) curling wand option in the T3 Whirl Trio Interchangeable Styling Wand! I love everything about this set — from the versatility of the interchangeable barrels, to the gorgeous, sleek design, to how long my curls last with these styling wands (until I wash them out — which is pretty amazing for someone with tons of super fine, slippery hair)! Although the set is pricey, when you break it down to cost per iron, it's quite reasonable — in fact it works out to be less that I originally paid for my Sultra styling wands. If you're looking to invest in a fantastic styling wand set with the flexibility to create multiple looks I can't recommend the T3 Whirl Trio Interchangeable Styling Wand enough!
---
ABOUT MY SKIN
---
Skin Type
Combination, sensitive, acne prone. I only use fragrance free skincare products.
Skin Tone
Light / medium with yellow-warm undertones | MAC NC 25 – 30
Foundation Shade Comparisons
Best match: Estee Lauder Double Wear Stay-in-Place Makeup | 2W2 Rattan
Marc Jacobs Beauty Re(marc)able Full Cover Foundation Concentrate in Bisque Neutral 27
tarte Rainforest of the Sea™ Water Foundation in Light-Medium Neutral
Makeup Forever Matt Velvet + Mattifying Foundation | 40 Natural Beige
COVER FX Custom Cover Drops in G20 to lighten foundations
---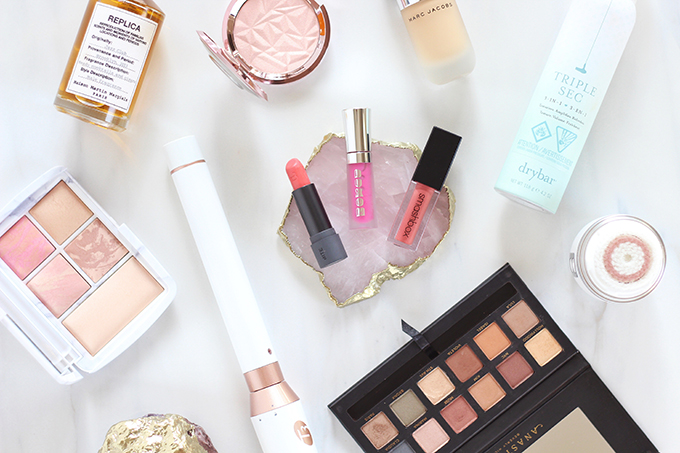 I hope you enjoyed this comprehensive guide to my favourite Luxury Products Worth the Splurge! What are your favourite luxury beauty products? If you have any recommendations for me, or just want to chat beauty, leave me a comment! I hope you're all enjoying your weekend — I'll be back in action early next, but enjoying ever last second of our time in Jasper until then!
---
Disclaimer: Thank you to Sephora Canada for sponsoring this post. JustineCelina uses affiliate and referral links, which allow me to receive a small commission when you make a purchase through one of my links. Thank you for supporting the brands and businesses that support JustineCelina.com!