---
What better way to welcome a new month than with some new beauty goodies? My June 2016 Beauty Favourites is a comprehensive review of what I've been loving in the beauty department lately — so grab a snack or cup of tea and get comfy! This month I'm chatting about some exciting new brands and products launching at Canadian London Drugs stores, a full coverage, high end foundation, some gorgeous pink lip products, a fantastic drugstore contouring and highlighting kit, a flexible hold hairspray that gives me tons of volume and a gorgeous, universally flattering foiled eyeshadow from Makeup Geek!
I was splitting my time last month between my home in Calgary and my childhood home in rural Alberta, so I've really been able to get a handle on some new products that I packed in my makeup bag to test out. Stay tuned to learn more about some great new drugstore products and a few high end ones, too!
---
JUNE 2016 BEAUTY FAVOURITES
---
US $10.00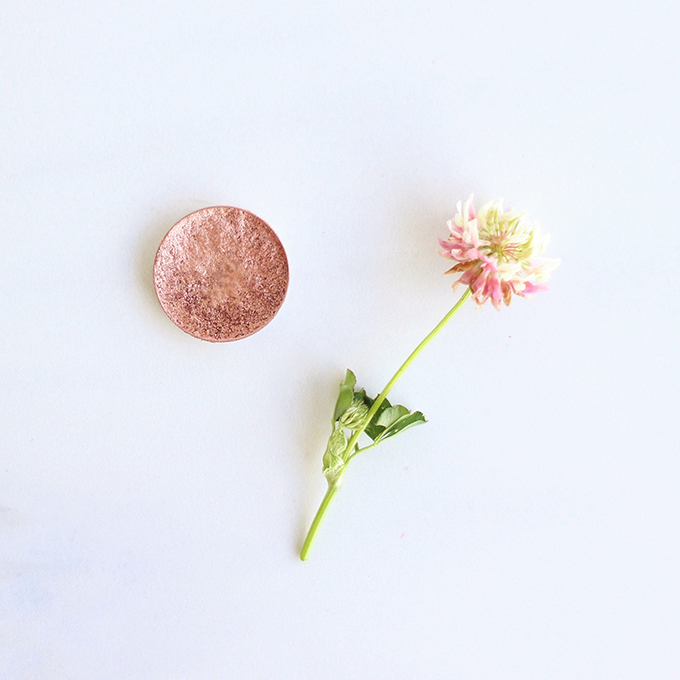 I reached for Makeup Geek Foiled Eyeshadow in Grandstand almost every single time I wore makeup this past month. As you can see from the photo, this pan is extremely well loved! It's one of the most unique eyeshadows I own and I find that it also manages to coordinate with any other makeup I'm wearing. Makeup Geek describes the shade as a medium rose gold with slight taupe undertones and a foiled finish — and I think in flatters green eyes especially well! I love to wear it with it with a warm nude lip (like the Sigma Power Stick in In Spades, which I mention below) and bronzed skin. Of the entire foiled eyeshadow range, Grandstand is my favourite shade and I think it would be gorgeous on every eye colour!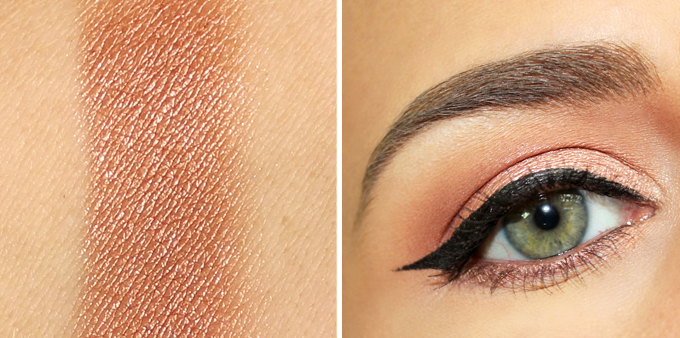 I'm wearing the Makeup Geek Foiled Eyeshadow in Grandstand on my upper lid and below my lower lashline.
---
C $69.00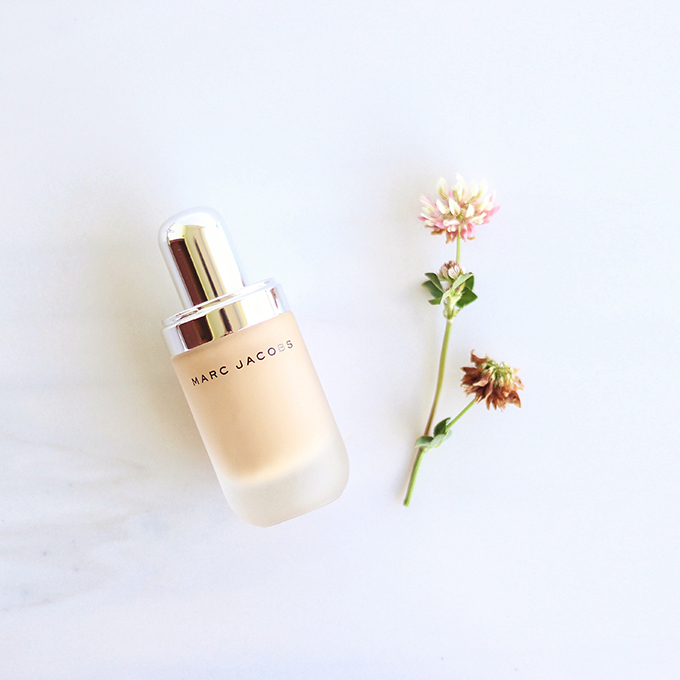 Remember a few months ago when I mentioned I wanted to try a new foundation? Well, I found my new favourite in the Marc Jacobs Beauty Re(marc)able Full Cover Foundation Concentrate. If you're not a full coverage kind of girl this foundation isn't for you. But if you love a good full coverage that still looks like skin and is comfortable to wear, you might love this one! While it's not my go-to foundation for everyday wear, it's great for special occasions and it photographs very well. I found my perfect colour match in Bisque Neutral 27 — which Marc Jacobs Beauty describes as fair with yellow undertones (if you're curious, I'll always leave more information about my skin type and foundation shades at the bottom of a post where I chat about foundations!). I find the foundations in this range to run dark and run yellow, which is great for light / medium skinned gals like myself.
This is definitely the fullest coverage foundation I've ever used — when they instruct you to use 4 dots for your full face, they mean it! I apply a dot to my forehead, a dot to my chin and one to each cheek and work it into my skin with my fingers (which is how I prefer to apply foundation in general, but the heat of your fingertips helps to melt the foundation into the skin especially well). 4 dots of this concentrated product gives me a natural full coverage, without looking cakey. It also provides a healthy looking, demi matte finish that holds up all day on my combination skin. It reminds me of the COVER FX Custom Cover Drops (which I reviewed here) but in a thicker, more slippery formula for enhanced blendability.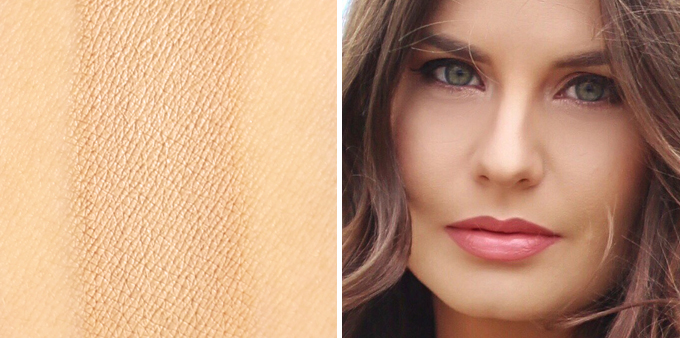 I'm wearing the Marc Jacobs Beauty Re(marc)able Full Cover Foundation Concentrate in Bisque Neutral 27.
---
US $15.00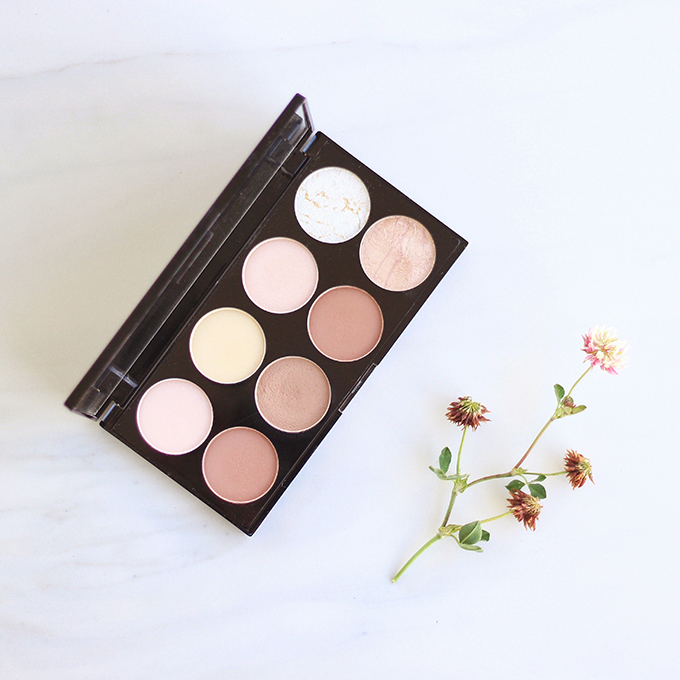 Earlier in June I attended the Calgary #LDBeauty event to preview some exciting new launches and products coming to Canadian London Drugs stores this summer. Of all the new brands we previewed, I was most excited for the launch of Makeup Revolution in Canada! I feel like for the past few years Canadian drugstores have been behind on what's happening in the beauty industry — hence me scouring every Ultra, Walgreens and Target for products when I visit the US like a crazy person! I'm happy to report that we're finally going to be seeing a lot of these sought after brands in Canada. The Makeup Revolution line will launch in August and will roll out through October, so be sure to check for it at London Drugs later this summer!
I've been using the Makeup Revolution Ultra Contour Palette every time I've worn makeup this month and it's a fantastic palette both in terms of quality and value. My favourite shade for contouring is the taupe shade (bottom row, second from left), I love the banana shade to brighten up my undereye area (top row, second from left), and have been mixing both of the highlighting shades for a subtle, daytime appropriate glow (right side, top and bottom). The matte contour shades also work well on the eyes to add definition and I've been especially loving the warmer shades paired with Makeup Geek's Grandstand.
Note: At the time I published this post, the Makeup Revolution Ultra Contour Palette isn't yet available in Canadian London Drugs stores, so I've linked to it on the Makeup Revolution site.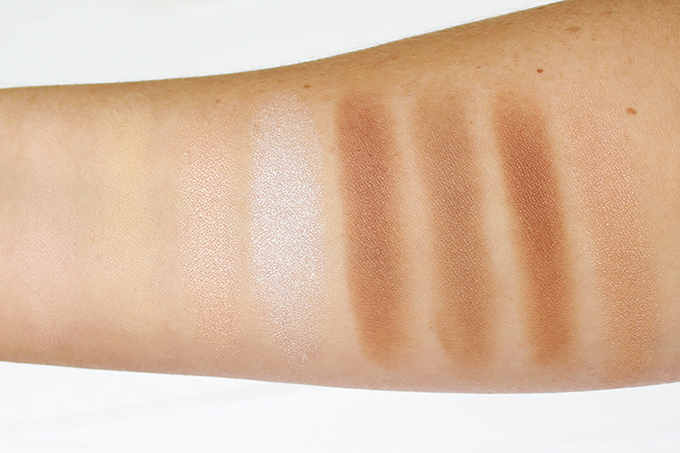 Makeup Revolution Ultra Contour Palette swatches from top right to bottom left on NC 25 – 30 skin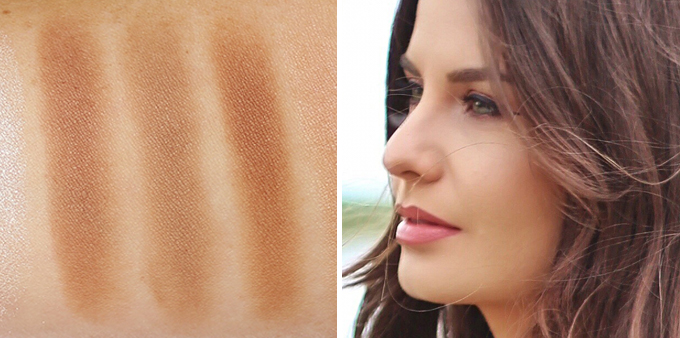 I'm wearing the Makeup Revolution Ultra Contour Palette under my cheekbones and jawline.

---
US $15.00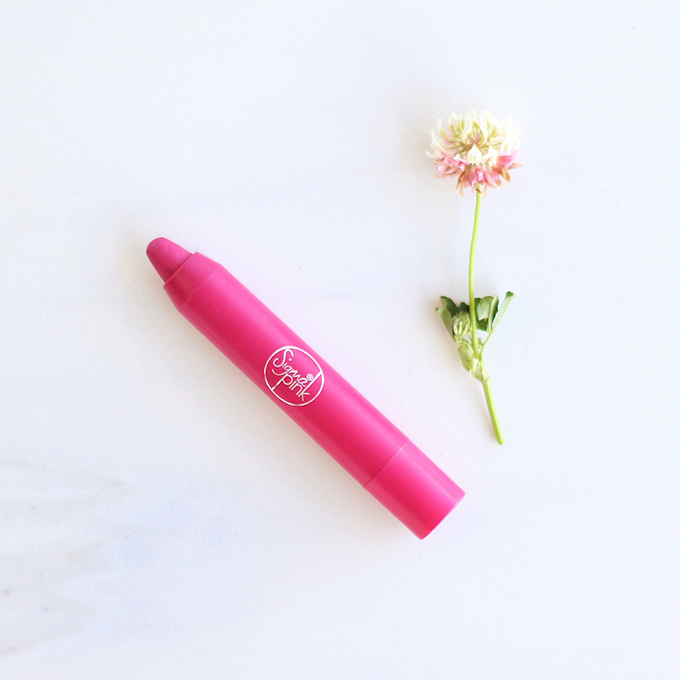 In June I wore 2 lipsticks almost constantly — and they're both from Sigma. I've been a long time user of Sigma's brushes, but I'd never tried anything from their makeup range. I was very pleasantly surprised with both of the lip products I tried this month! The Sigma Power Crayon in is a beautiful, silky matte lipstick that glides onto the lips with fully opaque colour in a single pass. The Sigma Pink shade is their signature magenta pink — it's a very bold, neutral magenta and it's absolutely stunning! I received so many compliments on this lip colour and especially love it on brunettes, although I think it's a very versatile shade. If you're ordering brushes from Sigma, be sure to take a look at their makeup section!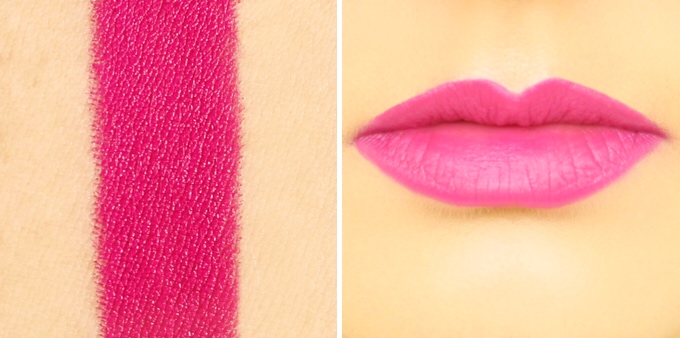 I'm wearing the Sigma Power Crayon in Sigma Pink on my lips.
---
US $25.00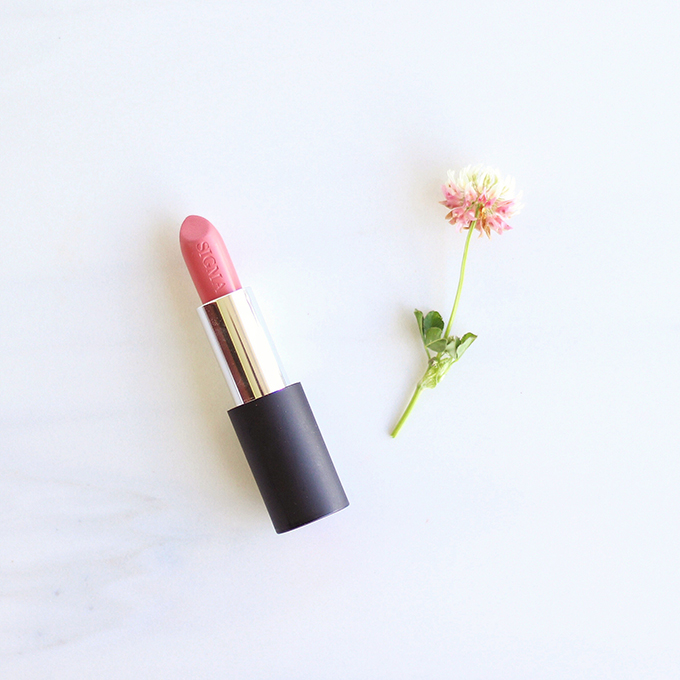 Here's another lip product from Sigma that I fell in love with in June. The Sigma Power Stick is a classic lipstick that checks all the boxes for me. The packaging feels substantial and high end, the formula is rich, creamy and pigmented and the shade In Spades is my perfect warm, pink nude — which Sigma describes as an earthy, natural lip colour. It's been living in the bottom of my bags all month and it's very long wearing and moisturizing. If you're looking for a classic lipstick in a wearable, everyday shade I haven't found one more perfect than the Sigma Power Stick in In Spades.
If you're interested in trying out anything from Sigma, you can use the code SAVE30 at checkout for 30% off your purchase. I'll also be including some my favourite Sigma brushes in a Makeup Brush 101 post publishing later this summer — so stay tuned!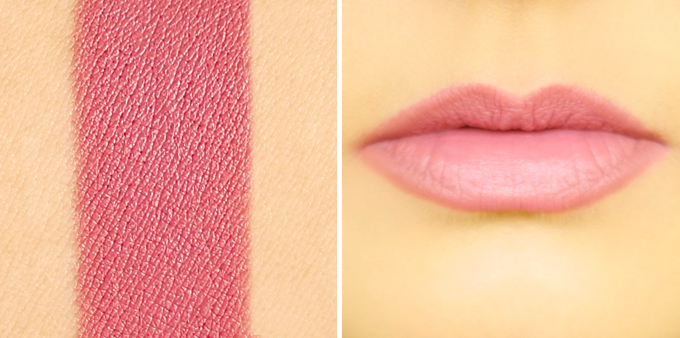 I'm wearing the Sigma Power Stick in In Spades on my lips.
---
C $7.99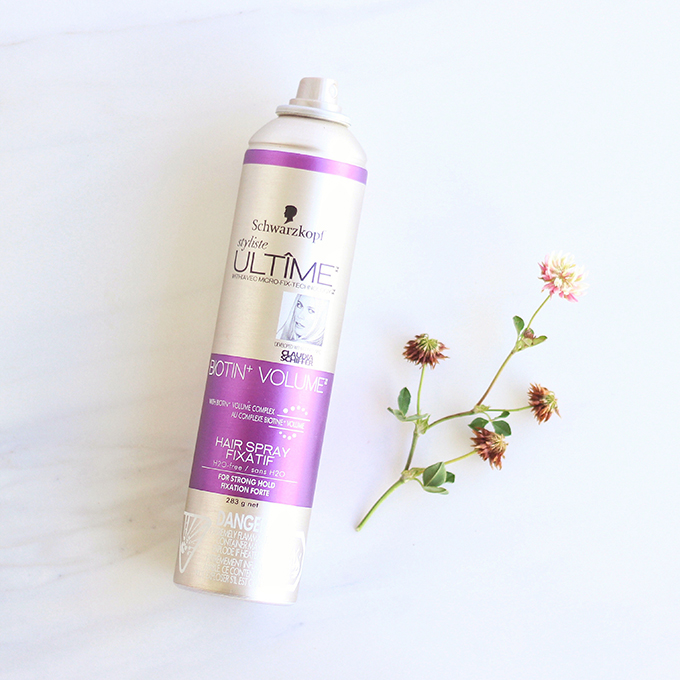 I'm not really much of a hairspray girl since I prefer natural, soft looking, undone hairstyles. I'm also really picky about hairspray and despise any stickiness or stiffness in my hair — I generally prefer to go without hairspray than to use something that's going to make my hair feel stiff. When I received the Schwarzkoph Styliste Ultime Biotin+ Volume Hairspray at the #LDBeauty event earlier this month I was excited to try it out after reading the claims of 24 hour weightless hold. Over the course of the month, I found myself reaching for it every time I curled my hair! This is one of the best hairsprays I've ever tried and the price can't be beat! I have tons of super fine hair — and this hairspray leaves it soft, touchable and volumized. Plus, it smells absolutely incredible! If you're looking for a weightless hairspray that won't break the bank I can't recommend this one enough.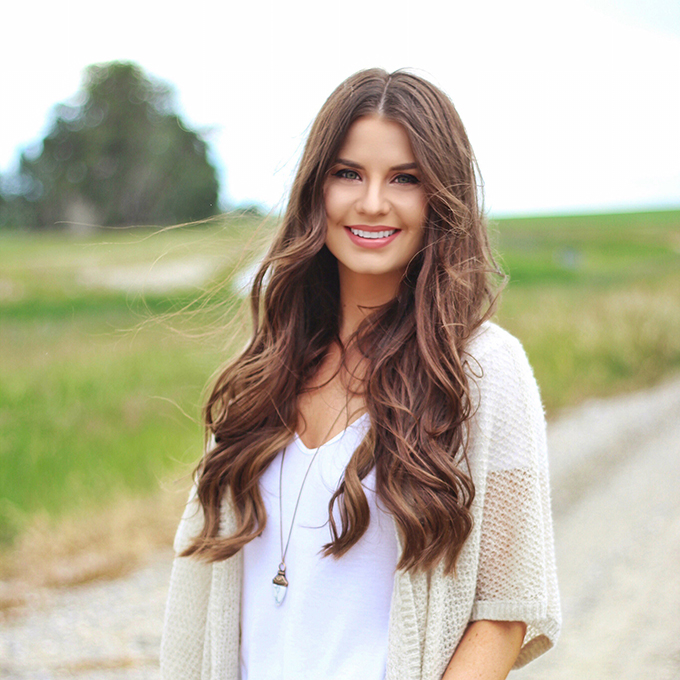 I'm wearing the  Schwarzkoph Styliste Ultime Biotin+ Volume Hairspray for soft volume.
Interested in what I'm wearing? Check out more from this relaxed, airy summer style post!

---
ABOUT MY SKIN
---
Skin Type
Combination, sensitive, acne prone. I only use fragrance free skincare products.
Skin Tone
Light / medium with yellow-warm undertones | MAC NC 25 – 30
Foundation Shade Comparisons
High End
Marc Jacobs Beauty Re(marc)able Full Cover Foundation Concentrate in Bisque Neutral 27
Estee Lauder Double Wear Stay-in-Place Makeup | 2W2 Rattan
Makeup Forever Matt Velvet + Mattifying Foundation | 40 Natural Beige
Kat Von D Lock-it Foundation | Medium 53
COVER FX Custom Cover Drops in G20 to lighten foundations
Drugstore
Flower Cosmetics BB Cream | BB2
L'Oreal Magic Nude Liquid Powder Foundation | 320 Natural Beige
L'Oreal Infallible Pro-Matte 24 HR Foundation | 105 Natural Beige
L'Oreal True Match Foundation | W3 – W4
Maybelline Fit Me! Matte + Poreless Foundation (Normal to Oily) | 220 Natural Beige
Physicians Formula Youthful Wear Spotless Foundation | Medium Beige
Covergirl Outlast Stay Fabulous 3 in 1 Foundation | 857 Golden Tan
EX1 Invisiwear Liquid Foundation | F200
---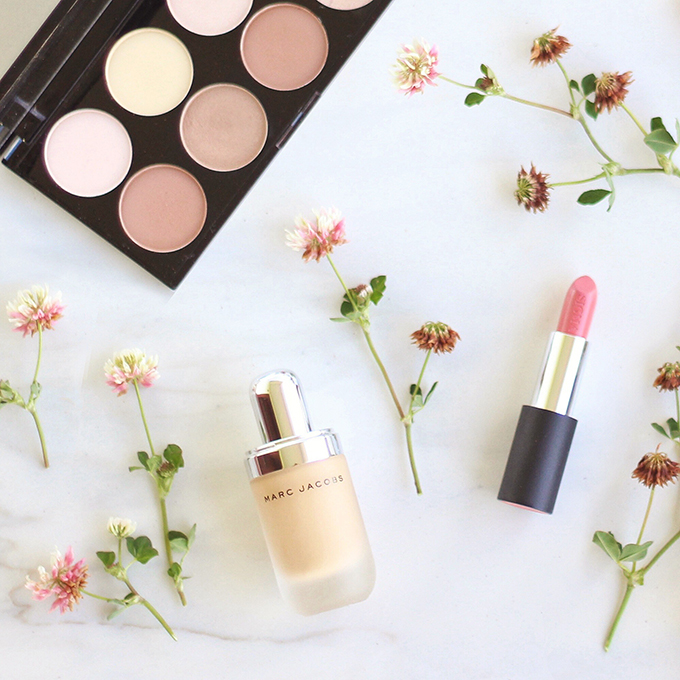 What are some of your favourite summer products? Have you tried anything new lately that you love? Feel free to leave me a comment anytime you have questions or recommendations for me so we can chat beauty! P.S. — Aren't the clovers I used to style this post adorable? They grow wild along the gravel road at my family's home where I foraged them!
---
Disclaimer: Products marked with * indicate press samples provided for editorial consideration with no obligation for feature or review. This post is not sponsored, and contains my genuine thoughts and recommendations. JustineCelina uses affiliate and referral links, which allow me to receive a small commission when you make a purchase through one of my links. Your purchases help to support JustineCelina.com!
Save
Save
Save
Save
Save
Save
Save
Save
Save
Save
Save
Save
Save
Save
Save
Save
Save
Save
Save
Save
Save
Save
Save
Save
Save
Save
Save
Save
Save
Save
Save
Save
Save
Save
Save
Save
Save
Save
Save
Save
Save