---
How was your August long weekend, beautiful people? If you follow along with my Insta Stories, you'll know we painted our living room, dining room and kitchen (about 700 square feet!) this weekend to kick off our Space Refresh (read more our plans here until it rolls out on the blog later this year) and I spent the entire weekend (including my birthday!) makeup free and covered in paint. So as you can imagine, it feels fantastic to wash the paint out of my hair and publish my July 2017 Beauty Favourites today!
July actually turned out to be relatively low key beauty wise, but still full of some great products I can't wait to share with you. This past month, I finally finished my testing and am ready to recommend skincare that isn't Paula's Choice (I know — shocker right? I've been testing it since February and it's fantastic!), an invigorating, sugar based body scrub (perfect for polishing away those last bits of fake tan!), a beautifully clean summer scent, the perfect contour powder to compliment a summer glow, another fantastic drugstore mascara, completely fell for Urban Decay's Naked Heat Palette (it's a must for us green eyed gals!) and rediscovered a highlighter from Colourpop (why did it take me so long to appreciate this unique, glossy formula?!). Ladies and gents, pour yourself a chilled glass of vino and pull up a seat at my vanity tonight for another Monthly Beauty Favourites post!
---

---
JULY 2017 BEAUTY FAVOURITES
---
US $34.00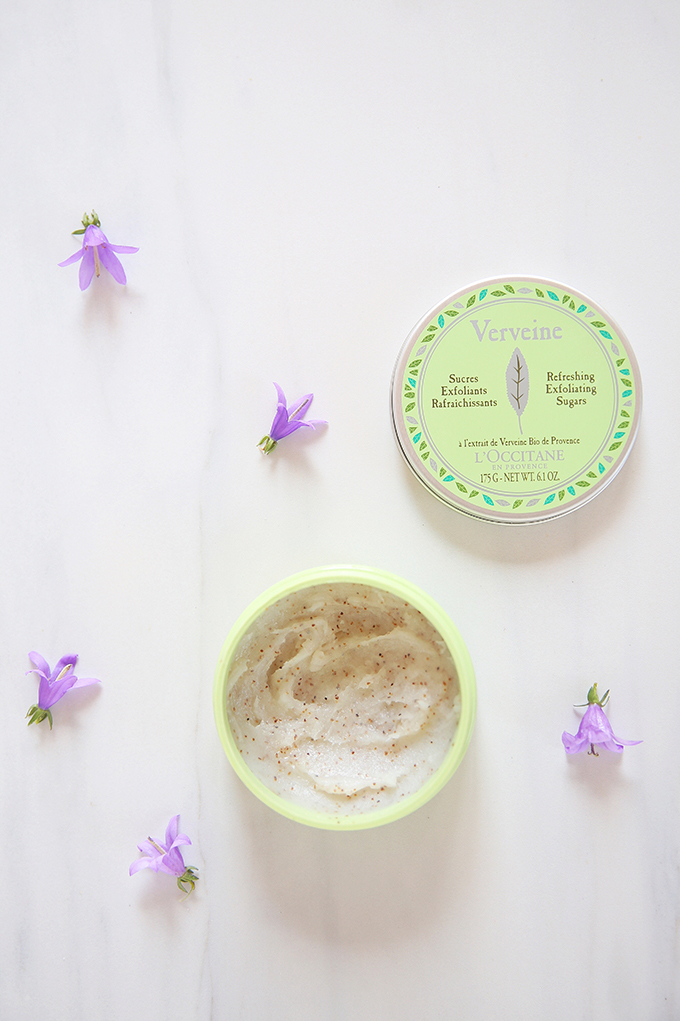 My friends at L'Occitane reached out earlier this summer to see if I'd like to sample anything from their summer collections — the Verbena collection caught my eye, so they very kindly sent it over for my consideration. For me, the standout of this collection is the L'Occitane Verveine Refreshing Exfoliating Sugars, which has been living in our shower for over a month now (a little goes a long way!). I like to do an in shower exfoliation about once a week to renew my skin and help remove any lingering bits of colour from my gradual self tanner — and this sugar based body scrub hits all the marks for me. It's incredibly refreshing with crisp, lemony notes of Provencal verbana and it's also incredibly exfoliating without being harsh or irritating my sensitive skin.

Like anything from L'Occitane (check out my other favourites from the brand), this scrub is definitely a luxury, but I reserve it for occasional use and love the at home spa like experience it provides (still dreaming about that one time at the Fairmont Jasper Park Lodge!) in the comfort of my own home. On the weekends I take a long, hot shower to deep condition my hair and have been using this exfoliating sugar to polish my skin while my conditioner sets in, before I shave my legs. I step out of the shower feeling invigorated — and with with incredibly soft, supple looking skin!
---
CND $95.00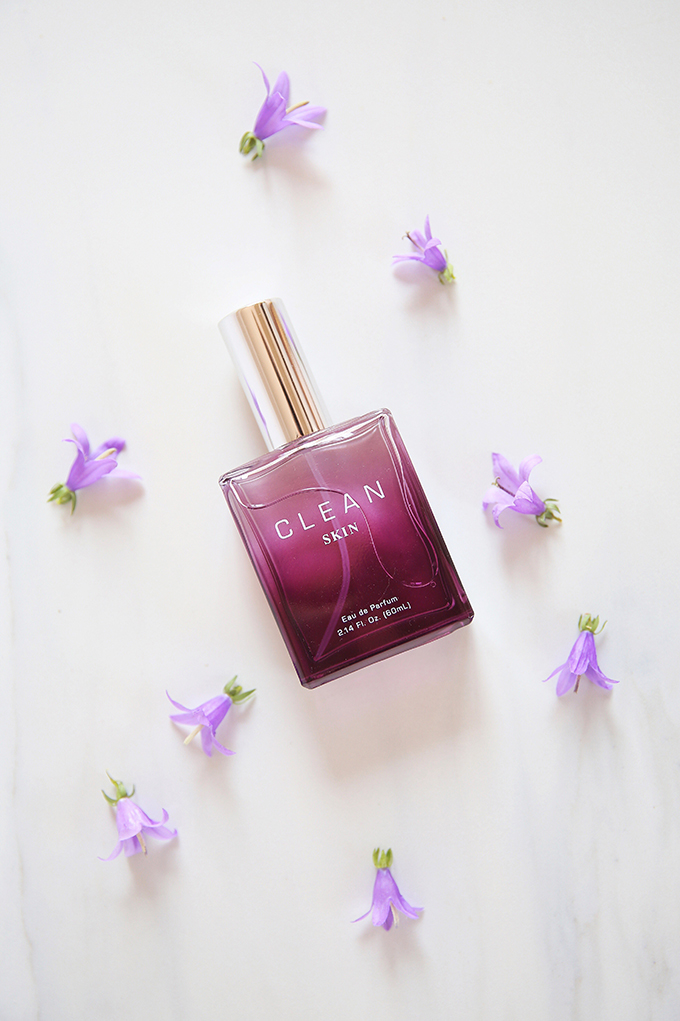 I suppose there's a bit of a clean skin theme going on this month… no pun intended. Truly, CLEAN Skin's Eau de Parfum Spray came out of left field and completely surprised me this month! I was perched at my vanity, finishing my makeup when I decided to check my dish of perfume samples (I've amassed quite the collection over my years of Sephora shopping!) to see if anything intrigued me. I picked up a sample of CLEAN Skin and was shocked at how much it smelled like bug spray… what the heck? But I decided to spritz some on anyway — and I'm so glad I did!
Almost immediately after application, the scent transformed on my skin. It's one of those magical, subtle scents that gives off the 'Oh, I'm not not wearing perfume, I just smell amazing.' vibe. It's very delicate and a bit hard to describe — a fresh, clean, creamy scent that's totally not fragrance like on the skin (the closest thing I currently have is my summer fragrance collection is Dolce&Gabbana's Light Blue Eau de Toilette — but Clean Skin is so different, I can hardly draw a comparison). It's perfect for casual days when you want to essentially just smell like yourself, but a little sweeter. I completely used up my sample and popped down to my local Sephora to grab a full sized bottle — I think it's a scent I'll always love!
Notes:
Honeydew, Lotus Blossom and Fresh Air Accord, Dewy Petals, Aquatic Notes, Blue Rose, Musks, Amber Wood, Vanilla.
Style:
Enticing. Fresh. Pure.
Note: CLEAN has also just released a Reserve line which includes upgraded, multi dimensional version of their classic scents — and although the packaging is much prettier (and the scent is oil based so it lasts longer), I tried them both on in store and clearly preferred the original. I'd recommend that you do the same — and always ask for a sample! 
---
CND $53.00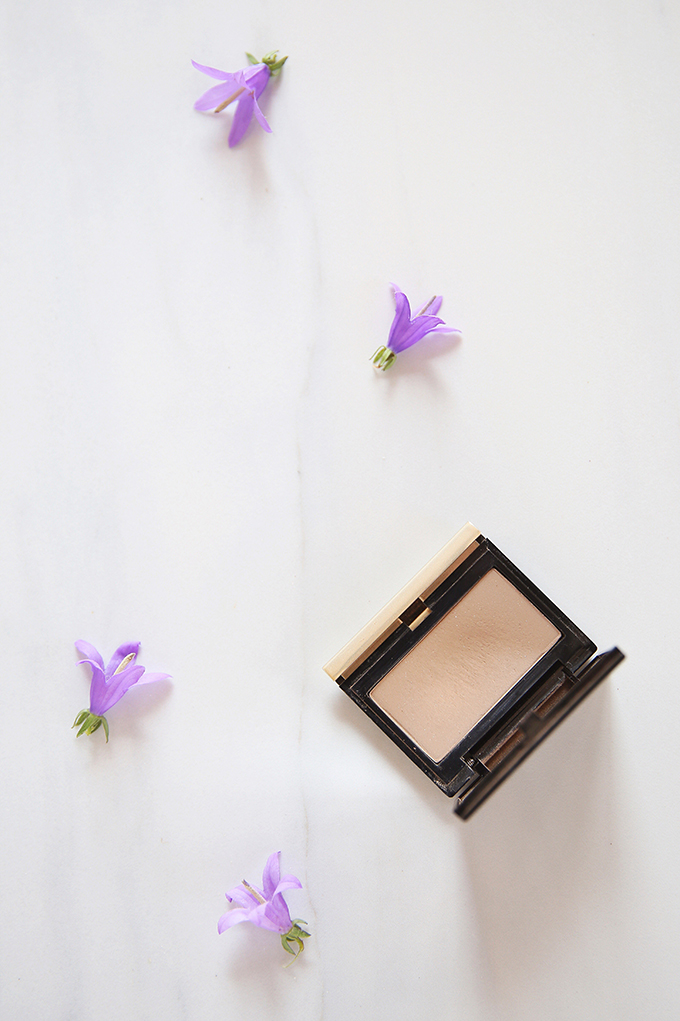 I love a good contour powder. And I personally I like my makeup to air on the more realistic side (I would rather look like I have amazing cheekbones than to look like I have amazing contouring skills, you know?). That said, I used up my beloved SEPHORA COLLECTION Colorful Face Powders in 26 Tranquil (which I discovered back in November) and was looking for a new product it mimic the look of natural shadows on the skin, but that complimented my sunkissed skin a bit better. Enter the KEVYN AUCOIN The Sculpting Contour Powder in Medium — a luxurious, cool toned powder with slightly more depth and pigment that the SEPHORA COLLECTION Colorful Face Powders in 26 Tranquil (which is now on clearance, so I hope they're not discontinuing it!) that I use it underneath my cheekbones, jawline, bottom lip and along the sides of my nose to add some definition with an angular brush to add structure to my face. Medium skinned gals — I can't recommend this product enough to help sculpt your features in a natural way!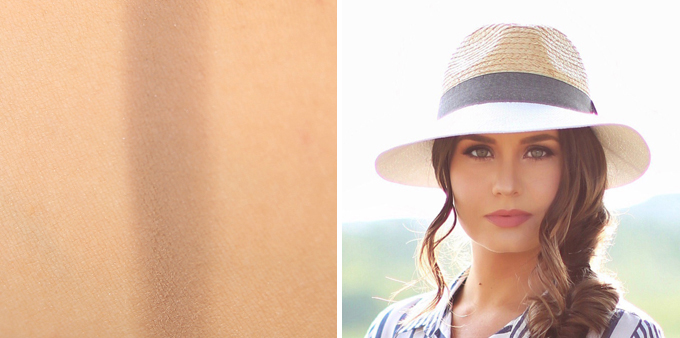 I'm wearing the KEVYN AUCOIN The Sculpting Contour Powder in Medium under my cheekbones, under my bottom lip and jaw and along the sides of my nose
---
CND $171.00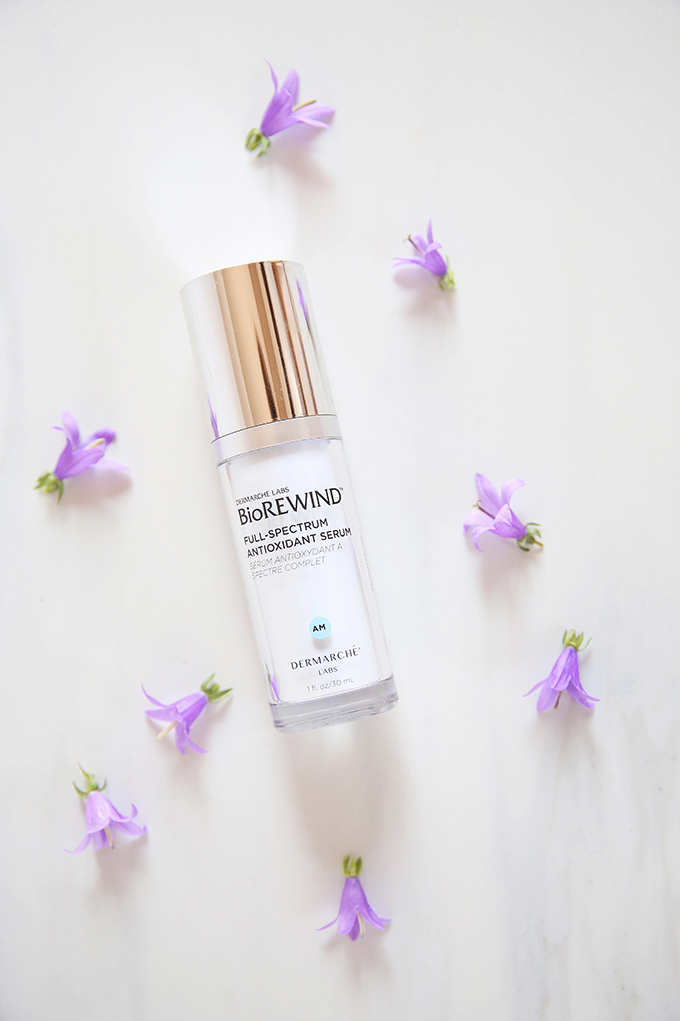 Yes, you read the price right. I know, I know — this is crazy expensive. And honestly, I was so skeptical of this product, even after completely falling for Dermarche Labs unparalleled luxury masks back in 2016. Fast forward to summer 2017 and I've been testing the entire range of Dermarche Labs skincare since February when they sent it over for try out after reading my Luxury Products Worth the Splurge and My Routine for Flawless Looking Skin posts.
Longtime readers will know how dedicated I am to Paula's Choice skincare — so much so infact, that I will no longer accept facial skincare samples from any other brands for editorial consideration. Back in February I made an exception for Dermarche Labs, since I was so impressed by their Roloxin Lift Instant Skin Smoothing Masque and research based approach they use to develop their products. Well, I've been using the Dermarche Labs BioREWIND AM Full-Spectrum Antioxidant Serum since February and am thrilled with the results! I use this serum within my existing skincare routine (please hop over there for a step-by-step look into my regime: warning, it's intense!) in my AM serum step whenever I'm wearing makeup. Honestly, my skin has never looked better — since using this product, I haven't had a single blemish. Currently I swap between it and my longtime AM serum, the Paula's Choice Resist Pure Radiance Skin Brightening Treatment — but will likely not be repurchasing the Paula's Choice Serum moving forward as the Dermarche Labs Serum contains both vitamin C and hyaluronic acid, eliminating the need for my to purchase those products as boosters from Paula's Choice, therefore justifying the cost. I find that the Dermarche Labs BioREWIND AM Full-Spectrum Antioxidant Serum wears much better under makeup and allows my foundation to last longer (I have combo skin that leans more oily in the T-zone, especially during the summer) and I also love the extra hit of antioxidant protection and retinol it provides during the day!
Who would I recommend this luxurious serum for? Advanced skincare users familiar with retinol looking for a powerhouse, all-in-one daytime serum and want something they can pick up at a physical store (Paula's Choice is online online only and I know many of you prefer to shop in store — Dermache Labs is available at Sephora). If it's within your means, I truly believe investing in quality skincare is of the utmost importance and would never recommend something I didn't think was worth your hard earned cash. That said, there are other, much less expensive daytime serums on the market that may work for you — I just haven't found a better one at any pricepoint than the Dermarche Labs BioREWIND AM Full-Spectrum Antioxidant Serum.

---
CND $66.00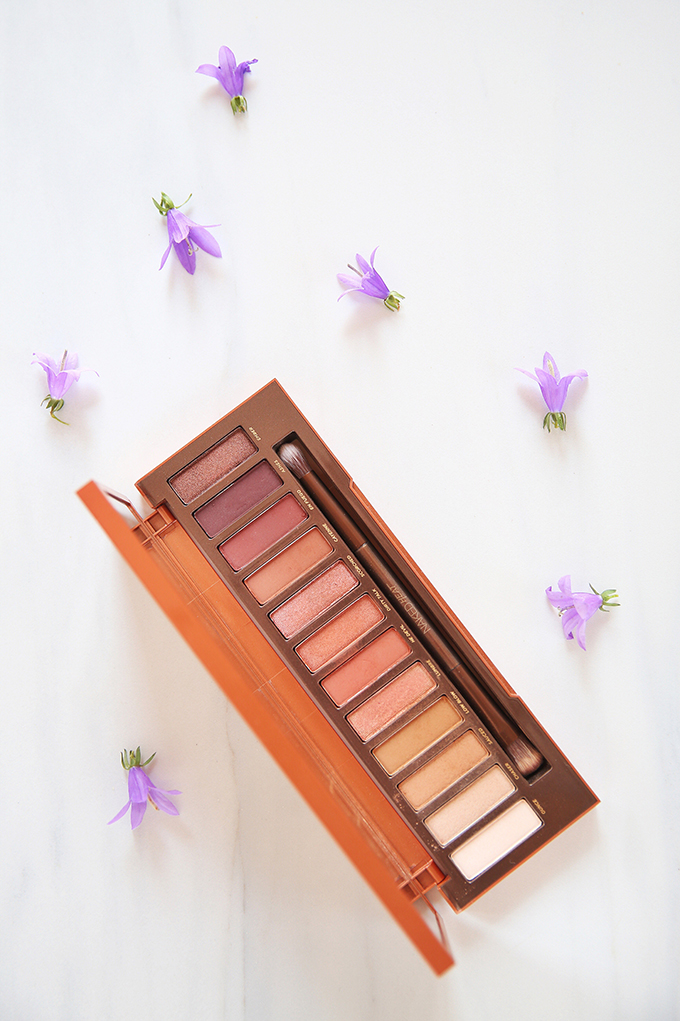 By now, I'm sure you've seen this palette everywhere. So I won't linger too long, but I will say that I think it's a fantastic palette overall — especially for us green eyed gals! Although I've been a longtime user of Urban Decay products (their single shadow in Half Baked has been my favourite gold shadow for as long as I can remember!) I've actually never been intrigued enough by the cult classic Naked Palettes to pick one up. As someone who owns a lot of eyeshadow, I tend to like to create my own palettes with single shades or mix and match palettes in looks — but as soon as I laid eyes on the Urban Decay Naked Heat Palette, I knew it had to be mine!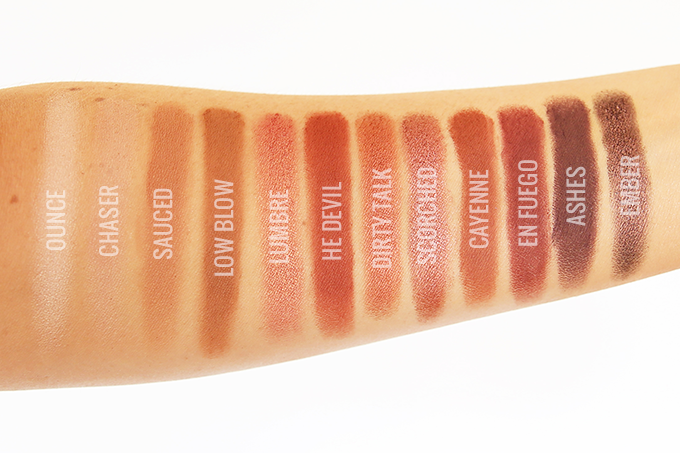 Bottom line: if you love warm shadows, you'll love this palette. There's a fantastic array of warm to neutral shades here and enough variety to create everything from daytime looks to intense smoky eyes. But I do have a few small criticisms! First, I really wish they would have thrown in a metallic gold shade (like Half Baked). Lumbre is the lightest metallic — and although it's a beautiful shade, it's extremely warm with strong red undertones, so it's not what I would typically gravitate to for daytime looks. Second, some of the shades are a bit powdery, although they are quite pigmented. Urban Decay's signature, buttery metallic formula is present, but seemingly in the darker shades. That said, these shadows apply, blend and wear exceptionally well. If you're looking for the quintessential warm palette of the year, pick up the Urban Decay Naked Heat Palette — you won't be disappointed!
---
CND $12.00 – $17.00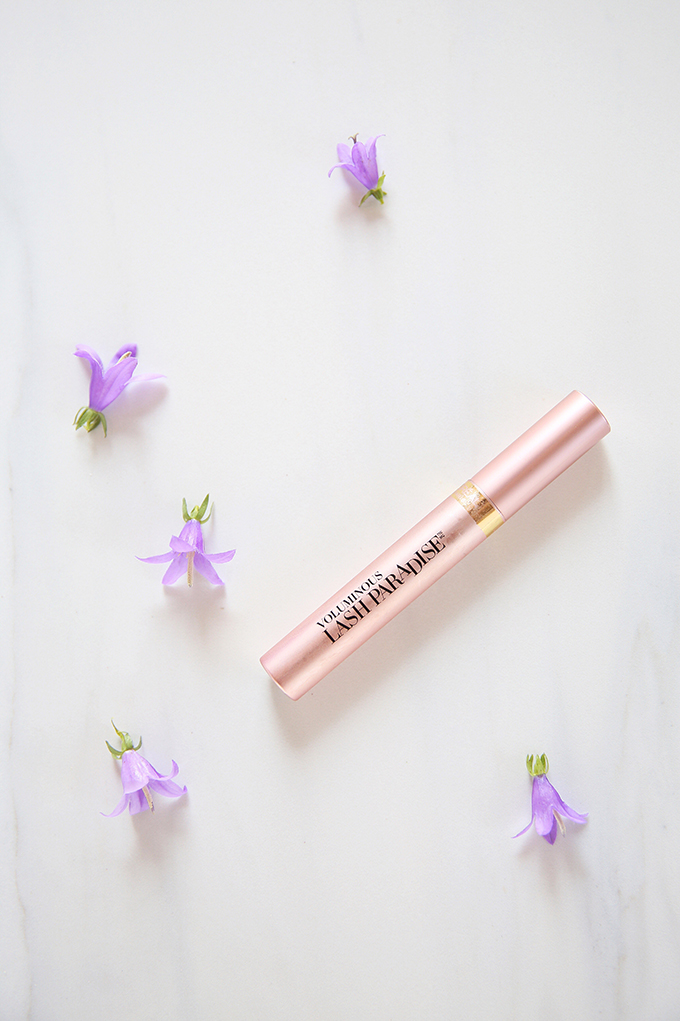 Now getting on to some more affordable options! I actually picked up the L'Oreal Voluminous Lash Paradise Mascara during the same trip as the Essence Lash Princess False Lash Effect Mascara — and I'm shocked to report that I love it too, but for completely different reasons. The Essence Lash Princess False Lash Effect Mascara is extremely volumizing and can look fantastic with just one coat, while the L'Oreal Voluminous Lash Paradise Mascara makes my lashes look long and fluttery, but 2 to 3 coats are definitely needed. The brushes are also extremely different — Essence offers a more traditional, natural bristle wand and while L'oreal's wand is also made from natural bristles, it's shaped like an hourglass to really grab those smaller inner and outer lashes. Depending on how you like your lashes to look, either one of these mascaras may work for you — they're are my 2 favourite drugstore mascaras right now! The L'Oreal Voluminous Lash Paradise Mascara wears extremely well throughout the day, doesn't flake or smudge and also doesn't irritate my ultra sensitive eyes. My only gripe? Drugstore prices are out of control lately!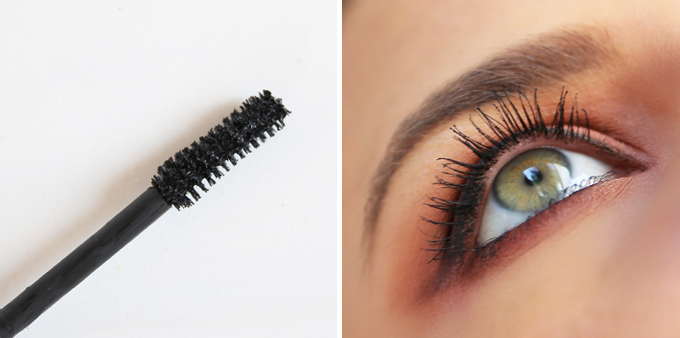 ---
CND $8.00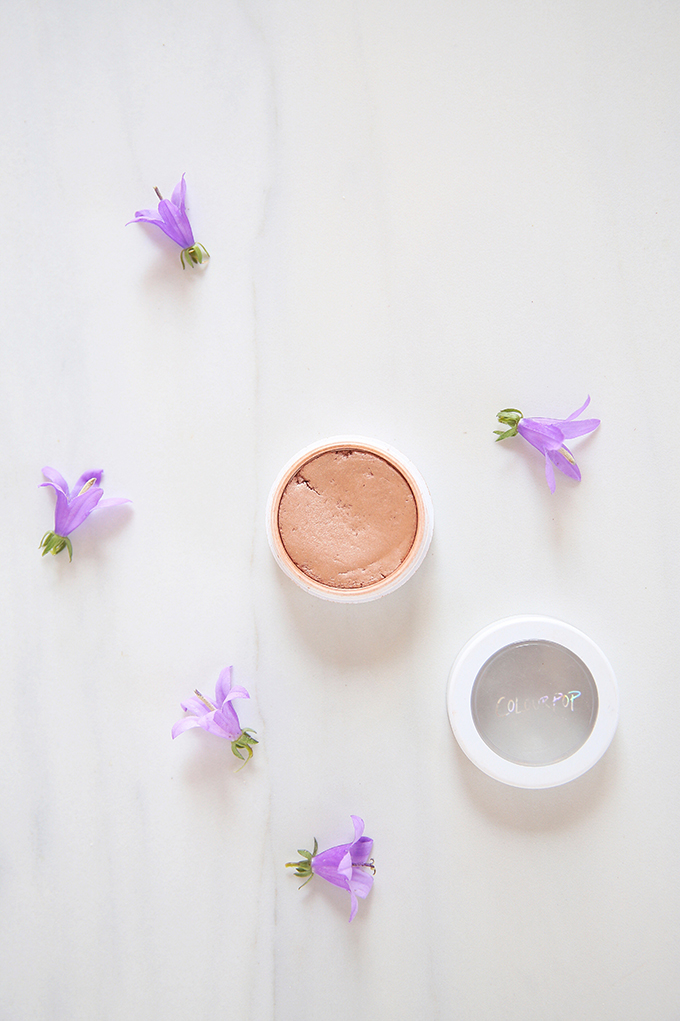 As you can see, my Colourpop Butterfly Beach Super Shock Highlighter is very well loved! I've actually owned this particular highlighter for about 2 years and it's still going strong (which is really impressive for a cream-to-powder formula) — but I have no idea what took me to long to really appreciate this beautiful, glossy, blendable formula! I've been wearing this stunning, rosy bronze shade every single time I've worn makeup over the past month or so and love the luminous, dewy look it gives my skin.
As far as highlighters go, this one airs on the darker side, so if you're fair / light skinned, it probably won't have a highlighting effect — although you could use it as a blush topper. On my summer skin, it works perfectly (for reference, I'm about a MAC NC 30 right now). However, I feel like there's a bit of a learning curve with this formula, so here's what I've found works best for application — swirl a tapered, synthetic haired highlighting brush like the Sigma F35 Tapered Highlighter Brush (hop over to this post to learn more about my favourite makeup brushes and how to use them) into the product, coating the entire brush, then sweep it onto the high points of your face. I find that my loading my brush up with more product than I normally would and really buffing it into my skin allows me to achieve a glossy effect — and I can also layer it up if I decide to go for a more intense glow. Once applied, this formula is butterproof on the skin and will wear until you wash it off, which is perfect for this intense heat!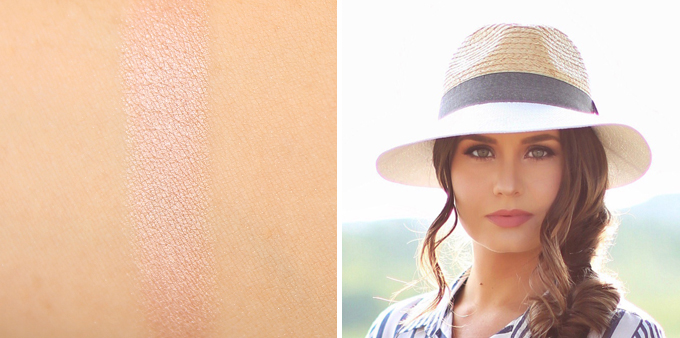 I'm wearing the Colourpop Butterfly Beach Super Shock Highlighter olong the tops of my cheekbones and on tip of my nose
Rediscovering my love for this highlighter has prompted me to want to place a new Colourpop order — it's been awhile since I've published an exclusive Colourpop review here at JustineCelina, but I know you guys really love them. They've come out with tons new products since I've placed an order (probably about a year and a half ago now!) — so if there's anything in particular you'd like me to investigate, please let me know!
---
SHOP MY JULY 2017 BEAUTY FAVORITES
---

Urban Decay Naked Heat Palette | L'Oreal Voluminous Lash Paradise Mascara | KEVYN AUCOIN The Sculpting Contour Powder Medium | Dermarche Labs BioREWIND AM Full-Spectrum Antioxidant Serum* | L'Occitane Verveine Refreshing Exfoliating Sugars* | CLEAN Skin Eau de Parfum Spray | Colourpop Butterfly Beach Super Shock Highlighter
---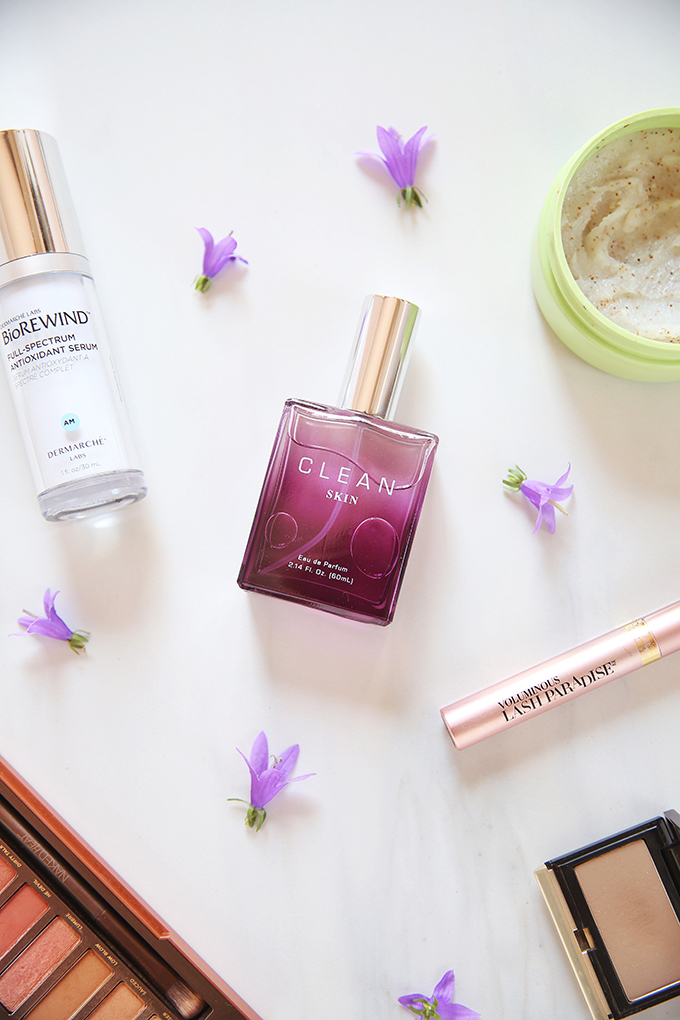 Thanks for spending this beautiful Wednesday evening chatting beauty with me! What have you been loving this past month? As always, I'd love to hear from you. Enjoy the rest of this short summer week, ladies and gents!
---
Disclaimer: Products marked with * indicate press samples provided for editorial consideration with no obligation for feature or review. This post is not sponsored and contains my genuine thoughts, ideas and recommendations. JustineCelina uses affiliate and referral links, which allow me to receive a small commission when you make a purchase through one of my links. Thank you for supporting the brands and businesses that support JustineCelina.com!