---
December was a blur! Between preparing for holidays and then holidays themselves, December always seems to fly by so fast. Last month I traveled all over Alberta visiting family and friends, and definitely noticed myself reaching for the same products consistently. It was pretty simple for me to choose my December beauty favourites — I just had to look inside my travel makeup bag!
Last month I discovered a genius product that lightens foundation to suit winter skintones, my to-go holiday lip, a blush that gives you that 'just in from the cold' look, some really unique eyeshadows and long-wearing, affordable eyeliners! Curl up, get cozy and let's chat about winter beauty!
---
C $44.00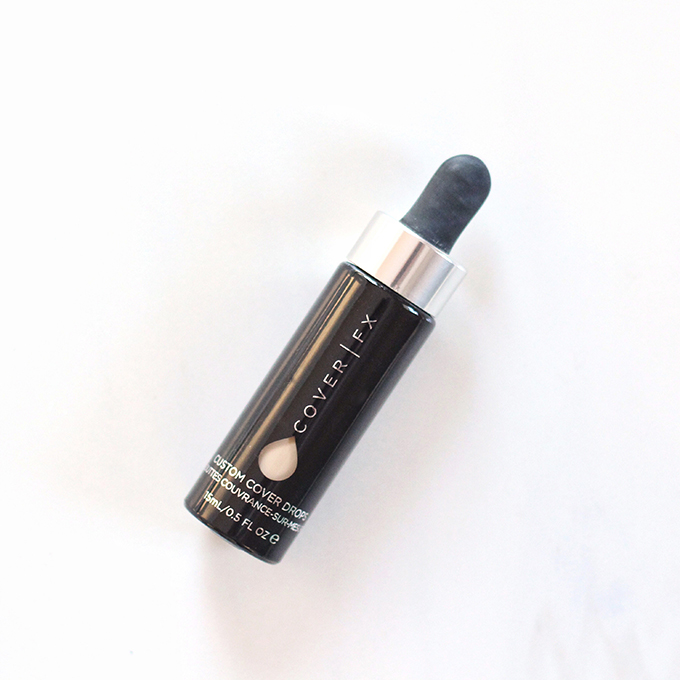 It's the dead of winter here in Calgary, and our summer skin has long since faded. Personally, I choose to get my colour from a bottle rather than the sun year-round, but in the winter I like to lighten up on the self tanner and go more au-naturale. This means that my summer foundations are way to dark for me right now. Since I've made the switch to drugstore foundations, I'm having trouble finding lighter shades that are yellow enough for me. If you're curious, I'm still using and loving the L'Oreal Infallible Pro-Matte 24 HR Foundation in 105 Natural Beige (review here, towards the bottom of the post) and the Covergirl Outlast Stay Fabulous 3 in 1 Foundation in 857 Golden Tan (review here). I don't currently have any high end foundations in my rotation, because these ones perform better than any high end foundations I've tried!
The problem is the shades become more pink-undertoned as you move towards the lighter end of the drugstore foundation spectrum. COVER FX Custom Cover Drops in G20 solve that problem! These drops are an extremely concentrated pigment that you can mix into your darker foundations to lighten them, or vice versa. No more repurchasing my favourite foundations in lighter shades (that aren't the right tone) in the winter! The COVER FX Custom Cover Drops are extremely full coverage with just a few drops and give the skin a flawless appearance. You can even add them to your moisturizer or serum to create your own skincare cocktail with coverage — make your own BB or CC cream, but get all the benefits from your regular skincare! On it's own, the shade G20 (G = gold) is too light for me, but it's perfect mixed in with my darker foundations. If I was matching my skintone I'd probably be around a G30 – G40. My only complaint? The dropper-style packaging is messy and the liquid collects in the cap.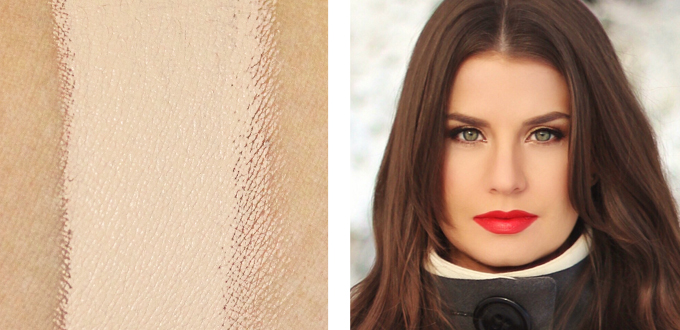 I'm wearing the COVER FX Custom Cover Drops in G20 mixed into my Covergirl Outlast Stay Fabulous 3 in 1 Foundation in 857 Golden Tan to create a custom shade.
---
C $7.00 – $10.00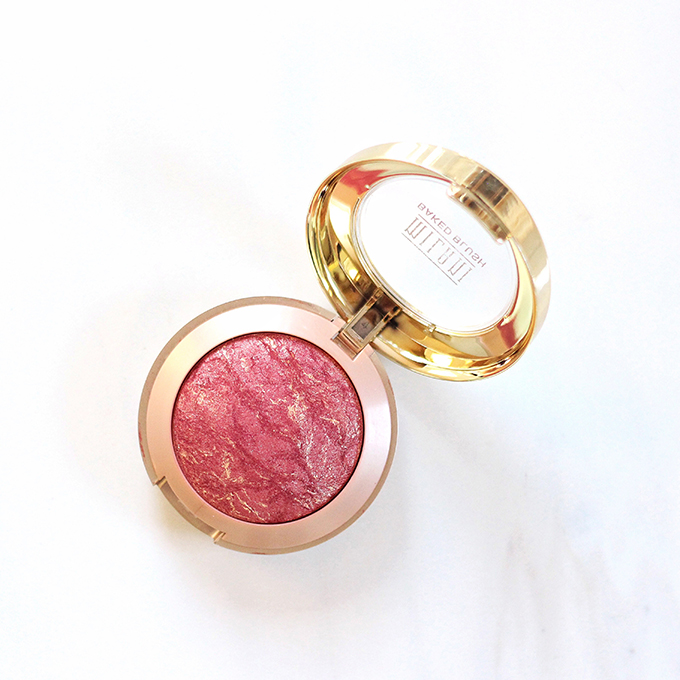 These baked blushes by Milani are my favourite blushes at the drugstore (actually, they're one of my favourites, period!). Aren't they gorgeous? I own a few shades, but I just realized that I've never actually mentioned them here on JustineCelina. Milani is a high quality, affordable cosmetics line that's made in Italy. Canadians can purchase Milani products at Superstore and select Walmart locations. You might look at this photo and be intimidated by the shade, but I promise if you use a light hand to apply Red Vino, it gives you a believable 'just in from the cold' flush. I love that look in the winter paired with red or deep lip colours. Milani describes Red Vino as a 'berry red with golden shimmer' and that's exactly what it is. All of Milani's baked blushes are smooth, pigmented and blendable — just be sure to pick up a light amount of product on your brush and tap off the excess to avoid overdoing it. This blush would suit very fair to very deep skintones (tread lightly if you're fair, and go for it if you're deep!). It's a very unique shade and perfect for winter! If you want to try an beautiful, inexpensive blush in a different colour, pick Red Vino up.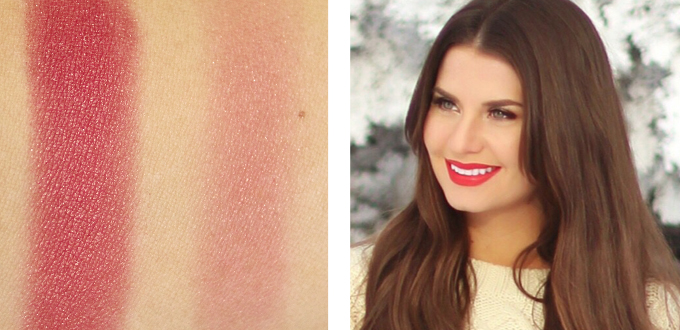 I'm wearing the Milani Baked Blush in Red Vino on my cheeks.
---
C $12.00 (on sale!)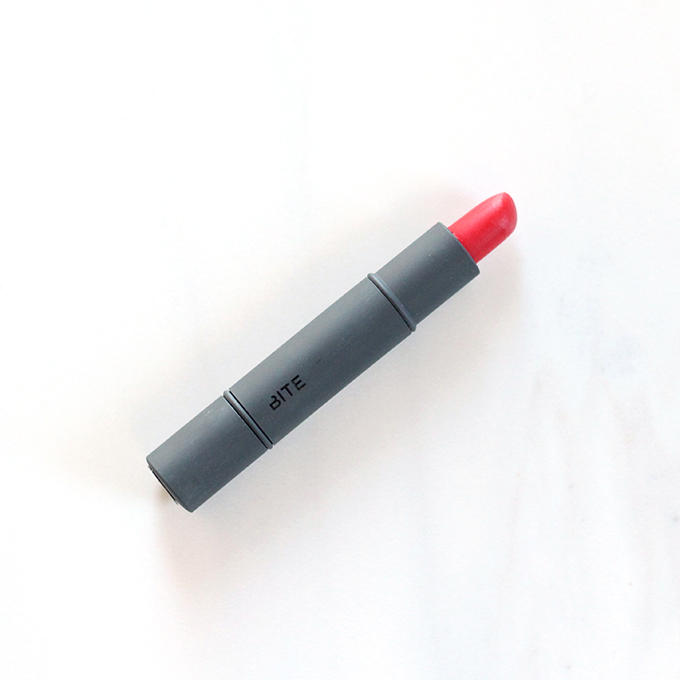 Holly is a mid-toned tomato red, and it was my go-to holiday lipstick this year. It pulls neutral to warm, with slight orange undertones. If you prefer warmer reds, this one is for you! Holly is lighter, and brighter, than Tannin, the other red in this duo. To me, nothing screams Christmas time like a classic red lip. I wore this red lip at least 10 times in December to look instantly more festive (and more polished)! Unfortunately, Holly is from Bite's limited edition Mix & Mingle Holiday Collection (which appears to be sold out online), but this is a similar shade from their permanent range. If you manage to track Holly down in-store, snap it up — all of these Mix & Mingle duos are on sale right now for $12! I also have a full review of all twelves shades from the Mix & Mingle Holiday Collection. If you want to see Holly in action, I'm wearing it in this fashion post about my favourite, classic holiday pieces.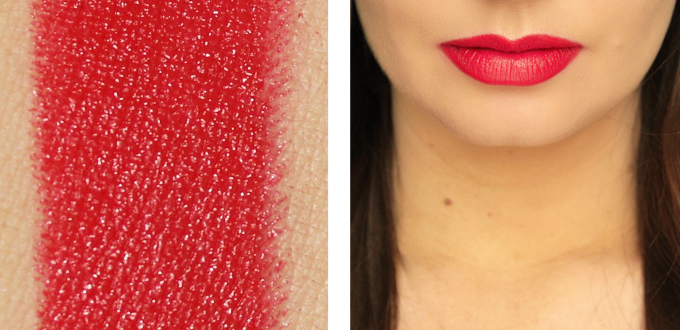 I'm wearing Bite Beauty Luminous Crème Lipstick Duo in Holly on my lips.
---
US $6.00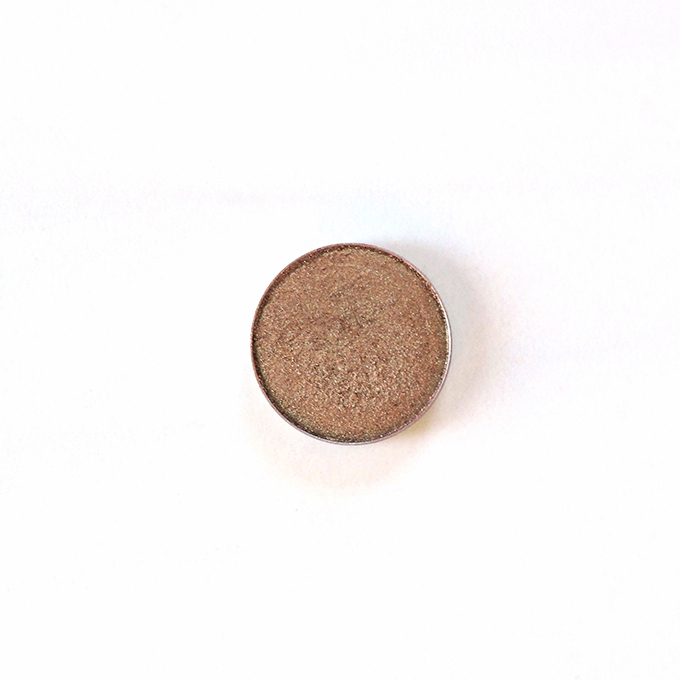 I've been wearing makeup for a long time, so it's rare that a truly innovative product catches my attention. Enter the duochrome eyeshadow collection from MakeupGeek! These shadows are so unique — they look like completely different colours under different lights and at different angles. In the pan they don't look like anything special, but they're very multifaceted in colour. They add so much light and luminosity to the eyes! I purchased 10 shades from the range to test and review, so you can expect that this winter. Initially, Ritzy is one of my favourites —  it has a warm, red-brown base with green and gold reflects. I find it particularly flattering on green eyes! You can pack the colour onto your lids with your finger and then blend it out in the crease to diffuse the colour for a really easy look that appears much more intricate than it is. The more you blend Ritzy, the more red comes out of the colour. It's so interesting! If you're looking for something totally different, treat your eyes to a couple of these gorgeous duochrome eyeshadows from MakeupGeek! I've included MakeupGeek's eyeshadows in my monthly favourites previously here and here. Colourpop and MakeupGeek make my favourite eyeshadows — they're pigmented, high quality and blendable. Bonus: they're also super affordable!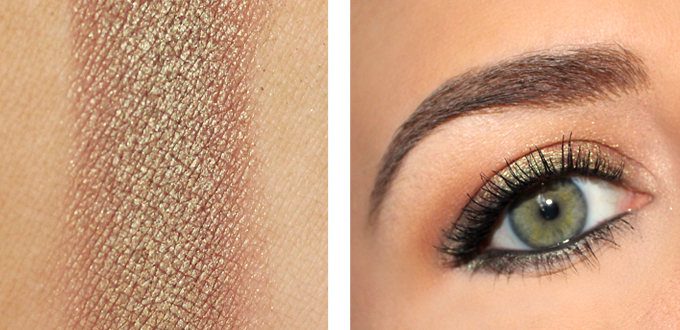 I'm wearing MakeupGeek Duochrome Eyeshadow in Ritzy on my lid and below my lower lashline.
---
US $6.00
Another one of my initial favourites from the MakeupGeek duochrome range is Havoc — which is described as having 'a warm, red-brown base with teal reflects'. This is a similar colour to MAC's infamous Blue Brown Pigment (which I always think of as the Godmother of duochrome eyeshadow!), but it pulls slightly more purple on me. One thing to note about the MakeupGeek duochrome formula is that it's not as creamy as the traditional or the foiled formula eyeshadow formulas — the duochrome eyeshadows are packed more tightly into the pan, so they don't have the ultra butttery texture that the others do. On me, they wear just as well — about 8 hours before any signs of fading. Havoc makes for a gorgeous, unique smokey eye that I think would look beautiful on anyone. Like Ritzy, you can pack the colour onto your lids with your finger and then blend it out in the crease to diffuse the colour. The more you blend Havoc, the more warm, red tones come out. It's absolutely stunning!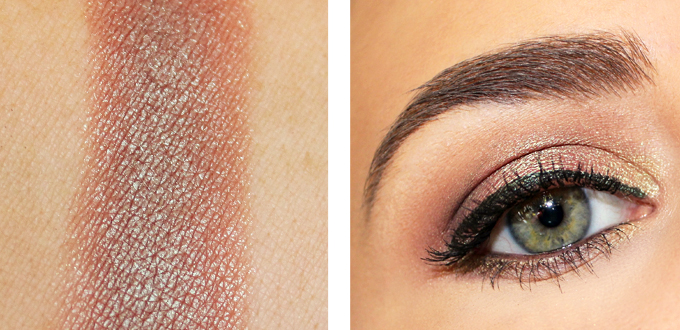 I'm wearing MakeupGeek Duochrome Eyeshadow in Havoc on my lids.
---
US $5.00
I've been wearing and testing these Crème Gel Liners from Colourpop, so you can expect a full review on each of the 9 shades I own this month! In December, a couple of shades were on heavy rotation for me, and one of them was Over Board — a warm metallic bronze. It's a gorgeous, rich bronze that looks amazing on green eyes. It adds just a hint of sparkle and a light to the eyes without going overboard (ha!). I love to wear it on my waterline and lower lashline. Each shade from this range glide on the eye really smoothly and is budge proof once it sets — there's no tugging, skipping or pulling. These are some of the best liners I've ever tried, regardless of pricepoint! Over Board was my go-to shade when I wanted to add subtle definition to my eyes without adding anything too dark — especially with all the red and bold lips I wore in December. A must have from the range!
Full Colourpop Crème Gel Liner Review (9 shades)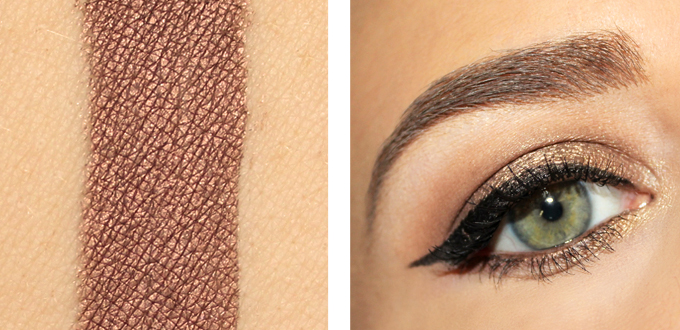 I'm wearing Colourpop Crème Gel Liner in Over Board in my waterline and on my lower lashline.
---
US $5.00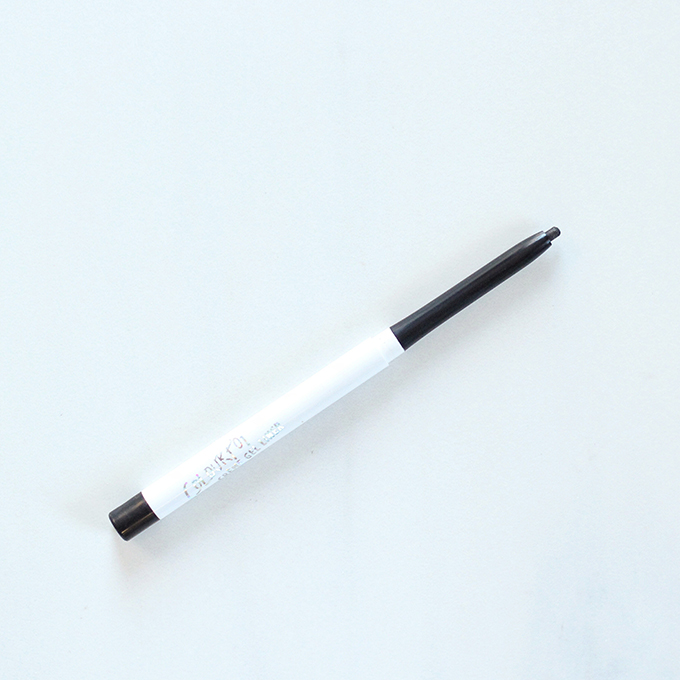 This is the blackest eyeliner I've ever tried — and believe me, I've tried many! Swerve is a matte, true onyx black. I think I'm the perfect candidate to test out eyeliner, because I have extremely sensitive eyes and I also wear contacts. My eyes get irritated easily, so I have to be careful about the products I use. Eyeliners also tend to wear off quickly on me because my eyes can be watery. So if an eyeliner holds up on me, chances are it will work for the majority of people! This Crème Gel Liner from Colourpop has replaced my Marc Jacobs Highliner Gel Eye Crayon Eyeliner in Blacquer (which retails at C $31.00!). It's blacker, and lasts just as long in the waterline and tightline (about 6 hours before I need to retouch), but I can go a full day with it looking pretty good. It's very creamy, pigmented and easy to blend out with a brush until it sets. If you're looking for a bulletproof black eyeliner, pick up this budget friendly beauty from Colourpop. 
Full Colourpop Crème Gel Liner Review (9 shades)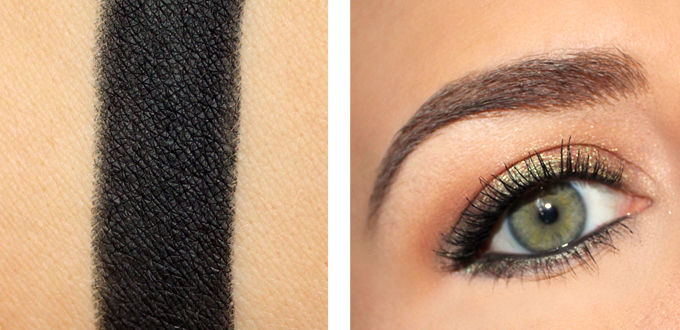 I'm wearing Colourpop Crème Gel Liner in Swerve in my waterline and tightline.
---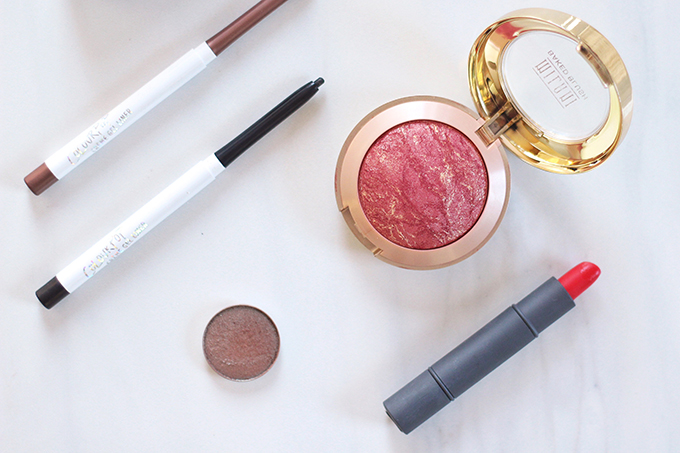 What are your favourite winter beauty products? I love to play with makeup and test out new products, so if you have a recommendation for me, please leave it in the comments! And if you try anything I mention, or have a question, just let me know. What type of beauty content would you like to see on JustineCelina this year? My most requested post is a haircare post, but I've also had requests for eyeshadow tutorials, and more basic posts on makeup brushes, how to prep lips for lipstick, etc. I'm thinking about starting a Beauty 101 series to include these types of requests (check out my Skincare 101 post for a crash course on great skincare products and practices!). Please let me know what you'd like me to cover to help you look and feel your best!
---
Disclaimer: This post is not sponsored, and contains my genuine thoughts and recommendations. JustineCelina uses affiliate and referral links, which allow me to receive a small commission when you make a purchase through one of my links. Your purchases help to support JustineCelina.com!