---
It's that time of the month again (well, not that time of the month… but you know what I mean)! May was a mix of new finds and old favourites that I rediscovered — and they're mostly at a drugstore price point. I also attended a few parties and weddings this month, and finally found the perfect lashes and lash glue! I felt like wearing cooler purple tones, smokey eyes and soft lips a lot — but I also had some fun with colour. Get comfy, pour yourself a cup of tea, and let's chat beauty!
---
US $5.99

I just realized that I've mentioned a highlighter in almost every monthly Best in Beauty post. What can I say, I like to glow! I picked this one up at Duane Reade (which is owned by Walgreens) while I was in New York in May, and I've worn it ever since! Unfortunately, we don't have the Wet n Wild Fergie Centerstage Collection available in Canada, but if you're in the US and come across a Walgreens or Duane Reede, be sure to pick this up, it's fantastic! Hollywood Boulevard is a white-gold shade with a slight rose gold undertone. It's perfect on tan skin in the summertime — I've worn it on the tops of my cheekbones and the high points of my face, and I've also used it as an eyeshadow. To the touch, this is an ultra creamy powder with intense pigmentation; it feels like a luxury product. This is supposed to be a pretty close dupe for MAC Whisper of Gilt Extra Dimension Skinfinish (which was limited edition), if you've been on the hunt for something similar. I'd recommend this shade of anyone with a light/medium – deep skintones.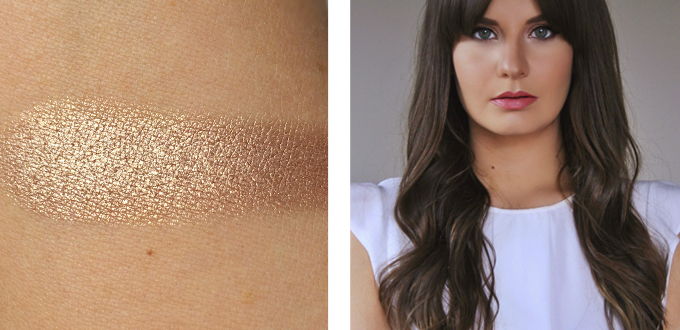 I'm wearing Wet n Wild Fergie Centerstage Collection to Reflect Shimmer Palette in Hollywood Boulevard on the tops of my cheekbones, tip of my nose and on my cupid's bow.
---
C $7.00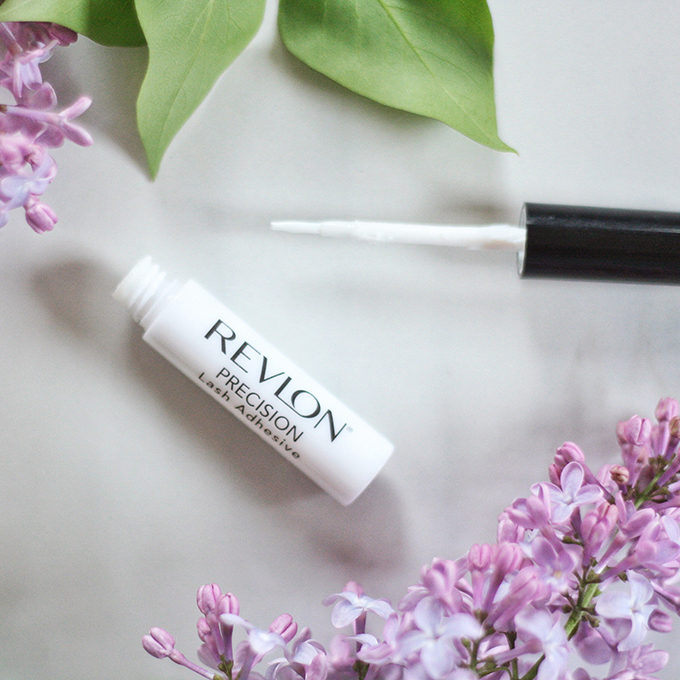 If you're going to wear false lashes, don't mess with any other glue — just pick this up at Walmart and thank me later! I like to wear lashes to special occasions (I'll mention my current favourite pair at the bottom of the post), and this is the best glue I've ever used. I wear contacts and have really sensitive eyes, and I can honestly say this is the first lash glue I've found that doesn't irritate my eyes at all, and keeps my lashes in place all day and night. For me, I think it's the latex in most formulas that irritates my eyes, and this glue is latex free. It also dries to a totally clear finish, has a brush applicator that makes is easy to use, and it has no scent. I love this stuff! If you're having a hard time applying your eyelashes, try this: apply the glue to the band, and then wait about 30 seconds for it to become slightly tacky before you place the lash on your lid. This makes it so much easier!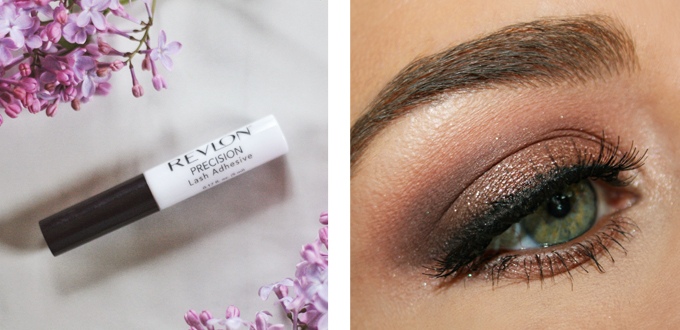 I used Revlon Precision Lash Adhesive to apply my false lashes (it dries totally clear!).
---
C $15.00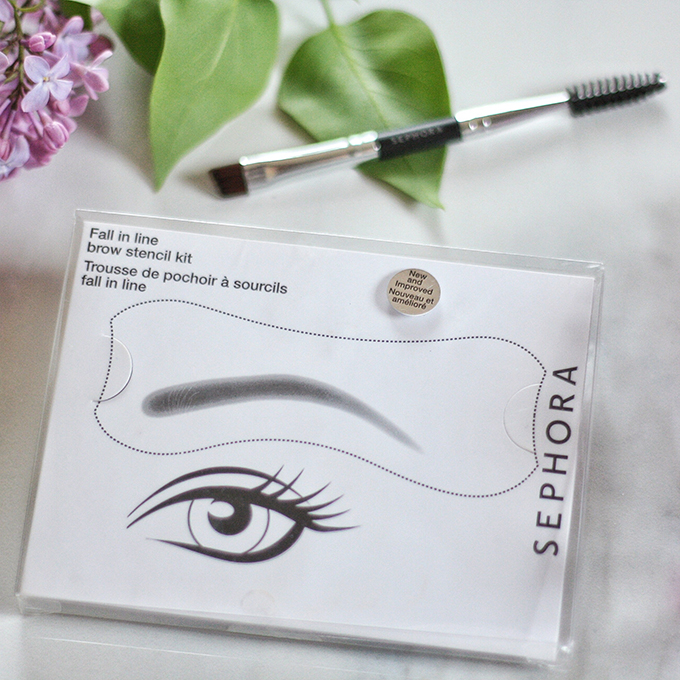 I've used this brow brush with the Anastasia Beverly Hills DIPBROW™ Pomade in Dark Brown for my brows for most of 2015, but I didn't realize exactly how much I love it until I forgot it at home when I visited New York. As soon as I realized, I marched right down to the closest Sephora to pick up another one — that's how you know you love something! This brush comes in the SEPHORA COLLECTION Fall in Line Brow Stencil Kit, but I would never use the stencils on my brows, and I don't advise you to, either (scary!). The double ended brush however, is fantastic — and a fraction of the price of similar products at Sephora (like the Anastasia Beverly Hills #12 Brush, for example). You've got a nice angled brush on one side, and a spoolie on the other — making it simple to apply a brow pomade with the brush, then comb it out with the spoolie for a natural, blended look, which is how I like to use it.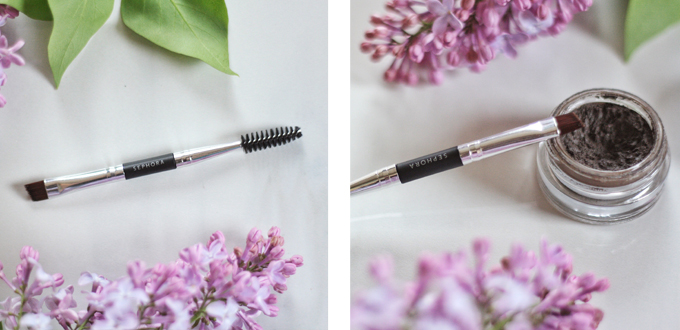 Brush from the SEPHORA COLLECTION Fall in Line Brow Stencil Kit with the Anastasia Beverly Hills DIPBROW™ Pomade in Dark Brown.
---
C $23.00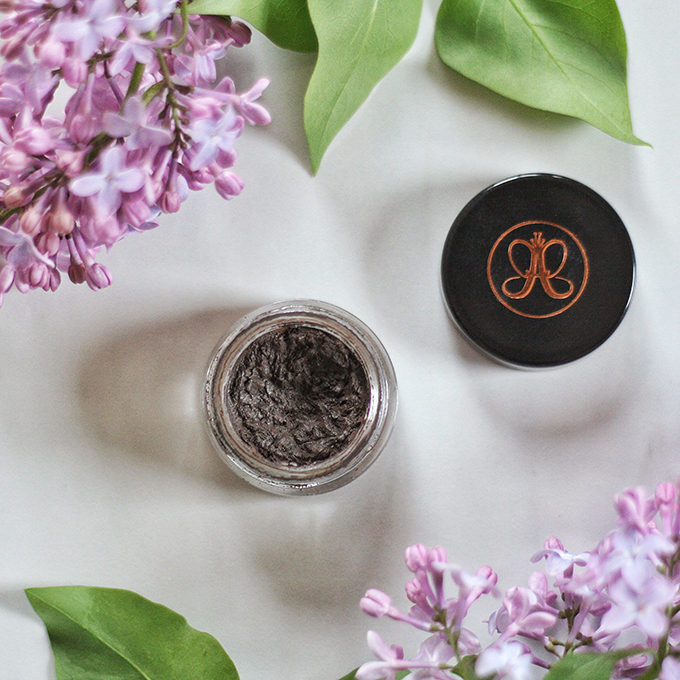 This has been my go-to brow product for almost a year now — you can see just how well-loved it is in the photos! I've used it ever since it first launched, and it's the best thing I've ever found for my brows (specially when used with the brush from the SEPHORA COLLECTION Fall in Line Brow Stencil Kit). They're a bit of a learning curve to this product, but once you get the hang of it, you'll love it. Dark Brown is a perfect match for my medium brunette hair — not too cool and not too warm, just a nice neutral brown. It's insanely long wearing, smudge-proof and waterproof — perfect for the summer. You can literally go swimming and your eyebrows will still look perfect afterwards (yes, I've actually done this). It's a bit of an involved process to use this product, but when I'm doing a full face of makeup, it's what I like to use. I have pretty good brows naturally, but the hairs are a little light, and I like a bit of extra definition. First, I use a clear brow wax to keep my brows in place, then I brush through with the spoolie end of the brush. Then I apply the pomade with the brush end, focusing most on the other edges of the brow, and leaving the front bare. Then, I fill the middle in, and comb everything through with the spoolie to soften. And voilà — perfect, budge-free brows!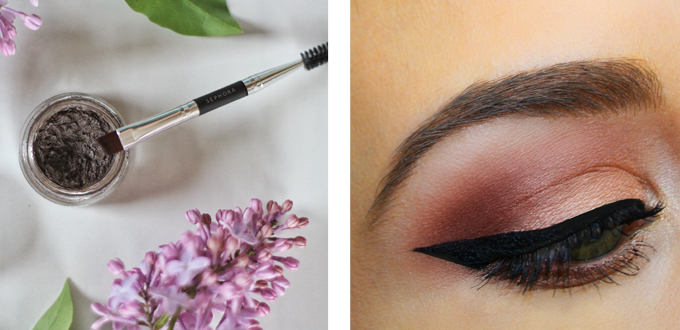 I'm wearing the Anastasia Beverly Hills DIPBROW™ Pomade in Dark Brown on my brows.
---
Easyliner US $2.49 | Lip Cream C $23.00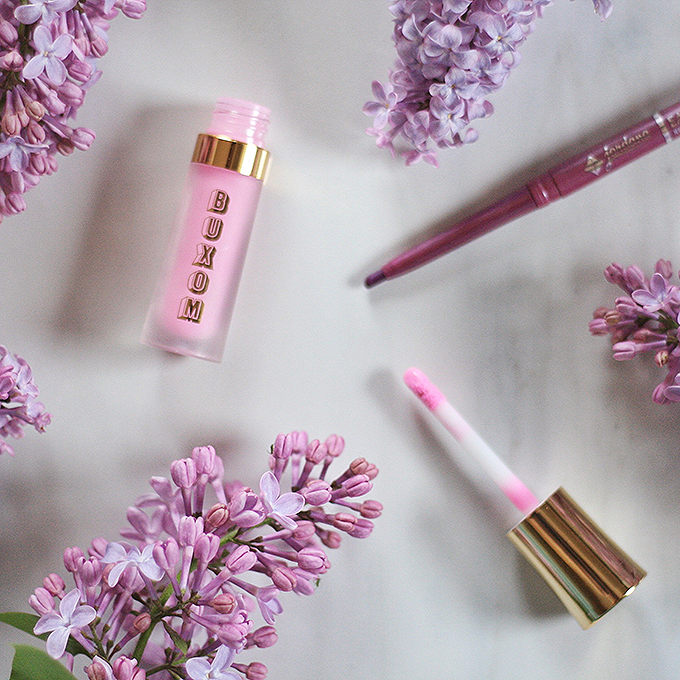 Almost every time I felt like wearing a bold lip in May, I reached for this combo. I mentioned this combo in my What to Wear to | A Spring Wedding post so you can hop over there to see more photos. I'm listing these together because I didn't wear one without the other — it's the combination of these two together that's so beautiful — a  wearable fuchsia pink. You've heard me rave about both the Jordana Easyliners for Lips and the Buxom Full-On Lip Creams before; they're some of my favourite formulas and I have multiple colours of both the lipliner and gloss. They always look beautiful and wear well. Silver Lilac come off more pink on the lips than it appears in the stick, a beautiful cool toned fuchsia pink. I admit that Lavender Cosmo looks a little crazy in the tube, and I probably wouldn't wear it alone, but with a darker lipliner I really love it — it definitely has a plumping effect on the lips — plus this combo makes your teeth look extra white. To achieve this look I first line my lips with the easyliner, then fill them in completely, and add the gloss overtop. Filling in your entire lip area with lipliner helps the gloss to last longer, plus it leave a bit of a stain after the gloss wears off. Try it out sometime!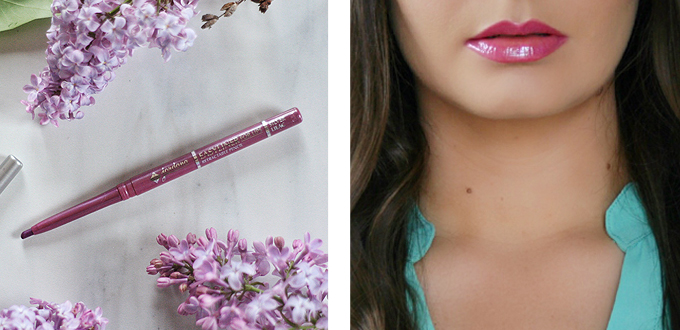 I'm wearing Jordana Easyliner for Lips in Silver Lilac all over my lips, with Buxom Full-On Lip Cream in Lavender Cosmo on top.
---
C $5.96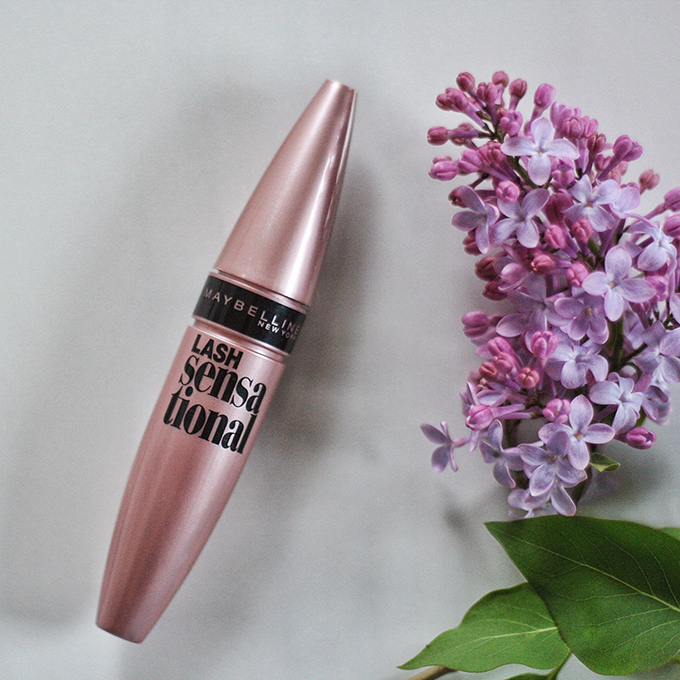 I've been on a drugstore mascara kick lately, and my Covergirl LashBlast (my holy grail drugstore mascara) ran out, so I decided to give this a try. I really like it! Like the Covergirl LashBlast, this also has a fairly large, rubber bristle brush — but that's where the similarities end. This brush is slightly curved, with short bristles on one side, and longer bristles on the other end. I like to use the short bristles to get right to the base of my lashline, then wriggle up and comb my lashes out with the longer bristles. Lash Sensational has a very wet formula mascara, which I don't usually like, but this mascara actually gets better with age once the formula begins to dry out a bit over time. The Lash Sensational Mascara builds volume very quickly — just one coat could do. Two coats is a happy medium for me, and after that I find that it starts to look a bit clumpy and spidery (which I'm personally not a fan of). This mascara doesn't give you whispy, fanned out lashes like Covergirl LashBlast, but it does give intense volume, pretty good length, and it's super black. It wears very well all day, and holds a curl — I didn't purchase the waterproof formula, but I think this does act as a waterproof mascara. That's actually a bit of a negative for me, since it's difficult to remove. I use Pure Jojoba Oil to remove stubborn eye makeup, and combined with my cleanser, it does a pretty good job at taking this mascara off — but I have to work at it more than usual. Check this out if you're looking for a good drugstore option this summer that will withstand heat, humidity, sweat and some water!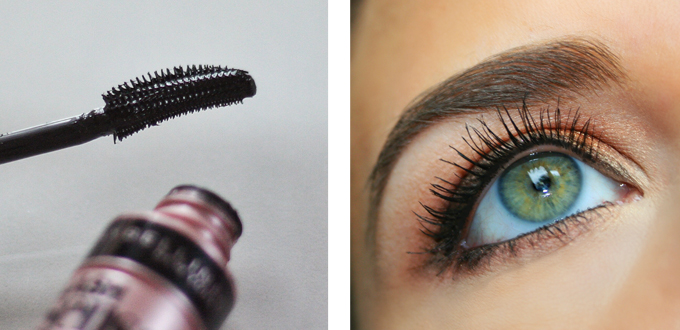 I'm wearing 2 coats of Maybelline Lash Sensational Mascara in Blackest Black on my top lashes, and one coat on my lower lashes.
---
US $5.00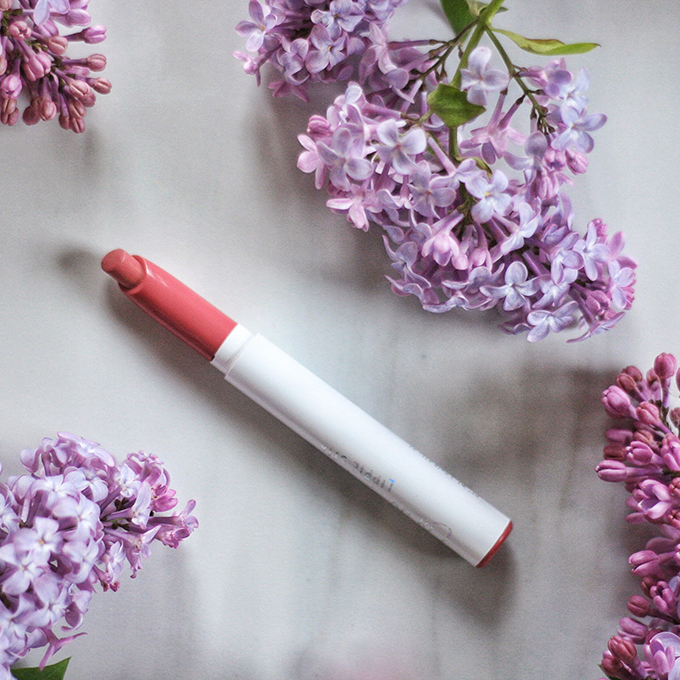 I've been wearing this lipstick so much that when it came time to shoot the photos for this post, I had to go get Frida from my bag! This is a beautiful neutral, mid-tone nude pink that looks good with everything — I've used almost half of it this month alone. I've worn it with smokey eyes and more natural eye looks, and I'm totally in love with it! You've heard me talk about Colourpop eyeshadows before, and I love their lip products just as much. Frida is a satin finish — and so far that's my favourite formula of theirs — it glides on smoothly, it's totally opaque and slightly hydrating with a subtle sheen. This shade makes your lips look plump and juicy, and I think it would look good on just about anyone. I'm still planning to do a Brand Spotlight on Colourpop, so if you're curious about the rest of their products or looking for recommendations, stay tuned!
I'm wearing Colourpop Lippie Stix in Frida on my lips.
---
US $5.00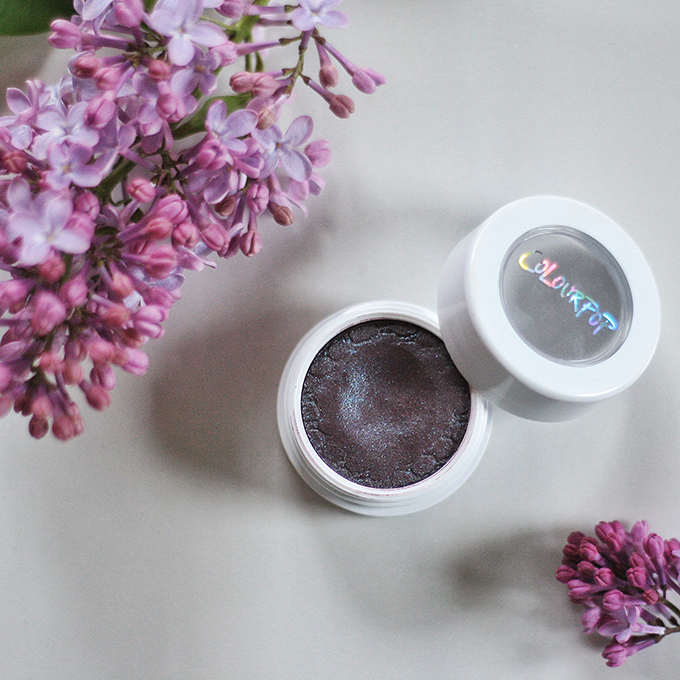 I'm head-over-heels in love with Colourpop eyeshadows! There's nothing else like them, they wear forever, and they have such gorgeous shades. I've been wearing lots of different colours this month, but in May I discovered Bae, and I wore it almost every time I wanted an intense smokey eye. This shadow has a duochrome effect (think: MAC's Blue Brown Pigment) where is looks purple in some lights, but has a teal reflection. It's a very interesting, unique colour! Colourpop describes it as a rich eggplant purple with an emerald and turquoise, glittery duo chrome metallic finish. I think that sums it up! And, I discovered this month that they also hold up really well on the waterline — just apply with an eyeliner brush like you would a gel liner. Seriously, how gorgeous is this colour? I think it compliments green eyes very well, and I received tons of compliments wearing it. I mentioned Fringe last month, and just purchased a few more shades, so keep your eyes peeled for more Colourpop recommendations! I'm totally obsessed, and for $5 a pop, how couldn't I be? They're the best, most unique eyeshadows I've ever used. And I've tried a lot of eyeshadows!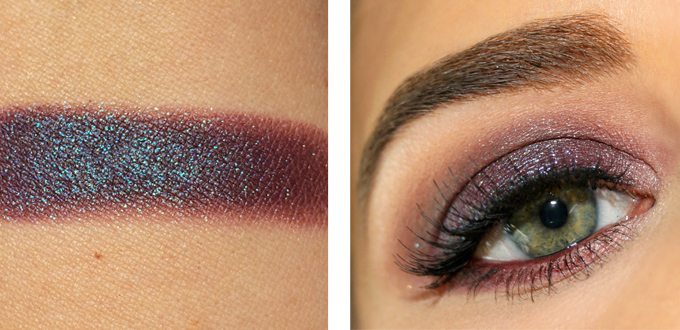 I'm wearing Colourpop Super Shock Shadow in Bae on my upper lid, lower lashline and waterline.
---
C $13.46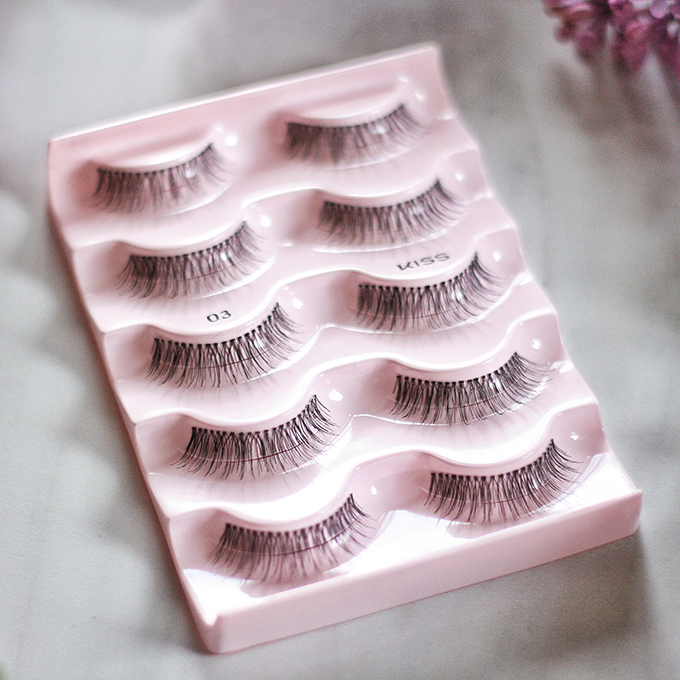 I'm currently growing my blunt bangs out, and so I've been able to wear false lashes again without them getting stuck in my bangs and driving me nuts! I like to wear falsies for special occasions, and this month I had a lot of excuses to get glammed up. I finally found my perfect lash! You can find this multipack at Walmart, and they're super affordable, ringing in at just $2.69 per pair. You can't beat that! I have 2 musts when it comes to false lashes; 1. They have to look like they could be real and 2. They have to be comfortable to wear. These lashes are made with 100% human hair (so they look like your eyelashes), have a lightweight clear lash band, and I've worn each pair more than once. I love the fluttery, natural look that these have — I even had a few people ask what mascara I was wearing, or if I got lash extensions. They're really flattering on the eye and the hairs are all different lengths, just like natural lash hairs. Next time you're at Walmart, check these lashes out, and pick up some Revlon Precision Lash Adhesive to use with them, they're absolutely stunning!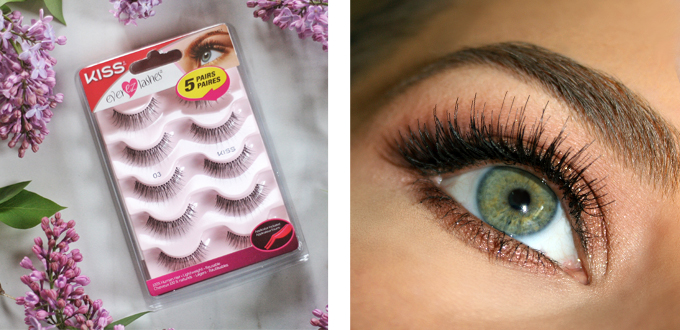 I'm wearing the Kiss Ever EZ Lashes in 03.
---
What have you guys been loving this month? Anytime you want to chat beauty, just leave a comment for me! And, if you try any of my favourite products or brands, let me know how you like them.
---
Disclaimer: This post is not sponsored, and contains my genuine thoughts and recommendations. JustineCelina uses affiliate and referral links, which allow me to receive a small commission when you make a purchase through one of my links. Your purchases help to support JustineCelina.com!