---
We're home from Christmas in November at the Fairmont Jasper Park Lodge and tonight I'm recapping our experience! What is Christmas in November, you ask? Basically, it's a giant meeting of people who love all the same things I love — great food, wine, entertainment and seasonal inspiration. This past weekend we cooked with celebrity chefs, learned about holiday decor from industry experts, came away with tons of culinary inspiration and tasted wine from all over the world. Sounds like a good time, right? Now, imagine that experience set in a charming, rustic lodge, overlooking a serene mountain lake in a picturesque National Park. That, my friends, is what Christmas in November at the Fairmont Jasper Park Lodge is all about! I'm sharing every detail of our trip — including the accommodations, the food, and drink, the lodge, the spa, the setting, the sessions, the after parties, who we met and what I wore! Come along with us to Jasper, Alberta on this festive retreat nestled in the Canadian Rocky Mountains and let's kick off the holiday season in style!
---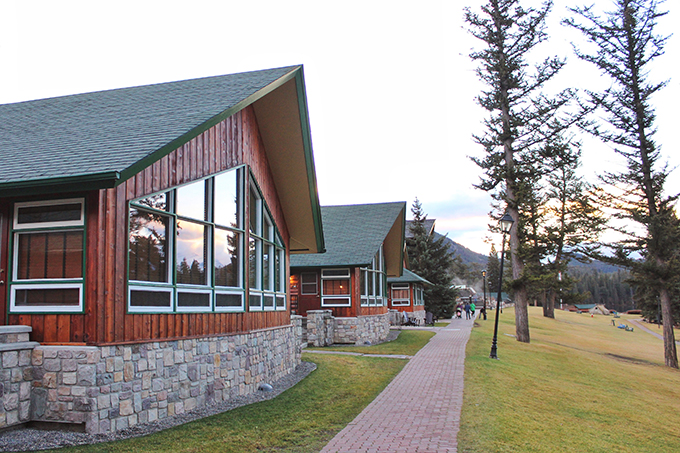 First, I feel that I need to make a little disclaimer. I don't want this post to come off as boastful — that is absolutely not my intention. While the life of a blogger may seem glamorous from the outside looking in, I can tell you that most of the time the complete opposite is true. This past year as I transitioned into blogging more 'full time' (although I spend way more than full time hours on my blog, however, it still doesn't fully support me financially) has been the busiest, most exhausting and yet creatively fulfilling year of my life. I work 80+ hour weeks every single week. In fact, the week prior to this trip I was averaging about 4 hours of sleep per night as I prepared to attend and finished up various projects and photoshoots — both blog and client related. My longtime partner Adam works in finance and also has a very busy schedule — we haven't taken a vacation for almost 2 years. Don't get me wrong, we both absolutely love what we do and are grateful for the work. However, it can be extremely taxing on us and a weekend getaway was just what we needed!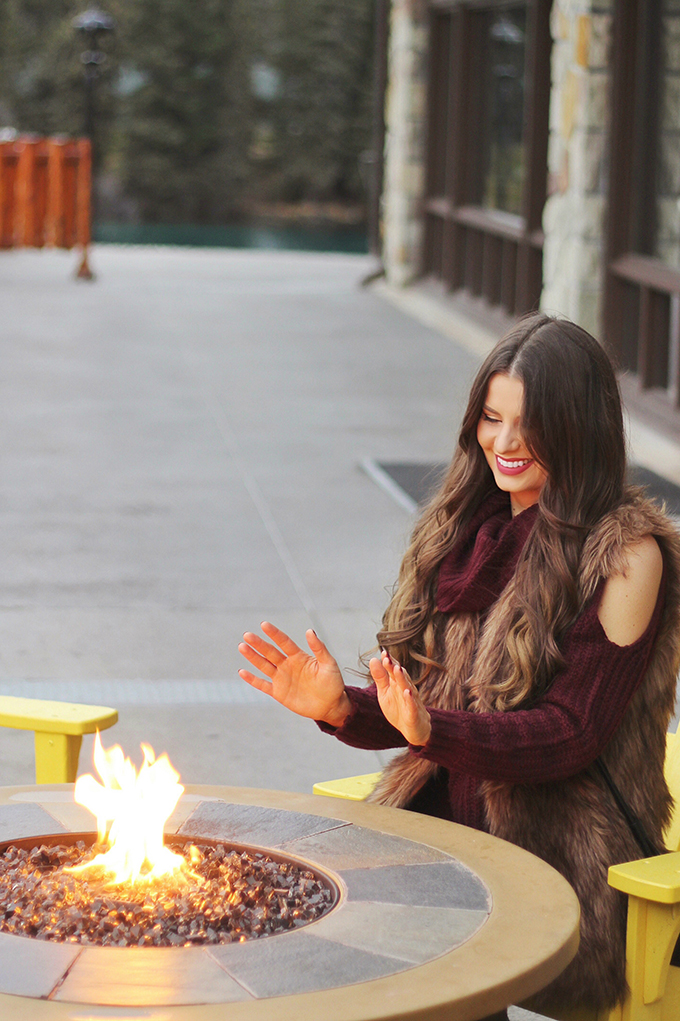 So when the Fairmont Jasper Park Lodge (who was just named the #5 Top Resort in Canada by Conde Nast Traveler) invited us to experience Christmas in November this year with them, we couldn't pass up the opportunity. Today I'll be recapping our trip for you — I hope you enjoy coming along with us and experiencing it through our eyes!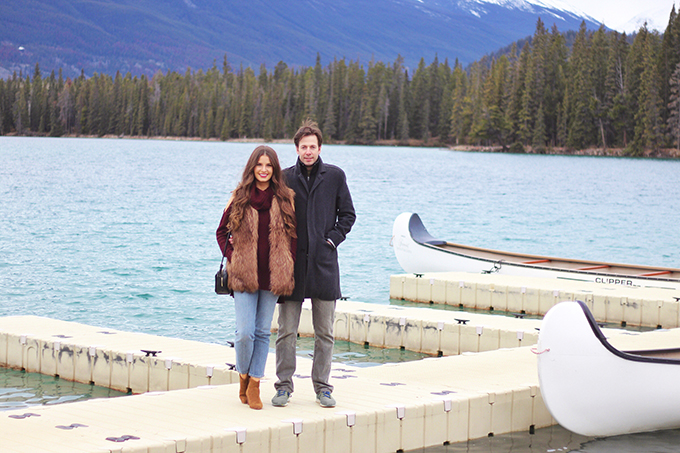 Longtime readers will know that I don't usually blog about events — but of course I had to make an exception for Christmas in November. I've been wanting to attend since we randomly happened to be in Jasper for the CIN weekend long before I starting blogging, but weren't staying at Jasper Park Lodge. We did, however, decide to make our way over to JPL in hopes of sneaking in for a bite at Oka Sushi (which was fully booked). We rolled up to the lodge and took a seat at the bar, ordered a cocktail and tried to sneak in somewhere for dinner since it seemed everywhere was full. We began chatting with few guests of the lodge and discovered that Christmas in November was happening — that's why we weren't able to get in for dinner! Ever since that trip, Adam and I always had it in our minds that we wanted to come back and attend CIN. This year, we were fortunate enough to do that!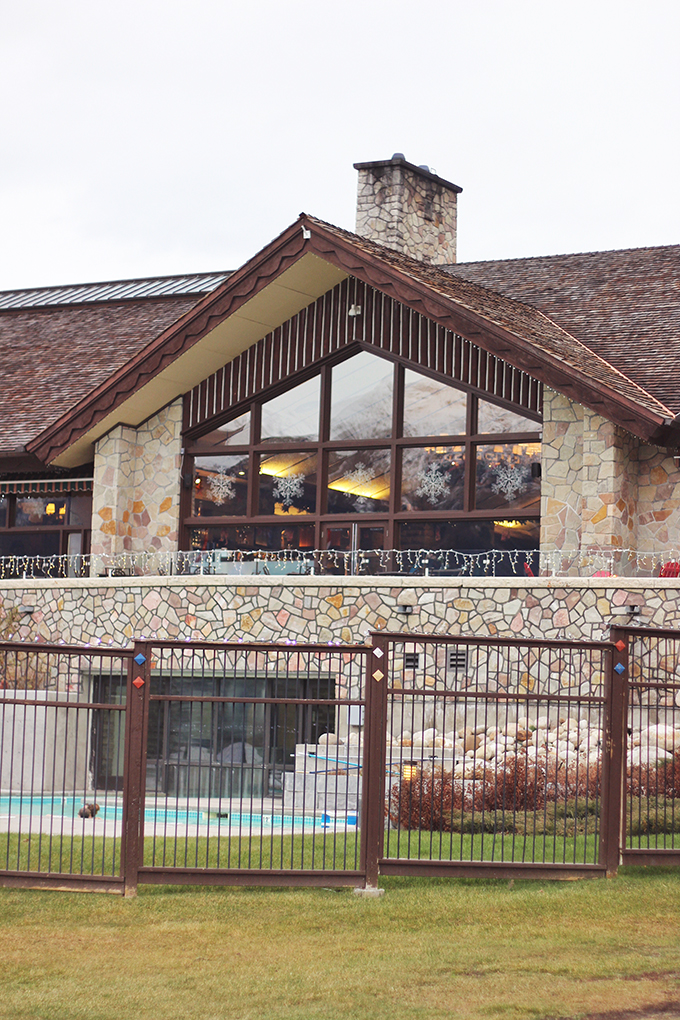 JustineCelina used to have more of a TRAVEL focus when I first started just over a year and a half ago and traveled on business frequently. As momentum with the blog picked up, it's become increasingly difficult to work travel into my schedule, unless of course it's blog related, like this trip! Attending Christmas in November was a perfect way for me to merge so many of my favourite things — travel, great food and wine, new adventures and of course, meeting tons of new people and making new friends — then being able to capture my experience and share it with you! One of my favourite things about traveling, other than experiencing the scenery and immersing myself in local culture, is the people I meet along the way. I'm going to be mentioning and linking to a handful of the people we connected with on this trip — so if you're looking for some other creative types / bloggers / foodies / generally awesome humans to follow, be sure to stop by and say hello!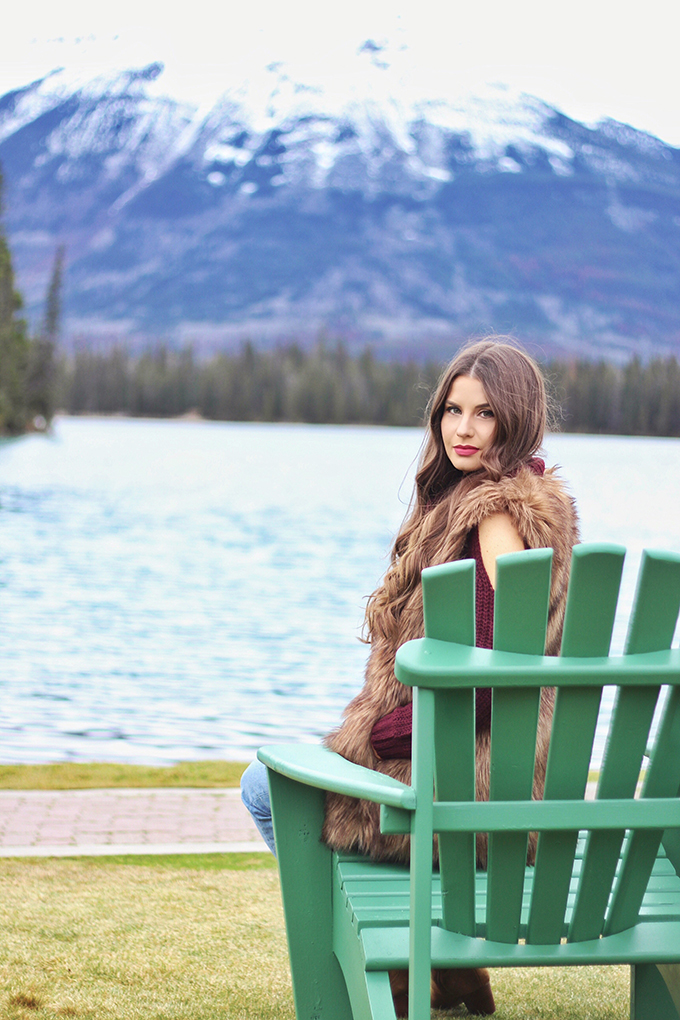 So, let's get into our trip! Remember those hectic schedules I mentioned? Adam and I weren't able to get away from the city to head to Jasper until about 7pm on Thursday evening — we ended up driving in the dark, but the roads were great and it was a nice way to decompress before the weekend began. The actual event and welcome reception began on Thursday evening, which we unfortunately missed — which was too bad because I had most magnificent, handmade sweater to wear to the Ugly Christmas Sweater cocktail reception, followed by a welcome dinner. Judging from a few of the photos taken that evening by my fellow Calgary bloggers, it looks like it was a great time!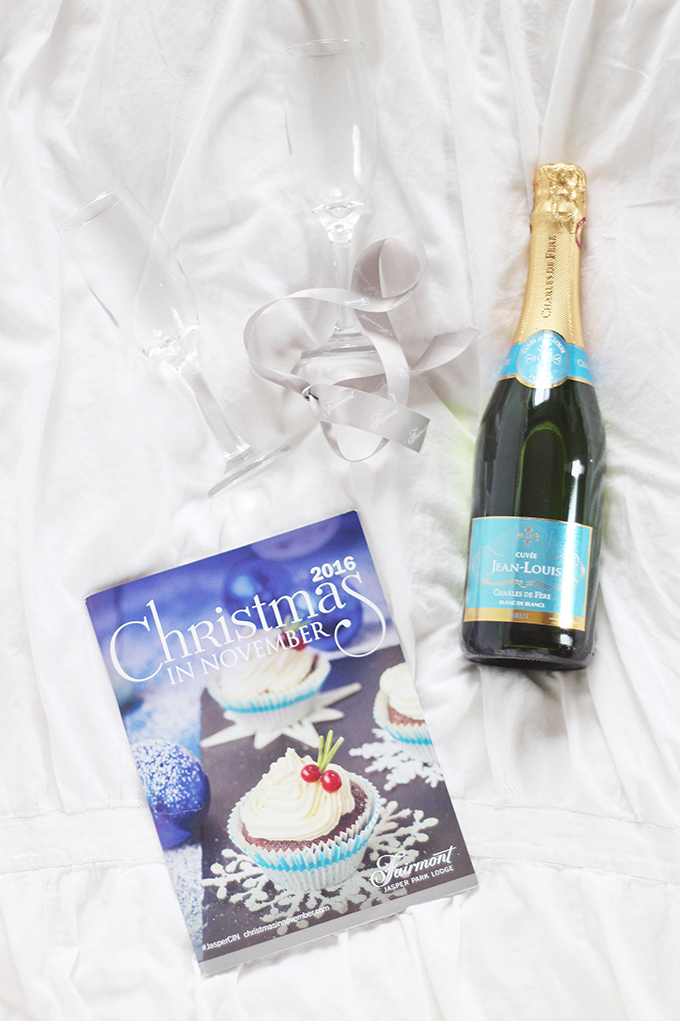 We arrived at the lodge at about midnight and settled in for the evening. Room 110 was our home for the weekend — a charming quad cabin perched on a gentle slope overlooking Beauvart Lake. Upon our arrival, there was a generous welcome package waiting for us — including Jean Louis Cuvée, cookbooks from a celebrity chefs Vikram Vij and Anna Olson, Swell water bottles, event swag and a fruit and cheese platter. We enjoyed our goodies and a nightcap and cozied into JPL's extremely comfortable beds and ultra soft sheets for a great sleep.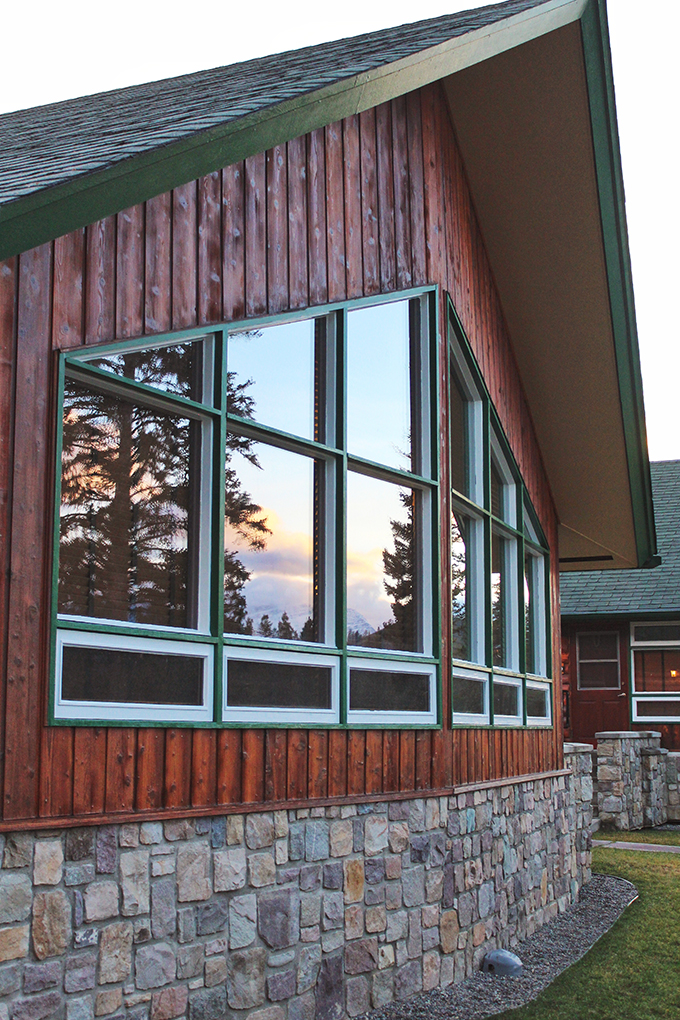 I awoke to an absolutely stunning sunrise and spent a few minutes taking in the view from our window. If you we're following along with my Instagram Stories (where I documented our trip on video) you'll know I also brought my coffee down to the dock on the water every morning and watched the sunrise in my PJ's (I'm an early riser and Adam is a late sleeper!). It's such a tranquil, calm atmosphere on Beauvart Lake and water is crystal clear. It was exactly what was needed each morning the CIN hustle!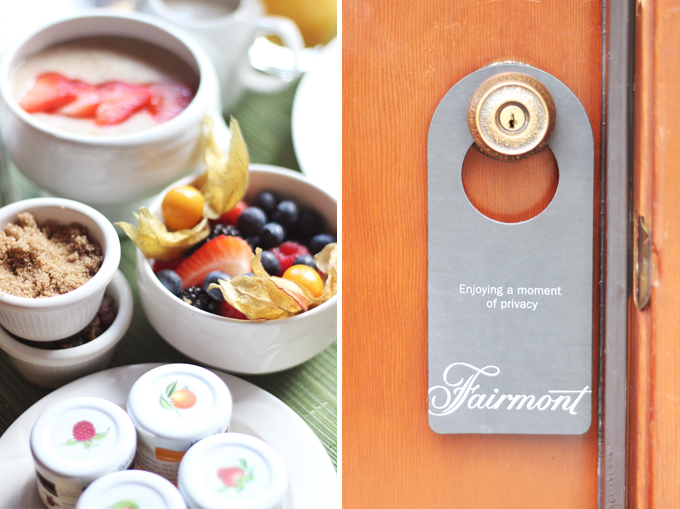 After I enjoyed my coffee, we ordered a quick room service breakfast of fresh fruit, orange juice and Irish oatmeal with nut milk. We're not typically the type to order room service, but heard JPL does it best and were not disappointed! Seriously — you just dial 55 and they bring you anything you'd like, anytime! After breakfast, we headed off to our first session.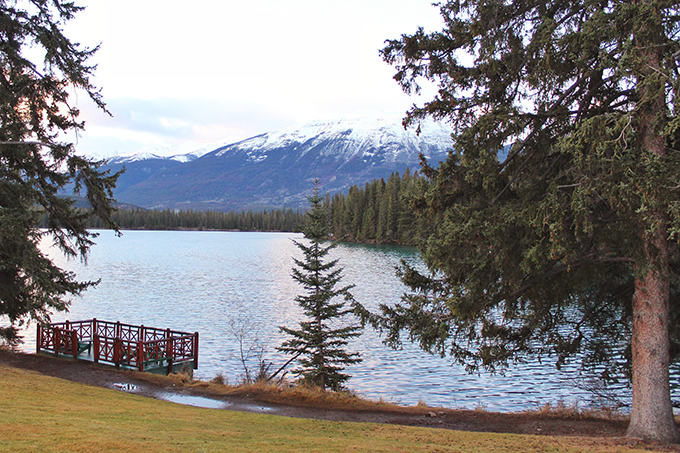 ---
SESSIONS
---
Session 1 | Interior Decorating with Cory Christopher
November 11th, 10:00 am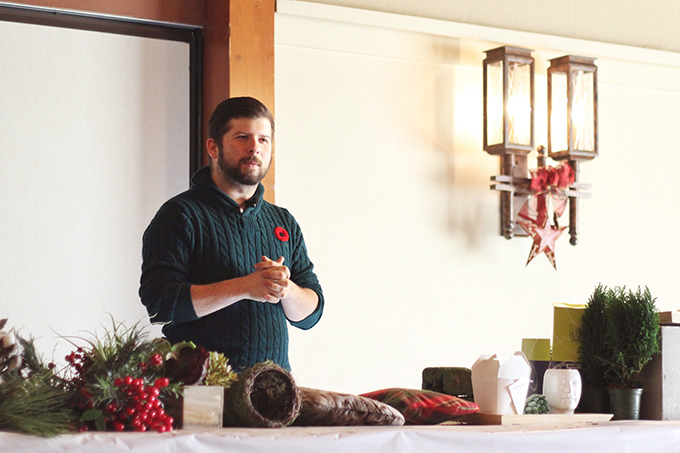 First up on our agenda for Friday morning was Cory Christopher's holiday decor workshop. I've had the pleasure of meeting Cory a few times at various events in Calgary and thought a decor workshop would be a nice way to ease into the weekend! Cory walked us through a series of hostess gifts with an underlying growth theme — first, a terrarium, then a potted succulent for the eclectic hostess, then a dressed up roll of toilet paper! He also demonstrated innovative ways to use stockings as decor and encouraged us to look for unconventional vessels like bird cages and trunks and in our own homes to utilize in new ways. I love Cory's energy and enthusiasm! We also observed a few minutes of silence at 11am in honour of Remembrance Day, followed by a thoughtful speech from Cory about what it means to be Canadian — it was the perfect way to kick things off at CIN!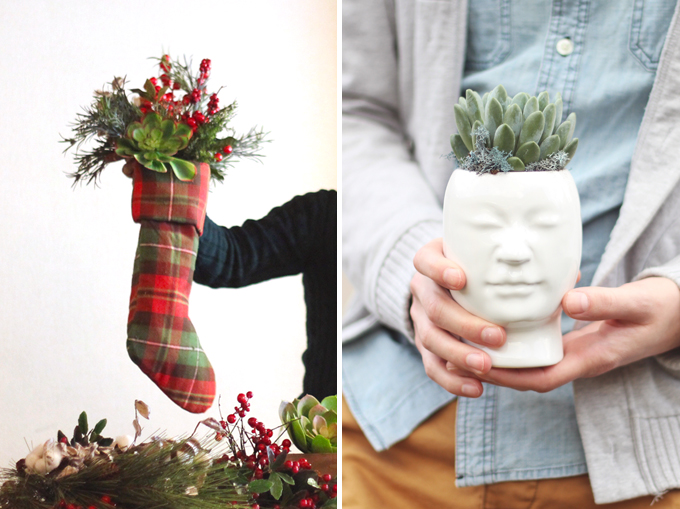 ---
Lunch
In between morning and afternoon sessions, we all dined together in the Beauvart Ballroom. As someone who isn't able to eat dairy or gluten and doesn't eat a lot of meat, the menu is always challenging at these types of events. The CIN / JPL team did a fantastic job at accommodating my dietary restrictions. There was definitely no shortage of delicious food at Christmas in November!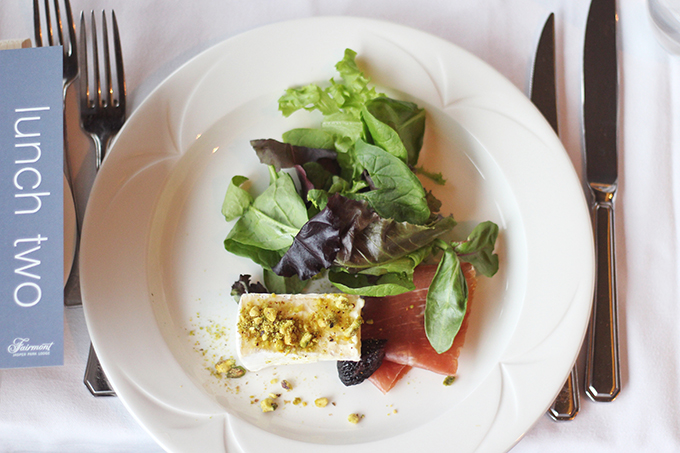 This ballroom is a very grand space — there must have been over 800 CIN guests in attendance this year! It was so nice to be seated with and close by some of my fellow Calgary bloggers and Food Bloggers of Canada members including Ryan (I'm Mr. Fabulous) and his fiancé Rob, Merry (Merry About Town) and Wanda (momwhoneedswine / Bakers Beans). At Table B, we were also surrounded by some new faces, including Giselle Courteau Jacob Pelletier of Edmonton's acclaimed Dutchess Bake Shop, Adrian Brijbassi and Teresa Marshall from JPL who coordinated the trip for us. Since we all dined (and drank!) together morning, noon and night, by the end of the weekend we felt we had sparked some incredible new friendships!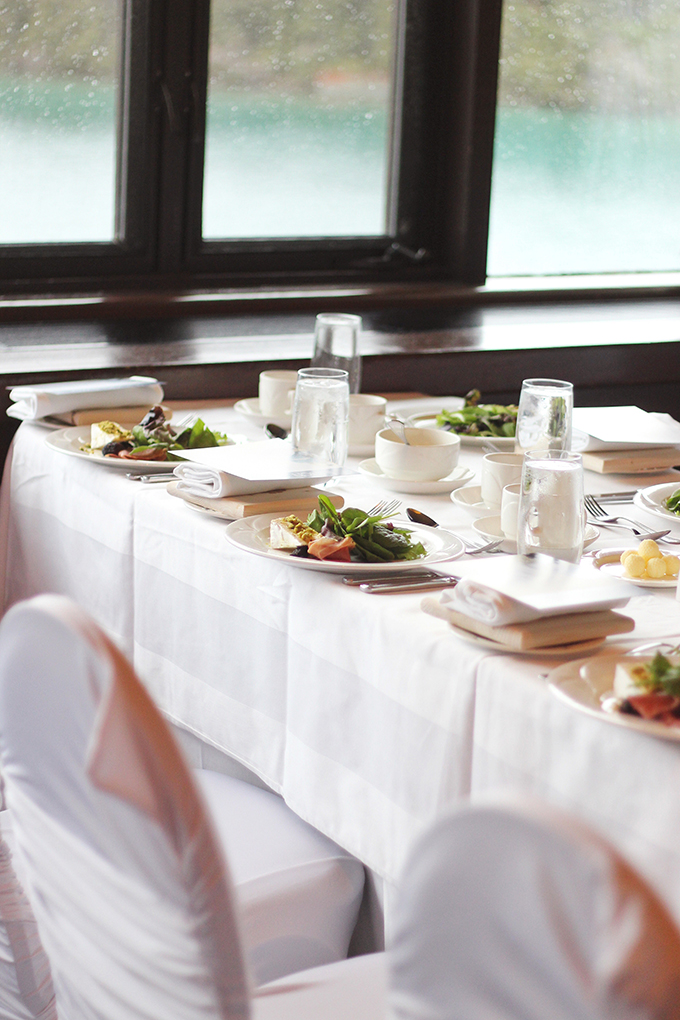 ---
Session 2 | Culinary Workshop with Chef Jan Hansen
November 11th, 1:30 pm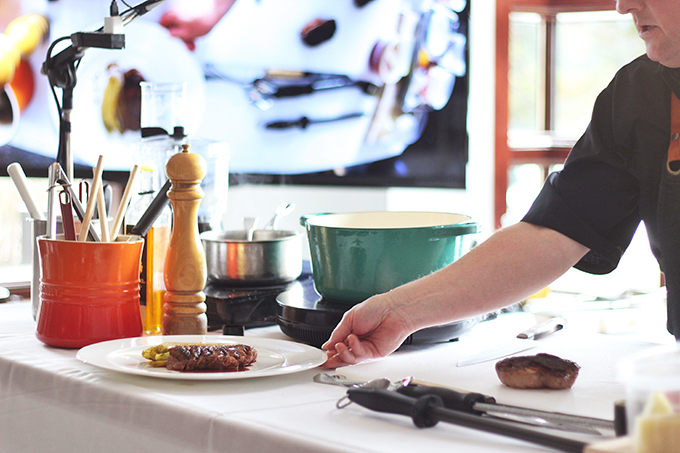 Jan Hansen is the Executive Chef at Calgary's Hotel Arts and I love his fresh, innovative, contemporary spin on food — of all the chefs attending CIN, Jan's culinary style is most similar to my own! He really takes great care in sourcing the best local and organic ingredients possible, which was a common theme throughout his workshop. From sautéing vegetables and browning duck in local, cold-pressed, Clearly canola oil (I made a note to pick some up so I can try it myself!), to educating us about where to find the best organic carrots locally, to chatting about the relationships he's developed with local farmers (like Dryview Farms, where he's been purchasing his lamb for 14 years), his passion for the culinary arts and using the very best ingredients in his work was inspiring.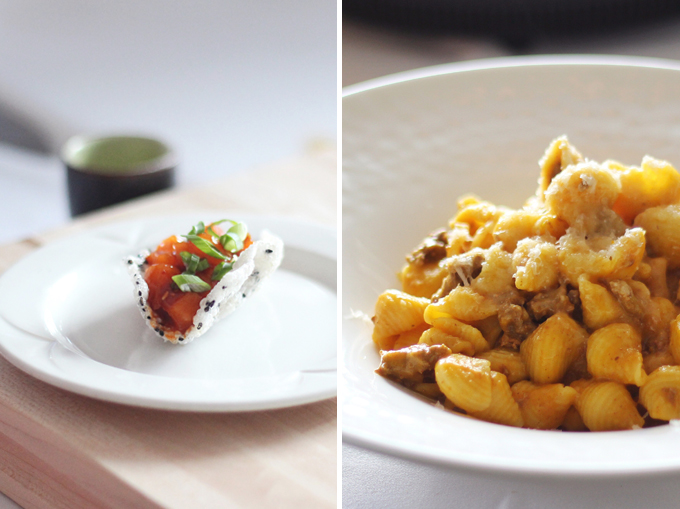 Jan prepared a crispy, rhubarb glazed duck breast, a lamb and carrot pasta, a butter braised Belgian endive, a holiday themed fresh pea hummus with spearmint and an Asian salmon tartar. Although I wasn't able to sample everything due to my dietary restrictions, it all looked and smelled gorgeous!
---
Session 3 | Viva Italy Wine Tasting
November 11th, 3:00 pm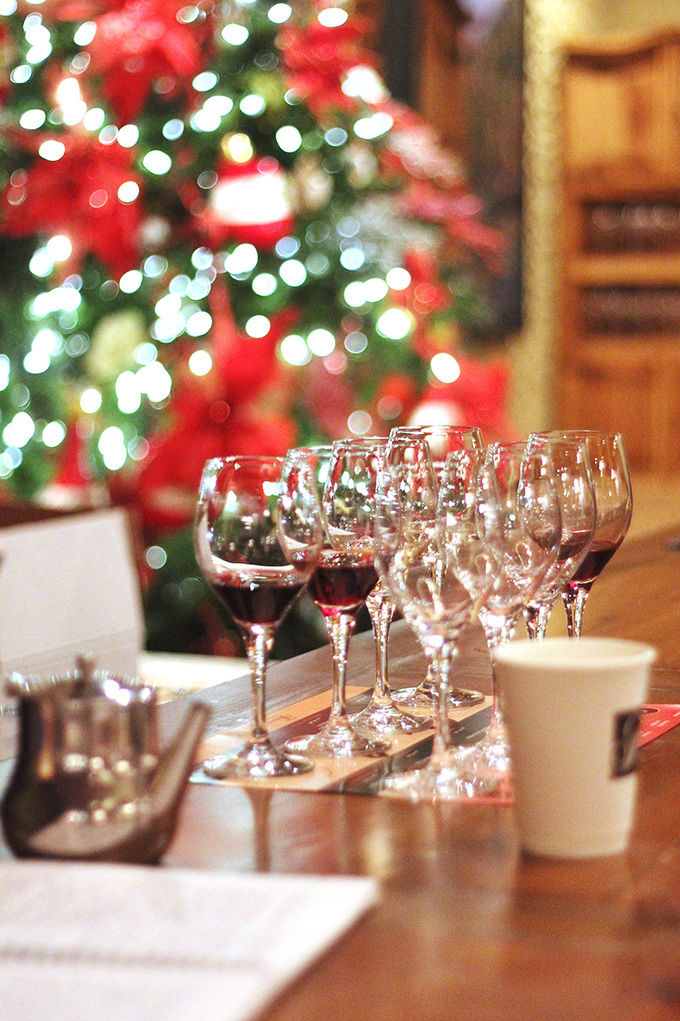 Obviously, we had to attend the Viva Italy wine tasting session! I love Italian wine — Chianti, Valpolicella, Sangiovese and Processo are some of my favourites. Admittedly, I wasn't familiar with many other varieties and learned a ton about Italian wine in this session hosted by the lovely Elise Usunier of Charton Hobbs (hi Elise, if you're reading this!). She walked us through an 8 flight tasting with cheese pairing suggestions (which I couldn't partake in, but Adam really enjoyed!). We came away with a happy buzz, a newfound appreciation for Italian wine and a couple of new favourite varieties — including a dessert wine that really surprised both of us (neither of us like sweet wine), the Banfi Rosa Regale — pictured right, below.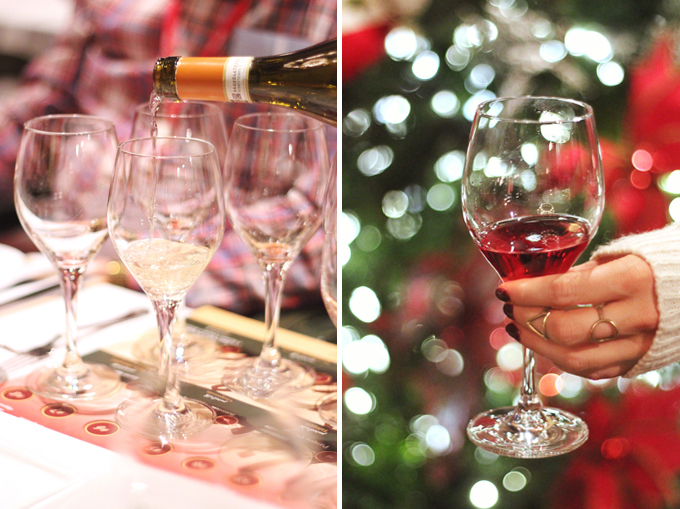 ---
Dinner & After Parties
After our last sessions, we would take some time to ourselves before heading back to the Beauvart Ballroom for cocktails and dinner. Each evening they offered signature cocktails in the main lounge, followed by a fantastic 3 course meal. The wine and conversation flowed freely and we had a blast! Teresa mentioned to us that typically the last package tends to bring a rowdier crowd and I definitely think our group (and our table!) brought the party. After dinner, there was live music and the dance floor was so packed that we were all moving the tables back to clear more space! Shirts were soaked through with sweat, hair was matted and laughter filled the room — a good time was had by all.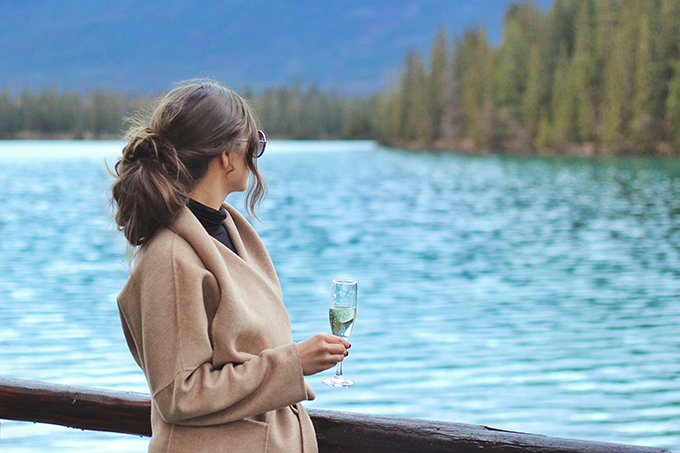 Eventually, Adam and I wandered over the The Man Cabin because we heard that's where the after party was. Yes, you read that right, The Man Cabin. The Man Cabin (a CIN 2016 debut) was specifically created for men needing a refuge from all the estrogen fueled activities of Christmas in November — although ladies were welcome, too! It was kind of like JPL meets frat house — kegs, solo cups, Foosball and air hockey tables, big screen TV's with 'the game' on, cigars and scotch. We were some of the first to arrive and ended up getting into a heated Foosball match with some new friends including Micah Dew (a flare bartender and hosting a CIN mixology seminar) and 2 fun couples from Edmonton who we ended up hanging out with all weekend. Don't get me wrong — while I appreciate the finer things in life I have absolutely no issue drinking my wine from a solo cup, kicking off my heels and playing (winning) a game of Foosball! Honestly, it seemed like it was actually the ladies having the most fun in The Man Cabin. It was a place where you could let your hair down — CIN attendees and presenters did just that!
The Man Cabin isn't the kind of place where people appreciate you whipping out a camera (it's more of a 'what happens at The Man Cabin stays at The Man Cabin' vibe), so unfortunately I don't have any photos to share — but if you were following along with my Stories on Friday night you got a little glimpse into the shenanigans that occurred!
---
Session 4 | Culinary Workshop with Chefs Anna & Michael Olson
November 12th, 10:00 am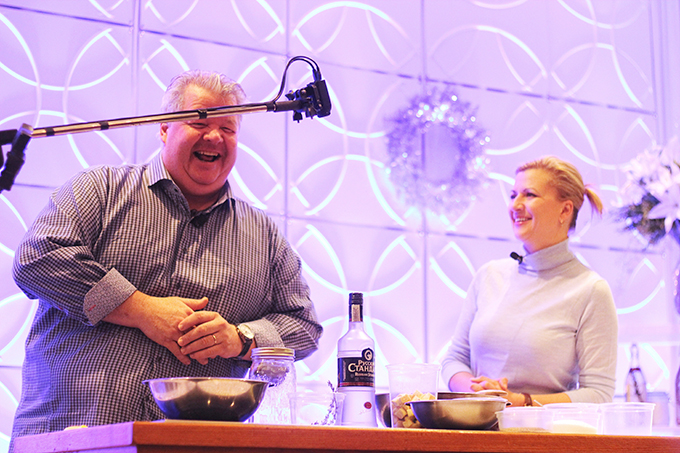 I was so excited to attend Chef's Anna and Michael Olson's workshop on Saturday morning. I've been watching Anna for a long time on The Food Network and kept hearing over and over again what fun and genuine people the Olsons were. That couldn't be more true — as I was culling images for this post, they're both smiling and laughing in almost every single one! The theme of the Olson's workshop was a holiday menu that's actually better when prepared ahead of time. They walked us through 5 food and beverage ideas to reduce the stress of days spent in the kitchen meal prepping for the holidays — so you can actually enjoy your company!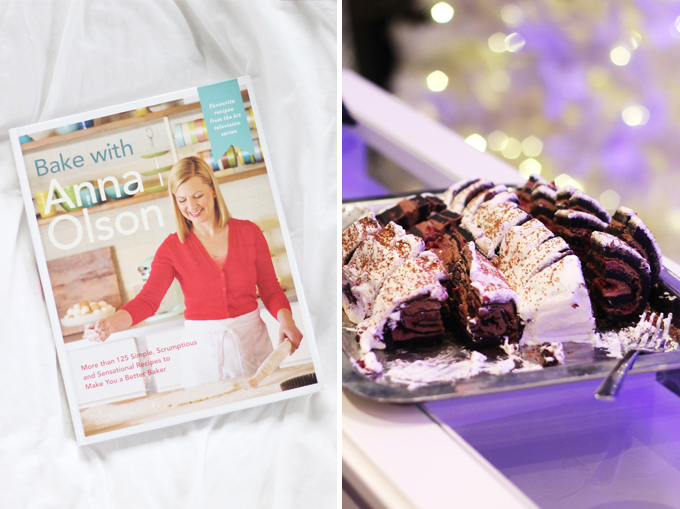 First, Michael prepared a spiked vegetable jardinière for holiday Ceasars — which is really a fancy way to say vegetable-infused vodka! What a genius idea, right?! The best part is that it's so simple to make and it really elevates the taste of a traditional ceaser (you know I'm all about kicking my Ceasers up a notch!). Then, they walked us through bacon cheese puffs, a very pretty (pink!) winter potato beet salad, an overnight holiday ham with honey mustard glaze (which was just literally honey and mustard!) and a gluten free black forest roulade. By the way, if you'd like any of these recipes just leave me a comment and I'll get them to you!
---
Session 5 | Culinary Workshop with Chef Vikram Vij
November 12th, 1:30 pm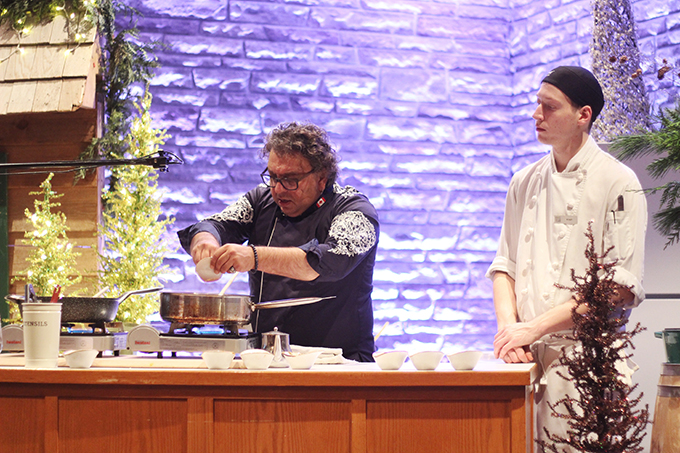 I had the most fun in Vikram Vij's workshop! Vikram is a vivacious, passionate man with many stories to tell and vibrant Indian dishes to share. We began the workshop by greeting each other with a Namaste and chatting about perseverance, cooking with passion and the importance of sharing food together. His session was very interactive — he invited many guests onstage to help cook and serve a trio of curries, including stewed cinnamon-scented lamb curry, Vij's family chicken curry and prawns in coconut masala (which I could actually sample because it was dairy and gluten free — and absolutely delicious!).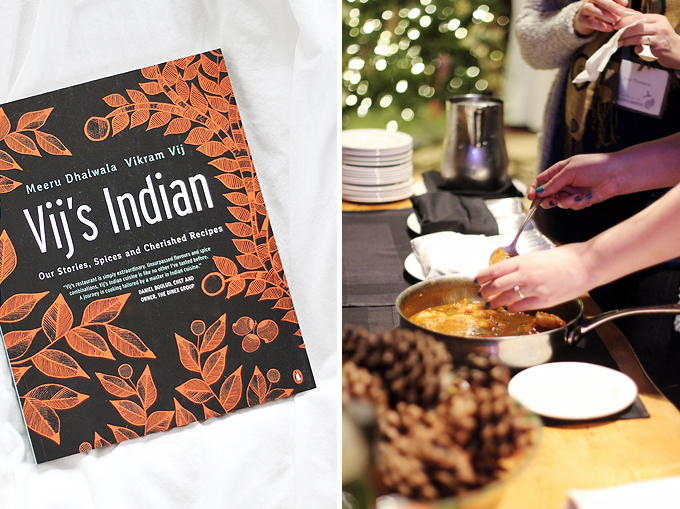 I love Indian cuisine and cook it often at home, which is funny, because I don't have any Indian recipes here at JustineCelina — but that will change in December! I learned so much from Vikram's workshop about the fundamentals of Indian cooking. I cook in a similar manner that he does — never following a recipe, everything in the pot, taste as you go. The most important takeaway from his workshop was that the cornerstone of any good Indian dish is a trio of onions, garlic and ginger pan roasted for about 45 minutes — in Vikram's words, "You have to cook the shit out of it and make it brown!". I'll be taking a page out of Vikram's book and cooking the shit out of my onions, garlic and ginger for my upcoming Stuffed Acorn Squash with Curried Winter Vegetables that will hit the blog in December!
---
Session 6 | The Man Cabin
November 12th, 3:00 pm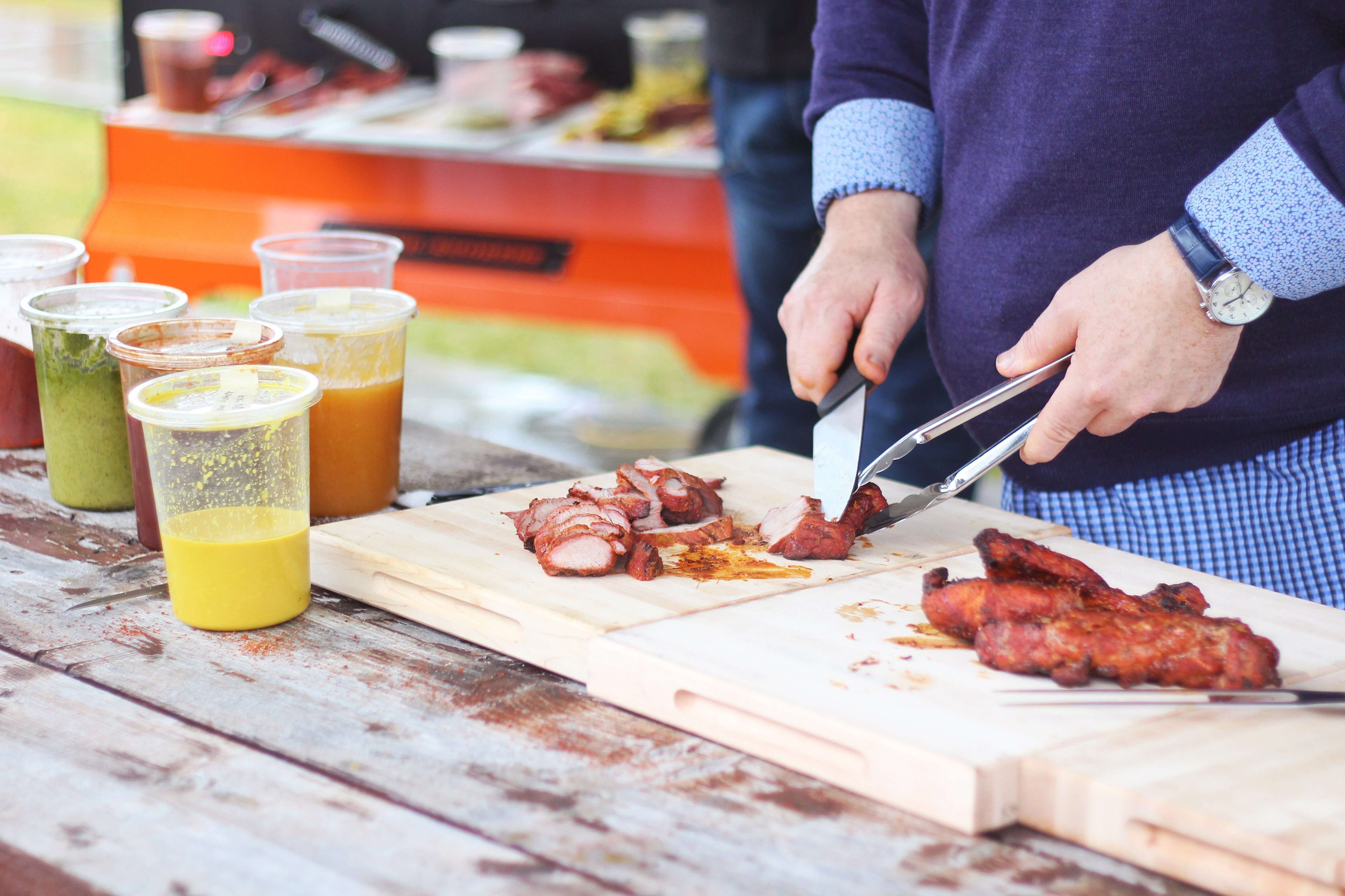 On Saturday afternoon there was actually a workshop at The Man Cabin, although you could drop by anytime as I mentioned previously. It was a rainy afternoon, but we bundled up and sat in the backyard of The Man Cabin underneath a tented area while Chef Michael Olson barbecued various Alberta Pork dishes for us. He shared some of his favourite recipes for glaze, rub, chimichurri and marinade and I learned a lot in this session that I think would lend itself to vegan / vegetarian dishes and seafood, too.
---
Gala Dinner & Hot Tub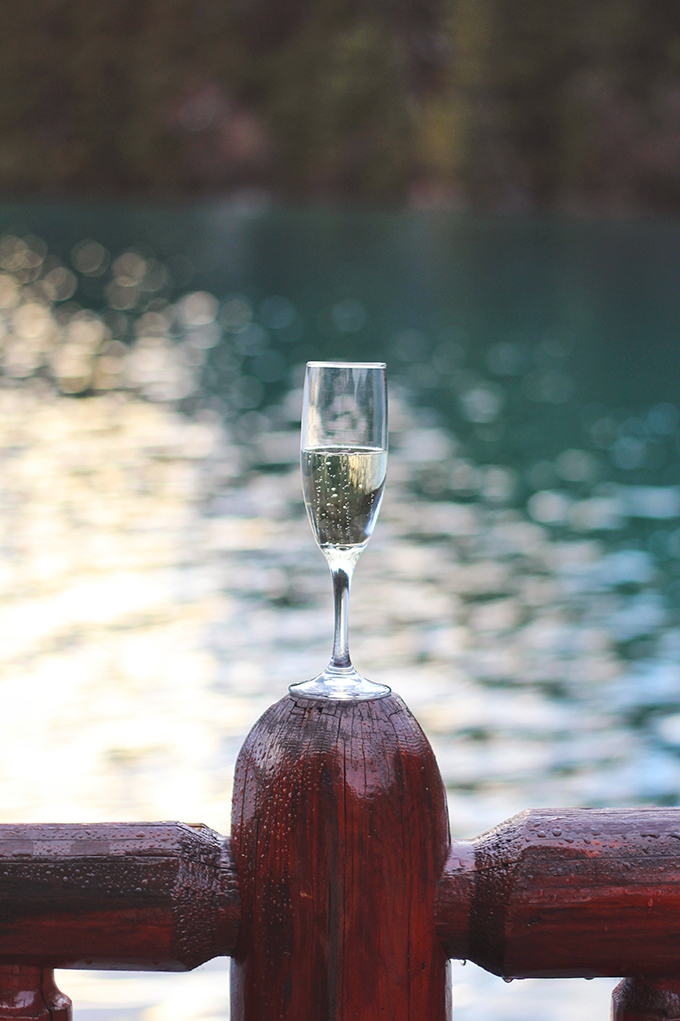 On Saturday evening, it was mostly a repeat of Friday — just without any Man Cabin action! Everyone (myself included) was glammed up for the Gala Dinner and we shared another fabulous meal together, my favourite of the weekend. After dinner, we headed to the pool and tub tub area for a late night soak. It was a great way to wind down before bed because we were up early the next morning to experience the spa!
---
THE SPA
---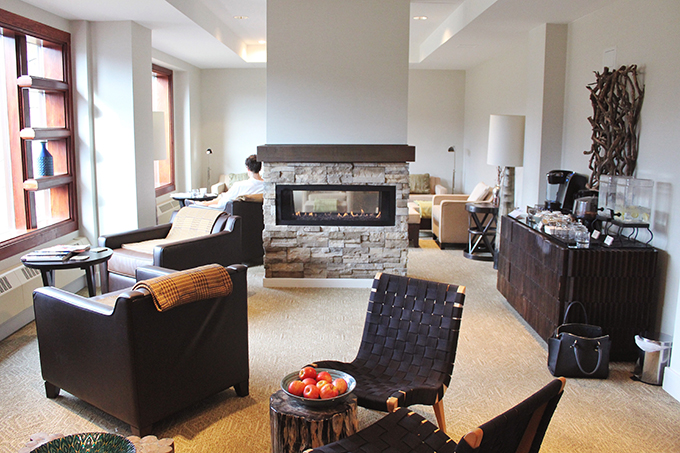 We didn't attend any Sunday sessions — instead we checked in to the spa at the Fairmont Jasper Park Lodge for some much needed rejuvenation. I've mentioned this previously, but Adam and I are the type of people who prefer experiences over gifts. In fact, in the 8 years we've been together we've never once purchased gifts for each other — instead we go do something meaningful together. We head to the mountains whenever possible (which hasn't been often lately) for massages and definitely have our favourite spots both in and outside of Calgary. We've spent a lot of time in spas over the years, but nothing we've experienced to date compares to our spa experience at the world-class JPL spa!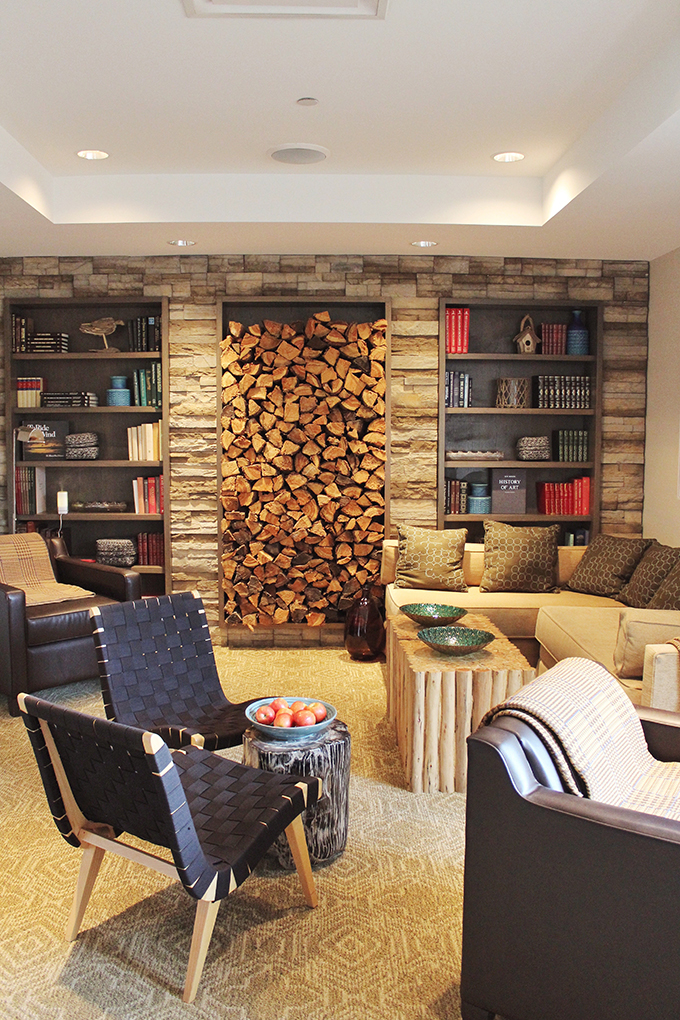 First, the space itself is absolutely incredible — simultaneously cozy yet tranquil. It just so happened that the lake looked like glass that day, and we had such a beautiful view from the common room where guests are invited to relax both before and after treatments.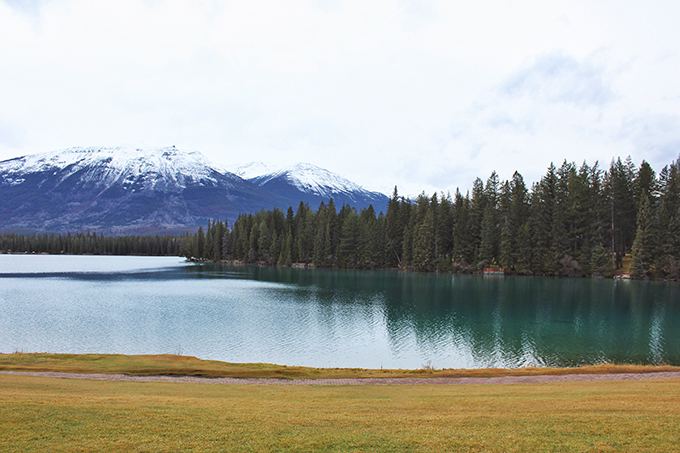 Adam and I experienced the Sacred Moments package together, followed by his and hers pedicures. The Sacred Moments package was so romantic — our masseuses Jackie and Amanda greeted us warmly in the candlelit couples suite, where we discussed our goals for the session. We settled onto the tables (they were electric and the sheets were some of the softest I've ever felt) and began with a therapeutic mineral scrub. After that was finished, we were guided to an invigorating hot steam session to detoxify (it was incredible!), followed by and an ultra luxurious bath in a spacious soaker tub complete with jets. There were also ice cubes, cold water and an invigorating neroli spray set out for us while we enjoyed our soak if the heat became too overwhelming. It's the little details like this that the spa at JPL does like no other!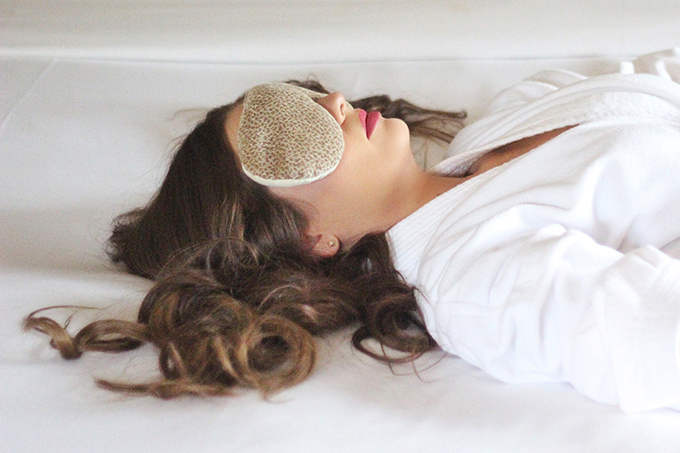 After our steam and soak, our side-by-side massages began. I can honestly say I've never felt so relaxed at a spa! I'm a pretty high strung person, so for me to truly unwind takes a lot. By the end of our treatment I was so relaxed that I almost fell asleep on the bed — that never happens! I have some back and shoulder issues, so my massages are typically therapeutic rather than relaxing (they're so intense that sometimes I need to ice my muscles!) so experiencing this more relaxing massage with Adam was just what we both needed. After the massages were over, they slid a warm, apple cinnamon scented neck roll around our shoulders to cradle our necks, then finished things off with a soothing essential oil head massage. This is the part where I almost fell asleep — they place the oil around your hairline, then massage it in. By the end, my hair was completely saturated in oil (yep, all of it!) — when I washed it out, my locks felt ultra conditioned and restored!
After our treatments, we enjoyed pedicures together. If you were watching my Stories, you'll know that it was Adam's first time and he was pretty nervous — but as I predicted he loved every minute of it! Pedicures are typically something I have done about once a year since I have everything I need (including a gel nail system) at home, but it's always a treat to have someone else give you a pedi. We chatted with our estheticians Jackie and Anna (hello, if you're reading this!) about our weekend, the lodge and a few of their recommendations for dinner and drinks that evening. We also enjoyed some Processo and chocolate covered strawberries from the comfort of our massaging chairs as Jackie and Anna worked away. It was truly blissful! Our pedicures were fantastic and I love polish I chose — a deep wine shade, perfect for the holidays.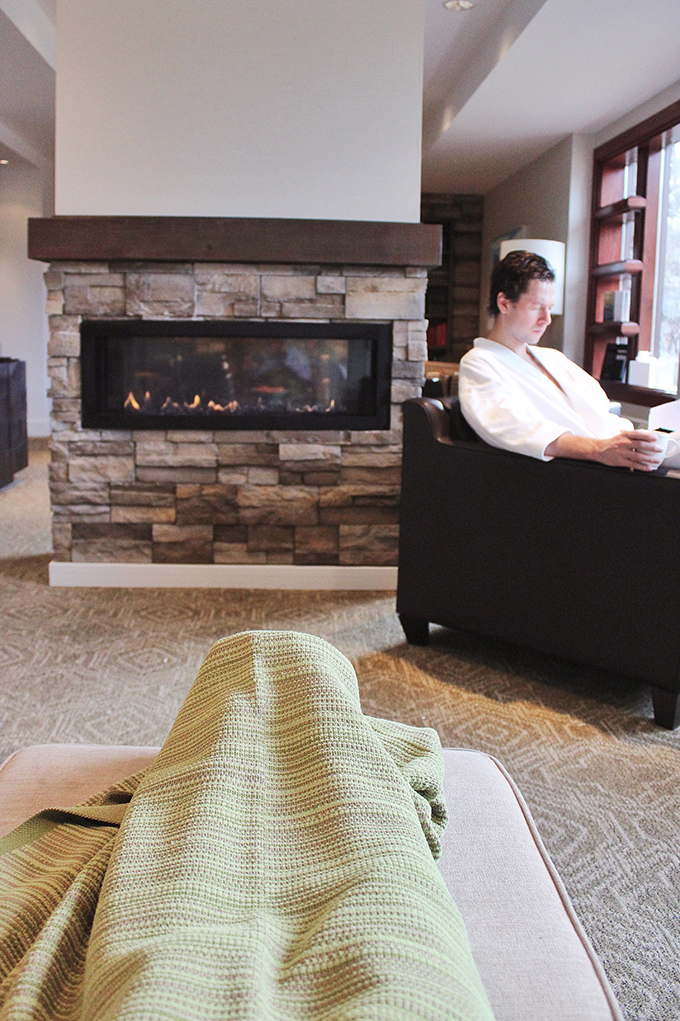 If you ever find yourself in Jasper and are in need of some pampering, be sure to book yourself into the spa at the Fairmont Jasper Park Lodge for a truly rejuvenating experience — we both can't recommend it enough!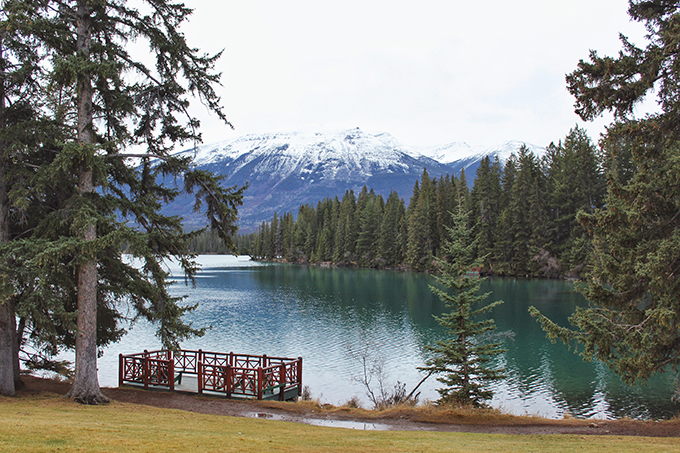 ---
THE FAIRMONT JASPER PARK LODGE & GROUNDS
---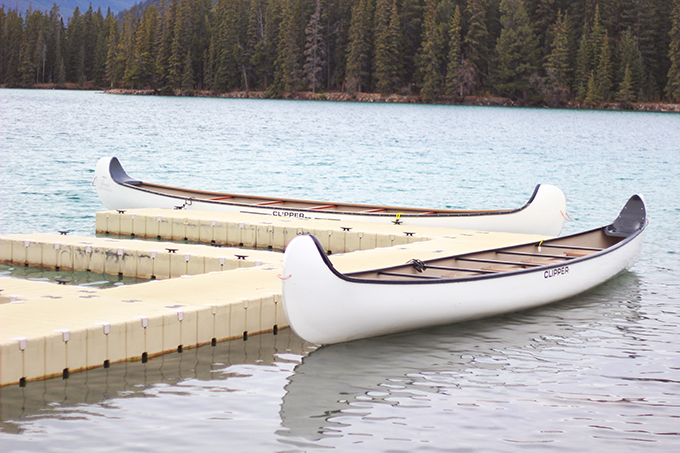 For the rest of the day we explored the grounds, snapped some photos and hung out in the main lodge. It was a bit of a slower pace that day as most CIN guests departed on the bus at 1pm. We picked a cozy spot next to the fireplace to have a drink and some snacks. If you're a Ceaser lover, you must try JPL's Mountain Ceaser — a spicy double topped with beef jerky, pickled asparagus and onion and 2 olives. It's almost a meal in a glass!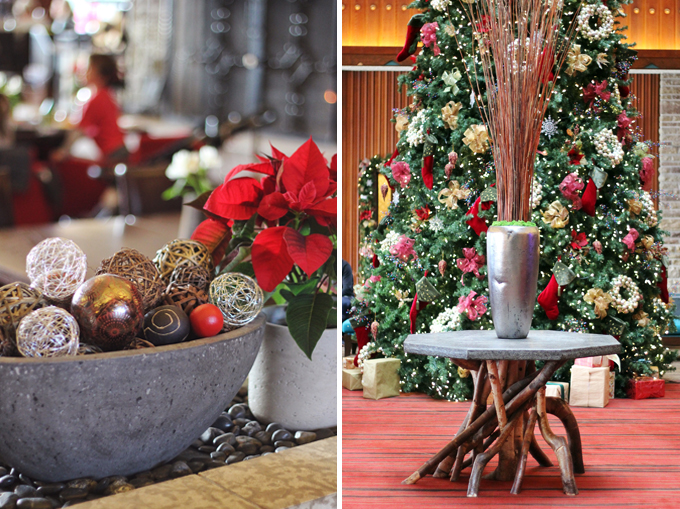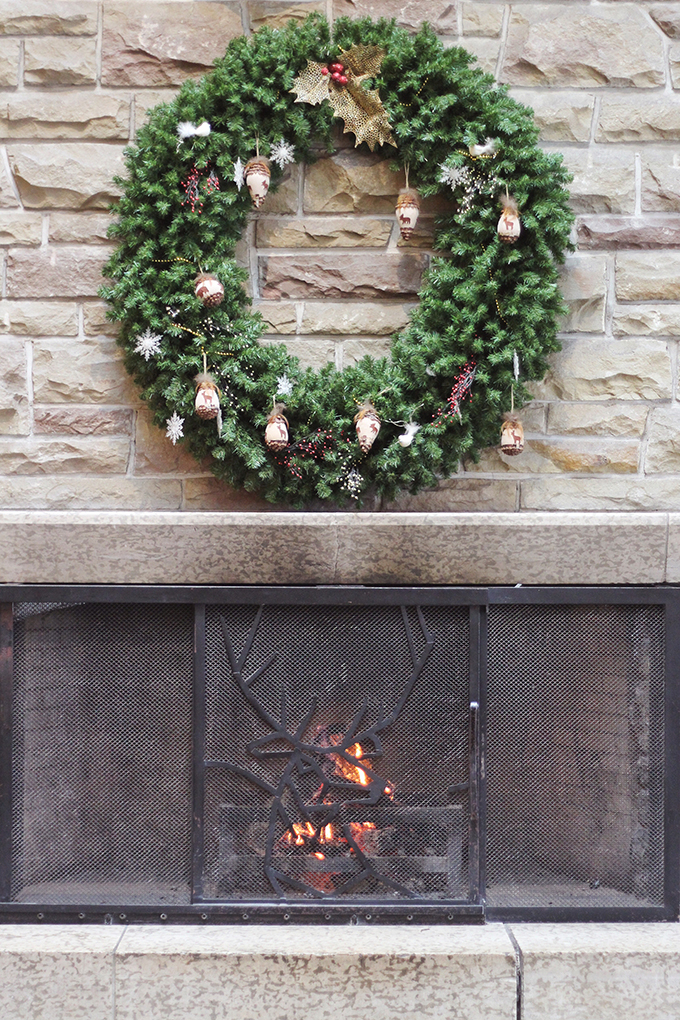 Every single inch of the Fairmont Jasper Park Lodge was decked out in holiday cheer — including wreaths, Christmas trees, holiday planters and a giant gingerbread house made entirely from real gingerbread, icing and candy!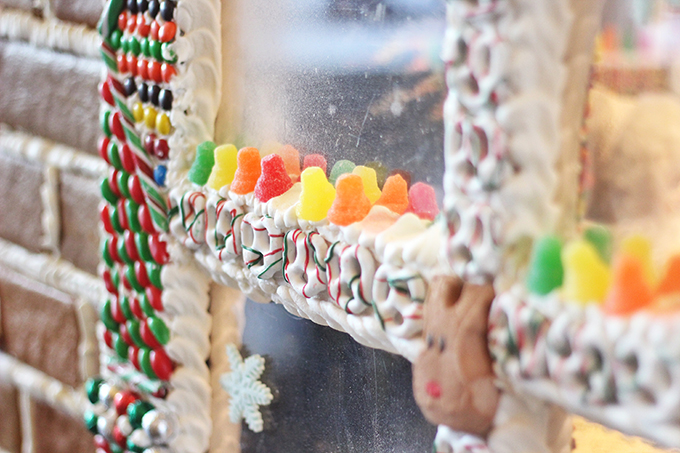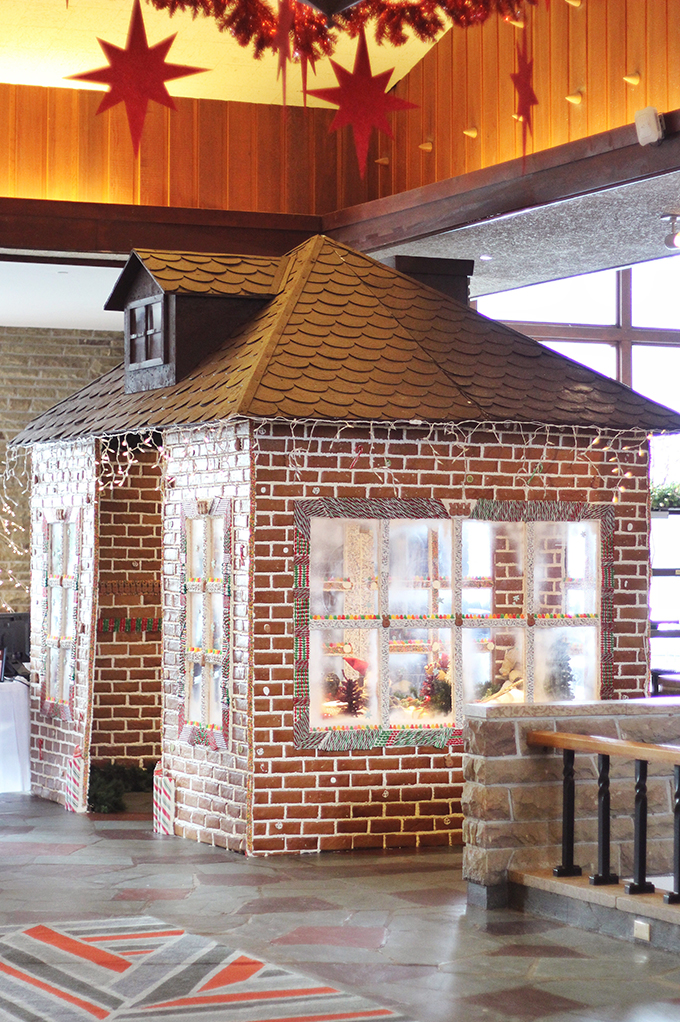 Anytime we weren't at sessions or dining with our group in the main hall, we were hanging out on Beauvart Lake. On our first night at the lodge, we headed down to the dock with our Cuvée and enjoyed some bubbles as the sunset — it was so peaceful!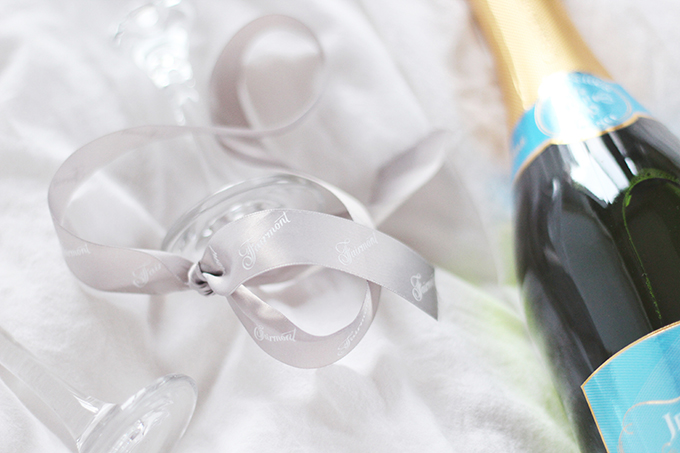 Monday was a travel day for us and we lingered at the resort a little while longer than planned to capture some photos and explore the area (you probably saw my Stories of our white-knuckle drive home in the dark on the 93 — don't worry, Adam was driving and I was taking the videos!). I've mentioned previously that I love ponchos for travel (what's better than a blanket that's acceptable to wear in public?!), so on Monday I was cozied up in this poncho. I've owned this one for many years, but if you're looking to pick up a poncho this season, Nordstorm has some fantastic options in every colour, pattern and pricepoint. I kind of feel like this poncho was meant for me to wear this weekend — I felt right at home in it in Jasper!
---
(SOME OF) WHAT I WORE
---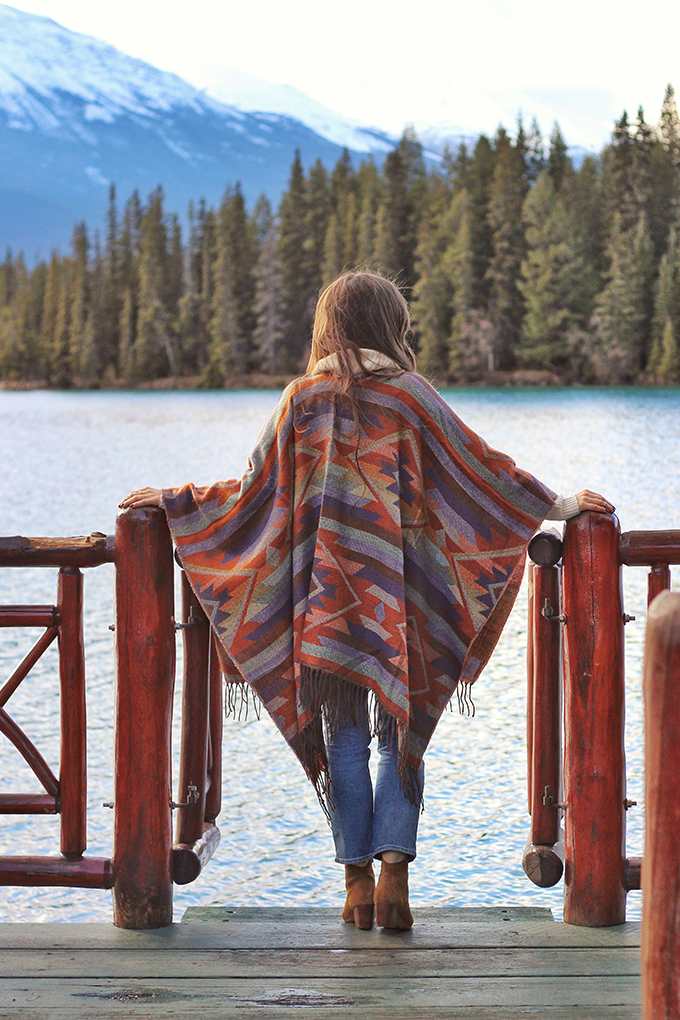 Similar Aztec Fringe Ponchos | Marecchia Booties in light brown (the most comfortable boots I've ever worn!) | Straight Regular Ankle Jeans | Similar Zara Tan Wool Coat | High Riser Coated Skinny Jeans | Ecru Waistcoast | Round Sunnies | Smashbox's Always On Matte Liquid Lipstick in Big Spender (this will definitely be in my Monthly Beauty Favourites!)
---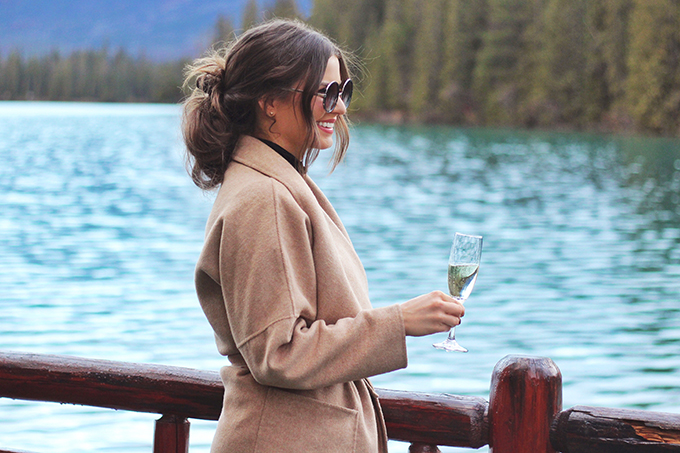 Have you ever attended Christmas in November, stayed at the Fairmont Jasper Park Lodge or visited the spa? It was an amazing weekend and I would absolutely go back — it would also make a fun girls trip! They've just announced Chef Chuck Hughes as the 2017 headliner for Christmas in November and are already taking reservations, if you're so inclined! If you have any questions for me or would like to request one of the recipes I mentioned in the post, be sure to leave me a comment. Cheers to kicking off the holiday season in style!
---
Disclaimer: Thank you to the Fairmont Jasper Park Lodge for hosting us for Christmas in November. This post is not sponsored and contains my genuine thoughts and recommendations. JustineCelina uses affiliate and referral links, which allow me to receive a small commission when you make a purchase through one of my links. Thank you for supporting the brands and businesses that support JustineCelina.com!