My love of fragrance extends as far back as early childhood. I'm sure most of us remember watching our mothers perched at their vanities, applying perfume — the finishing touch that completed their transformation. I was always enthralled by that process, even as a young girl. Fragrance has always had a special allure for me and over the years I've collected quite a few favourites. In my eyes, there's nothing more feminine or sophisticated than a captivating scent. Even on more natural days, I always apply a fragrance in the morning — it's a luxurious part of my routine that helps set the tone for my day. The right fragrance always gives me a burst confidence and makes me feel empowered!
In my AUTUMN / WINTER 2016 FRAGRANCE EDIT, I'm sharing my all-time-favourite cool weather fragrances — you know, the ones that pair well with cozy sweaters, red wine and a toasty fireplace? Like fashion, beauty and food, I also transition my fragrance along with the seasons. During the summertime I tend to favour crisp, clean, fruity scents — but bring on the drama during the autumn and winter! My favourite cool weather fragrances are deep, comforting and warm. Many of my choices are unisex, so you can share them with your partner (what's sexier than that?), or keep them all to yourself. Dive into my comprehensive guide to ten of-the-moment fragrances available at Sephora Canada from Elizabeth & James, Mason Margiela, ToykoMilk Dark and newcomer Derek Lam — including holiday gift ideas!
---
AUTUMN / WINTER 2016 FRAGRANCE EDIT
---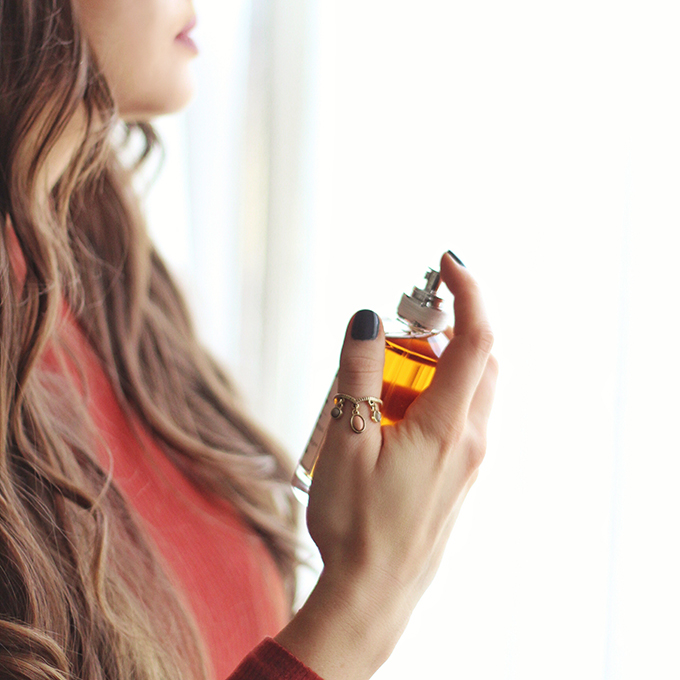 Fragrance is such a personal thing. I get that. In today's post I'm going to introduce you to some of my all-time-favourite seasonal scents — the ones that are a true joy to wear and sit front and centre on my vanity. If you're looking to treat yourself or someone special to a new fragrance this autumn or winter, these are my top recommendations!
Each of these fragrances are totally unique, complex and beautiful in their own way — I've selected an array of my favourite scents ranging from deep and spicy, to warm and sensual, to light and bright. There really is something for everyone! If you read about something you're interested in here today, I encourage you to pop into your local Sephora to take a whiff or request a sample for yourself.
I've organized my AUTUMN / WINTER 2016 FRAGRANCE EDIT recommendations into branded sections where I highlight a particular range or designer and then chat more about my favourite scents within the line. Often, when I fall in love with a scent I investigate what else the range has to offer and find myself loving more than one. Get cozy and let's chat about my favourite fragrances this season!
---
ELIZABETH & JAMES
---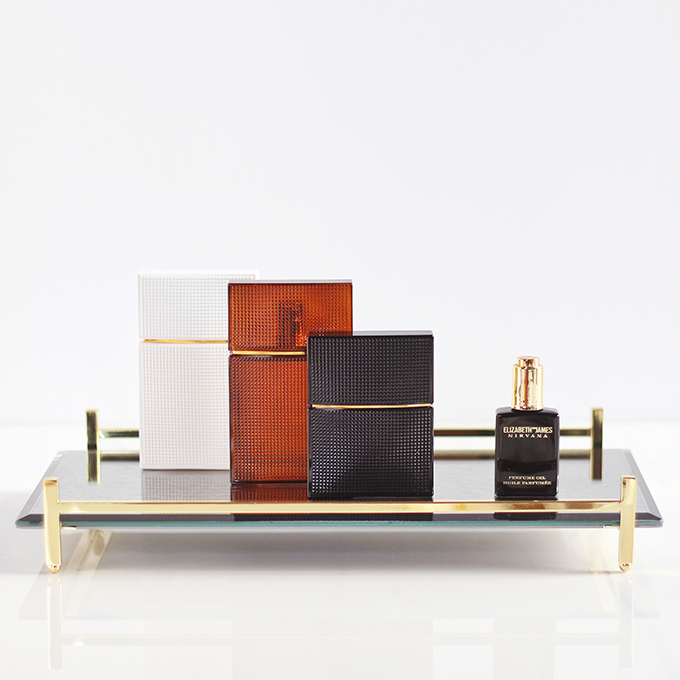 Let's start with the most iconic, well known line of fragrances in my AUTUMN / WINTER 2016 FRAGRANCE EDIT. Chances are, you're heard of Elizabeth & James Nirvana fragrances — a line of modern, edgy, upscale scents created by twin celebrity sisters Mary Kate and Ashley Olsen. The line launched back in 2007 to balance feminine sophistication with masculine tailoring and translate the twins personal style to fragrance. The line manages to be simultaneously contemporary, cool and timeless. I love three of the Elizabeth & James Nirvana fragrances for completely different reasons (I also like to wear them together!). Each scent is complex and unconventional — they're my go to for most professional settings. I'm also a sucker for the elegant, edgy design of the bottles!
---
C $82 – $108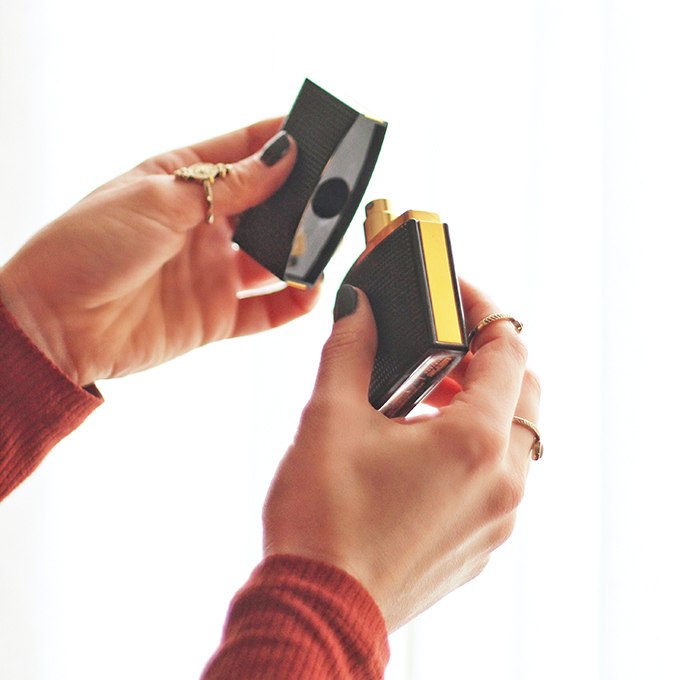 First, there's Nirvana Black, which I've worn and loved for many years. I personally think it's Elizabeth & James' most classic scent and its been a long time winter favourite of mine. You'll notice that most of my fragrance recommendations today contain vanilla — I love vanilla based scents for cooler weather and the warm, cozy feeling they evoke. Elizabeth and James Nirvana Black is a sensual and alluring blend of violet, sandalwood, and vanilla. It's a sophisticated scent that's a bit dark and not overly feminine.
Notes:
Violet, Sandalwood, Vanilla.
Style:
Sensual. Mysterious. Warm.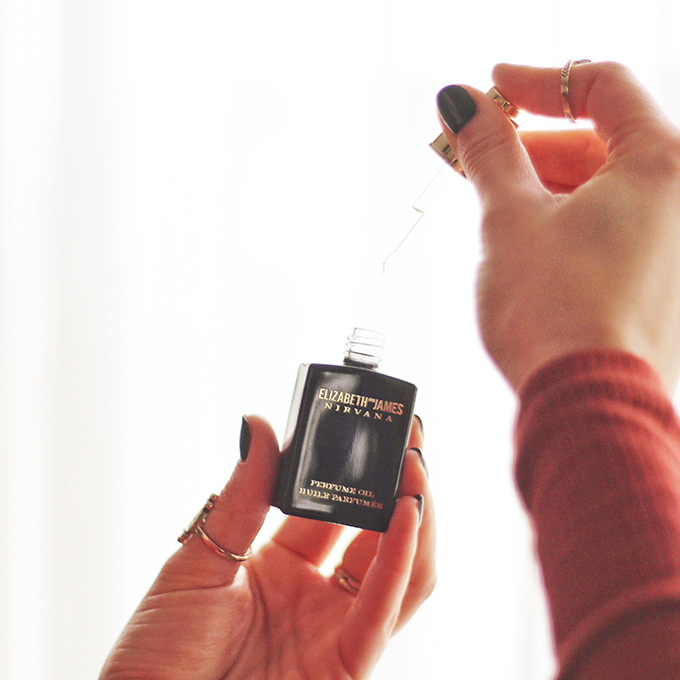 I love Nirvana Black so much that I also purchased the Perfume Oil. I find the oil better for travel because of it's small size — but it's also a more concentrated formula, so all you need is one small drop massaged into your pulse points. The natural oil format makes it ideal for layering with the other scents, or for a double dose of Nirvana Black to help prolong the fragrance's longevity. Everything about this oil is a luxurious experience — so if you're looking for an alcohol-free alternative to traditional fragrance or have a body chemistry that burns through scents quickly, you may want to try a fragrance oil!
---
C $82 – $108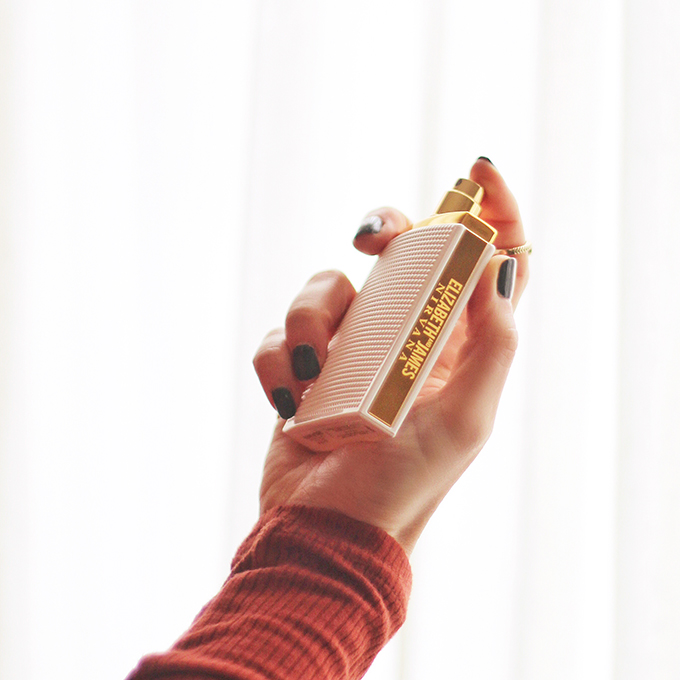 Think of Nirvana White and Nirvana Black like yin and yang — Nirvana White is Nirvana Black's lighter, brighter, more feminine sister. Although I'm not typically an fan of overly flower-based scents, Elizabeth and James Nirvana White is a blend of peony, muguet and tender musk for a captivating scent that's just easy to wear. If you're looking for a timeless, feminine scent with an edge, Nirvana White is for you!
Notes:
Peony, Muguet, Tender Musk.
Style:
Sophisticated. Feminine. Captivating.
---
C $82 – $108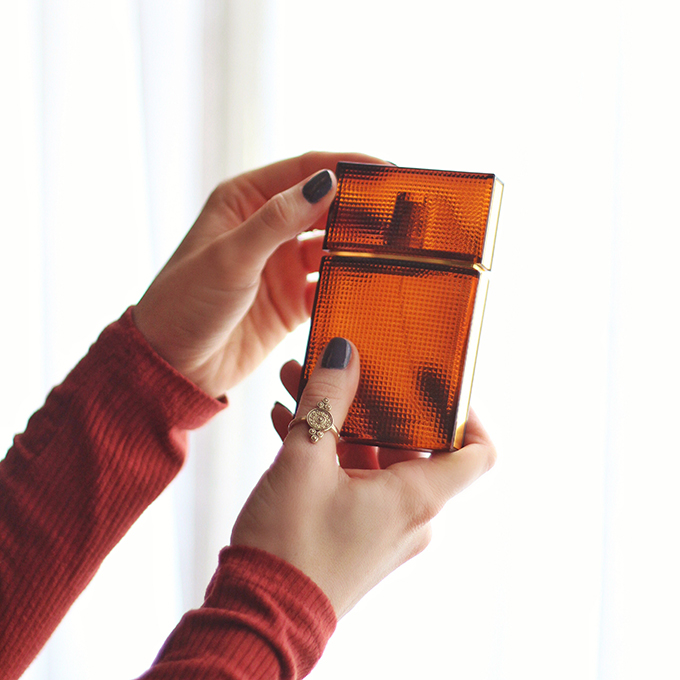 Nirvana Bourbon in the newest fragrance launch within the Elizabeth & James Nirvana family in an on-trend, woody, bourbon inspired palette — you'll notice quite a few of my selections fall within this scent family. Personally, I love more woody, masculine scents as long as they have an underlying vanilla base to soften them, which Elizabeth & James Nirvana Bourbon does beautifully. This bold fragrance is provocative blend of vanilla bourbon, oakwood and tuberose. It won't be for everyone — but it's a distinct, sultry scent that oozes charisma.
Elizabeth and James Nirvana Bourbon is unisex and my boyfriend loves it just as much as I do (but it smells completely different on him!). And can we talk about this packaging? I love the translucency of the amber toned bottle with rich gold accents — it has a mid-century modern vibe that I'm a big fan of.
Notes:
Vanilla Bourbon. Oakwood. Tuberose.
Style:
Passionate. Unpredictable. Provocative.
---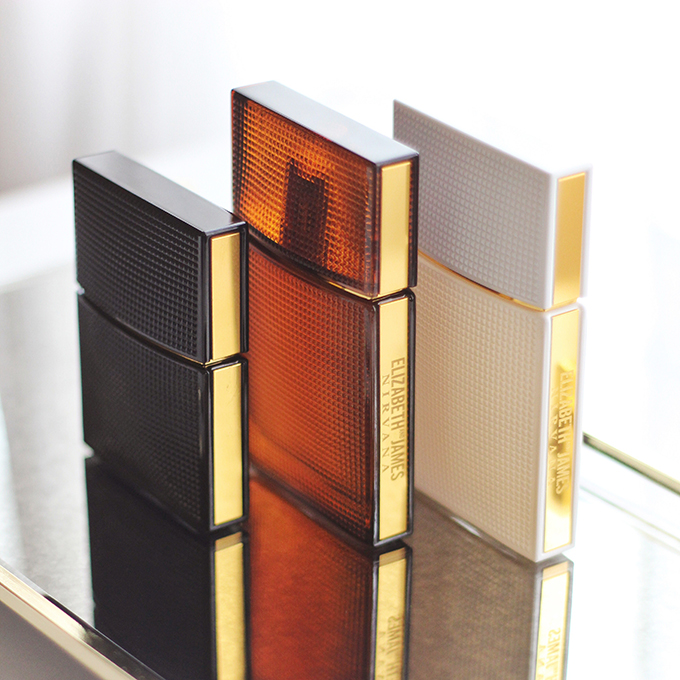 If you can't decide which Elizabeth & James Nirvana scent is right for you, the best part is that you don't have to! Elizabeth & James has just released the Find Your Nirvana Rollerball Set for Holiday 2016 (C $35), which includes 4 x 0.10 oz/ 3 mL Eau de Parfum mini rollerballs in Nirvana White, Nirvana Black, Nirvana Rose, Nirvana Bourbon. The set also makes it easy to experiment with layering to create your own custom scent — I personally love to wear Nirvana White and Nirvana Black mixed when I'm feeling indecisive! Put this gift set on your list for the stylish, fragrance loving woman in your life this holiday season.
---
MASON MARGIELA
---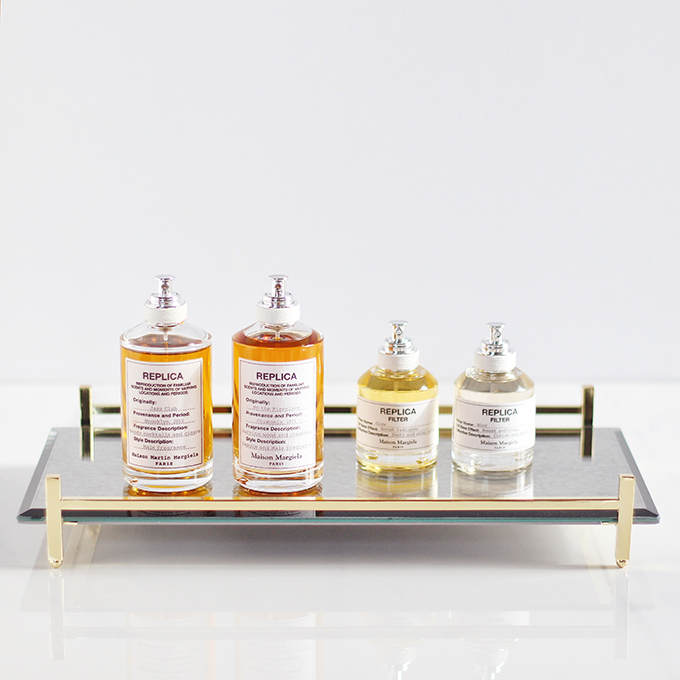 For me, Mason Margiela 'REPLICA' fragrances were love at first sniff. I remember the day I stumbled on Beach Walk in my local Sephora — it was spring 2015 and the scent instantly transported me to azure waters and white sand beaches. It's still one of my favourite summer scents!
When Sephora began to carry this line of niche scents in 2014 I was so intrigued by the concept. Each fragrance aims to replicate a specific memory or moment in time — hence the name 'REPLICA'. I love the artistic, whimsical spin that MARGIELA has brought to fragrance and am a huge fan of this range overall. I've also discovered a number of autumn / winter appropriate fragrances from the line that I absolutely adore.
'REPLICA' fragrances have the most gorgeous bottles and packaging. They're inspired by classic apothecary jars and I've never seen anything else like them! Each bottle is adorned with a cotton label and a rope wrapped pump that gives them an element of sartorial authenticity, which ties back to Mason Margiela's couture line. Everything about Mason Margiela's 'REPLICA' fragrances set them apart — they're truly works of art in a bottle!
---
C $30.00 – $135.00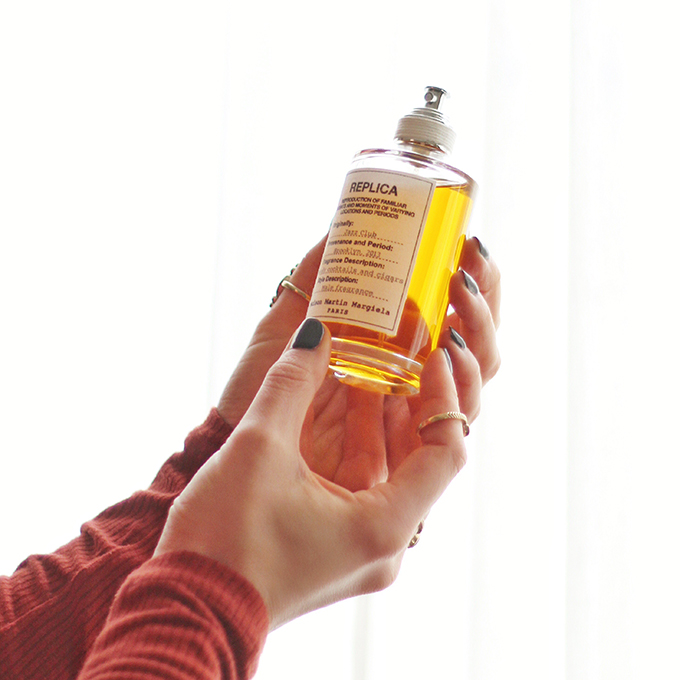 Mason Margiela 'REPLICA' Jazz Club was my first introduction to 'REPILICA's more autumnal fragrances and I was completely intoxicated by it (read more about my original experience here). It's meant to evoke memories of a Brooklyn jazz club — think leather armchairs, light reflecting off of a piano, heady cocktails and strains of tobacco. This sweet, spicy, smoky scent is absolutely delicious and I've never received so many compliments and questions about a fragrance!
Jazz Club is deep, heavy and comforting in the best way possible. My boyfriend also loves Jazz Club — it's another one of my unisex fragrance recommendations. On me, the vanilla notes become more prominent the longer I wear it (while the spiciness fades) and it lasts all day. If you're looking for a sexy fall scent that veers away from the norm, look into Jazz Club. I guarantee you'll never smell anything else like it!
Notes:
Pink Pepper, Primofiore Lemon, Neroli Oil, Rum Absolute, Clary Sage Oil, Java Vetiver Oil, Tobacco Leaf Absolute, Vanilla Bean, Styrax Resin.
Style:
Spicy. Confident. Smooth.
---
C $135.00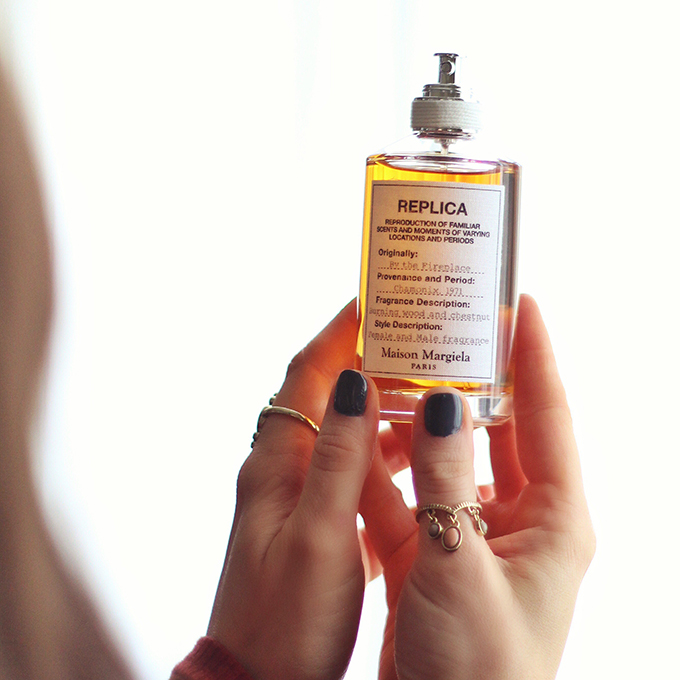 Mason Margiela's 'REPLICA' By The Fireplace is the most unconventional scent in my AUTUMN / WINTER 2016 FRAGRANCE EDIT. Quite literally, it smells like a wood burning fireplace in all its cozy appeal! If you're a candle girl (or guy) think of the Bath & Bodyworks cult classic Marshmallow Fireside translated to a fragrance — but amp up the woody factor.
By The Fireplace was designed to evoke the familiarity of sitting around a roaring fireplace on a crisp winter morning, roasting chestnuts. It's extremely woodsy, peppery and nutty, with a slight vanilla undertone. If you're looking for a totally unique, unisex fragrance this winter, I encourage you to give By The Fireplace a whiff. It's definitely not for everyone, but if it's for you, it's completely addictive! By The Fireplace somehow manages to be cool and frosty yet warm and comforting and I know we're both going to be wearing it a lot this winter. My boyfriend enjoys this one too — and I love the way it smells on him!
Notes:
Pink Pepper, Orange Flower Petals, Clove Oil, Chestnut Accord, Gaïac Wood Oil, Cade Oil, Vanilla Accord, Peru Balsam, Cashmeran.
Style:
Warm. Comforting. Woody.
---
You've probably heard of makeup primers to help the longevity of your foundation, but have you heard of fragrance primers? This brand new concept from Mason Margiela does exactly the same thing for a fragrance — they've introduced two oil based fragrance primers that aid in making your scent last and pulling out different notes. I was so excited to experiment with these primers and love their ability to change up my fragrances! If you're looking to give one (or a few!) of your signature scents an updated twist this season, consider adding a Mason Margiela 'REPLICA' Filter to your collection.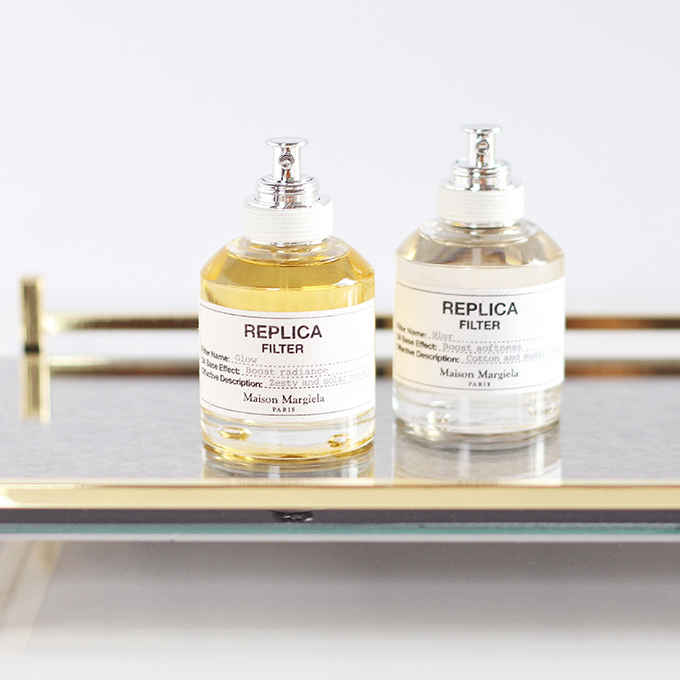 C $80
Have you ever wished you could to soften one of your fragrances to make it calmer and less intense? Enter The Blur Filter — which adds a layer of soft cotton, gentle musk and amber. I like to think of these filters like the underpainting of an oil painting — you're essentially layering on undertones before applying a fragrance to make it come to life. While it's a beautiful, delicate scent on it's own, I've been particularly loving it with By The Fireplace to mellow it out and make it more feminine.
Notes:
Cotton, White Musk Accord, Gray Amber Accord.
Style:
Soft. Intimate. Calming.
C $80
Think of The Glow Filter as the opposite of the blur filter — it adds warmth, brightness and energy to any fragrance. If you have a mellow, sweet scent you're looking to infuse some life into, try layering it with the citrus-based Glow Filter to and a layer of vibrant energy. It also has the ability to freshen up heavier scents to be more daytime appropriate — I've been wearing it with Jazz Club for that specific purpose!
Notes:
Citrus Notes, Neroli.
Style:
Warm. Fresh. Energetic.
---
TOYKOMILK DARK
---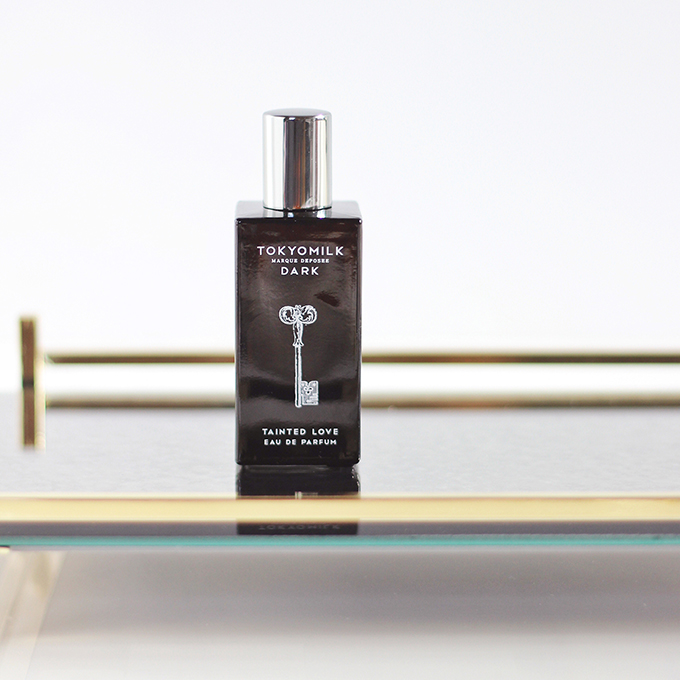 The TokyoMilk Dark line of fragrances was created by acclaimed perfumer and designer Margot Elena. Through these fragrances, she encourages women to let go of the conventional and seek out the uncommon experience. Her fragrances are complex, provocative and mysterious — I reach for them when I'm craving a little bit of drama and romance!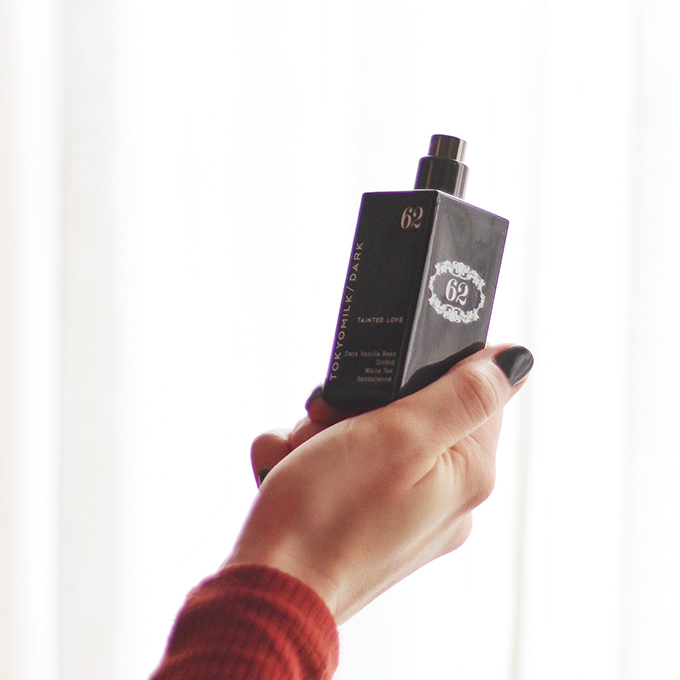 C $58
I've worn and loved many ToykoMilk Dark fragrances over the years, but my current favourite is the TokyoMilk Dark Femme Fatale Collection – Tainted Love No. 62. It's my go-to winter scent for nights out, or anytime I want to wear something that makes me feel glamorous. It's dark and vanilla based with slight citrus and woody notes — and it smells just like like fresh tobacco in the most feminine, beautiful way! It's another fragrance that I receive so many compliments on.
Notes:
Dark Vanilla Bean, Sparkling Citrus, Orchid, White Tea, Sandalwood, Tonka Bean.
Style:
Inquisitive. Dramatic. Darling.
---
DEREK LAM
---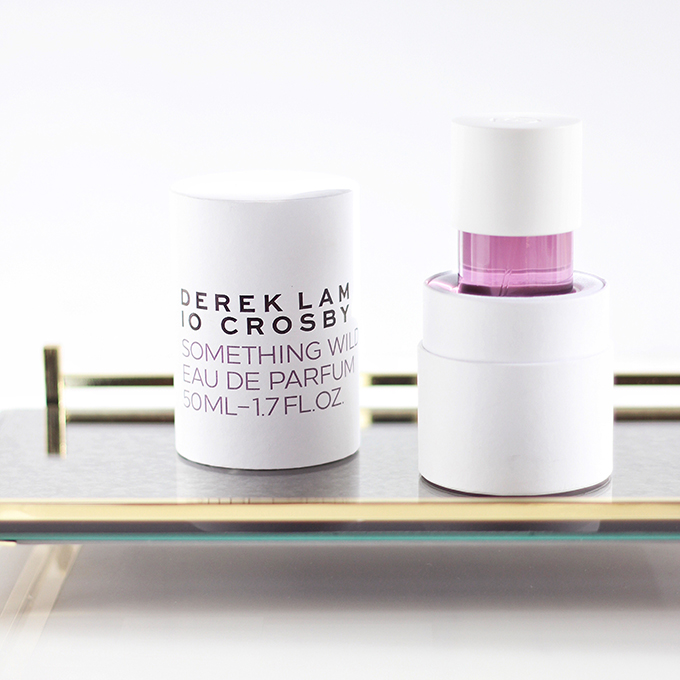 Let's draw this AUTUMN / WINTER 2016 FRAGRANCE EDIT to a close with a sweet, unexpected note! I was actually searching for something else when I stumbled across this stunning fragrance from newcomer Derek Lam's 10 Crosby Line called Something Wild. The unique, edgy cardboard packaging and clean typography (yes, I'm a total design nerd!) originally caught my eye and the glowing purple bottle drew me in. I fell head over heels with this scent as soon as I took a sniff!
I tend to favour fragrances created by fashion designers. They bring a more intellectual, artistic, concept-driven spin to their work that I find so interesting. Derek Lam's inspiration for this fragrance stems from the beautiful, stylish women he'd see walking down New York's Crosby Street. I'm such a fan of everything about this emerging fragrance brand and their minimalist take on luxury!
---
C $110 – $220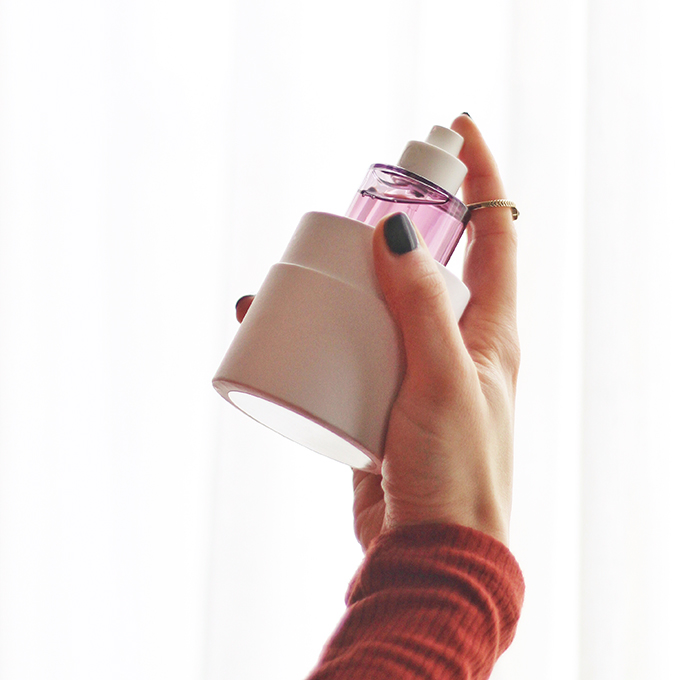 Something Wild is an addictive blend of cedarwood and vanilla bean Madagascar with a smooth, comforting finish. It's absolutely the most sophisticated, sensual, vanilla based scent I've ever worn. It's distinct and luxurious — and I've been complimented on it many times. If you're looking for a fresh take on a vanilla based fragrance this season with warm, woody notes, you won't be disappointed with Derek Lam's Something Wild.
Notes:
Cedarwood, Vanilla Bean Madagascar.
Style:
Adventurous. Addictive. Smooth.
If you're in love with Something Wild and looking to experience more from Derek Lam, consider their Fragrance Collection Gift Set (C $ 115) this holiday season. It's definitely on my list!
---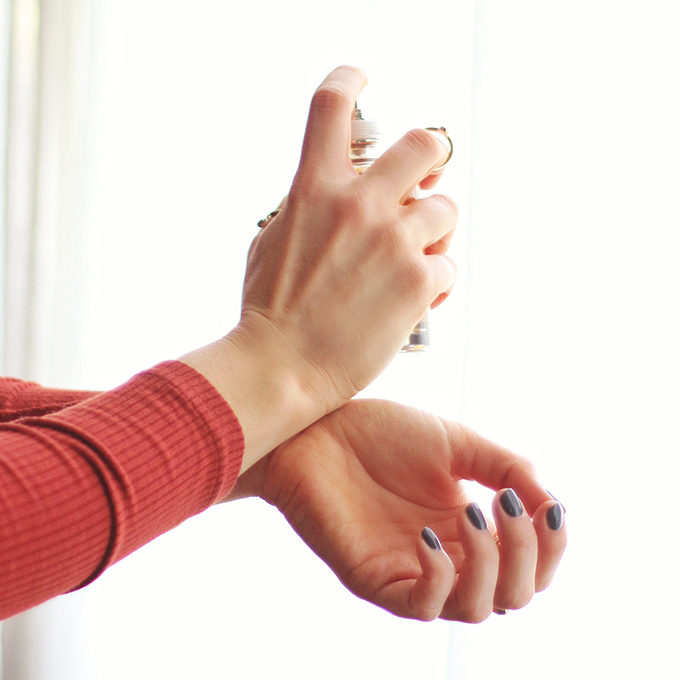 What are your favourite cool weather fragrances? If you have a recommendation or question for me, please leave me a comment to we can chat! And if you try any of my fragrance recommendations, I'd love to hear all about your experience. Happy Thursday, friends!
---
Disclaimer: Thank you to Sephora Canada for sponsoring this post. JustineCelina uses affiliate and referral links, which allow me to receive a small commission when you make a purchase through one of my links. Thank you for supporting the brands and businesses that support JustineCelina.com!