Hey, beautiful people! Welcome back for another installment in my BEAUTY 101 series — where I break down a specific beauty related topic for you in an educational post! Makeup brushes are something I receive a lot of questions about and I'm more than happy to share my knowledge with you. Are you baffled by makeup brushes? Makeup Brush 101 is a comprehensive guide to makeup brush essentials for anyone wanting to elevate their makeup application skills. I have a similar philosophy with makeup application tools as I do with beauty products — I truly believe you can find great brushes and tools at every price point. While the majority of my favourite tools are budget friendly, I've also included a few that I totally think are worth the splurge if you're looking to treat yourself! An artist couldn't create a masterpiece without great paint brushes, right?! I think the right makeup application tools are just as important (if not more important) than beauty products themselves. Grab a latte or pour yourself a glass of wine and let's chat about great beauty tools!
---
MAKEUP BRUSH 101 | Your Complete Guide to Makeup Tools & How to Use Them
---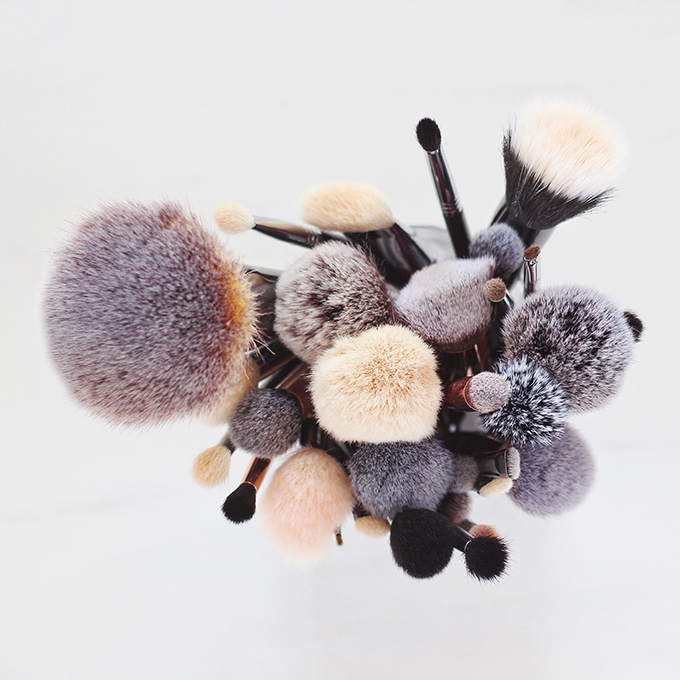 This is an information packed post, so I'm just going to jump right in. I break my favourite tools down by category, so if there's a particular part of the face you're interested in, it should be simple to find what you're looking for!
---
FACE
---
Foundation
I'm about to say something that will probably shock you — but I think the best tools you have for foundation application are your own free, clean fingers. Say what?! Yes, I apply my foundation with my fingers, no matter the formula, and always have. I like this method of application best for a couple of reasons. First, I don't waste any product — every bit of foundation goes straight from the bottle onto my face, therefore I use less. And second, the warmth of my fingers allows the product to melt more easily into the skin — therefore making it appear more skin-like. Of course, with some super mattifying foundations you have to work quickly, or in sections, but you have to do that with a brush as well. Give it a try some time!

The Mutitasking Beauty Blender
I apply my foundation with a fingers, but then I give it a once over and press it into my skin with a damp Beauty Blender. Not a knock off — the original $28 sponge. Think I'm crazy? The Beauty Blender is the single most important tool in my makeup bag! In fact, I can't do my makeup without it. I've tried many imitators and nothing compares to the original. I'm sorry, but you kind of need it! This magical egg shaped sponge creates the most flawless base. I've used it on myself, my 20 year old sister, my 78 year old grandmother and on someone almost every age in between — and everyone loves it! I also use the the Beauty Blender to smooth out and blend in my undereye concealer. And, I use it to set my concealer (and sometimes my whole face) with a translucent, loose powder. If you've never tried setting your concealer or your makeup with a damp sponge, you're missing out. It literally makes you look airbrushed in real life!
Powder
The majority of the time I use a mattifying, pressed powder to set my face. My preferred method of application is to use a big, fluffy brush to swirl a light layer of powder over top of my foundation. The softest, most luxurious (and also the most expensive) brush I've ever used is the It Cosmetics Heavenly Luxe Jumbo Powder Brush (US $58.00). It's huge, so it's not convenient for travel, but it is so, so lovely. I look forward to using it each time I do my makeup — it feels fantastic and almost therapeutic on the skin. If you're looking to splurge, definitely pick it up. If you're looking for a more budget friendly alternative that doesn't skimp on quality, try Zoeva's 101 Luxe Face Definer Brush (US $26.50). While it's not quite as soft (no brush I've tried compares in softness to the It Cosmetics brushes), it's still a wonderful brush for all over the face. I love the pointed tip that allows me to get into harder to reach areas. Zoeva is a German brand that makes extremely high quality brushes (and some gorgeous makeup!) for a reasonable price — you're going to be hearing a lot more about them!
Spot Concealing
When something crops up that I'd like to conceal, my favourite method is to do so with powder foundation and the Real Techniques Crease Definer Brush. Remember — you can use brushes and makeup for different purposes than they're originally intended! Although this brush is meant for the eye area, I think it makes a fantastic spot concealing brush. Find Real Techniques brushes sold both in kits (this is part of the Starter Set, CDN $26.99) and individually at Canadian London Drugs Stores.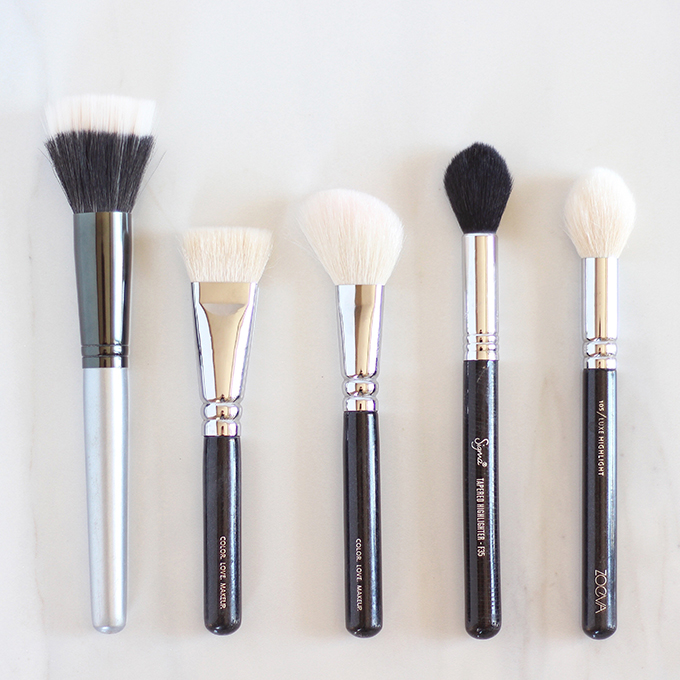 Bronzing, Contouring & Finishing
I think a duo fibre brush is essential in every makeup bag. This powerhouse brush can be used for many different things, but I like to use it for light bronzing, or to apply a finishing power all over the face. Duo fibre brushes are more sparse than traditional powder brushes, which makes them great for lighter applications of powder. I also like to use them to blend out contour, bronzer and highlight to make things look seamless. Sigma has a great F50 Duo Fibre Brush (US $26.00).
I contour my face every time I wear makeup — even if I just add some light definition during the day. My all time favourite contour brush is Zoeva's 109 Luxe Face Paint Brush (US $16.80). It fits perfectly underneath my cheekbones, along my jawline, down the sides of my nose and underneath my bottom lip to add structure to my face coupled with a contour powder.
Blush
I prefer to keep my blush brushes on the smaller side. I like the control of a more targeted application and I also like to be able to build the colour up in sheer washes. My all time favourite blush brush is the Zoeva 127 Luxe Sheer Cheek Brush (US $16.80). I love the angle, shape and size — it's just perfect!
Highlight
I have two favourite highlighting brushes. I like the Zoeva 105 Luxe Highlight Brush (US $16.80) for a lighter, more diffused (read: daytime appropriate) glow and the Sigma F35 Tapered Highlighter Brush (US $24.00) for a more intense application.
---
EYES
---

Eyeshadow
Again, I think the best tool you have for basic, high intensity, all over the lid colour is your clean index finger. For shimmery shades especially, using the pad of your index finger for a concentrated application of a shadow is by far the most effective method. That said, I also enjoy Zoeva's 232 Luxe Classic Shader Brush for all over the lid colour (US $10.80), or to add dimension in the outer corner.
For an under brow or inner corner highlight, I like the Zoeva 231 Luxe Petite Crease Brush (US $10.80). The pointed tip ensures a precise application, while the bristles help to diffuse things just enough to look natural.
A large, fluffy blending brush is essential to add diffused colour to the crease. I can't leave home without my trusty Sigma E40 Tapered Blending Brush (US $16.00) and like to use it to add light washes of transitional colour.
For deeper or more concentrated crease work, I like smaller blending brushes like the Sigma E25 Blending Brush (US $15.00) or the Zoeva 227 Luxe Soft Definer Brush (US $10.80). I also enjoy the Real Techniques Base Shadow Brush (part of the Starter Set I mentioned above for CDN $26.99).
I like a good smudged liner and smokey lower lashline, so I rely on pencil and smudger brushes to achieve that effect. My favourites are the Zoeva 223 Petit Eye Blender Brush (US $10.80) or the Zoeva 226 Smudger Brush (US $10.80).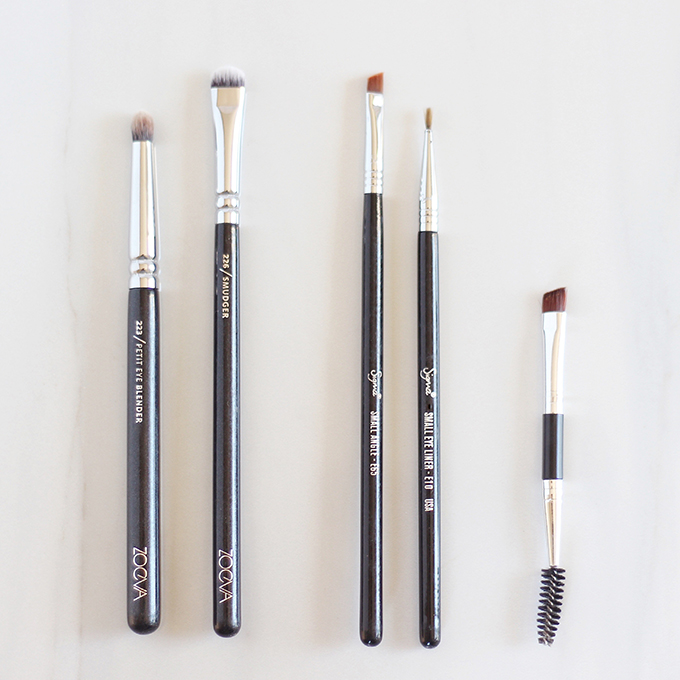 Eyeliner
I typically prefer pen style eyeliners, but if you're a gel eyeliner girl I've got you covered. If you prefer an angled brush Sigma's E65 Small Angle Brush (US $14.00) is great. I also enjoy their E10 Small Eyeliner Brush (US $14.00).
Brows
I've tried many angled brushes for eyebrow pomade or powder application, but my favourite brush is actually one that comes in a SEPHORA COLLECTION Fall in Line Brow Stencil Kit (C $15.00). Purchase the set and throw the stencils out, but keep this amazing little brush! I love the spoolie on the other end to comb product through your brows.
---
CLEANING & MAINTENANCE
---
It's important to keep your tools clean to prolong their life and also to prevent breakouts. I wash all my tools with an unscented antibacterial hand soap, or if I'm in a pinch (or traveling) I use my facial cleanser. The only facial cleaner I use is the Paula's Choice Skin Balancing Oil-Reducing Cleanser and it works very well to clean brushes, too! There's never a need to purchase brush cleanser — it's a marketing scam! I also keep 99% rubbing alcohol on hand in a spray bottle to disinfect my brushes between washes or sanitize makeup products.
---
MORE FROM MY BEAUTY 101 SERIES
---
Haircare 101 + My Tips for Long, Strong, Healthy Hair
---
I hope you found my Makeup Brush 101 post helpful! Feel free to Pin the image below to bookmark this post for reference in your brush shopping. I also have a Beauty Board on Pinterest if you'd like to follow along to keep up with my favourite products, tools and how to use them!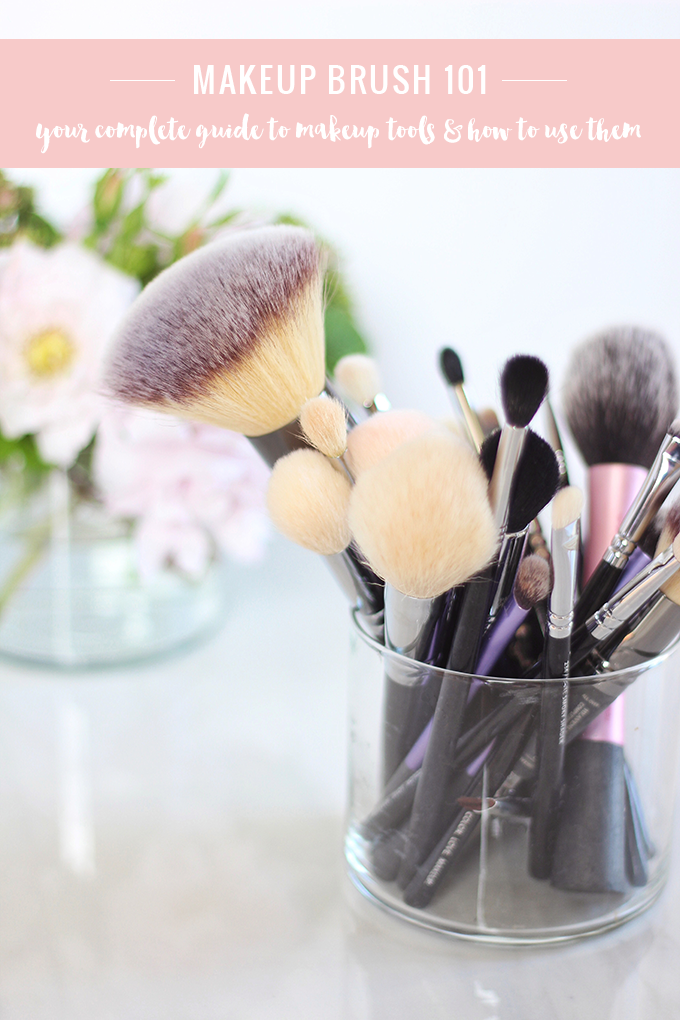 I'd love to hear about favourite makeup brush brands and essentials! Anytime you want to chat beauty or have a question for me just leave a comment and I'll do my best to help you out. I know makeup brushes are a bit of an investment, but I've been using these brushes regularly for 3 – 5 years and they're still going strong! If you invest in quality brushes they'll serve you well. Do you have any beauty content requests? I take reader requests often so don't be shy! Have a great weekend, everyone!
---
Disclaimer: This post is not sponsored and contains my genuine thoughts and recommendations. JustineCelina uses affiliate and referral links, which allow me to receive a small commission when you make a purchase through one of my links. Thank you for supporting the brands that support JustineCelina.com!
Save
Save
Save
Save
Save
Save
Save
Save
Save
Save
Save
Save
Save
Save
Save
Save
Save
Save
Save
Save
Save
Save
Save
Save
Save
Save
Save
Save
Save
Save
Save
Save
Save
Save
Save
Save
Save
Save
Save
Save
Save
Save
Save
Save
Save
Save
Save
Save
Save
Save
Save
Save
Save
Save
Save
Save
Save
Save
Save
Save
Save
Save
Save
Save