Alright ladies (and gents), let's talk skincare. I often receive compliments on my skin and am asked what I use, or people think I'm younger than I actually am — and I'm always surprised, because for so long I was insecure about my skin. I've finally found products and a regime that gives me healthy, happy skin — and today I'm going to share it with you! If it helps even one person be more comfortable in their skin, it will make me so happy.
---
A BACKGROUND ON MY SKIN
---
In the past I've struggled with acne, hyperpigmentation and sensitivity — I must have tried 50+ different brands over the years (including a lot of natural remedies) but nothing was working for me. I was also approaching my late 20's and wanted to start incorporating some anti-aging products into my routine. Finally I got fed up and ready to see a dermatologist — that's when I discovered Paula's Choice Skincare, and I've never looked back. I can honestly say that this is the best my skin has ever looked — and now at 29 my skin looks better than it did at 19. That's because I take really good care of it. I'm a huge skincare advocate — you're going to live in your skin for the rest of your life, and I want mine to look its best!
So for some of you lucky ones who have perfect skin with minimal effort, this post probably won't interest you, or will seem excessive. But, if you're struggling with your skin, interested in a crash course on good skincare habits, or looking for some really fantastic product recommendations, stick with me — this is a long post, packed full of information.
---
MY SKIN TYPE
---
My skin right now is normal / combination, and that's because of the skincare products I use to balance and treat it. Naturally, I have acne prone, sensitive, combination skin — which is oilier in the summer and drier in the winter. The products in my routine cater to my skin type, and it's essential for you to determine your skin type if you're looking to treat specific concerns. If you have a similar skin type to me, these products might work for you, too.
If you have a different skin type or other concerns, Paula's Choice has you covered. They have different lines for different skin types and concerns, and they also have an excellent customer service team who is happy to answer questions if you're not sure which range of products would best suit your needs. I've recommended them to everyone who's asked for information on skincare, and I can honestly say that everyone loves them just as much as I do. And if ever you're not 100% happy, just return your products within 60 days for a full refund.
---
SKINCARE 101
---
When I was initially researching Paula's Choice, I ordered her Original Beauty Bible; and I credit this book to most of my knowledge about skincare and ingredients. This book taught me skincare 101, and I also learned about irritating ingredients. I was able to narrow down what was causing my specific skin issues — fragrance, alcohol and essential oils. You'd be surprised that most skincare products have fragrance or other nasty ingredients in them! I began to understand ingredients and got really good at reading skincare and cosmetics labels. I've now eliminated fragrance from anything that goes directly onto my skin.
I also started to use Beautypedia to look up products or ingredients I wasn't sure about. It's a great free resource if you want to do some in-depth investigating about products or ingredients that might be causing your skin issues.
I want to quickly mention the importance of a clean diet, lots of water, proper sleep and stress management. Although a regime of well formulated products can do wonders for your complexion, there's only so much products alone can do. So remember to take care of yourself, and I guarantee you'll see a difference in your skin. If you're looking for delicious, clean recipes, stop by my FOOD section!
---
MY SKINCARE ROUTINE FOR HEALTHY, HAPPY SKIN
---
If you're used to just washing your face and slapping on a moisturizer, this will seem like a crazy amount of products. When I started using Paula's Choice Skincare, I started with their Skin Balancing Kit. Honestly, I felt like I was applying a million layers of product at first. But when I started to see a change in my skin in less than a week, I just went with it, because I knew it was working. Yes, this is a lot of product, but over the past year and a half the transformation I've seen in my skin is almost unbelievable. I've really tweaked my skincare to my exact needs — now, I use a combination of their Skin Balancing and Resist lines, and my skin absolutely loves it!
---
MORNING
---
This routine takes me 5 minutes max, I've got it down to a science! If I'm going straight to a yoga class (or doing some other type of exercise), I'll just do steps 1, 3, 7 & 8, and leave the complete routine for after a workout.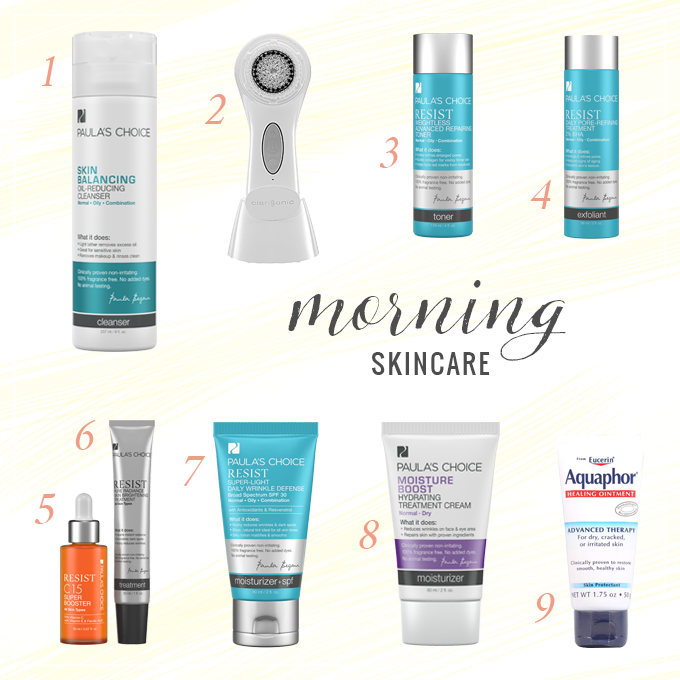 Cleanser: US $25.00 (16oz) | Clarisonic: C $230.00
I love this cleanser, it's the best I've ever used. It foams up nicely when used with the Clarisonic Mia and has a beautiful cushiony texture on the skin. Afterwards, my skin feels perfectly clean, but not tight or dry. It also removes any residue or traces of makeup left on your skin from the night before. I purchase the 16 oz. size, and I think it's a great value for the price. I use the sensitive brush head with my Clarisonic — a skincare tool that I use on the lowest setting every morning to help physically exfoliate my skin.
US $23.00 (4oz)
After thoroughly cleansing my skin, I tone it with the Skin Balancing Pore-Reducing Toner. I apply a few drops of the toner to a 100% cotton pad (read the labels on your cotton pads, you might find that they're not 100% cotton!). Then, I sweep the saturated cotton pad over my face and neck. This does wonders for improving skin tone and calming redness.
US $28.00 (3oz)
After toning I use a chemical exfoliant to help increase cell turnover, and improve skin texture and pore size. I pour a few drops of this into the palm of my hand, rub my hands together to distribute the product, and massage it into my skin — concentrating most on any trouble areas where my skin might be congested. I love this part of my routine, it's so relaxing to massage your face! Massaging your face also helps to increase blood flow, plump the skin and increase firmness — I probably do it for 30 seconds.
Treatment: US $32.00 (1oz) | C15 Booster: US $48.00 (0.67oz)
This is the serum portion of my routine — and I love to mix a few drops of the Resist C15 Super Booster (a concentrated vitamin c serum booster) with my daytime serum. The Resist Pure Radiance Skin Brightening Treatment works to lighten acne scars and hypermigmentation over time while adding a subtle radiance to the skin — this product also doubles as a makeup primer. Combined with the C15 booster I've noticed a huge difference in the over clarity and tone of my skin.
US $29.00 (2oz)
It's really important to use a moisturizer with SPF in it during the day, and this one is my favourite. It's weightless on the skin while providing a good amount of sun protection, and it also has a slight tint. It dries to a fairly matte finish and provides a perfect canvas for makeup. On days when I'm not wearing makeup, this also wears beautifully throughout the day. I apply this to my face, neck and décolleté. Don't forget to take care of your neck and chest!
US $33.00 (0.5oz)
This is an extremely thick, balm-like cream — the formula is a rich and concentrated. I love it because you need so little of this cream for both eyes. What I like to do is squeeze a little bit of cream out onto the pad of my ring finger, then warm it up and spread it around with my other ring finger, dispersing it evenly on both fingers. Then, I gently pat the cream around my eye area. It spreads very easily once it's warmed on the skin, so there's no pulling or tugging at your eyes. It does take awhile to soak into the skin, and remains a bit dewy throughout its wear time. It wears beautifully under makeup and on bare skin. Since I use a loose powder to set my undereye concealer, that mattifies the look of my undereye area during the day. If you're looking for more information, read my dedicated review here.
9. My Favorite Night Balm
US $7.50 (10ml)

I love to slather my lips in this stuff and let it soak in before I apply makeup (I remove it with a Q tip before going on my apply my lip products onto a perfectly hydrated and smooth canvas!). I apply a thick layer of it after I'm done with my skincare — it smells and tastes exactly like white chocolate! I usually stock up on these when Bath & Body Works is having a sale, and I use it during the day too — I keep one on my desk, on my makeup vanity, in the living room — it's basically my go-to lip balm. It's amazing stuff!
---
EVENING
---
My evening skincare is pretty similar to my morning routine; I just use a retinol based serum and swap my SPF for a different moisturizer. I also use a retinol based body lotion and an overnight lip treatment.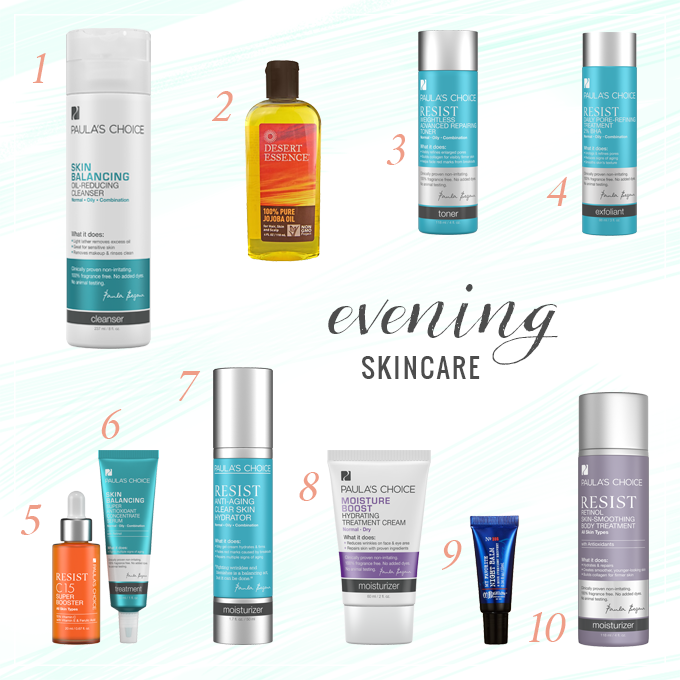 US $25.00 (16oz)
At night, I use the same cleanser, but without the Clarisonic. If I'm wearing makeup, I double cleanse. The first cleanse removes makeup, and the second cleanse actually cleanses my skin. If I'm bare-faced, I just cleanse once. You'll know you haven't removed all of your makeup when you go in with a toner — if you see traces of makeup on your cotton pad, you need to wash your face again! After I'm done cleansing, I gently pat my face dry with a clean face cloth.
US $6.99 (4 oz)
This is the best eye makeup remover I've ever found — bonus that it's 100% natural, totally non-irritating and really inexpensive! I use this in conjunction with my cleanser — If I'm wearing makeup, I'll gently massage this onto my eyes after my first cleanse. This stuff takes everything off — waterproof eyeliner, mascara and all. Then I follow up with the second cleanse (with my cleanser) to remove the oil from my eye area. Contact wearers; make sure to remove your contacts before removing any eye makeup to minimize irritation.
US $23.00 (4oz)
This is the same step as my daytime routine.
US $28.00 (3oz)
Again, the same step as my daytime routine.
Serum: US $30.00 (1oz) | C 15 Booster: US $48.00 (0.67oz)
At night, I change up my serum. I love this serum because it contains a small amount of retinol, which my skin reacts really well to, and a prefer to use retinol products at night, since they can increase the skins sensitivity to sun. My skin feels totally smooth when I use this, and I mix a few drops of the C15 booster in to supercharge it, just like I do with my daytime serum.
US $29.00 (1.7oz)
I adore this lightweight nighttime moisturizer — it gives my skin everything it needs to feel nourished without feeling greasy or heavy. It helps to fade discolouration and even tone while you sleep; in the morning I wake up looking refreshed!
US $26.00 (2oz)
I use this as a nighttime eye cream as well.
9. My Favorite Night Balm
US $7.50 (10ml)

I love to slather my lips in this stuff and let it soak in overnight, too!
US $27.00 (4oz)
I apply a pump of this to my neck and décolleté and it really helps to keep that skin looking firm and smooth. This stuff is great at reversing sun damage and keeping everything supple and hydrated. Again, don't forget to take your skincare down your neck and chest!
---
TREATMENTS
These are the extras. Once a week (usually on Sunday evenings) I treat my skin with a gentle physical exfoliant and mask — I have a little spa night! I never go to the spa for professional treatments, I'd rather invest in great skincare products that I can use at home. Masks are great for a deep clean to help to remove "the week" from your face. I also use a potent retinol product and keep a few spot treatments on hand if a blemish pops up.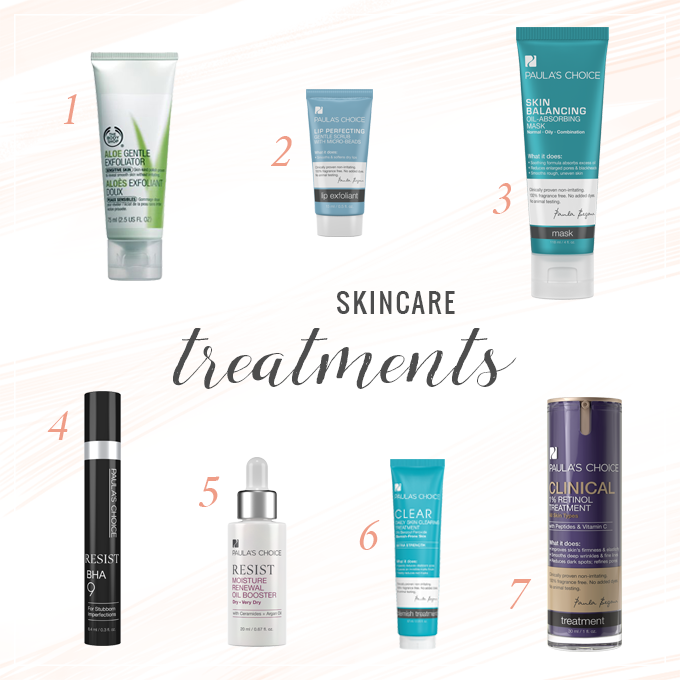 C $14.50 (75ml)
This is the best physical exfoliant I've found; a creamy scrub with tiny micro beads in it. It's really gentle but effective, plus it's fragrance free and natural. I use this once a week before my mask to really deep clean my skin and prepare it for the mask — I find that the mask is able to treat my skin more effectively when it has a perfectly clean canvas. It's also helped to refine the overall texture of my skin's surface. First, I cleanse my skin with my regular cleanser, then I squeeze a quarter sized amount of product into my palm, rub my hands together, and begin massaging this into my damp skin for about 30 seconds. After rinsing, I pat my skin dry with a clean face cloth. This scrub makes my skin feel like silk!
US $22.00 (4oz)
This is my favourite mask, ever! It's a thick clay that spreads onto the skin effortlessly and it's really easy to rinse off. After I've cleansed and exfoliated, I apply an even layer of this to damp skin. Then, I let it dry (it only takes about 10 minutes), and rinse clean with warm water and a face cloth. Volia — my skin looks refreshed and ready to take on a new week! I don't use any of my more potent skin treatment on nights when I exfoliate and use this mask, I just stick to my regular evening skincare routine.
US $7.00 (0.5oz)
If I have a full on breakout or monster zit happening (which is really rare, but happens occasionally) , I use this intense 5% benzoyl peroxide treatment. This stuff is no joke — so please be careful using it. I squeeze some of this onto a clean Q-tip and dab it over the affected area and let it work it's magic overnight. My skin is able to tolerate this as a spot treatment, but it's insanely potent, so your skin may react differently. If you're looking for a less potent benzoyl peroxide treatment, try Paula's Clear Regular Strength Daily Skin Clearing Treatment with 2.5% Benzoyl Peroxide, which is the same formula at a 2.5% strength.
US $55.00 (1oz)
I love this retinol treatment! I mentioned it in my Best in Beauty | March post, so you can read about it in more detail there if you like. Retinol is a powerhouse anti-aging ingredient — basically, I use this in place of my evening serum every 2 or 3 nights and I've seen a huge difference in the overall appearance of my skin. Everyone's skin reacts to retinol products differently — and while my skin loves it, your skin may not. So if you're interested in adding retinol to your skincare routine, I'd suggest starting with a serum like the Skin Balancing Super Antioxidant Concentrate Serum with Retinol first and see how your skin reacts. If you start using this product, be sure to follow the directions and build your tolerance up slowly. To reduce irritation, you may need to eliminate your BHA exfoliant from your routine on nights when you use this product.
---
MORE SKINCARE POSTS
---
5 Powerhouse Skincare Ingredients
Paula's Choice Resist Hyaluronic Acid Booster Review
Paula's Choice Resist Anti-Aging Eye Cream Review
---
Thanks for stopping by to learn more about skincare! If any of this information was helpful, or you try products I recommended, please let me know. If you have questions about skincare or products, leave them for me below and I'll do my best to help you out. Here's to healthy, happy skin!
---
Disclaimer: This post is not sponsored, and contains my genuine thoughts and recommendations. JustineCelina uses affiliate and referral links, which allow me to receive a small commission when you make a purchase through one of my links. Your purchases help to support JustineCelina.com!
Save
Save