---
Well hello, beautiful people! Today I'm sharing my January 2017 Beauty Favourites — and it's been almost a month since my last beauty post! You may have read that I've been doing some major purging and reorganizing in preparation for the SPACE REFRESH I have planned this year. This also included a complete overhaul of my makeup collection! I spent a large part of January sorting, donating and making an effort to rediscover forgotten products while exploring the holiday gift sets I purchased back in December (I purchased most of them for gifting, but kept a few items for myself!). There are a lot of minis in today's post!
This January, it was back to basics in the beauty department. I spent a lot of time planning for 2017 (including lots of exciting new beauty content that I can't wait to share!) and working behind the scenes, so overall it was a pretty minimal month for me makeup wise and my favourites definitely reflect that. It's also been insanely dry here in Calgary this winter (YYC gals, I know you feel me!), so I was drawn to lightweight, slightly hydrating and more natural products to help combat winter skin. I also had a chance to explore the mini fragrance kits I picked up December (I've been wearing a few new fragrances each week and it's been so much fun!) so I have a couple of new fragrance favourites as well. If you're looking or some great winter basics, get cozy on this chilly February afternoon and let's chat beauty!
---
JANUARY 2017 BEAUTY FAVOURITES
---
C $47.00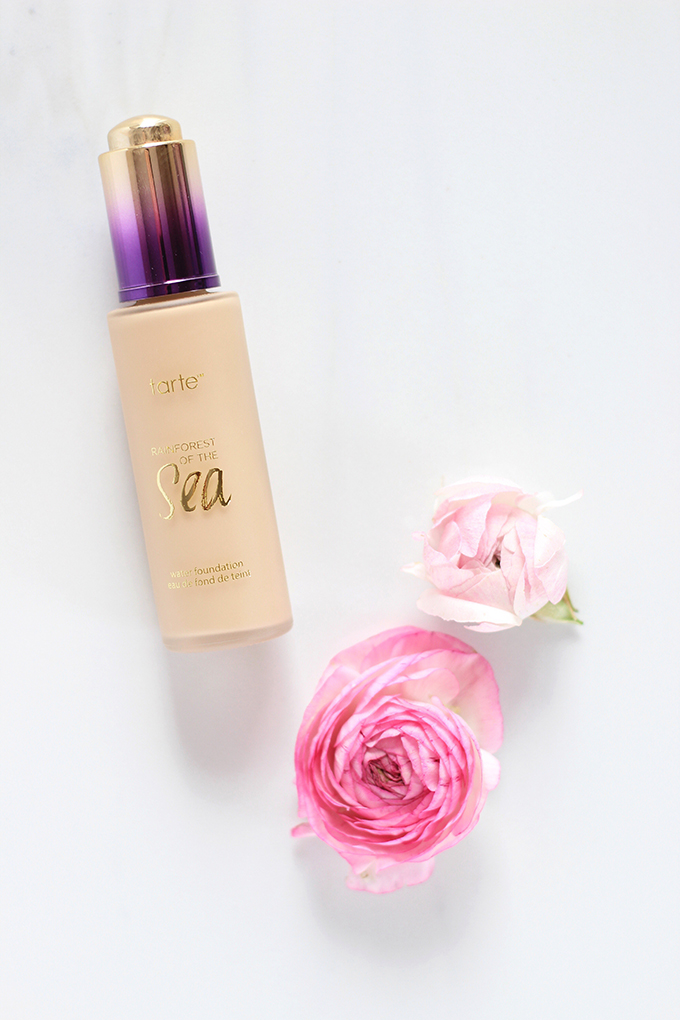 Let's start with base products first! If you've been following along with my BEAUTY section this winter, you'll have heard me mention the tarte Rainforest of the Sea™ Water Foundation. I discovered it last autumn and it totally blew me away — but in January, this was the only foundation I wore! This beautiful, natural foundation provides a weightless, medium to full, hydrating (but not too hydrating!) finish that wears surprisingly well on my combination skin, especially in these dry winter conditions. Since I've been keeping things more natural this past month, it's been perfect for me. Like most foundations, I love to applying it with my fingers to really melt it into the skin, then use a damp beautyblender to smooth things out and perfect the finish. I wear the shade Light-Medium Neutral and it's the perfect match for my winter skintone — be sure to hop over to my Winter Style Staples post if you'd like to see this foundation in action! 
P.S. – I'll always list more information about my skin and foundation shade comparisons at the bottom of a post when I mention a foundation if you're curious if my shade may work for you.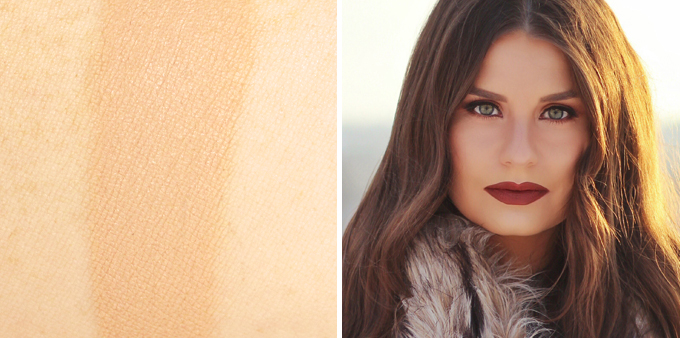 I'm wearing the tarte Rainforest of the Sea Water Foundation in Light-Medium Neutral
---
US $24.00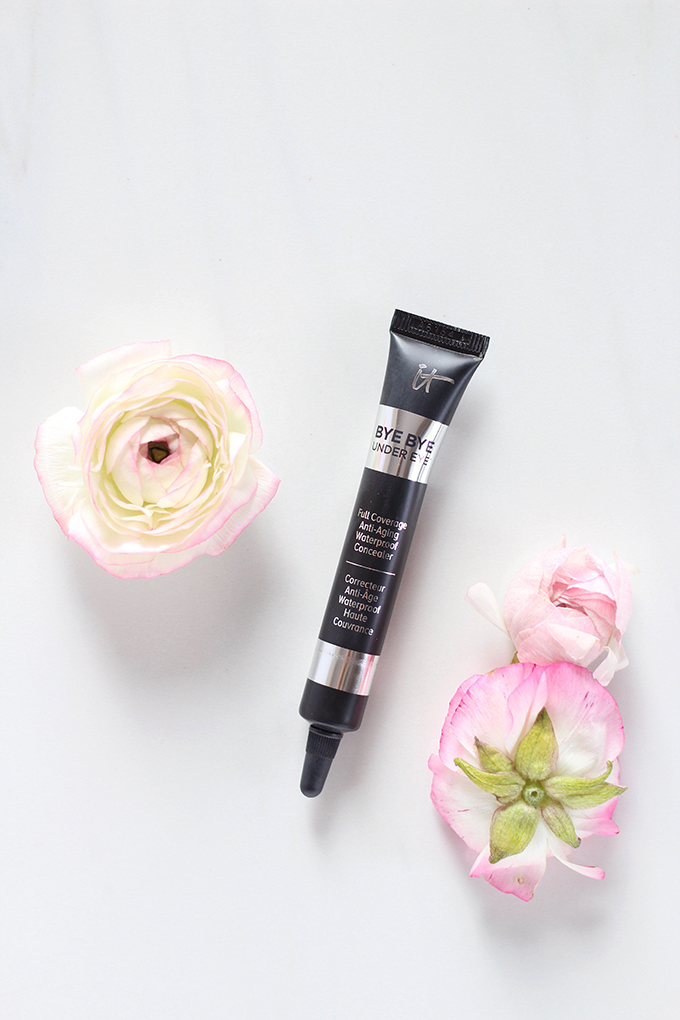 You don't even want to know how many concealers I've tried in the last 2 years since I first began using It Cosmetics Bye Bye Under Eye Anti-Aging Concealer. So let me save you the trouble, ladies — this is the best concealer I've ever tried at any price point! While this product is not new to me, I did order up a fresh tube from BeautyLish, so I wanted to mention it! BeautyLish was such a pleasure to order from and they're a great destination for harder to find beauty products in Canada (although they're based in San Fransicso the shipping wasn lightening fast and there were no duties!). I also picked up the RCMA No Color Powder and have been testing it in hopes that it may replace the Tarte Smooth Operator Amazonian Clay Finishing Powder I use religiously with Bye Bye Undereye, but I need some more time to play around with it! Also, how cute is the postcard they sent with my order? Note: BeautyLish has absolutely no idea who I am and I'm not currently affiliated with them. I always order from new online retailers from an email address not associated with my blog to ensure an unbiased customer service experience before recommending them to you!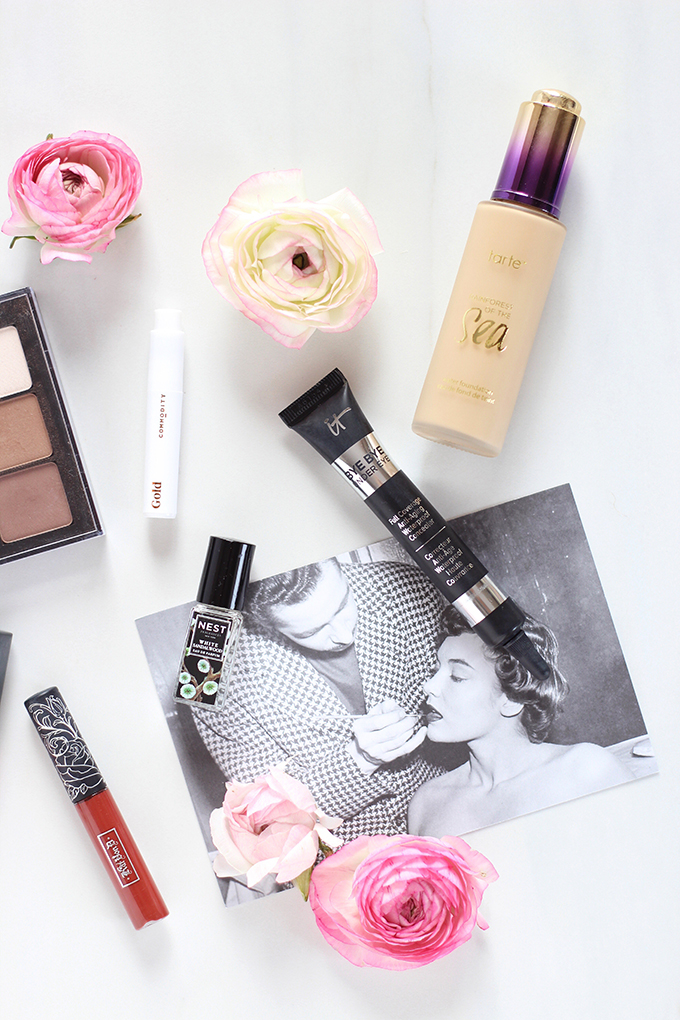 This is a super thick, creamy, salmon-toned, full coverage concealer — a little bit of this goes a long way. So long in fact, that it took me 2 full years to use up my original tube (check it out in it's sorry state back in My Routine for Flawless Looking Skin!). This concealer needs to be set immediately or it will slide around and crease on you, but I truly think I've found the holy grail when it comes to the undereye area and haven't switched these products up for almost 2 years — in fact, I included them both in some of my very first Monthly Beauty Favourites posts. I set this concealer set with the Tarte Smooth Operator Amazonian Clay Finishing Powder (which I've also mentioned about a million times here at JustineCelina) and it make my undereye area look totally smooth and airbrushed!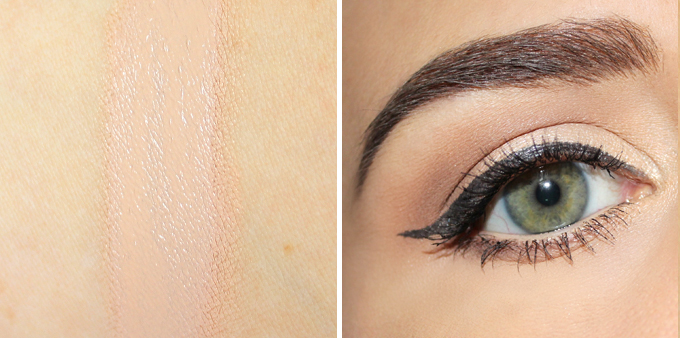 I'm wearing the It Cosmetics Bye Bye Under Eye Anti-Aging Concealer on my undereye area
---
Kat Von D Everlasting Liquid Lipstick in Plath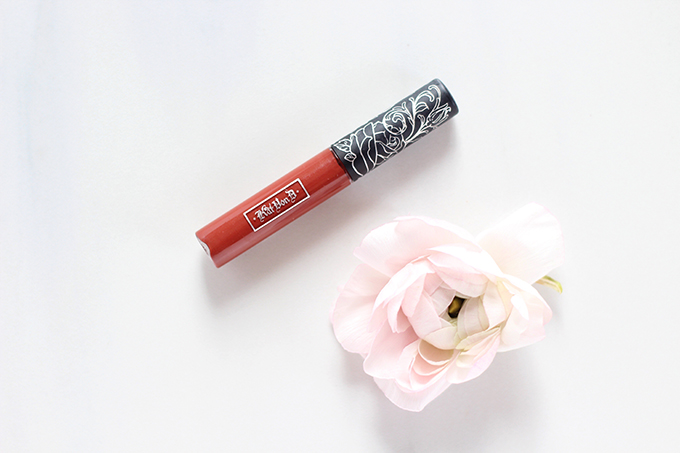 Let's move onto lips! While I mentioned I've been keeping things natural lately, I definitely made an exception for the Kat Von D Everlasting Liquid Lipstick in Plath (see it in action in my Winter Style Staples post). In the beginning of January, I found myself especially drawn to rich browns and burgundies. It's no secret that I'm crazy about vintage and vintage inspired styles — there's something very 70's about browns and burgundies that I just love during the winter, especially on my colouring! The Kat Von D Everlasting Liquid Lipstick in Plath was limited edition and part of the now sold out Everlasting Mini Liquid Lipstick Set (which was a holiday beauty exclusive that I mentioned here and here). The good news is that I found 2 similar alternatives for you — Colourpop's Ultra Matte Lip in Love Bug (which is just $6!) and Kat Von D's Everlasting Liquid Lipstick in Vampira. If you're not sure you can pull a dark lip off, try it with more minimal makeup or a simple winged liner — you may be surprised!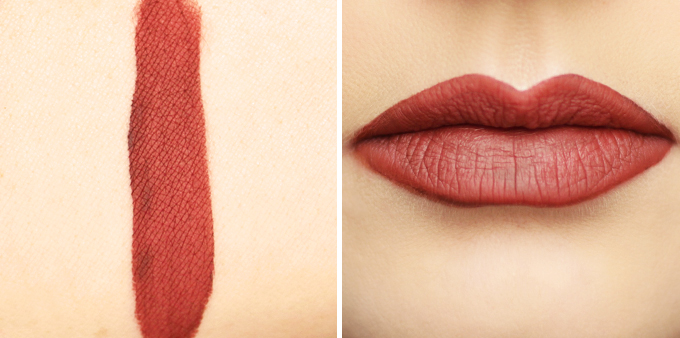 I'm wearing Kat Von D Everlasting Liquid Lipstick in Plath on my lips
---
C $25.00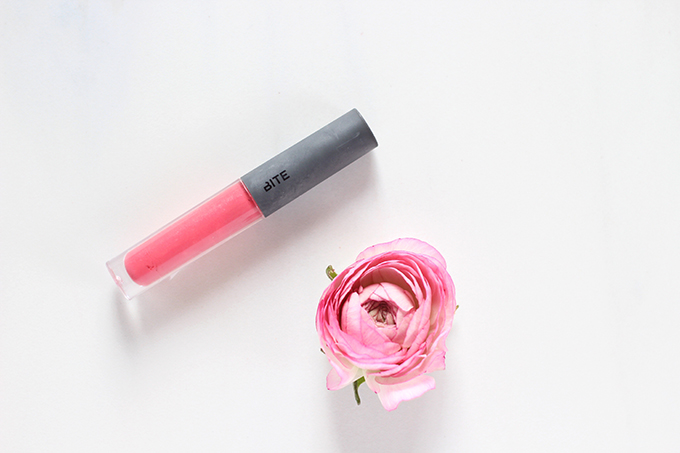 If you've read a couple of my beauty posts, you'll likely have heard me sing Bite Beauty's praises! I rave about their lipsticks — their Amuse Bouche formula is my all time favourite traditional lipstick. However, what you haven't heard me rave about are their Lush Fruit Lip Glosses. In my opinion, these beautifully formulated, natural glosses are extremely underappreciated and they deserve so much more love from the beauty community. With our Alberta winters being so dry, I find myself reaching for Bite's Lush Fruit Lip Glosses often — described by the brand as a highly pigmented, vibrant lip gloss with fruit oils. If you're not familiar with Bite Beauty, this edgy, Canadian, lip exclusive brand uses only natural, food grade ingredients to make their products! Their Lush Fruit Lip Glosses are like instant nutrition for lips, containing the same ingredients you'd find in a pure fruit smoothie: real coconut, mango, and strawberry infused with seven fruit oils. This formula feels absolutely incredible on my winter lips! It's a thicker formula that can be a bit sticky, but it's also very high shine and long lasting for a gloss, so I don't mind. The shade I'm wearing below is Guava (unfortunately it was a mini, limited edition release and it's almost gone!), but you can't go wrong with any shade from this range — Garnet is most similar, but a bit more vibrant. If you're looking for a gorgeous hydrating gloss this season, look no further!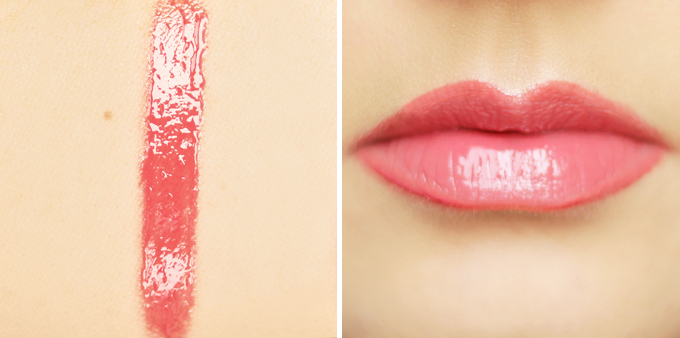 I'm wearing the Bite Beauty Lush Fruit Lip Gloss in Guava on my lips
---
C $100.00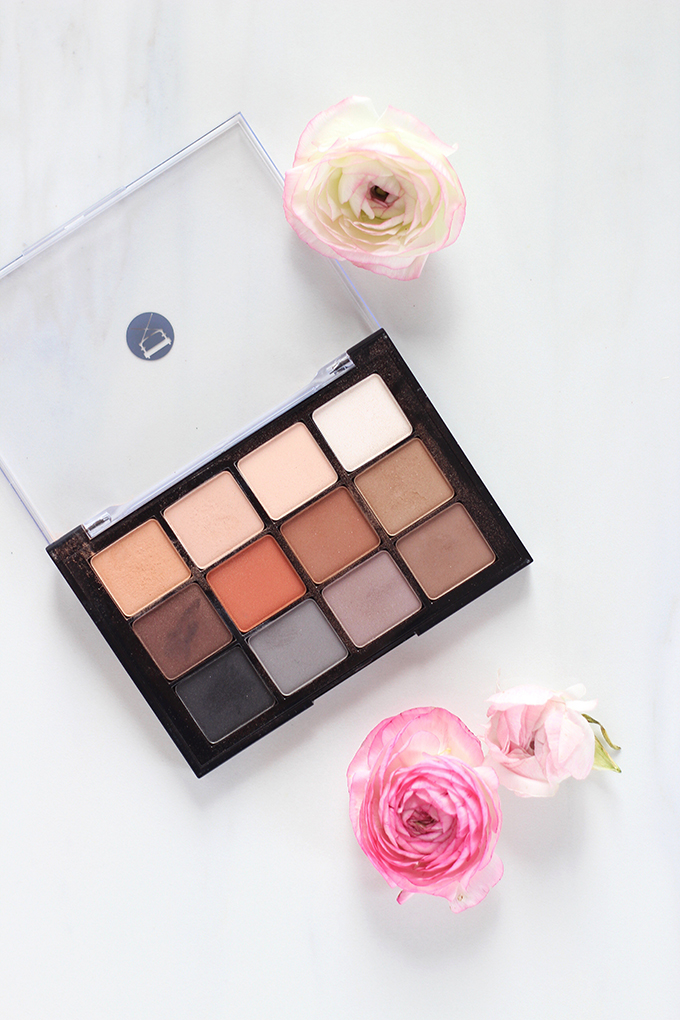 I picked Viseart's Eyeshadow Palette in 01 Neutral Matte up this past autumn and it's been on heavy rotation ever since (which is really quite amazing, because it looks like I've barely touched it)! If you're a matte eyeshadow lover or looking to add some fantastic quality matte shadows to your stash, I encourage you to give Viseart a look! This professional brand was well known by makeup artists before becoming more widely available and sold at Sephora last year. The 01 Neutral Matte Palette is a compact, all-matte, professional eyeshadow palette that offers 12 versatile powders that can be to define the eyes and brows as well as contour and shade the face.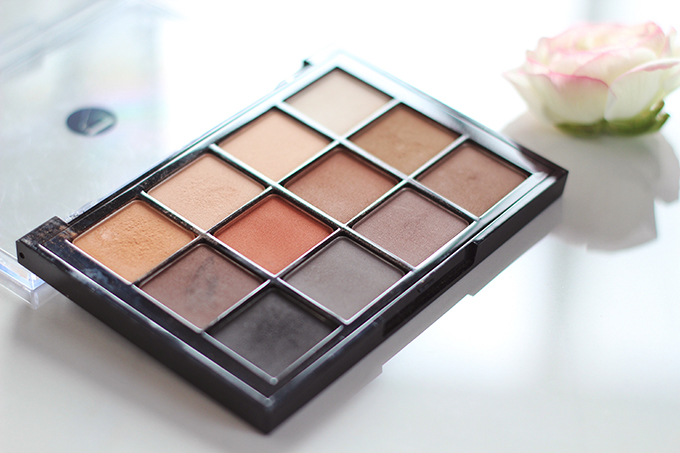 Lately, my go-to eye look has been to use whatever highlight I'm using on my face as a lid colour, then using a peach shade as a transition and a deeper, more neutral brown in my crease, finished with a simple winged eye. It's a fail proof look that enhances and defines my eyes — which is exactly what I need day-to-day. It's also a fantastic palette for travel and has made many trips with me in the 3 months we've been together!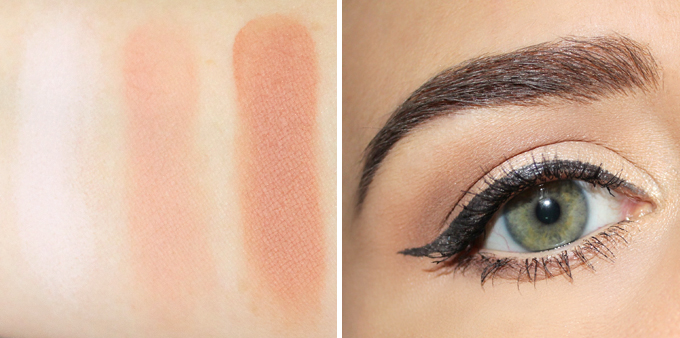 I'm wearing the Viseart's Eyeshadow Palette in 01 Neutral Matte on my eyes
---
Full size C $120.00 | Travel Size C $28.00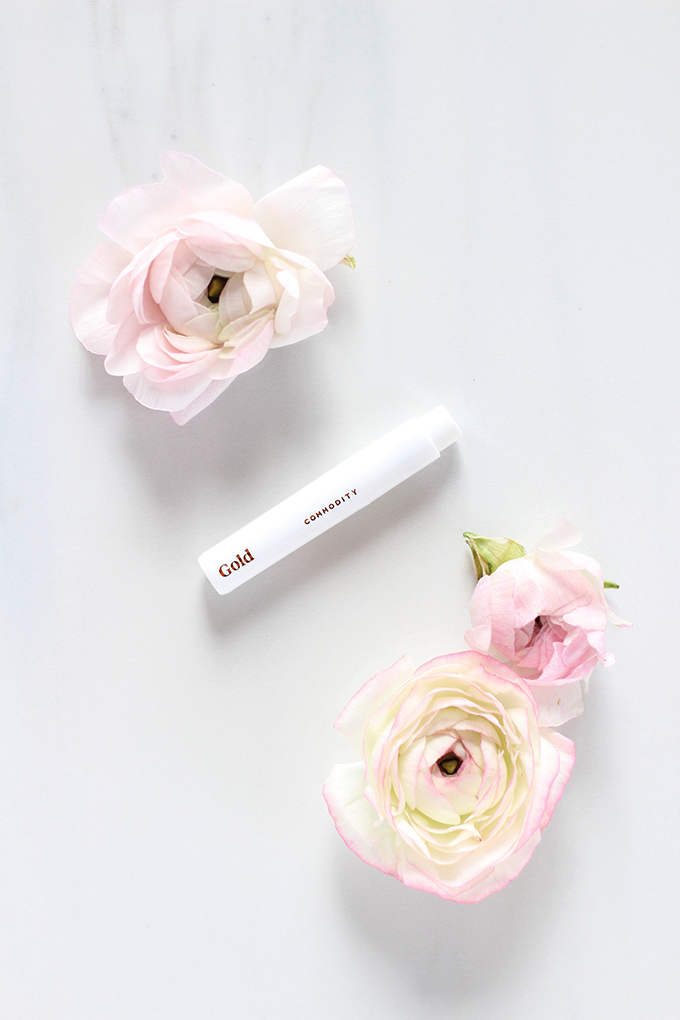 Who remembers me raving about Commodity scents this past autumn when I first discovered them? I fell so hard for Wool that I picked up their Cocktail Kit during my Holiday beauty shopping so I could sample some other fragrances from the brand. I love the concept behind Commodity's bespoke fragrance line — the five black collection fragrances are complex, moody, and intense (my favourite, Wool, is among them). The five white collection fragrances are bright, airy, and easy. Each of the 10 fragrances included in the Cocktail Kit are unisex and Commodity encourages you to layer their scents to create your own signature fragrance, or cocktail (a cute pairings card included in the kit even gives you some ideas)!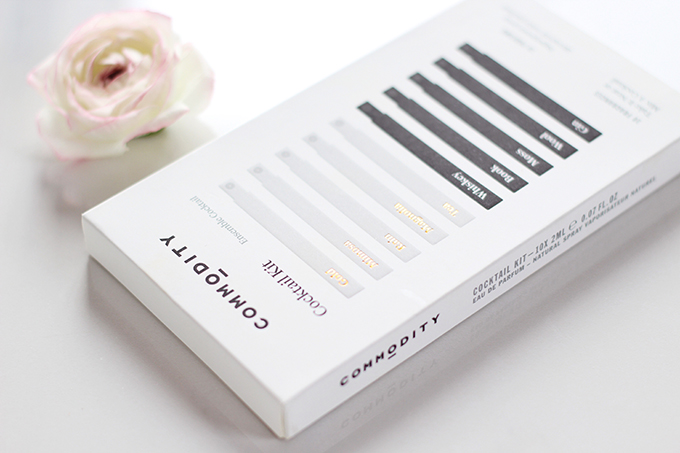 I've been doing some experimenting and am completely smitten with Gold — which is an ultra luxurious scent inspired by money in liquid form (it's so sexy)! Gold manages to be light and uplifting yet simultaneously rich and luxurious thanks to a blend of molten amber and Nubian musk. I wish you could smell it through the screen! It's slightly reminiscent of Dior's Hypnotic Poison (which I used to wear in my younger days!) but Gold is much more elegant. It's the perfect scent for February to bridge the gap between winter and spring!
Notes:
Bergamot, Juniper Berries, Camphor, Amber, Haitian Vetiver, Benzoin, Sandalwood, Vanilla, Tonka Bean, Nubian Musk.
Style:
Timeless. Sultry. Passionate.
Now through February 14th, Sephora is offering a 3x the Beauty Insider points perk on any fragrance purchases (no code needed)! This is the time of year when I stock up on fragrances for spring and summer, if you're looking for an excuse to pick something up.

---
Full size C $88.00 | Rollerball C $32.00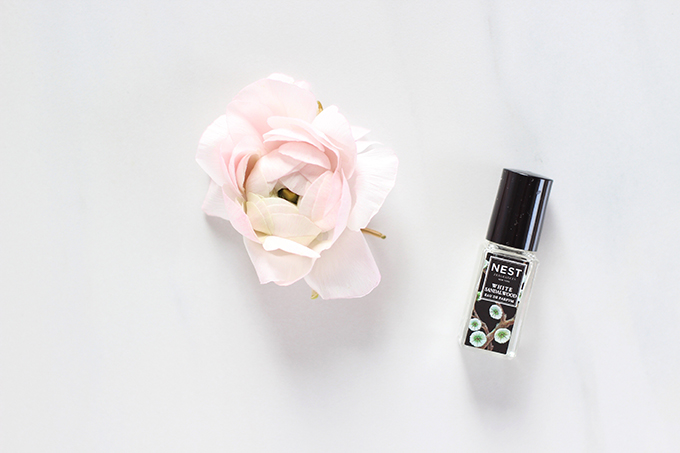 I purchased the NEST Eau de Parfum Collection Coffret for holiday gifting to divvy up between the individual beauty bundles I created for family and friends this past December. While I was choosing which scents I thought would best suit each person, White Sandalwood captivated my attention! It was truly love at first whiff and I was completely intoxicated by the scent — it's clean, crisp and warm. This unique, exotic scent and is what I wore to daytime meetings this month and I've received several compliments on it. For those of you who work in an office environment, this is a very sophisticated, professional scent! The staying power is also incredible (you apply it on in the morning and it lasts until you shower it off!). I'll likely be picking up the full sized bottle this month — the packaging was inspired by the works of an 18th Century British artist, translated to NEST's striking glass bottles!
Notes:
White Indian Sandalwood, Creamy Almond, White Musk.
Style:
Sophisticated. Exotic. Warm.
Now through February 14th, Sephora is offering a 3x the Beauty Insider points perk on any fragrance purchases (no code needed)! This is the time of year when I stock up on fragrances for spring and summer, if you're looking for an excuse to pick something up.
---
ABOUT MY SKIN
---
Skin Type
Combination, sensitive, acne prone. I only use fragrance free skincare products.
Skin Tone
Light / medium with yellow-warm undertones | MAC NC 25 – 30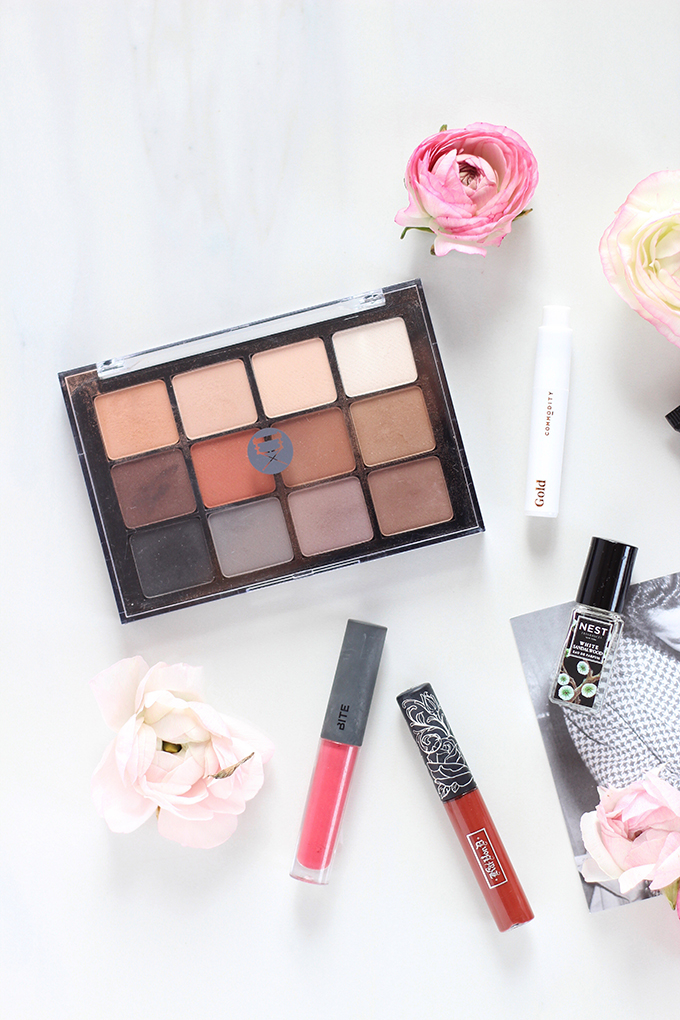 Foundation Shade Comparisons
High End

Best match: Marc Jacobs Beauty Re(marc)able Full Cover Foundation Concentrate in Bisque Neutral 27
Estee Lauder Double Wear Stay-in-Place Makeup | 2W2 Rattan
tarte Rainforest of the Sea™ Water Foundation in Light-Medium Neutral
Makeup Forever Matt Velvet + Mattifying Foundation | 40 Natural Beige
COVER FX Custom Cover Drops in G20 to lighten foundations
Drugstore
L'Oreal Magic Nude Liquid Powder Foundation | 320 Natural Beige
L'Oreal Infallible Pro-Matte 24 HR Foundation | 105 Natural Beige
L'Oreal True Match Foundation | W3 – W4
Maybelline Fit Me! Matte + Poreless Foundation (Normal to Oily) | 220 Natural Beige
Physicians Formula Youthful Wear Spotless Foundation | Medium Beige
Covergirl Outlast Stay Fabulous 3 in 1 Foundation | 857 Golden Tan
---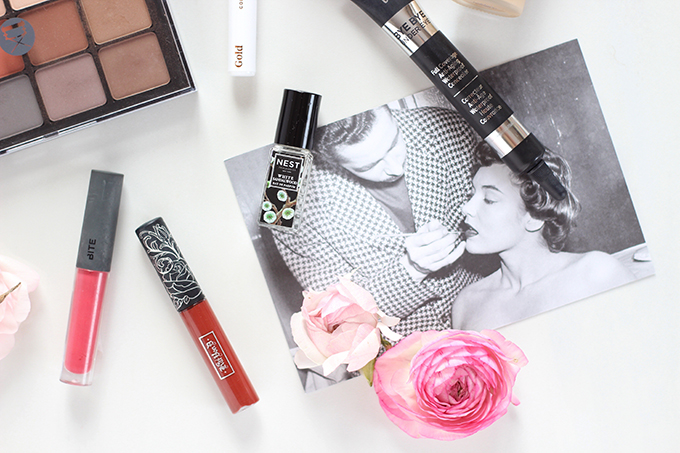 What were you guys loving this January? As always, if there's anything you have questions about to would like to recommend just leave me a comment so we can chat beauty! There are so many amazing new beauty launches happening as we transition into spring and I'm looking forward to highlighting some of my favourites for you. So if you have any specific requests, just let me know! Enjoy this frosty February weekend!
---
Disclaimer: Thank you to Rebecca Dawn Design for the stunning blooms I used to style this post. This post is not sponsored, and contains my genuine thoughts, ideas and recommendations. JustineCelina uses affiliate and referral links, which allow me to receive a small commission when you make a purchase through one of my links. Thank you for supporting the brands and businesses that support JustineCelina.com!