---
October was truly a high-low month for beauty favourites! When it comes to beauty products (or anything, really) I don't discriminate based on price — some $2 products work better than $100 products. Well, this month, I've been loving $2 lip liners, $3 cream eyeshadows, $3 nailpolish, a $4 dry shampoo, and a $95 face palette! So when I recommend a product, know that it's not just good for the price — it's just good, period!
I'm sharing lots of beauty bargains with you this month, and my in-depth thoughts on the extremely spendy Hourglass Ambient Lighting Edit palette. Also, an amazing $6 contouring palette, and the perfect matte, deep berry lip. Let's chat about beauty bargains and splurges!
---
US $3.00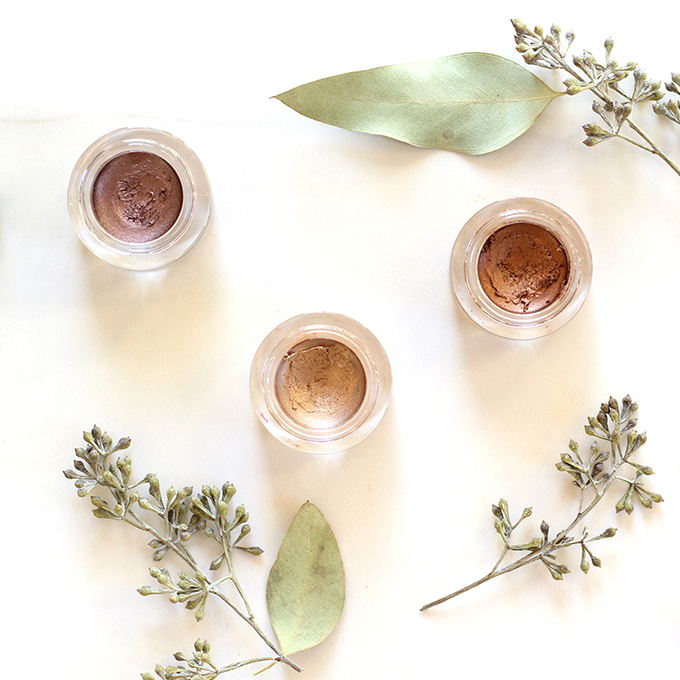 I've been really loving almost everything I ordered from e.l.f. Cosmetics a couple of months ago. They're a bargain brand with outstanding, inexpensive products (and a few duds, too). But these Smudge Pot Cream Eyeshadows are a total hit! If you're looking for an extremely long wearing cream eyeshadow, look no further (but just don't expect high-end packaging)! These are the best cream eyeshadows I've ever used. My favourite shades are Back to Basics  (a perfect mid-toned, metallic gold), Brownie Points (a beautiful metallic bronze-copper), and Wine Not (which I totally purchased because of the name — but it's a really unique metallic cool-toned purple with lots of golden shimmer). These wear well on me for a full day (and night), with absolutely no fading, flaking or creasing. They're smooth, pigmented and easy to work with, and you have about 30 seconds to smudge them out before they set completely. Try wearing them all over the lid and smudged out on the lower lashline with a bronzer in your crease for a super easy eye look.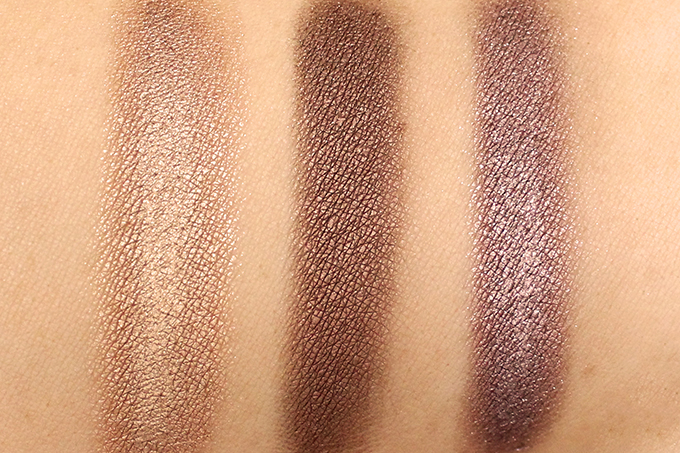 e.l.f. Smudge Pot Cream Eyeshadow swatches from left to right: Back to Basics, Brownie Points, Wine Not
---
US $6.00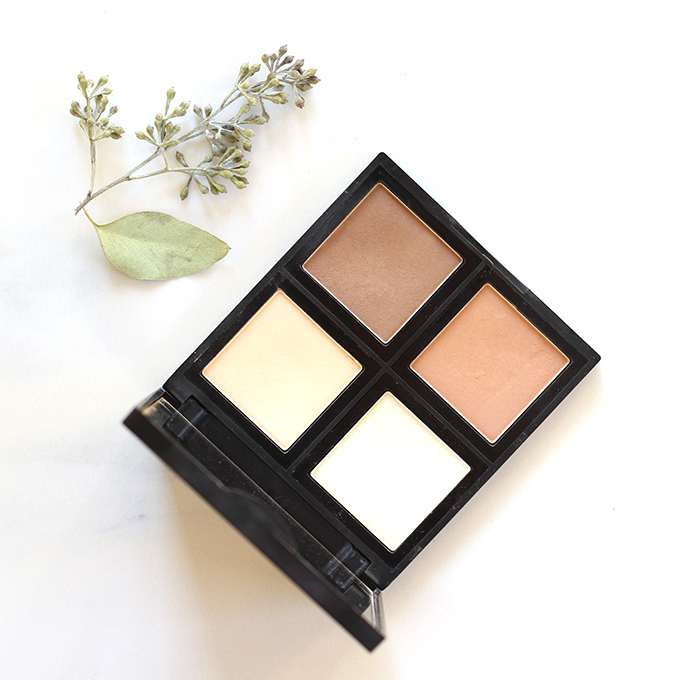 To be honest, I didn't expect much from this contouring palette. Even though I try a lot of new beauty products, when I find something I really love, I stick with it. My go-to contouring powder has been the Balm's Bahama Mama bronzer, which I've been using consistently ever since I mentioned it back in March, but this palette has replaced that. I thought this little palette would be great for travel, and I was curious to see if it would be any good –I was blown away by the quality of these powders!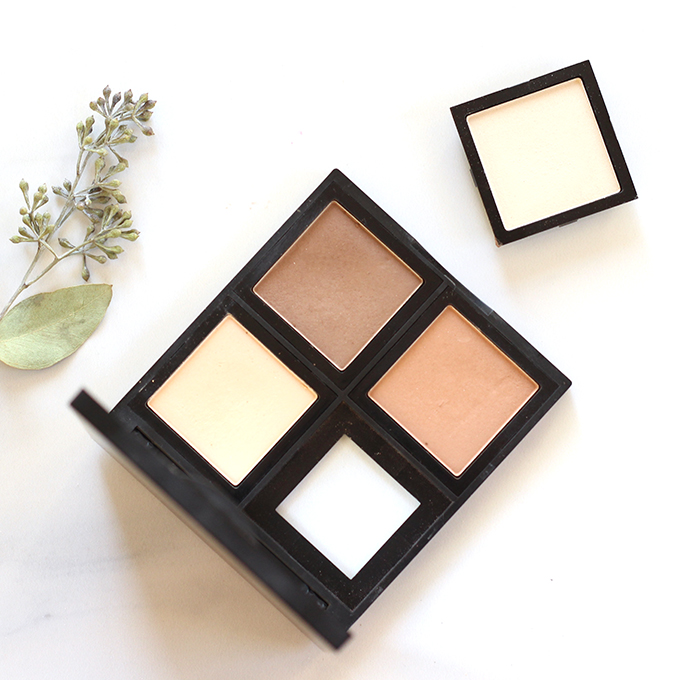 The only shade I don't love is the one at the bottom, so I just pop it out and pop a blush into its place (below I was using one of the blushes from the Blush Palette in Dark that I mentioned last month).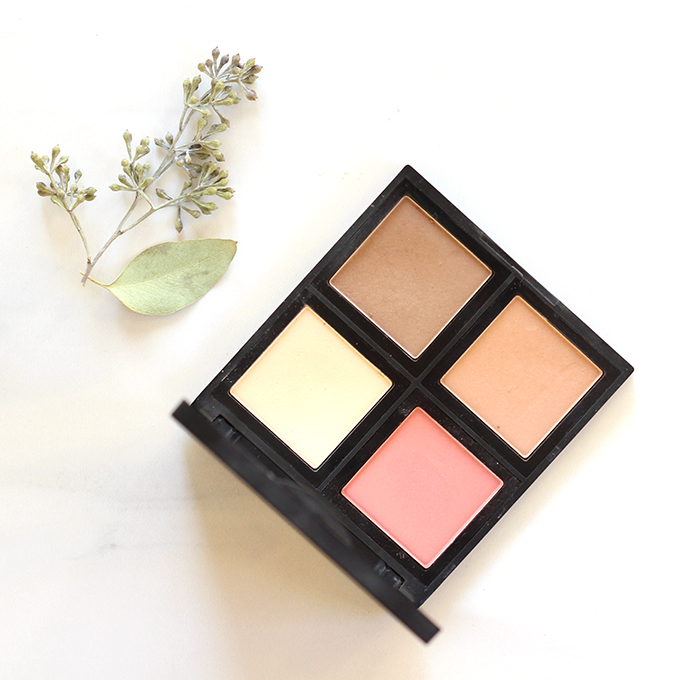 Each shade (except the top right) is creamy, pigmented and I think the shades are perfect for light / medium skin. I use the brightening, yellow-toned powder so many different ways; as a matte brow bone highlight, to set my eyeshadow base, and to highlight my undereye area and centre of my face. The lighter, warmer brown is a great natural bronzer to add warmth and dimension to the cheeks and forehead. And the darkest powder is the perfect ashy, deep contouring shade — it adds believable structure without looking muddy. I also love to use the warm brown on the eyes as a transition shade, and the deep brown to add depth and structure to the crease and outer V. This replaces 7+ separate products for me — which saves a lot of space in my makeup bag! Plus, it has a huge mirror (great for travel!). If you're looking for an awesome inexpensive contouring palette, definitely pick this one up! I've been using it so much, I've almost hit pan on the deepest shade. And I've already hit pan on the e.l.f. Studio Perfect Finish HD Powder I mentioned the last month.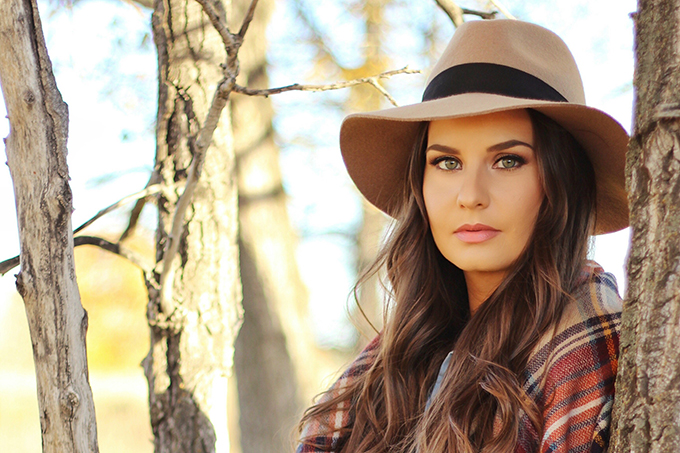 I'm wearing the e.l.f. Contour Palette in the deepest shade to add structure to my cheekbones, nose and jawline.

P.S. – Interested in what I'm wearing? For more from this fashion post about my favourite comfortable, elevated basics for autumn hop over to the full post!
---
C $3.97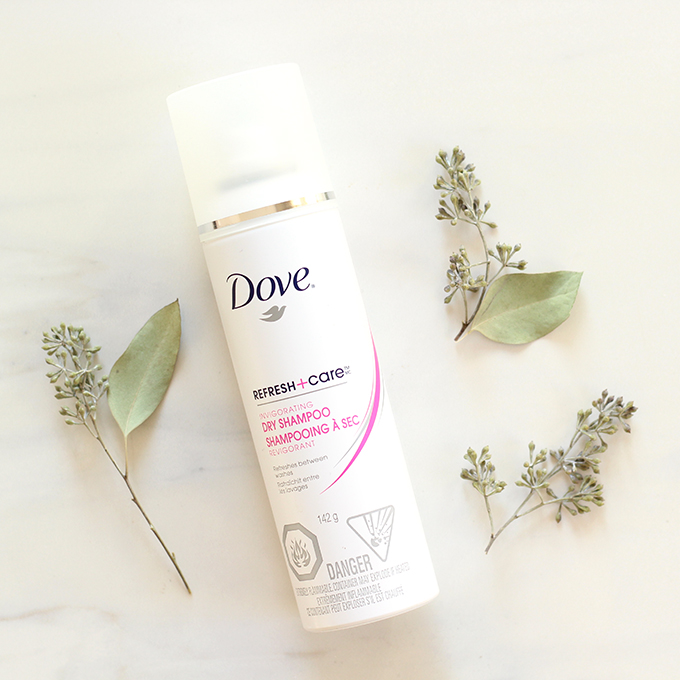 Ever since Batiste discontinued their Dark & Deep Brunette Dry Shampoo (why?!) I've been on the hunt for a great dry shampoo that doesn't make me look like I'm going grey — brunettes, I know you feel me! Back in the summer I started using the MoroccanOil Dry Shampoo Dark Tones (full review here) — mostly because it smells delicious, but it also does a good job at keeping my hair looking fresh (although as I used it down to the end of the bottle, I did notice it left a bit of a white cast on my hair). But for almost $30, I expect a dry shampoo to be amazing! So I went out in search of an awesome, inexpensive dry shampoo — and I found it in the Dove Refresh + Care Invigorating Dry Shampoo. This is a clear dry shampoo, (hallelujah!) that makes my hair feel really clean. It also smells nice — kind of floral and sweet. If you go through as much dry shampoo as I do, and you're looking for a bargain buy that works, give it a shot!
Speaking of dry shampoo, I'm thinking of doing a Battle of the Dry Shampoo post, testing out a bunch of different brands for you (and even trying a natural DIY). I've tried so many this year trying to find another good one, I feel like I'm a dry shampoo expert at this point! Is that something you'd like to see? If so, please leave me a comment!
---
C $28.00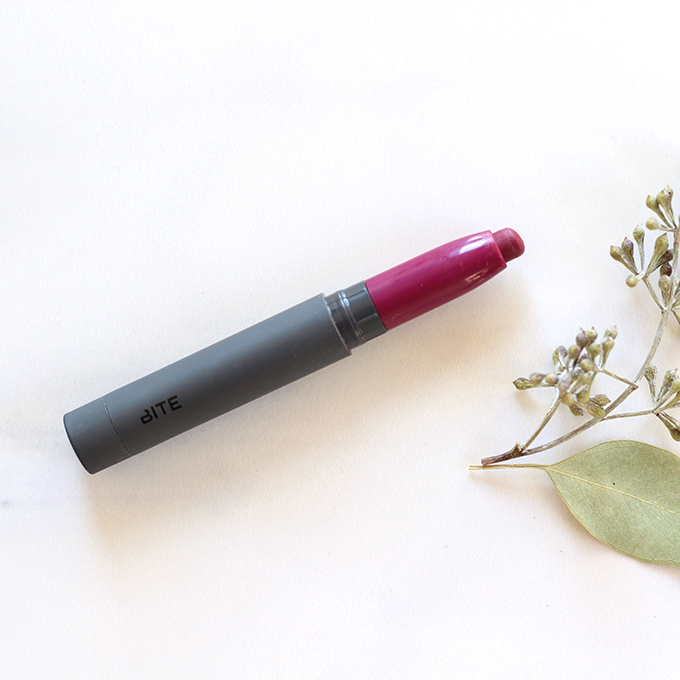 I've been burning through my Bite Beauty Best Bite Rewind Set this month (which is still available online at the time I published this post!). Read my full review here for more information on the formula, wear time, etc. Surprisingly, the shade I've been wearing the most is actually the boldest one in the set, Aubergine (and the only non-exclusive shade that you can purchase individually). This shade does something magical to your complexion — especially if you have green eyes! I get so many compliments when I wear this (someone even asked me to write it down for them!). On me it's a deep berry that pulls a bit warm. I think it's actually very wearable, and would flatter a wide range of skintones all the way from very fair to very deep. If you can grab the Bite Beauty Best Bite Rewind Set online or in store, do it! And if you can't, but you really love Aubergine, I've linked to where you can purchase separately. I'm also wearing it in this photo, to give you an idea of how it looks in completely different light (outside on an overcast day).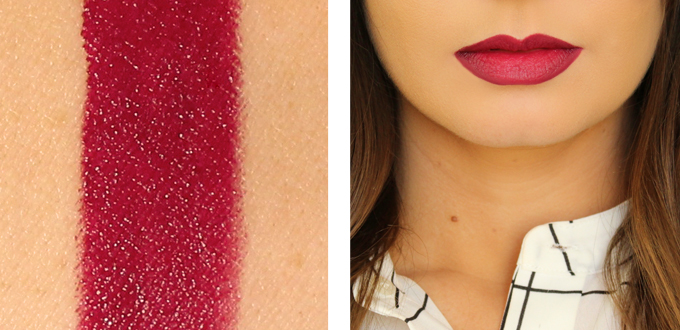 I'm wearing Bite Beauty's Aubergine Matte Crème Lip Crayon
---
C $1.99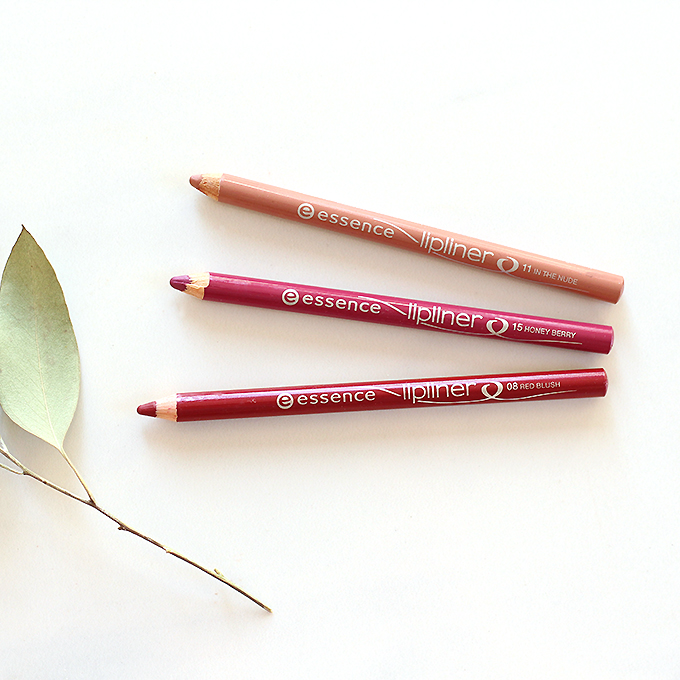 You guys, these lip liners are amazing. They're my favourite next to the Colourpop Pencils (which are also super affordable at $5 a piece). But, if you're looking for awesome lip liners that are more accessible, stop into your local Shoppers Drug Mart and see if they carry Essence (it's a small display, and it's only available at select locations). If you find a display, grab one in every colour! I'm not kidding — these are the smoothest, creamiest, most pigmented lip liners I've ever used. Plus, they're long wearing, and the shades are gorgeous. My favourites this month are In The Nude (a perfect true nude), Honey Berry (a beautiful warm berry), and Red Blush (a deep raspberry). They coordinate perfectly with 3 shades in the Bite Beauty Best Bite Rewind Set — In The Nude with Café, Honey Berry with Aubergine, and Red Blush with Coulis. You can also wear them all over your lips as a matte lipstick — just line your lips first, and then colour inside the lines, filling in your lips!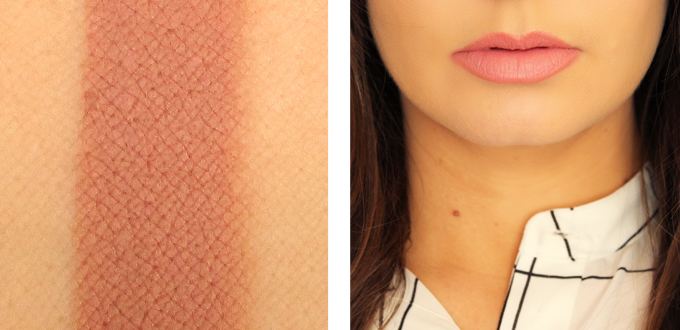 I'm wearing the Essence Lip Liner in In The Nude with Café Matte Crème Lip Crayon from the Bite Beauty Best Bite Rewind Set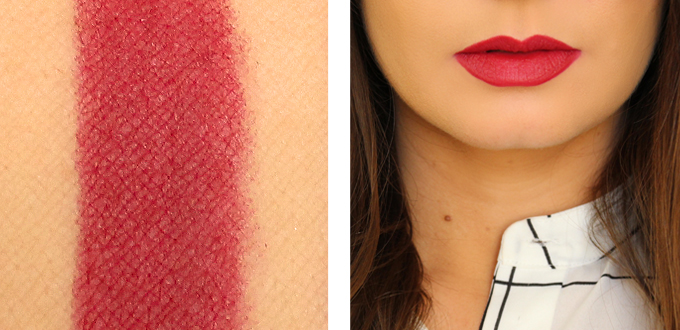 I'm wearing the Essence Lip Liner in Red Blush with Coulis Matte Crème Lip Crayon from the Bite Beauty Best Bite Rewind Set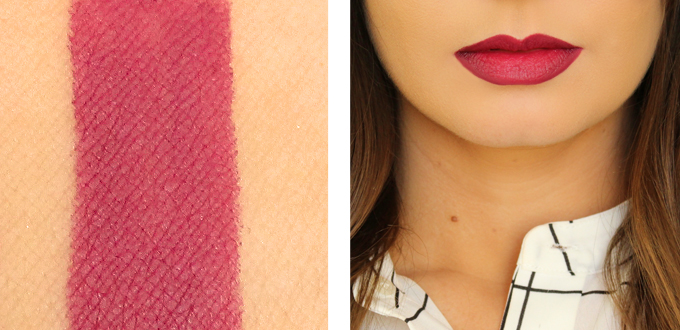 I'm wearing the Essence Lip Liner in Honey Berry with Aubergine Matte Crème Lip Crayon from the Bite Beauty Best Bite Rewind Set
---
C $95.00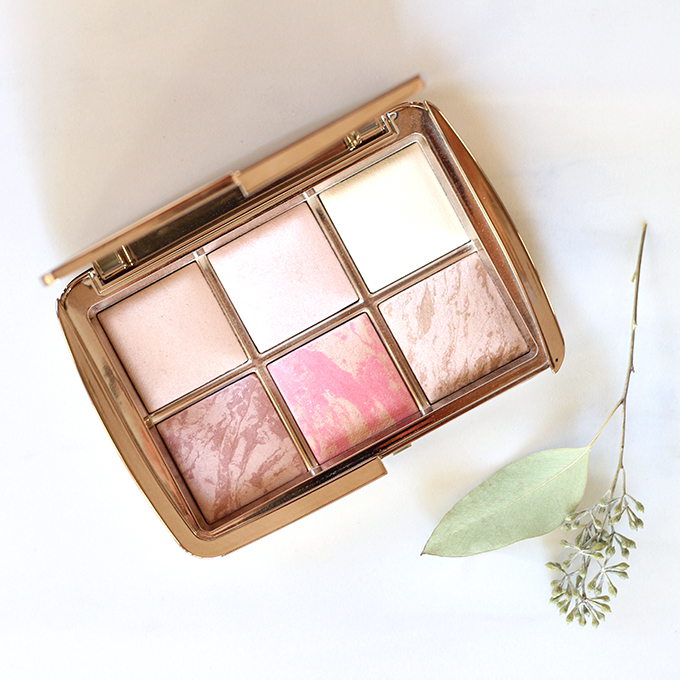 Whoa… this was a splurge! I took the plunge and ordered this palette last month, because I'd been stalking it online trying to find out when it was going to be released — since the summer. Haha. I'm a big fan of the Hourglass Ambient Lighting Powders — I own the original Ambient Lighting Palette, and I've put a considerable dent in it (which you actually can't tell from the photo below, because the powders are domed when they're new, and the powders in the original Ambient Lighting Palette are now flat!).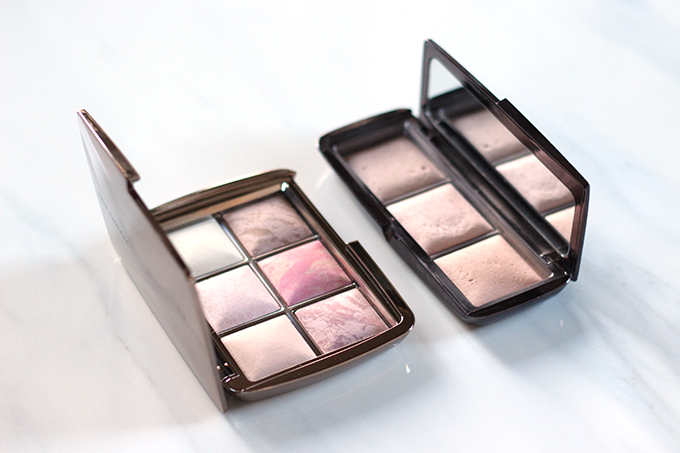 I love to use them to finish my complexion and add a subtle warmth and highlight. Rather than repurchasing Dim Light separately (the powder I use most often as a finishing powder), and since I was wanting to try their blushes and bronzers, I thought this palette was definitely for me. Since I like to have a variety of colours and finishes in my blushes and bronzers, the idea of spending $41 on full-sized, single blush or bronzer just isn't practical for me. There's been a lot of talk about this palette not being good value for the money, since ounce-for-ounce it's actually more expensive to purchase the palette than it is to purchase these powders individually — but that's a convenience I don't mind paying for in a limited edition palette. It's a great opportunity to try the brands most coveted products, and get a feel for how they all work together. The pans are small, but I'm able to get my regular brushes in there fairly easily. Here's a little bit of information I pulled from Sephora.com about each of the 6 shades: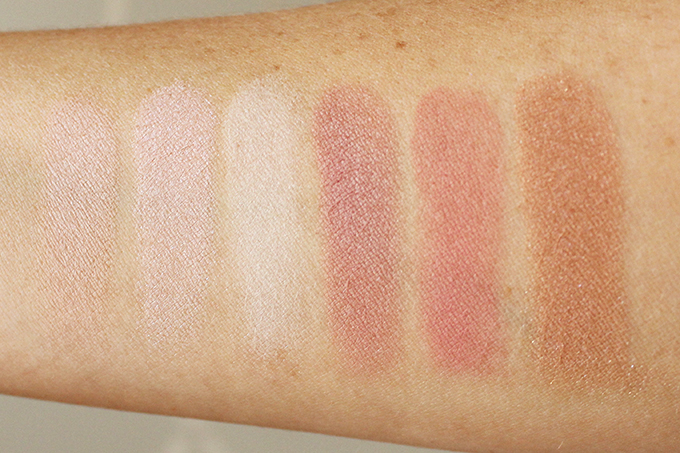 From left to right: Dim Light; a neutral peach beige powder that blurs imperfections and highlights the complexion | Strobe Lighting Powder in Iridescent Strobe Light (limited edition, and exclusive to this palette); a rose pearl powder that gives a refined glow to the complexion | Diffused Light; a soft, warm, pale yellow powder that conceals redness and gives skin clarity | Mood Exposure; a soft plum blush fused with mood light to brighten the complexion | Luminous Flush; a champagne rose blush fused with luminous light to evoke a candlelit glimmer | Luminous Bronze Light; a medium tan shade fused with luminous light for a softer, candlelit warmth
I'm wearing every shade from this palette in the photo below. To be fair, the natural light was really nice on this day, but I do think these powders have such a beautiful, blurring and enhancing quality on the skin. I've been wearing them non-stop since I got the palette! I especially love the Mood Exposure blush for a natural looking flush on the cheeks and the Luminous Bronze Light bronzer for a subtle warmth on the skin that's believable as we transition into cooler months.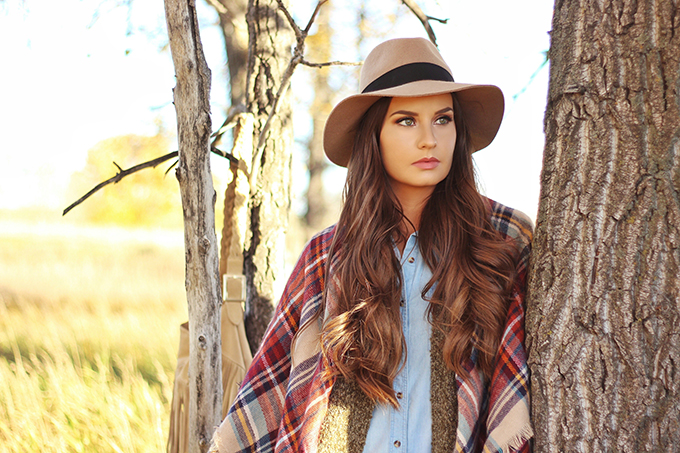 I'm wearing the Hourglass Ambient Lighting Edit Palette; Dim Light all over the skin as a finishing powder, Diffused Light to brighten under my eyes and the centre of my face, Iridescent Strobe Light on the tops of my cheekbones, bridge of my nose and cupids bow, Mood Exposure all over my cheeks with Luminous Flush on the apples, and Luminous Bronze Light to bronze the perimeter of my face.
P.S. – Interested in what I'm wearing? For more from this fashion post about my favourite comfortable, elevated basics for autumn hop over to the full post!
---
C $2.99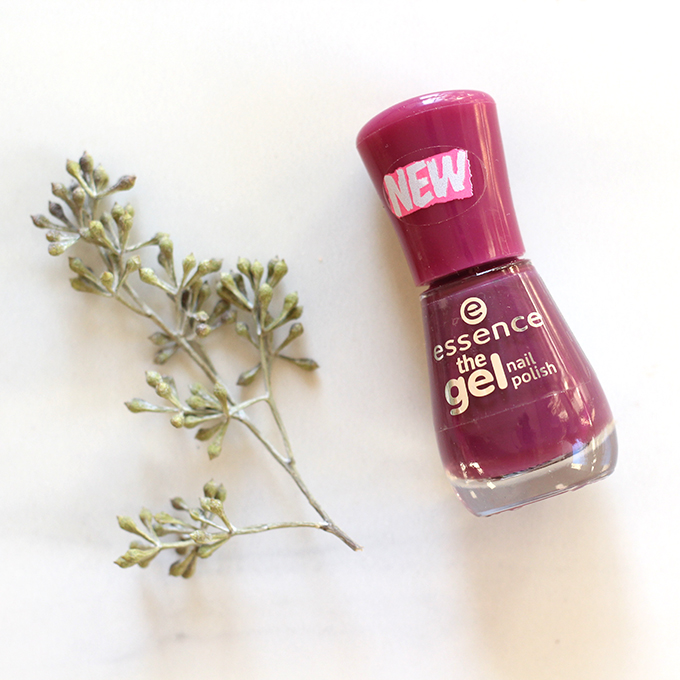 I flip flop between gel polish manicures (I do them myself — I've owned my own system for almost 4 years now!), and regular polish when my nails need a break. I love the look of gel polish, but sometimes it does a number on my nails. When I was checking out the Essence display last time I was at Shopper's Drug Mart, I noticed a full line of these new The Gel Nail Polishes and I was intrigued! This is a regular polish that claims to have the look of gel polish and be free of DBP, toluene and formaldehyde — and I'm impressed! The shade Amazed By You is a beautiful, true eggplant. I wore it back-to-back 3 times in October, and for me that's really unusual! The formula is opaque, creamy and easy to apply evenly. The brush is a little wider than traditional nail polish brushes, and I really like that — it cuts down application time, because the brush covers more of your nail. I get a solid 3-4 days wear without a base and topcoat, and about a week with a good base and topcoat. I'll probably pick up a few more colours from this line!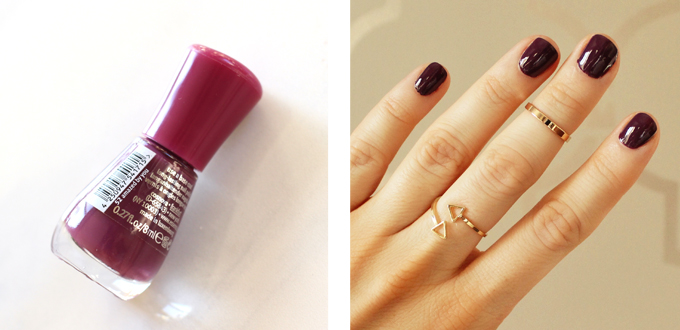 I'm wearing 2 coats of Essence The Gel Nail Polish in Amazed By You, with no base or topcoat
---
What have you guys been loving this month? Are you doing any holiday beauty shopping for yourself or family and friends? Let's just say I took full advantage of the Sephora VIB Sale! 😉 Anytime you want to chat beauty, or have a questions just leave a comment for me!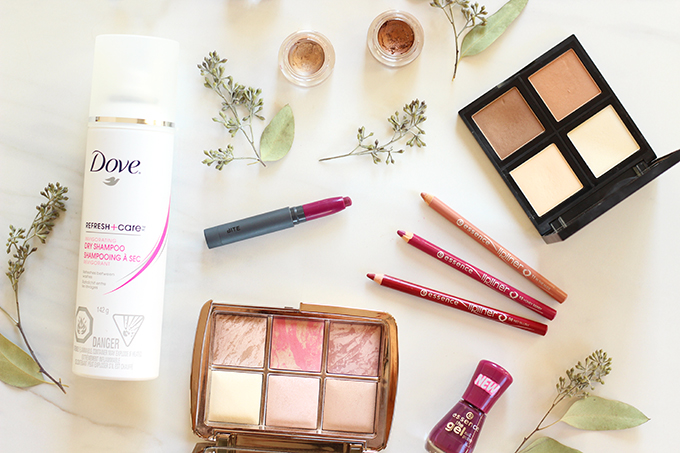 ---
Disclaimer: This post is not sponsored, and contains my genuine thoughts and recommendations. JustineCelina uses affiliate and referral links, which allow me to receive a small commission when you make a purchase through one of my links. Your purchases help to support JustineCelina.com!