---
November was a pretty low-key month for me, beauty wise. I discovered a few new products, but in colours that I know work for me. Otherwise, I've been sticking to what I know — which is what tends to happen when I'm super busy.
In November I got my glow on, rediscovered my signature winter scent, found a game changing pair of tweezers, an eyeshadow that makes simple smokey eyes a breeze, a no fuss nude lipstick for winter, and the most flattering liquid lipstick, ever! I also picked up a bunch of new products (yep… definitely took advantage of the Sephora VIB Sale!), so get ready for lots of holiday beauty posts, coming to JustineCelina soon!

---
C $29.00
You guys. I've been missing out in the tweezer department my whole life and I didn't even know it! These tweezers are a game changer. They make it so easy to get every little hair. They are a bit pricey (I picked them up during the Sephora VIB Sale last month at 20% off), but totally worth the investment. If you want to take your brow game to the next level, I can't recommend picking up a pair of these Tweezerman Tweezers enough.
---
US $5.00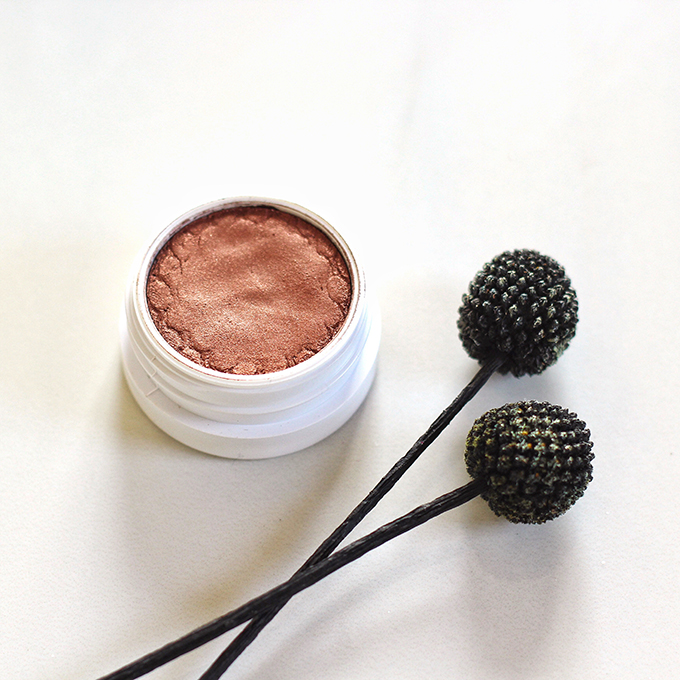 We all know I love Colourpop eyeshadows. I own quite a few now, and still wear them often. I placed an order a couple of months ago because I wanted to try a few of their new releases for autumn, and Boy Band was one of the shades I picked up. Colourpop describes it as an 'intense red copper', but I think it's a mixture of copper, burgundy and purple. It seems like the more you blend it out, the more purple it pulls. It's a very unique colour (and one that really compliments green eyes), but it would look beautiful on anyone. My favorite way to wear it is all over for an effortless smokey eye (like I did below). Colourpop eyeshadows wear all day, with absolutely no creasing or fading.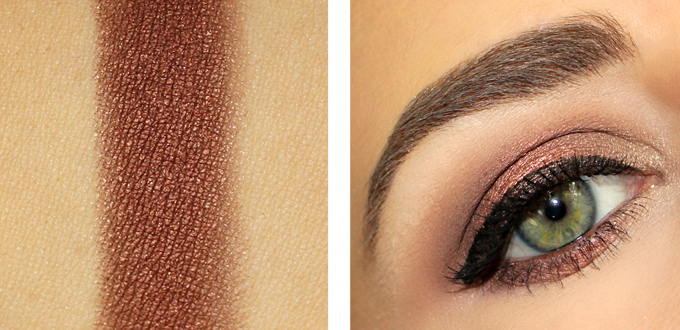 I'm wearing Colourpop Super Shock Shadow in Boy Band all over my lid and smudged beneath my lower lashline.
---
C $42.00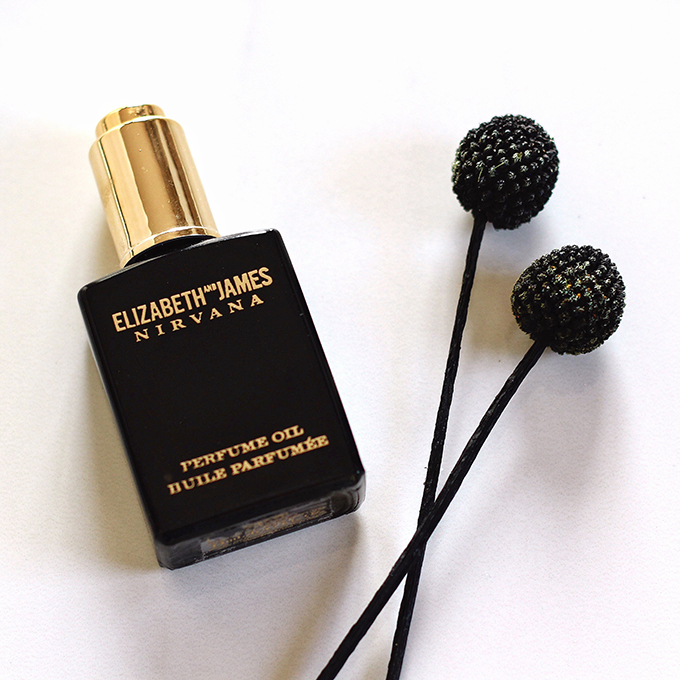 This is such a sophisticated, sexy scent with a little bit of spice to it. It's very distinct, and it smells different on everyone. I purchased the gift set last year, and every winter Nirvana Black is my go-to fragrance. I feel like the oil is just a little bit softer than the perfume, but the formula is more concentrated, so you need less of it. Plus it's amazing for travel. If you're looking for a no-fail gift for a special lady in your life, treat them to this Perfume Oil. They won't be disappointed!
From Sephora.com
Notes:
Violet, Sandalwood, Vanilla.
Style:
Sensual. Mysterious. Warm.
---
C $17.00 (Mix & Mingle Duo) | C $28.00 (Full Size)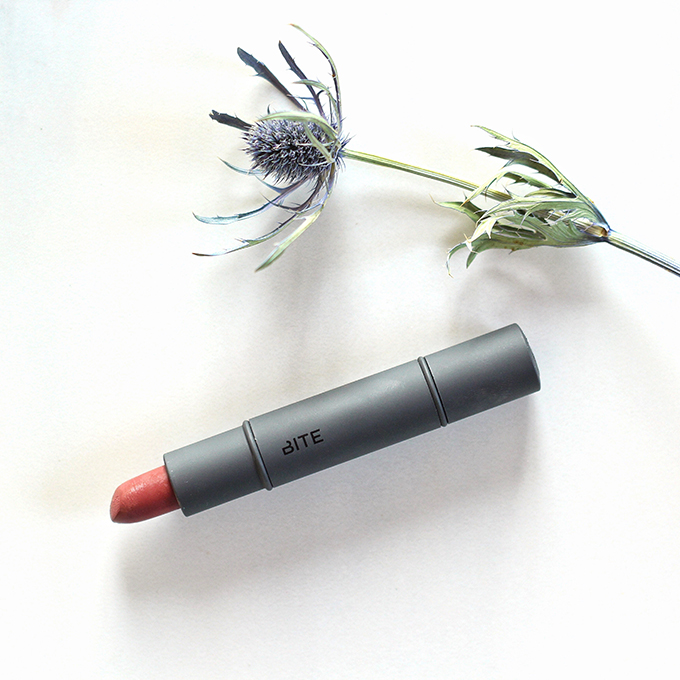 Whenever I'm rounding up products for these monthly favourites posts, the first thing I do is check to see what's hanging out in the bottom of my bag. The Bite Beauty Luminous Crème Lipstick Mix & Mingle Duo in Pepper/Café has literally been in my bag since I purchased it last month! I've mentioned previously that the Bite Luminous Crème Lipsticks are my all time favourite lipsticks — every year I love to pick up these mini duos. They last me until the next year! The shade I've been wearing almost daily is Pepper, a dusty rose that's almost exactly the same colour as my lips, just intensified. The lipstick has a bit of sheerness to it, which I actually really like — it's the perfect no fuss colour that goes with everything. And this formula is so luxurious, comfortable and nourishing on the lips — especially during our chilly Alberta winters. The Luminous Crème Lipsticks wear for about 4-5 hours on me, depending on the shade. Note: these duos have been selling out online, so if you really love Pepper, but the duo is sold out, you can purchase the full size lipstick here.
I also picked up the rest of the Bite Beauty Mix & Mingle Luminous Crème Lipstick Duos for Holiday 2015, so keep your eyes peeled for a full review of all 12 shades this month!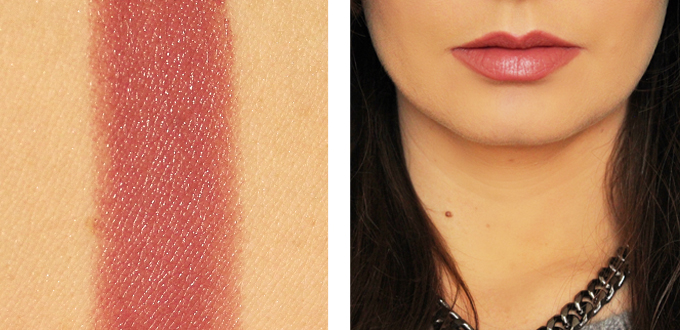 I'm wearing Bite Beauty Luminous Crème Lipstick in Pepper on my lips.
---
US $6.00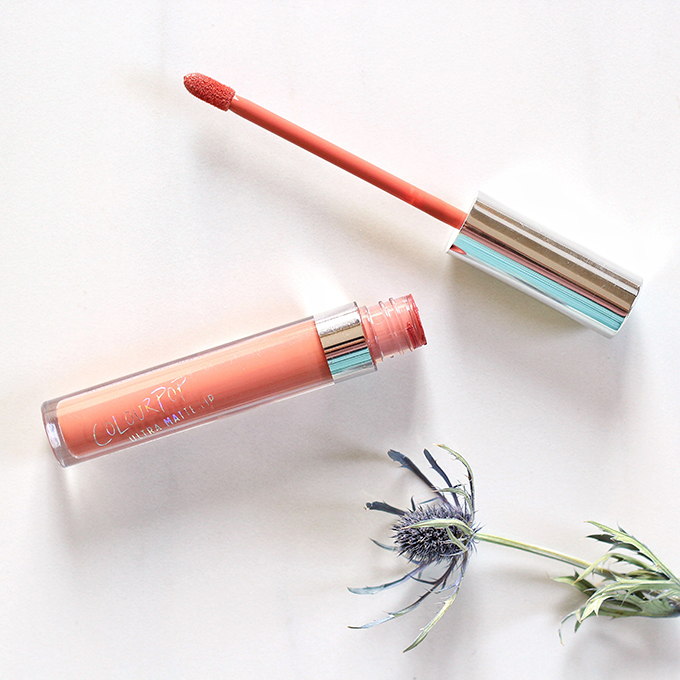 I'm a fan of Colourpop's Ultra Matte Lips (full review here). I initially picked up 10 shades when they launched the formula, and have been getting a lot of wear out of them. Of all of the shades they've launched since, Instigator really stood out to me. Colourpop describes is as a 'mid-tone peachy nude' — one me it's more of a peachy pink. It's such a warm, flattering shade — I think everyone could wear it. Like all Colourpop's Ultra Matte Lips, the colour dries to a deeper shade on the lips than it appears in the tube. The formula seems creamier and more mousy in texture than their original shades. It's definitely more comfortable and less drying on the lips, which I I love! On me, the Ultra Matte Lips wear for about 6 hours.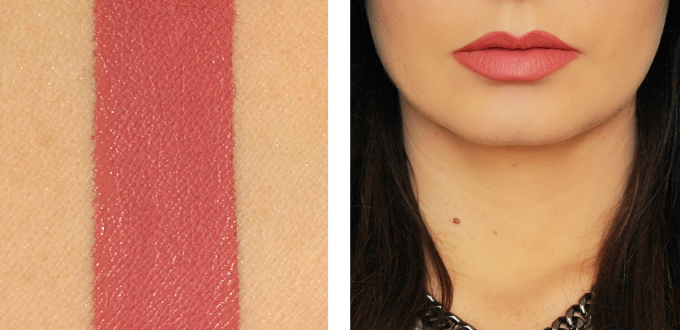 I'm wearing Colourpop Ultra Matte Lip in Instigator on my lips (and it's fully dry in the photo).

---
6) BECCA Shimmering Skin Perfector Pressed Champagne Glow Palette
C $44.00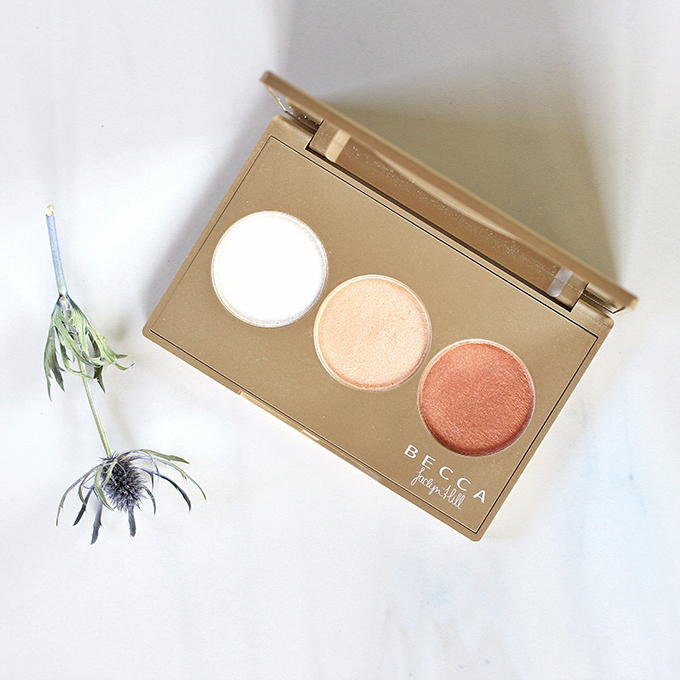 First — I have some bad news. I'm no longer able to find this palette online at Sephora.com. But, if you really want it, go see if you can track it down in-store!
I'm so happy with this purchase. I'm a huge fan of Becca's Shimmering Skin Perfectors, and have been eyeing Blushed Copper since it first launched. I love Champagne Pop (full review here), and was wanting to try Pearl — so this palette was perfect for me. If you're new to the brand (or to highlighters in general), it's a great opportunity to try Becca's most popular products. This palette contains smaller sizes of 3 of Becca's limited edition Shimmering Skin Perfectors in the pressed formula; Pearl, Champagne Pop and Blushed Copper.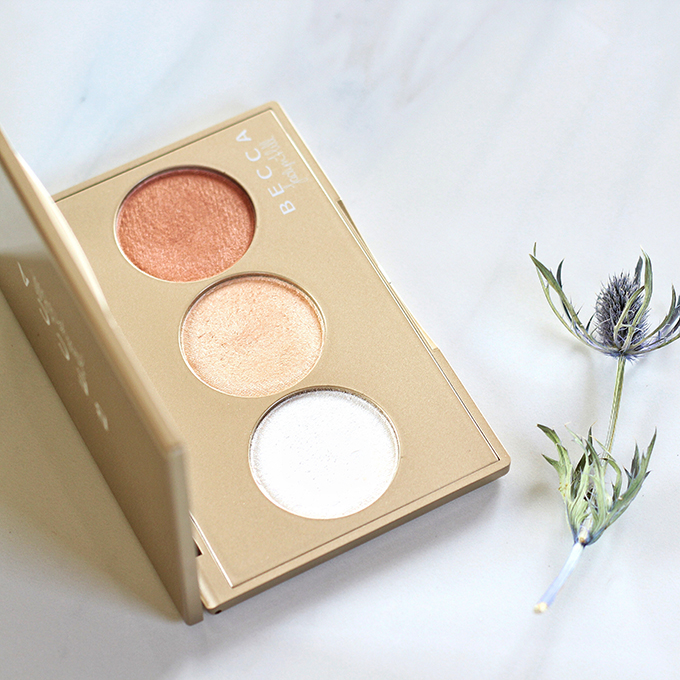 Champagne Pop is probably the most beautiful highlighter I've ever used. It flatters literally every age and skintone — I've used it on women aged 18 – 75 of different skintones and ethnicities, and everyone loves it! I've been wearing it almost everyday since I picked it up in August, because it's that good. In Canada, you can still purchase Champagne Pop separately. And I've been really loving Blushed Copper — I wear it as a blush, or a blush topper (since it has quite a bit of glow and sparkle to it!). Sephora describes it as a 'warm copper infused with rose gold tones', and I think that's accurate. If you have a deeper skintone, this would be absolutely beautiful on you as a blush or highlighter. And if you're fair, a blush. I've also used it as an eyeshadow, and it's gorgeous on green eyes. Pearl, the lightest shade in the palette (described as 'pale linen white') will be sold separately in a full size soon. On me, Pearl is a little too icy on its own, but it's stunning mixed with Champagne Pop when I'm more fair in the winter months. I also I love it as an eyeshadow — it's great all over the lid, and it makes a really pretty inner corner highlight. Pearl would be ideal for you porcelain skinned beauties who have difficulty finding very light highlighters.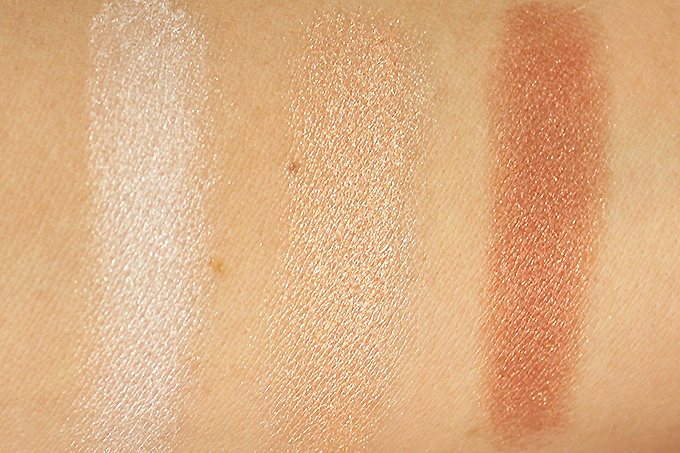 Swatches of the BECCA Shimmering Skin Perfector Pressed Champagne Glow Palette left to right: Pearl, Champagne Pop, Blushed Copper. For reference, I have light / medium skin with warm, yellow undertones — I'm a MAC NC 30. 
---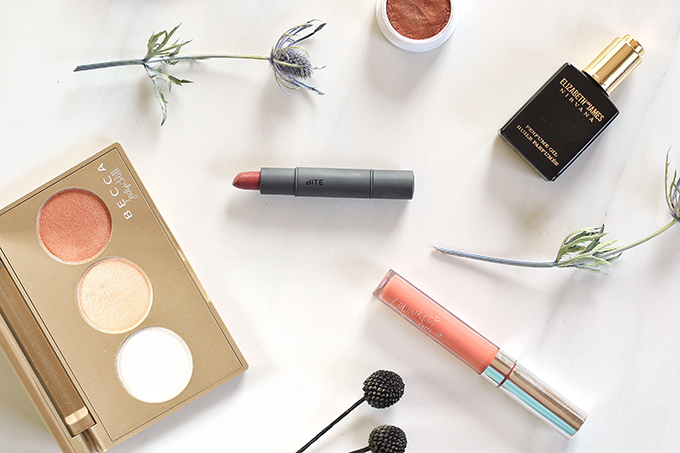 What were you guys loving last month? I picked up a bunch of new products in November, so get ready for lots of holiday beauty posts this month! If you have any comments, questions or recommendations, please let them for me below. Have a beautiful December!
---
Disclaimer: This post is not sponsored, and contains my genuine thoughts and recommendations. JustineCelina uses affiliate and referral links, which allow me to receive a small commission when you make a purchase through one of my links. Your purchases help to support JustineCelina.com!