---
Hey beautiful people — welcome back for the November installment of my Monthly Beauty Favourites! November was a very experimental month for me beauty wise and I discovered some amazing new products that have become staples in my everyday routine. Liquid lipsticks have become my go-to anytime I need something extremely long wearing and budgeproof — and I fell in love with two warm, mid toned neutral shades this month from Smashbox and Huda Beauty. I also discovered a fantastic new contour powder and mascara that have been on repeat all month long!
In November I had my first introduction to Anastasia Beverly Hills eyeshadows (I think everyone should own the palette I'm about to mention!) and to Commodity's beautiful, cozy fragrances. To cap things off, I also have a few limited edition favourites for Holiday 2016, including a gorgeous palette from Hourglass Cosmetics and a rose quartz Pantone Colour of the Year themed highlighter (I bet you saw that one coming!). If you're looking to inject some glam into your routine as we transition into the holidays, kick back with me on this snowy Sunday afternoon and let's chat beauty!
---
NOVEMBER 2016 BEAUTY FAVOURITES
---
C $28.00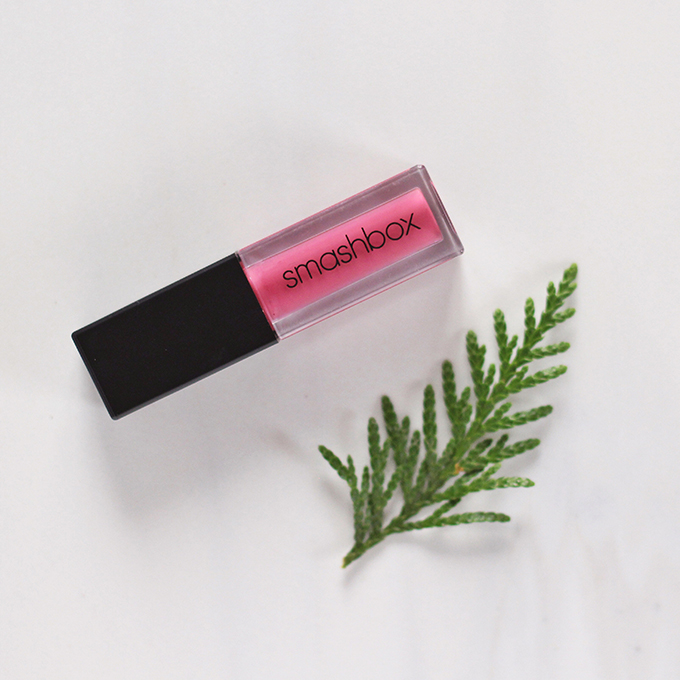 If you've been following along with my BEAUTY section this autumn, you'll have heard me mention the Smashbox Always On Matte Liquid Lipsticks. In matching lipsticks to the Fall 2016 Pantone Fashion Trend Report for my 5 Liquid Lipsticks to Try This Fall post, I picked up multiple shades in my favourite formulas to achieve the best colour matches possible. While Smashbox's Always On Matte Liquid Lipstick in Big Spender didn't make the cut for that post, it's an absolutely stunning, mid toned rose shade that's been gracing my lips all November long! Naturally my lips are quite pigmented and rosy — and Big Spender is my perfect 'my lips but better' shade (I think it's essential that every woman finds a shade of lipstick that mimics the natural tone of her lips!). It's almost as if Smashbox intensified my natural lip colour, then bottled it in liquid lipstick form! If you're looking for an in-depth review of this formula, hop over to my 5 Liquid Lipsticks to Try this Fall post. You can also it in action in my Christmas in November at the Fairmont Jasper Park Lodge post and my November Soundtrack — I really was wearing it almost every day this month!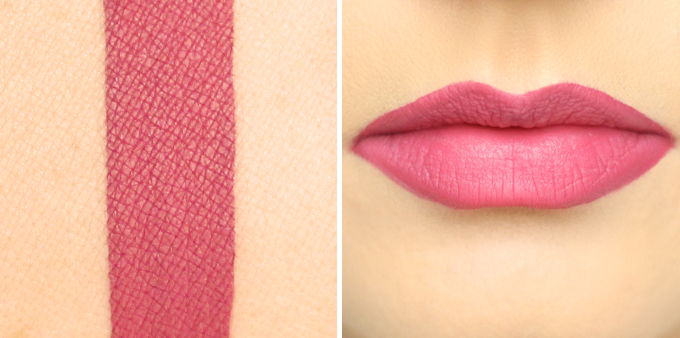 I'm wearing the Smashbox's Always On Matte Liquid Lipstick in Big Spender
---
C $26.00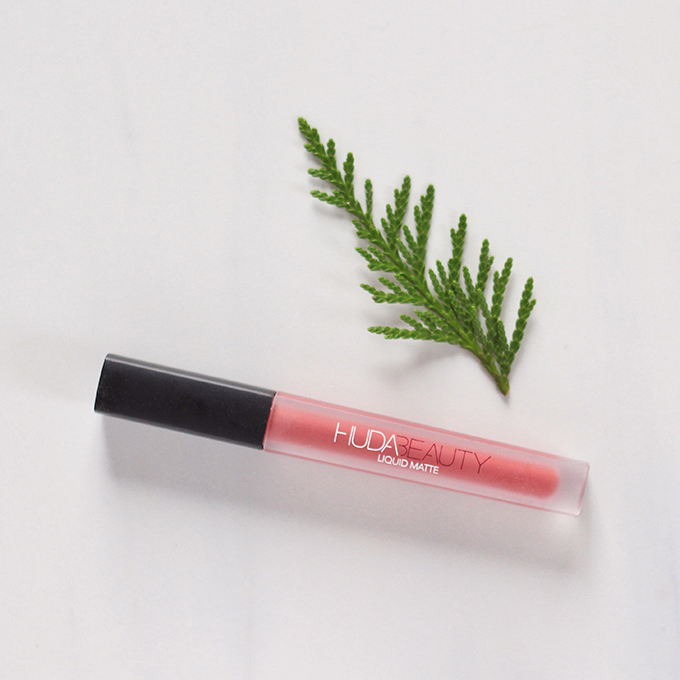 Since publishing my 5 Liquid Lipsticks to Try This Fall post, I've discovered the Huda Beauty Liquid Matte Lipstick range (which is an online exclusive in Canada) and have also fallen in love with that formula! My current favourite shade from the range is Icon — described by the brand as a classy peachy pink. On me that's exactly the way it comes off, and when I haven't been wearing Big Spender, I've been wearing Icon. It's just such an easy shade to wear! This has quickly become one of my all time favourite liquid lipstick formulas — and it's consistent across the various shades I've tried. It's super thin (think Kat Von D Everlasting Liquid Lipstick thin) so it spreads easily, but it's also extremely pigmented, easy to layer and touch up and yet it's somehow lightly hydrating. Oh… and did I mention they also smell exactly like pure Tahitian vanilla extract?! You really can have the best of all worlds in these spectacular liquid lipsticks from Huda Beauty — so if you haven't found your perfect liquid lipstick formula, I encourage you to give this range a try. You'll also seeing more of the Huda Beauty Liquid Matte Lipsticks in my upcoming 5 Festive Lipsticks to Try This Holiday Season post!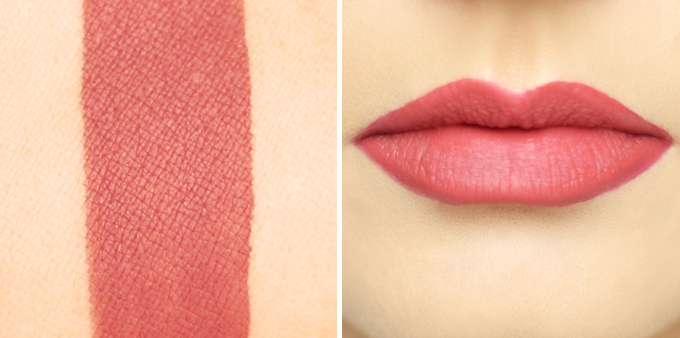 I'm wearing the Huda Beauty Liquid Matte Lipstick in Icon
---
C $28.00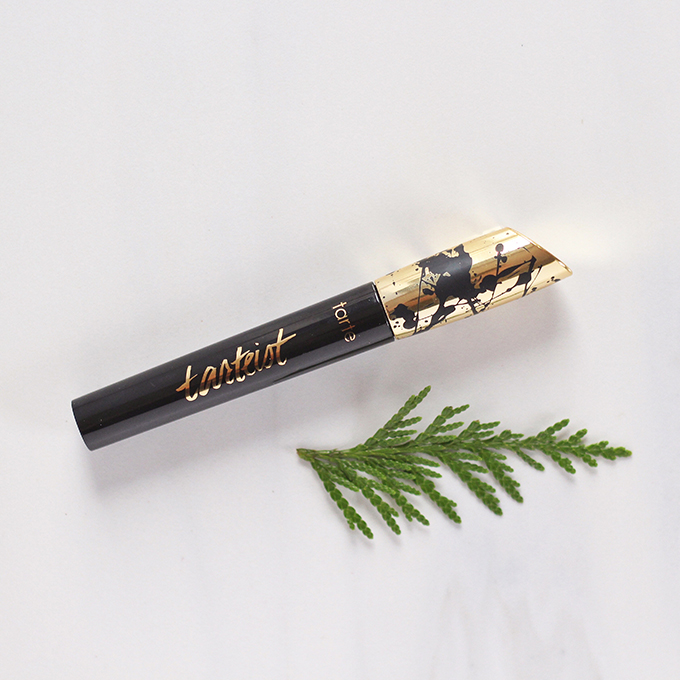 The tarte Tarteist Lash Paint Mascara is the best mascara I've used in a long time (plus — that packaging!). This is a jet black, very defining and lightly volumizing mascara  — which is just what I like (it actually reminds me of my beloved Covergirl Lash Blast mascara, just kicked up a few notches)! The formula makes my lashes look fluttery and full, doesn't irritate my ultra sensitive eyes, doesn't flake or smudge, and also works beautifully on my bottom lashes. I love the plastic bristle brush — it's the perfect size, easy to use and builds volume and length quickly. All tarte products are made with natural ingredients without compromising performance and I take comfort in knowing that I'm using something gentle, easy to remove and safe for my eyes. The tarte Tarteist Lash Paint Mascara is dermatologist-tested, vegan, ophthalmologist tested, and safe for contact lens wearers — it definitely has my ultra-sensitive, contact lens wearing eye seal of approval!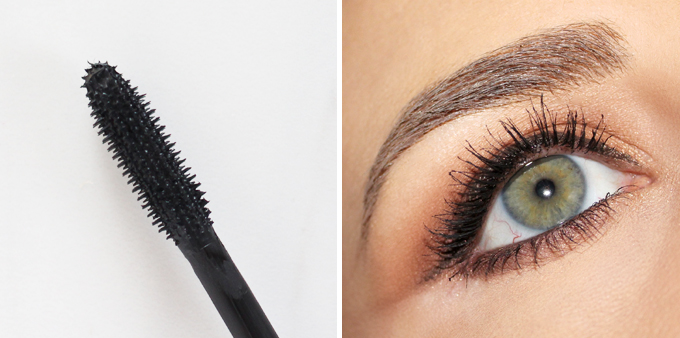 I'm wearing the tarte Tarteist Lash Paint Mascara on my top and bottom lashes
---
C $19.00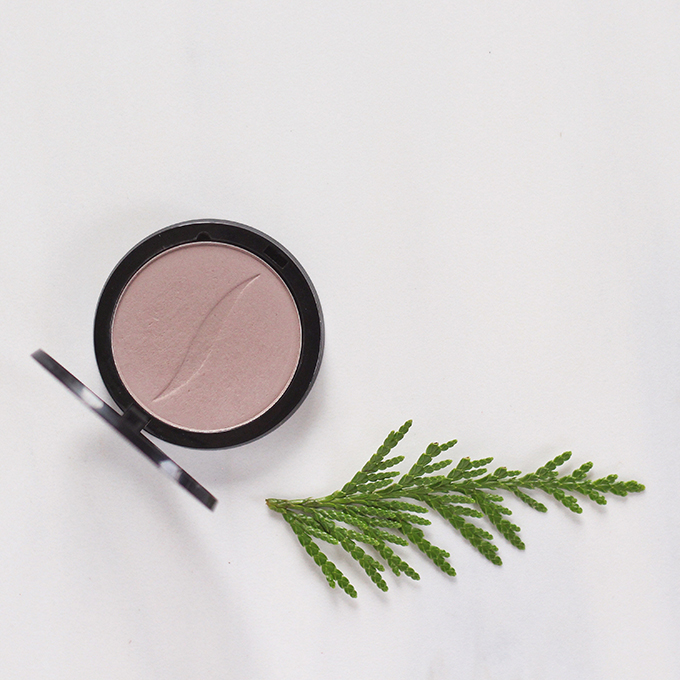 This beautiful contour powder from SEPHORA COLLECTION is a newer find that I've also been using every time I wore makeup this past month! This very cool, grey-toned powder is the most effective product I've ever used to mimic the look of natural shadows on the skin. I use it underneath my cheekbones, jawline, bottom lip and along the sides of my nose to make everything look angular and defined. While you definitely can't use it to bronze, I've never found anything more realistic looking to define the face (plus you can also use it to add definition to your eyes as well!). Light / medium skinned gals, you must pick up this incredible contour powder if you love the look of a chiseled visage!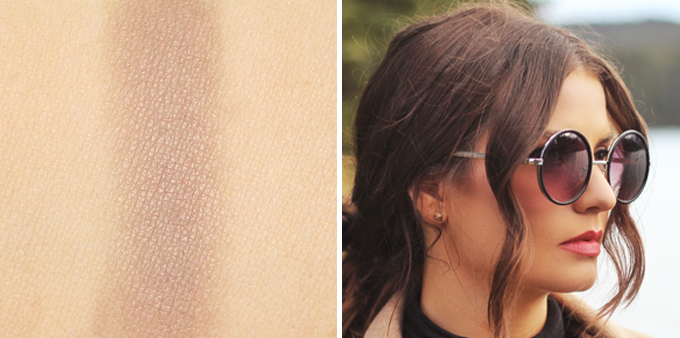 I'm wearing the SEPHORA COLLECTION Colorful Face Powders in 26 Tranquil underneath my cheekbones, jawline, bottom lip and along the sides of my nose
---
C $59.00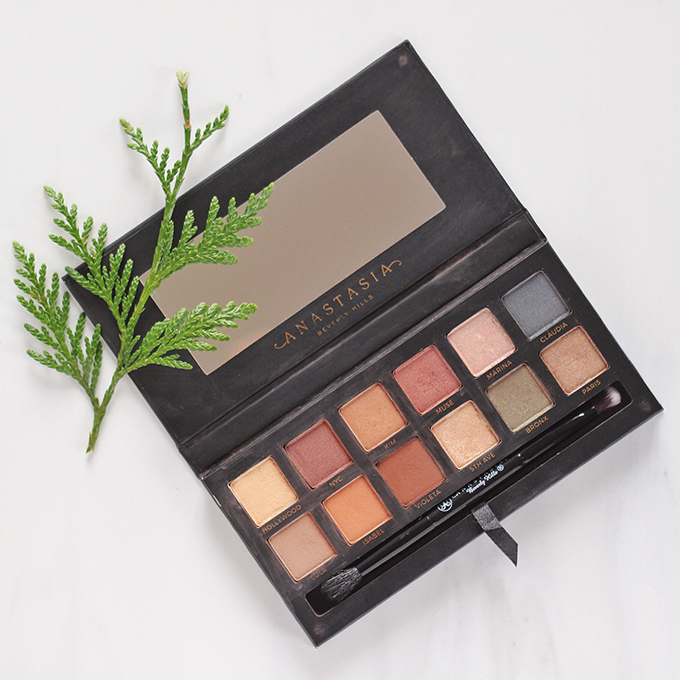 I think you can tell by this photo just how much love the Anastasia Beverly Hills Master Palette By Mario has been getting around here lately! These are some of the most pigmented eyeshadows I've ever used. This palette features twelve neutral and jewel-toned shades in a range of matte to metallic finishes and this palette is such a jem because I love the matte formula just as much as the metallic. Each shade is super creamy, ultra pigmented and easy to blend — I did attempt to clean this palette up for this post, but the shadows are so soft that in reality this is just what it looks like with regular use (you can also tell how soft they are in the swatches)! The Anastasia Beverly Hills Master Palette By Mario is a collaboration between celebrity makeup artist Mario Dedivanovic (MUA to Kim Kardashian, among others!) and Anastasia Beverly Hills. If you're a neutral girl looking for a fantastic quality eyeshadow palette that can take you from everyday to super smokey, look no further! Lately, my everyday look is taking 5th Ave all over the lid, using Isabel as a transition shade, Lula in the crease and Violetta to add dimension in my outer V. I also used it to create a super smoky look starring Bronx (a stunning olive green shade) in this recent style post. While I particularly love this palette on my green eyes, it would be complimentary to every eye colour. I can already tell it's going to be a longtime favourite!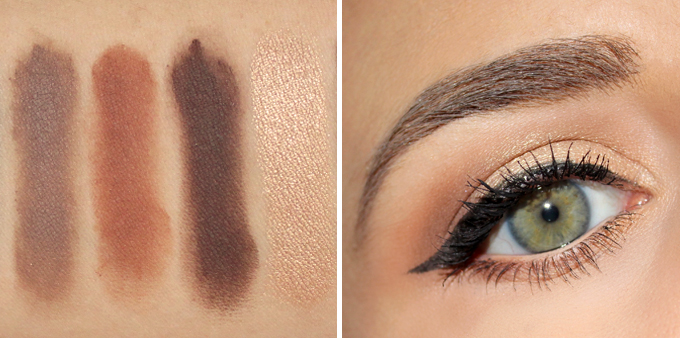 I'm wearing the Anastasia Beverly Hills Master Palette By Mario — 5th Ave all over the lid, Isabel as a transition shade, Lula in the crease and Violetta to add dimension in my outer V with the mattes on my lower lashline
---
C $95.00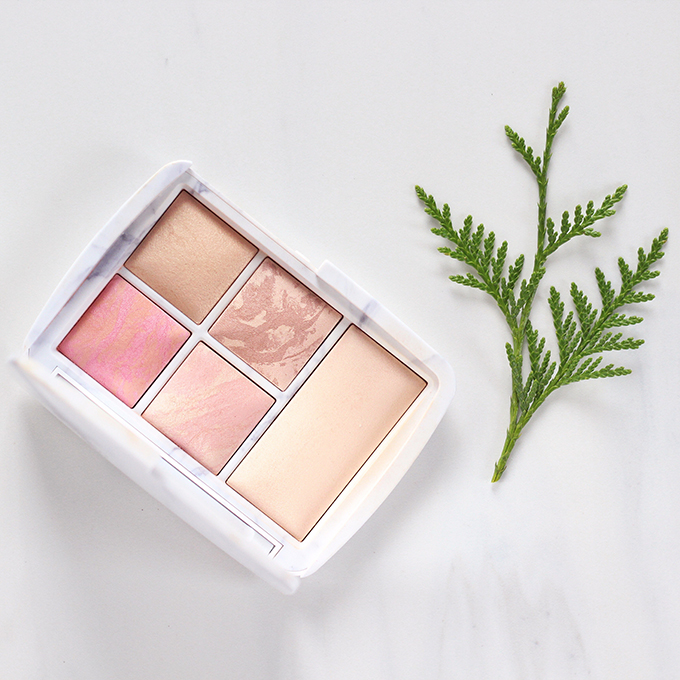 Every year, I pick up the Hourglass holiday palette — basically I find myself needing to replace it by the time the next season rolls around! I've mentioned last year's palette so many times here at JustineCelina and still use it almost daily, so it was a no brainer to pick up the latest from Hourglass this holiday season. Everything about the Hourglass powders is truly luxurious and beautifully formulated — and the effect of these powder literally makes you look airbrushed in real life! I love the versatility in this palette — it really is an all-in-one solution for bronzing, blush, finishing and highlighting. Compared to 2016's palette, the blushes are a bit deeper, the bronzer has more warmth (I use it as a blush / bronzer combo) and the highlight is more golden — plus, they've including a larger size of the finishing powder, which is always the first to go in my palettes. Hourglass did a fantastic job with this palette, so if you're interested in trying some limited edition offerings from the brand after hearing me rave about them for so long, pick the Hourglass Ambient Lighting Edit – Surreal Light up! If you'd like to learn more about how I use Hourglass powders, be sure to check out these posts.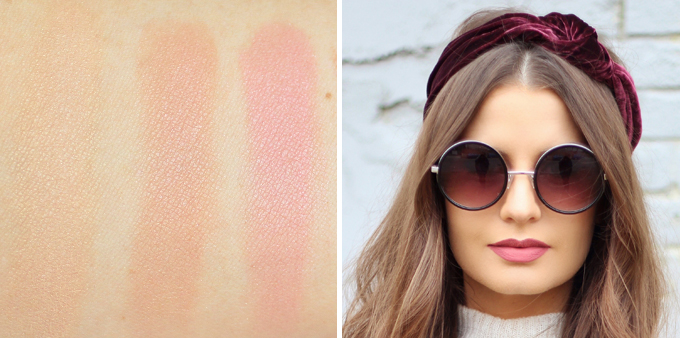 I'm wearing every shade from the Hourglass Ambient Lighting Edit – Surreal Light
---
Becca Shimmering Skin Perfector Pressed in Rose Quartz
C $46.00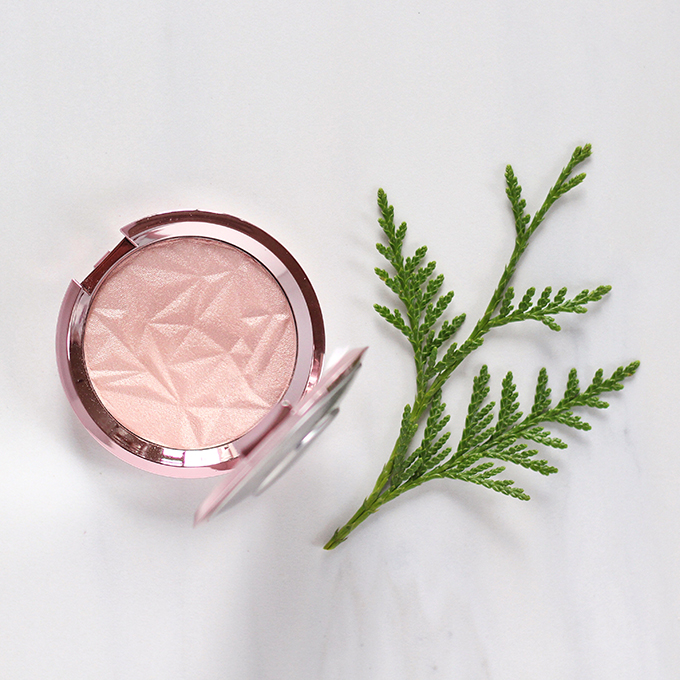 Normally I wouldn't include an item that's sold out online in a Monthly Beauty Favourites post — but this absolutely stunning, soft pink highlighter with subtle golden undertones is just too pretty not to mention. The Becca Shimmering Skin Perfector Pressed in Rose Quartz is my latest highlighting obsession and I love the way it subtly illuminates my complexion — it's perfect for the holidays! This unconventional highlighting shade is a versatile one — very fair skintones could wear it as a blush, while up to tan skintones can wear it as a traditional highlighter (it's a perfect highlighting shade on me and I'm a MAC NC 25-30). If you've been reading for awhile you'll have heard me mention rose quartz — it's one of the Pantone Colors of the Year for 2016 which I've been kind of obsessed with this year.
---
If you must have this highlighter, Becca has committed to helping you track it down (see deets above) — so if you can't find it at your local Sephora (that's where I found mine!), be sure to hit Becca up on Twitter and they'll do their best to help you out!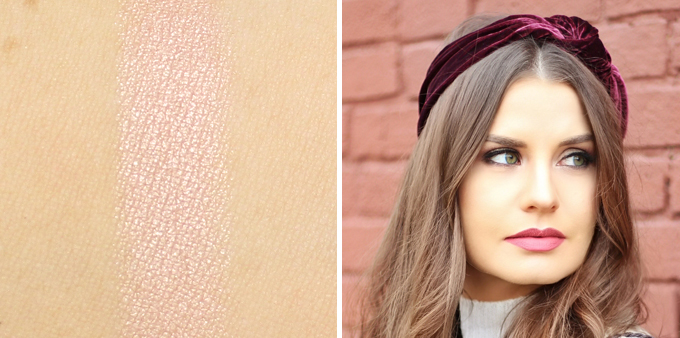 I'm wearing the Becca Shimmering Skin Perfector Pressed in Rose Quartz on the tip of my nose and cheekbones

---
C $120.00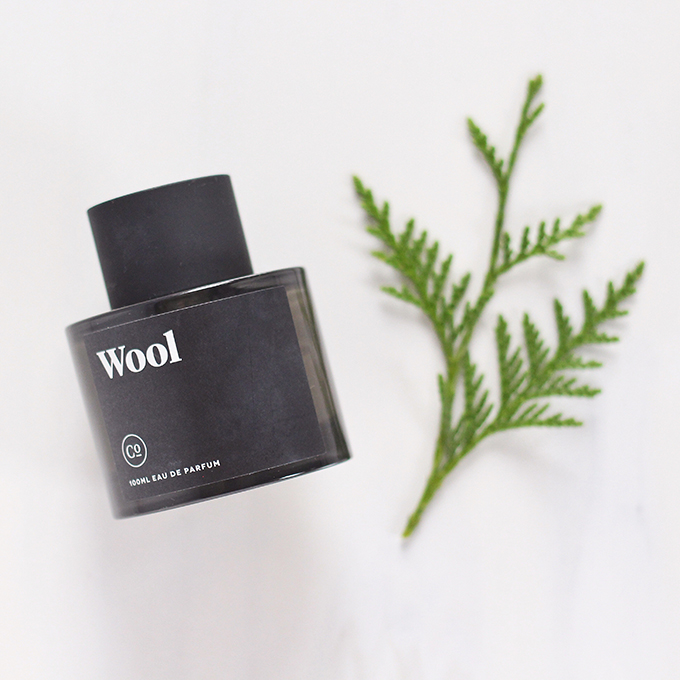 And last but not least, I have a gorgeous, cozy fragrance recommendation for you as we transition into winter! I've absolutely fallen head over heels for Commodity's Wool (which is also an online exclusive in Canada). Wool was inspired by cool winter nights and cozy sweaters — sounds like the perfect scent for our snowy Canadian Decembers, doesn't it? If you read my Autumn / Winter 2016 Fragrance Edit, you'll know that I have a major soft spot for vanilla based fragrances and Wool has notes of Bourbon vanilla complimented by sophisticated Haitian vetiver. It's warm, cozy and smooth — and if you find yourself falling for it too, know that it's unisex — you can also share it with your partner (my boyfriend and I share fragrances often)! Wool is part of Commodity's Black Collection, with deeper and more intense scents than their White Collection, which is just what I look for at this time of year.
Notes:
Mandarin, Grapefruit, Apple, Basil, Ozone, Cedarwood, Lavandin, Armoise, Amber, Haitian Vetiver, Gray Musk, Bourbon Vanilla.
Style:
Cheerful. Relaxed. Confident.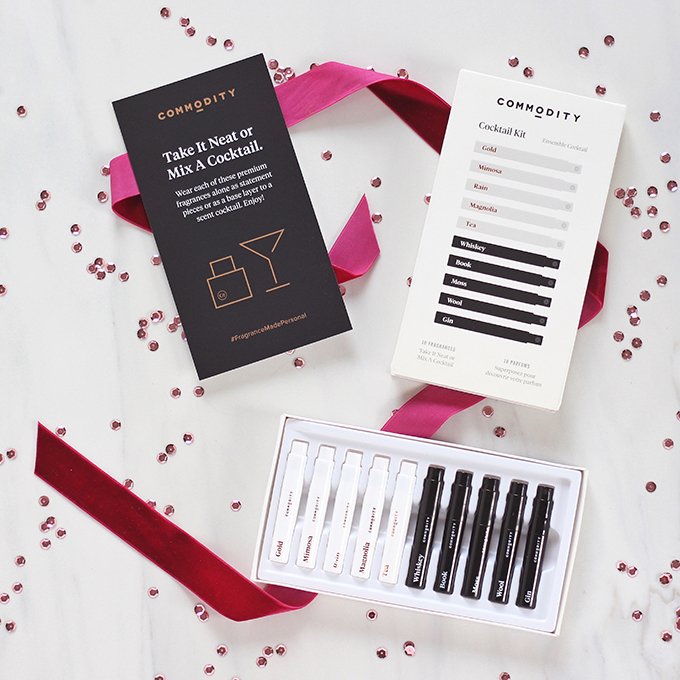 If you're intrigued by Wool and looking to sample (or gift) a few Commodity fragrances this season, consider the Commodity Cocktail Kit for Holiday 2016! All of Commodity's 10 unisex fragrances are included — the five black collection fragrances are complex, moody, and intense (my favourite, Wool, is among them). The five white collection fragrances are bright, airy, and easy. Commodity encourages you to layer their scents to create your own signature fragrance, or cocktail (and this cute pairings card even gives you some ideas)! I love the playful concept behind this kit and think it would make a fantastic gift! You can read more about the Cocktail Kit in my Holiday 2016 Gift Guide for Beauty Lovers.
---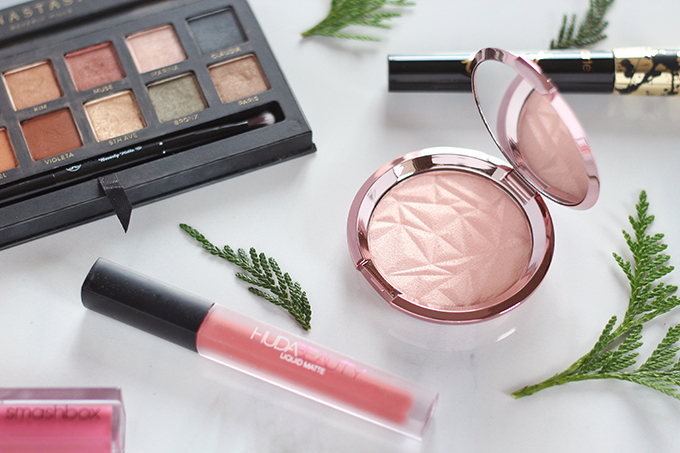 What beauty products were you loving in November? If there's anything you have questions about to would like to recommend just leave me a comment so we can chat beauty! I have some holiday themed beauty content coming up in December that I can't wait to share. I wish you all a happy holiday season — I'll be back with some festive lipstick recommendations for you next weekend!
---
Disclaimer: This post is not sponsored, and contains my genuine thoughts, ideas and recommendations. JustineCelina uses affiliate and referral links, which allow me to receive a small commission when you make a purchase through one of my links. Thank you for supporting the brands and businesses that support JustineCelina.com!