---
Maybe I'm just getting older, but — wait, who am I kidding? Girls nights in are way better than girls nights out, am I right?! Give me a room full of my closest friends, some great wine and snacks, gorgeous blooms, cozy threads (and comfy pants!), good reads and a toasty fire — I'll take that over going out any day! To celebrate the joy of staying in, Rebecca Dawn Design and I teamed this month up to share some inspiration for A Cozy Girls Night In — a snapshot of everything home decor, entertaining, flower and casual style we're loving this autumn!
With everyone leading such busy lives, there's truly nothing I cherish more than spending quality time with family and friends. Since there's usually not a lot going on in November, I think it's the perfect opportunity to reconnect with your girlfriends before the holiday hustle. Fall back with us on this gorgeous November evening where we're chatting casual entertaining infused with a few thoughtful touches to make your next girls night in a memorable one!
---
A COZY GIRLS NIGHT IN
---
It's been awhile since my last entertaining post, so I thought it was the perfect time to share some casual autumn inspiration. Let's face it — not everyone (myself included!) has the time to plan and host extravagant celebrations. Although I love lavish parties, there's something to be said for casual, cozy autumn entertaining — especially when you're enjoying the company of your closest friends. Regardless of the type of celebration I'm hosting, I like to incorporate a few special touches to make guests feel welcome, comfortable and at home. Here's my guide to creating a A Cozy Girls Night In of your own this November!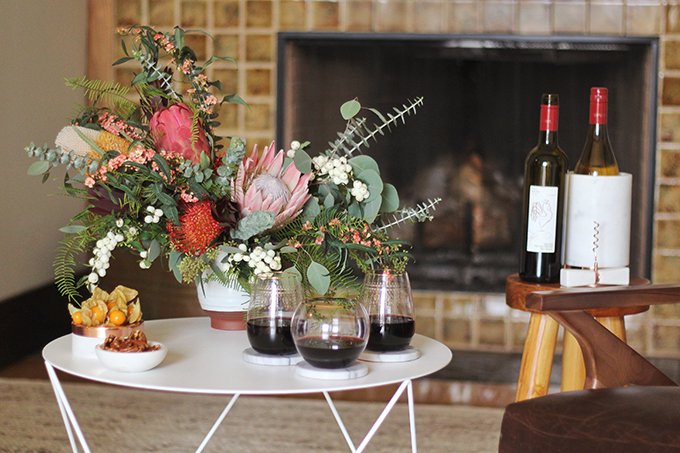 ---
GREAT WINE
---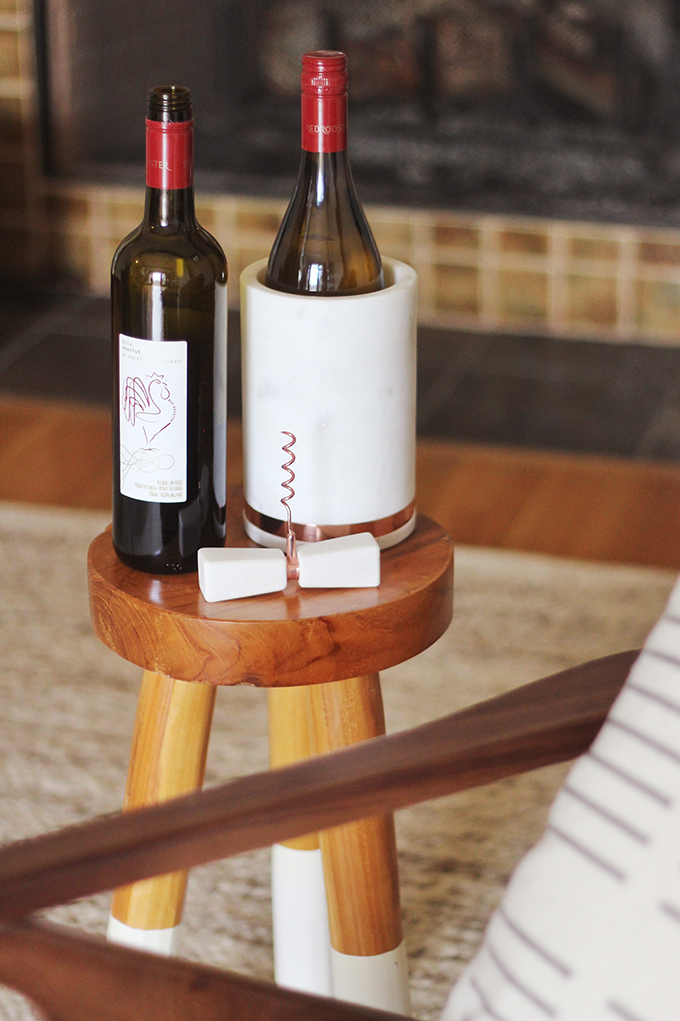 Come on guys — what did you think would be first on my list?! Seriously though, I always like to keep few great bottles of wine on hand for casual get togethers (or let's face it — random Tuesdays!). It totally eliminates the stress of prepping cocktails or doing any pre-planning whatsoever. Plus, you can usually find a bottle to suit everyone's palette if you have a few crowd-pleasing varieties to choose from. Whenever I invite anyone into my home, one of the first things I do is offer them a glass of wine — I've even been known to greet guests at the door with a full glass! There's nothing more relaxing than curling up in front of the fireplace and savouring a good glass of wine to decompress after a long day.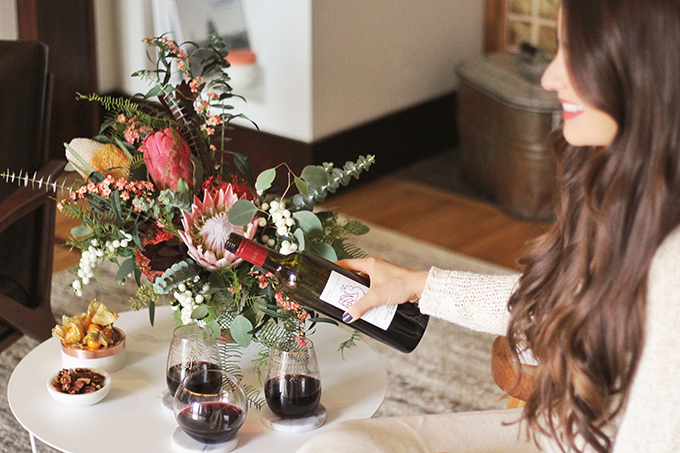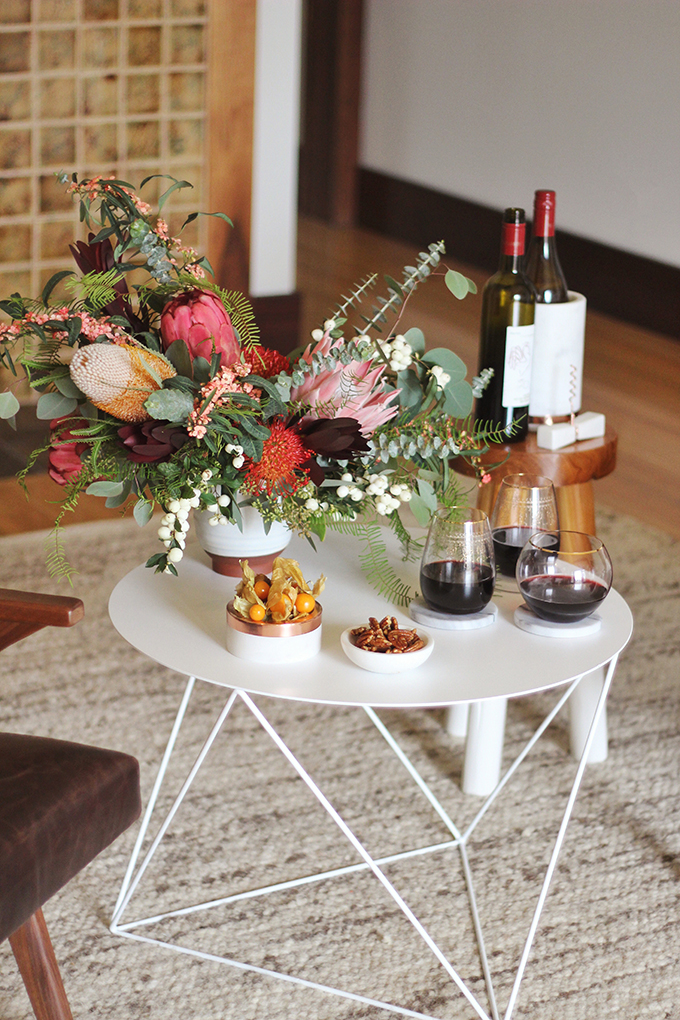 If you've been reading JustineCelina for any length of time you'll know I love my wine, but I'm especially passionate about Canadian wine! There are so many fantastic, under-appreciated vineyards in this beautiful country of ours. I lived in Pentiction for the summer after I graduated from art college — it was fun (but short lived) and that's when I really got into wine. If you're ever in the area, hit me up for a list of recommendations! You'll find Red Rooster Winery on my list of must sees and dos, who generously kept our glasses full during our Cozy Girls Night In. Red Rooster wine offers great value for the price, plus it's approachable and easy to drink — perfect for entertaining!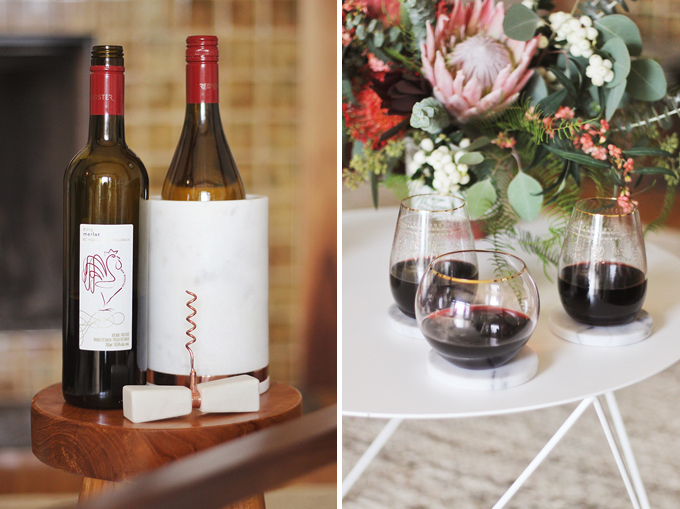 We've been enjoying both their Merlot and Pinot Gris lately. Merlot is a grape I've just recently come around to and Red Rooster's Merlot is perfection. It's described as being sleek, suave and seductive (yes, please!). It's a fruit-driven, medium bodied red wine with notes of oak, spice and chocolate — it's absolutely delicious and perfect for this time of year. If you have a friend that prefers white wine, serve them a chilled glass of Red Rooster Pinot Gris, which is refreshing and citrusy with a hint of plum.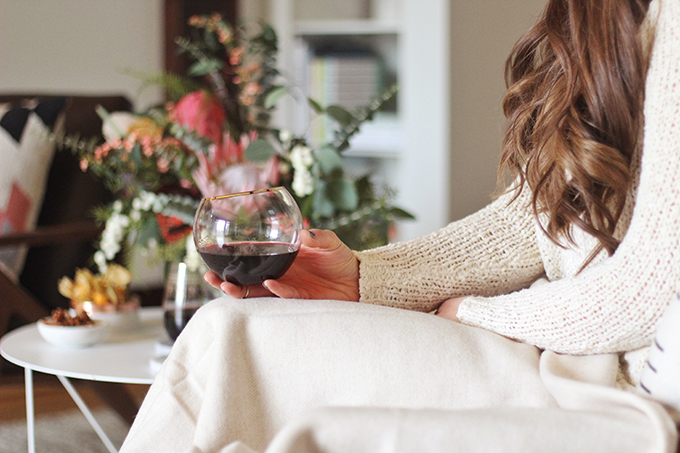 ---
FLOWERS
---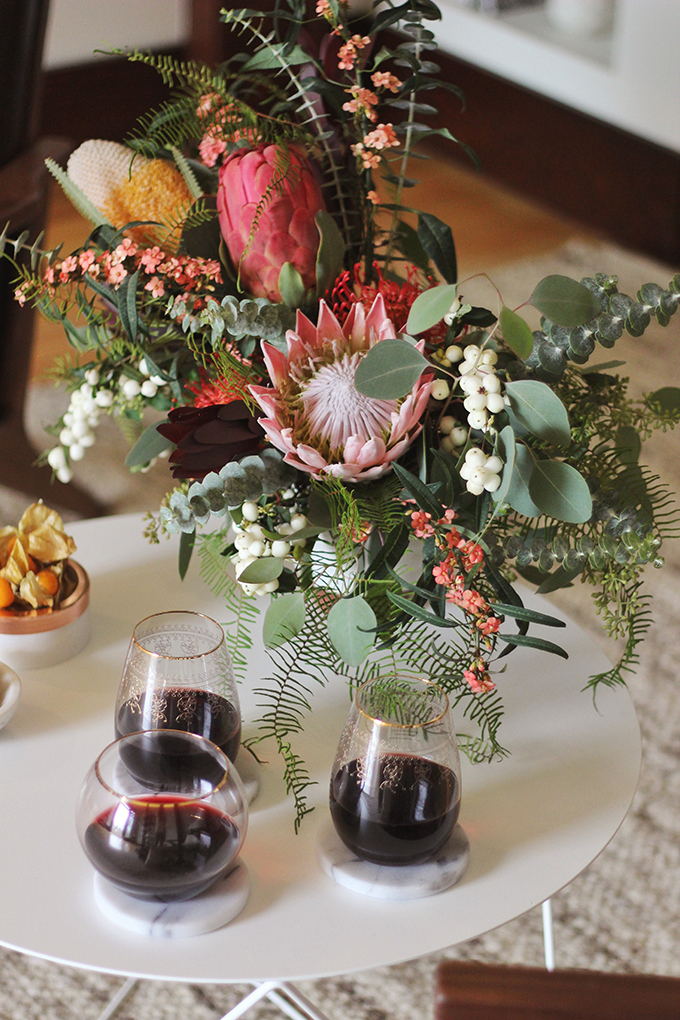 This past spring, I mentioned that having fresh flowers in my home whenever possible is one of my simple pleasures. Flowers are my not-so-secret weapon to elevate any gathering — whether it be in my home, outdoors or elsewhere. They have an innate ability to infuse colour, charm and a fleeting beauty into any space. You'll never find a shortage of blooms here at JustineCelina because it just so happens that my talented friend Rebecca is an incredible flower designer! Isn't this arrangement absolutely stunning? It's bursting with personality and totally enlivens the room.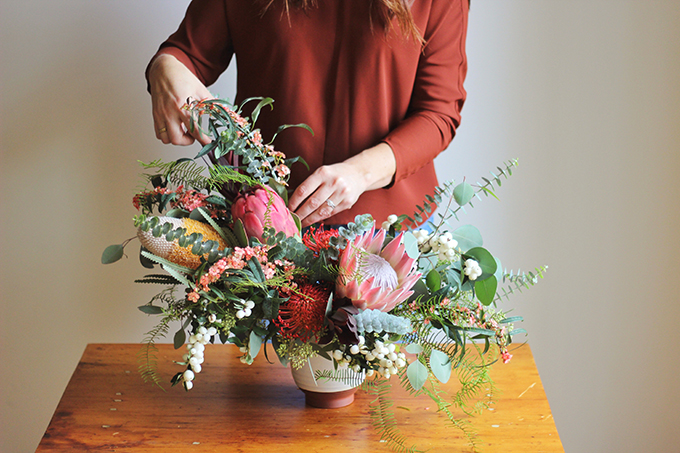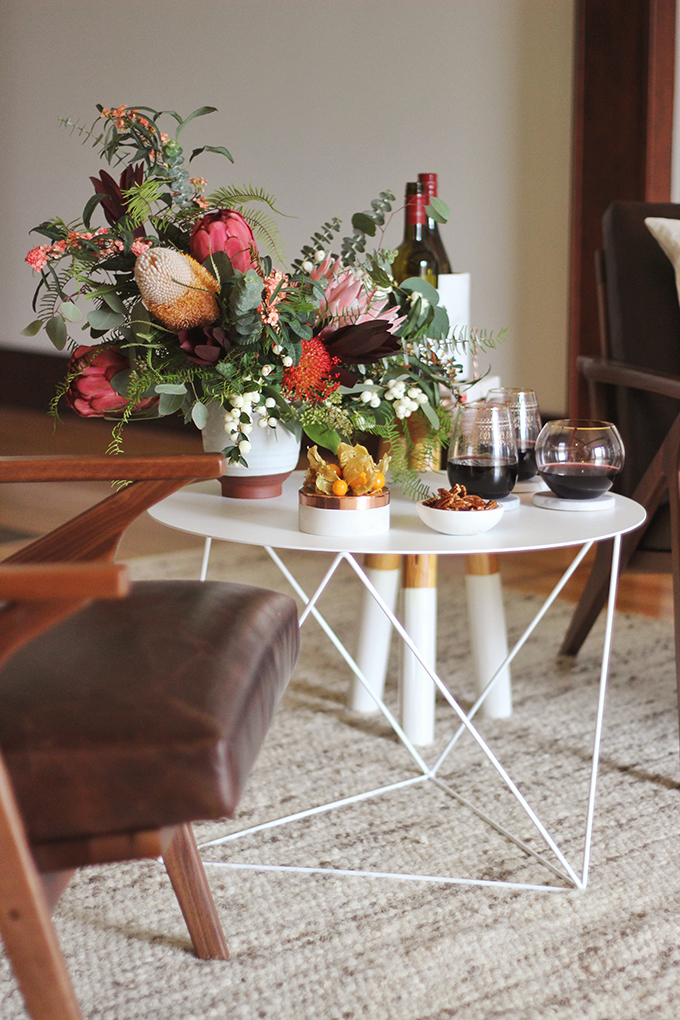 The charming arrangement Rebecca created for our Cozy Girls Night In is inspired by a warm, cheerful palette, seasonal berries and unconventional autumn blooms. It puts an eclectic spin on November's traditional flowers and includes Euphorbia, Snowberries, King Protea, Banksia, Pin Cushions, Safari Sunset Leucodendron, Coral Fern and a trio of Seeded, Baby and Silver Dollar Eucalyptus. If you'd like to recreate a similar arrangement to bring some colour into your home this season, be sure to pop over to this coordinating post where we show you how! Can't wait until then? Check out our November edition of DIGITAL BLOOMS, where you can choose from 3 free flower-based tech wallpapers we created using these same flowers!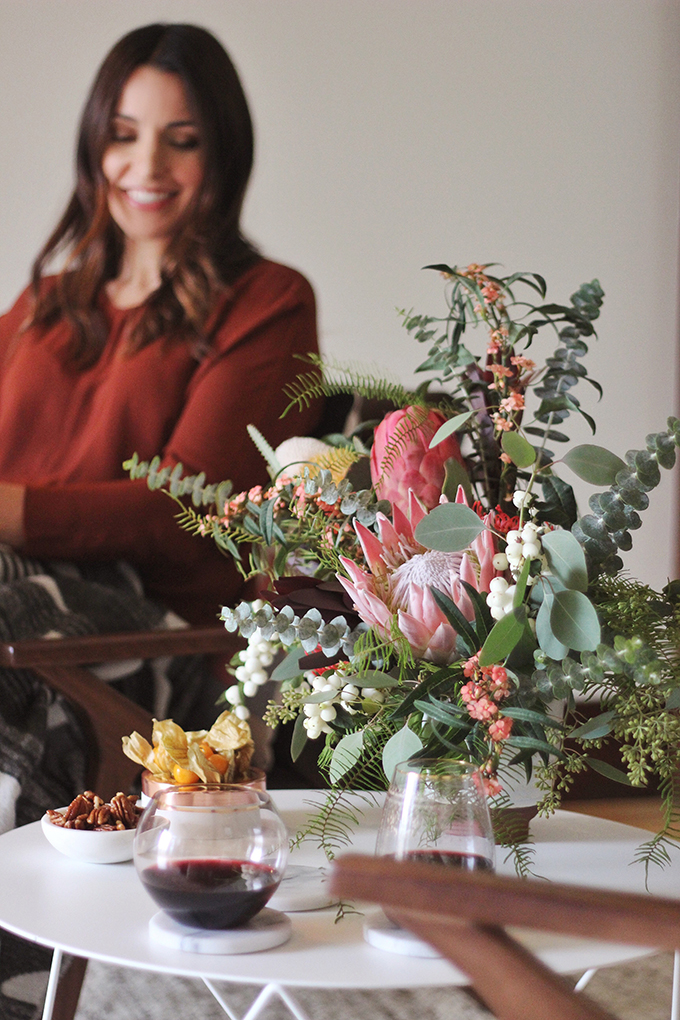 ---
SIMPLE, NOURISHING SNACKS
---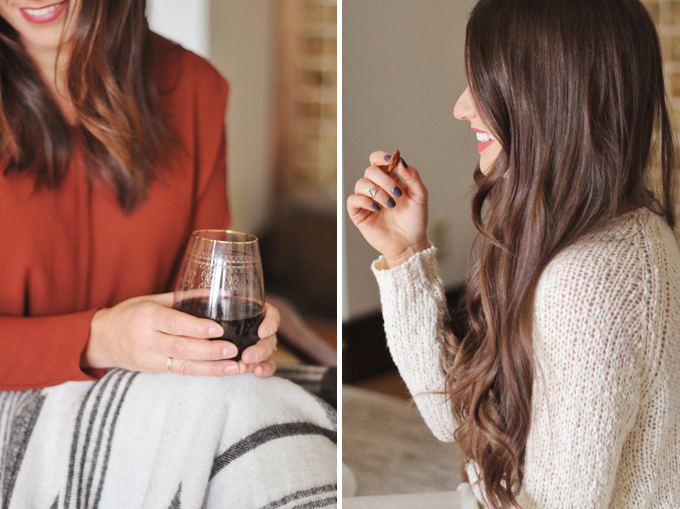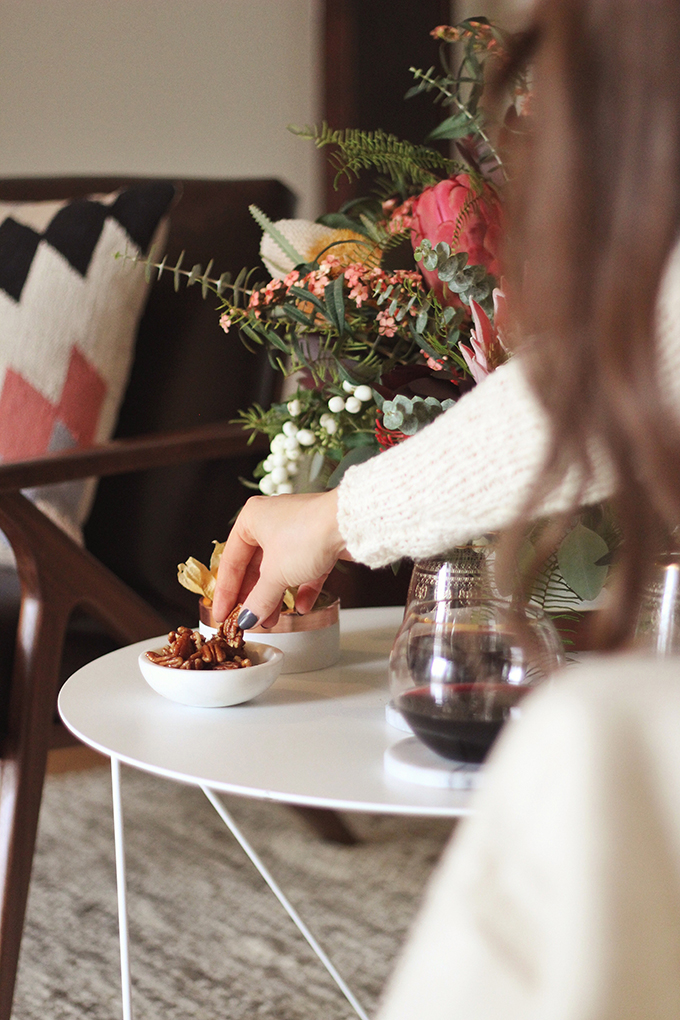 Even if guests arrive after dinner, people typically like to munch while they socialize. I like to set a couple of simple, nourishing snacks out for my guests. This doesn't have to take much time at all — for our Cozy Girls Night In I whipped up a batch of my Candied Maple Pecans (they come together in 2 minutes) and set out some cape gooseberries, which are my latest obsession! I've also been into dairy free dark chocolate chips combined with goji berries — it's a simple, antioxidant packed snack that my girlfriends enjoyed when I hosted a dinner party earlier this week! Popcorn, fresh or dried fruit and nuts are some other quick options.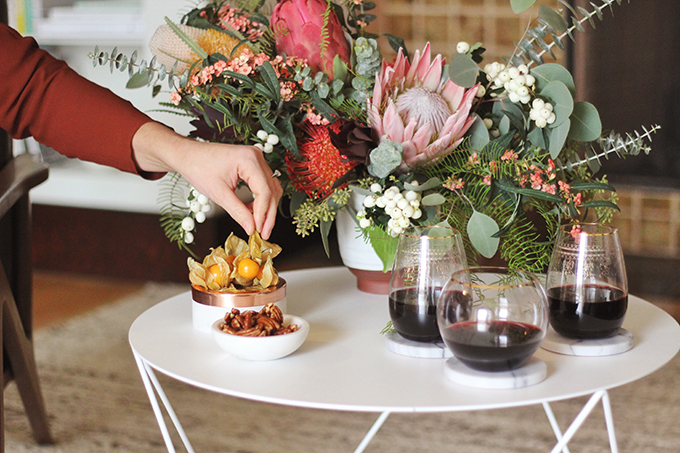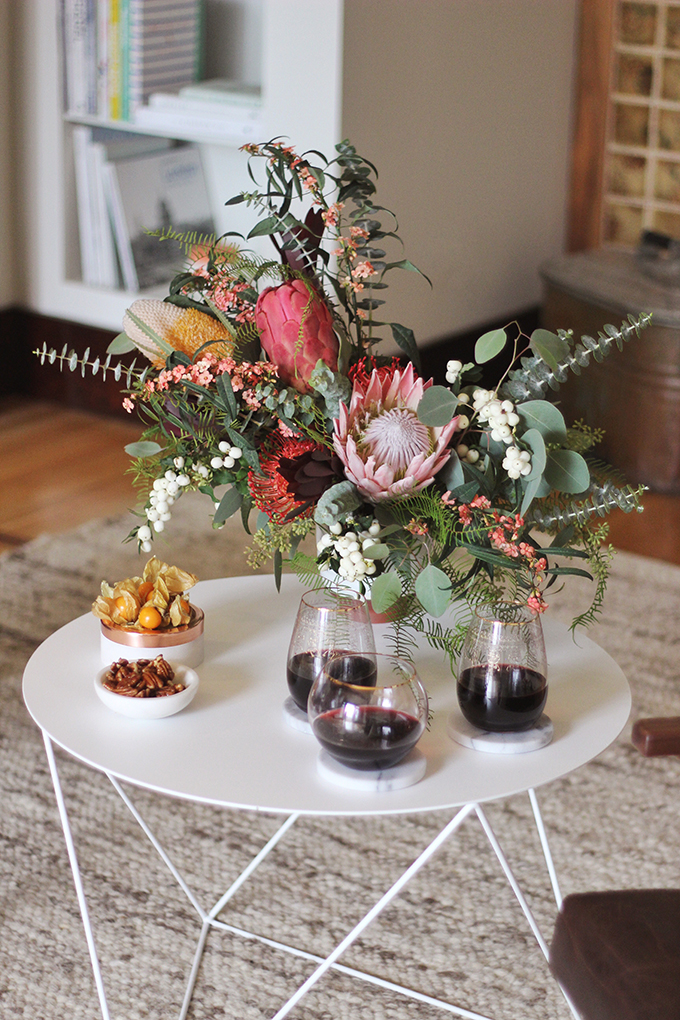 ---
PILLOWS & THROWS
---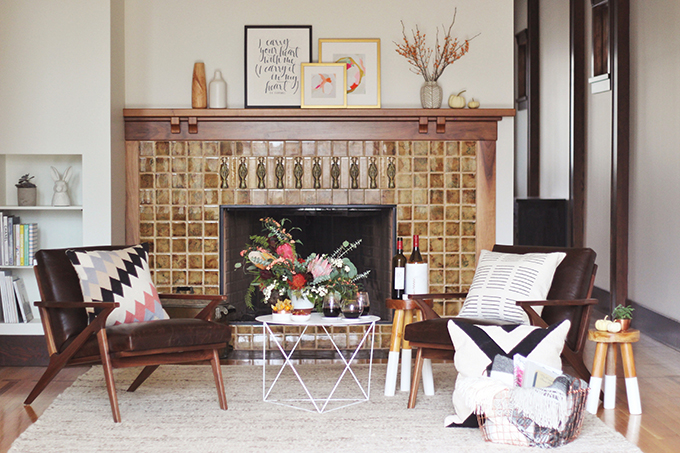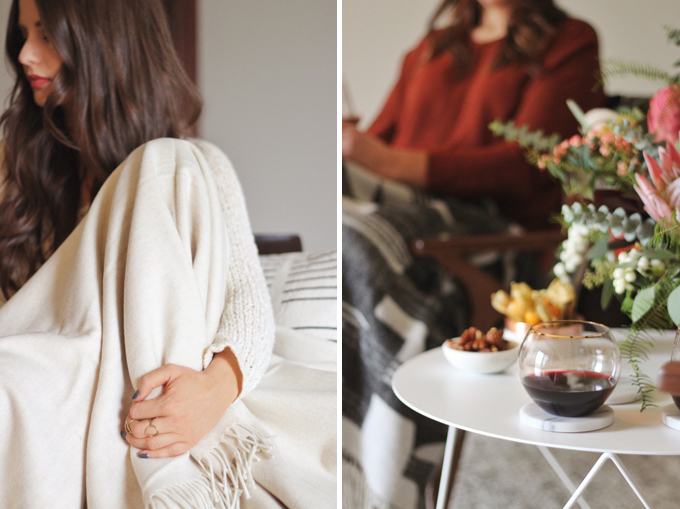 This one may seem obvious, but if you're hosting A Cozy Girls Night In, you're going to need to have lots of pillows and throws handy! While you can find them just about anywhere, my favourites typically come from HomeSense or Urban Outfitters and I've linked similar styles here, here and here. Rebecca actually picked the plaid and cream throws up at McNutts Woolen Mill in Ireland on her recent trip. We have such a similar aesthetic when it comes to home decor and while we were shooting this post we were chatting about how you really can't go wrong with tonal shades of black, white, cream and grey when investing in good quality throws and pillows. These tones always look timeless and chic whether they're solid or patterned!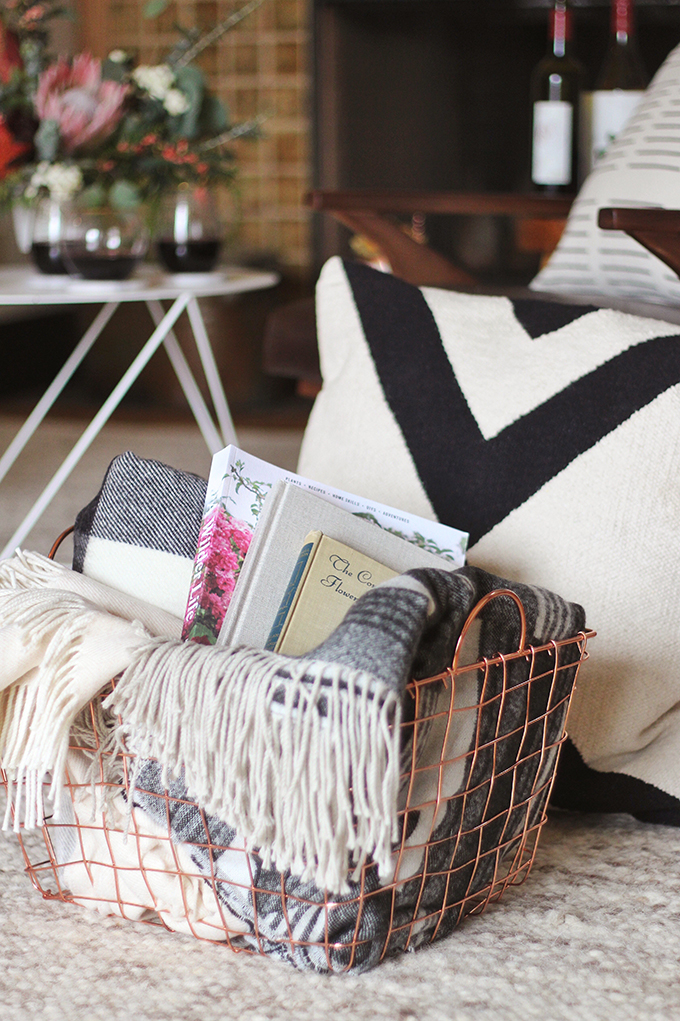 I tend to switch my pillows up often to refresh my space and love the cozy, lived-in feeling that layered textiles add. If you're for some new pillows this season, the large black and white pillow next to the chair is from CB2, the white and black lined patterned pillow is another one of Rebecca's Ireland finds and the aztec patterned pillow is from Urban Outfitters (they also currently reside in our bedroom!).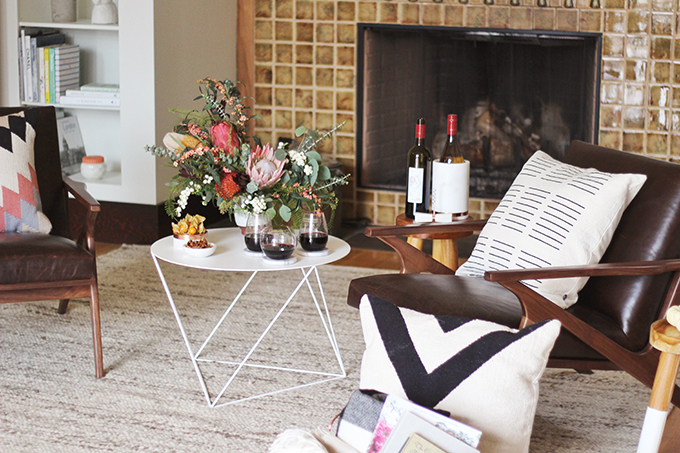 ---
SEASONAL DECOR & ENTERTAINING ESSENTIALS
---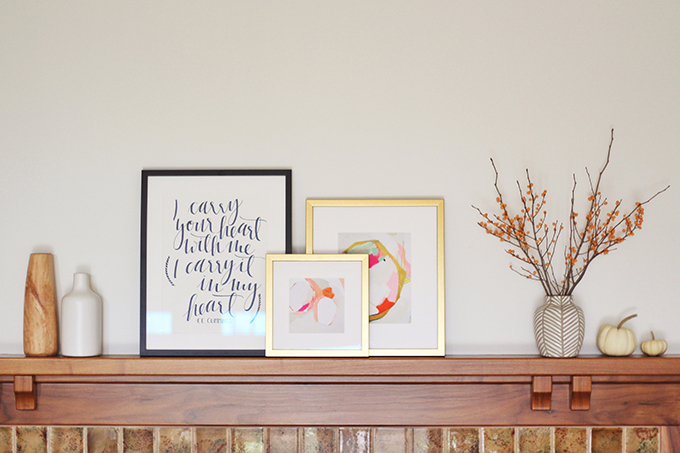 I like to update my decor and entertaining essentials seasonally — and I know I'm not the only one! One of the things I love most about the cooler months is pulling out my cozy textiles and autumnal decor. A simple way to do this is to purchase a few miniature pumpkins from your local grocer and display them around your home. For our Cozy Girls Night In in we chose cream, but I've seen them in almost every colour variation possible! Another inexpensive touch that adds a festive autumn feeling is adding a few stems of seasonal berries (like the orange Ilex Berries) to a vase.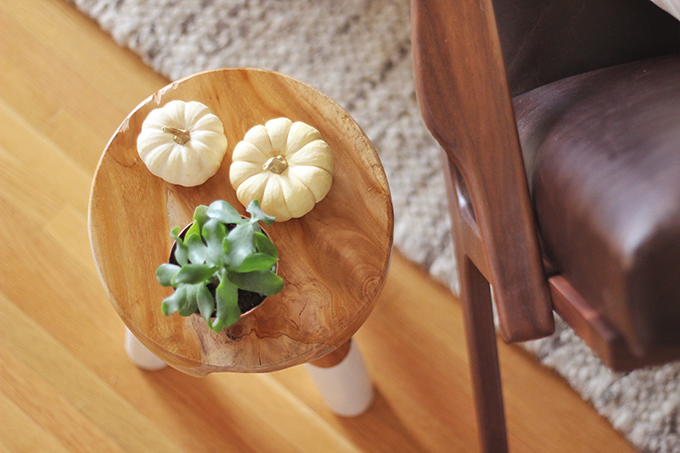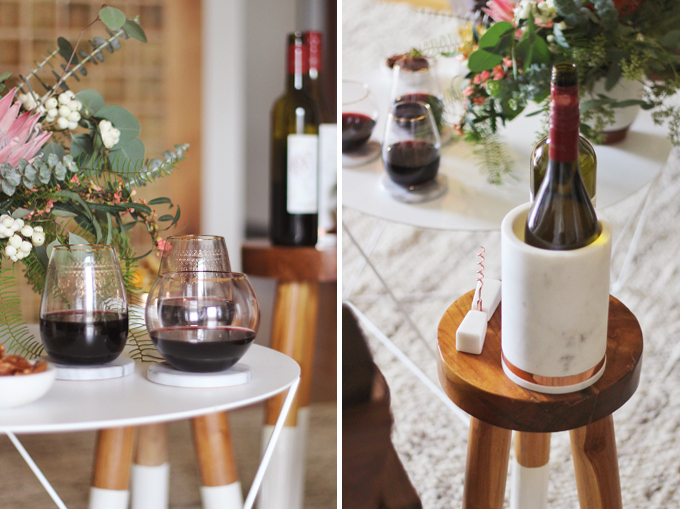 When the cool weather rolls around I also refresh my entertaining essentials. I've been into marble and copper for awhile now, but recently stumbled on the Williams Sonoma Marble & Copper Collection and really had to restrain myself from purchasing the entire thing! I love warm, luxurious copper tones mixed with cool, sleek marble and think the combination works beautifully during this time of year. My favourite pieces from the collection include the Marble & Copper Wine Chiller, the Marble & Copper Wine-Bottle Coaster (which is housing the cape gooseberries!) and the adorable Marble & Copper Wine Opener (which unfortunately is no longer available online, but still available in store). Our marble coasters are also from Williams Sonoma. The smaller marble serving dish is from Chapters Indigo — you've probably seen it around here a lot lately because I use it daily and in almost every recipe post!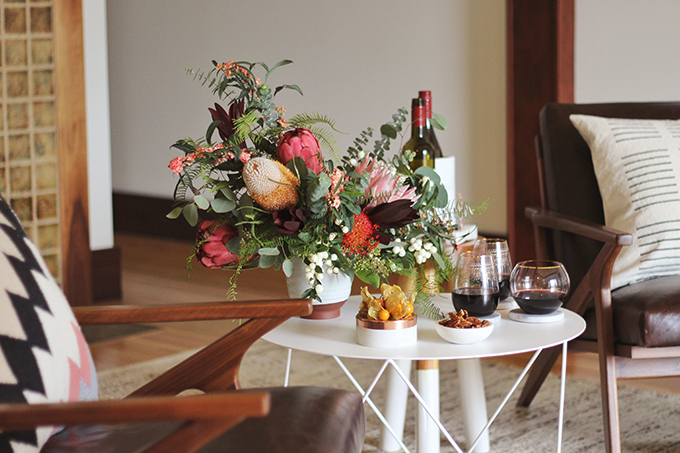 I've also been stopping into Antropologie frequently to drool over the glassware! Personally, I don't like things to look too fussy and really favour the eclectic look of mis-matched styles. Both the Gilded Rim Stemless Glasses and the other set of patterned wine glasses (also available at Anthro, just not online) are my new seasonal favourites. Each glass is hand blown and I just love their artisinal vibe!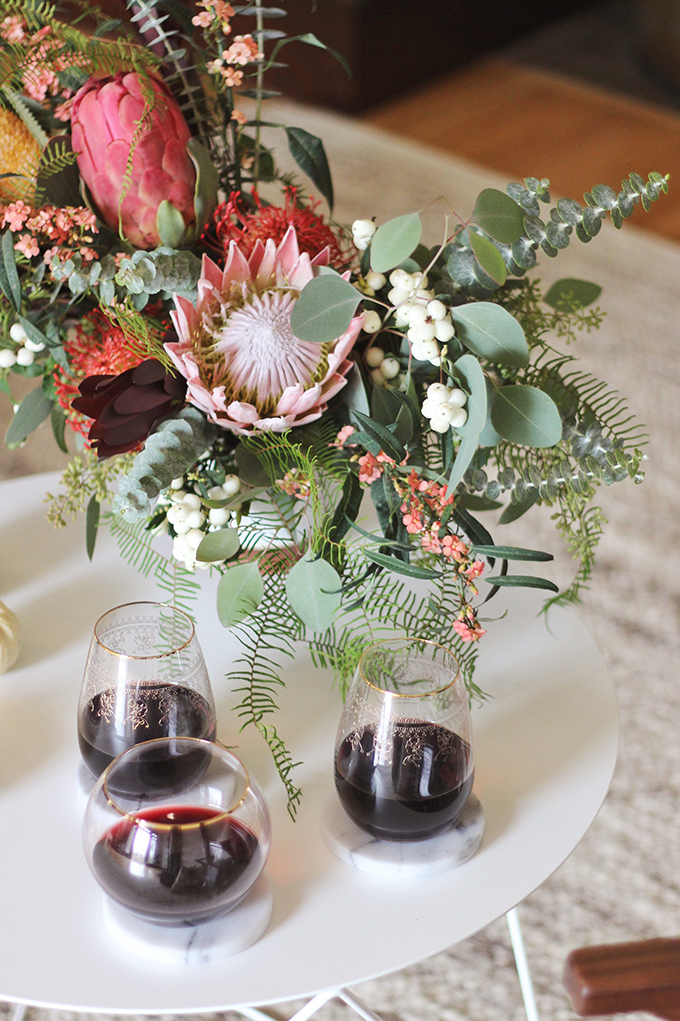 ---
GOOD READS
---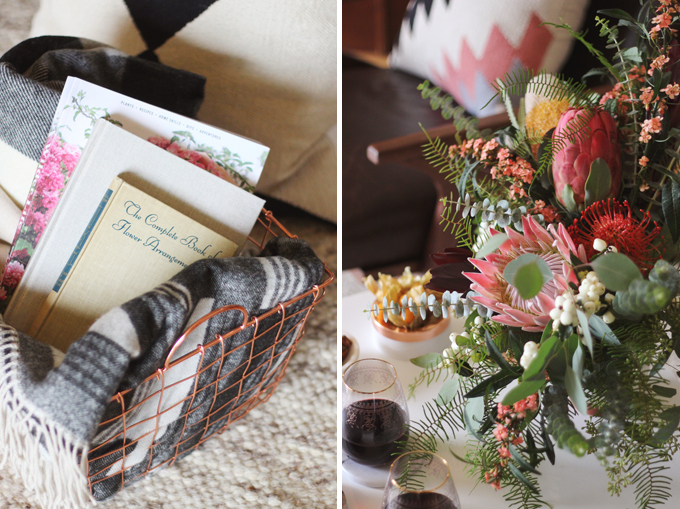 There's nothing more luxurious than having the time to curl up with a good book and a glass of wine — so why not set a few special books out for your guests the next time you're hosting? It makes taking a few quiet moments to lose themselves in the pages of a good read an option. Rebecca and I set out a few of her personal favourites for our Cozy Girls Night In, including A Wilder Life (which encourages the technology-obsessed to reconnect with nature with an updated spin on adventuring, gardening and DIY), Sunday Suppers (which explores the art of cooking and eating simple, beautiful food while gathering together with friends and family) and a vintage edition of The Complete Book of Flower Arrangement — which was gifted to Rebecca by her mother, Rhonda (who was helping us out behind the scenes on the day we shot this post!).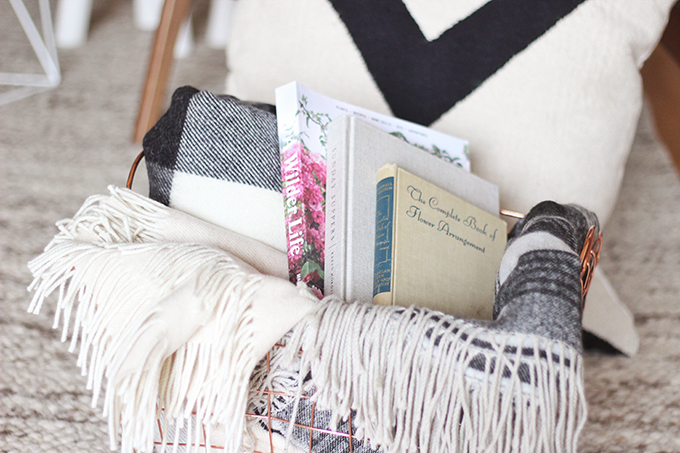 ---
COZY THREADS
---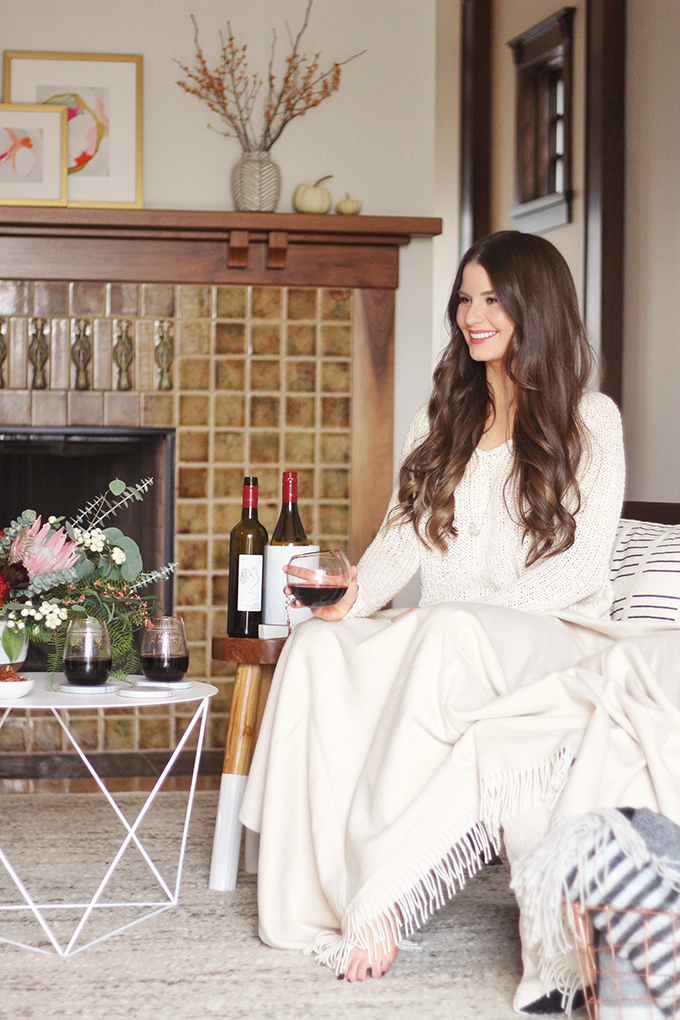 For A Cozy Girls Night In, comfort is essential. While I love dressing up, I also love to lounge in comfortable, cozy basics during my downtime. I've been living in this Favorite Tape V-Neck Sweater from Kersh lately — infact, if we've hung out in lately, there's a good chance I may have been wearing it! I've mentioned and worn Kersh many times here at JustineCelina — they make some of the coziest, best quality knits I've ever worn. Plus they're Canadian — born and raised on the west coast, but available at a few local boutiques (including Purr) in Calgary!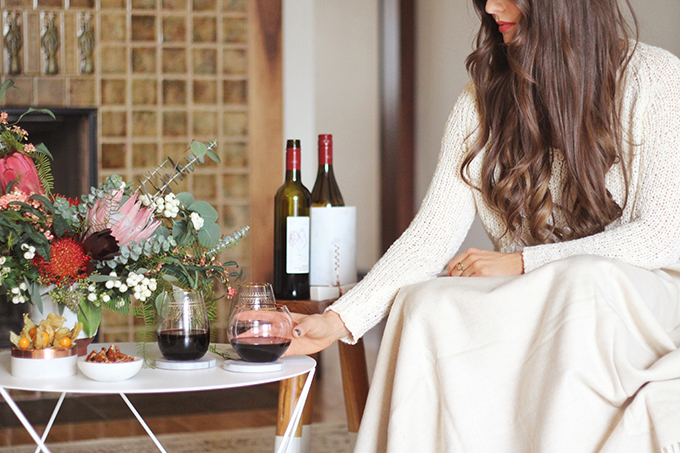 ---
A COZY GIRLS NIGHT IN ESSENTIALS
---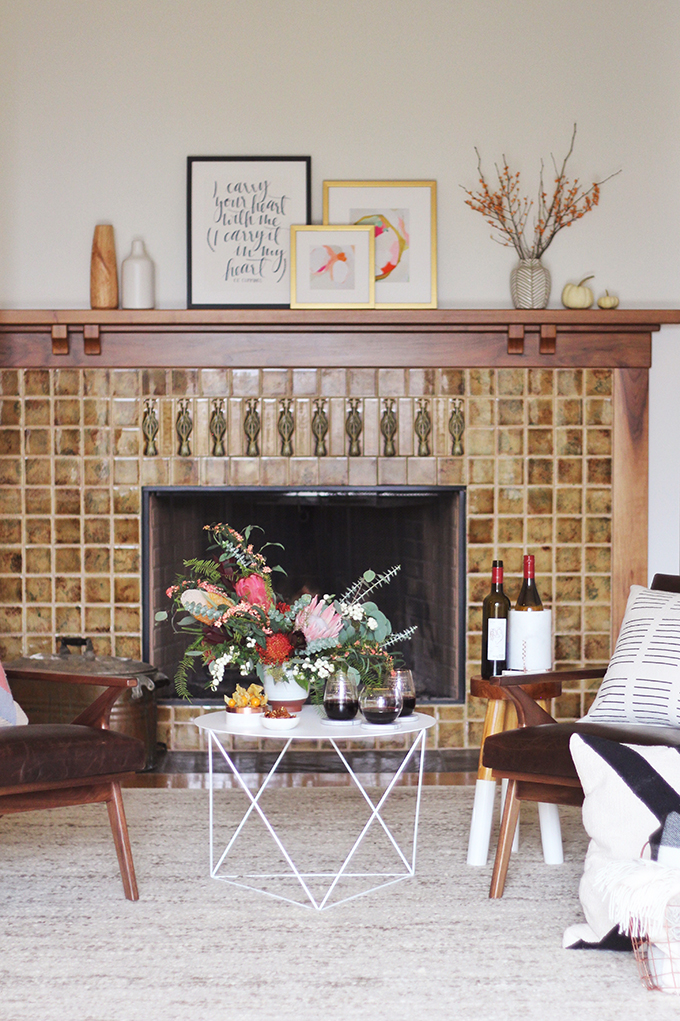 Steven Alan Solid Wool Shag Rug | Cavett Leather Chair in Amaretto | Coffee Table (similar) | Throws (similar, similar, similar) | Xbase Pillow | Plum & Bow Andanda Kilim Pillow | Marble & Copper Wine Chiller | Marble & Copper Wine-Bottle Coaster | Gilded Rim Stemless Glasses | Marble Coasters | A Wilder Life | Sunday Suppers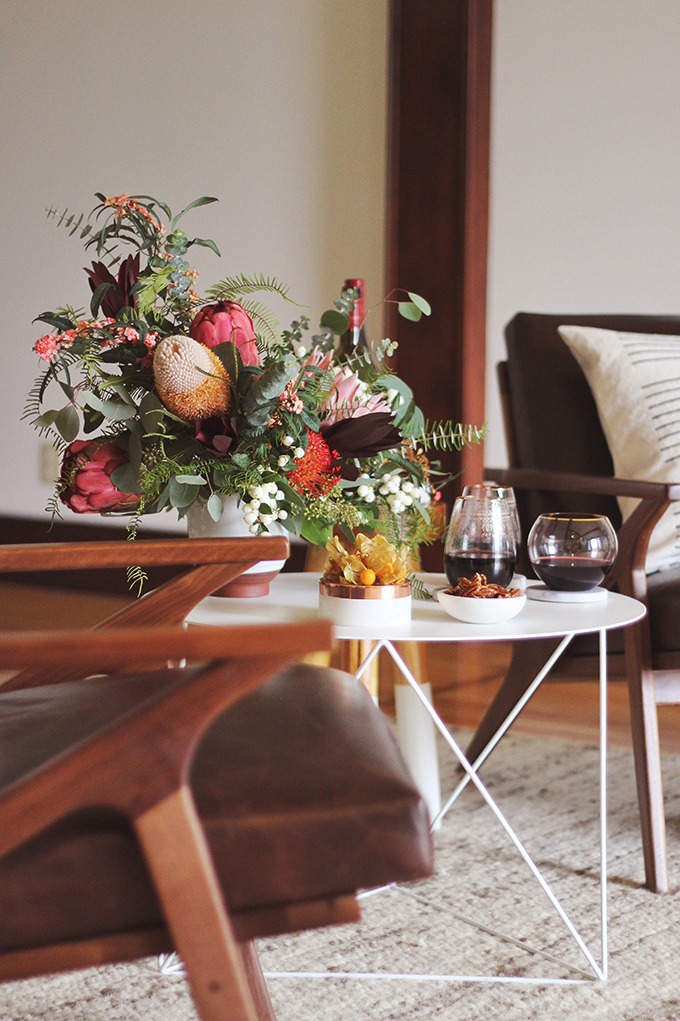 ---
And last but not least, the most important essential of A Cozy Girls Night In is (of course) good company! Thanks for stopping by to fall back with this weekend — I hope you enjoyed this casual autumn entertaining post and found some inspiration for your next gathering. Are you hosting friends this autumn? If our post inspired you, we'd love it if you leave us a note or tag us on social media. Wishing you all a fantastic November filled with many cozy evenings!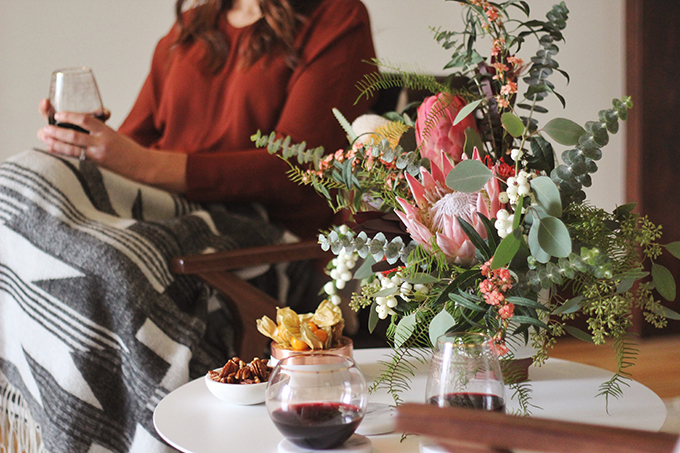 ---
Disclaimer: Thank you Red Rooster for providing the wine for our girls night in, to Kersh for my cozy sweater — and of course to Rebecca for collaborating with me on this post and allowing us to shoot in her gorgeous home! This post is not sponsored, and contains our genuine thoughts, ideas and recommendations. JustineCelina uses affiliate and referral links, which allow me to receive a small commission when you make a purchase through one of my links. Thank you for supporting the brands and businesses that support JustineCelina.com!