---
Happy Labour Day long weekend, beautiful people! What are you up to for summer's final long weekend? Whether you're exploring the great outdoors or enjoying a bit of a staycation, my August 2019 Soundtrack has arrived for your listening pleasure! This nearly 3 hour playlist features everything I've been listening to over the past month — and as usual, it's an eclectic melange of genres, artists and release dates. I'm still on a bit of a hip-hop spree, but there's a healthy mixture of instrumental, chill, electronic, indie and alternative tunes making up this 44 track playlist!
August's musical discovery highlights include draigh's palm, Night Move's Mexico, ODA's Don't You Know, parisalexa's Ballin', Goth Babe's Imaginationcy, Broken Social Scene's Big Couches, The Japaneses House's Follow My Girl, Mallrat's Charlie, HAIM's Summer Girl, slenderbodies Away From You, Alina Baraz's Skinny Dipping and Tracey Chattaway's Shimmer. Wishing you all a fun and safe long weekend!
---
AUGUST 2019 SOUNDTRACK
---
---
NEED MORE FRESH TUNES? CHECK OUT MY LATEST PLAYLISTS
---
July 2019 Soundtrack (or listen on Spotify)
June 2019 Soundtrack (or listen on Spotify)
May 2019 Soundtrack (or listen on Spotify)
April 2019 Soundtrack (or listen on Spotify)
March 2019 Soundtrack (or listen on Spotify)
Or, browse the MUSIC archives here at JustineCelina for 4+ years of monthly playlists!
---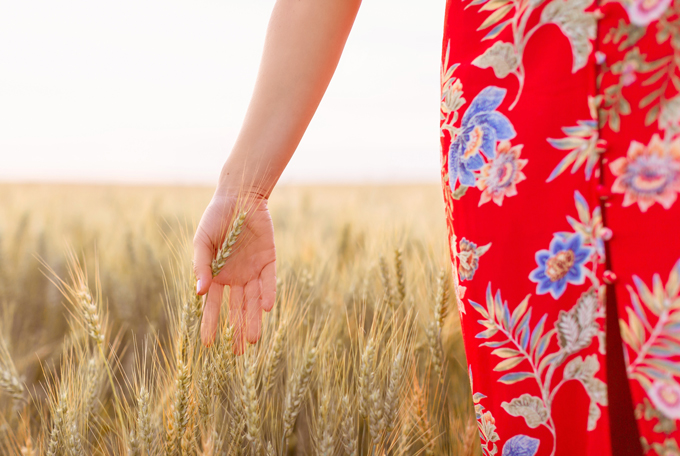 Thanks for listening, friends! How are you enjoying the last long weekend of summer? If you follow along with my Insta Stories, you'll know my Mom and I attended a Farm Dinner at Eau Claire Distillery last night — it was such a lovely evening celebrating local food, drink and community. For the rest of the weekend I think we'll just be laying low — I'm planning to do somme cocktail testing and making use of our fresh shipment of peaches, tomatoes and peppers from a family friend's orchard in the Okanagan!

We shot these photos a couple of weeks ago for my Late Summer 2019 Lookbook. This field is just up the road from my childhood home in Wheatland County, and I love the way the sunset was illuminating it, so we popped over for a quick golden hour shoot. Harvest is happening all over Alberta starting this weekend, so I was really happy we captured some of the bounty!
---
What have you guys been listening to lately? Leave me your recommendations in the comments, I'd love to hear from you! Do you use Spotify? If you do, feel free to drop some links to your playlists, or playlists / artists you think I'd enjoy. Have a great long weekend, beautiful people!
---
Disclaimer: This post is not sponsored, and contains my genuine thoughts, ideas and recommendations. JustineCelina uses affiliate and referral links, which allow me to receive a small commission when you make a purchase through one of my links. Thank you for supporting the brands and businesses that support JustineCelina!