---
It's the height of summer here in Calgary — the sun is shining, temperatures are soaring and we're deep into the heart of wedding season! Over the years I've published a few posts about what to wear to Spring Weddings as well as other various outdoor summer events — including Garden Parties and Horse Races. But during my 4 years of blogging, I actually haven't created a post about What to Wear to | A Casual Summer Wedding (despite it being one of the most searched terms here at JustineCelina during July and August!). So today, in the latest installment in my WHAT TO WEAR TO series, I'm sharing all my best summer style tips for outdoor summer weddings!
Longtime readers will know I relish in the opportunity to dress up and dress well for every experience life has to offer. That said, I also know what it's like to be overdressed in a casual setting — I've attended many a small-town wedding with denim on the menu. While I always prefer to be overdressed rather than underdressed to be respectful to my hosts, over the years I've learned a thing or two about how to adapt your attire to your environment without letting it put a damper on your personal style. My What to Wear to | A Casual Summer Wedding post covers how to select a versatile summer dress you can wear for years to come and choose accessories to compliment your frock while dressing her down for daytime — along with special occasion beauty and hair tips to polish your look without ever appearing overdone. Pour yourself a glass of rosé and say 'I do' to great casual summer wedding style!

---
WHAT TO WEAR TO | A CASUAL SUMMER WEDDING
---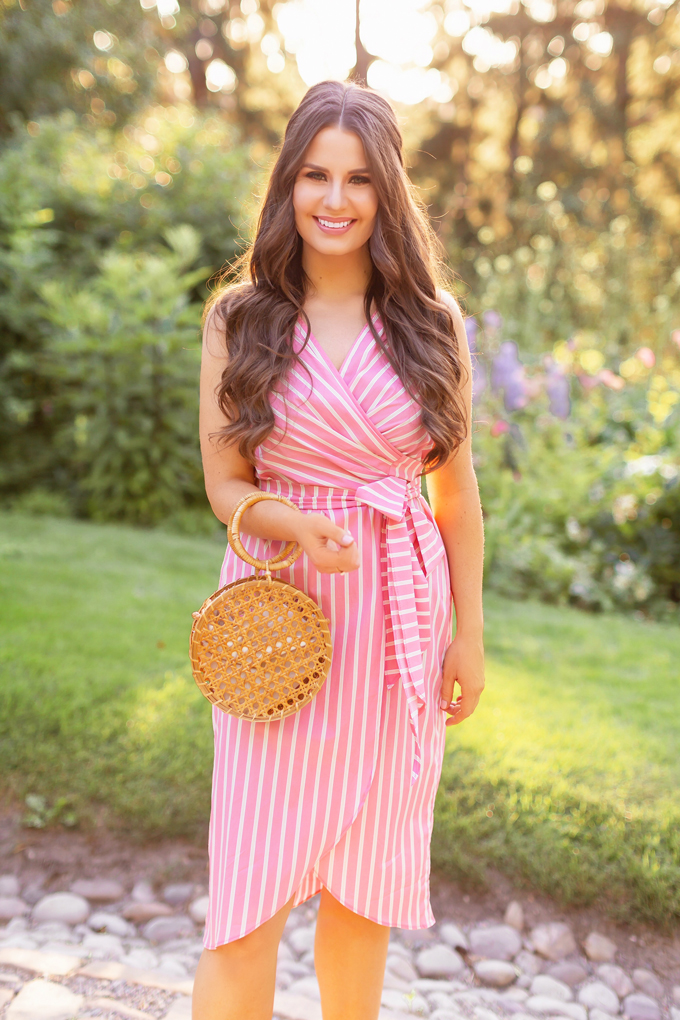 While everyone's definition of a casual summer wedding differs, there are definitely unifying elements. Casual summer weddings are often set in the mountains, the country,  small towns, or have outdoor ceremonies. In these situations the dress code is often left open to interpretation — leaving you unsure of what to wear. I often find myself wanting to dress up without looking overdone!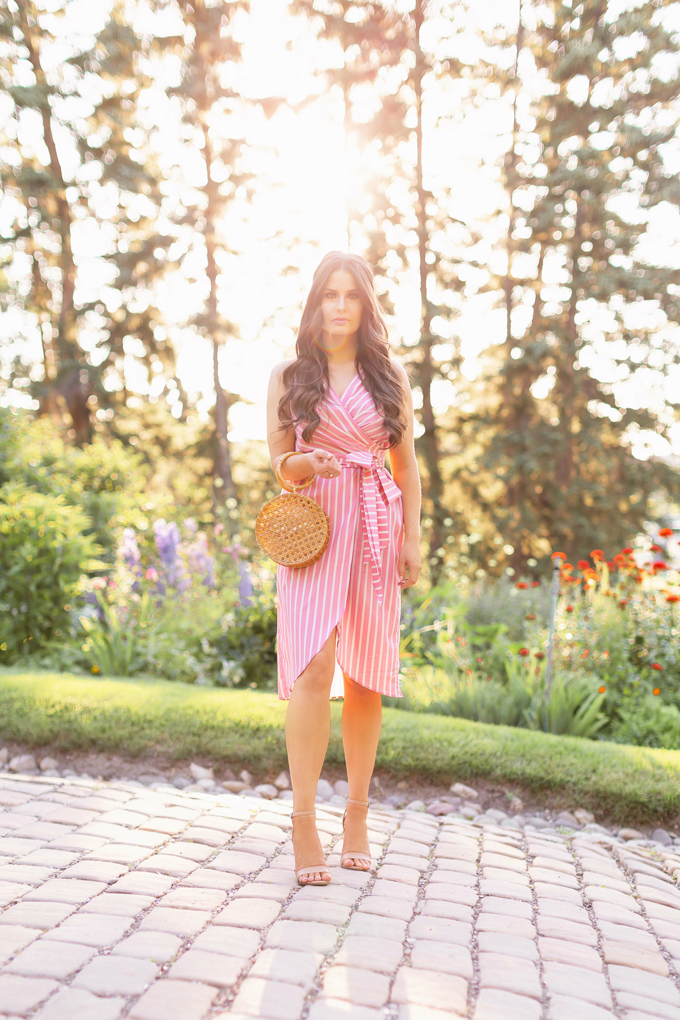 Today I'm offering up my tried-and-true style tips after many years of attending daytime and outdoor summer weddings in pretty much every venue imaginable! No matter your budget, personal style, or venue, you'll find inspiration here that can be easily adapted to your unique event.
For easy browsing, I've organized this post into categories, breaking down each piece of my outfit (plus hair beauty deets!). Let's dive in!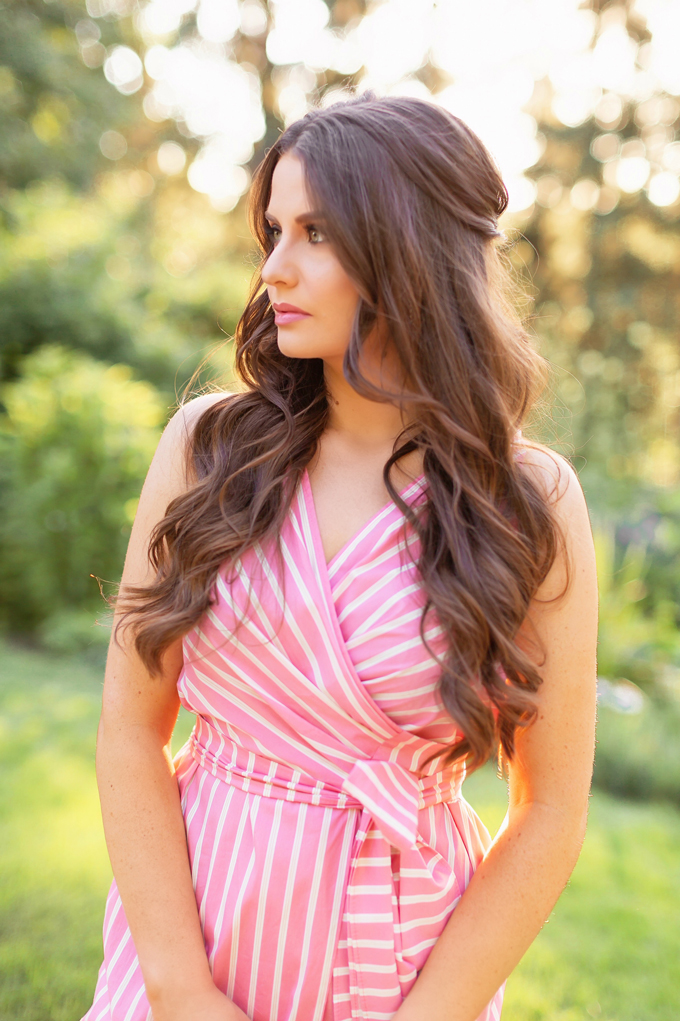 ---
THE DRESS
---
When I spotted 3rd Floor Studio's Isla Dress, I knew her Pantone Living Coral inspired hue and playful styling would make her ideal for Summer 2019's special occasions! If you follow along with my FASHION content, you'll know I absolutely adore this Toronto designer's pieces and have added a handful of them to my wardrobe over the last few years. Isla is my fifth 3rd Floor Studio garment and I'm thrilled to have her (thank you for the lovely gift, Shoshanah!). Adam says it's his favourite dress he's ever seen me wear (and I like to think Isla has some stiff competition!).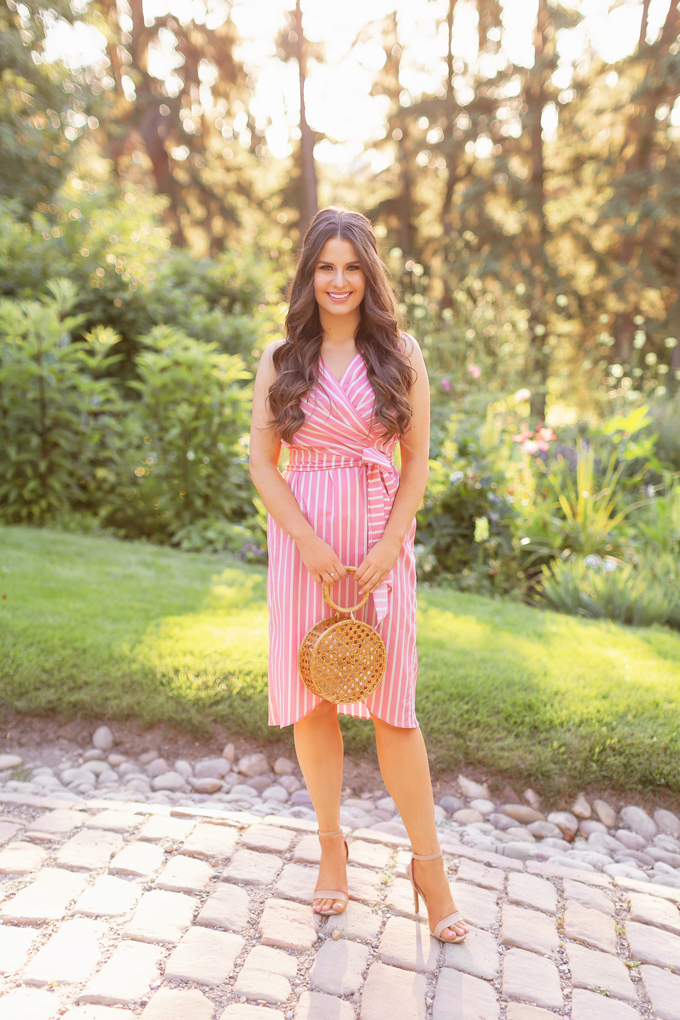 Not only is the silhouette of this woven v-neck wrap dress ultra flattering while maintaining modesty, the just-above-the-knee length (for reference I'm 5'8″ and wearing an XS) shows just the right amount of leg. Isla's carefully placed pleats skim the body beautifully while vertical stripes create an elongating effect. She's also made from 97% cotton to ensure maximum breathability — it was 30°C when we shot these photos and I was perfectly comfortable.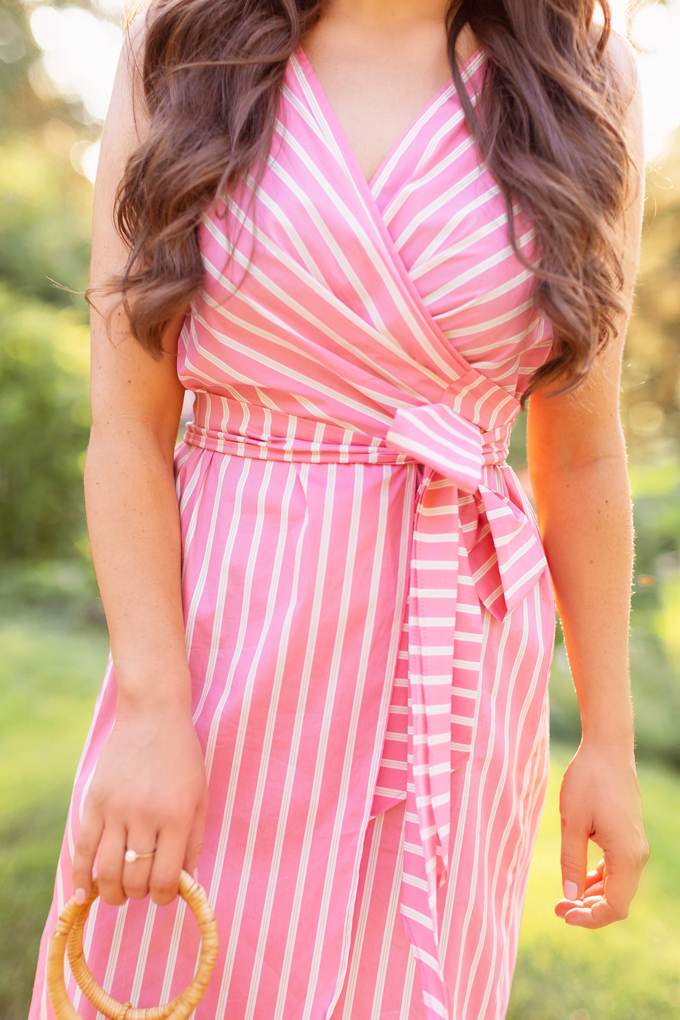 When it comes to selecting casual summer occasion wear, I recommend investing in a timeless dress with a classic silhouette made with quality, breathable fabric. To keep things fun and not too formal, this is also a great time to experiment with bold colours, patterns or pastels that compliment your colouring and personal style! I've mentioned this previously, but in art college we learned that coral is the most universally flattering colour — meaning it works on the largest variety of skintones. If you're not a huge fan of bubblegum pink (I'm with you!) consider coral a modern alternative for Summer 2019 and beyond!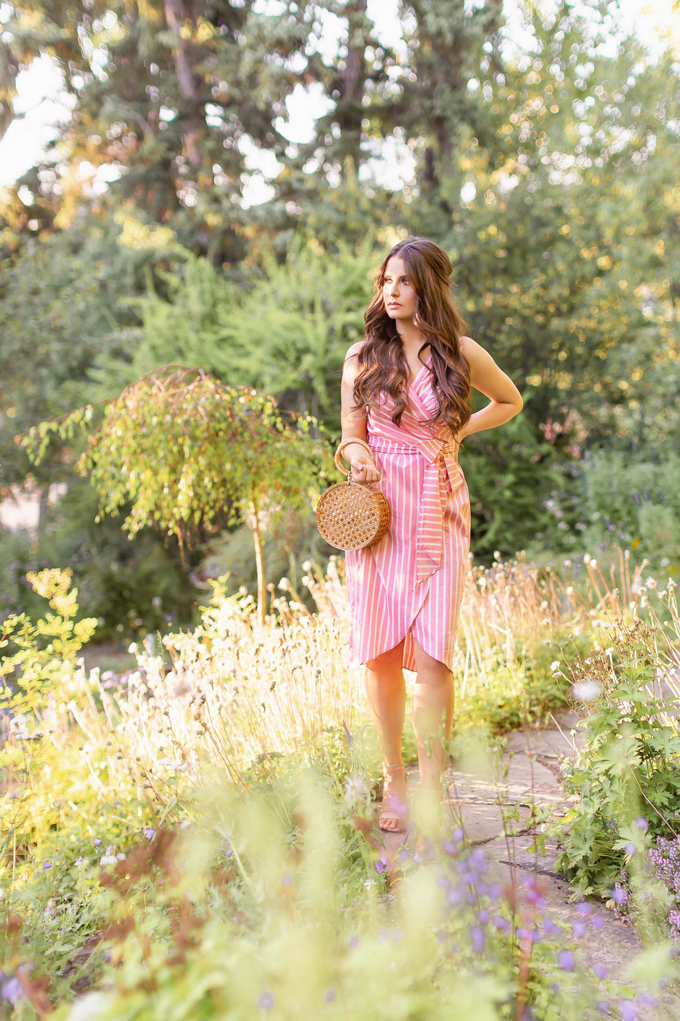 Every 3rd Floor Studio dress is made locally and sustainability in Toronto, fit on everyday women rather than models, and there and only about 75 of each style made — so you know that no one else at the party will have the same dress! Every dress from the SS19 Collection would be perfect for a summer wedding, so if you'd like to support a talented Canadian designer, I highly recommend adding a 3rd Floor Studio frock to your wardrobe. I've also rounded up a selection of my favourite dresses for casual summer weddings from various retailers below.

---
THE BAG
---
We all know how much I love raw, natural materials in my wardrobe as well as in my home. In fact, last summer I dedicated a post to my ever-expanding collection of natural material bags — and I think they make the perfect accessory for casual Summer 2019 weddings.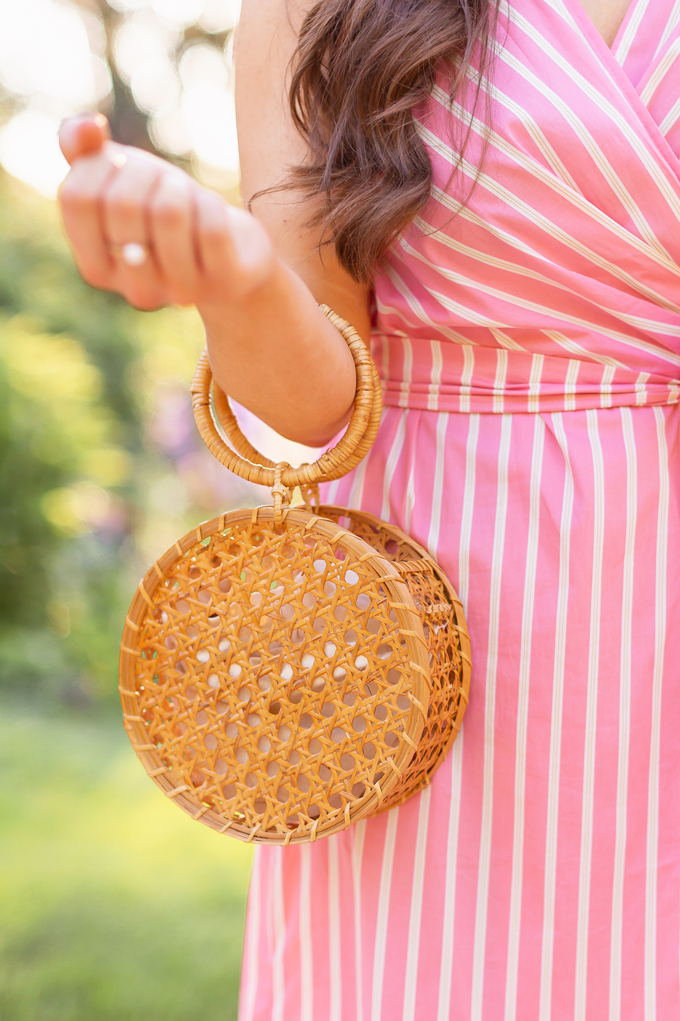 When you're pulling together an outfit for a wedding, I typically recommend allowing your dress be the focal point while keeping your accessories neutral — but that doesn't mean you can't have a little fun! I selected this stunning Bamboo Round Bag from Mango (now 50% off!) to help dress Isla down and make this look more casual. Bracelet bags are a major trend for Summer 2019 and I love that they allow me to be hands free as I mix and mingle from day to night!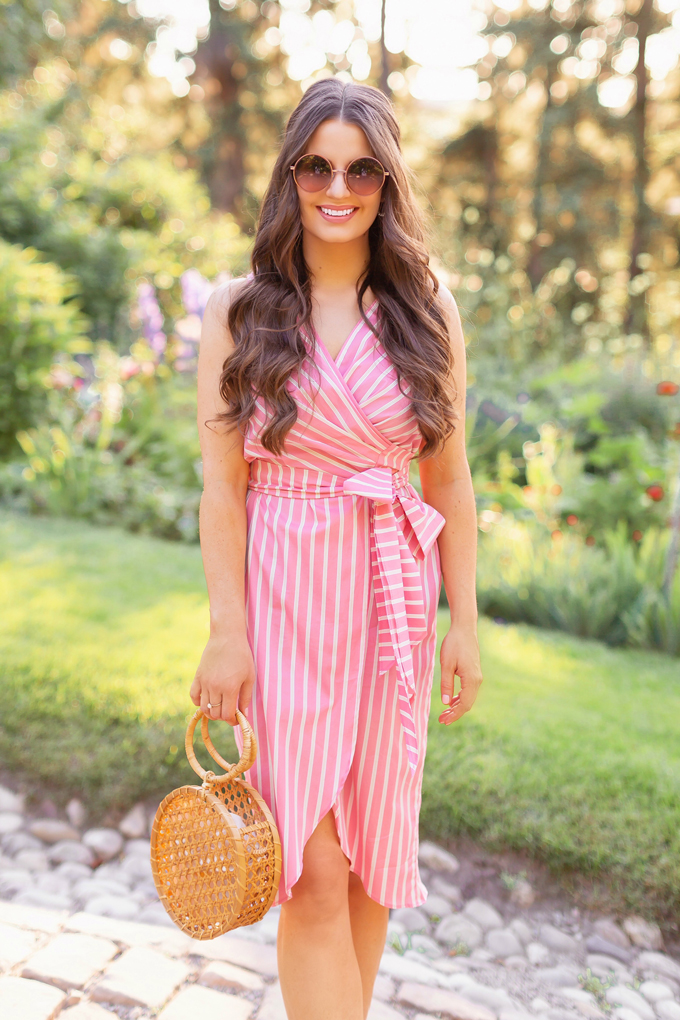 I've curated a collection of my favourite natural material bags for you below, ideal for outdoor summer weddings as well as your everyday wardrobe. Stay tuned to see how I style this season's natural material bags more casually in my upcoming Summer 2019 Lookbook!

---
THE SHOES
---
Nude strappy sandals are my go-to for summer weddings, no matter what I'm wearing! If there is one shoe you invest in this summer to carry you through various events in style, make in a comfortable, well-fitting, minimalistic nude sandal. I love their ability to pair with casual and formal looks — I also wear them often in my everyday wardrobe!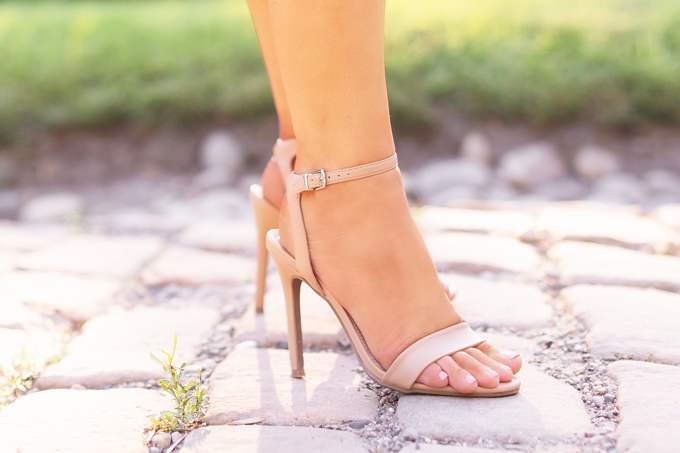 I picked this pair from Abound up at Nordstrom Rack last summer and they truly feel like you're walking on air. Although stiletto heels can present a bit of an issue for walking on grass for less experienced stiletto wearers (I swear I was born in 4″ heels!), you could also consider a nude block heeled sandal (I wore my Circus by Sam Edelman Abigal Platform Sandals in Light Brown to a Garden Party last summer) or nude espadrilles (my Aldo Muschett's are most-worn pair) if the wedding is ultra casual. If you're looking for even more options, be sure to check out my Summer Shoe Guide!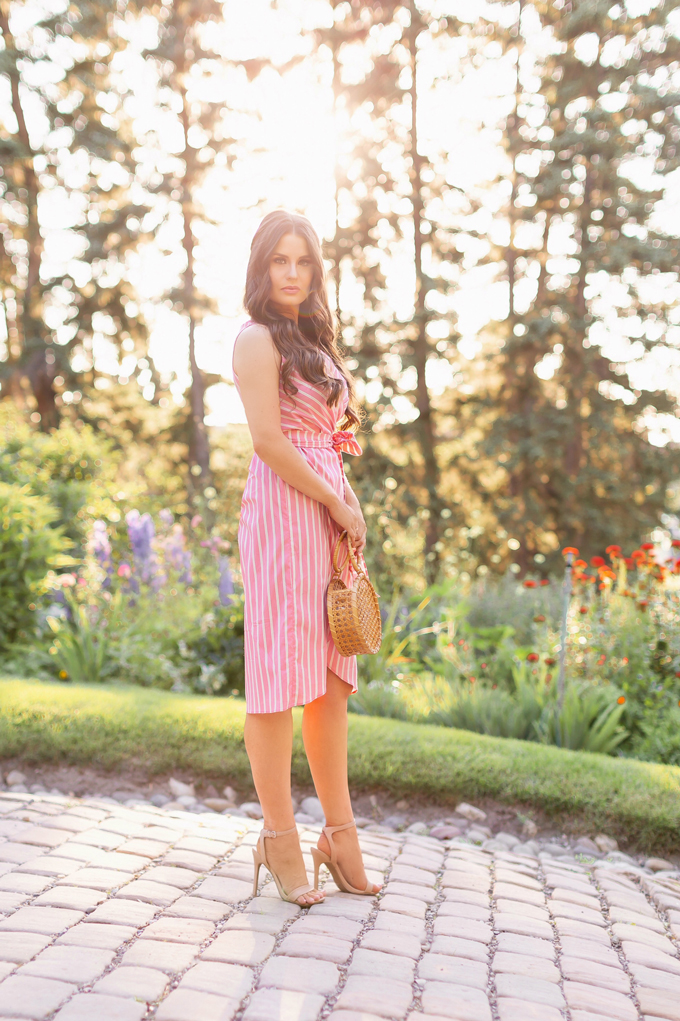 Shop a selection of my favourite nude sandals and espadrilles across pricepoints below.

---
SUNGLASSES
---
Last but not least, I recommend selecting a neutral pair of shades in your preferred shape and style to shield your eyes from the harsh summer sun.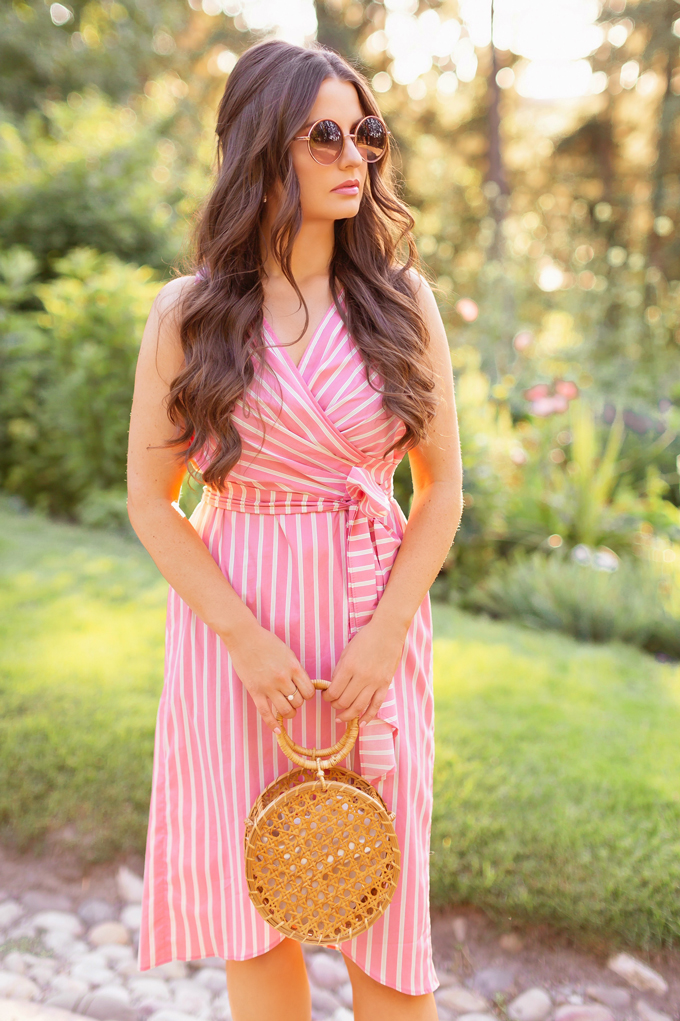 You know how much I love my round sunnies — and since I'm airing on the more casual side of wedding attire here, I selected a new pair of brown, circular shades that tie the caramel tones of my accessories together. They also echo the shape of my bag! I believe it's attention to these fine details really polish an outfit, no matter the setting.
---
MAKEUP
---
A beautiful, glowy, (somewhat) natural makeup look is the perfect compliment to a gorgeous summer outfit for daytime events. Beauty wise, I I like to keep things pretty simple for summer special occasions and rely on tried and true products in longwearing formulas.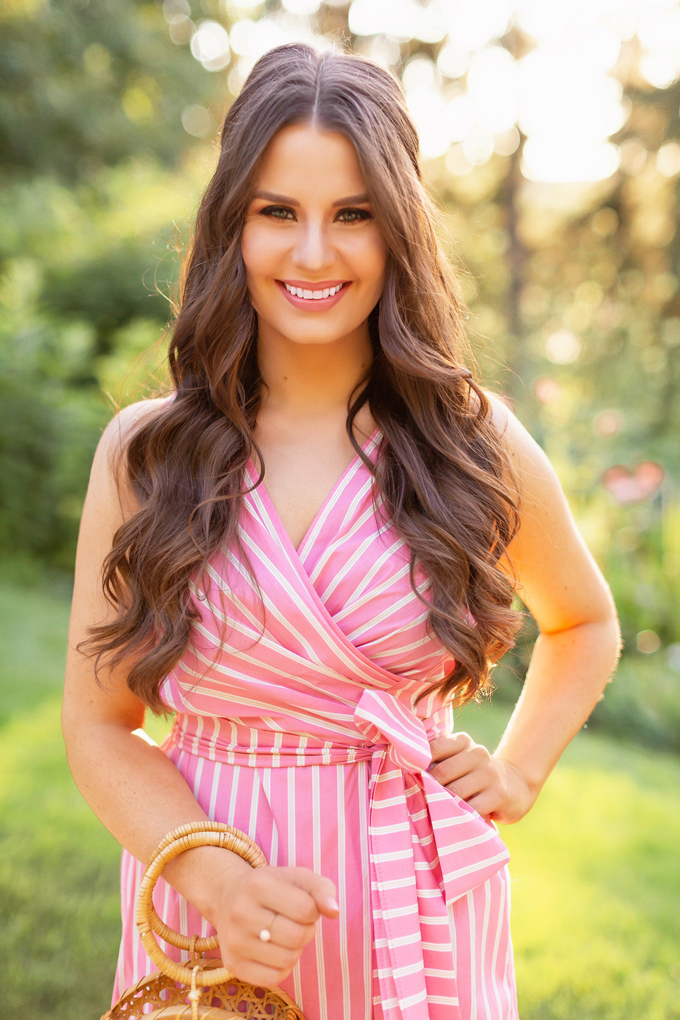 One favourite summer looks for special ocassions is radiant skin, a flushed cheek, a natural, lightly glossy lip (I'm wearing Revlon's Ultra HD Vinyl Lip Polish in Act Natural here — a new favourite!) and a defined, golden, lightly smokey eye. With the exception of my lipgloss, I've mentioned and used these products many, many times over the years and I'd consider each of them a longtime favourite.
I actually have fresh BEAUTY content coming to JustineCelina soon where I'll share some updated beauty essentials, but in the meantime, I've linked up everything on my face for you below! Additionally, feel free to search any of these items here on the blog to bring up my review, photos and swatches.

---
HAIR
---
For weddings or special events, I usually end up pinning some of my hair up to keep it out of my face and gravitate towards half-up, undone styles. It's not too different to my everyday hairstyle but is a bit more special without looking overdone.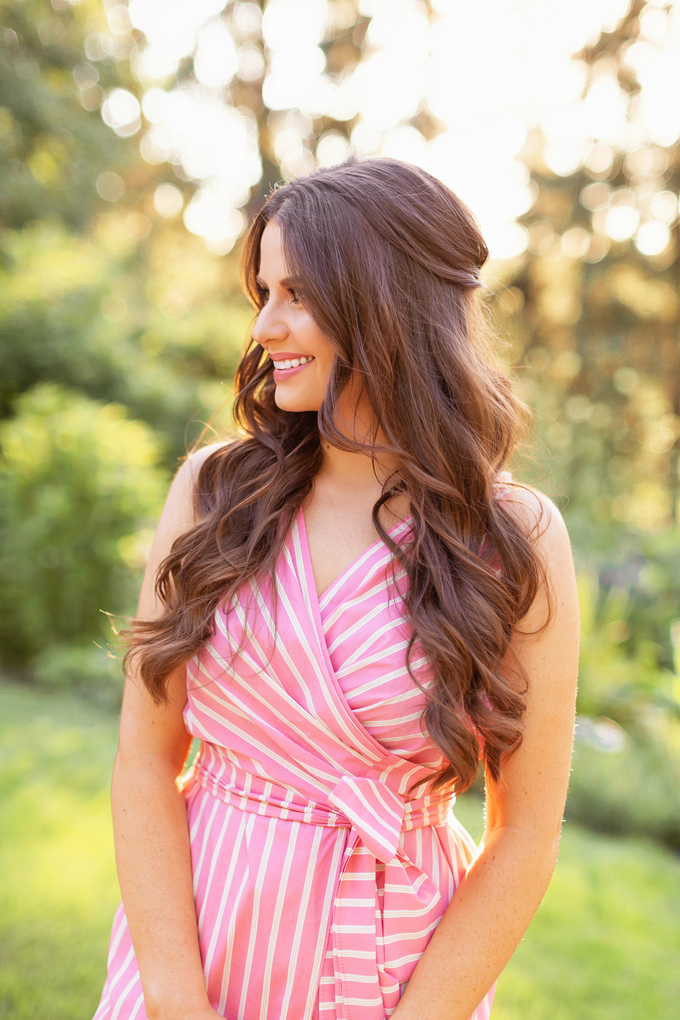 First, I started by parting my hair in the center. Then, I curled everything (including my bangs) away from my face in varied sections with my favourite curling wand, the Sultra The Bombshell 1″ Curling Wand. When I was finished curling, I ran my fingers through my waves to break them up and create a more touselled texture.
Then, I backcombed my crown, pulled some hair away from my face, (leaving my fringe out) and secured the section with 2 bobby pins in a criss-cross shape underneath, creating a bit of lift. I finished the style with MoroccanOil's Luminious Hairspray (in Extra Strong) to ensure everything stayed in place. This is another recent discovery — it offers incredible hold with a weightless, touchable finish and smells absolutely amazing!

---
SHOP THE LOOK
---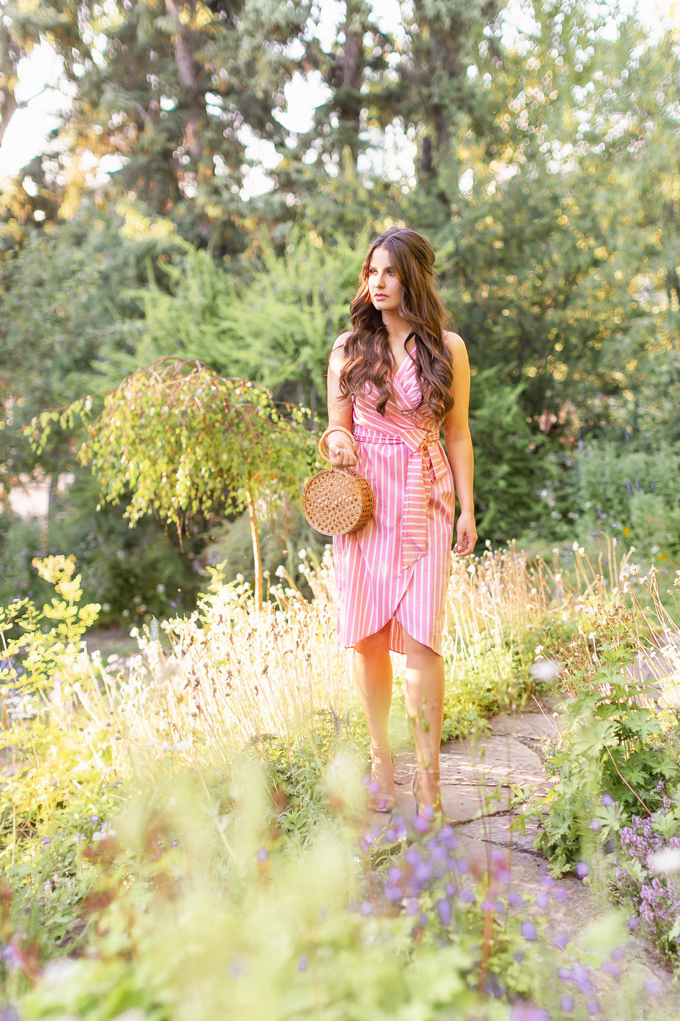 3rd Floor Studio Isla Dress | Mango Bamboo Round Bag
---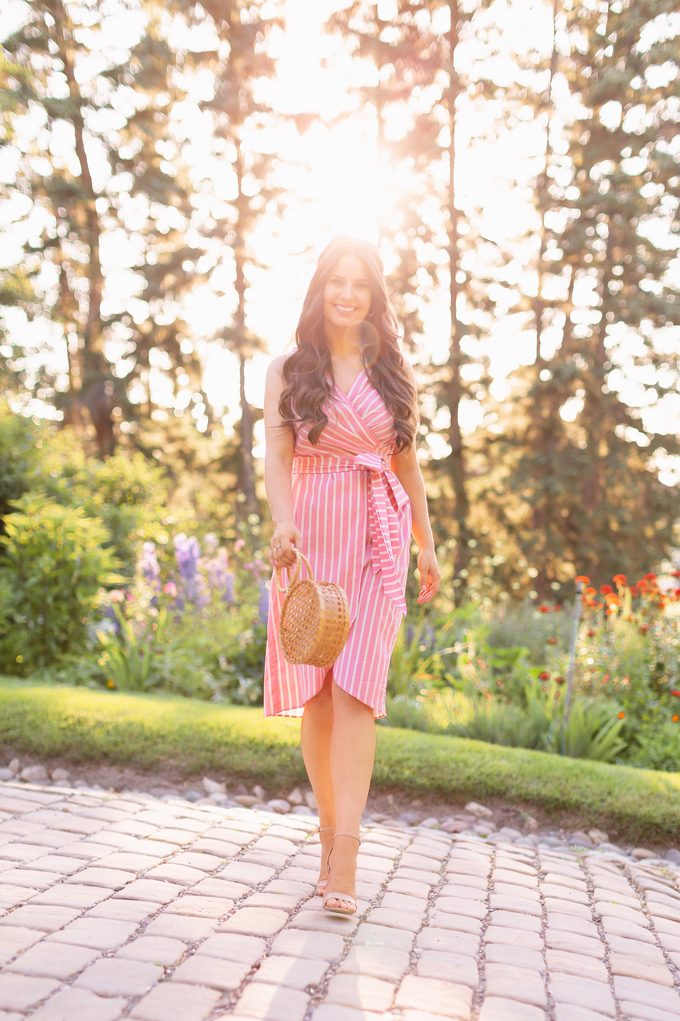 Thanks for stopping by for a fresh installment in my WHAT TO WEAR TO series, friends! I hope this post helped to give you some fresh ideas about what to wear to your casual Summer 2019 weddings. Wishing you all a beautiful summer celebrating love and life!
---
Disclaimer: This post is not sponsored, and contains my genuine thoughts and recommendations. Thank you to 3rd Floor Studio for gifting my gorgeous Isla dress, to Revlon for my lip gloss and to MorrocanOil for my hairspray. JustineCelina uses affiliate and referral links, which allow me to receive a small commission when you make a purchase through one of my links. Your purchases help to support JustineCelina.com!