---
Flower children, I'm back tonight with a fresh post in our FLOWER EDUCATION series! It's been a little while since I've published a dedicated flower education post — and I thought it was time to switch things up a bit! This post is a hybrid, merging FLOWER and DWELL categories — I'm sharing tips and tricks on How To Unite a Room With Flowers, in addition to the inspiration and details behind the stunning sister arrangements Rebecca Dawn Design created for our Living Room Reveal! I've always said that flowers are my not so secret weapon to elevate any celebration or space — I absolutely love to have fresh flowers in our home whenever possible. But today I'm sharing exactly how to select flowers that compliment your space and showcasing a variety of blooms and foliage not yet seen here at JustineCelina!
If you'd like to brighten up your space with some cheerful blooms but aren't sure where to start, you've come to the right place! Pour yourself a delicious glass of rosé (hey, it's hump day and we've earned it!) and enjoy a relaxing mid-week read dedicated to creating a cohesive space that feels fresh and inviting. I'm sharing where I source inspiration for flower content as well as flowers in our home, how I select flowers to compliment decor, colour palette and even the plants in a space (our urban jungle is expanding rapidly!). Learn more about how Rebecca worked with Hyacinths, Double Tulips, Ranunculus, Larkspur, Queen Anne's Lace, Quicksand Roses, Lisianthus, Podocarpus and Camelia to create these complimentary arrangements that perfectly invoked the fleeting beauty of the season. Cheers, friends!
---
HOW TO UNITE A ROOM WITH FLOWERS
---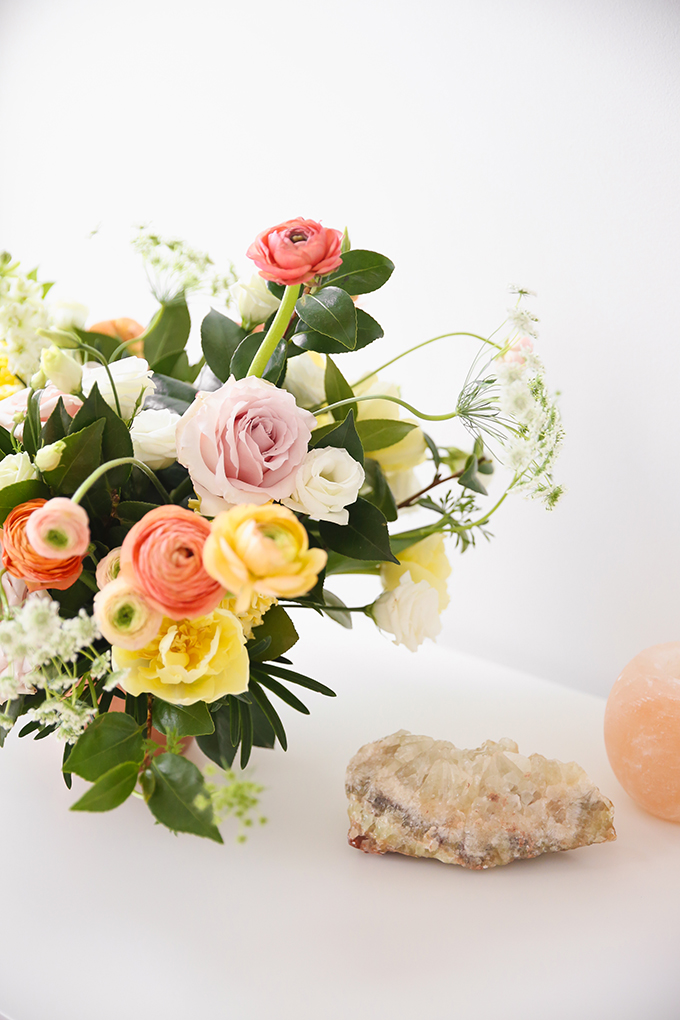 By now, these beautiful arrangements should look familiar as they've been featured in the majority of my DWELL content over the past few months, as well as in my 3rd Blogiversary celebration! What can I say — when we have fresh flowers to work with, we like to get as much content out of them as possible. But tonight, I thought it would be fun to share an inside look at exactly what goes into coordinating floral details when I'm styling a shoot! So let's start from the beginning, shall we?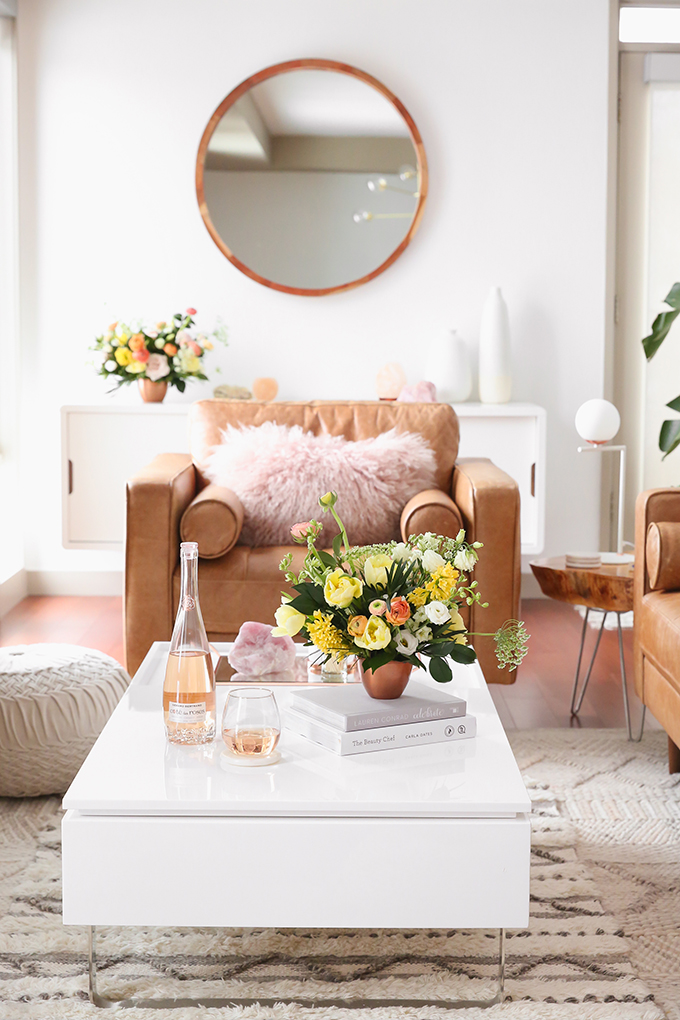 While I was pulling together the last styling details for our Living Room Reveal, I created a moodboard to bring Rebecca up to speed on the overall look and feel of the space (learn more about moodboards and why I use them). For our Living Room, I requested 2 sister arrangements — a smaller arrangement for the coffee table and a larger, wider arrangement for the sideboard. Since we have a lot of mixed metal accents in the space, I thought copper vases would work perfectly to bring an on trend touch to the arrangements. Our Living Room is full of warm neutrals, earthy textures and pops of blush — so I wanted the flowers to be complimentary, cheerful and representative of the season. I knew I didn't want too much blush to make the arrangements, and therefore the room in general, feel overly feminine. When Rebecca asked about greenery, I requested a tropical vibe to help tie our plants in and unite all the greenery we have happening in the space.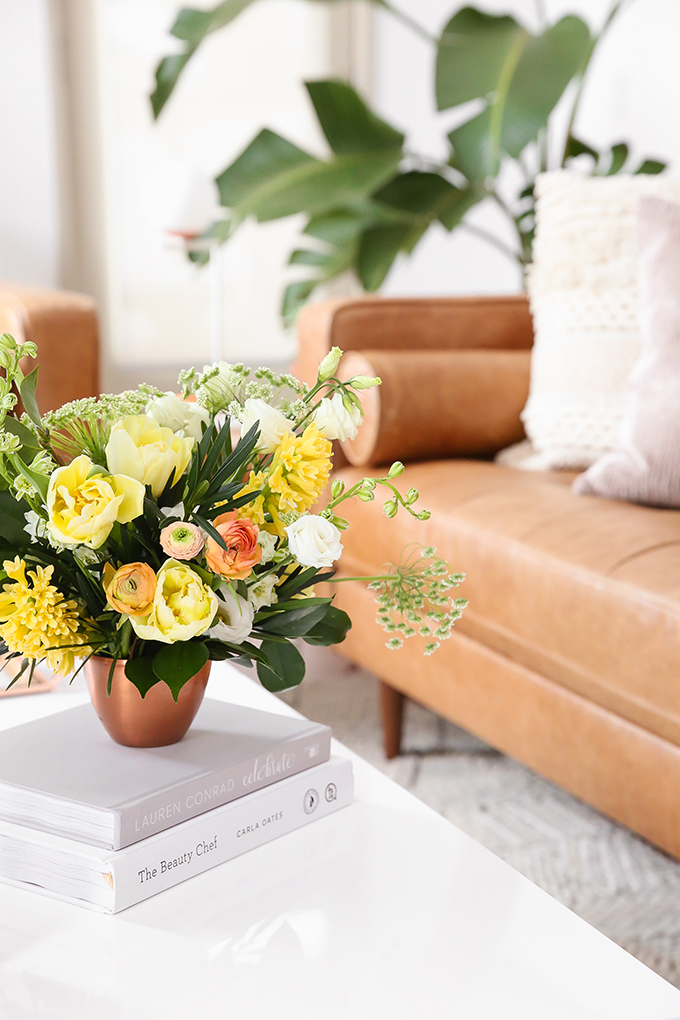 I always pull a few inspiration arrangement photos for the moodboard so Rebecca can get a sense of what I'm visualizing — but I leave flower and foliage selection in Rebecca's very talented hands. The best part about working with Rebecca is chatting about my inspiration for a shoot, project or space — and then waiting to see what she comes up with! While I suspected a few of our favourite spring blooms would be at play (including Ranunculus and Tulips), she also incorporated some flowers we don't often work with to keep things fresh.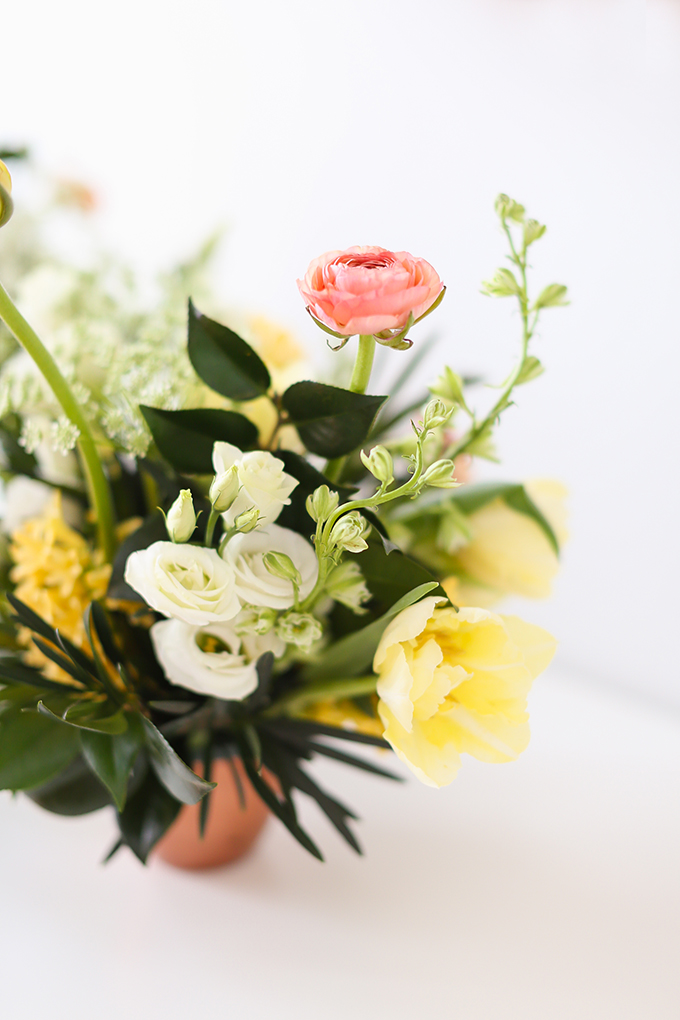 I drove over to Rebecca's place to pick the arrangements up on the morning of the shoot (in a blizzard, no less) and a huge smile spread across my face as soon as I saw them! Once I got them home and placed them in the space, they completely enlivened the living room and added just the right amount of colour without being overwhelming.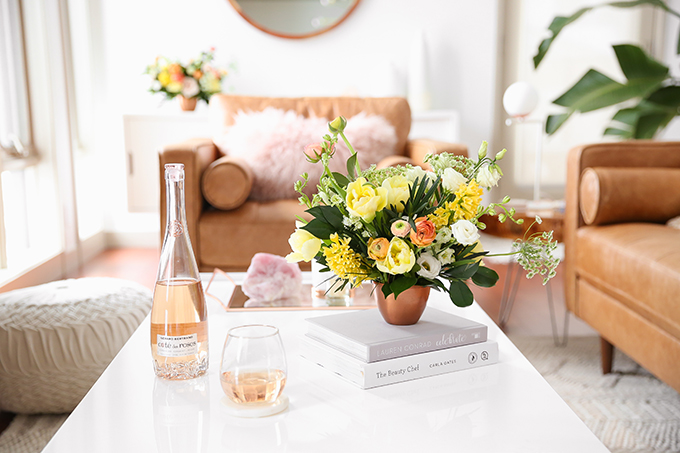 I love the the sunny pops of yellow thanks to vibrant Hyacinths and Double Tulips — yellow is the colour I associate most with spring and it worked perfectly for the timing of our reveal! The peach Ranunculus brought out the warm tones of the furniture, wood and salt accents, and the Quicksand Roses (another one of our favourite flowers) worked beautifully to tie in the blush accents without being too pink. The white Larkspur, Lisianthus and Queen Anne's Lace adds a light and airy feeling while mimicking the fresh white walls, coffee table and side board. And lastly, the expertly coordinated Podocarpus and Camelia tie in our enormous Bird of Paradise in the corner (that's Barry!) and the hues of the Snake Plant and Cacti perched in front of our south facing windows.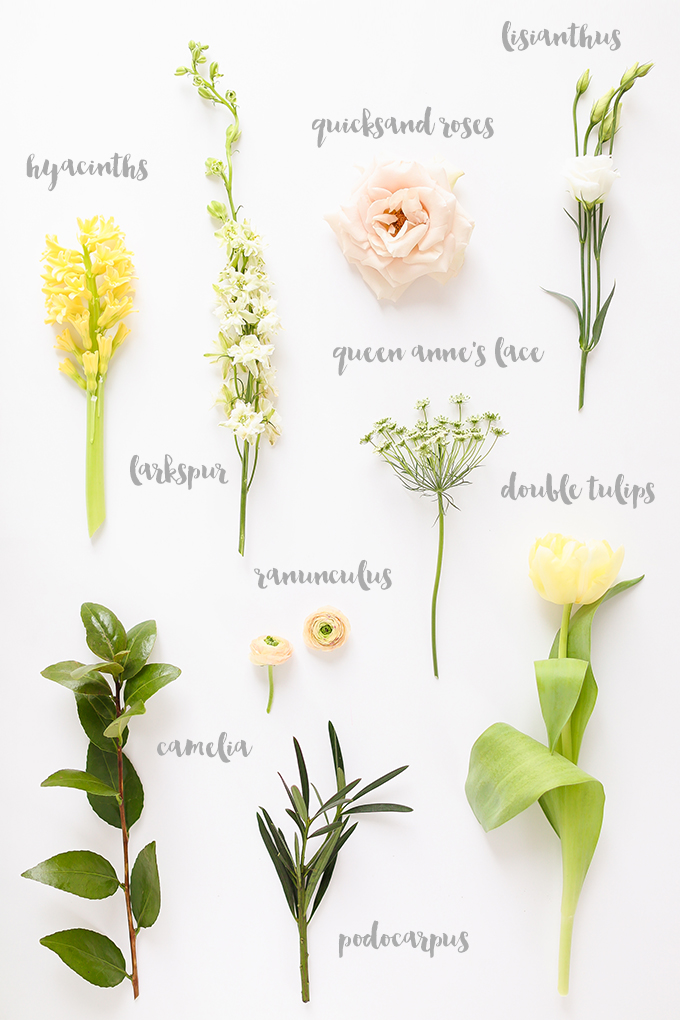 Do you recognize some of the flowers in these lovely arrangements? When you break it down, this arrangement is actually quite simple. Our primary flowers are Hyacinths and Double Tulips. Our secondary flowers are Quicksand Roses (one of our standybys here at JustineCelina!), Ranunculus, Larkspur and Lisianthus. For foliage, Rebecca incorporated delicate Queen Anne's Lace, Podocarpus, and lastly, Camelia for that tropical flair I was craving.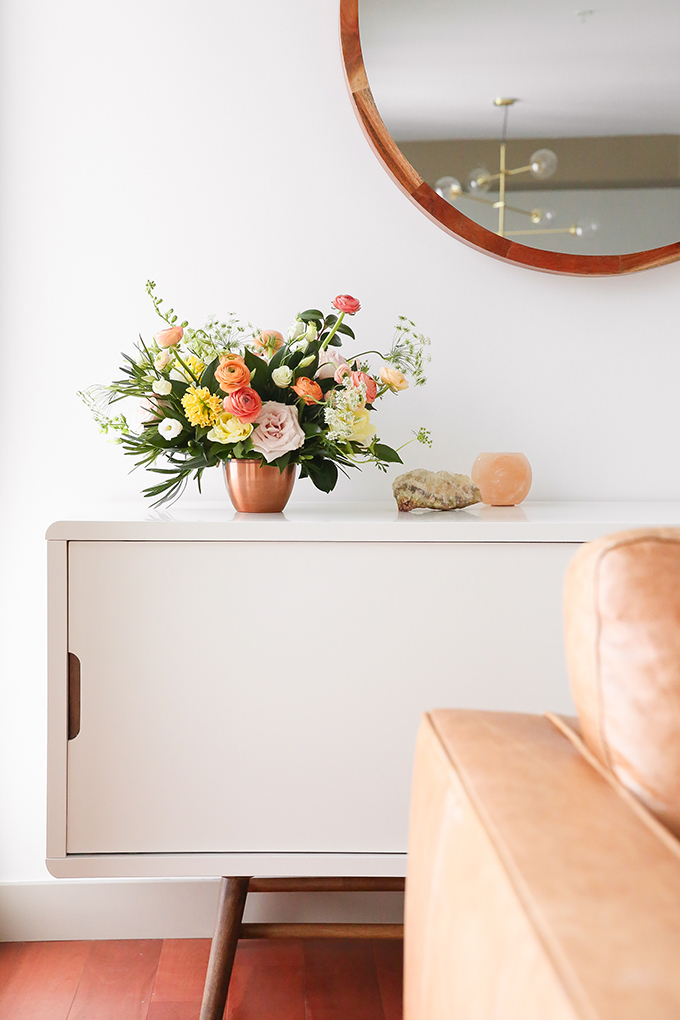 When it comes to choosing flowers to compliment your space, select tones and hues that are already present in your decor so they don't overwhelm the room (or table, if you're entertaining). You can go totally monochromatic for subtle touch, or play around with incorporating splashes of seasonal colour mixed in with classic neutrals — like we did here with yellow. Select flowers and foliage with textures that play on textures in your space. And lastly, don't forget the greenery! Take cues from any plants present in the space to select foliage that mimics similar hues. It really is that simple! But of course, rules are meant to be broken — so if you have a very monochromatic or neutral room, you can always select vibrant, bold florals to make a statement. It just depends what kind of atmosphere you want to create!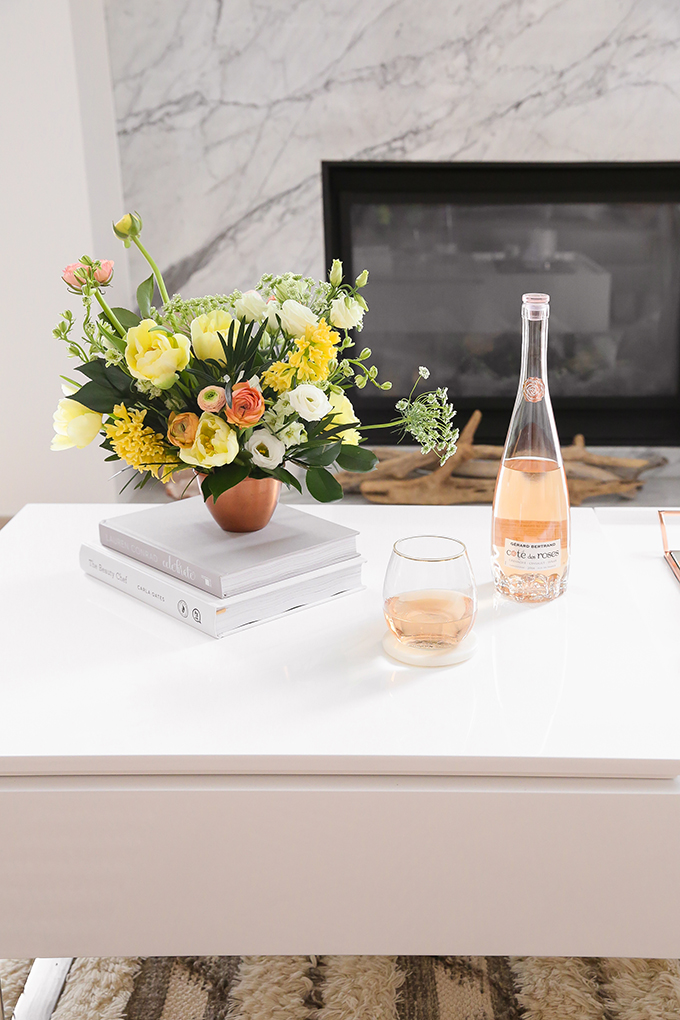 ---
MORE SEASONAL FLOWER EDUCATION & DIYS
---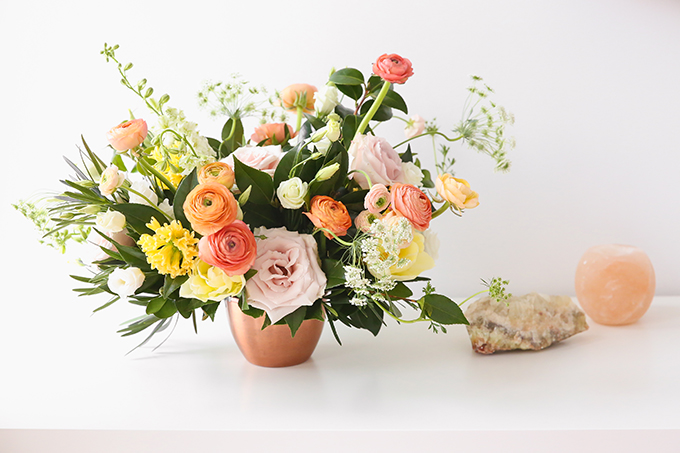 An Introduction to Spring Flowers
DIY | Floating Spring Centrepiece
---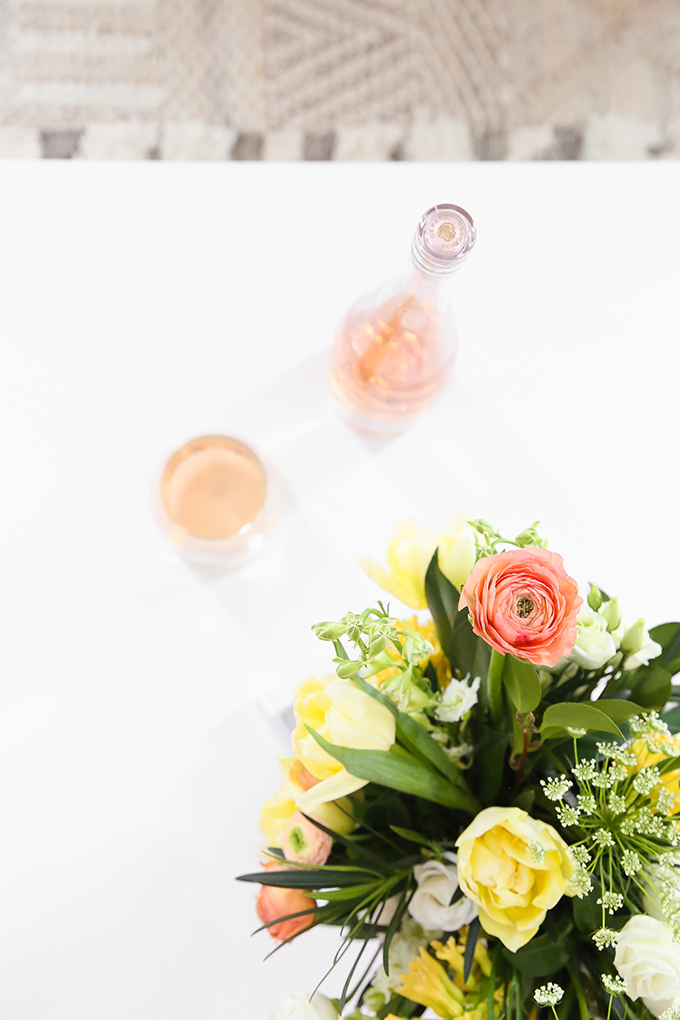 Flower friends, thank you for stopping by to learn all my best tips and tricks for using flowers to unite a space! As always, we hope these posts are helpful, informative and inspirational. What are some of your favorite seasonal flowers? It's difficult for me to to choose, although Rebecca and I both have a major soft spot for Peonies, Tulips and Ranunculus. Did you like this hybrid style post?
We hope this post inspired you to pop down to your local flower experiment with bringing seasonal flowers into your home! If you end up picking anything up based on our recommendations, please tag me on social media or leave a comment below. We absolutely love to hear from you! And if you're looking for even more flower inspiration, check out our FLOWER EDUCATION series and be sure to follow along with our Flower Board on Pinterest! Enjoy the last evening of spring, everyone.
---
Disclaimer: Thank you to Rebecca Dawn Design for partnering with me to create this post. This post is not sponsored and contains our genuine thoughts, ideas and recommendations. JustineCelina uses affiliate and referral links, which allow me to receive a small commission when you make a purchase through one of my links. Thank you for supporting the brands and businesses that support JustineCelina.com!