---
Friends and fashionistas, I'm absolutely elated to bring you the first LOOKBOOK I've published since April — my Summer 2020 Lookbook! It would be an incredible understatement to say that 2020 hasn't shaped up the way any of us could have predicted and that our lifestyles have changed dramatically as a result of COVID-19. While FASHION is one of my true loves and lifelong passions, I made the decision to pause my regularly scheduled seasonal LOOKBOOKS from May through August to embrace a slower pace of life, navigate through some incredibly difficult situations and make a conscious effort to be grateful for what I have, while being mindful of my spending. Given the state of the world and the economy, it simply didn't feel right to promote purchasing new clothing during the height of a pandemic. And to be completely transparent, I was also feeling quite uninspired fashion wise as all of the events, meetings and occasions that would typically inspire my style content had halted — as I'm sure many of you can relate! Although I was able to experiment with self portraiture and push the boundaries of my home studio set up to produce some beautiful content during quarantine, it's safe to say I reached the limit of how of many chic loungewear outfit ideas or breezy spring dresses I could shoot in my Living Room with my self timer and tripod! 
A change of scenery after 3 months of quarantine was exactly what I needed to feel re-inspired — so I packed up and headed to my childhood home in rural Alberta to enjoy the peace and tranquility of  the country while capturing my Summer 2020 Lookbook (with my Mom back behind the lens for many of the images I'm sharing today!). This summer I find myself seeking simplicity and comfort in every area of my life — and that's definitely reflected in my wardrobe. Purchasing timeless, easy to wear pieces in multiple colourways has been a common theme this summer — and I've expanded my summer wardrobe with some fantastic, affordable basics I know I'll enjoy for years to come. While I'll always enjoy incorporating trends into my wardrobe in a way that's authentic to my personal style, this year, I find myself increasingly drawn to classic pieces. These days, fashion moves fast — and I find myself moving in exactly the opposite direction as I mindfully curate my wardrobe. I've been living in breezy, effortless silhouettes made from linen, cotton and natural, lightweight fabrics — my summer style has never been more casual (or comfortable) and I'm fully embracing it! Adventure to the tranquil Alberta prairies with me today as I fuse my love of free spirited fashion and stunning natural landscapes in my Summer 2020 Lookbook — featuring 12 effortless, accessible, classic seasonal looks, plus tips on how to transition key pieces into autumn. I'm also sharing the first glimpse of our Country Garden — so pour yourself a glass of rosé and join me for a relaxing prairie roadtrip!
---
SUMMER 2020 LOOKBOOK
---
As a creative who's very stimulated by their environment, over the years I've learned the value of keeping my surroundings and experiences fresh — which proves to be quite challenging during a global pandemic.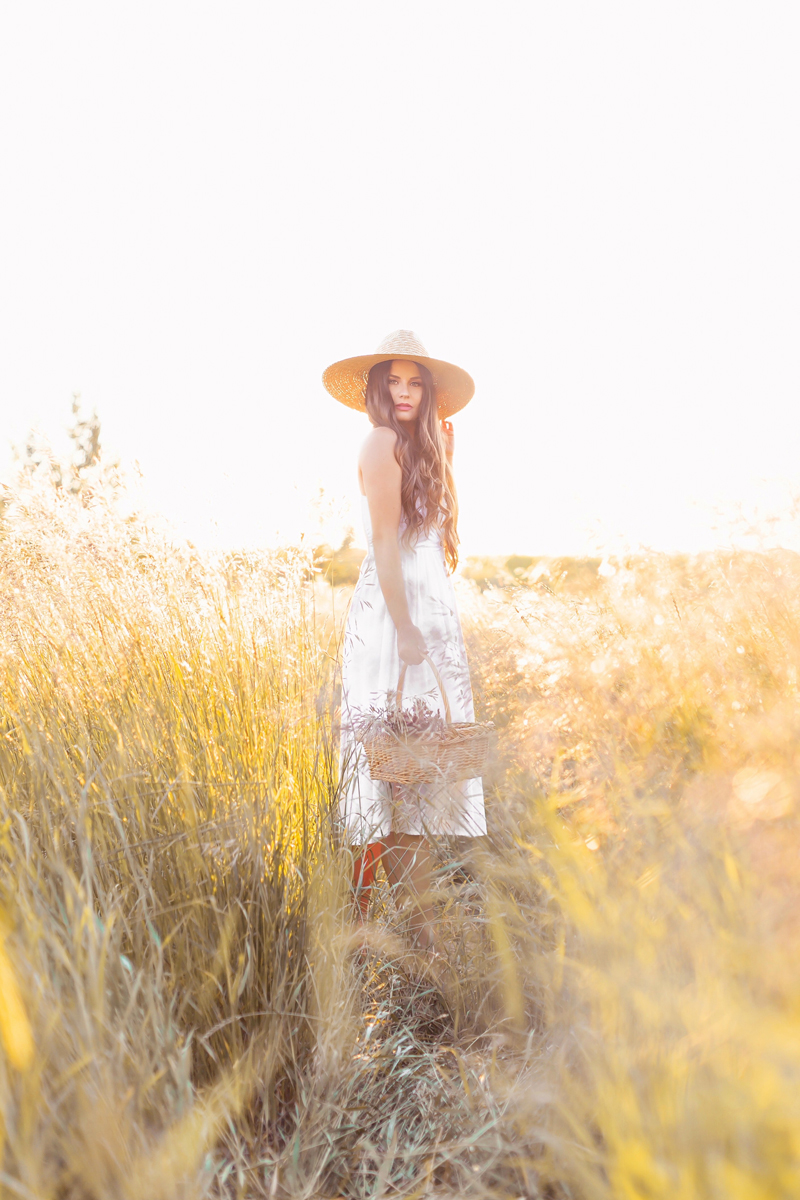 With the craziness of the world lately, I find myself increasingly drawn to the peace and tranquility of the prairies. I'm so fortunate to have this little oasis outside the city where life is simple, there isn't another soul around and we can almost forget that COVID exists. I've always been the type of person who sees the beauty in every little thing, but this year more than ever, I'm incredibly grateful for my surroundings. There's so much beauty to behold right here in Alberta — and I've had so much fun exploring and capturing it through fresh eyes this summer!⠀⠀⠀
⠀⠀⠀⠀⠀⠀⠀⠀⠀
If you don't have a place like that, know that you can come to JustineCelina anytime you're looking for a restful escape. I'll be channeling the serenity of country into my content all summer and autumn  — and you're always welcome! ⠀⠀⠀⠀⠀⠀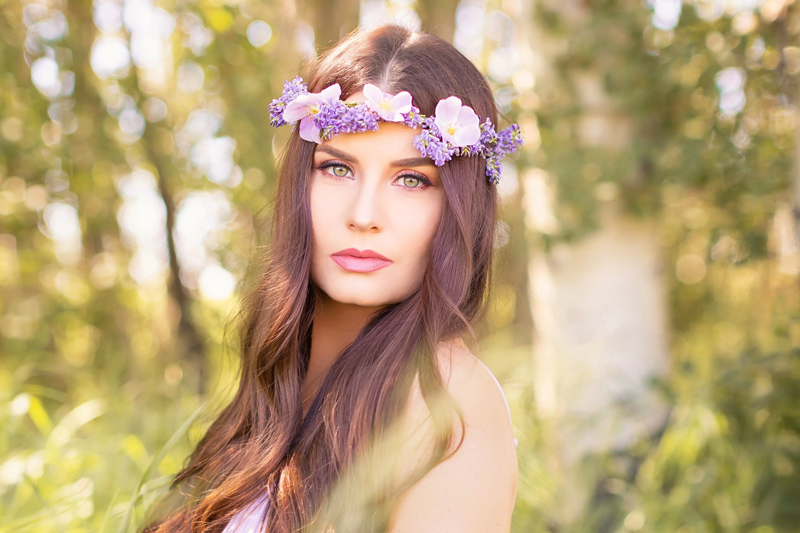 ⠀⠀⠀
Despite the circumstances, I've been making the most of all Alberta has to offer this summer as we explore the boundaries of travel within our own province. From spending more time in the country to discovering tranquil oases in the middle of the city, this summer has shaped up to be unexpectedly wonderful! I've also enjoyed spending more time offline with my cohort, enjoying the simple things and appreciating what truly brings me happiness.
I watched the landscape completely bloom and transform during my time at my childhood home in rural Alberta this summer. Everything from this Japanese Lilac Tree (which was a gift from my late Aunt), to the wild roses and wildflowers, to the canola — and of course, the first sprouts of our Country Garden! Despite what's happening in the world, Mother Nature keeps on doing her thing and I find that incredibly comforting. This lesson is something I've been practicing lately — focusing on living simply, sowing good seeds despite uncertainty and making consistent progress in pursuit of my dreams of each and every day.⠀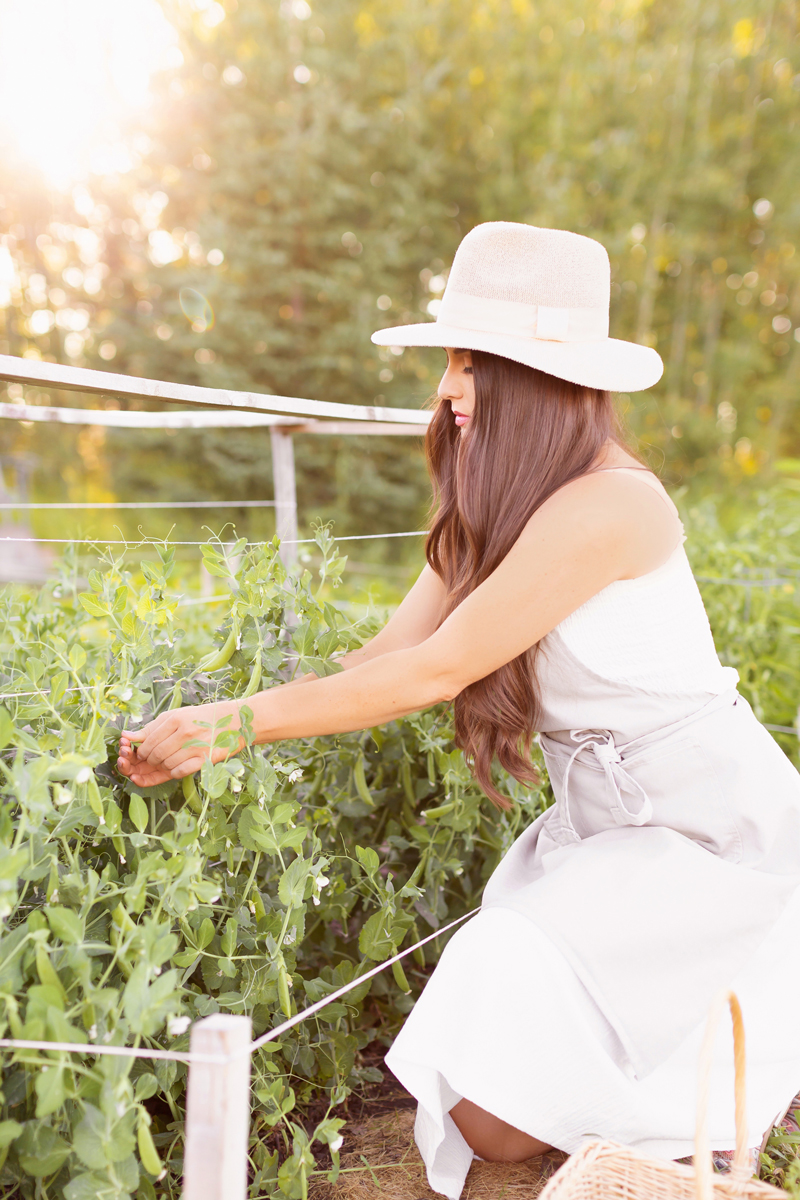 We've captured my Summer 2020 Lookbook over the course of the past 2 months — and it features my most worn, most loved pieces of the season. In a way, it's become my capsule wardrobe for a more relaxed life during these uncertain times. While many of these exact pieces are now sold out, what I hope you take away from this LOOKBOOK more than anything is inspiration. While I don't have control over how fast fashion moves, I do have control over how I consume it, wear it and share it with you. I relish in the process of my creative work, and this post has been months in the making — I hope you enjoy reading it as much as I've enjoyed creating it! 
As summer draws to a close, I hope you enjoy this collection of images I've curated into this peaceful digital escape to a place very near to my heart. Come along to my childhood home in rural Alberta for a dose of free spirited fashion as I share the pieces that have carried me through this ultra relaxed, oddly magical summer — plus how I'm styling them into autumn. I've linked as many pieces as possible for you throughout this post, along with similar, affordable alternatives.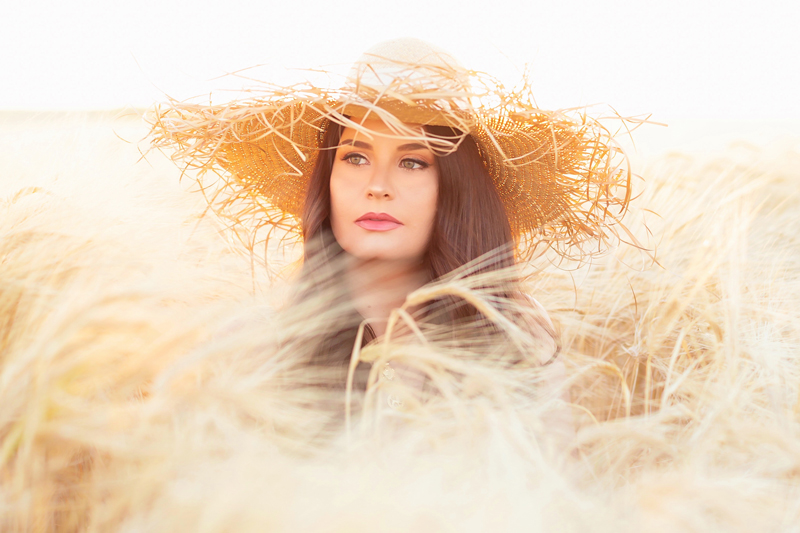 ---
MY FAVOURITE RUCHED DRESS
---
To kick things off, I must share the magical, $17.99 dress I've literally been living in all summer long. Initially I picked it up in White and Dark Yellow and ended up wearing them so much within the first couple of weeks that I purchased a second White version and a Black version!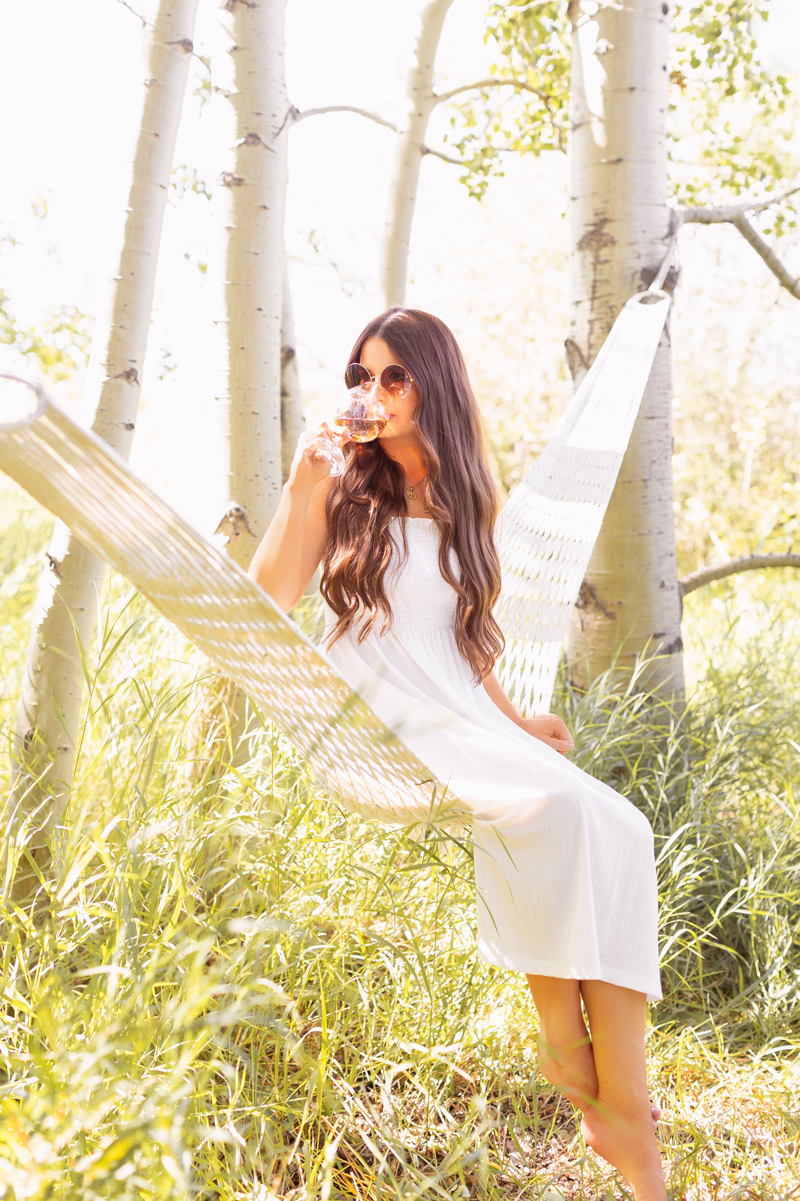 H&M's Crinkled Dress would make a fantastic staple in any woman's summer (or transitional) wardrobe. There hasn't been a week that passed since I purchased these dresses that I haven't worn them — and they're undoubtedly my most-worn pieces of Summer 2020. They're flattering, cool and breathable, light as air, wrinkle resistant, pack and wash like a dream and don't require a bra — I mean, what more can you ask for?! To be honest,  they're pretty much all I've been wearing during our recent heatwave. Give me all the breezy, effortless silhouettes, materials and accessories, please!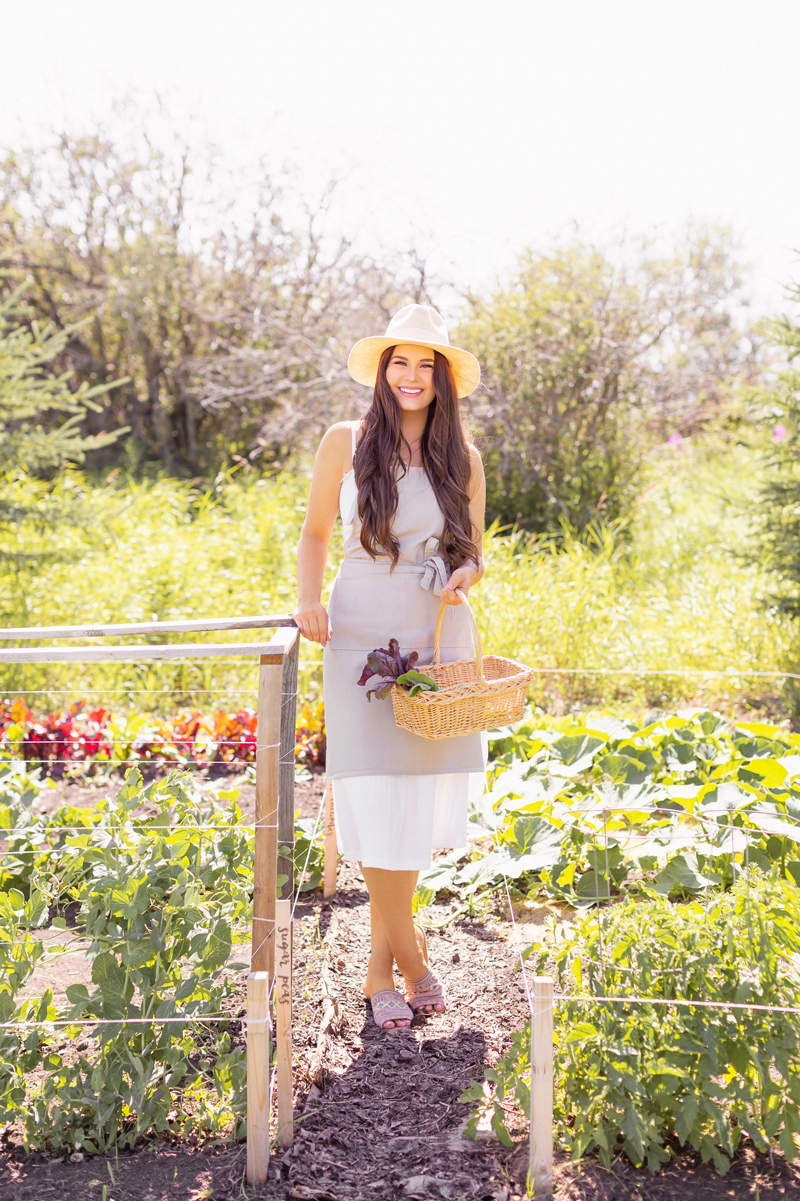 I throw on my Crinkled Dresses on on casual days both at home and in the country. They're incredibly comfortable and easy to wear whether I'm working away behind the computer, snapping photos, recipe testing, relaxing or enjoying some time outside.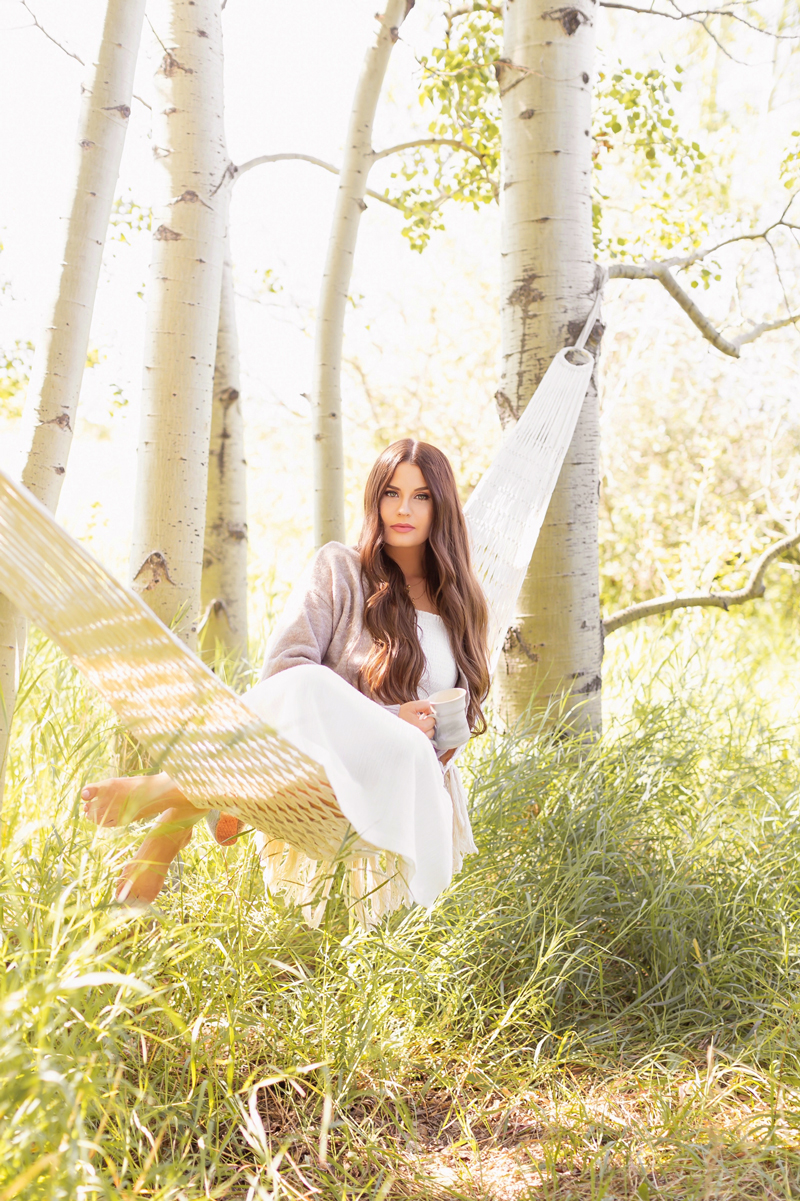 The styling options are endless — I like to just wear it alone around the apartment, tie a knot at the hem for some extra shape, throw a linen button-down, cardigan or sweater overtop for a extra layer of warmth, and even wear them underneath my apron while I'm gardening! I've been talking about planting my very own Country Garden, well, since starting JustineCelina over 5 years ago — and it took a global pandemic, but we finally did it (much more on this to come at a later date!).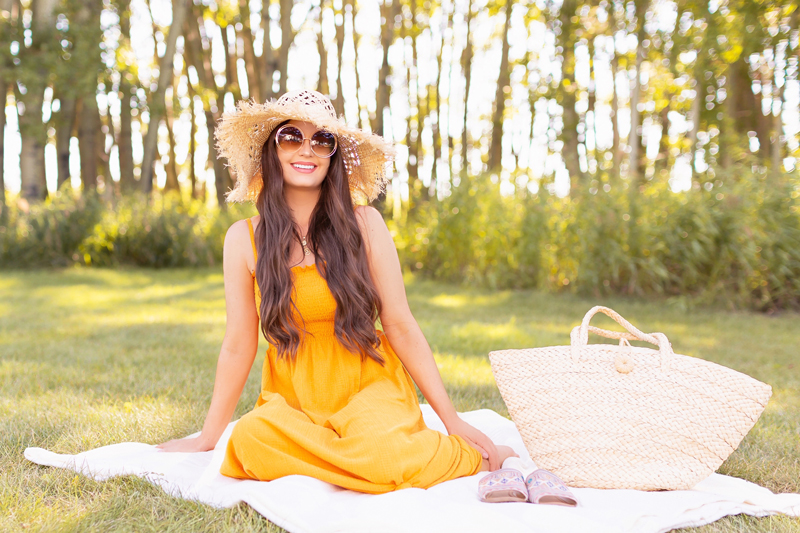 As I mentioned, I actually own 2 white versions of my white Crinkled Dress — one 'mess dress' that I wear gardening, painting, cooking, creating and just generally making a mess, and one that I reserve for other occasions. Although it bleaches up perfectly, I love having a comfortable, affordable dress I can throw on whenever I want that don't have to worry about keeping pristine — and the price can't be beat! For reference, I'm wearing an XS.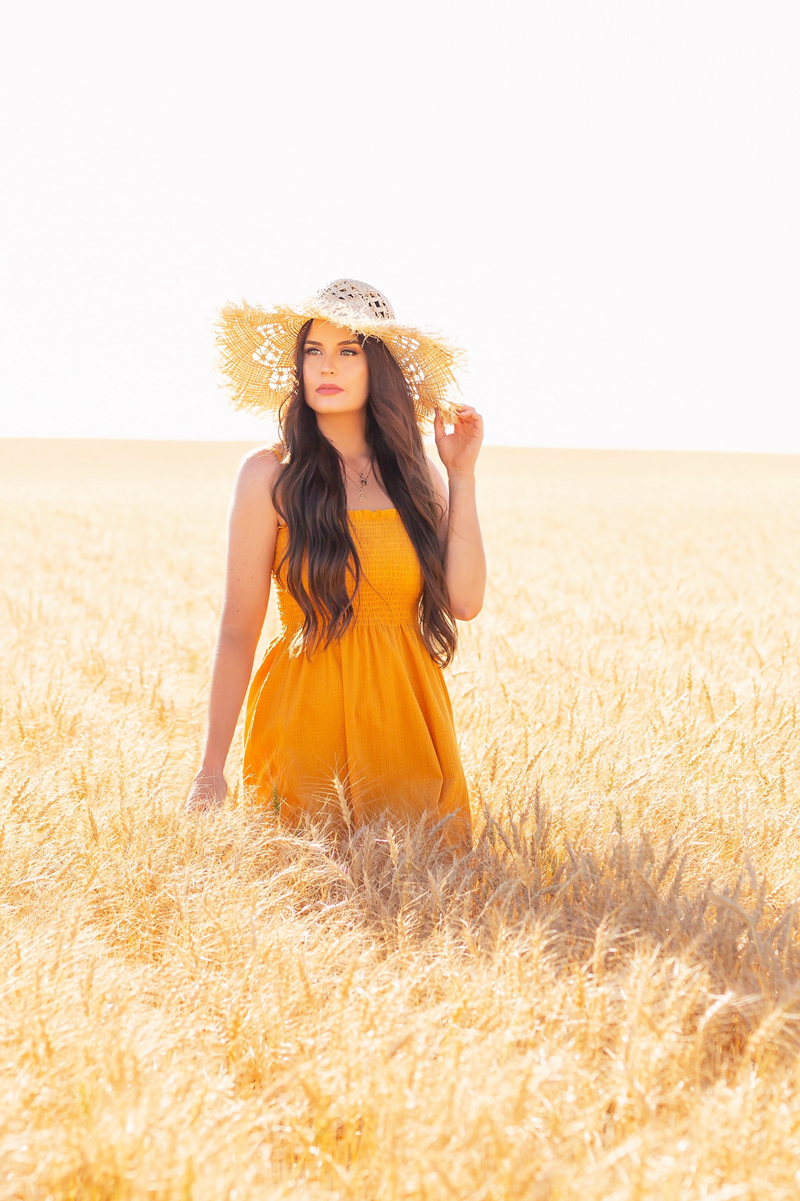 While the White versions are my most worn, the sunny Dark Yellow rendition is a close second (I'm actually wearing it today as I sit here editing this post), while the Black version makes the perfect no-fuss dress for casual summer evenings and date nights. Shop all 3 colourways of my beloved Crinkled Dress, along with my favourite pieces to style it with, below. 

---
MY FAVOURITE TIERED SUNDRESS
---
This V-neck Cotton Dress was one of my very first purchases at the beginning of summer! Although fabric composition is always something I'm mindful of, this year more than ever, I've been focusing on purchasing pieces in natural, sustainable fabrics. Cotton has always been a summer favourite of mine and I love the ease of dresses during warmer months for an effortless, instant outfit that doesn't sacrifice comfort!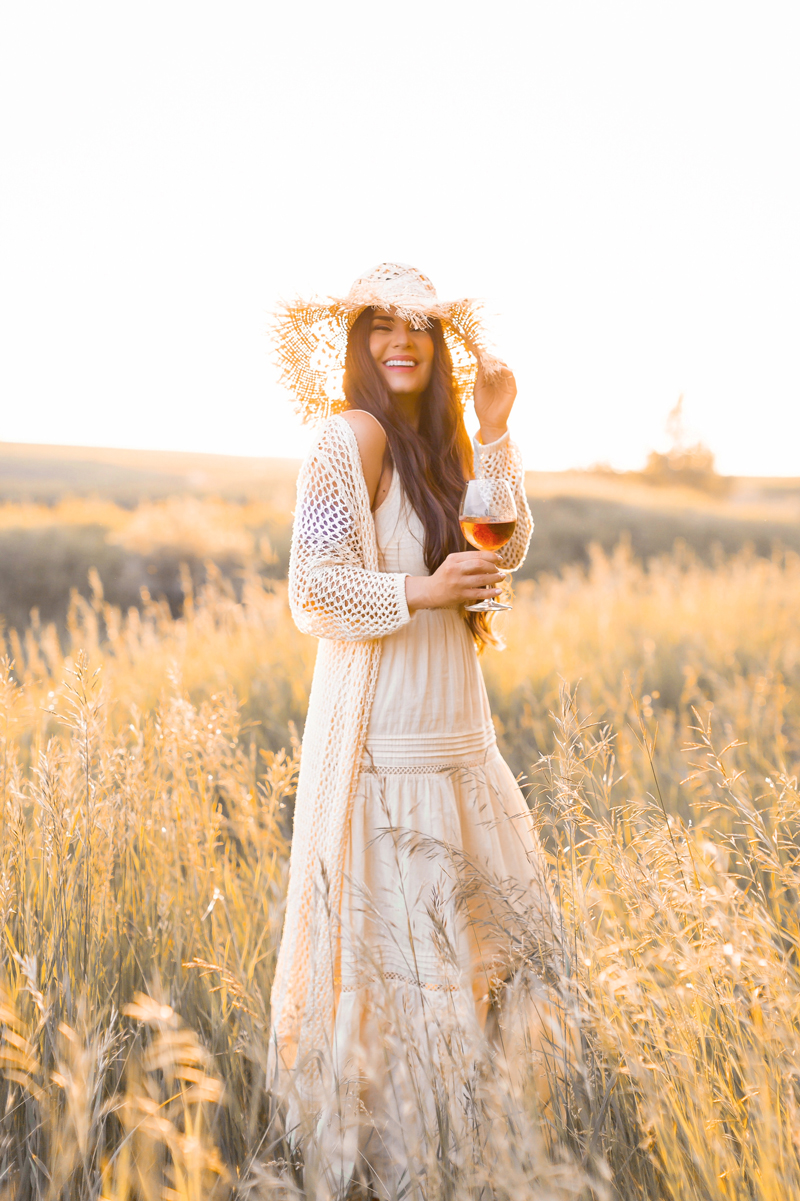 I was drawn to the beautiful, creamy yellow hue of this sundress — I love the subtle embroidered cutouts at the waist and tiers, which makes is incredibly flattering. The dress (and lining) are 100% cotton and it's absolutely dreamy on (I'm wearing an XS). I didn't purchase this dress in any additional colours as I already have a couple of white embroidered sundresses in my summer wardrobe, however, it's also available in White, Black and Cerise if you're so inclined.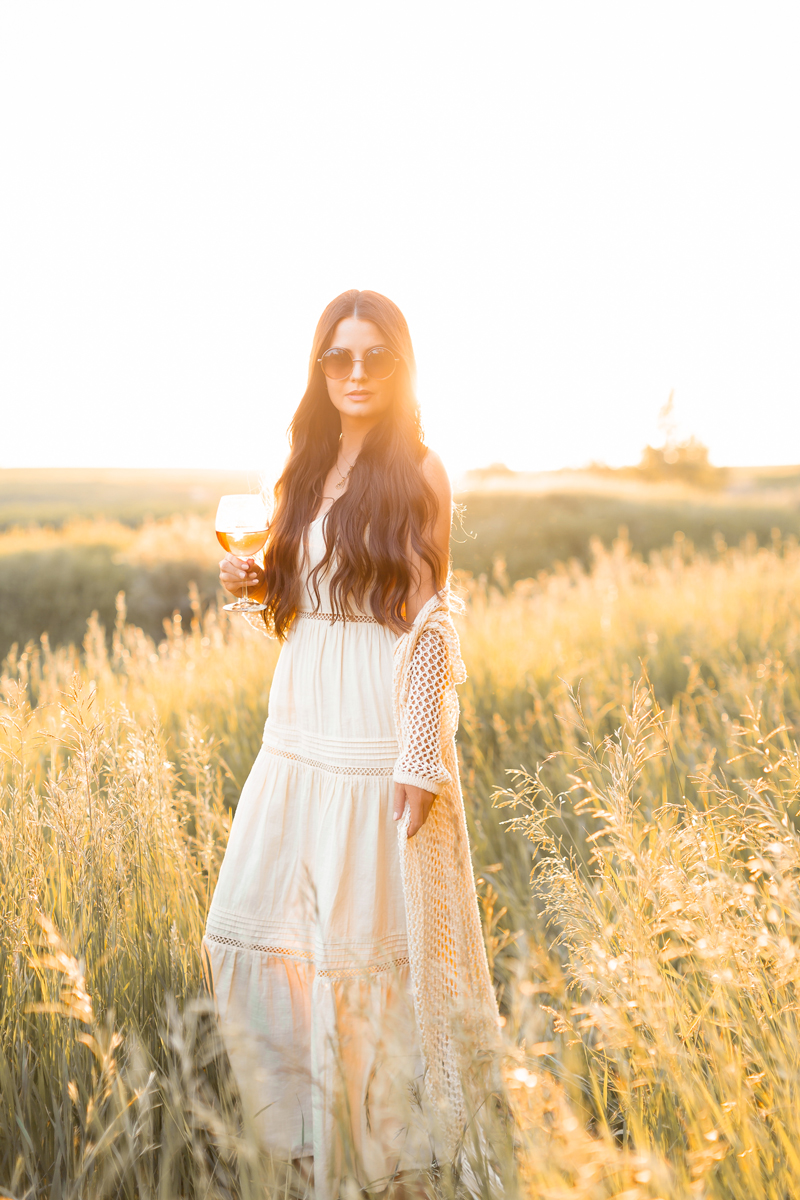 I actually captured these images with my self timer and tripod on the very first evening I spent in the country after quarantine restrictions were lifted. Charlie and I (he's back there in the grass somewhere) headed down to the stream to watch the sunset with a glass of rosé — which is one of my  favourite places in the world! I styled my sundress with a Frayed Floppy Straw Hat (another recent purchase that I adore), a crochet cardigan (this one is ancient but I've linked a similar one for you here) and my signature circular shades. Shop this look below!

---
MY FAVOURITE CLASSIC MIDI DRESS
---
This summer I'm all about breezy dresses, natural materials and timeless, comfortable silhouettes. I've been living in variations of this look all season long — you simply can't go wrong with a beautiful dress, espadrilles and a straw bag!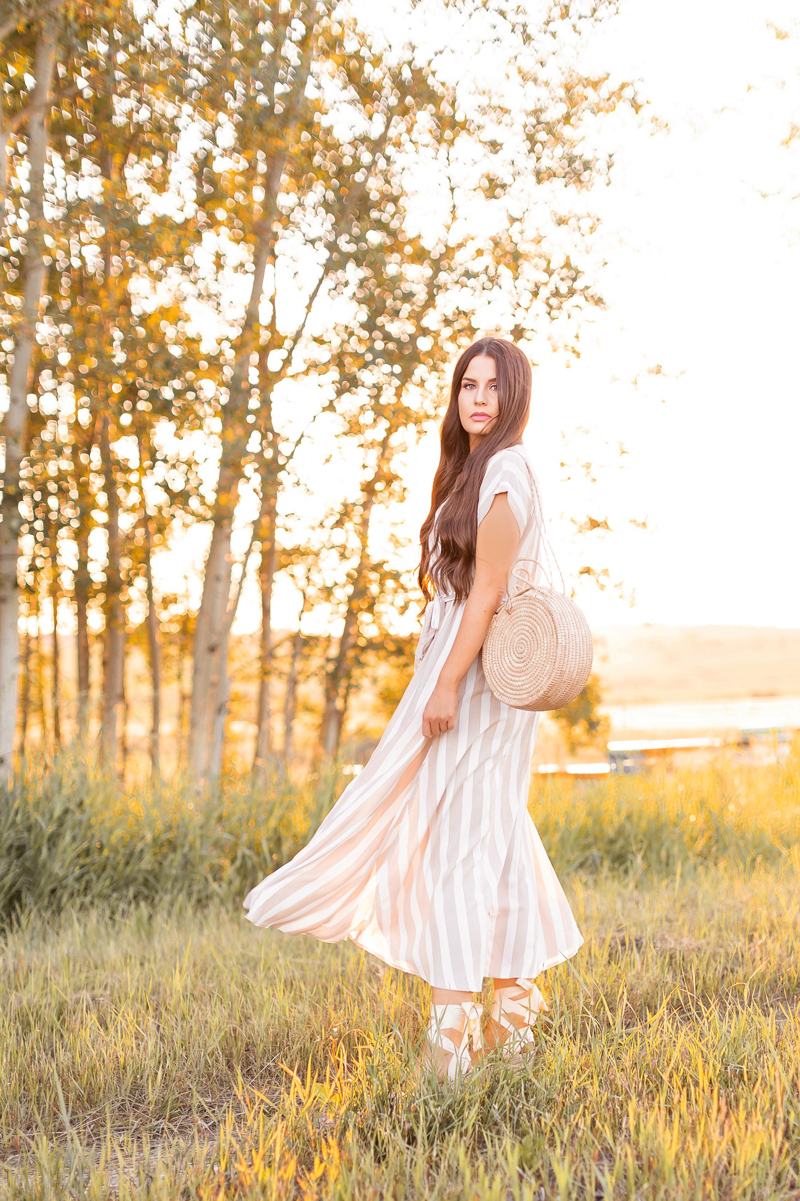 I added this demure H&M Button-front Dress to my cart earlier this summer to top it up so I could take advantage of a discount code, thinking I'd probably return it. It actually turned out to be my favourite item from my order — it's incredibly flattering, light as air, and comes in multiple colourways (I currently own three, which you can expect to see more of as we transition into autumn!). They've been restocking all summer but sell out quickly — I always have my eye on the other colours so I can snap them up when they become available!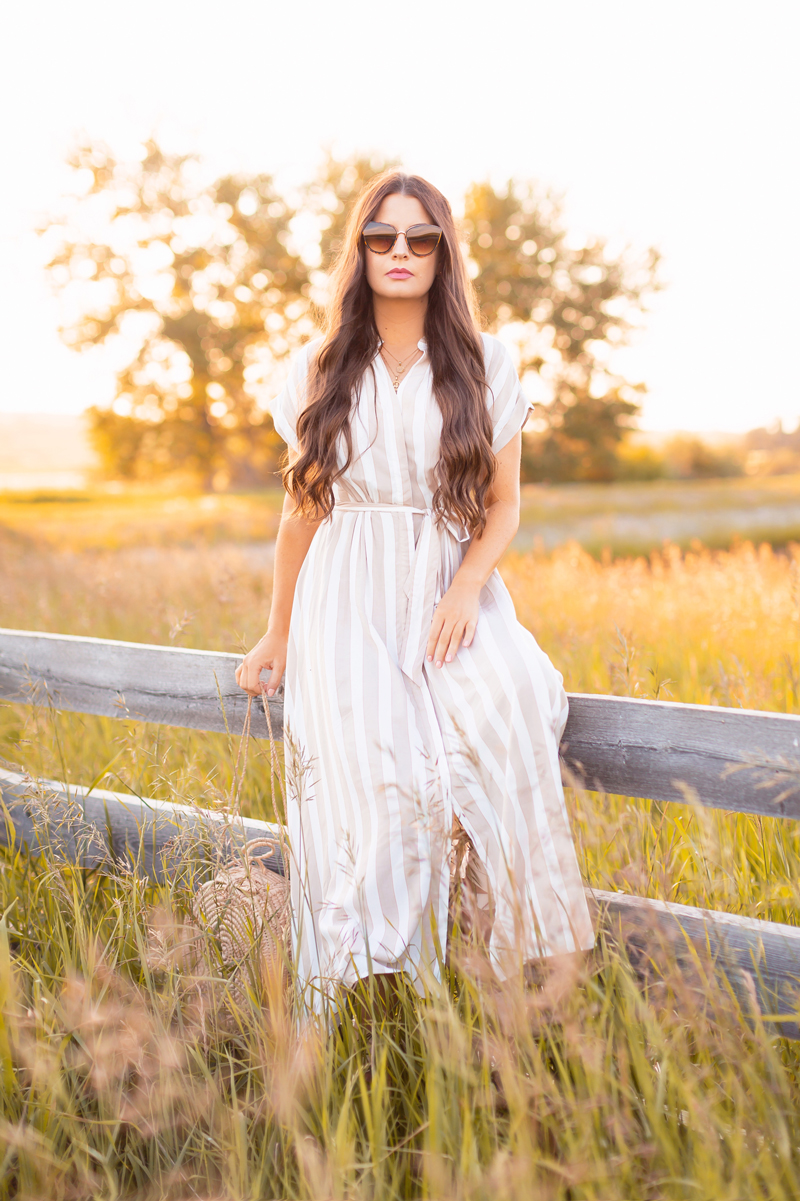 For reference, I'm 5'8″ and am wearing the XS — I find it quite oversized, but love the silhouette I can create by cinching the waist in with the detachable belt. This material drapes (and catches the wind) beautifully! This dress will also transition beautifully into autumn — I envision it with knee high boots, a cardigan and a felt hat!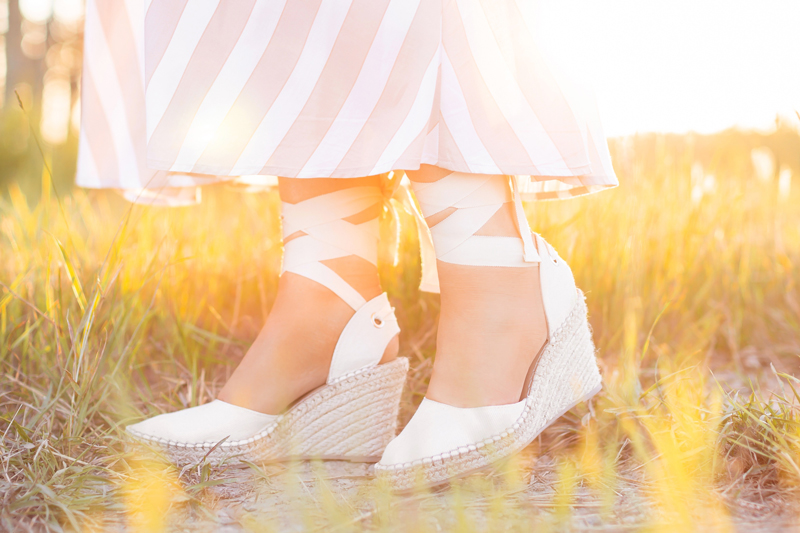 Full disclosure: I've been barefoot most of the summer, but when I feel like wearing a heel, I've been slipping into espadrilles. I love my espadrilles during the summer and was looking to expand my collection this year as they've been my most worn summer heel for years! I didn't have a cream pair and discovered these stunners at ASOS earlier this summer — so I also snapped them up in Black! They're incredibly comfortable and go with everything. Aldo's Muschetta are another longtime favourite espadrille of mine, so if you're looking to pick up a quality pair at an incredible discount (they're currently 50% off!), I've linked my go-to in Bone for you. They also come in Black and a beautiful Burnt Orange.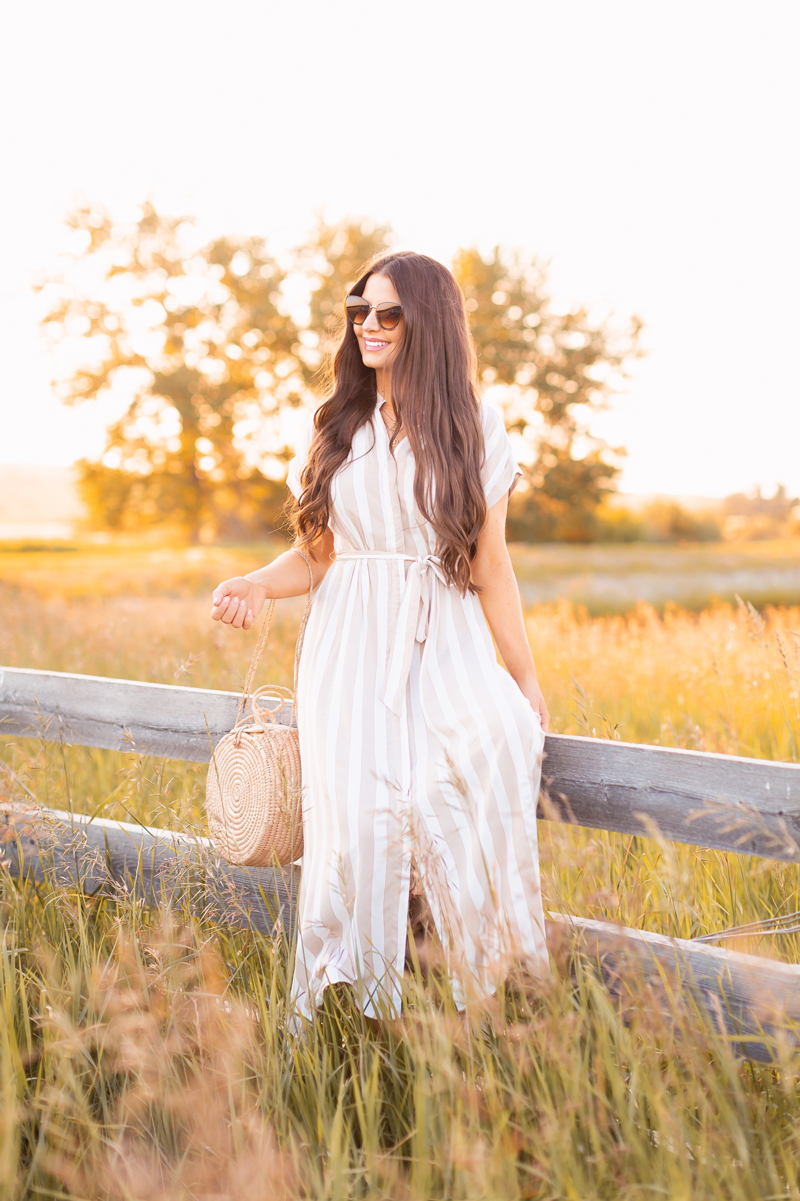 My beautiful bag was purchased locally a couple of summers ago at East Village Junction (it probably looks very familiar!) — and it's since become one of my most treasured summer handbags. It was sustainably made in Africa by a female artisan that's unfortunately no longer selling them, but I've managed to source some similar options  and link them for you below! 

---
LUXE LOUNGEWEAR
---
This vintage macrame hammock we rescued from the depths of the basement at my childhood home in rural Alberta is one of my of my favourite discoveries of the summer! We hung it amongst the Aspen trees in front of the small stream that runs along the back of the property — and it may just be the most tranquil spot I've ever enjoyed a glass of wine.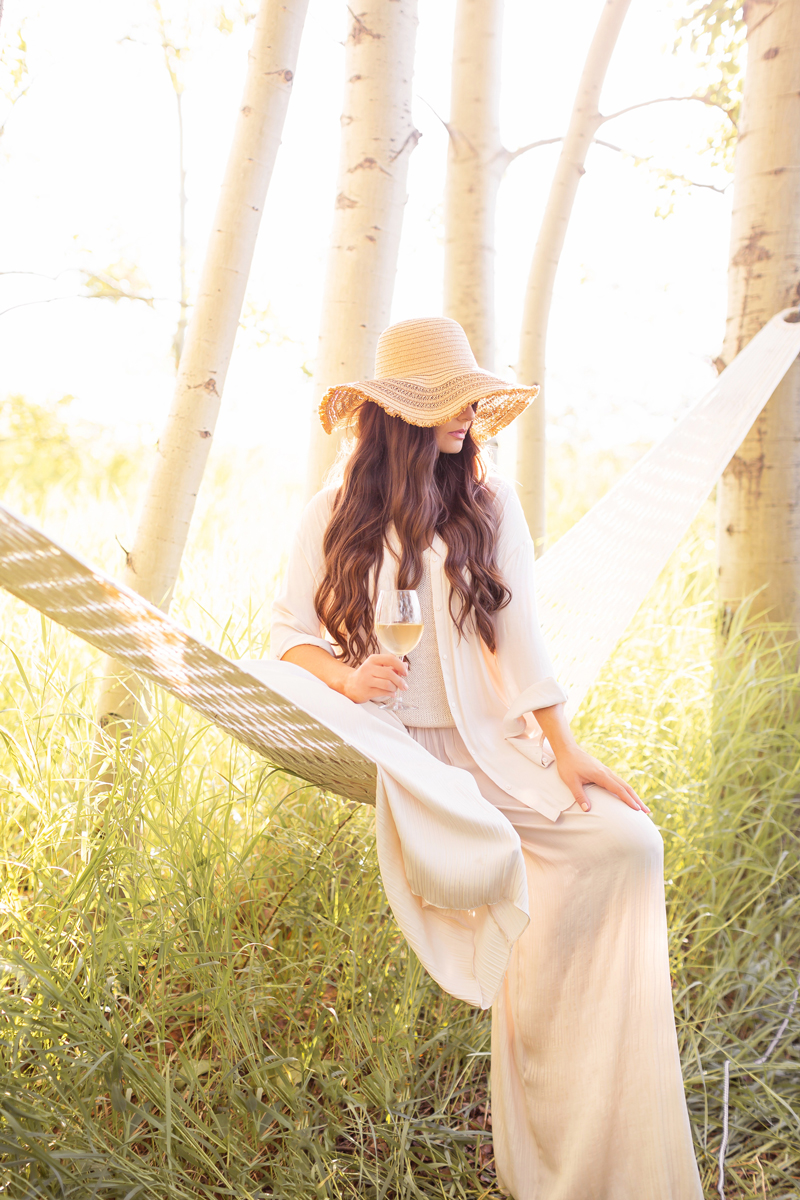 I've expanded my loungewear wardrobe exponentially this year — but even despite all the time I've spent at home, I continue to look for quality pieces that I can wear in multiple settings. While my dreamy, Pleated Palazzo Pants are a new purchase (and are currently on sale!), I purchased my knit tank and satin shirt last summer — and they've been on repeat ever since. I've actually picked these knit tanks up in nearly every colour available over the past year and I find them incredibly versatile year round (click here to see how else I've styled them!). My satin shirt (similar here) is another seasonless staple, which is beautiful buttoned, or used as a layering piece. I know I'll enjoy styling my palazzo pants with heels (they're ultra long!) for more elegant occasions in the future (oh how, I miss my stilettos!).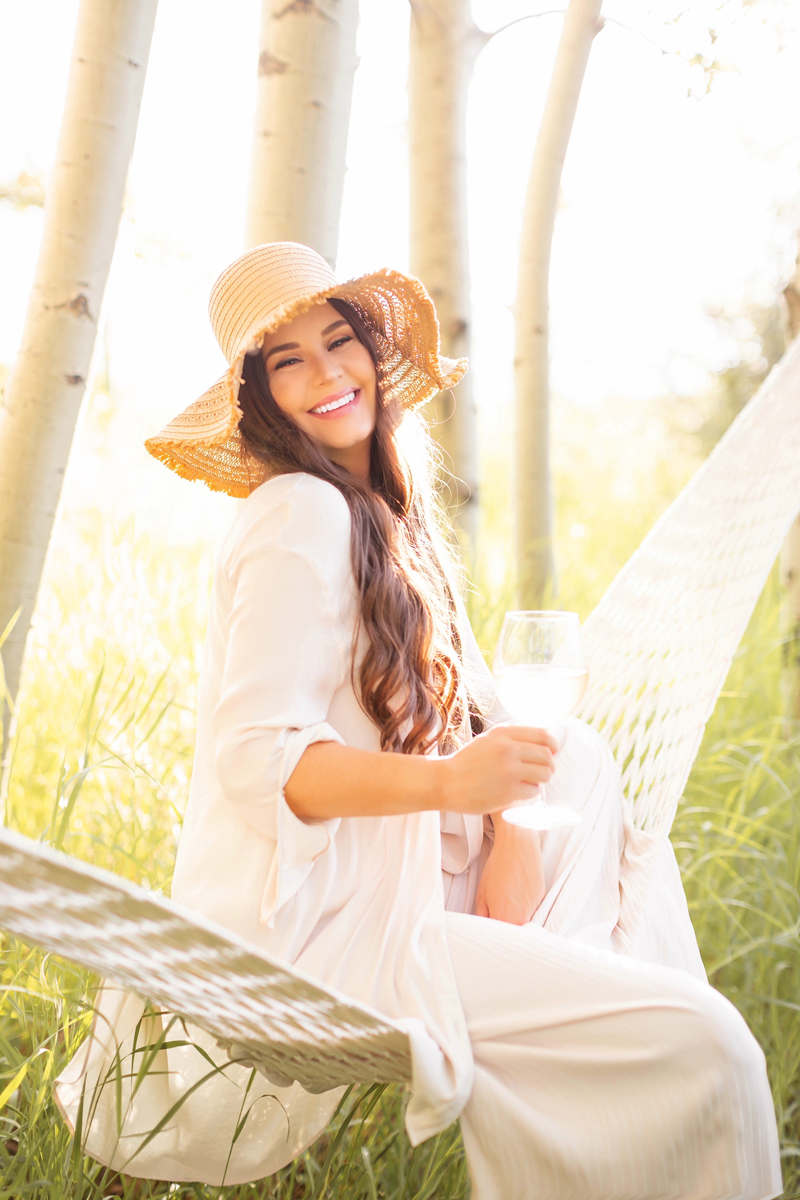 Monochromatic dressing is something I'm still very much into — it's always been one of my favourite ways to look more polished and elegant, no matter the setting. This year, I find myself going monochromatic with my loungewear to elevate my ultra casual looks, too! I have a Loungewear Lookbook planned for the fall where I'll be sharing more chic, comfortable outfits like this one — so be prepared to see this outfit formula on repeat, as it's one I wear often while I work from home!
---
MY FAVOURITE BREEZY COTTON DRESS
---
This Crinkled Cotton Dress has been another summer staple of mine, whether I'm hanging out at home or enjoying some time in the country. I currently have it in 3 colourways and they're the dreamiest, coolest, easiest pieces in my seasonal wardrobe!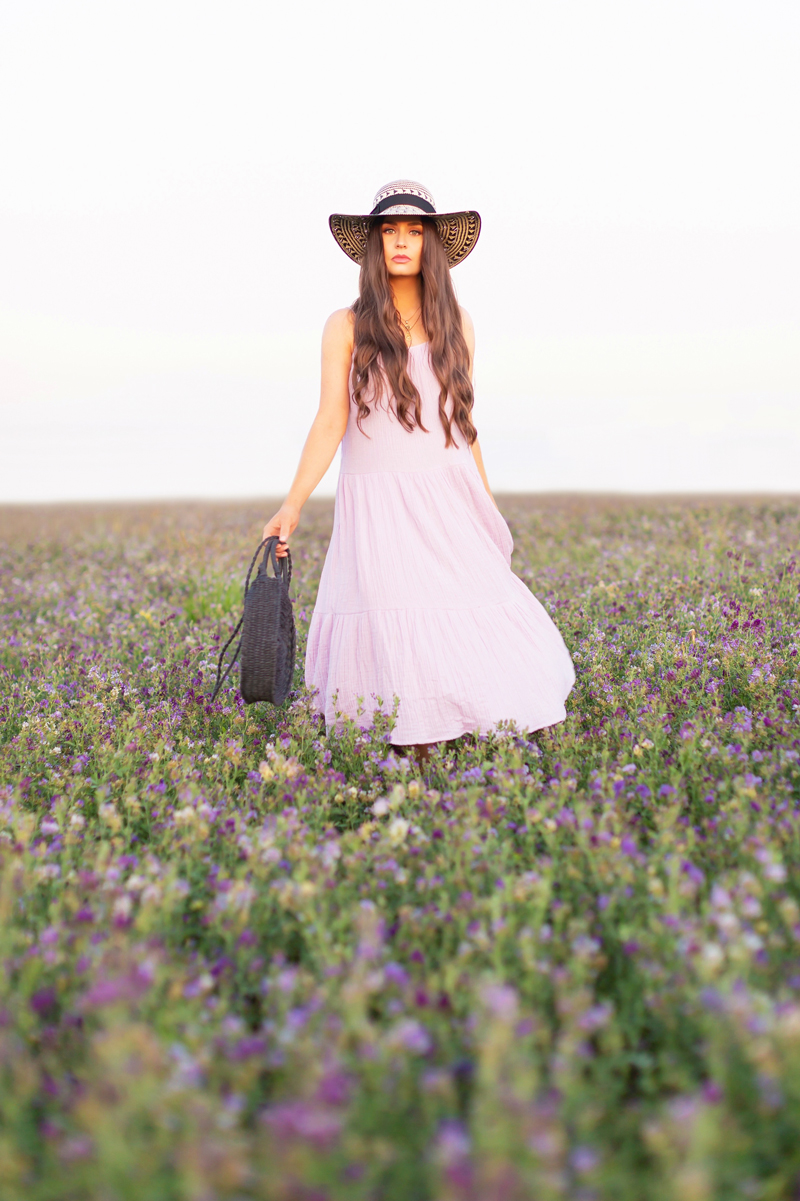 The lilac version is the one that initially caught my eye back at the start of the season. As soon as I had a chance to try it on, I immediately ordered the White and Floral versions, too!  Their breezy, oversized silhouette is perfect for hot summer days (and nights!) and can be styled so many ways. Here, I'm wearing the lilac Crinkled Cotton Dress with a hat I picked up in Napa Valley 6 years ago — I figured since I won't be visiting again anytime soon, I'd bring a bit of Napa to Alberta!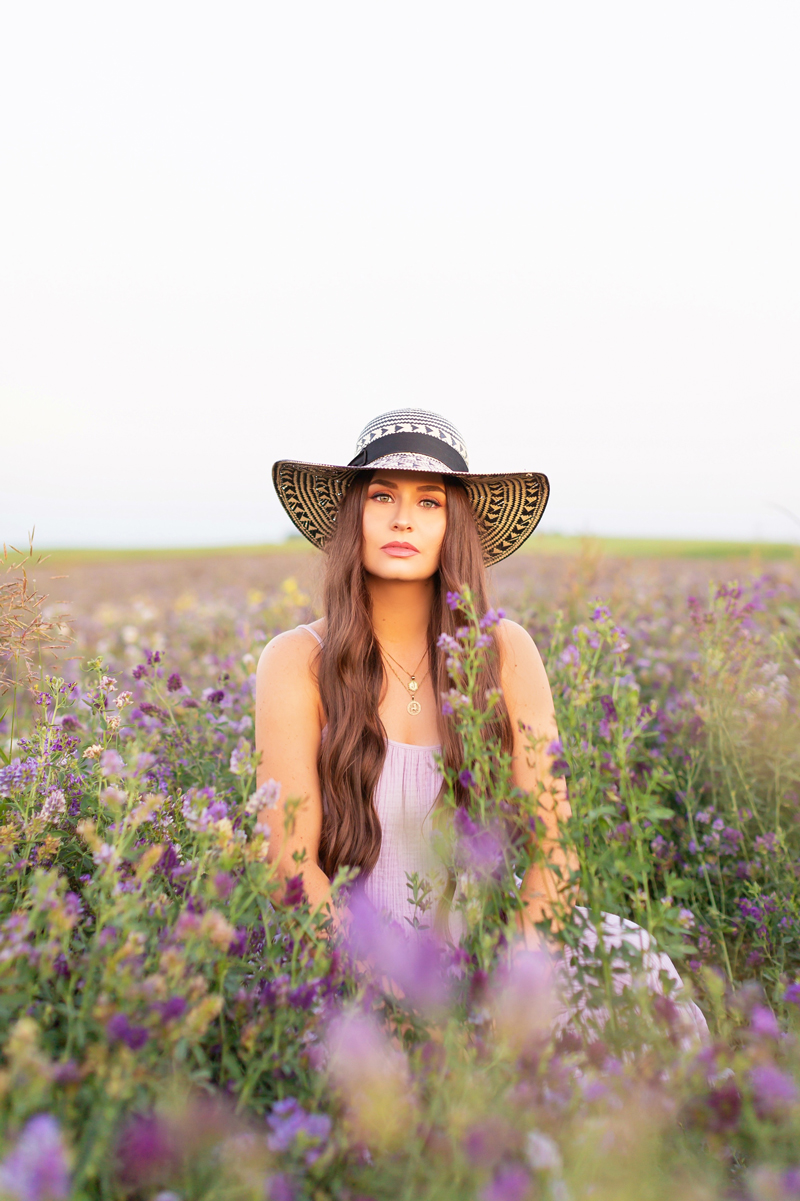 From spending more time in the country to discovering tranquil oases in the middle of the city, this summer has been unexpectedly wonderful! More than ever, I find myself seeking magic in the mundane and appreciating life's simple pleasures — like stumbling on this stunning alfalfa field in full bloom.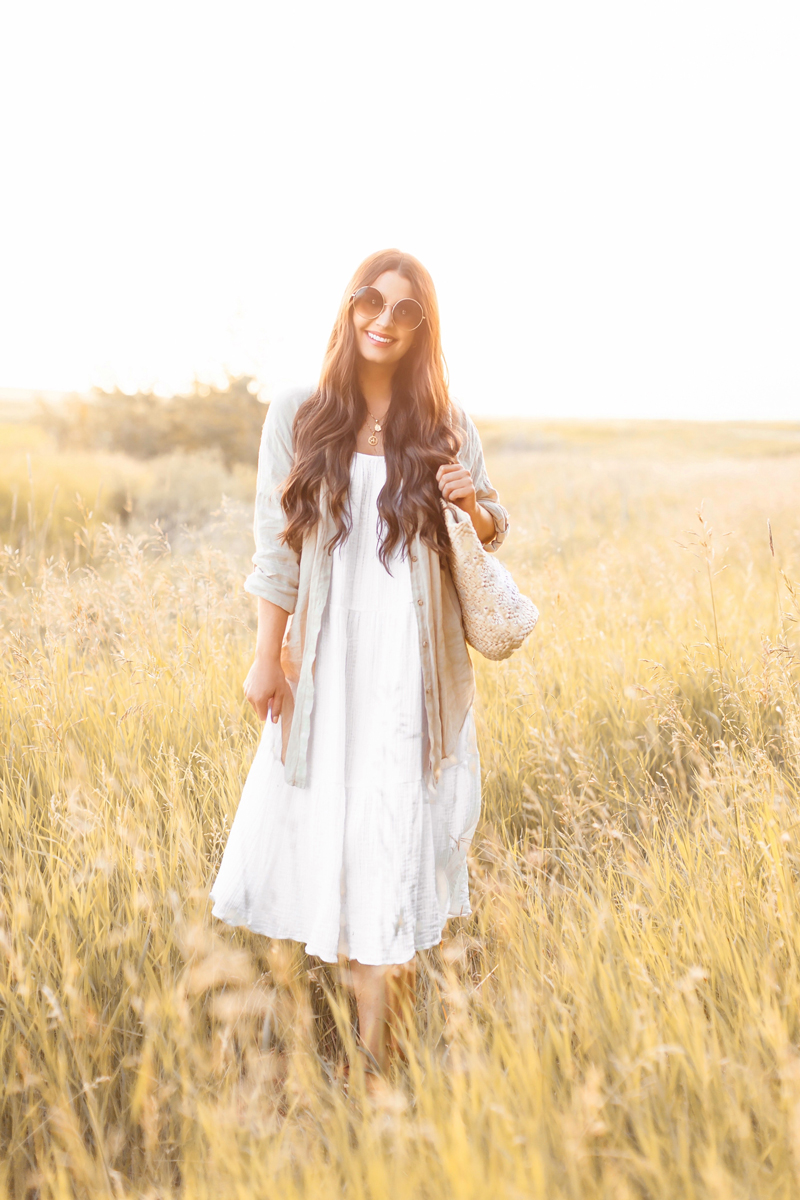 The White version is a favourite for ultra casual days and I love to pair it up with linen button-downs, straw bags and round shades — which has basically my summer uniform! This look has seen me through many Alberta roadtrips and I love the ease of having so many comfortable, lightweight basics in my seasonal wardrobe that I can mix and match. Shop my favourite gauzy cotton dresses (I'm wearing S for an ultra oversized silhouette), plus my favourite accessories to style them with, below! 

---
LINEN LOVE
---
Although linen has always been a fabric I've enjoyed, both in my home and in my wardrobe, this summer I've added a substantial amount of this dreamy, natural, lightweight fabric to my closet. Not only is it cool and comfortable, I adore the effortless air it lends to any ensemble!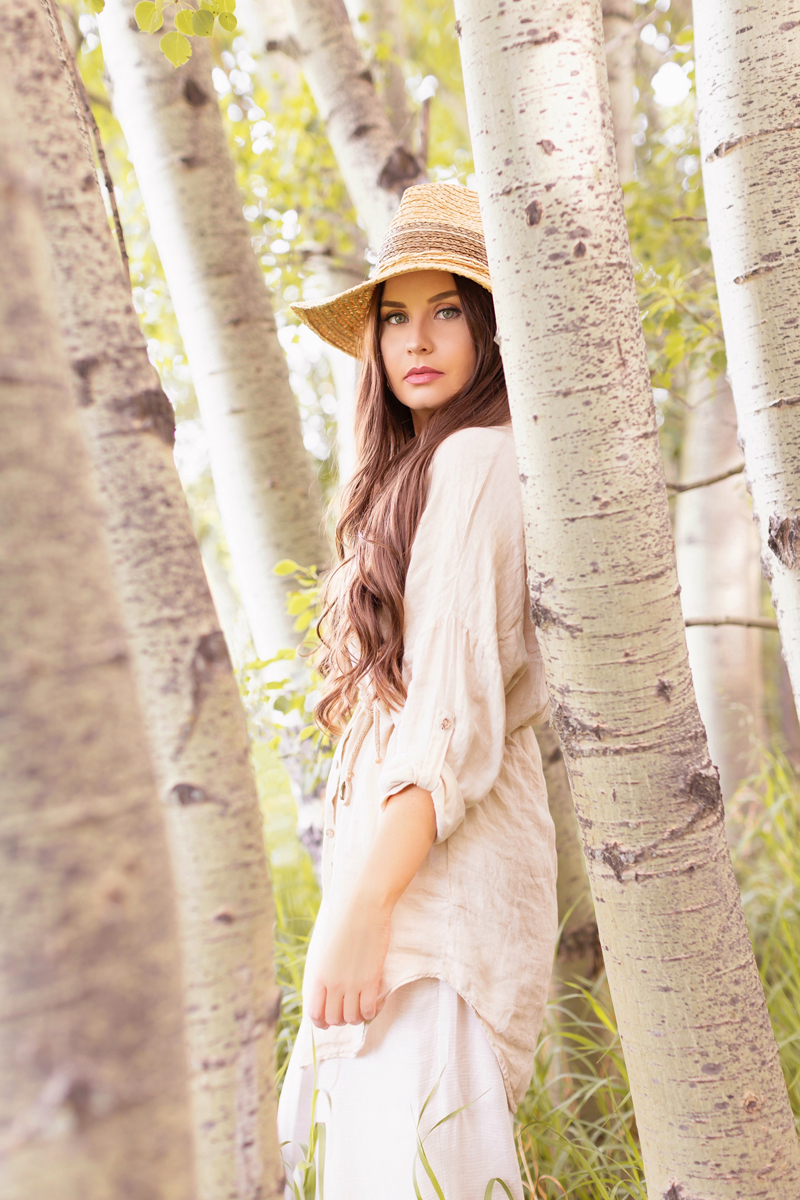 By now this linen button-down should look quite familiar, as I've used it as a layering piece overtop of many of the other pieces featured in my Summer 2020 Lookbook. Back in June I was on the hunt for a couple of relaxed linen button downs and stumbled on two in the Zara clearance section on my first mall shopping trip after quarantine. While I've always preferred online shopping, I really missed popping into the mall to browse when I had a return to make and stumbling on those hidden gems you simply don't encounter in the same way when online shopping!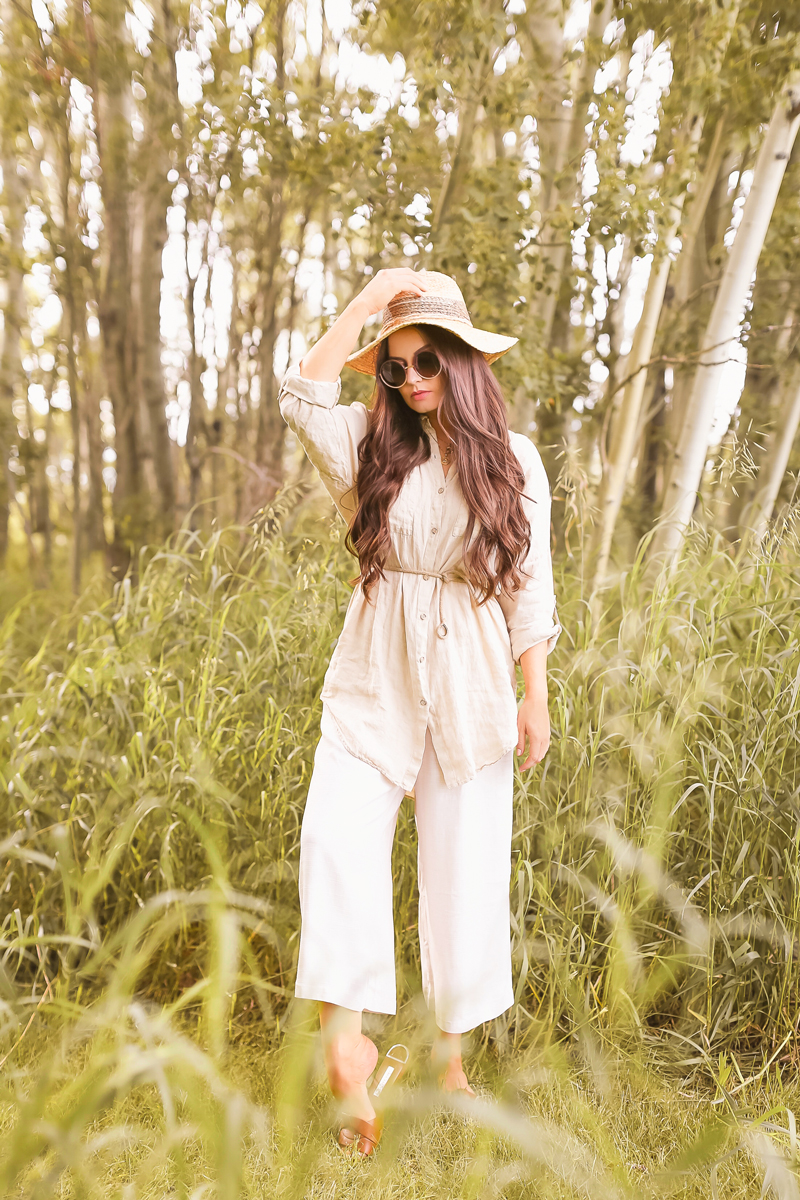 I love that I can wear this one open, buttoned, or cinched in at the waist with this natural jute belt (which came with the shirt!) for some extra shape. Here I've paired it with a pair of linen blend culottes (that are incredibly light and comfortable!) to create an elevated, but casual, monochromatic look. I've topped things off with an old Zara straw hat, my beloved Crossed Leather Slides (which I'm thrilled they've brought back this year!), and a pair of gradient circular shades. If you're looking to add some linen love to your wardrobe as we transition into fall, I've linked similar items below! 

---
MY FAVOURITE LINEN SUNDRESS
---
If you've followed along with my STYLE content over the years, you'll know I'm definitely a repeat offender. If I absolutely love something, I embrace the opportunity to purchase it in multiple colourways!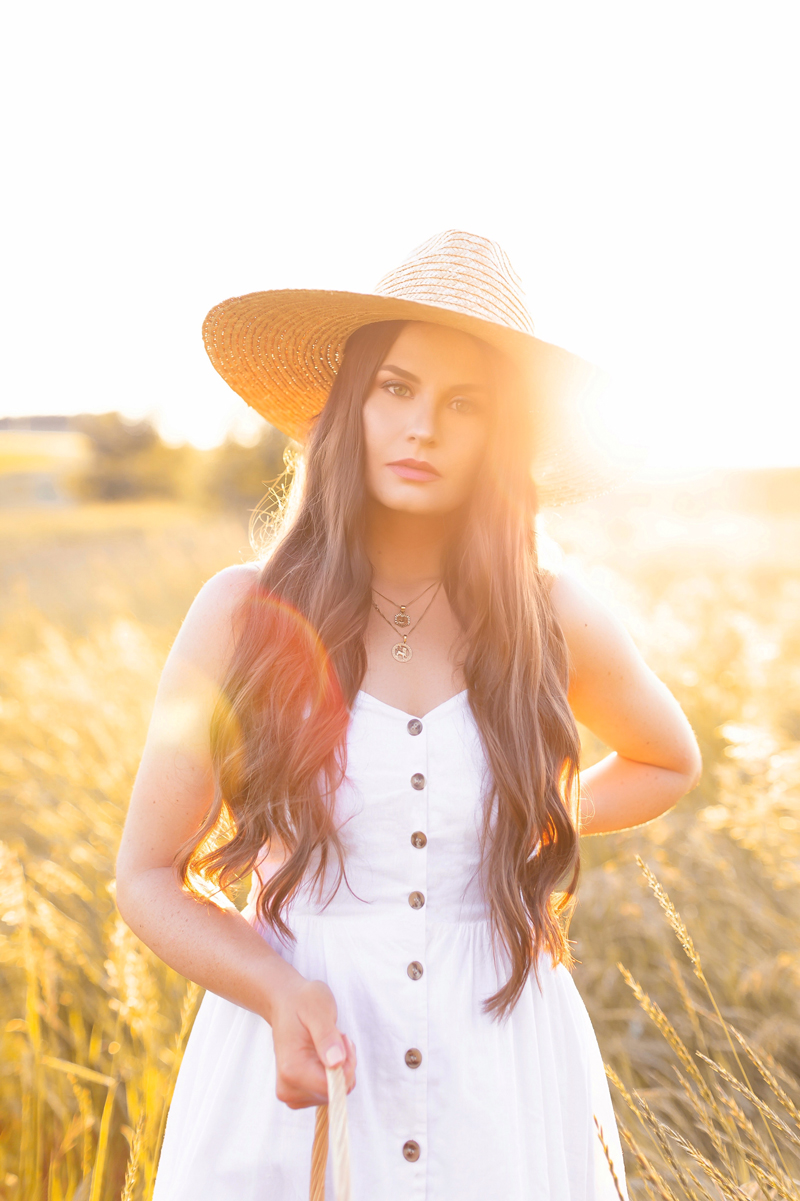 This summer, I finally found my perfect linen sundress in H&M's Linen-blend Dress — so I purchased it each of the 5 colourways! While most of the sizes appear to be sold out online, I spotted them in pretty full size runs in store during my most recent mall trip, if you're comfortable shopping in person. I've actually only been to a mall 3 times this year — oh, how times have changed!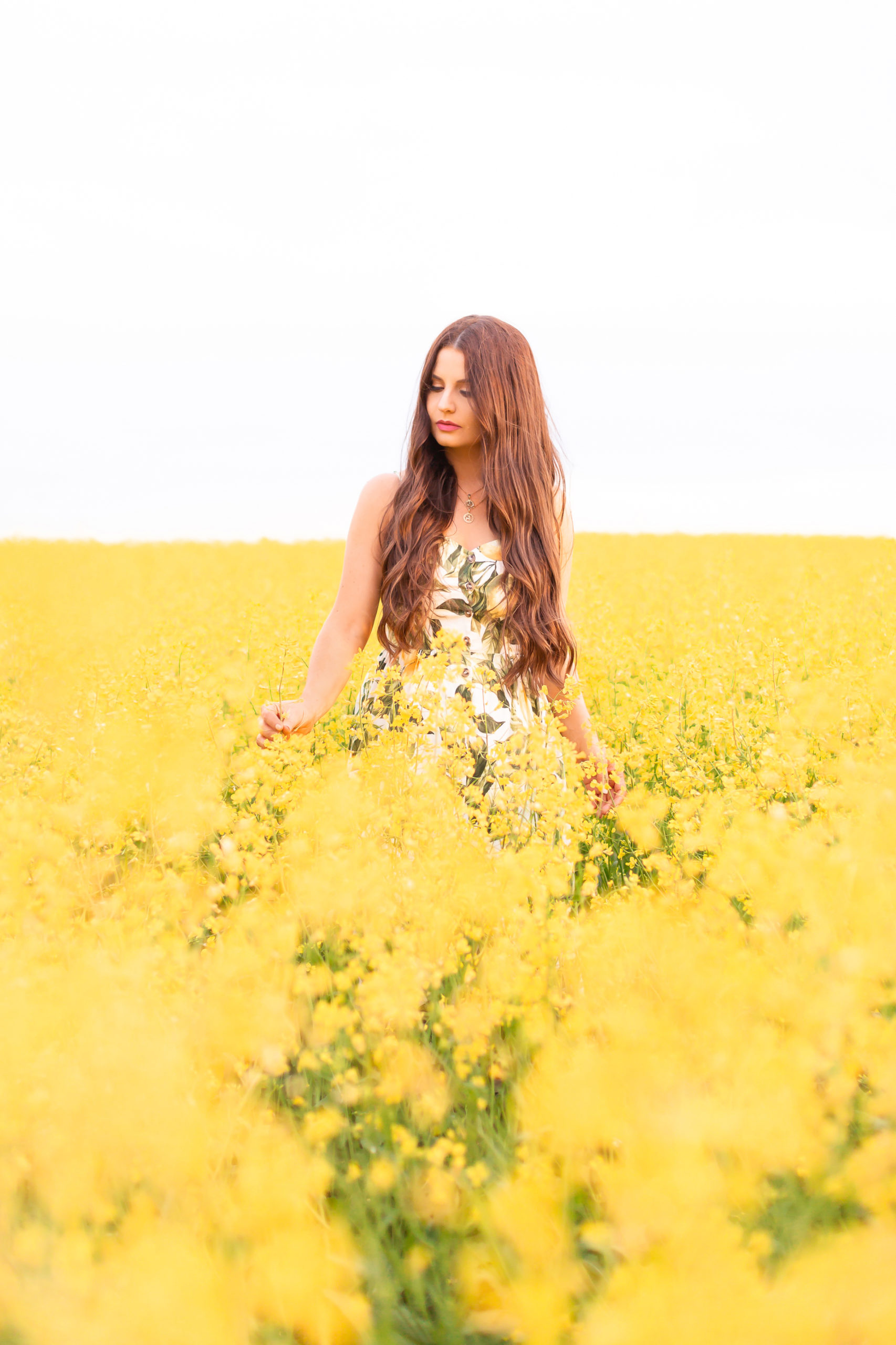 I was initially drawn to the White/lemons colourway (it's very Tuscan-inspired and appears much more premium than its modest pricepoint!), but also added the White and Cream/floral renditions to my first order. I was so impressed with the fit and quality that I decided to snap up the Cream/blue patterned and Black versions as well! One thing I will note is that the sizing is inconsistent (I'm wearing an XS in the White/lemons colourway, which is actually a bit big on me, and a S in all the rest, which somehow fit perfectly!).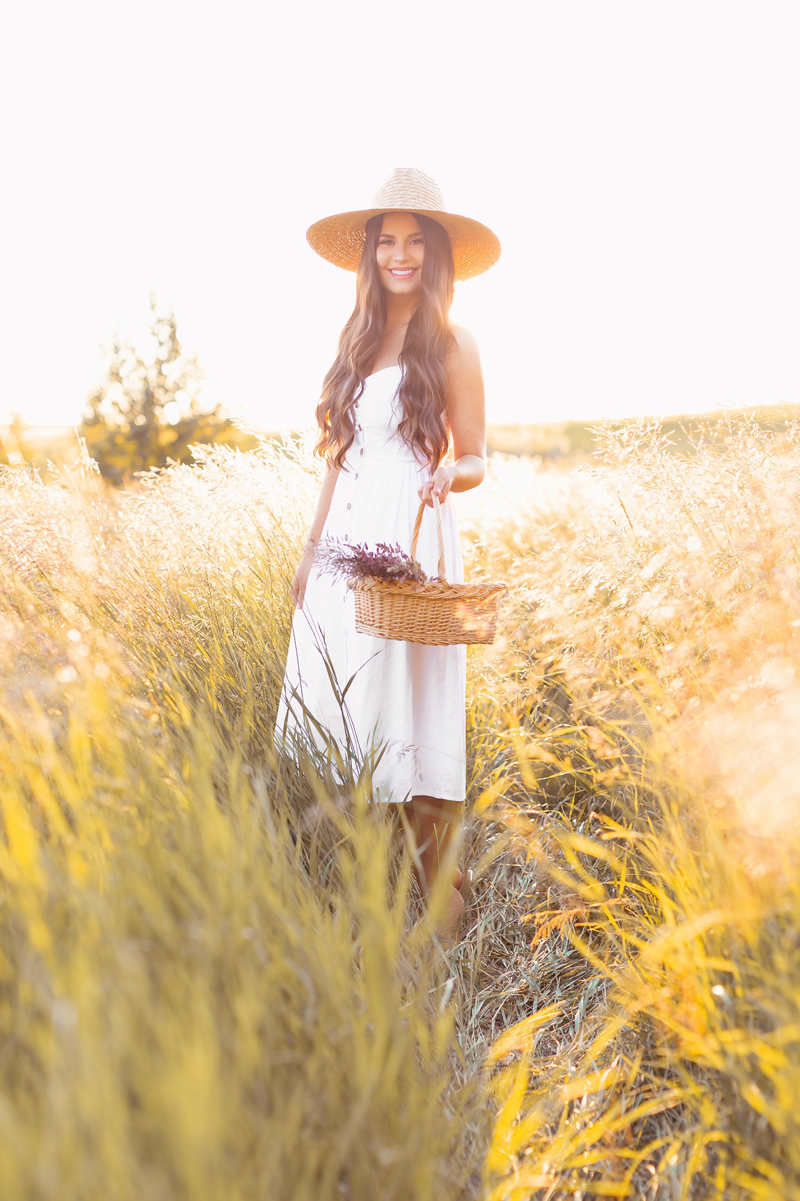 While the weather is beautiful I've been enjoying styling them up with slides and straw hats during the day, while pairing them up with espadrilles and smaller woven bags for (rare) evening occasions. We've enjoyed a couple of very selective patio dinner and date nights this summer to celebrate special occasions, when I've welcomed the opportunity to dress up a bit. I love the Black version for summer evenings — I actually wore it to my birthday dinner, where we dined al fresco!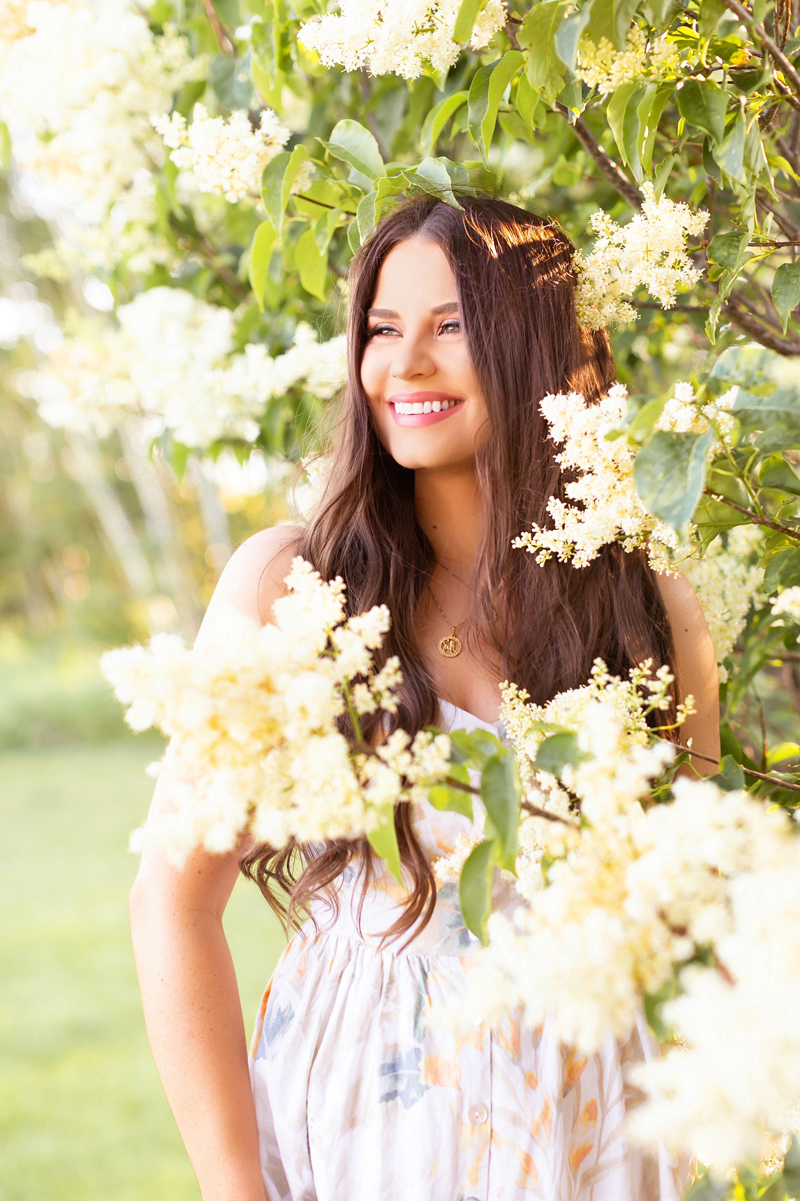 As we transition into fall, I'm planning to pair them up with either cardigans or loose knits for an added layer of coziness. These sweet linen dresses are truly so versatile and will remain a cornerstone in my summer wardrobe for years to come! Shop my favourite linen sundresses below — with updated links for 2021.   

---
SUNLIT SAGE
---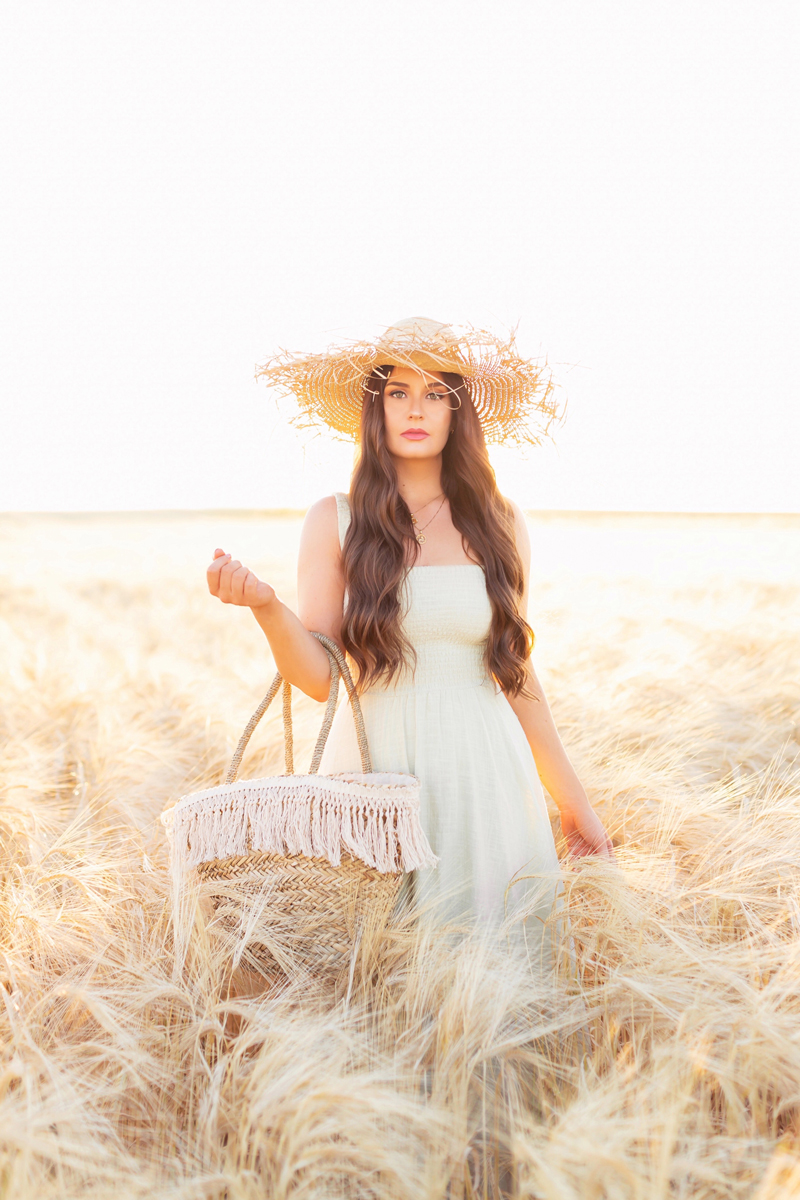 And last but certainly not least is my favourite look we captured for my Summer 2020 Lookbook featuring this absolutely stunning sage green dress (my latest COLOUR CRUSH!) set against a sunlit barley field. This set of images is a more recent capture from mid August, once all the crops had transformed from green to golden — and I couldn't resist popping out to capture them in all their beauty just before harvest! It was such an ethereal scene it almost didn't feel real.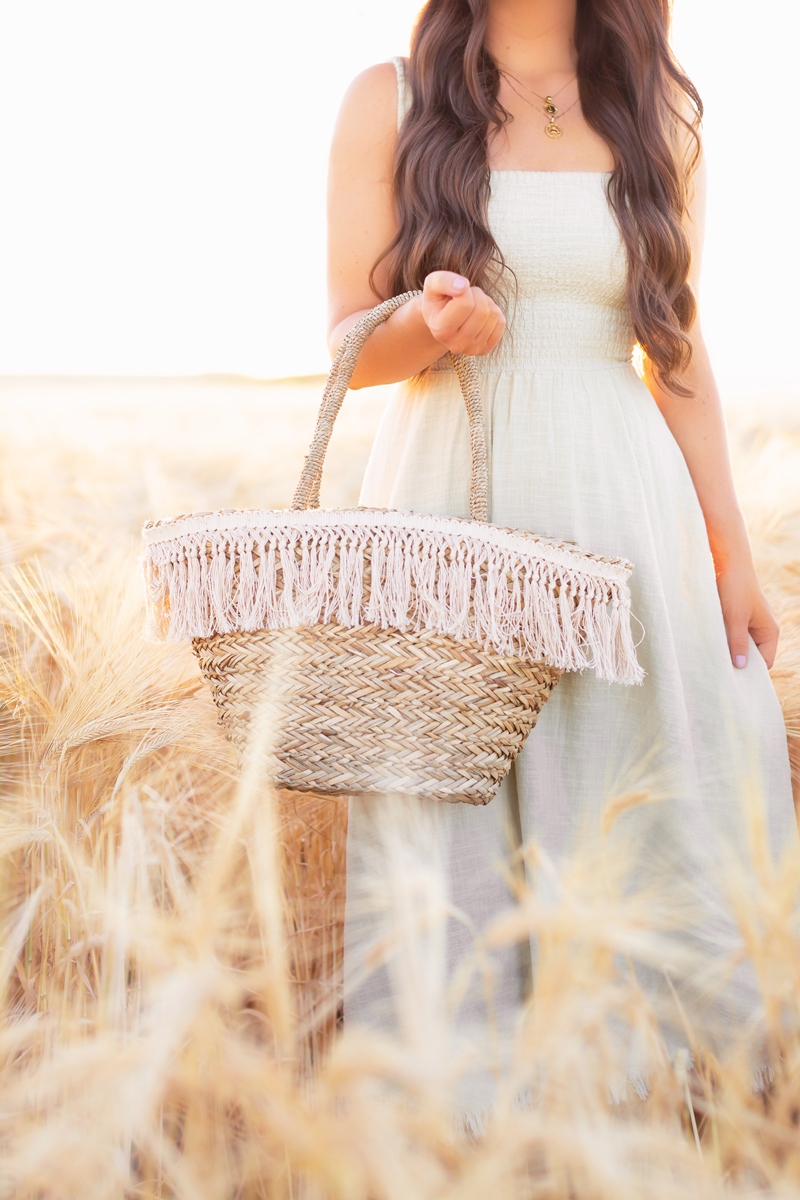 As soon as I saw this Rustic Dress pop up online, it was an instant add to cart situation. I adore everything about it — from its gorgeous hue, to the flattering smocked bodice, to the wide set shoulder straps, to the dreamy bias cut drape (thanks to its thick, woven, 100% cotton composition) to its raw hem. Although the pricepoint is a bit more premium for Zara, it's worth every penny — and if they came out with additional colourways, I'd probably snatch them up, too! For reference, I'm wearing S — and it fits like a dream!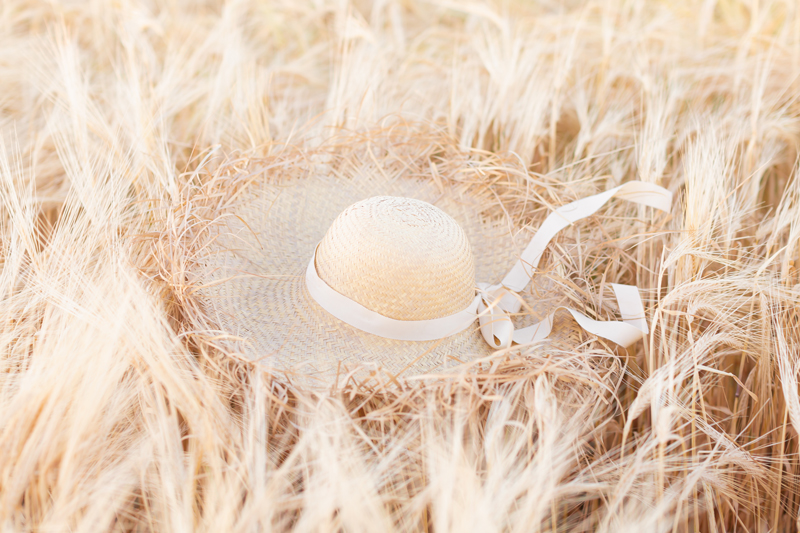 Believe it or not, my on-trend frayed brim hat is actually a thrifted piece, ringing in at just $2.99! I spotted it on my first pandemic thrifting adventure earlier this month and snapped it up immediately. I purchased my bag locally at Saskatoon Farm's Buffalo Room (hop over to this post for more on the Saskatoon Farm!) after it caught my eye on their Instagram page. I'd been searching for straw tote with a flat bottom (that can stand on its own) for farmers market runs — and harvesting our very own garden produce!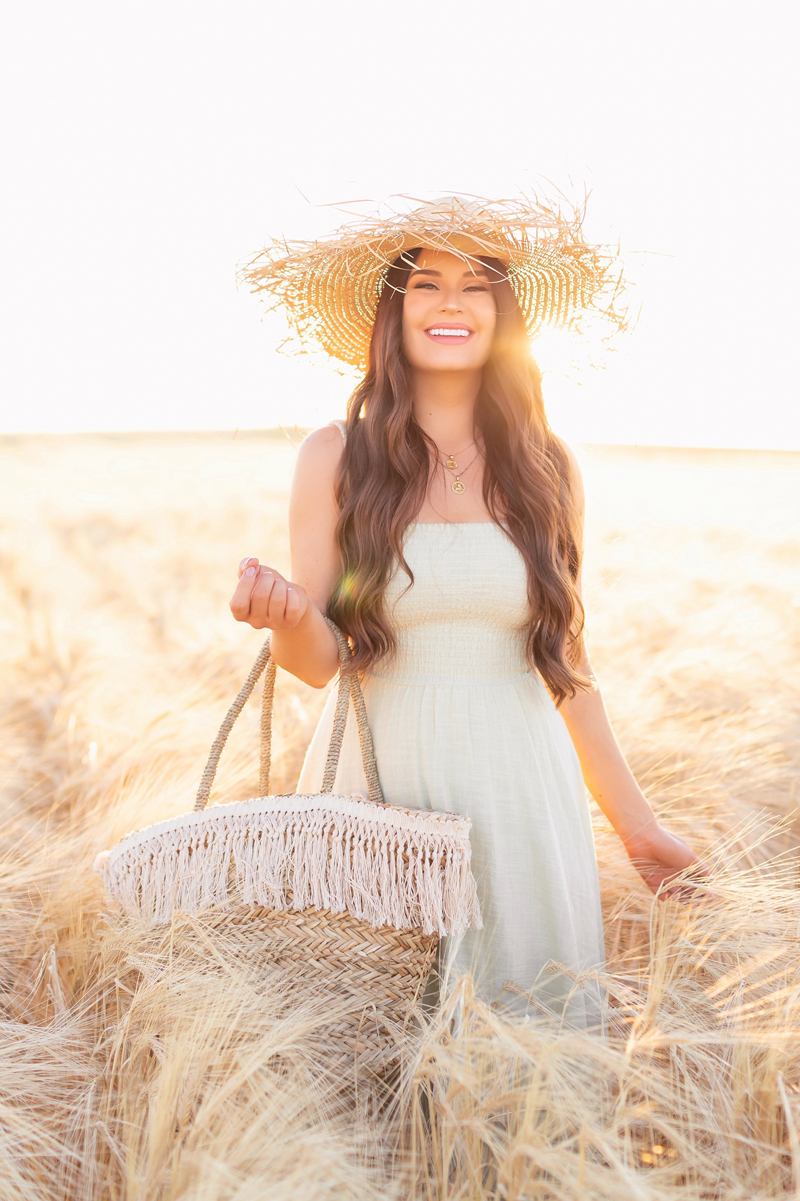 ---
MY SIGNATURE JEWELLERY
---
Alphabet Necklace in J | Zodiac Necklace in Leo
---
MORE SUMMER & TRANSITIONAL STYLE INSPIRATION
---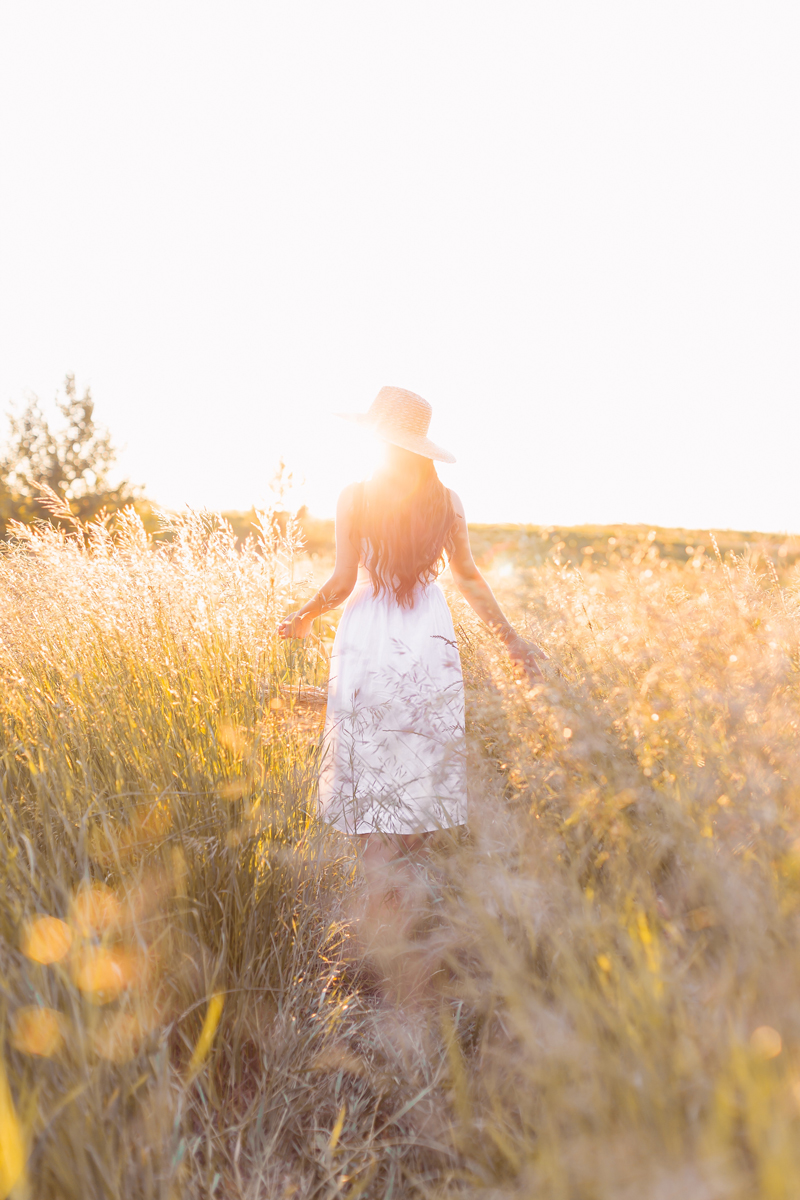 What to Wear to | A Casual Summer Wedding
Transitional Summer to Fall Lookbook
---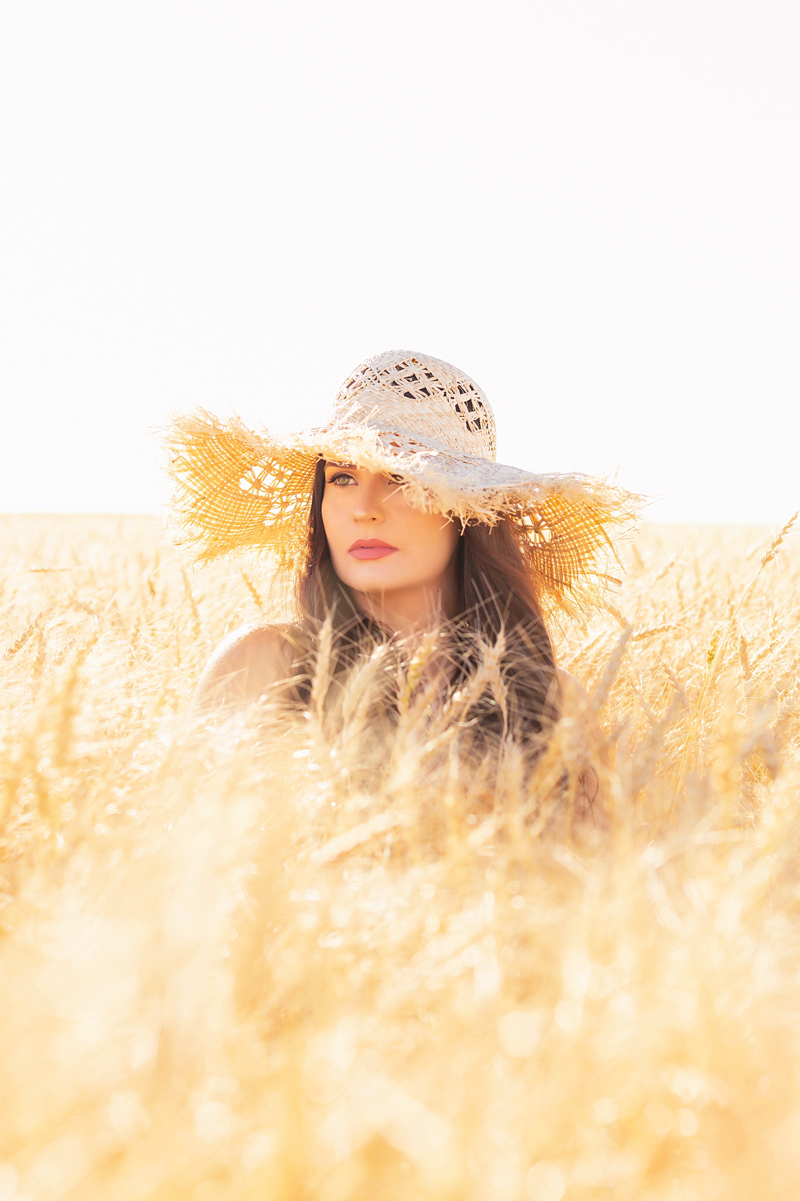 Thank you for stopping by for a dose of free spirited, late summer style inspiration, friends! I hope you enjoyed the return of my LOOKBOOKS as well as the change of scenery. I'll be spending a lot of time in the country as we transition into fall (I'm actually heading out now!) and will continue to capture content among the changing landscape. I'm also planning some more home-based style content as we transition into cooler weather — and I can't wait to share it all with you!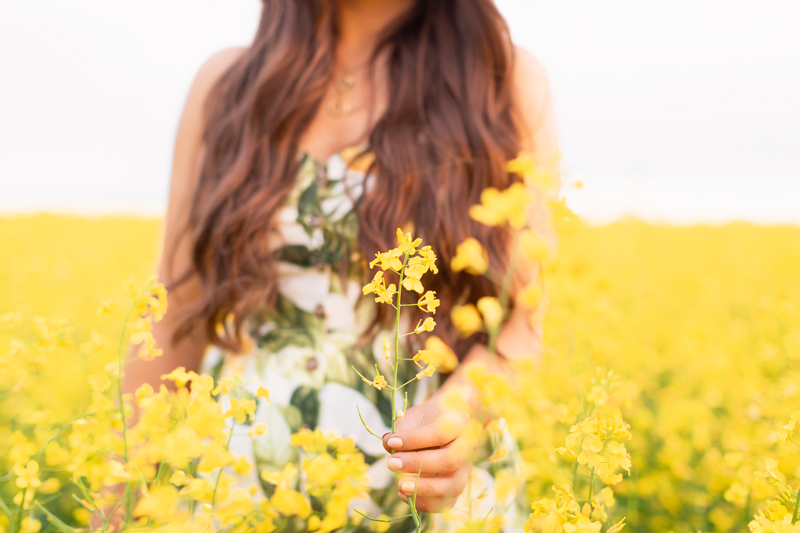 That said, I'm excited to explore other fashion post formats beyond the LOOKBOOKS you've become accustomed to over the past couple of years here at JustineCelina, to reflect my current lifestyle. Our society is collectively undergoing a dramatic transformation this year — and I'm allowing myself (and therefore my blog!) the ease and grace to transform along with it. As always, I appreciate your support as I continue to share all the things I create as I cultivate a happy, fulfilled, beautiful life. 
If you're looking for even more sartorial inspiration in the meantime, you can also follow along with my JustineCelina Fashion board on Pinterest. And for a sneak peek at what I'm wearing before it hits the blog, as well as some exclusive style content you won't see here, come join me over on Instagram for daily posts and BTS / day-to-day life on Stories! Wishing you all good health, happiness and a wonderful remainder of your summer! 
---
Disclaimer: This post is not sponsored, and contains my genuine thoughts, ideas and recommendations. JustineCelina uses affiliate and referral links, which allow me to receive a small commission when you make a purchase through one of my links. Thank you for supporting the brands and businesses that support JustineCelina!