---
¡Buenos días!, amigas! After a wonderfully rejuvenating vacation and some time back on Canadian soil reflecting on all things JustineCelina, I'm back today with a dramatic change of scenery in my impromptu RESORT 2020 LOOKBOOK! As I mentioned in my last post, approaching our vacation I was unsure how much I'd want to share. It was first time in 6 years we've taken a week long, unplugged vacation outside of Canada — and I was desperately in need of time offline to decompress, refocus and reconnect. I decided to pack my professional camera last minute to capture images as I felt inspired, but completely relieved myself of content creation pressure. There's an incredible duality to blogging — and as much as I wanted to capture, create and share content because it's what I truly love to do, I also wanted to ensure I was actually resting and enjoying my vacation, rather than sharing every experience and working the entire time. While these blurred lines between life and work allow me to live and work in a way that nurtures my passions (one of the main reasons I started this blog in the first place!), they also make lifestyle blogging as a career incredibly tricky to navigate and can inevitably lead to burnout.  
I'm happy to report that by our third day, I was itching to bust out my camera and capture content! This trip was incredibly refreshing — we completely lived in the moment and only captured things when we felt inspired to do so. Surprisingly, I actually have quite a few photos and videos from our travels! It was such a valuable experience to let go of my regular content creation routines and just take things as they came — a lesson I'm carrying into my workflow in 2020. So although I would have loved to shoot outfits everyday, today I'm sharing 3 looks (rather than the 6 you're accustomed to!) we captured in Huatulco — featuring a colourful dose of free spirited, Mexican-inspired fashion, along with a handful of of my vacation essentials! My first LOOKBOOK of the decade fuses TRAVEL and STYLE (as well as some Pantone 2020 Colour of the Year inspiration) for those of those of you jetsetting to a tropical destination this winter. If you're curious about what I wore on vacation or learning a bit about Huatulco and where we stayed, whip up a mezcalrita and come along to the pristine southern shores of Oaxaca, Mexico digitally!  
---
RESORT 2020 LOOKBOOK
---
Huatulco is a very special place for us. We originally discovered it on a business trip 8 years ago and fell madly in love — this past month was our third time visiting. It's a charming coastal town a bit off the beaten path in Mexico and the weather is absolutely gorgeous at this time of year! We've been talking about returning for years — but began 2020 by taking the plunge and making it a reality! 
Our winter is Huatulco's 'dry season' (which really just means there's no chance of rain!), so temperatures are a consistent 32°C – 33°C and sunny, without a cloud in the sky. That said, it's extremely humid. So much so that I I didn't do much with my hair and makeup most days because the heat and humidity rendered my efforts pretty much useless! Instead I donned a bare face and salt water waves most days — but that's my preferred look on vacation anyways! Huatulco is a very relaxed place and the majority of people are very casually dressed, even at upscale resorts and restaurants.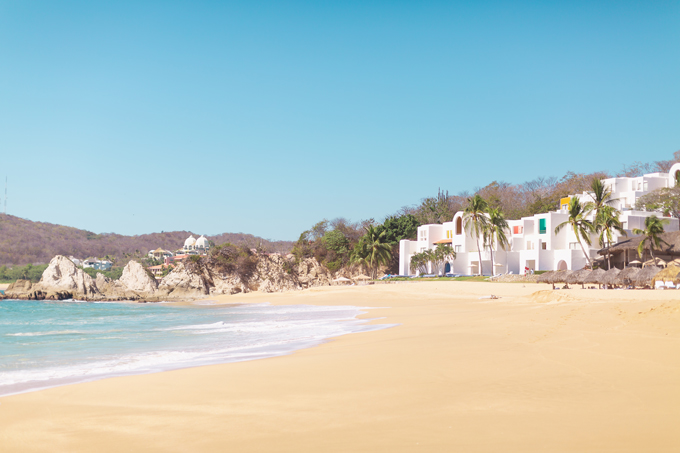 We stayed at Camino Real Zaashila in Huatulco's Tangolunda Bay. The resort was built by Mexican Architect Javier Sordo Madaleno and it's a vibrant melange of contemporary Mediterranean and authentic Mexican. It was such a rejuvenating and restful place to spend our vacation! 
Since this trip was a very last minute decision, I actually didn't purchase anything new to wear — because there simply wasn't time! Since wasn't sure I was going to capture any content, I also didn't plan outfits or scout locations as I would usually do for LOOKBOOKS. So, my RESORT 2020 LOOKBOOK is definitely the most laid-back I've ever published — but it is an accurate representation of what I wore during our trip! 
My RESORT 2020 LOOKBOOK follows the same format as my previous two — each outfit is sectioned off with titles for easy browsing. I'm so excited to share what I wore during our trip to Huatulco, Mexico! ⠀⠀⠀⠀⠀⠀⠀⠀⠀
---
CORAL COVE
---
The first thing we did after arriving to the resort was head down to the beach to watch the sun set over Tangolunda Bay. As you can see it was very humid and my camera had a difficult time adjusting to the temperature swing and humidity — but I actually love the images we captured. They were shot on my DSLR but have a dreamy, film-like quality!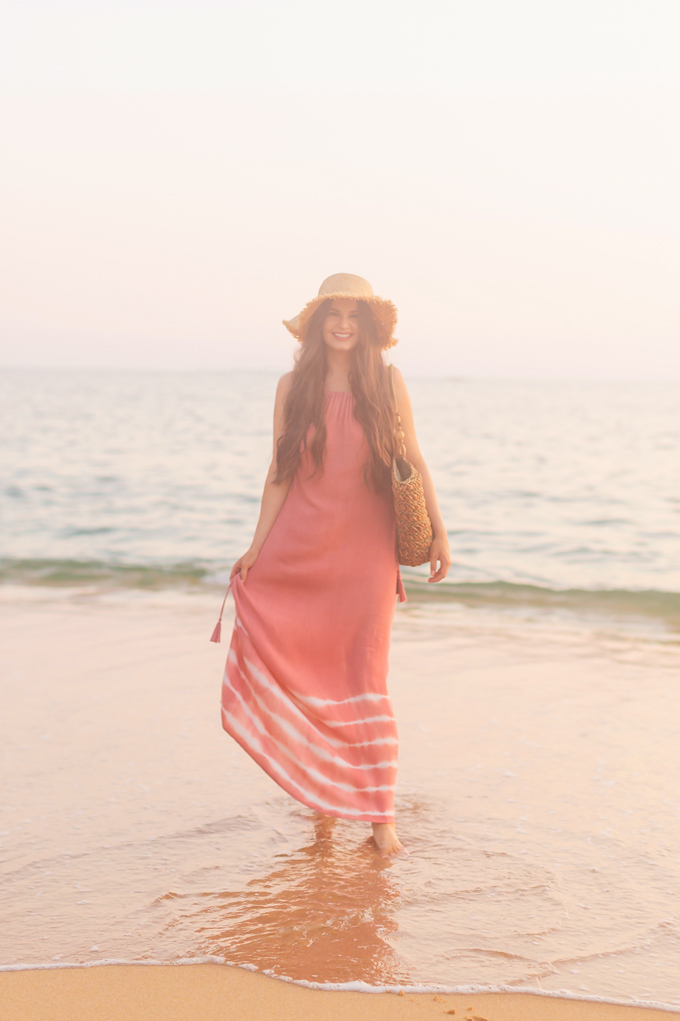 I lived in breezy dresses, straw hats and bags during our vacation. This coral, tie dye maxi was a new addition to my wardrobe this past summer — and I loved it so much I also picked it up in a gorgeous rust hue. When I'm packing for vacation, I tend to gravitate towards pieces that can double as bikini cover ups or be styled for evening, and I felt like this dress did both very well!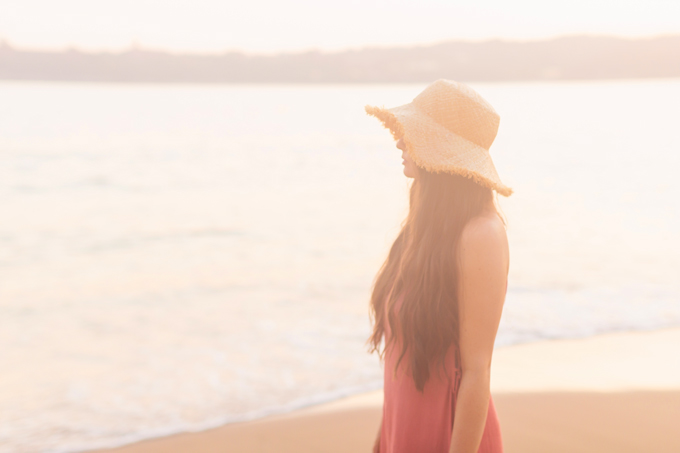 I adore the subtle tie dye banding towards the bottom and the cool, lace up detailing at the sides that allow you to cinch it in while offering some ventilation. Tie dye is a major trend for SS20 (more on this below in my Classic Blue Kimono look!) and this is perfect example of how you can experiment with new prints by looking for pieces in more subtle interpretations.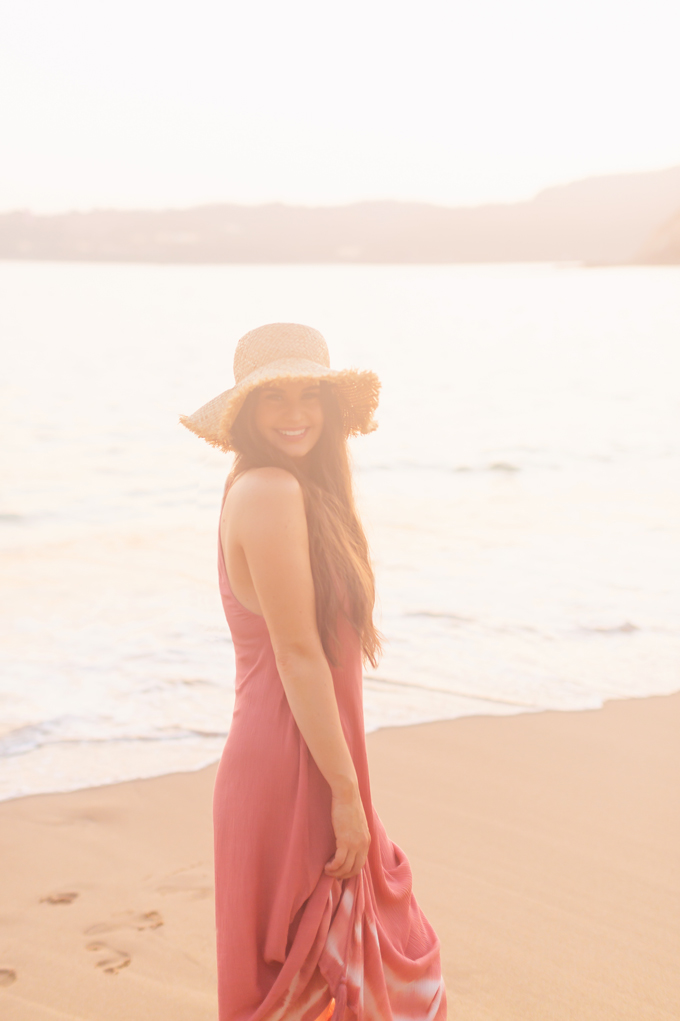 As you'll see, this oversized, frayed brim straw hat was my first choice for sun protection — it's what I wore on the beach most days! I also had this oversized vintage woven tote in tow most days, although I did pack a number of different woven bags. This one doubled as a beach bag and regular bag, with enough room for all the essentials!

---
RAINBOW STRIPES
---
This outfit formula was what I wore out to dinner to drinks most evenings! Although I felt quite dressed up compared to what most others were wearing (but I never let that stop me!), I had lightweight dresses, comfortable heeled sandals, straw hats and woven bags on repeat.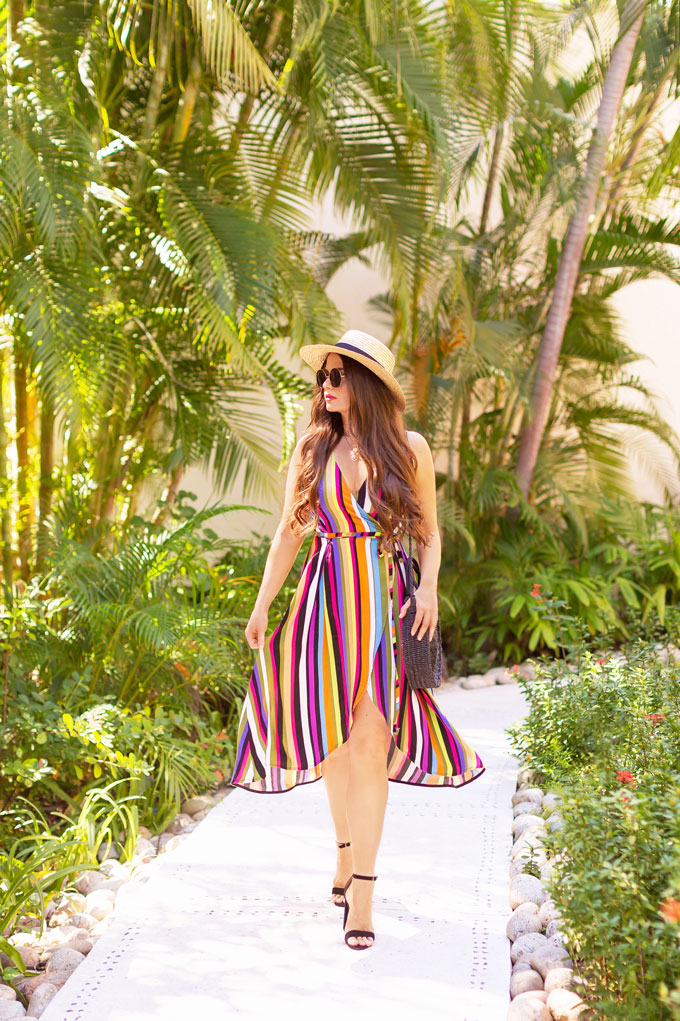 I'm so happy this stunning rainbow striped wrap dress finally had a moment to shine! I don't ever think I've had so many compliments on a dress — I felt like it really coordinated with all the vibrant colours in Huatulco. I always take cues from my surroundings when I get dressed — no matter the setting!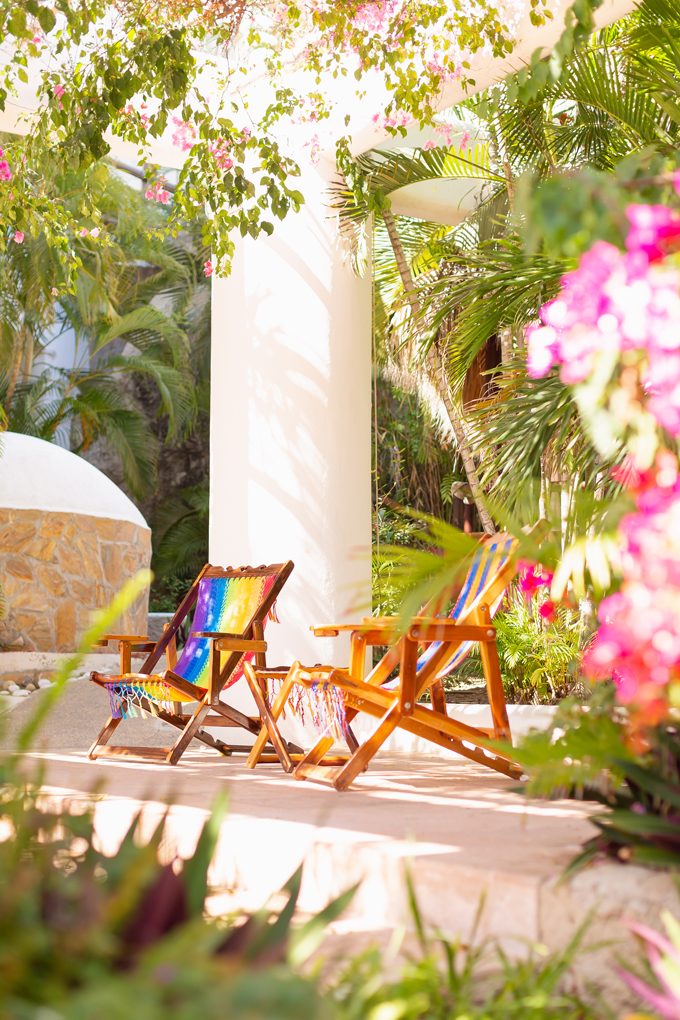 This was one of the few times I put makeup on — and you can almost see it sliding off my face in this photo! Since we headed to a nearby rooftop patio for cocktails this evening, we actually snapped these photos before sunset at about 4pm and sweat was literally dripping off of us. It was a very quick shoot!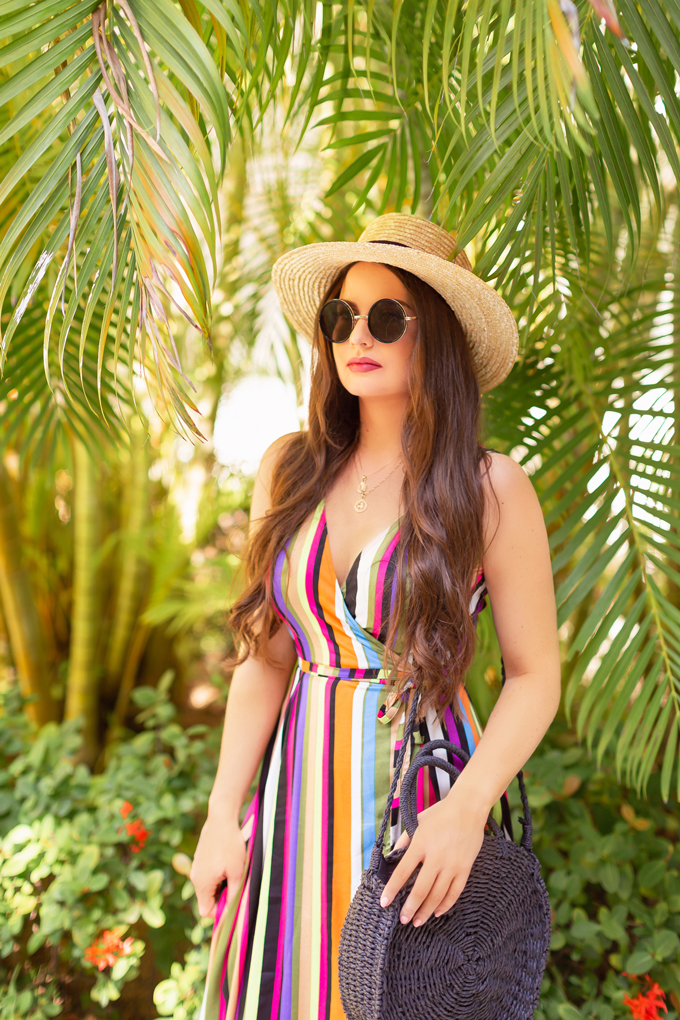 Although I purchased this dress from one of my favourite Toronto designers, 3rd Floor Studio (who's since closed their doors), I've linked lots of similar options up for you below — along with everything else I'm wearing! 

---
CLASSIC BLUE KIMONO
---
We snapped these photos on our final day in paradise after we'd finished reading under the palapas and swimming in the ocean, just before grabbing lunch at the Beach Club.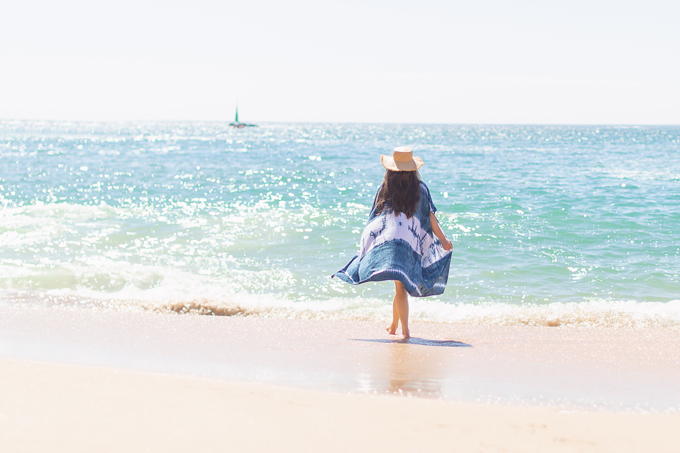 I swam in the sea everyday during our time in Huatulco and find the ocean incredibly healing. The water was warm and calm — and the sand was perfect. You can even snorkel in the bay (as well as in the other 9 bays in the area!) — the ocean is so healthy and brimming with life!
Longtime readers may recognize this sweet little Alice + Olivia cotton dress from my most recent What to Wear to | The Calgary Stampede post, where I raved about its versatility — even mentioning it would make a great beach dress! It was perfect to throw on over my bikini during the day when we'd head to the Beach Club for lunch, which I ended up doing most days!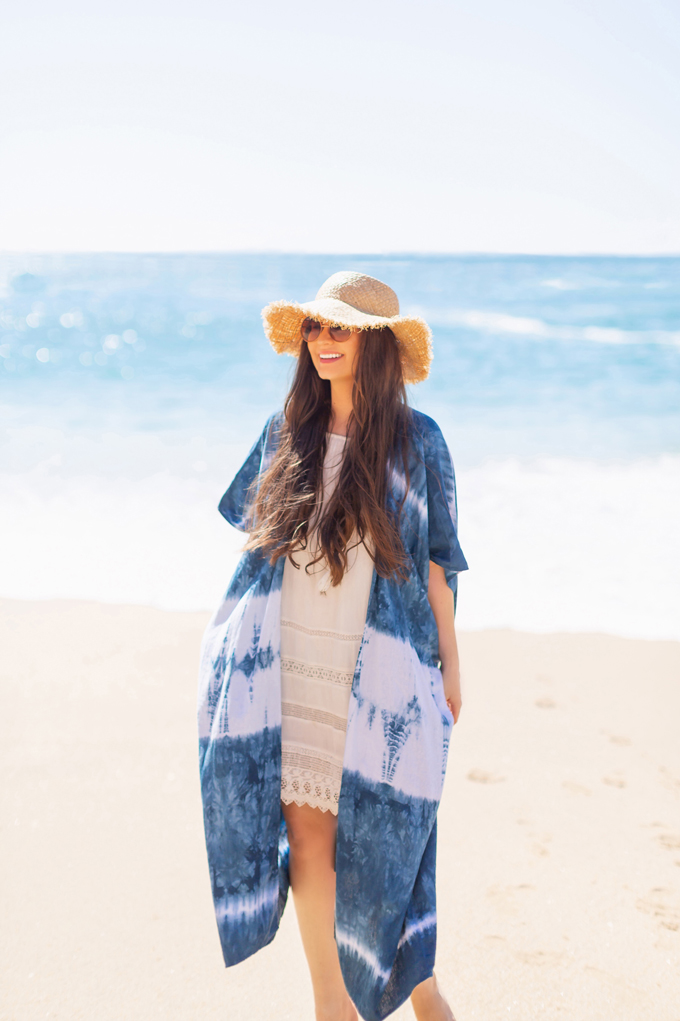 My tie dye kimono is actually ancient (where talking 7ish years!) — but I found myself looking at my wardrobe through fresh eyes this year after Pantone announced Classic Blue as the 2020 Colour of the Year. I knew this stunning, Classic Blue kimono would make a fantastic layering piece and I happy we were able to capture it on the beach! Tie Dye was a massive trend this past summer (although I've always loved it!) and I'm already seeing tons of tie dye popping up for SS20. I'm planning a post in my PATTERN PLAY dedicated to tie dye this spring, so if this free-spirited print speaks to your soul as well, be sure to stay tuned!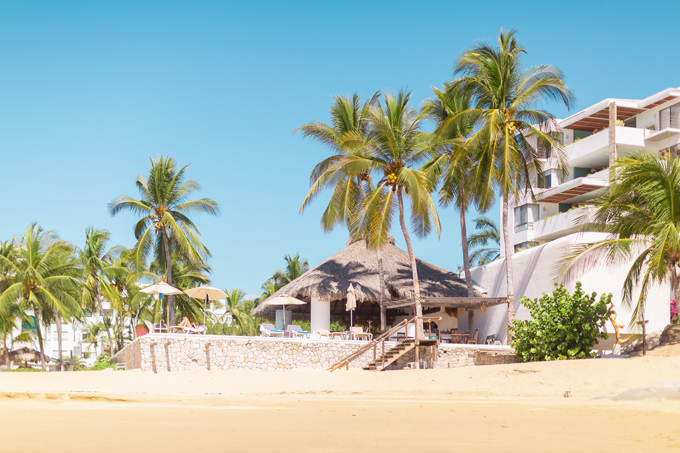 To finish this laid-back, beachy look I reached for my oversized, straw brimmed straw hat (my go-to for shielding strong, daytime rays!), packed my vintage woven straw tote with all the essentials, slipped on my favourite Zara leather sandals and some brown circular sunnies.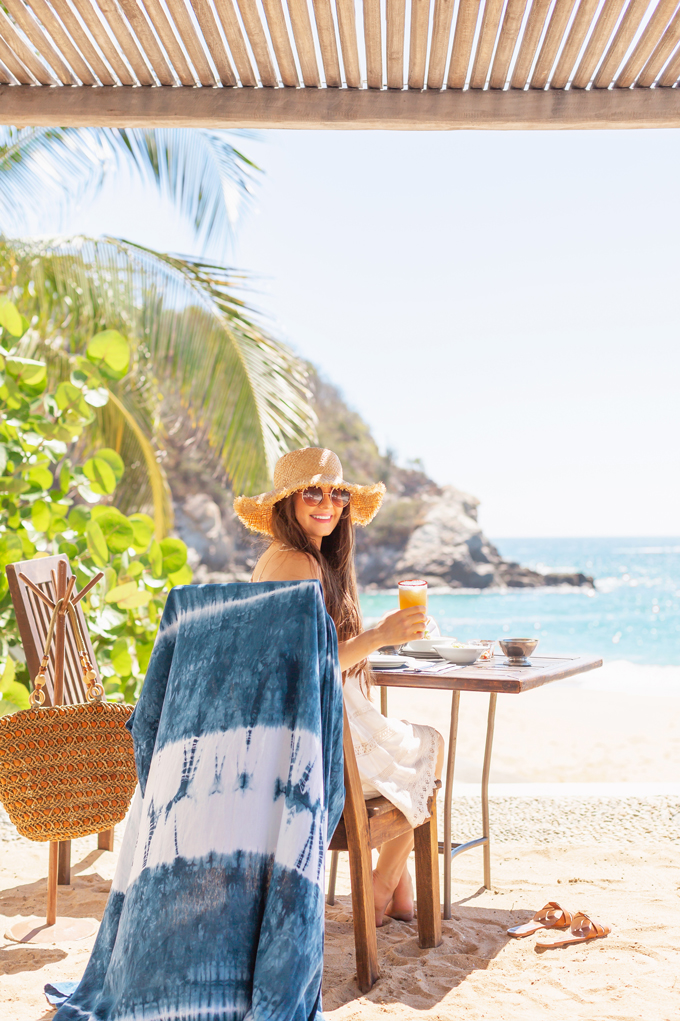 We enjoyed many Oaxacan style lunches (largely consisting of fresh tortilla chips, pico de gallo, guacamole, ceviche and mango mescalritas!) under the palapas at Camino Real's Beach Club — which is actually how we initially discovered this resort, 8 years ago! It was one of my client's favourite lunch spots and we instantly fell in love with the vibe, scenery and people. We stopped over for lunch many times on both of our previous visits to the area, so this time, we just decided to stay at Camino Real! I already miss it.

---
MORE TROPICAL & TRAVEL STYLE INSPIRATION
---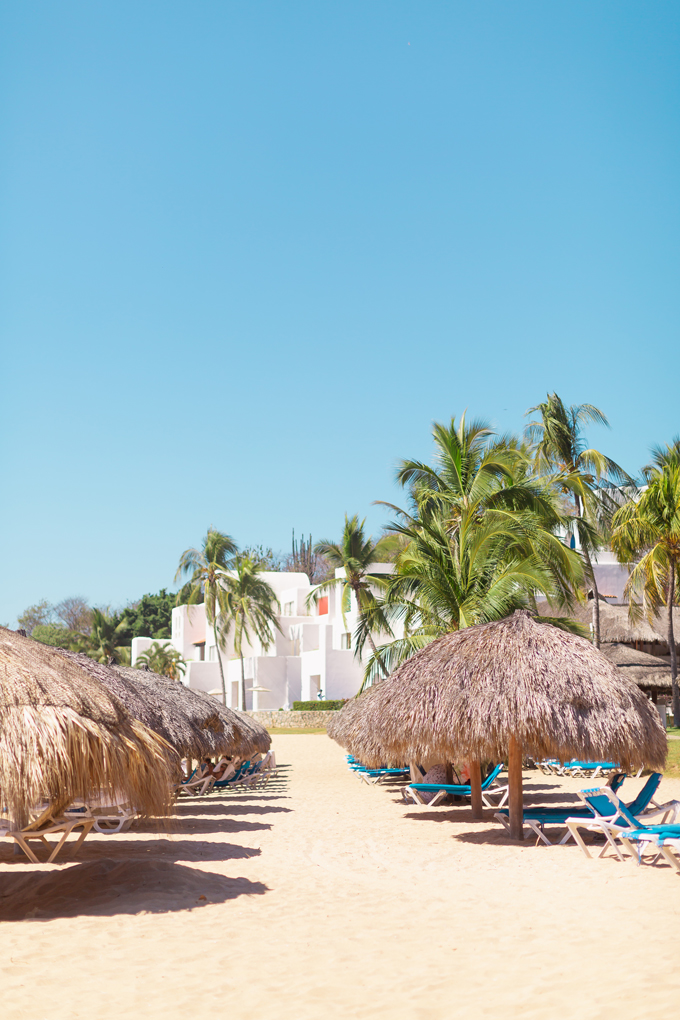 ---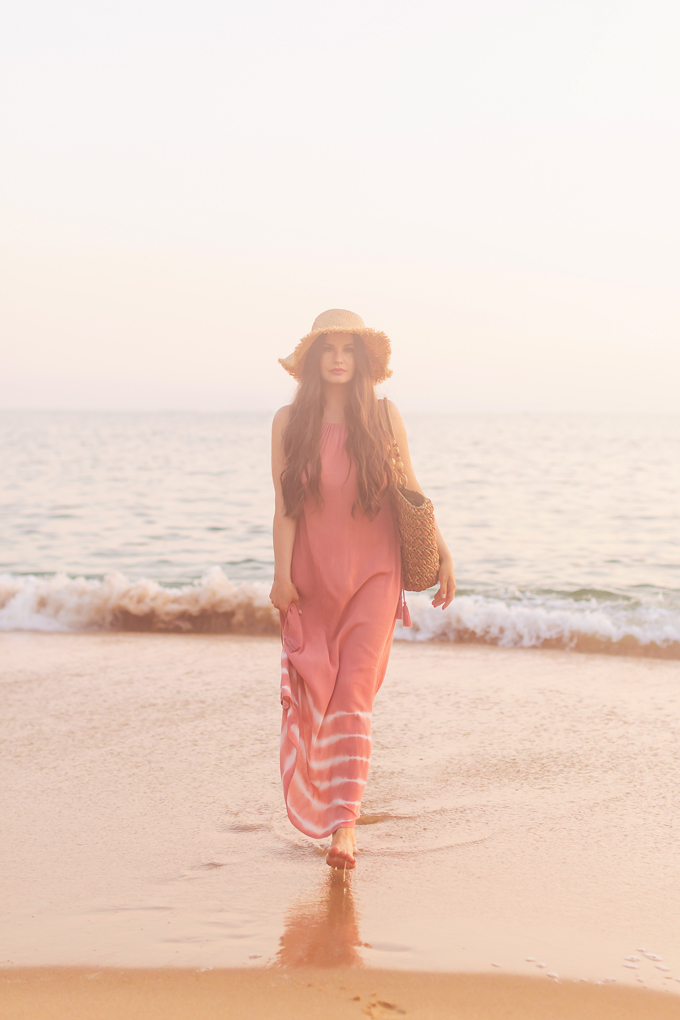 If you're jetsetting to a tropical destination this winter, I hope my Resort 2020 Lookbook gave you a bit of inspiration! It was such a wonderful, relaxing, healing week and really made us realize this importance of taking significant unplugged time away from our daily grind and prioritizing travel to stay inspired. We're actually planning to head back later this year and my mind is already buzzing with all the content I want to create (I would love to publish a comprehensive TRAVEL GUIDE) so I can properly introduce you to this off-the-beaten-path paradise! It's one of my favourite places in the entire world and an area we know quite well — so please feel free to use me as a resource if you're considering a trip! And be sure to check out my HUATULCO Highlight on Instagram for more of our favourite things to see, do, eat and drink in the area.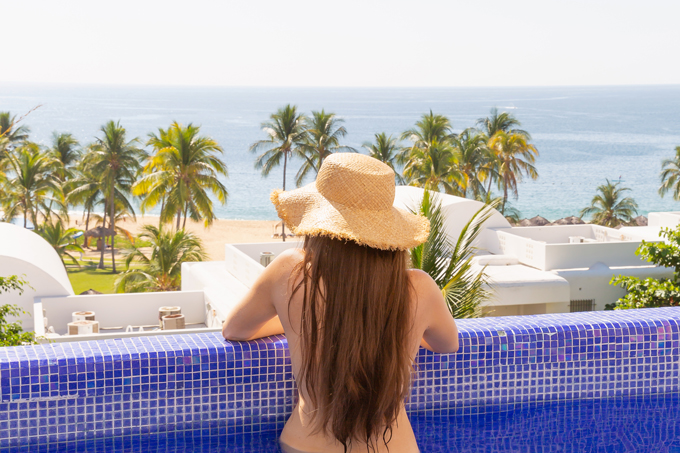 We're gearing up to shoot WINTER 2020 style content beginning next week and I'm so excited to dive into content creation on Canadian soil through fresh eyes! Until then, get your FASHION fix my following along with my JustineCelina Fashion board on Pinterest, or the Winter 2019 / 2020 Lookbook board I created to showcase my favourite cold weather looks. And for a sneak peek at what I'm wearing before it hits the blog, as well as some exclusive content you won't see here, come join me over on Instagram for daily posts and BTS / day-to-day life on Stories! As always, if you have a request for me, please leave me a comment. Thanks for stopping by for healthy dose of sun, sand and tropical style inspiration today, friends — and enjoy your weekend! 

---
Disclaimer: This post is not sponsored, and contains my genuine thoughts, ideas and recommendations. JustineCelina uses affiliate and referral links, which allow me to receive a small commission when you make a purchase through one of my links. Thank you for supporting the brands and businesses that support JustineCelina!