---
Interior design loving friends, welcome back for a long overdue SPACE REFRESH update! If you read my 2018 Review + 2019 Goals post, you'll know that I had planned to have the next rooms in the series completed by now — but due to some unforeseen delays and unexpected (but necessary!) repairs, things have been pushed back. I realized last week that I've been pretty good about updating you about what's going on on my socials, but the majority of you don't follow me there, so I wanted to publish an all-encompassing Midsummer Space Refresh Update here at JustineCelina to bring you up to speed!
Overall, even though the next rooms in our  have taken longer than expected due to some furniture delays, I'm very happy with the way things are coming together. Originally I was planning to have both the Entrance Way and Main Bathroom complete by the end of Q2, but due to a couple of furniture items being back ordered until the end of September, I'm now planning to have both of those spaces finished this fall. Instead, I've used the extra time to source finishing details to really elevate both rooms and make them super functional! It's actually been a welcome change of pace to take things a bit slower around here, enjoy the summer, and not be working on the apartment every single weekend. If you're interested in what's coming next, updates and repairs we've made to the other rooms and plans for the rest of the year, fix yourself a cocktail and come join me in my Living Room for a transparent read!
---
MIDSUMMER SPACE REFRESH UPDATE
---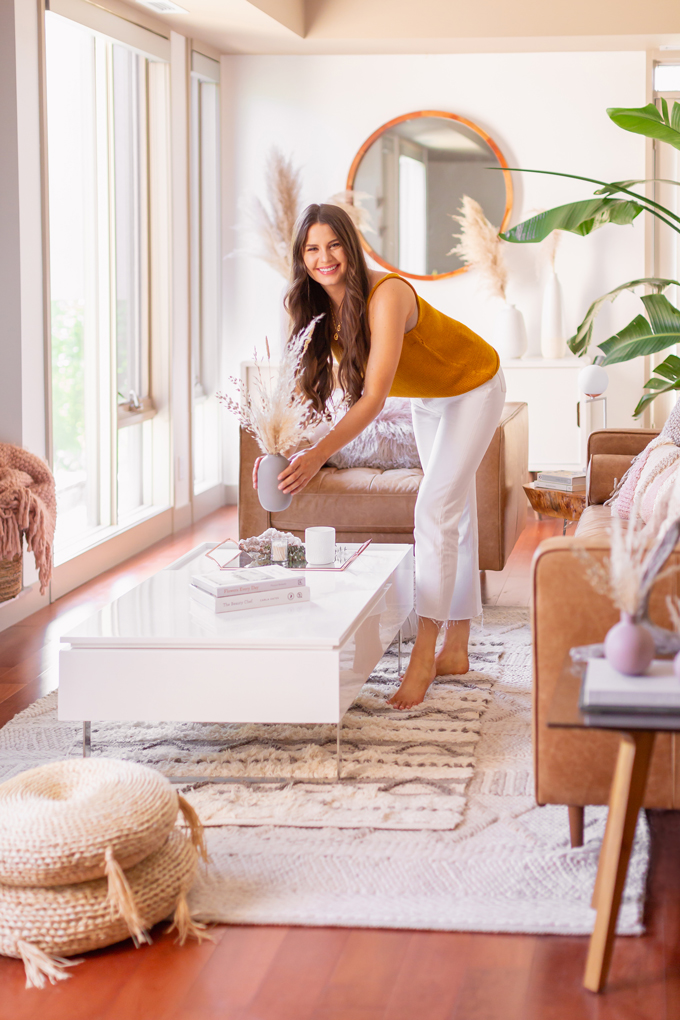 Over the course of our massive SPACE REFRESH project, I've come to learn that unforeseen delays are inevitable. Although they're usually beyond my control, I'm very type-A and a planner by nature — so they definitely throw a kink in things. There's an incredible amount of work that goes into creating DWELL based content for JustineCelina and when one project is contingent on finishing another, it can be pretty stressful. Despite best laid plans we're about 3 months behind the timeline I originally set back in January — but hey, that's life!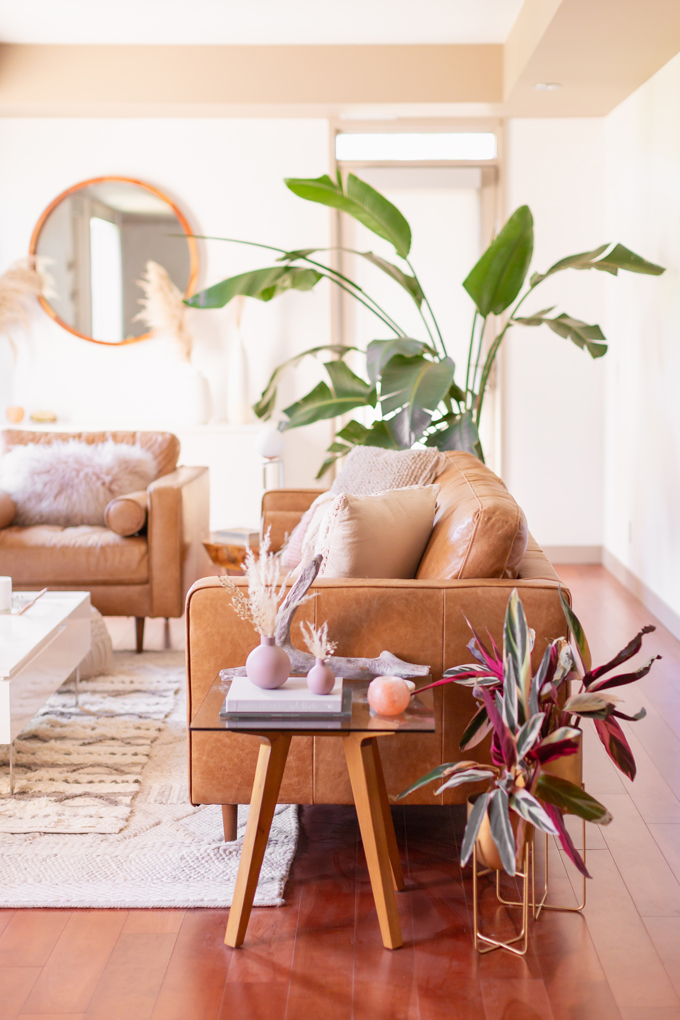 I've really tried my best not to let unforeseen delays stress me out and have instead channeled my energy into behind-the-scenes planning, projects and repairs. We've been in here for 7 and a half years, so major appliances and systems are starting to show wear and tear and need replacement — working through these repairs over the course of this year was also another goal of mine. So far this year we've repaired our gas fireplace (we really enjoyed that this winter!), air conditioning (having functioning AC again this summer has been amazing!) and furnace / humidifier after our furnace room flooded — not once, but twice (who remembers the Stories?!). Despite all the pretty pictures, know that things go wrong too!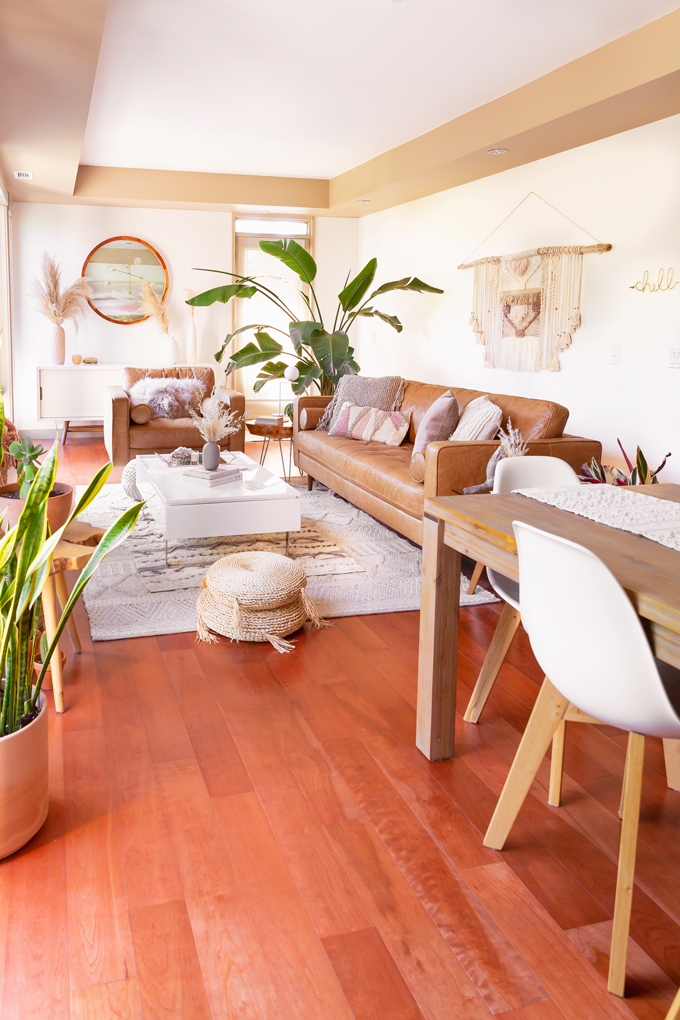 One of my financial goals for 2019 was to maintain a debt-free lifestyle although I have a lot of expensive plans, so it wasn't possible for me charge ahead on other projects as quickly as I originally thought I'd be able to due to these repairs and delays. Over the years, I've learned home ownership is full of unexpected things that pop up when you're least expecting them — and this year they've definitely taken a bite out of our SPACE REFRESH budget! All of these repairs were necessary — and to be completely transparent, very costly.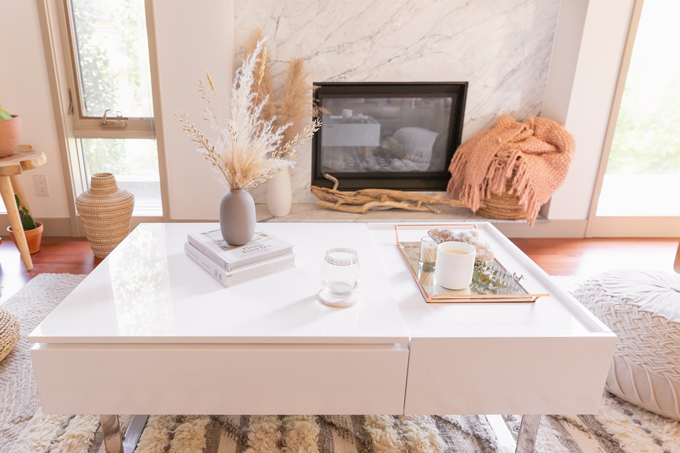 Home makeover projects are expensive, especially when you're unwilling to compromise on quality — I'd much rather stick to my financial goals and budget than rush the series to stick to a self-imposed timeline. Although it doesn't make for a super exciting blog post, I feel it's important to keep it real, be transparent and chat about these aspects of life as well! After all, this isn't a home makeover show with a huge budget — despite some brand involvement, we've funded the majority of our SPACE REFRESH series ourselves and in order to do so responsibly, timelines have been adjusted.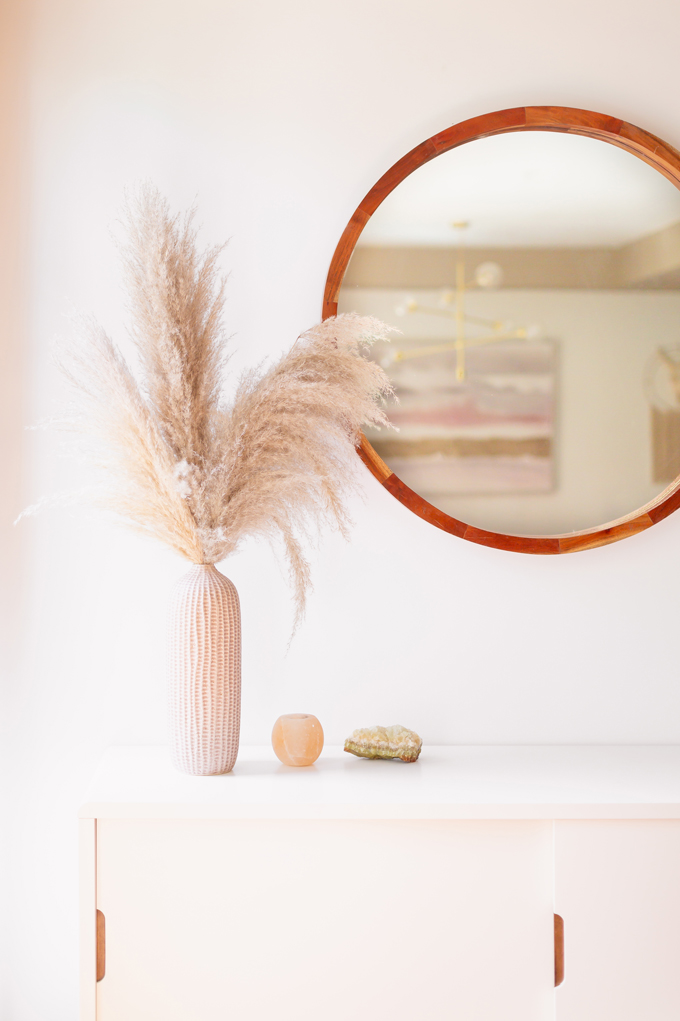 So, what can I update you on? I'm happy to report the Entrance Way is 95% finished and that it will likely be the first new room to publish this fall (now live!). Although I can't divulge the details just yet, I've partnered with a brand I fell in love with last November (if you follow along with my Stories you probably have a pretty good idea who!) to redesign the space and I couldn't be more pleased with the quality of the pieces that have come in. Currently we're just waiting on 2 back ordered items, set to arrive by the end of September.
In the meantime, I've really been able to take my time with the decor and styling — everything is completely decorated and super functional. For the first time in all of our years living here the Entrance Way really feels like an inviting room of its own that works perfectly for us, rather than a weird, choppy, natural-light-less hallway (oh, the glamour!). You can see the original photos of the Entrance Way, before an after painting, here, and my moodboard for the space here. I cannot wait to share the finished space with you — it's gone from being my least favourite space in our apartment to one that I love to come home to!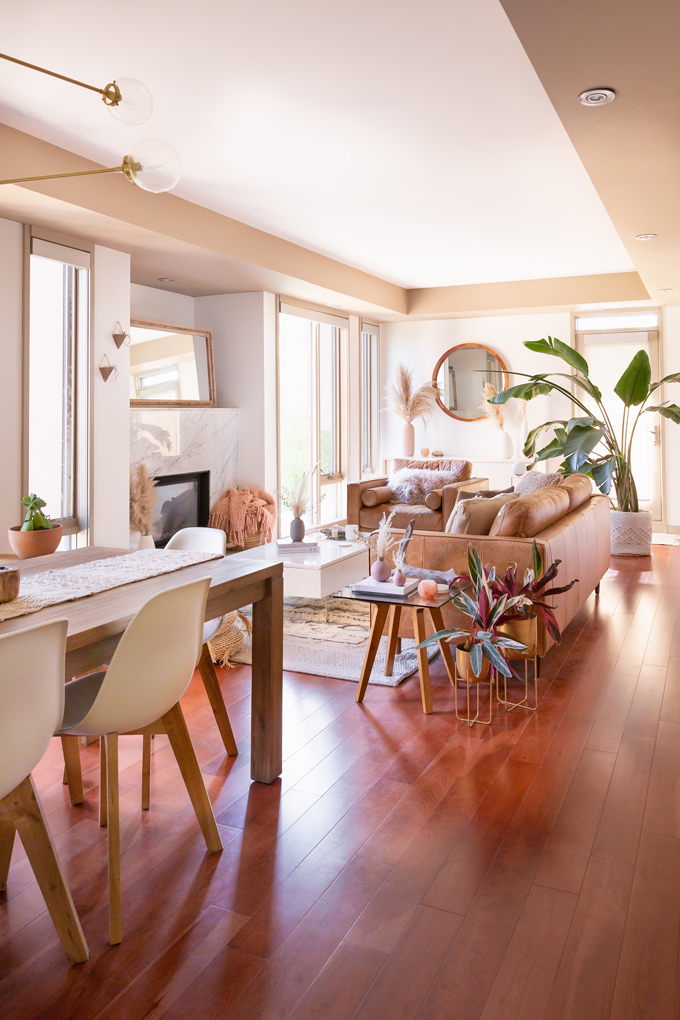 I've also been simultaneously working on the Main Bathroom, which is a smaller project that's come together organically over the course of our SPACE REFRESH series. I've been able to make small updates as I've picked things up over the course of the last year and a half and have really enjoyed letting this room come together organically! That said, we've also tackled projects that were way out of my comfort zone — like permanently installing a shower rod by drilling through porcelain tile so strong it required a diamond-tipped drill bit (that one was a bit scary but we did it!). I'm now the proud owner of my very first drill, complete with a full set of bits and all the bells and whistles! 
I've also decided I'm going to replace the light fixtures in the Main Bathroom as well, after seeing what a huge difference it made in the Entrance Way (I'm just waiting for them to come back in stock!). Overall I think the room will be much more cohesive with the rest of the apartment because I've been able to putter away and make updates (like light fixtures) cohesive across rooms. The Main Bathroom will likely publish after the Entrance Way (but possibly before!) depending on when the lights are restocked! See before photos here.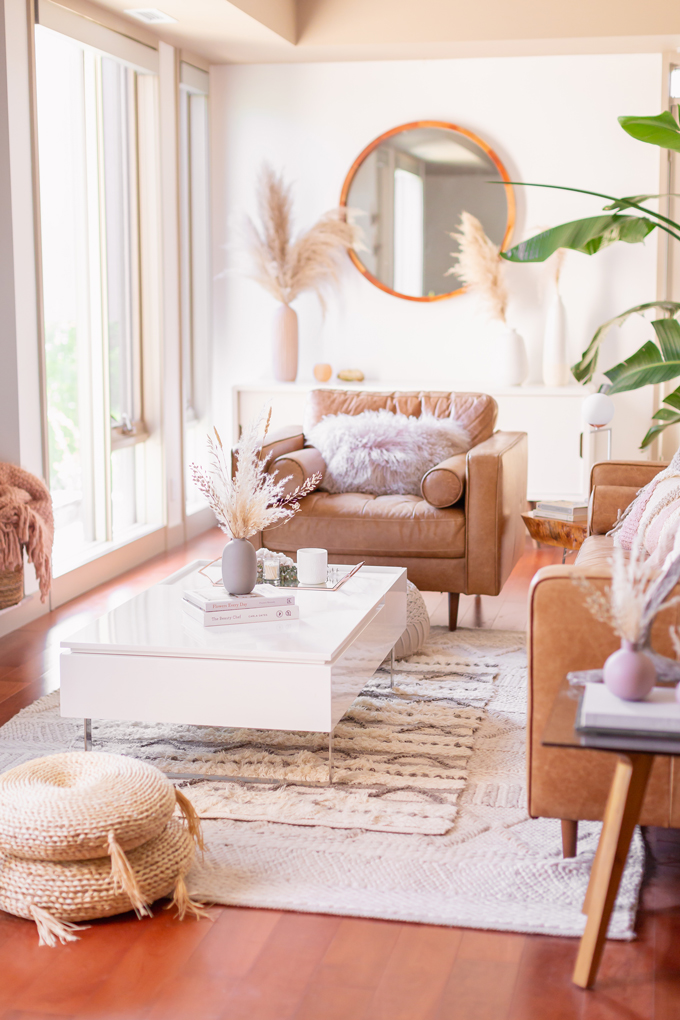 There were also a couple of updates I wanted to make to the Kitchen this year. Although we refreshed this room as part of our Dining Room, Bar and Kitchen Reveal last year, we settled on more of a cosmetic refresh because I couldn't find the right bar stools, pendant lights and faucet at the time and I didn't want to force it. I'm all about letting spaces come together organically over time and only bringing pieces we absolutely love into our home!
So far this year we've replaced our bar stools with the Structube LARS — the quality for the price is incredible and they fit the space perfectly. I also want to swap the track lighting for pendant lights that coordinate with the rest of the new fixtures in the space (I've sourced the fixtures but am currently looking into electrical requirements to achieve the look we want) and possibly upgrade the faucet (ours leaks and I'd love to replace it with a brass, touchless faucet!). I've sourced a number of faucets that could work, but would like to get the new pendant lights installed before making a final decision. I know these finishing touches will make a huge difference to the overall look and feel of the kitchen and it's my goal to have them complete before year-end!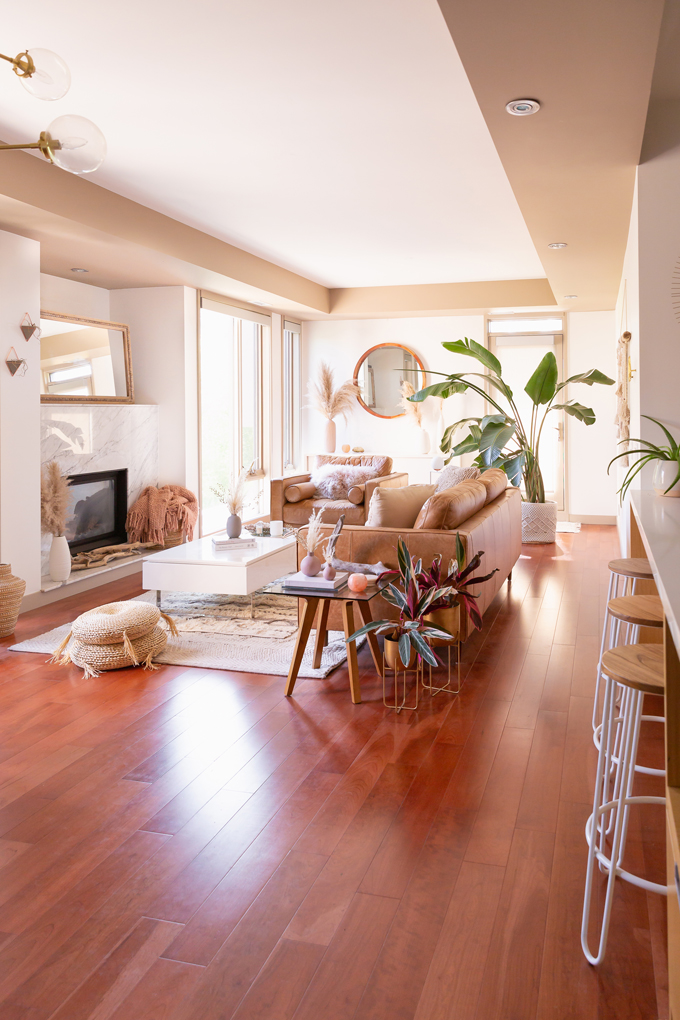 You'll see that other than some small decor pieces like vases, arrangements (learn more from these Pampas Grass arrangements), candles and books, the Living Room, Dining Room and Bar are exactly the same. Choosing decor for the next rooms in our SPACE REFRESH series has left me with the urge to switch things up a bit in the Living Room — but for now I'm loving these breezy summer vibes. I really took a lot of time in selection accents in a neutral palette that would age well and I feel like that paid off! After all, it's not practical to switch your decor up every season. This autumn, I'm planning to bring in a bit more colour with accent pillows, throws and possibly a new rug — but we'll see what happens!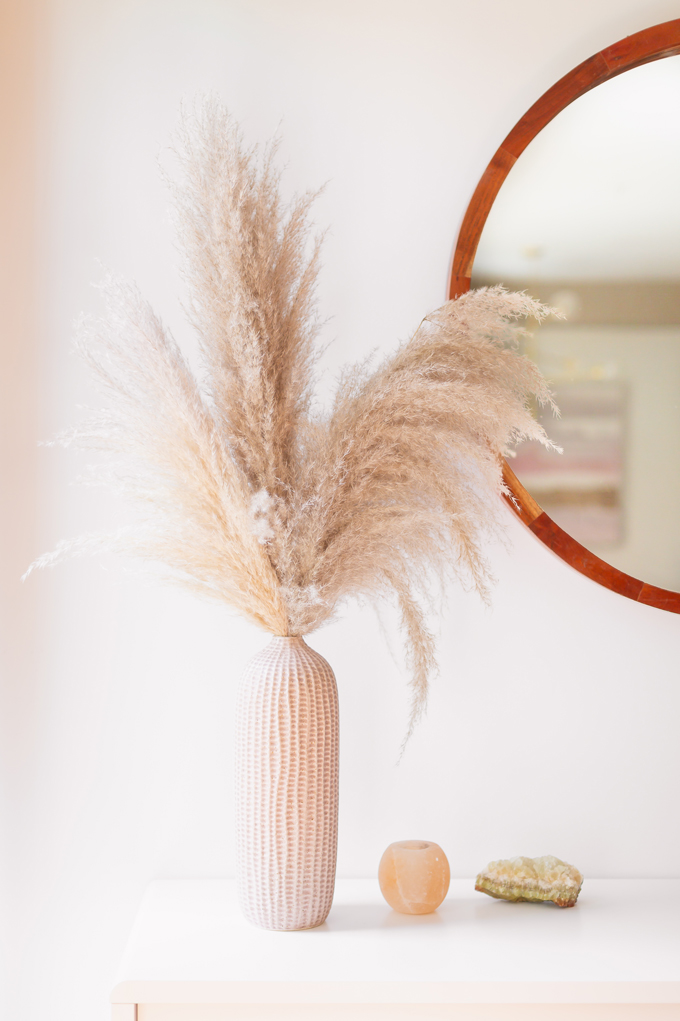 So, although we're not where I originally wanted to be, I've loved the more relaxed pace we've taken with the SPACE REFRESH this year, while tending to some necessary repairs. If I can have the Office, Bedroom and Master Bathroom painted by the end of year, I'll be ready to tackle those spaces in 2020 and conclude the series! It's been a lot of hard work and definitely a labour of love, but our SPACE REFRESH series has been the most rewarding project I've taken on here at JustineCelina and has sparked my love of interior design. I'm thrilled you seem to be enjoying it as much as we have!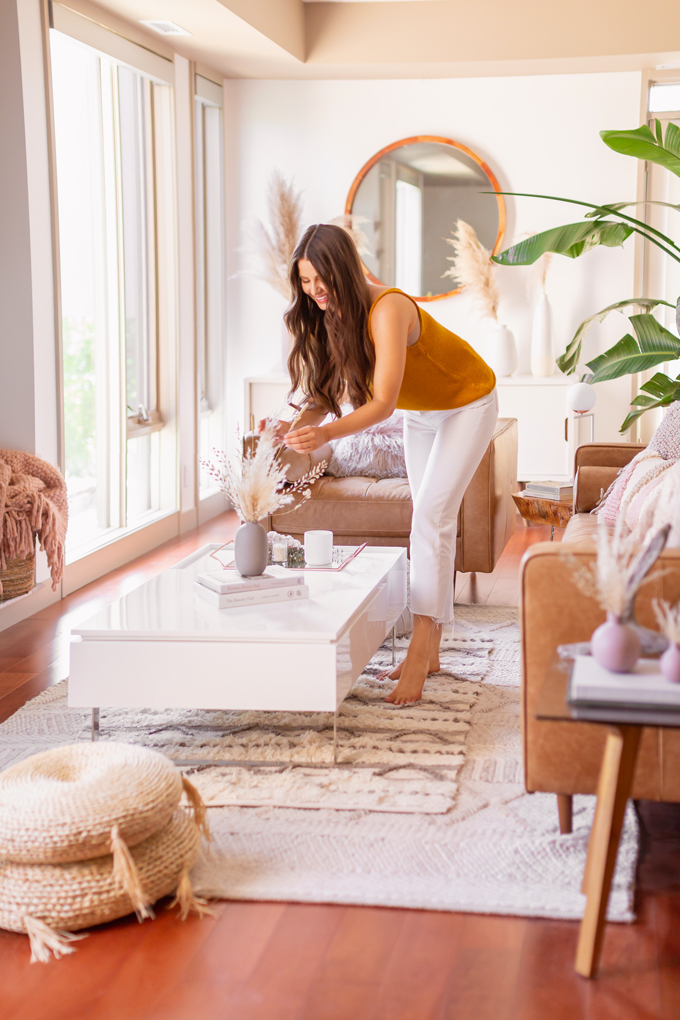 ---
MORE FROM OUR SPACE REFRESH SERIES
---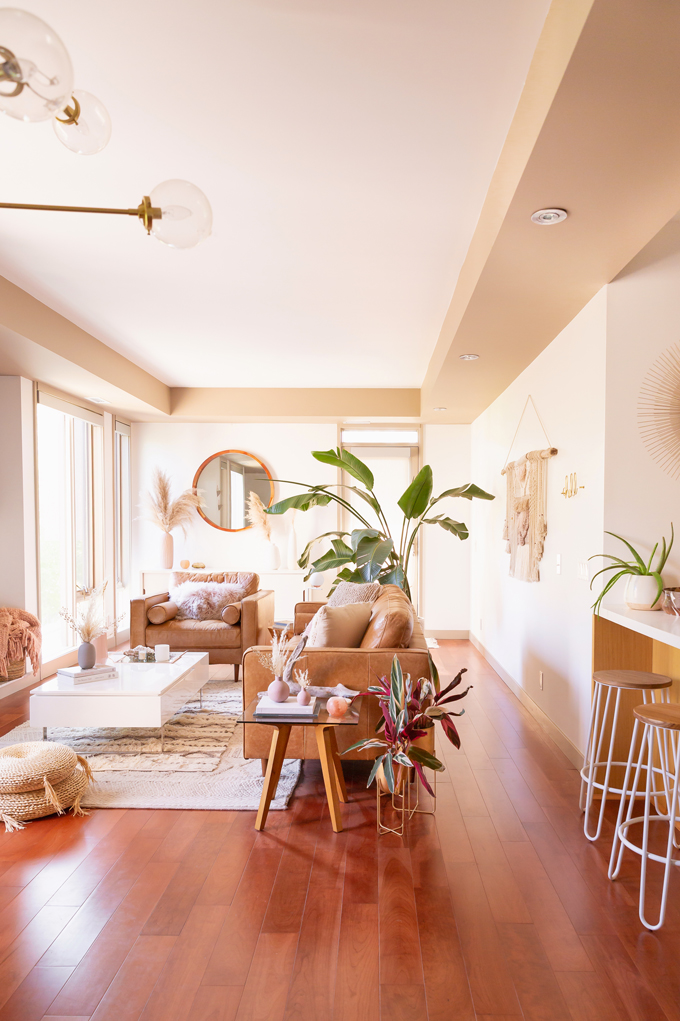 Space Refresh | Paint Transformation
Space Refresh | Living Room Reveal
Space Refresh | Dining Room, Bar & Kitchen Reveal
Our Dining Room Bar | A Built-In Look on a Budget
---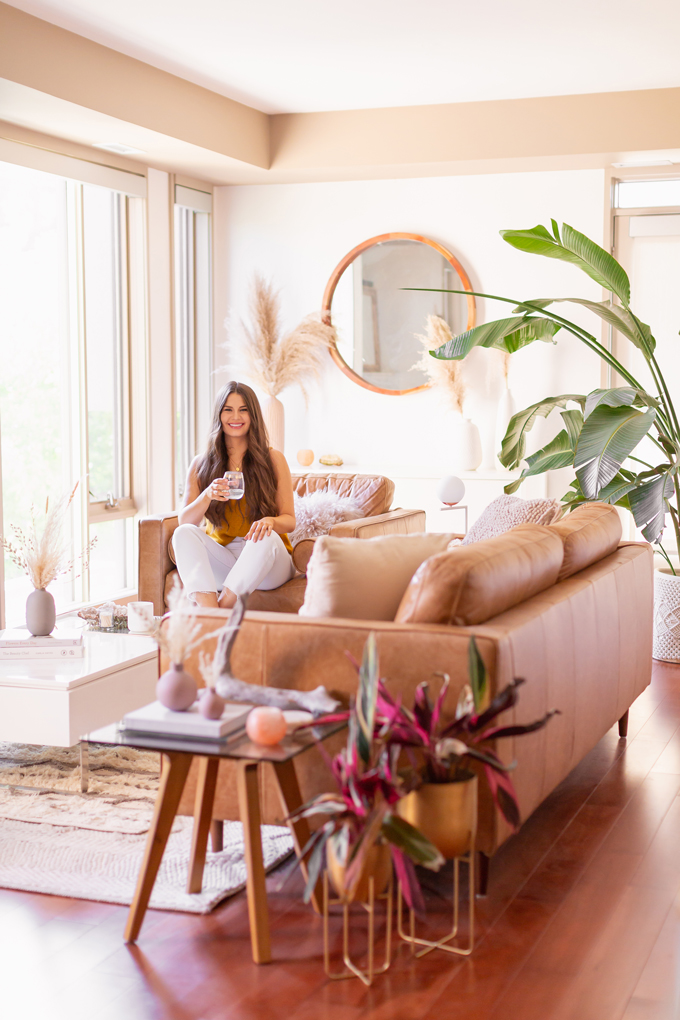 Thanks for stopping by for a Midsummer SPACE REFRESH update today, friends! It's definitely not a groundbreaking post, but I really value these real-life type of posts, even though there's nothing super exciting to share. Just know that I'm doing everything I can to expedite the process and absolutely cannot wait to share the next rooms with you! In the meantime, you can always catch a BTS look at what I'm working on over on Stories in my HOME Highlight.
If you like, you can also follow along with my Home Pinterest Board for more interior inspiration, or the JustineCelina Home board where I'll be pinning our refreshed spaces and other DWELL content as it rolls out. As always, if you have any specific questions or requests for upcoming content, just leave me a comment! Enjoy the rest of your week, everyone — and these final, fleeting summer days!
---
Disclaimer: This post is not sponsored, and contains my genuine thoughts, ideas and recommendations. JustineCelina uses affiliate and referral links, which allow me to receive a small commission when you make a purchase through one of my links. Thank you for supporting the brands and businesses that support JustineCelina.com!