---
Welcome back for a fresh installment in my WHAT TO WEAR TO series — where I select a seasonal occasion you may not be sure what to wear to and bring you my take on it! Believe it or not, this summer we don't actually have any weddings (and after attending 7 last year, I'm okay with that!), but we do have quite a few garden parties and outdoor daytime events in the calendar. Although the term 'Garden Party' is more widely used in the UK then it is here in Canada, we're actually attended our fair share of garden parties (defined simply as an afternoon event held outdoors on a lawn or in a garden) over the past few years — and no one ever seems to know what the dress code is! Naturally, I thought the topic would make a great blog post — and I had just the perfect dress and location in mind to bring it to life!
I hope you're not getting sick of seeing me in breezy floral dresses this summer, because 3rd Floor Studio's stunning Ingrid dress is the star of the show today! In fact, chances are if we've hung out IRL lately I've probably been wearing this dress — and this bag! While the idea of wearing florals to a garden party isn't exactly groundbreaking, I think it's the perfect opportunity to take your favourite LFD's (little floral dresses!) out for a spin and have some fun styling them up with more casual, daytime accessories. Today I'm demystifying Garden Party attire and sharing versatile styling options to suit every body type, occasion and venue! As always, I've included tons of shoppable links at every price point, with a few killer mid-summer sale items throw into the mix.

---
WHAT TO WEAR TO | A GARDEN PARTY
---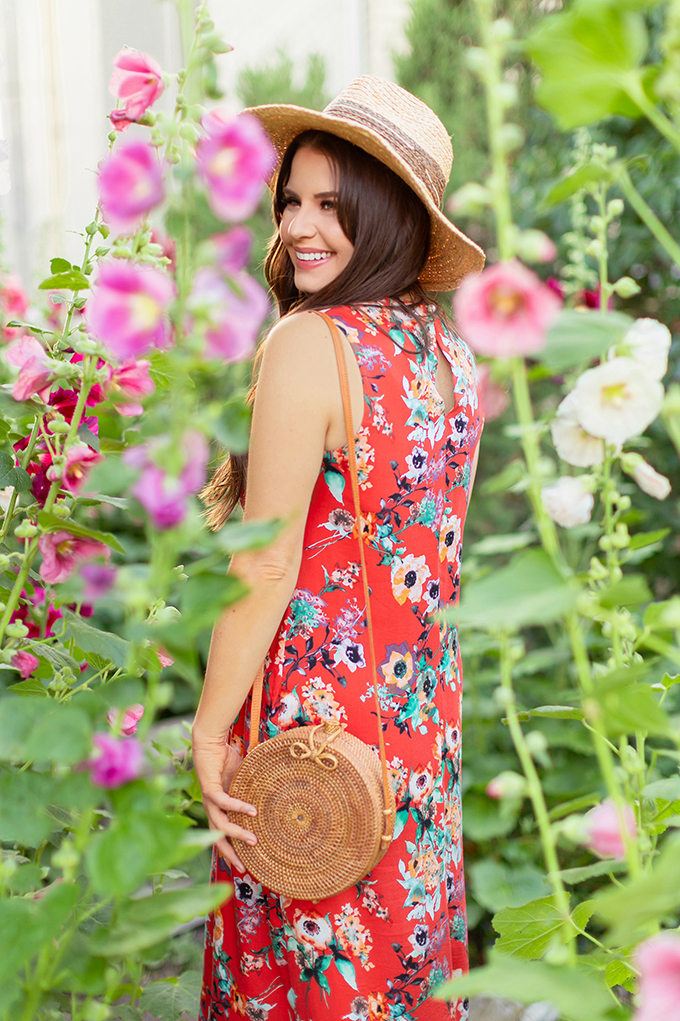 July has to be the most beautiful summer month, don't you think? The gardens are in full bloom, the weather is gorgeous and the evening seems to stretch on forever! We headed down to Calgary's Lougheed House's beautiful Beaulieu Gardens last Friday evening to shoot this post around 7pm until the sun went down. While we were there, we even saw a sign about an upcoming Garden Party they were hosting for the community!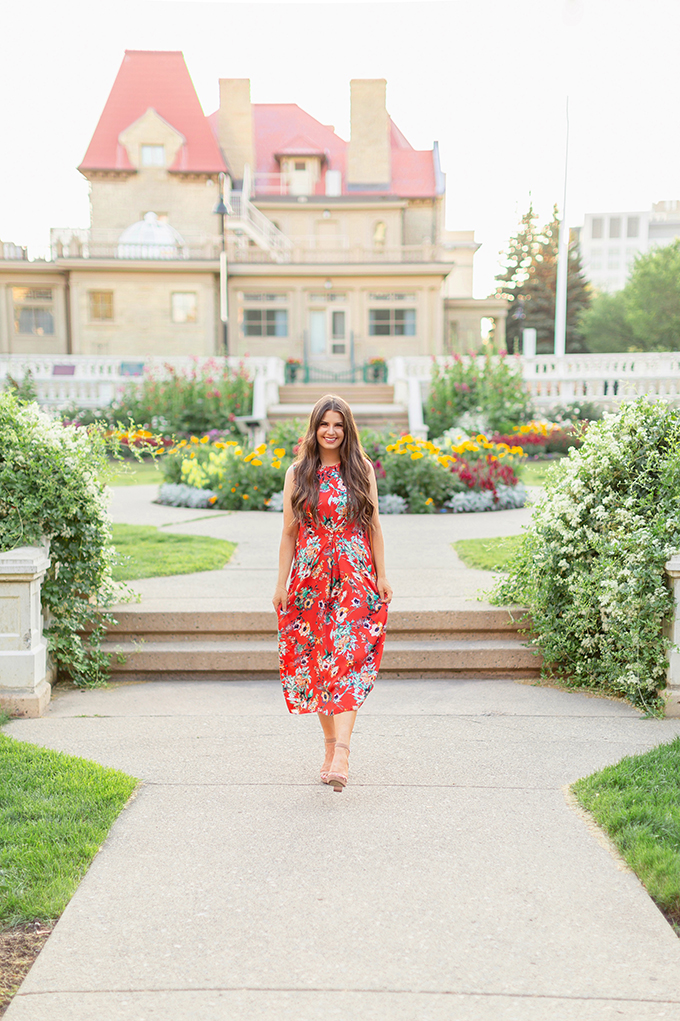 So, what exactly does Garden Party attire entail? For women, the dress code is actually fairly loose and open to interpretation. I personally love to wear dresses, knee length or below, with a loose fitting silhouette. That said, if you're not a dress girl, flowy culottes or wide leg pants with a loose fitting blouse would also be a great option!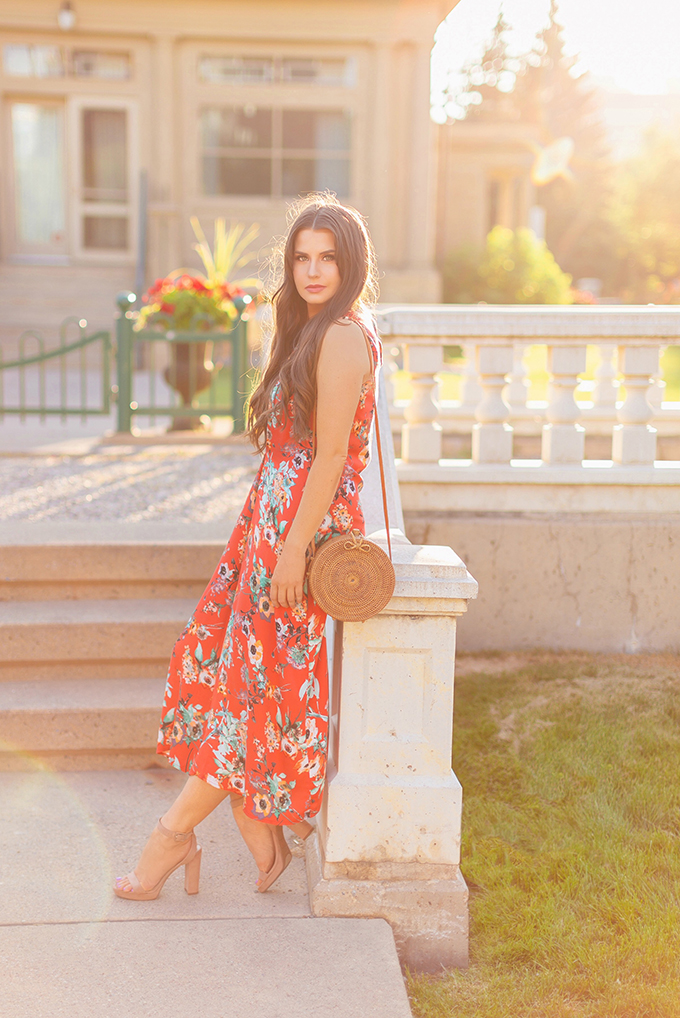 Since garden parties are typically held during the afternoon, I like to wear something lightweight and breezy that I feel comfortable in. Sundresses are a great options, as are maxi dresses and midi length styles, like I'm wearing here. I tend to think of Garden Party attire as a dressed down, more daytime appropriate version of what I'd wear to a summer wedding, so I gravitate towards more casual dresses and accessories.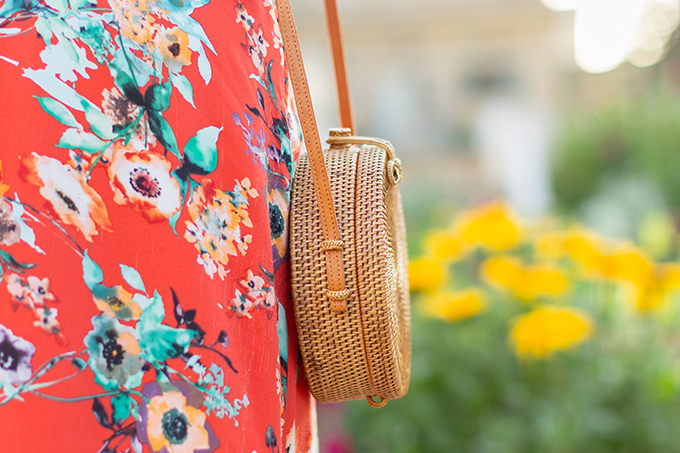 I was generously gifted this beautiful floral dress by 3rd Floor Studio last month — and I also wore one of their dresses in my 3rd Blogiversary. Since meeting with the owner and Canadian designer, Shoshanah (who is an absolute gem) over coffee this past winter, I've absolutely fallen in love with her stunning dresses and get so many compliments on them! Something about putting one of her dresses on causes you to exude beauty and femininity. In fact, I now own 3 — 2 of which were gifted and one I purchased myself (expect to see more 3rd Floor Studio coming to JustineCelina in August!).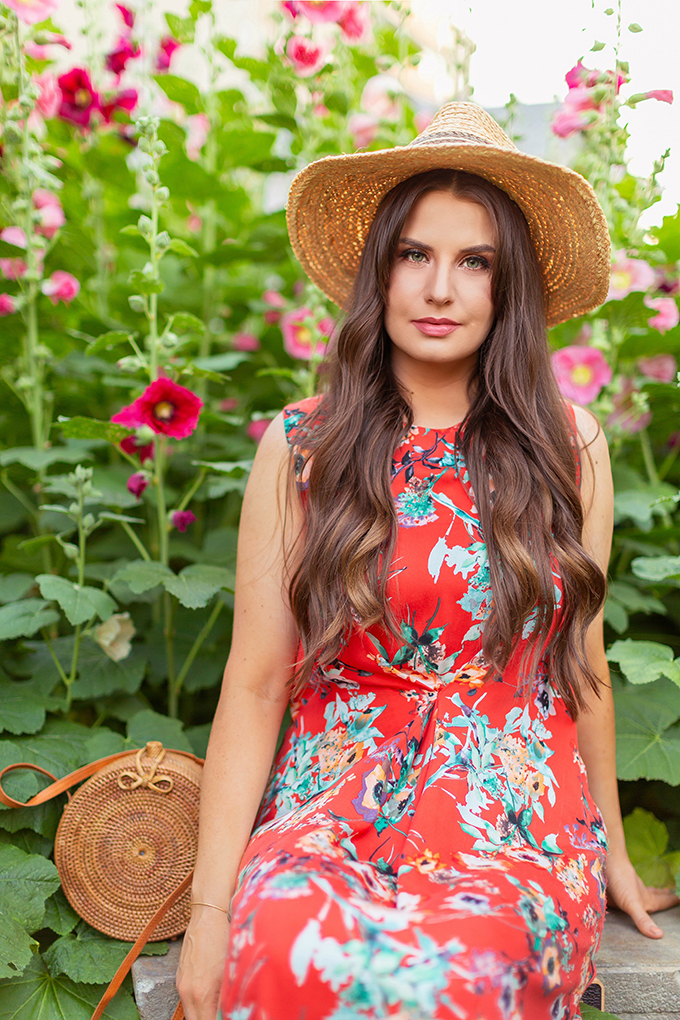 Ingrid, which I'm wearing here, is such a unique cut and unlike anything else in my wardrobe — a midi dress with an inverted pleat detail at the waist that has a bit of a jumpsuit vibe! I love that it's slightly fitted at the bust, but offers a bit of shape thanks to that inverted pleat detail. I feel like it offers the best of both worlds — it's not so oversized that you lose yourself in it (although, I do love an oversized silhouette!) and it's also not so fitted that you feel like you can't eat a big lunch in it! The inverted pleat nips in the waist slightly and then gently skims the hips for a flattering, laid-back silhouette.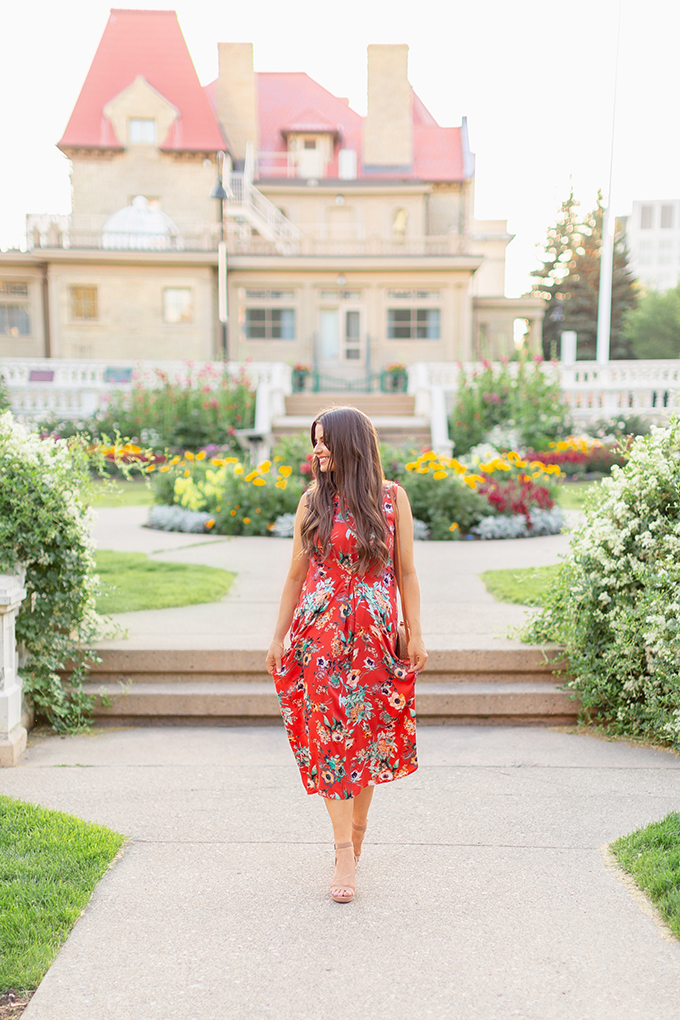 I've worn Ingrid about 7 times over the past month or so (if you follow along with my Insta Stories, you've likely seen it quite a few times!) — to the farmer's market on Sunday with a big straw tote and flat sandals, to casual summer barbecues, to evening events styled more formally than you see here (think black accessories, a bold lip and no hat!) and to more casual daytime events exactly as pictured. I love that it feels special, but not so precious that I hesitate to wear it for everyday activities. It's the quintessential summer dress!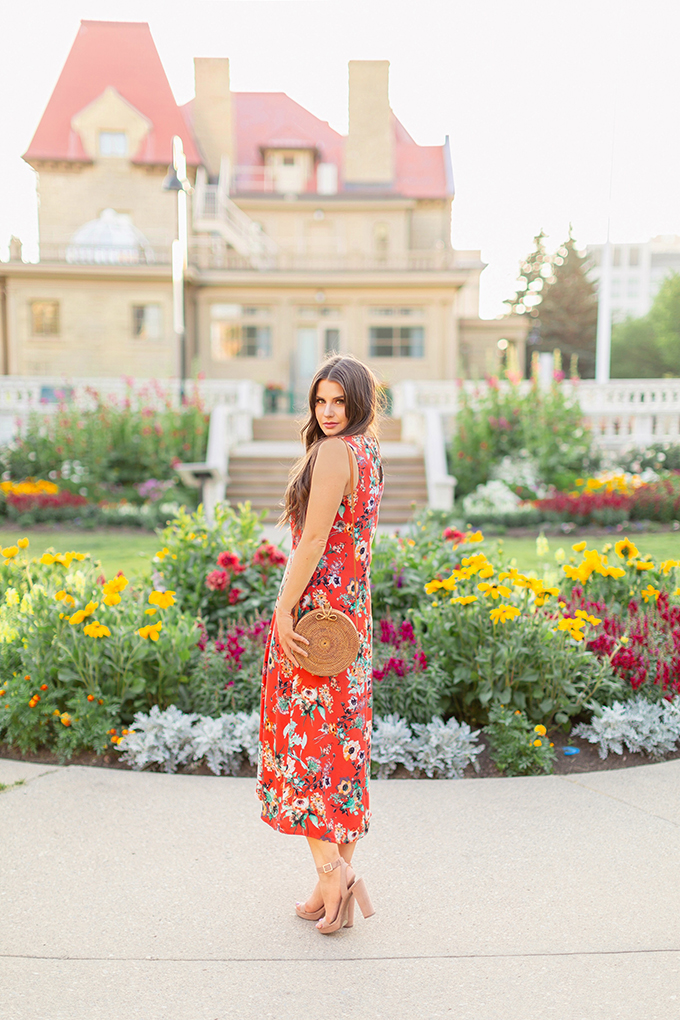 Every 3rd Floor Studio dress is made locally and sustainability in Toronto, fit on everyday women rather than models, and there and only about 75 of each style made — so you know that no one else at the party will have the same dress! I've also linked up similar orange floral dresses at every price point from various retailers for you below.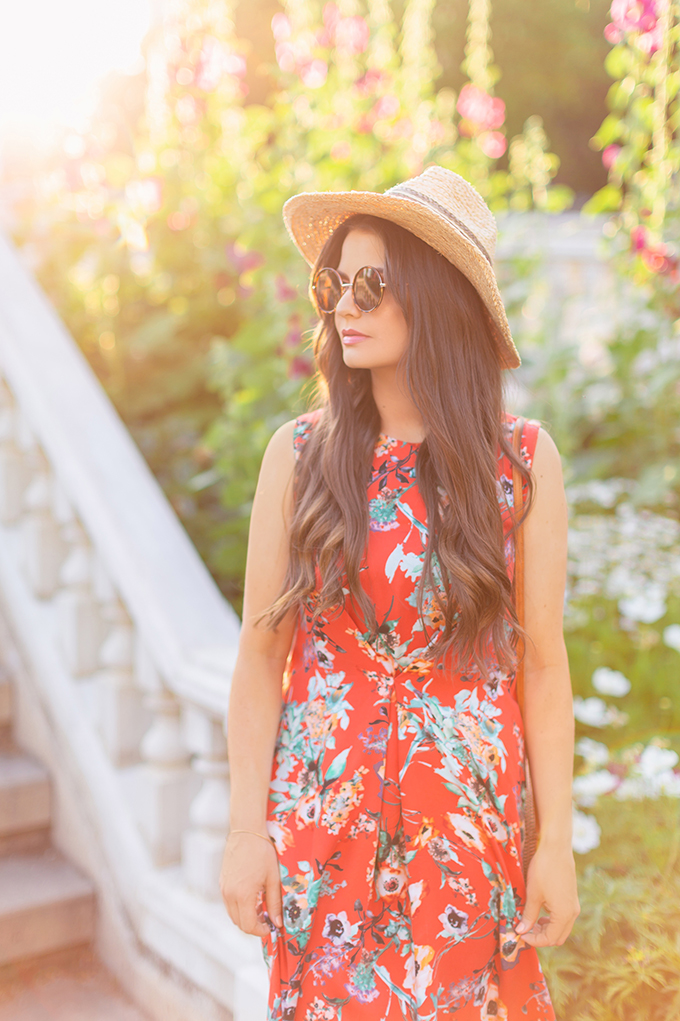 Now, onto accessories. As I mentioned, I tend to go a bit more casual (and practical!) for garden parties than I would for a wedding. This summer I'm all about the straw, jute and rattan accessories and they're trendier than ever (more on this coming to JustineCelina soon!) so I opted for my new Bali Harvest Round Woven Rattan Bag. These bags are everywhere right now, but after some investigating, this was the most inexpensive option I could find at just $53 (some stores are selling this exact bag for up to $168!). It took forever to ship, however, the shipping time listed was accurate. It also has a beef jerky smell when it arrives, but airs out after awhile (if you order it, you'll know what I mean!). I love the way the warm wooden tones of the rattan compliment the orange of the floral print in my dress but keep things neutral and casual! I've also linked identical and similar bags for you below — without a doubt, this style is a SS18 must!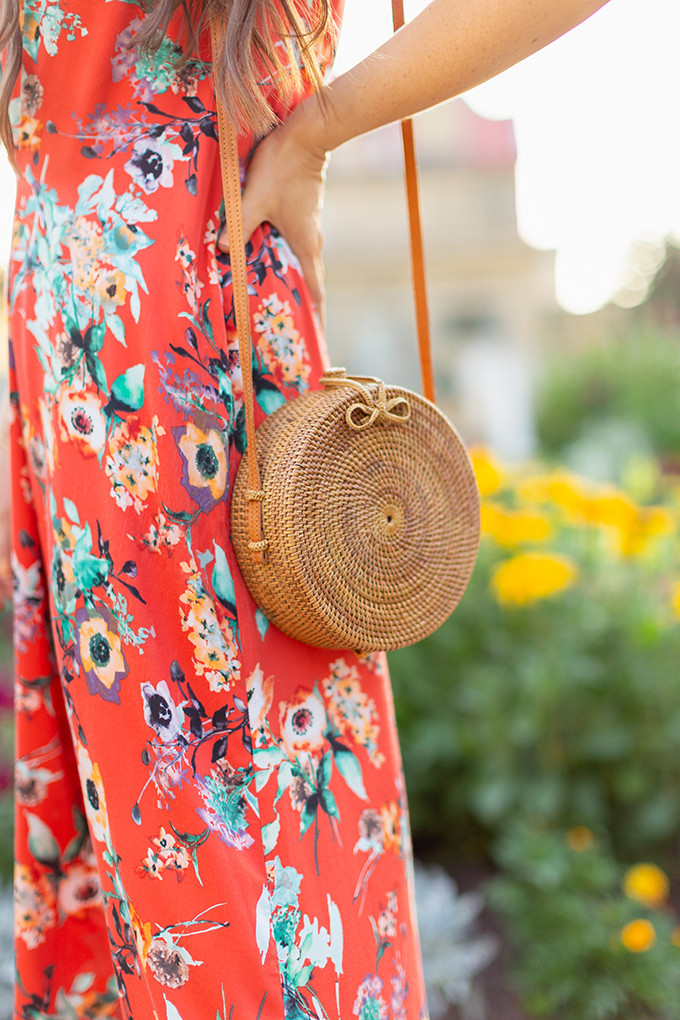 We also photographed this look with and without a straw hat — simply because I wanted to give you options. If I was attending a more formal garden party I wouldn't wear a straw hat as I feel it dresses this look down too much, but I would absolutely wear one for less formal occasions. Of course, you could always style this look with a wide brimmed hat for a more formal vibe — but hats are absolutely on a the menu for a Garden Party. Not only do the inject your outfit with a bit of extra style, they also help to shield your face from the sun (you know I'm all about that anti-aging sun protection!). I've linked a gorgeous selection of straw hats for you below!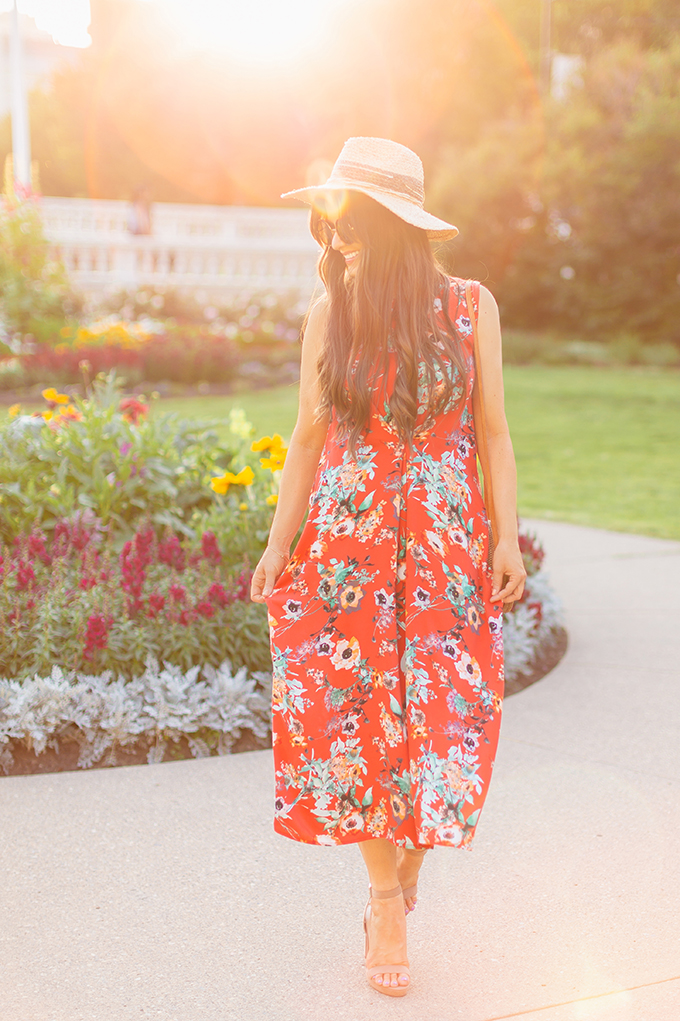 Traditionally guests of garden parties were expected to wear flat shoes, but these days,we have so many fantastic shoe options available to us! As someone who generally prefers to wear heels to special occasions and events, even during the day, I opt for block heel sandals or espadrilles. Both of these summer shoe styles are acceptable Garden Party attire and also allow you to walk on grassy areas without your heels sinking in! Since my dress features a bold pattern, I chose my Circus by Sam Edelman Abigal Platform Sandals in Light Brown, which I picked up at the Deerfoot Meadows Nordstrom Rack (for a steal, may I add!).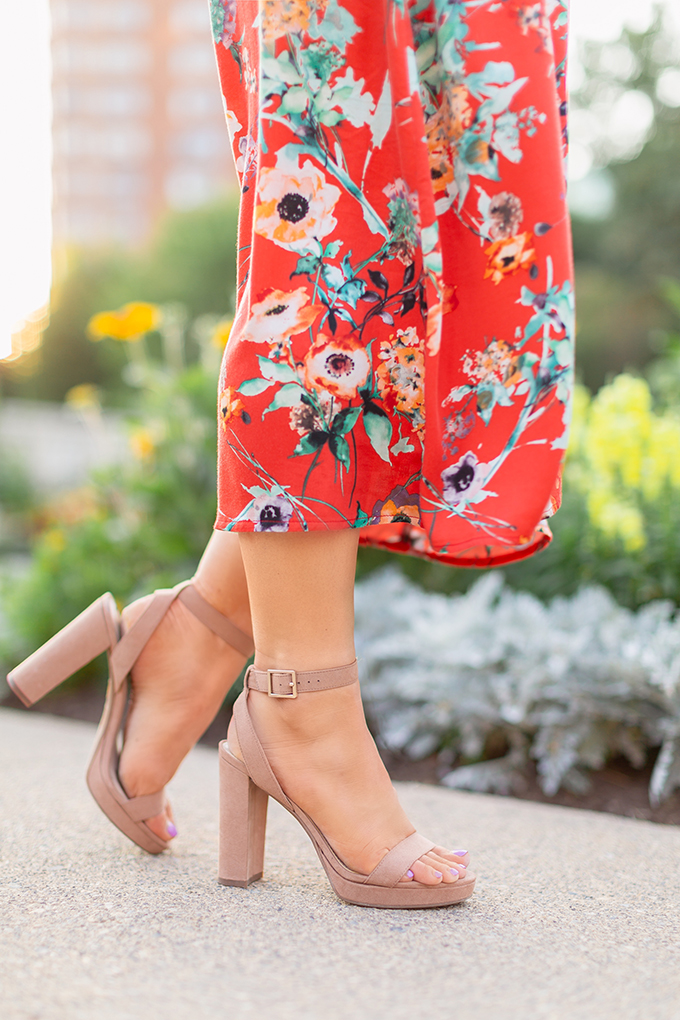 I love that the platform gives me a bit of extra height and helps to elongate the leg — something I always appreciate when I'm wearing midi hemlines! Block heels are very on trend this summer and much more comfortable than stilettos to wear for longer periods of time — I've added a few new pairs to my wardrobe recently, which you can check out in my Transitional Shoe Guide. I've linked this exact pair up for your below, along with some other beautiful nude shoe options that I guarantee you'll be wearing to all your warm weather occasions for years to come!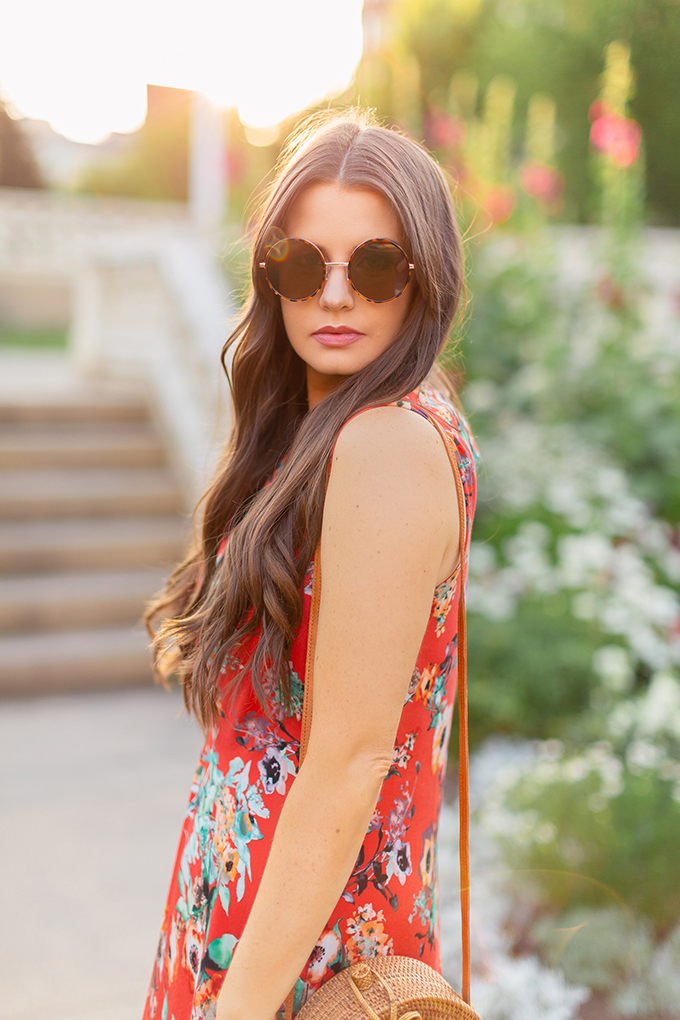 And last but certainly not least, eyewear. You know how much I love my round sunnies — and since I'm airing on the more casual side of garden party attire here, I selected a new pair of tortoise print, circular shades that tie the brown and caramel tones of my accessories together.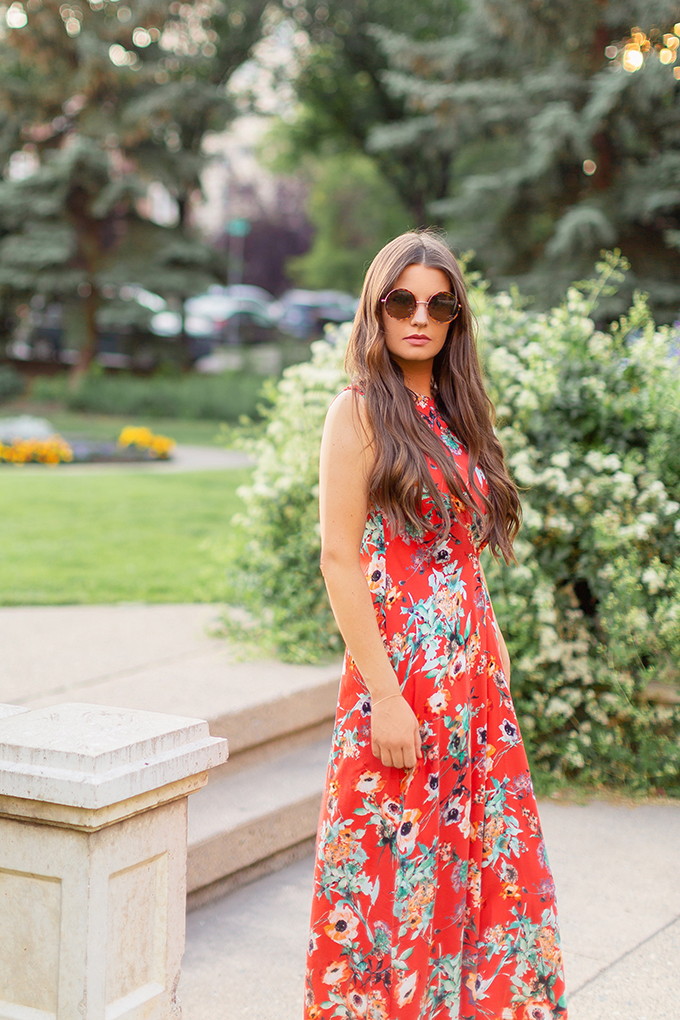 That said, if your Garden Party is more formal, I'd suggest sticking with a dark, cat eye (like I'm wearing here) or mini style! A summer garden party is the perfect excuse to experiment with different sunglasses styles — so have fun with it! Shop a few of my favourite summer shades below.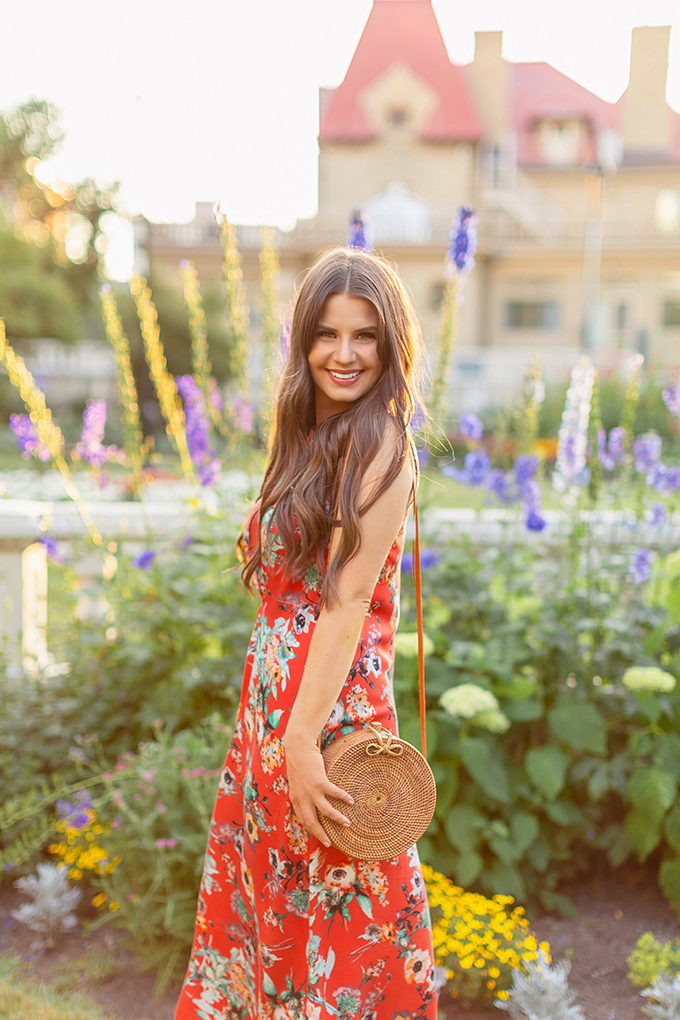 I think a beautiful, glowy, (somewhat) natural makeup look is the perfect compliment to a gorgeous summer outfit for daytime events. Beauty wise, I kept things pretty simple today and wore one of my favourite summer looks — radiant skin, a flushed cheek, a natural, lightly glossy lip and a defined, golden, lightly smokey eye. I've mentioned and used these products many, many times over the years and I'd consider each of them a longtime favourite. I actually have a dedicated Summer 2018 Beauty Favourites post coming to JustineCelina soon where I'll share some updated summer essentials, but in the meantime, I've linked up everything on my face for you below! Additionally, feel free to search any of these items here on the blog to bring up my review, photos and swatches.

---
SHOP CASUAL GARDEN PARTY ATTIRE
---

---
GET YOUR SUMMER FASHION FIX
---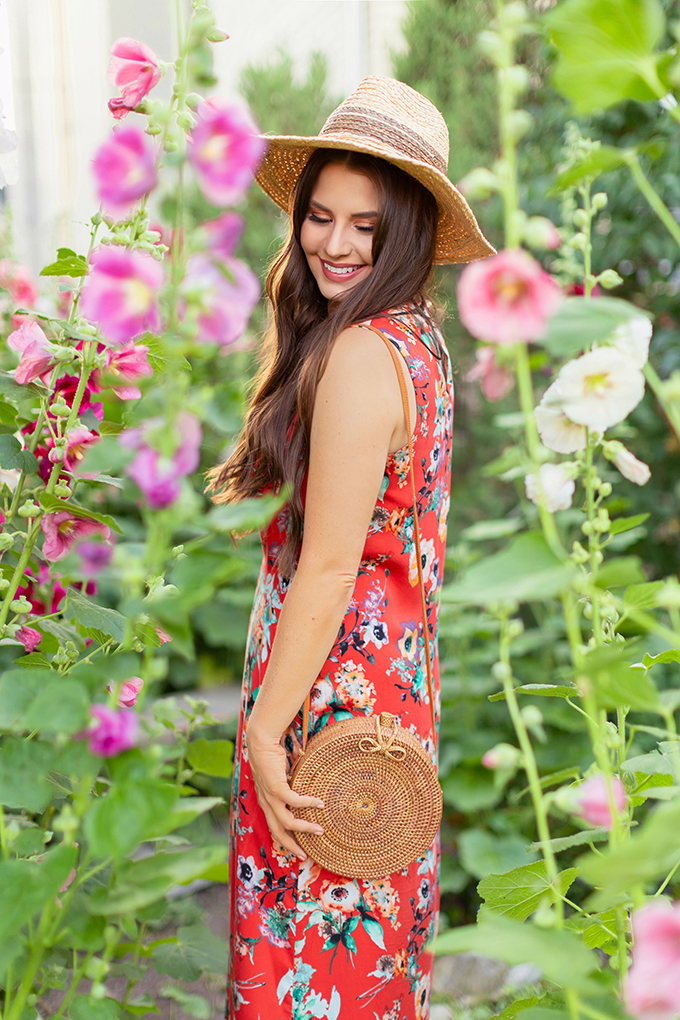 Summer 2018 Trend Guide | Flower Power
Transitional Shoe Guide | Summer to Autumn 2018

---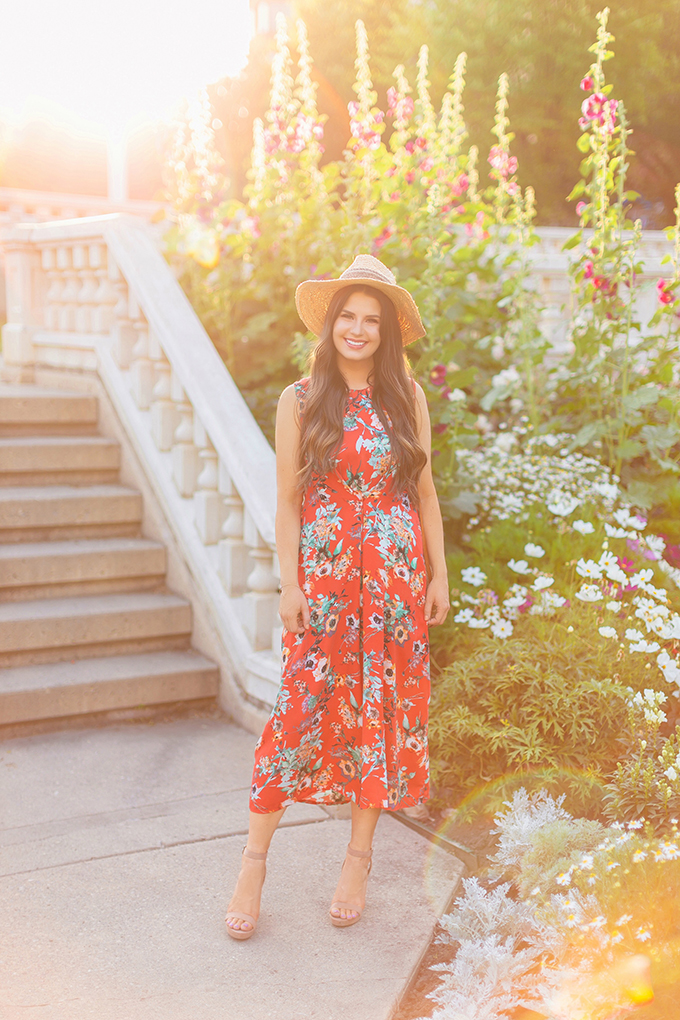 Thanks for stopping by for a fresh installment in my WHAT TO WEAR TO series, friends! I hope this post helped to demystify Garden Party attire for you.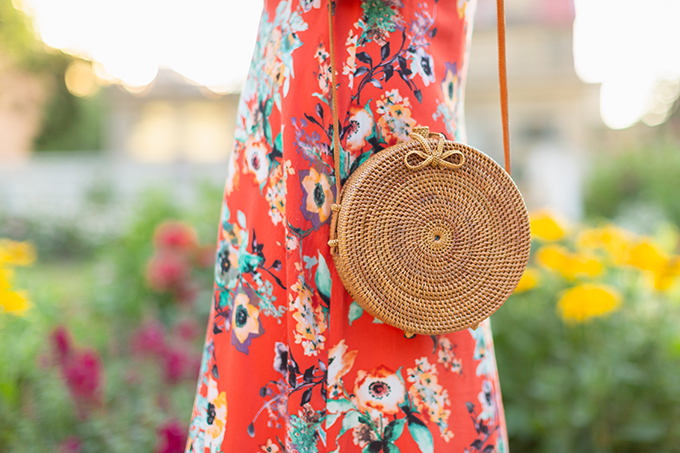 And if you have a chance to visit Calgary's Lougheed House this summer, please do! It's become one of our favourite places to shoot style content during the summer — the gardens are absolutely exquisite this time of year. Have a great week, everyone!
---
Disclaimer: Thank you to 3rd Floor Studio for my stunning Ingrid dress. This post is not sponsored, and contains my genuine thoughts, ideas and recommendations. JustineCelina uses affiliate and referral links, which allow me to receive a small commission when you make a purchase through one of my links. Thank you for supporting the brands and businesses that support JustineCelina.com!