---
Fragrance lovers, I'm ecstatic to share this post with you today after an unintentional hiatus! Although I've always had a fondness for fragrance and have amassed quite the collection over the course of my blogging career, it's been 3 years since I published my last dedicated FRAGRANCE post. Just as I've done with the return of BEAUTY content, I wanted to bring my love of fragrance back to JustineCelina in a more meaningful way — and after exploring a few different ideas, that's exactly what I've done in this My Favourite Floral Fragrances post. Today I'm sharing my most worn, most loved, most complimented floral fragrances with you — the scents I have on constant rotation from February through September! If you're in the market for a new spring fragrance or are simply craving some lighthearted beauty inspiration, you've come to the right place.
Spritzing on a fragrance is the cherished finishing touch in my daily beauty routine. Even on days when I'm not leaving the apartment, I never skip fragrance! Lately with all the time I've spent at home I find myself relishing in little luxuries like fragrance to help lift my spirits and make me feel more like myself — selecting a scent to perfume each day's memories is an important act of self care and one that brings me great joy. Today I'm sharing that joy with you and introducing my 3 favourite designer floral fragrances (including my signature scent!), while divulging all the details about when I wear them, scent descriptions and notes, and alternate variations you may want to explore — complete with shoppable links from various retailers. These lovely spring and summer scents range from fresh and fruity, to sensual and spicy, to warm and sophisticated — there's truly something for everyone! Pour yourself a glass of bubbly and let's celebrate the season's quintessential scent (and our shared love of FLOWERS!) in fragrance form this May long weekend!

---
MY FAVOURITE FLORAL FRAGRANCES
---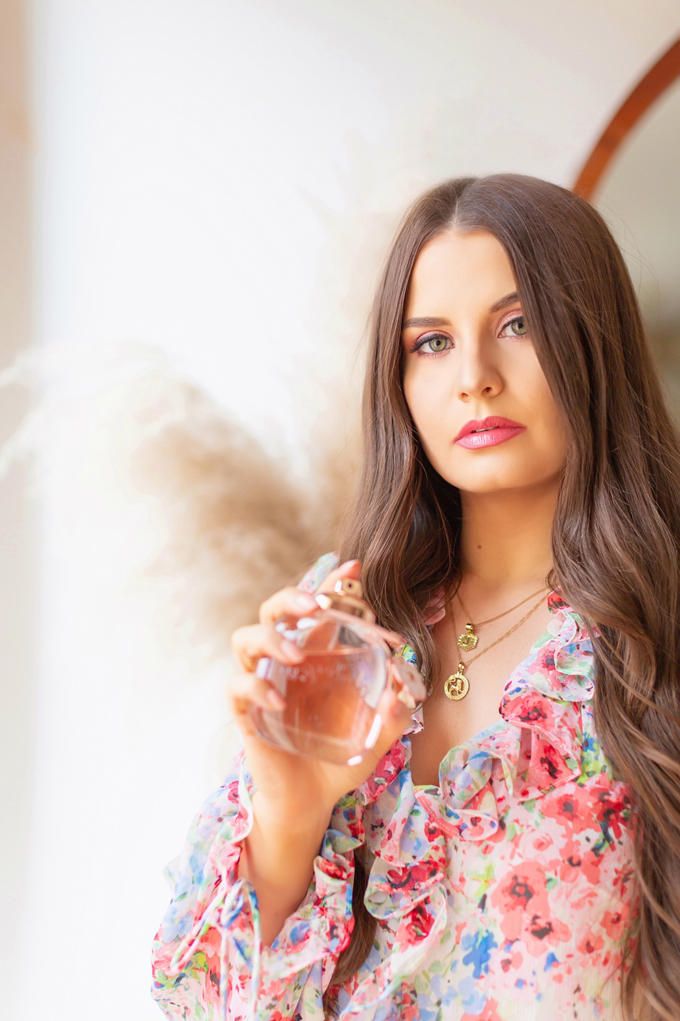 Welcome back, friends! I'm so exited to share this post with you today — it's been 3 weeks in the making and a major labour of love. While I've been busy working away on this post, I've also been shooting tons of new, experimental, home-based content during my time in quarantine and really leaning in to content creation. Since we're all stuck at home and I don't have anyone around during the day to help photograph me, I've been making best of it, learning new skills and really exploring the boundaries of my set up, styling and self portraiture — and I'm so pleased with the results! I'm always working on new ways to level up my content — and I hope you enjoy the fruits of my labour!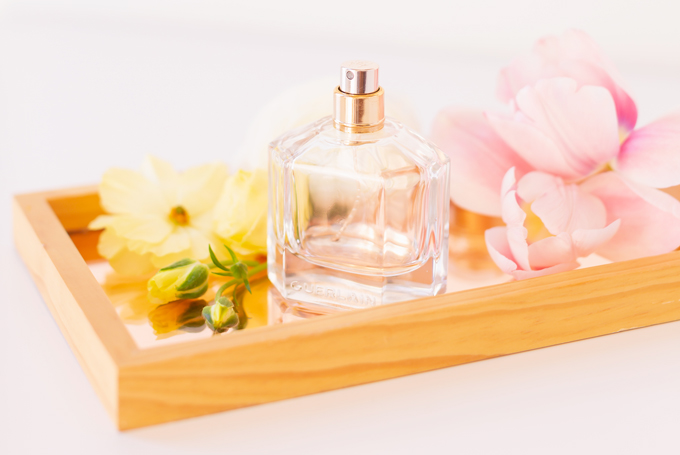 To help set the tone for today's post, in addition to product photography I wanted to include some more intimate self portraits, as they seemed fitting for the subject matter. For me (and I'm sure many of you!), fragrance is deeply personal and nostalgic. Many of us likely have childhood memories  of our Mothers and Grandmothers sitting at their vanities and spritzing on their signature scents before an important event or evening out! The luxury of a beautiful fragrance is something that's been ingrained in my memory since I was a little girl. I've always had a penchant for fragrance, but have really honed and expanded my collection over the past 5 years as my creative work has transitioned into lifestyle blogging.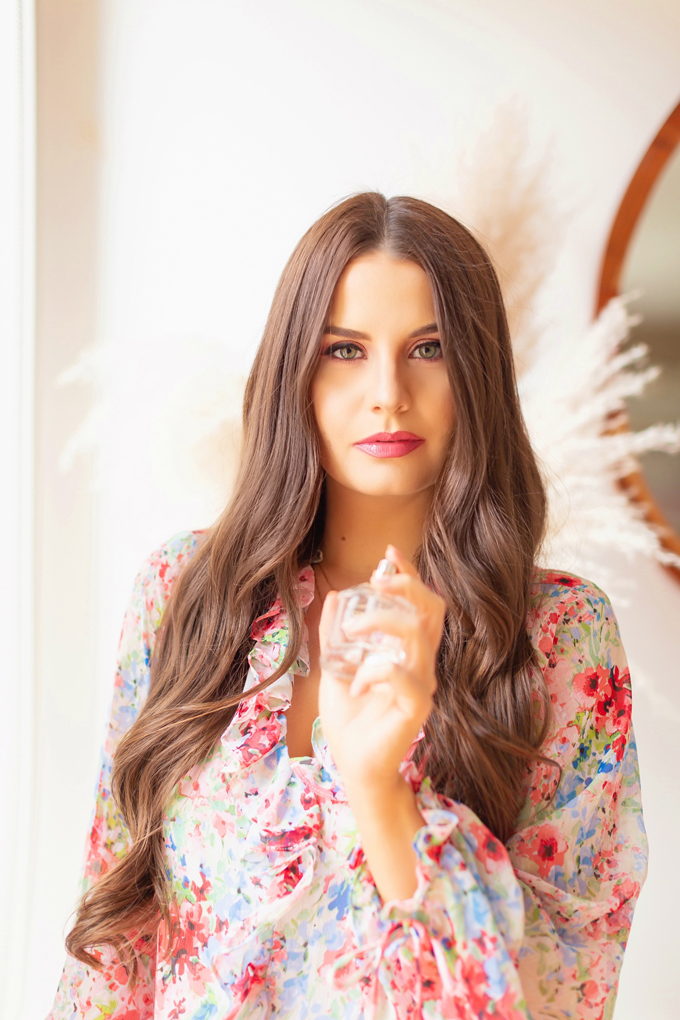 Over the course of my blogging career, I've had the pleasure of partnering with my favourite beauty brands, attending many lovely events and launches, as well as receiving press samples for editorial consideration. In fact, each fragrance featured in today's post was generously gifted to me — and they've all worked their way into my regular rotation and after using one of them down to its very last drops, I've just purchased the largest size available!). I'm always grateful to receive press samples here at JustineCelina, because they push me outside of my comfort zone and I end up trying products I wouldn't normally purchase myself. Such is the case for each of the 3 scents that now comprise My Favourite Floral Fragrances — and I likely wouldn't have discovered them on my own!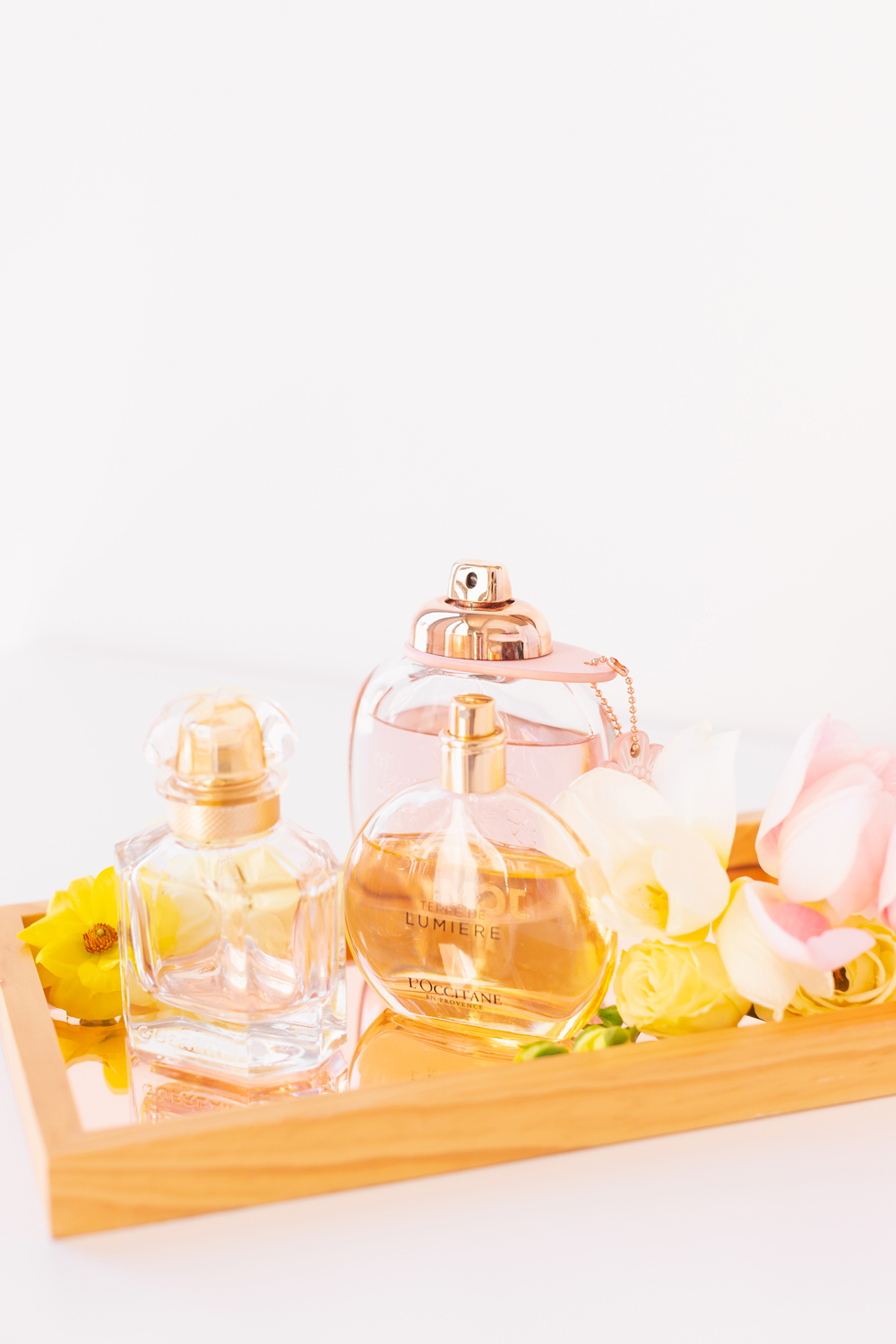 It's wild to think that up until about 3 years ago, I really didn't wear floral fragrances. While I always adored them on others, I could never really find a floral that worked for me — until one fated fragrance launch that ignited my floral scent obsession! If you're reading this nodding your head, I hope that this post helps you to find a floral fragrance that works for you. While each scent I've featured in this post has a common floral theme, they're all very unique — with options to suit different seasons, settings and moods — there really is something for everyone! I hope you enjoy learning more about My Favourite Floral Fragrances as much and I've enjoyed creating this content for you!
---
---
CDN $78.00 – $168.00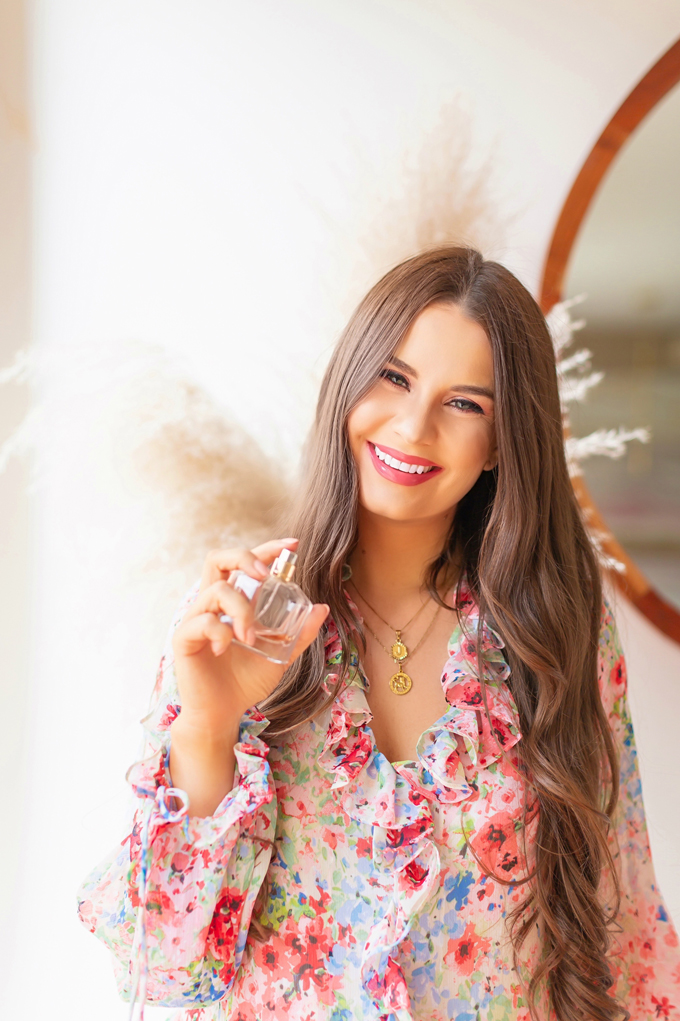 I discovered Mon Guerlain back in February 2017 after attending a gorgeous event here in Calgary to celebrate its worldwide debut, where I was gifted this stunning fragrance. Fast forward to Spring 2020 and it's become my most worn fragrance of all time, as well as my signature scent — and as you can see, I've used my first bottle down to it's final spritzes! I actually ordered the full sized bottle about a month ago in hopes she would arrive in time to include in this post, but due to postal delays (apparently we're all enjoying some online shopping in quarantine!) I just unboxed her yesterday.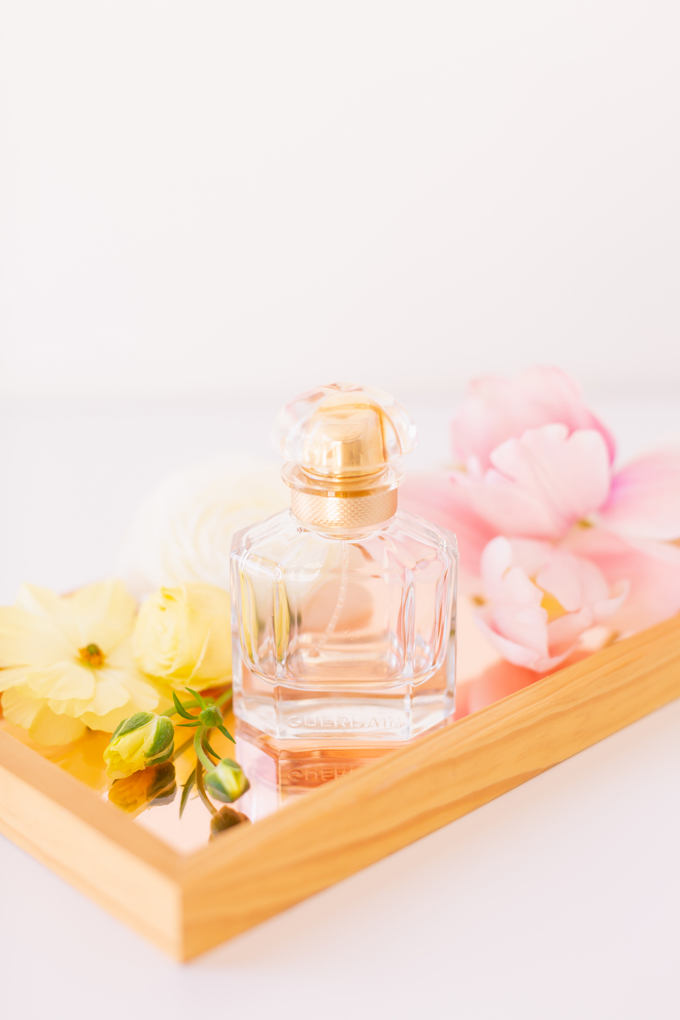 Mon Guerlain totally swept me off my feet — it was the first floral fragrance I fell head over heels for. At the time, it wasn't a scent I'd typically choose for myself — and I'm so glad we met serendipitously on that cold winters day! Mon Guerlain is sensual, warm fragrance with notes of jasmine (sourced from India), lavender (sourced from Provence) and vanilla (sourced from Papua New Guinea) that combine to create an ultra luxurious scent that's truly intoxicating.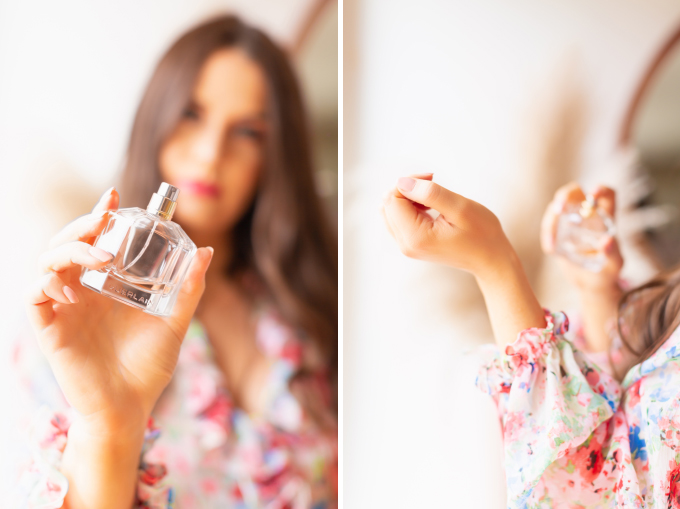 This fragrance is simultaneously feminine, sophisticated, warm and free-spirited — and I feel that it embodies my personality perfectly. Each time I wear her, I receive many compliments from both men and women! I adore absolutely everything about this fragrance. In fact, if I had to choose only one scent to wear for the rest of my life, I would choose Mon Guerlain. It truly makes me feel beautiful and confident the moment I spritz it on!
I wear Mon Guerlain almost year-round — although I do find her a bit heavy for the height of summer. From February until about April I wear her day and night, but once spring hits I transition into lighter and more fruity floral fragrances (which we'll explore next!) for daytime. That said, whenever I'm getting ready for a more formal evening event, Mon Guerlain is my first choice — no matter the season.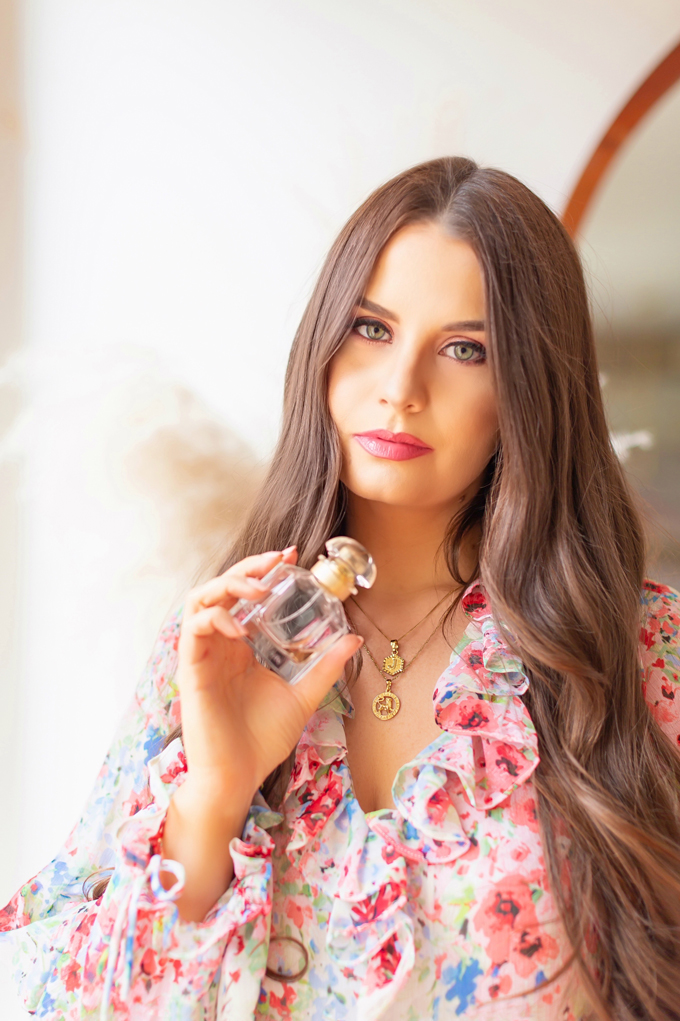 Mon Guerlain was created out of admiration for multi-facetted, strong, free and sensual woman, inspired by film star Angelina Jolie — a perfumed manifesto of today's femininity.
A few words from Guerlain
"A few drops like an invisible tattoo on the skin give the women who wear it confidence to own their decisions and their dreams; to reveal all their many nuances; to make them feel beautiful."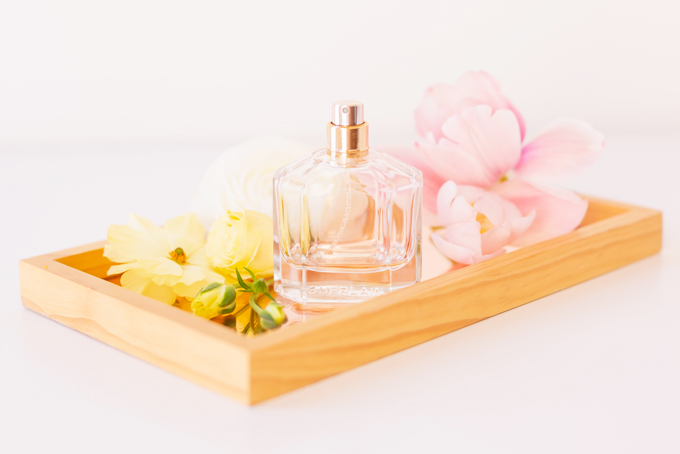 Fragrance Family
Warm & Spicy
Scent Type
Warm & Sweet Gourmands
Key Notes
Jasmine, Lavender, Vanilla
Following the success of Mon Guerlain, several variations on the classic scent have been developed — including and Mon Guerlain Eau De Toilette, Mon Guerlain Eau de Toilette Bloom of Rose, Mon Guerlain Florale and Mon Guerlain Intense (which is on my wishlist!). If you're looking for a truly luxurious, modern floral fragrance for yourself or a loved one, look no further than this beautiful suite of floral scents from Guerlain!

---
---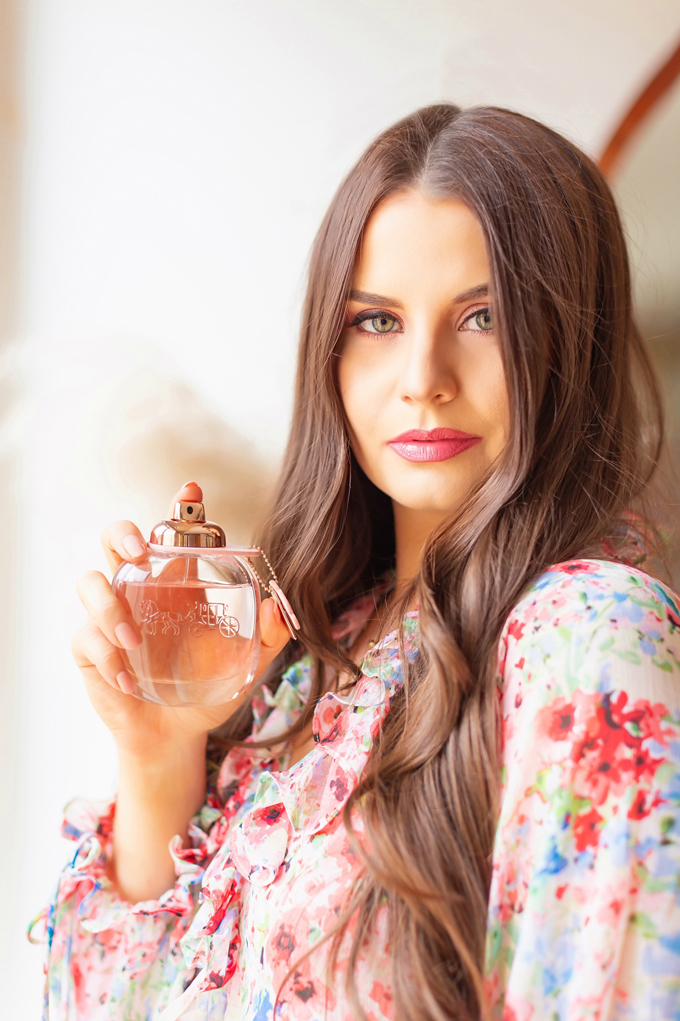 Next up is Coach Floral — a floral fruity fragrance inspired by Coach's iconic Tea Rose leatherwear collection (which you see dangling from the neck of this beautiful bottle). Coach Floral is juicy, lighthearted, uplifting and slightly exotic thanks to a charming bouquet of rose tea, jasmine sambac and gardenia complimented by citrus, pineapple and pink peppercorn with an underlying creamy woodiness. It's modern, feminine and beautifully complex — and my favourite scent to wear on warm spring days for an instant mood lift!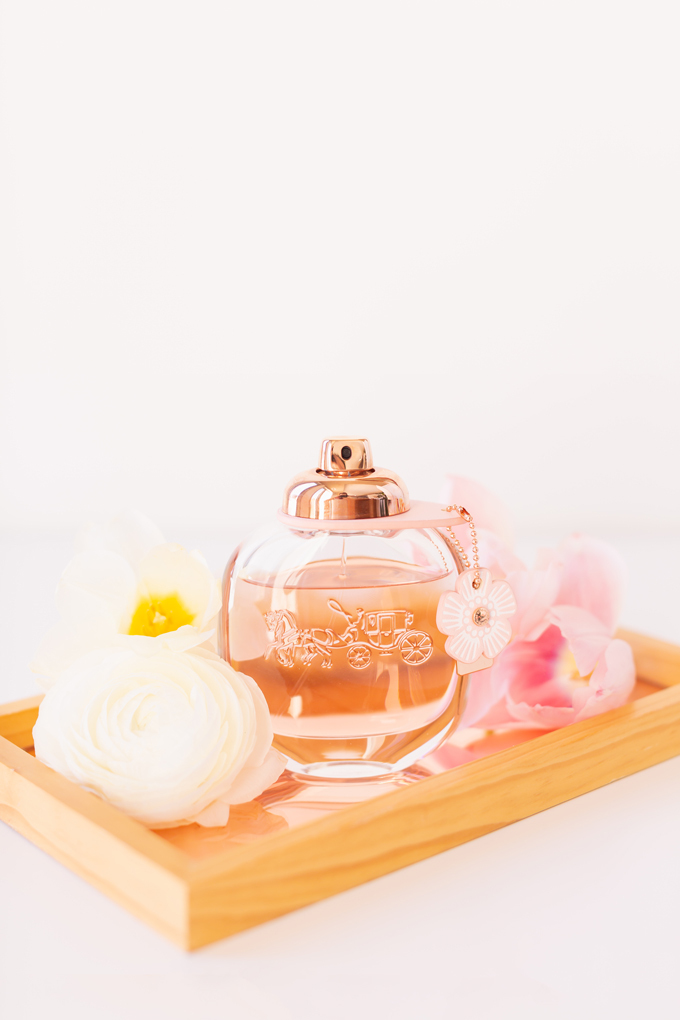 Of all the scents featured in My Favourite Floral Fragrances, Coach Floral is the fruitiest — but it's also incredibly elegant. I adore the juxtaposition of floral, fruit and wood notes in this carefree spring and summer scent! It's an incredibly easy fragrance to wear and one I'm very happy to have in my collection.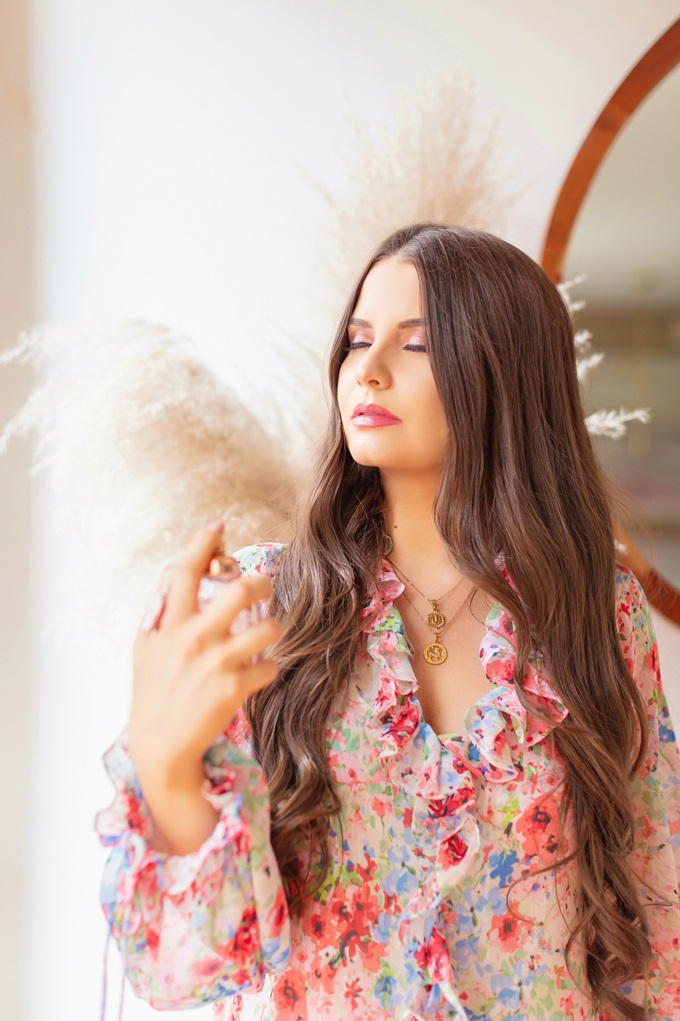 If you tend to gravitate to sweet, fruity scents but are looking for a more sophisticated option this spring and summer, Coach Floral is my top recommendation. It would also make a lovely gift for that special lady in your life this season!
A few words from Coach
Coach Floral opens with a splash of citrus coeur and a touch of effervescent pink peppercorn with radiant pineapple sorbet. The heart reveals a bouquet of fragrant flowers—rose tea, jasmine sambac and gardenia—before an enveloping dry-down to elegant creamy wood, patchouli and musky notes.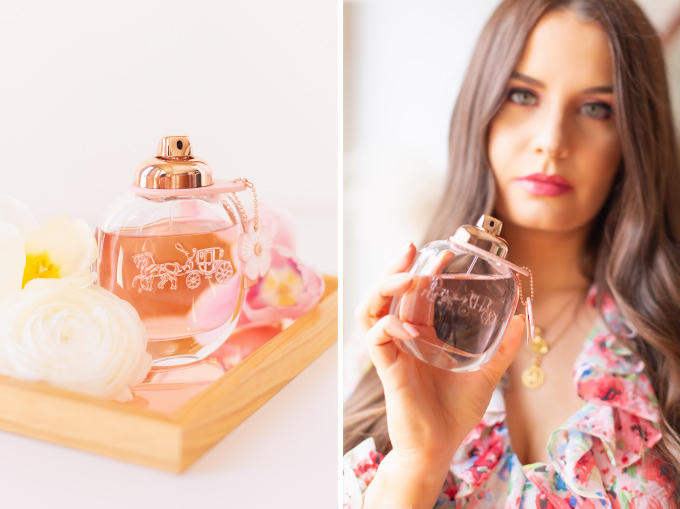 Fragrance Family
Fresh & Fruity
Scent Type
Floral, Woody & Fruit Forward
Key Notes
Pineapple Sorbet, Rose Tea, Crystal Musks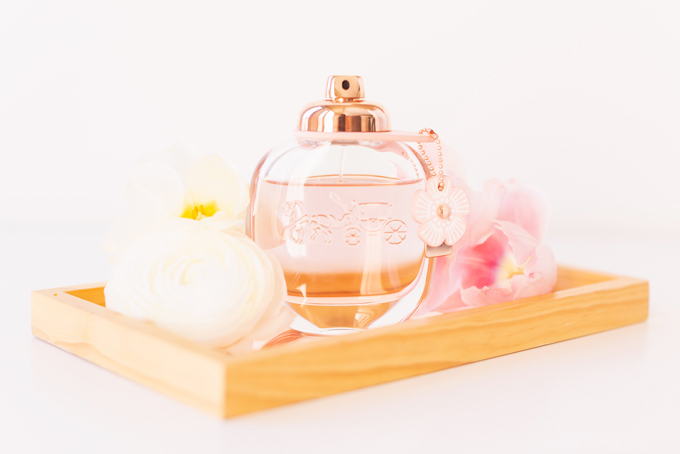 This collection of original scents is inspired by free-spirits and adventure — so if Coach Floral isn't quite your vibe, there are several options to choose from. Coach Floral Eau De Toilette offers a lighter variation of this classic scent, while Floral Blush Eau De Parfum serves up a wilder, peony focused scent.

---
---
CDN $85.00 – 105.00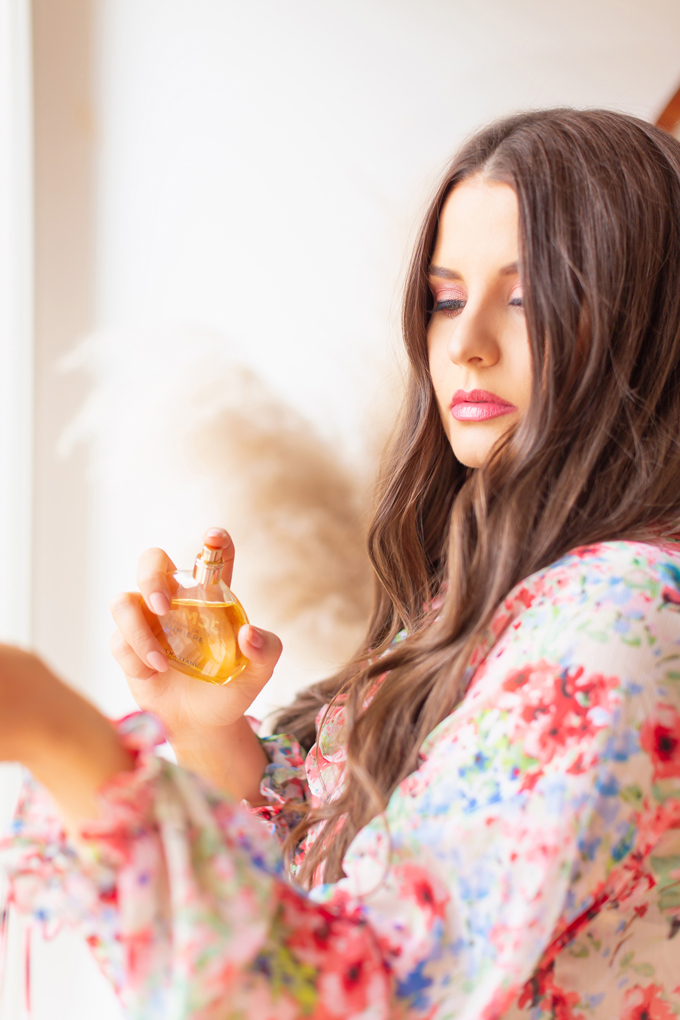 L'Occitane's Terre de Lumière is a fragrance inspired by the warm, fleeting moments of golden hour — it's everything I love about summer on prairies in a bottle! This warm, gourmand, radiant fragrance has notes of lavender, honey and amber with just a kiss of pepper and citrus. It's radiant, rich and sensual with a carefree vibe — and it's my signature summer scent (did you notice the monogram?)!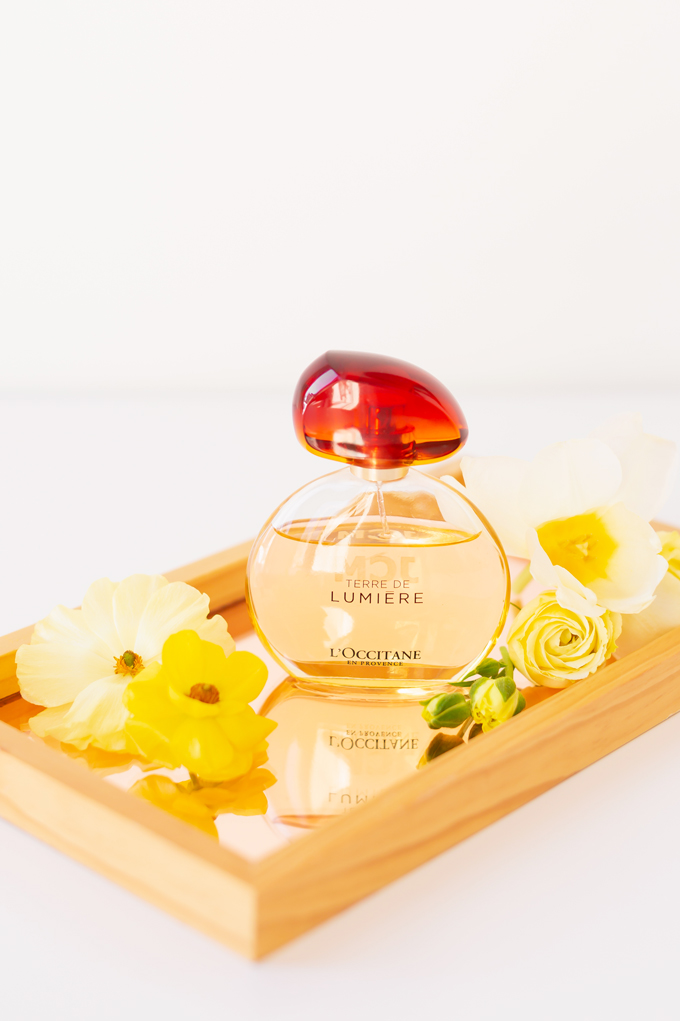 Terre de Lumière is likea perfect blend of 2 of my favourite seasonal scents — Mon Guerlain and Maison Margiela's 'REPLICA' Beach Walk (if you like, you can read more it my Spring / Summer 2017 Fragrance Edit). It shares quite a few similarities with Mon Guerlain; both are aromatic fragrances with lavender and gourmand (vanilla and honey) notes — although Mon Guerlain is more sophisticated. Both fragrances also source their lavender from Provence, France.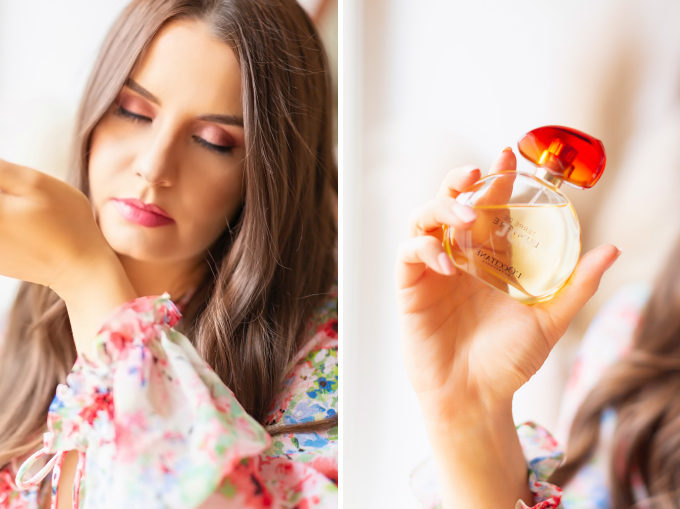 What makes Terre de Lumière unique is that it also has a lightheartedness to it that reminds me of Beach Walk — an ultra laid-back fragrance inspired by a warm summer day on a sandy beach on the French Riviera, circa 1972. Terre de Lumière also shares a few notes with Beach Walk; pink peppercorns, bergamot and citrus. Overall it's a truly stunning fragrance and one I reach for when I need something more polished and evening appropriate than Beach Walk, but not as precious as Mon Guerlain.
A few words from L'Occitane
Our signature fragrance captures the special fleeting Golden Hour moment to make it last forever. With zesty and aromatic top notes, this unique fragrance unexpectedly develops into delicate aromas of lavender, honey and almond from the South of France.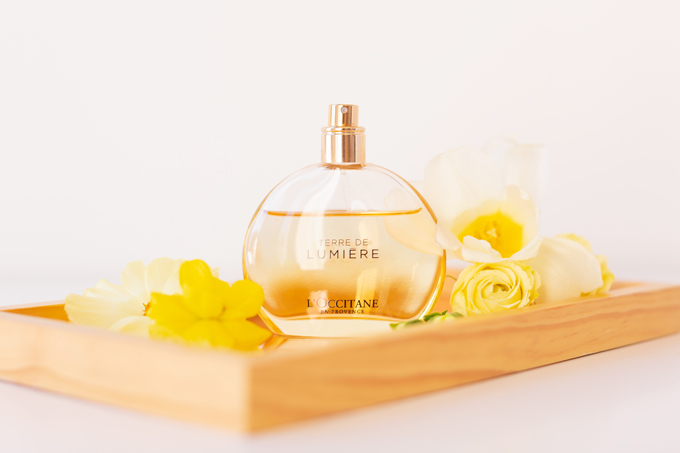 Fragrance Family
Warm & Sophisticated
Scent Type
Floral Gourmand
Key Notes
Lavender, honey, almond
Terre de Lumière is also available for purchase directly from L'Occitane's website, where there are several other variations of their signature fragrance available.

---
SHOP MY FAVOURITE FLORAL FRAGRANCES
---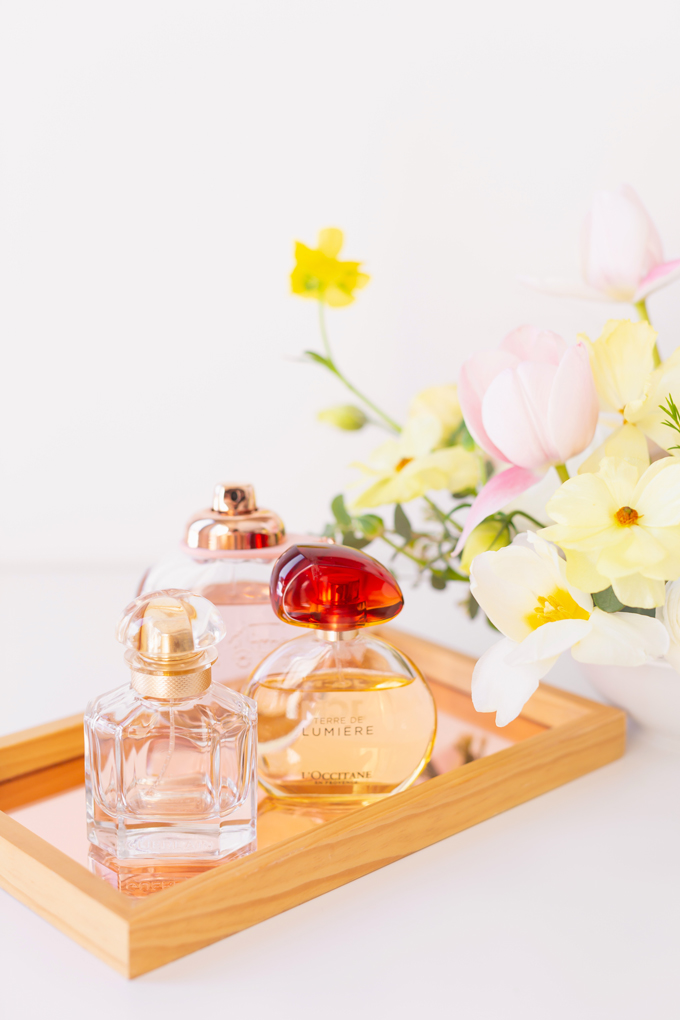 ---
I'M ALSO WEARING
---
---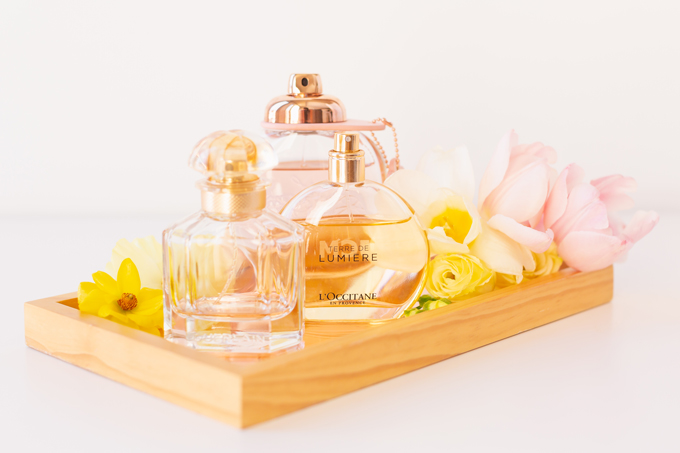 What are your favourite fragrances to wear during spring and summer? I hope this post inspired you to experiment with a new scent this spring and that it brightened your day. As always, if you try one of my recommendations I'd love you to leave me a comment or hashtag #justinecelinabeauty in your photos across social so I can find them! And if you have a recommendation or question for me, please leave me a comment so we can chat.
Have an insatiable appetite for BEAUTY? Visit the links above for seasonal inspiration, or check out my Pinterest board for all things beauty and skincare. I'm focusing heavily on beauty content this spring — please come join me over on Instagram if you haven't already, where I've shared the first post of a new partnership with one of my longtime favourite brands! I'm very excited to introduce this new partnership here at JustineCelina with a fresh instalment in MY TOP 5 series next month, so stay tuned. Thank you for stopping by today to learn more about My Favourite Floral Fragrances today, friends. Stay safe and enjoy your long weekend ahead!
---
Disclaimer: Products marked with * indicate press samples sent for editorial consideration with no obligation for feature or review, or as part of previous / ongoing partnerships. This post is not sponsored and contains my genuine thoughts, ideas and recommendations. JustineCelina uses affiliate and referral links, which allow me to receive a small commission when you make a purchase through one of my links. Thank you for supporting the brands and businesses that support JustineCelina.com!